They are a battery of men clad in lungis and shirts, with huge aluminium containers tied to their cycles by a gamcha (a thin towel). Smaller stainless steel containers with chutney and sambhar , and a heap of paper plates, are all fastened together with a worn-out cycle tube.
By 7 a.m. they set out into the streets to satisfy the palettes of thousands in the city. They are Mumbai's very own idliwalas . Their signature call is the "pom-pom," which can be heard from a distance. The sound of this unique rubber horn is a signal for the residents of Mumbai's neighbourhoods that the men with idlis have arrived.
These cycle-borne sellers are a community of migrants from Madurai, Tamil Nadu – around 500-700 families living in one of Asia's largest slums, Dharavi. They earn their living by making and selling south India's popular breakfast and have turned idli-vada into one of Mumbai's most loved snacks. Each home makes a minimum of 400 steaming, fluffy rice cakes every day, earning a daily profit of Rs. 400-500. A household with two or three men could mean a daily income of about Rs. 1,000.
Over 3,00,000 idlis and other south Indian delicacies move out from this mini Tamil Nadu into the rest of Mumbai each day. The pucca shanties that this community has settled in are strategically located between Sion and Mahim, at the cross-section of the central, western and harbour train lines. From here, they idliwalas can move across the city to satiate the appetite of its buzzing workforce.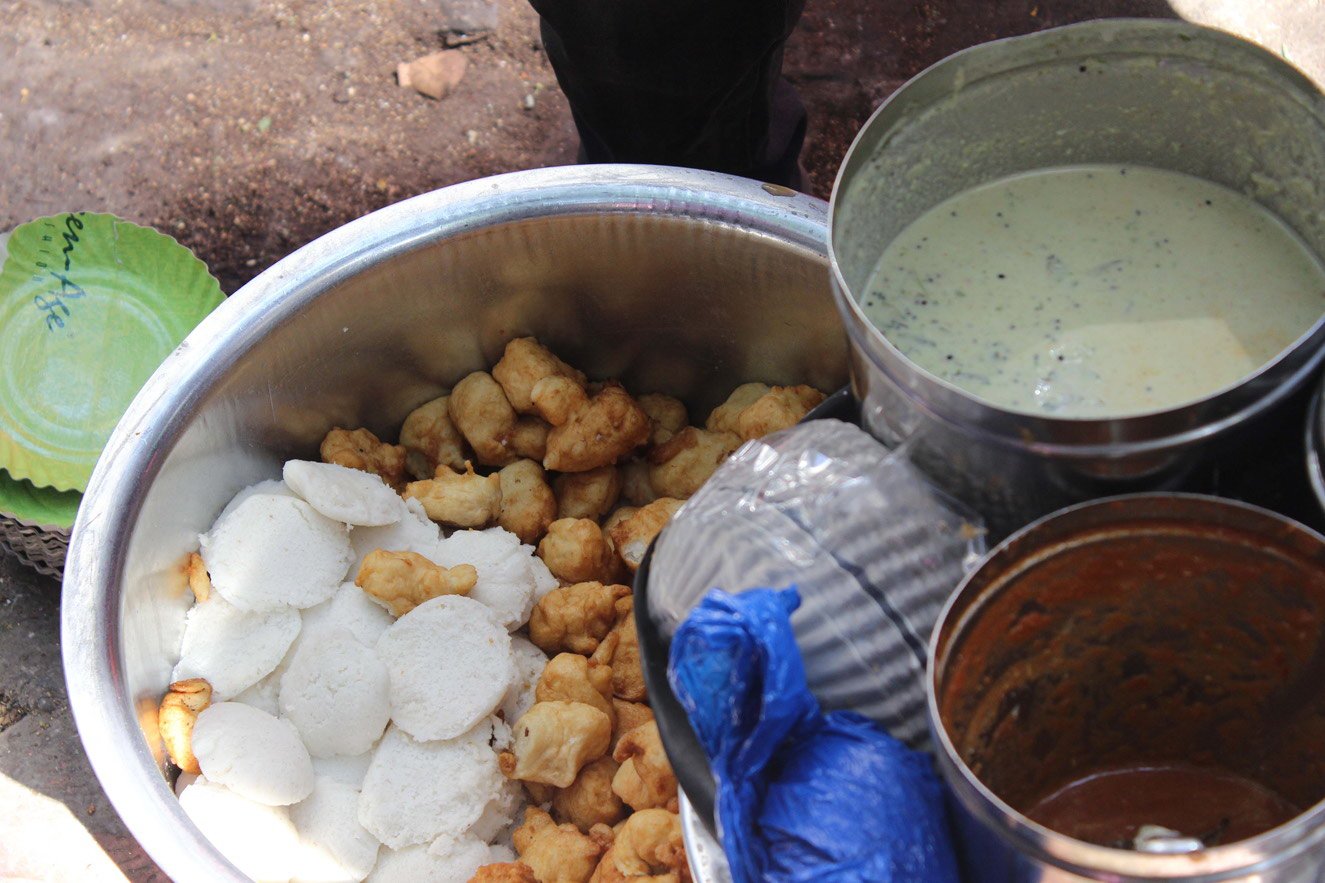 PHOTO • Prarthana Uppal
The lanes in Dharavi that the men traverse may be something of a puzzle to an outsider, but the men zip through, balancing the heavy containers over slippery wet tiles and across sewers.
Their homes tell us a story of long battles to survive in one of the most expensive metros in the world, and to serve the cheapest breakfast the city can have. It is a giant workshop inside these homes, where men and women light up their stoves before dawn and a gigantic steamer produces huge amounts of idlis in record time.
Firing up at 4 a.m., they fill the idli moulds with fermented batter made of rice and urad dal , which is soaked overnight. The moulds are lined with plastic sheets that prevent the idlis from sticking. Each steamer contains three trays that yield around 100 steaming idlis at a time. While the idlis are being prepared, the work on making the delicious coconut chutney , tomato chutney and the sambhar also commences.
Mani Subramanium has been selling idlis every day near Bhatia Hospital and Sophia College in central Mumbai for over 20 years now. He recalls: "I was 20 years old when my uncle brought me to the city from Madurai. I wanted to become an actor, like Rajnikant. But things didn't turn out in my favour. Idli - making was the only skill I knew."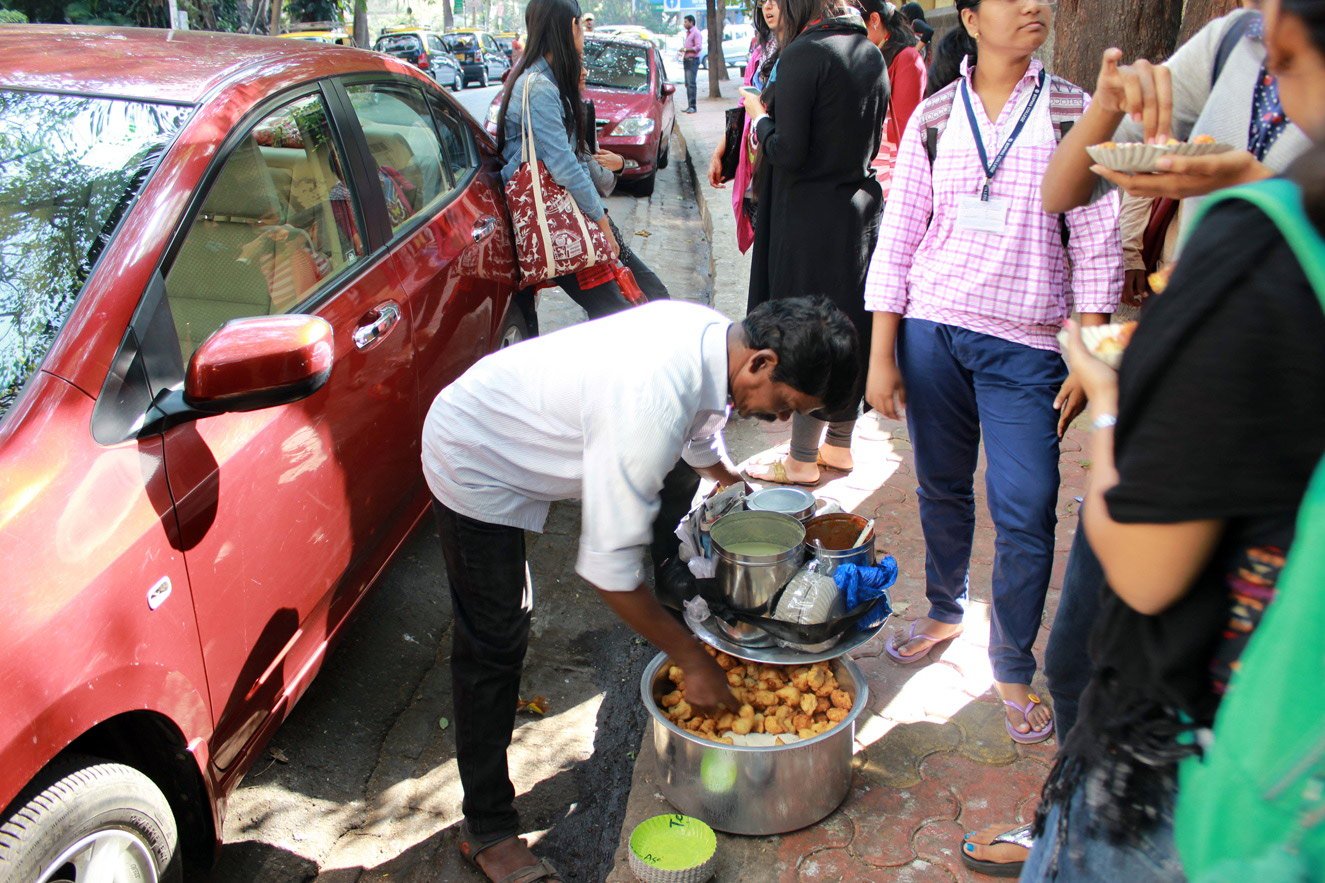 PHOTO • Prarthana Uppal
Mani started from scratch and has now become a known figure in the idli industry, selling 600 pieces per day. He and his wife – who wakes up at dawn to work with her husband – introduced the dal vada to hungry college students. Afreen Ansari, one of his regular customers says, "Anna (elder brother) makes the most delicious idlis . They are so light and tempting. I often take them home."
Yatin Rathore, another regular, has been eating Mani's idlis for 15 years: "I must have been five or six years old when I started. The taste has been consistent since then and Anna specially remembers my choice of chutney."
"I am happy I can fill so many stomachs every morning in Mumbai, Mani says, "The city has given me a lot. My daughters Sujitha and Ajita are studying and teaching me how to take my business to a new level."
Like Mani, many others too entered this business only after attempts to find other work failed. K. Pandi, 35, came to Mumbai for a job but eventually decided to pursue the idli business. "I had my family's responsibility back at home and there was very little money left. I started off living in a small room with a few acquaintances, where we did the cooking," he remembers.
"I was given idlis , medu vadas and small dosas to sell. I used to wake at 3 a.m. to help in the cooking, at times cutting the vegetables. I was eager to learn everything so that one day I would not have to be dependent on anyone," he says.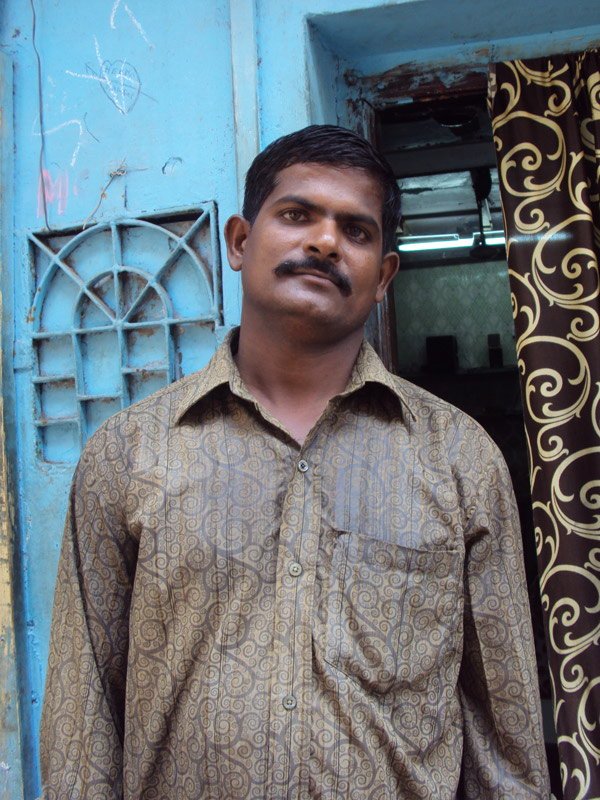 PHOTO • Prarthana Uppal
Around 7 a.m., he would leave in a packed train for Vikrant Circle, home to a sizeable Gujarati community in Ghatkopar in north Mumbai. In the beginning, it was difficult for Pandi to carry the huge vessels and sell idlis . "But as time passed, I became a familiar face," he says. "Mothers eagerly waited for me as they wanted to serve their children idlis for breakfast. They told me they liked the small coin sized idlis because their children never wasted them. It was also ideal for them to pack into tiffins."
Pandi started off selling four idlis for a rupee and a dosa for 50 paise – one of the cheapest snacks available. Over time, he bought a bicycle of his own. He carries a big plastic bag for the waste and is particular that no one litters on the roads. "People in cars come and stop by to buy idlis from me. I sit near the circle and have served many a rich Gujarati businessman," he says.
Pandi gradually settled down; he has three children who are enrolled in a municipal school at the Labour Camp area in Dharavi. "My only education was to sell all the idlis and not bring any of them back," he says. "I am so happy to see my children learning. There is so much to learn from them."
While most of the idliwalas are men and the women help at home with the business, a few women, like Alagu Thai, are also sellers. She works hard to run the business that her late husband started. Alagu, 36, speaks only Tamil but manages to sell, in multi-lingual Mumbai, all the food she makes.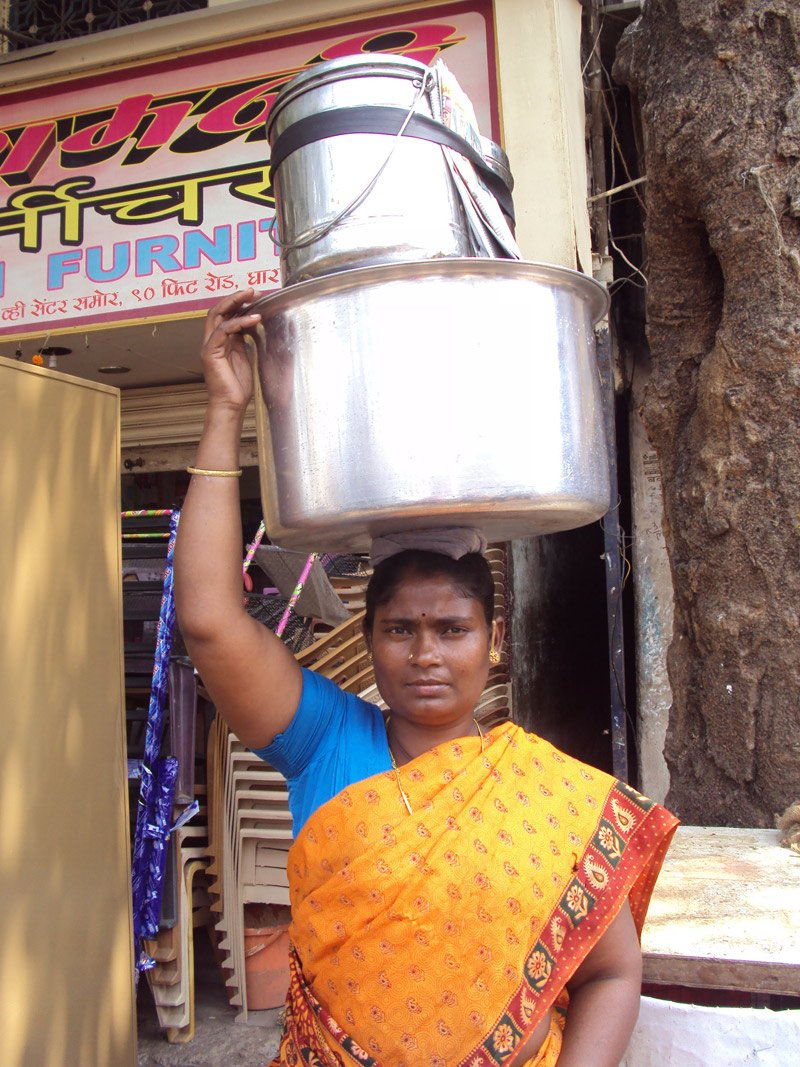 PHOTO • Prarthana Uppal
Like the others, she too leaves home early for Byculla station with her brother Malai Raman and a stock of 300-400 idlis , 250 vadas and 40-50 dosas . Alagu hopes to see her 19-year-old son make it big someday. "After my husband's death, I didn't know how to earn and fulfil my children's needs. I hope my son will not suffer as I did. I want him to study as much as he wants," her brother translates her words from Tamil.
Alagu, Pandi and Mani are among the millions who lost and found new dreams and a livelihood in Mumbai. And, like many other migrants, the "pom-pomwalas" have added something to this city.