It's after noon when a few cars arrive outside the community temple at Nadsur Katkariwadi. Vishnu Waghmare peeps to see who has come and says something in Katkari boli . The group of around 15 men and women move out to greet the visitors.
"They have come to pick up labourers in 'lots'. They are all going to be sitting for negotiations now. Most of our people don't understand that they are being fooled by these muqaddams [contractors].  They exploit us and we still go back to work for them. I never go to the bhatti, " says 21-year-old Vishnu, who occasionally does odd jobs that come his way in nearby villages.
Nadsur Katkariwadi is a hamlet in Nadsur panchayat of Sudhagad block in Maharashtra's Raigad district (or Raigarh in the Census). Many of the 360 Katkari Adivasis here – a community listed as a Particularly Vulnerable Tribal Group – migrate every year after Diwali, usually by mid-November. They work in the kilns of Andhra Pradesh and Karnataka, and in Chiplun, Amravati and a few other places in Maharashtra. By early June, they return to the hamlet. These bhattis produce charcoal from the wood of babool trees, which is used for barbecues and tandoors in restaurants.
The trucks carrying the workers reach the kilns within Maharashtra after around 18 hours, and take up to 38 hours to reach the other states.  At the sites, the Katkaris put up flimsy dwellings on open fields using hay, bamboo and sugarcane waste. They stay in these without electricity or toilets, and in constant fear of wild animals and snakes.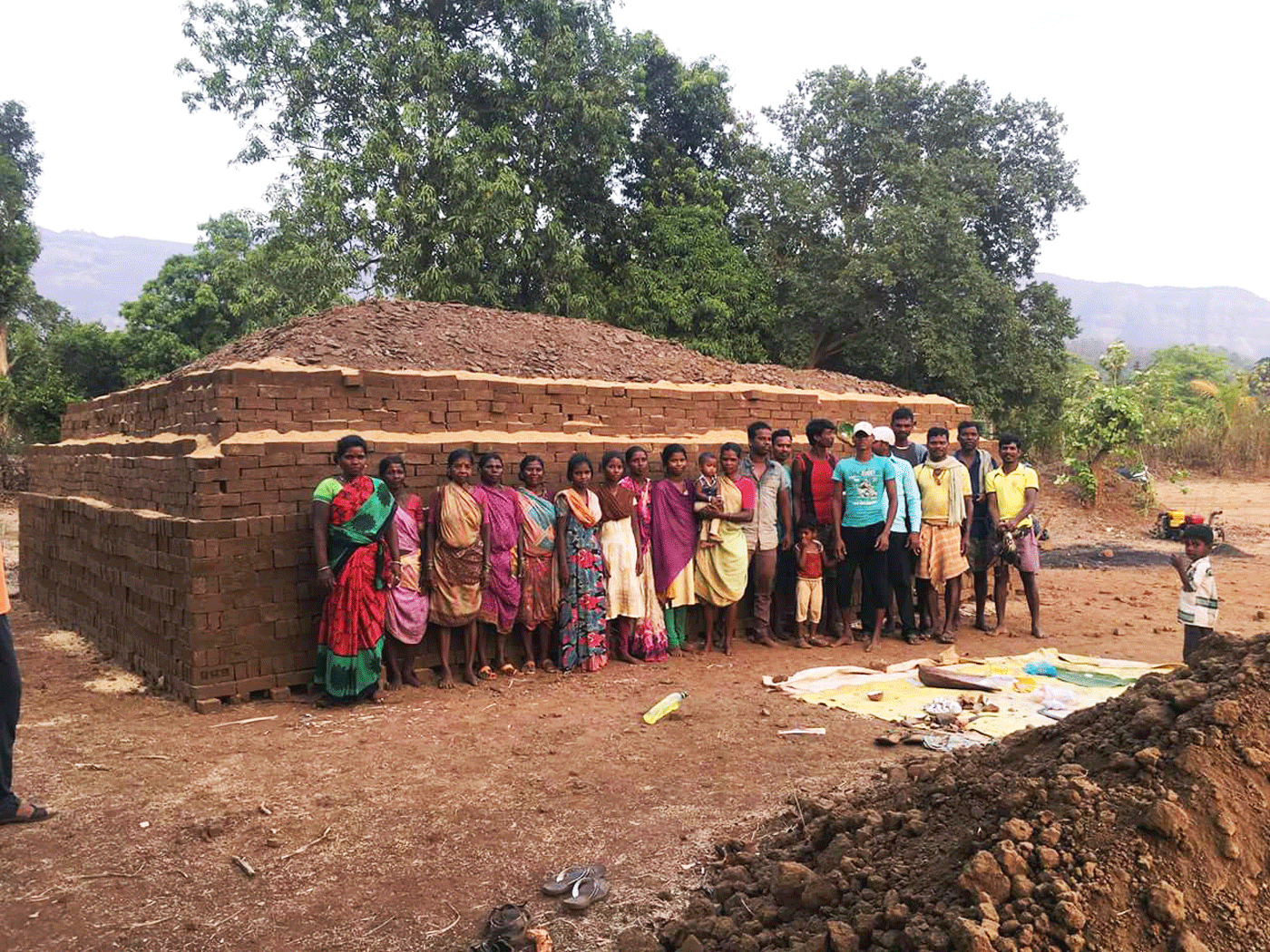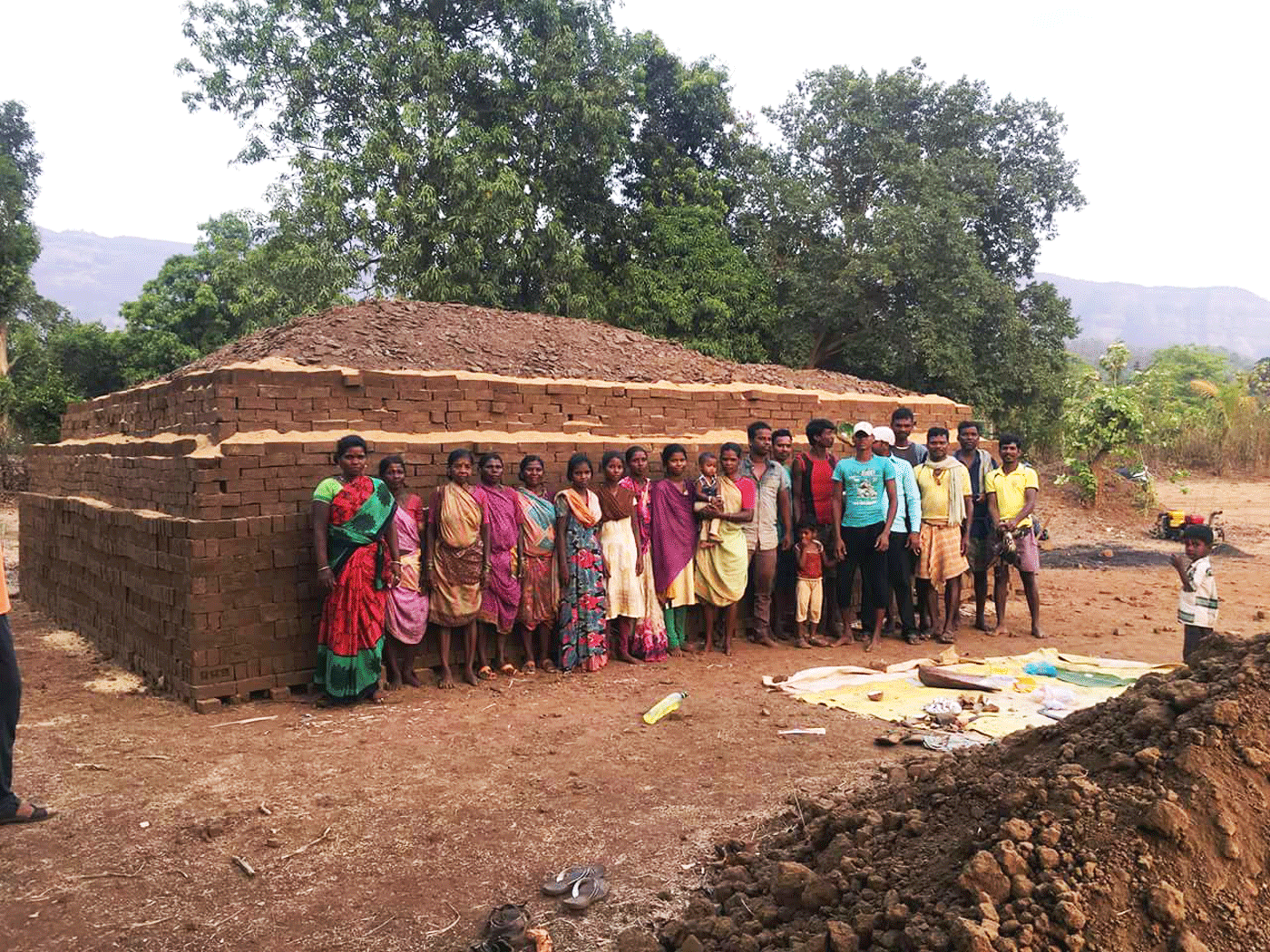 PHOTO • Karishma V.
The babool groves are in the forests, on land usually owned by locals. The contractors make deals with the landowners for the wood in exchange for clearing up their fields for plantation. The workers cut the babool trees, set up a kiln, pour sand and bake the babool . They then have to fill trucks with the coal. After all the land is cleared of the trees, they clear the field and make it cultivable.
"The muqaddams pay Rs. 20,000-40,000 upfront," says Sandeep Pawar, 36, of Thanale Katkariwadi hamlet in the same panchayat . The amounts depend on the location of the bhatti and the type of tasks – and on the negotiations. "This much money paid for work in advance is  tempting for our people. Sometimes, if there is a wedding in the family, the muqaddams might pay a family up to Rs. 80,000."
At the kilns, a couple is regarded as a labour unit. Other family members who migrate, help with carrying sacks and with other tasks. This speeds up the work, but they are not paid separately. The contractors also give each family up to Rs. 400 every week for food and ration supplies – that is, around Rs. 12,000 for seven months. This amount is counted as part of the wages, which too the couple must work to pay off.
The work is gruelling, starting at 7 a.m. and going on till at least 9 p.m., with one day off in the week to buy provisions from nearby markets. Shashikant Waghmare, who is working this year in a bhatti in Khed taluka of Pune district, says, "Today is Makar Sankranti, and we are working non-stop since morning. Sometimes we load trucks with wood or coal till late at night."
The work is gruelling, starting at 7 a.m. and going on till at least 9 p.m. 'Today is Makar Sankranti, and we are working non-stop since morning. Sometimes we load trucks with wood or coal till late at night', says Shashikant Waghmare, at a kiln in Khed taluka
The contractors say they calculate the number of sacks filled for the payment at the end of the season, after deducting the advance.  Mangesh Rathod, the muqaddam who visited the hamlet that day and is based in Ahmednagar town, around 240 kilometres away, says, "Each sack of coal contains 25 kilos and we pay a labourer [couple] Rs. 120 for each sack filled."

Another contractor, Navnath Chavan, at the kilns in Daryapur taluka of Amravati district, also insists the per-sack rate is applied. In 2018, workers from 36 families in Nadsur Katkariwadi migrated to the kilns in Daryapur. "We pay them an advance. For each sack of coal they produce, we give a family 120 rupees. They are bound to us till they repay the advance amount. If they produce more sacks than this in the season, we give the extra per-sack amount in cash after deducting the ration money."
In a good season, a labouring family can fill up to 1,000 sacks – or Rs.120,000 worth of work. On average, a family usually fills at least  500 sacks, which should fetch them Rs. 60,000 (minus the advance and ration amounts). But usually, at the end of the stay, a family does not receive any extra amount. No one in the nearly 40 families  I met at Nadsur Katkariwadi and Thanale Katkariwadi could recall being paid per sack. They all said that almost always they produce between 500-700 sacks of coal per season, but none of them had received any extra money any year at the end of the kiln season.
Sangita Waghmare, a 32-year-old regular in the babool kilns, says, "We had taken an advance of Rs. 70,000 for a wedding. So, we had to work to repay that and the ration costs." That is, a total of about Rs. 82,000, or nearly 700 sacks. She and her husband managed to fill 1,000 sacks that season. I showed her the calculation and asked her if she had got Rs. 38,000 from the muqaddam for the remaining 300 sacks. She giggled and said, "He gave us a stereo and two gold coins." That's Rs. 5,000 worth of incentive goodies.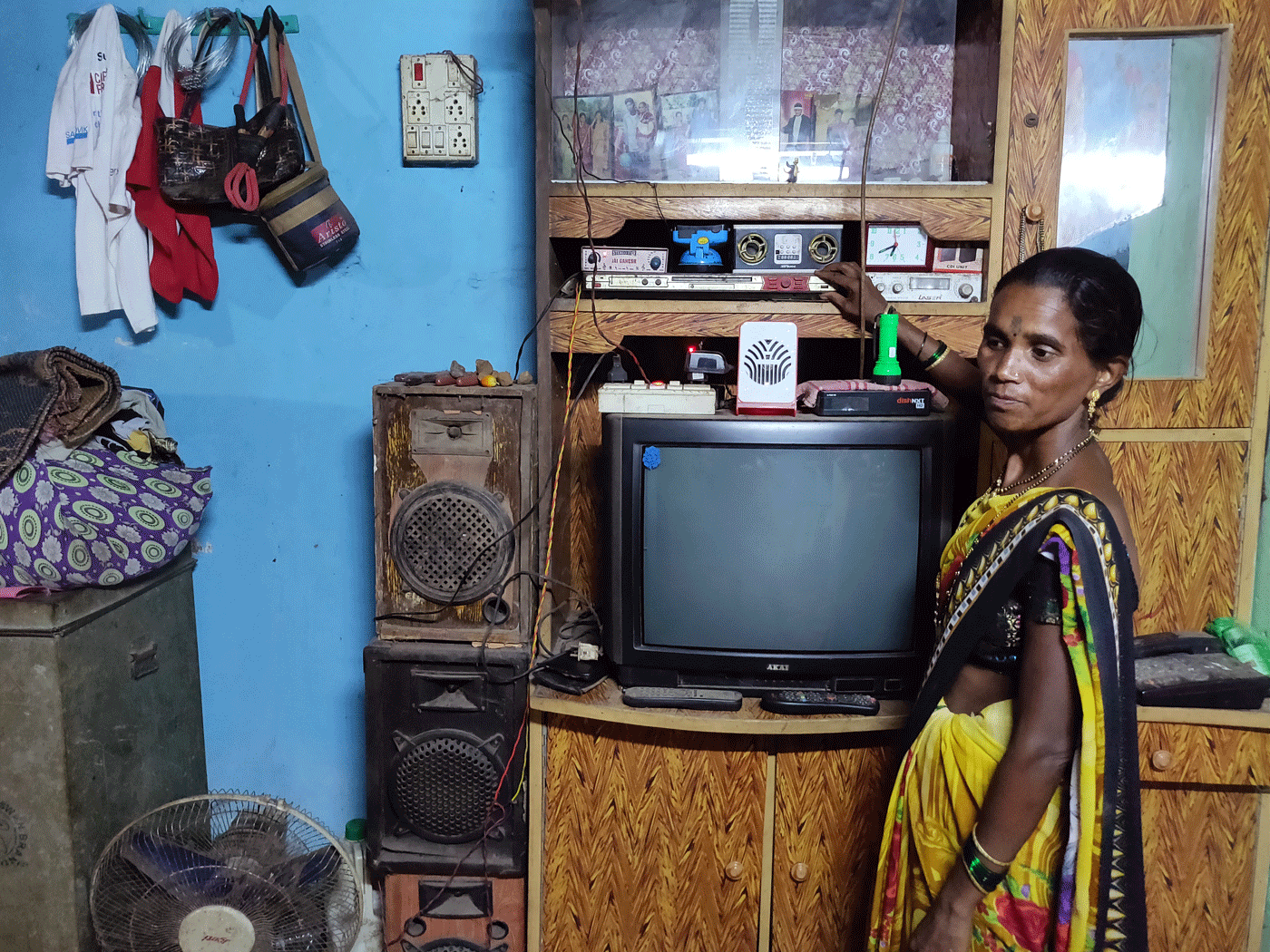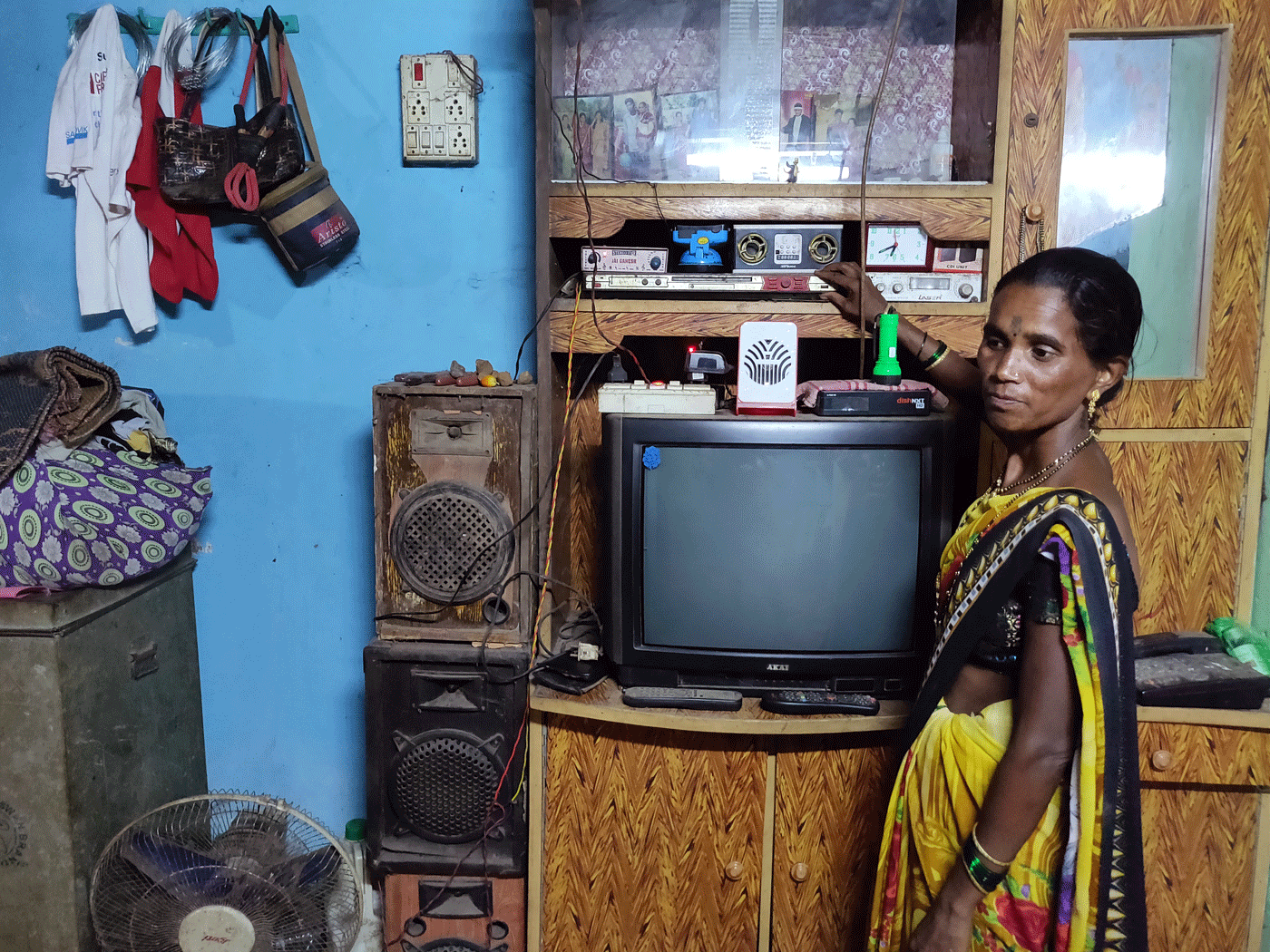 PHOTO • Karishma V.
"If you are given an advance of Rs. 30,000, you have to work till the muqaddam tells you that your dues are cleared. If a family manages only about 200 sacks in a season, they have to come back next year without pay and work till their dues are cleared off," says 79-year-old Bapu Hilam, a respected senior of the hamlets.
During their months of stay around the coal kilns, the workload is immense and food is inadequate. By the time the Katkaris return to the hamlet, their kids are malnourished. In some districts, the anganwadis provide extra eggs or groundnut chikkis between July-September each year for pregnant women, lactating mothers and children between 2-6 years of age.
Babu Mahadik, the headmaster of the Raigad Zilla Parishad School in Thanale (a non-Adivasi hamlet within the panchayat ), says, "We have a total of 40 kids of whom about 20 are from Katkari families. After October, these kids migrate to other states with their parents and return in June. During these months, they are not enrolled in the local public schools. When they return, they are pushed to the next class due to the no-failing policy of the government. By the time they reach the ninth standard, all they know is mulakshar and barakhadi [basic literacy]. Most of them fail in the 9th and drop out."
Many of the non-Katkari families in hamlets like Thanale own land, and cultivate sprouts and legumes after the monsoon. Some look for daily wage work in and around the taluka. Many have family members working in town and cities.
'If you are given an advance of Rs. 30,000, you have to work till the muqaddam tells you that your dues are cleared. If a family manages only about 200 sacks in a season, they have to come back next year without pay and work till their dues are cleared off', says Bapu Hilam, a respected senior
The per-day rate for agriculture labour in Nadsur can go up to Rs. 350 for men and Rs. 250 for women. "But agriculture is seasonal here, and there is no work within the village after the monsoon, once the paddy harvest is complete. Most of us don't have land of our own either. That is why our people migrate after the rains," Sandeep says.

When the Katkaris migrate, it also prolongs their attempts to acquire various documents. Many caste certificate forms are gathering dust at the tehsil office because the villagers migrated after applying and could not be present for the house-to-house evaluations conducted by talathis . A caste certificate, issued by the sub-divisional magistrate of a district, is an important document for Scheduled Tribes to access state schemes and subsidies. The Katkaris are also often absent during critical household surveys, due to which they are almost always unaccounted for.
Work options are limited in the hamlet, but is it worth going away for seven months for an amount that becomes threadbare when calculated for the entire family for that period? "In times of crisis and urgent need for money, the workers get as much advance as they need from the kiln contractors. MGNREGA might pay more per day [Rs. 201], but payments get credited into the accounts six months after work. Some people have not yet been paid their dues from 2015!" says Vishnu, who was recently on a MGNREGA block-level social audit team.
The Forest Rights Act (FRA) of 2006, if implemented properly in the area, will help. Over 3,500 hectares of  Nadsur's total geographical areas of roughly 5,100 hectares is forest land. But most of the Katkaris here don't have land on which they can farm. The FRA could give them individual or community forest rights, that will allow cultivation as well as collection of minor forest produce. "Many of us used to cultivate in the forests till the forest officers shooed us away," says Sandeep. "Now, a handful of us have managed to get titles to plots of forest land and don't have to migrate."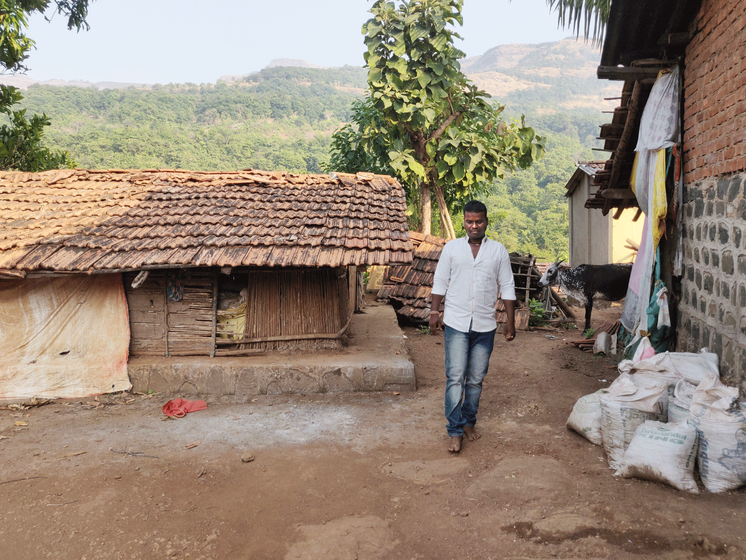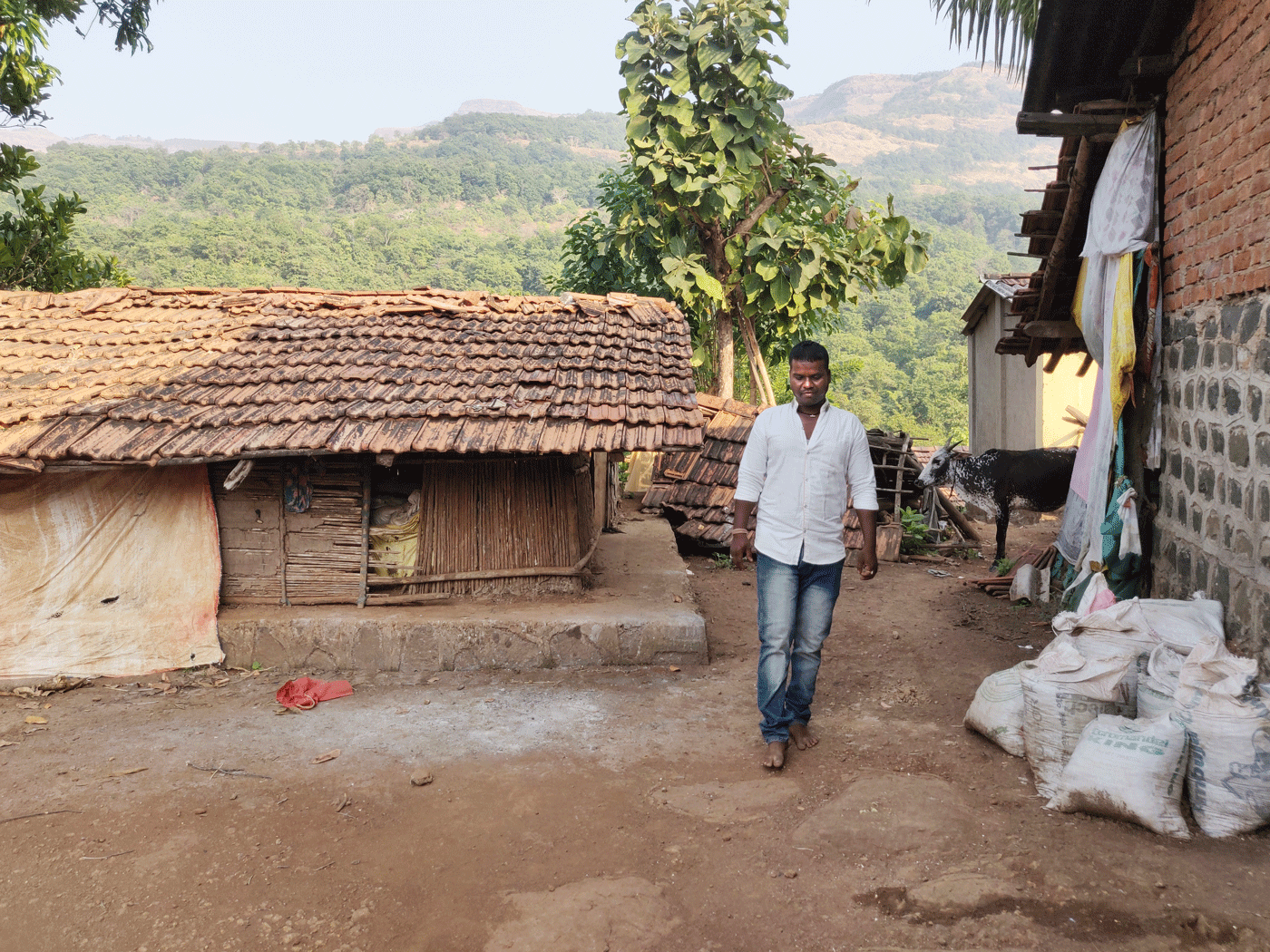 PHOTO • Karishma V.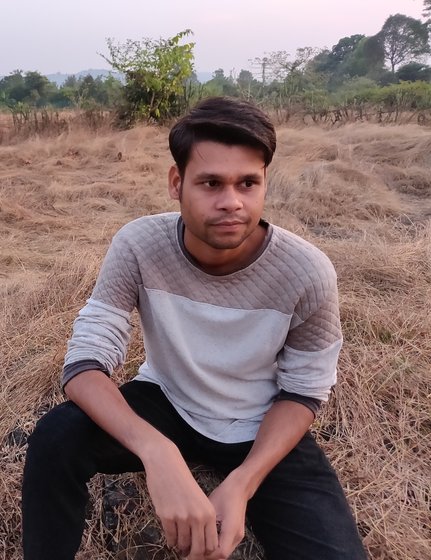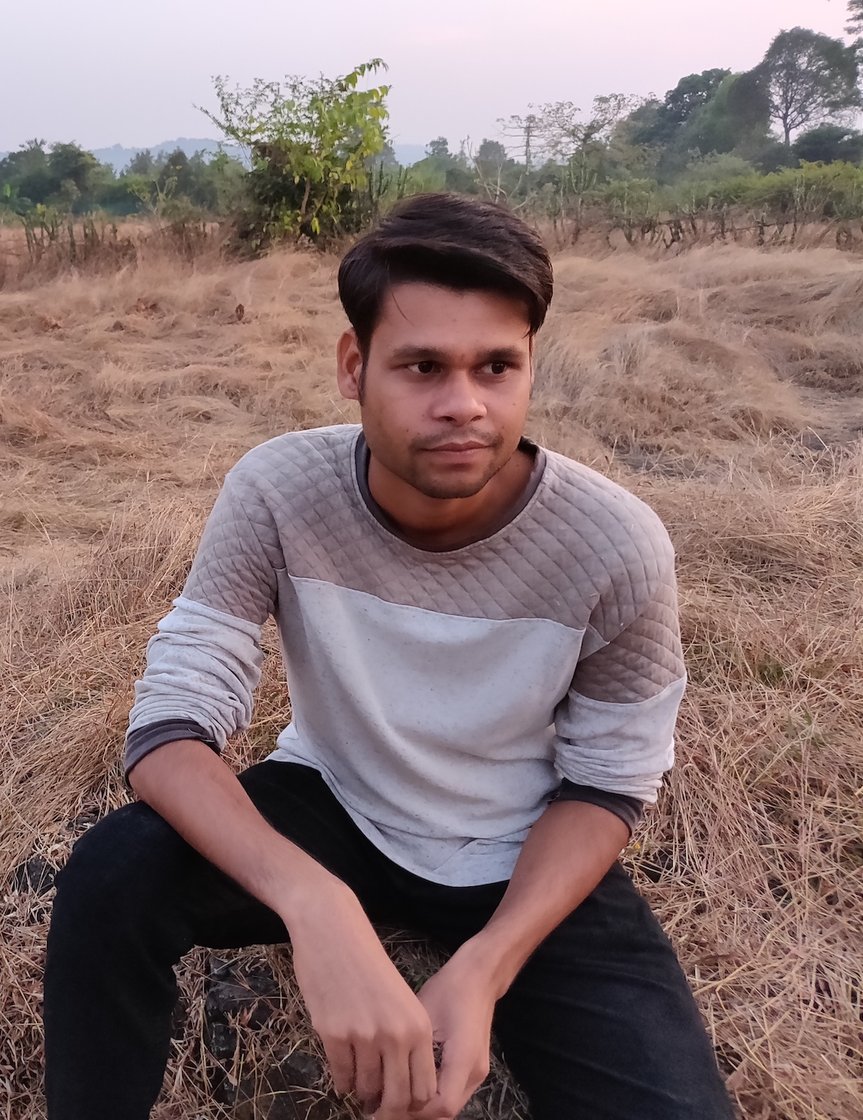 PHOTO • Karishma V.
Sandeep worked in a coal kiln for one season in 2009, then decided never to leave the village to live in those conditions. He had the option because his father Hari Pawar was allotted 33 gunthas (40 gunthas here equal in acre) through the  FRA. His family also cultivates rice, nachani , vegetables and flowers on a bigger plot – for which they don't have the land title – further inside the forest.
But only three families in Thanale Katkariwadi hamlet, of the hamlet's 65 families, have got FRA land under 'individual forest rights'. Many could not access it due to a lack of documentation or even awareness about the legal provisions.
The Integrated Tribal Development Project office in Pen taluka of Raigad district also has funds and schemes for Adivasis, especially for PVTGs like the Katkaris. One of them is a 100 per cent subsidy of Rs. 3 lakhs in three instalments to groups of 10 persons to set up a brick kiln. "Instead of going outside to work in bhattis [kilns], we have our own vit [brick] bhatti now," says Sandeep. He and a group of nine others run the kiln and share the profits – a total of around Rs. 20,000 per family for eight months of work from around March to October. During this period, from June to October, some also find agricultural work for the kharif season.

But many Katkaris don't know of the bhatti scheme. After Sandeep's success, in 2018, two more applications from Nadsur Katkariwadi and one from another Katkari hamlet in the taluka have been sent in.
The tourism industry is also providing some work. Pali town in Sudhagad tehsil is famous for one of the eight Ganpatis of the Ashtavinayak circuit, and known for a historical fort and caves. Nadsur is an entry point for both. "We don't migrate because we are employed by farmhouse owners.  The wages are low [Rs. 200 a day for men, Rs. 150 for women], but at least we live close by. We also get some money in advance if we really need it," says 51-year-old Bhiva Pawar of Bahirampada Adivasiwadi in Nadsur panchayat .
The 12 families of this hamlet all manage to stay back during the migration months, when Katkaris from the nearby hamlets leave in large numbers. One of them says, "If it were up to us, we wouldn't leave our village ever."