It is February 26, K. Shyla's 18th birthday. She is wearing a new dress today, jasmine in her hair. Her mother has cooked her favourite chicken biryani, and she has given a small treat to her friends in college.
Shyla studies at a well-known private nursing college, the Sree Sastha College of Nursing in Chennai. Getting admission at this English-medium college was a struggle. Finding acceptance was even more difficult.
The day the other students found out that her father, I. Kannan, had died while cleaning a septic tank, their next question was about her caste.
"Suddenly," Shyla says, "I felt an unseen wall between us."
She and her mother have been knocking down that unseen wall since Kannan died on September 27, 2007, along with two other conservancy workers. He was a mason and coolie from the Adi Dravida Madiga community, a Scheduled Caste primarily employed as manual scavengers. He would go to clean out septic tanks and sewers whenever called.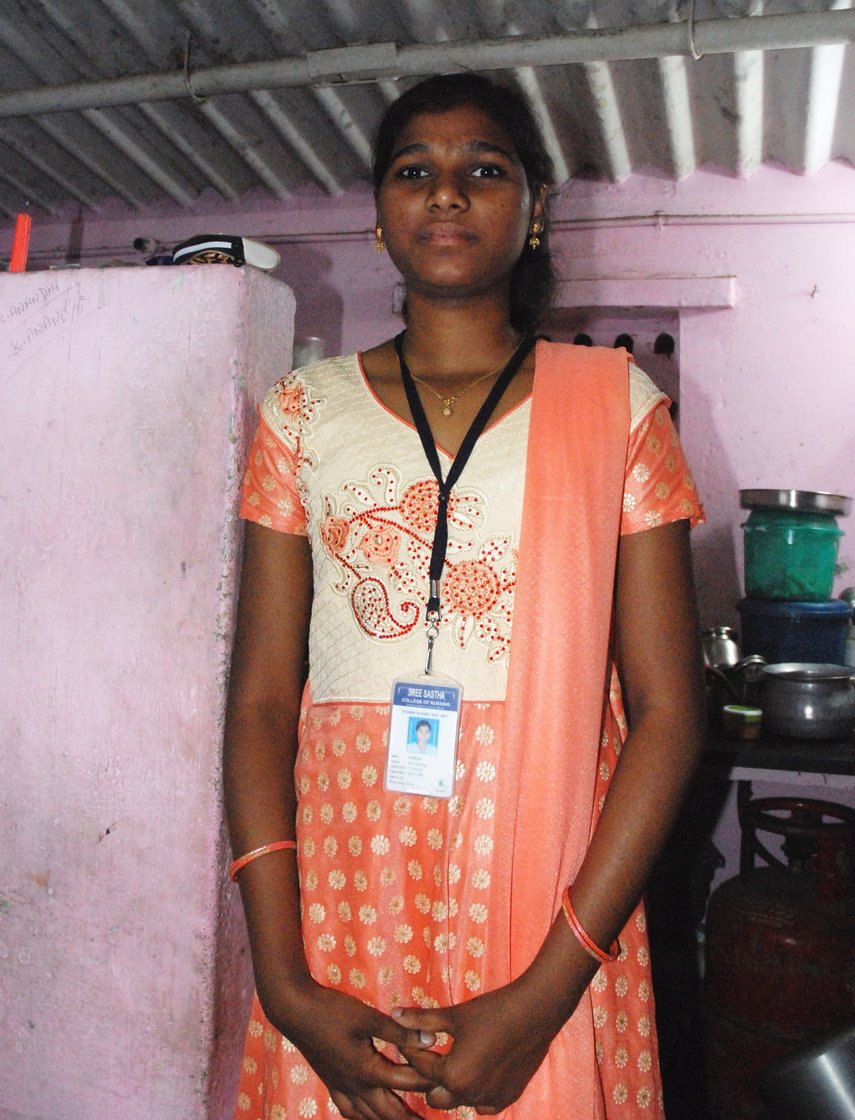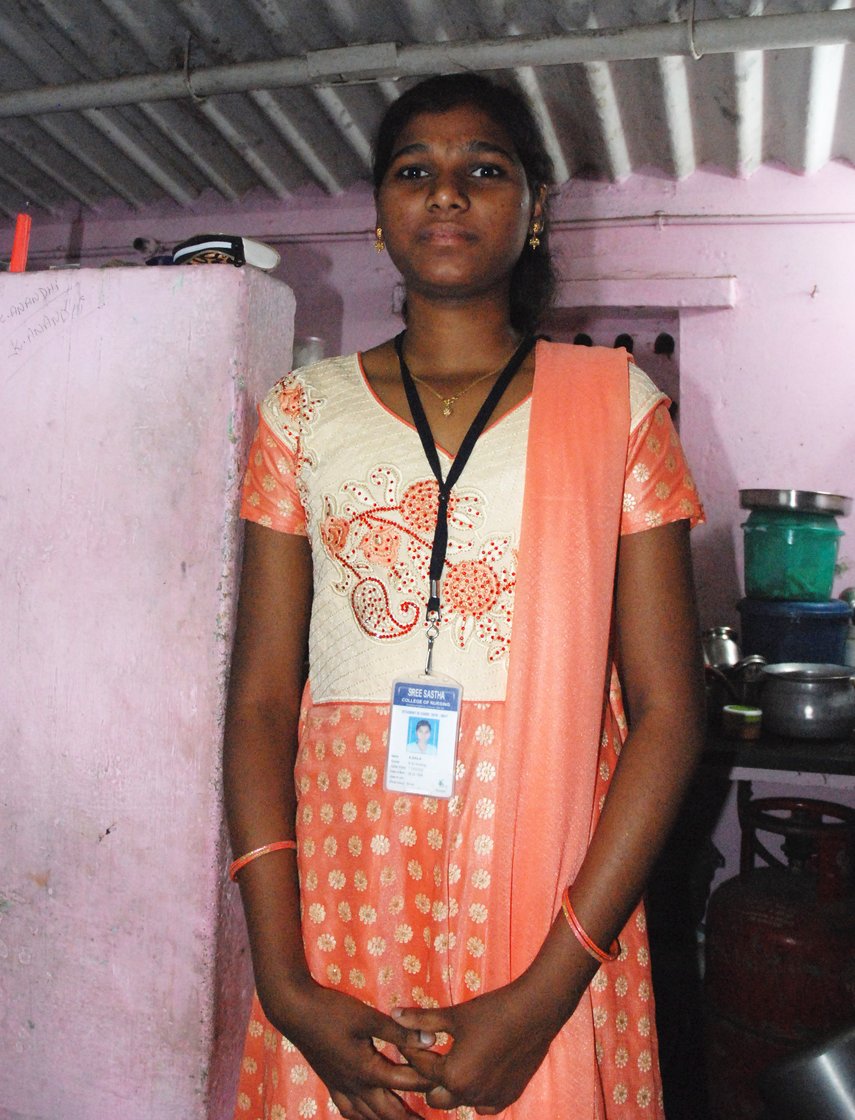 PHOTO • Bhasha Singh
"It's been a long struggle," Shyla says. "I am trying hard to master the English language.  My father wanted me to become a doctor, but without him, that was a difficult dream. I joined a nursing college instead. Nobody from our locality has taken this course. If I qualify as a nurse, it will be in my father's memory. I don't believe in caste and there should be no discrimination on the basis of caste or religion. The one thing I want to tell the whole world is that nobody should die as my father did.
"Slowly," Shyla continues, "I was able to interact with my college friends on an equal footing. Now some of them even help me with my studies. I studied in Tamil-medium, so my English is weak. Everyone asks me to take coaching classes in English, but we cannot afford them, so I struggle to learn on my own. Failing is simply not an option for me."
Shyla is proud that she did well in Class 12, setting a record in the vicinity. The media  reported the story of her success, and that helped her find monetary support for her nursing education.
The details come bubbling out. Her mother, K. Nagamma, 40, is surprised, because Shyla is a shy girl. This is the first time she is seeing her daughter speak so openly.

Nagamma is doing her best to ensure that her daughters can dream of a happier future. Her younger daughter, K. Anandhi, 16, is in Class 10.
The day Nagamma heard about her husband's death she went into shock. Her parents took care of her. Shyla was eight at the time, Anandhi only six, and not yet in school.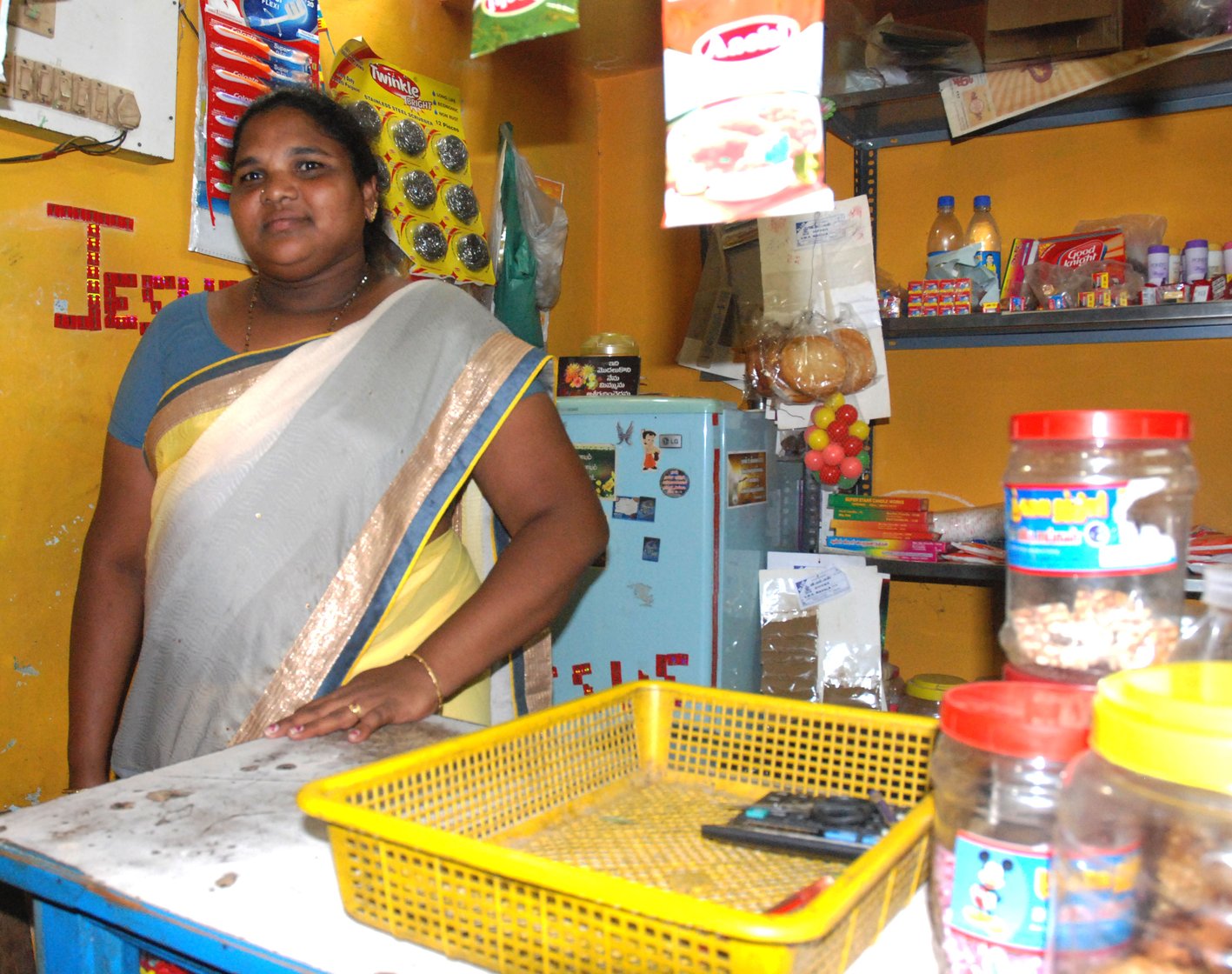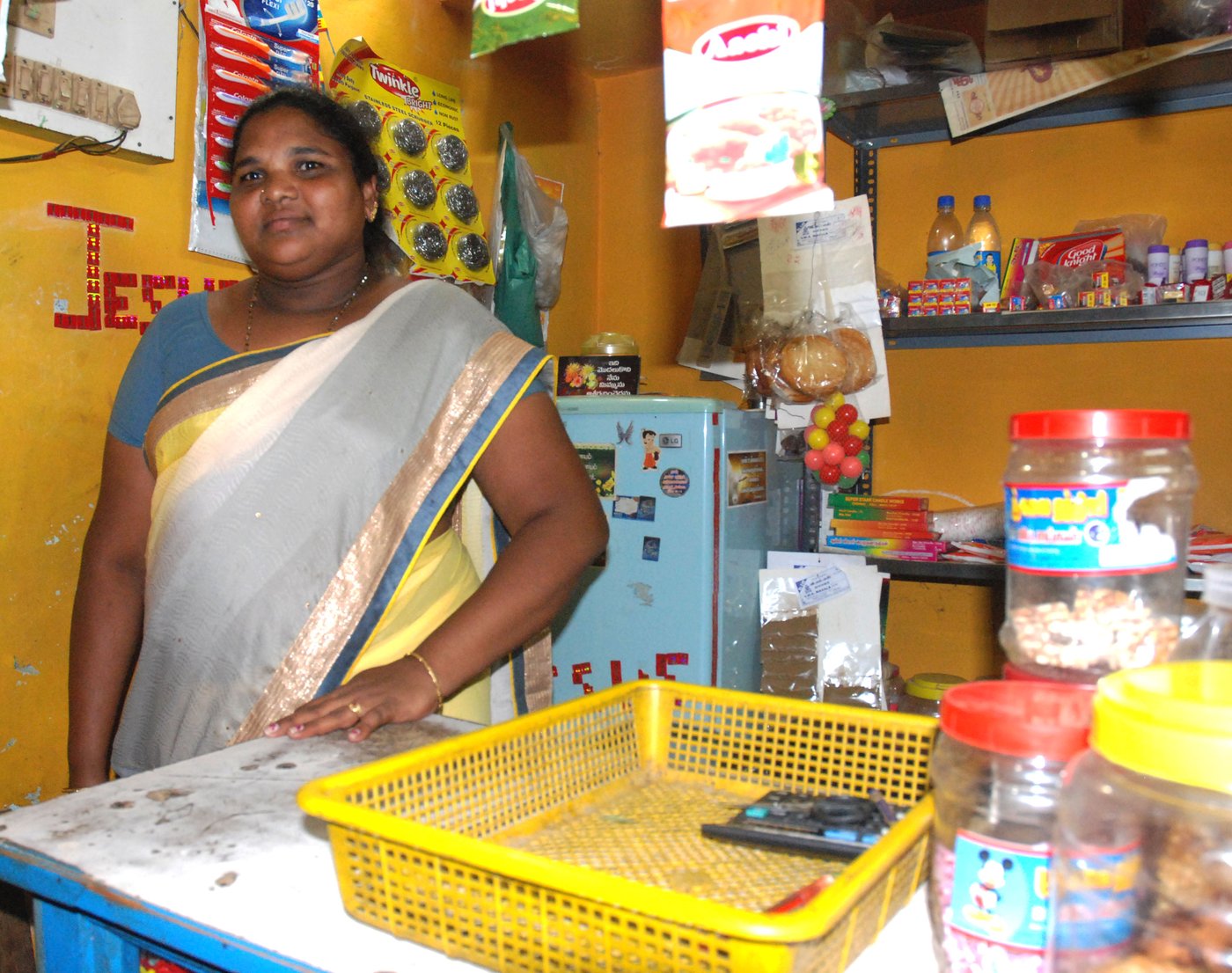 PHOTO • Bhasha Singh
"I don't remember how I went with my husband's body to Pamuru, our village in Prakasam district of Andhra Pradesh. Or how the last rites took place. My father-in-law took me to hospital, where I was given electric shocks [electroconvulsive therapy] and other treatment. Only then did I come to my senses. It took more than two years for me to accept that my husband was really dead."
It has been 10 years, but Nagamma stills breaks down as she recalls the trauma of his death. "Then my relatives told me that I have to live for my daughters, and that's when I began my struggle. I got a housekeeping job in a nearby factory, but hated that work. My parents were also safai karmacharis [conservancy workers] – my father was a septic tank/manhole cleaner and garbage collector, my mother was a sweeper."
In Tamil Nadu, the majority of safai karamcharis are from Andhra Pradesh; they speak Telugu. In many parts of Tamil Nadu, there are special Telugu-medium schools for the safai karmachari community.
Nagamma and her husband were both originally from Pamuru village. "I was married in 1995, when I was 18," Nagamma says. "My parents had migrated to Chennai before my birth. We went back to our village for my wedding and stayed there a few years before returning to Chennai. My husband began working in construction as a mason. Whenever there was a call to clean a septic tank, he would go. When I found out he was working in the sewers, I opposed it vehemently. After that, he just stopped telling me when he went for these jobs. When he and two others died in 2007 inside a septic tank, no arrest was made; no one was held responsible for their murder. See how the country treats us; our lives don't matter. Nobody came to our aid – no government, no officials. Finally, the Safai Karmachari Andolan (SKA) taught me how to fight for my rights. I got in touch with the Andolan only in 2013."
Once aware of her rights, Nagamma became vocal and assertive. She has met other women who have lost their husbands or loved ones in sewers or septic tanks. "When I came to know that I was not the only one who had lost a life partner in the gutter, that there are hundreds of women who share the same grief, I began to transform my sorrow into my strength."
That strength enabled Nagamma to leave her housekeeping job, and take a loan of Rs. 20,000 and, with help from her father and SKA, an all-India organisation. She then set up a shop for items of daily use in front of her house in Indira Nagar.
Her battle for compensation after her husband's death has brought home to her the tenacity of caste in 21th century India. In November 2016, the municipal corporation finally paid her the Rs. 10 lakh compensation mandated by a Supreme Court judgment of 2014 for all those who have lost their lives cleaning sewers. She repaid the loan amount, invested some more money in her shop, and opened bank fixed deposits in her daughters' names.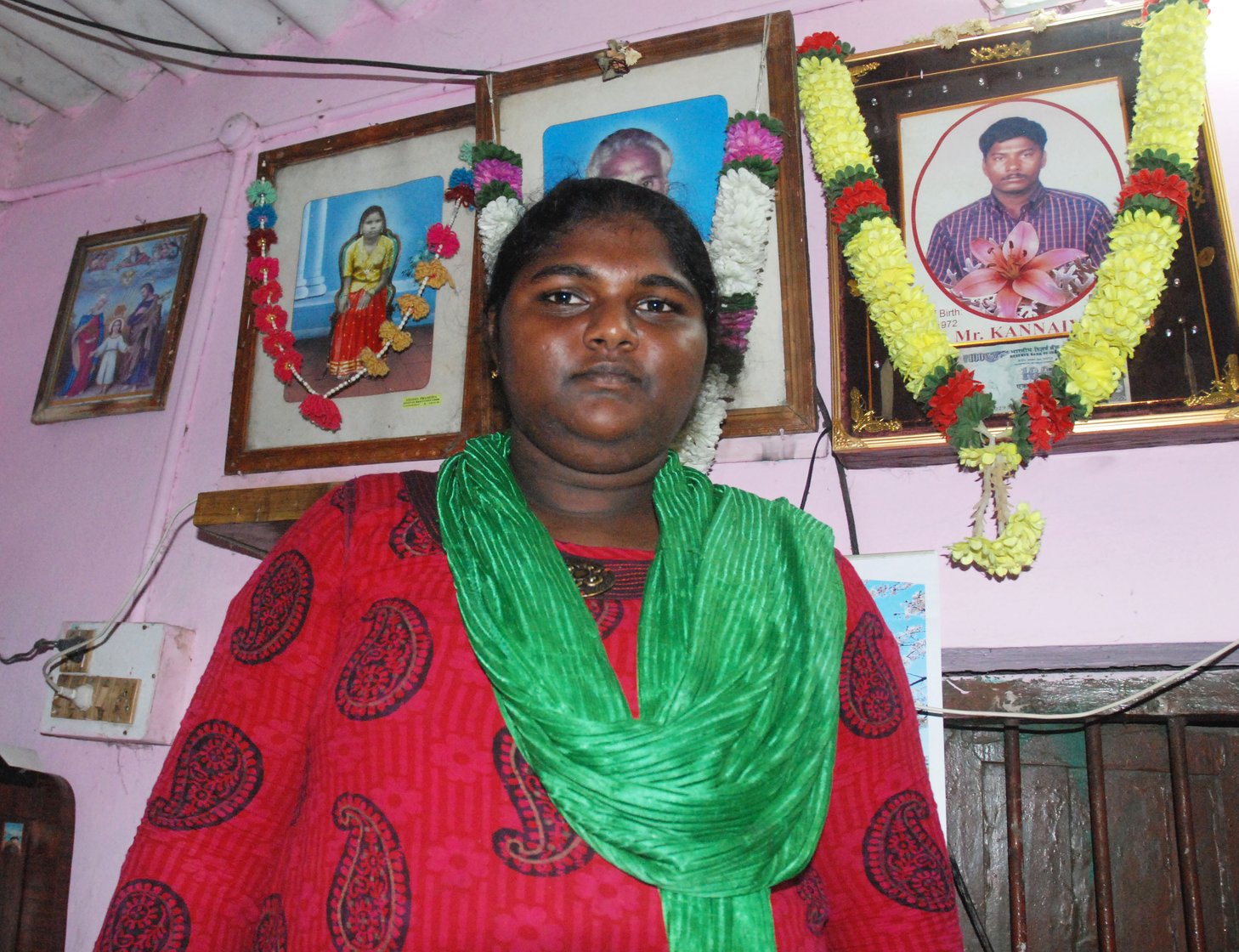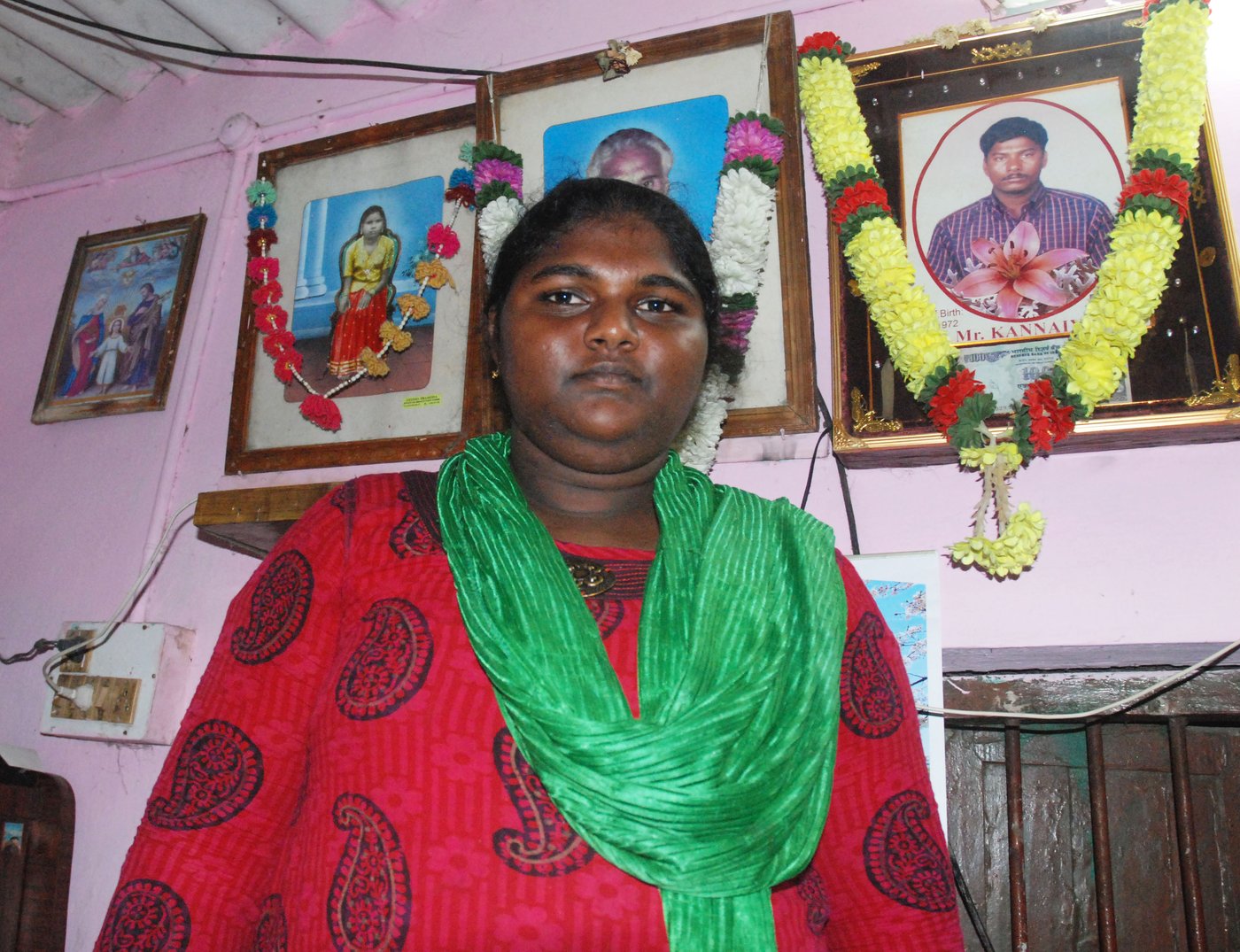 PHOTO • Bhasha Singh
"My mother is a fearless woman," Anandhi says, proudly. "Though she is illiterate, she has the confidence to talk to any officer, no matter how big he is. She pushed her application to every nook and corner. Officers used to be wary when they saw her enter their offices, because they knew she would wait for hours and argue endlessly for her rights."
"My husband died in 2007, and with so much struggle, and the backing of an organisation, I got the compensation by end-2016," says Nagamma. "According to the Supreme Court judgment of 2014, I should have got the compensation the same year. But there is no mechanism to deliver justice. No one is bothered. The system forced me to become a scavenger. Why? I refuse to accept this. I am fighting for a casteless life for me and my daughters. Whose side are you on?