"Nobody has ever interviewed me. I will tell everything…"
'Everything' includes some 70 years of cleaning toilets, sweeping, washing and scrubbing multiple homes in Mumbai's Khar West suburb, for a pittance. As late as in the 1980s and early 1990s, Bhateri Sarabjeet Lohat was getting Rs. 50 a month for cleaning all 15-16 homes in an entire building. That, and leftovers or throwaways from their kitchens.
"My name is Bhateri Devi. I'm originally from Sanghi village in Rohtak district of Haryana. I don't remember in which year I came to Mumbai, but I was newly married then. My mother-in-law had got the job for me, as a replacement for one of our relatives. My husband, (also a sanitation worker), died a few years later when my son was just two or three. He used to work in Dadar and while returning home in a local train, he stood at the door and was hit by an electric pole. He died on the spot."
It's been decades, but as she narrates this, the pain still comes through. Bhateri Devi,  is breathing heavily. She lives in Valmiki Nagar, Bandra East, Mumbai. Her Aadhaar card gives her birth year as 1932, which would make her 86 years old. But her lined and wrinkled face suggests Bhateri is over 90 – which she asserts she is. Her son Harish died on June 30 this year, well into his 70s. Bhateri got married when she was merely 12 or 13, after which she came to Mumbai with her husband Sarabjeet Lohat.
Her entire family (and most relatives from her husband's side) were in Mumbai, having migrated from Haryana. Almost all of them were sanitation workers in private jobs. Most of the people living in this locality are, like Bhateri, Dalits from the Valmiki community who migrated to Mumbai from Haryana at different times, in search of work. Like Bhateri, they all speak Haryanvi at home. Several of Mumbai's Valmiki settlements comprise of people from Haryana. That is particularly so in Bhandup Tank Road, Dombivli, Matunga Labour Camp, Vikhroli and Chembur.
Why did this caste get stuck with cleaning work? 'This is a thread of destiny. This work is the only work for our community, everybody does it', says Bhateri Devi

The patterns of migration of people from these particular caste groups, and the ghetto-like settlements they live in, are similar across the country. So is the caste-based menial work and its hold on generations within the community – in Mumbai, as everywhere else. These patterns are unseen and hidden from the surface shine of city life.
Bhateri, whose back is bent from years of gruelling work (' kaam karte karte' ), doesn't seem too bothered about her own condition in life. She began narrating her story, in fact, with great enthusiasm when we met at her Mumbai home. Everyone else in that home was puzzled. They had never seen her talking so freely about herself to anyone. That's when Bhateri told them nobody had ever interviewed her – and that she wanted to speak.
She then began talking. About her husband's death: "It was the most difficult time of my life. My elder and younger brothers-in-law also lived in the same home. I was earning at that time. I would get beaten up quite a lot by my in-laws.  They pressured me to get married to one of my brothers-in-law. I said no. I have a son, I will pass my time with him. I knew nobody would have respected me if I had married one of them. I earned for myself, I raised my son, and kept my honour with myself. I am very happy with my life."  (In some caste groups or communities, a widow is expected to marry her husband's older or younger brother).
"After I got married, I came here with my husband, his parents and a younger brother-in-law. In the beginning we stayed in Khar where the Khatik people [also a Dalit community] live."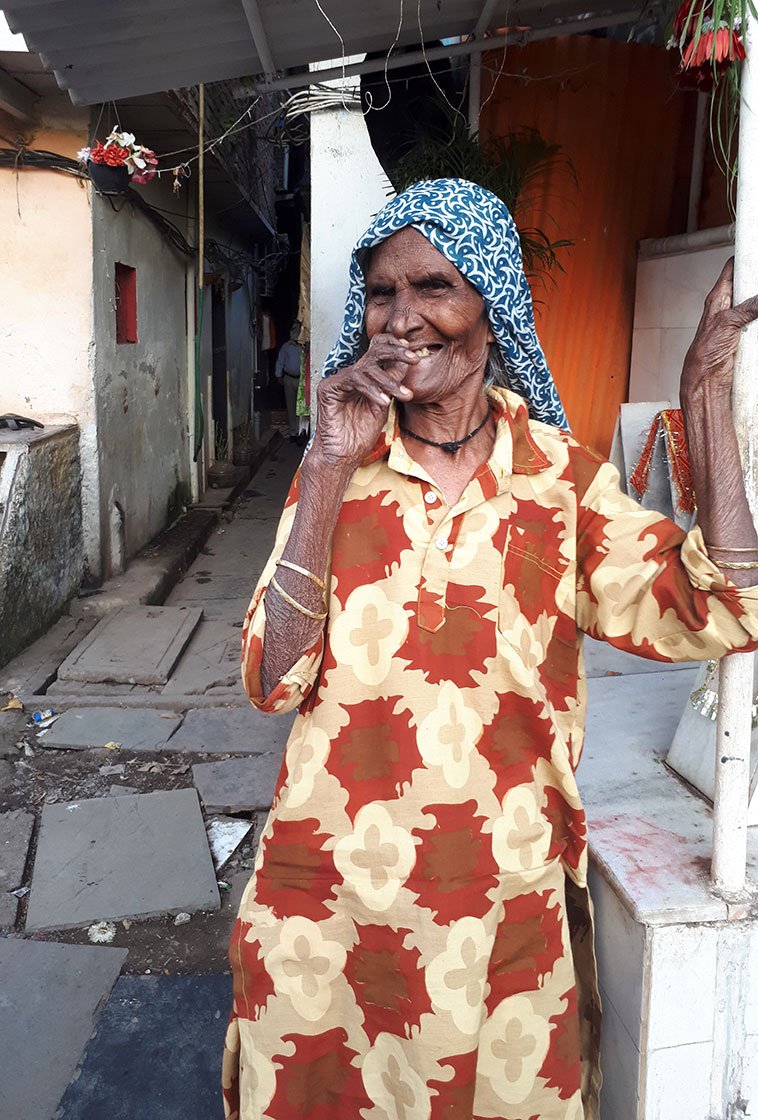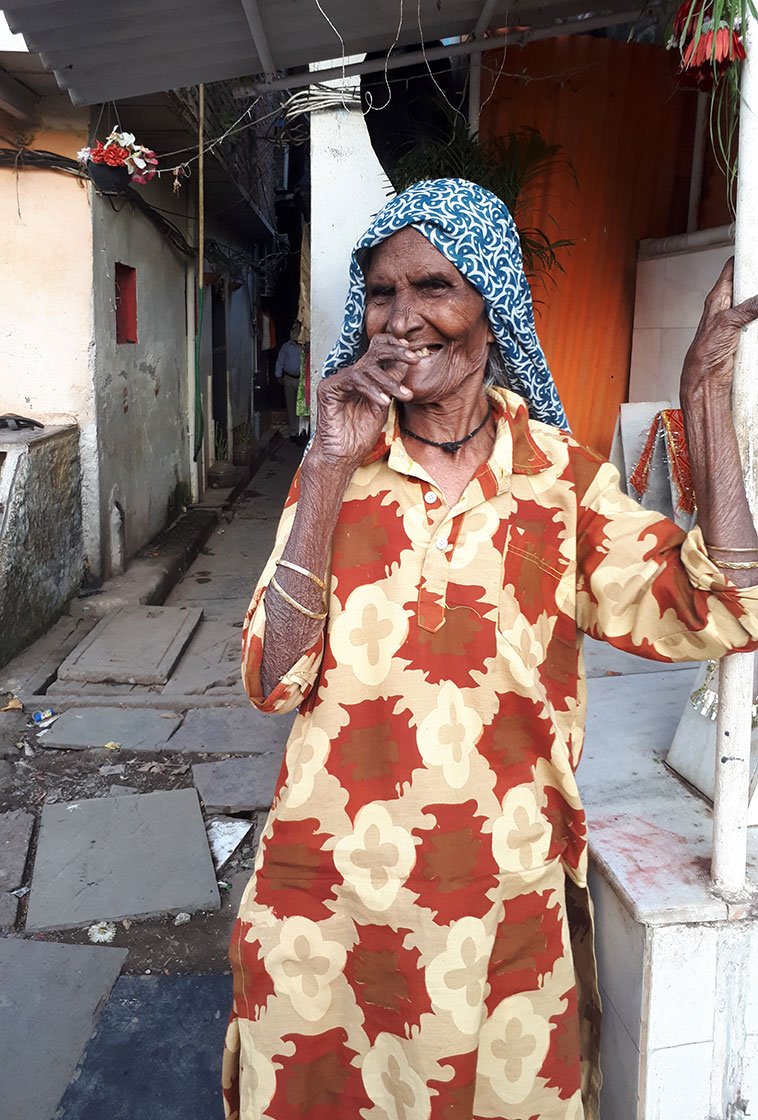 PHOTO • Bhasha Singh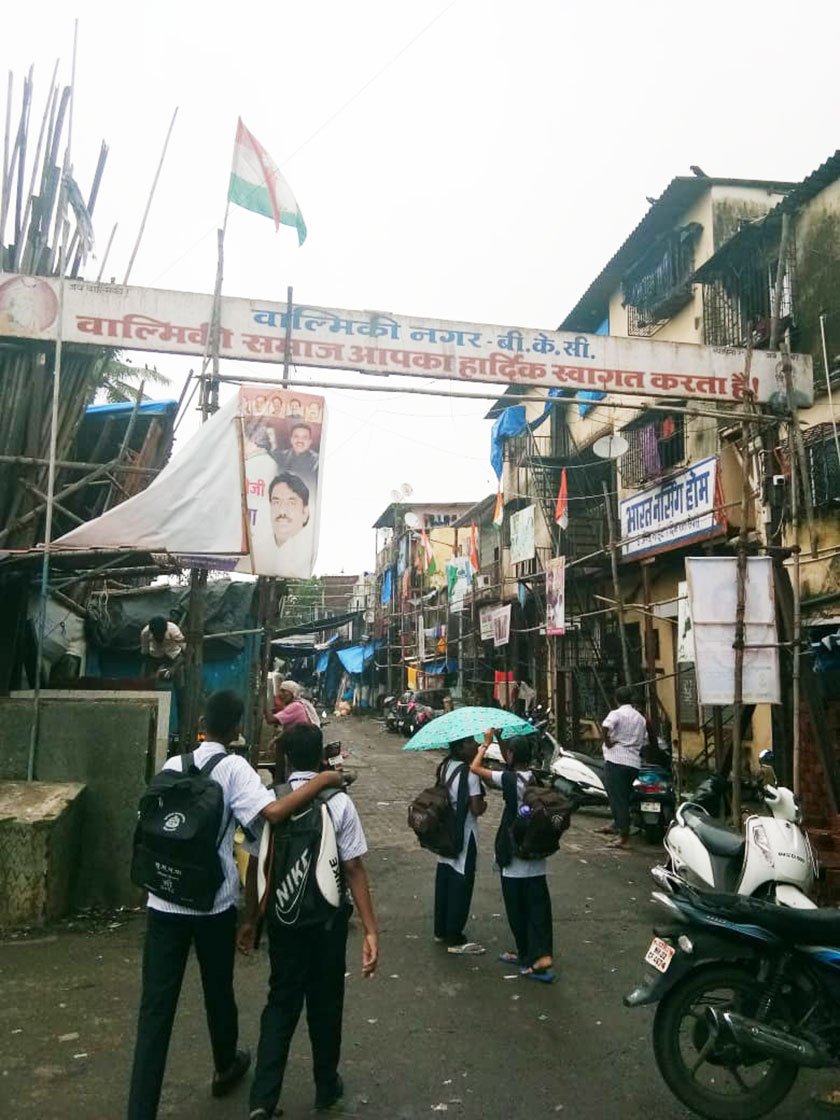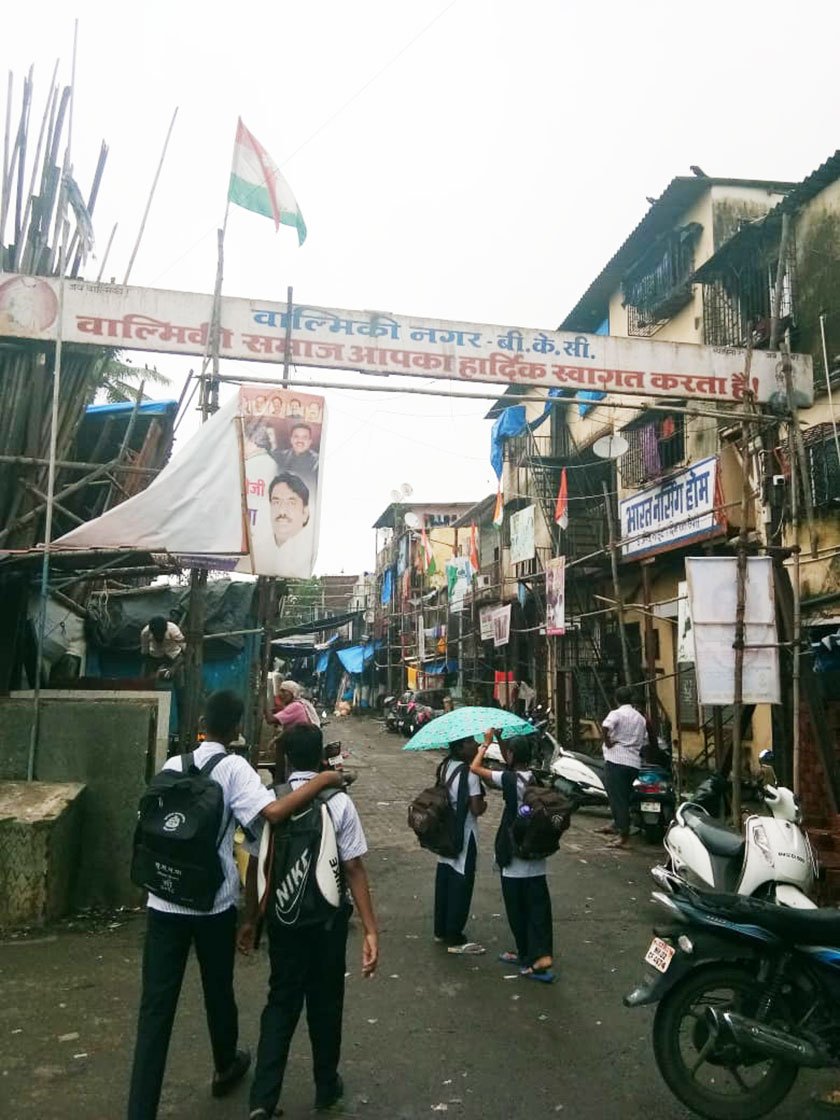 PHOTO • Bhasha Singh
"I worked in Khar all my life. In those days [early decades], there were fewer buildings. Mumbai was quite open and empty." Bhateri does not recall how much she earned when she was working. Nor does she remember the price of onions or potatoes or clothes when she first came to the city. Her mother-in-law controlled everything, from buying provisions to her earnings.  Bhateri would not get any money in her hands.
All her life in Mumbai, Bhateri wandered in and around the buildings of Khar West. That's where she began cleaning toilets and doing sweeping and scrubbing jobs. She did not give up working even after turning 80. Her granddaughter-in-law, Tanu Lohat, 37, wife of Sanjay Harish Lohat, said: "After much fighting and arguments, my grandmother-in-law's job has been transferred to someone else. To this day, even when we tell her not to, she goes to Khar West to meet the people there."
Sanjay worked at cleaning gutters for some time, but stopped after he contracted liver disease. When this writer met Bhateri, Sanjay had just been discharged from hospital after treatment. Within two months, though, he died of liver failure at the age of 40. Sanjay was a cheerful person and just some days before he died, had told us: "I have seen my dadi [grandmother] sweeping and cleaning gutters since my childhood. We are all living today because of her. She brought us up and tried to keep us away from this filth. She was hardworking from the very beginning."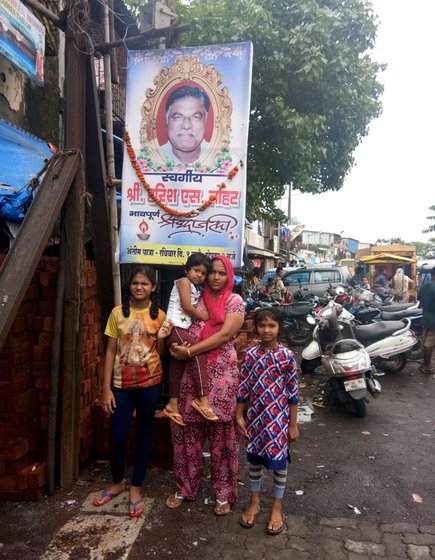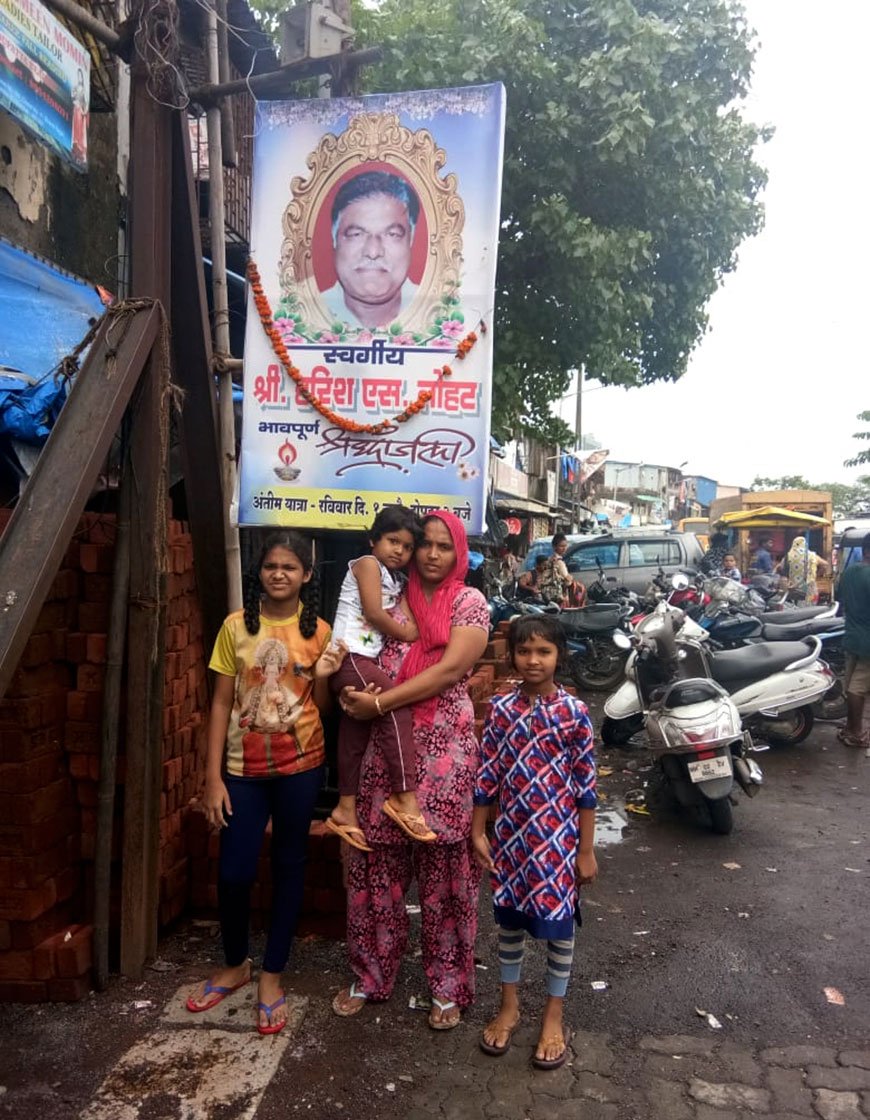 PHOTO • Bhasha Singh
"My father used to drive an auto-rickshaw. Later, he left that work and he was at home. After that he got a job in the Sachivalaya [state secretariat] as a cleaner, but a problem cropped up due to caste. Somebody made a provocative remark, there was a fight, and then he was thrown out. Since then, till his death, he stayed at home.
"When I was a kid, dadi would tell me that for cleaning an entire seven-floor building, she would get 50 rupees. This amount was for all the 15-16 homes in that building. Let me also tell you how the household expenses were managed. In the homes where she worked, the people would give her the leftovers. And on many days that would often be the only food we ate. Only in recent times did dadi earn Rs. 4,000 a month."
This has been a year of tragedy for Bhateri. Sanjay's death was followed by that of his father, her son. The shock to Bhateri has been very great.
She seems happier to talk about her years of labour. "My mind was set on working. All of us who worked would go together, chat, share our problems and joys with each other. Away from the strife at home. The work was such that there was no leave, because of which I could never go back to my village. But all my life I wore only those clothes which I had brought with me from there." Even now, in her speech and attire, she is completely a woman from Haryana.
After doing the same menial work through her lifetime, it is not clear to Bhateri who is to be blamed. Nor does she display any anger at anybody. "This is a thread of destiny. This work is the only work for our community, everybody does it." And this dehumanising drudgery becomes the livelihood of lakhs of women like Bhateri. Caste, like an invisible wall, crushes them all the time.

So why do people of her caste remain trapped in this obnoxious occupation? Bhateri replies innocently: "I don't know the answer to that. All my people do this, so I too do it. My wrist is twisted with constant gripping of the broom, but I don't even get a pension. We don't have the garibonwala [BPL] ration card, meant for the poor.
"But I'm happy, I get good food to eat. And yes, I am satisfied about one thing – that all my life I ate off my own hard work. And outside the home, I breathed freedom. I like to roam outside. I never stopped working and smoked beedi s to my heart's content."
She laughs, and that toothless smile seems to drive away all her sorrows.
Translated from Hindi by: Namita Waikar