'Gandhi and Nehru did realise that they could not write the laws and Constitution without Ambedkar. He was the only capable person for that. He did not beg for that role.'
Shobharam Gehervar, Jadugar Basti, Ajmer, Rajasthan
'The British had surrounded the place where we made bombs. This was out in the jungle near Ajmer, up a hill. It was also near a stream where a tiger would come to drink water. That tiger would come and go. From the fact that we would fire in the air with pistols sometimes, it learnt that it should come, have water and walk away. Else we would fire at him and not in the air.
'But that day, the British had learnt of the hideout and were closing in. Those were the days of the Raj, after all. So we blasted some explosives — not me, I was far too young, my older friends there — at the same time the tiger showed up for his water.

'The tiger didn't drink the water and fled, running right behind the British police. All of them started running. With a tiger somewhere behind them. Some fell down the hillside, some fell on the road. Two policemen died during that mayhem. The police did not have the guts to return to that place. They were scared of us. Woh taubha karte the [they had had it with us].'

The tiger apparently got out of the mess unscathed. And lived to drink water another day.

That's veteran freedom fighter Shobharam Gehervar, now 96, talking to us at his home in Ajmer on 14 April 2022. He lives in the very Dalit basti he was born almost a century ago, never seeking to leave it for more comfortable quarters. Which this two-time municipal councillor could easily have done had he wished to. He paints a vivid picture of his 1930s and 1940s battles with the British Raj.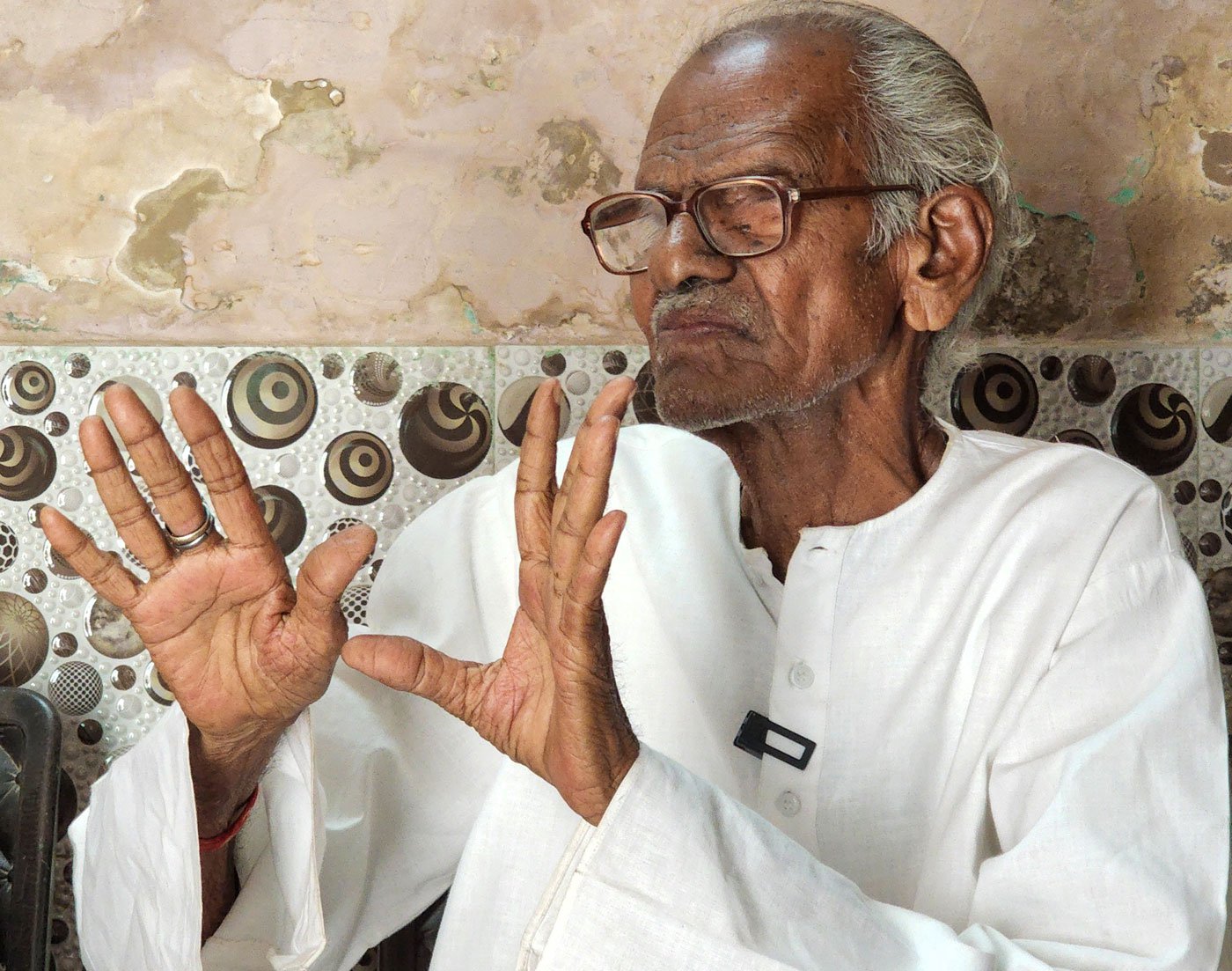 PHOTO • P. Sainath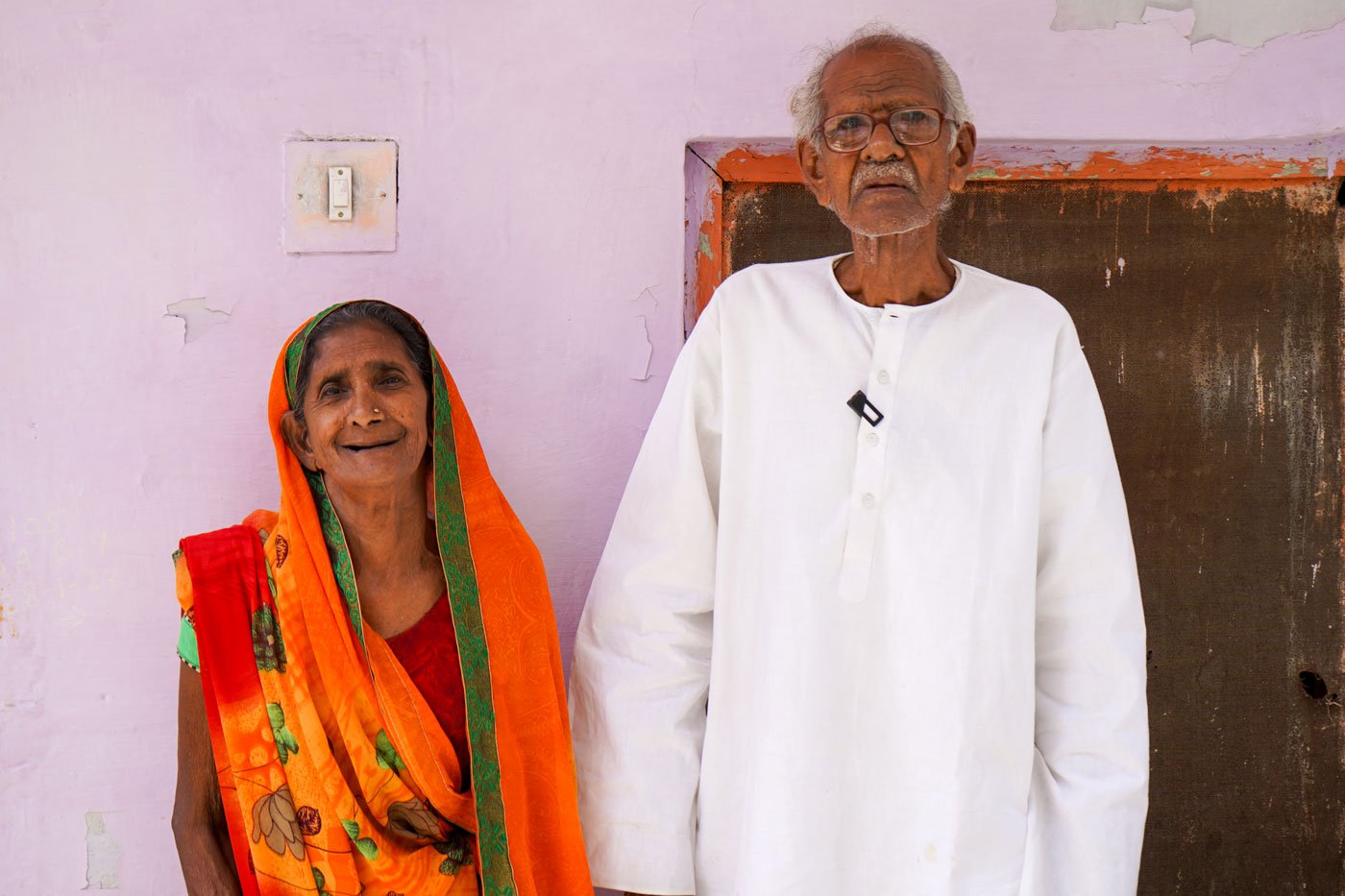 PHOTO • Urja
Was that some kind of underground bomb factory he is talking about?
' Arre , it was a jungle. Not a factory... Factory mein toh kainchi banti hain [they make scissors in a factory]. Here we [the underground resistance] made bombs.'

'Once,' he says, 'Chandrasekhar Azad visited us.' That would have been in the second half of 1930 or in the first days of 1931. The dates are uncertain. 'Don't ask me about exact dates,' says Shobharam. 'I once had everything, all my documents, all my notes and records, right in this house. There was a flood here in 1975 and I lost everything.'

Chandrasekhar Azad was among those who, together with Bhagat Singh, reorganized the Hindustan Socialist Republican Association in 1928. In 1931, on 27 February, Azad took his own life in a shootout with British police at Alfred Park in Allahabad when left with a single bullet in his firearm. Honouring his pledge never to be captured alive and always remain 'Azad' or free. He was 24 when he died.

After Independence, Alfred Park was renamed the Chandrasekhar Azad Park.

The 98-year-old freedom fighter considers himself a follower of both Gandhi and Ambedkar. He says, 'I just followed the ideals that I agreed with'

'Azad came and visited the place [the bomb-makers' camp],' says Shobharam back in Ajmer. 'He guided us on how we could make our bombs more efficient. He gave us a better formula. He even applied tilak at the place where the freedom fighters worked. Then he said to us that he would like to see the tiger. We told him to stay the night so that he could get a glimpse.
'So the tiger came and went, and we fired in the air. Chandrasekhar ji asked us why we fire. We told him that the tiger knows that we can harm him, so he just walks away.' An arrangement that allowed the tiger to have his water and the fighters their security.

'But that other day I am telling you about, the British police had got there first. And as I said, there was mayhem and chaos.'

Shobharam claims no personal role in that bizarre battle or related skirmish. He was witness to it all, though. He could not have been much more than 5 years old when Azad came, he says. 'He was in disguise. our job was simply to escort him to the place in the jungle and hill where the bombs were made. Two of us boys took him and a colleague of his to the camp.'

It was, in fact, a clever decoy game. An innocent looking uncle-out-with-nephews scene.

'Azad saw the workshop — it was not a factory — and patted our backs. And told us children: "Aap toh sher ke bachche hain [you are lion cubs]. You are brave and do not fear death." Even our family members said, "It is okay if you die. You are anyway doing all this only for freedom."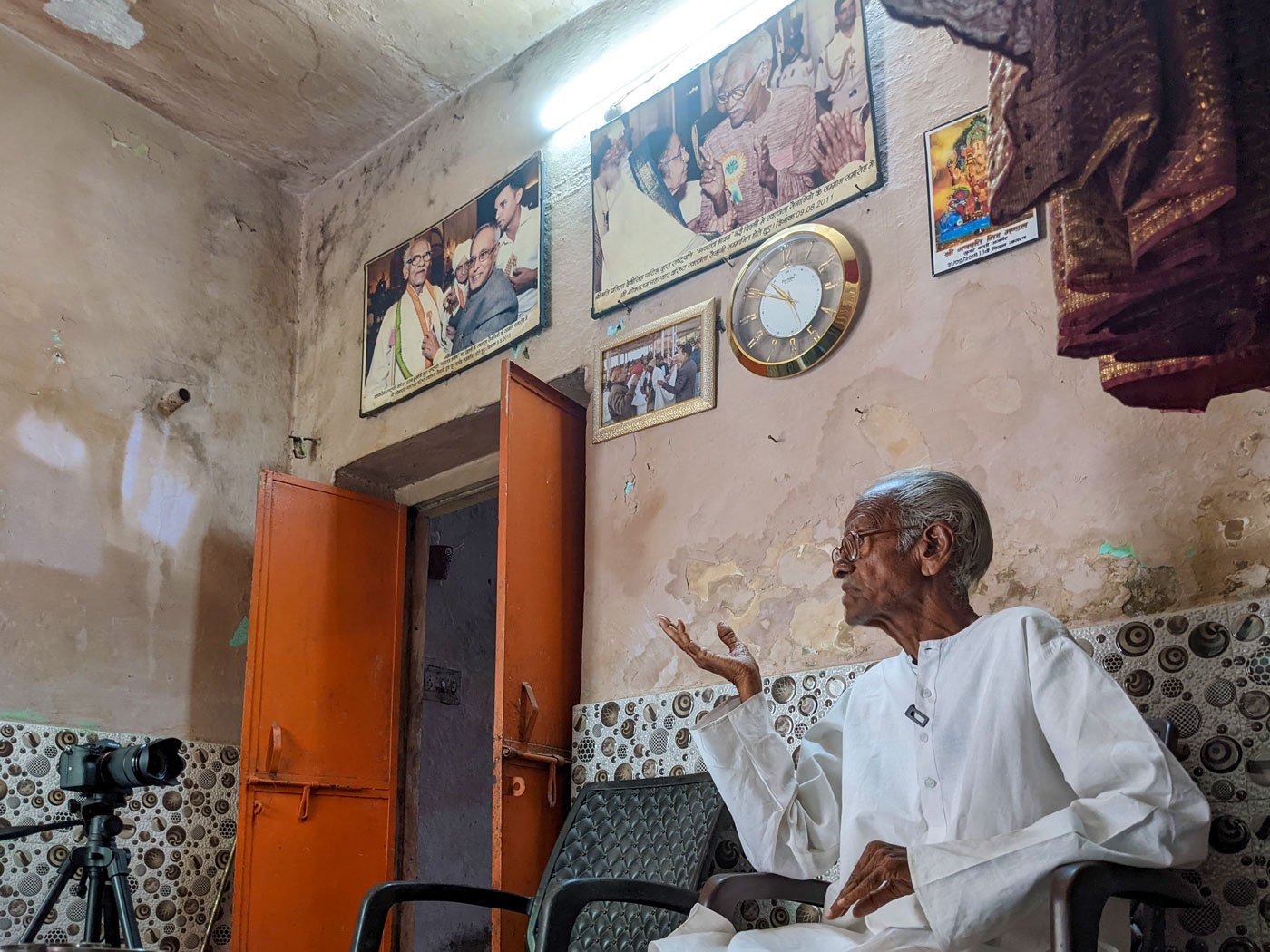 PHOTO • Urja
'The bullet did not kill or maim me permanently. It hit me in the leg and went on ahead. See?' And he shows us the very visible spot where it hit him on his right leg, a little below the knee. It did not lodge itself in his leg. But it was a painful blow. 'I fainted and they took me to a hospital,' he says.
That was around 1942, when he was a 'lot older'— meaning around 16 — and taking part in direct action. Today, at 96, Shobharam Gehervar seems to be in very good shape — over six feet tall, fit, ramrod straight and active. Talking to us at his home in Ajmer, Rajasthan. Telling us of his hectic life across nine decades. Right now, he's speaking of the time he got shot.

'There was a meeting, and someone spoke out "a little out of control" against the British Raj. So the police picked up a few freedom fighters. They fought back and started beating the police. This was at the Swatantrata Senani Bhavan [freedom fighters' office]. Of course, that name we gave it after Independence. Then it was called nothing in particular.

'At the public meetings there, freedom fighters daily educated people about the Quit India movement. They exposed the British Raj. People from all over Ajmer would reach there every day at 3 p.m. We never had to call anyone — they came. That's where the harsh speech was made, and the firing happened.

'When I regained consciousness at the hospital, the police did visit me. They did their work; they wrote down something. But they did not arrest me. They said: "He has been hit by a bullet. That much punishment is enough for him."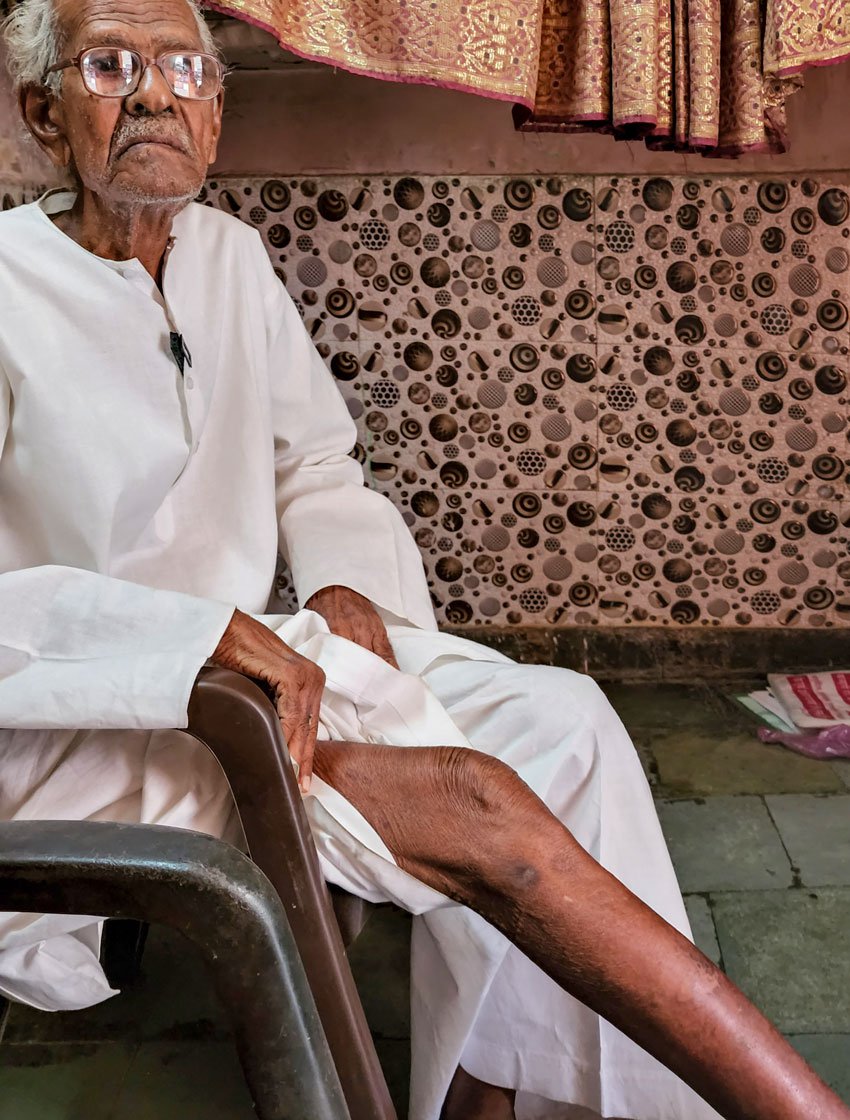 PHOTO • P. Sainath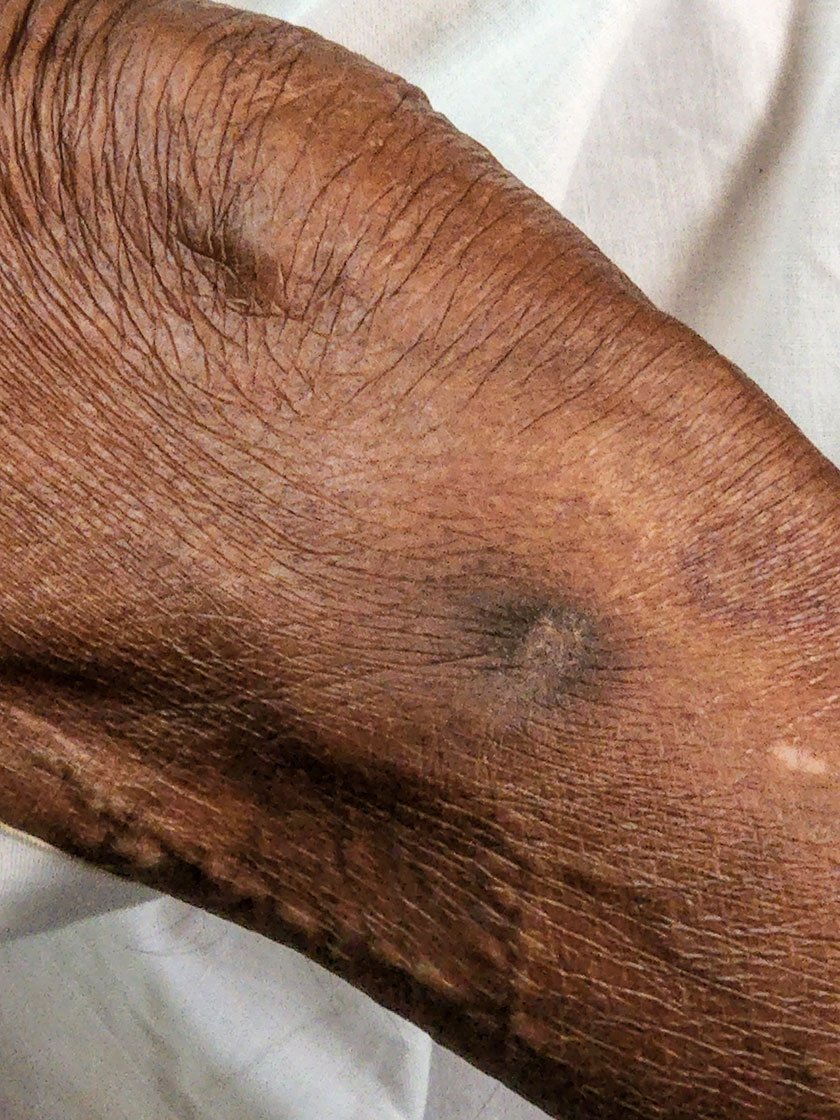 PHOTO • P. Sainath
That was not motivated by kindness, he says. If the police had filed a case against him, they would have to admit they had fired a bullet at Shobharam. And he had not made any inflammatory speech himself. Nor had he turned violent against anyone else.
'The British wanted to save their face,' he says. 'They were really not bothered if we died. Millions died across years and only then this country got its freedom. Like in Kurukshetra, the Surya Kunda was filled with the blood of the warriors. You should keep this in mind. We did not get our freedom so easily. We have shed our blood for it. More blood than at Kurukshetra. And the movement was all over. Not just in Ajmer. The struggle was everywhere. In Mumbai, in Calcutta [now Kolkata] . . .

'It was after that bullet wound, I decided not to get married,' he says. 'Who knew if I would survive the struggle? And I could not devote myself to seva [social service] and run a family.' Shobharam lives with his sister Shanti and her children and grandchildren. At 75, she is twenty-one years younger than him.

'Shall I tell you something?' Shanti asks us. And speaks with total calm and assurance. 'It is because of me that this fellow is still alive. I and my children have looked after him all his life. I was married at the age of 20 and I became a widow after some years. My husband was 45 when he died. I have looked after Shobharam always and I am very proud of that. Now my grandchildren and their wives also look after him.

'Some time ago, he was very sick. He almost died. That was in 2020. I held him in my arms and prayed for him. Now you see him alive and well.'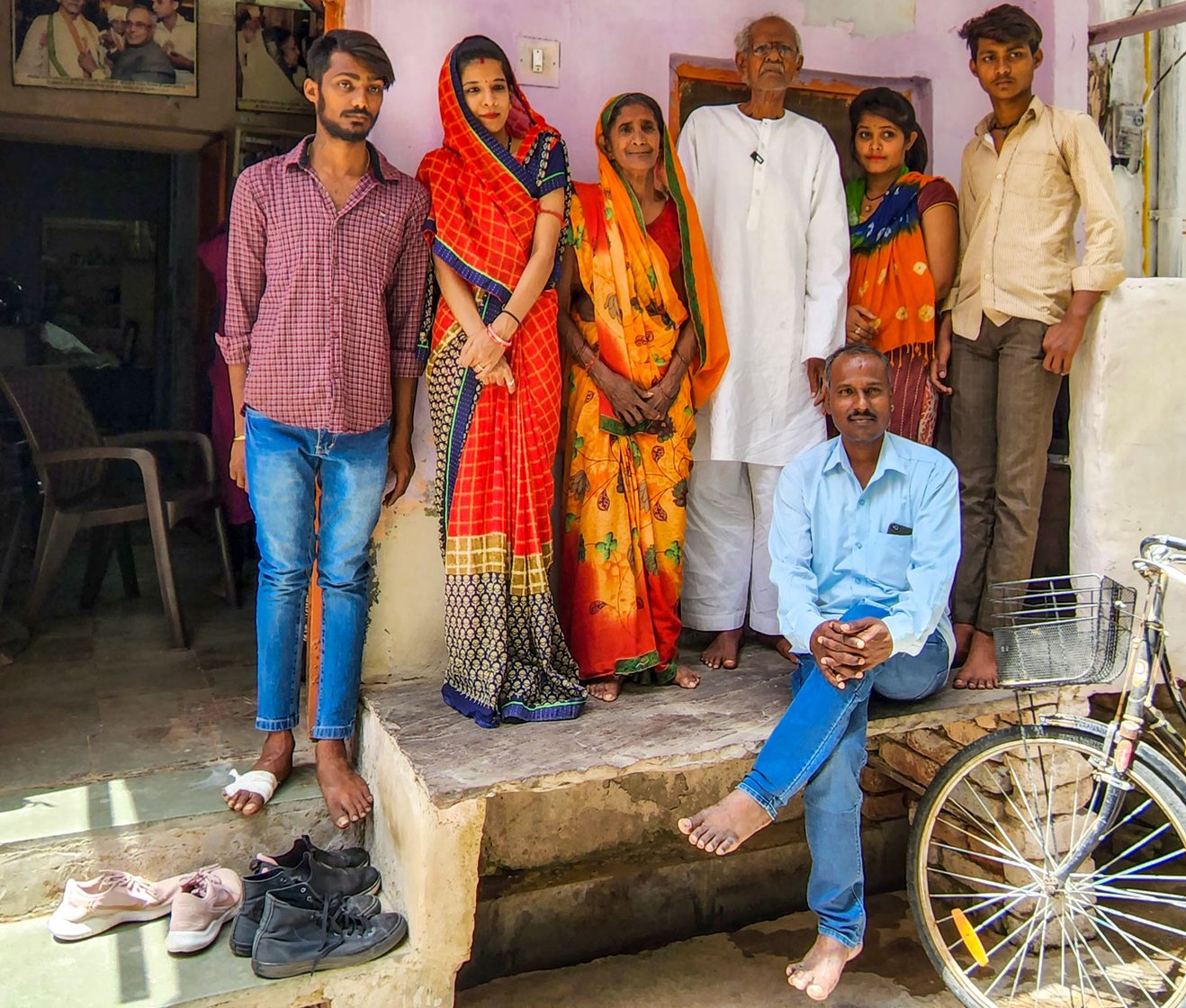 PHOTO • P. Sainath
So what happened with those bombs made in the hidden camp?
'We travelled to wherever there was a demand. And there was plenty of that. I think I have been to all corners of this country, carrying those bombs. We travelled mostly by train. And from the stations, by other transport. Even the British police were scared of us.'

What did these bombs look like?

'Like this [he makes small spherical shapes with his hands]. This size — like a grenade. There were many kinds according to the time required for them to detonate. Some would blast immediately; some would take four days. Our leaders explained everything, how to set it up, and then sent us.

'We were in great demand at that time! I have been to Karnataka. To Mysore, Bangalore [Bengaluru], all sorts of places. See, Ajmer was a prominent centre for the Quit India movement, for the struggle. So was Benares [Varanasi]. There were other places like Baroda in Gujarat and Damoh in Madhya Pradesh. People looked up to Ajmer, saying the movement is strong in this town and that they would follow the footsteps of the freedom fighters here. Of course, there were many others, too.'

But how did they manage their train journeys? And how did they evade capture? The British suspected them of carrying secret letters between leaders to avoid postal censorship. And also knew that some of the young people were carrying bombs.

PHOTO • P. Sainath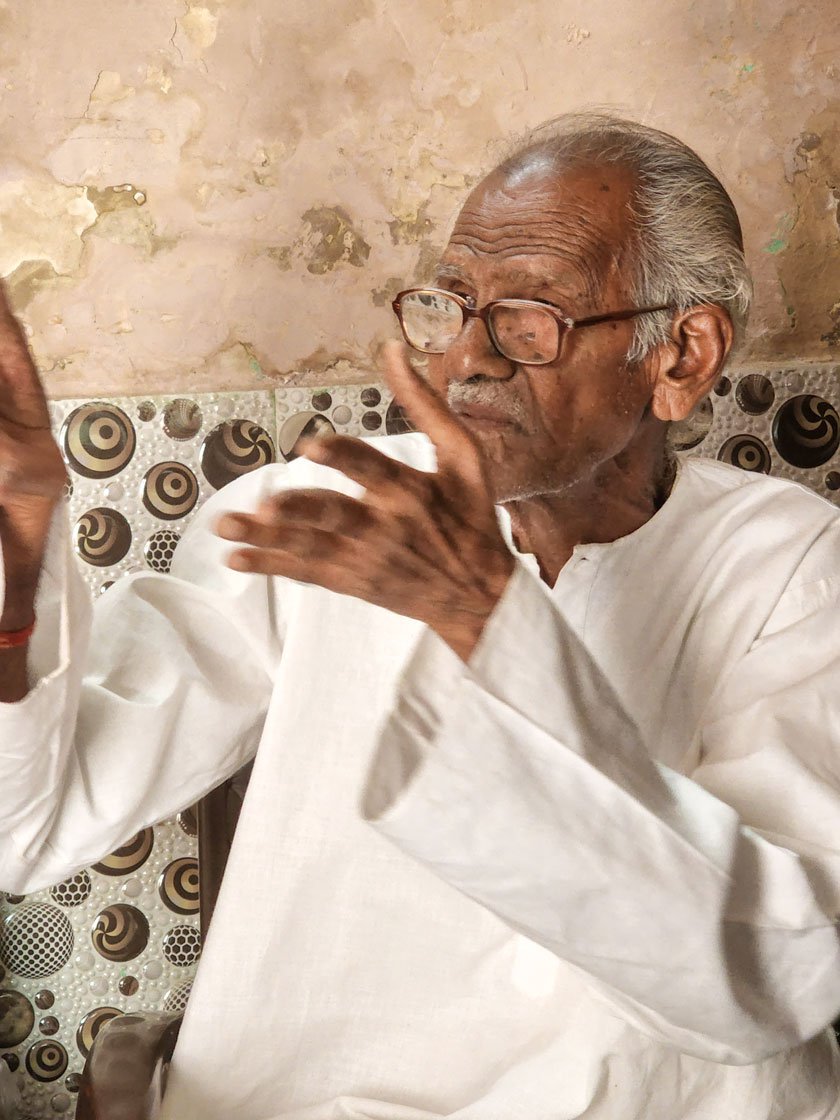 PHOTO • P. Sainath
'Those days the letters by post were checked, opened and read. To evade that, our leaders formed a group of youngsters and trained us in taking letters to a particular place. "You have to take this letter and give it to Dr. Ambedkar in Baroda." Or to some other person, in some other place. We would keep the letters in our underwear, in our crotch.
'The British police would stop us and ask questions. If they saw us on a train, they might ask: "You told us you were going to that one place but now you're going somewhere else." But we and our leaders knew this could happen. So if we were going to Benares, we would get down at some distance away from that city.

'We'd already been told the dak [letters] must reach Benares. Our leaders advised us: "A little away from that city, you pull the chain and get off the train." So we did that.

'Those days, trains had steam engines. We'd go inside the engine room and show a pistol to the rail driver. "We will kill you and only then we will die," we would warn him. He would then find us a place on board. The CID, police, all of them, sometimes came and checked. And saw only ordinary passengers sitting in the main bogies.

'As told, we pulled the chain at a certain point. The train stopped a long time. Then some freedom fighters brought horses when it was dark. We rode them and escaped. In fact, we reached Benares before the train did!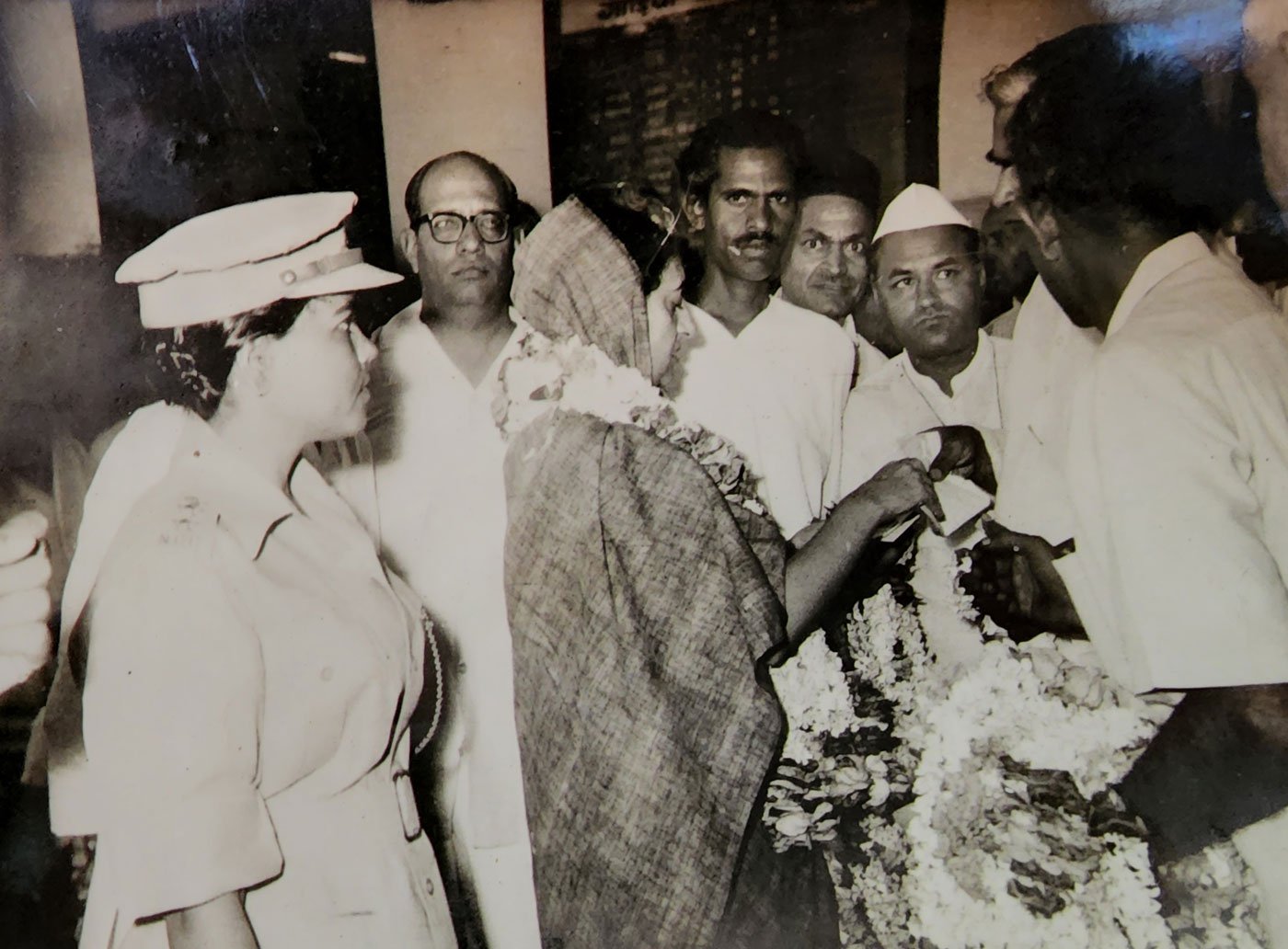 PHOTO • P. Sainath
'There was once a warrant in my name. We got caught while carrying the explosives. But we threw them away and escaped. The police found those and studied them to see what kind of explosives we were using. They were after us. So it was decided we should leave Ajmer. I was sent to [then] Bombay [Mumbai].'
And who hid and sheltered him in Mumbai?

'Prithviraj Kapoor,' he says proudly. The great actor was well on his way to stardom by 1941. He was also believed to be, though hard to confirm, a founding member of the Indian People's Theatre Association in 1943. Kapoor and some other leading lights of Bombay's theatre and film world were very supportive of, even involved in, the freedom struggle.

'He sent us to one Trilok Kapoor, some relative of his. I think he later acted in a film called Har Har Mahadev .' Trilok, though Shobharam did not know this, was in fact Prithviraj's younger brother. He was also one of the most successful actors of his era. Har Har Mahadev was to be the biggest grosser of 1950.

'Prithviraj gave us a car for a while, and we roamed around Bombay. I was in that city for nearly two months. Then we went back. We were needed for other actions. I wish I could have shown you the warrant. It was in my name. And other youngsters too had warrants out for them.

'But that flood here in 1975 destroyed everything,' he says with great sadness. 'All my papers were gone. Many certificates, including some from Jawaharlal Nehru. You would have gone mad if you had seen those papers. But everything got washed away.'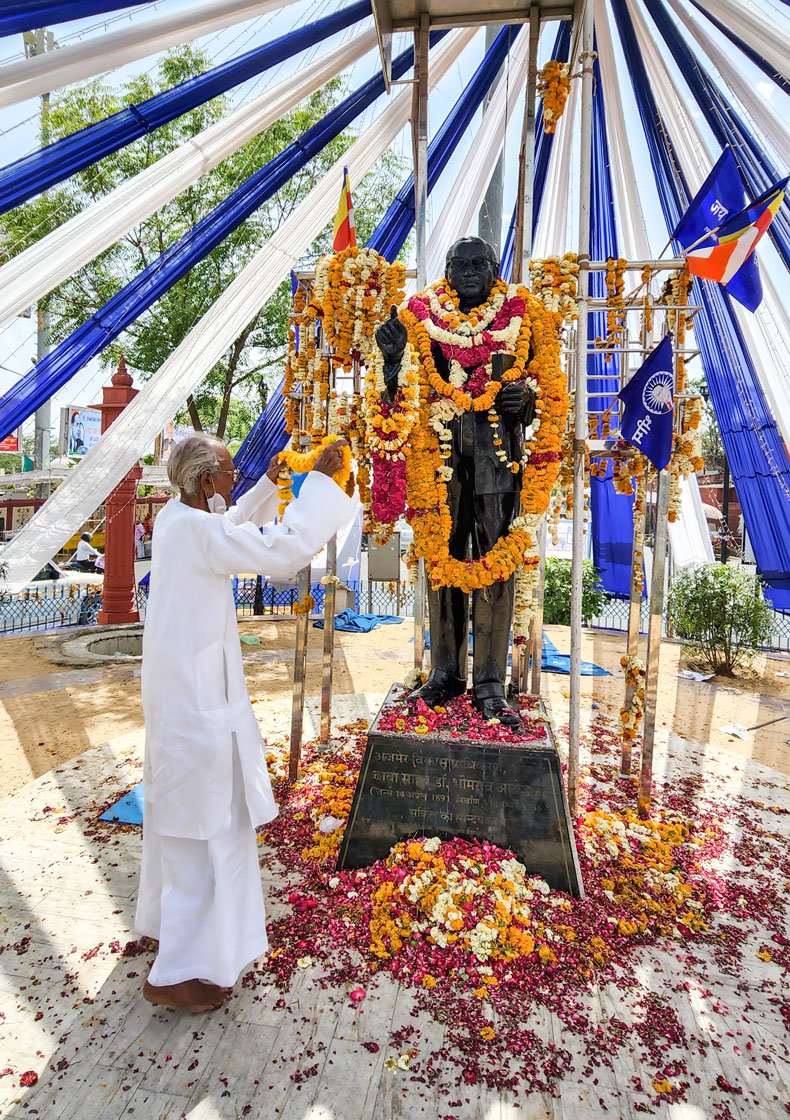 PHOTO • P. Sainath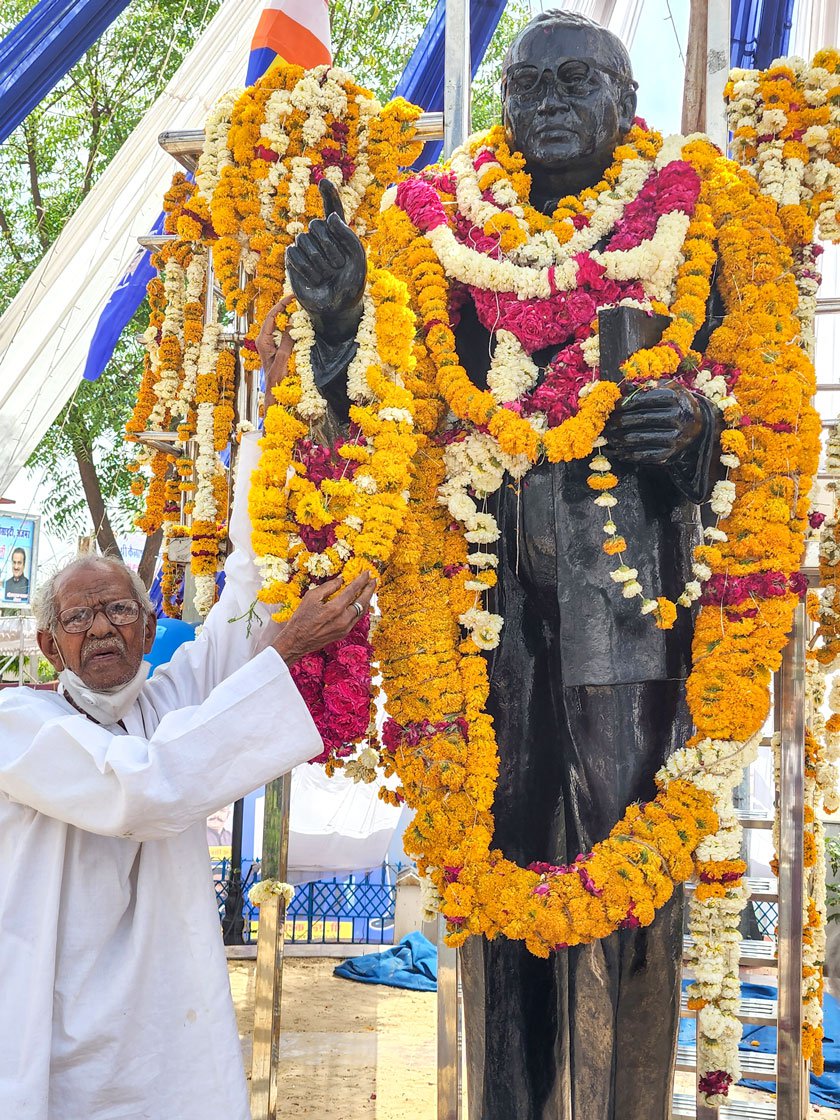 PHOTO • P. Sainath
'Why should I choose between Gandhi and Ambedkar? I can choose both, no?'
We're at the Ambedkar statue in Ajmer. It's the great man's 131st birth anniversary, and we've brought Shobharam Gehervar here with us. The old Gandhian had requested that we drive him out to this spot so he could garland the statue. Which is when we asked where he stood on both icons.

He rephrased what he had told us earlier at his home. 'See, Ambedkar and Gandhi, both of them did very good work. It needs two wheels each side to move a car. Where is the contradiction? If I found merit in some principles of the Mahatma, I followed those. Where I found merit in the teachings of Ambedkar, I followed those.'

Both Gandhi and Ambedkar, he says, visited Ajmer. In the case of Ambedkar, 'We would meet and garland him at the railway station. That is, when his train bound for somewhere else would stop here.' Shobharam met both of them while very young.

'In 1934, when I was still very small, Mahatma Gandhi was here. Here, where we are sitting right now. In this very Jadugar Basti [Magician's Colony].' Shobharam would have been 8 around then.

'In the case of Ambedkar, I once carried some letters for him from our leaders to Baroda [Vadodara]. The police would open our letters in the post office. So we used to personally carry important papers and letters. That time, he patted me on my head and asked, "Do you live in Ajmer?"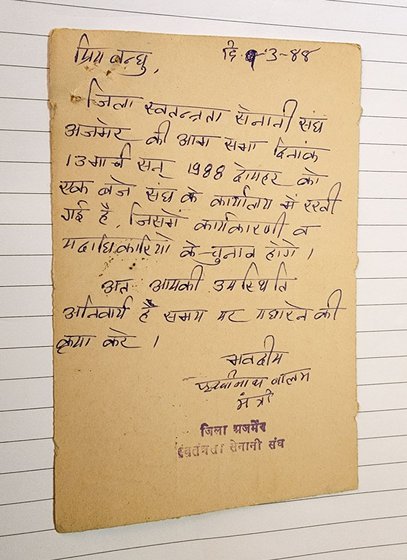 PHOTO • P. Sainath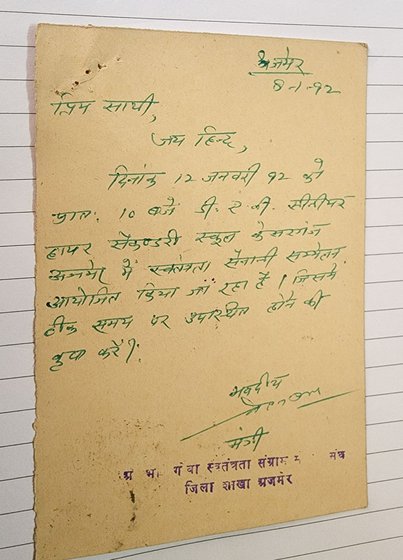 PHOTO • P. Sainath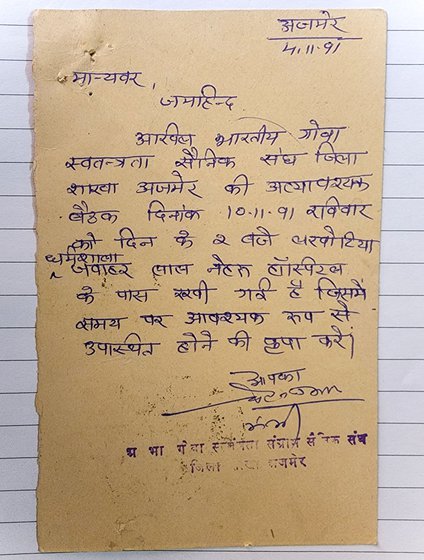 PHOTO • P. Sainath
Did he know Shobharam was from the Koli community?
'Yes, I told him. But he didn't talk about it much. He understood those things. He was a highly educated person. He told me I could write to him in case I was in need.'

Shobharam is okay with both labels — 'Dalit' and 'Harijan'. Also, 'If one is a Koli, let it be. Why should we hide our caste? When we say Harijan or Dalit, there is no difference. In the end, whatever you call them, they all remain Scheduled Castes.'

Shobharam's parents were manual labourers. Mostly around railways projects.

'Everybody ate only one meal a day,' he says. 'And there was never alcohol in this family.' He is from the same social group, he reminds us, 'that [now former] President of India Ram Nath Kovind belongs to. He was once President of our Akhil Bharatiya Koli Samaj'.

Shobharam's community was excluded from education. Perhaps the main reason he made a rather late entry into school. 'In Hindustan,' he says, 'the upper castes, the Brahmins, the Jains, others, became slaves to the British. These were people who always practised untouchability.

'I tell you, most of the Scheduled Caste people here might have converted to Islam, if not for the Congress Party and the Arya Samaj of that time. Had we continued in the old ways, we would not have attained Independence.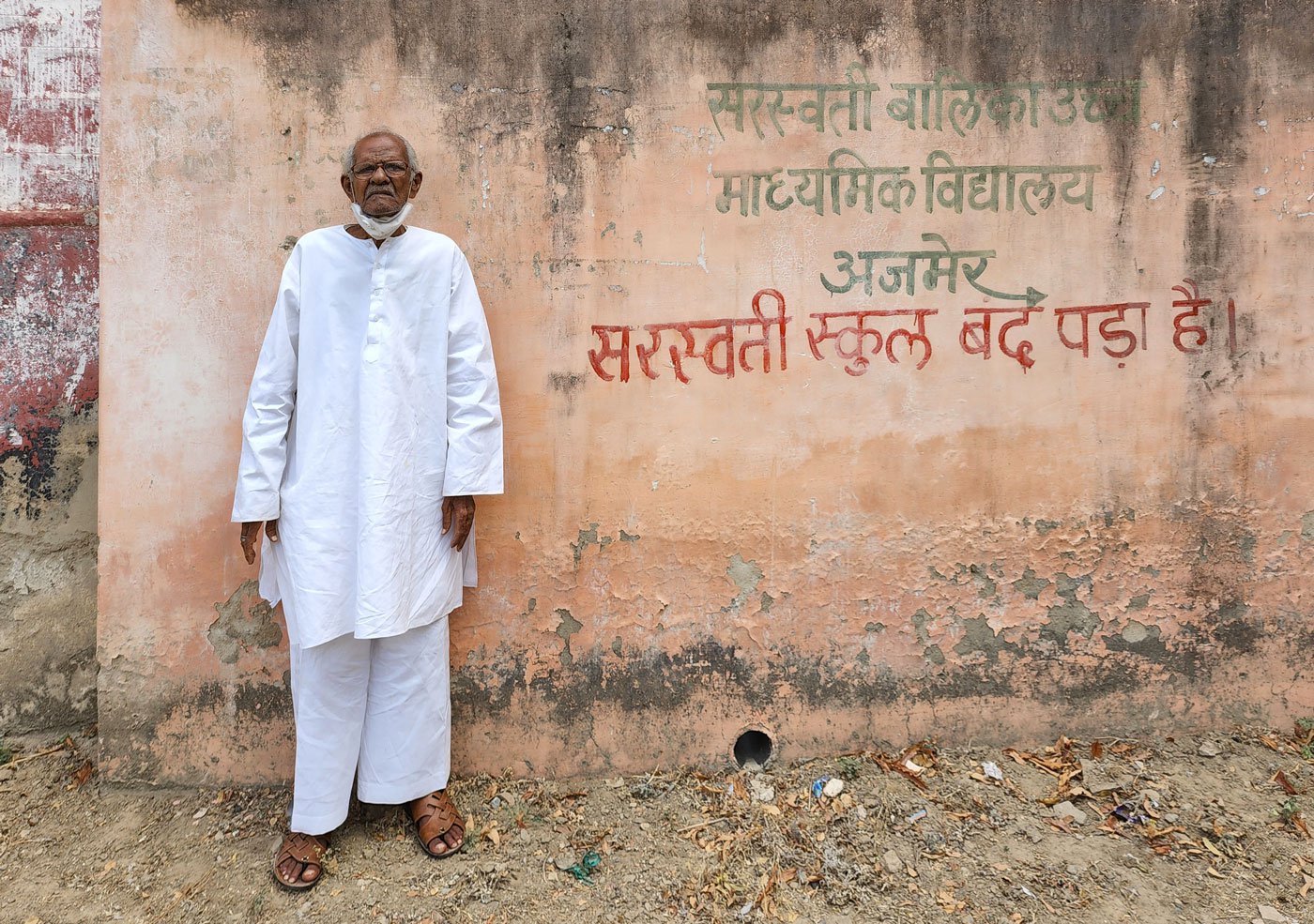 PHOTO • P. Sainath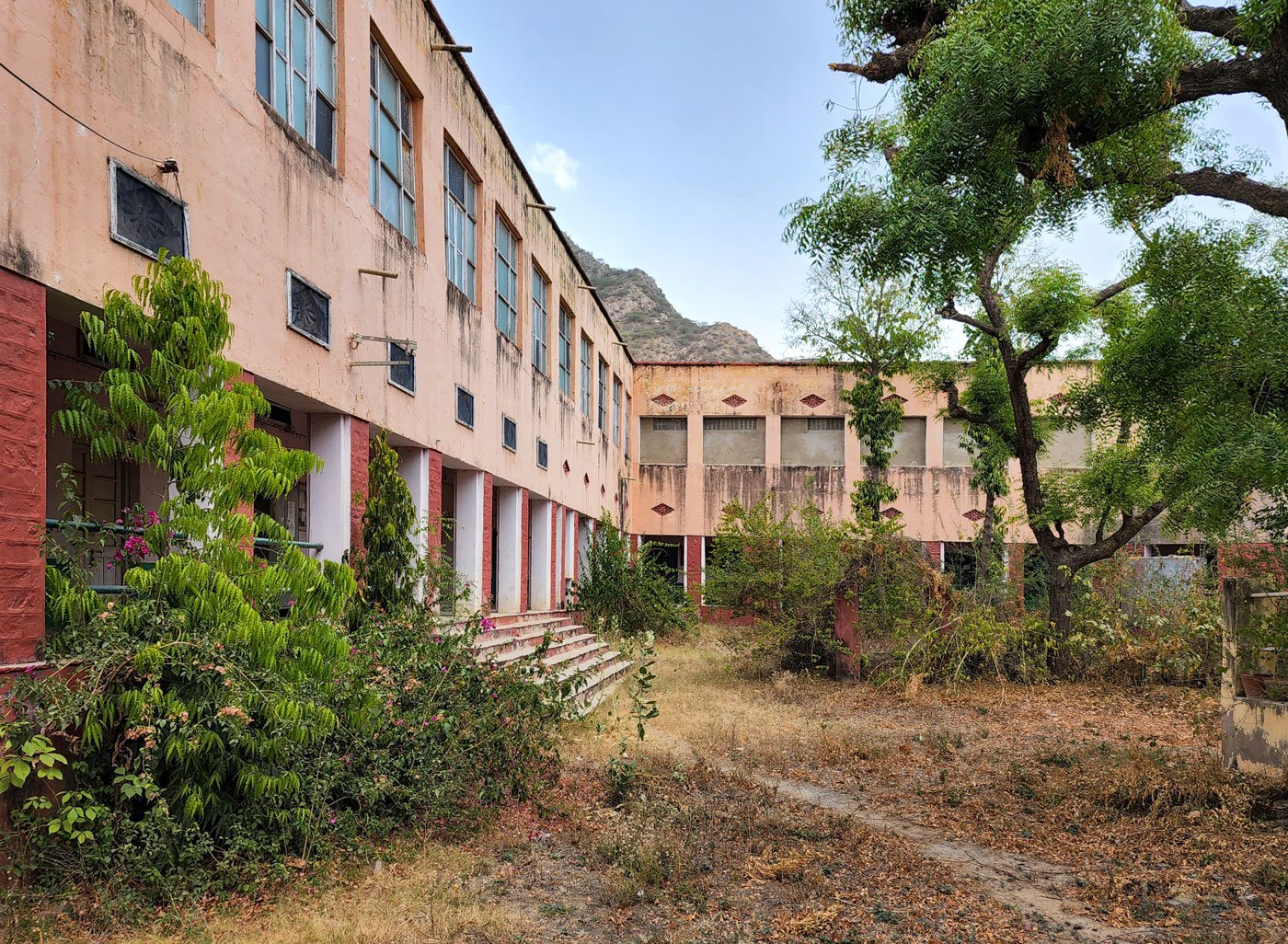 PHOTO • P. Sainath
'See, no one enrolled untouchables in schools at that time. They would say he is a Kanjar, or he is a Dom and so on. We were excluded. I only went to Class I around age 11. Because the Arya Samaj people of that time were trying to counter the Christians. Many from my caste, near the Link Road area, had converted to Christianity. So, some Hindu sects began accepting us, even encouraging us to join the Dayanand Anglo Vedic [DAV] schools.'
But the discrimination would not fade away, and the Koli samaj started its own school.

'That's where Gandhi came, to the Saraswati Balika Vidyalaya. It was a school started by senior people from our community. It is still operational. Gandhi was in awe of our work. "You have done a very good job. You've gone far ahead of what I had expected," he said.

'Though begun by us Kolis, students from other castes also joined. At first, all of them belonged to the Scheduled Castes. Later, many people from other communities joined the school. Eventually, the [upper-caste] Agarwals took over the school. The registration was with us. But they took over the management.' He still does visit the school. Or did, till the COVID-19 pandemic struck and all schools were shut.

'Yes, I still go. But it is those [upper-caste] people who run it now. They have even opened a BEd college.

'I studied only till Class IX. And I regret that so much. Some of my friends went on to become IAS officers after Independence. Others went on to achieve great heights. But I had devoted myself to seva .'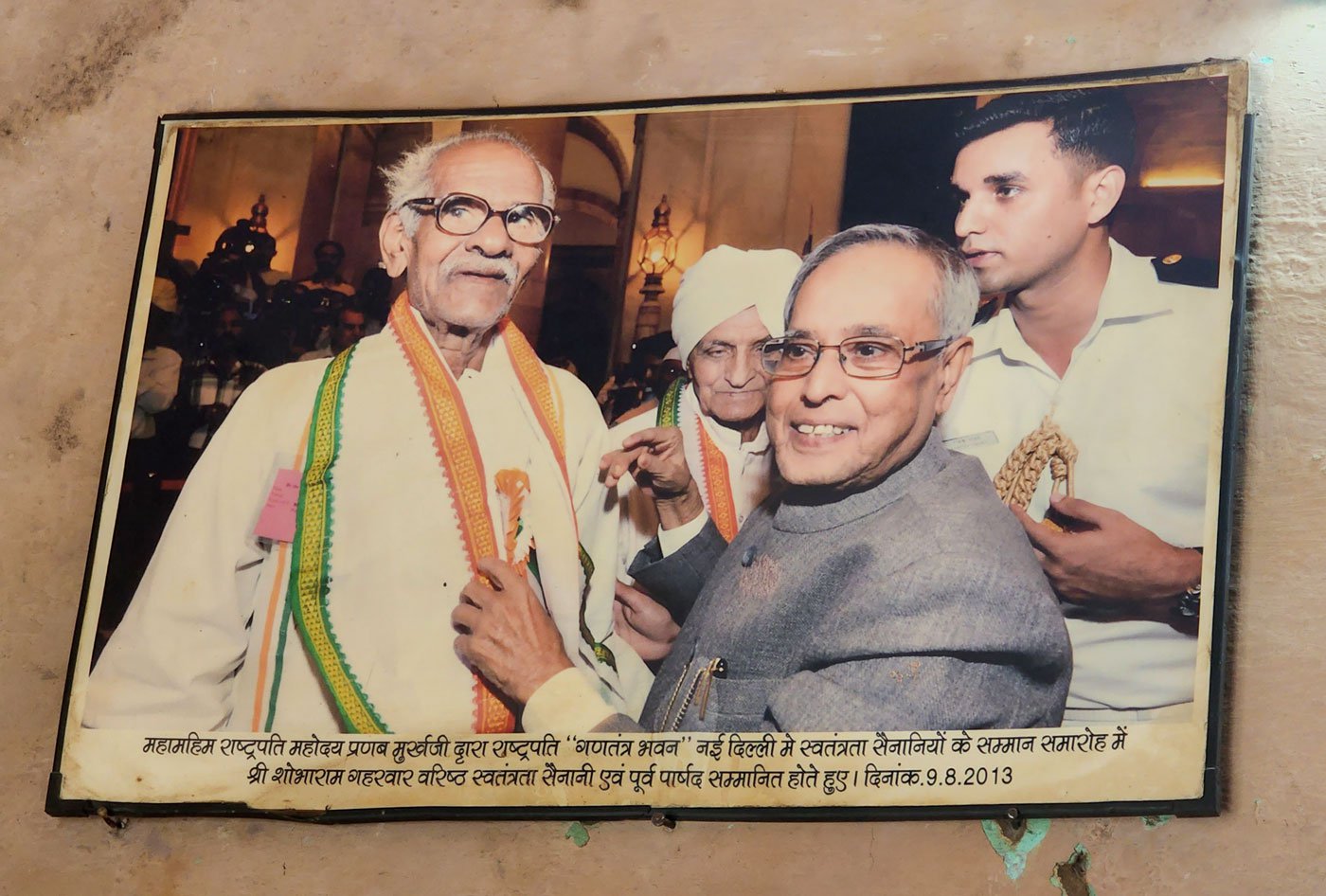 PHOTO • P. Sainath
Shobharam is a Dalit and self-declared Gandhian. He also deeply admires Dr Ambedkar. And tells us this: 'I was also with both, Gandhivad and krantivad [Gandhian path and revolutionary movement]. Both were closely linked.' So, while primarily a Gandhian, there were three political streams he associated with.
Much as Shobharam loves and admires Gandhi, he does not place him above criticism. Especially in relation to Ambedkar.

'Gandhi got scared when he faced the challenge of Ambedkar. Gandhi feared that all the Scheduled Castes were going with Babasaheb. So did Nehru. They worried that this would weaken the larger movement. Yet, they both knew he was a highly capable person. When the country gained Independence, everybody was tense over this conflict.

'They did realize that they could not write the laws and Constitution without Ambedkar. He was the only capable person for that. He did not beg for that role. Everyone else begged him to write the framework of our laws. He was like Brahma who created this world. A brilliant, learned man. Yet, we Hindustani log [people] were a horrible lot. We treated him so badly before and after 1947. He was even excluded from the story of the freedom movement. Yes, he is an inspiration for me, even today.'

Shobharam also says, 'I am totally a Congressman at heart. A real Congressman.' By which he means he is critical of the party's current direction. He believes the present leadership of India will 'turn this country into a dictatorship'. And so 'the Congress must revive itself and save Constitution and country.'

He is most appreciative of Rajasthan Chief Minister Ashok Gehlot. 'He is concerned about people. He looks out for us freedom fighters.' The freedom fighter's pension in this state is the highest in the country. The Gehlot government raised it to Rs 50,000 in March 2021. The highest central pension for freedom fighters is Rs 30,000.

Shobharam maintains he is a Gandhian. Even as he steps down from garlanding the Ambedkar statue.

'See, I simply followed those whom I liked. I followed the thoughts of each that I agreed with. And those were many. I never saw any kind of problem in doing so. Or in either of them.'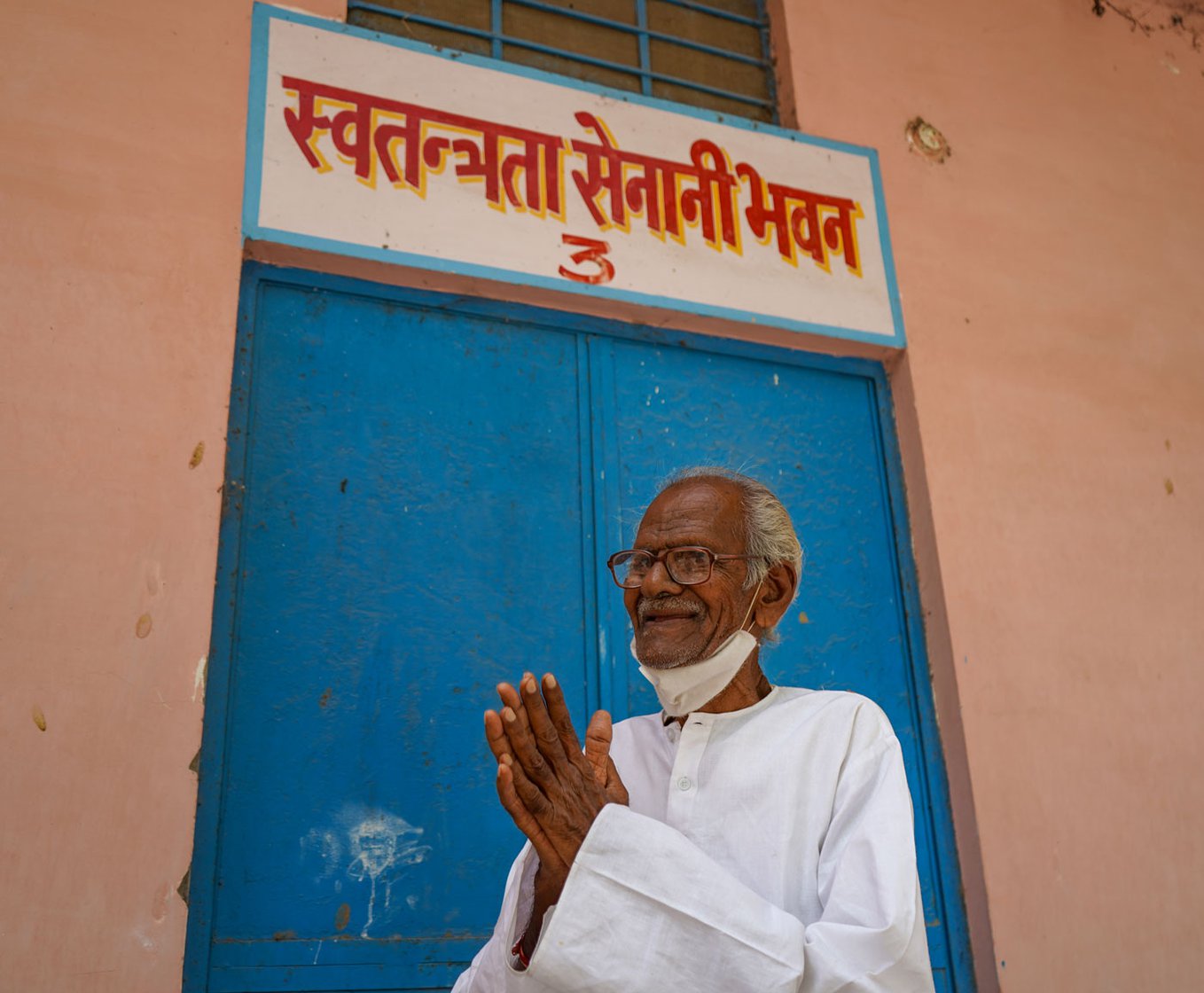 PHOTO • Urja
Shobharam Gehervar is taking us to the Swatantrata Senani Bhavan—the meeting place of old freedom fighters in Ajmer. This is centrally located in a busy market. I'm desperately trying to keep pace with the old gentleman who dashes off into a lane, cutting through rather rowdy traffic. He uses no walking stick and strides off at quite a speed.
The only time we would see him look a little nonplussed and trying to cope would come later. When we visited the school he had been so proud of. And reading, quite literally, the writing on the wall. ' Saraswati School bandh pada hain ,' says a hand-painted notice there ('The Saraswati School is closed'). It and the college have been shut down. Permanently, say the watchmen and others around. It could soon just be valuable real estate.

But at the Swatantrata Senani Bhavan, he is both more nostalgic and pensive.

'On 15 August 1947, when they hoisted the Indian flag at Red Fort, we raised the tricolour here. We decorated this Bhavan like a new bride. And all of us freedom fighters were there. We were still young then. And all of us in a jubilant mood.

'This bhavan was special. There was no single owner for the place. There were many freedom fighters, and we did many things for our people. We sometimes used to visit Delhi and meet Nehru. Later, we met Indira Gandhi. Now, none of them is alive.

'We had so many great freedom fighters. So many I worked with on the kranti side. And on the seva side.' He rattles off names.

'Dr Sardanand, Veer Singh Mehta, Ram Narayan Chaudhari. Ram Narayan was the elder brother of Durga Prasad Chaudhari, editor of Dainik Navjyoti . There was the Bhargav family from Ajmer. Mukut Bihari Bhargav was a member of the committee that, under Ambedkar, drafted the Constitution. All of them are no more. There was Gokulbhai Bhatt, one of our great freedom fighters. He was Rajasthan ke Gandhi ji .' Bhatt was briefly Chief Minister of the princely state of Sirohi but gave it up to fight for social reform and freedom.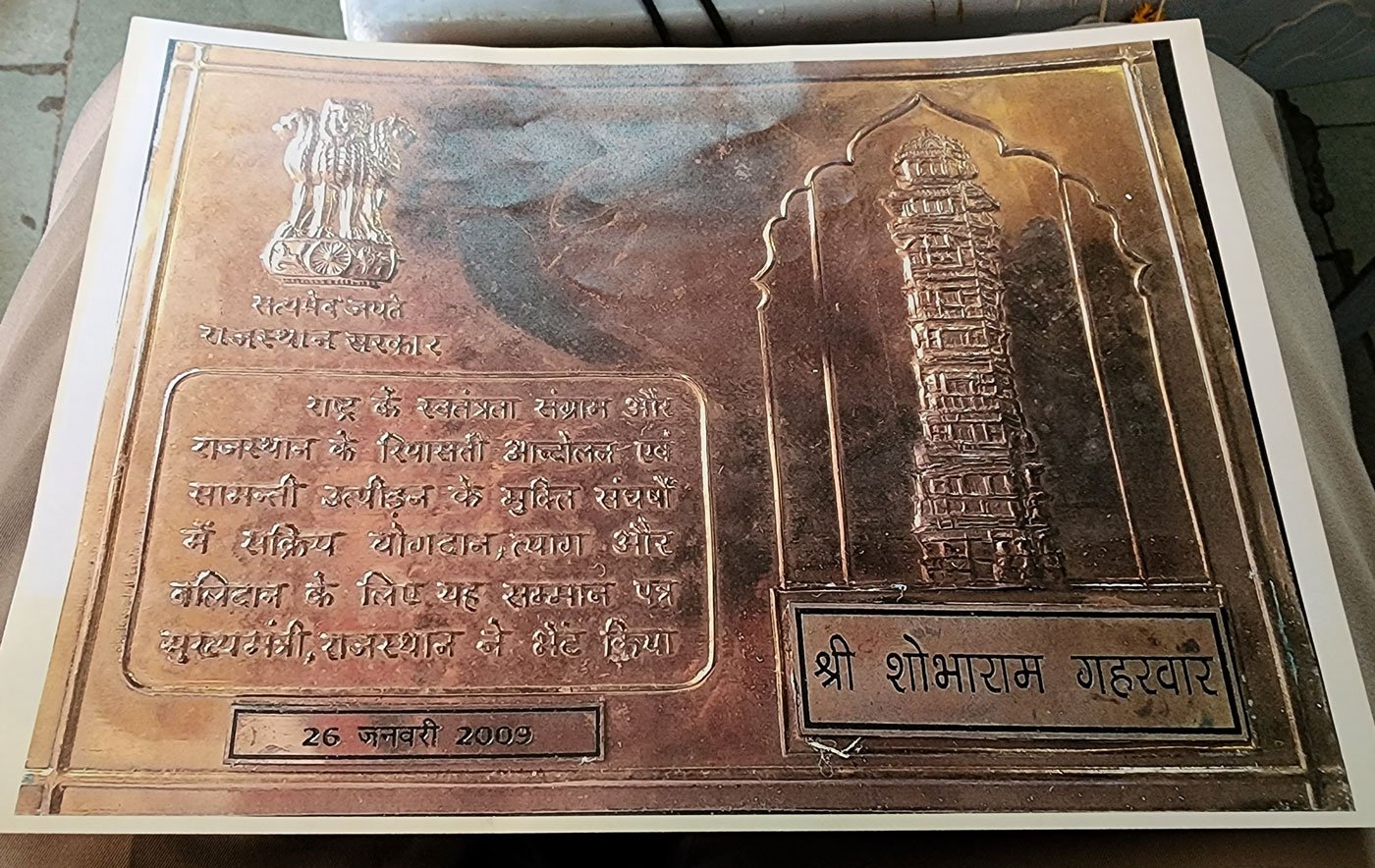 PHOTO • P. Sainath
Shobharam is emphatic that no one from the Rashtriya Swayamsevak Sangh (RSS) had any role in the freedom struggle.
' Woh? Unhone toh ungli bhi nahi katayi ' ('They did not so much as suffer a single cut on a finger').

The one thing that worries him greatly now is the fate of the Swatantrata Senani Bhavan.

'Now I am old. And I can't come here every day. But if I am well, I make it a point to come and sit for at least an hour. I meet people who drop by and try to help them with their problems whenever I can.

'There is no one with me. I am all alone these days. Most of the other freedom fighters have died. And a few who are still alive are infirm and in very poor health. So I am the only one looking after the Swatantrata Senani Bhavan. Even today, I cherish it, try and preserve it. But it brings tears to my eyes. Because I have no one else with me.

'I have written to Chief Minister Ashok Gehlot. Appealing to him to take over this Bhavan before it is grabbed by someone.

'This place is worth crores of rupees. And it is right in the centre of the city. Many people try to lure me. They say, "Shobharam ji , what can you do alone? Give it [this property] to us. We will give you crores in cash." I tell them they can do whatever they like with the building after I die. What can I do? How can I do as they ask? Millions have died for this, for this our freedom. And what would I do with all that money?

'And I want to bring your attention to this. Nobody cares about us. No one asks about the freedom fighters. There is not a single book which tells schoolchildren how we fought for freedom and achieved it. What do people know about us?'