"Many times, when I am the last to leave, around 2 in the afternoon, I take the muster roll and run. I don't take a breath until I reach home. We keep looking back to see if someone is there. But even though we are afraid, we don't have a choice. We have to go. We need the money," Champa Rawat says.
Walking briskly, constantly adjusting her ghoonghat to cover her face, Champa is telling me how projects under the MGNREGA function in Thana village. She points to a plot of land with irrigation trenches, around a kilometre from her village, and says, "This was our work site. But this time [in April 2019], we were given a site four kilometres away and more isolated than this one." It takes her an hour to walk to the site, an hour back. Champa's is an account of the benefits as well as the weaknesses of the landmark central government scheme under the Mahatma Gandhi National Rural Employment Guarantee Act ( MGNREGA ) of 2005. The scheme aims to provide 100 days of wage work in a year to rural households in India.
In Bhilwara district of Rajasthan – where Champa's village Thana is located in Mandal taluka – the scheme has provided 862,133 households with much-needed wage work in 2019 (April-September). And, since 2013, it has provided work to a total of nearly 6 million households in Bhilwara.
The wages help sustain many families, including Meena Salvi's, who at 19 is the sole earning member, looking after ailing parents. Meena too though speaks of the problems of working at isolated sites. "I am afraid because I have to walk back alone, especially if I am the last one working," she says.
In May, the 25 labourers, all women, on Champa's site stopped work in protest against being allotted a site so far away. They were worried that if they agreed to go to this isolated site, the panchayat will assign them one even further away the next time. "There are other sites nearby that need work," says Champa. "There is no way to reach other than from the jungle in between. Sometimes there are wild animals there, sometimes drunk men…" says Savita Rawat, who works at the same site.  But after a week of protest, labourers who were in urgent need of money returned to work. A few continued with Champa and were assigned another site after a month.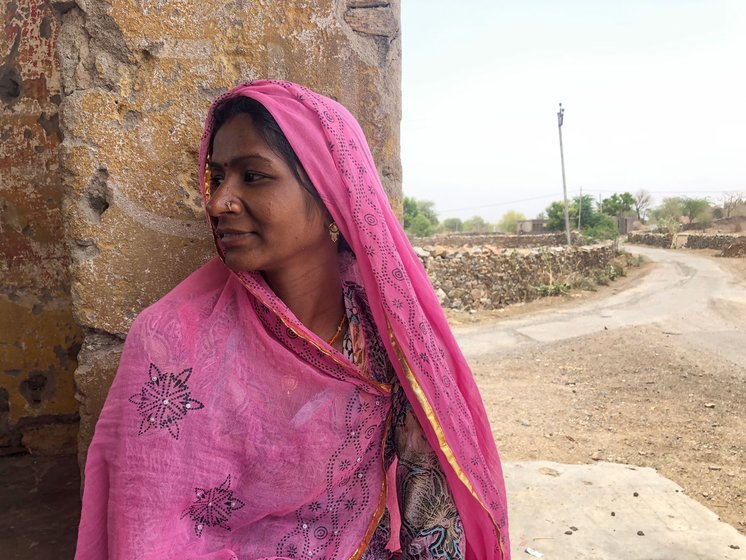 PHOTO • Nioshi Shah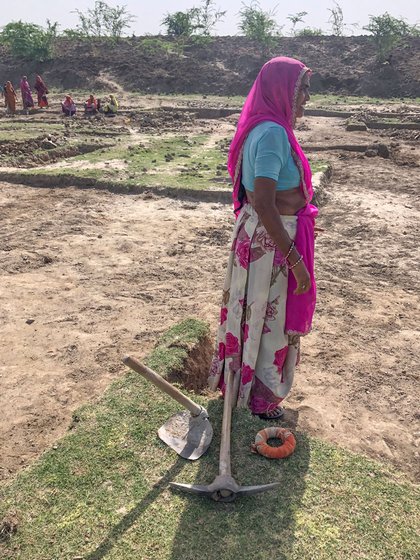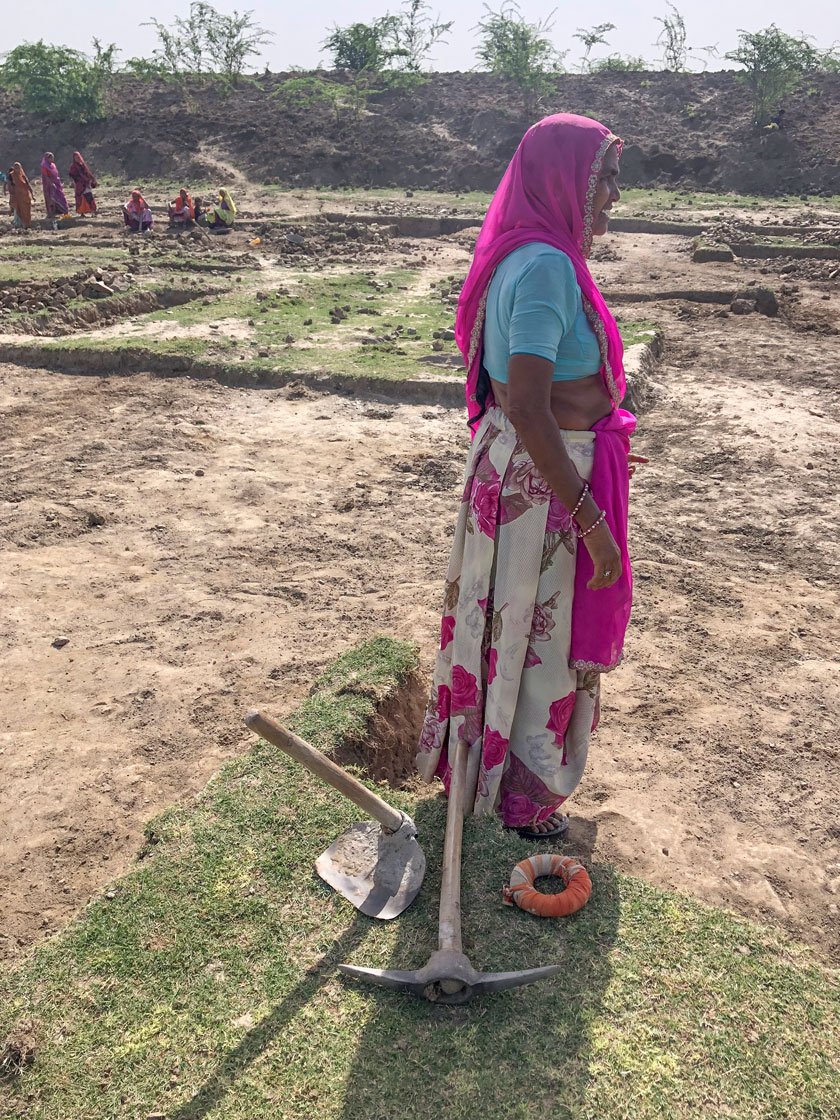 PHOTO • Nioshi Shah
Champa, 30, has been an MGNREGA 'mate' (worksite supervisor) since January 2019. She started working on sites under the scheme in January 2015. A mate as well as a labourer receive the same wages – in Rajasthan, Rs. 199 a day. The mate, the rules state, should "preferably be an educated woman worker who should have worked for at least 50 days as a worker in MGNREGS in the previous/ current financial year."
The work allows Champa some independence. "My husband's family doesn't like me going out and working," she says. "They say I have enough work in the house. In NREGA, I only spend four hours a day, from 10 to 2 at the site. This way I can take care of house work too."
On a shelf in Champa's one-room cement house in Thana, a placard next to a photograph of her says:  'Nominee for Thana Gram Panchayat's Sarpanch – Champa Devi (BA, B.Ed)'.  "In 2015, I stood for the sarpanch 's position…I even tried to apply for a job at the anganwadi [in 2016]," she says. In the same room, there is a sewing machine in a corner – dusty and covered with an old cloth. "I used to do tailoring," Champa says. "Village women would get their cloth to me, and I would stay up all night to sew their garments. I earned 4,000 rupees every month. But after my mother-in-law died three years ago, my husband forced me to stop tailoring, saying I must have time for all the house work."
The restrictions imposed by her husband meant that Champa was left only with the option of MGNREGA work. "He doesn't stay here and now he says do as you like as long as I also take care of domestic work." Champa's husband, 30-year-old Hukkam Rawat, works as a taxi driver in Gujarat. He earns around Rs. 10,000 a month and returns to the village once every two months when he leaves some money for Champa and their two sons, 12-year-old Lavi and seven-year-old Jigar.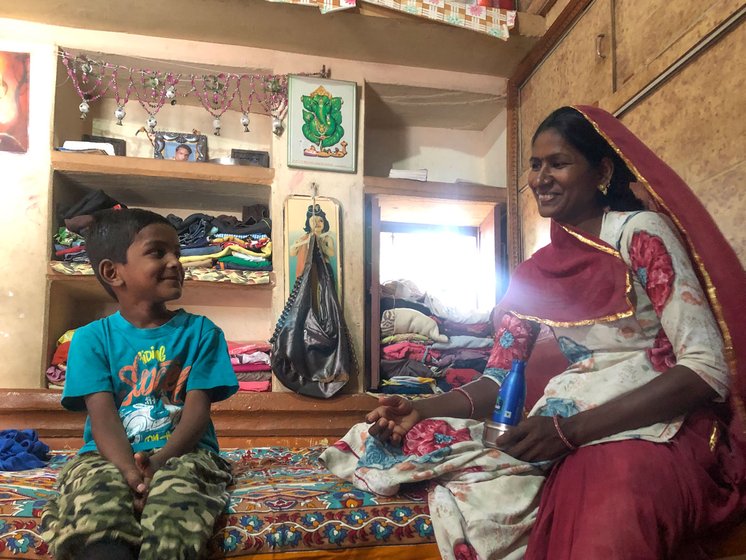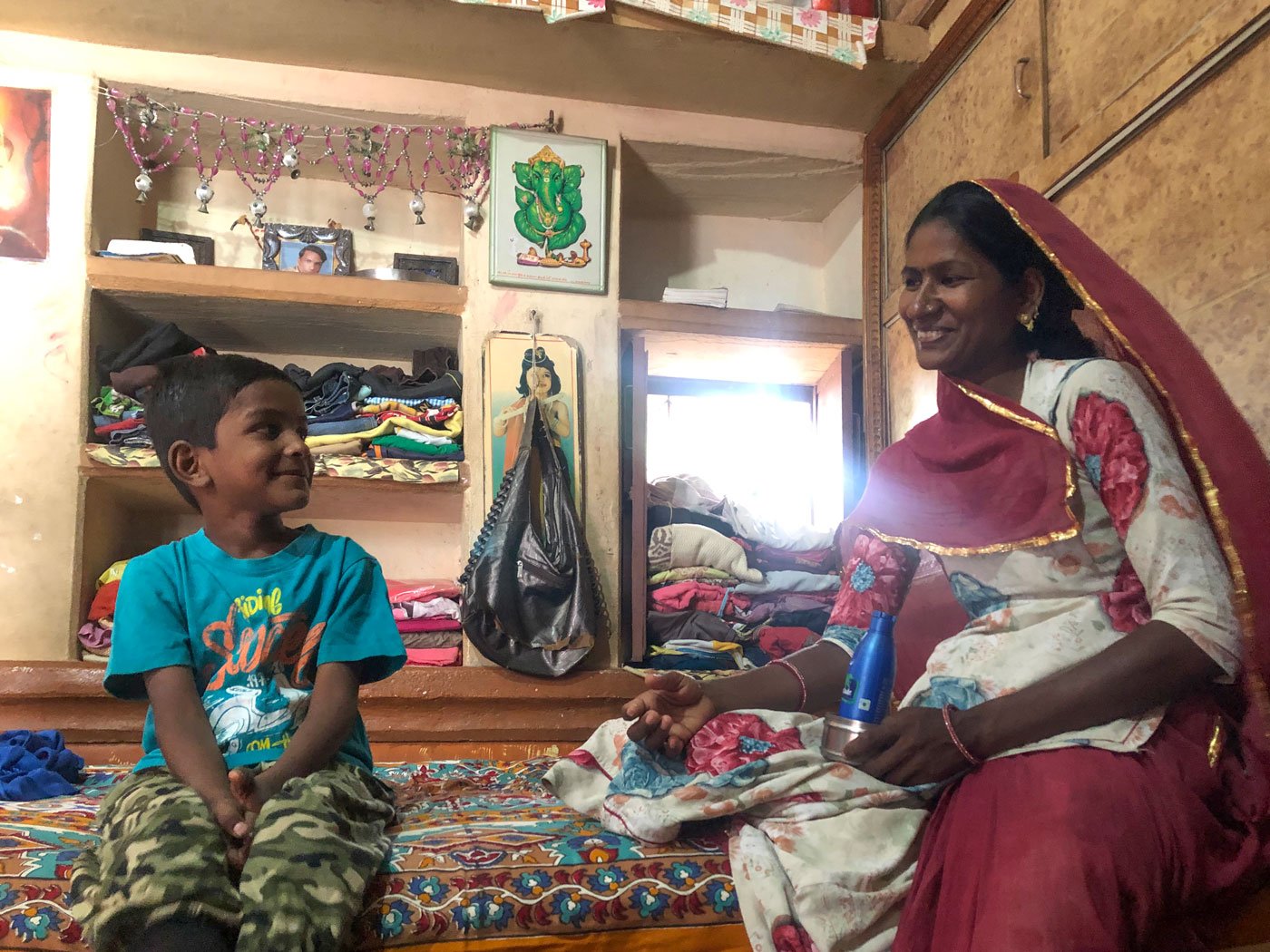 PHOTO • Nioshi Shah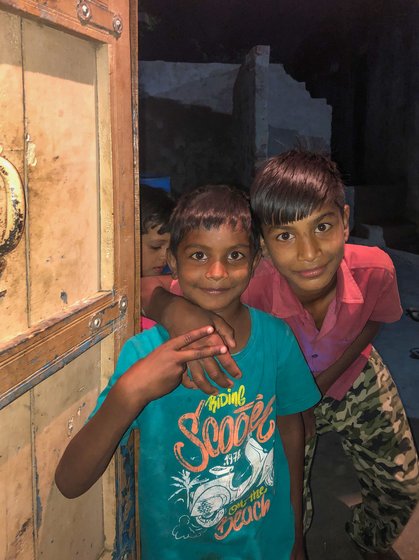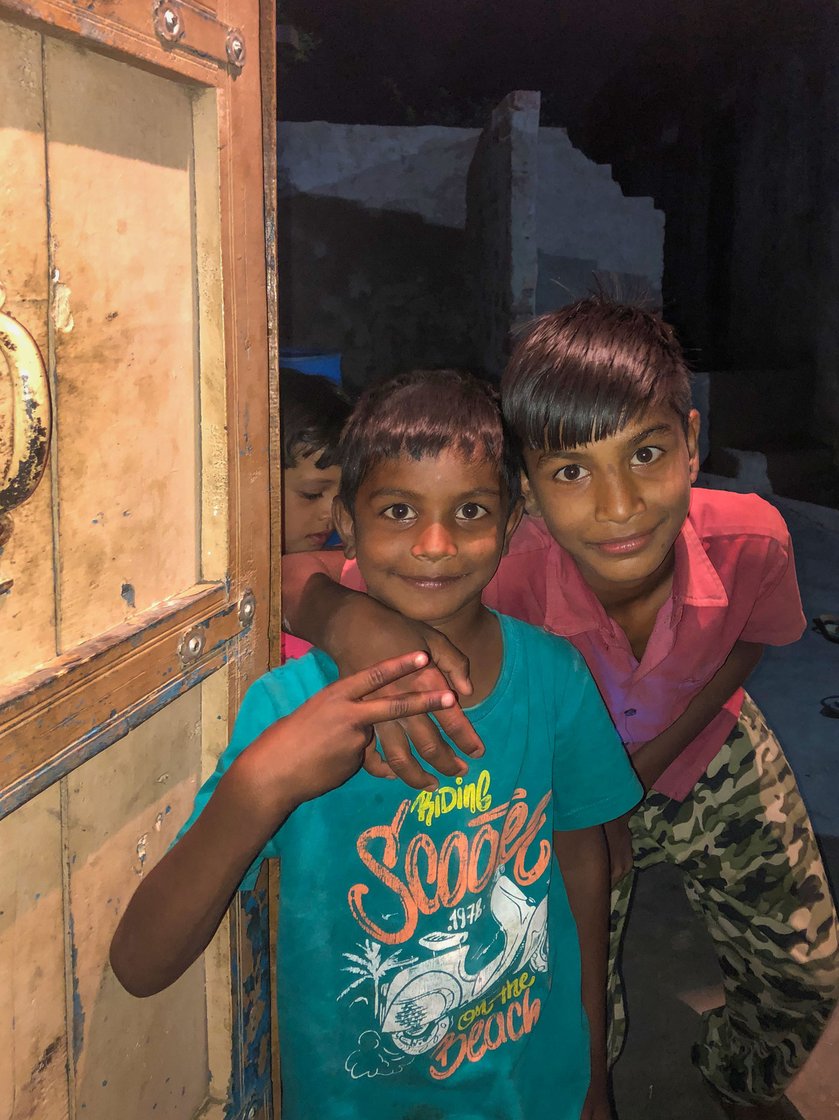 PHOTO • Nioshi Shah
Champa approaches her work, the only option she now has, very seriously. As a mate, her duties include marking the labourers' attendance in the muster roll, measuring the trenches built and ensuring they complete their allotted tasks. The mate's duties, she says, also include "keeping an eye out for whether labourers are getting their full wages and following up with the gram panchayat to [try and] resolve any discrepancies in the wages given." Champa says she has tried to ensure that every labourer on her site receives the full daily wage for completing the allotted work. "Earlier, labourers would barely receive 50-60 rupees per day. The rate is decided by the panchayat. No one can question it…."
So Champa often tells the labourers – all women – at her site: "It is your right to know what's written in the muster roll. You should check, if there is a cross against your name, it means the mate has not given you attendance, even if you were present. If the mate, the panchayat , or any authority is defrauding you, it's your right to find out."
Champa also talks about facilities mandated by this scheme. "They say they will provide tents and medical aid, but we haven't seen any yet. When labourers get hurt, women  tear their dupattas and tie it around the wound. Indravati [a labourer on her site] almost fainted once. A tool pierced her foot… We had no medical aid. This kit of medical aid, inch tape and calculator, I got it from the panchayat .  I asked them so many times, they finally gave it to me…"
Her attempts to streamline the MGNREGA work system in her village of 1,172 people, she says, has brought her threats from some in Thana. "They are trying to establish their power in the village," she says.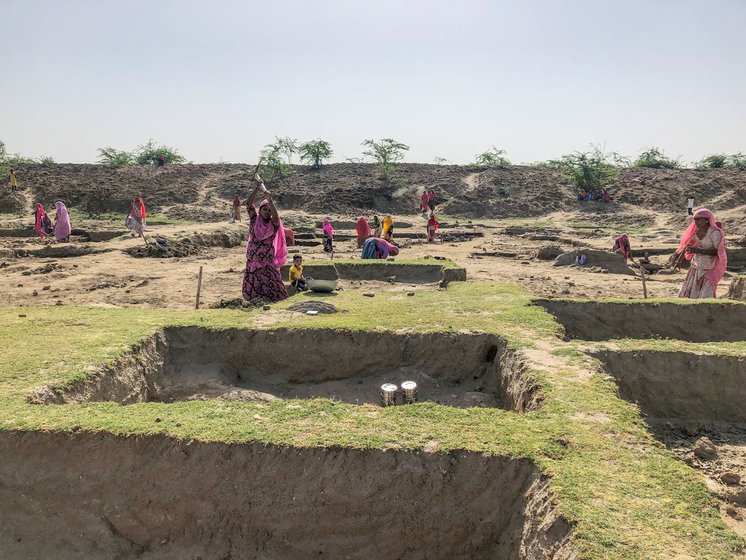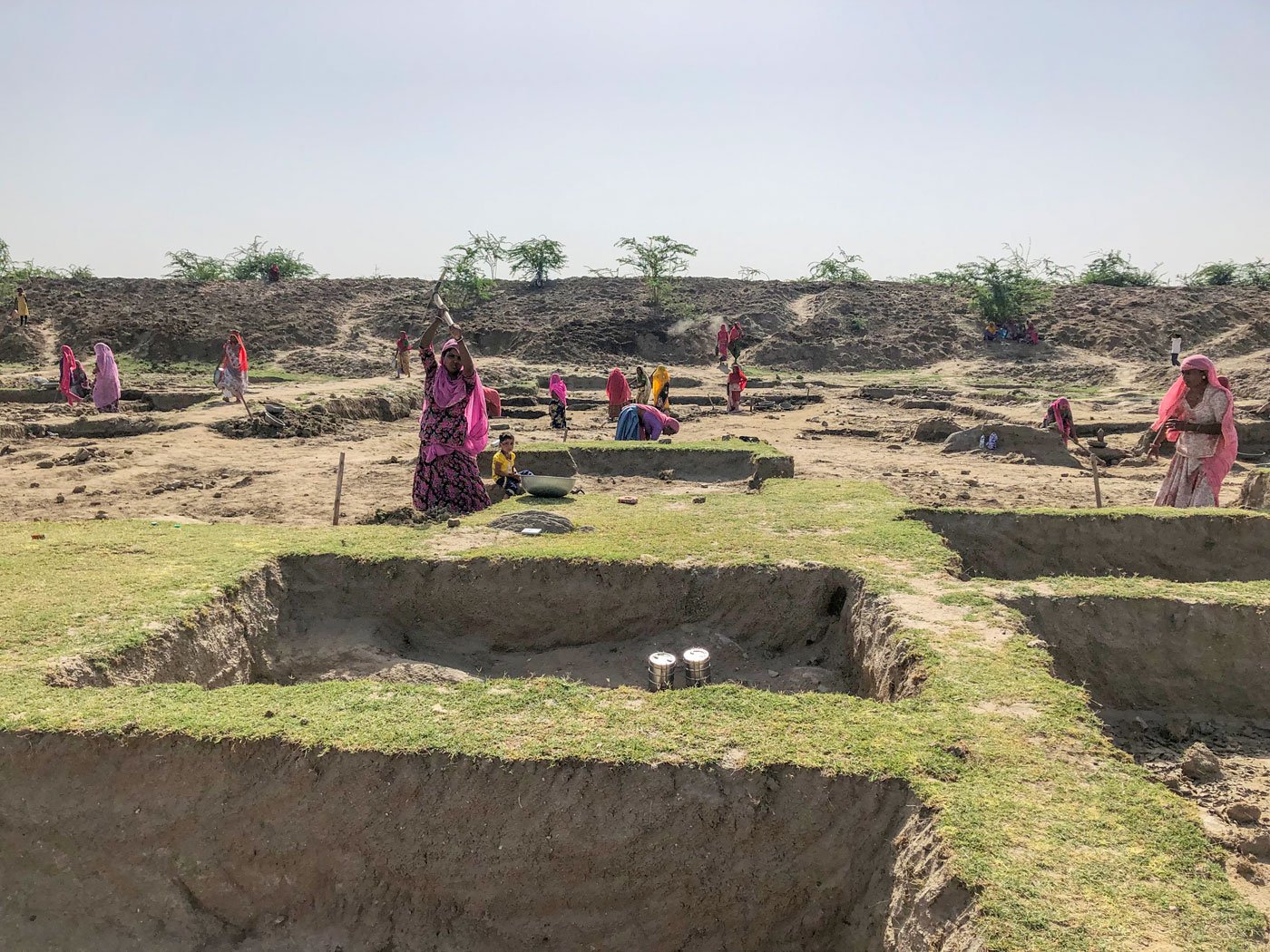 PHOTO • Nioshi Shah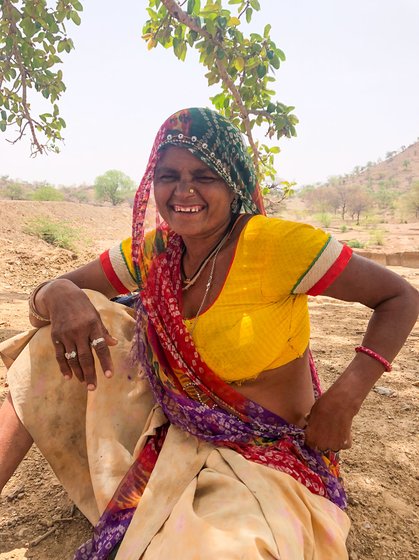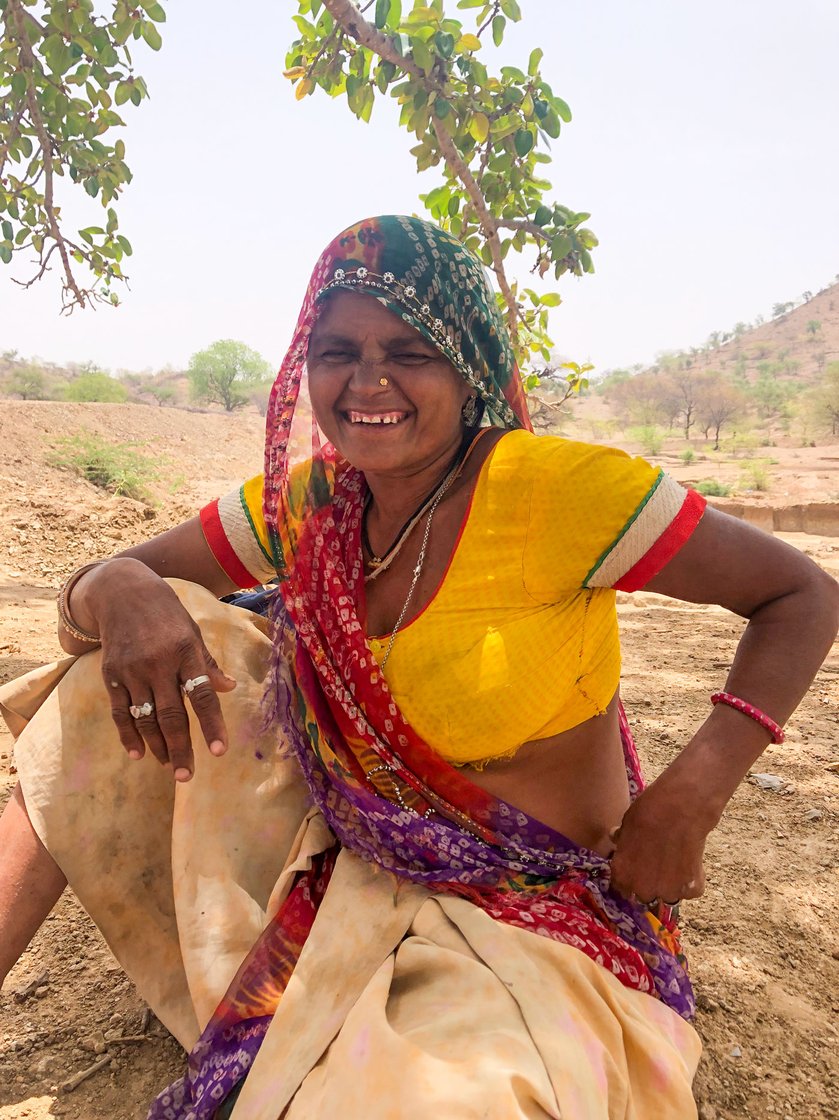 PHOTO • Nioshi Shah
Power operates at other levels too in the village and, therefore, on its MGNREGA sites. Champa, who belongs to the Rawat caste, listed as an OBC in Rajasthan, says, "Women who belong to 'lower' castes get their own bottles from home because they're not allowed to touch the matki [earthen pot] or drink the same water. If I am of the same caste as the women on water duty, I can touch the matki and drink water from it. But Bhils (a Scheduled Tribe in Rajasthan), for example, can't."
On approaching a site just before noon, where Gita Khatik has just finished her work for the day, Champa sits on the ground, under the shade of a tree. An exhausted Gita drops her spade and slowly sits down next to Champa.  Taking a sip from a plastic bottle, 40-year-old Gita, who belongs to the Khatik community, a  Scheduled Caste says, "The upper caste labourers here discriminate against those of lower castes, especially against Dalits. They don't let women of lower castes fill water for everyone. I've never been put on water duty, because I belong to a lower caste."
In a while, on her way back home, Champa says, "If the government makes an effort to look at the conditions [of MGNREGA workers] and increases the rate, people will be able to fill their stomachs at least. The government spends so much money everywhere, why can't it spend some on its labourers?"
A little after noon, Champa arrives back home and and calls for her children. Unlocking the door, she says, "I haven't received my income as mate [for five months when I met her in May]. They [some of the panchayat members] say they won't let it pass, they don't want me to be mate. So I say, it's okay even if you don't let it [the money] pass for five years…."
Cautiously lifting the ghoonghat as she steps back into her house, in a much louder voice now, she says "The government should make different NREGA sites for men. If men are around, we are not allowed to remove our ghoonghats even while working. We can't talk with our ghoonghats on. We can't even see clearly… If there are only women on the site, we don't follow these rules… we talk, we laugh, we understand each other's problems..."