Alagiri Sami smiles toothlessly, trying to speak over the din of the rhythmic clapping of looms. "They say we came here 500 years ago and settled on the banks of the river to set up our craft," he says. "I think we came here just for the fish."
In the shed where 85-year-old Sami is working in Kuthampully village, 12 looms are arranged in rows of three.  At the sides of the shed are several bundles of cotton thread from the spinning mills of Malappuram and Coimbatore, lengths of yarn hung out to dry, and rolls of golden kasavu (zari) immersed in bowls of liquid starch to keep them stiff. Stacks of ready off-white veshtis with golden borders and sarees featuring intricately woven patterns of elephants, peacocks and more await delivery to customers.

Sami's family owns the shed and an adjacent handloom shop. He belongs to the Devanga Chettiar community of weavers (listed as Daivanga Brahman, an OBC), and came to Kuthampully from Tamil Nadu in 1962 when he married Bhagirathi Amma. Some accounts say members of the community migrated from Karnataka to Kerala 500 years ago, at the request of the king of Kochi, to weave clothes for the royal family. They settled on land with the Bharathapuzha river to the north and the Gayathripuzha river (also called the Ponnani) to the west.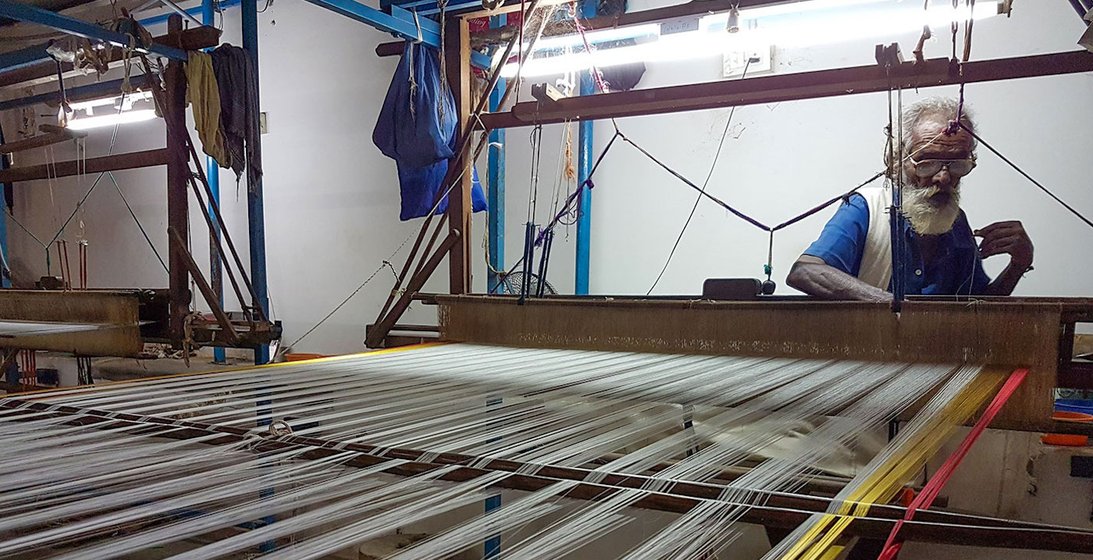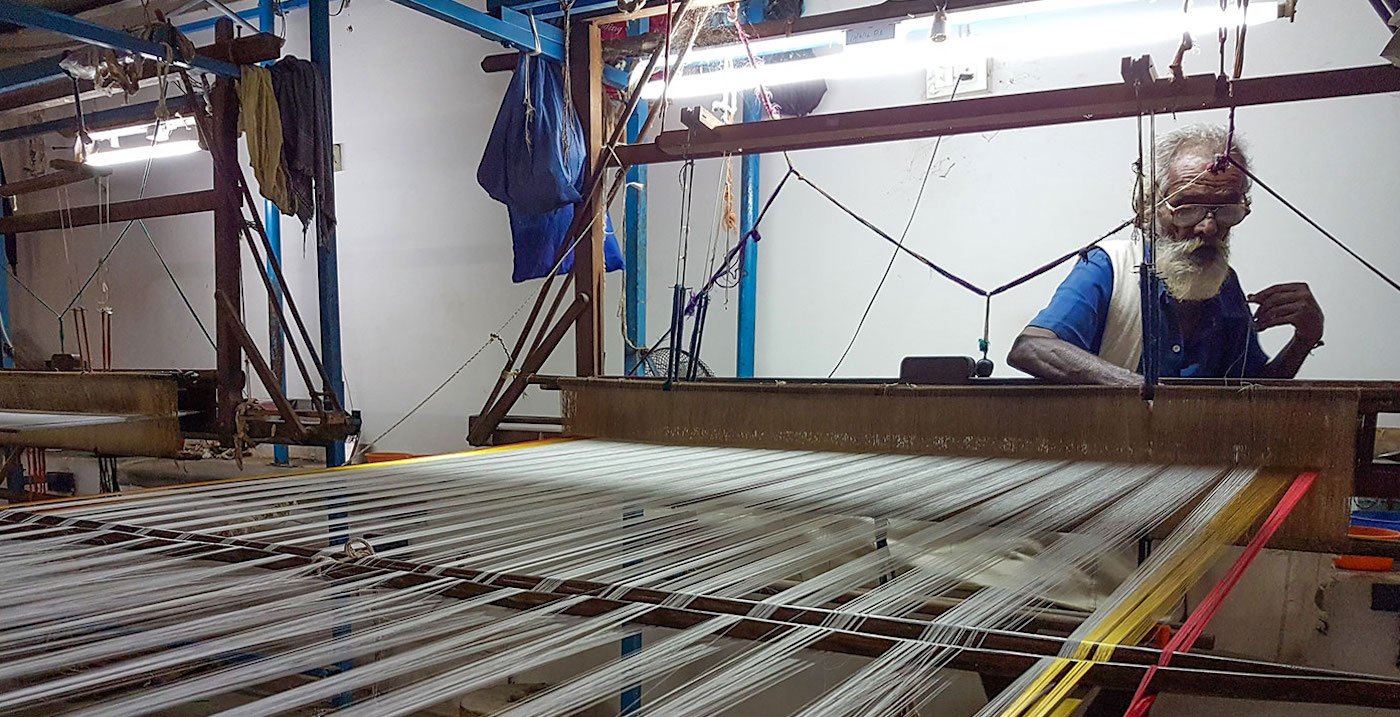 PHOTO • Remya Padmadas
Through their skill and craft, the weavers brought new life to Kerala's traditional wear – the mundu ( veshti ), settu saree (with the golden zari border), and the settu mundu (saree in two separate pieces).  Over time, the village that they came to, Kuthampully, in Thiruvilwamala panchayat of Talappilly taluk in Thrissur district, about 130 kilometres from Cochin, has become one of the primary centres for the production of handloom sarees and veshtis in Kerala.
And the Kuthampully sarees, veshtis and settu mundu have acquired GI (geographical indication) certificates. A GI is given by the government to protect the traditional knowledge of a community. It indicates that a product or craft has a specific origin and possess qualities or a reputation that are due to that origin.

Of the village's 2,400 people (Census 2011), 140 are associated with the Kuthampully Handloom Industrial Cooperative Society, a partially government-owned entity that supplies the raw materials and pays the wages for the finished products. Other weavers work for master weavers in the village who take product orders from shops in various parts of the state and commission the weavers to complete the pieces. A few take orders directly from customers and supply the clothes to them. Most weavers in the village have 1 or 2 looms in their home, while 2 or 3 families own a separate shed with numerous looms.

In all instances, the income is modest. "The people who work here, most of them are over 70," says Surjit Saravanan, Alagiri's 24-year-old grandson. "They take an entire day to complete a simple mundu (usually four metres long) with no designs. What you earn depends on speed and how much you can finish in a day."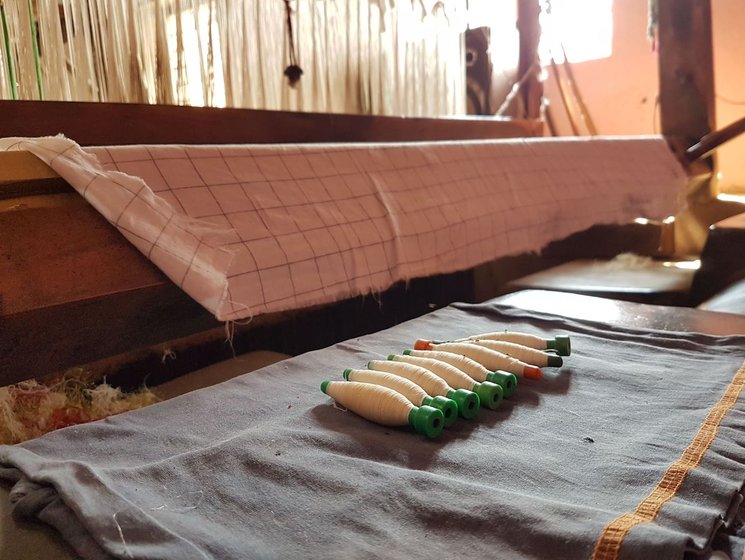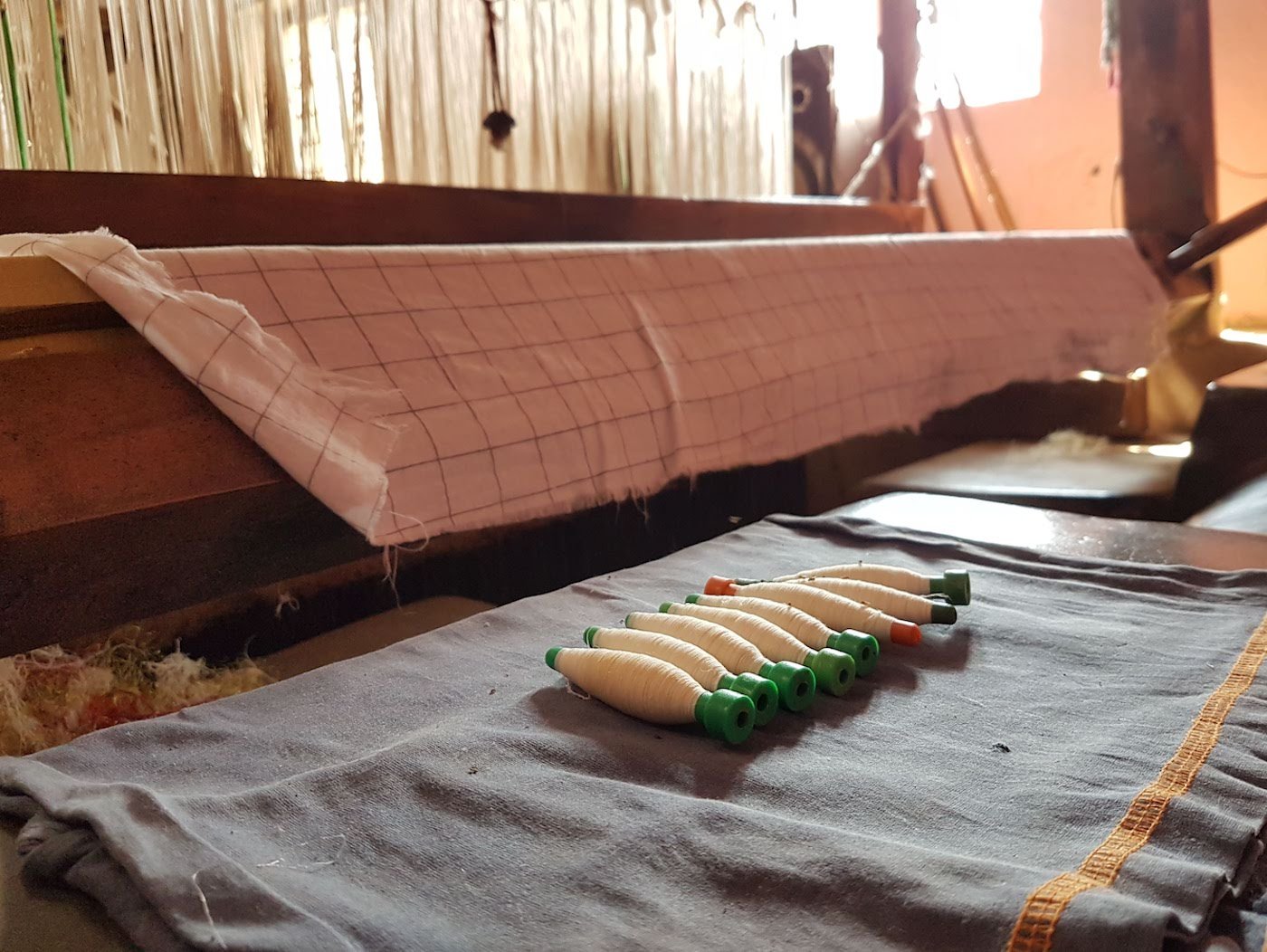 PHOTO • Remya Padmadas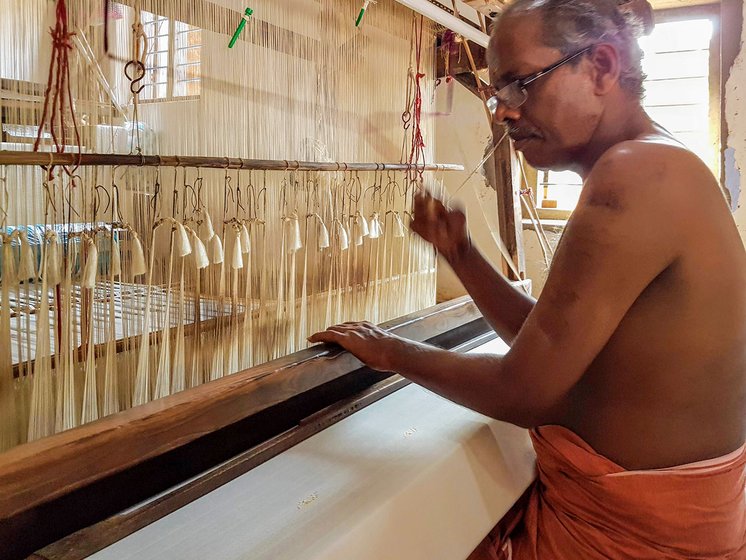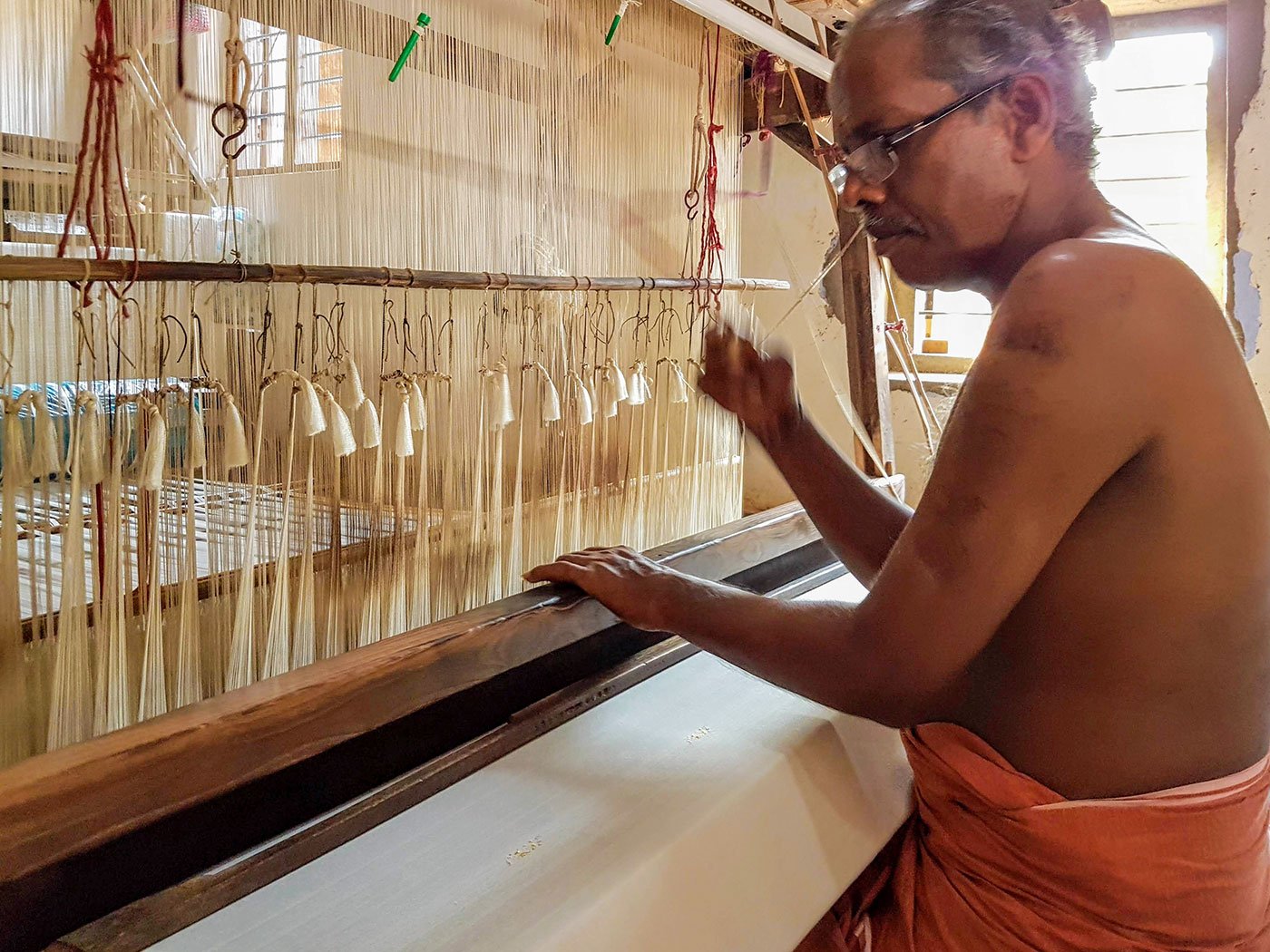 PHOTO • Remya Padmadas
A Kuthampully weaver earns Rs. 200 to Rs. 400 for each mundu . A plain saree brings in Rs. 500, and the payment for saree with designs can range from Rs. 750 to Rs. 2,000. A saree with heavily intricate patterns can fetch even Rs. 4,000, but it can take an elderly weaver several days to complete, working for 9-10 hours a day. "Last week, we had a [relatively] younger weaver who came in to help. He finished weaving a designer saree in two days, pocketed Rs. 4,000 and left," Surjit adds. "My grandfather took eight days to weave the same saree."

Weaving was traditionally a family business, says Mani K., who has been in this occupation for over 30 years, and a lot of groundwork preceded the actual weaving. "When we were children, the entire family used to be a part of the weaving process, from the grandparents to the children."
The paavu or starched cotton thread would come from the spinning mills in bundles. The elders in the family would separate and straighten out the threads, and twist them into rolls that could be fed into the loom. Since these threads were about 44 metres long, the straightening and rolling was done standing on the road, and required at least seven pairs of hands. Meanwhile, the women and children in the family would help spin the yarn and twine the bundles of kasavu into smaller rolls using a charkha . The process would take an entire day.
All this has now changed. Smaller family units, children unwilling to remain in this occupation, and a lack of skilled weavers have forced older weavers to hire labourers from Tamil Nadu for the initial set-up required to run the loom. "We call people to work the loom, they come in the morning and leave by 5 p.m.," Mani says. "For a saree worth Rs. 4,000, a weaver ends up getting only about Rs. 3,000. The rest goes as labour cost. How much do we make at the end of it?" So his family has been forced to cut back – from four looms in the house in the 1990s to only two at present.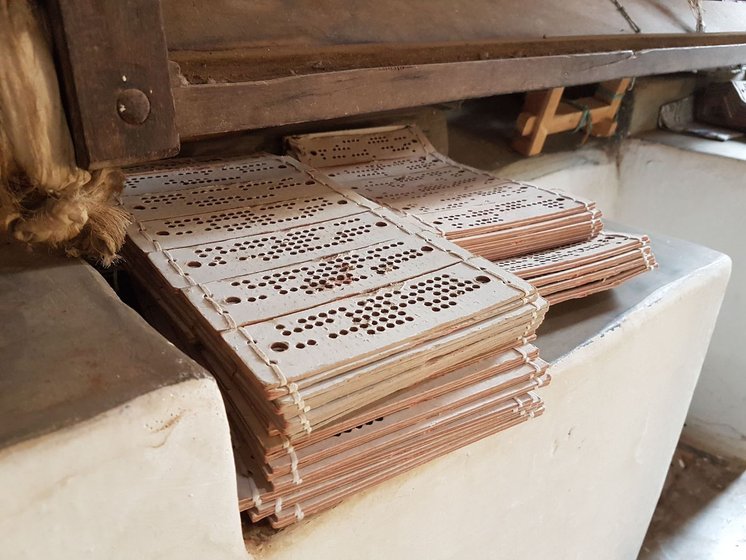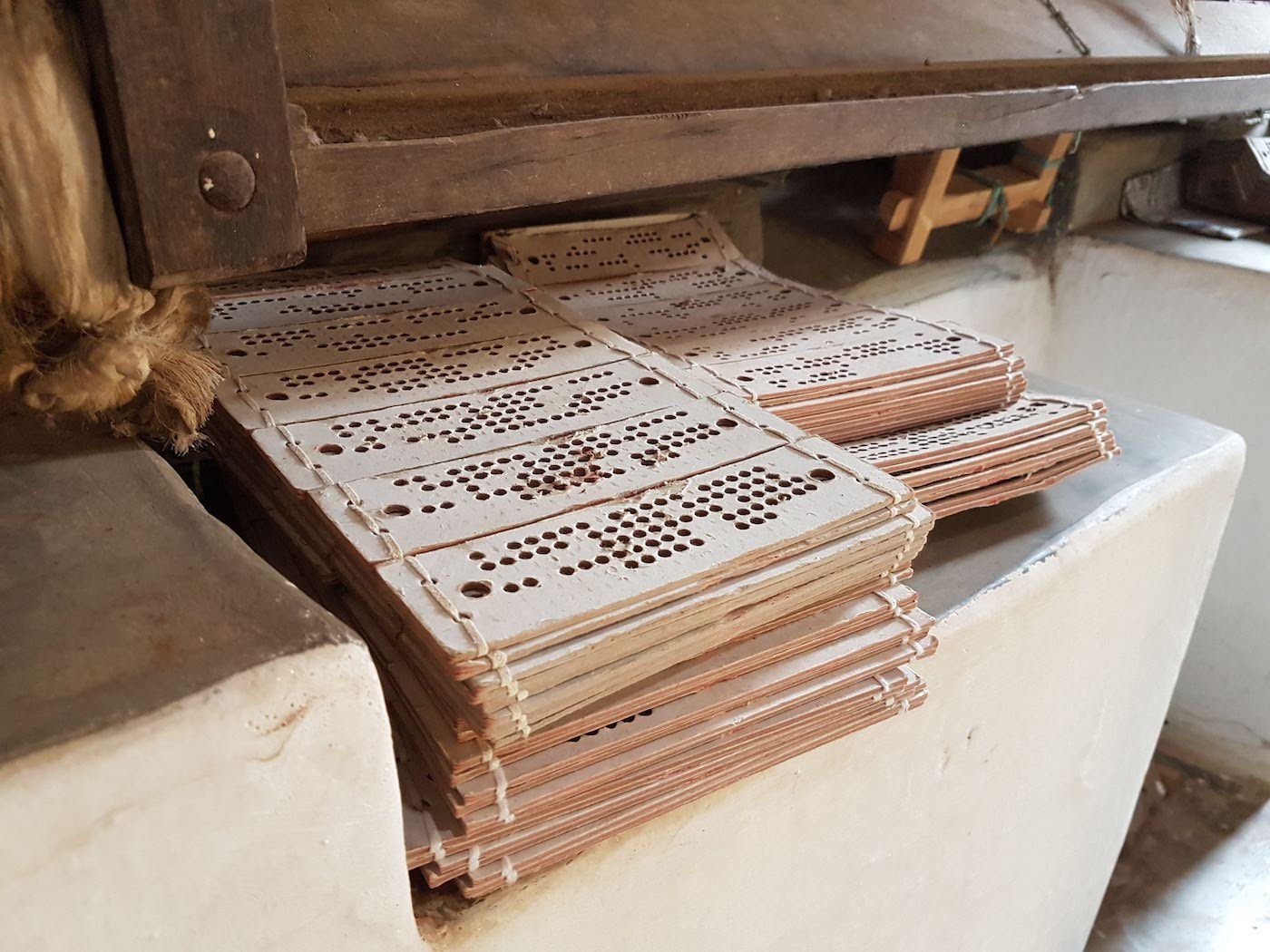 PHOTO • Remya Padmadas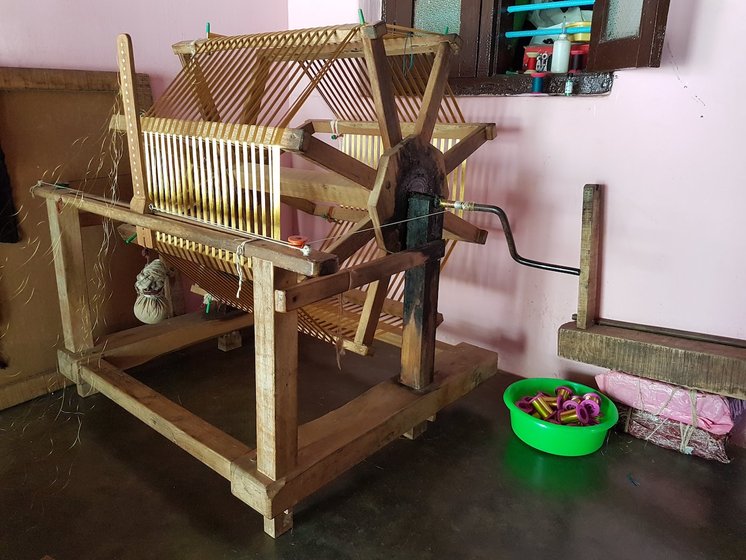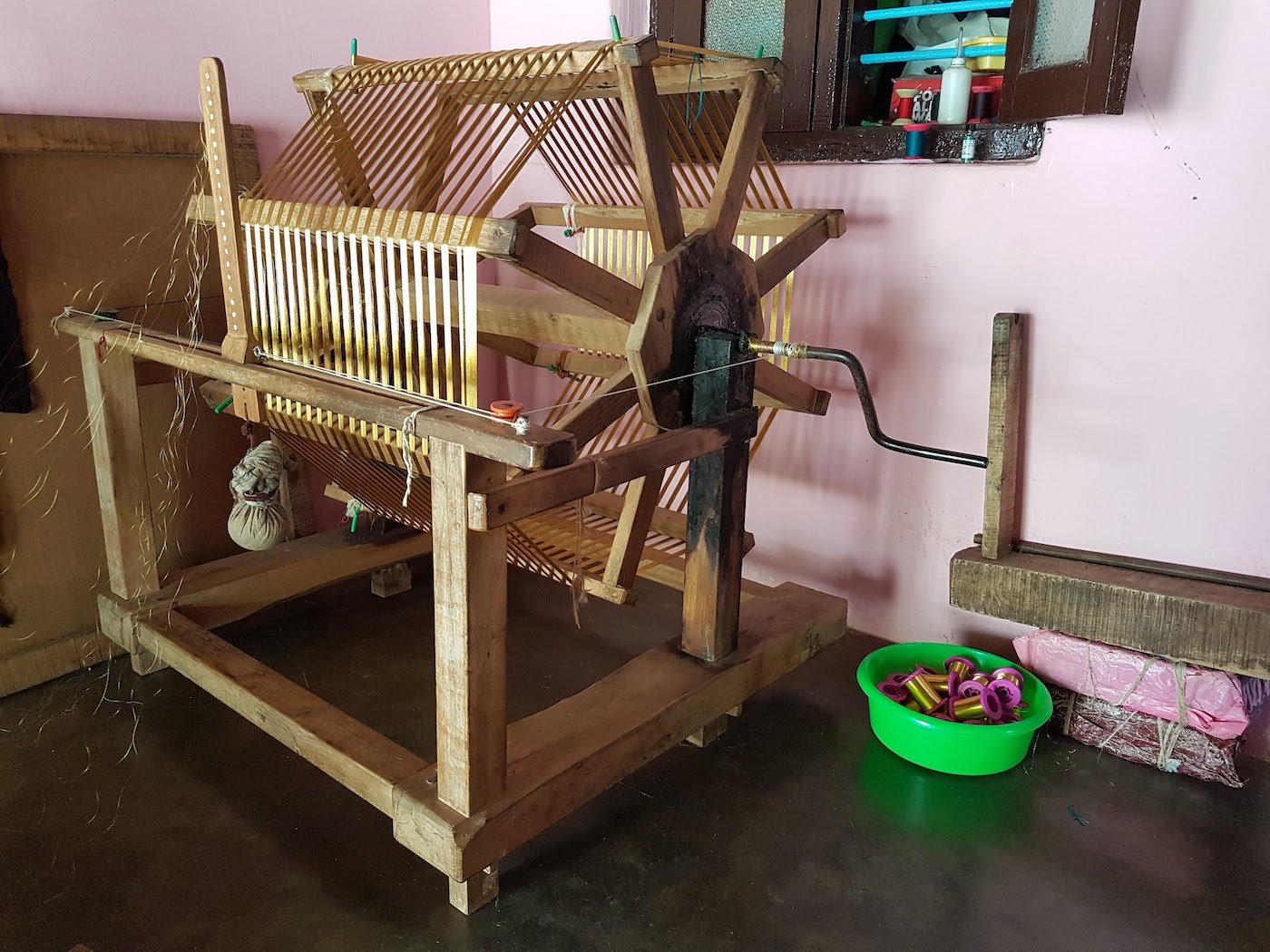 PHOTO • Remya Padmadas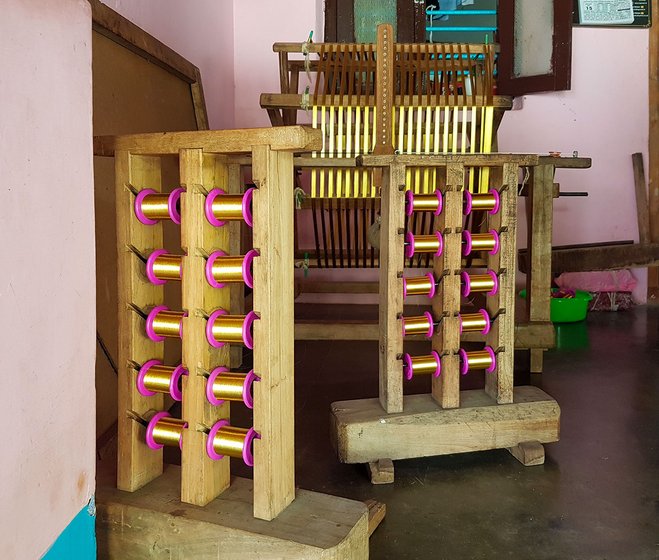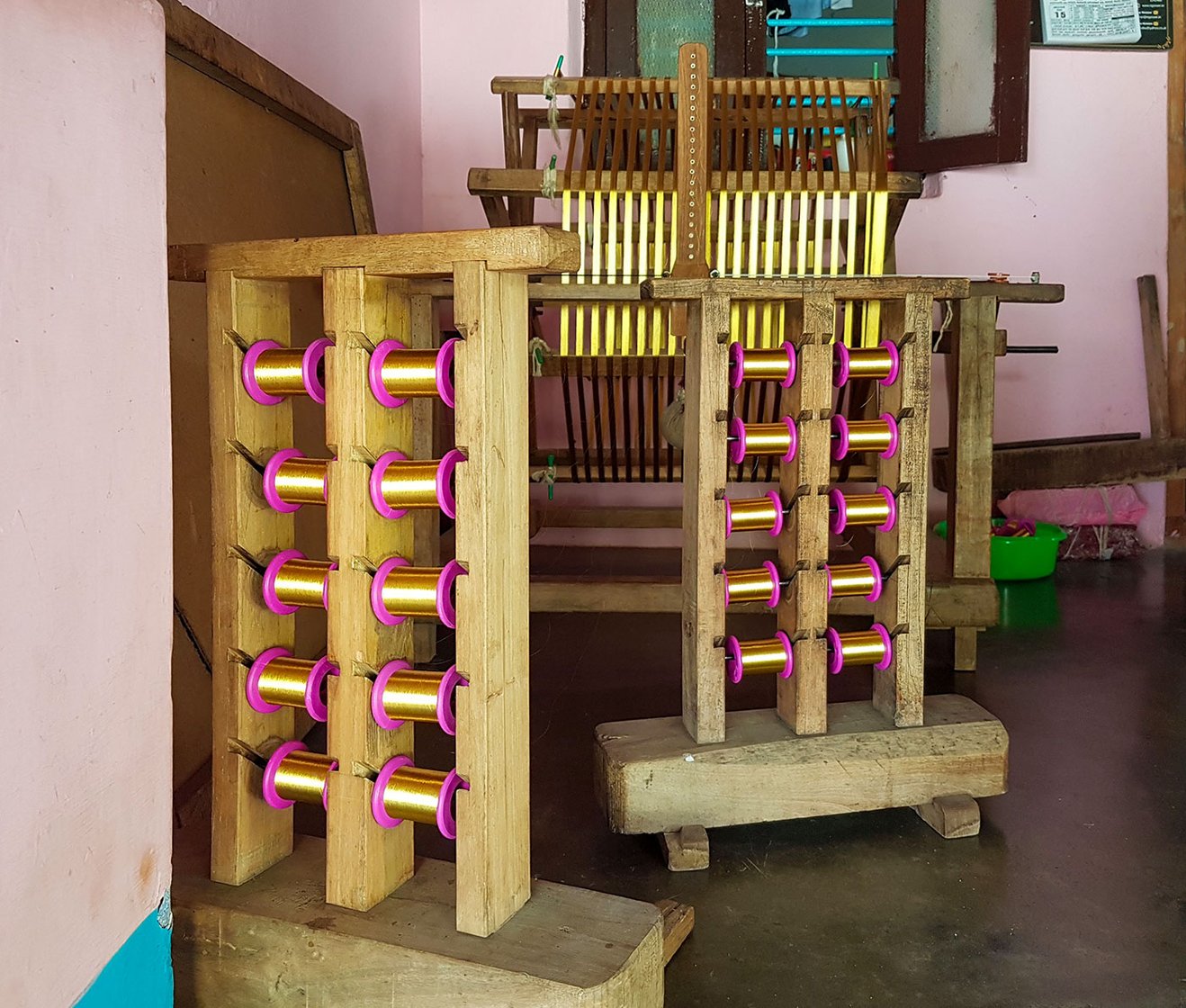 PHOTO • Remya Padmadas
Many young persons in Kuthampully are graduates and not interested in weaving, Mani says. His son is a mechanical engineer who works in a construction firm in Thrissur. "If you earn just Rs. 6,000 a month [from weaving], what can you do with that money?" he asks. "That's why there are no youngsters in the craft, they want jobs outside."

Surjit is an engineer too; he did not learn weaving and manages the family's textile shop. His father is the secretary of the Kuthampully Handloom Industrial Cooperative Society, and his mother weaves from their home in Kuthampully. He says, "Youngsters are not interested in working in this industry at all. In other fields, you can work independently and get paid for it. But for weaving, you need a team to help you right from the beginning. If a customer asks for a specific colour, you have to dye the thread, and this requires help. If in the middle of weaving a roll of thread gets over, you have to join each thread with a new roll. It takes about a day to do this and you can't do it on your own. The punch card has to be designed by someone depending on your design. If the jacquard has a fault, a technician has to can fix it. You cannot do any of these tasks alone. It's all teamwork and it's difficult being so dependent on others."
Jaya Mani, who runs two looms with her husband in their house, agrees. "Weaving needs the involvement of too many people," she says. "Our neighbours help us stretch and roll the paavu , we help them do the same. We cannot work without that level of cooperation." Jaya and her husband are associated with the Handloom Society and between them earn Rs. 18,000 to Rs. 25,000 a month.
However, Jaya is one of the few women in the village who still weaves. "Most women work in textile shops these days, because the work is easier and they can do it alone," she says. "My children are not interested in this craft. My daughter knows how to weave, but if she gets into weaving she isn't able to attend to other tasks at home. My son is completely disinterested and works in a shop. And who can blame him? This isn't a profitable business."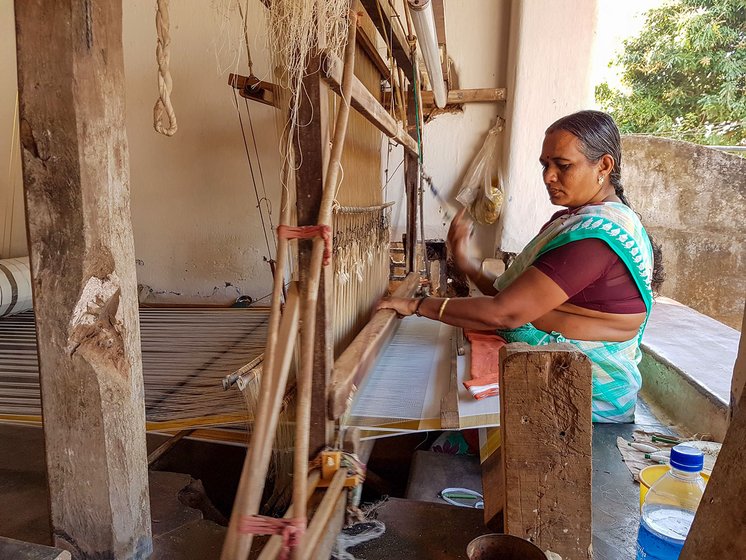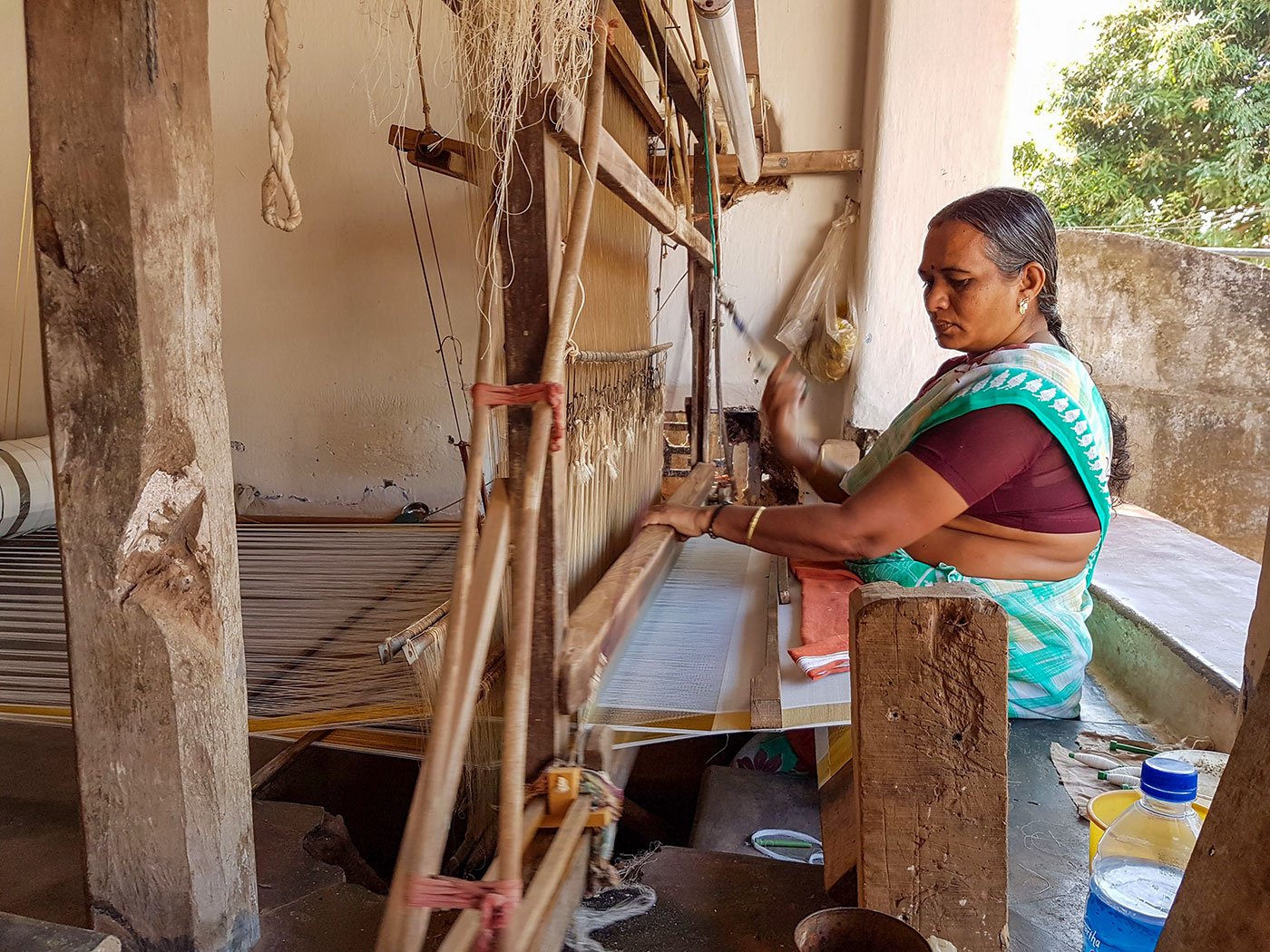 PHOTO • Remya Padmadas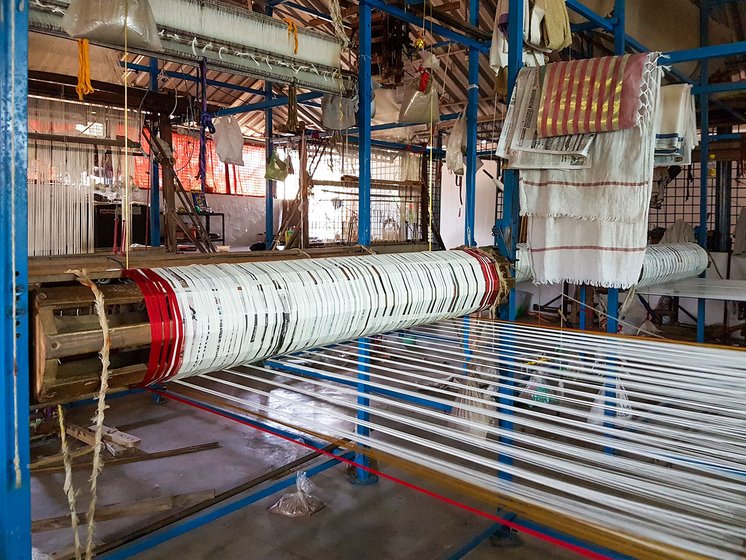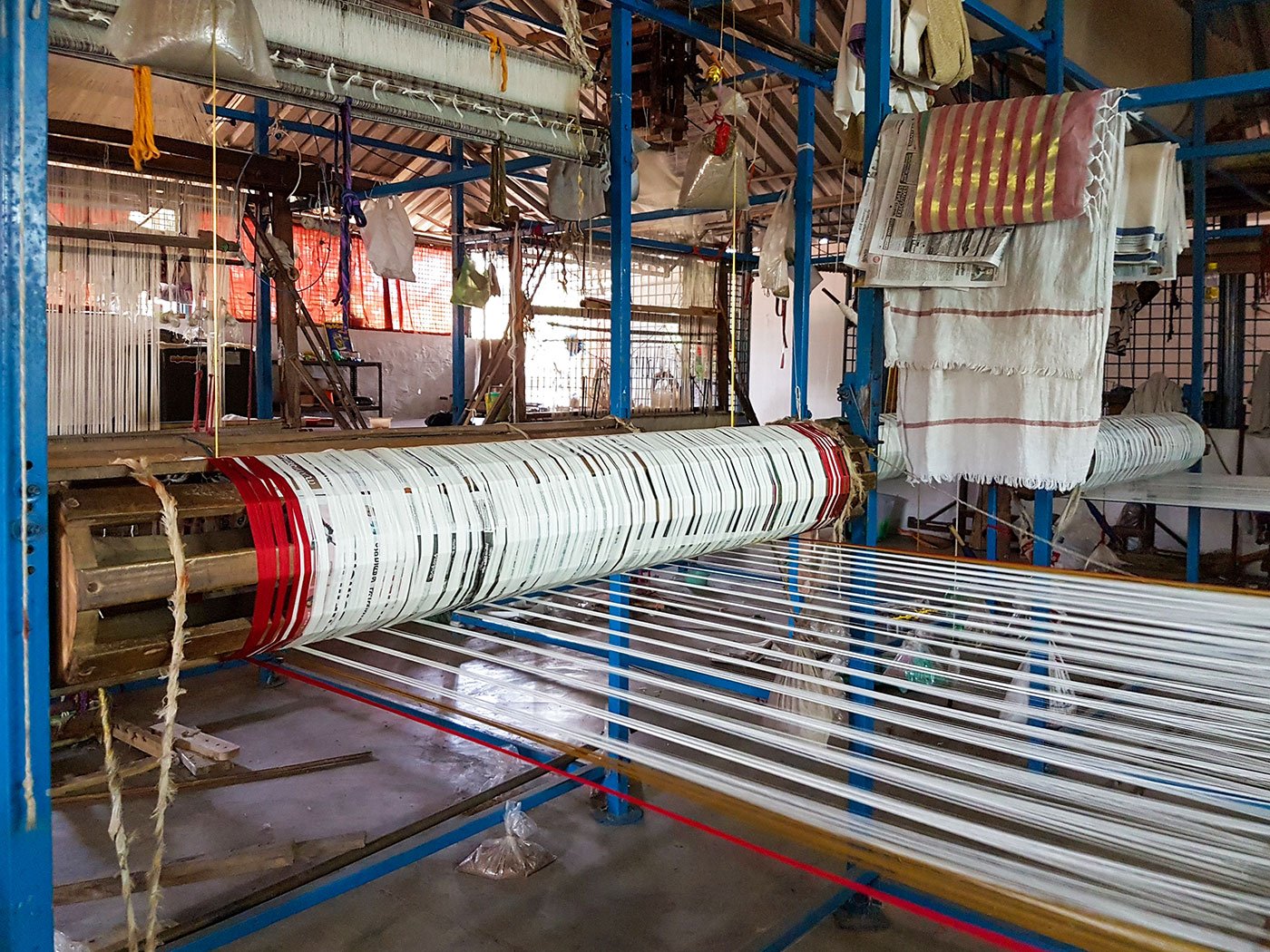 PHOTO • Remya Padmadas
Another reason for the decline of hand-weaving in Kuthampully is the spread of ever-more technically advanced powerlooms that can weave intricately designed sarees much faster and cheaper. The staff at the Handloom Society say that in the shops of Kuthampully, 80 per cent of sarees on display are made on powerlooms in Tamil Nadu.
"On the machine, about 5 to 6 sarees can be woven in one day, and even 10 if you run it through the night. One person can supervise four powerlooms at a time. The entire process is computerised," says Surjit. "On handlooms, only one person can weave one saree at a time. There is a huge difference in cost as well – a handloom saree that costs Rs. 2,000 will cost Rs. 400 when produced by a powerloom.
So why do people buy handloom sarees and mundus at all? "Quality" he replies. "A handloom saree is so soft that it feels almost weightless when you wear it. Sarees woven by machines use a different kind of kasavu from those woven by hand. There's a world of difference in quality. Also handloom sarees are more durable."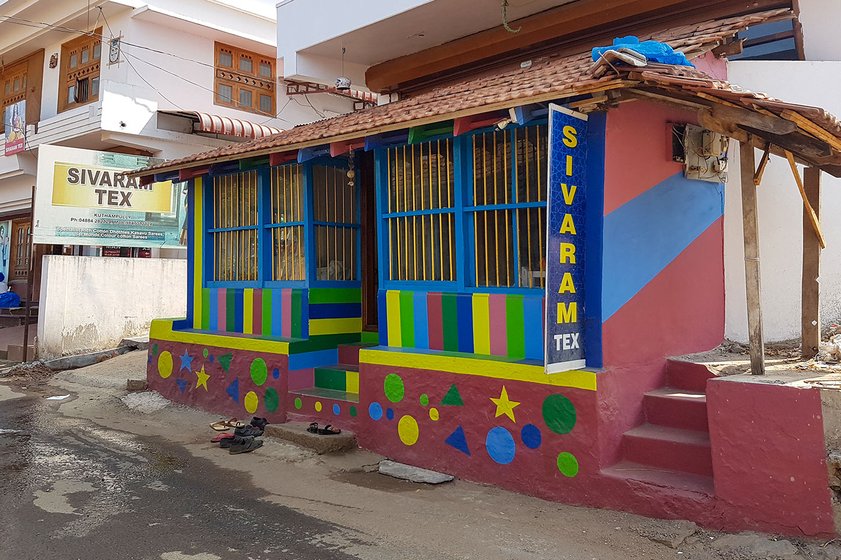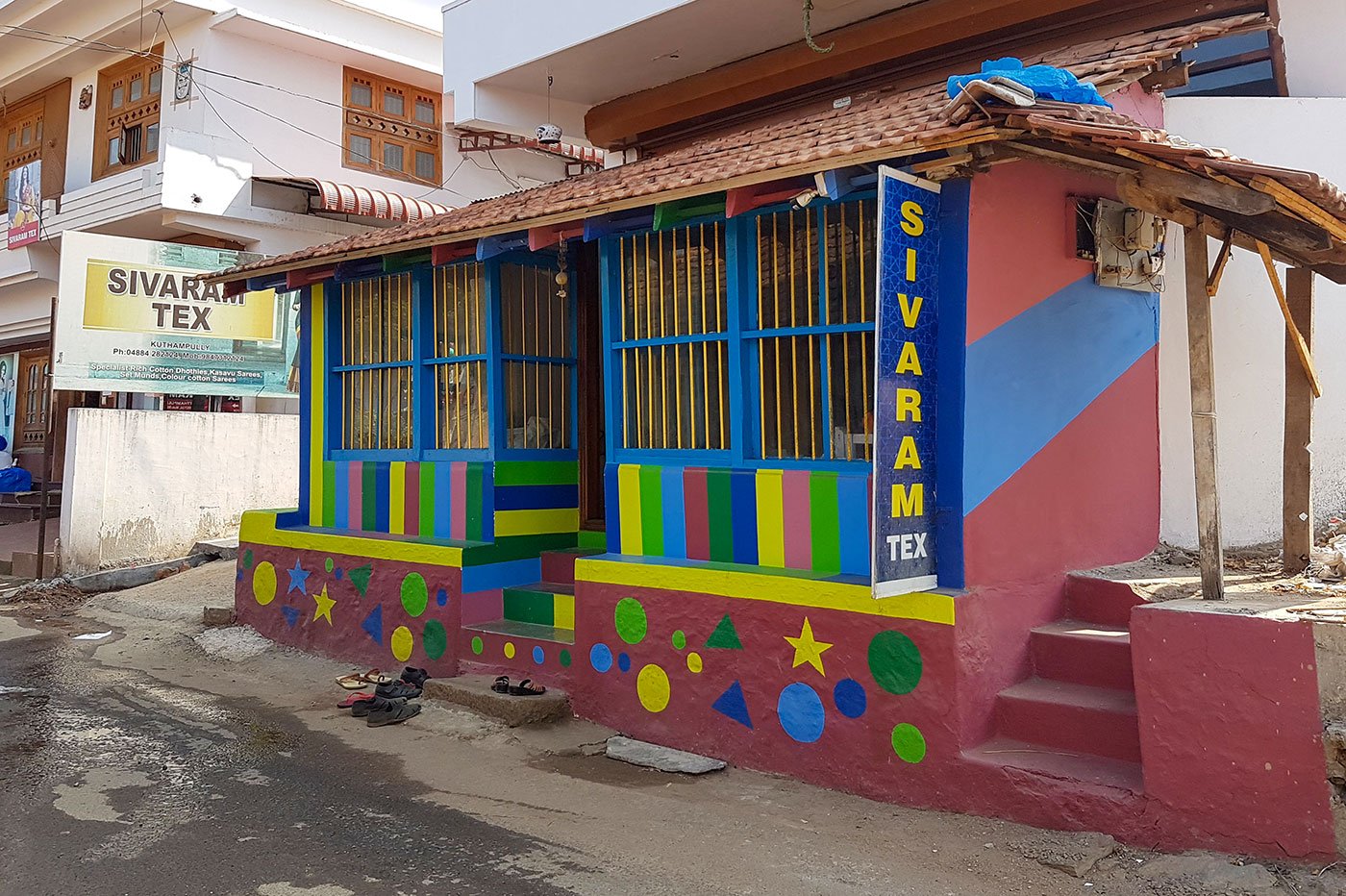 PHOTO • Remya Padmadas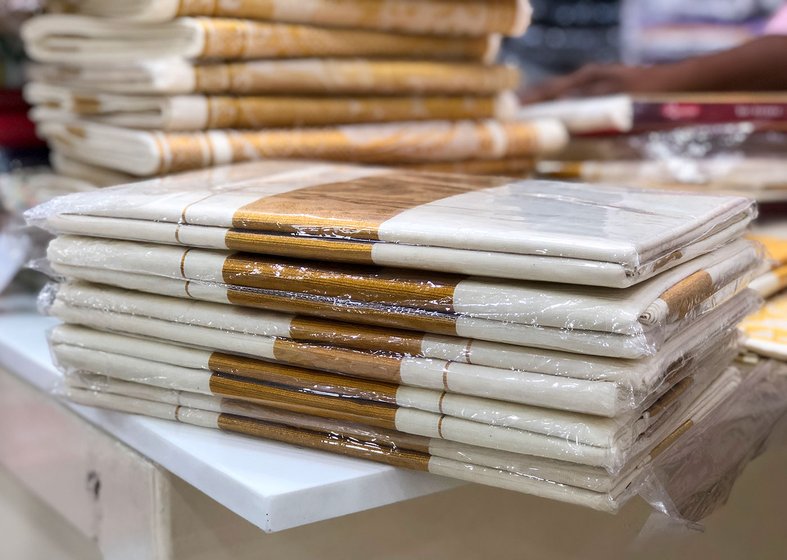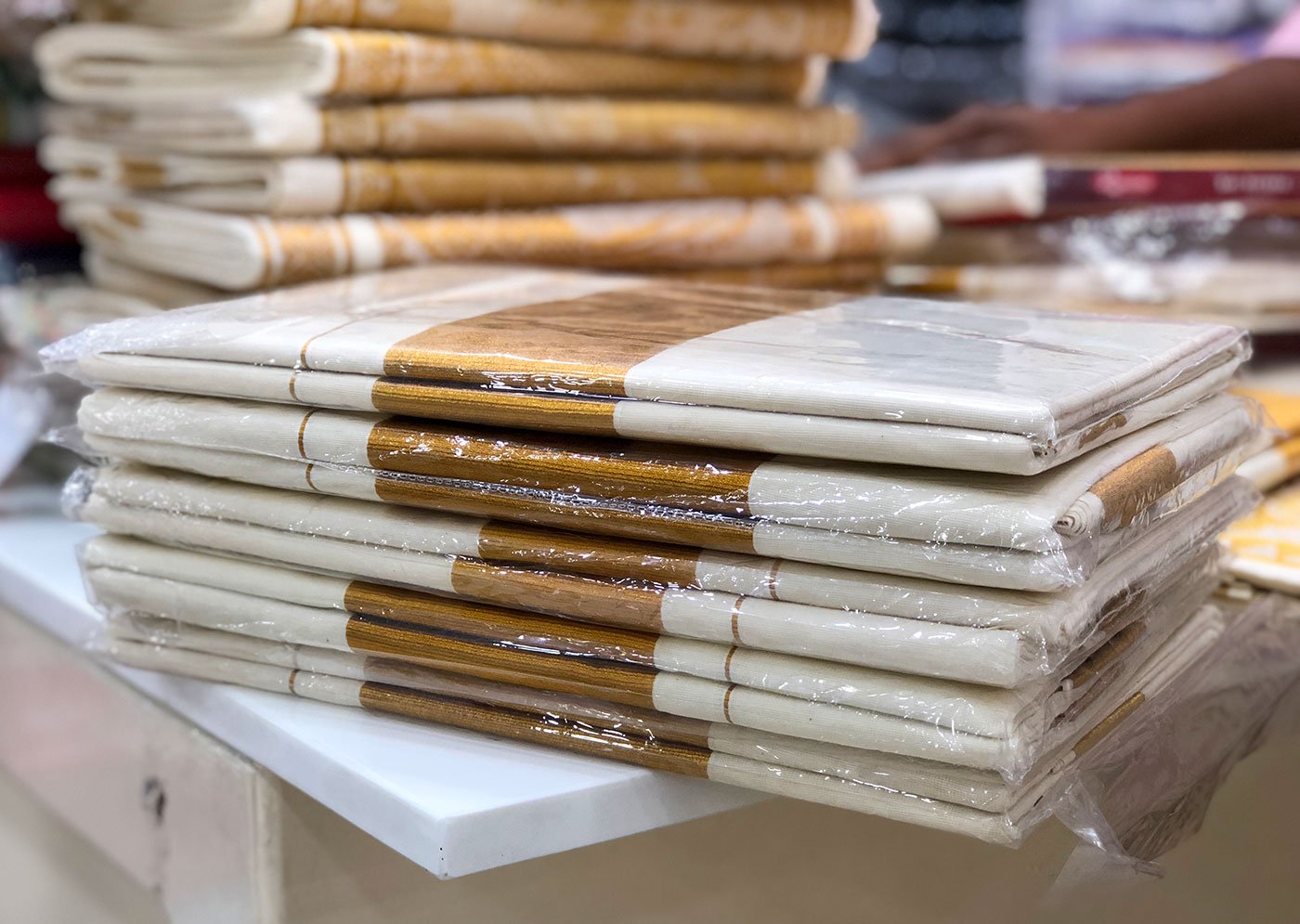 PHOTO • Remya Padmadas
Though the prevailing demand for handloom sarees allows weavers here to survive, the severe floods in August 2018 in Kerala hit the industry hard. Aishwarya S., an administrative staffer at the Kuthampully Handloom Industrial Cooperative Society, says that after the flood, over Rs. 1 crore worth of stock sold to traders on credit was returned because the shop owners were unable to find customers. With so much unsold stock, the society was forced to take a loan to pay its 140 weavers. August was also the time of Onam, the most popular festival in Kerala, when the sale of traditional clothing is at its highest. The society later sold the sarees at a discount and Aishwarya says that a lot of stock is still waiting to be sold.
In Kuthampally itself though, the flood's impact was minimal. "The floods did not affect us so much," says Alagiri Sami. "There are two rivers on either side of our town and the water did affect one side a bit, but there was no serious damage. "
In the aftermath of the flood in the rest Kerala, the Handloom Society decided to start weaving coloured sarees after decades of specialising in the state's iconic off-white and gold sarees which are mainly sold during festival time in Kerala. Coloured sarees, they reason, will be in demand all year around. Many weavers in the village protested. "Most weavers here are quite old and have poor eyesight. Weaving coloured sarees takes more work and requires more time and concentration," Aishwarya says. "But we have to make this switch if the industry has to survive. Only time will tell how this will fare."