"Today TV and mobile phones are there, and people entertain themselves with those," says Muslim Khalifa, tightening the rings of the dholak as he speaks.
Muslim Khalifa sings the epic folklore of 12th century warriors Alha and Udal (also known as Rudal). The folk singer and dholak player from Samastipur district of Bihar, has been doing this for almost five decades; his voice is sharp and musical, reflecting the skills of someone who has been singing for a while.
Around April-May, during the harvest season for paddy, wheat and maize, he roams around farms with his dholak and sings for the farming community. In exchange for a performance of about two hours, he could get up to 10 kilograms of grain from the newly harvested crop. "It takes a month to harvest the three crops, so I spend my whole month in the fields," he says. During the wedding season increased demand earns him Rs. 10,000-15,000 over three months.
The expansive song, depicting 52 episodes, could take several days to narrate completely and calls for a committed and engaged audience. "But," says Khalifa, "today who will listen for so long?" The 60-year-old resident of Khalispur village is now witnessing a decline in his income from singing. Even his own children, he rues, are hardly interested in Alha-Udal.
Khalifa follows Islam but belongs to the Nat community, listed as Scheduled Caste in the state. The current population of the Nat community in the state is 58,819, but "you will find only one or two such [Alha-Udal] singers in 10-20 villages," Khalifa said while talking to us in May 2023.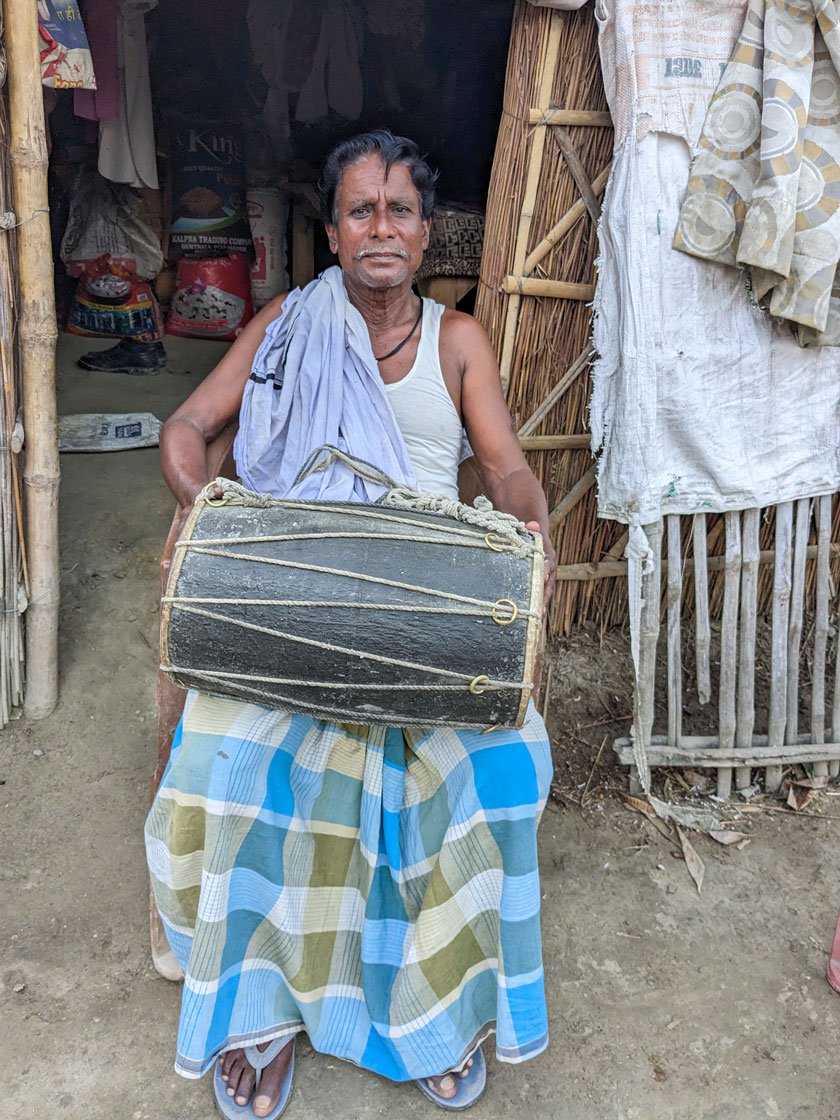 PHOTO • Umesh Kumar Ray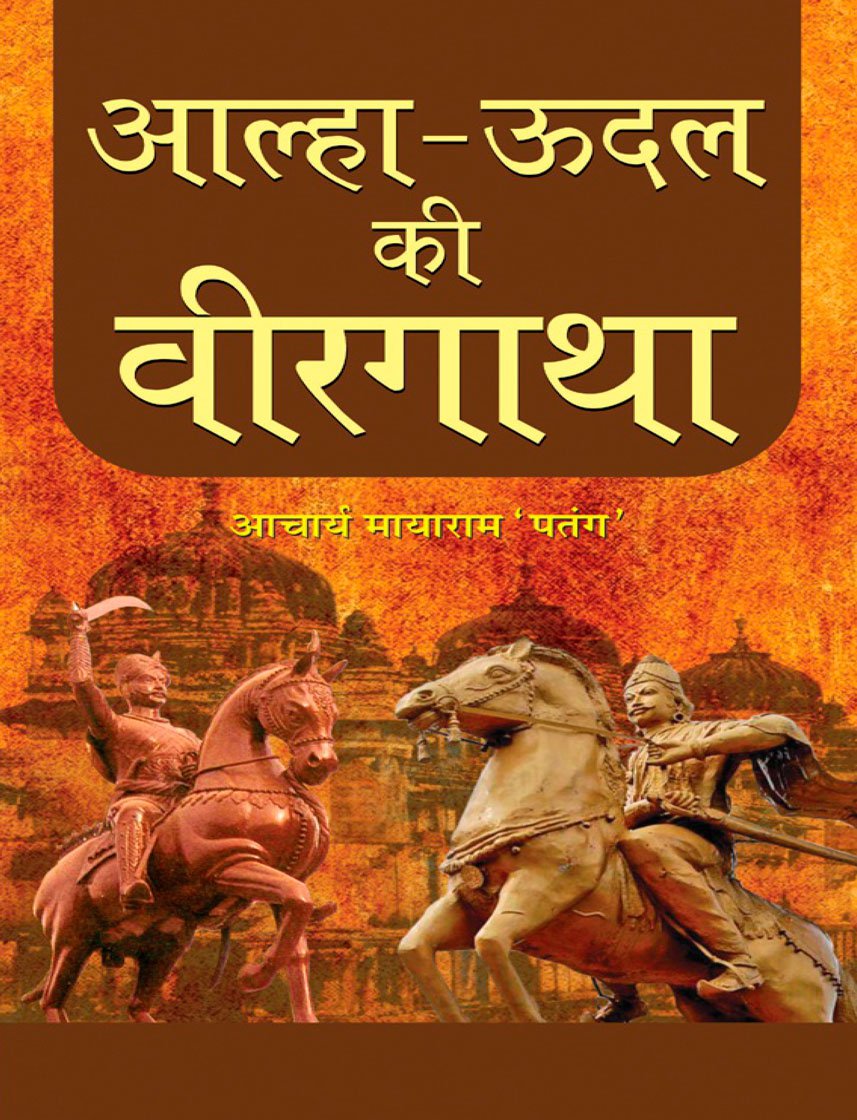 PHOTO • Umesh Kumar Ray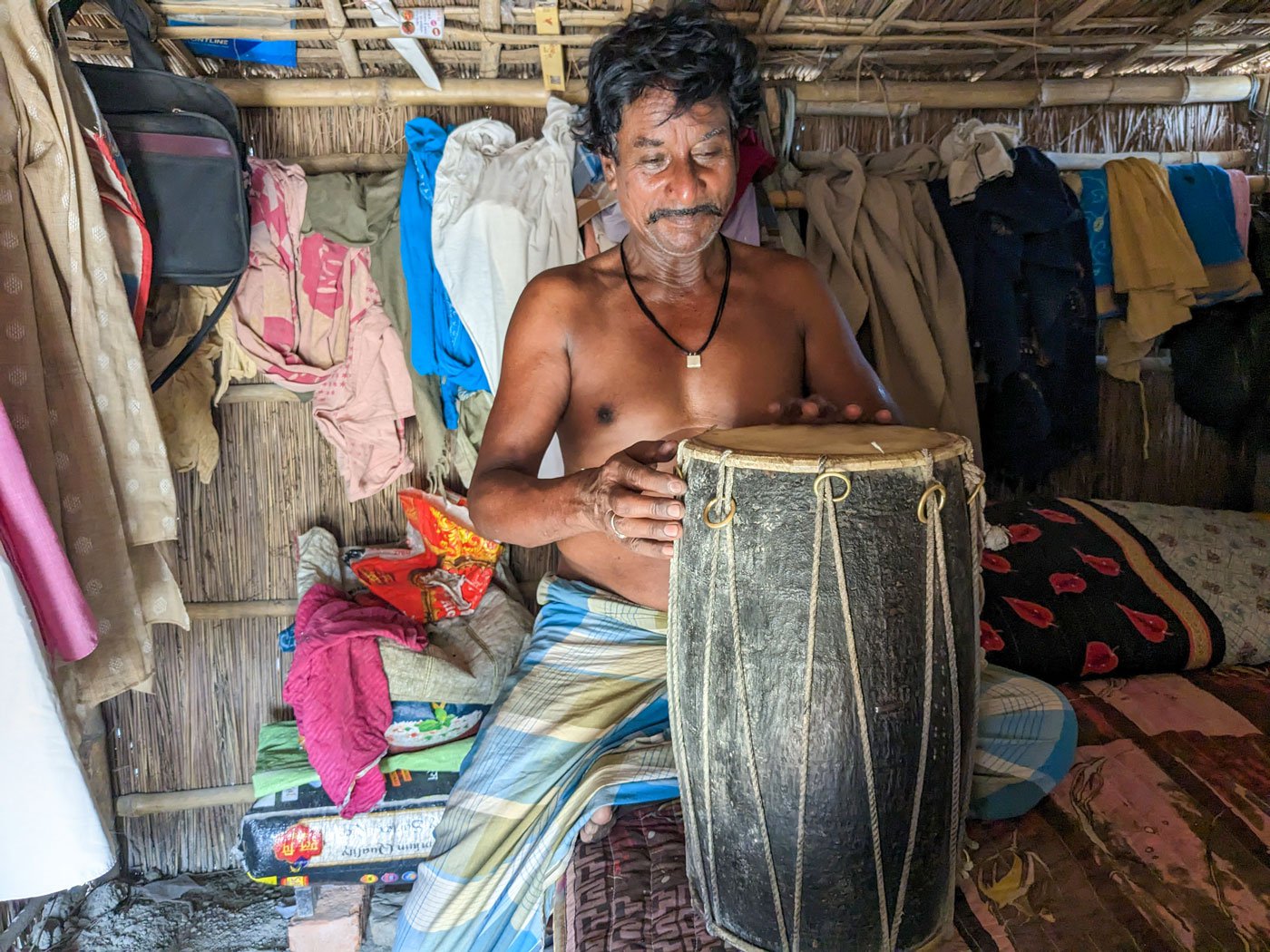 PHOTO • Umesh Kumar Ray
At his home in Khalispur, a dholak hangs on the walls of his straw hut; a wooden chowki and a few belongings are visible. It is the same hut where six generations of Khalifa's ancestors lived; he lives here with his wife Momina. We ask Khalifa to sing the Alha-Udal song, but he requests us to return the following morning because evenings are not conducive for singing. The next day, he finishes colouring his moustache before sitting down on the chowki with his dholak .
It takes him five minutes to tighten the rope fastened to the two sides of the dholak . Next, he moves the brass rings across the rope and drums his fingers on the instrument to test the sound. For the next five minutes we are treated to the Alha-Udal saga, sung in a high pitch. The song spans across the Betwa river, war and the heroic feats of the two brothers in Mahoba. He tells us that there was a time when he would cross distances of 10 kos (roughly 31 kilometres) to sing the Alha-Udal saga.
Once he is done, Khalifa lets the leather membrane of the dholak collapse by lowering the brass rings and hangs it back onto the wall. "If we don't loosen the leather, it will get damaged, and if there is lightning or rain, the dholak will explode," he says. "I don't know why it happens."
The frame of the dholak is made of wood and is about 40 years old. The instrument's structure stays the same, though the ropes and the leather are changed every six months. "The frame of the dholak is perfect. We put mustard oil on it to keep the termites away."
He considers the last 20–30 years to have been the golden age of Alha-Udal singers when they were in demand for
Bidesiya Naach
programmes. "Landlords used to invite us to their places to listen to this heroic saga."
The expansive song, depicting 52 episodes, could take several days to narrate. 'But,' says Khalifa, 'today who will listen for so long?'

Bidesiya is a well-known play by late Bhojpuri playwright Bhikhari Thakur. It belongs to one of the Bhojpuri folk traditions chronicling the migration of people to cities in search of employment. These stories are rendered in song and dance.
Khalifa recalls a time when Alha-Udal singers like him would receive grand hospitality from landlords. "There was so much demand for the song that we had no time to spare throughout the year. I would sing so much that my throat hurt. Many times, I had to refuse [the landlords]."
The heroic epic Alha-Udal is popular across the northern states of India. Brothers Alha and Udal served as army commanders for Chandel king Parmal who ruled Mahoba in current day Uttar Pradesh, in the 12th century AD, says an article in the journal, The World of Music by Karine Schomer. Tasked with the protection of Mahoba, Alha-Udal are known to have been fearless and skilled warriors. The Alha-Udal saga ends with the great battle between the kingdoms of Mahoba and Delhi.
Khalifa traces his roots to Mahoba himself. He says that his ancestors were residents of the Mahoba region, and they fled during the reign of Akbar and settled in Bihar. He adds that his ancestors belonged to the Rajput caste. On reaching Bihar, his ancestors took up the family tradition of singing Alha-Udal for a livelihood. The art was passed down the generations.
Khalifa was two when his father, Sirajul Khalifa passed away. He was raised by his mother.  "Growing up, whenever I found a singer singing Alha-Udal, I used to go listen to him," he recounts. "It was the gift of Saraswati that I could memorise any song after hearing it once. I was crazy about this [Alha-Udal song] only and could not focus on any other work."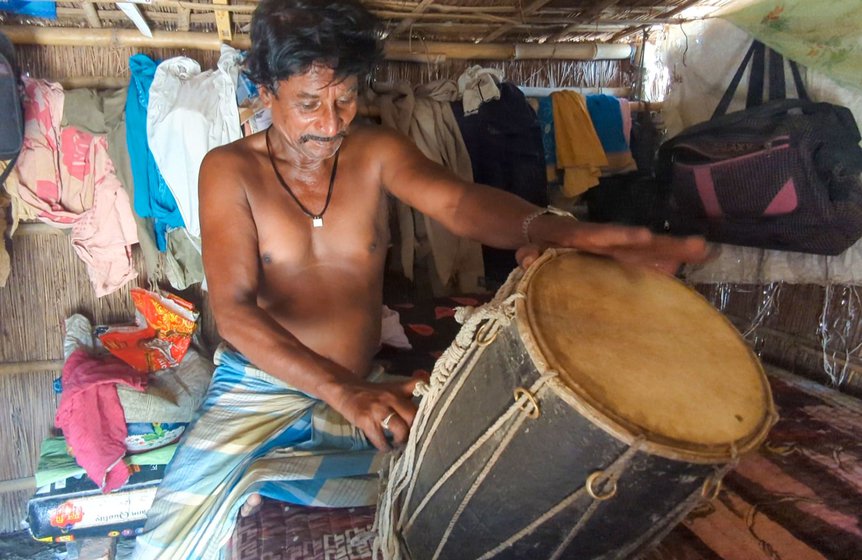 PHOTO • Umesh Kumar Ray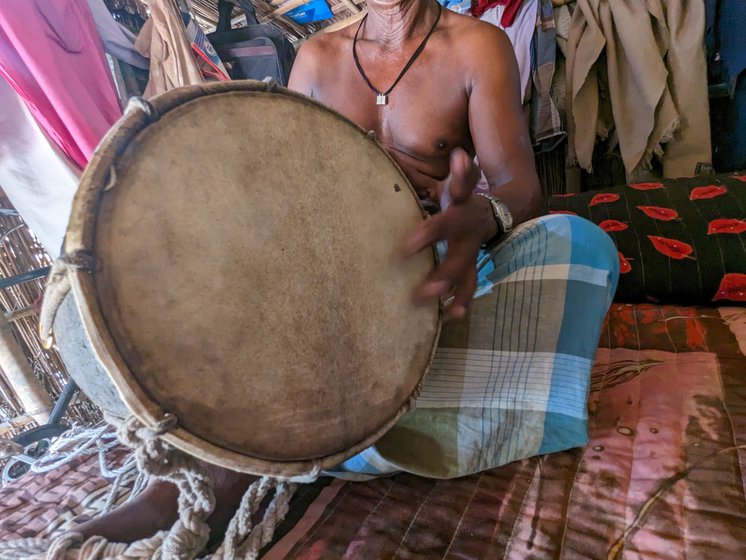 PHOTO • Umesh Kumar Ray
During that period, he met a singer named Rahman Khalifa, whom he calls ' ustad ' (teacher). "I used to attend the programmes with him. I used to help him out, and I carried his things," he says. Sometimes, Rahman would give him a dholak and ask him to sing. "I memorised 10–20 chapters of Alha-Udal's story while I was with him."
Khalifa did not complete his education, but it's not that he was not interested in studies. He used to attend a government school, but one day a teacher beat him up and he left the school for good.
"I was 7–8 years old then," he says. "I had a good voice from childhood, so the teachers at school liked me greatly and often asked me to sing. A teacher slapped me hard one day when I made a mistake while singing a prayer. This angered me, and I stopped going to school after that."
Muslim Khalifa's life is a saga of its own. He says he is grateful for the gifts that Alha-Udal songs brought him but nurses some regrets. He brought up his three children and got them married with the money he earned from singing, but he says he can no longer sustain his family by singing and playing the dholak. He gets invited to only a few domestic events and earns Rs. 300-500 per performance.
There was a day when his son asked him what property he had made, and he (Khalifa) was heartbroken. A shadow of sadness crosses his face as he recounts the incident. "[My son's] question gave me pause. I realised that I couldn't really save any money by singing Alha-Udal. I couldn't buy a piece of land to build a house. Wherever I went, I got a lot of respect, but only enough money to fill my stomach.
"Generations of my family have lived here, [but] the land upon which my hut stands is government land, on the bank of a government pond."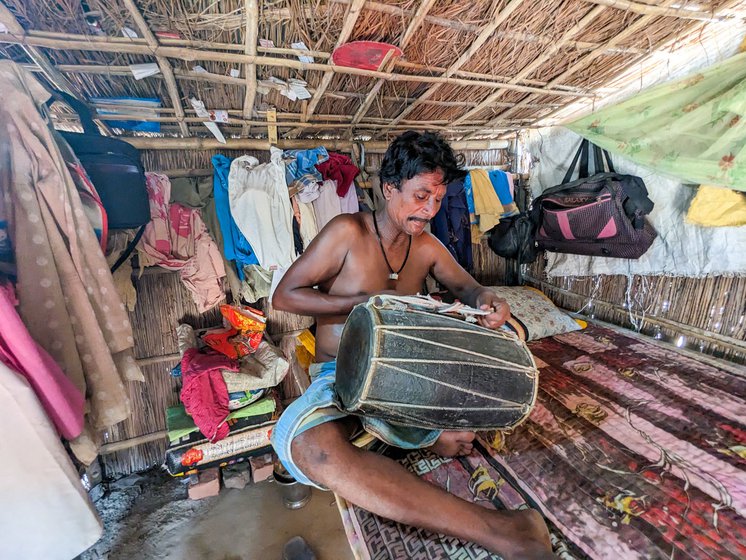 PHOTO • Umesh Kumar Ray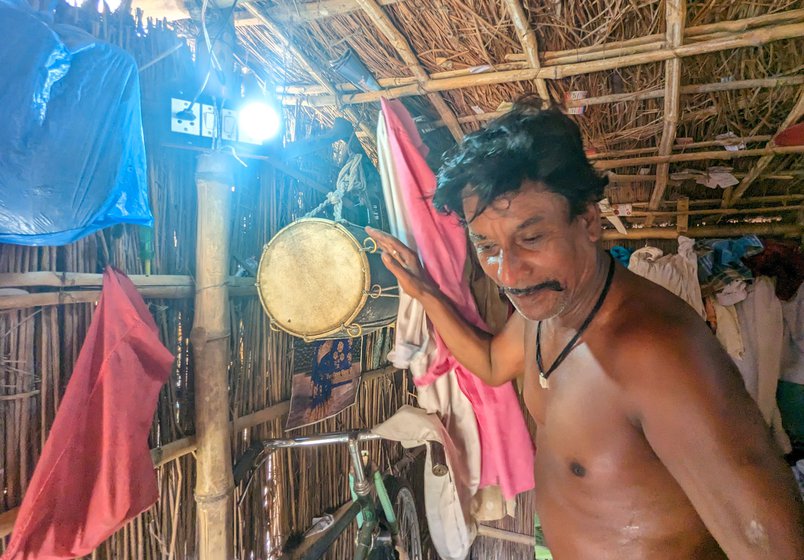 PHOTO • Umesh Kumar Ray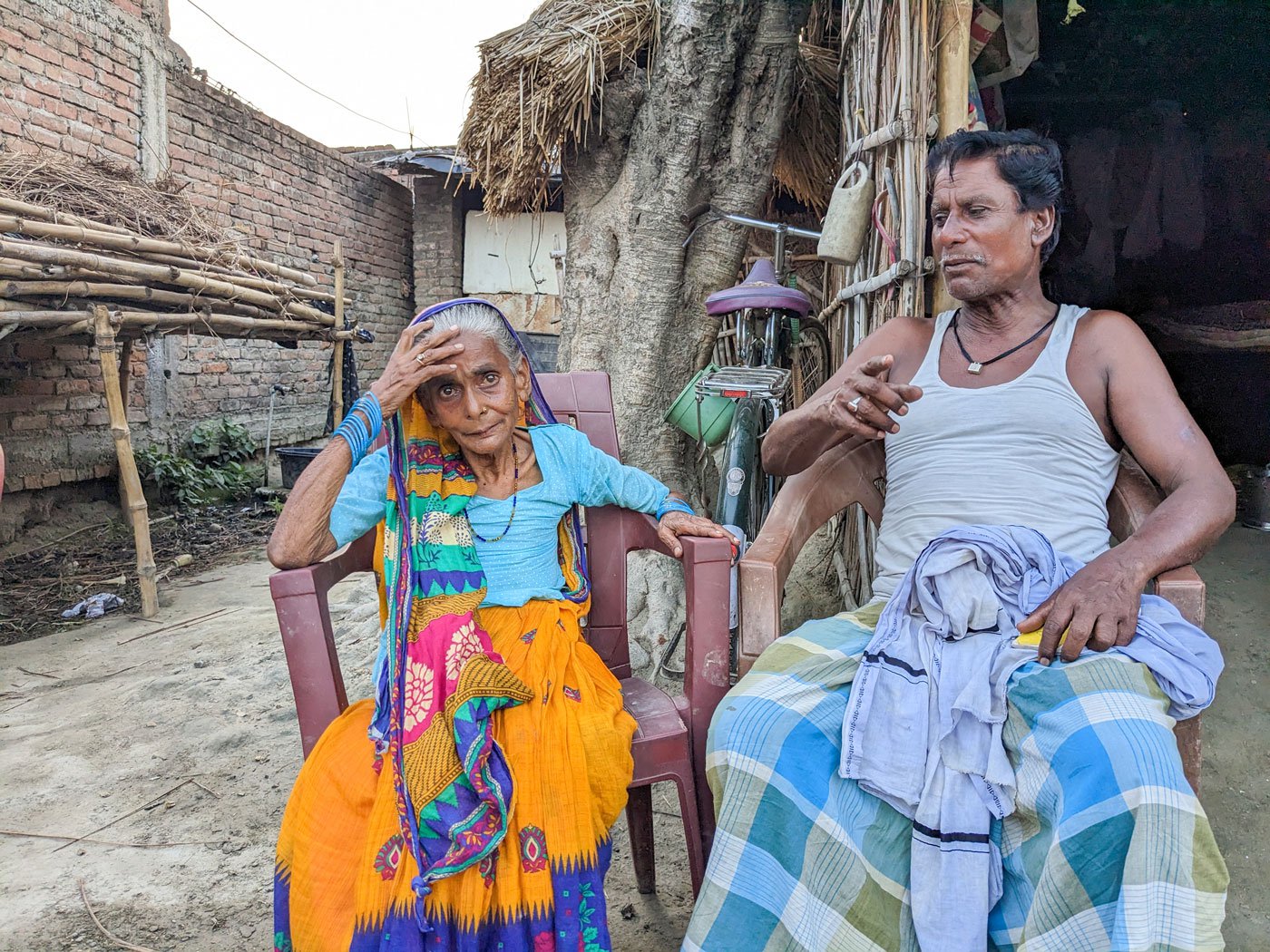 PHOTO • Umesh Kumar Ray
His wife, fifty-five-year-old Momina, who used to be a skilled tattoo artist, suffers from asthma and a hearing impairment. "Earlier, we used to travel from village to village, and I would carve tattoos with my own hands. Now, there's no strength left in my body. It's my husband who has been keeping me alive," she says.
Overshadowing Khalifa's personal losses is a greater grief. He understands that the younger generations are not interested in Alha-Udal and that after him, there might be no one left in his family to take the artform forward.
"My father, grandfather and their ancestors used to only sing Alha-Udal. I sing it now, but my son hasn't learned it yet. My children are not interested," he rues. "We used to sing the song because we were passionate about it. But the younger generations do not care about it."
"Earlier, Khurdak baja - the accompaniment of instruments like shehnai and tabla- was played at weddings. It was replaced by Angrezi baja , where drums, trumpets, shehnai, keyboards, and more, are played simultaneously. Then there was the trolley, where local singers would sing to the music of angrezi baja . Now the DJ is ruling the market. All other instruments have become obsolete," Khalifa says.
"It saddens me that after my death, there may be no trace left of this art [in my family]," he adds.
This story is supported by a fellowship in memory of a trade unionist from Bihar who championed the struggles of marginalised people in the state.