"The flowers are drying up."
It's a warm morning in March 2023 and Marudupudi Nagaraju is surveying his three-acre mango ( Mangifera indica ) orchard in Pomula Bheemavaram village.

A 150 trees of local varieties like the large-sized Banganapalle, the juicy Cheruku rasalu, mostly-eaten-raw Totapuri and the famed Panduri mamidi, stretch in front of his eyes here in Anakapalli district of Andhra Pradesh.

The trees in his farm were covered with brownish-yellow mango flowers. But it was not a happy sight for the 62-year-old farmer – he says the mango flowers have bloomed late. "The flowers should have bloomed by Sankranti [festival in mid-January], but they didn't. They only began blooming in February," says Nagaraju.

And the fruit should have grown to be lemon-sized mangoes by March. "If there are no flowers, there won't be mangoes and I won't earn any money again this year."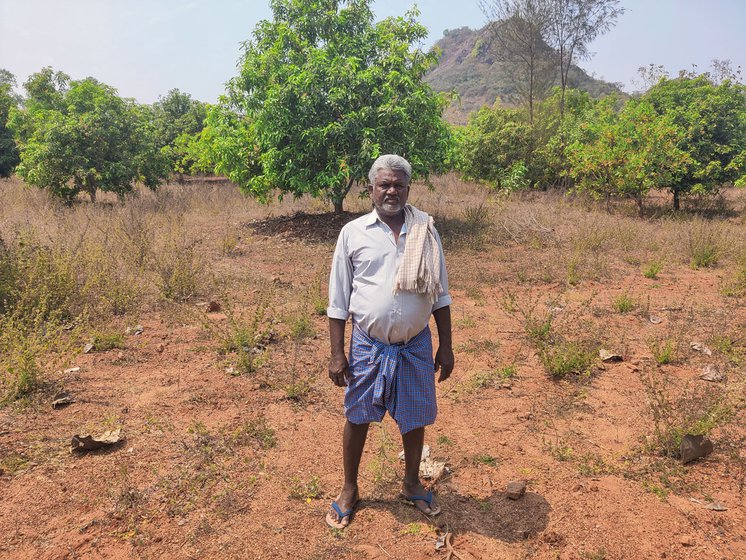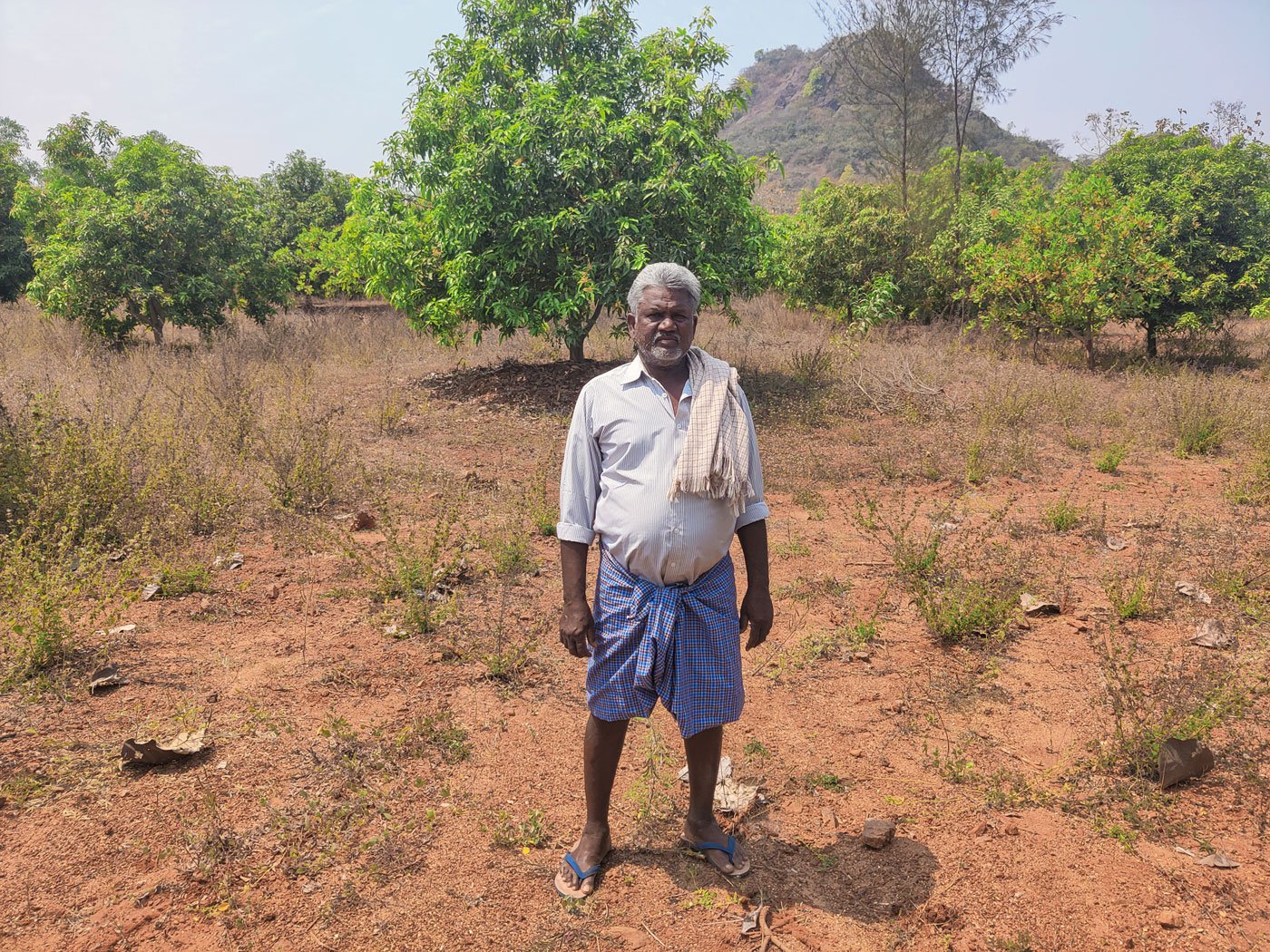 PHOTO • Amrutha Kosuru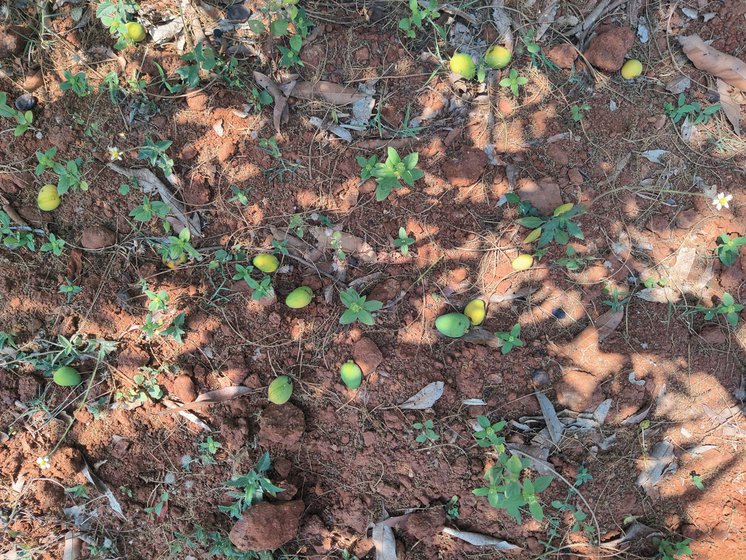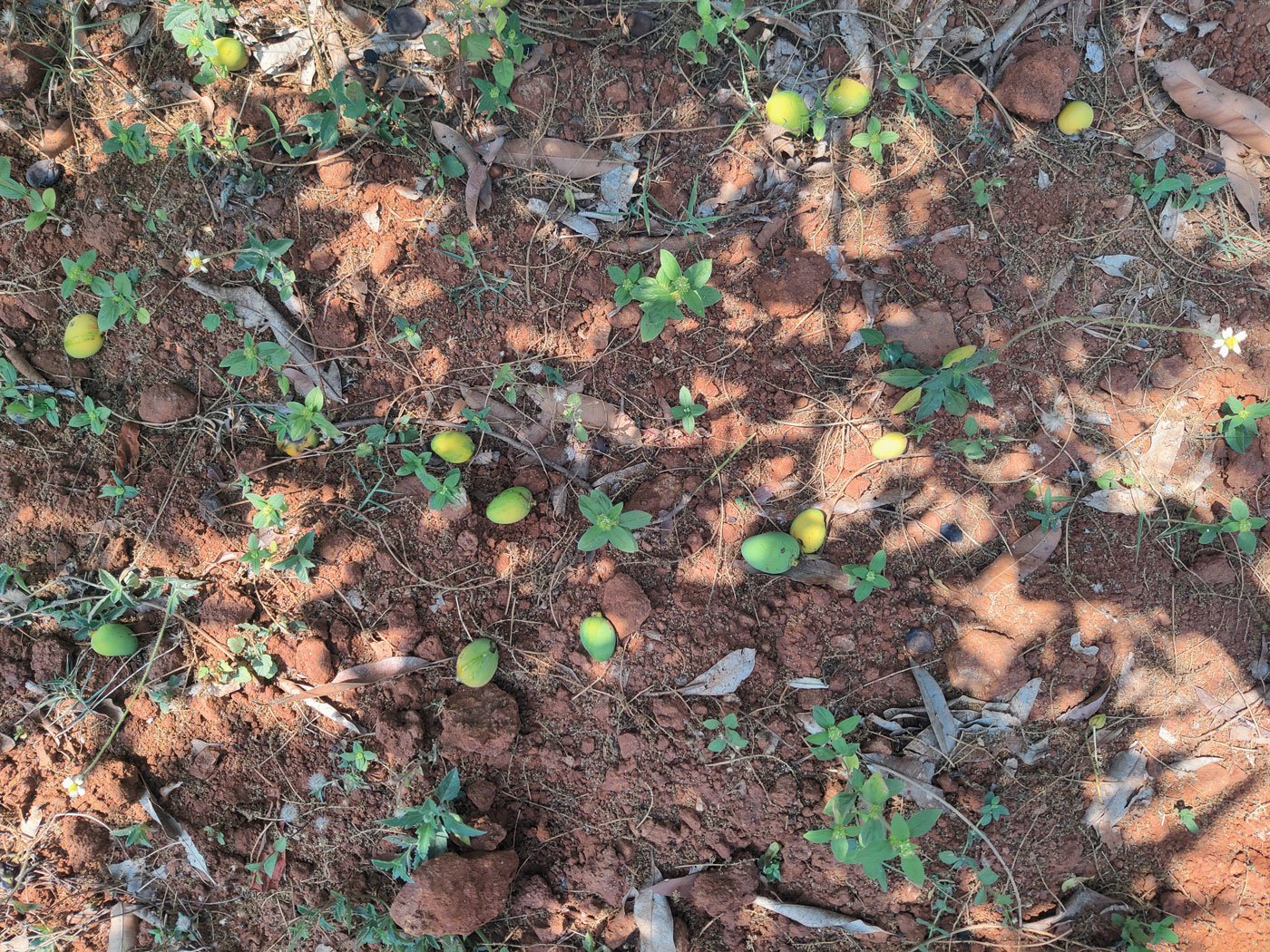 PHOTO • Amrutha Kosuru
Nagaraju's worry is understandable. A daily wage worker, his orchard is a hard-won dream. A member of the Madiga community (listed as Scheduled Caste in Andhra Pradesh), this land was assigned to him around 25 years ago by the state government. It was done in a move by the state to redistribute land among the landless classes introduced under the Andhra Pradesh Land Reforms (Ceiling on Agricultural Holdings) Act, 1973.
When the mango season ends in June he returns to doing daily-wage work in sugarcane fields in nearby villages. He can earn Rs. 350 a day when he gets work. He also does MNREGA work like deepening lakes, composting and other labour  for 70-75 days in a year. He gets paid between Rs. 230 and 250 for a day's work.

When Nagaraju first became a land owner he grew turmeric, but in around five years he switched to mango cultivation in the hope of better profits. "When I started [20 years ago], I would get 50- 75 kilos of mangoes from each tree," he says, recalling happier times of bountiful harvests. "I love mangoes, especially Totapuri ," he adds.

Andhra Pradesh is the country's second-biggest mango-growing state. The fruit is grown over an area of approximately 3.78 lakh hectares and the annual production in 2020-21 was 49.26 lakh metric tonnes, says the state department of horticulture.

Pomula Bheemavaram village lies in the agricultural belt between the Krishna and Godavari rivers, not far from the points where they empty into the Bay of Bengal, on the eastern coast of India. Mango flowers need cold and moisture in October-November and the fruits usually start appearing in December-January.

But, "Unseasonal rains during October and November have increased in the last five years," points out Dr. M. Sankaran, principal scientist at the Indian Institute of Horticultural Research (IIHR) in Bengaluru.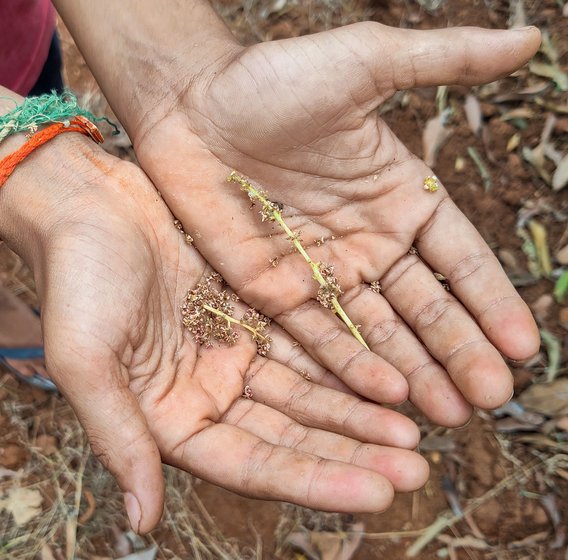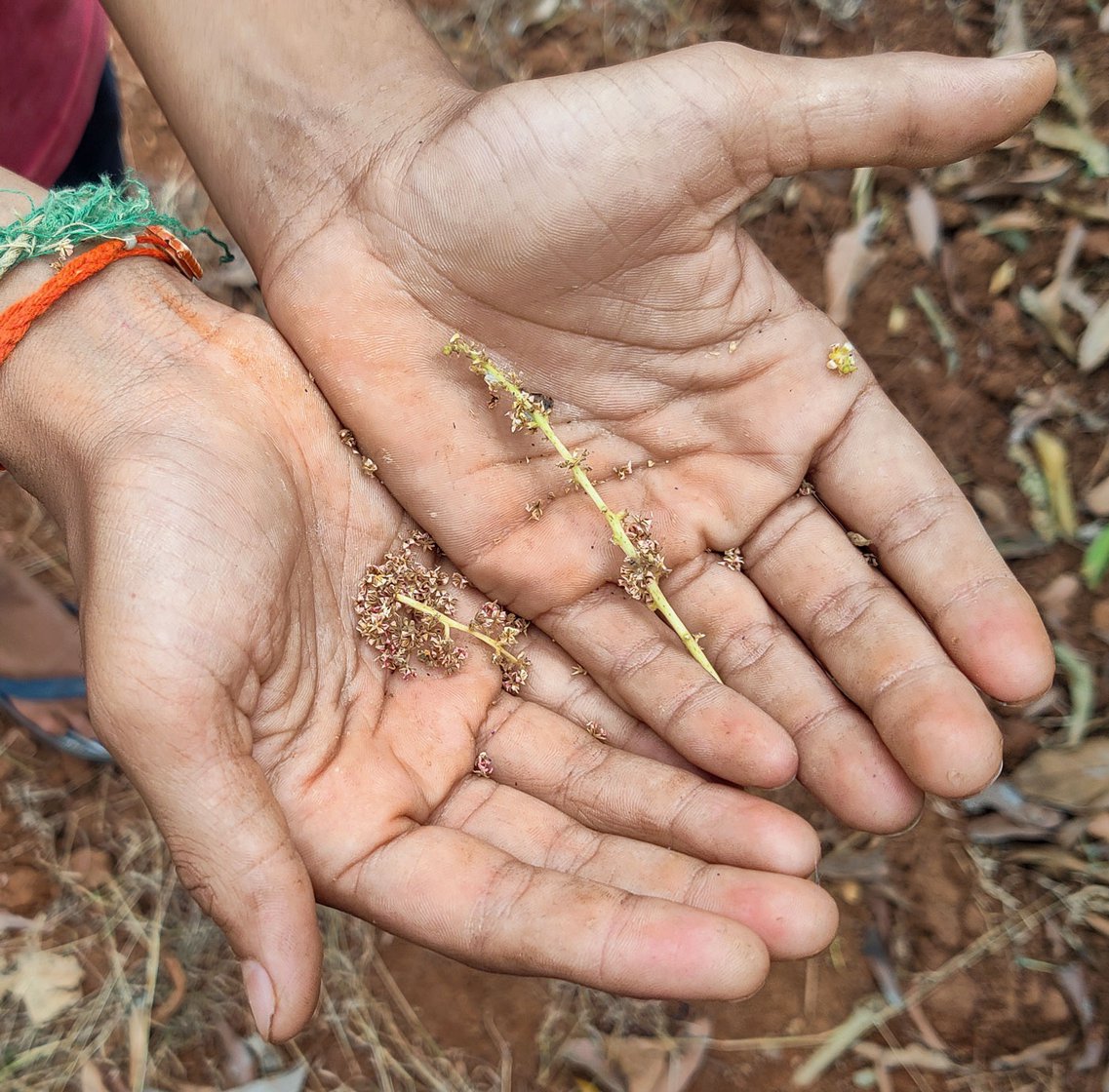 PHOTO • Amrutha Kosuru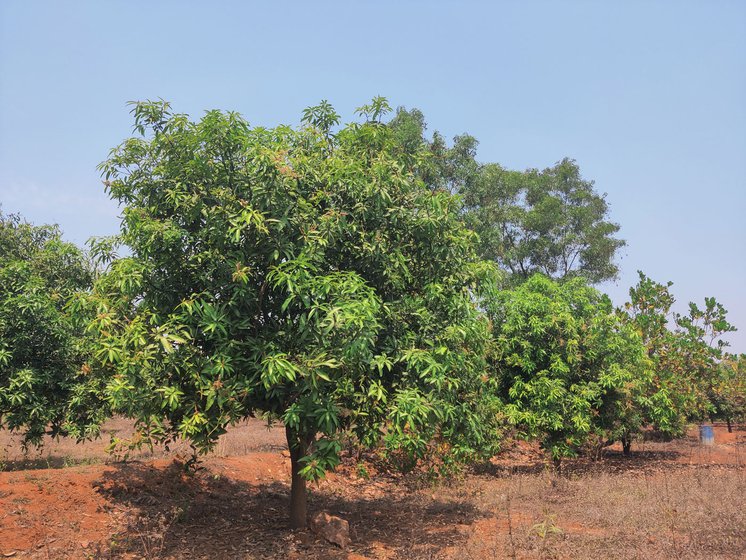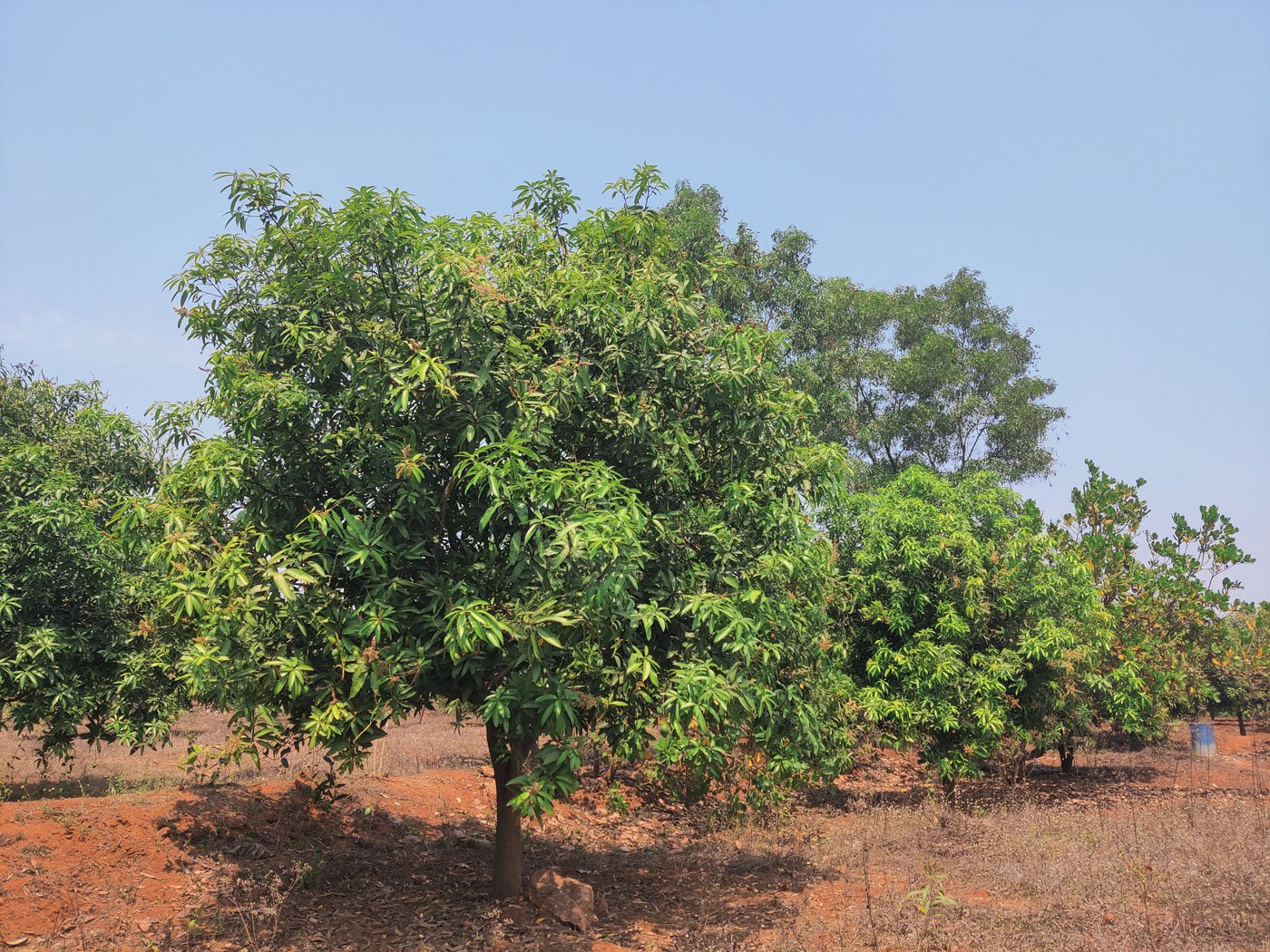 PHOTO • Amrutha Kosuru
The mango farmer says that he has noticed flowers shrivelling up in the unseasonal heat, leading to a sharp decline in harvest. "Sometimes, a tree doesn't even produce one box [120- 150 mangoes]," he says. "Severe thunderstorms during summer also damage the [nearly ready] fruits."
To cover input costs for fertilisers, pesticides and labour, Nagaraju has been regularly taking a loan of Rs. one lakh for the last couple of years. He borrows this amount from a private moneylender at an annual interest of 32 per cent. His annual earnings are around Rs. 70,000 to 80,000. He spends some of this repaying the moneylender in June. But with dropping yields he worries he won't be able to; yet he is not willing to stop cultivating mangoes in a hurry.

His neighbour, Kantamareddy Sriramamurthy shakes a light yellow flower he is holding in his hand. Nearly dry, it immediately breaks into pieces.
His 1.5 acre mango orchard in the same village has 75 trees of Banganapalle , Cheruku rasalu , and Suwarnarekha varieties . He agrees with Nagaraju that mango flowers are diminishing. "This is mainly due to the frequent unseasonal rainfall during October and November which has increased over the last five years," says the farmer who belongs to the Turupu Kapu community (listed as Other Backward Class in Andhra Pradesh) and works in a relative's sugarcane farm between July and September every year. He earns around Rs. 10,000 a month for the period he works there.
In March this year (2023), Sriramamurthy's mango flowers and fruits were pummelled by thunderstorms. "Summer rains are good for mango trees. But this year it was too much," he says, referring to the strong winds that came with the rain and harmed the fruits.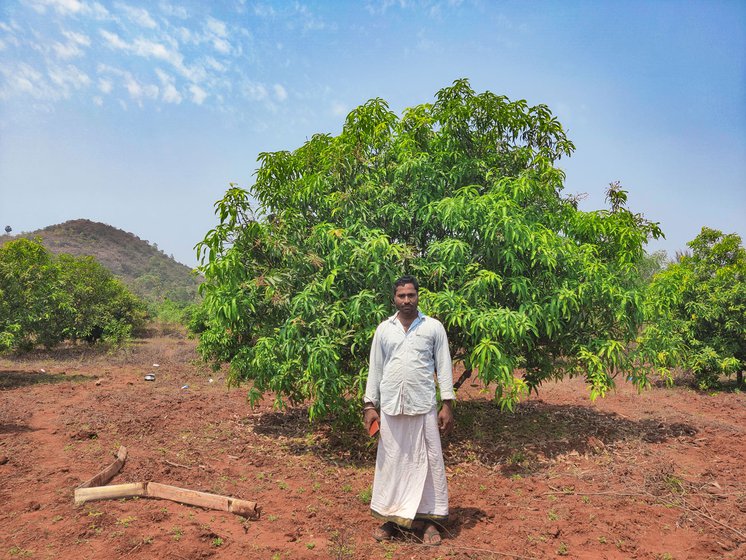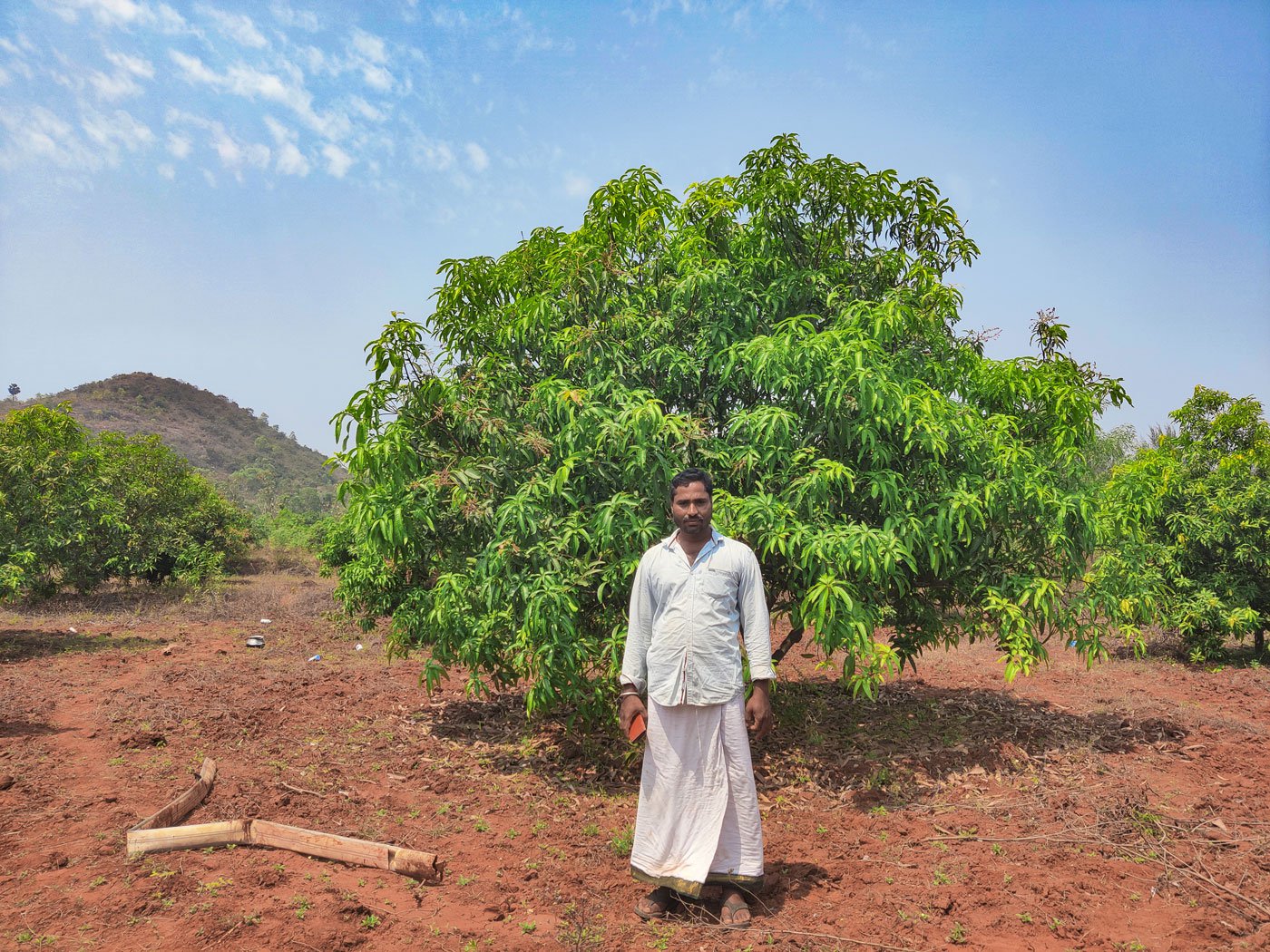 PHOTO • Amrutha Kosuru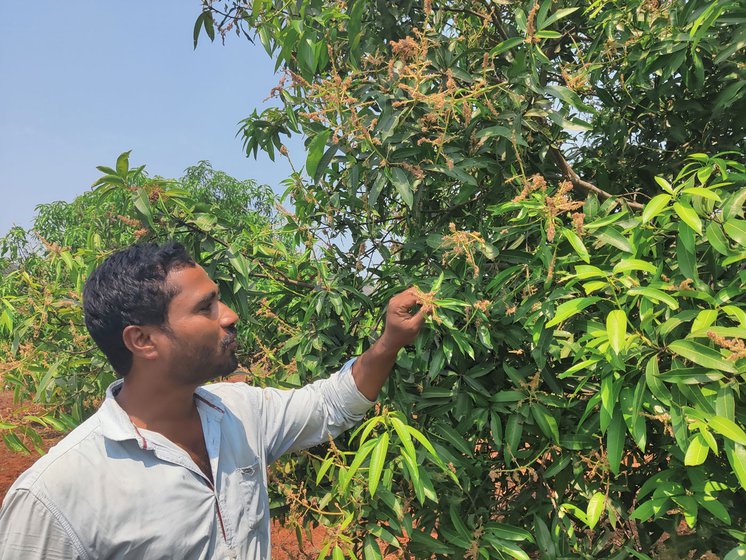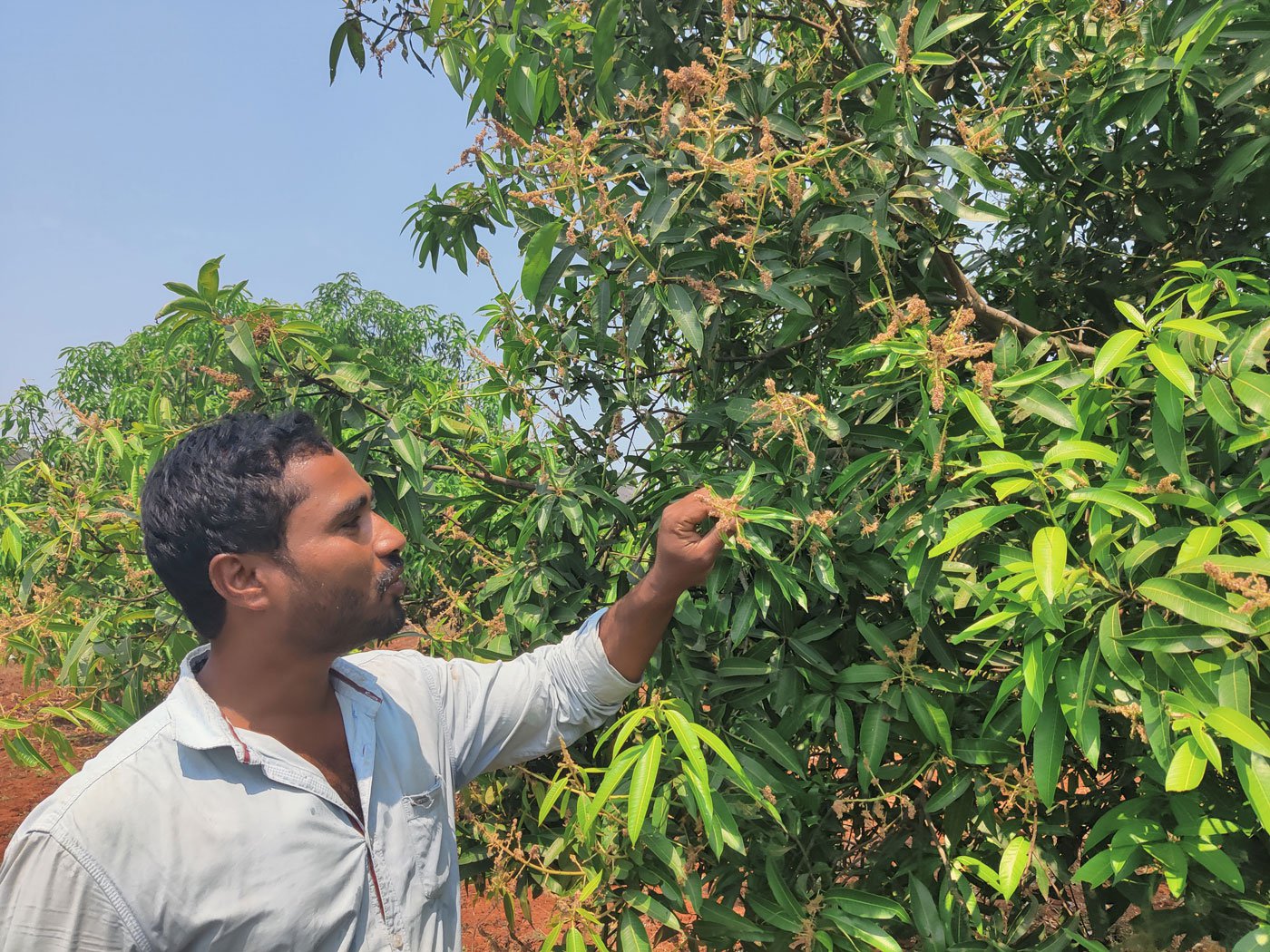 PHOTO • Amrutha Kosuru
Horticultural scientist Sankaran says the ideal temperature for mango flowers to bloom is 25-30 degree Celsius. "In February 2023, there was a significant variation between the day and night temperatures. The trees cannot handle this," he adds.
With conditions for mango cultivation becoming less ideal over the last few years, Sriramamurthy is beginning to regret the decision he took in 2014. That year, he sold a 0.9 acre patch of land near the town of Anakapalli and used the Rs. six lakh he got for it as pettubadi (investment) for a mango orchard in Pomula Bheemavaram.

Explaining the move he says, "Everyone loves them [mangoes] and they are in demand. I hoped that mango farming would [eventually] get me enough money."

Since then, however, he says he hasn't been able to make a profit. "Between 2014 and 2022, my total income from mango farming [in these eight years] has not been more than six lakh [rupees]," says Sriramamurthy. Regretting his decision to sell his land he says, "The land I sold is now worth so much more. I should have probably not started mango farming."

It's not just the weather. Mango trees depend on saagu neeru (irrigation), and neither Nagaraju nor Sriramamurthy have borewells on their land. In 2018, Sriramamurthy spent Rs 2.5 lakhs on digging a borewell but failed to get a drop of water from it. In Butchiahpeta (also spelt Butchayyapeta) mandal where  Nagaraju and Sriramammurthy's orchards are, there are officially 35 borewells and 30 open wells.

Sriramamurthy says that the issue of dry flowers can be fixed with a steady supply of water to the trees. He also buys two tanker loads of water a week for which he spends Rs. 10,000 in a month. "Each tree requires at least a litre of water everyday. But I water them only twice a week; it is all I can afford," says Sriramammurthy.

To keep his mango trees watered, Nagaraju buys two tankers a week, paying Rs. 8,000 each.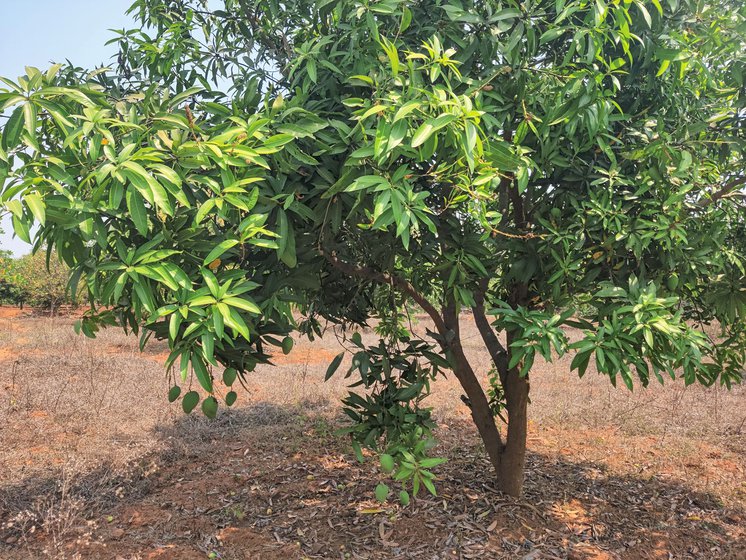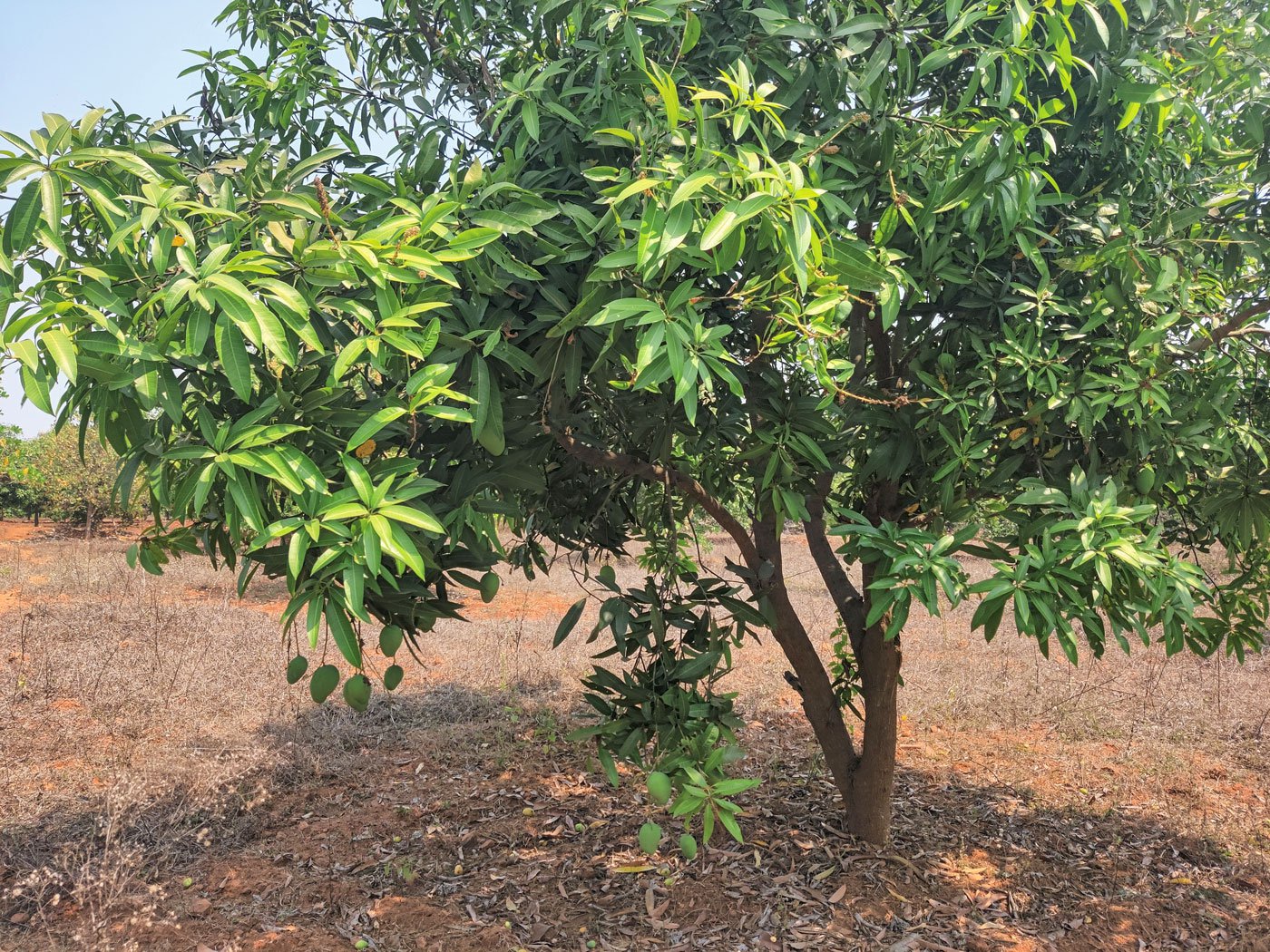 PHOTO • Amrutha Kosuru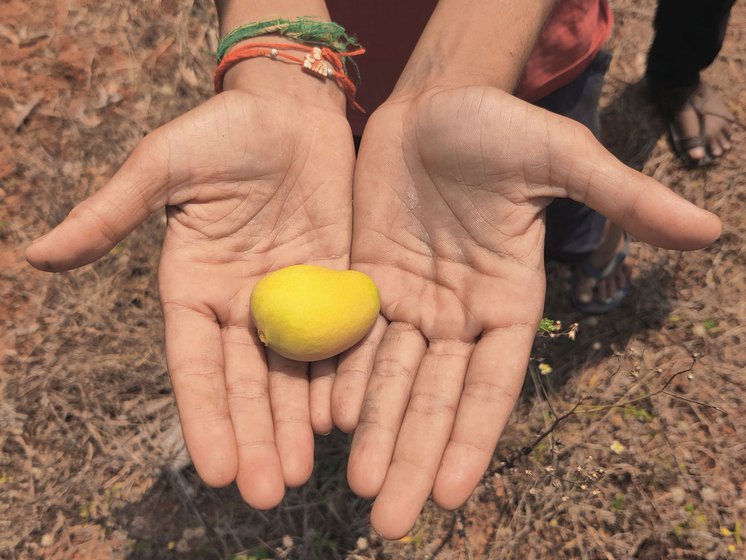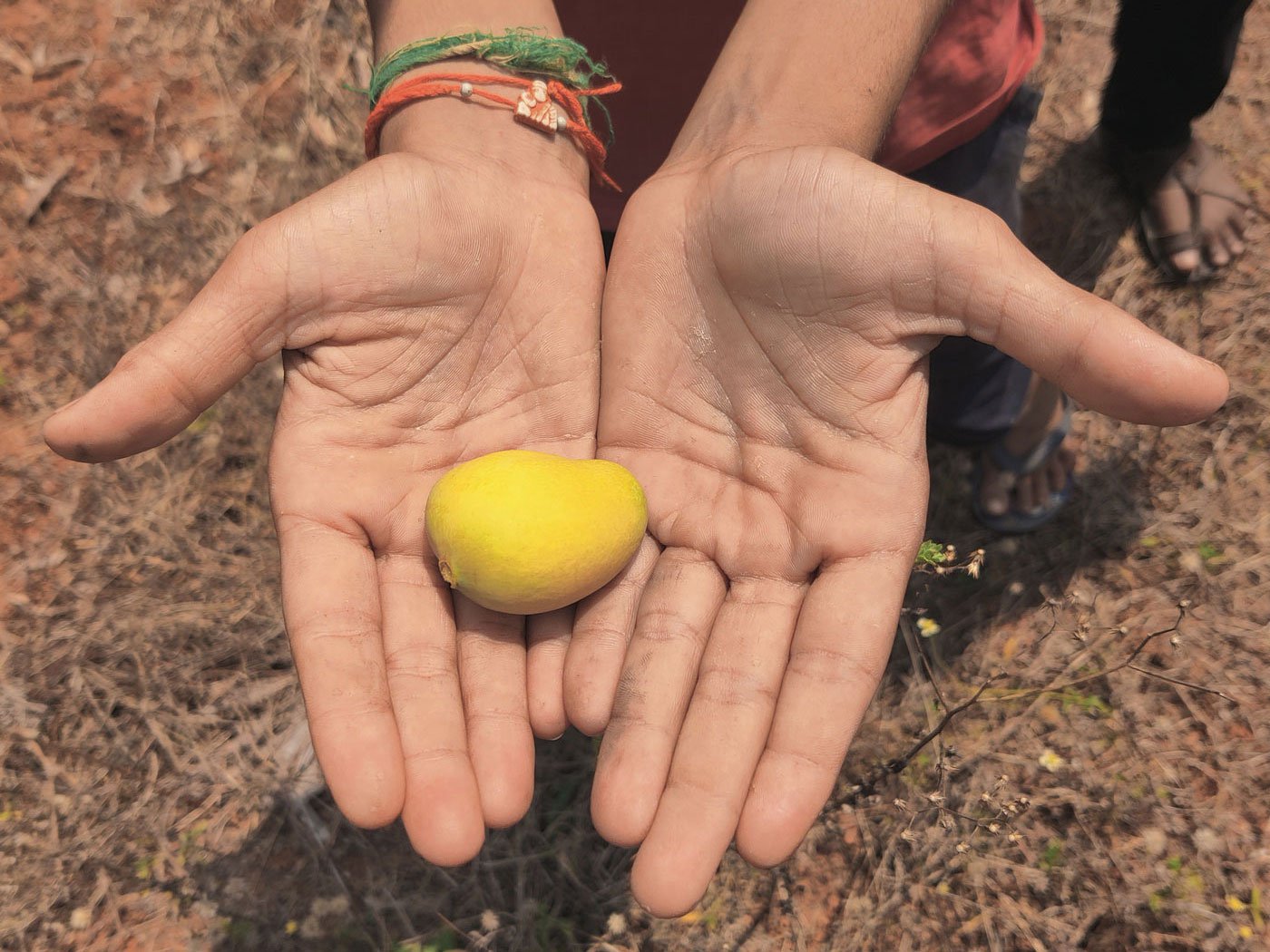 PHOTO • Amrutha Kosuru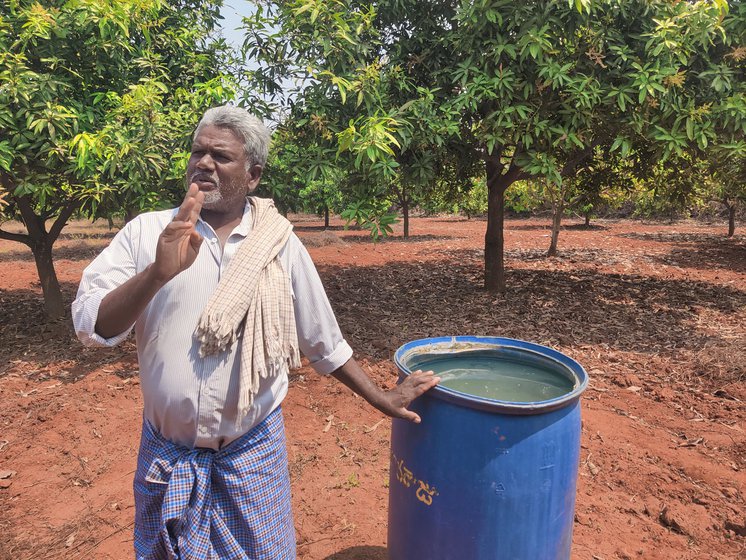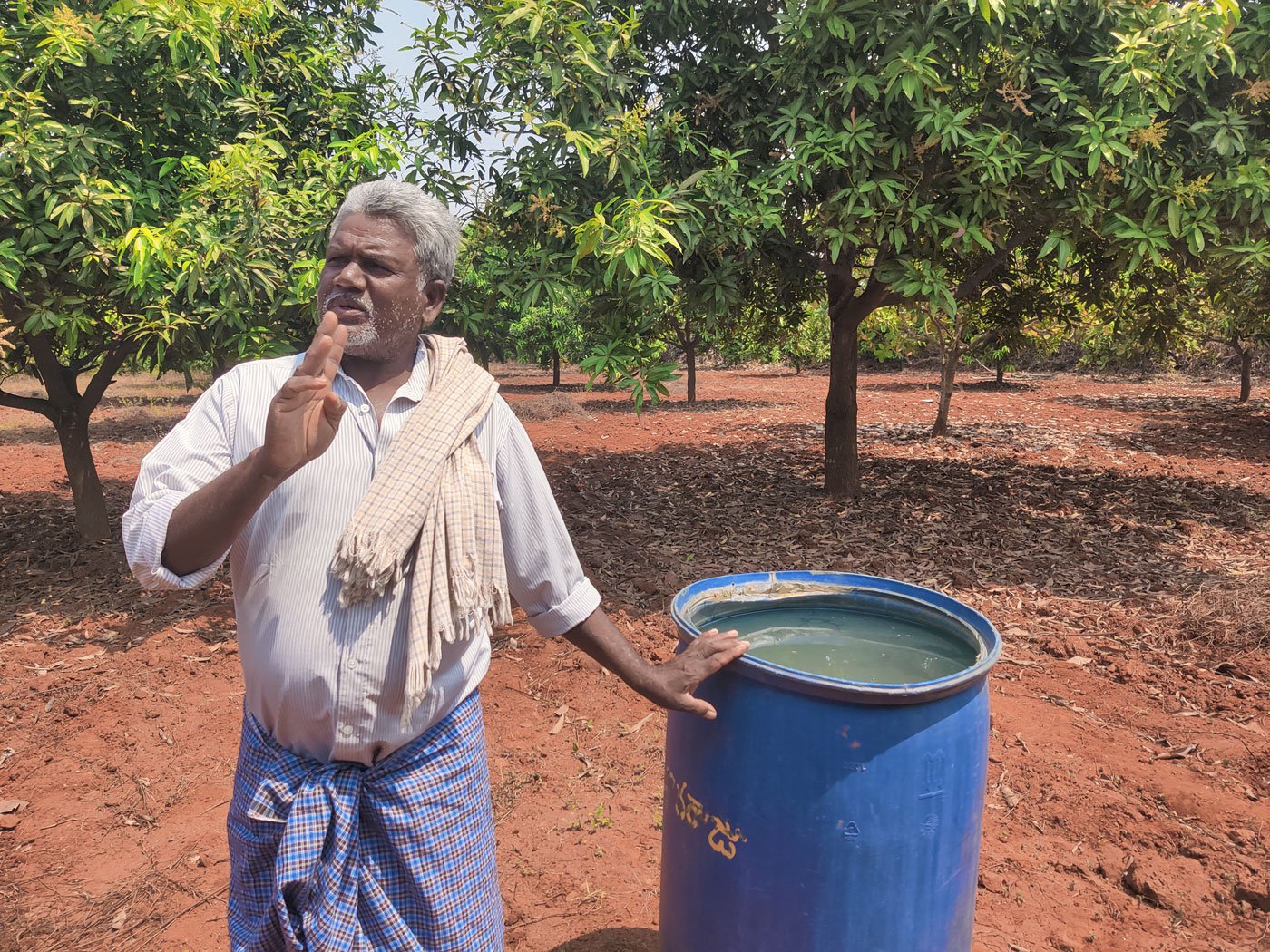 PHOTO • Amrutha Kosuru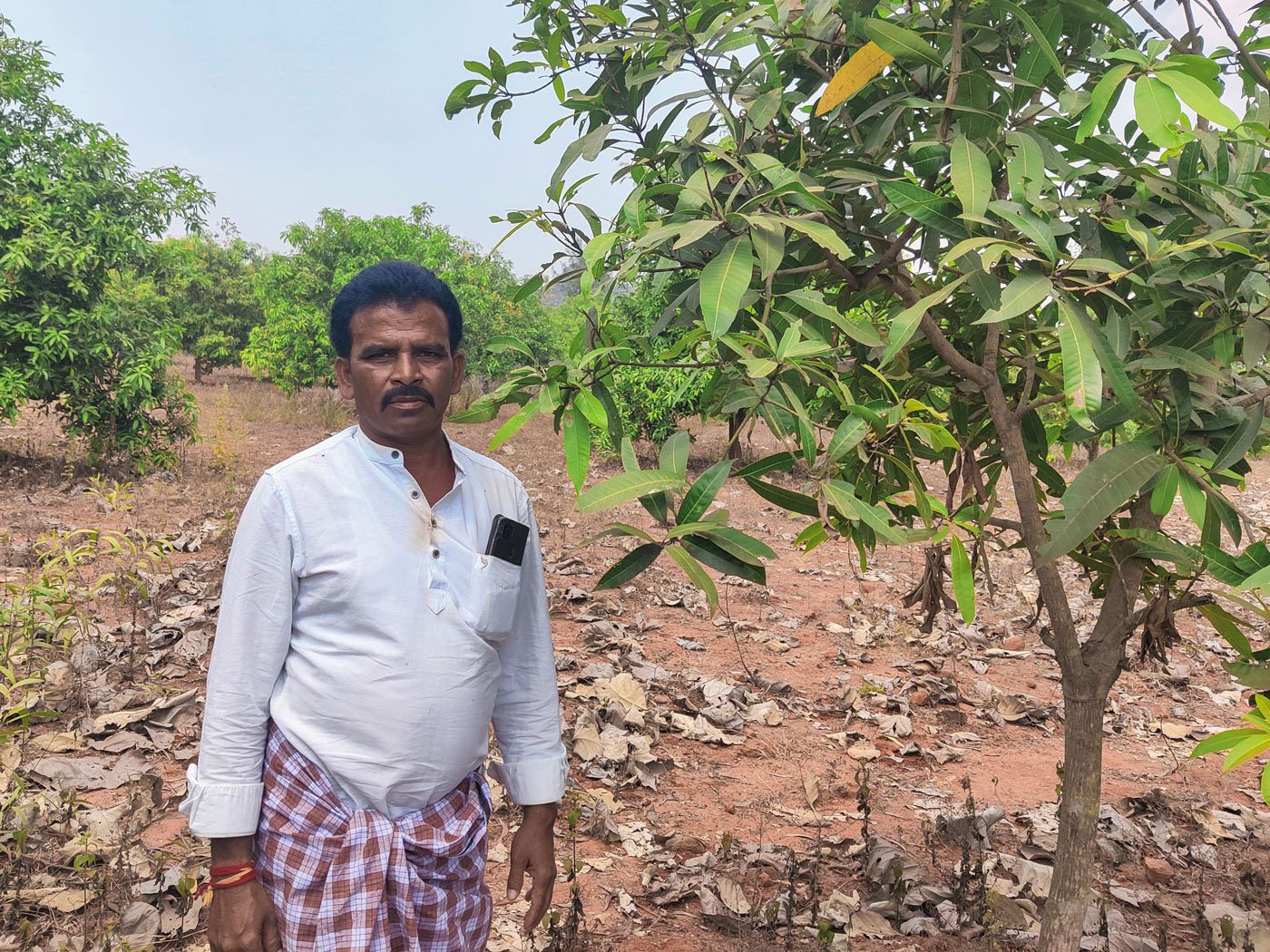 PHOTO • Amrutha Kosuru
Vallivireddy Raju starts watering his trees once a week from November and increased it to twice a week from February. A relatively new mango farmer in the village, the 45-year-old started farming on his 0.7 acre land only in 2021. Two years later the trees are only slightly taller than Raju himself. "Younger mango trees need more care. They need around two litres daily, especially in summer," he says.
There is no borewell on his farm and so Raju spends nearly Rs. 20,000 for various irrigation activities, half of which is spent on getting water in tankers to his farm. He says he can't afford to water his trees everyday. "If I water all the 40 mango trees everyday, I may have to sell everything I own."

He is hoping his three-year-old investment will pay off. "I know there won't be profits but I hope there's no loss either," he says.

Last month, (April 2023), Nagaraju had managed to harvest around 3,500 kilograms or roughly 130-140 boxes of mangoes. Traders from Visakhapatnam offered a price of Rs. 15 for a kilogram; he was able to collect Rs. 52,500 for the first harvest.
"The rate [for his sales] has remained at Rs. 15 per kilo since I started farming two decades ago," he points out.  "A kilo of Banganapalle mangoes is currently priced at Rs. 60 at Madhurwada Rythu Bazaar in Visakhapatnam. The price varies between 50 - 100 [rupees] throughout summer," says P. Jagadesshwara Rao, Estate Officer of the Bazaar.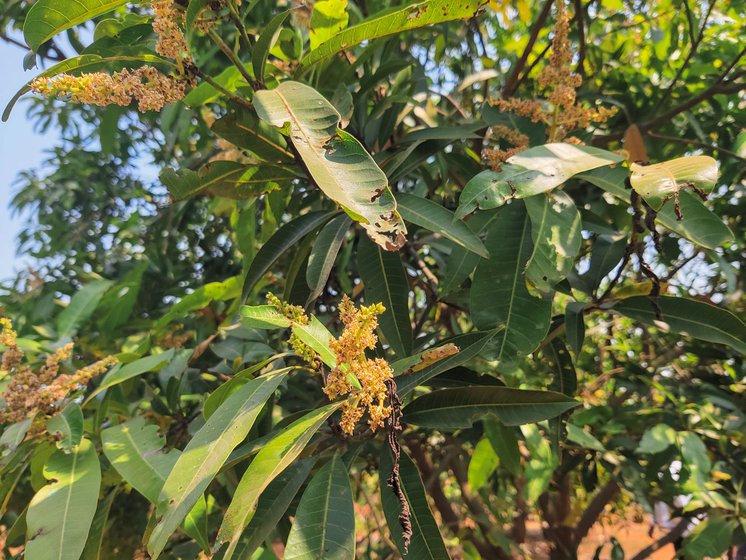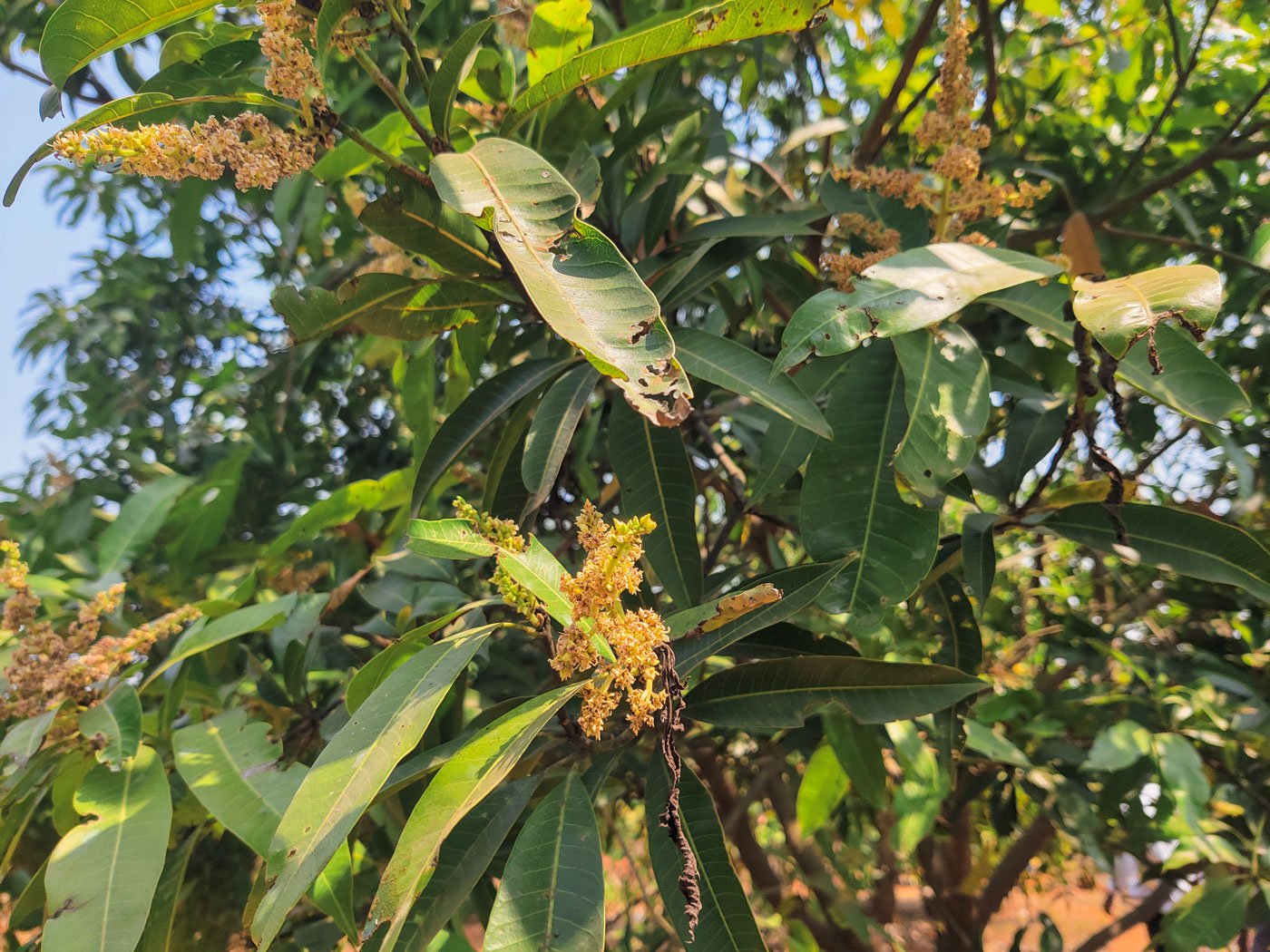 PHOTO • Amrutha Kosuru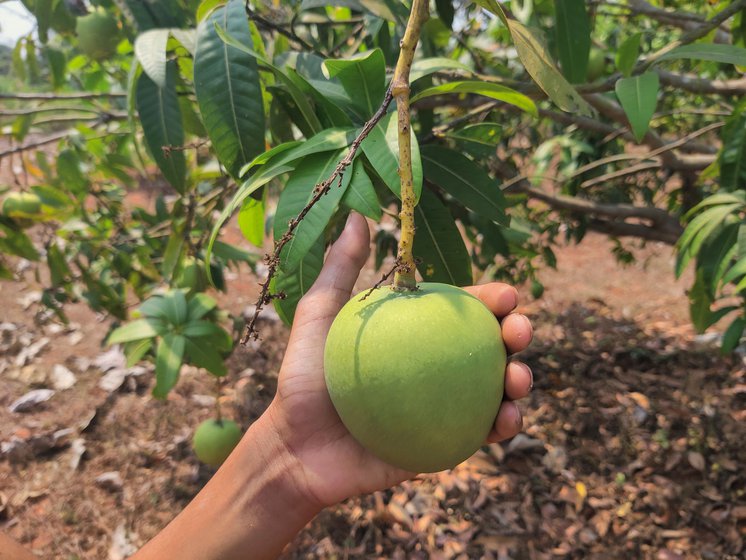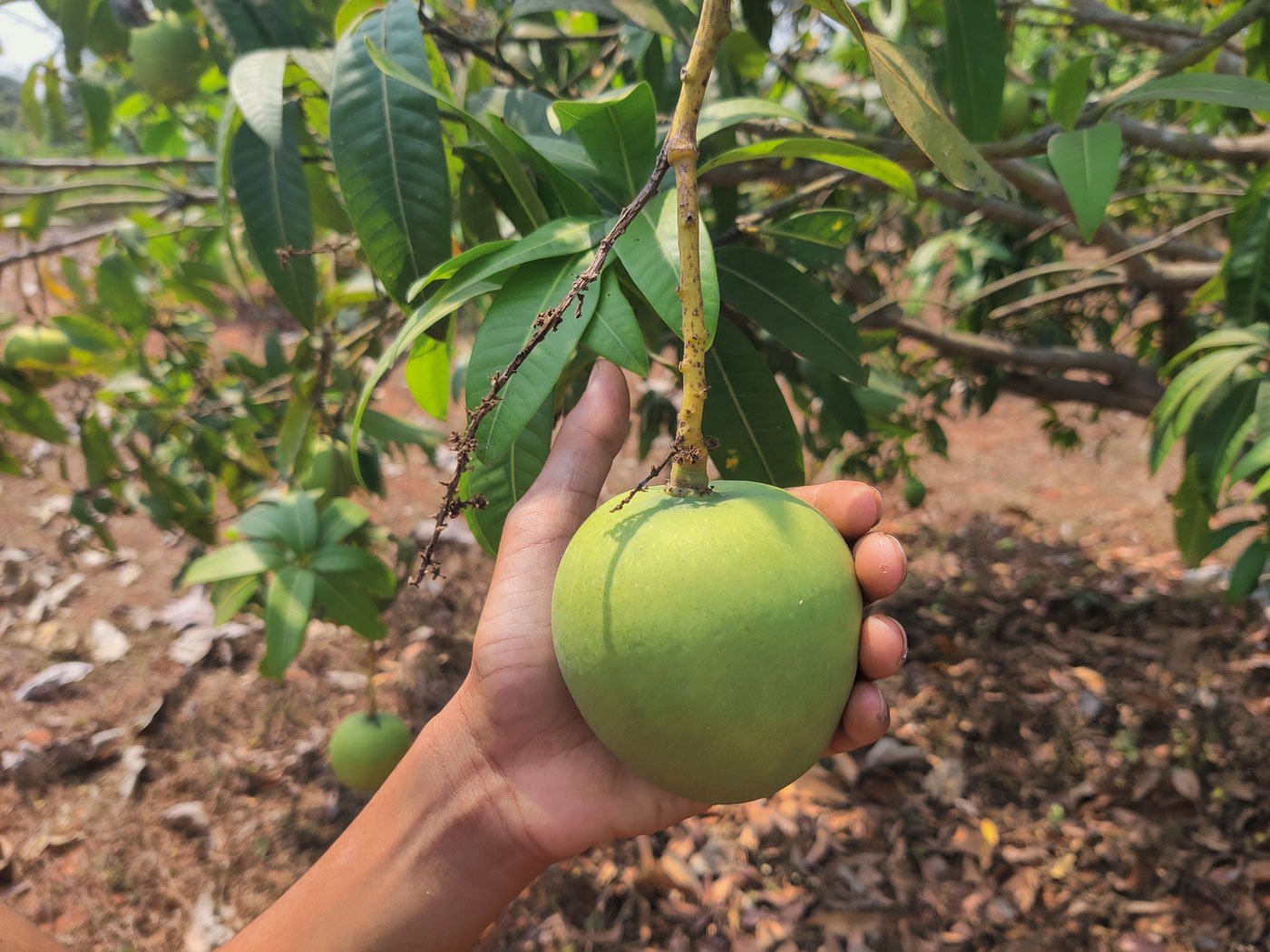 PHOTO • Amrutha Kosuru
Sriramamurthy's first yield of the year has got him 1,400 kilos of mangoes. He has kept two-three kilos aside for his daughters. The rest he is selling to traders from Visakhapatnam for roughly Rs. 11 a kilo. "The nearest market is 40 kms away," he says, explaining why he can't do the retail sales himself.
Pomula Bheemavaram's mango farmers are waiting for the second yield in June to calculate their annual income. But Nagaraju isn't very hopeful. "There are no profits, only losses," he says.

Turning to a tree laden with flowers he adds, "By now this tree should have had fruits of this size [palm size]." It's his favourite mango – Panduri mamidi – green and round in shape .

He plucks one of the few fruits on the tree and says, "No other mango is as sweet as this one. It is sweet even when it is green; that is its specialty."
This story is supported by a grant from Rang De .