Husn Ara is overjoyed that her three goats have given birth to three kids each – six were born on October 30 this year, while three came into this world a day before. Since they are too young to feed on their own, Husn Ara takes utmost care to help them get enough milk. She knows that when they grow up the goats will become a source of income for her.
Husn Ara lives in Bari Phulwaria village in Bajpatti block of Sitamarhi district in Bihar. Many of the roughly 5,700 inhabitants of this panchayat are poor and subsistence farmers, or landless agricultural labourers. Husn Ara is one of them.
She was married to her cousin, Mohammed Shabbir, at a very young age. He moved to Hyderabad to work in a leather bag manufacturing unit five years ago; before that, he too was an agricultural labourer. "He earns Rs. 5,000 a month and sometimes sends Rs. 2,000 back home. Since he has to meet his own expenses, the supply of money from his end is irregular," says Husn Ara.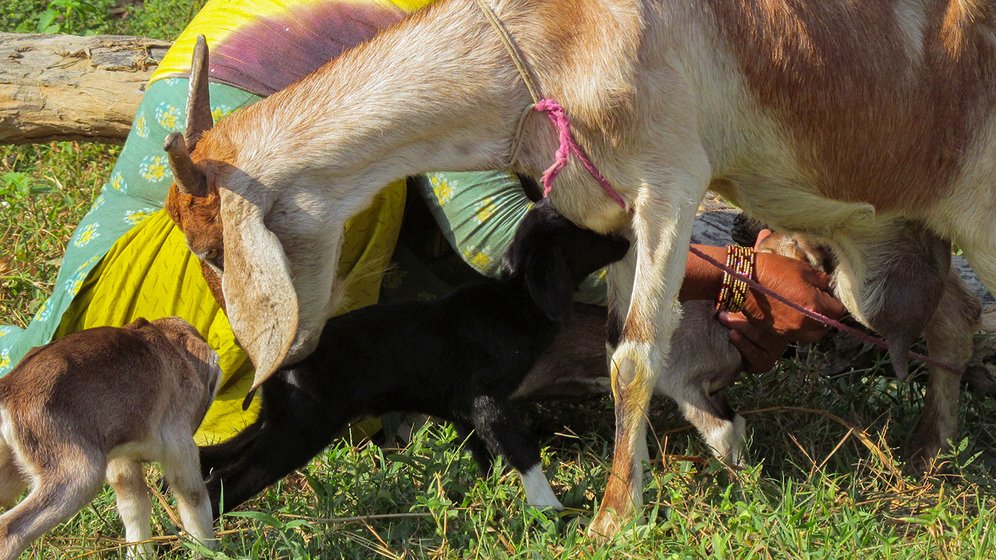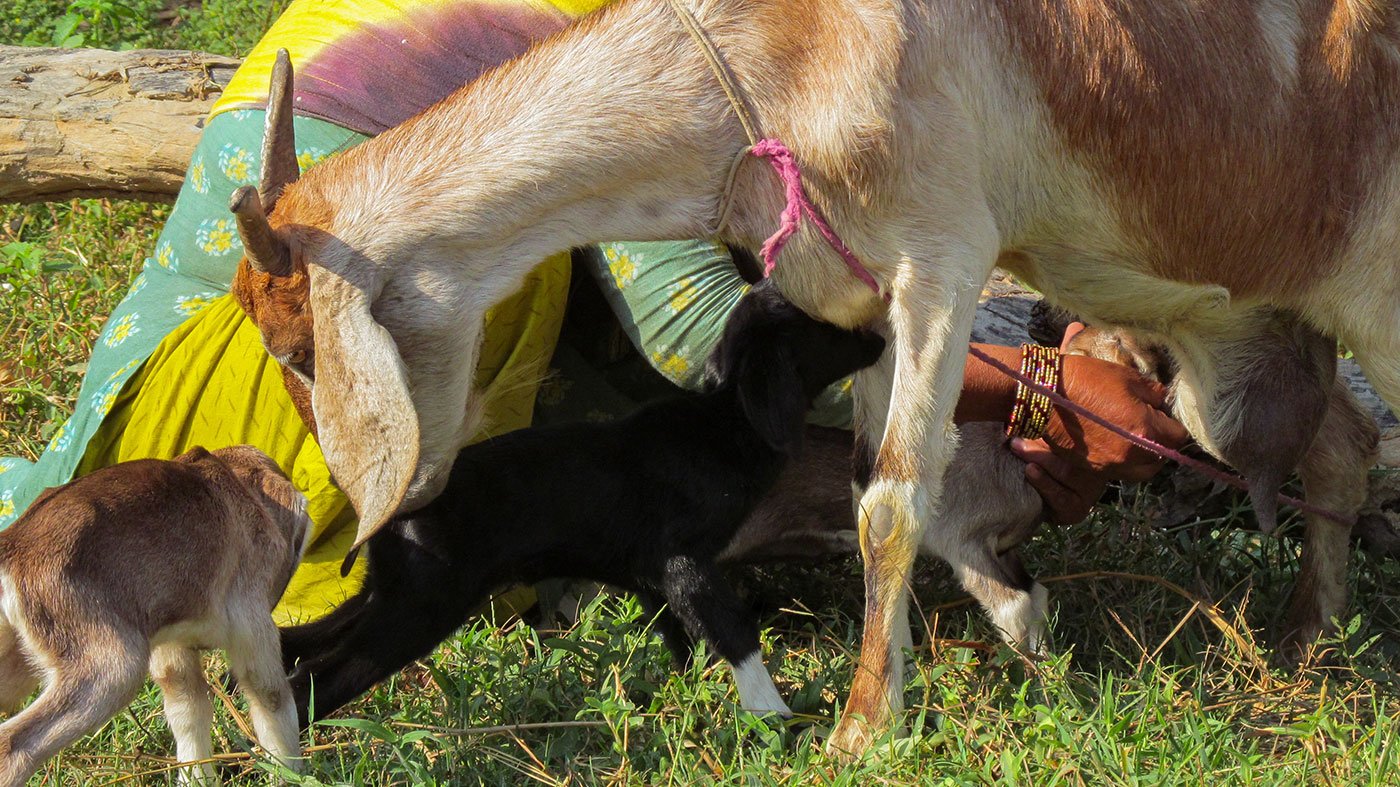 PHOTO • Mohd. Qamar Tabrez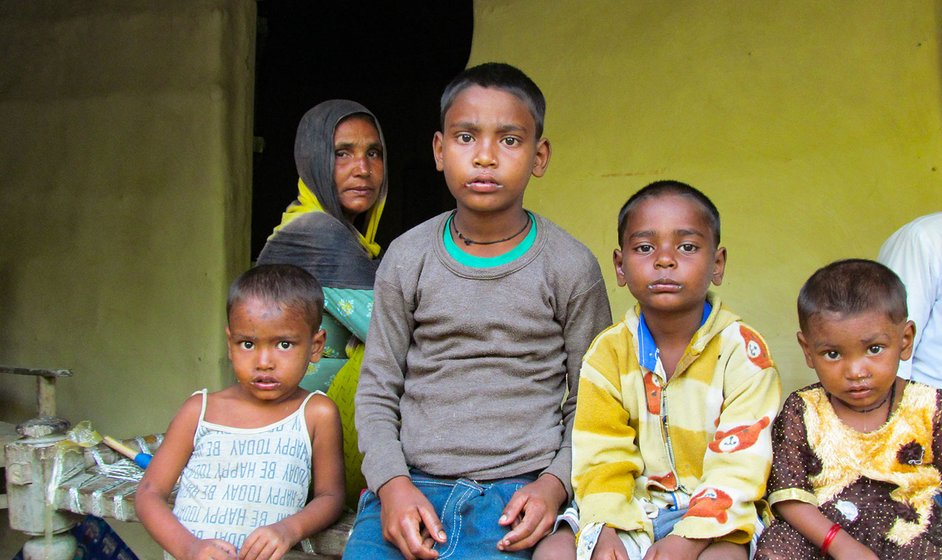 PHOTO • Mohd. Qamar Tabrez
Many of the men from the village work in the cities, in Ahmedabad, Delhi, Jaipur,  Kolkata and Mumbai. They mostly work in textile factories, as tailors making hand bags, as cooks and helpers in roadside eateries. The money they send back home has brought some changes to the village. From just 3-4 hand pumps for water a few decades ago, now almost every household has a hand pump. Most of the older mud and bamboo dwellings have become brick and cement houses, though many, like Husn Ara's house, still lack toilets, despite the prime minister's plans of an 'open defecation free' country by 2022. The villages here got electricity only in 2008 and concrete roads as late as 2016.
Like many other Muslim women of Phulwaria, 56-year-old Husn Ara too has worked as an agricultural labourer since childhood. Her mother, Samel, who died nine years ago, did the same work. The family's poverty didn't allow Husn Ara or her children to go to a school or a madrasa . The literacy rate in Bari Phulwaria is a low 38.81 per cent (Census 2011), and just 35.09 per cent for women.
Husn Ara's father, Mohammed Zahoor, still tries to work for daily wages – he is 100 years old, he says. He can no longer hoe or plough all day, so he staggers around the fields sowing seeds and cutting the crop in harvesting season. "I am a sharecropper," he says. Farming has become unpredictable and unprofitable, and the paddy and wheat crops have become erratic, he adds. "Traditional farming methods are fading out, farmers are using tractors, which has reduced the work of daily wagers. Those who manage to find some work cannot earn more than Rs. 300-350 a day."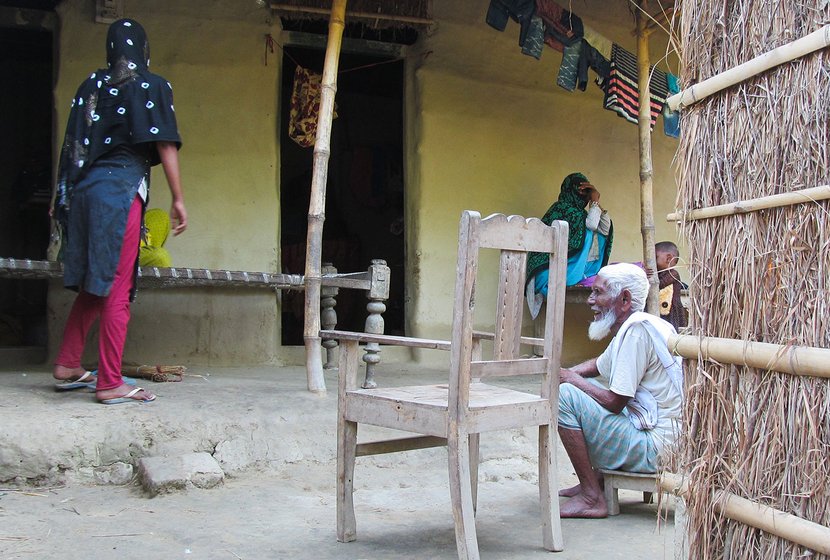 PHOTO • Mohd. Qamar Tabrez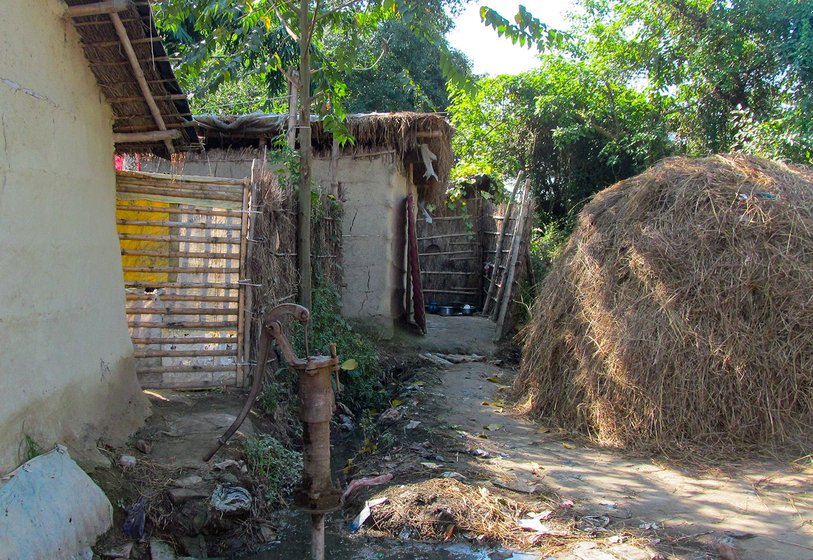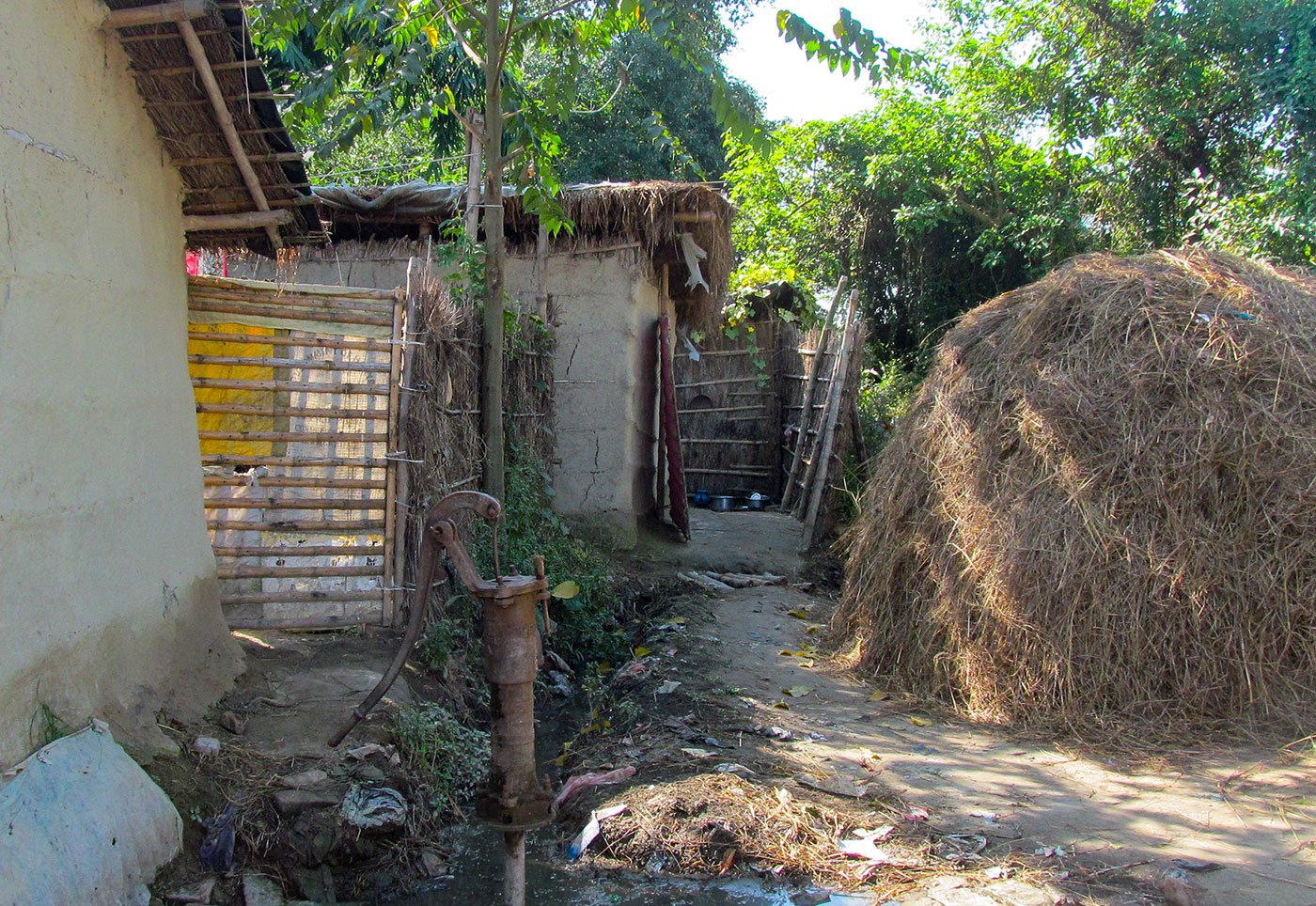 PHOTO • Mohd. Qamar Tabrez
Although the land in and around Bari Phulwaria is fertile, water for irrigation is scarce. The Adhvara river flows barely one kilometre west of the village, but it is full only in the rainy season and remains dry for the rest of the year. Inadequate rain in the region for the last three years has created a drought-like situation.
Husn Ara has five children. The eldest son, Mohammad Ali, 32, lives in a separate room in his mother's house with his wife Shahida and their two children. He doesn't contribute regularly to the family's expenses. A second son is an idler. A few years ago, Husn Ara's elder daughter got married and moved to Shamsi village of Nepal, around 40 kilometres from Bari Phulwaria. A third son and an 18-year-old daughter are still to be married. They too occasionally work for daily wages during the sowing and harvesting seasons.
It is hard for Husn Ara to support her family and she struggles to ensure a supply of provisions at home. On the family's ration card, she brings home 14 kilos rice for Rs. 2 per kilo, and 21 kilos of wheat for Rs. 3 per kilo, every month, among a few other items. "Not enough farm work is available nowadays," she says. "My health is also deteriorating. Our family members have increased but not the income. I also have to feed my grandchildren. I don't know how long I will have to do all this."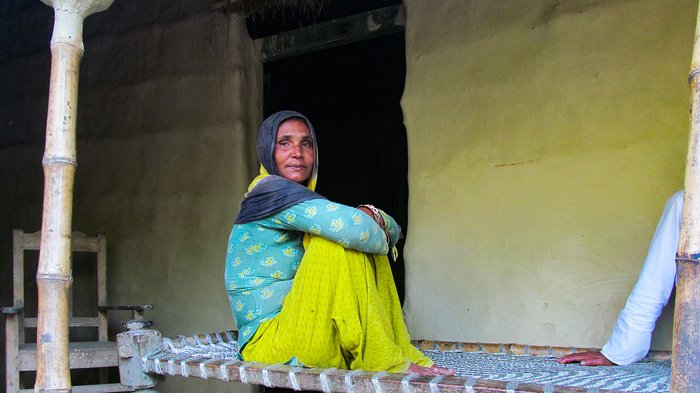 PHOTO • Mohd. Qamar Tabrez
Husn Ara had pinned her hopes on her five children – that when they grew up, they will contribute to the family earnings and bring happiness and good fortune.

To add to her modest income, Husn Ara started rearing chickens and keeping goats – a source of income for many households in her village. The eggs help her earn a few hundred rupees every month or they add to the family's meals. And the goats give birth every two-three years. She rears the kids and then sells them to cattle traders. But the price her goats fetch cannot compare with others. "People who have money feed their livestock good fodder. I am poor. I only feed grass to my goats. So they are weaker…" she says.
Goats fed on nutritious fodder can weigh 8-10 kilos in four months and can be sold for Rs. 4,000 each to the merchants. Husn Ara's grown-up goats never weigh more than five kilos and fetch not more than Rs. 2,000 each after four months. If she keeps the goats with her for a year, she can command Rs. 10,000 for a goat from well-off Muslims of nearby villages, who can pay that amount for sacrifice on the eve of Eid-ul-Azha or Baqr Eid.
Husn Ara had pinned her hopes on her five children – that when they grew up, they will contribute to the family earnings and bring happiness and good fortune. They not only grew up but most of them also have their own children. And still happiness and good fortune remain elusive for Husn Ara.