"This is the third time in the morning that my gadha is carrying water uphill," sighed Dali Bada. "He gets tired and we do not have enough food for him."
When I reached 53-year-old Dali Bada's house , she was feeding the donkey leftover urad dal and grass. Her husband, Badaji, was looking to the sky – it was mid-June. "It will rain, I think," he said, speaking in the Bagri Rajasthani language. "During the monsoon, the water gets very dirty and my wife has to walk with our donkey in the rain to fetch that dirty water."
In Pacha Padla, a village of around 1,000 people in Rishabdeo tehsil of Rajasthan's Udaipur district, roughly 70 kilometres from Udaipur city, humans and animals drink water from the same rain-fed stream . When that dries up, the people dig pits in the ground to draw out water. When it rains and these large holes get filled with waste material, the people of Padla dig some more in the hope of coming across clean water. And many families use pet donkeys to carry drinking water uphill – Padla is referred to by people from other villages as the place where gadhas are used to carry water.
The water the donkeys carry is also used for other household purposes, though most of the time the women try to carry utensils and clothes to wash at the stream or pits. The people here say the donkey is an investment that gives returns all through the year by tirelessly carrying water uphill in all months.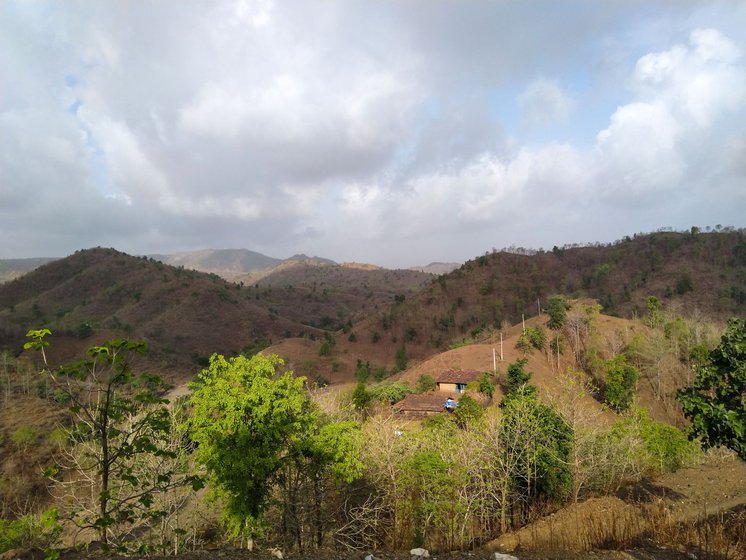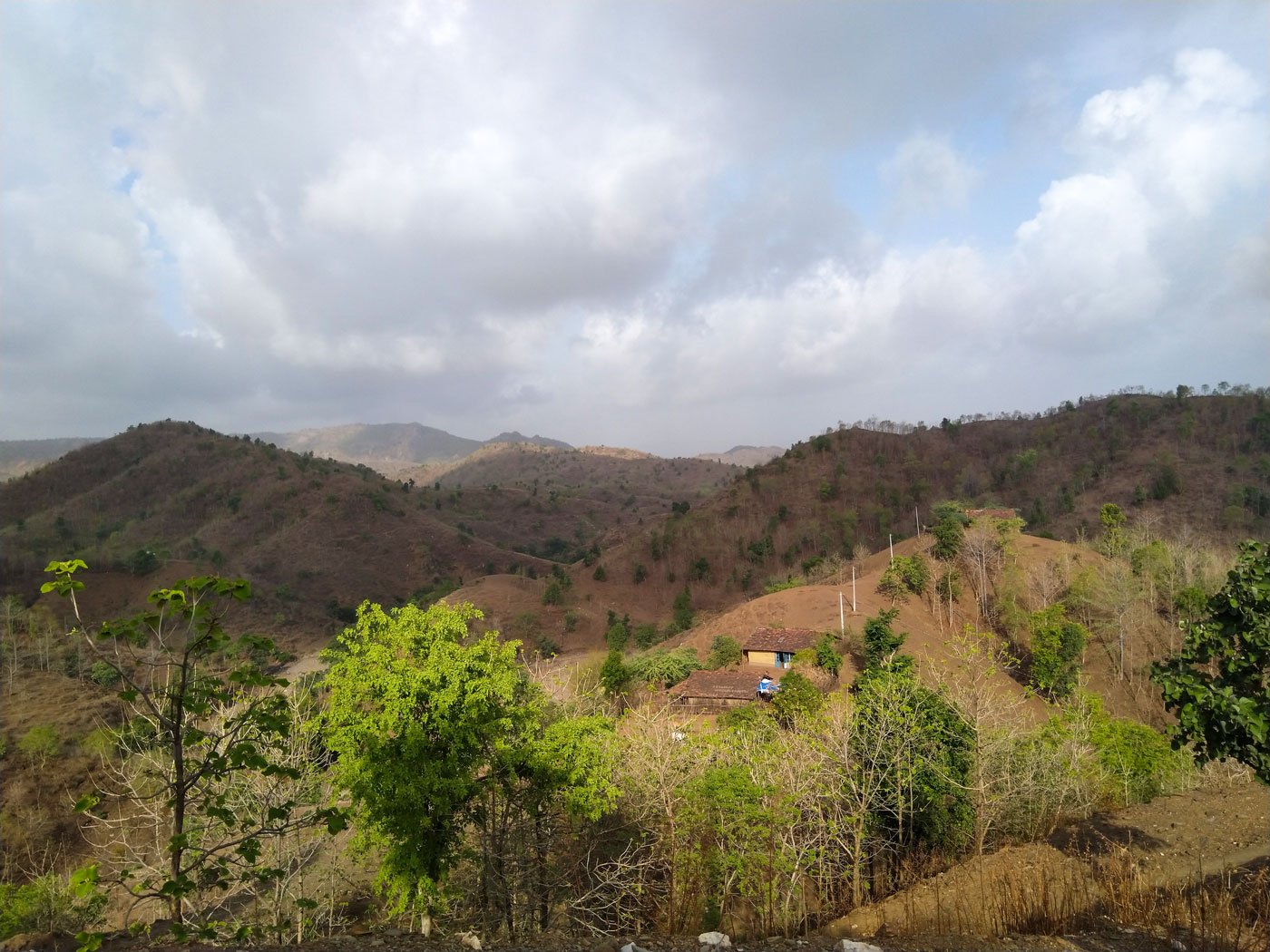 PHOTO • Sramana Sabnam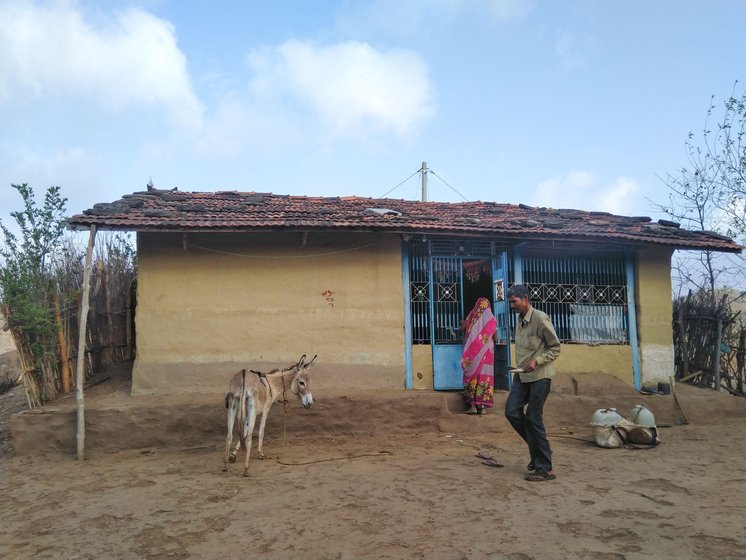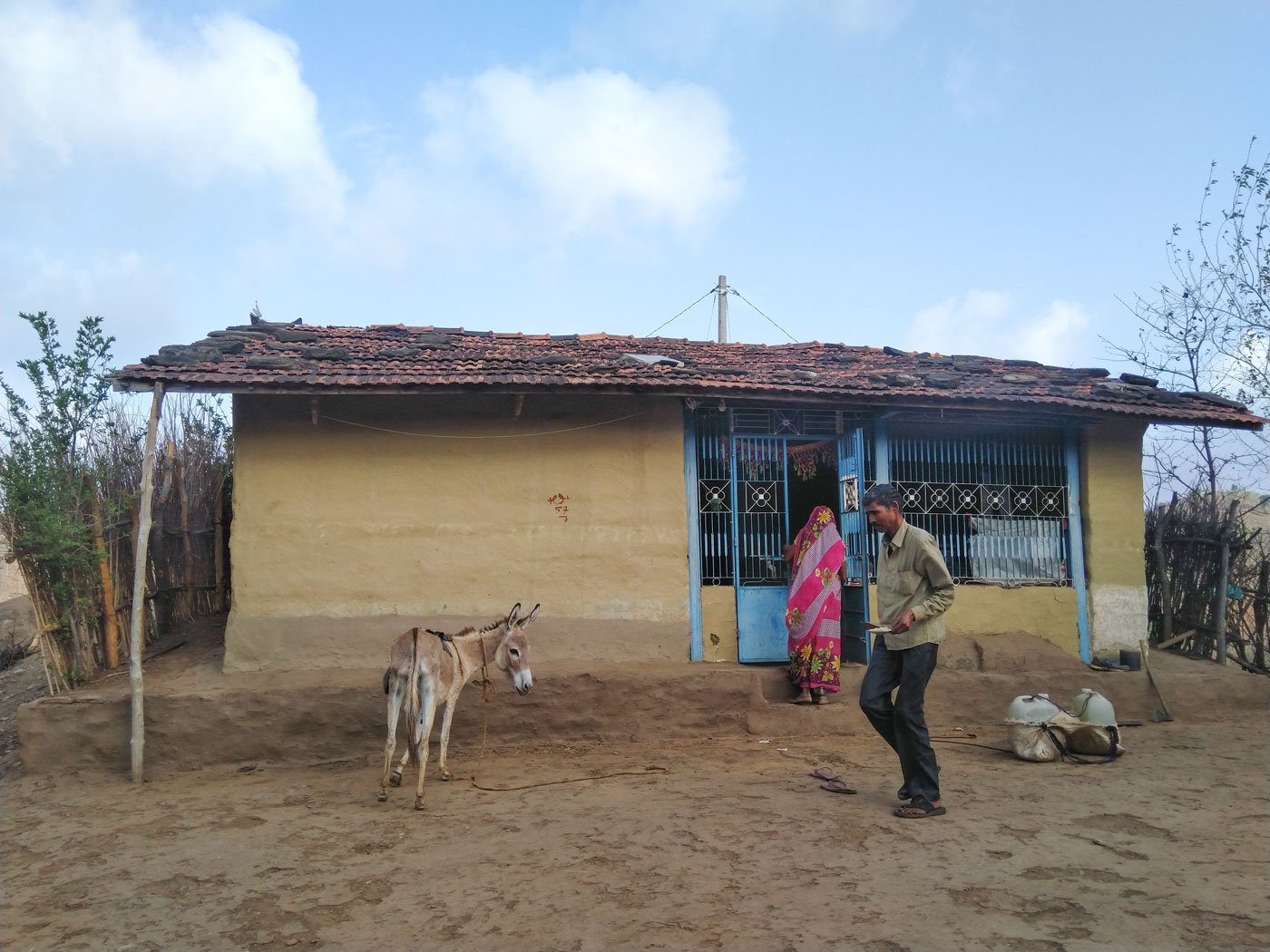 PHOTO • Sramana Sabnam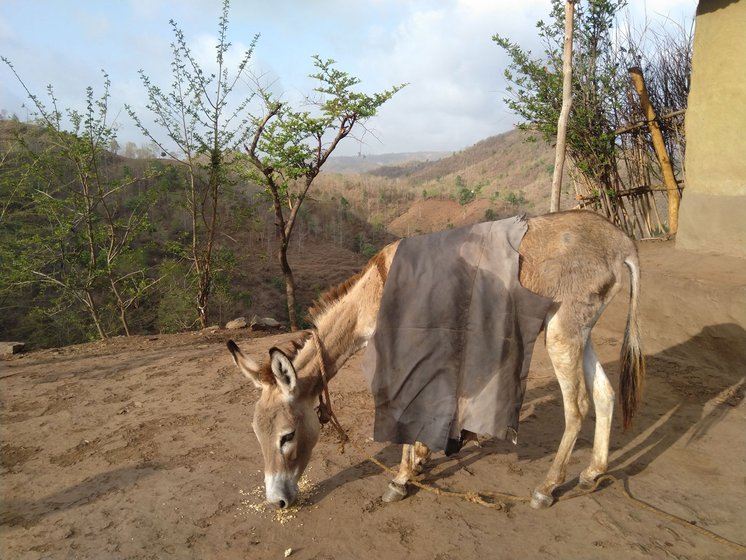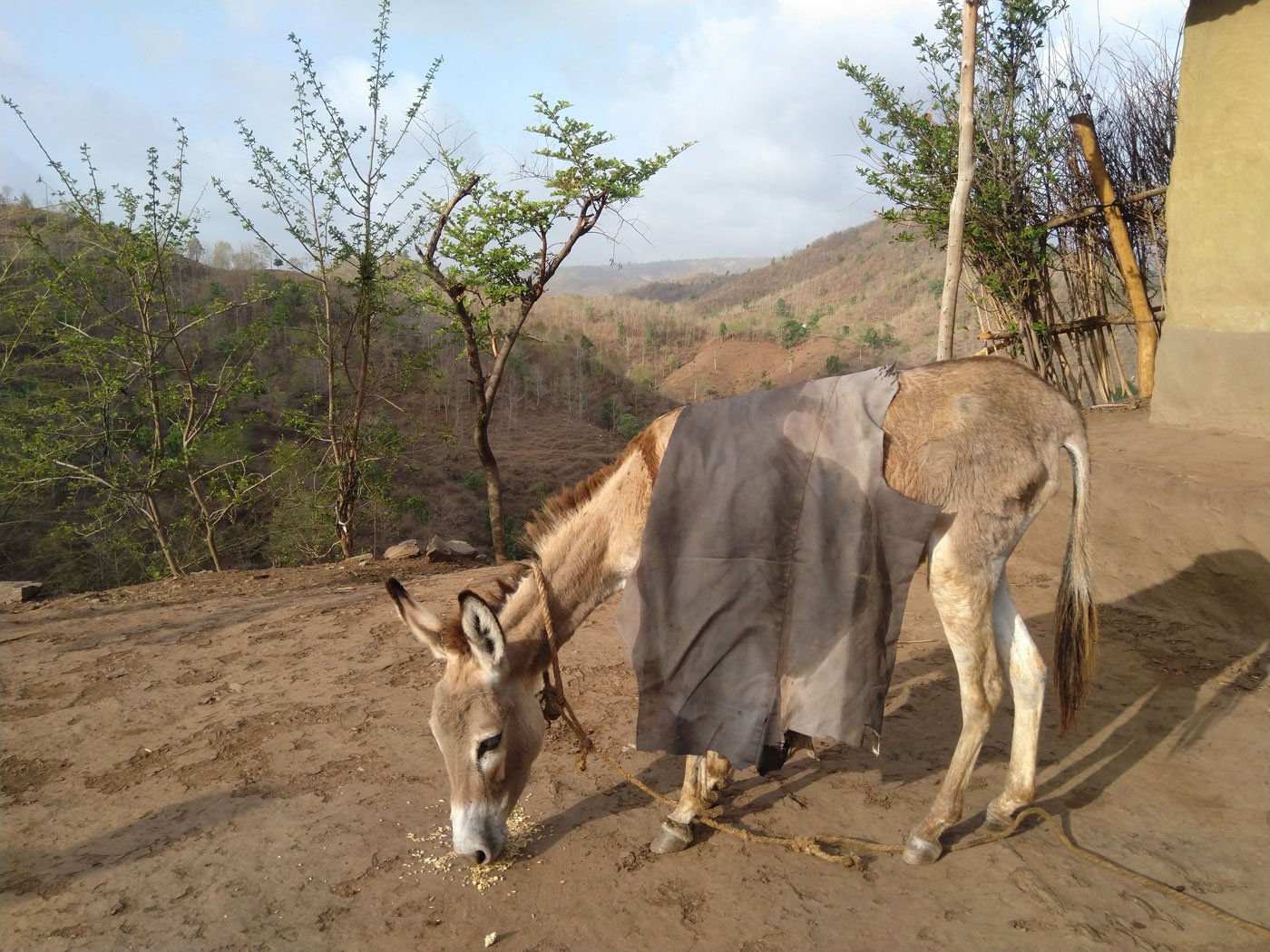 PHOTO • Sramana Sabnam
Dali and Badaji work as wage labourers for a local contractor, earning around Rs. 200 a day each when work is available. Badaji also cultivates urad , tur , maize and vegetables on less than an acre of patta land that belongs to the government.
They bought the male donkey – who carries the water – for Rs. 2,500 from another family in 2017. It took them 18 months, they say, to save this amount. The family – they belong to the Ahari Adivasi community – also owns a female donkey and a baby male donkey, as well as a goat and a cow.
Dali Bada starts her water work at 5 a.m. Each trip takes around 30 minutes downhill and an hour uphill. She makes one trip, then does some other house work, then starts again on the downhill journey with the donkey – this goes till around 10 a.m., when she leaves for wage work. She fills the water in plastic jerry cans fitted inside bags which hang on both sides of the donkey – an estimated 12-15 litres in each can. And also carries a pot on her head. Both Dali and her donkey get exhausted and take breaks from time to time during the uphill journey.
During my visit to their house, Dali, the donkey and I started walking downhill, along a steep slope, to fetch water. After 20 minutes, we reached a clearing of pebbles and rocks. Dali Bada said that the same patch looked different in the monsoon – it was the dry stream, locally called Jabunala, that we were walking through.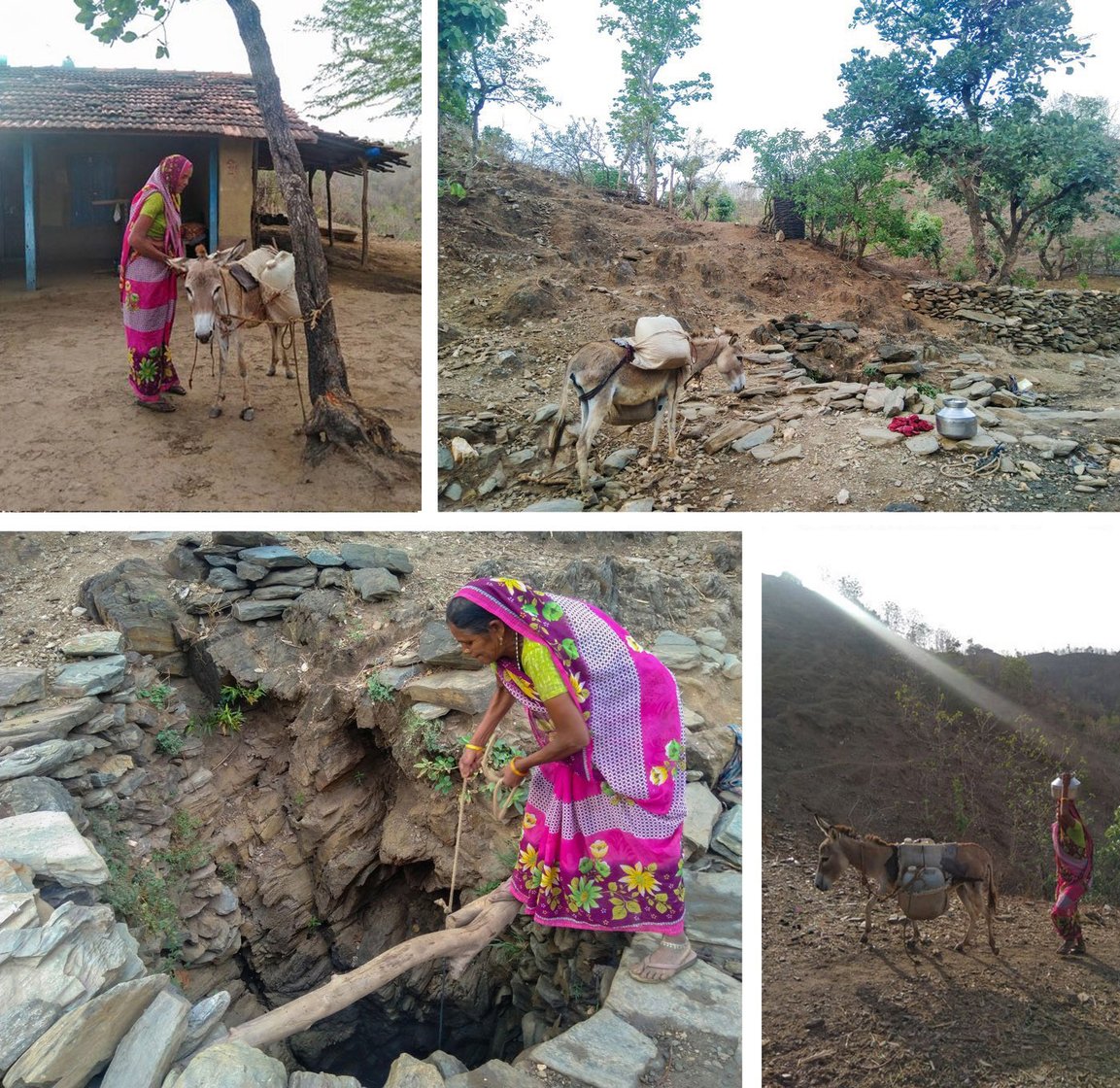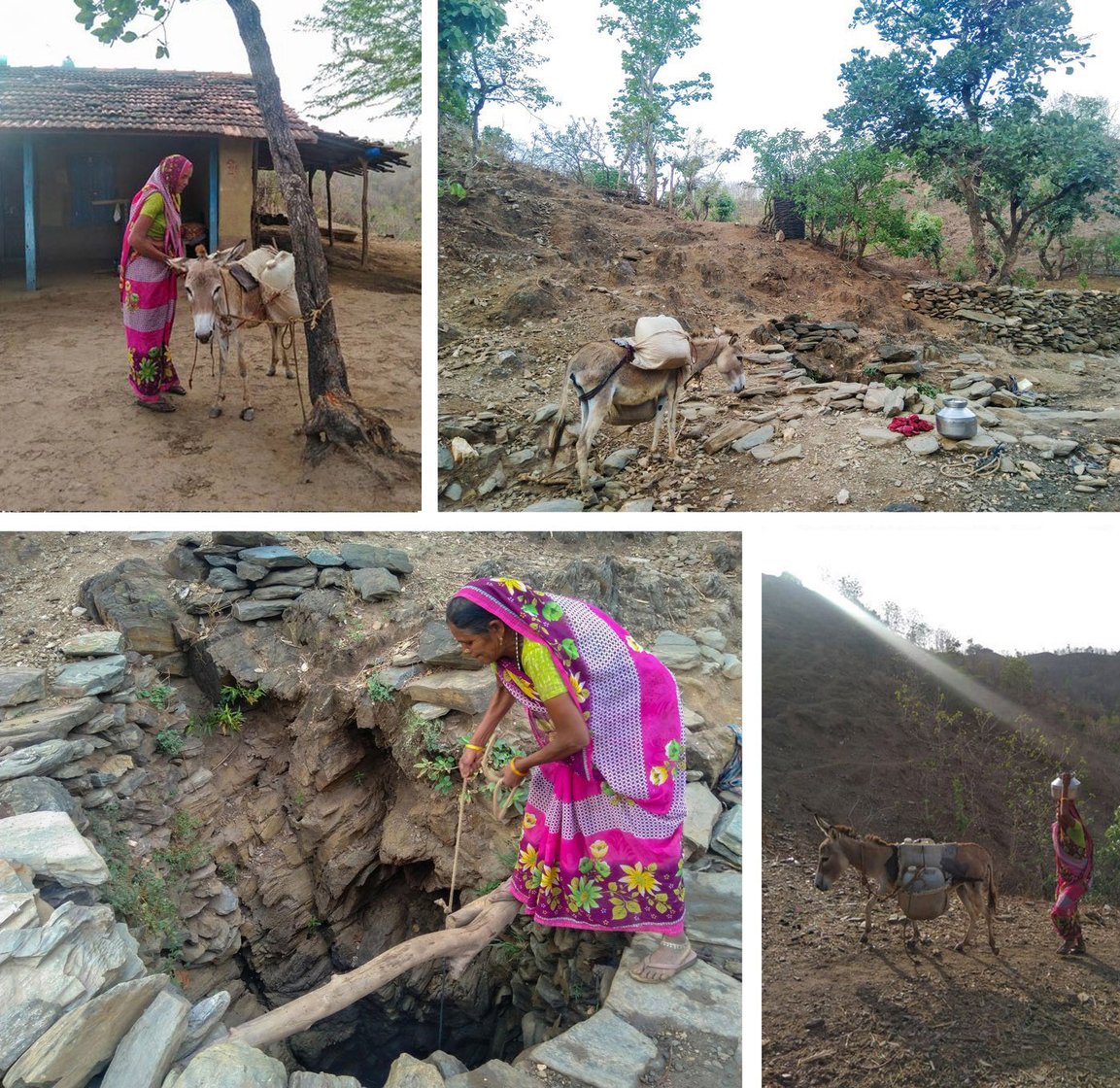 PHOTO • Sramana Sabnam
We kept walking till the donkey stopped; it knew its destination. Dali Bada pulled out a rope, tied it to a steel ghada (pot) and stood on a branch fitted above the pit. The water was around 20 feet below. She pulled up the rope and, with evident joy, showed me the water she had filled. Her face shone in victory.
During the scorching summers of Rajasthan, the water level dips. Dali Bada said that summers are god's way of testing people. "But at times I feel that there's no god, if there were one, why would women like me die filling pots with water?"
Back at home, Badaji unloaded the donkey. "In no way can this water be wasted," he said. Dali Bada did not rest, she went on to find more empty pots to fill water. Their son, Kuldeep Ahari, 34, was sleeping after a night's labour of grinding maize. In the silent house, the only sound was Badaji drinking from a stainless steel lota full of water.