"I want a different life for my two girls," Visalatchi says, stooping to throw salt grains at the layers of silvery fish spread out. The 43-year-old has been drying fish for over 20 years at the Cuddalore Old Town harbour on Tamil Nadu's coast.
"I grew up in a landless Dalit family, helping my parents who were agricultural workers engaged in paddy cultivation. They never had an education," she says. Visalatchi was married at 15 to Sakthivel and their first daughter Shalini was born just two years later in Bhima Rao Nagar, a hamlet in Cuddalore district.

Unable to find agricultural wage work in Bhima Rao Nagar, Visalatchi came to Cuddalore Old Town Harbour searching for a livelihood.  She was 17 years old when she met Kamalaveni who introduced her to the skill and business of drying fish – a trade that stayed with  her.

Drying fish in the open is the oldest form of fish processing and includes a range of activities such as salting, smoking, pickling and more. Roughly 10 per cent of the over 5,000 active fisherwomen in Cuddalore district are involved in drying, curing and peeling fish, according to the 2016 Marine Fisheries Census brought out by the Central Marine Fisheries Research Institute, Kochi.
Across the state, the figure is much higher: the number of women involved in marine fishery activities in Tamil Nadu was around 2.6 lakh in 2020-2021, says the state website of the Department of Fisheries .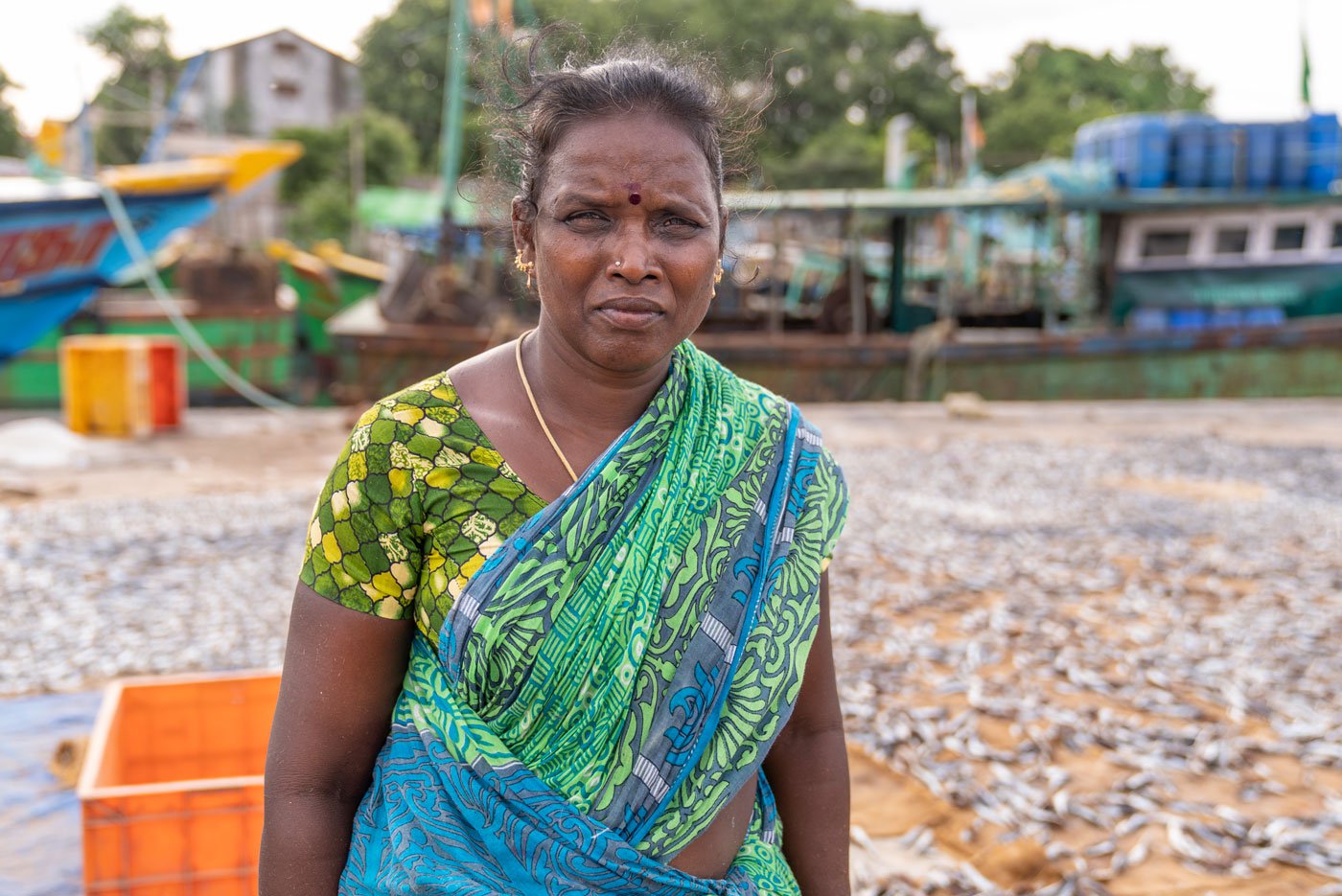 PHOTO • M. Palani Kumar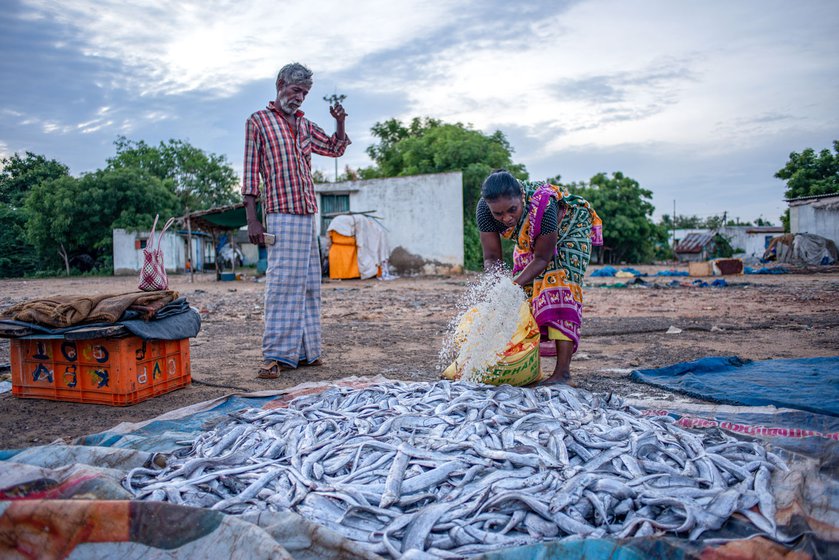 PHOTO • M. Palani Kumar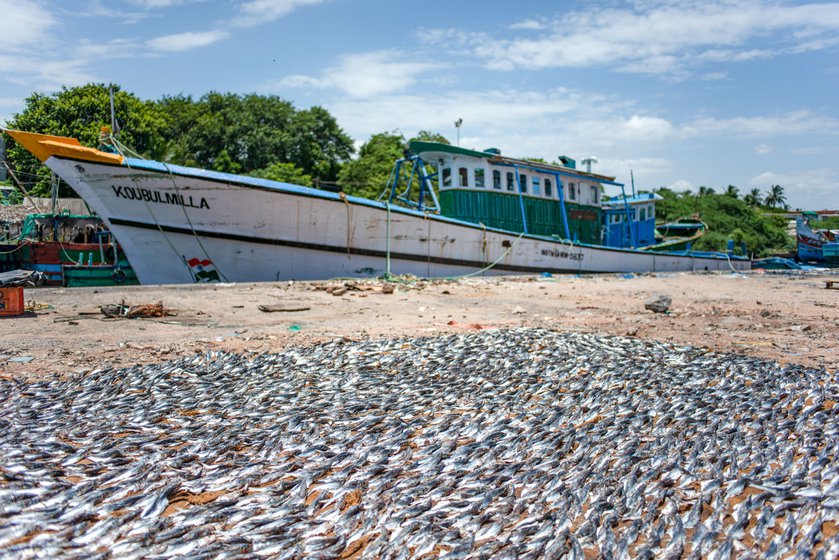 PHOTO • M. Palani Kumar
When she started, her mentor Kamalaveni was in her 40s and ran an established fish business including auctioning, selling and drying fish. She had 20 women employees and Visalatchi was one of them. It was a tough daily grind – Visalatchi had to reach the harbour at 4 a.m. and returned home only at 6 p.m. Her wages were Rs. 200 and the workers were given breakfast, tea and lunch and she recalls,  "We really liked Kamalaveni. She would herself work through the day – auctioning, selling fish or supervising workers."
The 2004 tsunami brought changes all around and in Visalatchi's life. "My daily wages rose to Rs. 350 after the tsunami, and fish production also increased."
The fisheries sector saw rapid growth as ring seine fishing, which leads to larger catches of fish, increased. Ring seine is a commonly used fishing gear and uses surrounding or encircling nets. It is most suited for catching anchovies, mackerel and oil sardines. Ring seine became immensely popular in Cuddalore district in the late 1990s. Read: Veni's story: 'becoming a bold lady'

"There was more work, more profit and wages," Visalatchi remembers. A trusted worker, Kamalaveni would entrust her with the keys to the fish drying shed when she went out. "There was no leave, but we were treated with dignity," she says.
As prices of fish rose, so did those of essentials. The couple now had two daughters – Shalini and Sowmya who were going to school.  Her husband Sakthivel worked as a water tank operator but his daily wages of Rs. 300 were not enough and finances became difficult.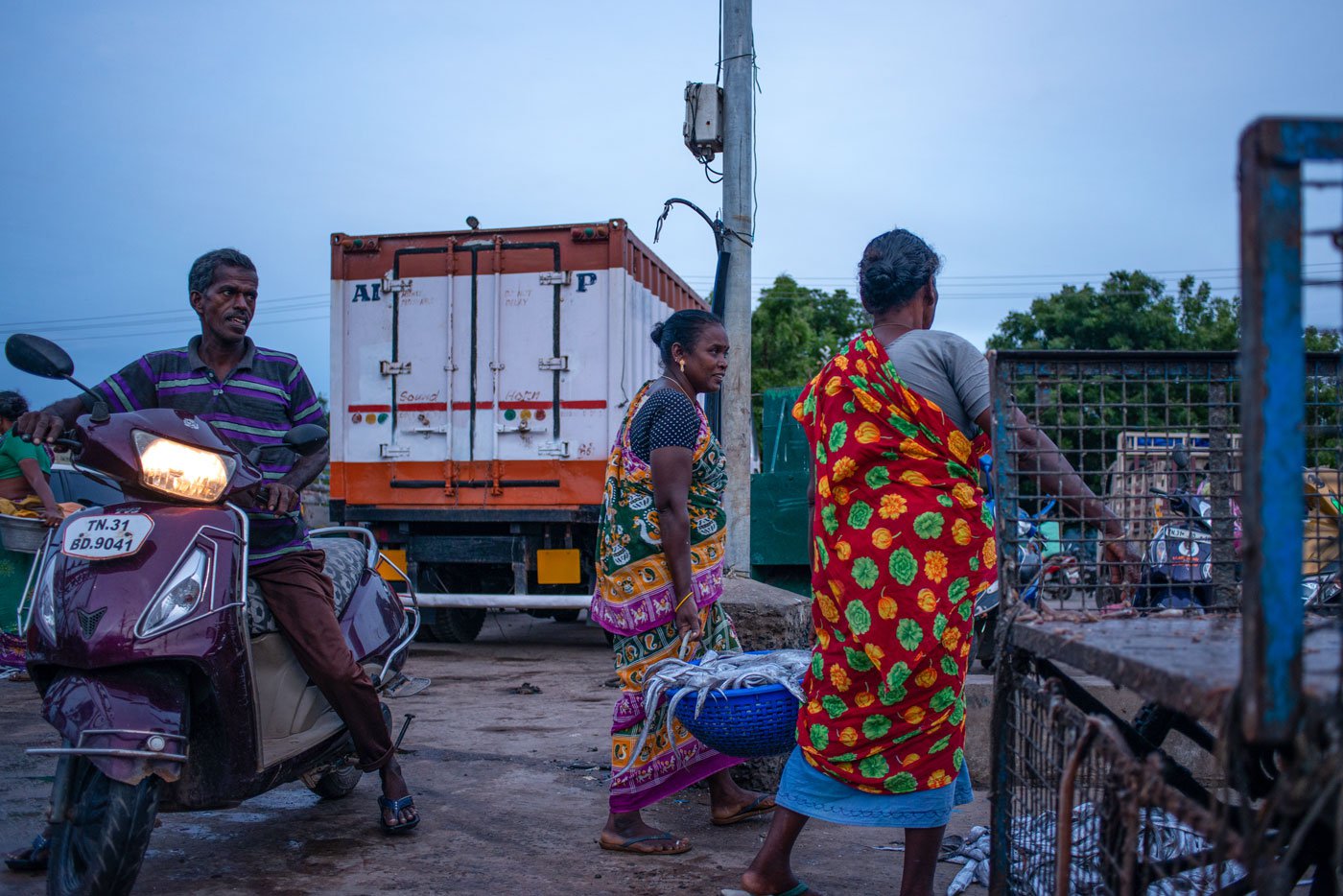 PHOTO • M. Palani Kumar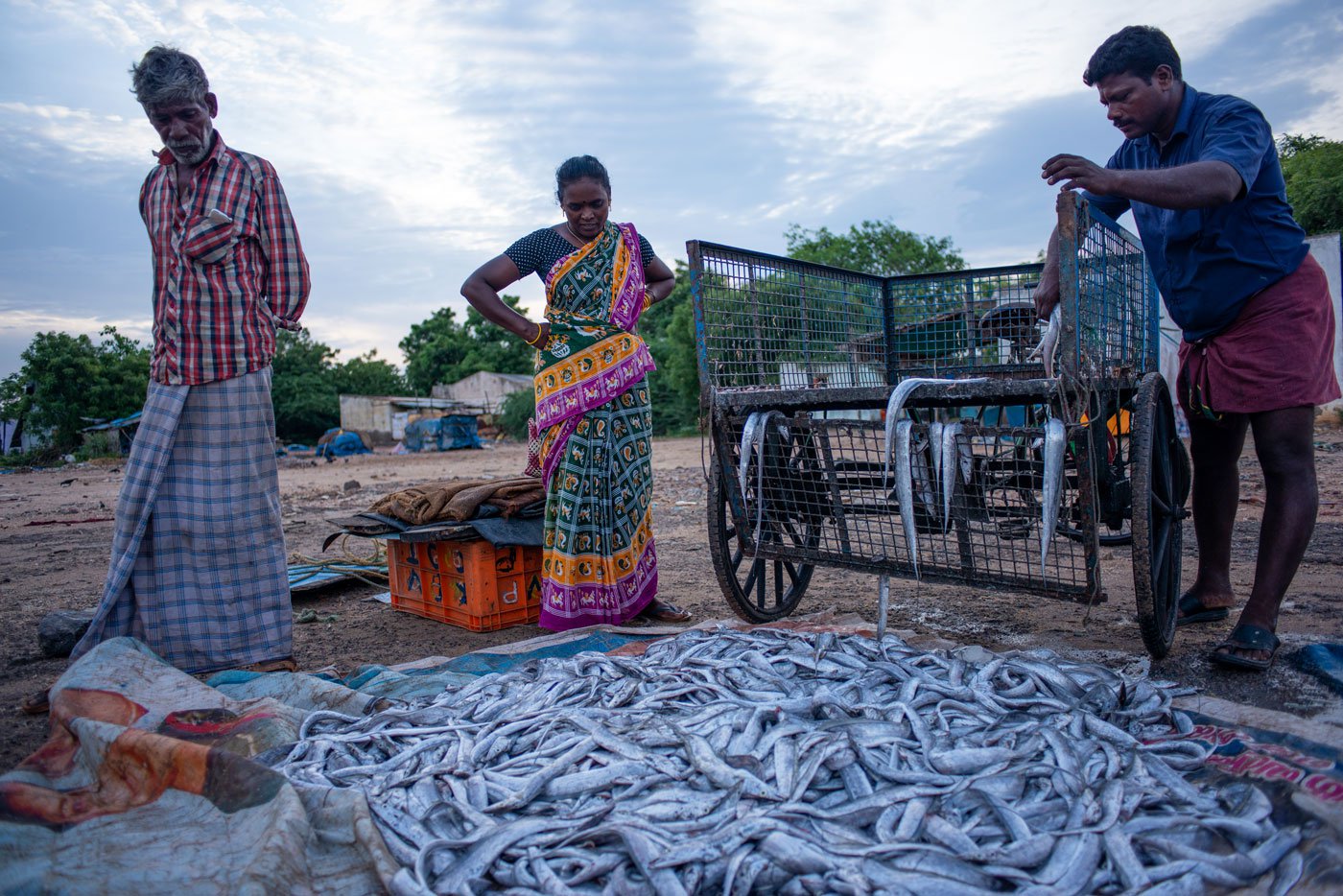 PHOTO • M. Palani Kumar
"While I really liked Kamalaveni, I was only earning a daily wage irrespective of profits," says Visalatchi explaining her next move.
So around this time, Visalatchi purchased fish with the intent of drying and selling it on her own. When Kamalaveni who was travelling learned of her attempts to be independent, she fired her from the job she had spent 12 years doing.

Now she could no longer afford to pay the Rs. 6,000 annual school fees for her daughters. The family was struggling.

A month later she met Kuppamanikkam, a fish trader, who asked her to return to the harbour, handed her a basket of fish to dry and a little space in his shed for free. But the earnings weren't enough.
Visalatchi decided to get into business on her own in 2010. She started by 'borrowing' fish worth Rs. 2,000 from a local boat owner, every day for a week.  She had to work even harder – coming to the harbour at 3 a.m. to buy fish, drying and selling it and returning home only by 8 p.m. She took a loan of Rs. 30,000 at over 40 per cent annual interest from a women's self-help group (SHG) which she had to repay in two years. Though the SHG interest rates were high, they were less than the rates of private moneylenders.

Differences emerged with Kuppamanikkam whose shed she was using to dry fish. "There were financial differences. He always reminded me how much he had helped me," she explains.  Visalatchi decided to rent her own shed for Rs. 1,000 a month to store the dried fish.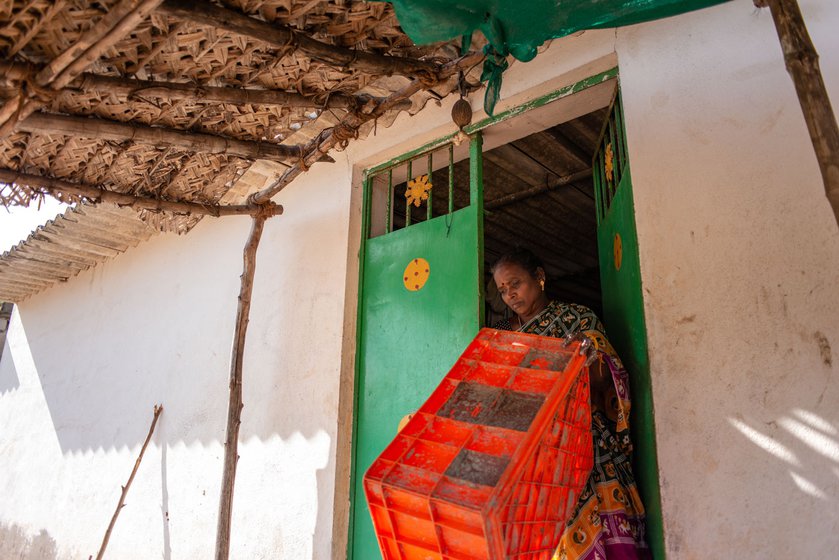 PHOTO • M. Palani Kumar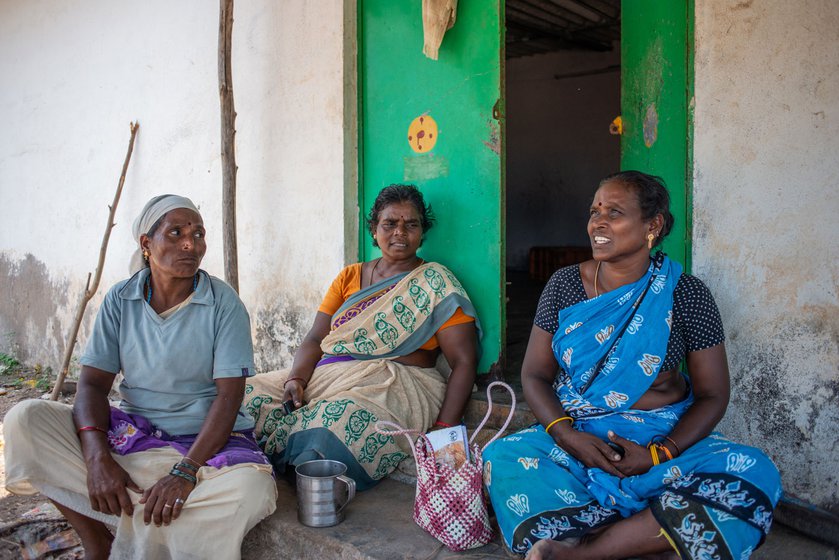 PHOTO • M. Palani Kumar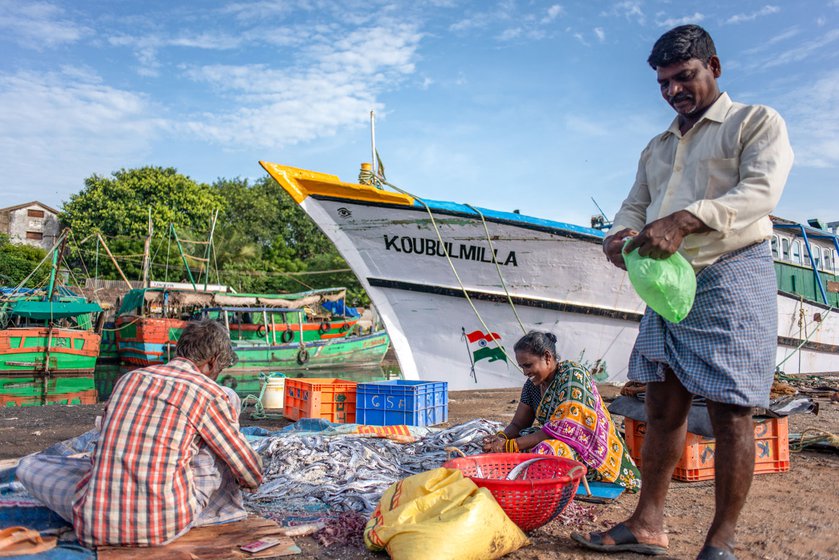 PHOTO • M. Palani Kumar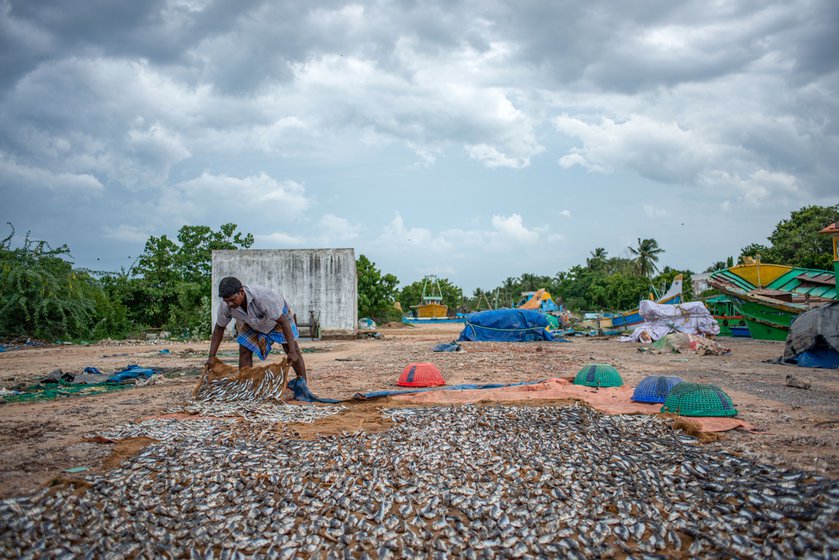 PHOTO • M. Palani Kumar
For her independence and enterprise, Visalatchi faced frequent verbal abuse from those around her. In Cuddalore, the Pattanavar and Parvatharajakulam communities which belong to the Most Backward Classes (MBCs) dominate the fishing trade while Visalatchi is from a Dalit community.   "The fishing community felt they were doing a favour by allowing me to work in the harbour and carry out my business. They say whatever they like and this hurt me," she recalls.
Although she had started out drying the fish alone, her husband started helping her. As the business began to grow, Visalatchi employed two women labourers and paid them a daily wage of Rs. 300 with lunch and tea. The women were responsible for packing the fish and laying it out to dry.  She employed a boy to salt the fish and perform odd jobs for Rs. 300 a day.

With an abundance of fish available from ring seine fishermen, Visalatchi could earn as much as Rs. 8000-10,000 a week.

She was able to enroll her younger daughter Sowmya in a nursing course and the elder, Shalini became a chemistry graduate. Her work helped pay for their weddings.

Visalatchi and others may have gained from ring seine fishing, but it is widely blamed by ecologists and scientists for depleting fish stocks. And so there has been a long-standing struggle to ban the practice. Though the use of purse seine nets which includes ring seine has been illegal since as far back as 2000 , the law was never stringently enforced until a 2020 Tamil Nadu government order which banned the use of large nets to catch fish.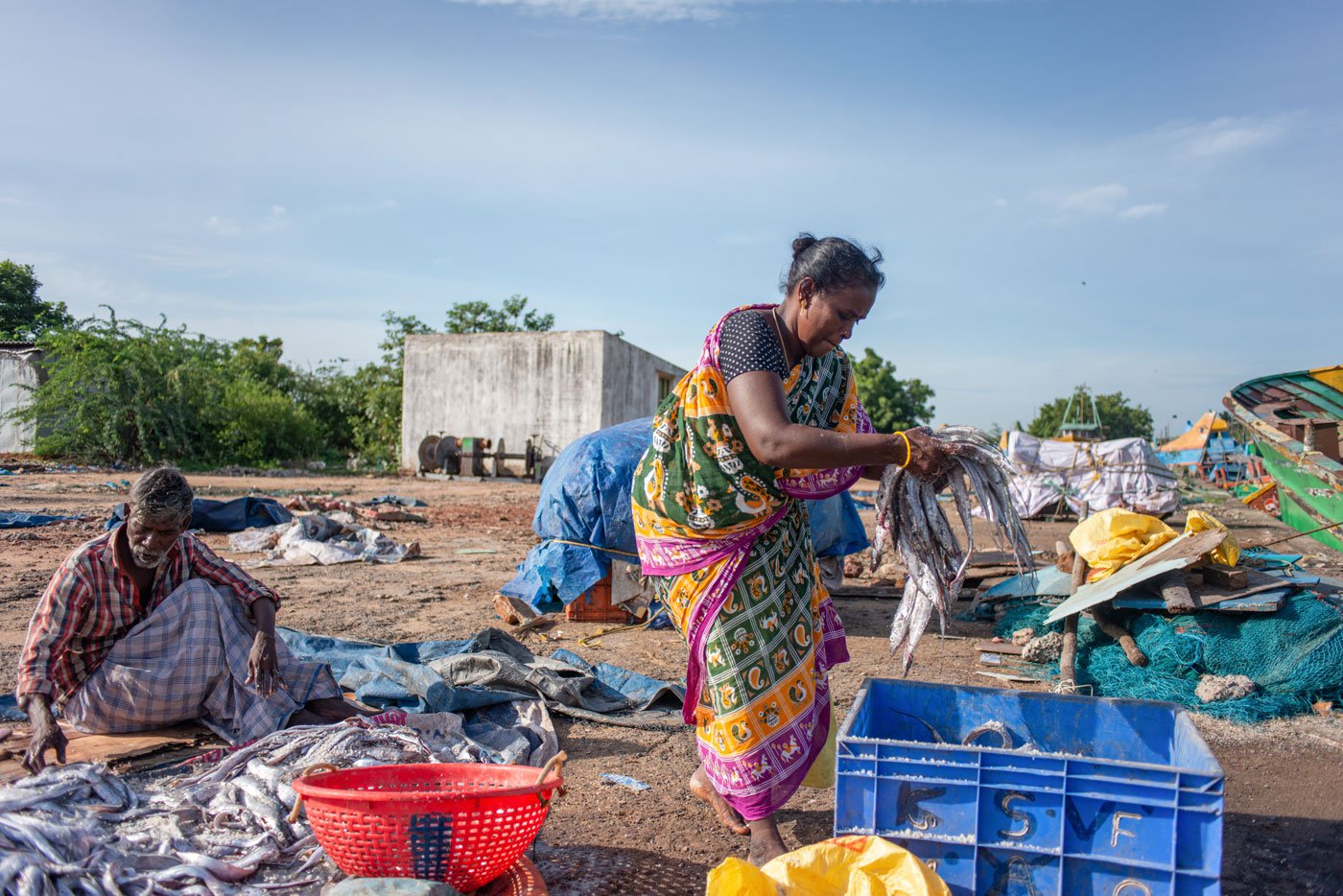 PHOTO • M. Palani Kumar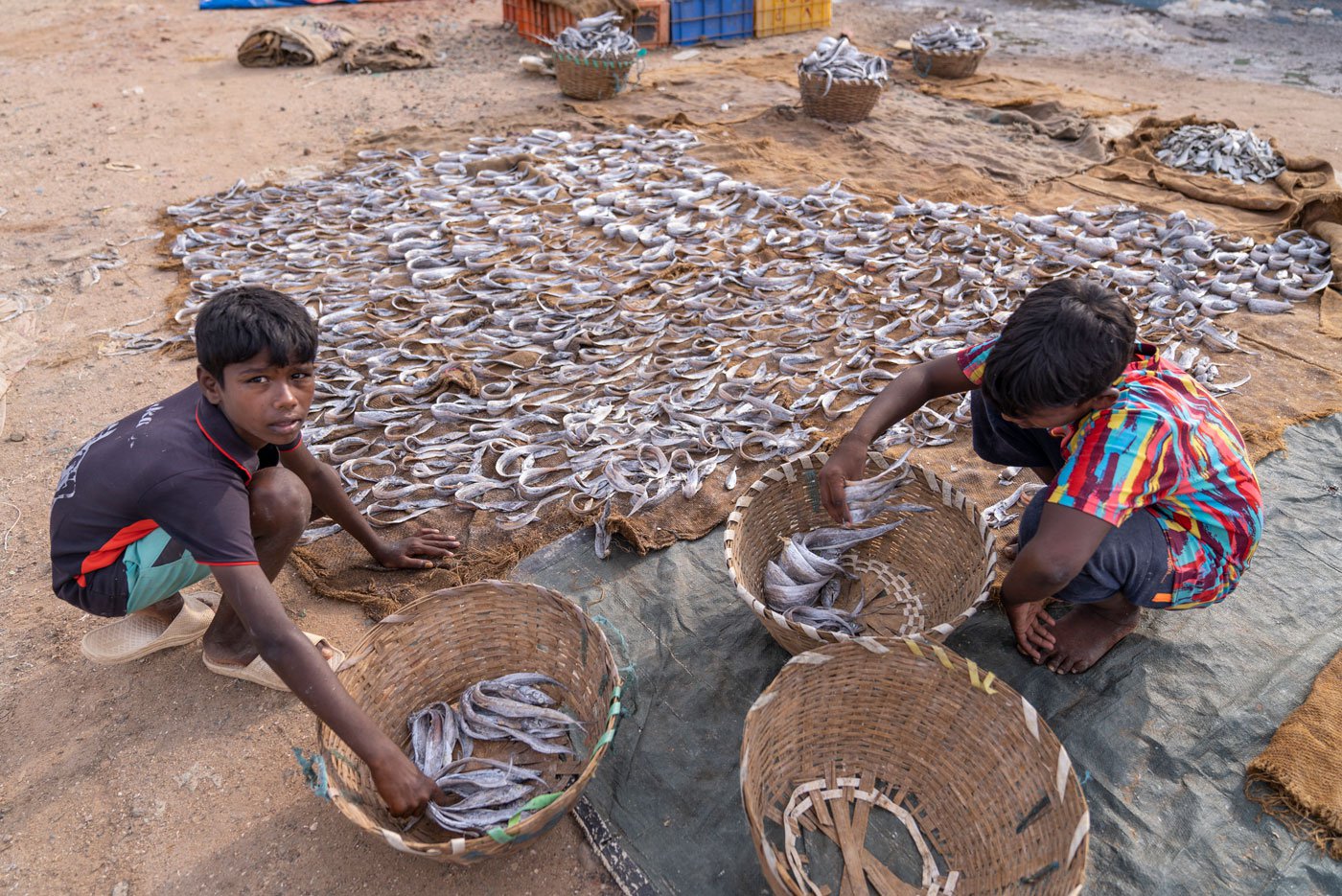 PHOTO • M. Palani Kumar
"We all earned well, and now we barely survive, earning just enough for our daily meal," says Visalatchi, ruing not just her own losses but those of the wider fishing community owing to the ban. She could no longer purchase fish from ring seine boat owners, who would sell the damaged and leftover fish to her at a low unit price.
Instead, trawler boats which sell fish at higher prices have now become Visalatchi's only source of fish. When trawler boats stop operations from the middle of April-June during the fish breeding period, she has to seek out  fibre boats which sell fresh fish at even higher rates.

She earns roughly Rs. 4,000-5,000 a week when the season is good and fish is available. The work includes drying the cheaper fish like silver belly ( kaarai ) and trevally ( paarai ). While dried silver bellies fetch Rs. 150-200 for a kilo, trevally can bring higher returns of Rs. 200-300. Visalatchi requires 3-4 kilos of fresh fish to get around a kilo of dried fish. The price of fresh fish varies between Rs.30 to Rs. 70 per kilo for silver bellies and trevally, respectively.

"What we buy for Rs. 120, we can sell for Rs. 150, but it depends on how much dried fish comes to the market. Some days we earn, others we lose," she says, summing up her situation.

Once a week, she hires a vehicle to transport the fish to two dryfish markets – one in Cuddalore and the other in neighbouring Nagapattinam district. Each box of dried fish weighing roughly 30 kilos costs Rs. 20 to transport.  She tries to make about 20 boxes per month.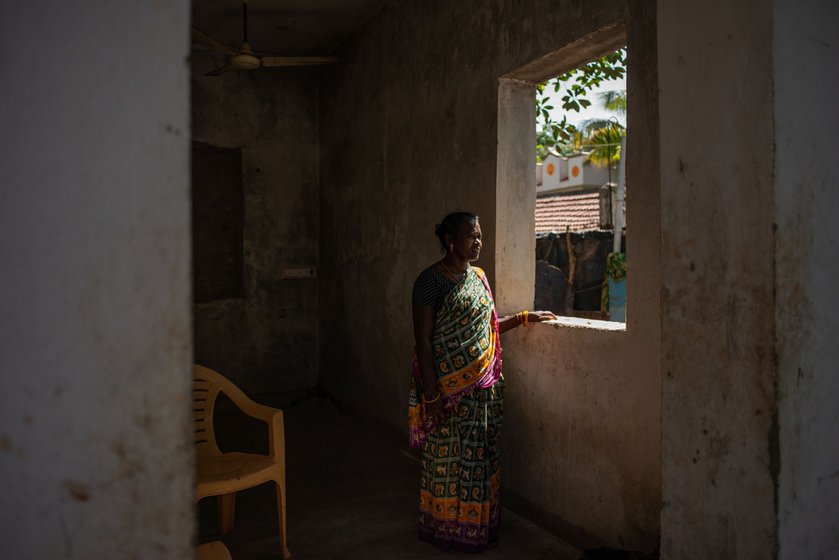 PHOTO • M. Palani Kumar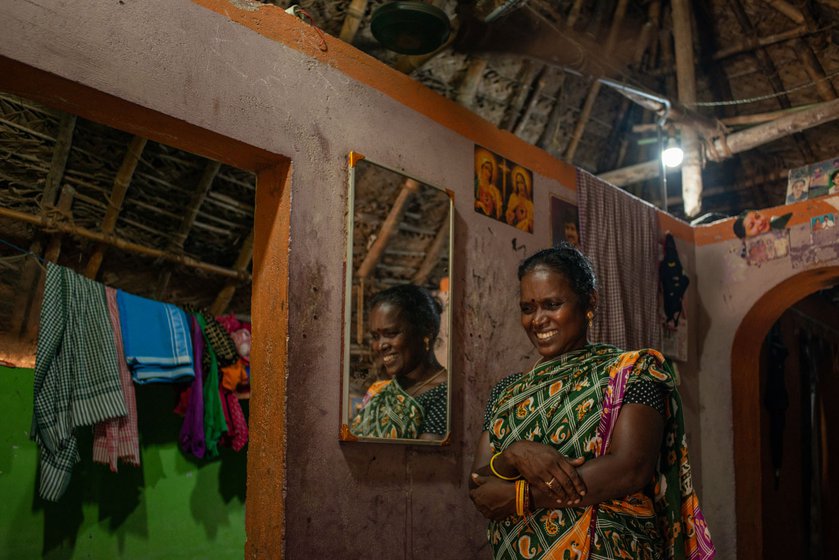 PHOTO • M. Palani Kumar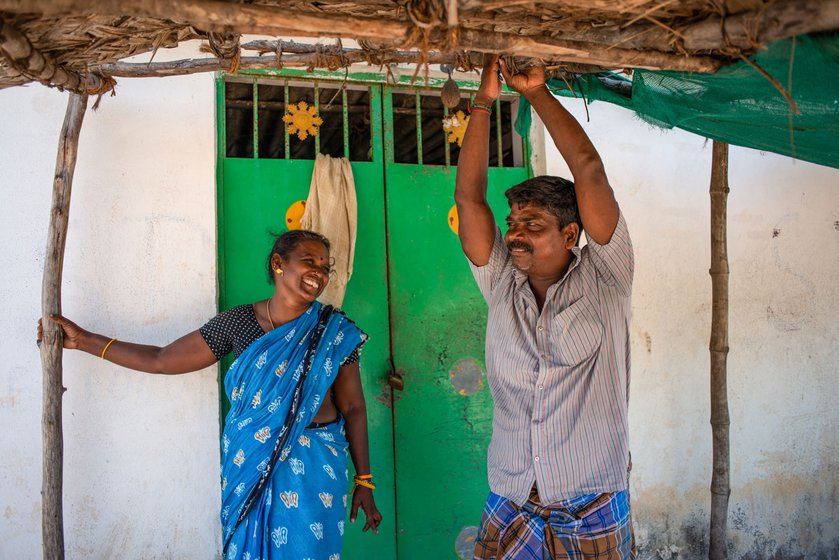 PHOTO • M. Palani Kumar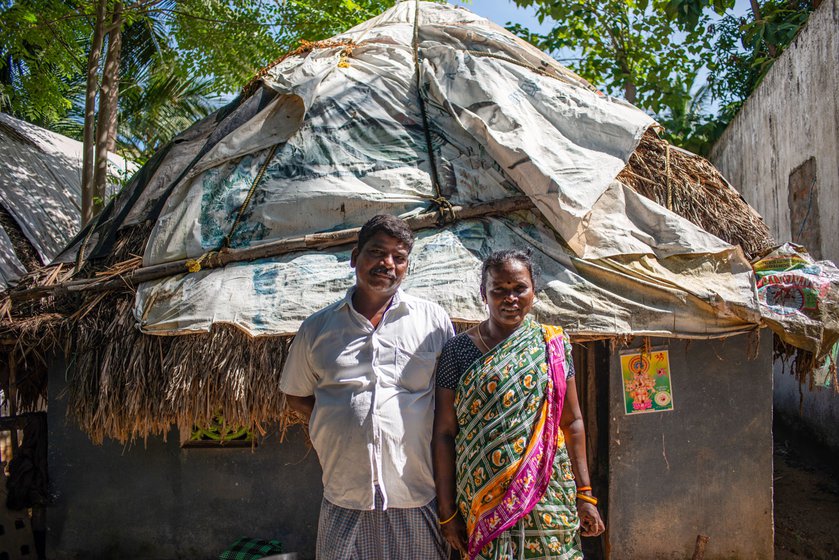 PHOTO • M. Palani Kumar
The increasing price of fish because of the ban on ring seine fishing, the rise in prices of salt, transportation and bags for packing fish have all added to her costs. As also the rise in wages from Rs. 300 to Rs. 350 that she is paying to the workers.
Meanwhile, the price of dried fish has not kept pace and by April 2022 Visalatchi was in debt for Rs. 80,000. This included loans of Rs. 60,000 which she needs to repay to a boat-owner for fresh fish, and her borrowings from a self-help group.

By August 2022, Visalatchi had to let off her workers and downscale the business. "I salt the fish myself now. My husband and I manage the business with just a little occasional assistance. We manage to rest for just four hours each day," she adds.
Visalatchi's only solace is that she could educate her daughters Shalini, 26, and Sowmya, 23, and get them married. But the recent downturn in her fortunes has her worried.

"Now there is a crisis and I am deep in debt," she says.

In January 2023, the Supreme Court offered reprieve by permitting purse seine fishing in a limited manner, subject to terms and conditions. Visalatchi doubts if this will revive her fortunes.

Watch video: Women take up diverse tasks at Cuddalore fishing harbour

With support from U. Dhivyauthiran