"There is no space for women fish-cutters," said Kala, a fish-cutter from Kinjampettai village in Cuddalore district.
The 60-year-old is sitting below the Singarathope bridge. This concrete and metal structure is located outside Cuddalore Old Town harbour. At work here are roughly 20-30 fish vendors and cutters, and they are all women.
The district has a coastline of 57.5 kilometres and the harbour is packed with godowns, warehouses, shops and fishing boats.

"As more traders and trucks started coming to the harbour, there was no space left for us," points out Kala (she uses only this name). "We were pushed out and had to move to this public space under the bridge. [It is] outside the harbour," she added.
Women like Kala who do the activities such as vending, cutting, drying and selling waste, have been gradually edged out. Read: Puli gets by on shells, scales, heads and tails
While fisherwomen are usually characterised as fish vendors, many women lacking capital or suffering from a physical ailment, take on the task of cutting and cleaning fish, sitting close to the vendors.
"We need to be near the vendors, as the customers who buy fish from them, get it cut and cleaned by us. If we are not close to the vendors, we won't get business," Kala pointed out.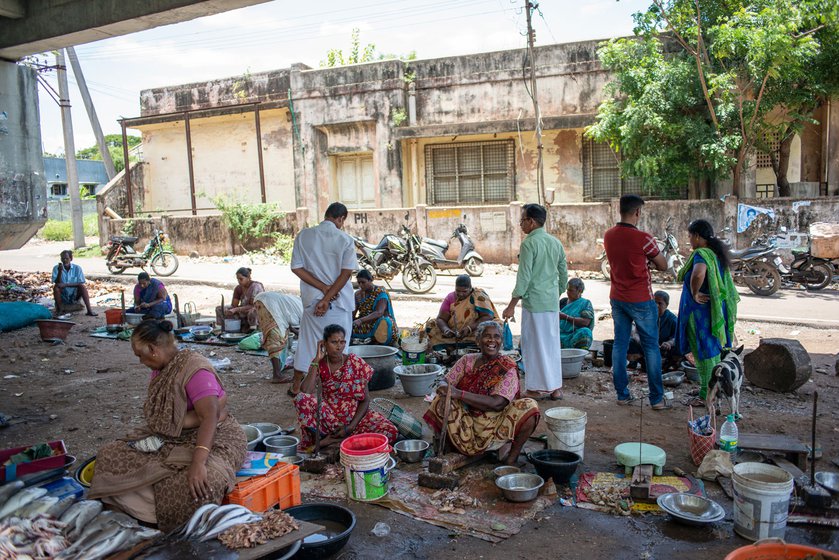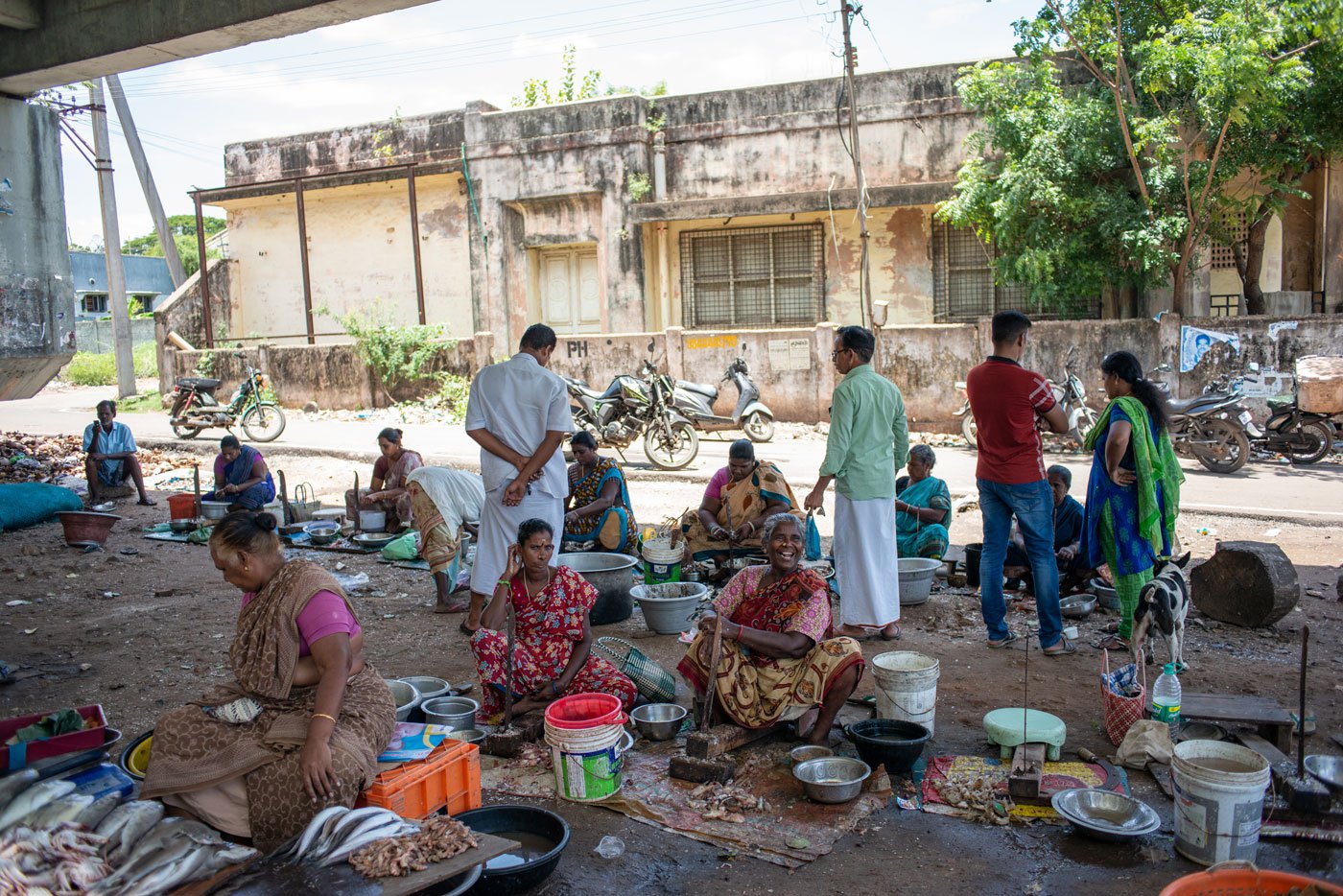 PHOTO • M. Palani Kumar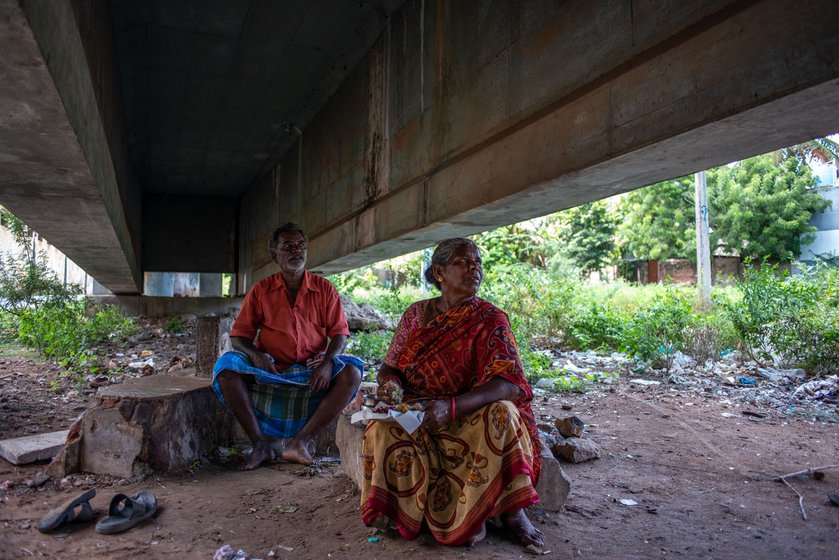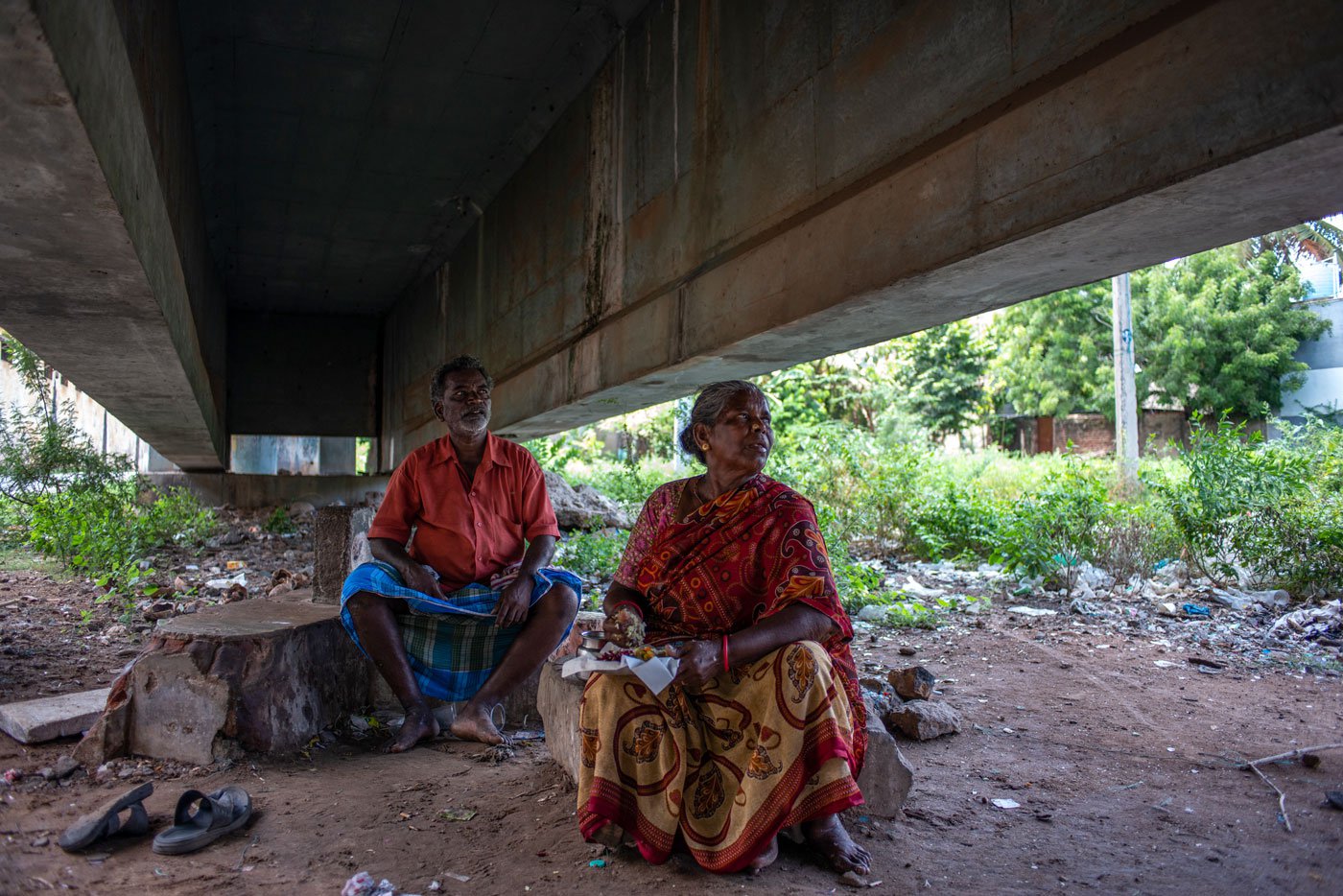 PHOTO • M. Palani Kumar
Cuddalore port is at the confluence of the Uppanar and Paravanar rivers as they empty into the Bay of Bengal.  It is being expanded and modernised as part of the Central Government's Sagarmala project to modernise and develop India's 7,500 km coastline.
This development will further distress fisherwomen like Kala who said, "I have moved many times and am not sure I can move again." She is referring to the revamped Cuddalore port and harbour which she believes will not accommodate the multitude of women in fishing tasks, especially fish-cutters.
The modernised Cuddalore port is expected to service an oil refinery, thermal power plants and other industries and is a part of the Poompuhar Coastal Economic Zone (CEZ). CEZs refer to large areas in one district or in a group of coastal districts with strong links to ports in the region and aim to reduce logistics costs for domestic and export-import cargo while increasing freight traffic.
Kala was born in Thirumullaivasal, a village in Tamil Nadu's Nagapattinam district. Her father fished on a kattumaram and her mother sold fish in the market. Married at 17, Kala moved north along the coast to her husband's village, Kinjampettai, close to Cuddalore town.
"My mother-in-law Muniamma introduced me to fish vending. Together, we would sell fish to customers in Kinjampettai market," recalled Kala. Depending on the catch they would sell natholi [anchovies], koduva [barramundi], sura [shark], kera [tuna] and others.
Muniamma died of failing health around two decades ago, and Kala continues to work here. She and her husband, Raman, have four children – two sons and two daughters. Kala and her family belong to the
Pattanavar
community, categorised among the Most Backward Classes (MBCs) in Tamil Nadu.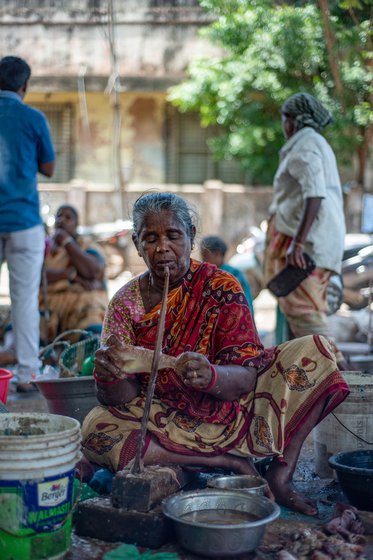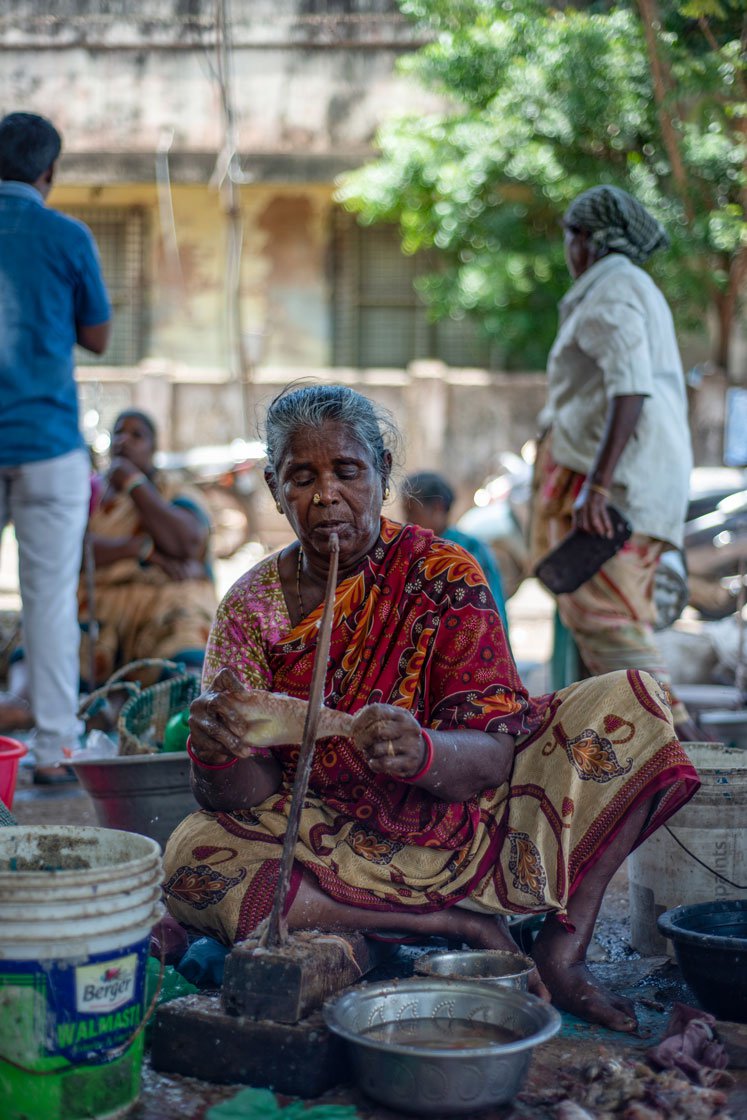 PHOTO • M. Palani Kumar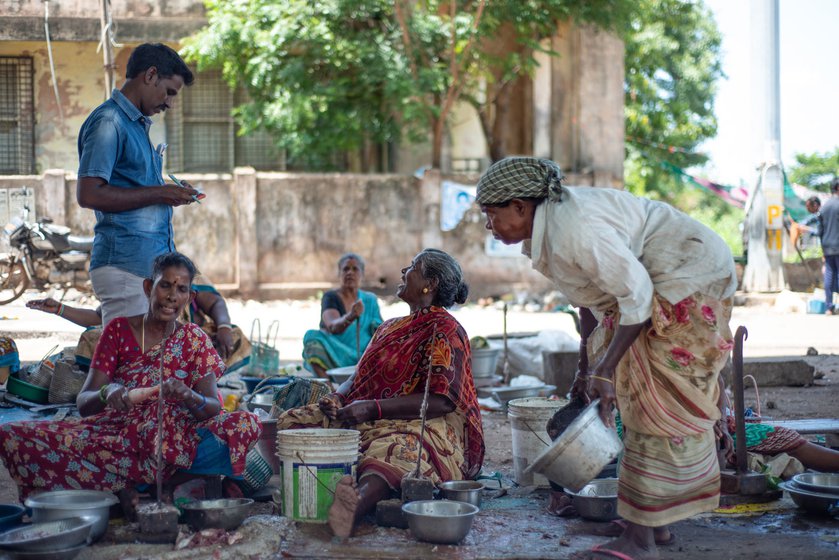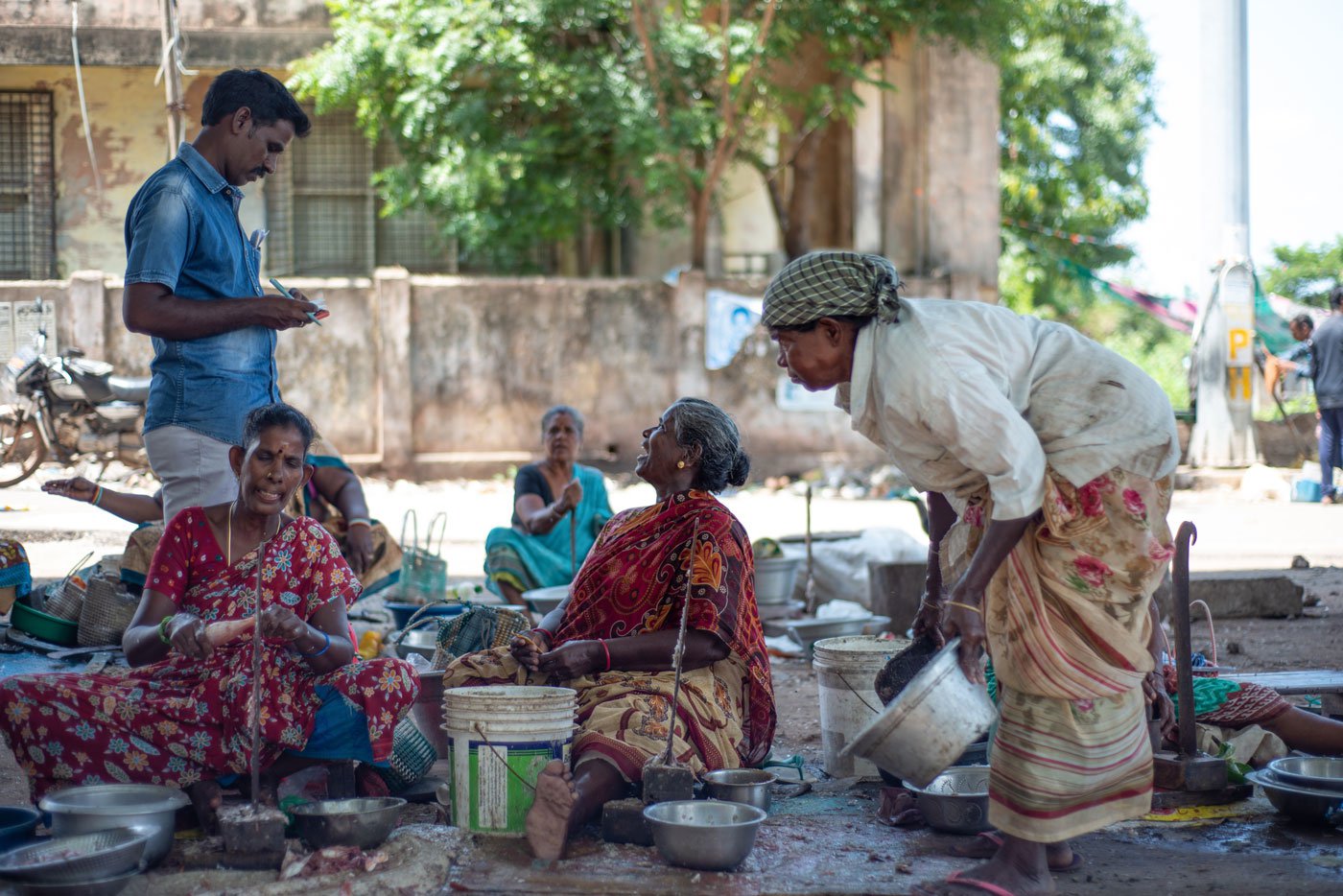 PHOTO • M. Palani Kumar
In 2001, Kala discovered she had a heart problem. "I found myself breathing heavily and felt exhausted all the time," she recalled. She attributes it to having to balance heavy loads of 20 to 25 kilos of fish on her head – carting it from the harbour to the market, and then later to the streets to sell.  The same year, Kala's 45-year-old husband Raman died while fishing in rough seas.
"This was a difficult period," she remembered. Things got worse when she fell and injured her leg in 2005.  The injury and heart trouble made it difficult for her to walk long distances carrying fish and that was when she says, "I decided to cut fish at the harbour."

Kala borrowed Rs. 20,000 at four per cent interest from a moneylender. She used Rs. 800 to purchase a boti knife, another knife for Rs. 400 and a chair for Rs. 200. The rest of the money was used up in household expenses and she is still paying it back.

State policies ignore those women who are not involved in fish vending and marketing. Women like Kala who cut fish are acknowledged in by the National Policy on Marine Fisheries 2017 . It states, "Women constitute more than 66 percent of the total work force in post-harvest activities in the fisheries sector. Besides raising families, women play important roles in retailing fish, fish drying and other value addition activities…"

However, there is little support that has followed these policy proclamations.

Now Kala cleans a kilo of fish and shrimp for Rs. 20 and Rs. 30 each, earning around Rs. 500 a day. As a fish vendor, she could earn double that, depending on the season and available fish.
She is up before dawn and reaches the bridge near the harbour at 4 a.m. She leaves 13 hours later – at 5 p.m. "The morning hours are the busiest, when customers and some small hoteliers come to purchase fish and get it cut and cleaned," she said. She gets to relax only towards the evening, and Kala watches TV dramas as she cooks dinner.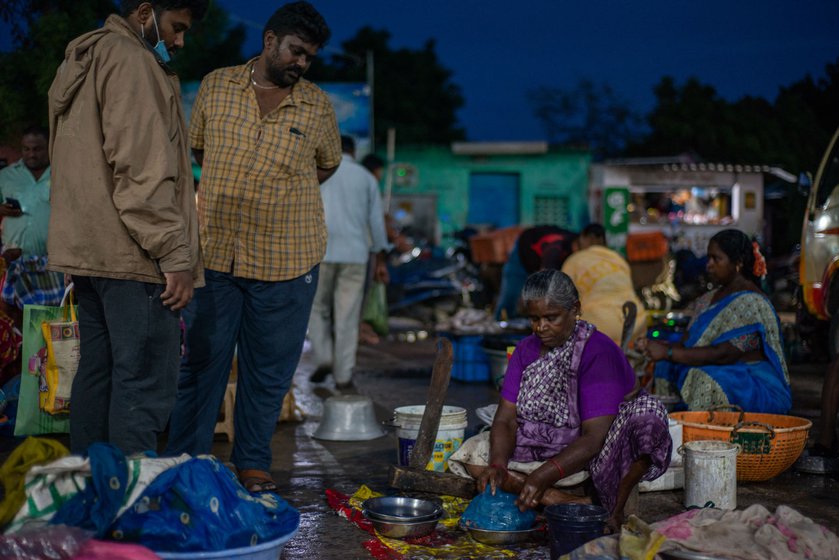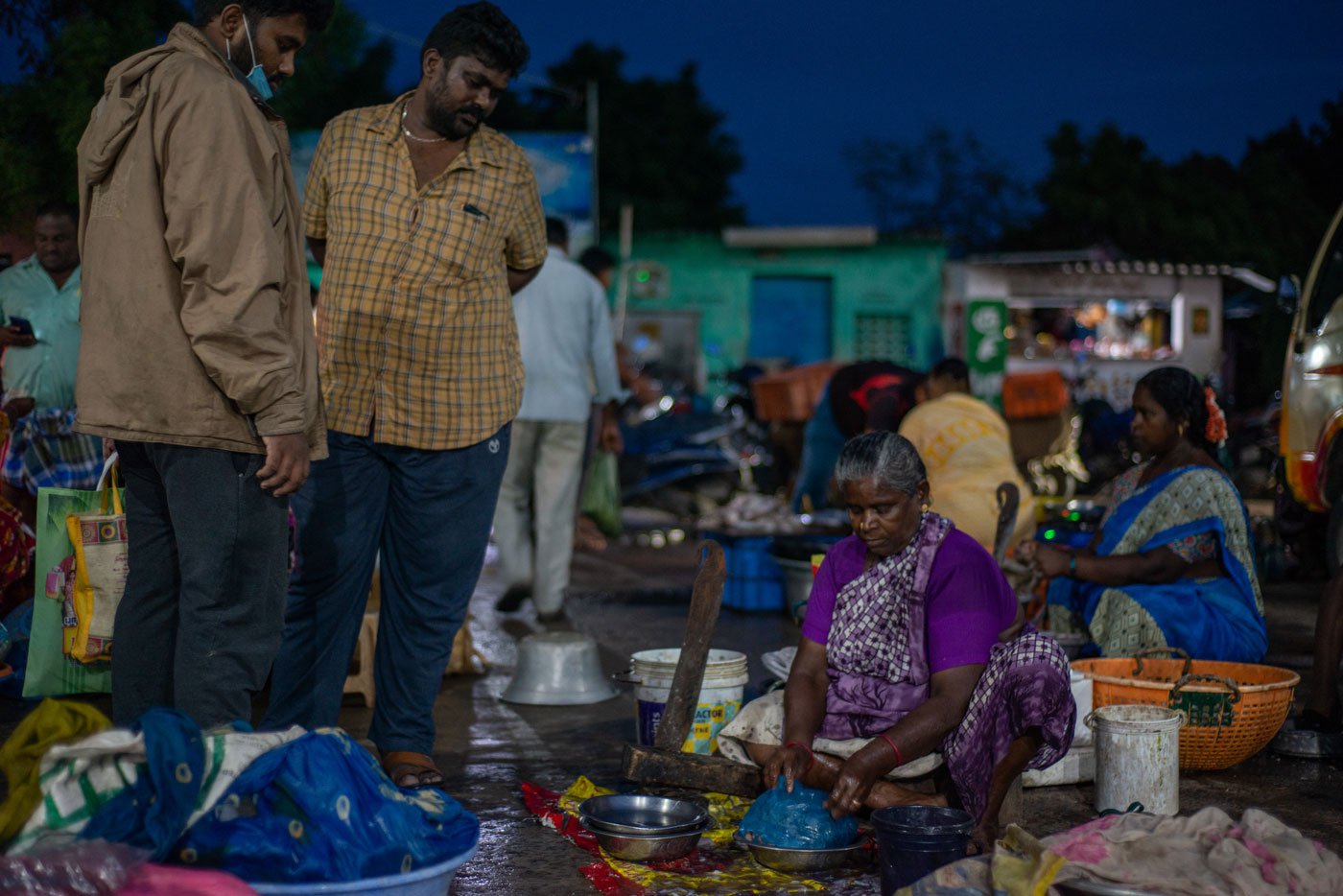 PHOTO • M. Palani Kumar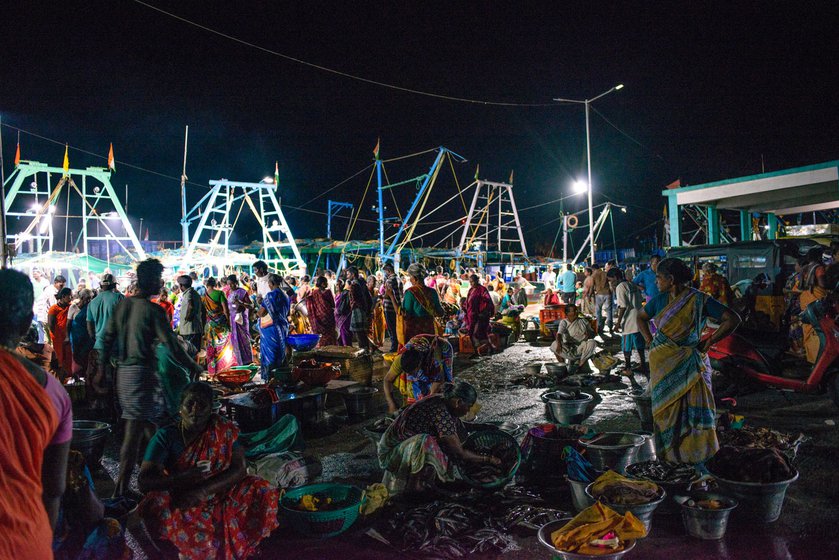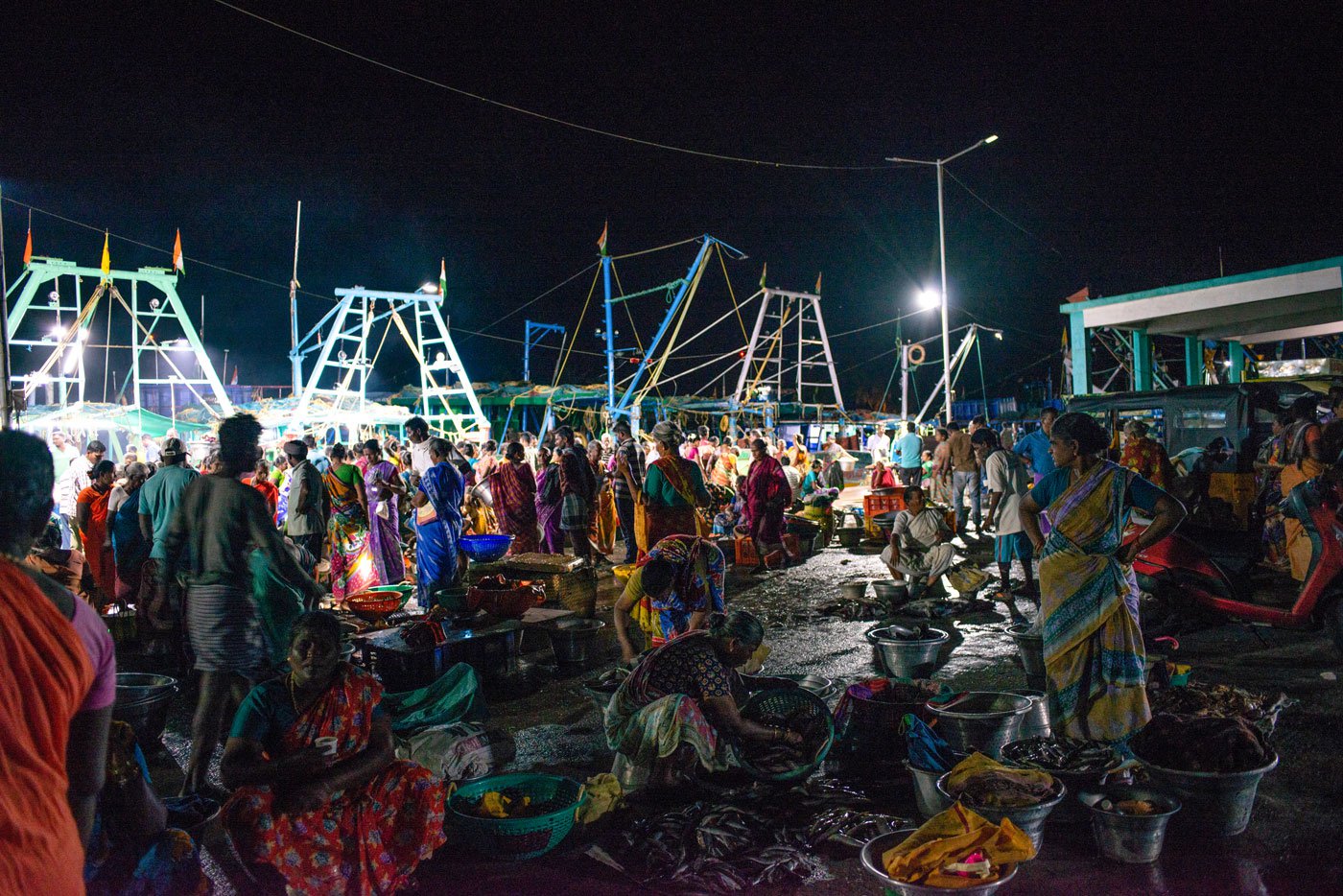 PHOTO • M. Palani Kumar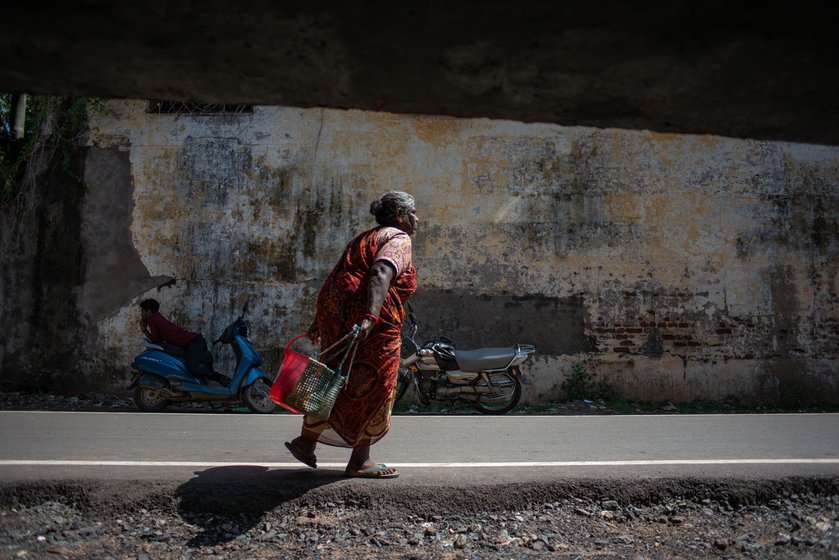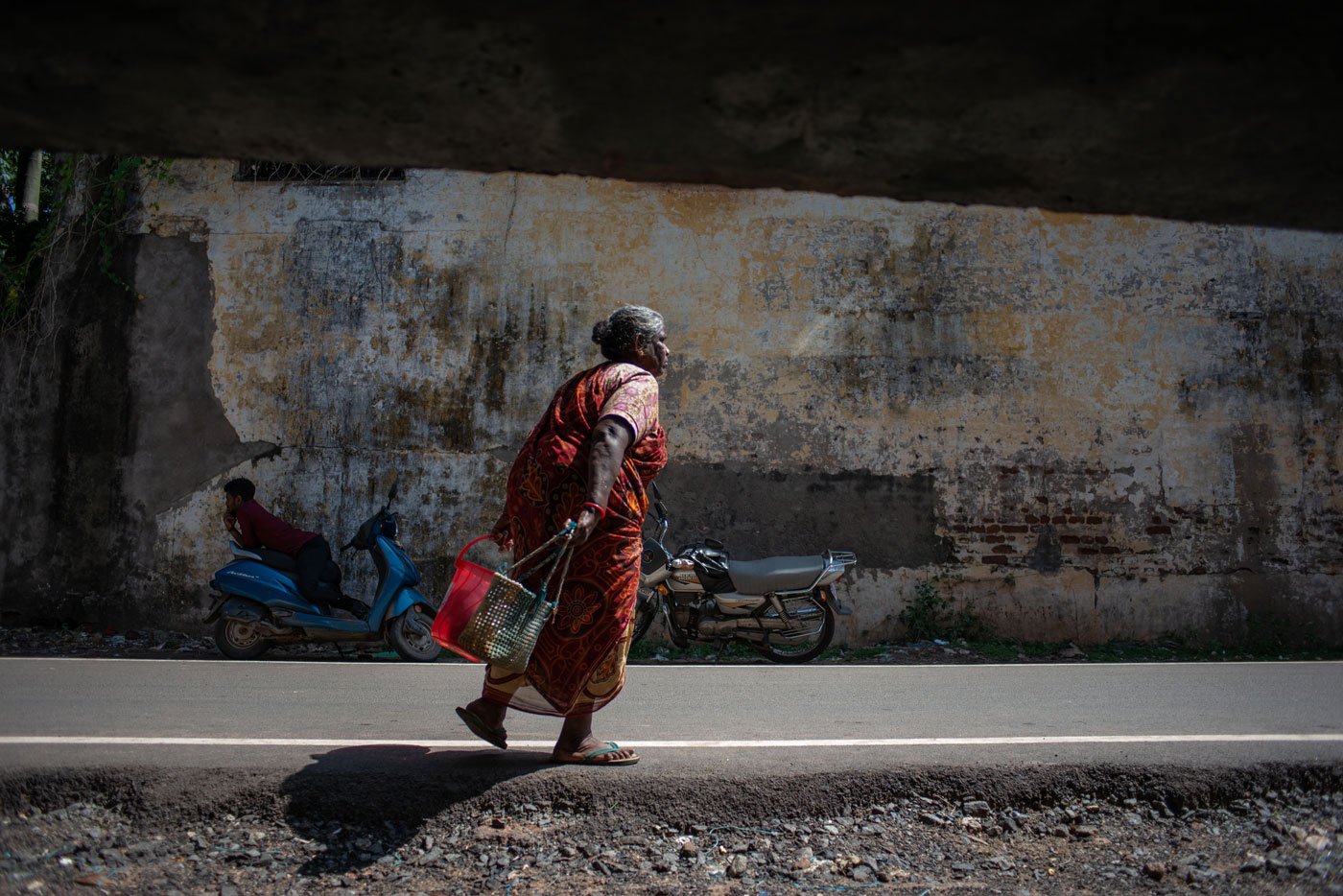 PHOTO • M. Palani Kumar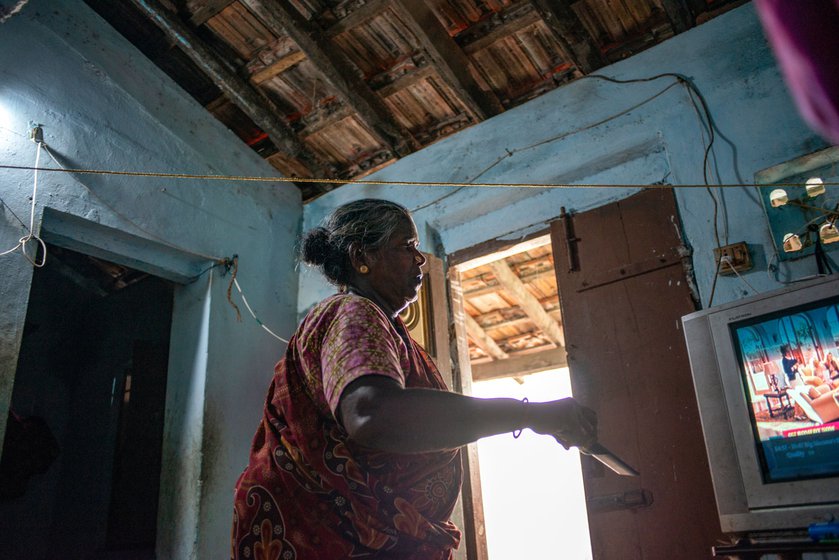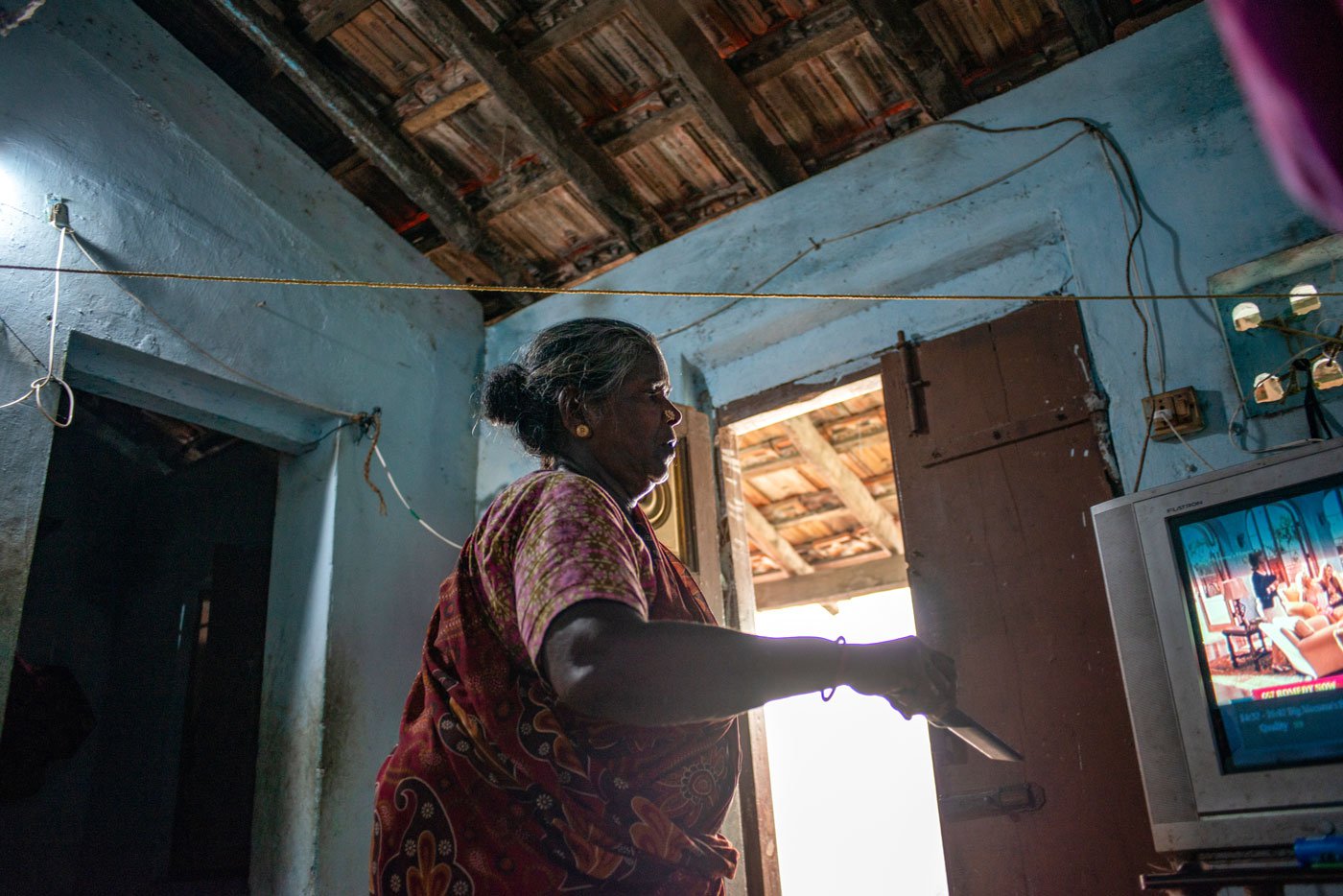 PHOTO • M. Palani Kumar
In 2018, Kala's livelihood received another blow with the ban of ring seine nets because of deteriorated fish breeding and destruction of the marine environment. The ban resulted in several men and women losing their livelihoods; many women were pushed into fish cutting.
The covid-19 pandemic brought new people into fish cutting. Earlier, mostly women from the Pattanavar community could be found doing the job. But as opportunities for work diminished during lockdowns, women from other communities such as Other Backward Classes (OBCs) and Scheduled Castes (SC) entered the labour market here and sought fisheries work at the harbour.  "This made things even more precarious," she said.

"The future seems even more insecure. But I am determined to work as long as I can. I need to take care of myself and provide for my two grandchildren. I am not willing to give up as yet," she said.

With support from Sangeeta Dharmarajan and U. Dhivyauthiran.