Ice vendors are critical to the fisheries industry, especially in the warm weather of Cuddalore, a busy fishing harbour on the coast of Tamil Nadu. Here at the city's Old Town harbour, large companies supply ice in bulk to large fish traders and mechanised boats.
Carving her own identity is Kavitha, an ice vendor selling to fisherfolk and women fish vendors. She purchases large blocks of ice at Rs. 800 each, which are further broken into eight smaller blocks costing Rs. 100 per block. This is work that requires considerable physical exertion. Kavitha has hired a male labourer and pays him daily wages of Rs. 600 with two meals.
"I help out carrying the small blocks to the women who need them," says the 41-year-old vendor. "It is a lot of hard work and we only earn enough to live. I would really like to save money, but we are unable to scale up to compete with the larger companies."
Kavitha began selling ice in 2017. "I joined my father-in-law Amirthalingam's ice-selling business after his health began to fail. My husband was not interested and my brother-in-law migrated overseas," Kavitha says. Additionally, Kavitha who had studied in school had useful skills to contribute to the trade.
Kavitha is the youngest of five siblings. Her father, a self-trained mechanic, fell ill when she was about 14 years old. Kavitha then studying in Class 9, dropped out of school and started accompanying her mother for agricultural wage work – transplanting and weeding paddy.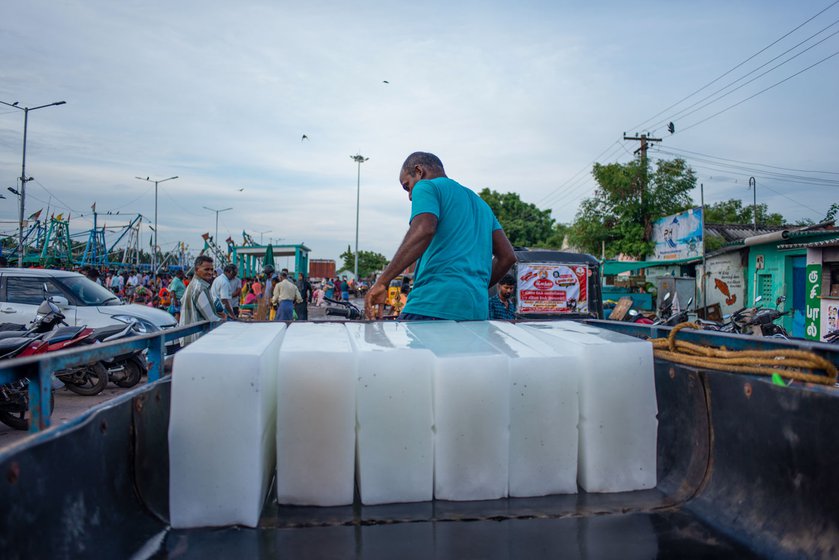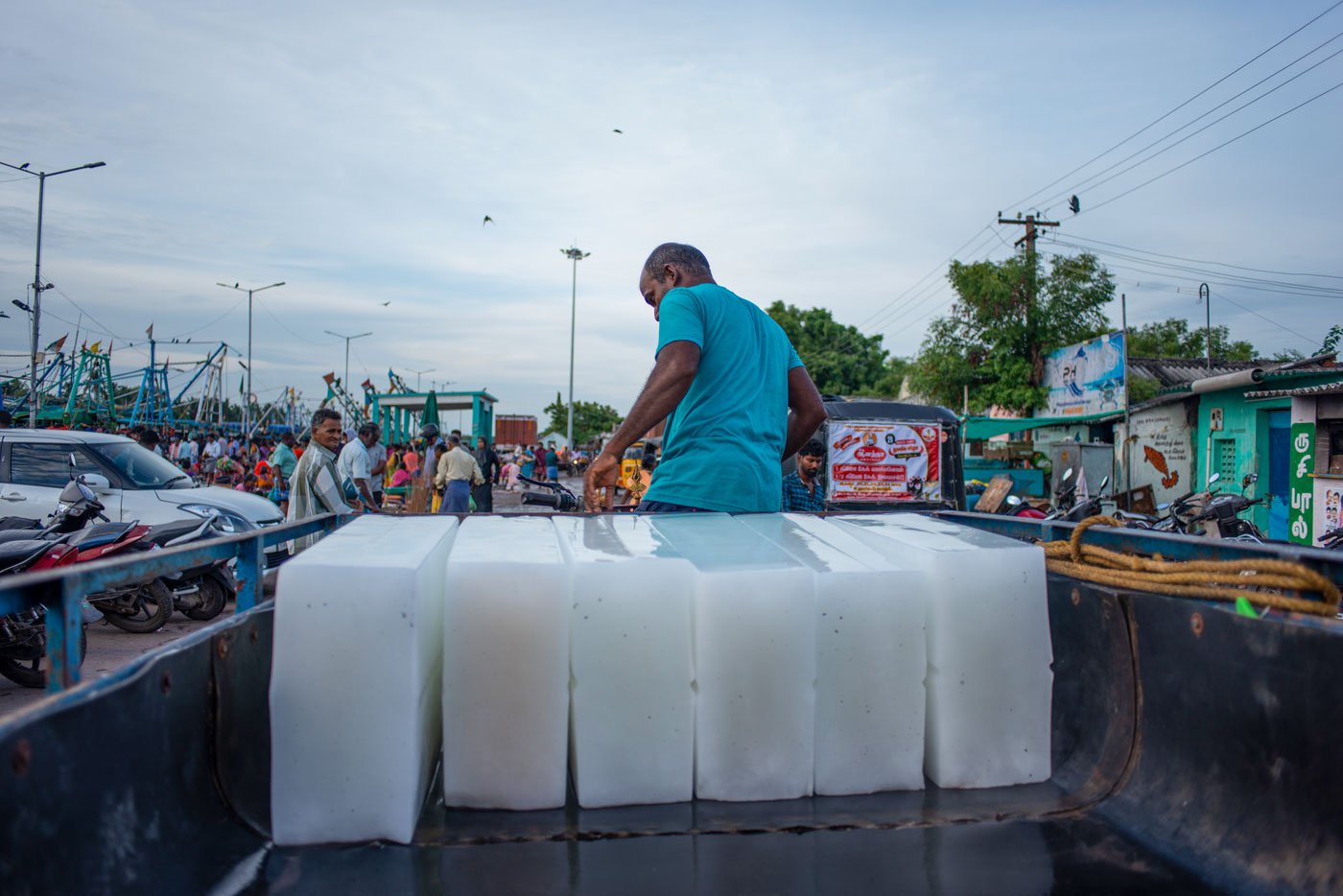 PHOTO • M. Palani Kumar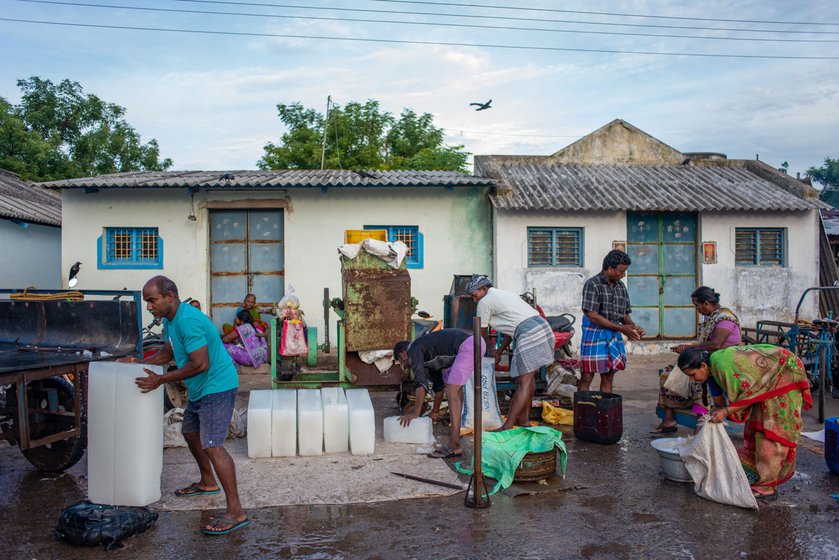 PHOTO • M. Palani Kumar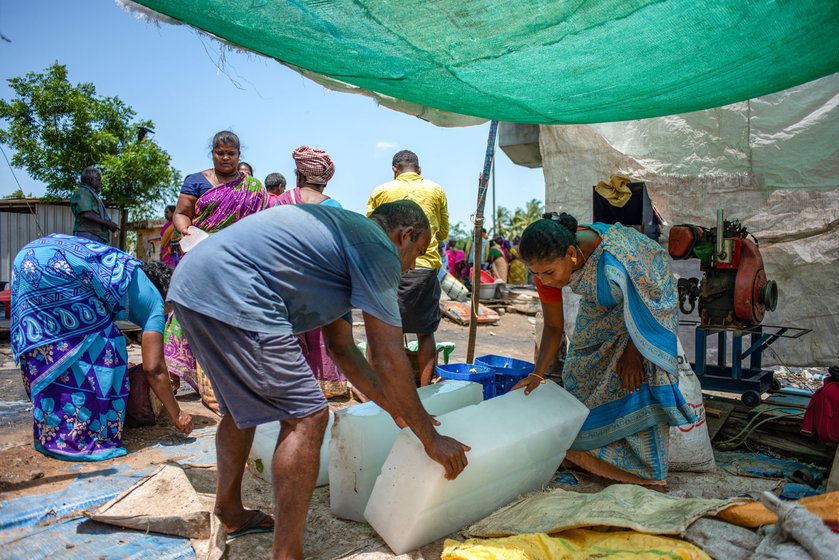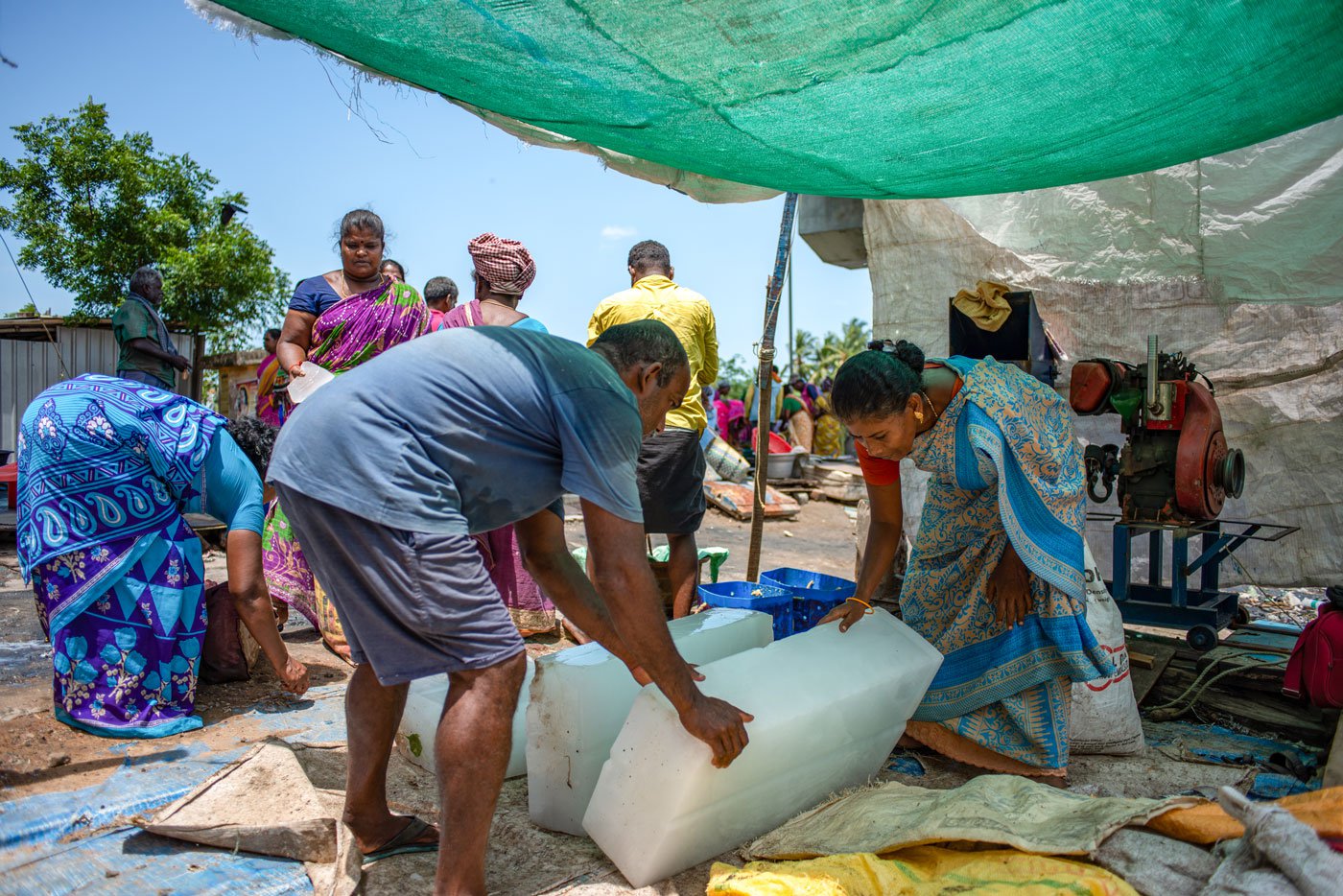 PHOTO • M. Palani Kumar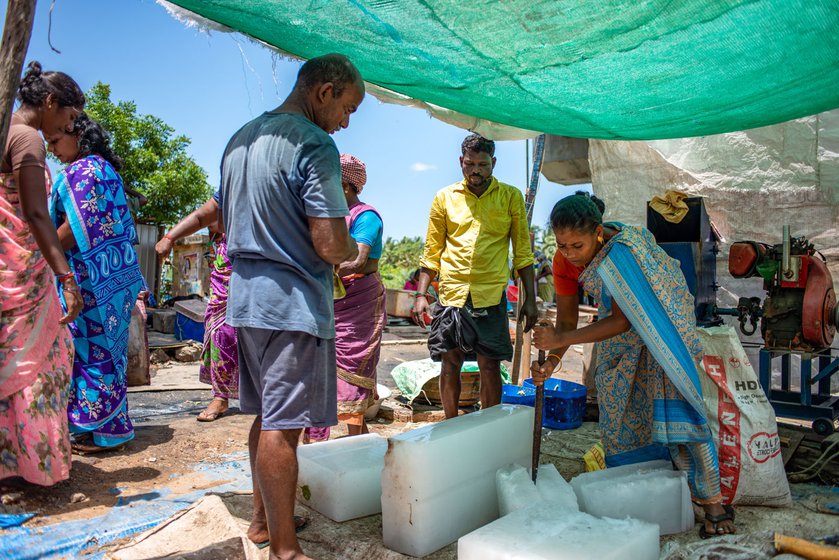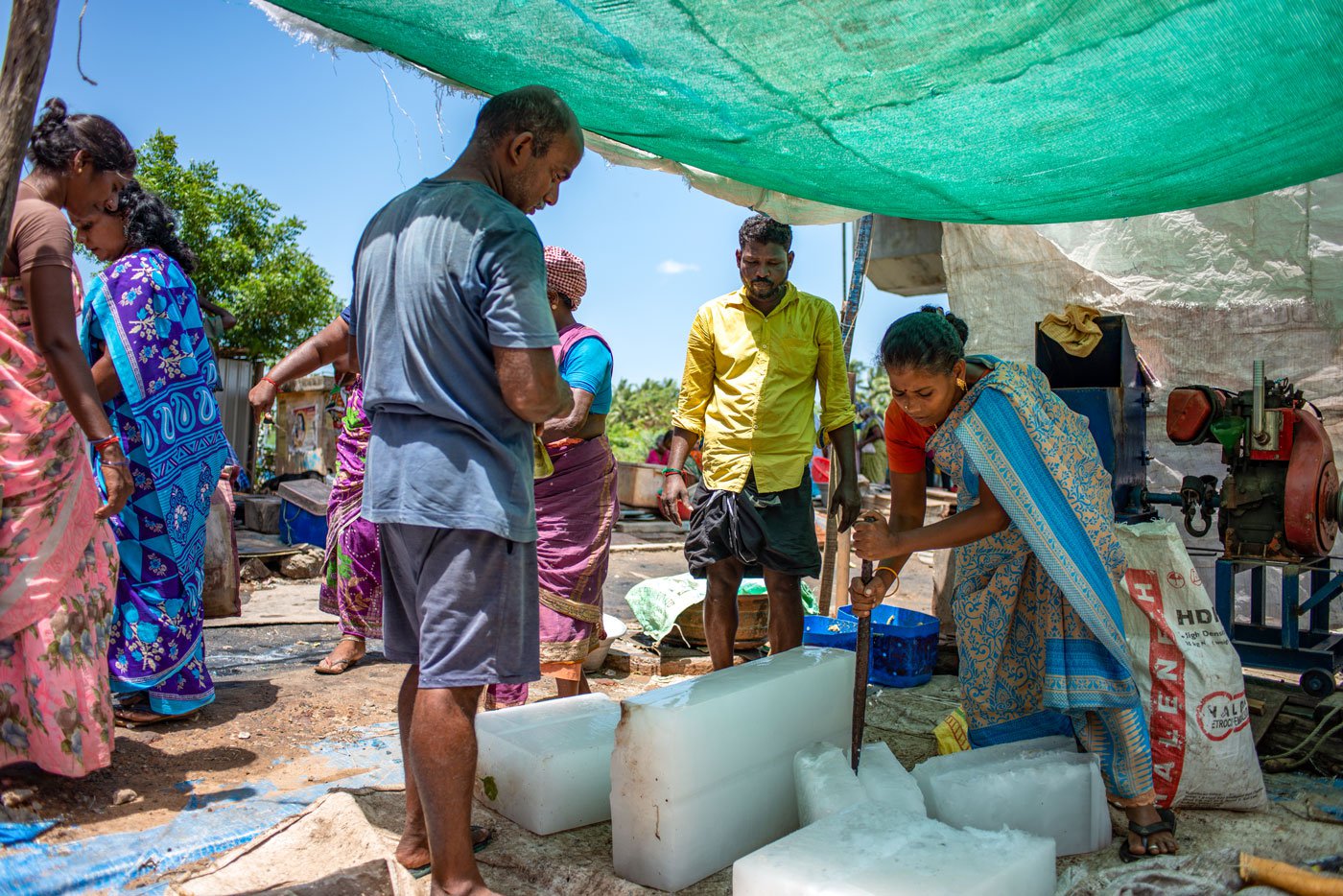 PHOTO • M. Palani Kumar
She was 23 when she married Anbu Raj, an artist and painter. The couple live with their children Venktatesan, 17, and Thanga Mitra, 15, in Sandrorpalayam a hamlet near the Cuddalore Old Town harbour.
Her father-in-law Amirthalingam, 75, started selling ice at the harbour more than 20 years ago, at a time when nobody else was selling ice in small blocks – ice was only sold in bulk to traders. Amirthalingam lacked the capital to supply in bulk, but instead found a niche where he could sell to small-scale vendors.
"The big traders have ice factories, loadsmen, transport and vendors," Kavitha says. Her own meagre resources are confined to a shop of 20 square feet which she rents for Rs. 1,000 each month where ice is brought and cut into smaller pieces for sale.
"There is growing competition from large ice traders, but I have to persist," says Kavitha.
Ice is required at various stages of processing, storage, distributing and marketing of fish items. According to the Marine Fisheries Census 2016 brought out by Central Marine Fisheries Research Institute, occupations in the fisheries sector include marketing of fish, net making and repairs, curing, processing and peeling. Workers are also categorised as 'labourers' and 'others', the latter referring to individuals who work in auctioning, ice breaking, collection of bivalves, shells, seaweed, ornamental fish, etc.
In Tamil Nadu , 2,700 women and 2,221 men are categorised as 'others' while for Cuddalore district, the figure is 404 women and 35 men. Three-fourths are concentrated in villages near Cuddalore Old Town harbour. Those involved in ice-related work usually unload and crush ice, pack fish with ice in boxes and load them into vehicles which transport them further.
Kavitha purchases ice from two companies, located in the nearby State Industries Promotion Corporation of Tamil Nadu Ltd (SIPCOT) industrial estate which she sells to a range of small-scale vendors and head-loaders.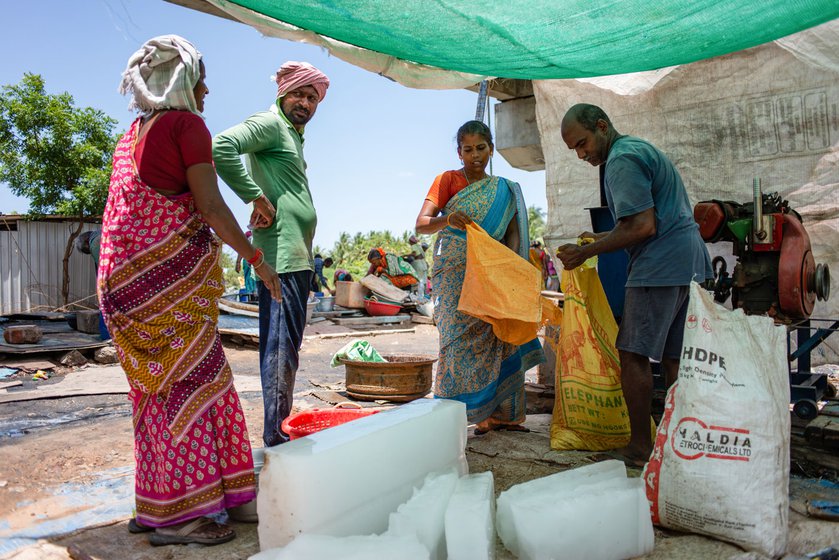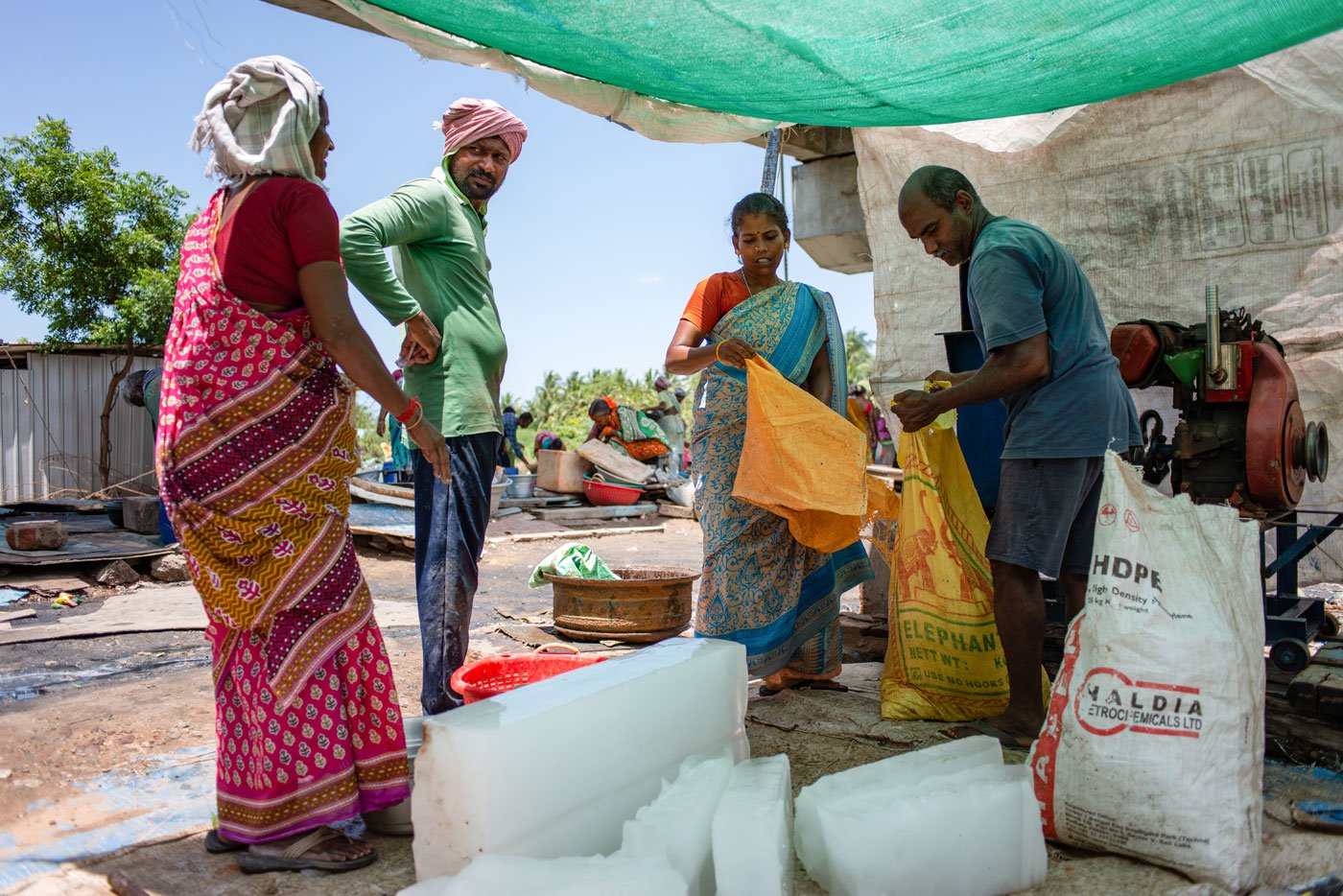 PHOTO • M. Palani Kumar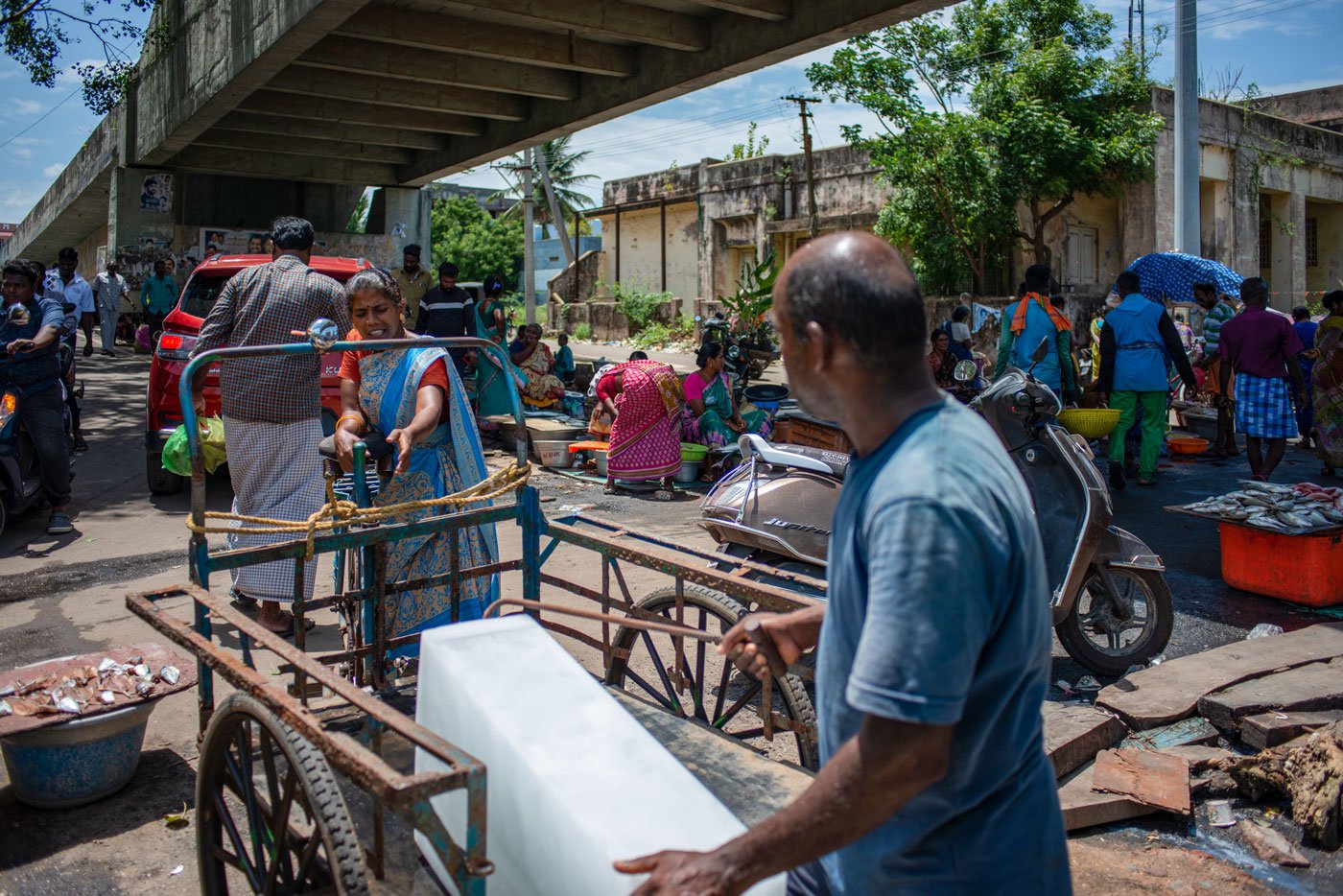 PHOTO • M. Palani Kumar
Kavitha's tall and slender frame shadow her physical labour. "It is difficult to headload blocks of ice from our shop at the harbour to the bridge where the women fish vendors now sit," she says. A hired motorcycle van charges Rs. 100 per trip for transporting blocks of ice locally from the shop. Each day Kavitha also fills Rs. 200 worth of diesel in the ice-breaking machine.
Running the business is expensive. Kavitha buys 210 blocks of ice for Rs. 21,000 and also pays additional weekly charges for labour, fuel, rent and transport which hikes her total costs to more than Rs. 26,000. Her income ranges from Rs. 29,000-31,500 leaving her with weekly profits of Rs. 3,000-3,500, which appear sizeable. However, these are the combined earnings of Kavitha and her husband Anbu Raj.

Since she isn't a fisherwoman, Kavitha is not eligible for membership in fisherwomen's cooperative societies which would have given her access to government welfare schemes . She belongs to the Vanniyar community, classified as a Most Backward Caste (MBC) and not counted among the castes associated with fish work.

Policies only fleetingly refer to women like Kavitha whose work unfolds on the margins of the fisheries sector. For example, according to Tamil Nadu Fisherman and Labourers Engaged in Fishing and other Allied Activities (Social Security and Welfare) Act, 2007, Kavitha's work could be categorised as 'beach worker' which includes ice unloading and crushing, packing fish in boxes and loading them for transportation. But she gains nothing from such a classification.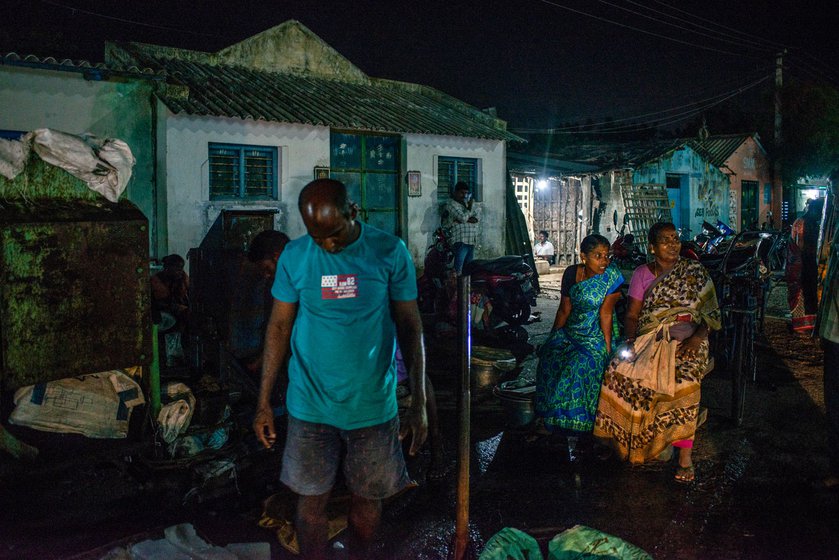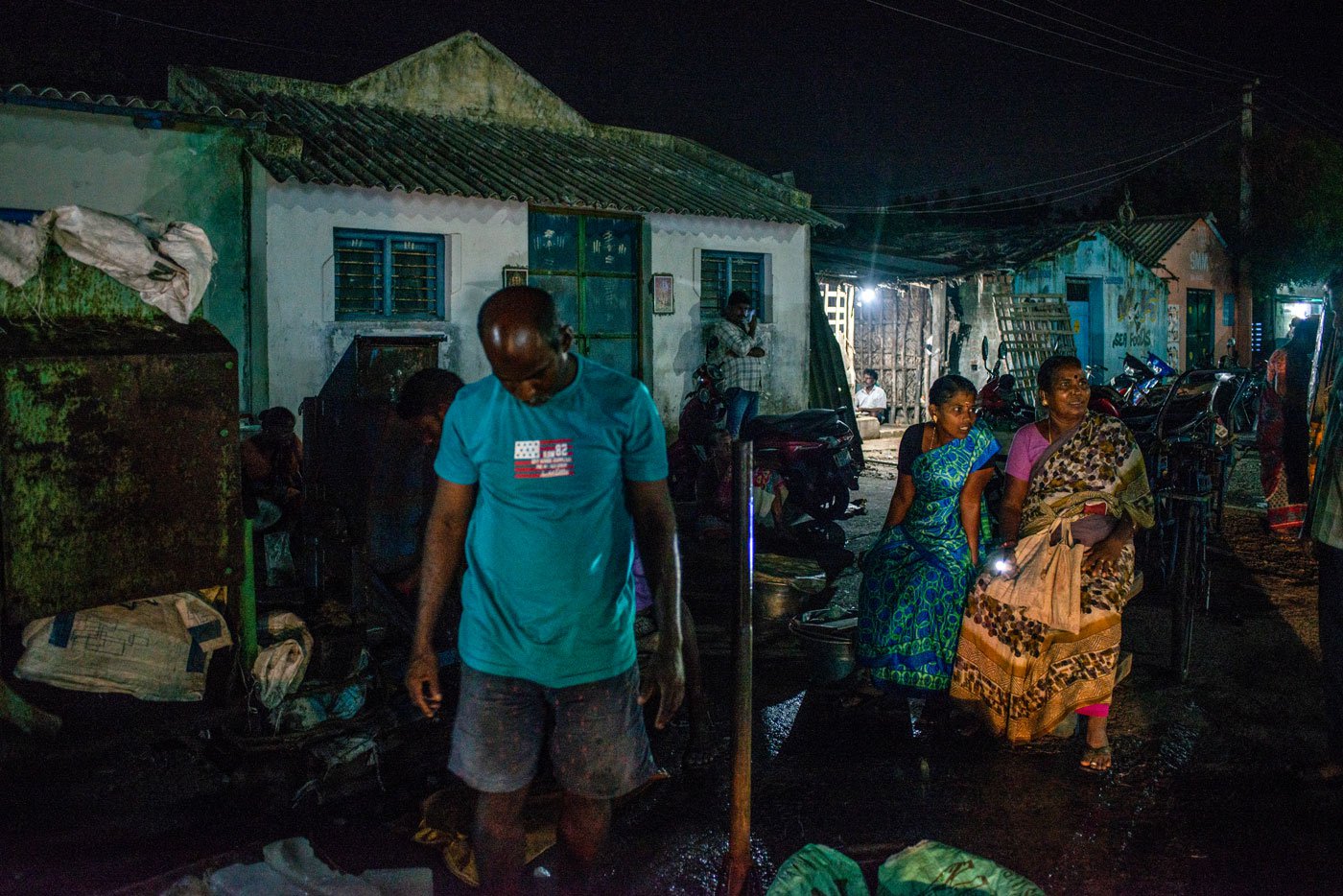 PHOTO • M. Palani Kumar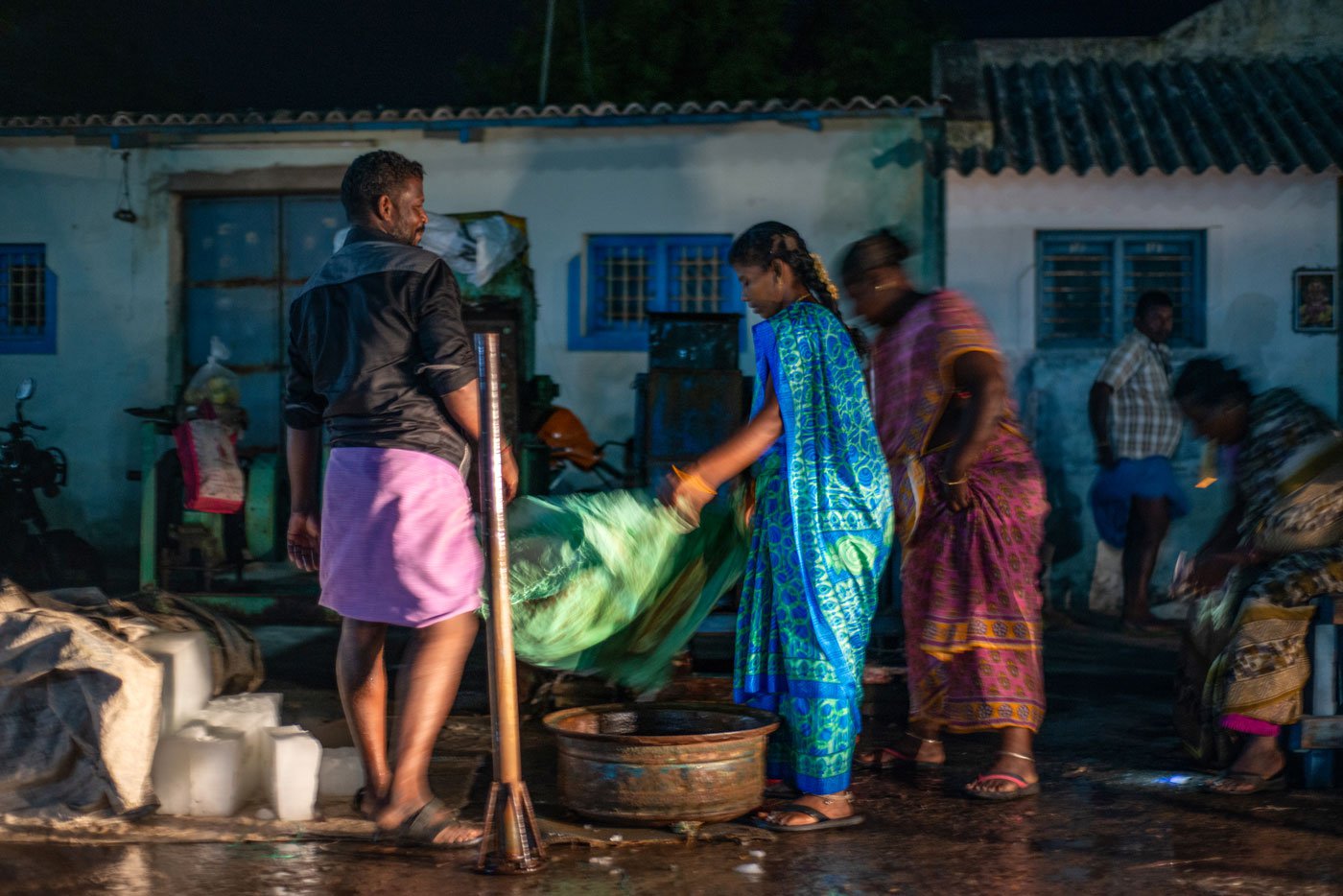 PHOTO • M. Palani Kumar
The day starts early for Kavitha and her husband Anbu Raj, 42, who set out for the harbour at 3 a.m. and start selling ice. This is peak selling time "between 3- 6 a.m." when traders arrive from different states to buy fish. Most fishermen unload their catch at this time and need ice to preserve it.
At 6 a.m., Kavitha's mother-in-law Seetha, 65, relieves Kavitha who returns home to cook for the children before they leave for school. At 10 a.m., Kavitha is back at the harbour selling ice. She rides a cycle to and fro, covering the distance between the shop at the harbour and home in barely five minutes. However, the harbour lacks a toilet and washing facilities, which is a problem.

Seetha is an important decision-maker in the family. "It was she who borrowed Rs. 50,000 from a private finance company to buy the ice-breaking machine," Kavitha says.

She adds: "I don't even know what the interest on our borrowings are, my mother-in-law manages all that, and takes all major decisions."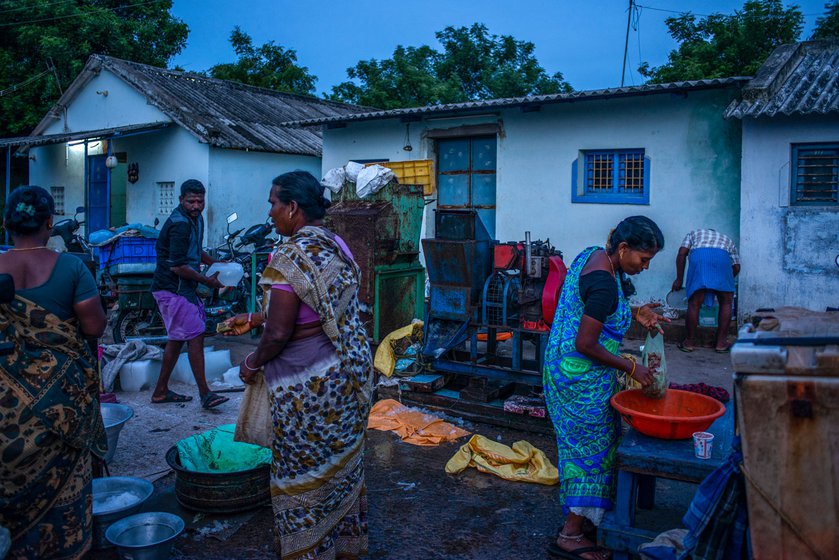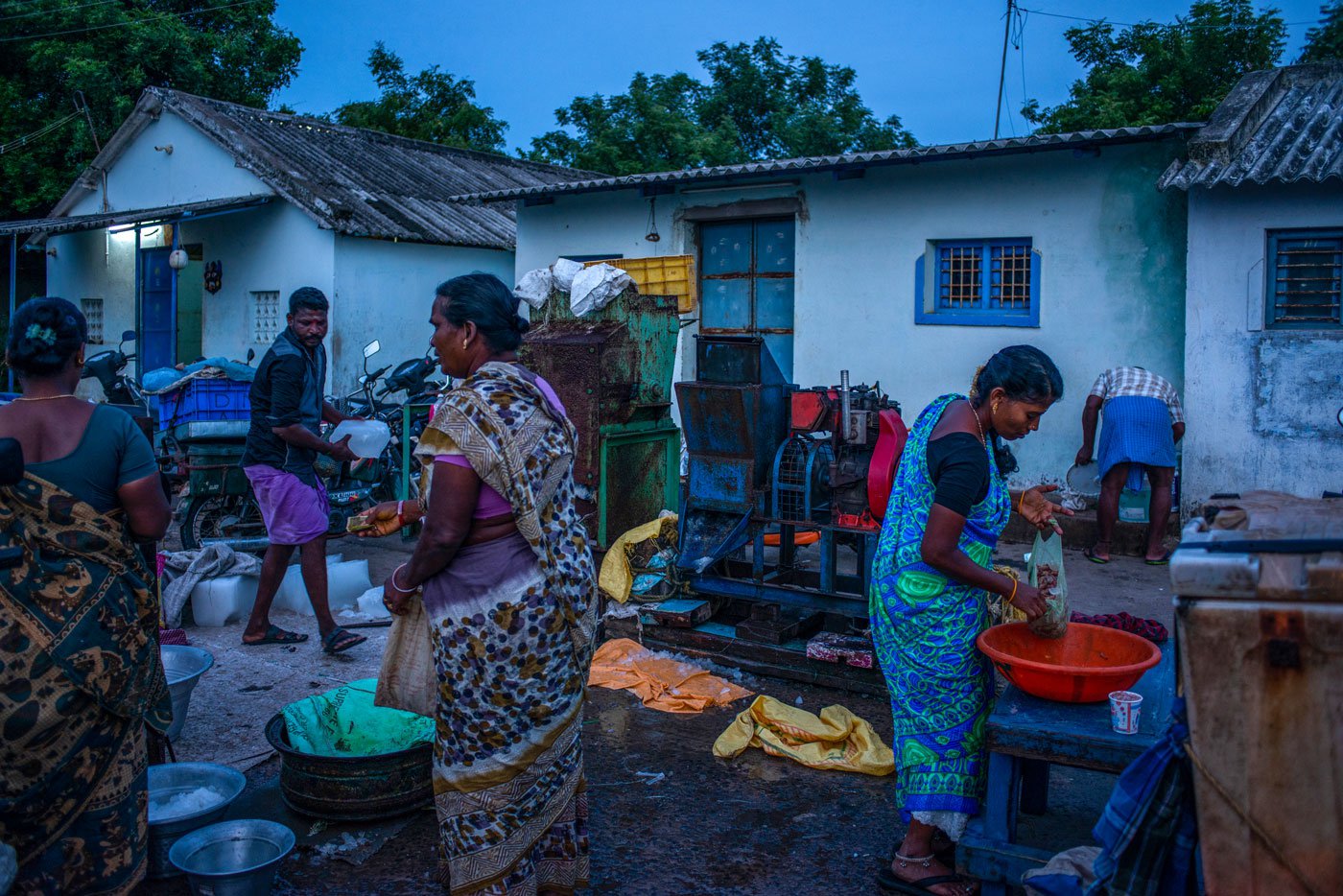 PHOTO • M. Palani Kumar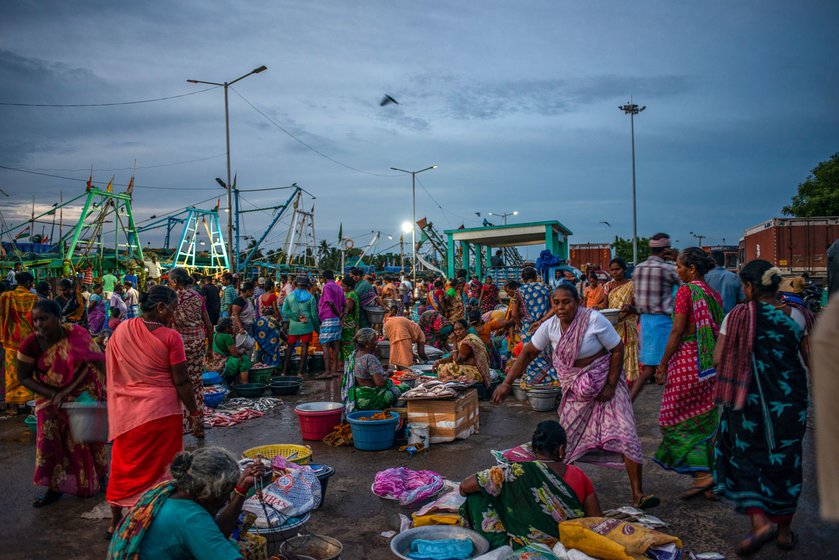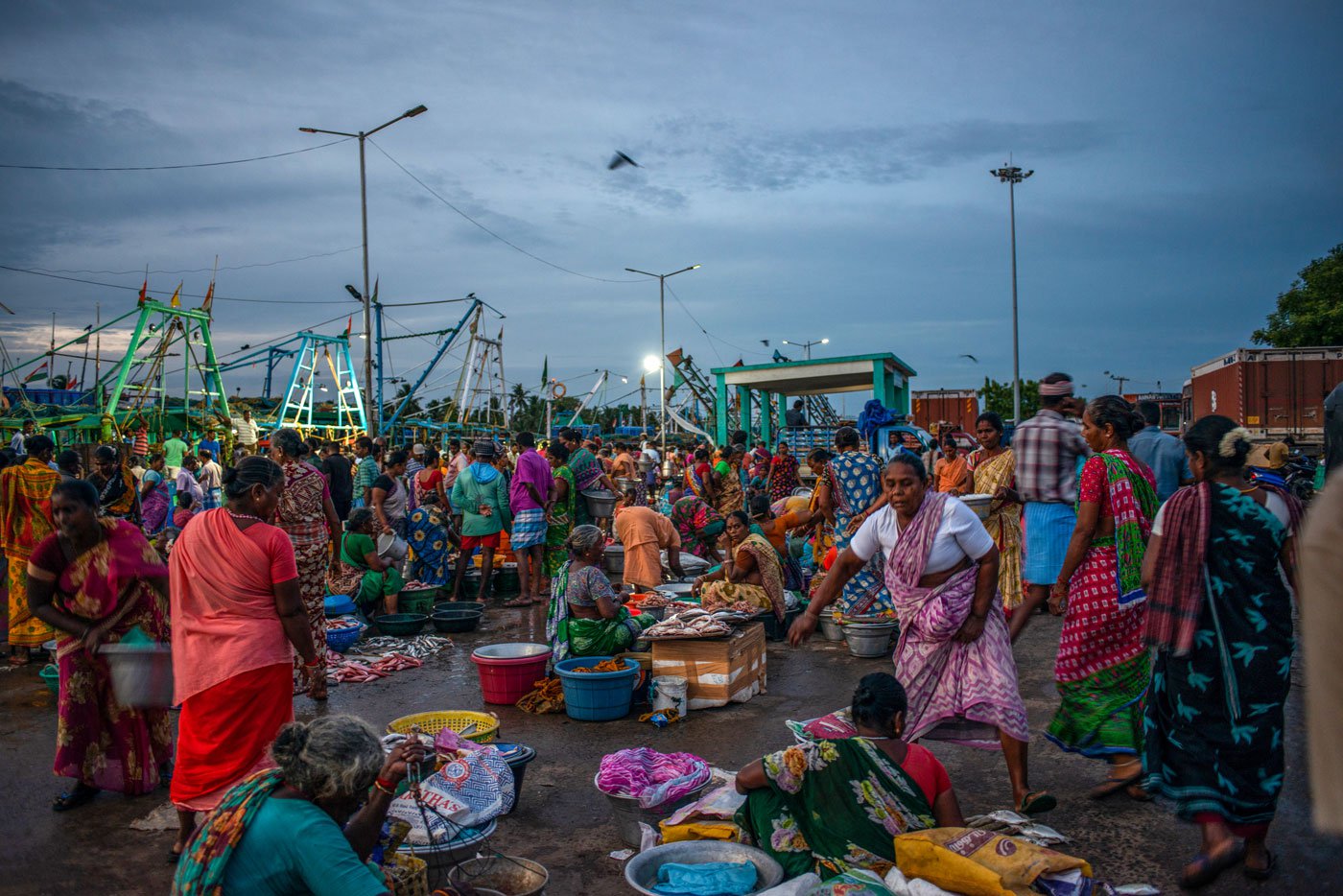 PHOTO • M. Palani Kumar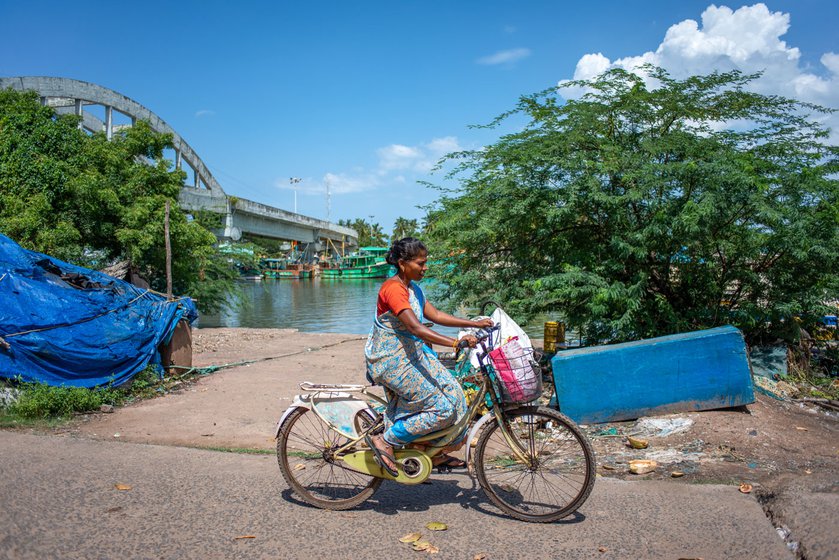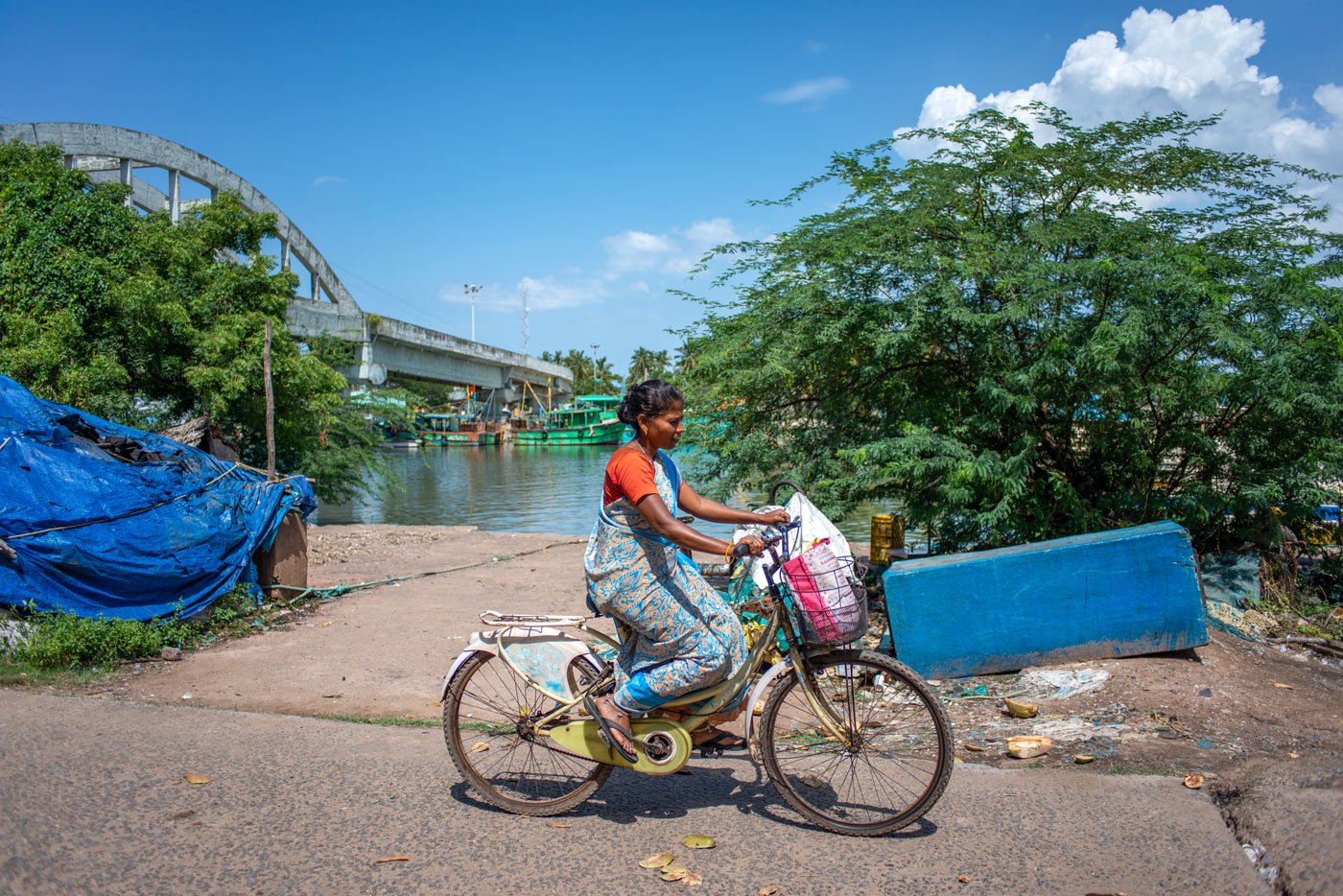 PHOTO • M. Palani Kumar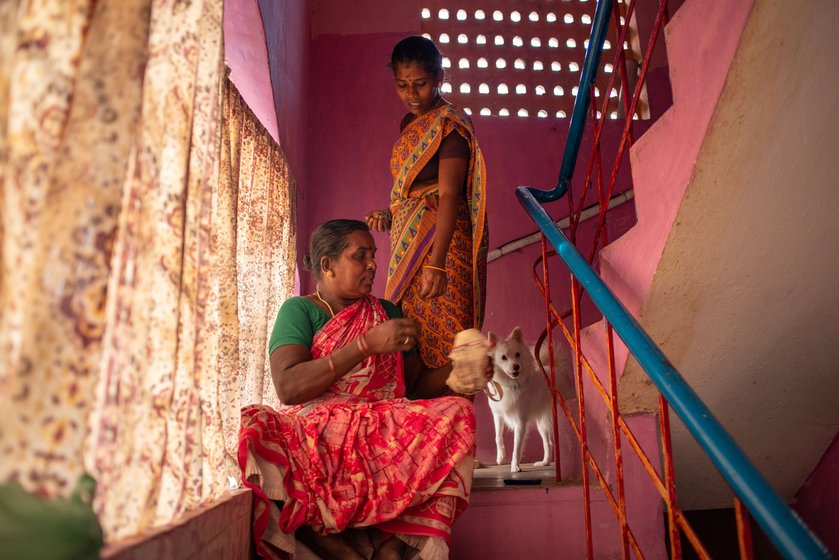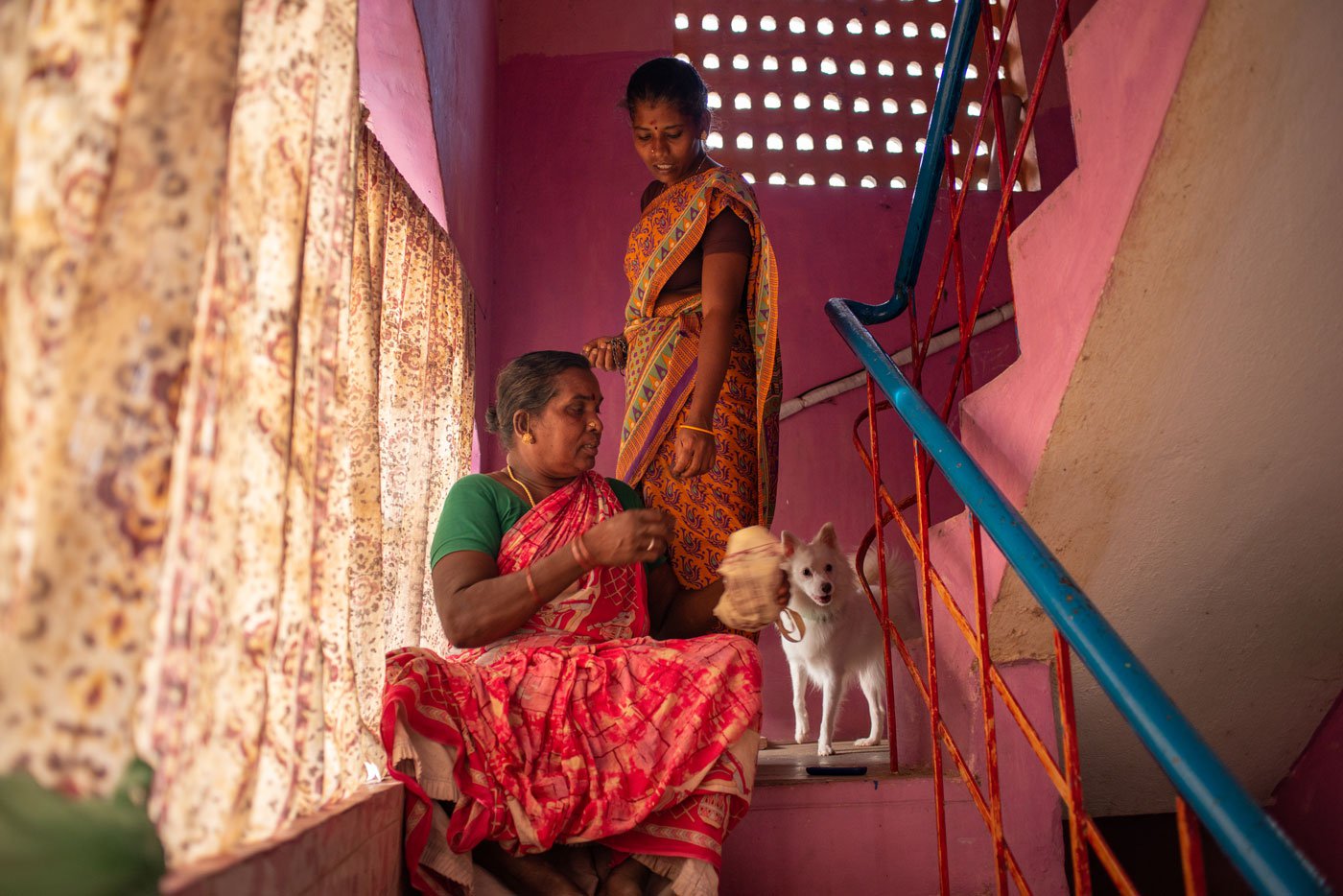 PHOTO • M. Palani Kumar
But Kavitha does have a sense of the business. When selling on credit, she immediately notes the transaction. She also keeps track of the sales and purchase of ice. But she does need to hand over all the income to her mother-in-law.
Kavitha doesn't want to complain since all her needs are taken care of. "I have an income and this gives me respect at home even if I do not control the money," she says. The family lives in a three-roomed house about 2 km from the harbour.

"We are a close-knit family, all supporting each other," she explains. Her children's school fees are paid by her brother-in-law Arul Raj who studied mechanical engineering and works in Singapore.
As her in-laws grow older and develop health issues, Kavitha is assuming increasing responsibilities for the family while also playing an active part in the ice business.