Yash Mahalunge risks his life every day to attend school in the monsoon. Along with a bunch of other boys and girls, and a few parents, eight-year-old Yash walks on the slippery narrow wall atop the pillars of a partially collapsed bridge. From there, it's a straight drop, several feet below into the bushes and sludge.
Twice every morning, on their way to and from school, the group walks single file, most of them barefoot, holding umbrellas in one hand and shouldering heavy backpacks. After the 30-second perilous walk, their feet touch the safer concrete surface of the remaining bridge. Then they march on a muddy pathway to reach their houses in Aure Palheri hamlet – two kilometres from their school in Aware village.
"I feel scared when I look down. I feel dizzy. I hold baba 's [father's] hand very tightly," says Yash.
Aure Palheri's 77 residents (Aware gram panchayat office data) didn't have to do this tightrope walk until 2005. A small  bridge allowed them to cross this stream of the Bhatsa river. But on July 28 that year, the heavy rains washed away some of the bridge built by the Thane district council in 1998. Only the two narrow side walls – abutments – remained in that broken portion.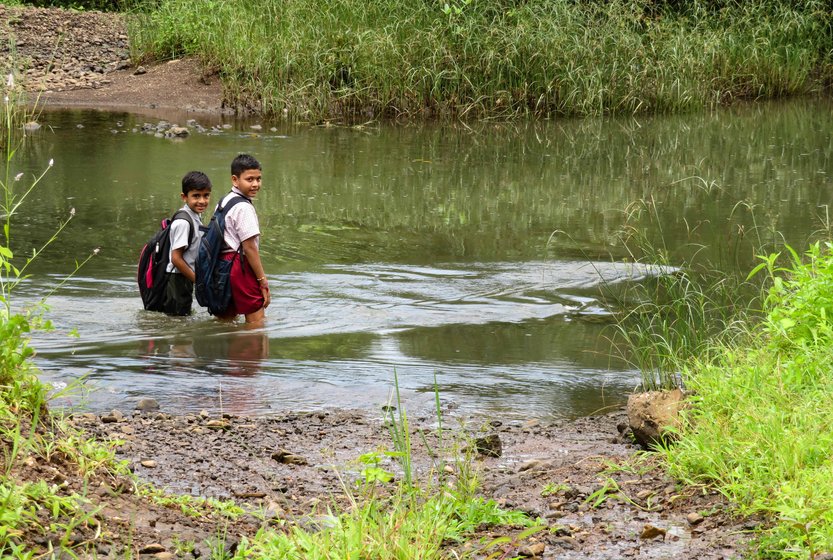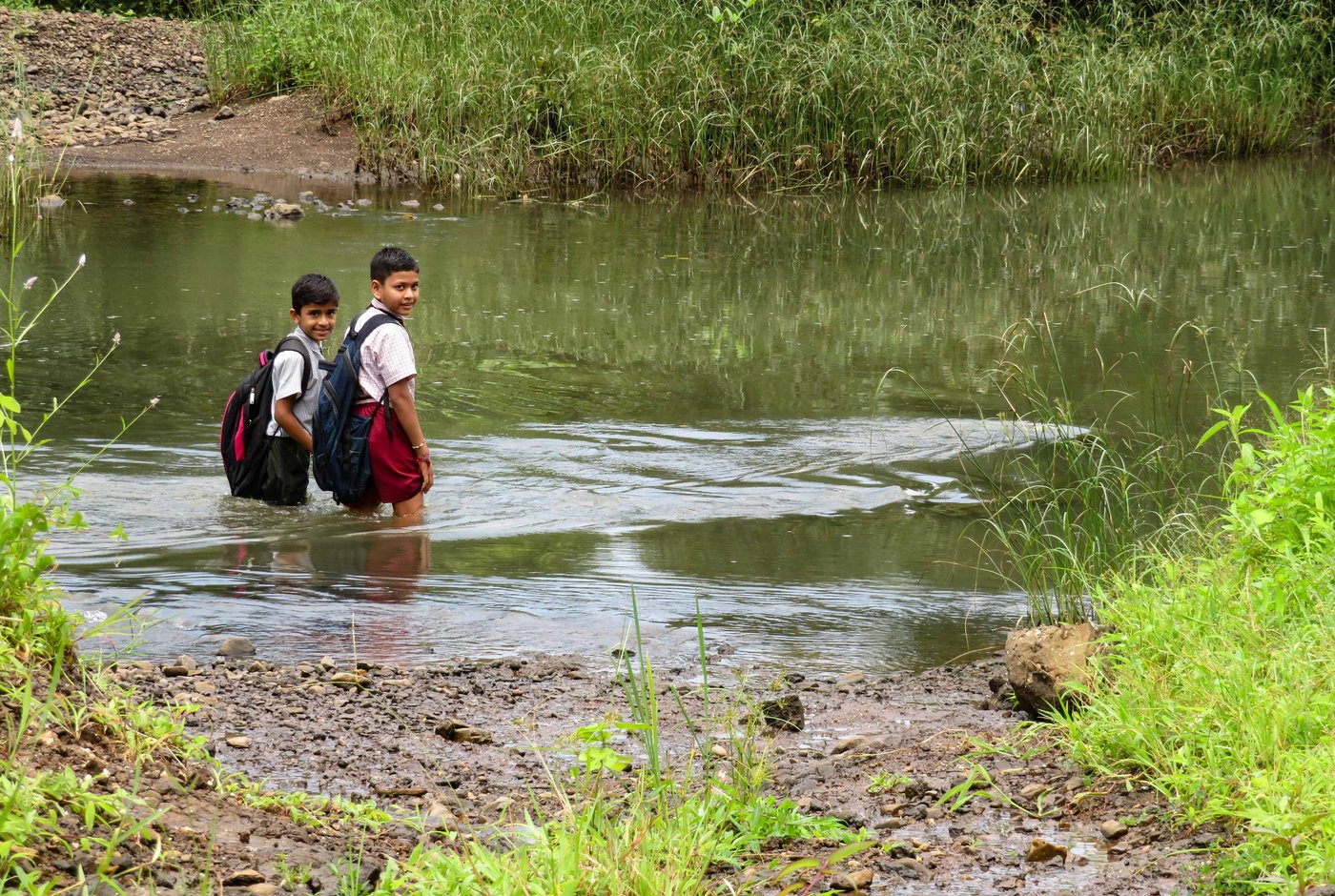 PHOTO • Jyoti Shinoli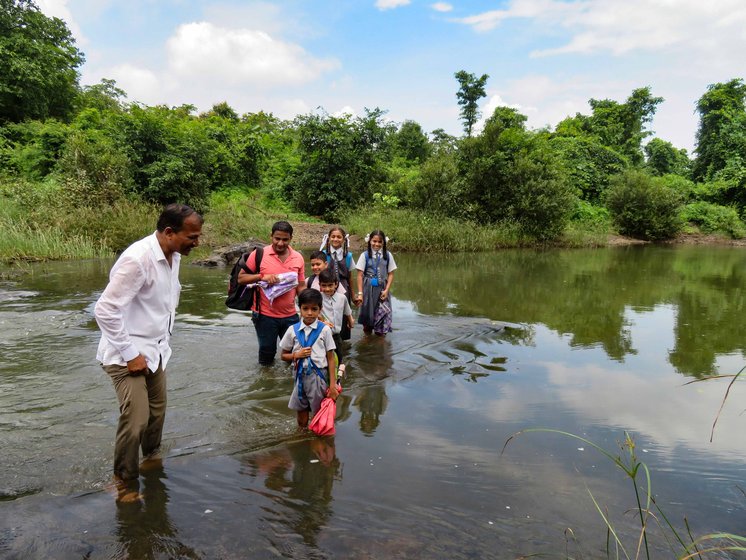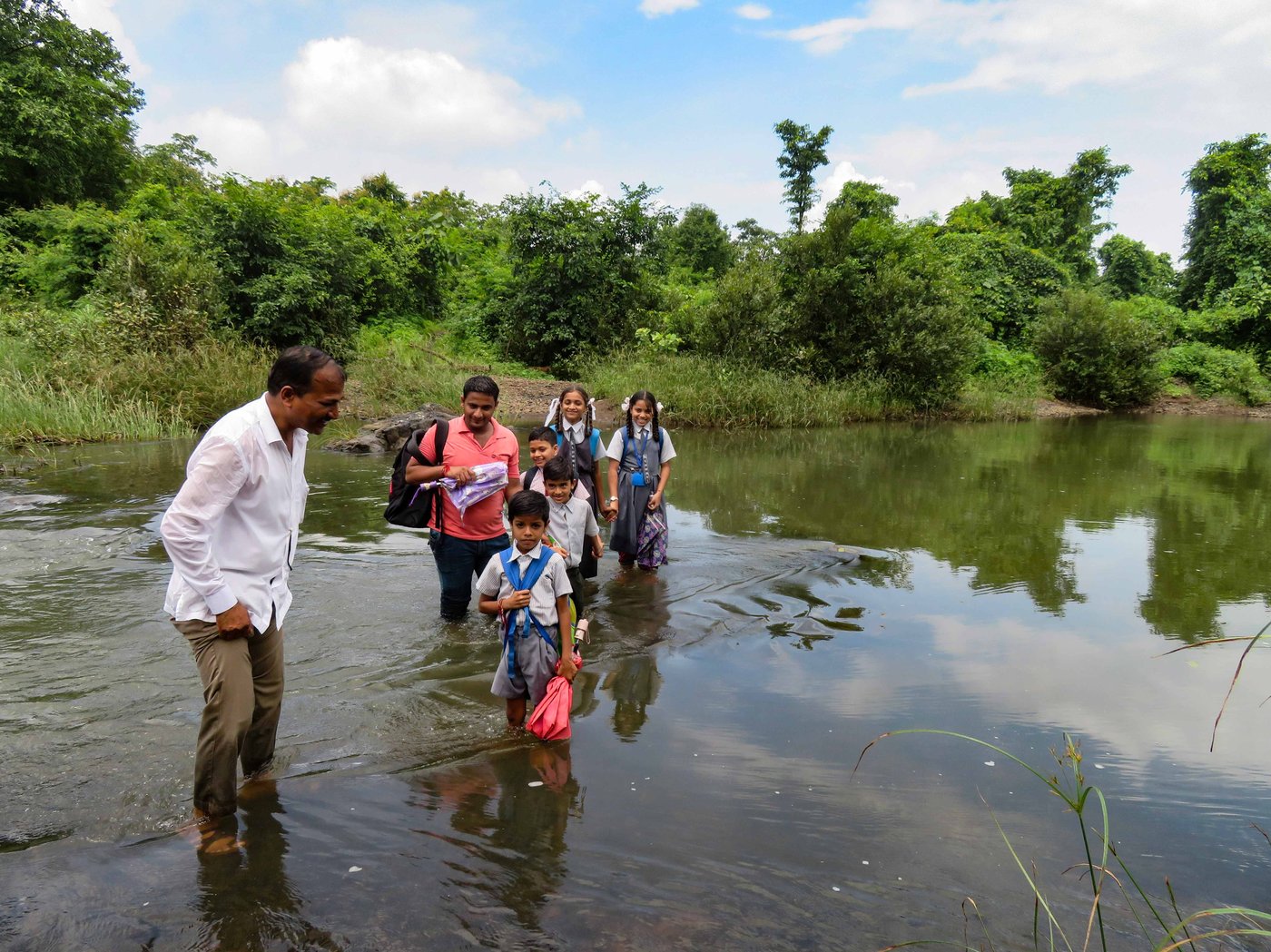 PHOTO • Jyoti Shinoli
"You have to walk [on those walls] with all your focus and balance. An elder person has to be with the kids. They can't walk alone on this route and there is no other way [to reach school]. Even elders don't go alone. If the water level is low [around one to one-and-a-half feet deep; it can rise to three feet during heavy rains], we sometimes walk through the stream to get to the other side. No one from the other villages comes to our side. Why will they, risking their lives? Our village is right at the end of other villages," says Yash's father, Anand Mahalunge, who drives an autorickshaw in Shahapur town, earning Rs. 200-300 a day.
Over the years, bushes and trees have covered the cement-mud sludge created by the debris of the broken bridge – which has not been repaired for 14 years. And for all these years, this treacherous journey has become a part of the villagers' daily lives –  to reach schools, workplaces, health facilities, markets and more. In the other seasons, too, they use this same narrow wall, only it's not damp and slippery. Or they wade through the stream. "Monsoon or summer, we have to bear this," says Anand. "In the monsoon we have to be more careful, less so in the other months. What can we do?"
The nine Aure Palheri families – all, say the villagers, from Other Backward Classes (OBCs) – settled here in 1970-71 when their village, Pachiware, also in Sahapur taluka of Thane district, around 20 kilometres away, was submerged for the Bhatsa Irrigation Project. Along with 118 other displaced families, they are still awaiting rehabilitation in accordance with the Maharashtra Project Affected Persons Rehabilitation Act, 1999. This will include resettlement on an alternative site. Some of the other displaced families went to nearby villages and hamlets to try and start a new life there. (See 'Many families just vanished ')
'When the rain stopped, we discovered there is no bridge to go to the other side. Somehow, we crossed the river and informed the sarpanch of Aware village'

Recalling the 2005 flood that washed away the bridge when he was 21 years old, Anand says, "It was raining heavily for many days. The water was flowing over the bridge. We could not step out of the house, fearing for our life. Our village was completely cut off from the outside world. When the rain stopped, we discovered there is no bridge to go to the other side. Somehow, we crossed the river and informed the sarpanch of Aware village. Officials from the council office came and examined the structure, but did nothing after that. Since then we are demanding the bridge be rebuilt."
With no option but to to walk along the risky wall or cross the flowing stream – to go to other villages or Shahpur's markets, bus stations (around 10 kilometers  away) or work – many of the residents of Aure Palheri have had accidents over the years .
In July 2016, Tukaram Vide, 65, and his son Ravindra, 35, were carrying two milk kettles, 10-litres each, on that slippery stretch to supply to a dairy in Shahapur taluka . Tukaram slipped from the wall and plunged into the bushes. He broke his left leg. "I was unconscious. Villagers carried me on a [makeshift] bamboo stretcher till Aware village and then they took me to Shahapur [sub-district] hospital in an auto. I was there for six months. Now I have a rod in my leg," he says.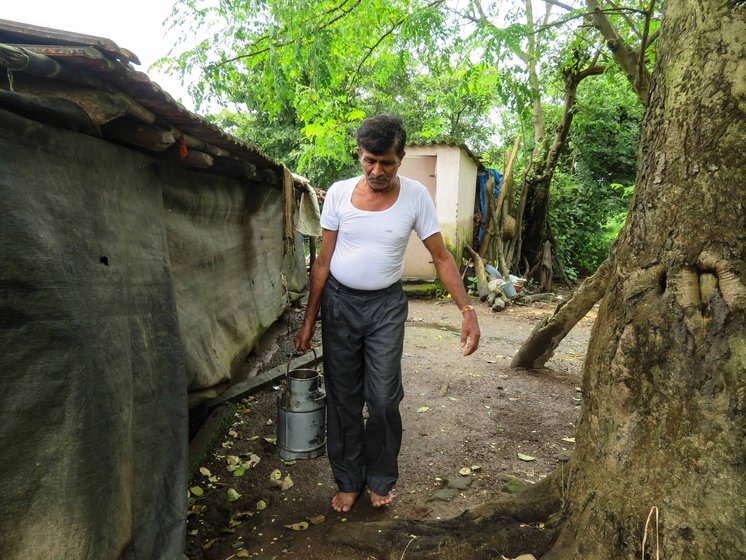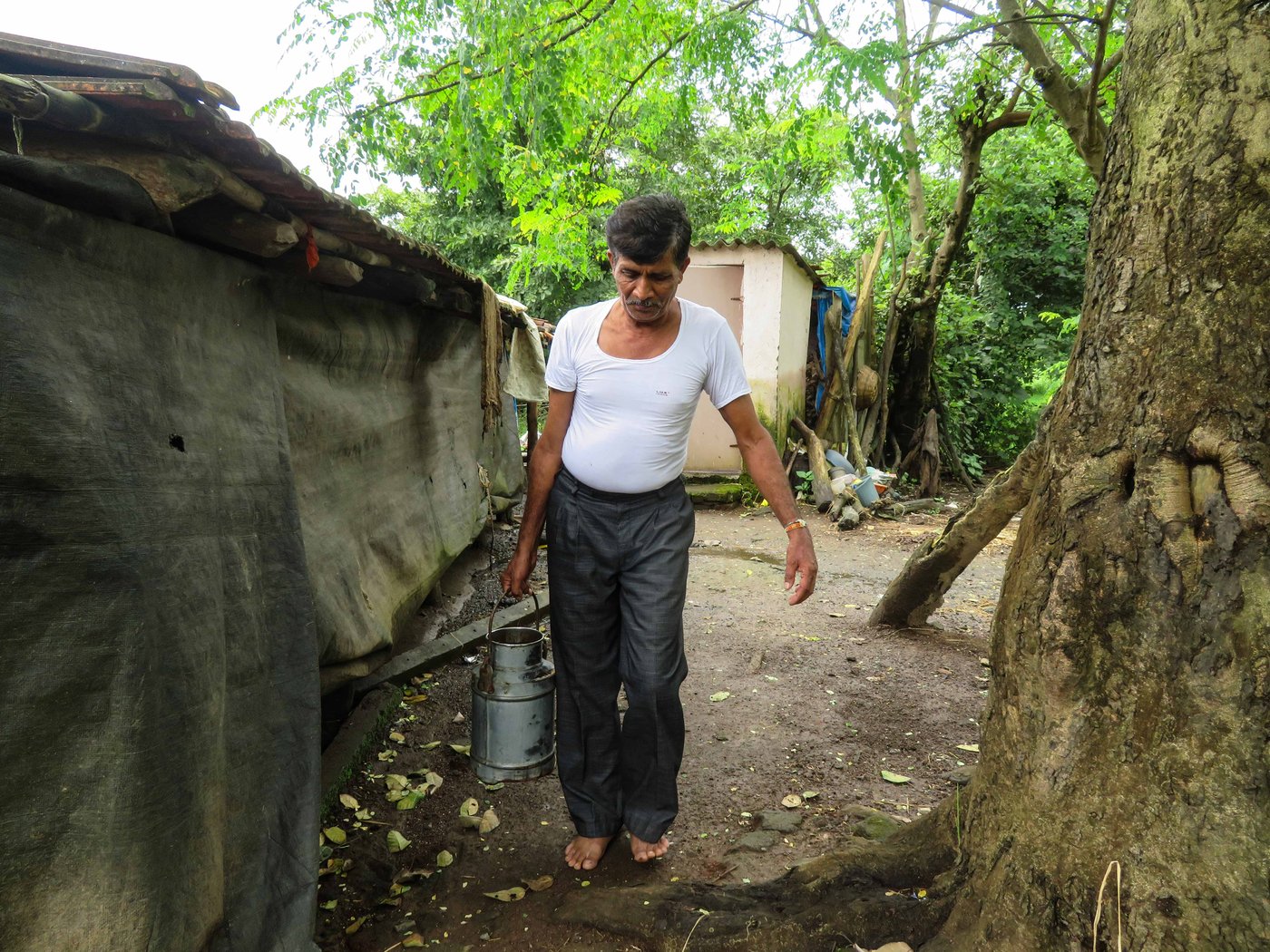 PHOTO • Jyoti Shinoli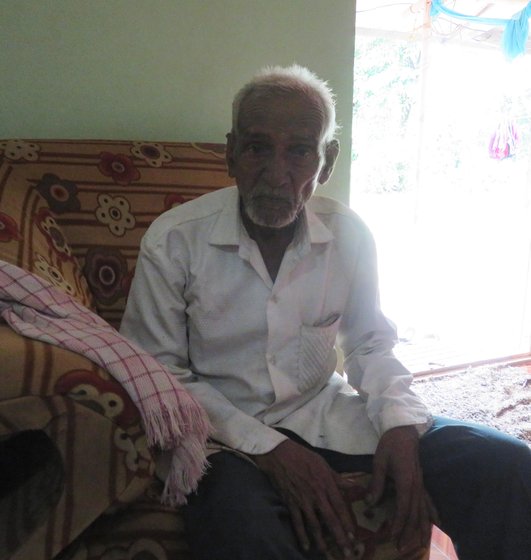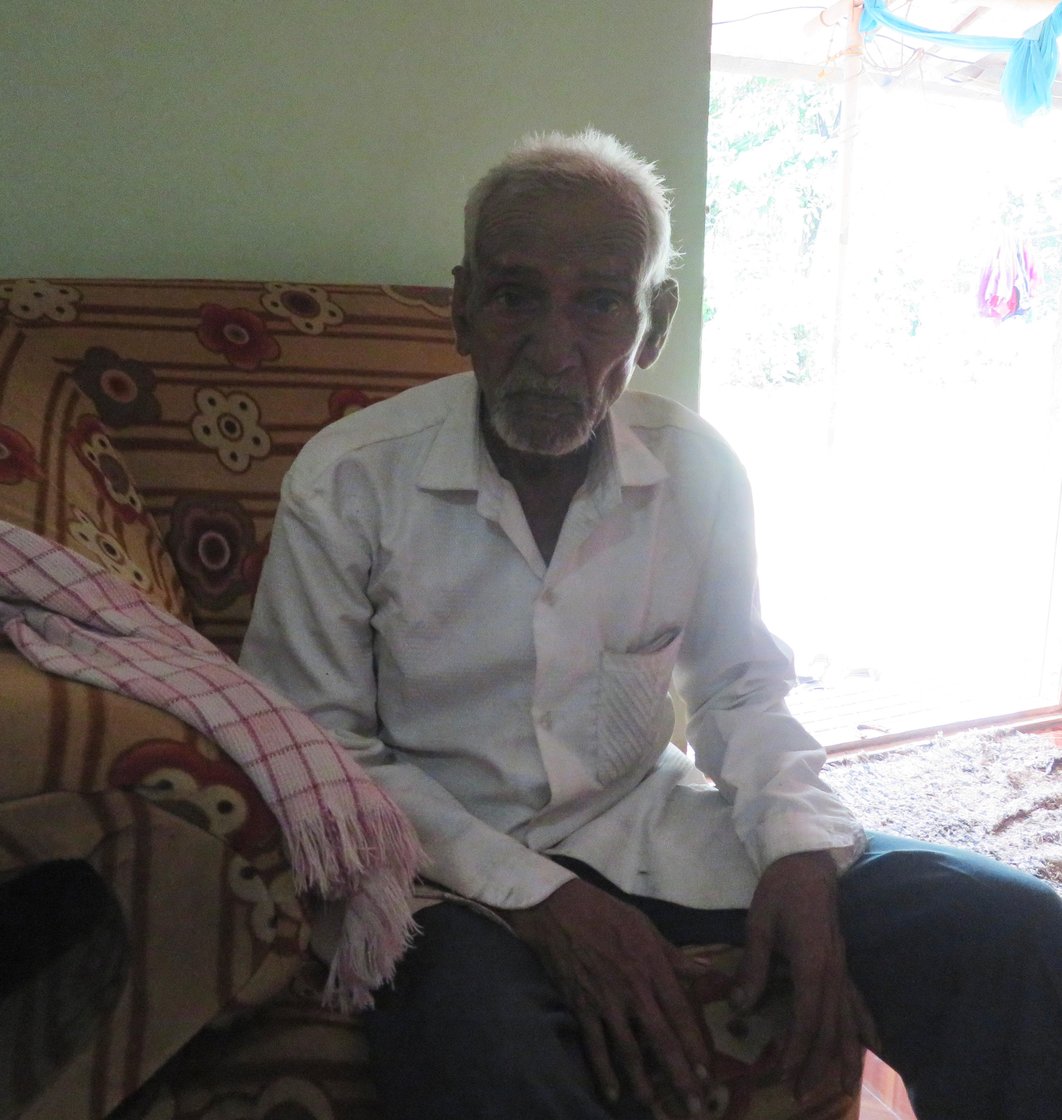 PHOTO • Jyoti Shinoli
"Such accidents could have been avoided if there was a bridge. We risk our daughters' lives to take them to the hospital for deliveries. We literally have to pray every time our children leave the house and walk that way," Tukaram adds. He was around 14 years old when his parents settled here after being displaced by the Bhatsa project. Now he only milks their three buffalos and Ravindra supplies the milk to the dairies. The family also cultivates paddy on two acres.
"What option do we have? We can't sit back home idle. We have to take the risk. The council officials are not serious about our long-pending demand for the bridge. Many  in our settlement are now injured or confined to their beds. They are mocking us by ignoring our pain," adds Tukaram.
In her single-floor concrete house next door, 68-year-old Dwarkabai Vide moves around the house with the help of a walker. Until last year, she worked on the family's four-acre farmland. In February 2018, while going to Shahapur to buy groceries, she too fell from the wall. When I visit, she is sitting in a chair, looking out of the window.
"She doesn't talk much after her accident. She is really frightened. Otherwise, she used to talk a lot," says Tara, her daughter-in-law. Dwarkabai's family cultivates paddy and vegetables on four acres. Her elder son works as a supervisor in a warehouse in Bhiwandi. "For even a small aliment – fever, cold – or an emergency delivery, there is no immediate facility in the village itself. It is a big problem," says Tara.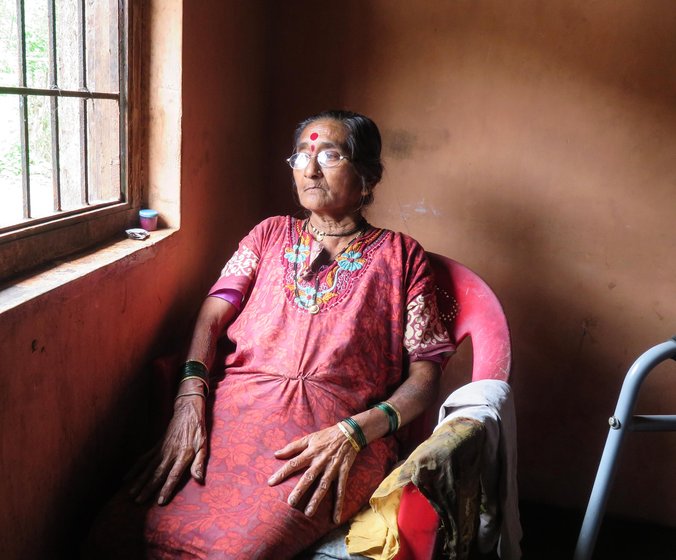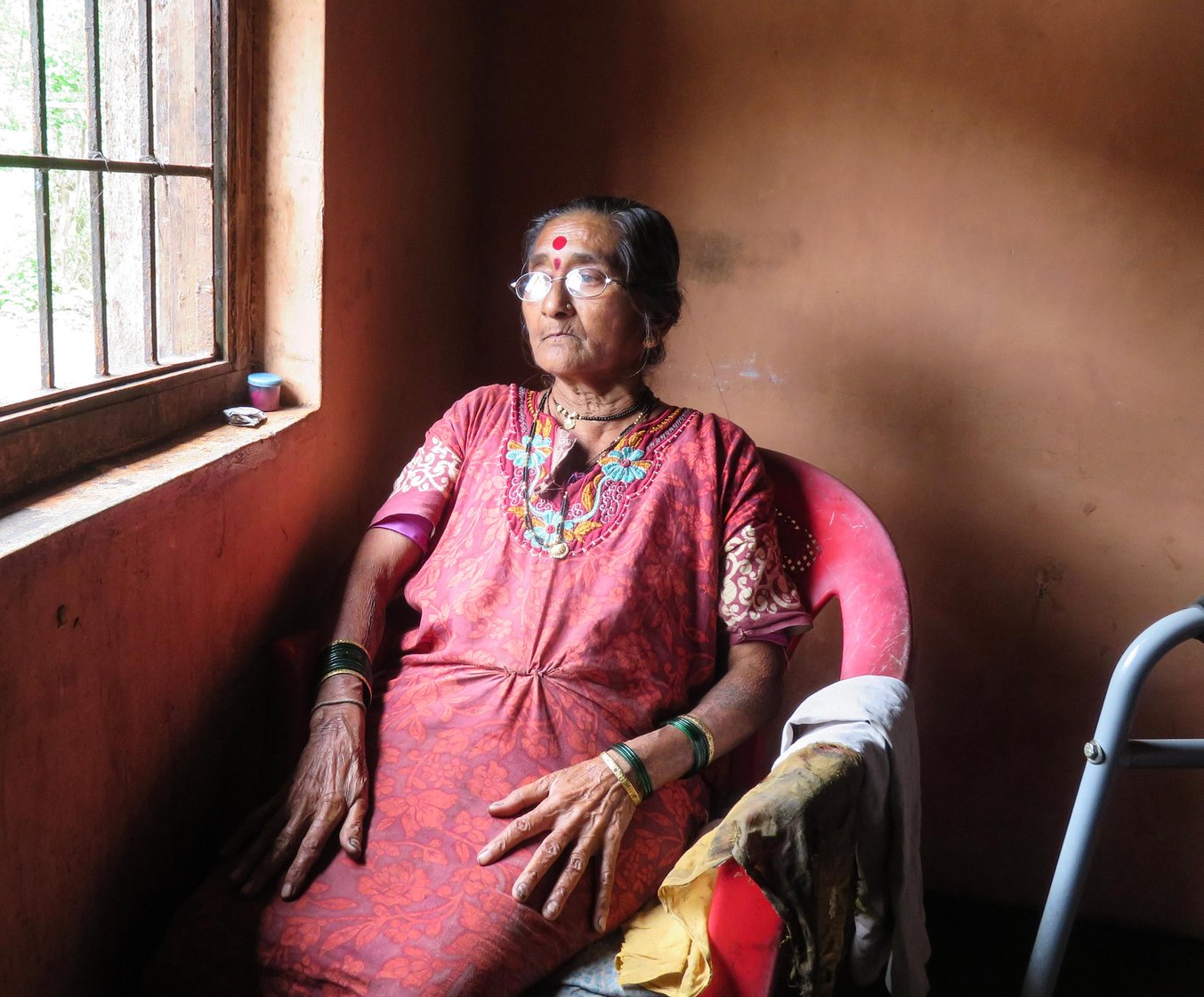 PHOTO • Jyoti Shinoli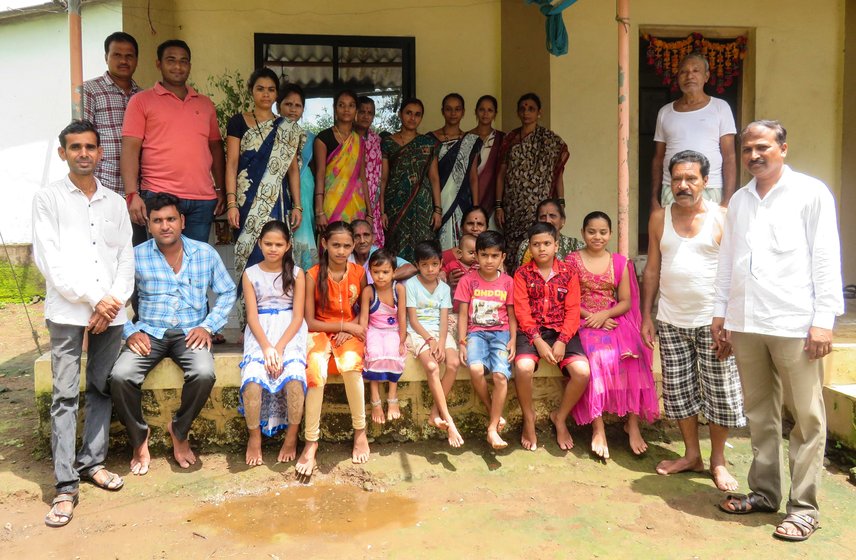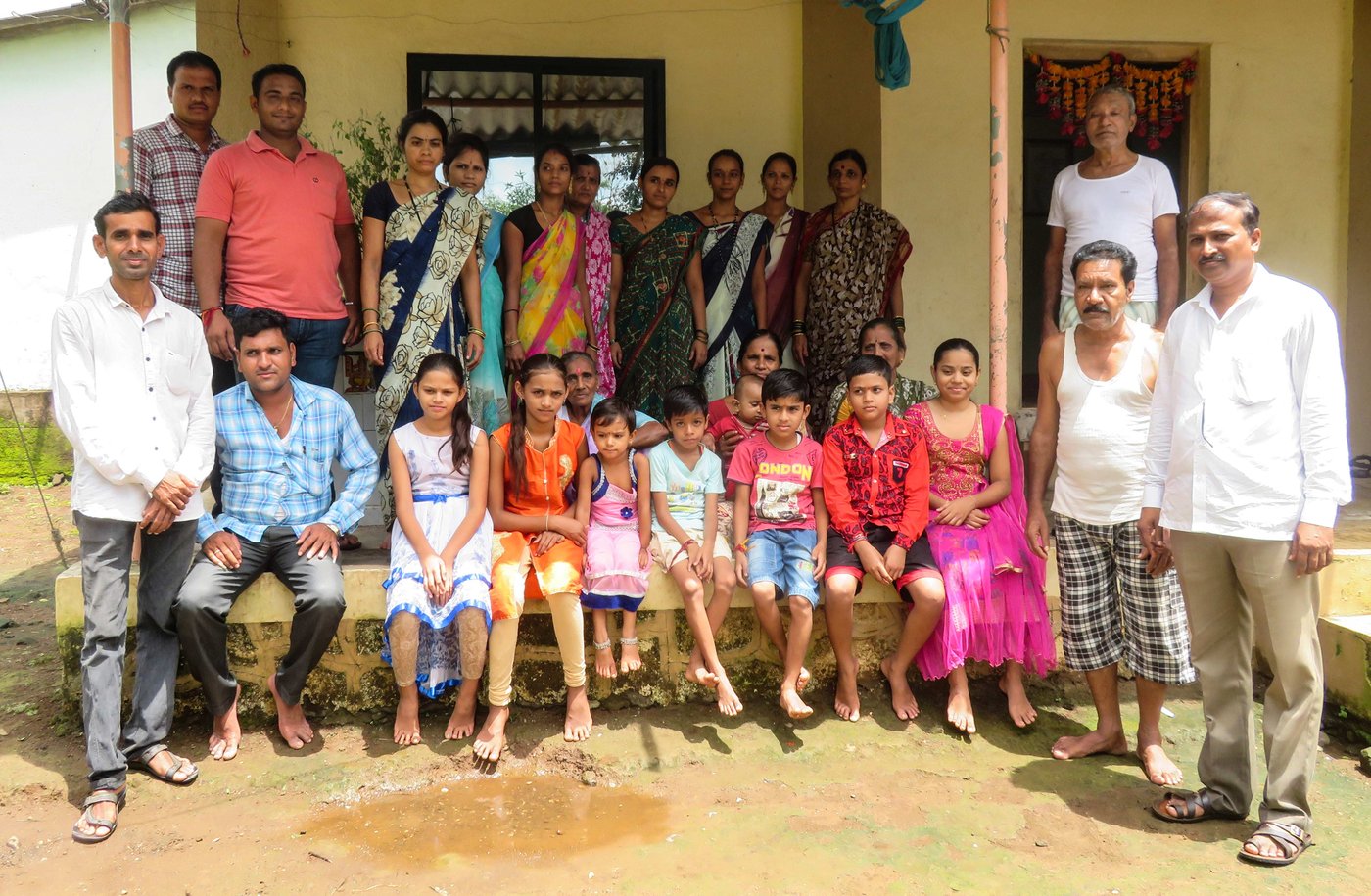 PHOTO • Jyoti Shinoli
Most of Aure Palheri's families cultivate between 2 and 5 acres, on land for which they have not been given titles.  They sow paddy during the monsoon. After the harvest, they grow vegetables like bhendi , bitter gourd and beans to sell in nearby villages. Some of the younger men from the hamlet drive autorickshaws or run small food stalls in Shahapur.
The lack of a safe route has curtailed the villagers' work options. "There are no lights on that path and we can't walk in the dark. That's why we can't go to Kalyan or Thane for work [50 to 60 kilometres away]. It's not possible to travel every day and return after 7 p.m. It's a long journey of [nearly] two hours. Those who have arrangements of staying in those cities, they work in warehouses or send their children to colleges there to study. Otherwise, it is impossible. Before 7 p.m. you must be at home. This is why no one our age [30-35] has completed even Class 10," says 35-year-old Jaywant Mahalunge, who drives an autorickshaw in Shahapur. He stays with his joint family of 15 people. His two younger brothers sell vegetables in Shahapur town's market or nearby villages, earning Rs. 4,000 each per month.
The zilla parishad school that Jaywant's nephew Yash attends is only till Class 7; after that, kids have to go to Shahapur town for secondary school.  "How we will progress? How will our children move ahead?" Jaywant asks.
"If in daylight people get injured badly, what will happen in the dark? Our children would often skip school during the monsoon. Now my grandchildren are doing the same," says his mother Savita, 65, who works of their family's five-acre farmland.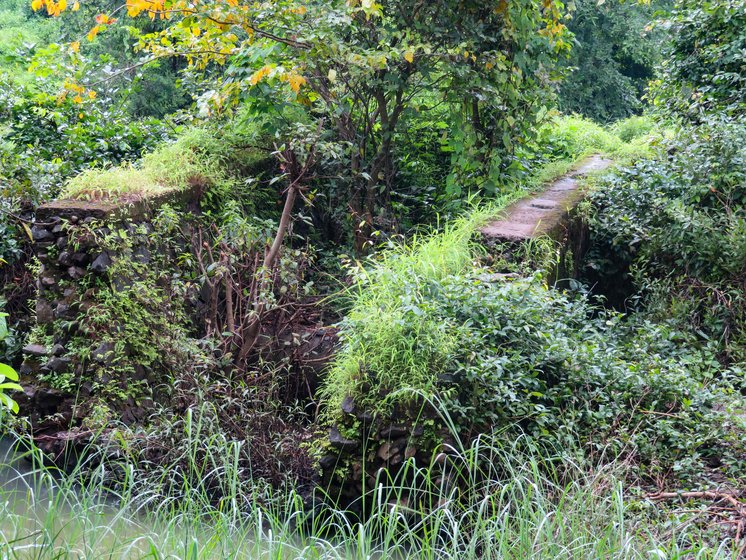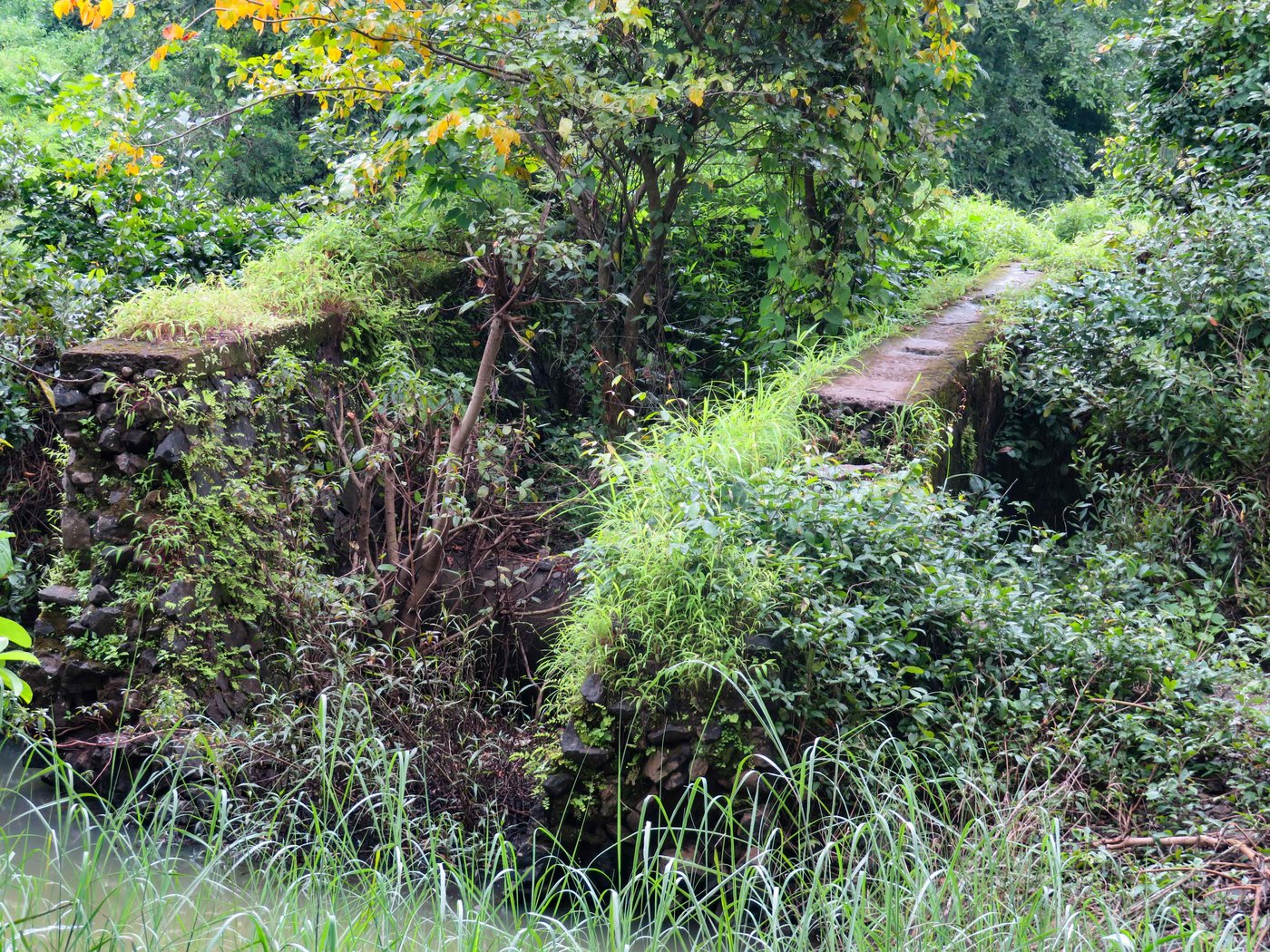 PHOTO • Jyoti Shinoli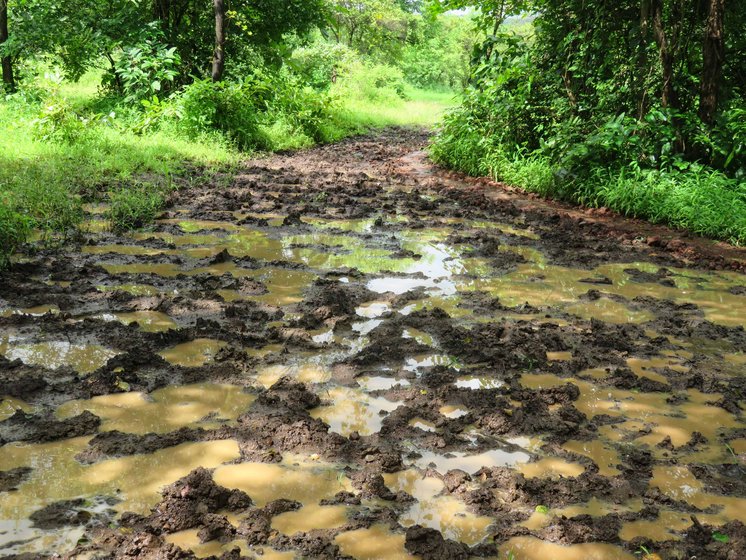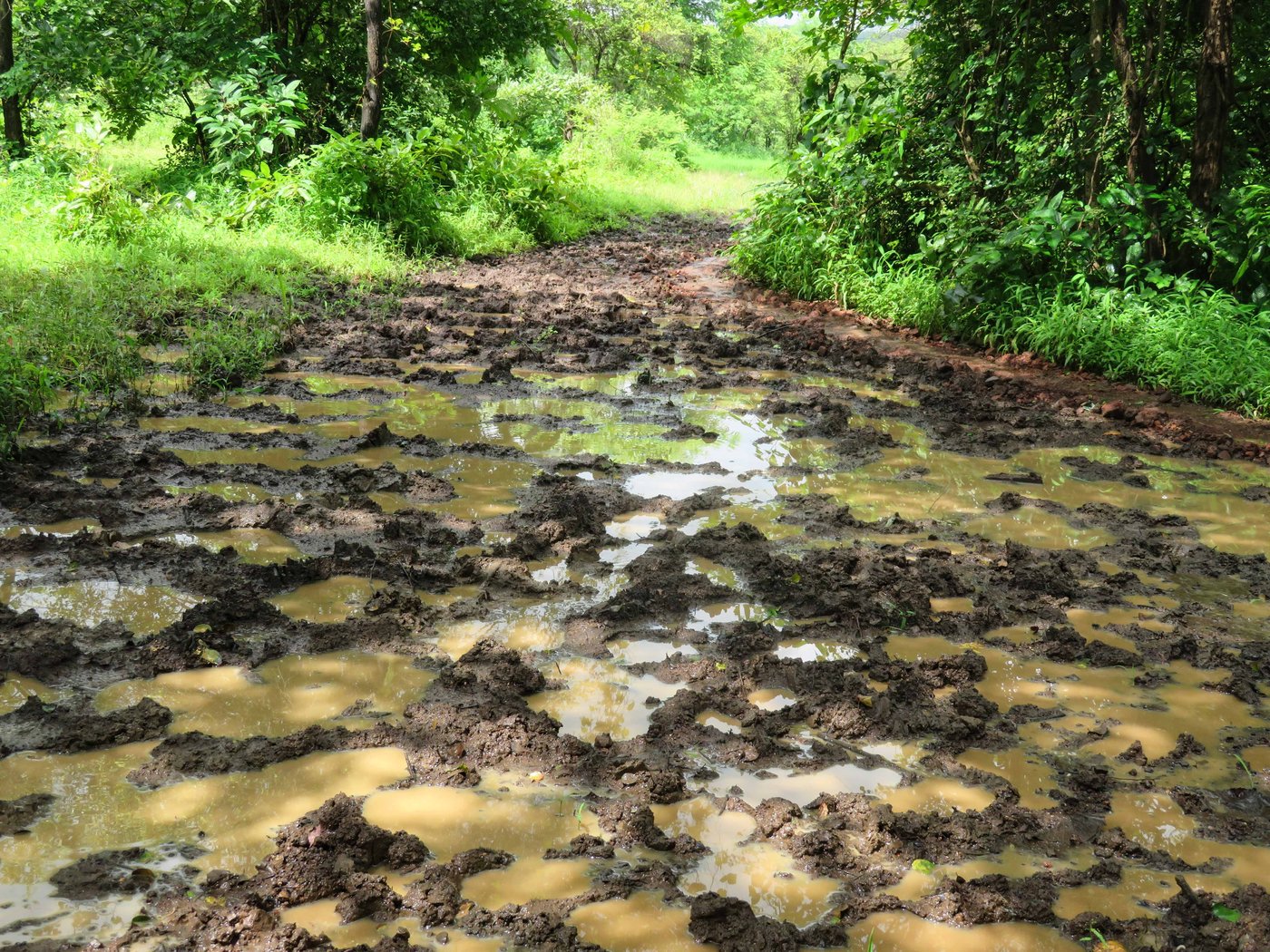 PHOTO • Jyoti Shinoli
"We had several agitations before the bridge was constructed in 1998. When the bridge collapsed, we again took out a march to the Thane district council office in 2005. Then again in 2007, 2009, 2012, 2016," she adds, folding her fingers carefully on every count. "In between, our children wrote many letters to the collector. We did so much. Do you see any change?"

Agreeing with her, a neighbour, 70-year-old Ramu Vide, says angrily, "After all these years, the situation is the same. No one has died so far while crossing the river. But are they [the state government] waiting for someone to die? What has the government really given us? That poor quality bridge which collapsed?  They don't even resettle us [at another site]". The aggravation of five decades is evident in Ramu's words.
Despite repeated attempts, officials from Thane district council office were not available to comment on this issue.
Data of the India Meteorological Centre shows that from August 1 to 7 this year, Thane district received 644 mm rainfall as compared to its average of 202 mm for that week. On August 3 and 4, due to heavy rain, the people of Aure Palheri were stranded and had to wait for two days for the river water to recede.  "We thank god every evening that we survived," Anand says. "Let's see what happens tomorrow."