"We voted for Kapil Patil the last time. What happened? There is still no primary healthcare centre in the village. And these roads... He didn't come back to us after he won. Why vote for him again?" asks Maruti Vishe.
It's 38 degrees Celsius and the scorching streets of Tembhare village are nearly deserted in the afternoon. Six men and three women have gathered in 70-year-old Vishe's pucca house. They are sitting on rugs and plastic chairs in the front room, where sacks of rice from his five-acre farm are stored in one corner. Everyone in the group is a farmer, each family owns between two to five acres where they cultivate paddy and seasonal vegetables. "We should all sit and discuss whom to vote for this time," says 60-year-old Raghunath Bhoir.
Mahadu Bhoir, 52, is not sure the discussion will yield anything. "We gave five years to the BJP, but they wasted these years. Now let the Congress take another five years and waste time too. There is no difference. All are the same."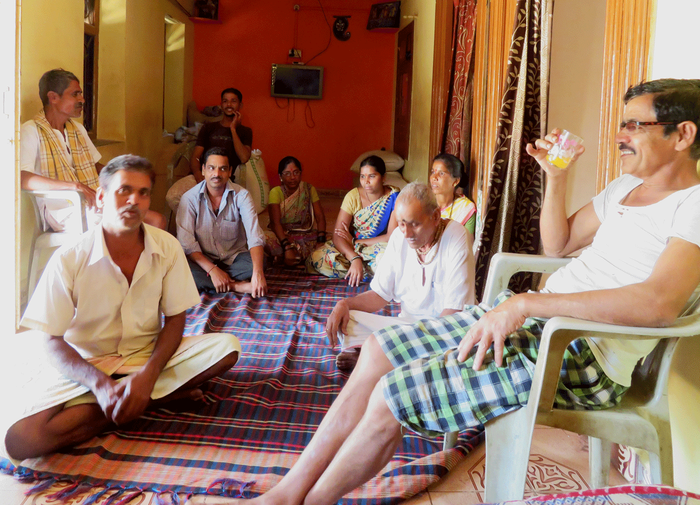 PHOTO • Jyoti Shinoli
The conversation continues for an hour. Each person has their own opinions, preferences and issues. On April 29, the group gathered here will be among others of Tembhare village who will vote for the Bhiwandi Lok Sabha seat

The conversation continues for an hour. Each person has their own opinions, preferences and issues. On April 29, the group gathered here will be among the 1,240 voters in the five padas of Tembhare village in Shahapur taluka of Thane district in Maharashtra who will vote for the Bhiwandi Lok Sabha seat.
The sitting Member of Parliament for this constituency, the Bharatiya Janata Party's Kapil Patil, won with 411,070 votes against the Congress party's Vishwanath Patil in 2014. Patil had left the Congress and joined the BJP just before the election. This year he is contesting from the same constituency against Suresh Taware of the Congress. The total numbers of voters in the constituency in 2014 was nearly 17 lakhs.
Polls in Maharashtra will be conducted in four phases between April 11 and April 29, when 87,330,484 voters across 48 parliamentary constituencies in the state will choose a new national government.
"Vishwanath Patil is from our Kunbi caste [an OBC community]. We should vote for him. He works in villages. They [the BJP] literally killed the poor during notebandi . What did Kapil Patil do for us? Tell me!" Vishe asks the group sitting in his house.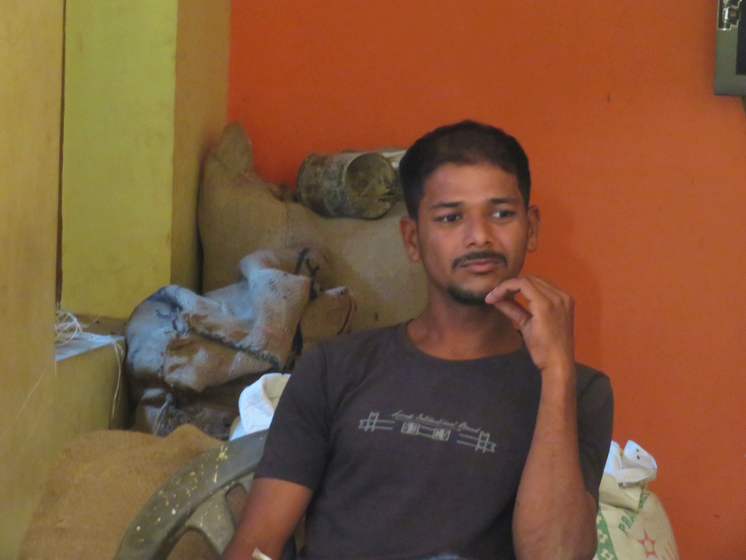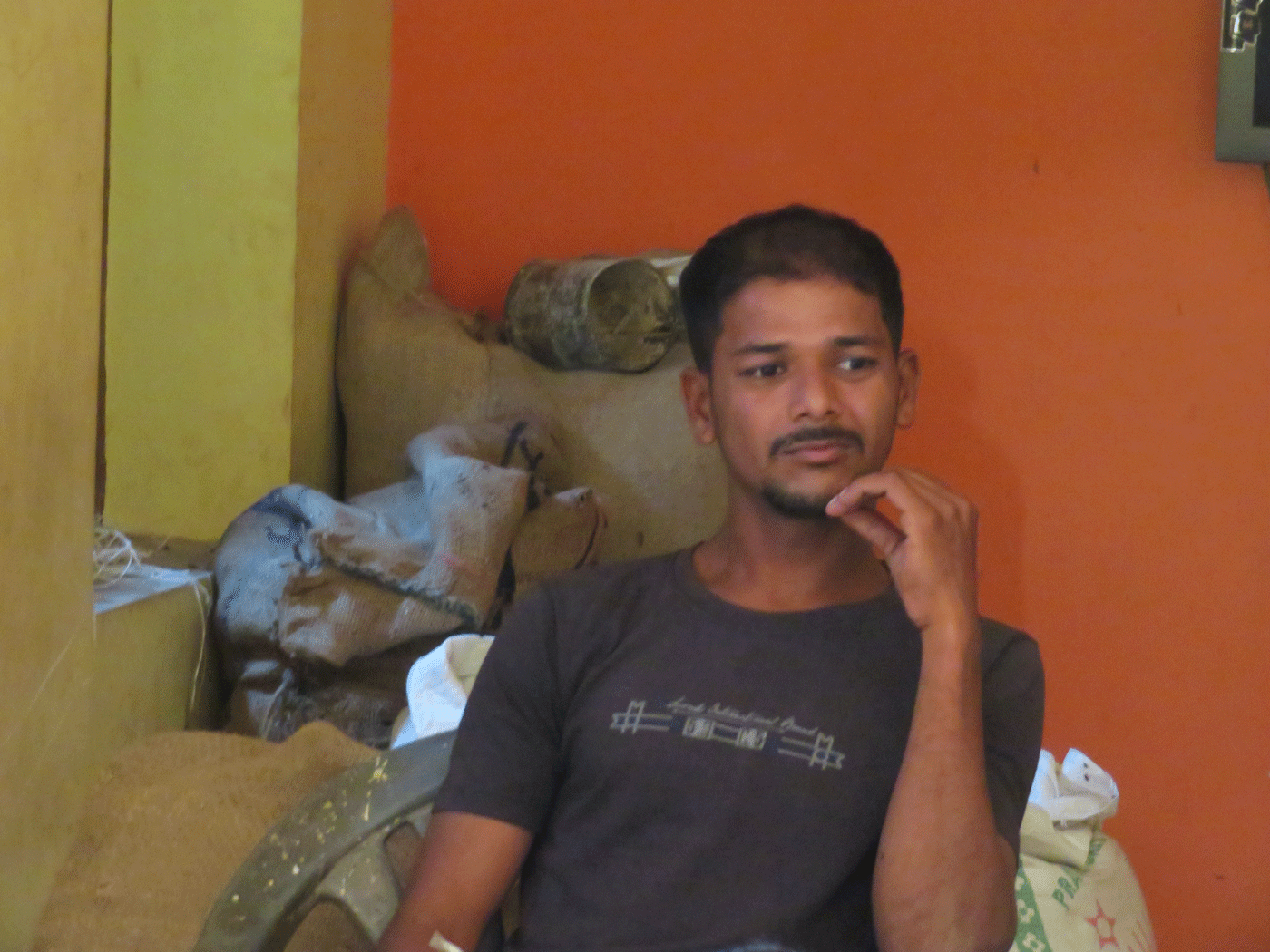 PHOTO • Jyoti Shinoli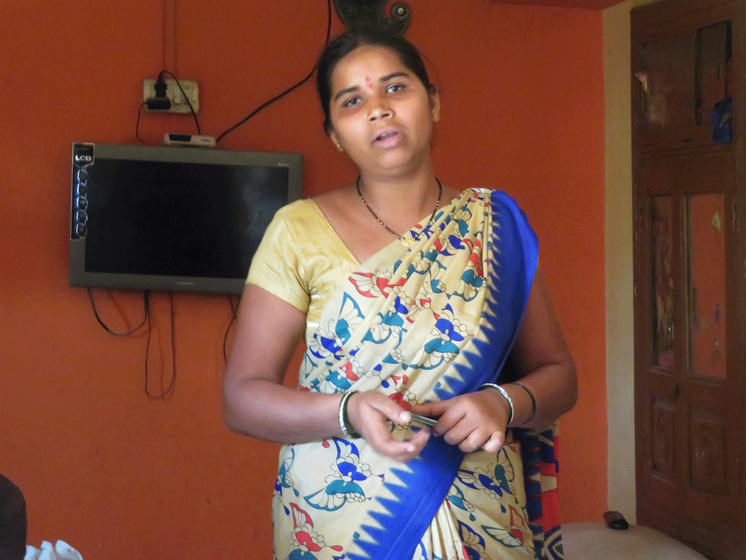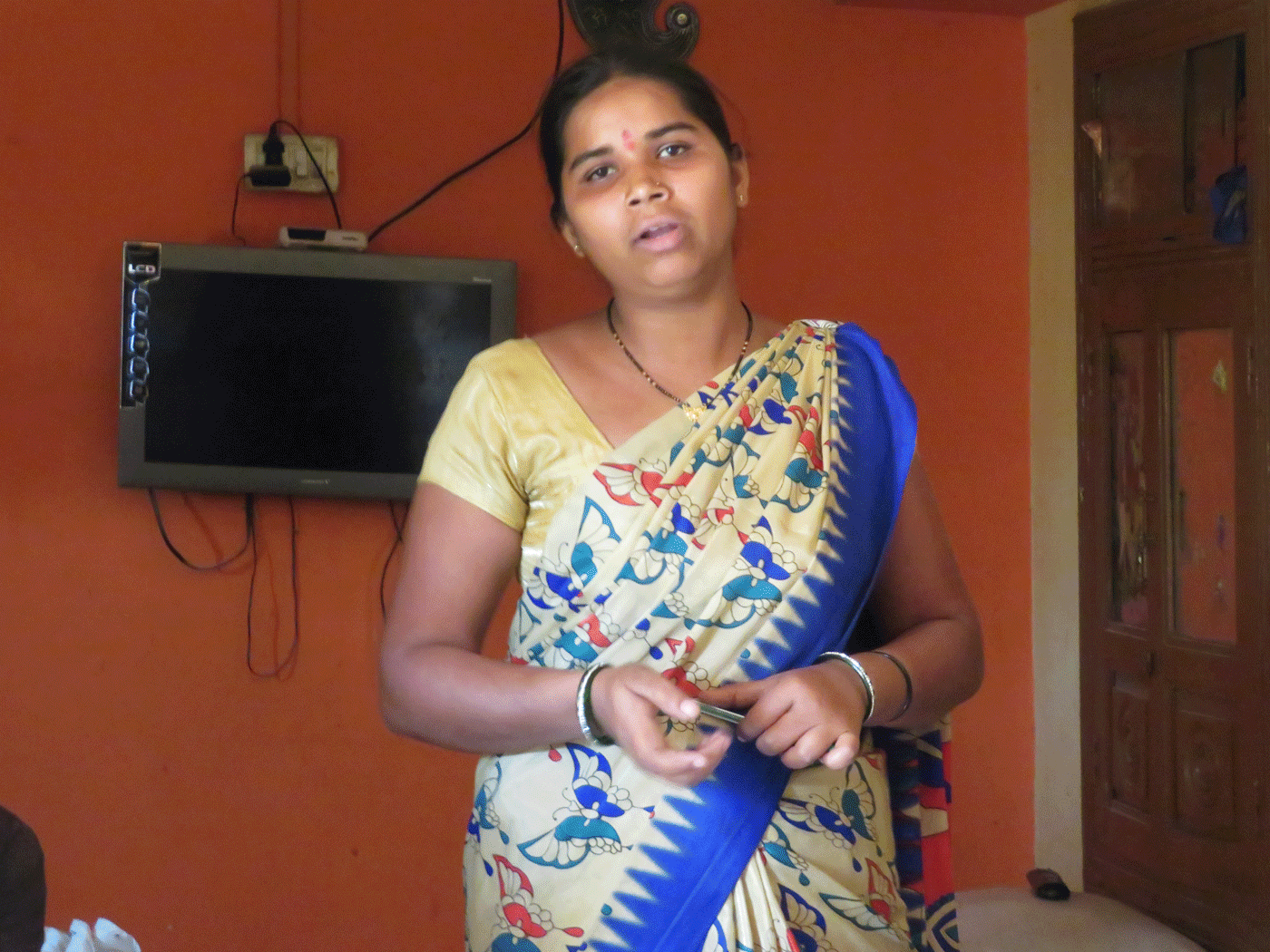 PHOTO • Jyoti Shinoli
"We should not vote on the basis of caste and party. We should see what work that person has done on the ground," replies 25-year-old Yogesh Bhoir. "…Is the opposition offering better plans and social schemes? That will be fair."

Vishe's daughter-in-law Neha, 30, says, "They [the politicians] just blame each other in their speeches. They don't talk of social development. They discuss the Ram mandir . Instead of spending lakhs on a temple, spend that money to develop one small pada or village."
Ranjana Bhoir, 35, her neighbour, nods in agreement. "That's right. In our village the school is only till Class 4. Our children walk 3-4 kilometres to another village [Thile] to study further. There is no transportation for them. Give us a school for our children, not a mandir. "
"Have you heard? Sharad Pawar is promising a complete loan waiver to farmers in Maharashtra if the NCP [Nationalist Congress Party] comes to power. He had waived farmers' loans when he was the Agriculture Minister. He is true to his word. We should give the NCP a chance," says 56-year-old Kisan Bhoir.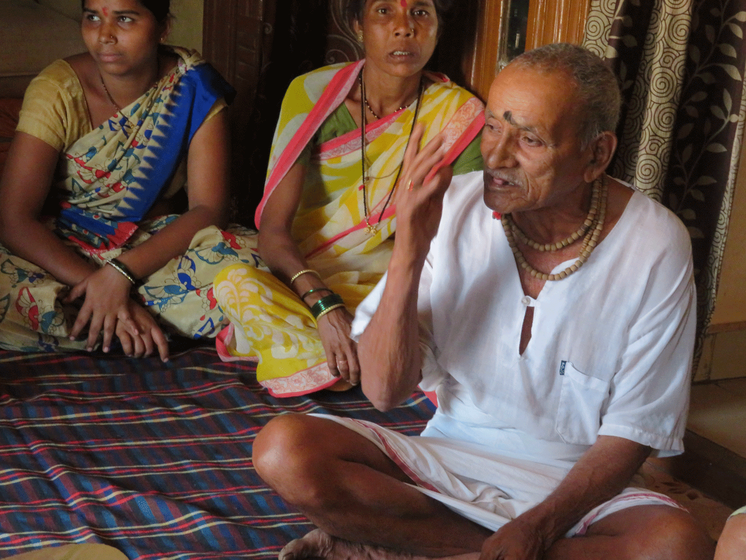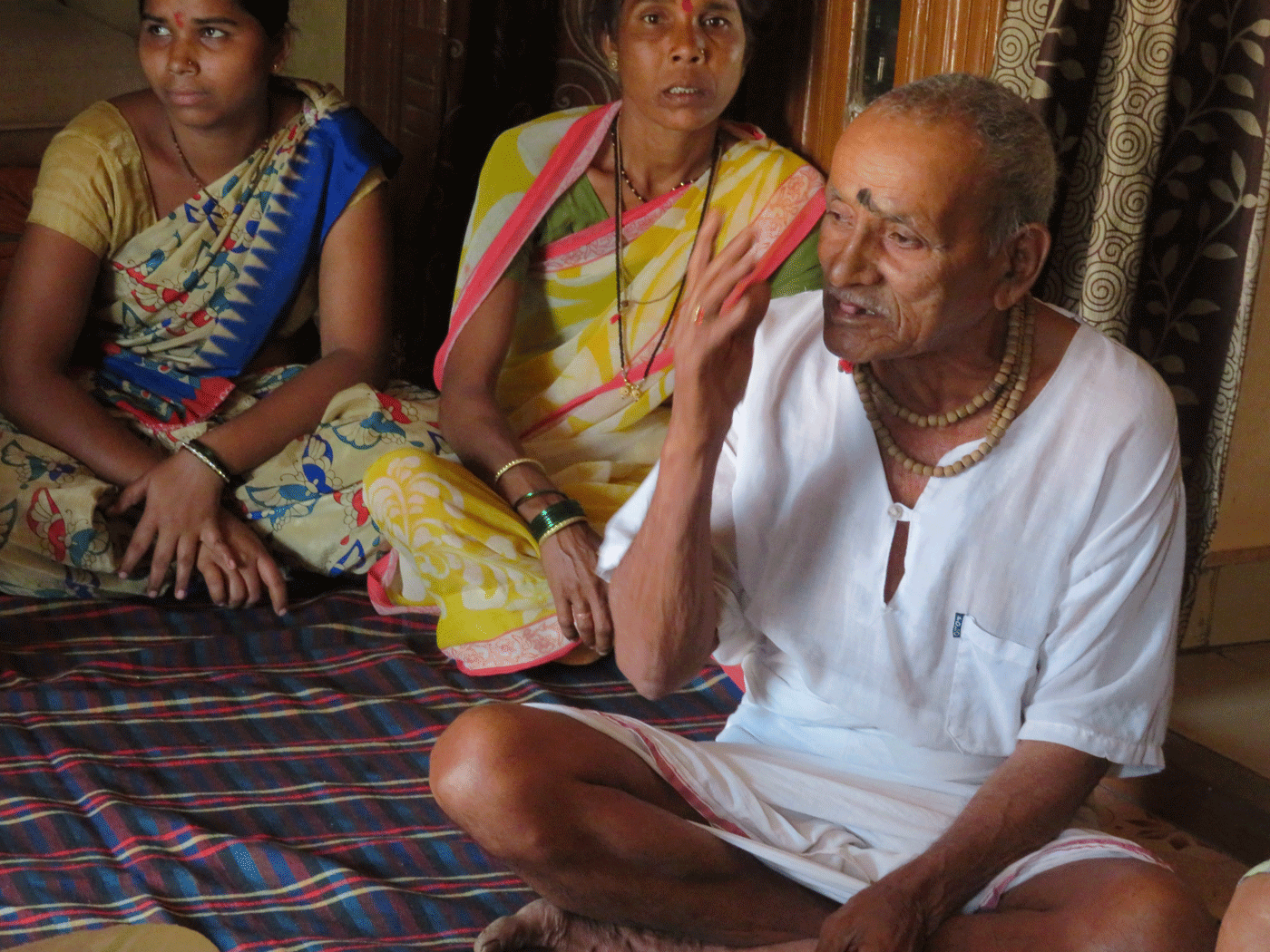 PHOTO • Jyoti Shinoli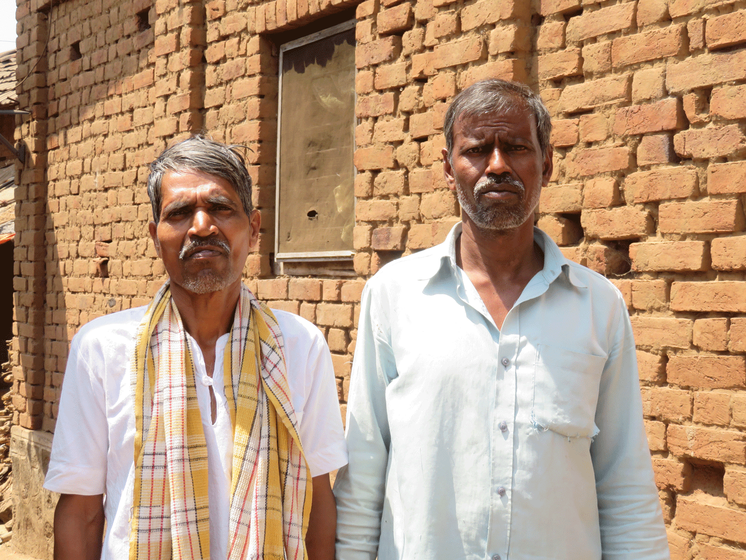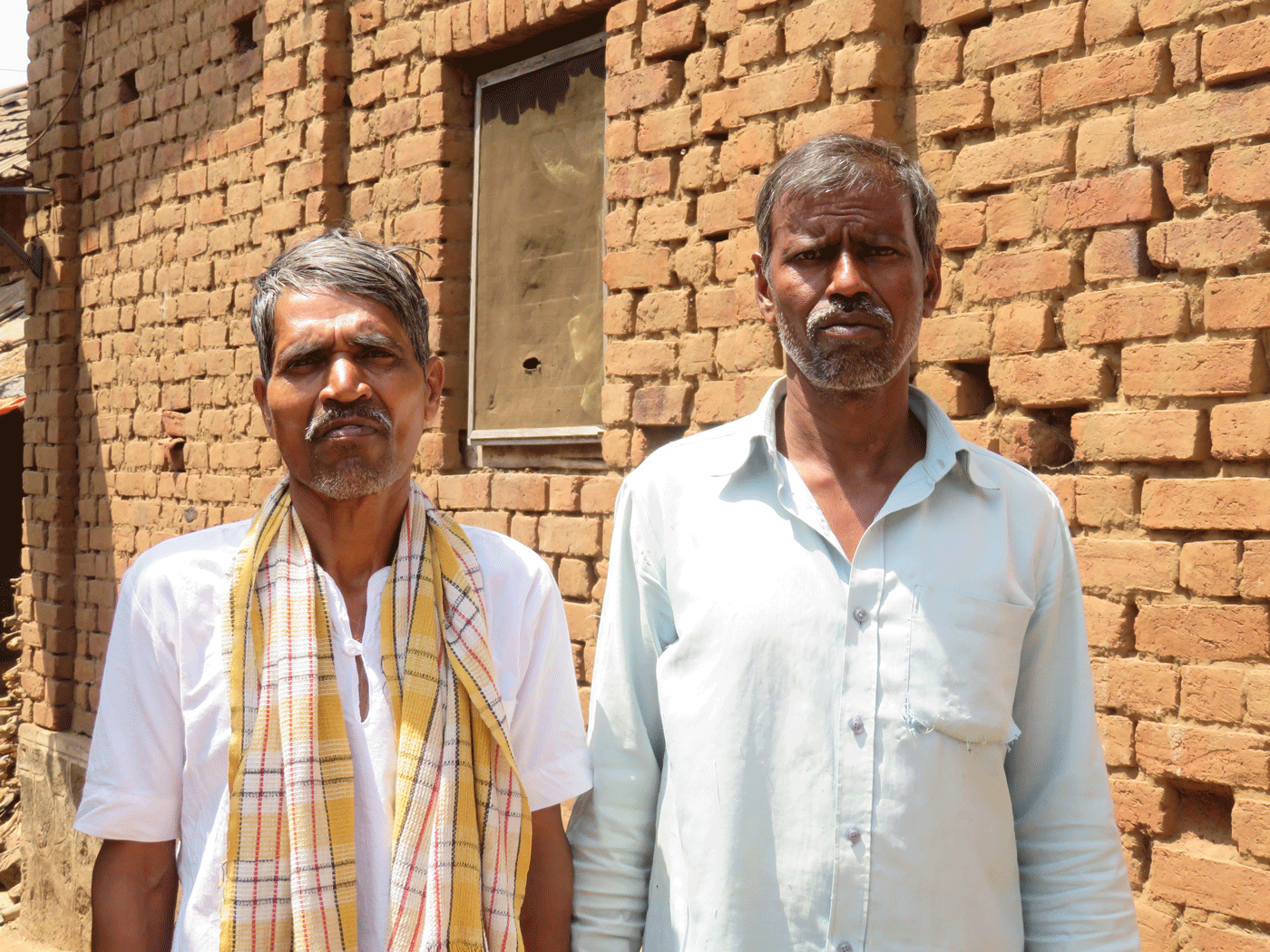 PHOTO • Jyoti Shinoli
A few steps away from Maruti's home, a tarred road is being prepared by the gram panchayat . Jagan Mukne, a member of the panchayat , is supervising the work. "This was started just a month ago. There are elections. They [BJP] will have to show some work," he says. Jagan is from the Katkari Adivasi community,  listed as a Particularly Vulnerable Tribal Group in Maharashtra.
"From the past five years, not a single house has been constructed here under the Indira Awaas Yojana [now the Pradhan Mantri Awaas Yojana]," he adds. "Two years ago, we gave a list of families that needed a house to the panchayat samiti ;  they are going through our applications. We have not even received the money for older Indira Awaas Yojana house-repairs. We made a big mistake voting for the BJP. The NCP had done some work for us."
Listening to him, others gather around. "They will come to beg now [for votes], says Janabai Mukne, 30, angrily. "I still earn Rs. 150 a day – that too only six months of the year – working on farms. It was the same in the past too. Whether it's the BJP, Shiv Sena, Congress – no one really understands our pain."
Mithu Mukne, 57, tells the people who have gathered: "It's so hot, come to my home. Talk there." While walking, he says, "They [the government] distributed free gas [LPG cylinders, under the Ujjwala Yojana] to 30 Katkari families in the village. After that we have had to pay for cylinders. How can we spend Rs. 800 every month on a cylinder? We get farm work for barely six months for Rs. 150-200 a day. How can we manage 800? They should think of this."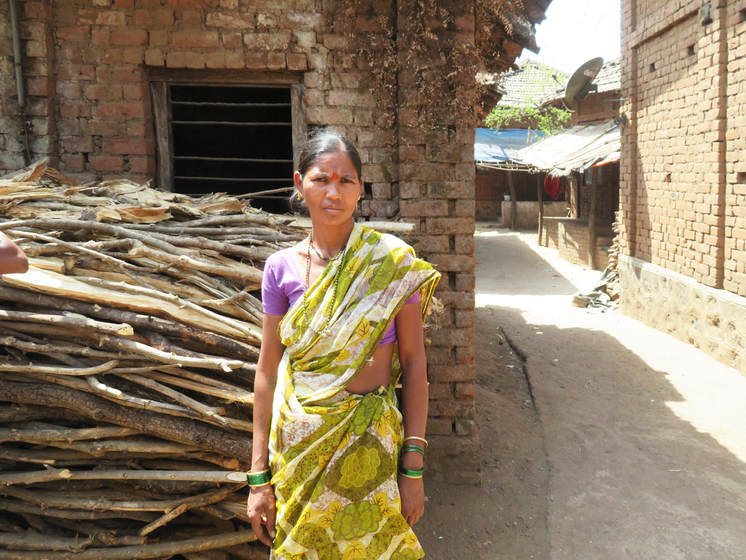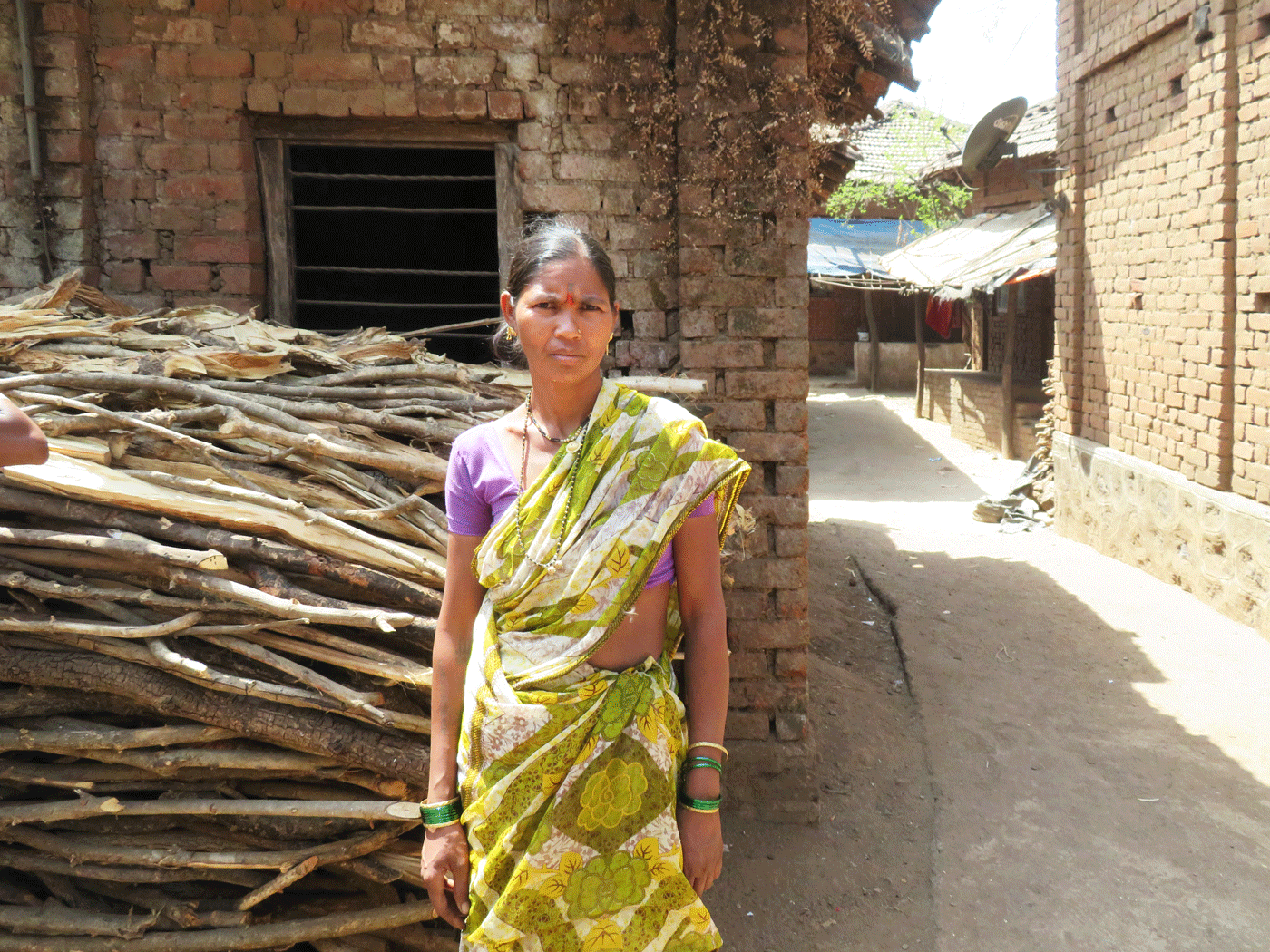 PHOTO • Jyoti Shinoli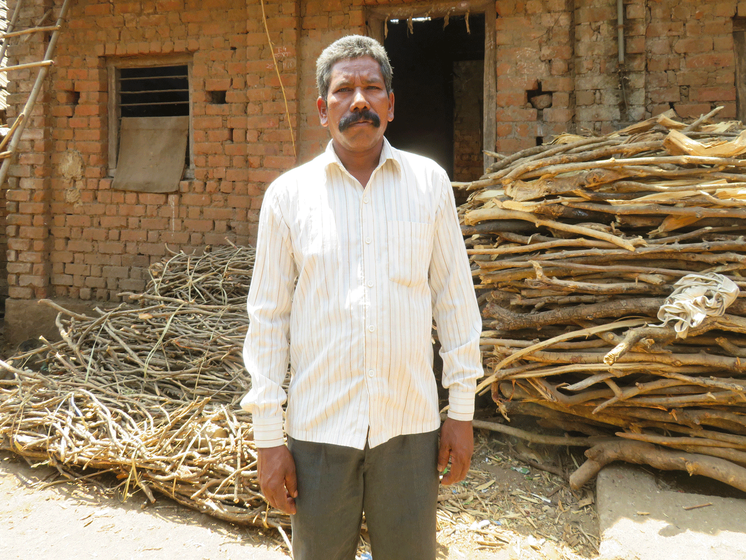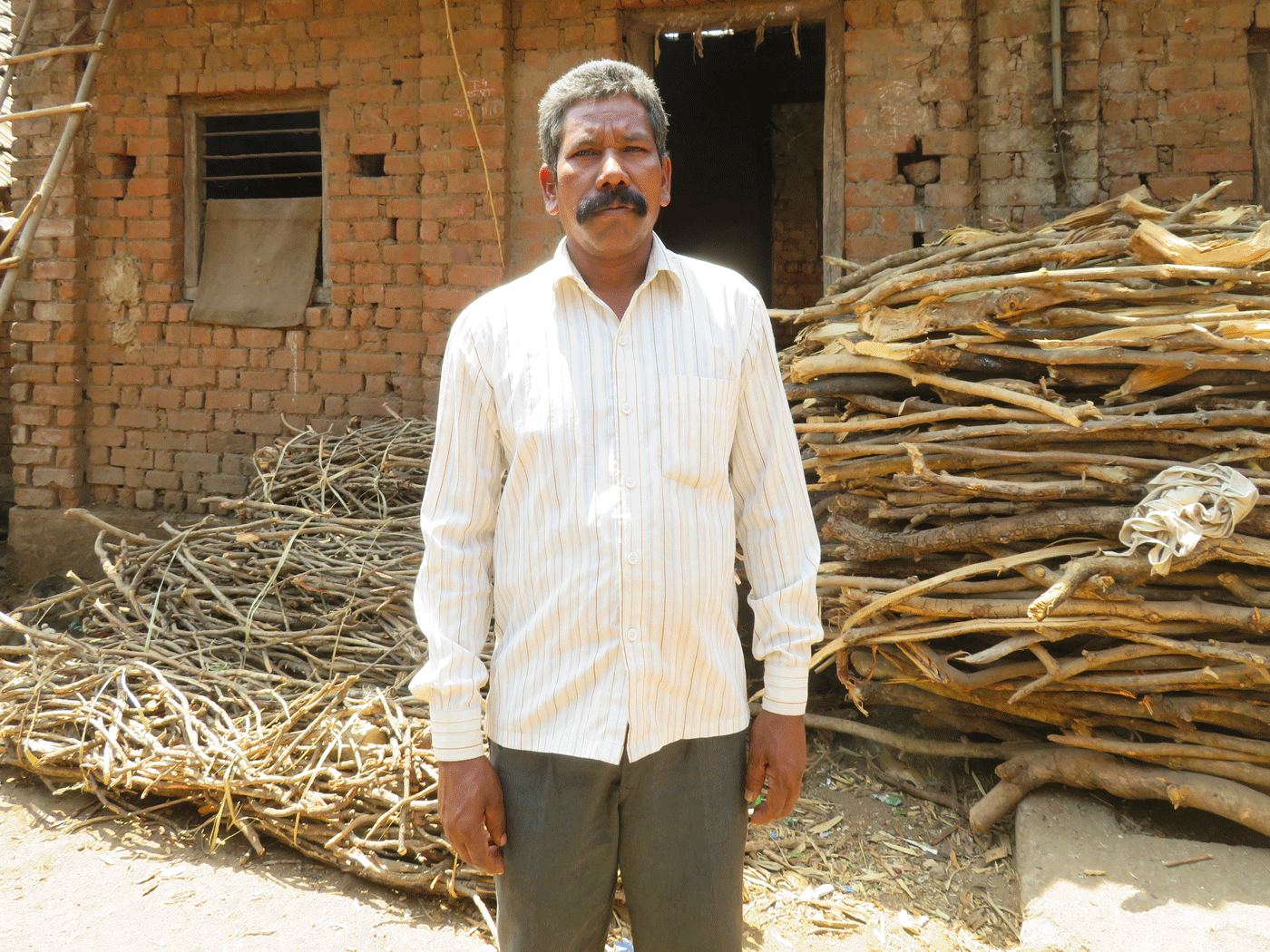 PHOTO • Jyoti Shinoli
At his mud and brick house ( see the cover photo on top ), everyone sits down on rugs on the floor – eight men and six women, all from the Katkari Adivasi community, everyone a landless agricultural labourer. "There is no doctor [primary healthcare] in the village. We have to travel 20 kilometres to Shendrun village or to Shahapur town [over 30 kilometres away]. It is a big problem during deliveries – at times pregnant women have delivered their baby before reaching the hospital," says 50-year-old Barki Mukne.

In Shendrun, a village of 580 voters, the BJP's inability to create jobs in the last five years has angered many. So 21- year-old Akash Bhagat is thankful that several online shopping companies have set up their warehouses along the highway, around 10-12 kilometres from his village, over the past few years.
"Where are the jobs? This is the situation for young people in all the villages of Shahapur taluka. I don't know what youngsters would do if these warehouses were not here," he says. "We work on a three-month contract [as loaders and packers], but at least five-six months of the year we get work. Otherwise we would have died with empty bellies." Akash is studying for a BCom degree in a college in nearby Vashind town.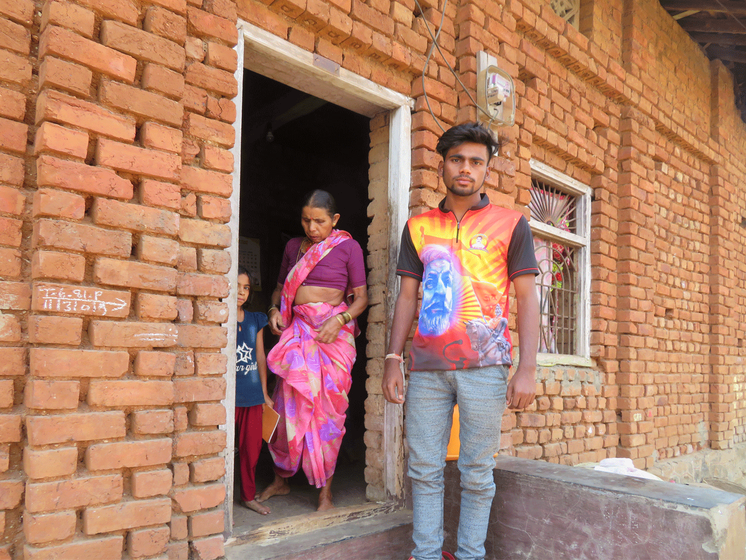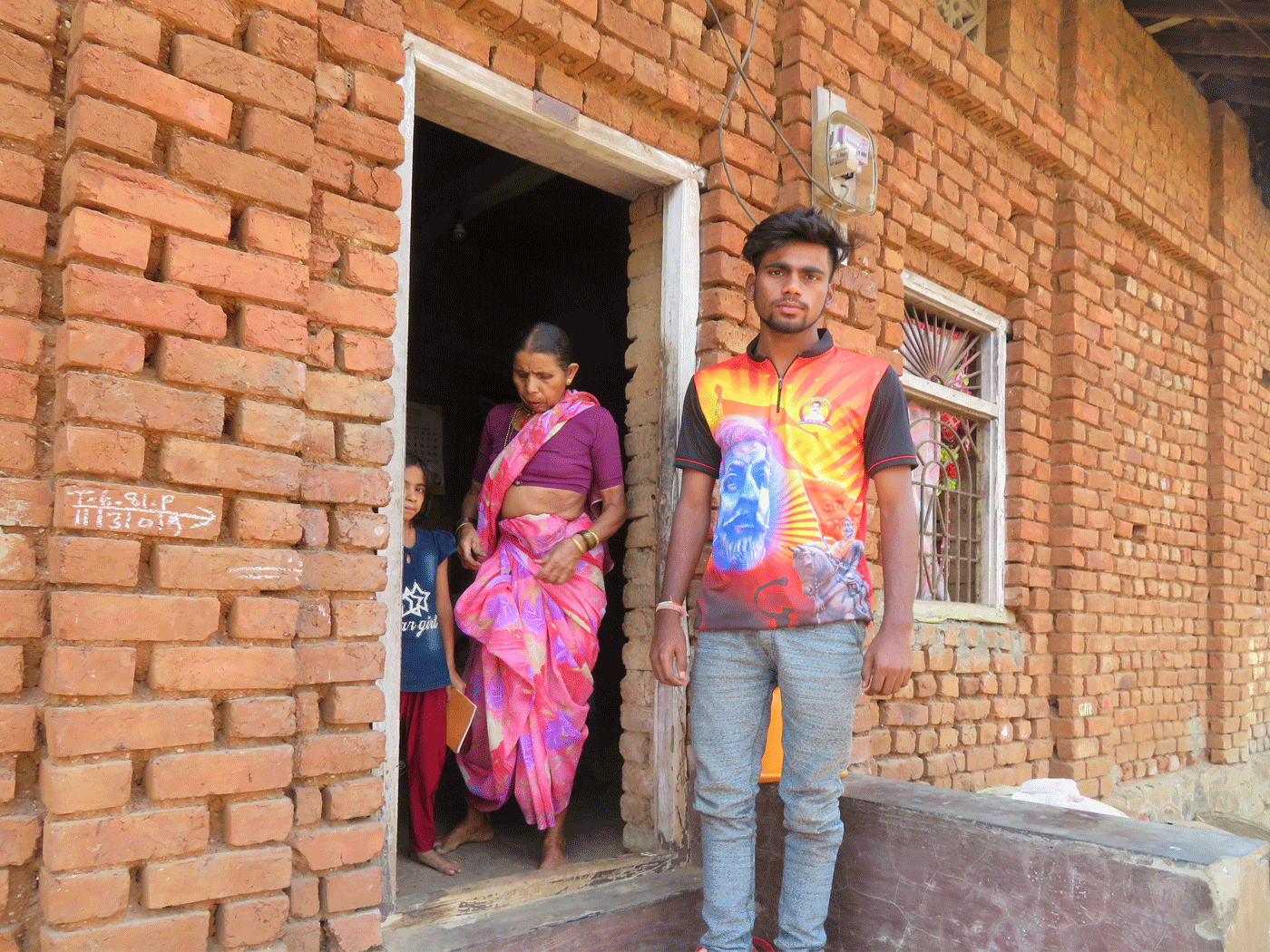 PHOTO • Jyoti Shinoli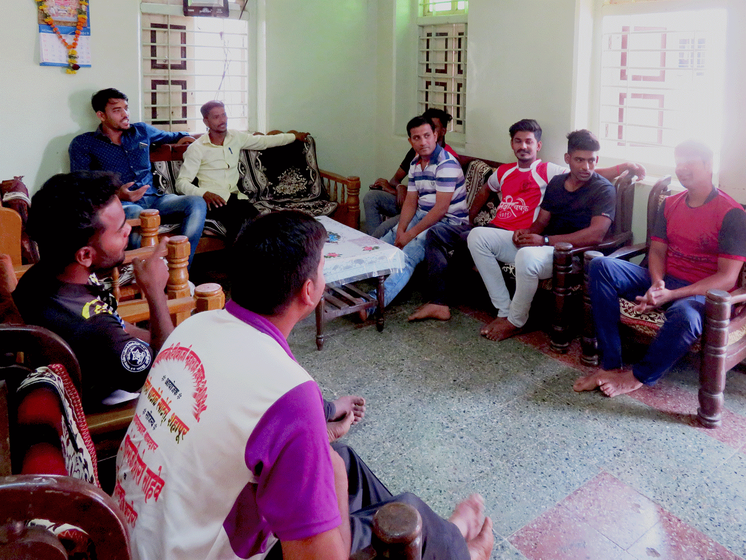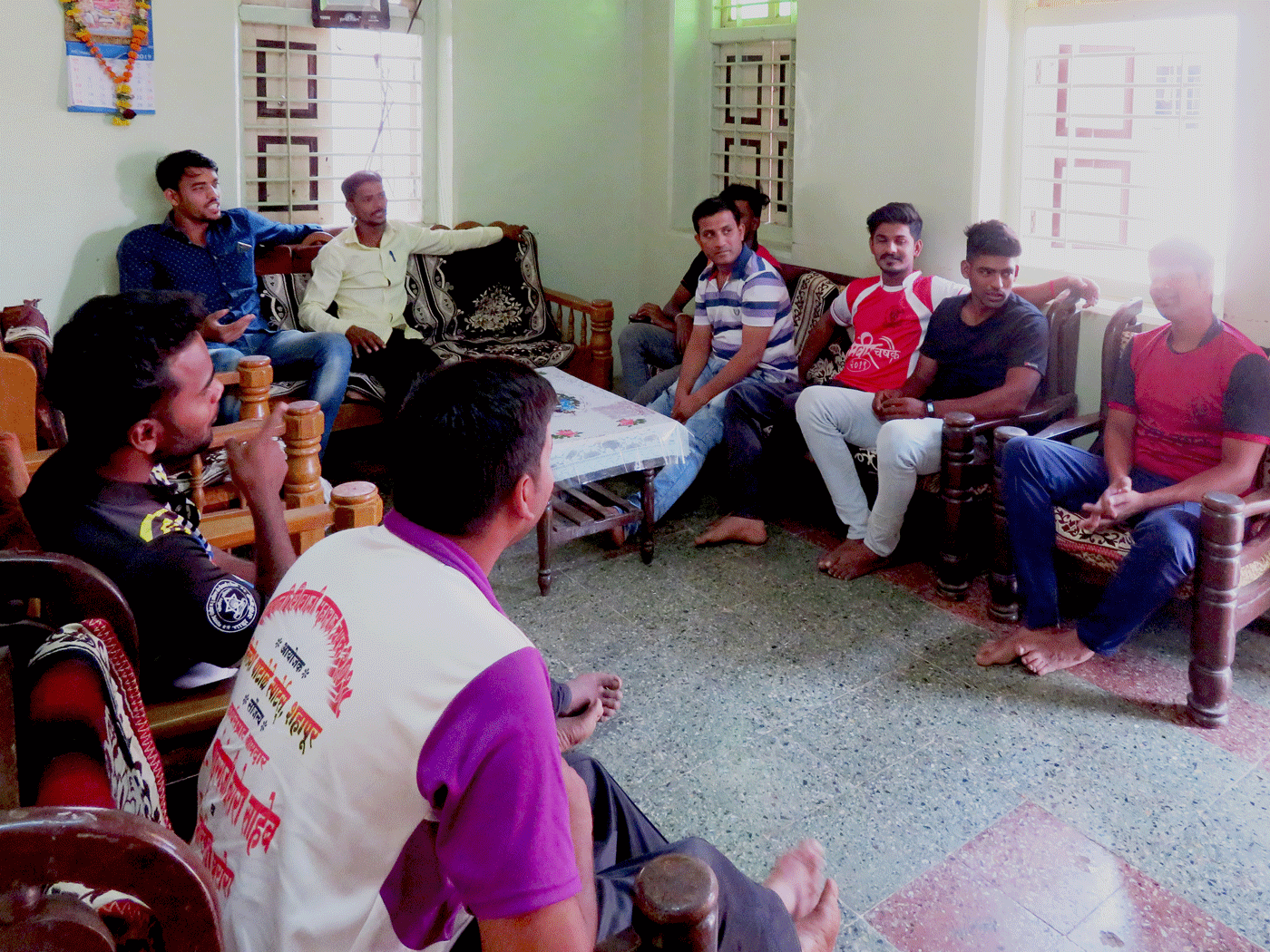 PHOTO • Jyoti Shinoli
"In our village, 90 per cent of the youths are graduates. But they are working as helpers in warehouses. That too on contract. I have studied automobile engineering, but I work as a helper for Rs. 8,000. This is the issue that our khaasdar [Member of Parliament] must address ," says Mahesh Patole, 26.

"There are big industries nearby, but they don't employ us. They need big references. Forget about getting jobs in any of their departments, they won't even employ us as security guards. The political leaders here stress this point to get votes, but they never act on it," says Jayesh Patole, 25, who too works at a warehouse.
"When the attack in Pulwama took place, we too paid homage to the martyred soldiers. But we delete communal messages we get on Whatsapp. These cannot be the issues to vote for someone," says 29-year-old Nakul Dandkar, who has a BA degree and works as a helper in a school. The young men are all gathered in his house for this discussion.
"Kapil Patil won because of the 'Modi wave' and also because people trusted him," says Swapnil Vishe, 24, who is unemployed right now. "But it is not possible to read the voter's mind. People have their own understanding of politics and reasons to vote or not vote. People may abuse the BJP, but who knows who they will really vote for and on what basis. Besides issues [that affect us] other factors such as buying votes also matter. The final result will tell us everything."