A corner of a small iron cupboard in Uma Patil's two-room house contains a decade of handwritten records – in large registers, notebooks, diaries, and in photocopies of survey forms. All placed one above the other in thick polythene bags.
It is in these ever-growing stacks that the health of much of rural Maharashtra is recorded by Accredited Social Health Activists (ASHA) – data about child birth, immunisation, adolescent nutrition, contraception, tuberculosis and a lot more. Uma has been keeping these voluminous books since 2009 for the people in Arag village in Miraj taluka of Sangli district in Maharashtra. And repeatedly trying to inform and guide her village about health issues.
Like 45-year-old Uma, across rural Maharashtra, 55,000 ASHA workers spend long hours every day ensuring basic healthcare for their villages. This workforce was established as part of the National Rural Health Mission (NRHM) in 2005. The community health activists, all of them women, are appointed after 23 days of training. The NRHM mandates one ASHA for every 1,000 people in Adivasi villages (who has studied till at least Class 8), and one for a population of 1,500 in non-tribal villages (who has cleared at least Class 10).
In Arag, a large village of around 15,600 people, along with Uma, 15 other ASHAs fan out around 10 a.m. every morning. Arag is also the main PHC (primary health centre) for Bedag, Lingnur, Khatav, Shindewadi and Laxmiwadi villages in Miraj taluka – with 41 ASHAs for a total population of nearly 47,000.
Each ASHA visits, over time, every household assigned to her, usually spending much more than the mandated five hours a day on this work. "If the houses are within the village, then 10-15 visits can be done in two hours. But some stay at the peripheries or on farms. Then it takes more than five hours for even four visits. And we have to walk kilometres through bushes, farms and muddy pathways. It's worse during the monsoon," Uma says.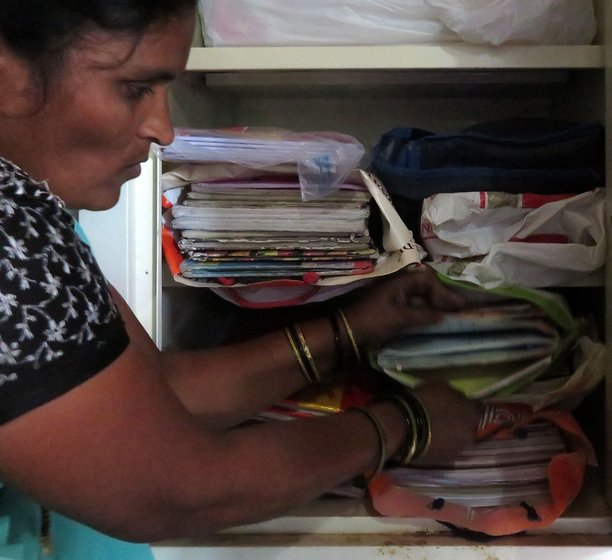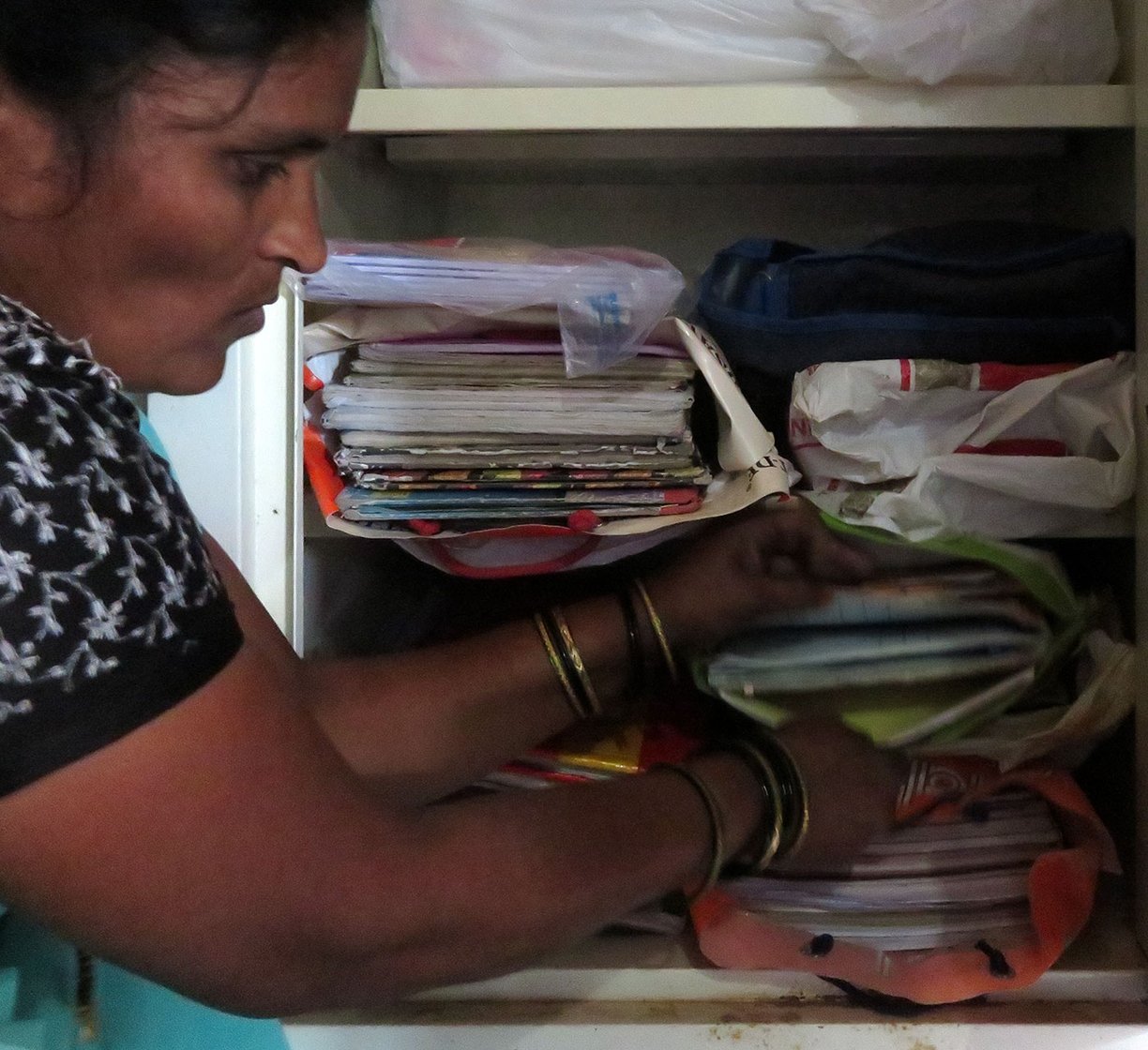 PHOTO • Jyoti Shinoli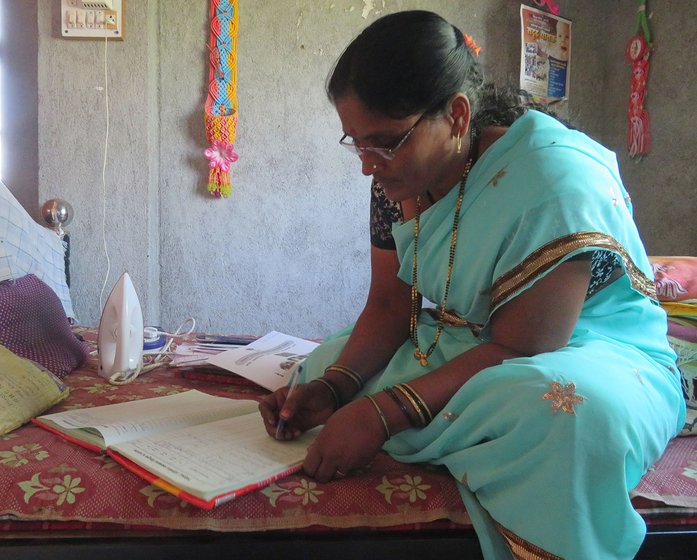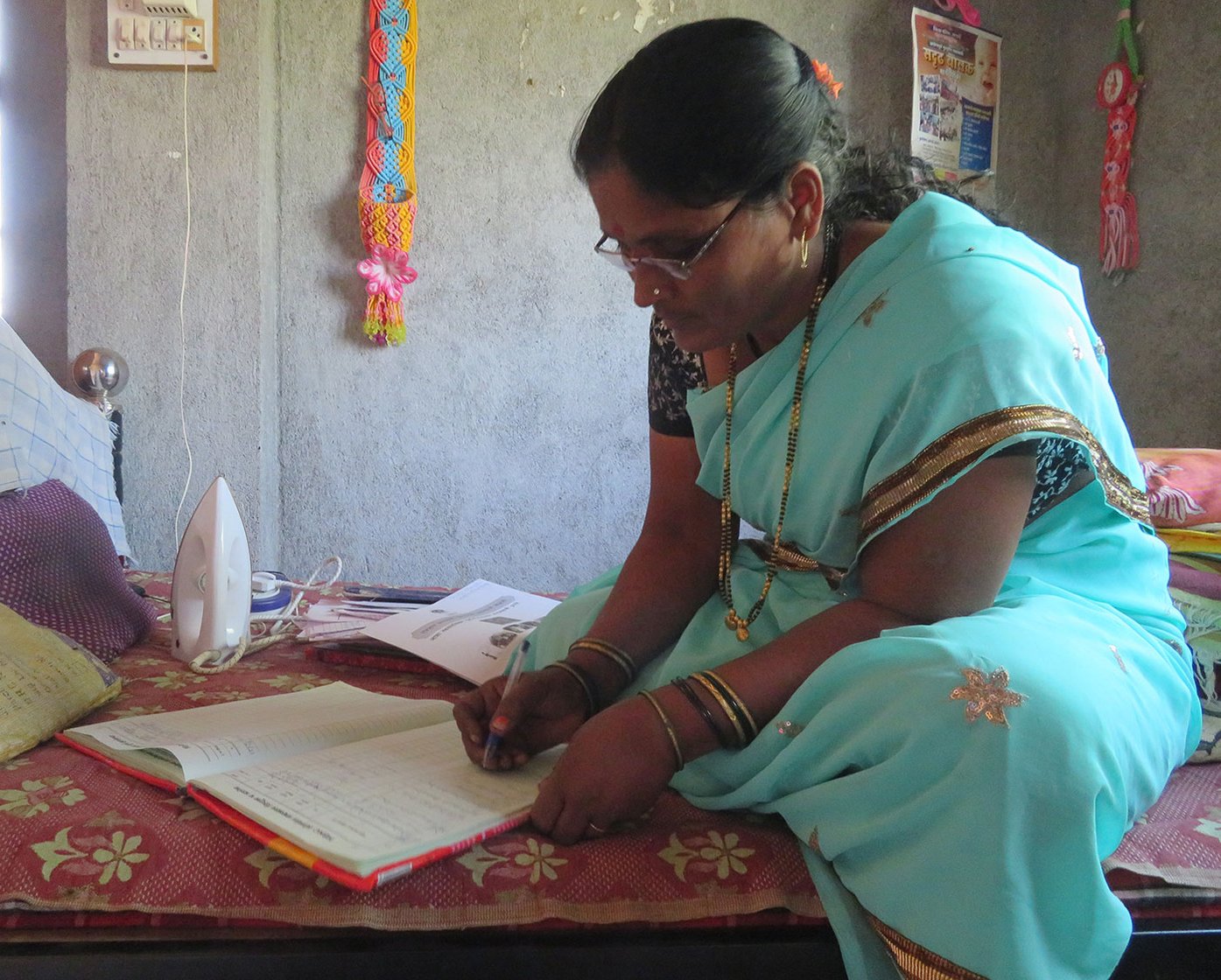 PHOTO • Jyoti Shinoli
A home visit involves speaking to families about healthcare, contraception, providing relief for minor ailments such as coughs and fevers, preparing pregnant women for their deliveries and breastfeeding, monitoring newborns (especially low-weight and pre-term babies), tracking children with diarrhoea, anaemia and malnutrition, ensuring their complete vaccination, trying to prevent or provide treatment for illnesses such as tuberculosis and malaria.
It's an interminable list of tasks. "We ensure that not a single house is deprived of any [health] survey or health facility. Not even seasonal migrants and their families," says Uma, who, along with her husband Ashok, also cultivates baby corn on their one-acre farm.
In return, an ASHA worker's monthly earnings – termed 'incentives' or a 'honorarium'  by the government – in Maharashtra average just Rs. 2,000 to Rs. 3,000 – depending on the work done. For example, she is paid Re. 1 for each packet of condoms and oral pills distributed, Rs. 300 for each institutional delivery she ensures, and Rs. 250 for 42 home visits to check in on a newborn baby.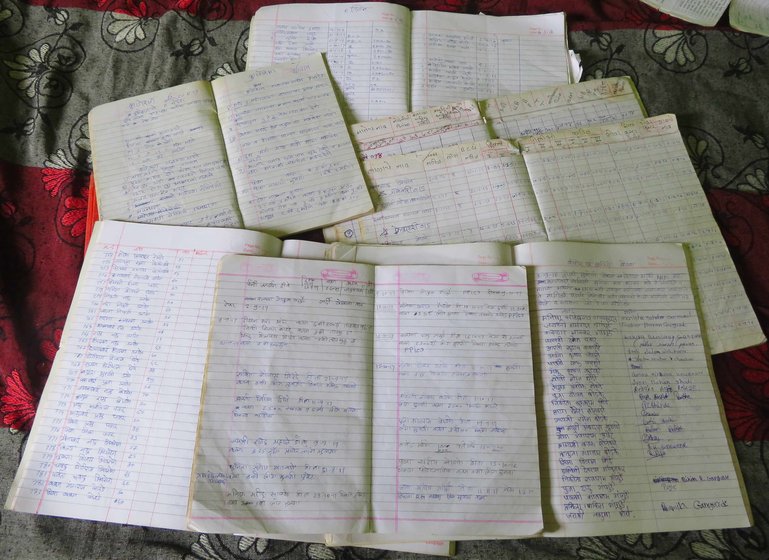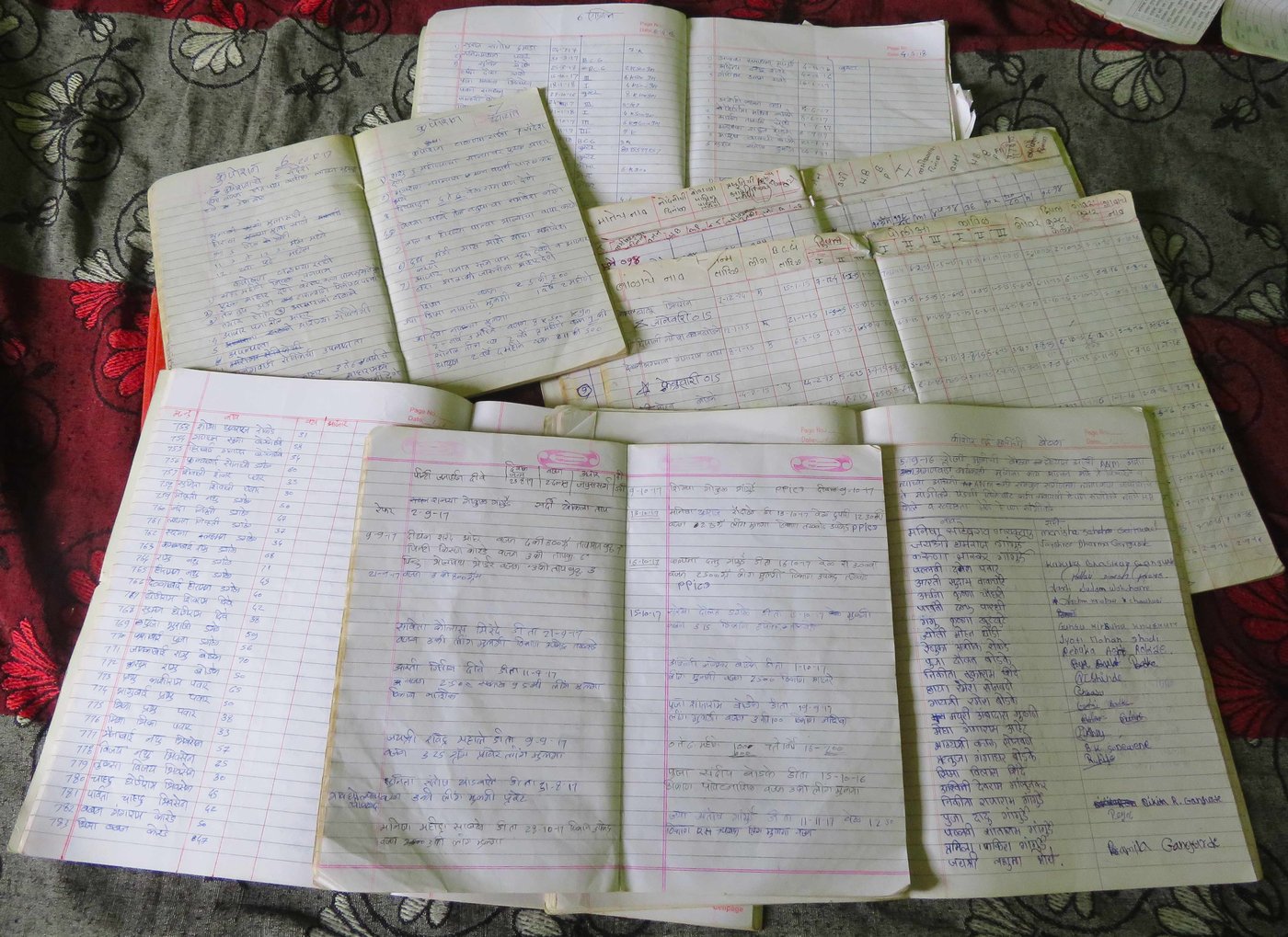 PHOTO • Jyoti Shinoli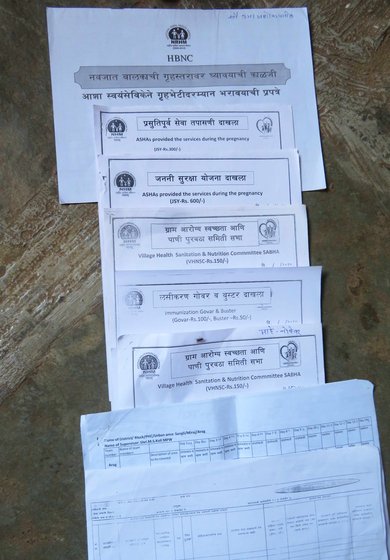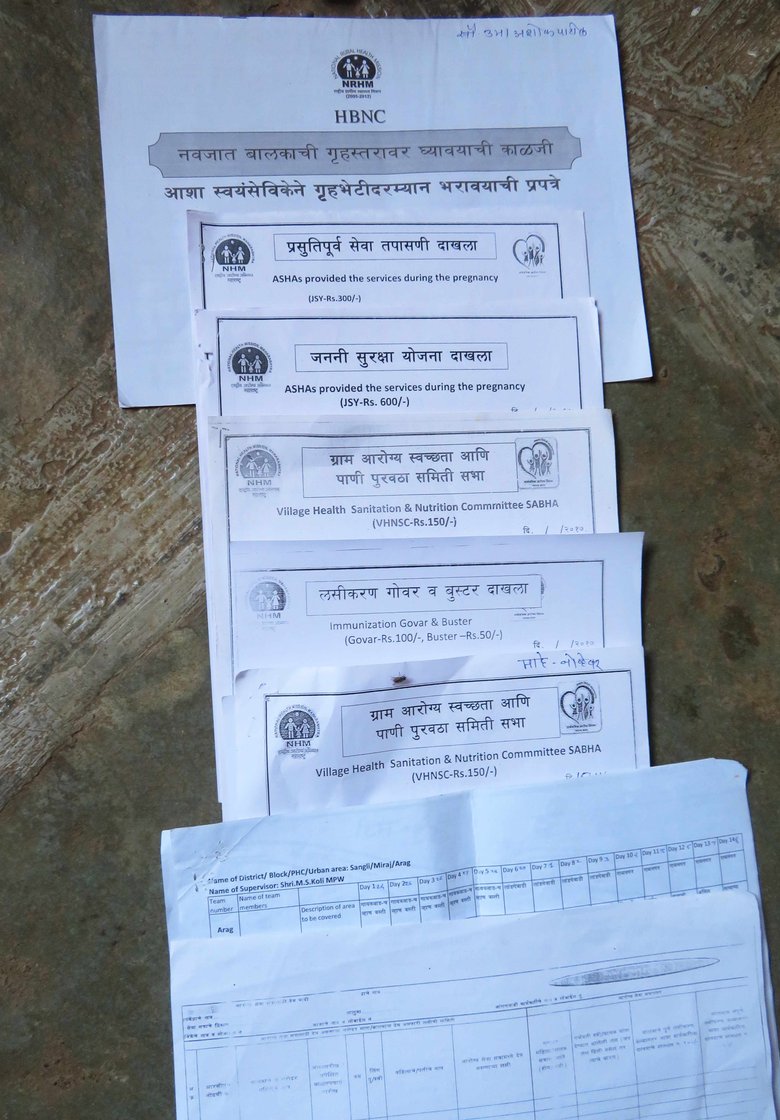 PHOTO • Jyoti Shinoli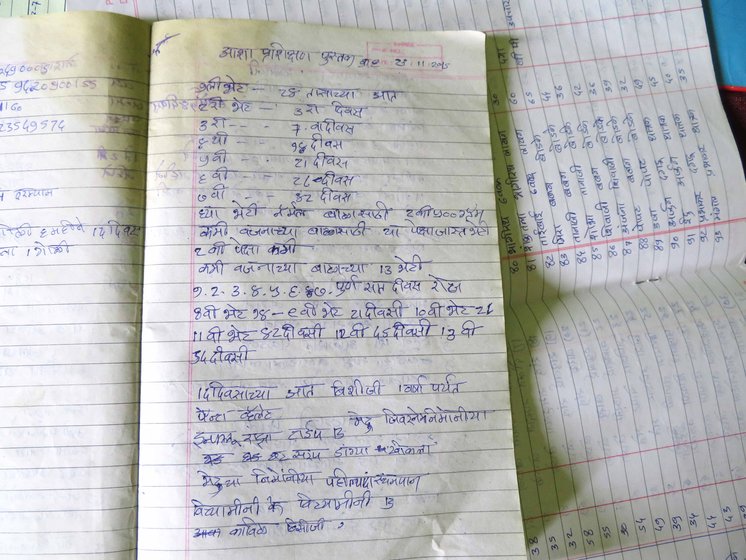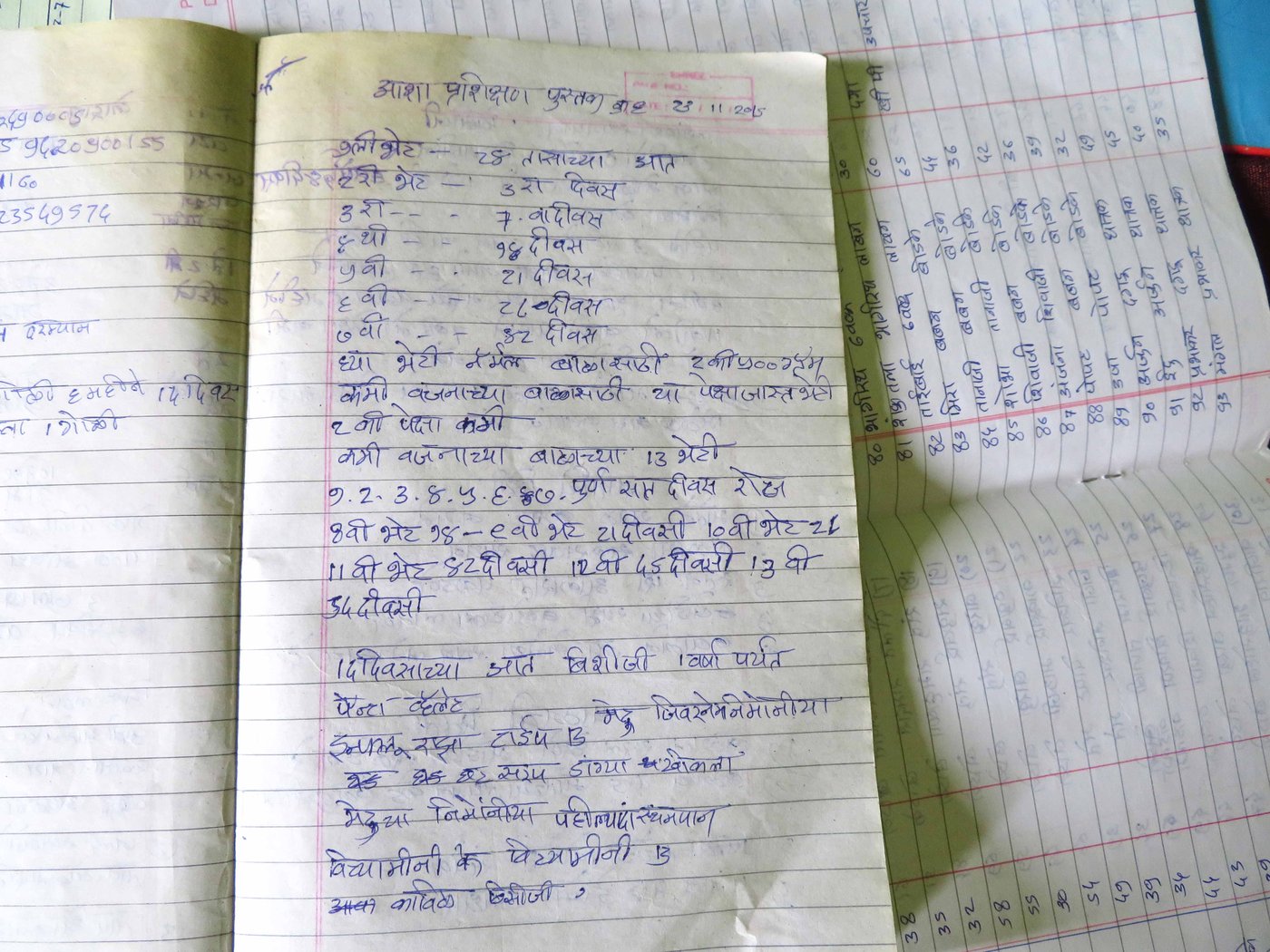 PHOTO • Jyoti Shinoli
Additionally, in those always piling-up notebooks, the health workers have to maintain data about all their visits, monitoring and surveys. "I earn Rs. 2,000 a month and spend around Rs. 800 on notebooks, xerox, travel and mobile recharge," Uma says. "We have to take the two photocopies of each original form. One we submit to the facilitator and the other remains with us. It costs Rs. 2 [to photocopy] each side..."
These forms are myriad – the Home-Based Newborn Care form, the Janani Suraksha Yojana's form for pregnant women, family surveys on toilets and sources of drinking water, data on leprosy – it goes on. And then there is the Village Health and Nutrition Day survey, which notes how many attended this monthly event, levels of hemoglobin checked, immunised children, malnutrition – it contains an exhausting total of 40 such details.
The copious data collected by Uma and other ASHAs is uploaded on the state government's NRHM site at the end of every month. Priyanka Pujari, 28, a facilitator at the Arag PHC, is struggling to update this site when I visit. The health centre has three single-floor buildings that house a lone computer, a doctor's cabin and sitting space for visitors, a laboratory for blood tests and a store room for medicines. Usually, one 'facilitator' monitors the work of 10 ASHAs and works at the PHC from 10 a.m. to 6 p.m. The PHC also has (at least on paper) a nurse, a visiting doctor and medical technicians.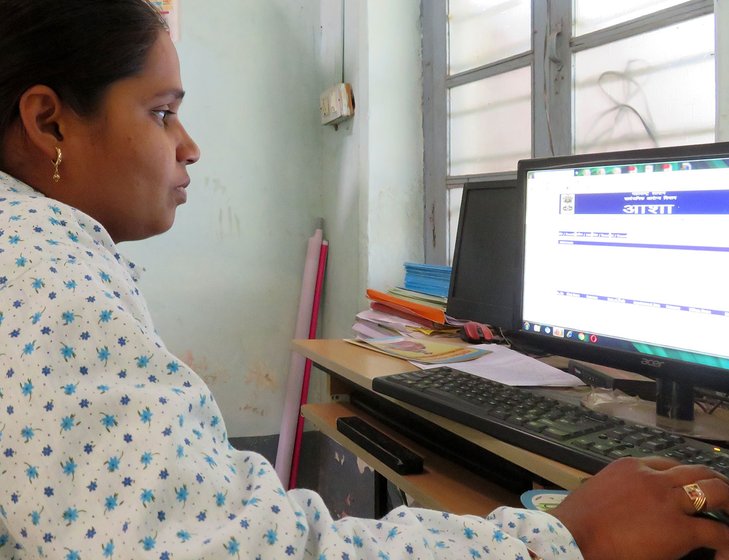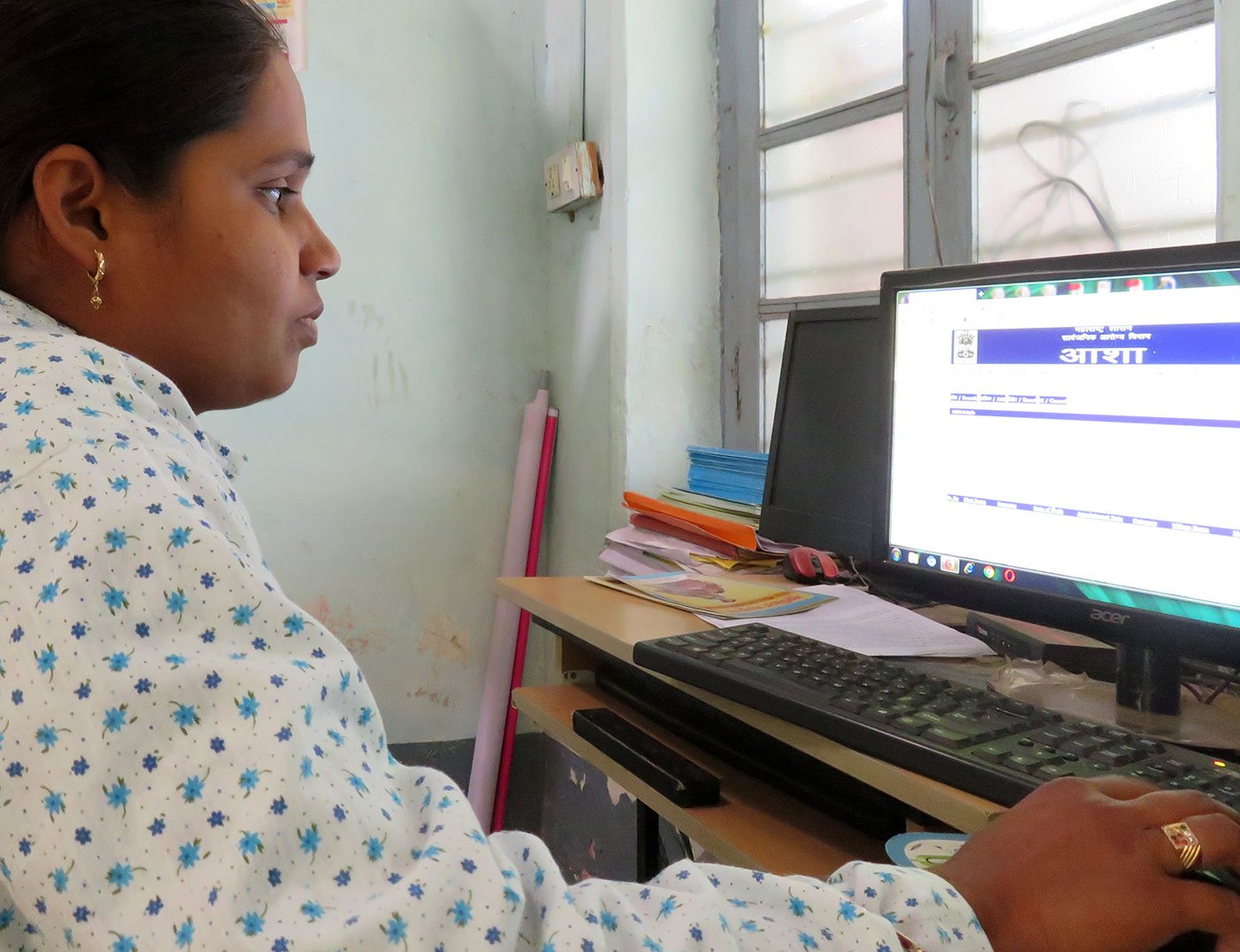 PHOTO • Jyoti Shinoli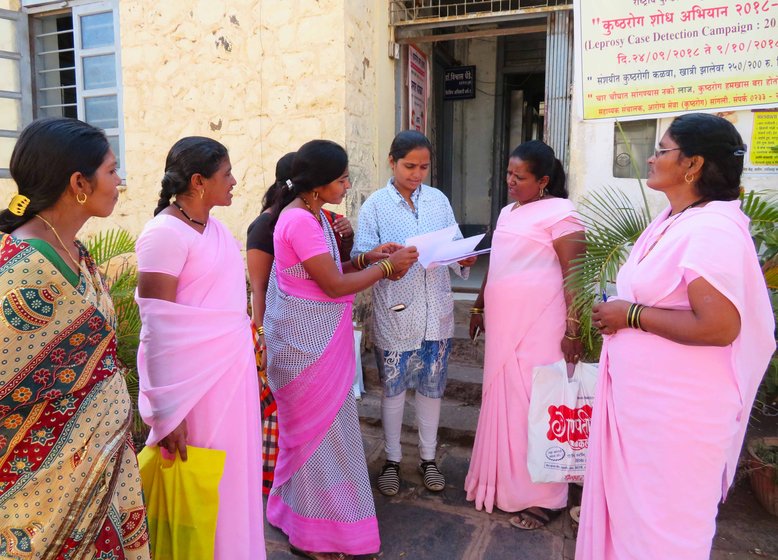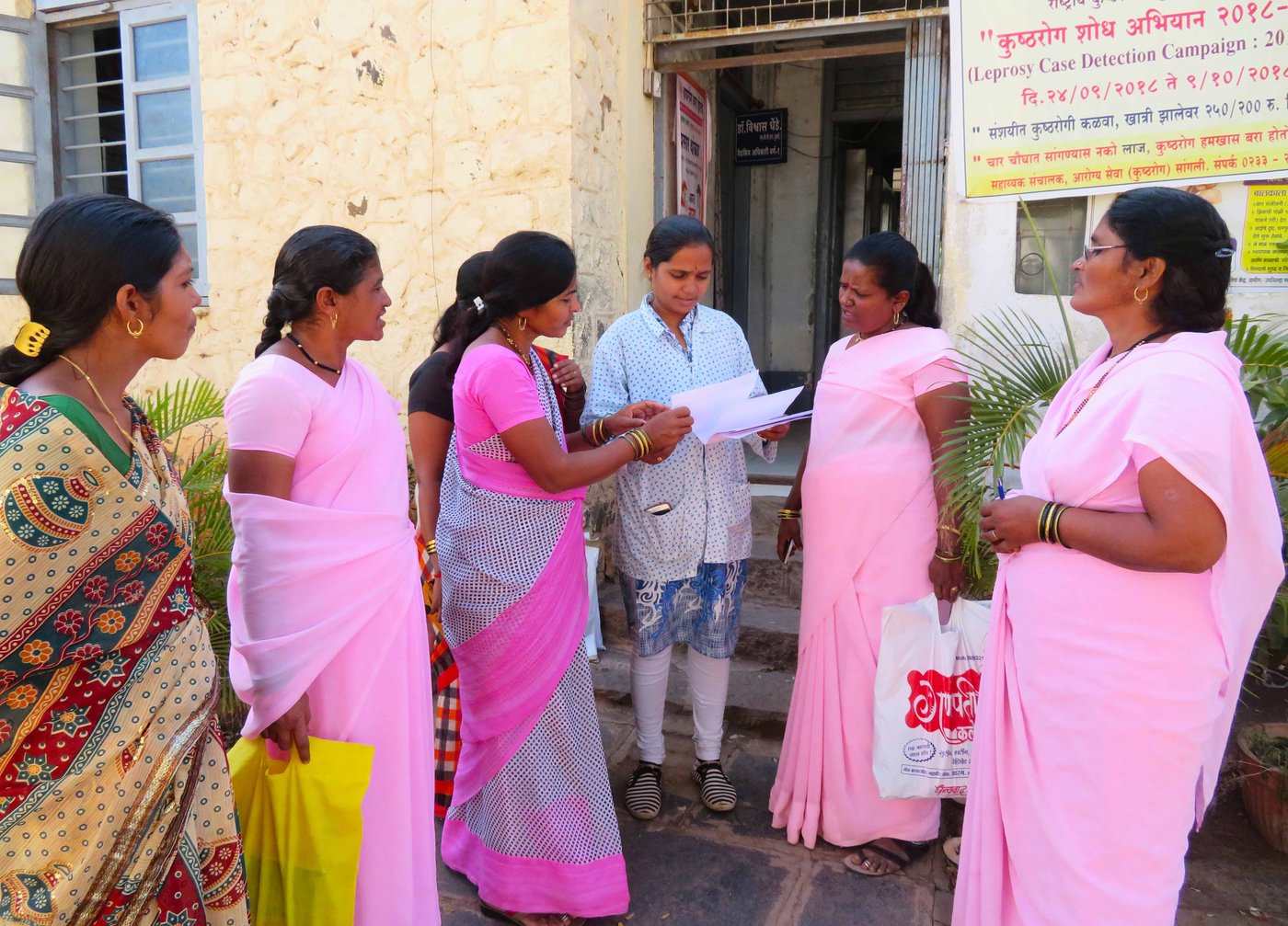 PHOTO • Jyoti Shinoli
"The ASHA site was down since April. It restarted in November. I am updating the data of the current month along with pending months. Often, due to load-shedding [power cuts] and poor internet connection, work stops," says Priyanka. She has been working as a facilitator for three years, after doing a BA and a diploma in Education. She comes to the PHC from her village, Lingnur, around seven kilometres away, by a scooty or a state transport bus. Her role includes supervising the work of ASHAs, holding monthly meetings and attending to people coming to the PHC.

Priyanka earns Rs. 8,375 a month – but only if she completes a minimum of 20 home visits for newborn and antenatal check-ups, and spends five days updating the ASHA site. "If we fail to complete 25 days in a month our payment gets deducted. Both ASHA and facilitator must present this work to Block Community Mobilisers  [health officials higher up the scale] in order to get paid."
During the monthly meetings at the PHC, Priyanka also voices the collective concerns of all the health workers. "But nothing happens," she says. "Recently, we got [only] this stationary kit with five notebooks of 50 pages, 10 pens, a pencil box, a 5 ml glue bottle and a ruler. How long will these last?"
A shortage of medical supplies is another recurring problem. "It's been three months since we received boxes of condoms and contraceptive pills. If someone comes to us in the night for medicines for fever, headache, backache, we don't have them," says Chhaya Chavan, 42, who averages Rs. 2,000 a month as 'honorarium'. Her husband Ramdas earns Rs. 7,000 working as a guard in a nearby sugar factory.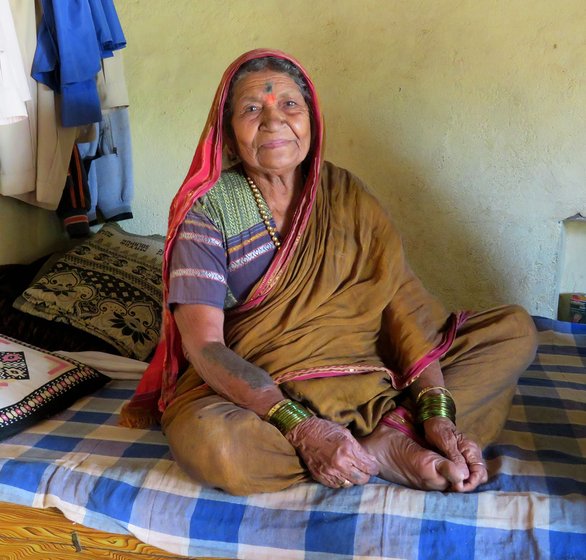 PHOTO • Jyoti Shinoli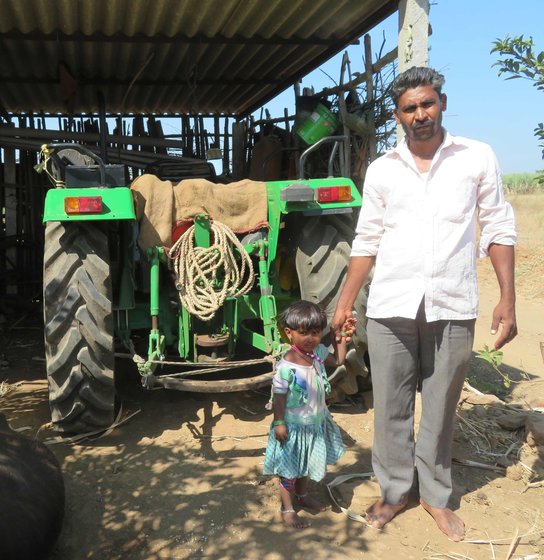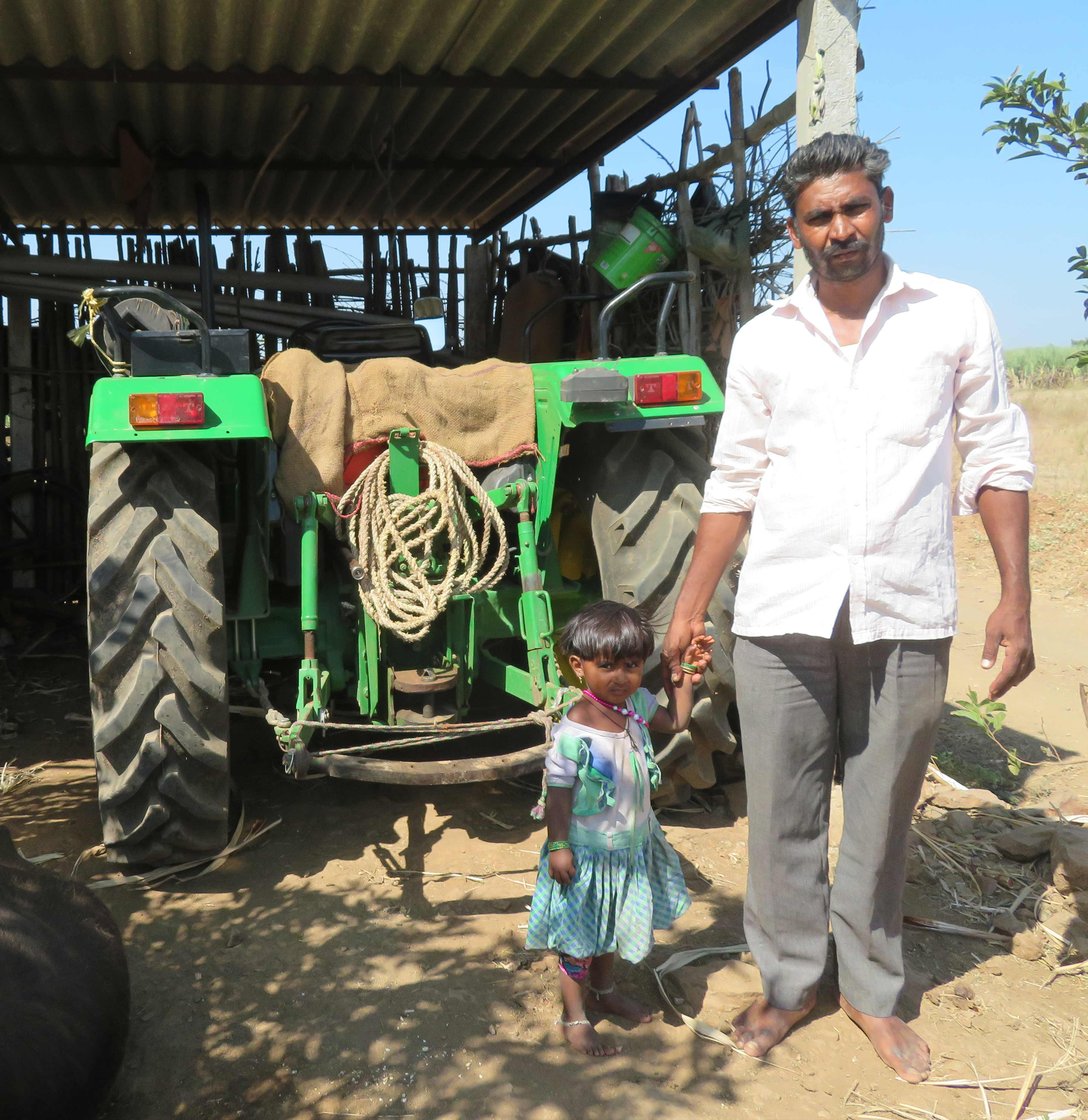 PHOTO • Jyoti Shinoli
And still, it is on these field workers that rural India's primary healthcare rests, it is they who contribute significantly to improving the country's health indicators. For example, the National Family Health Survey-4 notes that Maharashtra's infant mortality rate in 2015-16 declined to 24 deaths per 1,000 live births from 38 in 2005-06, and institutional deliveries increased to 90.3 per cent in 2015-16 from 64.6 per cent in 2005-06.
"ASHA acts as a bridge between the community and the public health system. Her role is vital to improving maternal and newborn health. Her constant home visits and regular communication about illness with the people act as precautionary measures," says Dr. Niranjan Chavan, gynaecologist-obstetrician at the public Lokmanya Tilak Municipal General Hospital in Mumbai.
And it is often the ASHA workers who are the first line of defence in any health-related situation. "Six months ago, in Laxmiwadi [three kilometres away], one person was detected with swine flu. The ASHA of that village immediately informed the Arag PHC," Uma recalls. "A team of doctors and supervisors went there and surveyed all 318 households in a day. We took the blood samples of anyone who had symptoms. There was no other case."
The villagers though recognise the difference ASHA workers have made.  "I had never seen a hospital until two years ago when I had a cataract operation," says an elderly Shirmabai Kore. "Uma guided us. She also looked after my daughter-in-law Shantabai for two years [in 2011-12] when she had tuberculosis. These young women [ASHAs] are ensuring the health of old people like me, youngsters and children. There was no such thing in my time. Who was there to guide us back then?" says Shirmabai.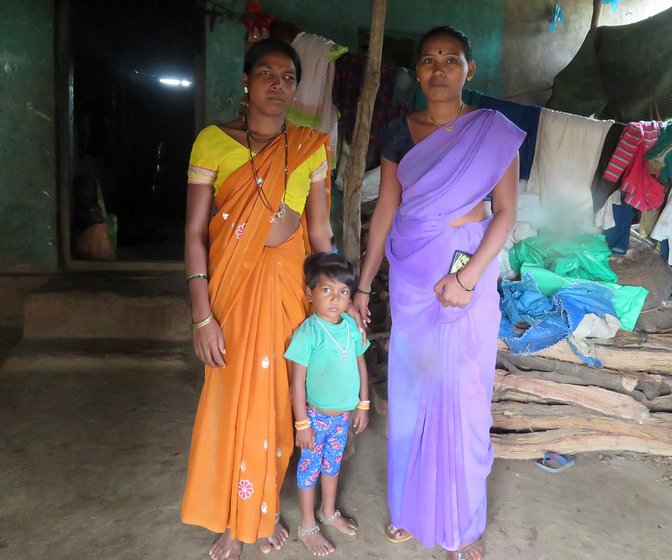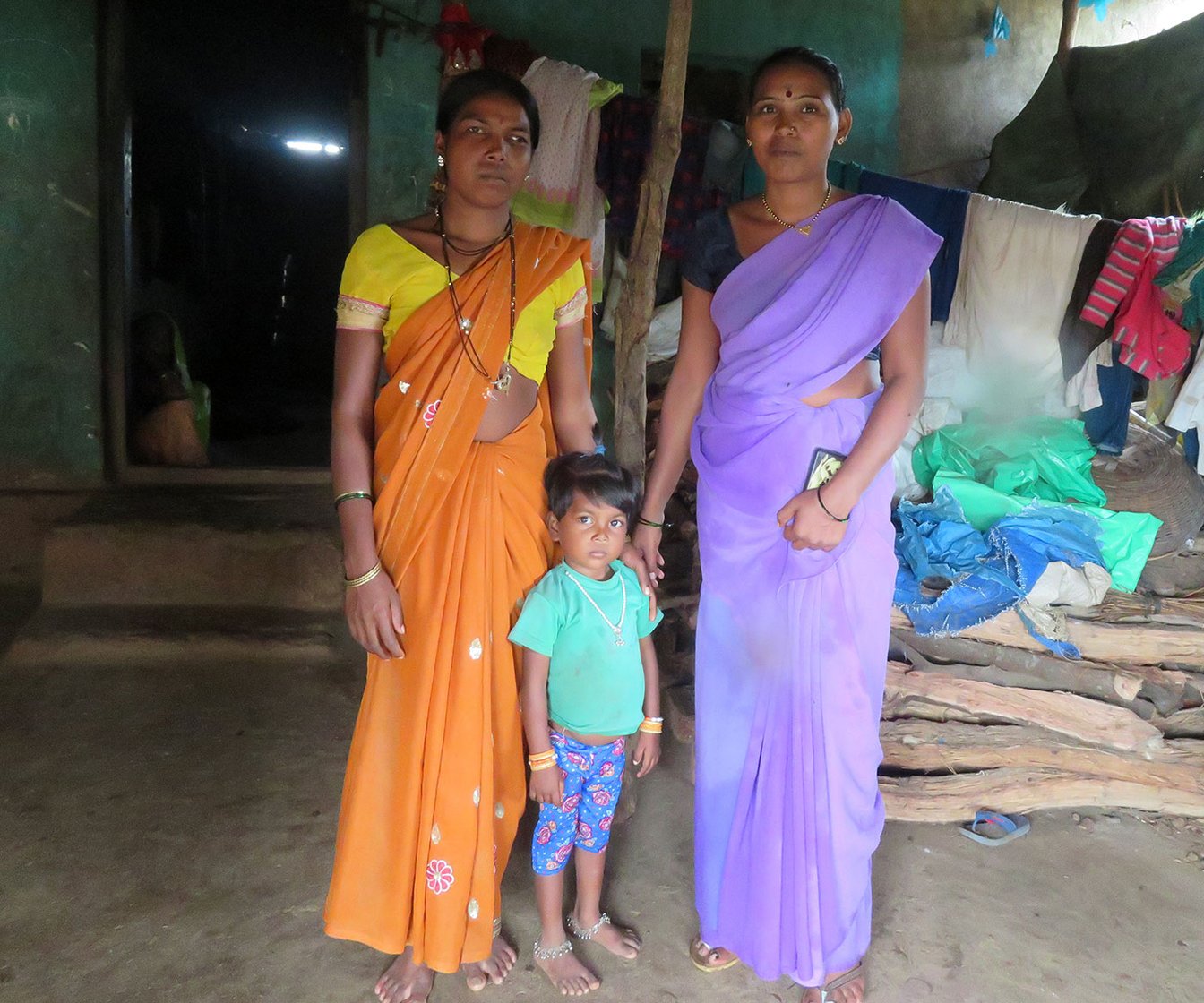 PHOTO • Jyoti Shinoli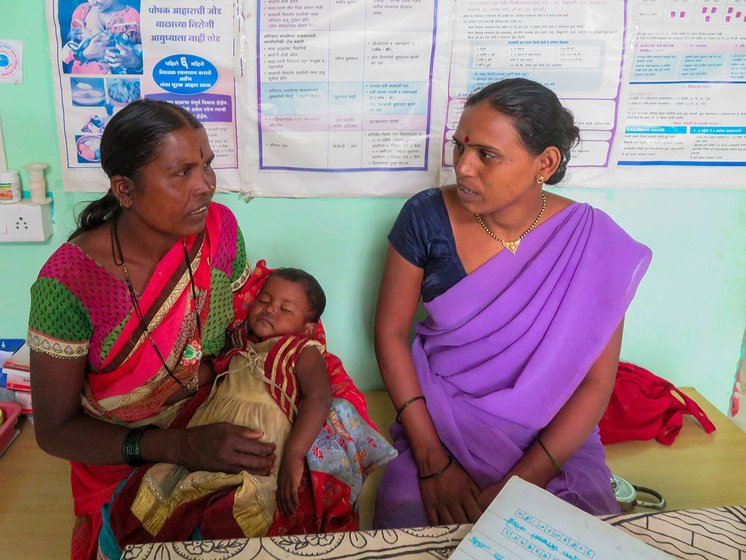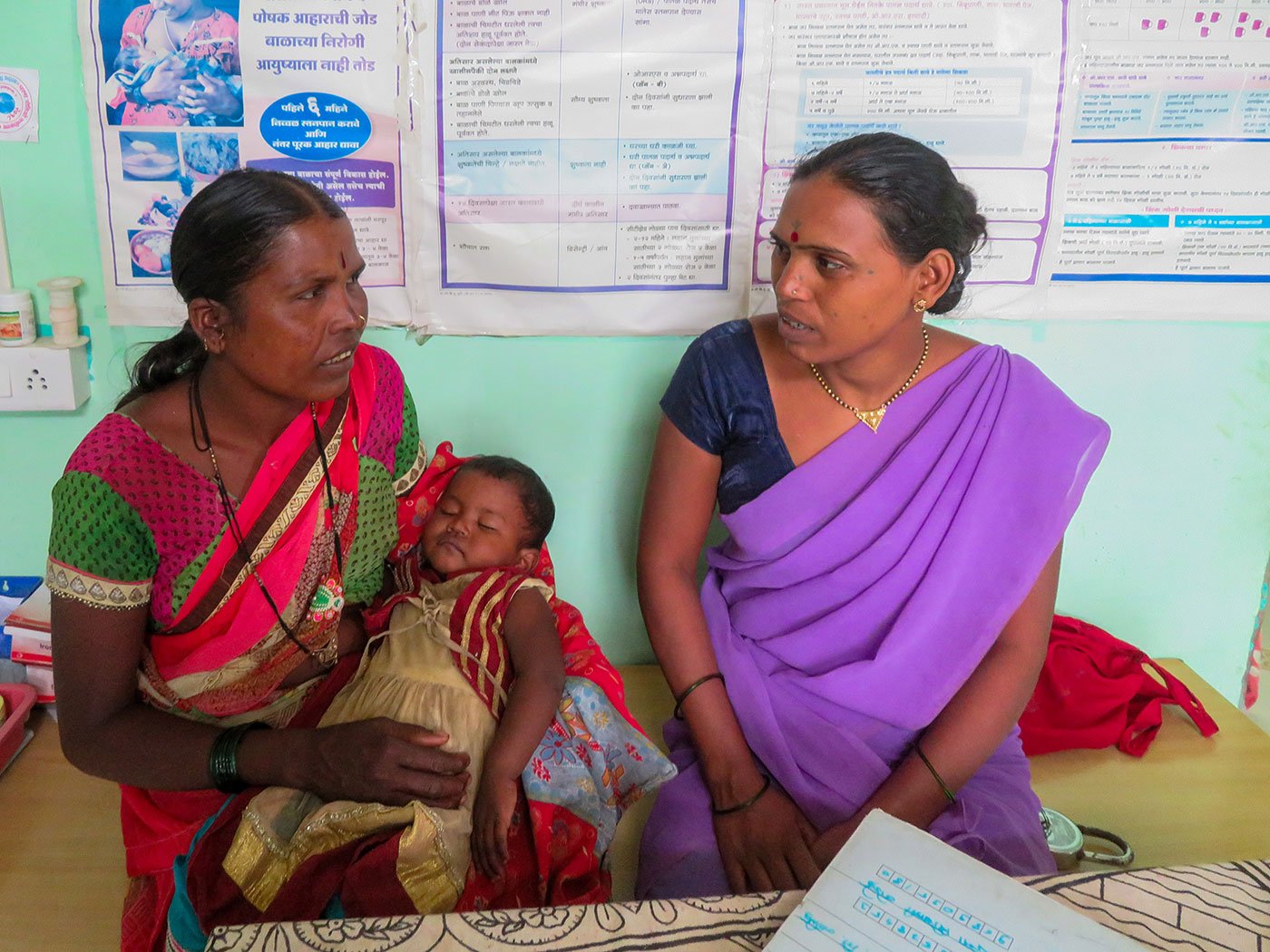 PHOTO • Jyoti Shinoli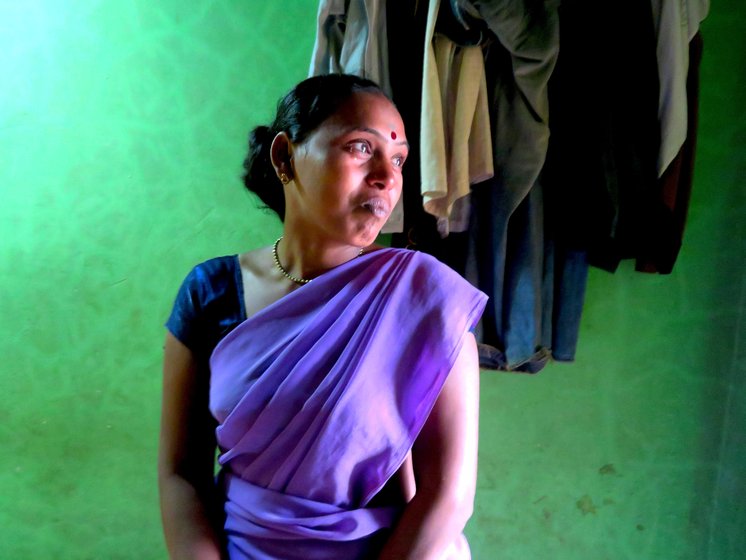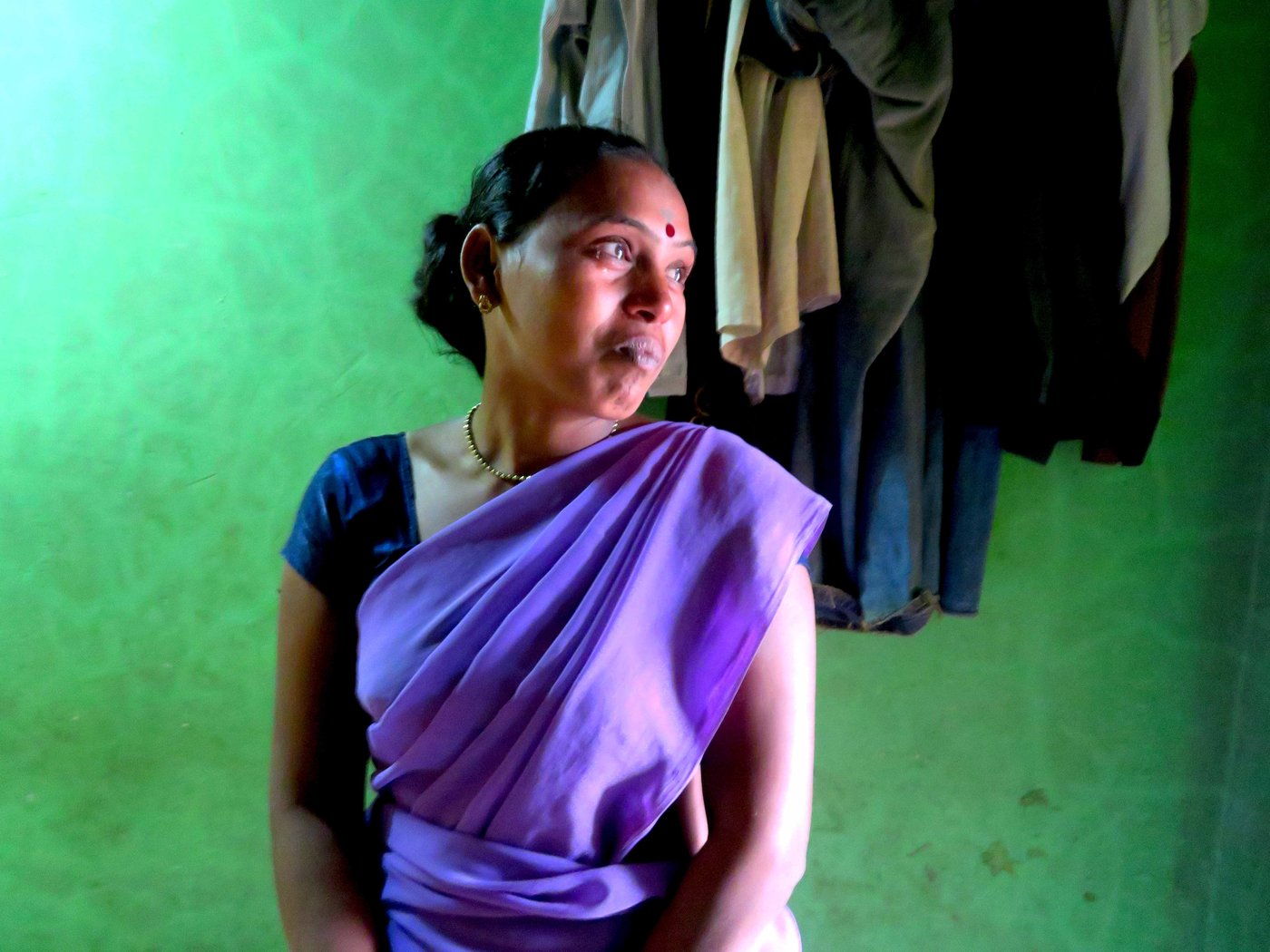 PHOTO • Jyoti Shinoli
Chandrakant Naik, a 40-year-old farmer in Arag, speaks of a similar experience. "Three years ago, when my four-year-old niece had a severe stomach ache and was vomiting, we didn't know what to do. I ran to Uma's house for help. She called an ambulance. We took her to the PHC…"
ASHA workers are used to handling such emergencies, usually spending their own money for immediate expenses. Chandrakala Gangurde, a 32-year-old ASHA in Talwade Trimbak village in Trimbakeshwar taluka of Nashik district, recalls an incident in 2015: "It was 8 p.m. when Yashodha Saure went into labour. We waited for an ambulance for nearly 45 minutes. Then I hired a private vehicle from a neighbouring bungalow owner. We took her to the civil hospital in Nashik [around 26 kilometres away]. I was there the whole night. She delivered a girl, who is now three years old."
Yashodha, 25, adds, "I am very thankful to Chandrakalatai. The hospital and doctor were out of our reach. But tai helped." For ensuring this 'institutional delivery', Chandrakala received Rs. 300 as honorarium under the central government's  Janani Suraksha Yojana (that aims to reduce maternal and infant mortality). She paid Rs. 250 to the owner of the vehicle and spent Rs. 50 on tea and biscuits.
During such situations, the ASHA worker sometimes has to stay overnight in the hospital, as Chandrakala did. This means no food, no place to rest. "In an emergency, who has the time to pack food? We have to rush leaving our children family behind. I was awake that whole night. I just lie down on the floor on a sheet next to the bed," says Chandrakala, whose also cultivates wheat or paddy, along with her husband Santosh, on their one-acre farm. "There is no such thing as a Sunday for us. We have to be alert all the time. Anyone can call me for help anytime."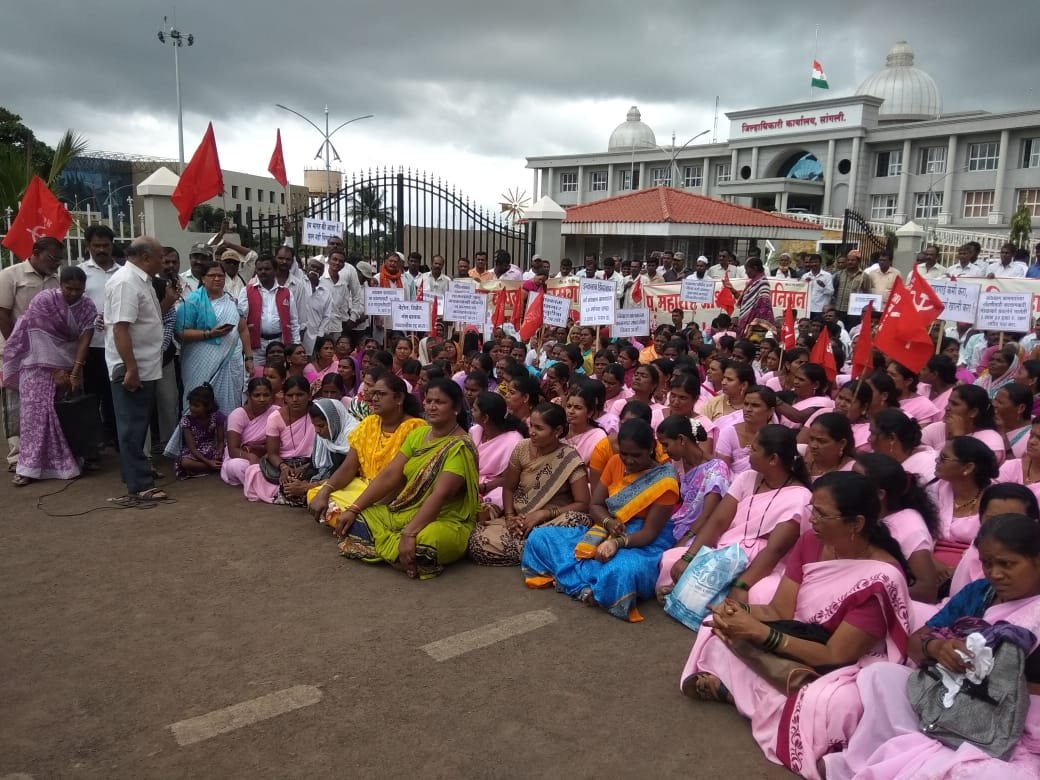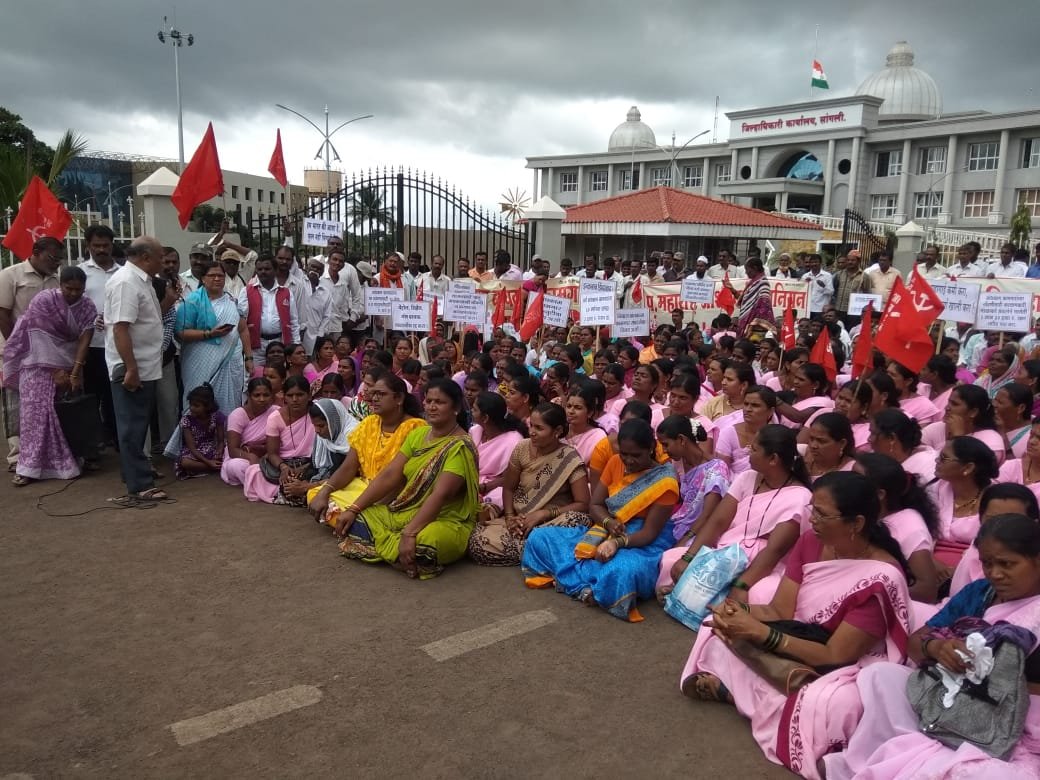 Chandrakala is among 10 ASHAs under the Amboli  PHC, where she goes for meetings twice a month, along with other health workers from the villages of Trimbakeshwar taluka . "They all speak of similar experiences. The ASHA worker herself is from a poor family. She herself struggles financially but works hard to keep the village healthy," Chandrakala says, in tears.
She, like other ASHA workers, wants an increase in the amounts paid to them. "It's not a huge demand. The honorarium should be doubled, travelling and other expenses should be paid. After giving all our life for the health of others, we can demand at least this much," Chandrakala says, her voice breaking.
There have been several agitations by ASHA unions and organisations, demanding that the government must hike their payments and address their other concerns. In September 2018, Prime Minister Narendra Modi announced an increase in the payment – or 'incentives' – for some recurring activities; for example, Rs. 300 instead of Rs 100  for maintaining the village health register.
But health activists and ASHAs have criticised this proposal. "Time and again, we have demanded a fixed [minimum] monthly salary of Rs. 18,000.  Along with insurance cover, pension, and making ASHAs permanent workers [with benefits]. Increasing the routine incentive is not going to solve the problem," says Sangli-based Shankar Pujari, president of a Maharashtra ASHA workers and health employee's organisation.
Meanwhile, in the Arag village PHC, Uma and others are speaking of a protest the ASHA workers are planning in Mumbai in January.  "One more agitation," Uma sighs. "What to do? ASHAs [the word ' asha ' means hope] survive only on hope."