Surendra Nath Awasthi spreads his arms in the direction of a horizon that lives on only in his memory. "All this, and all of that too," he says with a wide sweep and a small smile.
"We loved her. It is because of her that our wells had sweet water at just 10 feet. Every monsoon, she would ride up to our houses. Every third year she claimed a sacrifice – mostly small animals. One time though she took away my 16-year-old cousin. I was angry and hollered in her direction for days," he says. "But now, she has been angry for far too long... maybe the bridge did it," his voice trails off.

Awasthi stands on a 67 metre-long bridge, on a barely-there river called the Sai. The angry 'She.' Below the bridge is farmland – with freshly cut-off stubs of wheat in the riverbed and water guzzling eucalyptus trees swaying on the sides.

Awasthi's friend and associate Jagdish Prasad Tyagi, a retired schoolteacher remembers the Sai as "a beautiful river."

He speaks of the deep water eddies on the crests of which big fish would ride and create a spectacle. The fish he still remembers are eddy machli , rohu , eels, puffers, etc. "When the water began to dry out, the fishes disappeared," he says.

There are other fond memories. Malti Awasthi, 74, who was the village sarpanch from 2007-12, recalls how the Sai rode right up to the courtyard of her home, some 100 metres from the riverbed. On that vast courtyard, every year the villagers would organise a communal ann parvat daan (gifts of mounds of grains) for families that had lost their crops to the river's fury.

"Now that feeling of community has gone. The taste of those grains has gone. The water in the wells has gone. The livestock suffer as much as we do. Life is tasteless," she says.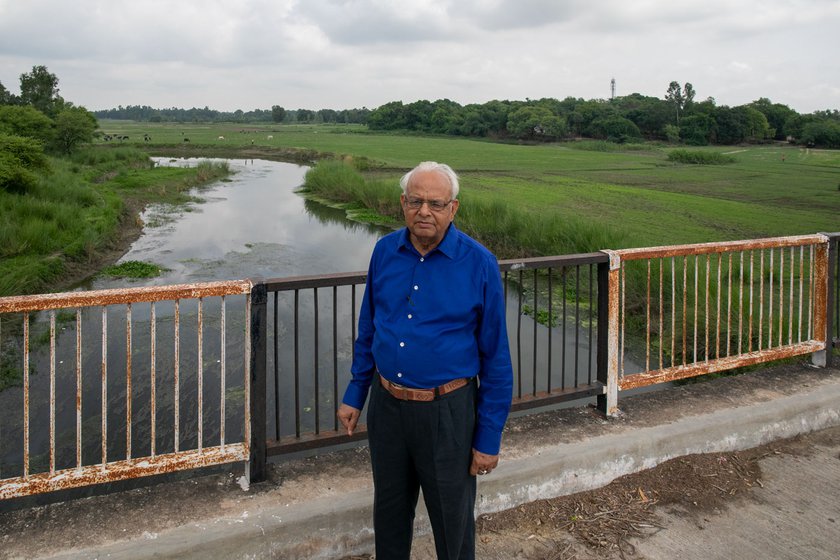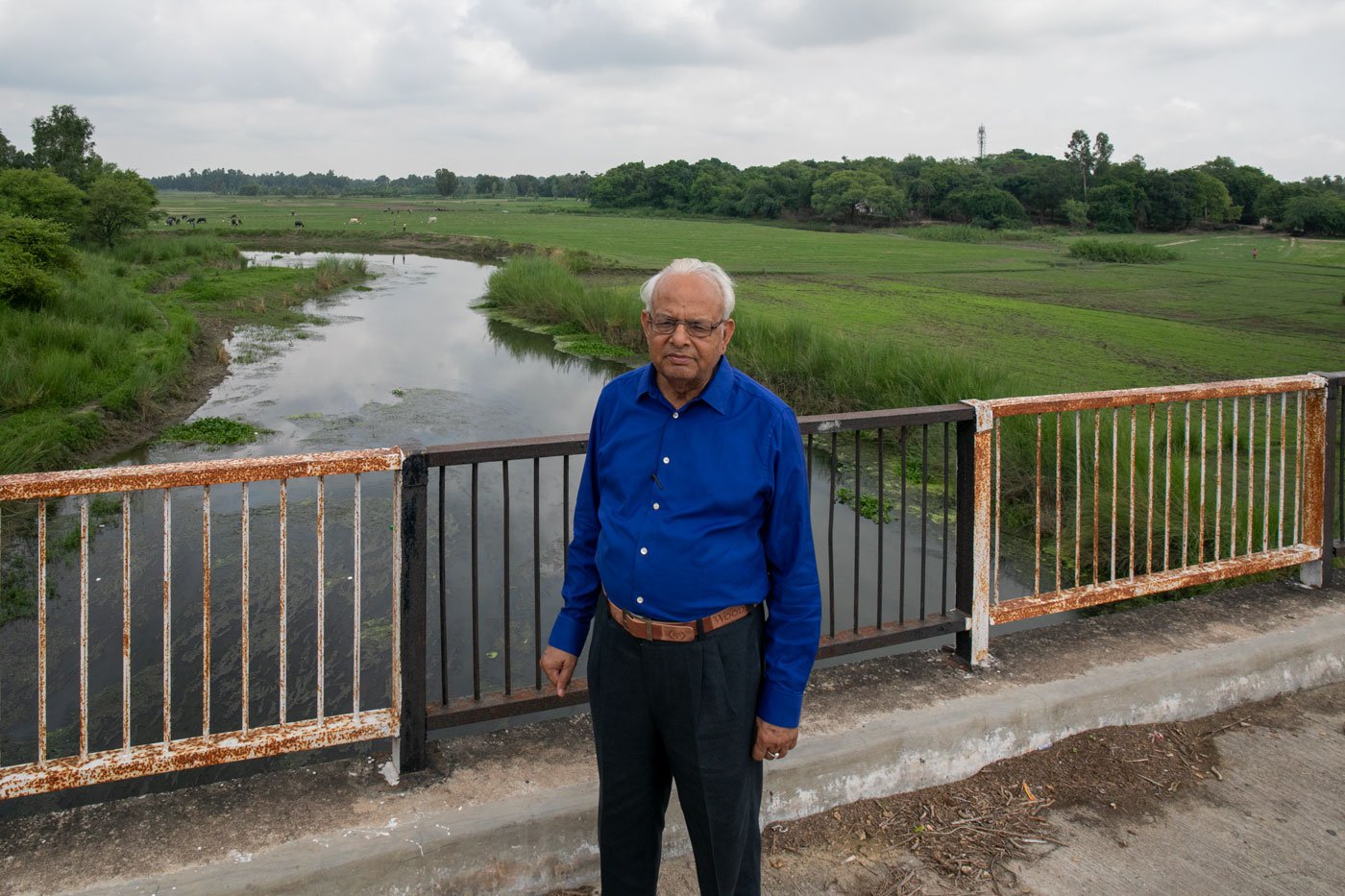 PHOTO • Pawan Kumar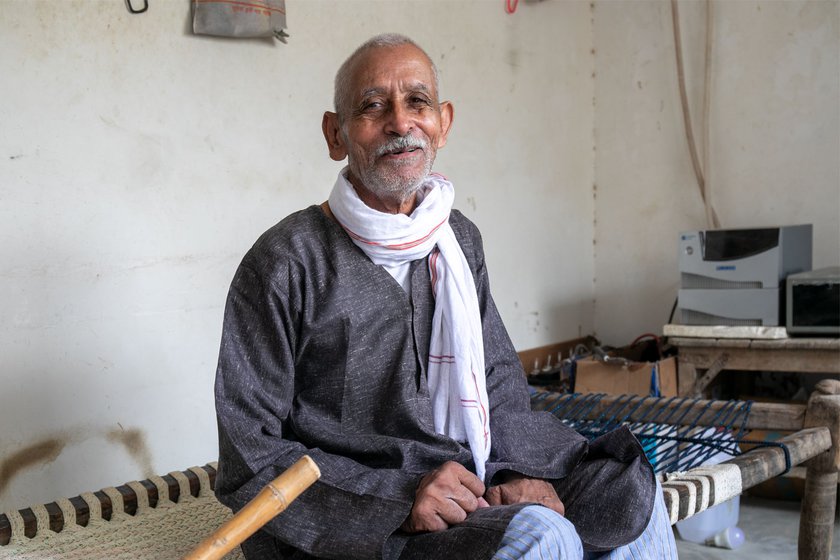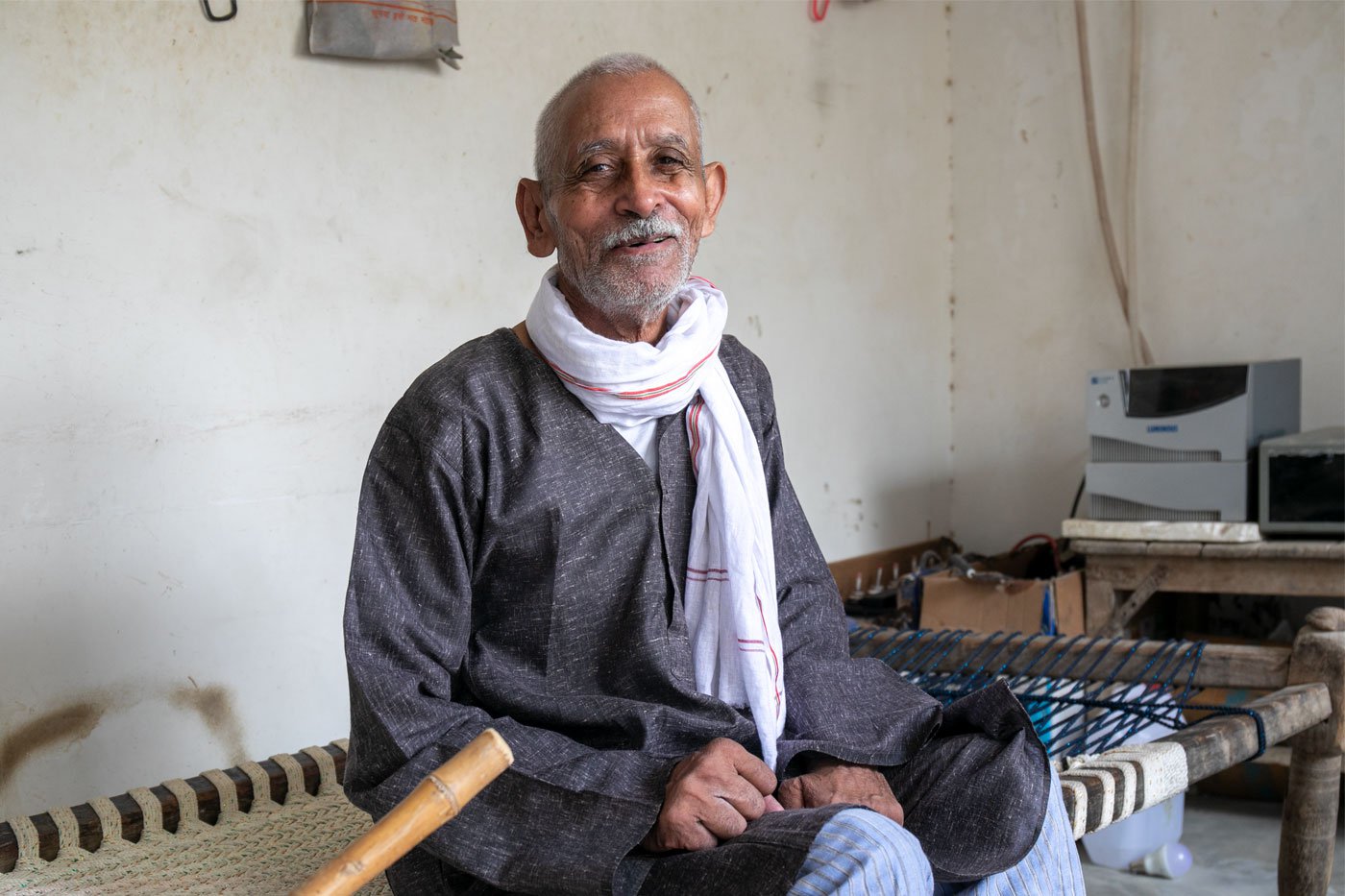 PHOTO • Pawan Kumar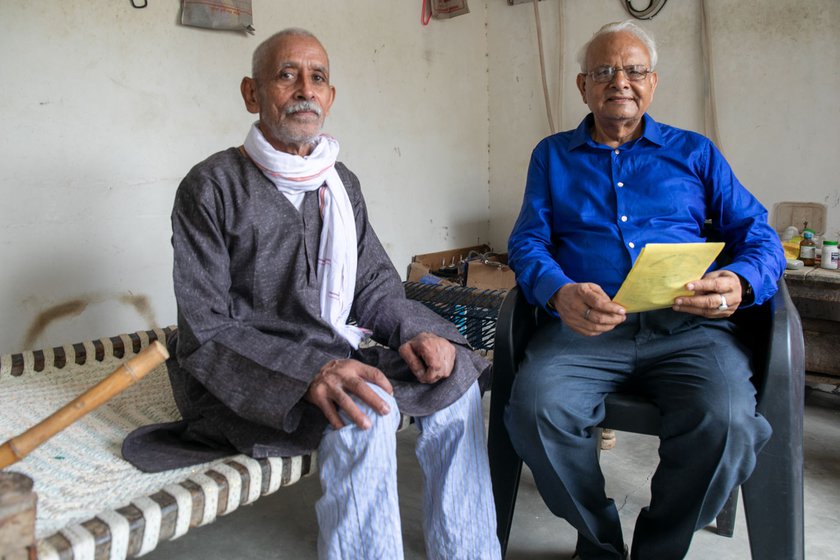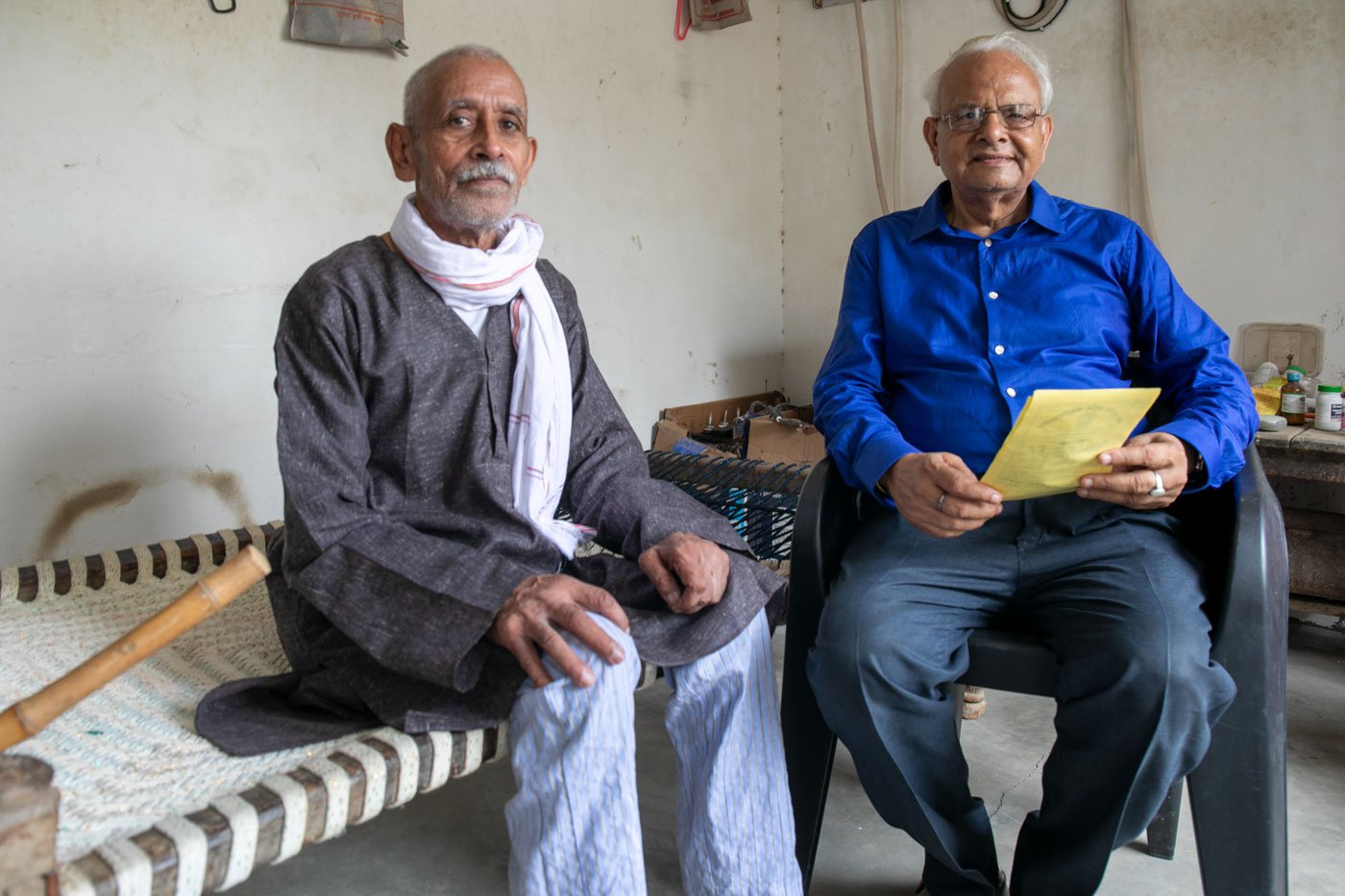 PHOTO • Pawan Kumar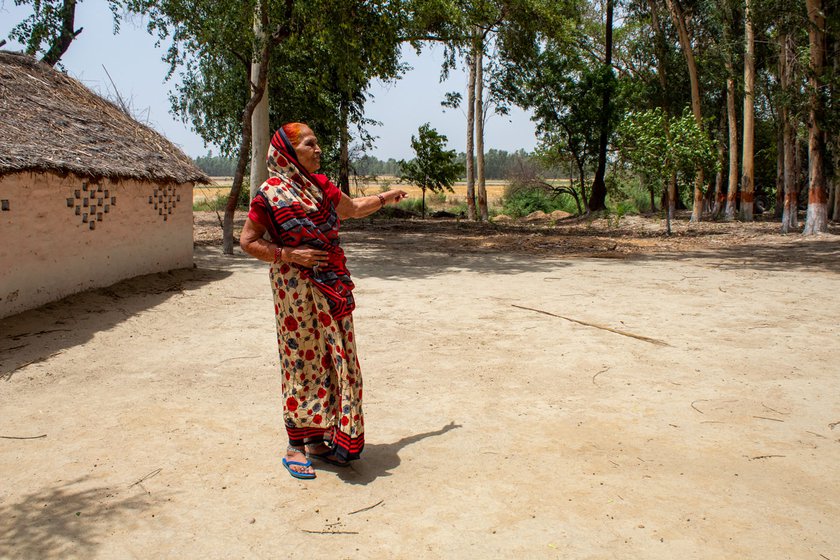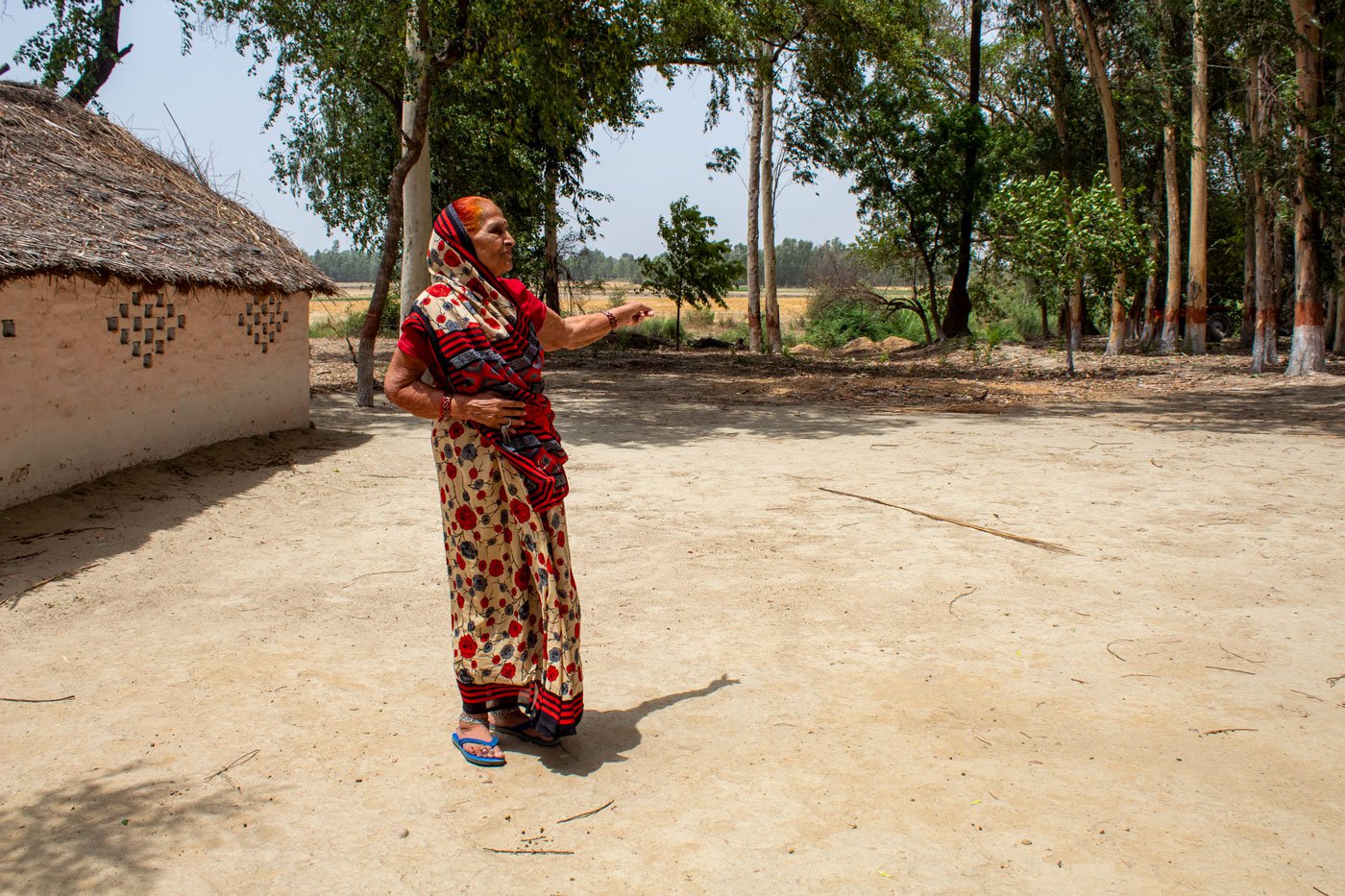 PHOTO • Rana Tiwari
The Sai is a tributary of the river Gomti. It holds a lofty place in Indian mythology. In the Ramcharitramanas (the 16th century epic which literally means the Lake of the Deeds of Lord Ram) penned by Goswami Tulsidas, it is referred to as Adi Ganga — that which came before the Ganga.
The river rises from a pond in the village of Bijgawan in Pihani block of Uttar Pradesh's Hardoi district. In its initial 10 kilometres it is called jhabar (pond), before it takes its more popular name. It travels about 600 kms to form a boundary between the districts of Lucknow and Unnao. The state capital Lucknow is some 110 kms north of Hardoi while Unnao district is 122 kms away.

From its origin to its confluence with the Gomti, a tributary of the Ganga, in Rajepur village of Jaunpur district, the Sai measures approximately 750 kms. That great length is caused by its meandering nature.

Hardoi, a district measuring roughly 126 kms in length and 75 kms in width, is shaped like an irregular quadrilateral. It is home to 41 lakh people. Most of its workers perform agricultural labour, others are cultivators and household industry workers.

According to Hardoi A Gazetteer , Being Volume Xli Of The District Gazetteers Of The United Provinces Of Agra And Oudh , published in 1904, the valley of Sai " extends over the central portion of the district."

The gazette notes: "The area under cultivation in Hardoi is fertile but [...] broken up by many shallow depressions, frequent stretches of barren tisar ... scattered patches of dhak and scrub jungle … . [it] forms the valley of the Sai."

Awasthi, now 78 and a medical doctor (anaesthetist), was born in Parauli, a hamlet in the village of Kursath Buzurg in Madhoganj block. The hamlet is about 500 metres from the bridge, on which he now stands.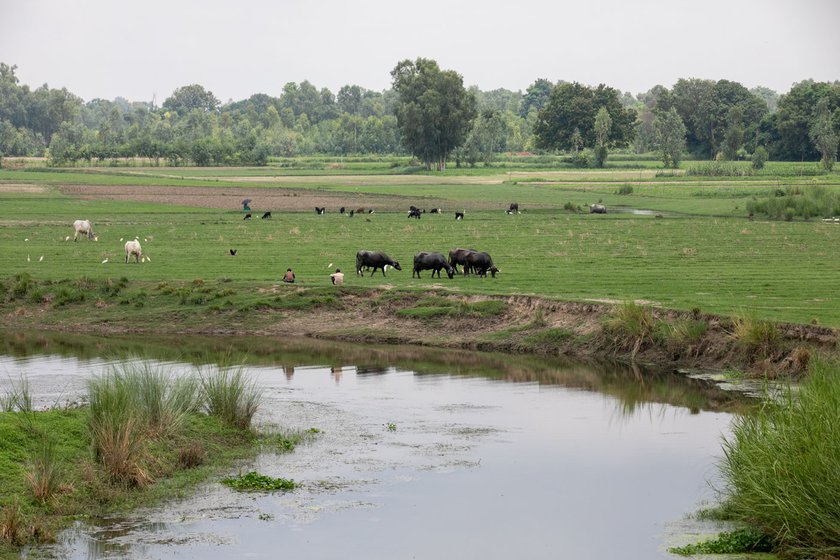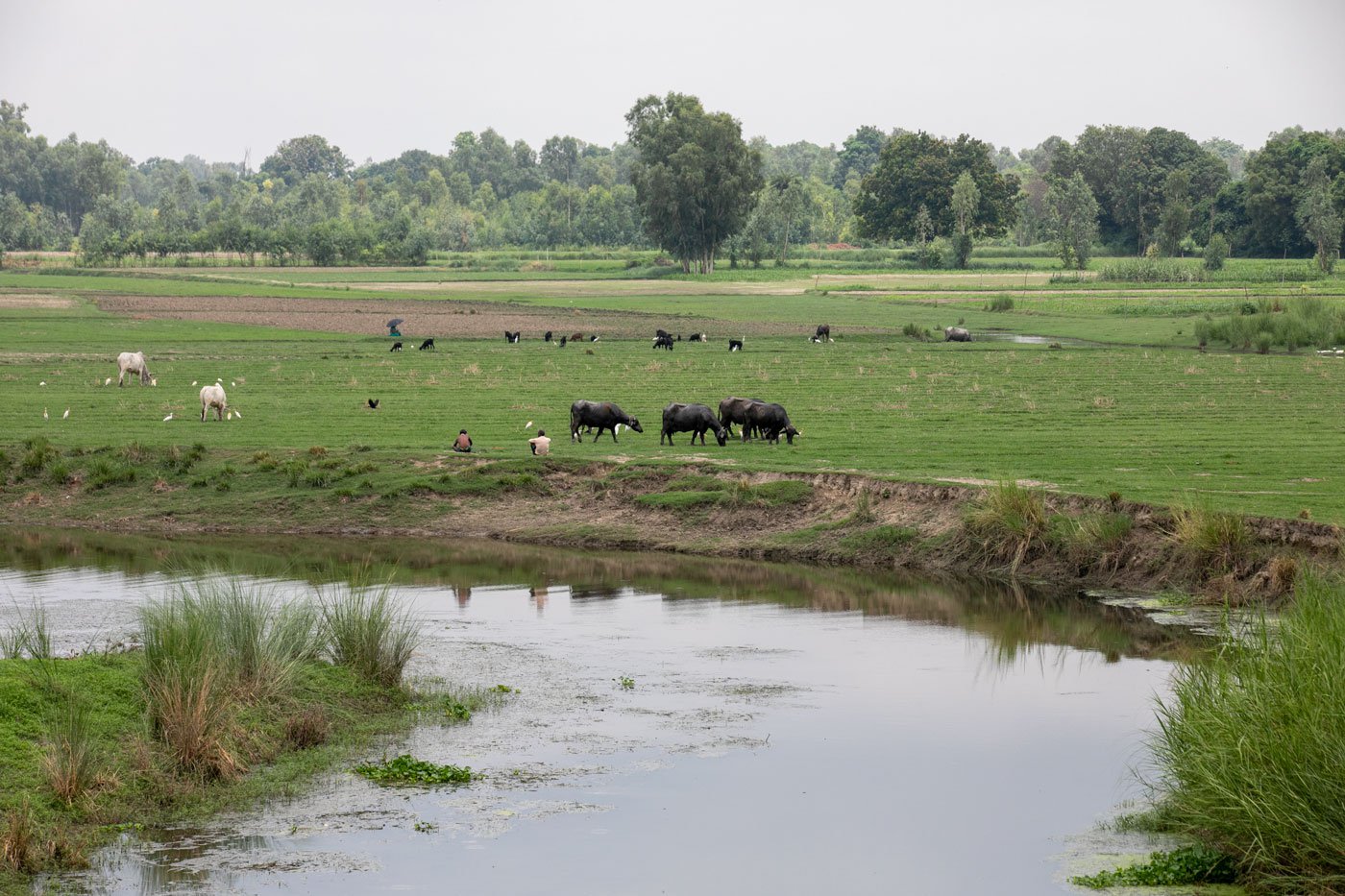 PHOTO • Pawan Kumar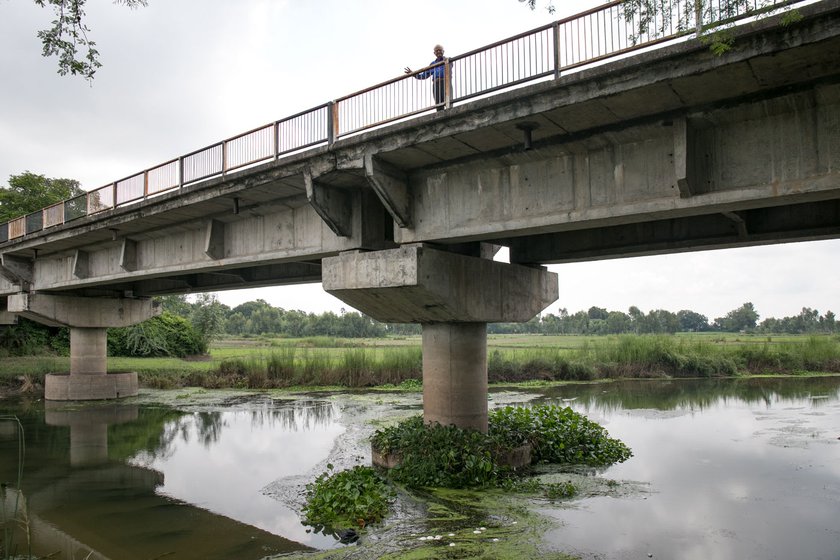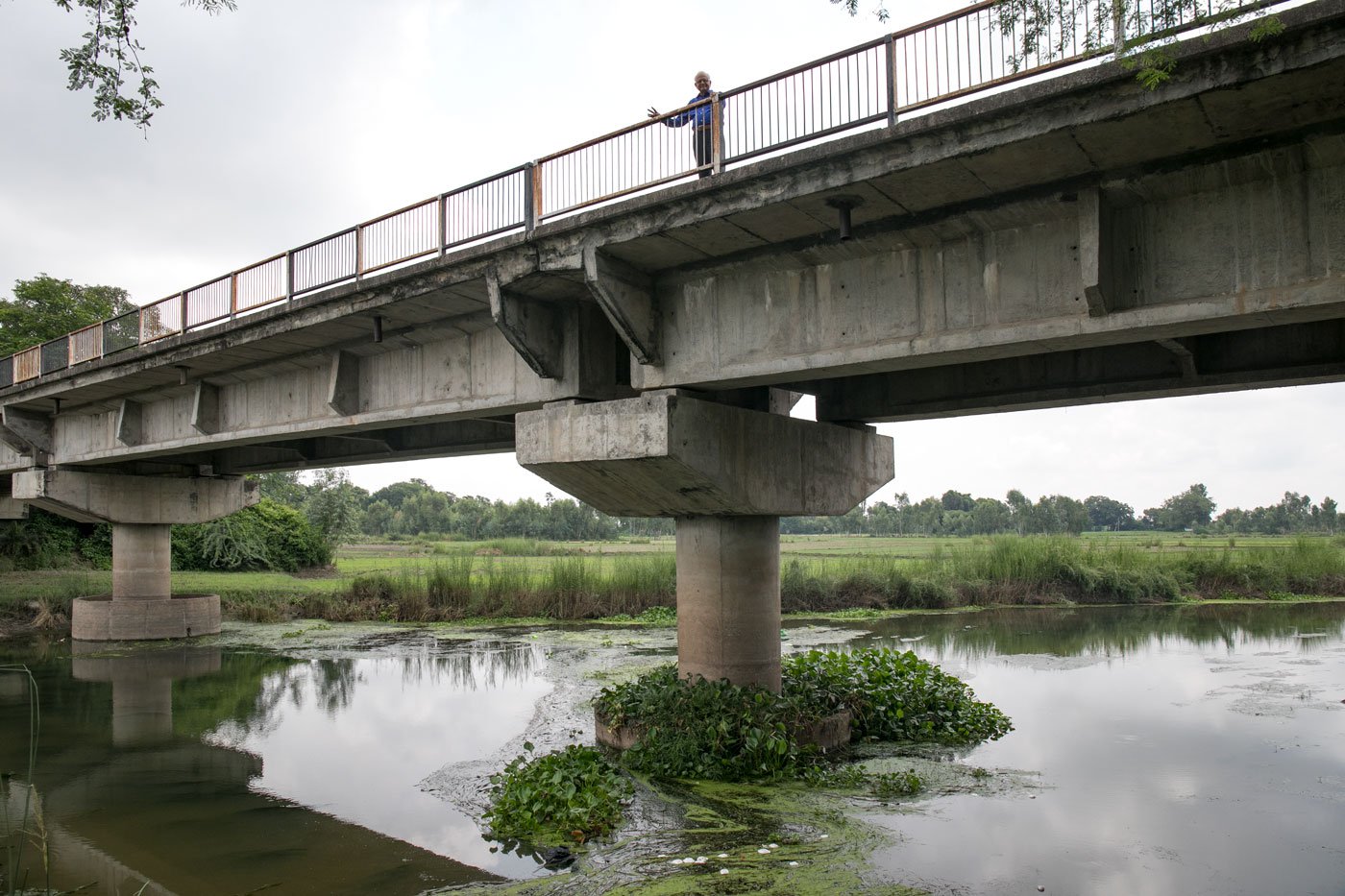 PHOTO • Pawan Kumar
The 2011 Census records the population of Kursath Buzurg as 1,919. Parauli has a population of 130 consisting mainly of Brahmins with a sprinkling of Chamars (Scheduled Castes) and Vishwakarmas (Other Backward Castes).
The bridge Awasthi stands on is between the villages of Parauli and Band, the latter sited in Kachhauna block. Kachhauna was (and is) an important market area – to which farmers carry their produce for trade and purchase fertilisers. In the absence of a bridge, the distance between Kursath Buzurg and Kachhauna was 25 kms. With a bridge that was whittled down to 13.

Between the railway stations of Kursath and Kachhauna (now known as the Balamau junction) there was a railway bridge, also used by people. Old timers remember camels for trade traversing the bridge, made of wooden planks. But in 1960, an unusually fierce monsoon caused that bridge to fall – thus cutting off the only quicker route (10 km) between the two places.

The idea of a new bridge first came to Tyagi, then a primary school teacher in Sardar Nagar village of Madhoganj block. He lived in what is today the town of Azad Nagar, some three and a half kms from Parauli.

Tyagi is not the 1945-born former teacher's family surname. That name is Singh. The name Tyagi – from tyag , the Hindi word for sacrifice – was bestowed on him as he was willing to go to any length to better things for his people. When he retired in 2008, he was the headmaster of the junior high school where he began his career.

"I was born into a very poor family, but that never dampened my will to do good," says Tyagi, now so weakened with age that he finds it difficult to walk. Once, both his family's buffalos fell into a deep pit on Azad Nagar's main village road. Through some heavy pushing and pulling, he got them out, Tyagi was struck by his father Mohan Singh's moan. "Will there ever be a time when it will be safe to walk in these lanes?"

"That triggered something in me, and I started to fill up the pit. It was six feet deep and more than double that in length. Every morning before going to school and upon my return I would fill up the pit with earth from the banks of a nearby pond called keechad ka tal [the pond of mud or slime]. Then from one pit I moved to the next. Others joined in," Tyagi says.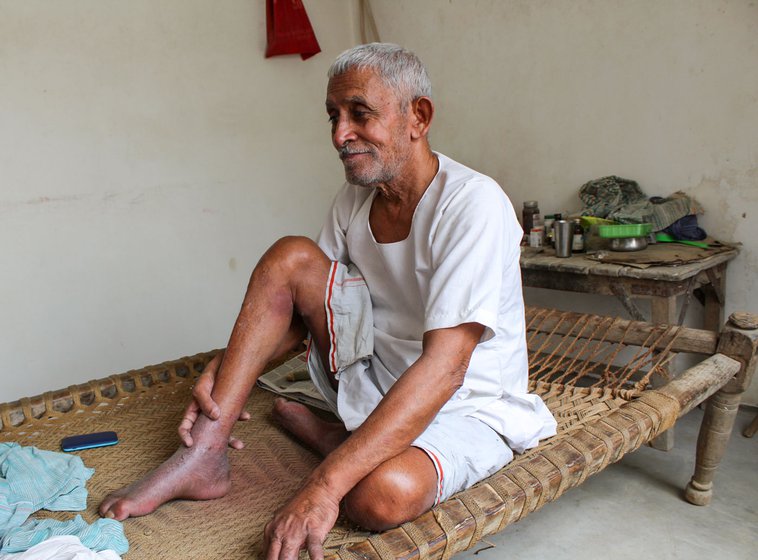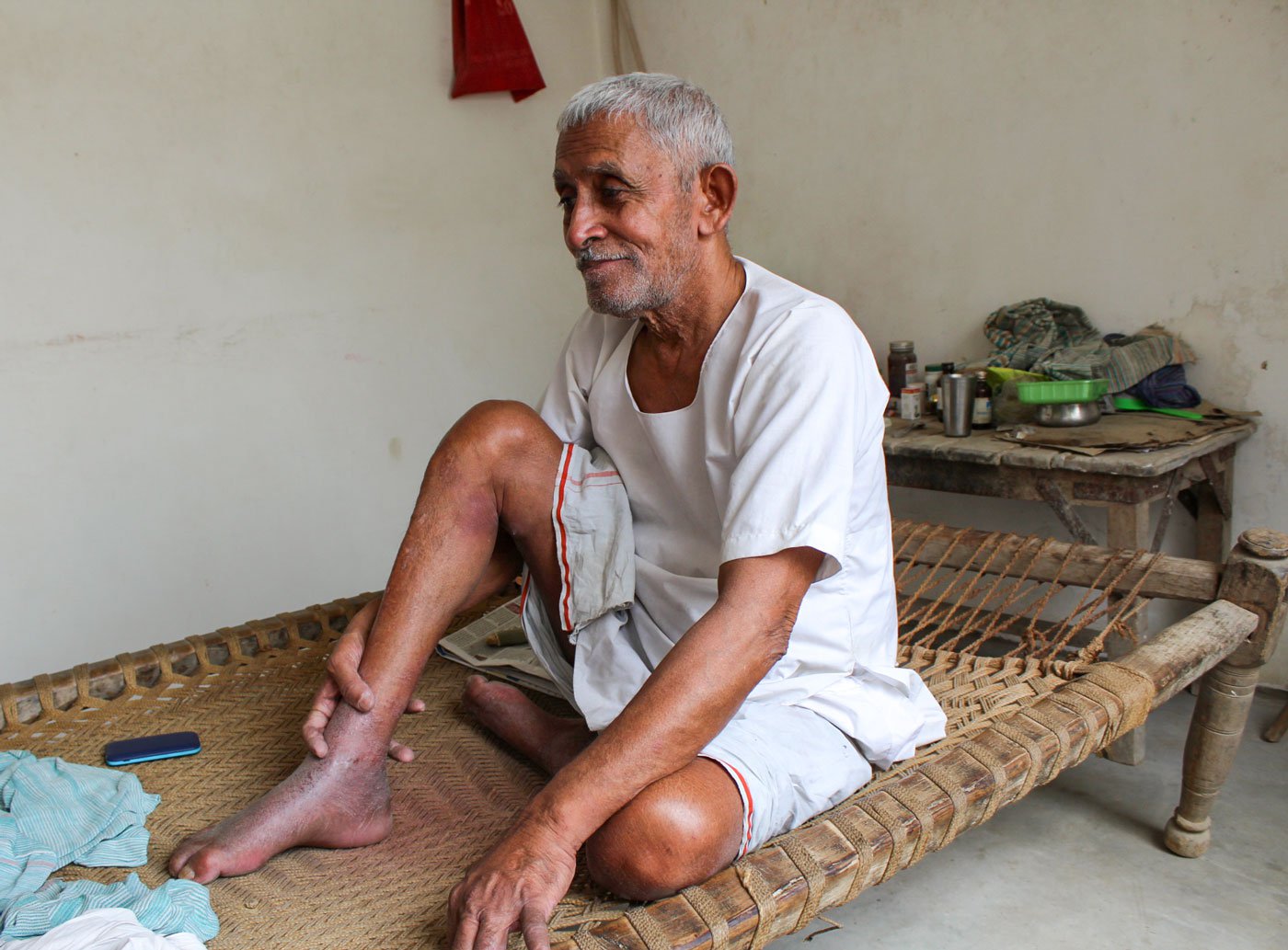 PHOTO • Rana Tiwari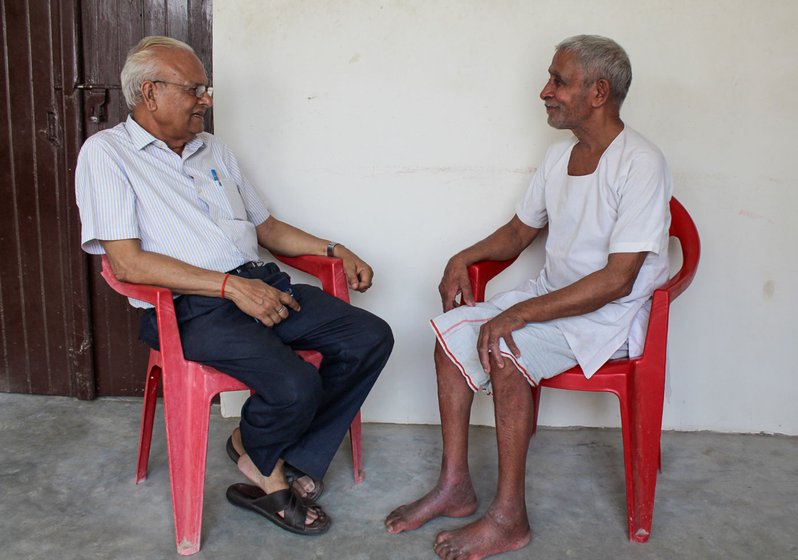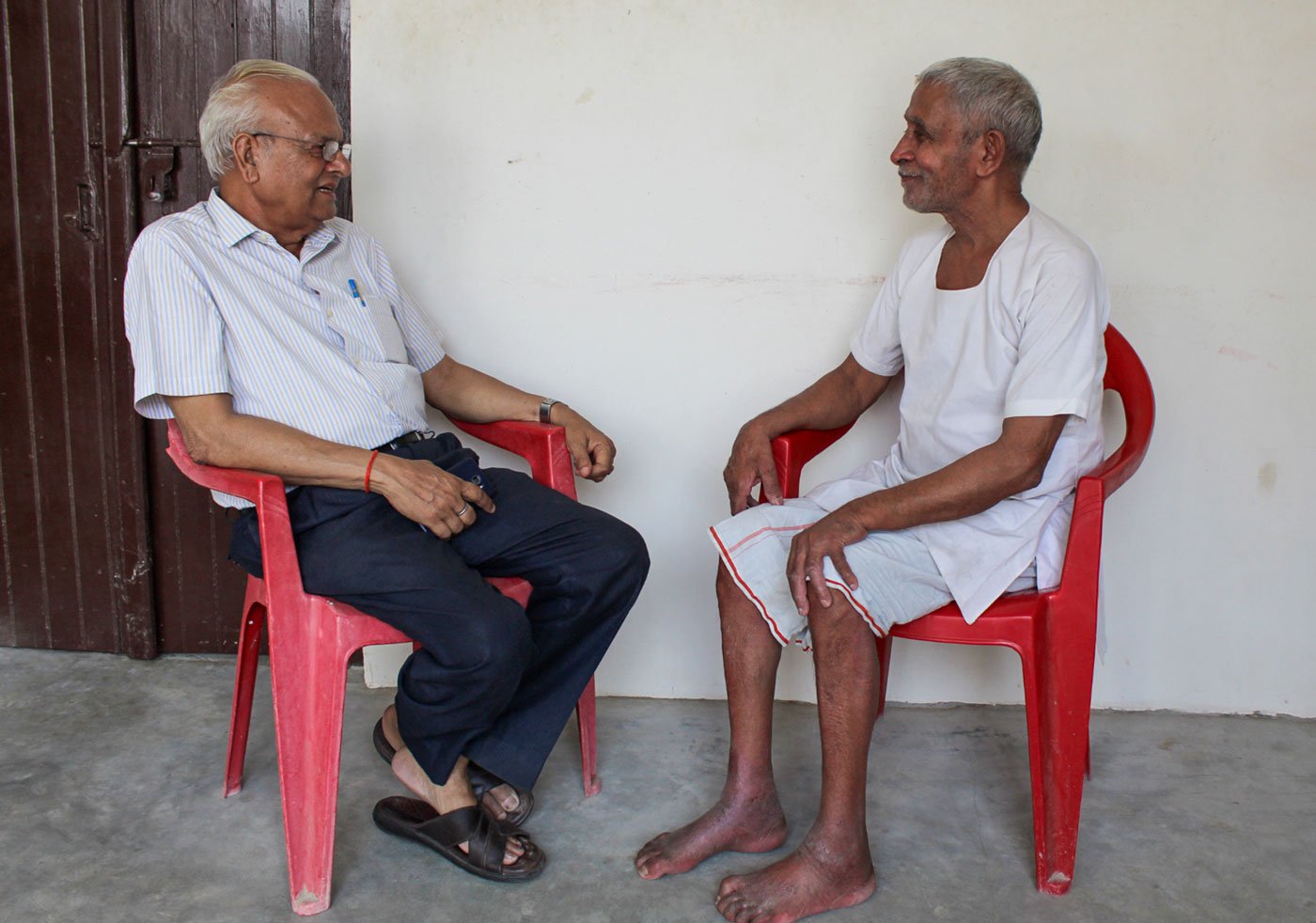 PHOTO • Rana Tiwari
He would go on to do sundry other things for his fellow villagers, made easy since he as a teacher and a venerable figure. This included getting doctors from the nearest Primary Health Centre to do health check-ups, to sprinkle bleach powder for disinfection, rounding up the village's children for vaccination and even getting his village incorporated into a town area. At a later stage he took it upon himself to run random audits of works being done by the public works department.
Awasthi and Tyagi were not known to each other personally till 1994. They knew of each other though. Awasthi, the first doctor of his village, had till then mostly worked abroad (in Nigeria, the United Kingdom and Malaysia). He had carried within him the pain of the river which made higher school education impossible, especially for the girls of the village school. So he asked his brother Narendra, an electrical engineer, to look for a boatman, who during monsoons would ferry students free of cost to the other side of the river. Awasthi paid Rs 4,000 for the wooden boat.

After school duties the boatman, Chotai, was free to collect more fare for the rest of the day – but the stipulation was that he could never miss a school day. Over the years the boat came apart, but Awasthi in 1980 had built a school till Class 8 in his own village, named after his grandparents – the Ganga Sugrahi Smriti Shiksha Kendra. In 1987, the school was recognised by the Uttar Pradesh State Board of High School and Intermediate Education. Yet, that bothersome challenge – how do others come to Parauli for education remained.

When Awasthi and Tyagi finally met they decided nothing short of a new bridge would solve the problem. As men, they could not be more different. Awasthi had learnt swimming by being thrown into the river, while Tyagi had never dared dip his toe in the waters. Awasthi – given his government job could not be at the forefront of the agitation, while Tyagi knew only how to lead from the front. Two unlikely but committed men met and the 'Kshetriya Vikas Jan Andolan' (KVJA - People's Struggle for Area development) was born.

The membership of the KVJA could not really be counted, but kept growing. As Tyagi could not fight an election, he cajoled his mother, Bhagwati Devi, to stand in the municipal polls anticipating more clout to get good quality development work done. Bhagwati Devi appeared to lose by five votes, but an appeal at the Sub District Magistrate (SDM) court upturned the decision in her favour. From 1997-2007, she served as Town Area Chairman.

First, the KVJA had to be registered. However, despite Awasthi's influential position in Lucknow that could not happen. So the andolan turned around with a slogan ' vikas nahin, toh vote nahin ' [no development, no vote] and ' vikas karo ya gaddi chodo' [carry out development or leave your chairs] aimed at politicians and legislators.

'We loved her [the Sai river]. It is because of her that our wells had sweet water at just 10 feet. Every monsoon, she would ride up to our houses'

At the first meeting of the still unregistered organisation, some 3,000 people from 17 affected villages reached Parauli to hear Bhagwati Devi. Pamphlets were circulated. These read, ' With our body and heart we commit ourselves to this movement. We will not retreat. We will sign these pledge letters with our blood. There is no way back till there is a bridge between Band and Parauli.' These were signed off with 'Laal hoga humara jhanda, kranti hoga kaam [Our flag shall be red, rebellion shall be our task]'.
Over 1,000 such pamphlets were distributed and on each, people signed or affixed their thumb prints with blood.

Then came visits to all 17 villages which would be impacted by the bridge. "People took their cycles, beddings and just moved on. There was no need for any elaborate preparations," recalls Tyagi. Word would be sent to the village where the visit was to take place and a dugduggi (small drum) sounded to inform residents of it.

The next step was a sit-in on the riverbank – led by Tyagi's mother, who was a well-respected figure. Awasthi gave his farmland by the river to stage the sit-in, ringing in the protest area with bamboo sticks. A canopy of chaff was set up for people who stayed at the sit-in during the night. Batches of seven would stay put all 24 hours – singing songs of rebellion. When the women sat-in they sang bhajans – with a circle of men around them to ensure no untoward incidents happened. Awasthi got a handpump installed to cater to the agitators. And though there was always the fear of water snakes biting people, not a single such incident occurred. The local intelligence unit of the district police checked on the protest intermittently, but no official or elected representative came to listen to the protestors.

In the midst of this protest, came the 1996 Vidhan Sabha election which was boycotted by the villagers. Not only did they call out for the voters to abstain, they also poured water in the ballot boxes when pretending to vote. School children wrote 11,000 letters, delivered in sacks, to the state's governor, Motilal Vora.

Awasthi and Tyagi then decided to take the fight to Lucknow. Before that, Tyagi dashed off letters to the District Magistrate and SDM, warning them that people were ready to display their strength if ignored any further. Before they set out to Lucknow, one final effort was made through a cycle rally to the town of Madhoganj, eight kms away. When some 4,000 cycles appeared with posters, banners and flags, the media sat up and took note. Many local reports highlighted the issue. Also reported was the daring declaration of some agitators that if the demand for the bridge was not accepted, they would push the DM's jeep in the river.

Some weeks later, 51 tractors laid siege to the DM's office. But that official refused to come out to meet the protestors.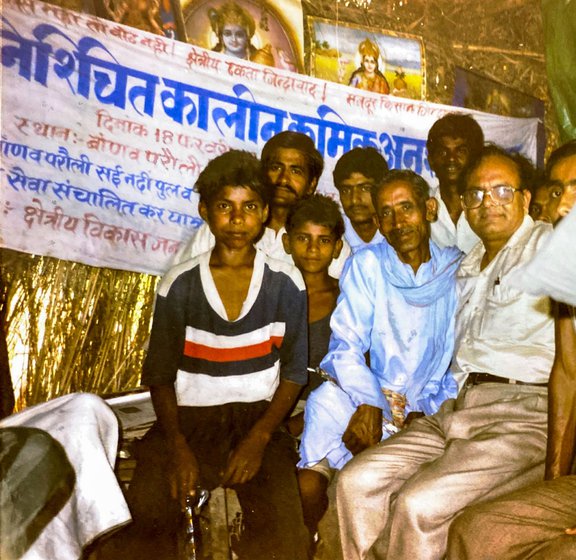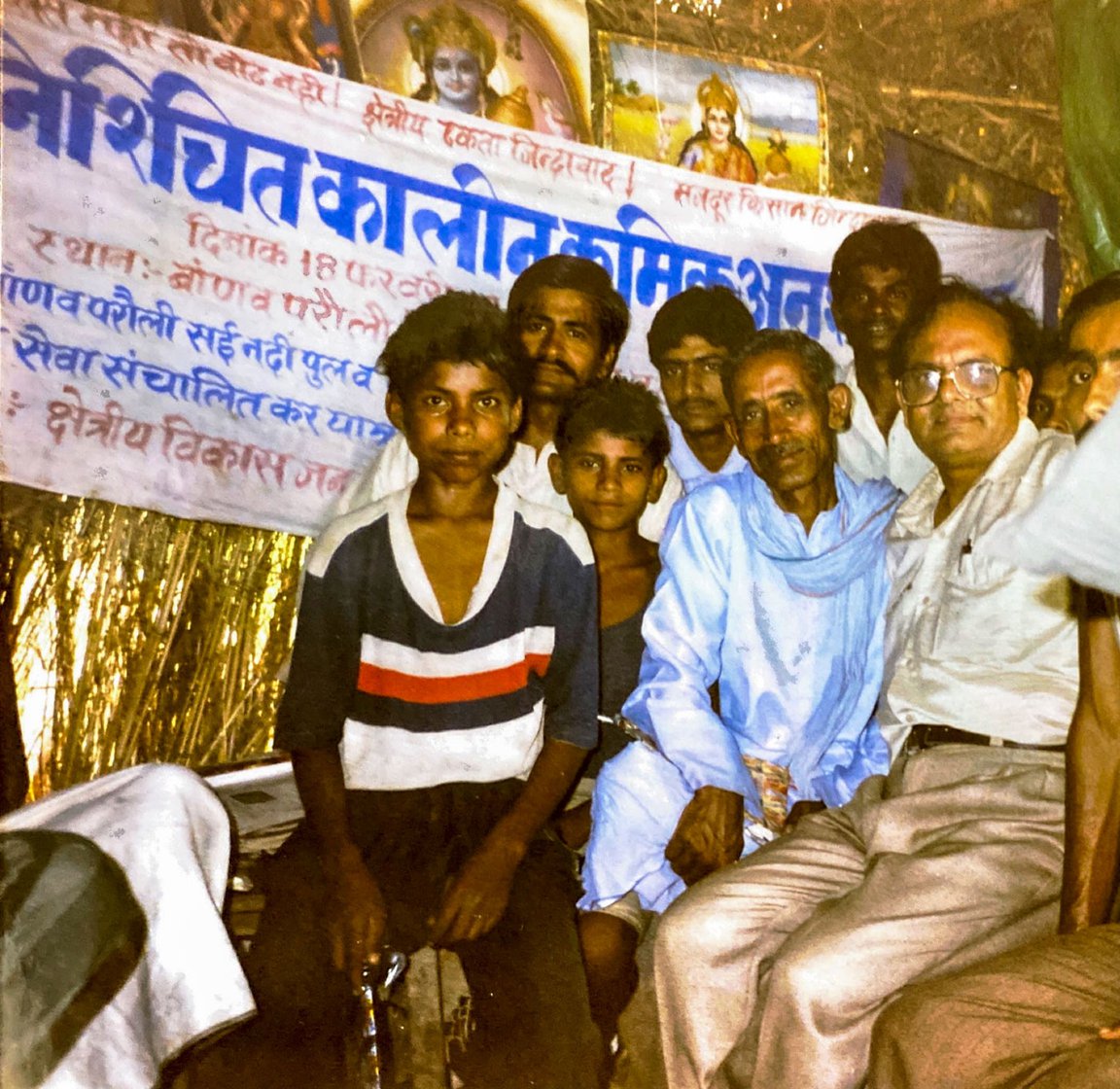 PHOTO • Courtesy: Surendra Nath Awasthi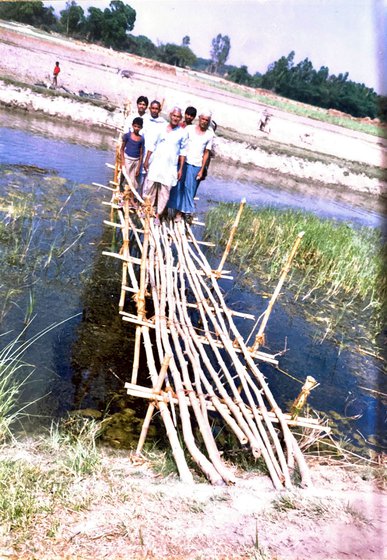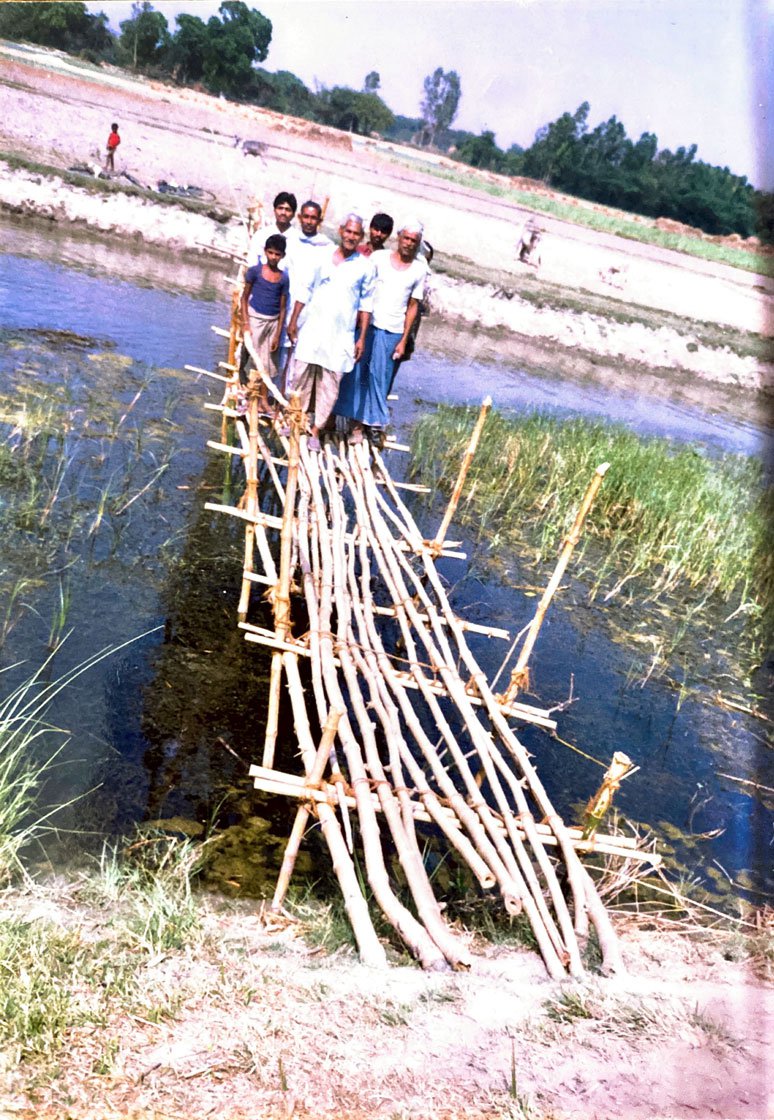 PHOTO • Courtesy: Surendra Nath Awasthi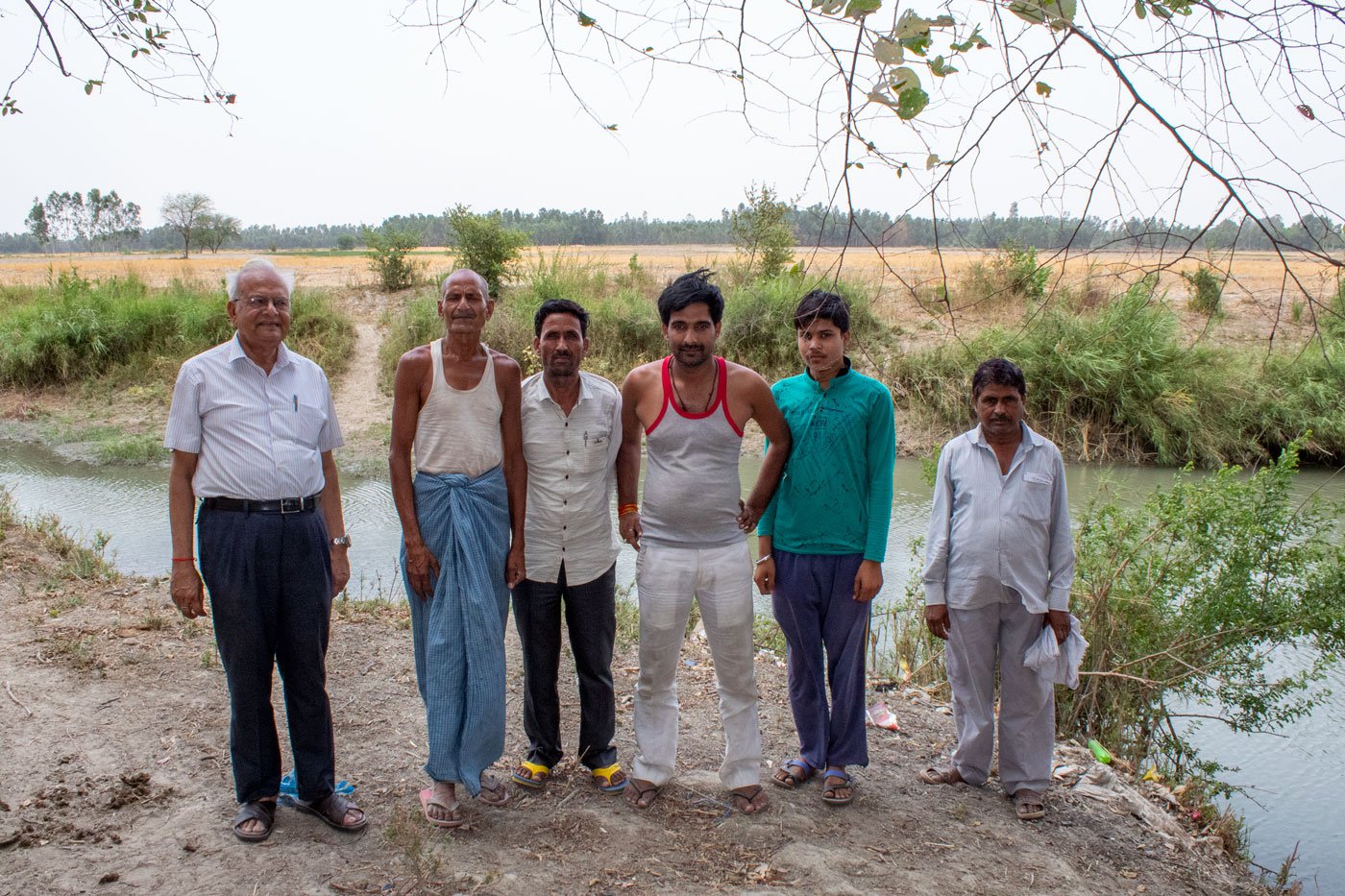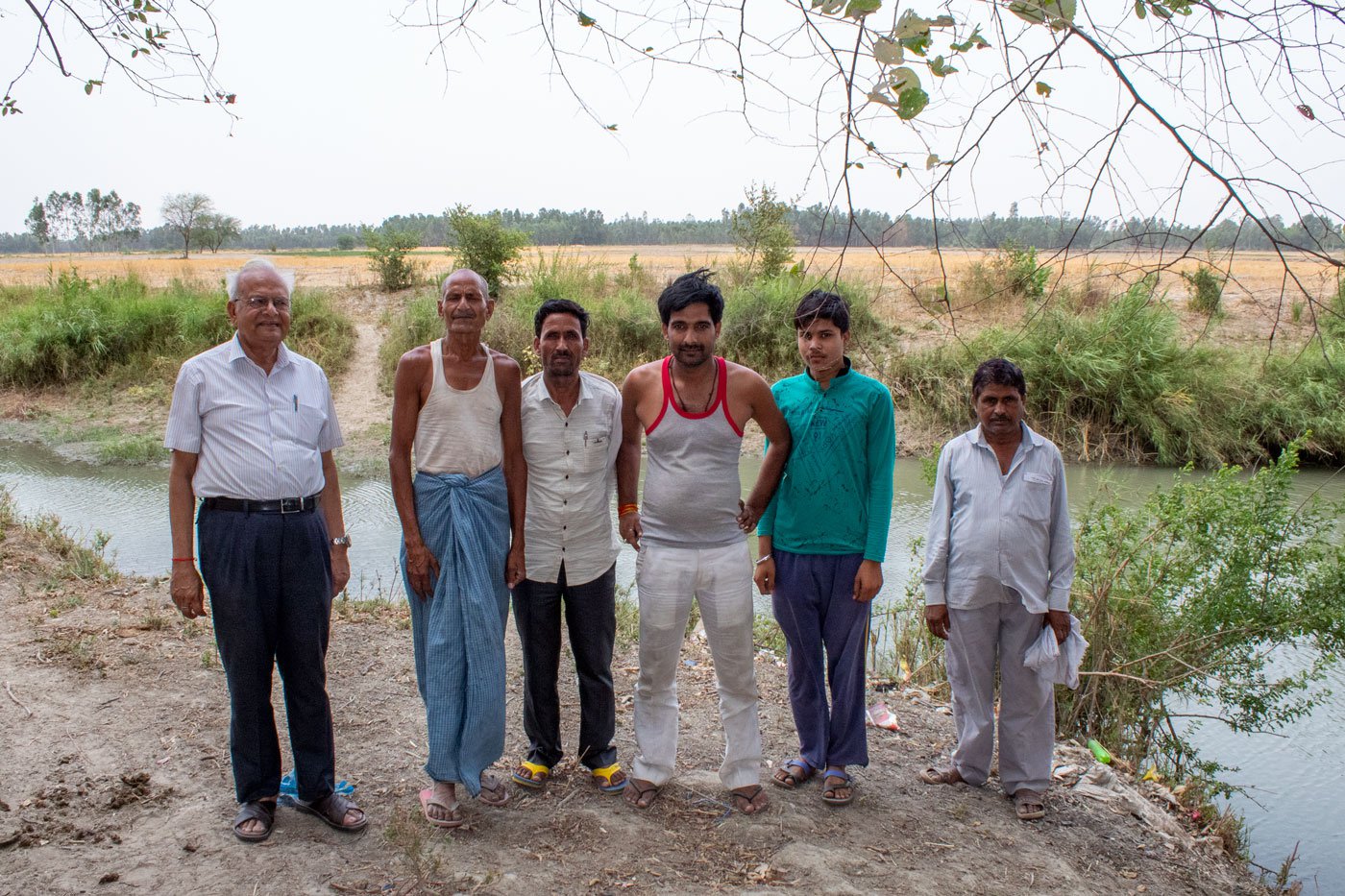 PHOTO • Rana Tiwari
Thus, the next stop was the Governor's residence in Lucknow. Demand letters were printed, signed in blood, and every village handed over to an in-charge to prepare people for the journey. Women were to be kept away, but for Tyagi's mother who would not have any of that. She insisted that she would go wherever her son went.
Sometime in April 1995, 14 buses were stationed at Sandila, some 20 kms from Parauli. They were sponsored anonymously by an official in the state roadways corporation. At 5 a.m. they reached Lucknow. Since none of the protestors knew their way around the city, they wandered around a fair bit before reaching the Governor House at Mahatma Gandhi Marg around 11 a.m.

"It was mayhem. In no time, 15 police jeeps had surrounded us. Some policemen came mounted on horses. Water cannons were out. I was dragged off on all fours by a policeman till my mother threw herself on me shouting that she would go to jail before her son," says Tyagi. Some of the protestors fled. Others were saved by Hardoi's political representatives who reached the spot. Physically exhausted, but emotionally triumphant, the group made their way back to Hardoi at 12 a.m. that night. They were greeted with marigold garlands.

By then the fight for the bridge had been on for almost a year and a half. The siege at Lucknow had created a massive stir.

The first person to reach out to the protestors soon after was Ram Prakash Tripathi, the minister for cooperatives. He heard them; went to Kalraj Mishra, the minister of Public Works Department to apprise him not only of the demand, but the fact that the Bhartiya Janata Party (BJP) would lose support in the area if the agitation persisted.

Before Mishra could intervene, the protestors had declared they would immolate themselves and announced that intent to the media. The police swopped down, arresting many of the agitators including Tyagi's brother, Hriday Nath.

On August 13, 1997, a team led by the DM Hardoi, finally decided to pay the protestors a visit. Tyagi was hailed as a hero. In Lucknow, Awasthi who had been funding the agitation, was relieved. Some months later, the bridge was sanctioned. However the two instalments that were to be paid for the construction came through only after another year of protests.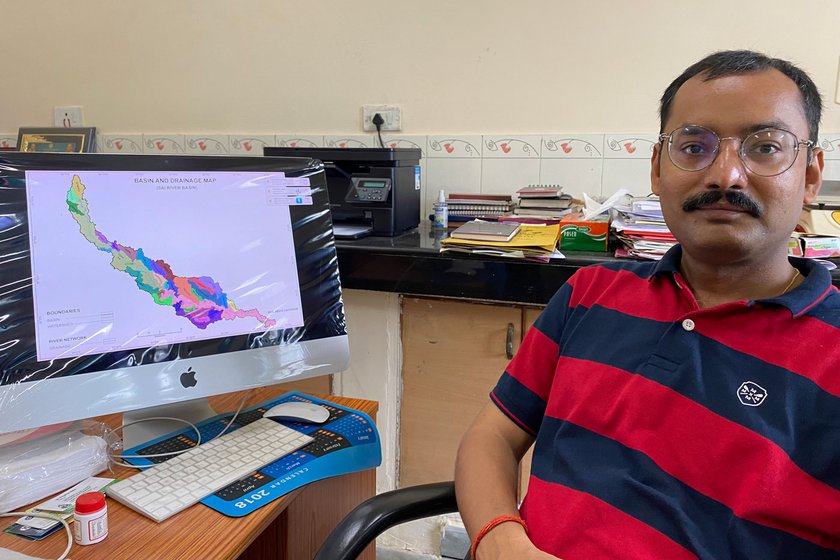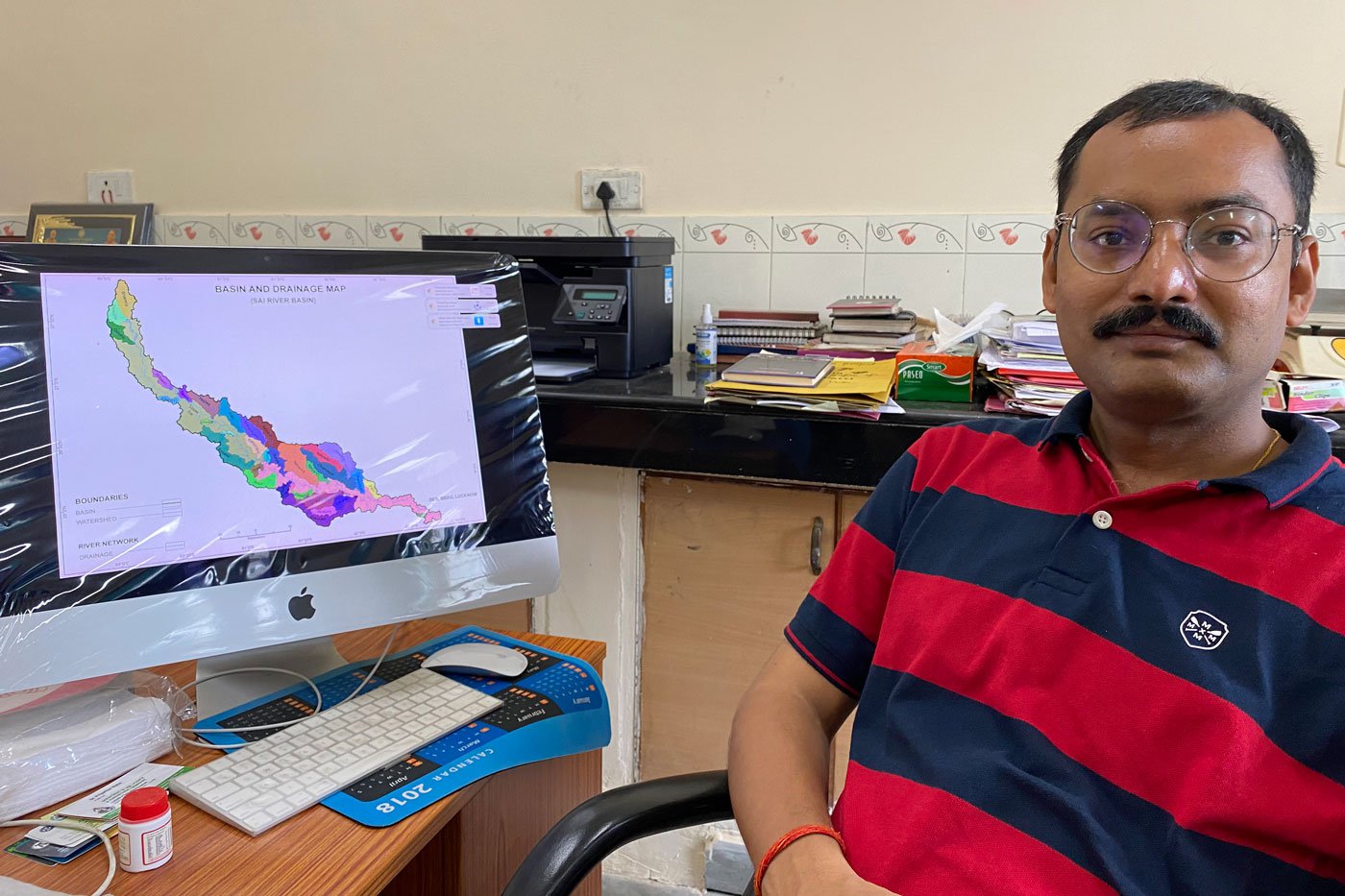 PHOTO • Rana Tiwari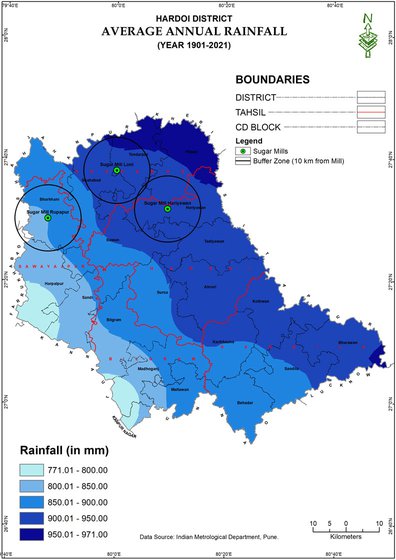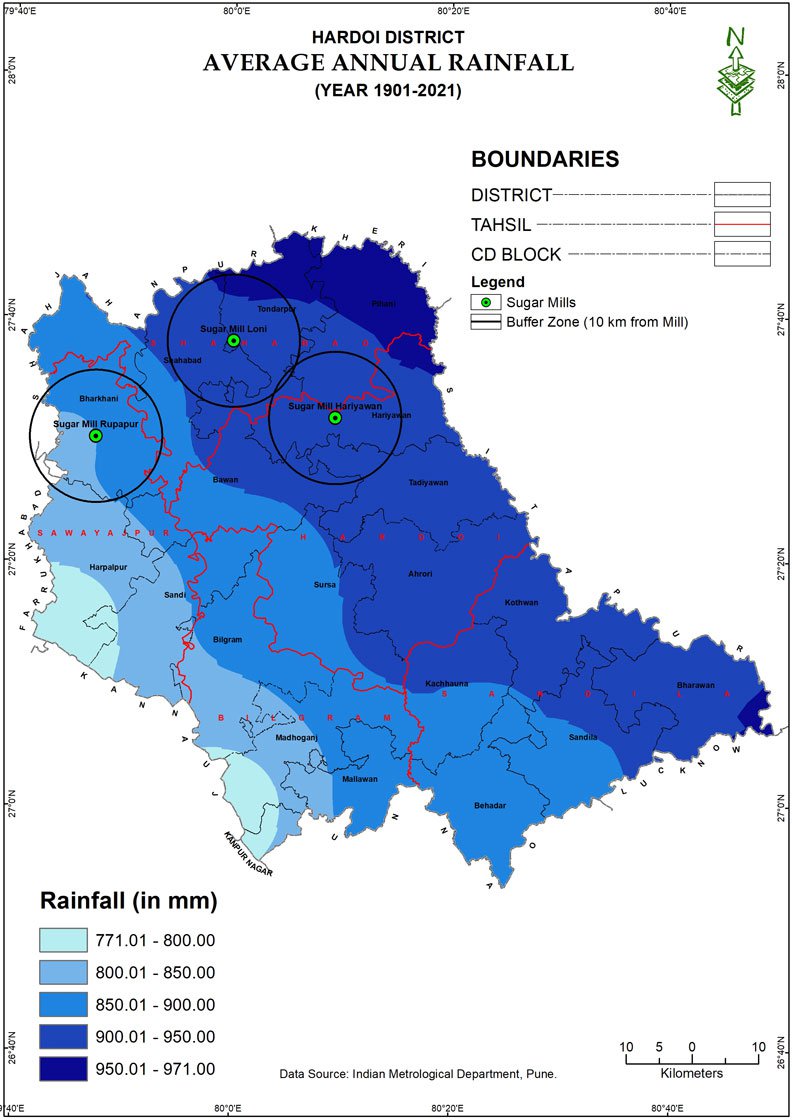 On July 14, 1998, the bridge was ready to be inaugurated by the PWD minister. He had been told that the villagers would weigh him in coins as a mark of gratitude. But when that did not happen, he could not resist a jibe at them in his inaugural speech.
In all the 17 villages that had come together to fight for the bridge, it was a day of celebration. "Far brighter than Diwali, more colourful than Holi," as Awasthi remembers.

Almost immediately after that, the Sai began to shrink. The rain-fed river that had once flowed majestically all year round and would become fearful in the monsoon, was reduced to a timid version of itself, getting weaker as the years went by.

This is not a fate unique to the Sai. Venkatesh Dutta, Professor, School for Environmental Sciences at the Babasaheb Bhimrao Ambedkar University, Lucknow, says in a report : "There is a global trend of intermittency. The flow of once-perennial rivers (like the Sai) has become monsoon-dependent and sluggish. Data from 1984 to 2016 confirms that both groundwater and baseflow are declining."
Baseflow is water from the ground that flows into a water body over a long time even after the last rain; while groundwater is the water under the ground – the stock into which a river needs to dig into when it gets dry. Baseflow is thus the river of today, groundwater – the river of the future. Over a 20 year period from 1996, rainfall in Uttar Pradesh decreased by 5 per cent.

The WaterAid report on The State of Groundwater in Uttar Pradesh , released in July 2021, reads, "...rapid decline of water levels have severely impacted groundwater-fed rivers of the state, as natural discharges/base flows from the groundwater system to rivers, and wetlands have significantly reduced or almost vanished. Large scale encroachment of water bodies and their catchments has added miseries…. Reduced base flows are impacting groundwater-dependent rivers and their ecological flows as well the surface storages. Gomti river and its tributaries as well as several other rivers in the state are groundwater-fed, but heavy extraction and subsequent groundwater level decline in the river catchment have impacted severely with significant reduction in flows of the rivers."

In addition to these disasters, the district faced a third problem. A study showed that Hardoi had lost 85 per cent of its wetlands between 1997 and 2003.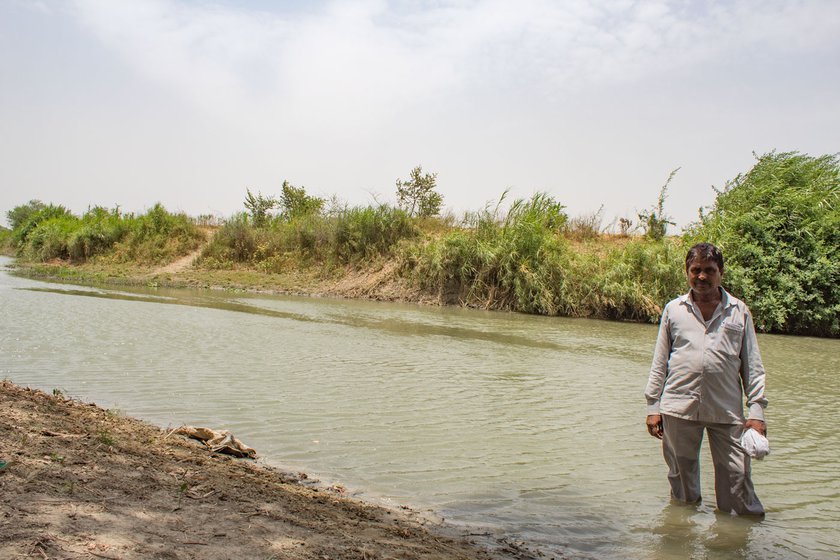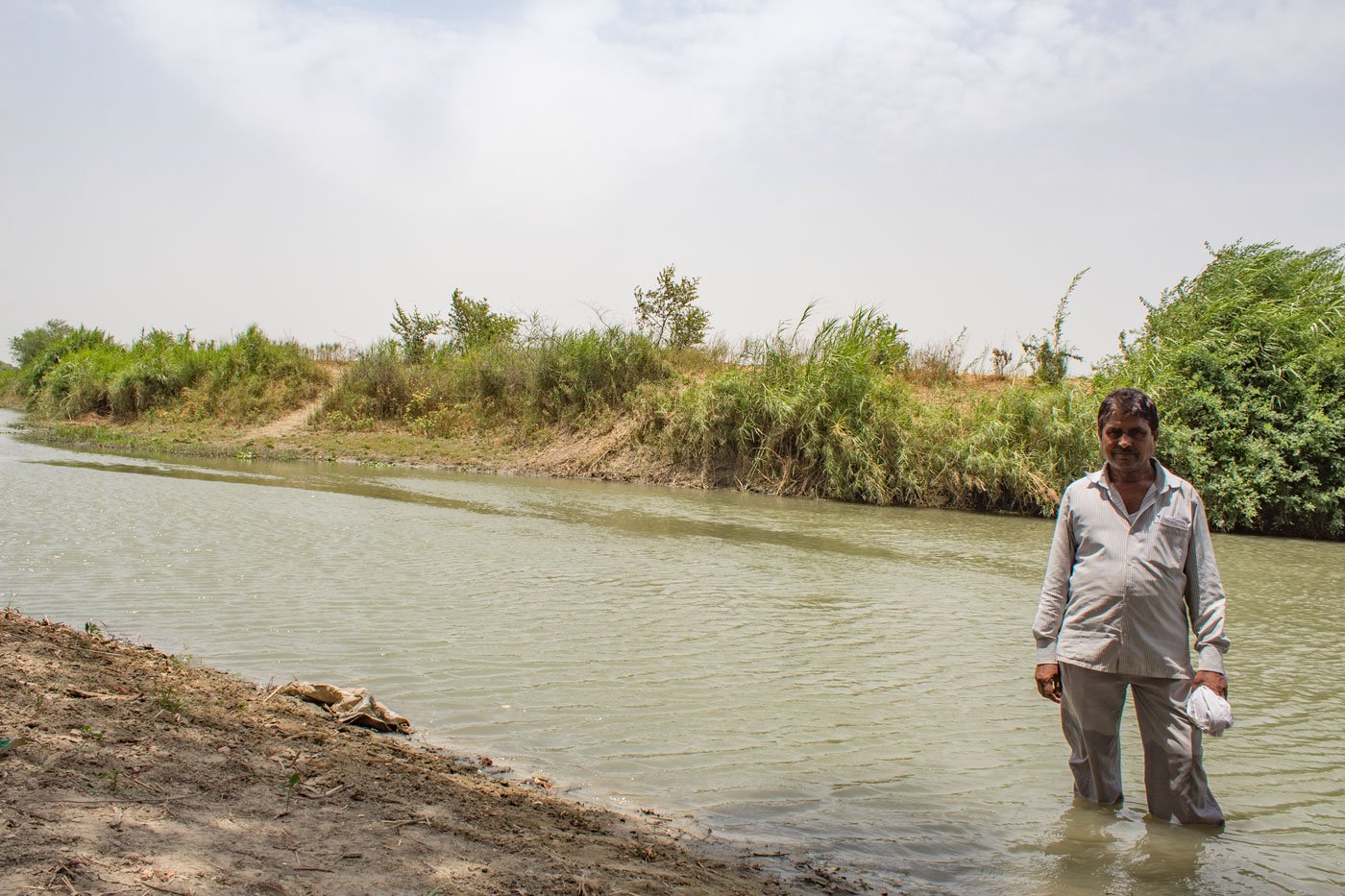 PHOTO • Rana Tiwari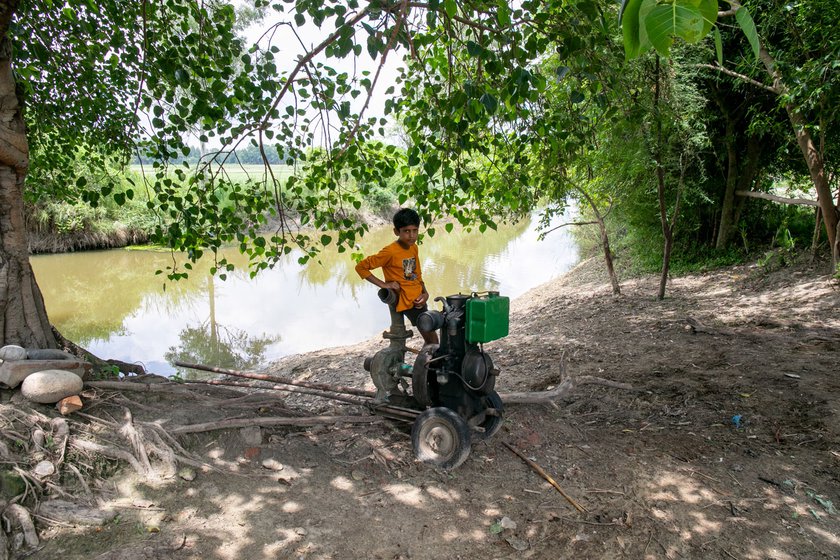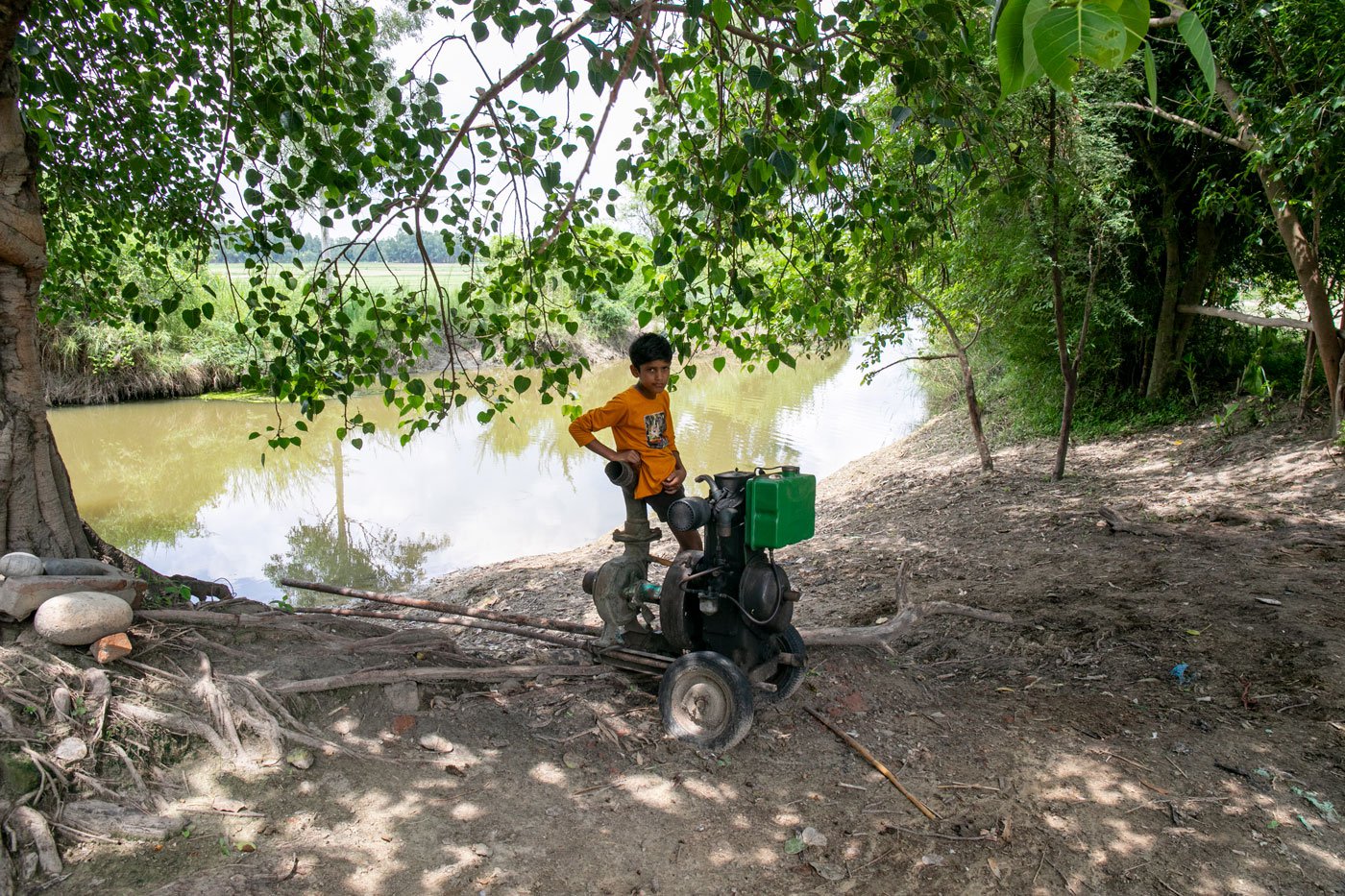 PHOTO • Pawan Kumar
In Parauli, even to those who do not delve into the science, the changes are visible. For instance in just over two decades, all six wells in the village have turned dry. All rituals conducted at wells (such as the offering of prayers by a new bride) have been given up. During the summer months, the river is a feeble trickle.
Those like Shivram Saxena, 47, a farmer whose greatest summer pleasure was swimming in the river, are now hesitant to step in it, even for a photograph. "This is not the beautiful, clean river I grew up with," he says standing in knee deep water while an animal carcass floats behind him.

Awasthi's own father Devi Charan was a patraul (a government appointed worker who measures land for the irrigation department). He had a small canal built to divert the Sai's water to Parauli for irrigation. Now that canal is dry.

Instead, on the banks of the river, diesel-operated water pumps have been installed to water the fields.

The Sai has had its set of warriors. Among them, 74-year old Vindhyavasani Kumar, a former member of the state's legislative council (1996-2002) who in 2013 undertook a journey of 725 kms on the banks of the river. During the 82 public meetings he conducted, and the thousands of trees he planted, his message was that saving the Ganga would not be possible so long as its tributaries were not protected.

Pratapgarh district-born Kumar says, "In my own life, I have witnessed the slow death of rivers. They have shrunk, water sources have dried, industrial waste and debris is indiscriminately dumped in them, riverbeds have been encroached for farming, groundwater has been over-exploited…it's a tragedy our policy makers do not want to pay attention to." The Sai flows through Pratapgarh district too.
While policy makers might not pay attention to the tragedy of our disappearing rivers, they do conjure their achievements.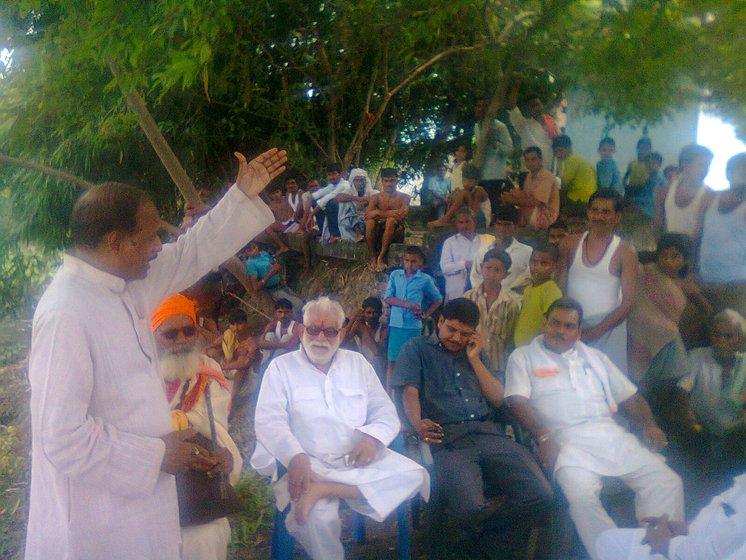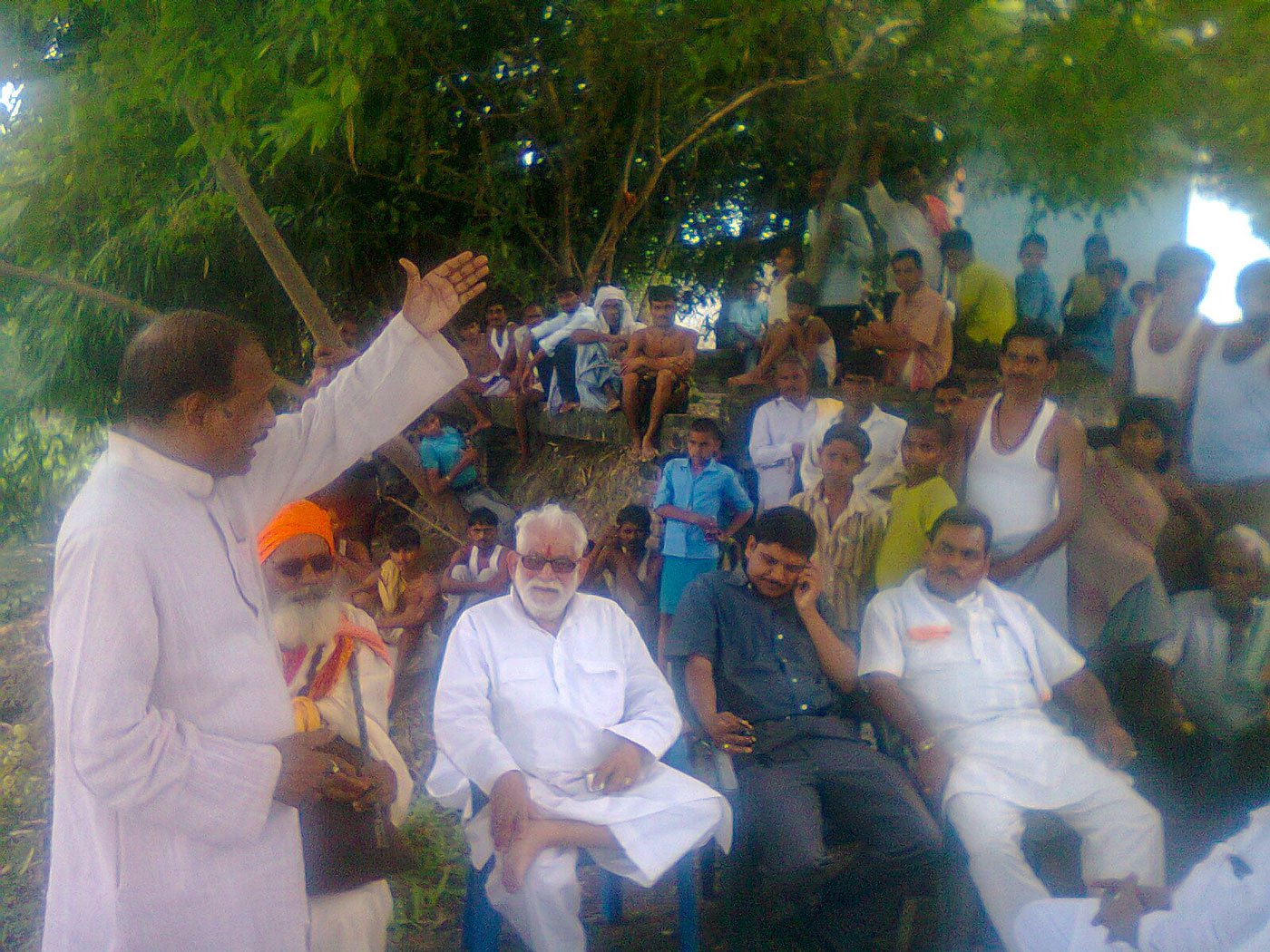 PHOTO • Courtesy: Vindhyavasani Kumar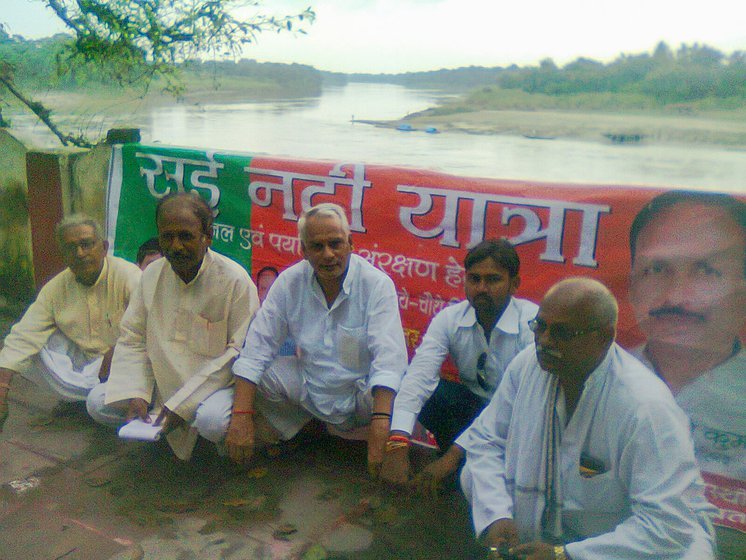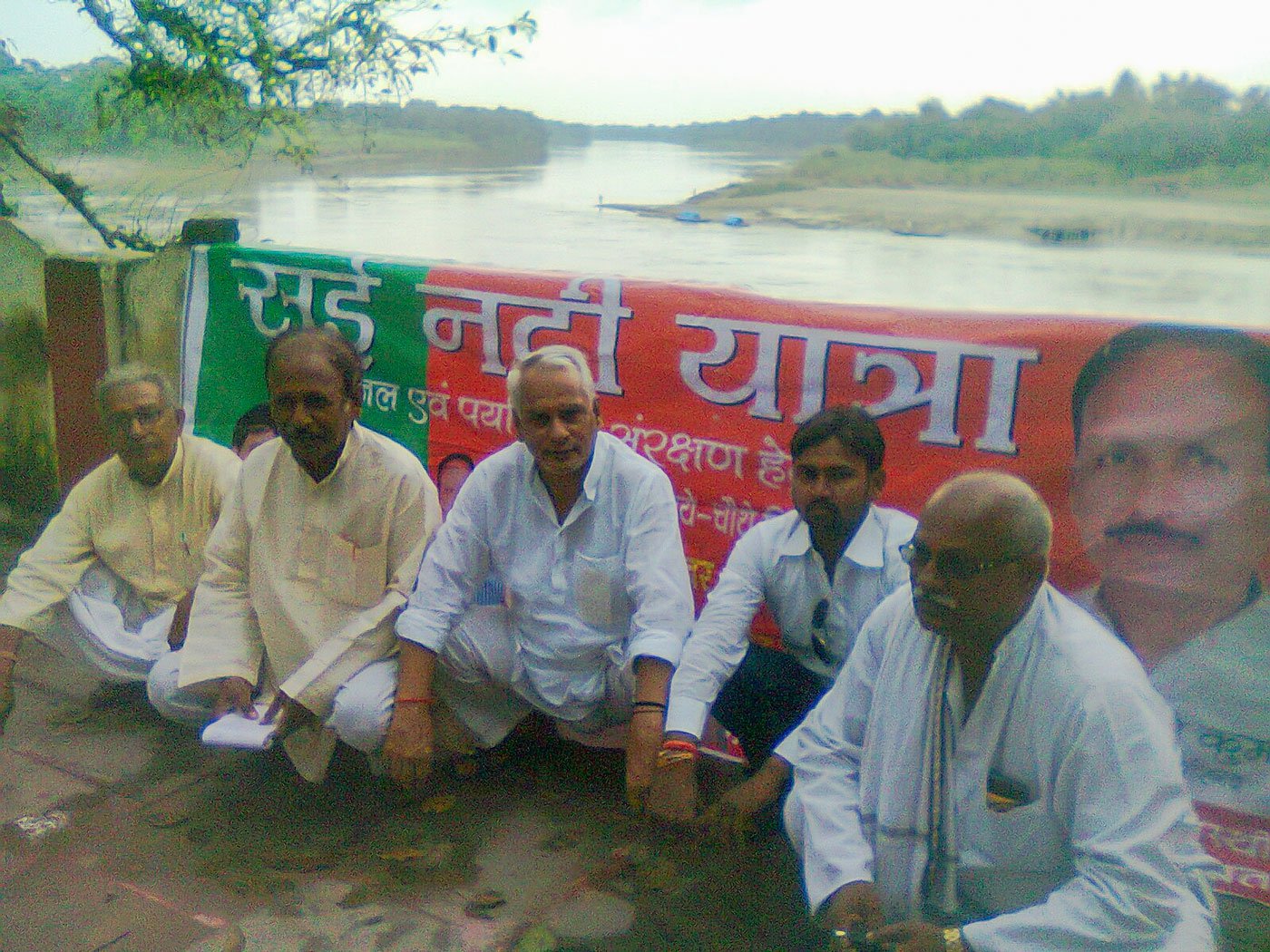 PHOTO • Courtesy: Vindhyavasani Kumar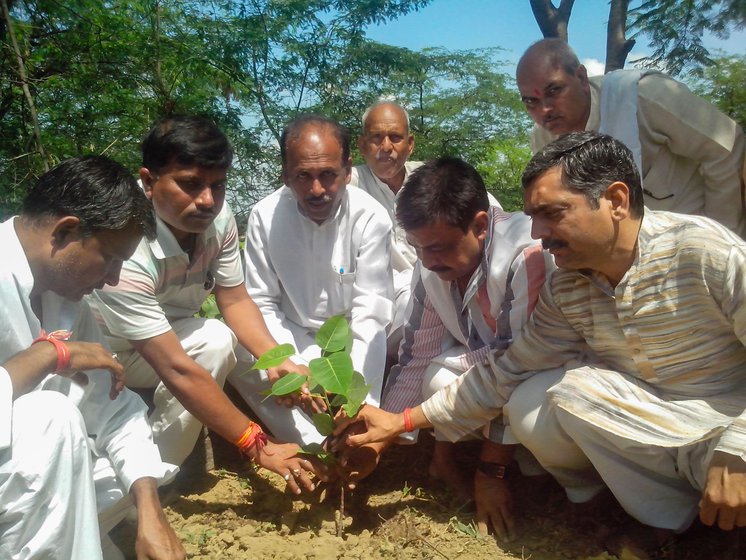 PHOTO • Courtesy: Vindhyavasani Kumar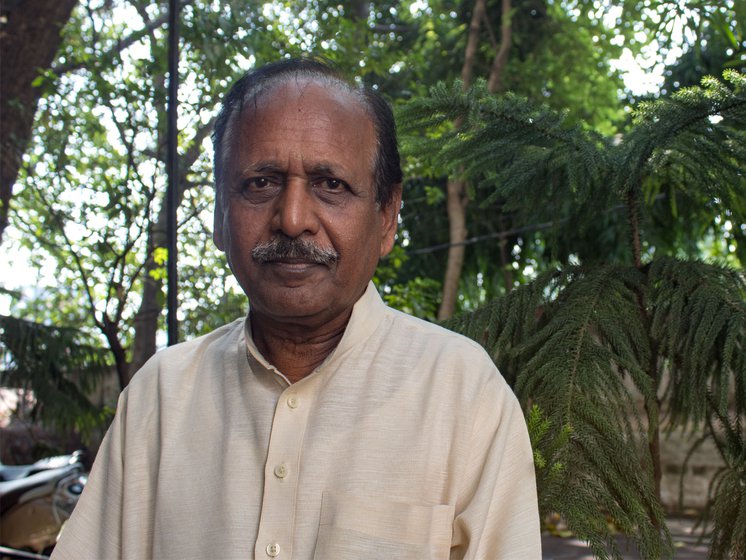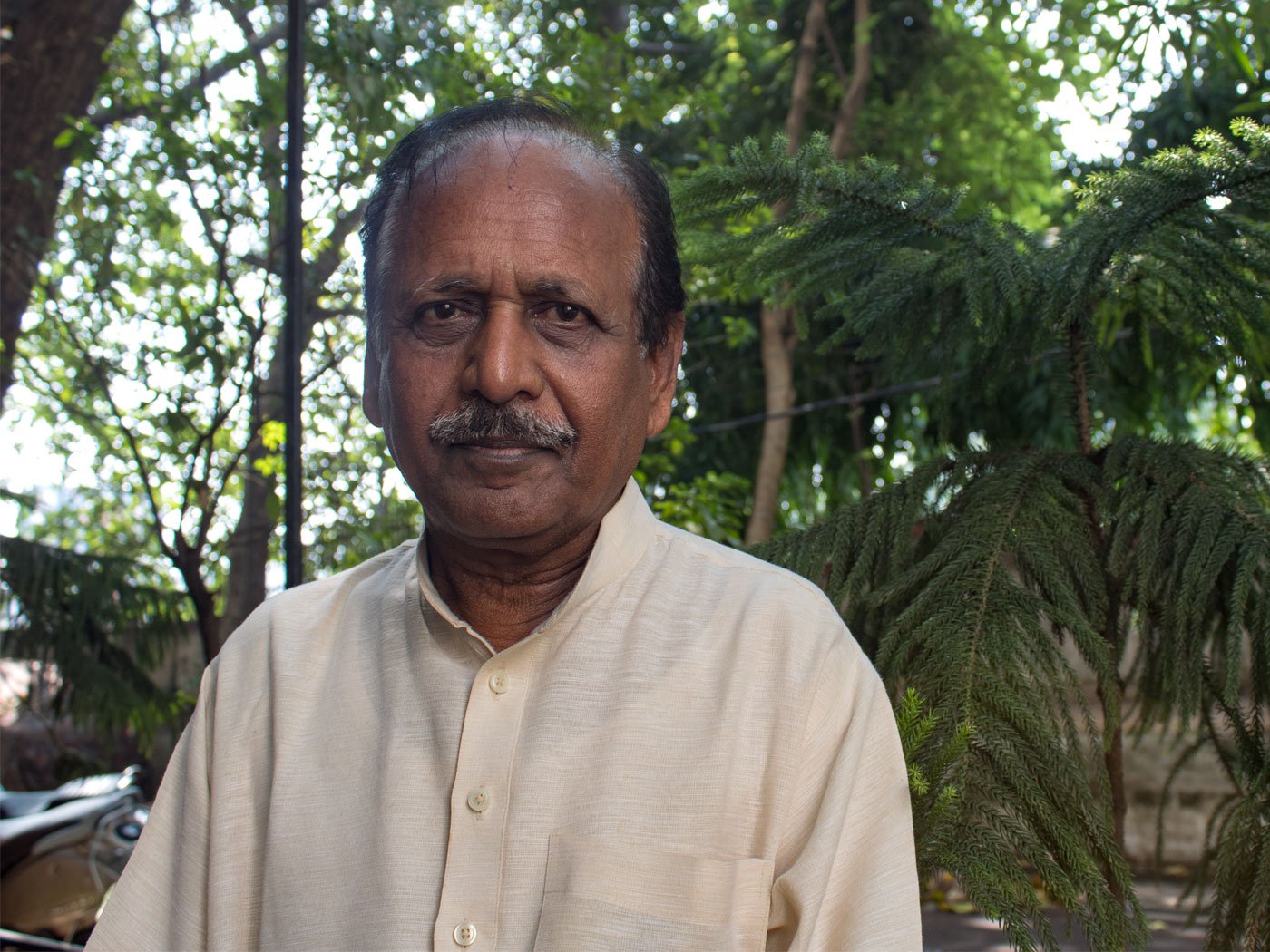 PHOTO • Rana Tiwari
On November 1, 2022, UP chief minister Yogi Adityanath, while speaking on the occasion of the India Water Week, claimed that more than 60 rivers in the state had been revived in the past few years.
Professor Venkatesh Dutta says that river rejuvenation is no 'magic' that can be achieved in a few years. "Only natural recharge through large waterbodies, lakes, ponds and streams can bring water back to our rivers. Crop selection has to be changed. Water-use must be massively reduced through precision irrigation. And even then, it will take 15-20 years to rejuvenate a river." He also laments the lack of a national policy on rivers.

Vindhyavasani Kumar says a longer-term solution is to make the study of local geography compulsory at the school level. "Till children do not study the trees, land and rivers around them, how will they grow up to care for them when adults?" he asks.

Ravindra Swaroop Sinha, formerly senior hydrologist with the state's groundwater department and the convenor of the Ground Water Action Group, says a 'holistic approach' is needed to revive rivers.

"Big rivers like the Ganga cannot be revived until the smaller streams that feed them are revived. A comprehensive approach would include data consolidation, analysis and management; setting of sustainable extraction limits; a composite set of actions to reduce demand, lower extraction and recharge groundwater; balanced use of ground and surface water.

Just desilting a river and removing water hyacinth are temporary measures which lead to increased water flow for some time," Sinha says.

"There was a cyclic relationship between groundwater, rainfall and rivers which has been ruptured," he adds.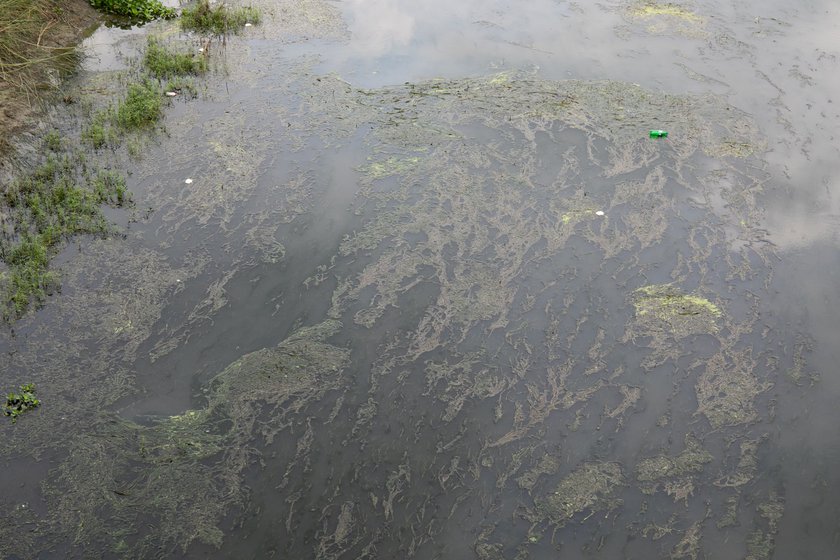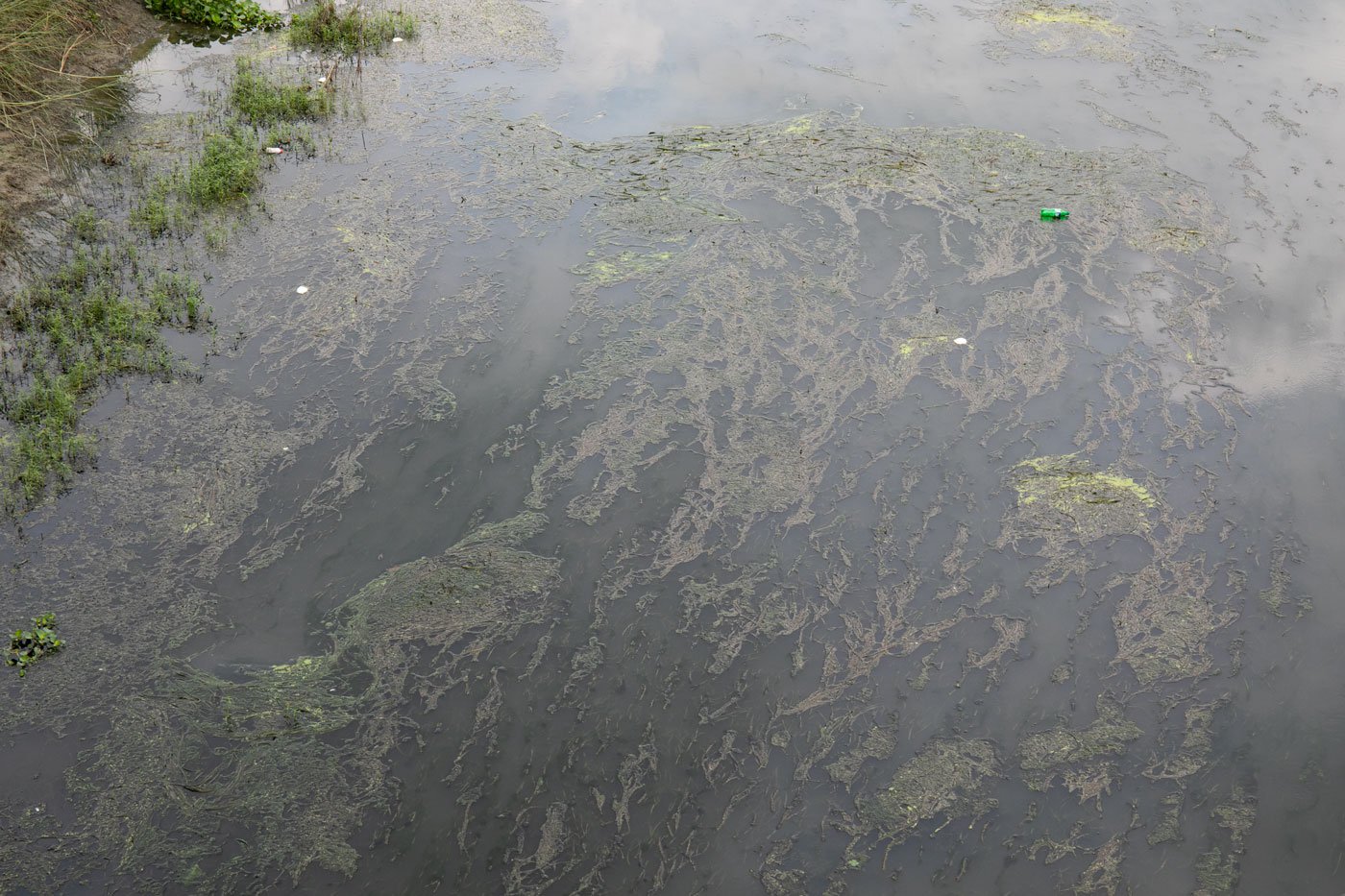 PHOTO • Pawan Kumar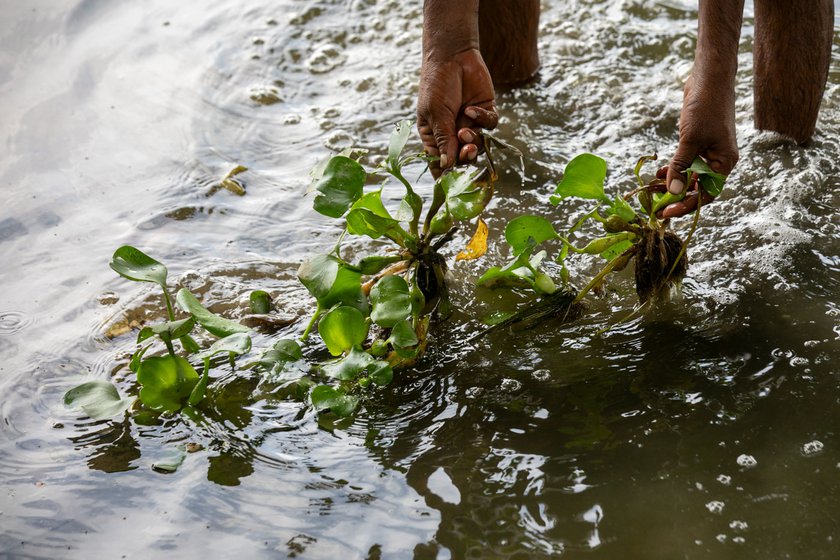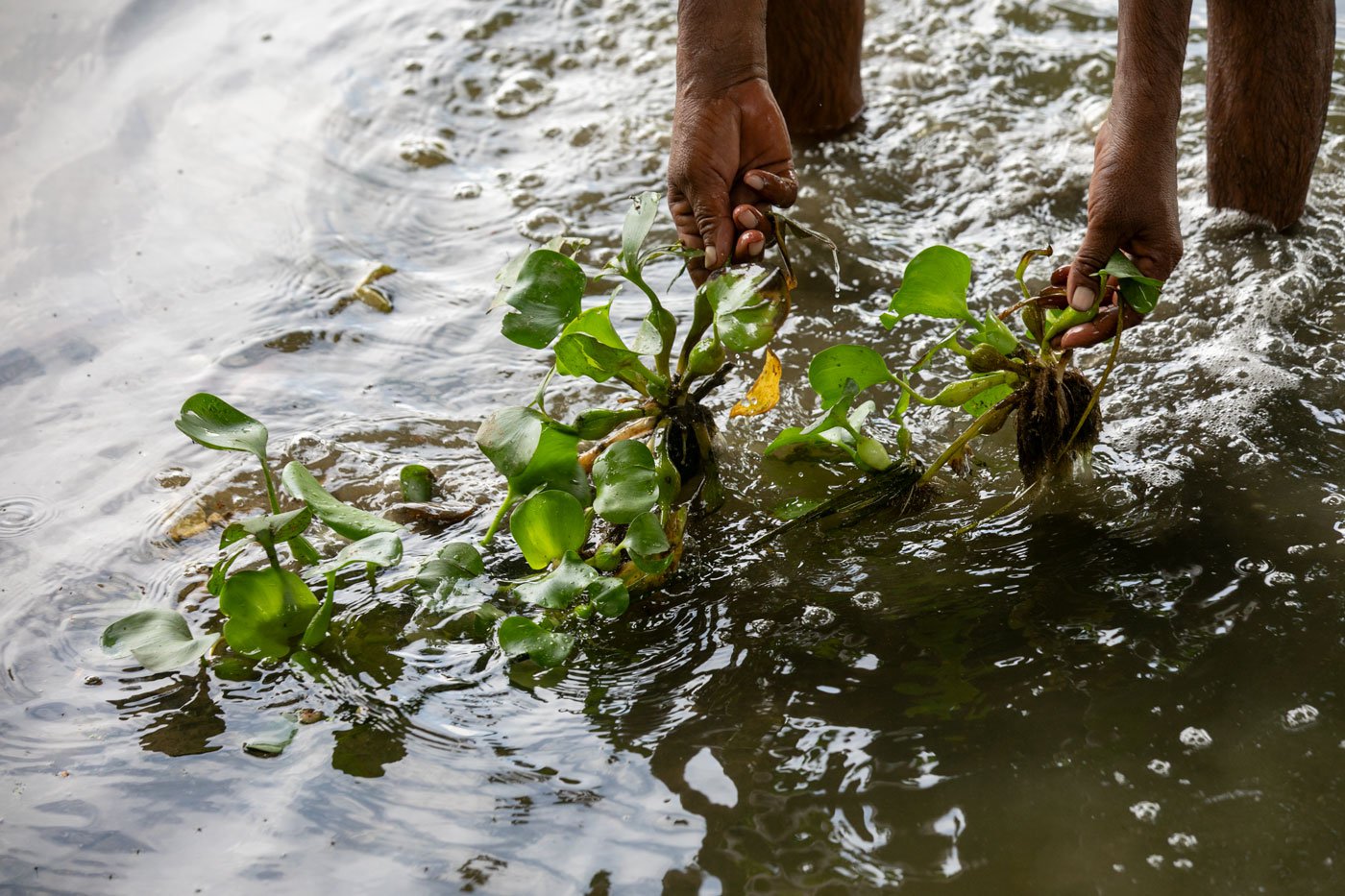 PHOTO • Pawan Kumar
The rupture is both – a result of anthropogenic activities and reasons beyond human control.
"The green revolution increased our dependence on groundwater. Trees became fewer. Rainfall patterns changed — with most of it concentrated in a few days, instead of being spread out. This means most of the rainwater runs off, for it doesn't have the time to percolate into the ground. Groundwater becomes scarcer and thus there is not enough to feed our rivers," says Sinha.
Yet, development policies rarely consider groundwater as a factor. Sinha cites two examples – one, the increase in number of tubewells in the state from 10,000 to 30,000 under the current government. And another, the Har Ghar Jal Yojana which aims to take water to every household.

Sinha lists a number of necessary steps, including the mapping of rivers, the ground water situation, morphology and ox bow lakes (through satellite mapping).

Yet, instead of moving to a more complete approach the government has turned to obfuscation of figures. For instance, in the calculation of dark zones (where groundwater levels have fallen to an alarming level) in 2015, the government decided to do away with the measure of ground water extracted. It has since relied only on estimates of water absorbed by the ground.

In Azad Nagar, an unwell Tyagi is glad he cannot walk to the Sai anymore. "From what I hear of its state, it would be too painful to see it," he says.

Awasthi says that the human attempt to circumvent the river [including the bridge and the canal] was perhaps something of a mishap. "We have a bridge, but no river flows beneath it. What could be a greater tragedy," he asks.