Yashodabai Jorwar spends her evenings shooing away pigs. "They barge in and run around the farm," she says. "The land is actually not useful to us. But I have to do something to keep myself busy."
Jorwar, over 70 years old, has been living alone for the past few months in her home in Hatkarwadi village in Beed district of Maharashtra. "My two sons and their wives are in Baramati [around 150 kilometres away, in western Maharashtra] with their five children," she says. "They left our village at the end of October to cut sugarcane and will be back by March-end."
Every year, farmers in Marathwada, particularly from Beed district, migrate seasonally to work as labourers on sugarcane fields because farming is no longer enough to cover household expenses. As labourers, a couple can earn Rs. 228 per ton of cane they cut, or a total of up to Rs. 60,000 in five months. For many families this is their only source of steady income every year.
"Our yearly income from the two acres of land is not even 10,000 rupees," says the bespectacled Jorwar. "Even during the farming season, we depend more on [the income from] agricultural labour. Water is also not available easily in hilly areas." During the 6-7 months of the year when her sons and their families live in Hatkarwadi, they cultivate food crops like jowar , bajra and tur , primarily for household consumption. The harvest is what Jorwar depends on for food when she is alone.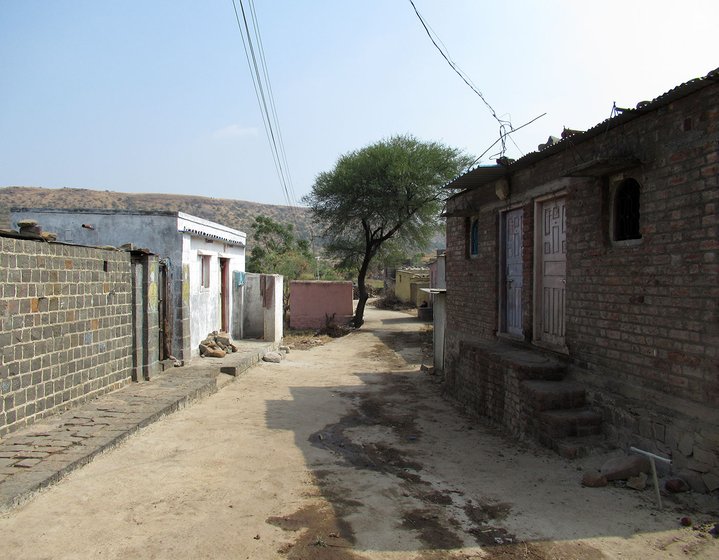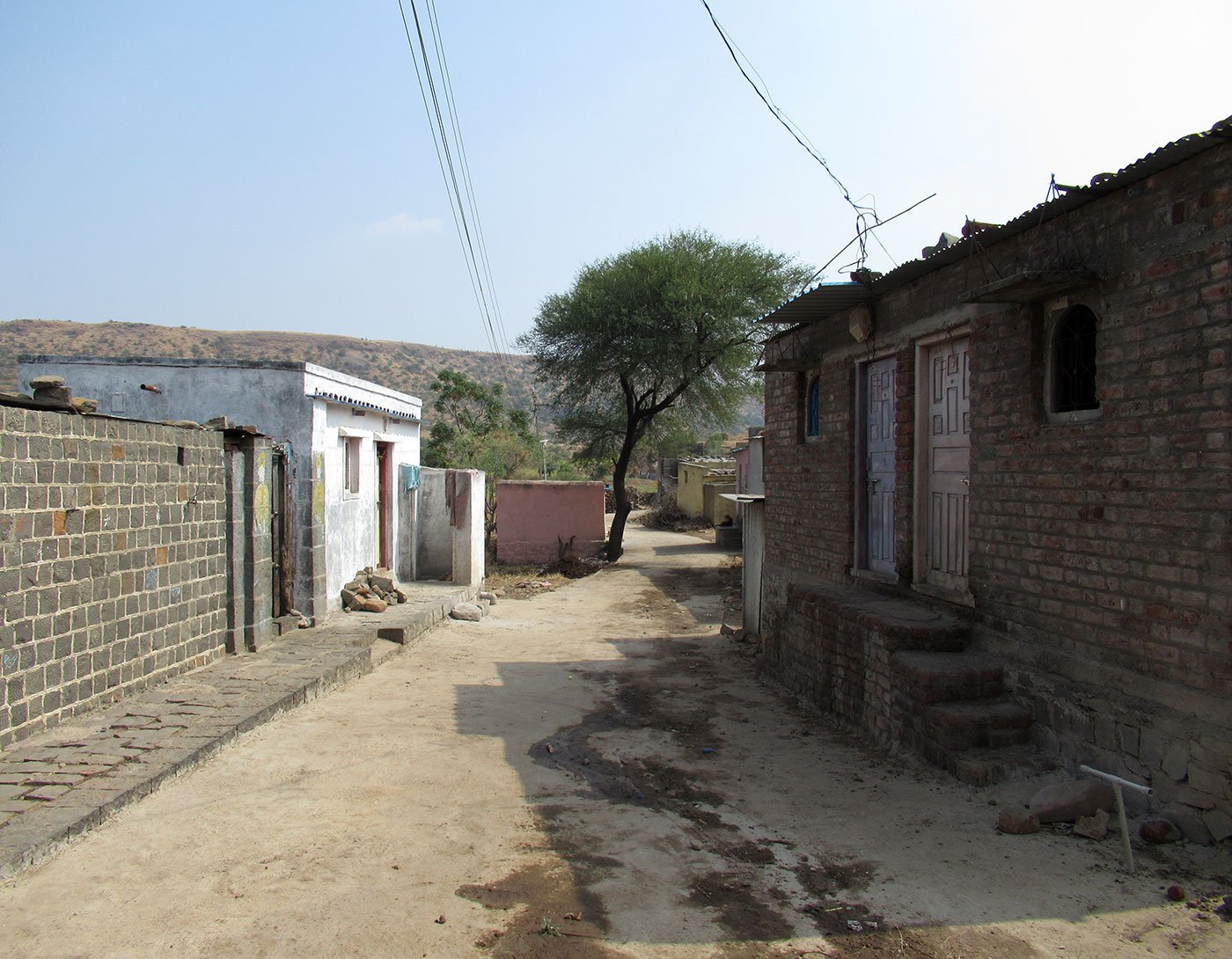 PHOTO • Parth M.N.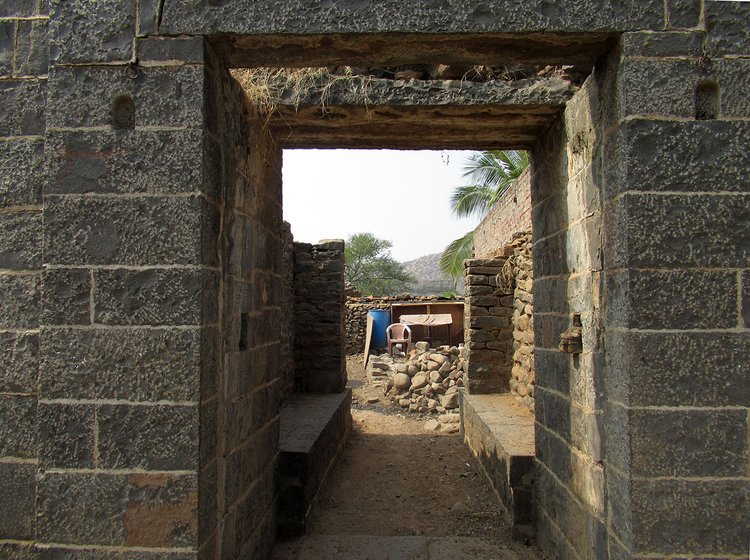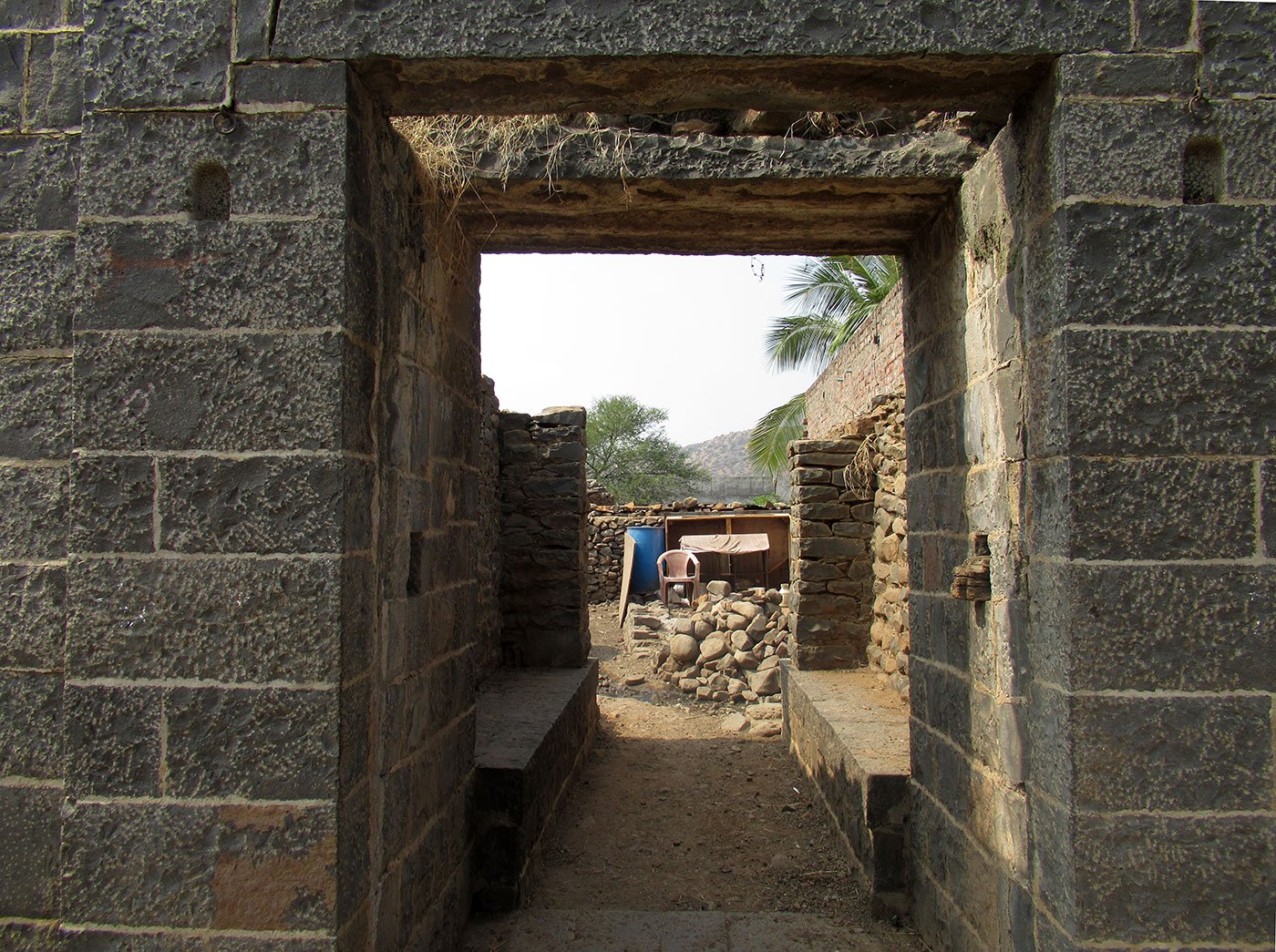 PHOTO • Parth M.N.
While some sugarcane labourers – the contractors hire only couples as cane cutters, mainly because the wage rate per person would be higher – migrate within Marathwada, most of them travel hundreds of kilometres to Satara, Sangli and Kolhapur districts in western Maharashtra or Belgaum district in Karnataka. (See The long road to the sugarcane fields ). With so many adults on the move, their own villages become deserted and desolate. It is mostly the elderly who are left behind and, in some cases, young kids, if there is someone at home to look after them.
Rajan Kshirsagar, farm activist and a leader of the Communist Party of India in Parbhani district, says that of the estimated 600,000 farmers and labourers in Marathwada who chop sugarcane, half are seasonal migrants from Beed. He said the trade unions arrived at the estimate by looking at the number of students who miss school, and also the labour required for the quantity of cane chopped in Maharashtra on an average in the 150-day season.
"There are four belts in Maharashtra where migration is acute," Kshirsagar says, referring to the ranshadow zone between Shahade taluka in Nadurbar district and Sangole taluka in Solapur district; the tract from Chalisgaon taluka in Jalgaon to Kinwat taluka in Nanded; the Satpuda range; and the Balaghat range.
Balaghat in Marathwada covers the area from Pathardi in Ahmednagar to Kandhar in Nanded. It is hilly terrain with barren land and  scanty rainfall. Most of the range is within the 300-kilometre belt of Beed where the average rainfall is 674 mm, lesser than the already low average rainfall in Marathwada at 700 mm. In Beed's Shirur taluka , the average rainfall is only 574 mm.  The lack of rainfall and irrigation – among other reasons – is forcing an ever-growing number of farmers to migrate for seasonal work.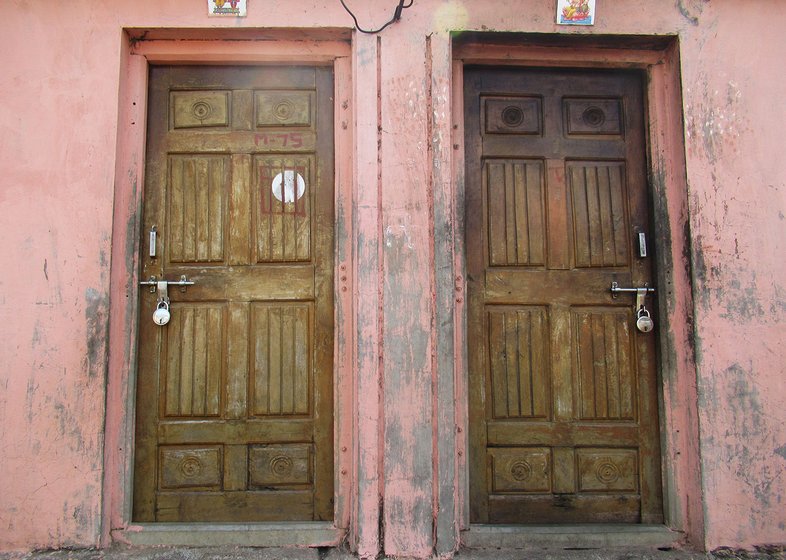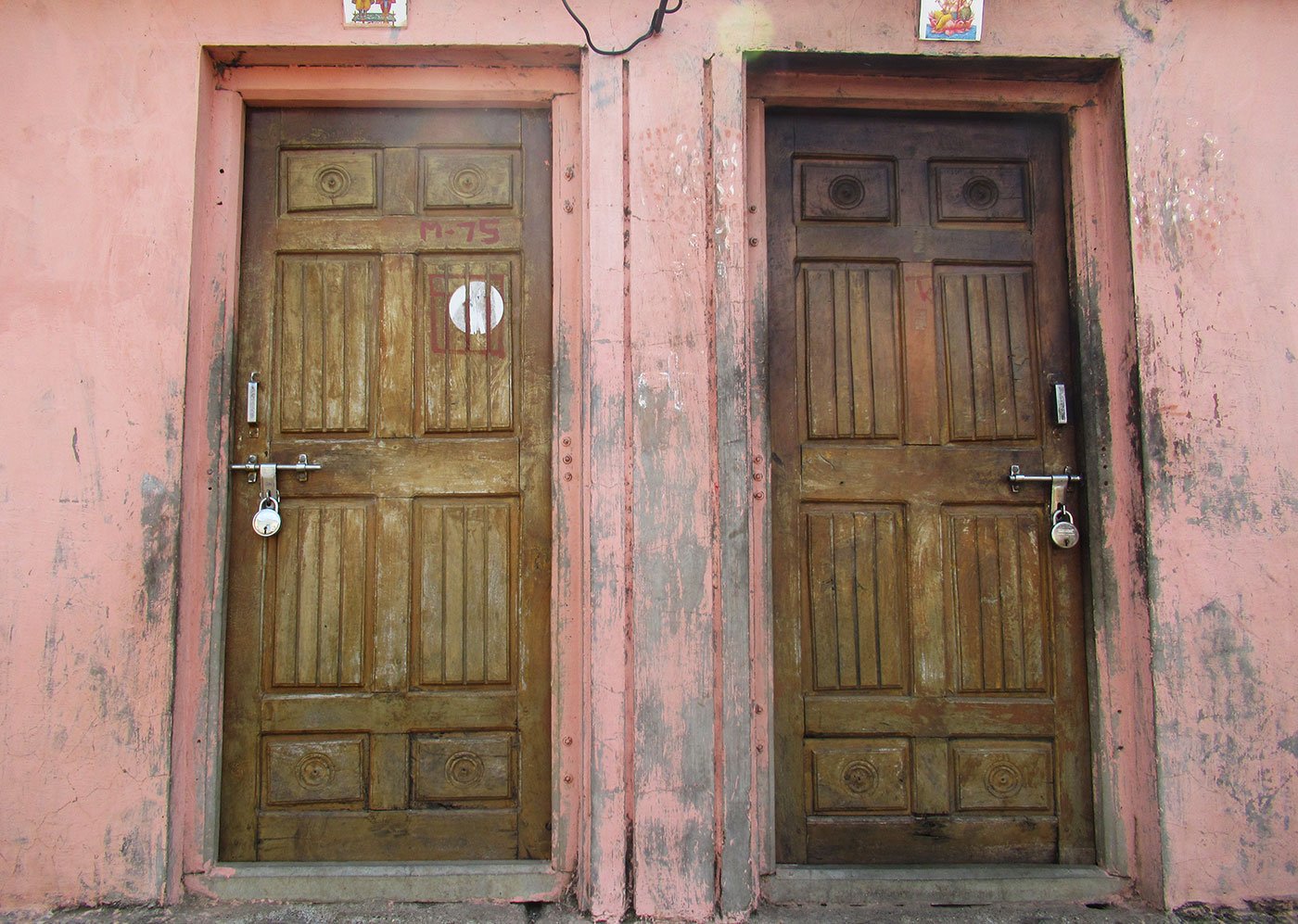 PHOTO • Parth M.N.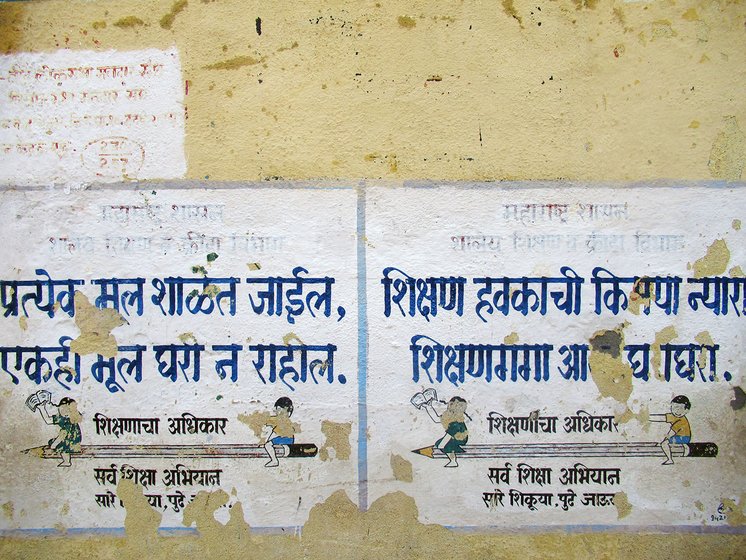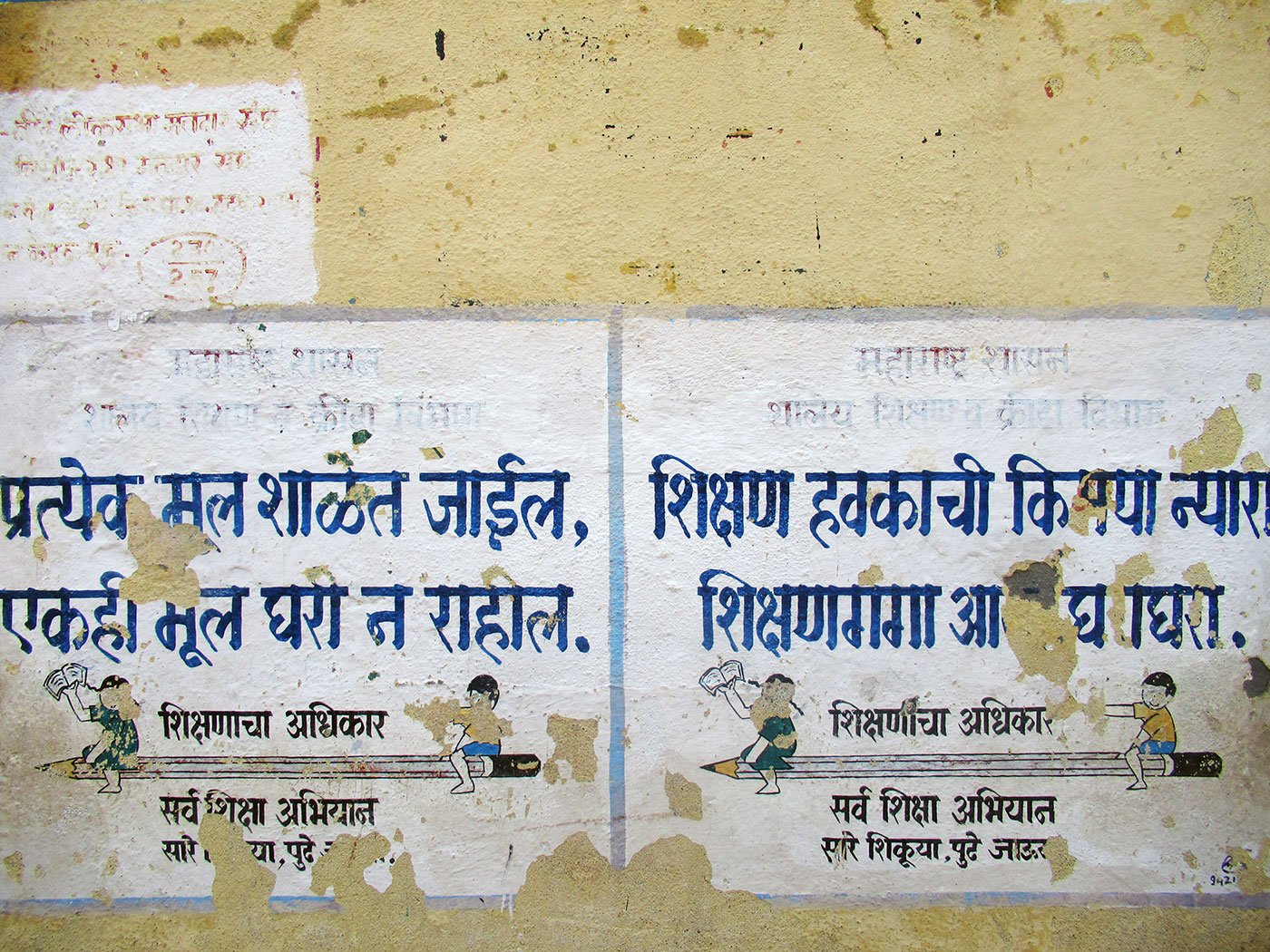 PHOTO • Parth M.N.
The water scarcity is combined with growing production costs, the absence of adequate and fair credit systems, and a lack of state support. The minimum support price (MSP) fixed by the central government for crops, including cotton, soyabean, tur and bajra, does not match the production costs borne by farmers, compelling them to double up as labourers. For instance, a food crop like jowar sells for Rs. 1,700 per quintal, while the cost of production is Rs. 2,089, according to the Price Policy for Kharif Crops report (2017-18) of the Commission for Agricultural Costs and Prices. Even cultivating a cash crop like cotton is no longer sustainable because the MSP is almost the same as the production cost, leaving little room for a profit even if the monsoon is decent.
During the five-month cane-cutting period, villages in talukas like Dharur, Wadwani, Parli, Shirur, Patoda and Ashti, all in the Balaghat range, are oddly quiet. Hatkarwadi, with a population of around 1,250, is among these. While driving to this village, up the hilly terrain on narrow, bumpy roads, the only sound is whine of the car engine. The silence pervades even after we reach the village, broken only by chirping birds and a hot breeze ruffling the leaves. The thud of our footsteps sounds very loud.
"Even if someone dies in the village, it will take a few days for others to find out," Jorwar laughs, deepening the wrinkles on her face. If she faced a medical emergency, she would have to call the tardy ambulance service to take her to the government hospital in Raimoha village, nine kilometres away. Jorwar and others like her depend mostly on the few younger adults still left in their village and neighbouring villages – some in high school, others doing odd jobs – when they need help. In some cases, their migrating children also leave behind some money that gives their elderly parents some sense of security in these lonely months.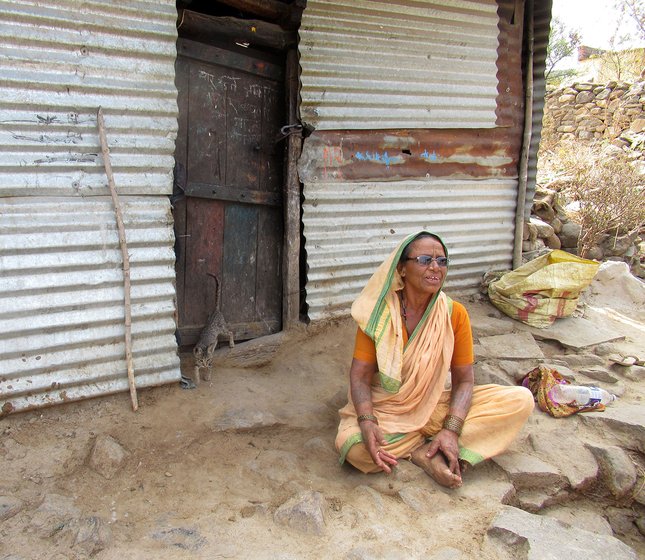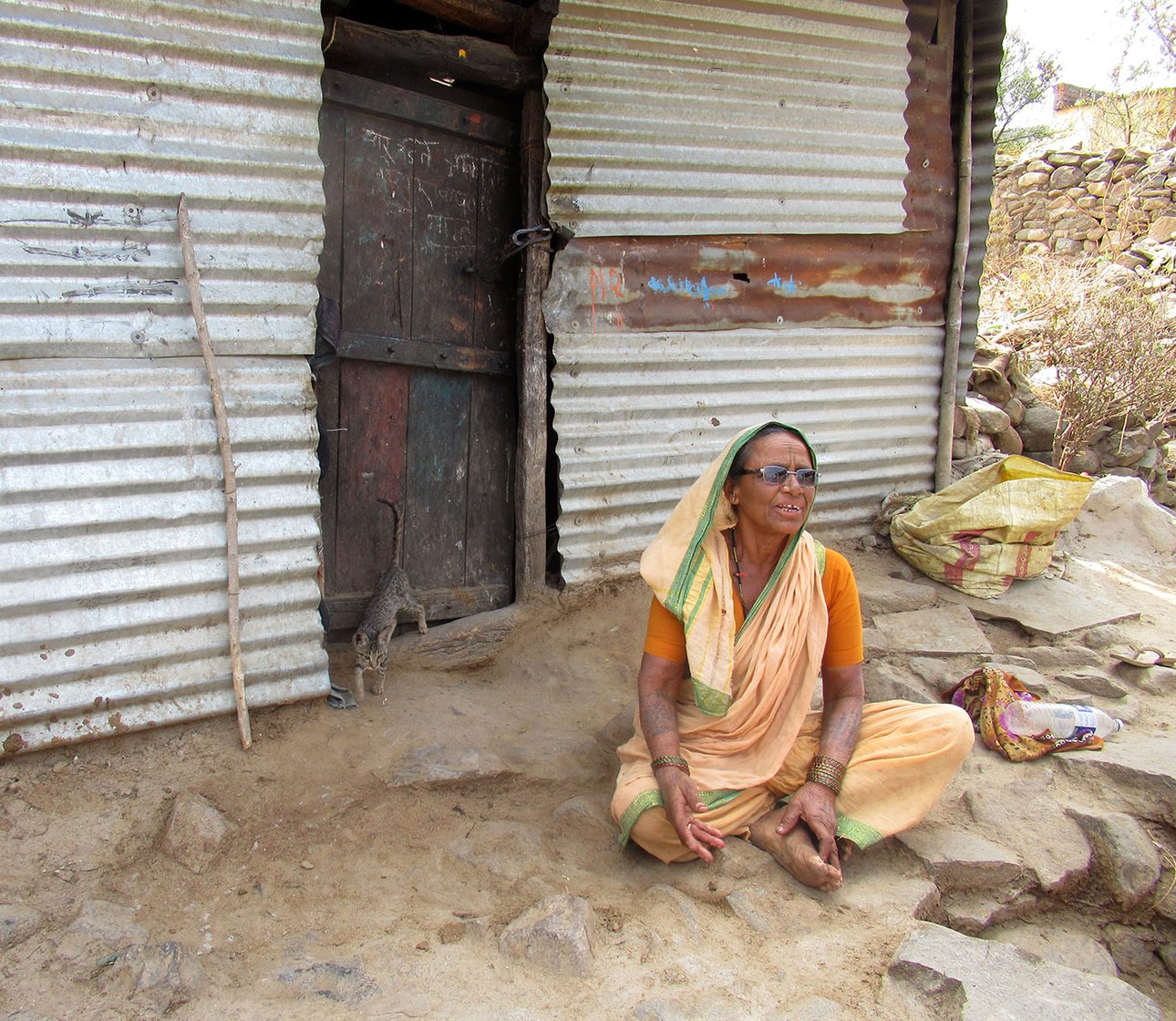 PHOTO • Parth M.N.
"Almost [everyone in] the entire village has left," Jorwar says. "Even I used to cut cane with my husband. He died a few years ago, but anyway we had stopped going around 10 years ago. Old people have no place in this line of work."
During the day, Jorwar, who walks with a hunch, spends her time fetching water, and cooking food for herself. "The village handpump often dries up," she says. "So I have to walk about two kilometres to fetch water from the village well." While we sit talking on the rocky platform in front of her one-room hut, Baburao Sadgar, drawn to the sound of our voices, approaches us from his nearby home. He is 70, and walks slowly with the help of a cane. "I heard people talking so was curious to know what is going on," he says. "It is a bit unusual to overhear conversations here during this time of the year."
Sadgar too has stayed back in the village with his wife Chandrabai, while their two sons toil away at sugarcane fields – he does not know exactly where. "I have seven grandkids," he says. "My wife and I are frail now. We can hardly look after ourselves, which is why my sons did not leave their kids behind. It is physically impossible for us to take care of our grandchildren."
Two of Sadgar's grandsons are in their 20s and away cutting cane with their wives. The other five grandchildren, ages ranging from 8 to 16, miss school when they migrate with their parents for five months. As do Jorwar's five grandchildren, ages 5 to 13. (See Cutting cane for 2,000 hours ). When they return they have a tough time catching up on studies or getting anything like a consistent education.
With many parents taking along their children during the migration months, Hatkarwadi's primary school, with classes till the fourth standard, only has a handful of students. Eight-year old Kunal Sadgar, accompanying us to the school, takes us through dusty alleys with padlocked wooden doors on both sides. Kunal stayed back with his mother because his father died four years ago. Since contractors only hire couples, his mother now works as an agricultural labourer in neighbouring villages.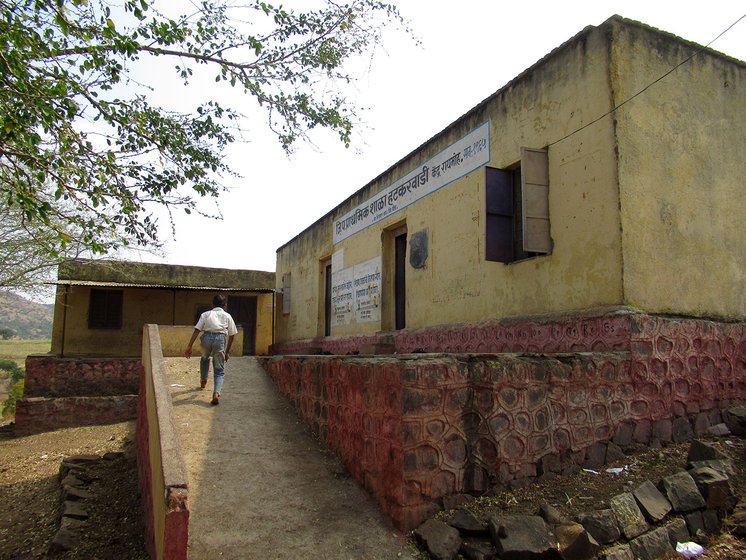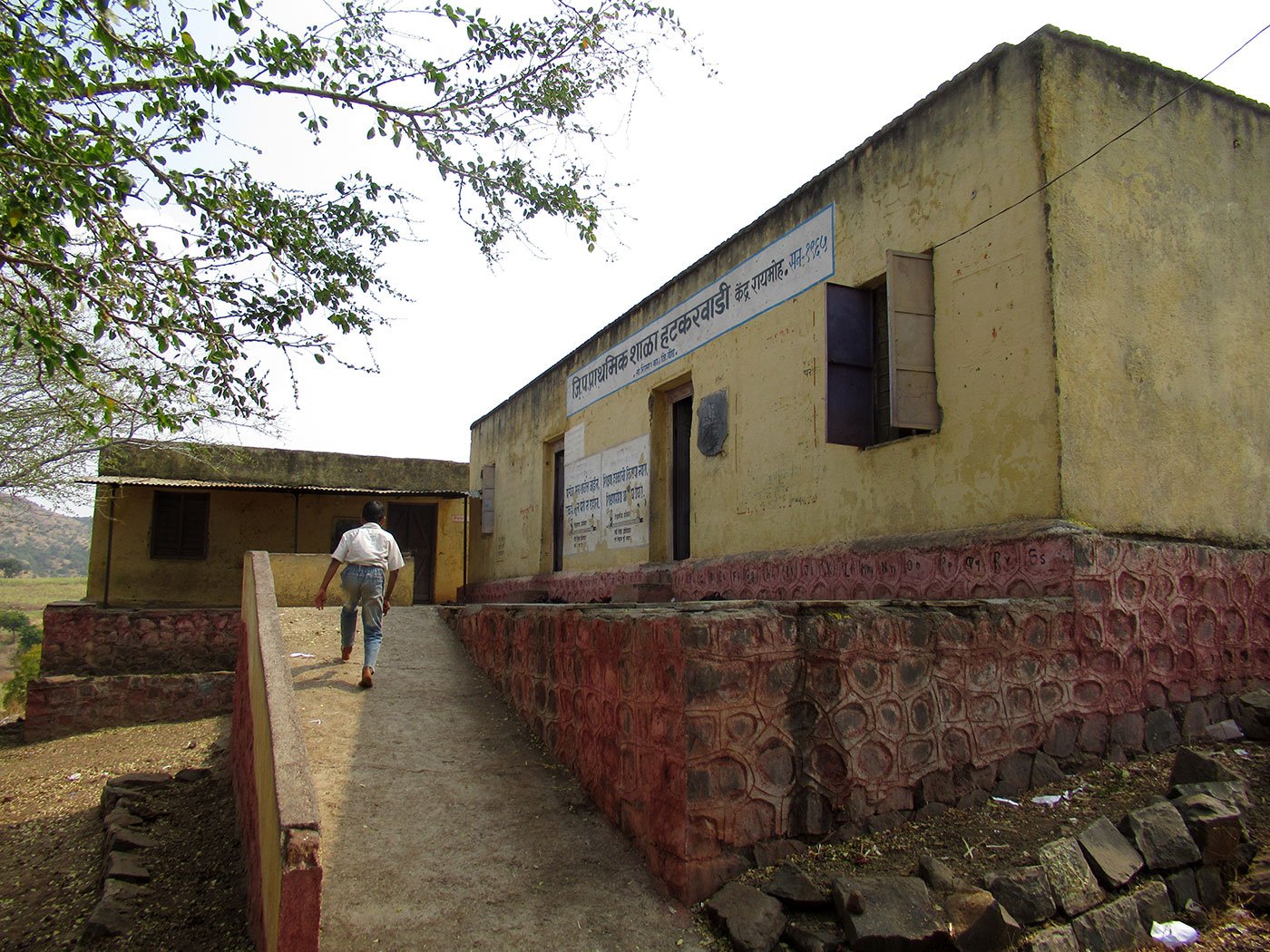 PHOTO • Parth M.N.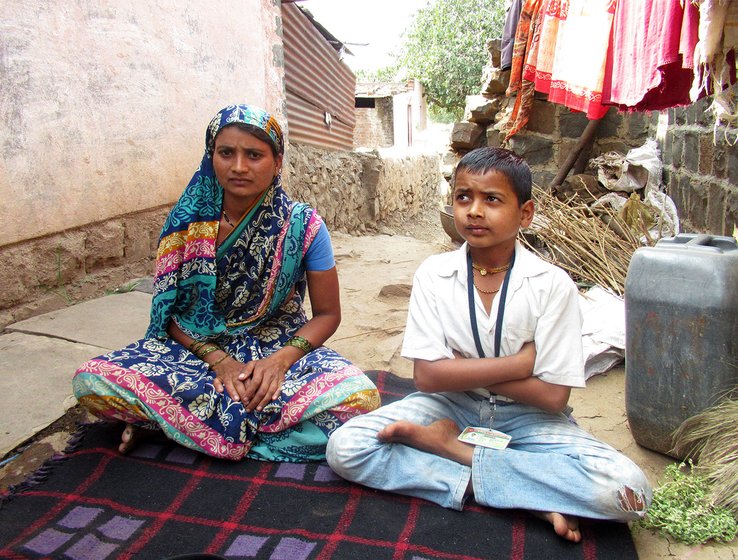 PHOTO • Parth M.N.
The teacher, Sitaram Kokate, 31, arrives just as we reach the school. "We only enrol kids up to nine years of age," he says. "But kids that young usually insist on going with their mothers. This has an adverse impact on their education. With their parents busy cutting cane, there is hardly anyone to look after their studies."
There have been sporadic efforts in Beed district to keep the children in school even when their parents migrate. At Dhangarwadi, a village with a population of around 1,350, around six kilometres from Hatkarwadi, headmaster Bharat Dhakne has achieved some success. "Four years ago, you would not have seen a single child in the school," he says. "Now 91 students are registered up to the eighth standard here; 80 are present today."
'I cook my own food with whatever is available on the farm. I do not want to cut cane. I want to be a pharmacist', Ashok says
Dhakne says he collected funds with the help of local non-governmental organisations and renovated the hostel in the village run by a school committee set up by the state government. Then he tried to convince parents. "The government gives 1,416 rupees per month [under the Hangami Vastigruh Yojana, a seasonal hostel plan] for every student whose parents are sugarcane cutters. It is obviously not enough," he says. "But after the hostel renovation, we went door-to-door and explained how important it is for the children to stay back. Students who migrate with their parents struggle to do basic maths. How will they get jobs in the outside world?"
It took a while, Dhakne says, for the parents to come around. "Some were persuaded in the first year," he says. "Then those who had stayed back helped us convince others. Gradually, we managed to convince almost all of them."
Even before the hostel was renovated, Ashok Gadhve, 16, stayed back with his elder brother, now 20. "My parents have been cutting cane since my birth," he says. "I never went with them." Ashok is now studying science at a high school in Raimoha, and lives alone in the house during the migration season. "My brother is also out working as a labourer," he says. "I cook my own food with whatever is available on the farm. I do not want to cut cane. I want to be a pharmacist."
Back in Hatkarwadi, Jorwar and others try and pass the long and lonely hours. "In the afternoon, some old people gather around the temple and chat. In the evening, we head to our farmlands [to shoo away pigs]," she says. "We have a lot of time."