"I have heard that many people have got good jobs and done well in life through government schemes," says Gauri. "I've seen this in advertisements on television."
Gauri Vaghela, however, does not actually know anyone who has got these jobs or done well because of state schemes, as the ads claim, and her own work options remain modest too. "I have done a skills course offered by the government and can use the sewing machine," says the 19-year-old. "I even got a job [in a garment factory]. But it was an 8-hour shift for only Rs. 4,000 a month, and some six kilometres from where I live. Almost everything went on food and transport. So I quit after two months. Now," she laughs, "I'm at home and stitch clothes for neighbours at Rs. 100 per piece. But people here make only two sets of clothes to last for a year, so I don't make much money!"
We are talking with a group of young women in a slum colony in the Ramnagari area of Bhuj city, in Gujarat's Kachchh district. The conversation centres around the Lok Sabha elections – the polling date here is today, April 23.
In the 2014 elections, with around 9.47 lakh people voting of the registered nearly 15.34 lakh voters in Kachchh, the Bharatiya Janata Party won all the 26 Lok Sabha constituencies in the state. The Member of Parliament from Kachchh, Vinod Chavda, defeated his nearest rival, Dr. Dinesh Parmar of the Congress party, by over 2.5 lakh votes. Moreover, in the 2017 Gujarat state elections, the Bhuj Assembly constituency was among the 99 seats the BJP won of a total of 182. The Congress got 77 seats.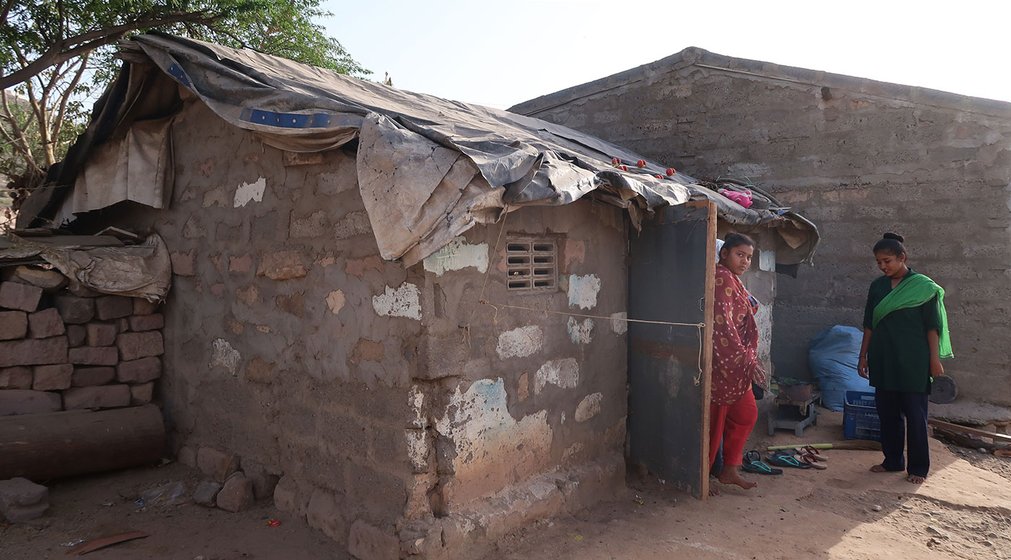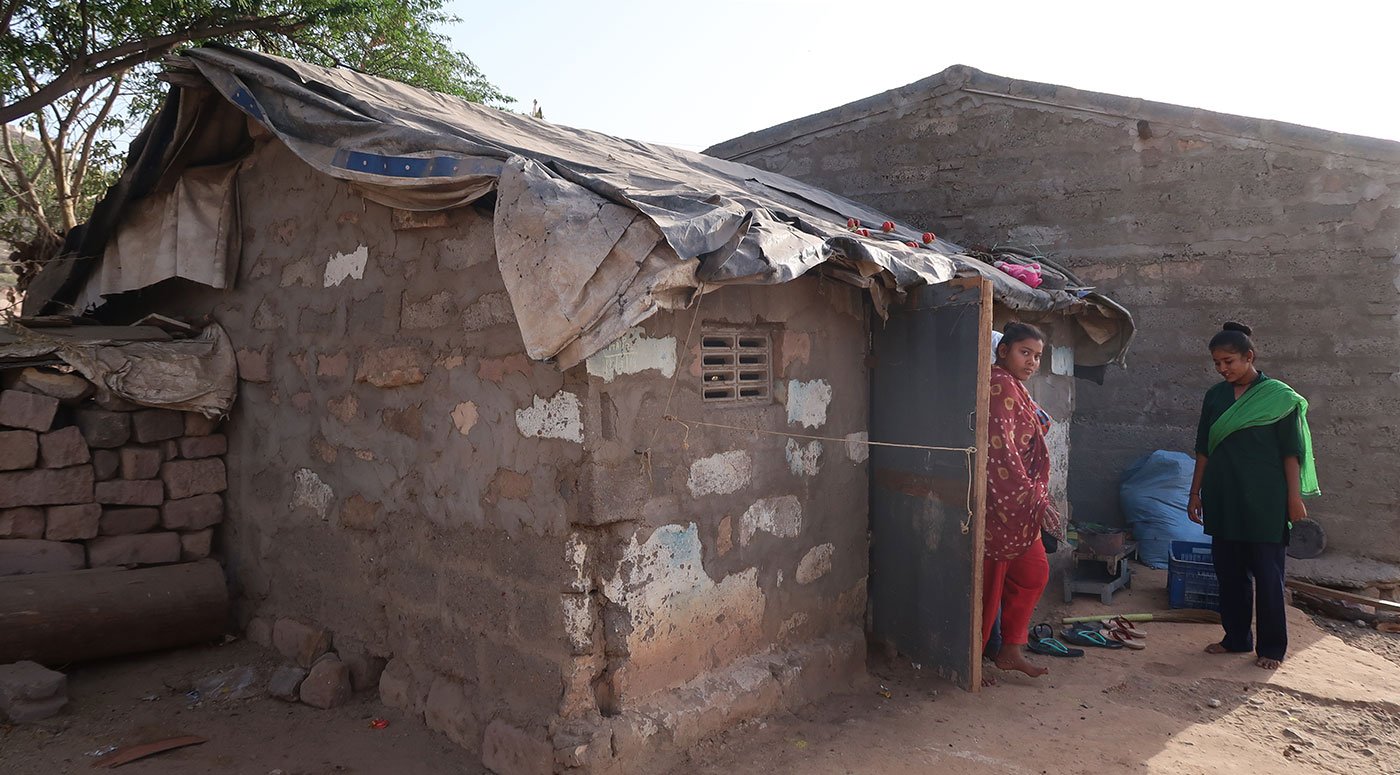 PHOTO • Namita Waikar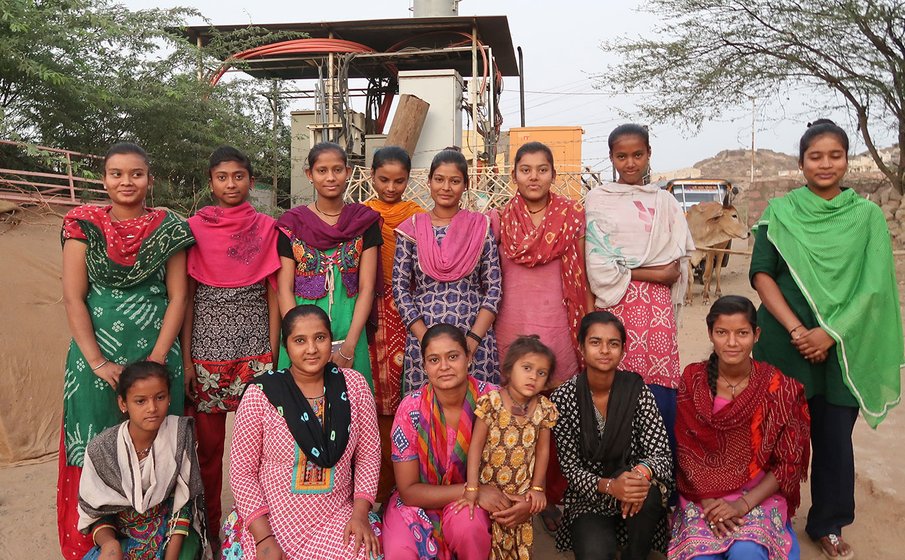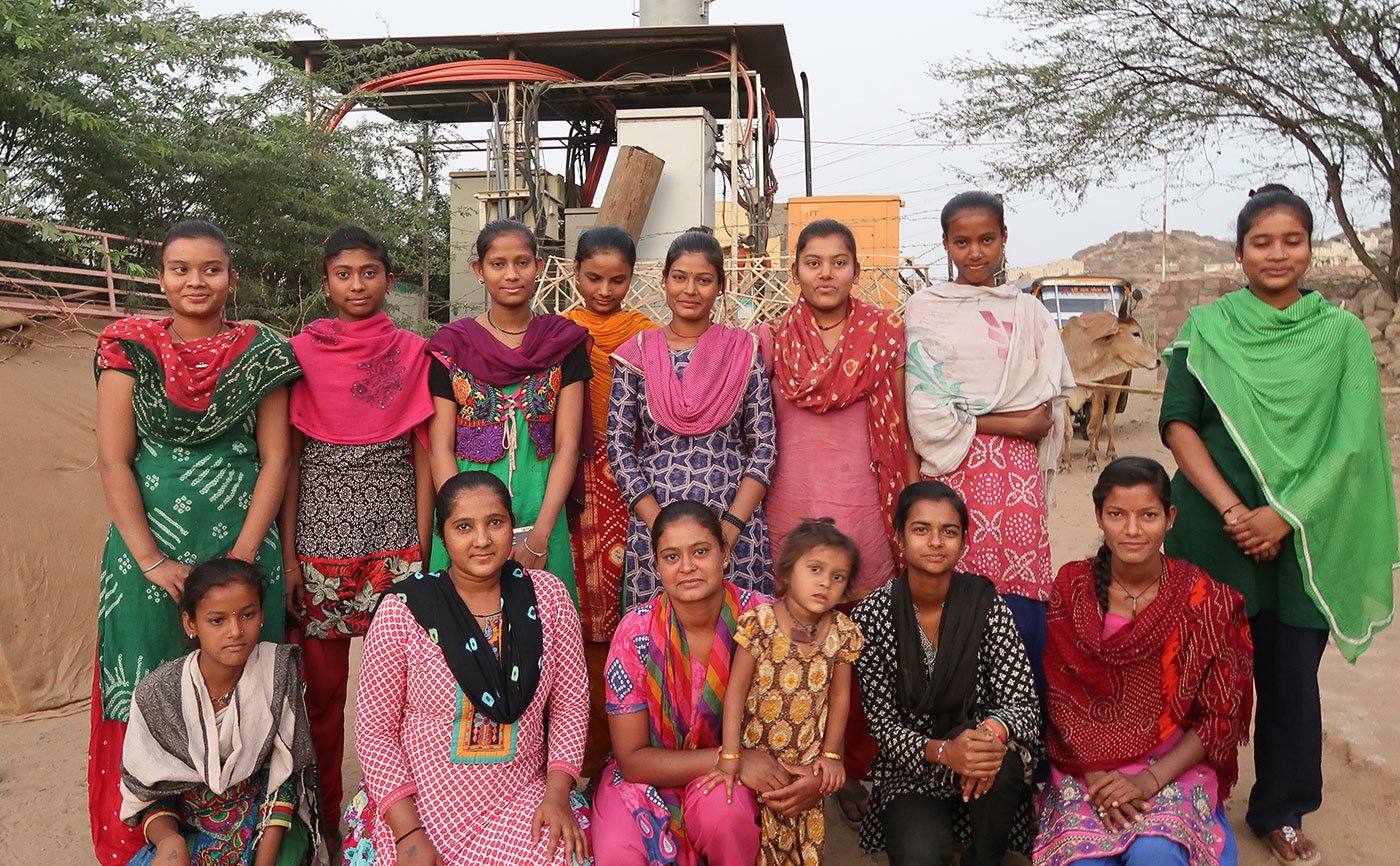 PHOTO • Namita Waikar
Most of Ramnagari's residents are migrants from rural Kachchh, who came in search of work and settled here. There are 78 such colonies in Bhuj – a city of neary 150,000 people (Census 2011) – where migrants from rural Gujarat live, says Aruna Dholakia, executive director of the Kutch Mahila Vikas Sangathan, which works with women in Bhuj.
The 13 women we met in Ramnagari are all between 17 and 23 years old. A few were born here and others came to Bhuj with their parents. Only one among them, Puja Vaghela, has voted before, in the 2017 Assembly elections. None of the others, who are 18 years and above, including Gauri, have registered for voting.
All have attended primary school, but most dropped out thereafter, between Class 5 and 8, as did Gauri, who studied up to Class 6 at a state-run boarding school in Kodki village in Bhuj taluka . Only one of them, Champa Vaghela, Gauri's younger sister,  has studied further and is in Class 10. Half the women cannot read or write well, including some who attended school till Class 5.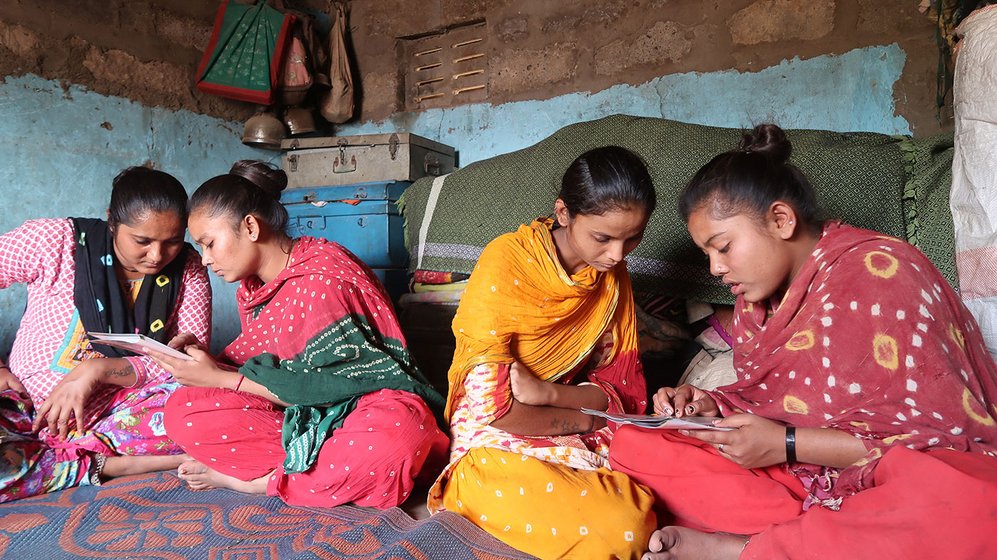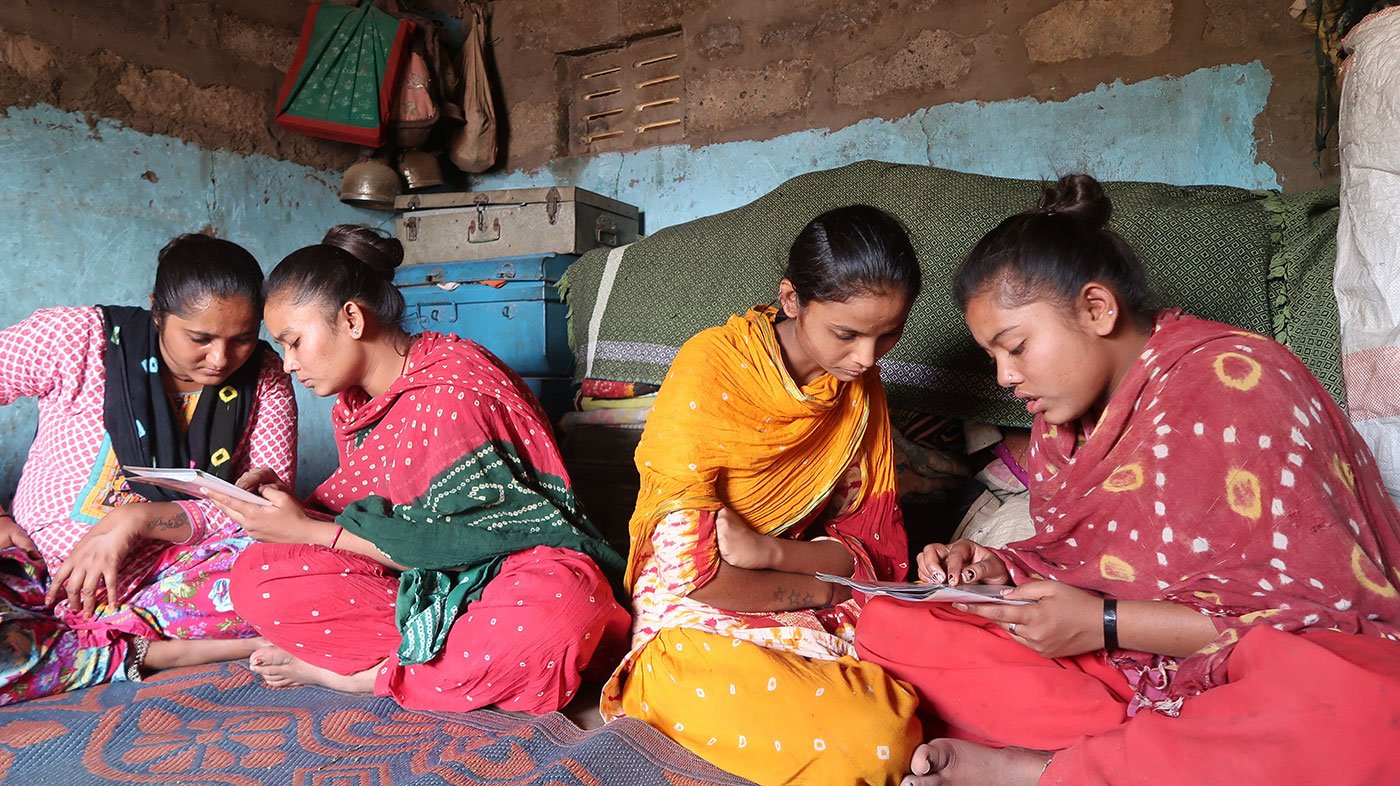 PHOTO • Namita Waikar
Vanita Vadhiara's schooldays came to an end when she was in Class 5. When she told her grandparents that she feared a boy who followed her everywhere, they took her out of school. She's a good singer and was offered work with a music group. "But there were many boys in the group, so my parents didn't give me permission," she says. Vanita, along with her siblings, does bandhni work. For 1,000 dots of the tie-and-dye fabric, they earn Rs. 150 – and make around Rs. 1,000 to Rs. 1,500 a month.
At 22, she doesn't see what difference voting can bring to their lives. "We all had no toilets for many years and had to go out in the open to defecate. We were very afraid to go out at night. Many of us now do have toilets [just outside the house], but many of these are not connected [to the drainage line] and cannot be used. The poorest in these slums still have to defecate in the open."

The men in the families of the assembled women work as cooks, autorickshaw drivers, fruit vendors and labourers. Many of the young women work as domestic workers or helpers in restaurant kitchens.  "My mother and I work from 4 p.m. till midnight for party caterers, making rotis and washing utensils," says 23-year-old Puja Vaghela. "We get only Rs. 200 [each] for a day's work. If we miss a day or leave work early, our pay is cut. But we never get paid for jyada kaam – and we have to often work more."

She and the others all feel that women Members of Parliament will be more responsive to the concerns of communities like theirs. "We poor people need to have more money if we want to become leaders," says Gauri. "If half of Parliament is made up of women, they would go from village to village and find out what problems women face. But what is happening now is that even if a woman is elected, it is her father or husband who gets more importance and holds the power."
'Big companies can fend for themselves, why does the government have to help them? I have heard from TV news that their loans are waived...'
Their scepticism echoes around 50 kilometres away, in Dador village of Nakhatrana taluka of Kachchh district. "In this lokshahi [democracy], people are bought over – for Rs. 500 or 5,000 or even 50,000 for their votes," says 65-year-old Haji Ibrahim Gafoor, a 20-acre farmer who owns two buffaloes and cultivates castor. "The poorest get divided, half on one side and half on the other, and don't get any benefits. A leader of a community gets money from the people fighting elections. But those who are under the influence of that leader for voting, they don't get any real benefits. They are giving daan in the matdaan [donating their votes] . "
Nanduba Jadeja, who we met in Vang village in the same taluka (she is from Devisar village) has this advice for the government: "If they really want to help people, they should waive the loans of farmers and pastoralists. It is because of the work they do that we can survive – we get food to eat and milk to drink.  My request to the government is that they should help these people."
Nanduba, 60, works with the Saiyere Jo Sangathan women's collective of the Kutch Mahila Vikas Sangathan. "Big companies can fend for themselves, why does the government have to help them?" she adds. "I have heard from TV news that their loans are waived by the government. And when farmers ask for loan waivers, the government tells them it doesn't fit within their rules! People live because of agriculture in this country. They cannot eat the plastic that companies manufacture."
From Ramnagari to Dador and Vang, the issues expressed by the people are clear. But, going by recent electoral history, will the voting trends align with these issues?
The writer would like to thank the team at Kutch Mahila Vikas Sangathan in Bhuj, especially Shabana Pathan and Rajvi Rabari of the KVMS's Sakhi Sangini, and Hakimabai Theba of the organisation's Saiyere Jo Sangathan in Nakhatrana, Kachchh for their assistance.