It is their laughter that catches our attention. Some girls are skipping with ropes, several boys are engrossed in a game of cricket, some children are running and a few stand aside alone, watching their schoolmates on the large playground.
As we wind up our day of shooting and recording for the Grindmill Songs Project of PARI in Daund taluka of Pune district, we are drawn by the laughter of the children of the zilla parishad primary school in Yeole vasti, a hamlet of Malthan village.
A game of cricket is on, played with some passion, and the boy at the batting end sees us approaching, armed with cameras, but quickly turns his eyes to the bowler and whacks the ball. The fielders run to fetch it.
A few girls gather around us. They need little encouragement to sing, though they are a bit shy at first.  They look at each other for reassurance and to confirm that they've got the song right. Jitendra Maid from the PARI team teaches the kids a game that involves singing and dancing, and they form a circle, repeating every line and action he demonstrates.
"We let them play for an hour after all the study periods are over," says Sunanda Jagdale, their teacher.  The school principal, Sandeep Rasaal, shows us the office and the classroom. "We also have a computer and we are renovating and repainting the school building, please help us any way you can," he says and takes us to an adjoining shed. He calls it their 'modern' kitchen – it is clean, with grains neatly stored in tins, not in sacks – where they prepare the mid-day meals.
The school has 43 students – 21 girls and 22 boys, ages ranging from 6 to 10.  Each class from 1 to 4 has about 10 students. Most of them are from Malthan, a few are from neighbouring Mugaon village. "There is a high school in Malthan with classes up to the tenth standard. That is where most of these students will go after they pass from this primary school," Rasaal tells us.
A new classroom is getting ready – it is in some disarray, with cans of paint lying on the floor. In the far corner, a child sleeps in a hammock made from an old saree.  "That is my younger daughter. Our older daughter also studies in this school," adds Sunanda. The principal and the teacher are married; they run this school together with an evident sense of pride and hopes of making it better. The couple make up the entire teaching staff. They live in Daund town, about 65 kilometres away, and drive to school every day in their car.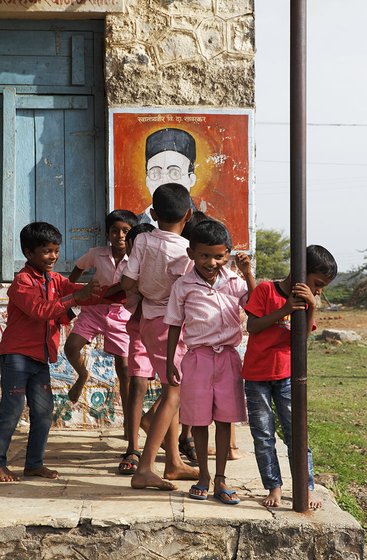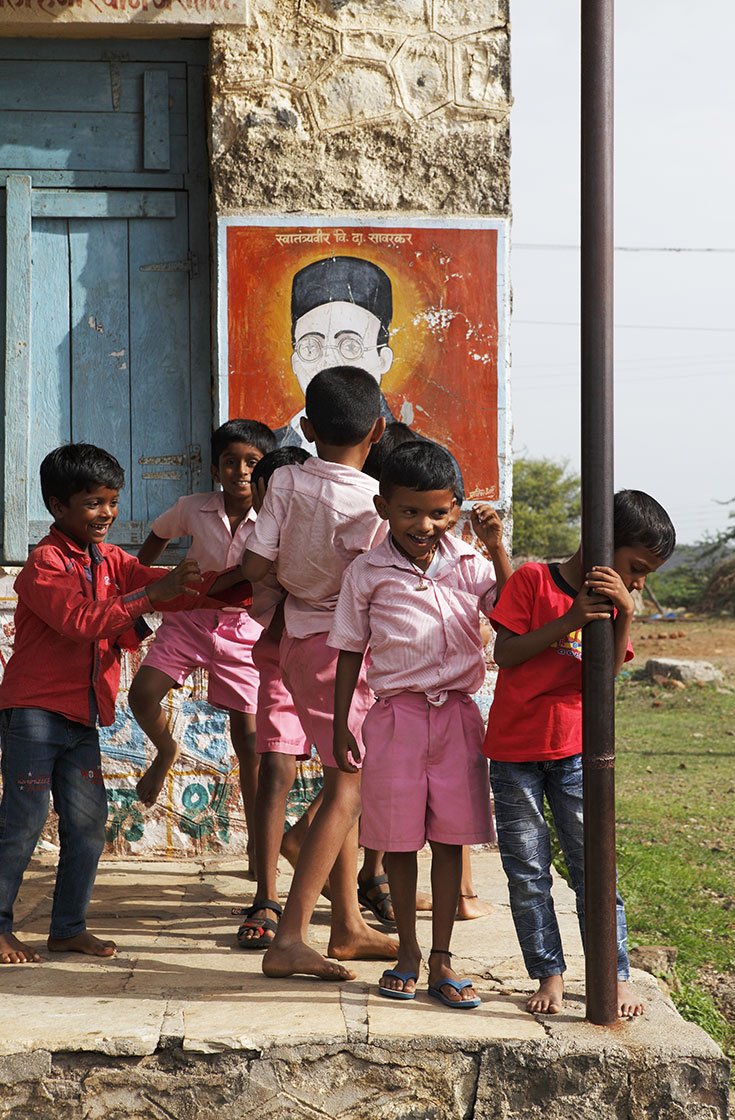 PHOTO • Binaifer Bharucha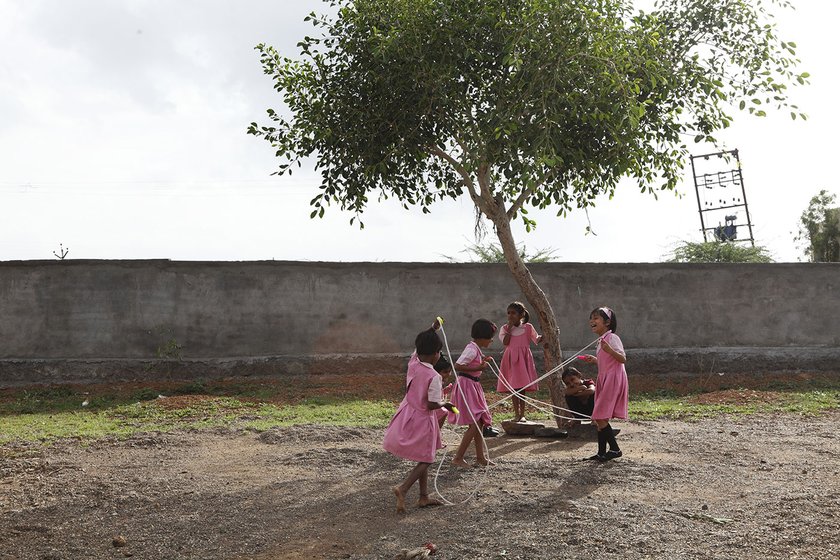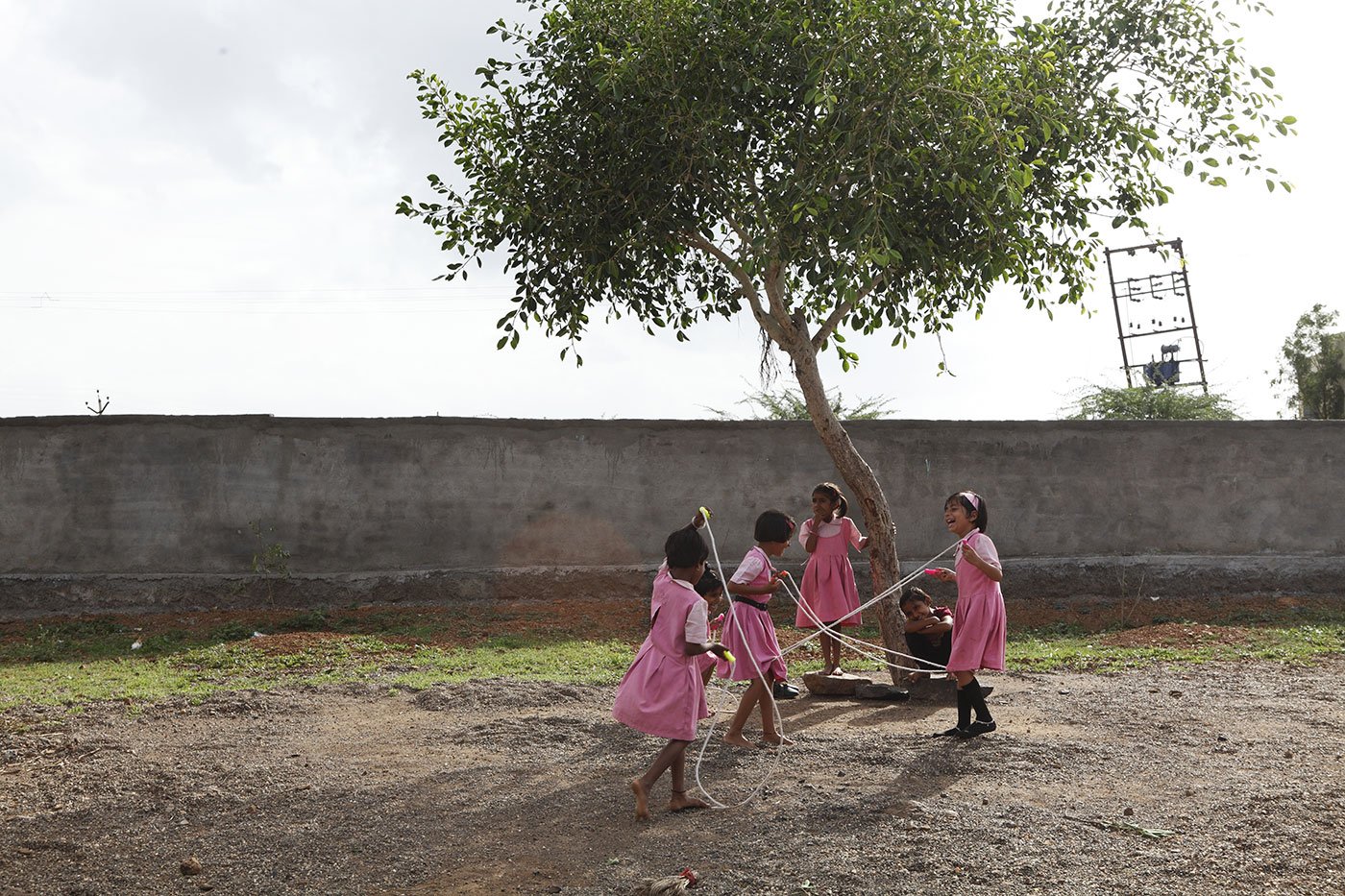 PHOTO • Binaifer Bharucha
Meanwhile, the young cricketers are fighting over who will be the next batter. One quick thinker tells the others that they have an outside audience and need to behave themselves. This resolves the fight and averts the imminent hand-to-hand combat.
With the play hour over at around 3 p.m., the teacher calls out to the children to rearrange the furniture, clear the classroom of their bags and water bottles, and put back the skipping ropes, bats and balls in their assigned places. Everybody pitches in. Girls and boys go quietly about the tasks and gather back on the ground, standing in a neat column formation. Then, solemnly, they sing Vande Mataram – this is a part of their daily routine.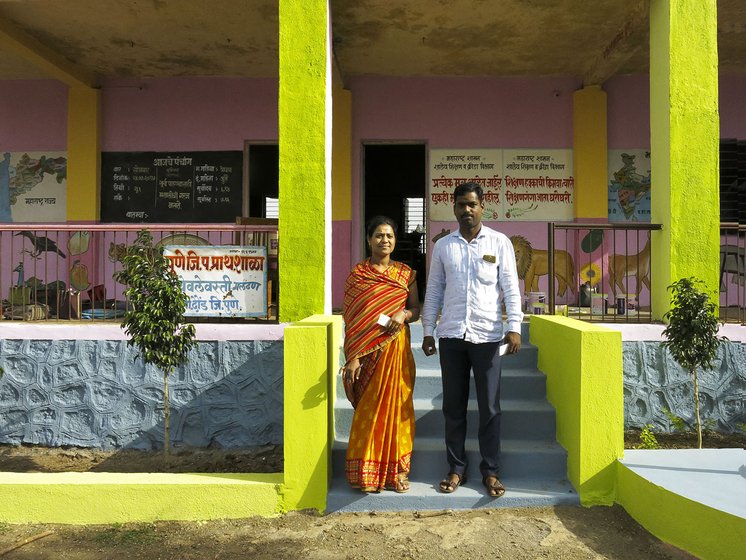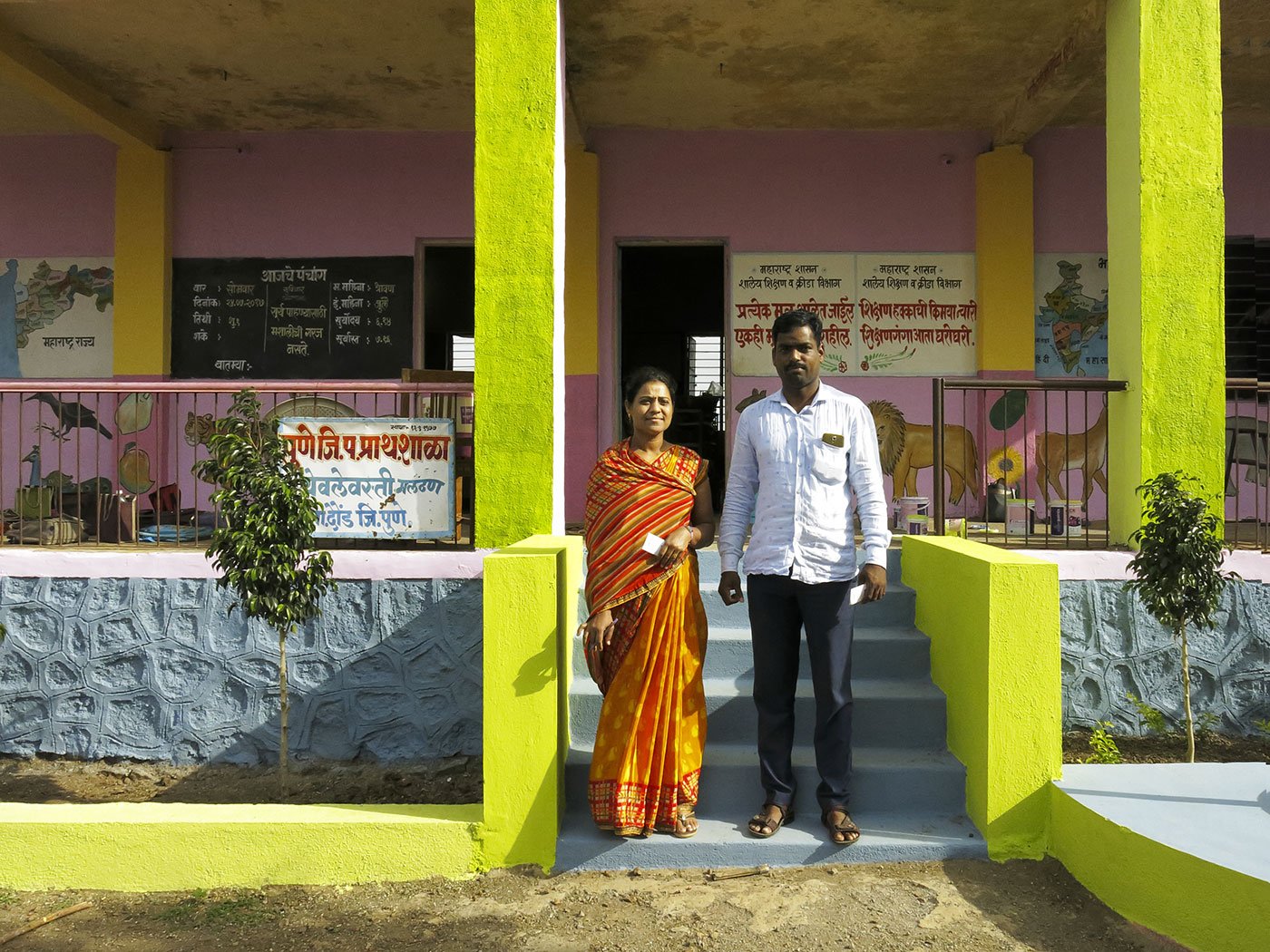 PHOTO • Samyukta Shastri
The final slogan of ' Bharat Mata ki jai ' goes a bit off-sync and then haywire, irking the teacher. Jagdale tells them to repeat it properly and calls out to a senior student to take the lead. The second attempt goes well and the assembly is dispersed. Only to gather around the principal with the serious question: "Sir, what is our homework for today?"
"We have learnt to count today. Write down all numbers up to 100 or 500, according to the level you have learnt," says Rasaal. The numbers represent work for different levels of students – all classes for all ages are held in a single room.
"Sir, we learned the numbers up to 1 lakh, so we should write till 1 lakh, no?" comes a question from an older student, obviously from Class 4.
Parents arrive and some students leave with them, riding pillion on bicycles, scooters or motorbikes. Others sit on the ground waiting to be picked up. We say goodbye, taking with us the joy that the children brought to our world that day.