"Every year we come here for a month in the summer to earn some money," says Shanti, as she pulls her colourful dupatta closer to her forehead and nudges her nine-year-old grandson Amarjeet to continue playing the ravanahatha . " Bajao, bajao [play it, play it]," she tells him. He moves the bow over the strings, but without much enthusiasm.
We meet Shanti and Amarjeet ( in the cover photo on top ) on our way to a mountain-view point; they're sitting on a raised platform by the side of the road in Naddi village, around three kilometres from Mcleodganj in Himachal Pradesh, a little above Dharamshala.
Shanti tells us, a little apologetically, that "the boy's [Amarjeet's] grandfather is very good at playing the ravanahatha , but he is sick today so could not make it. We have always played this instrument and sung songs too. But my grandson does not like [to play] it. These days, they say children should study. So he goes to the school [in our village]."
Which class are you in, I ask Amarjeet. " Chouthi mein [in the fourth]," he answers with a smile.
The ravanahatha – literally , ' the hand of Ravana' – is a two-stringed instrument. It has a bowl at one end made of coconut shell and goat hide. The player holds the half-coconut end against his midriff and points the long bamboo stick outward. There is one metal string along the length and one made of animal hair. The bow is moved across them to make music.
If they're lucky, tourists will get out of their speeding vehicles, or those ambling along on foot will wait a while to listen, and give them some money

The instrument is mentioned in the Ramayana . Ravana, the legend says, as obeisance to Lord Shiva, makes the ravanahatha with one of his 10 heads, his arm and some of his own hair. Hanuman then brings it to India from Lanka. In a linking back across geographies and time, Dinesh Subasinghe, a composer and violinist from Sri Lanka, is now reportedly reviving the instrument, and has used it in many of his compositions.
In Rajasthan, folk musicians, many of them from nomadic tribes, play the ravanahatha . Shanti's family of agricultural labourers lives in Mundwa village of Nagaur district in the state's Marwar region. Along with her son Raju, her husband, her daughter-in-law Sukli, and her grandson Amarjeet, she comes to Himachal Pradesh every year in mid-April and stays till mid-May, when there isn't much farm work in the village. They travel to Jodhpur by bus, take a train to Bhatinda in Punjab and then a bus to Dharamshala. This one-way journey costs them Rs. 300 per person.
Where do they stay when they come to Dharamshala? "We get a room for 2,500 rupees a month. All five of us live there and cook our meals there too." On any given day, the musicians can earn Rs. 400 to 500, performing Hindi film song tunes. Today, they've split up into two groups: Shanti and Amarjeet in one place and Raju and his wife Sukli in another.
The musicians compete with the breathtaking views of the Dhauladhar mountain range and the enchanting Buddhist monasteries for the attention of tourists, who whiz past them on sightseeing missions in cars, taxis or on motorbikes. Every day, they play their instrument at a fixed spot, usually on the way to a famous site or very close to it. If they're lucky, tourists will get out of their speeding vehicles, or those ambling along on foot will wait a while to listen, and give them some money.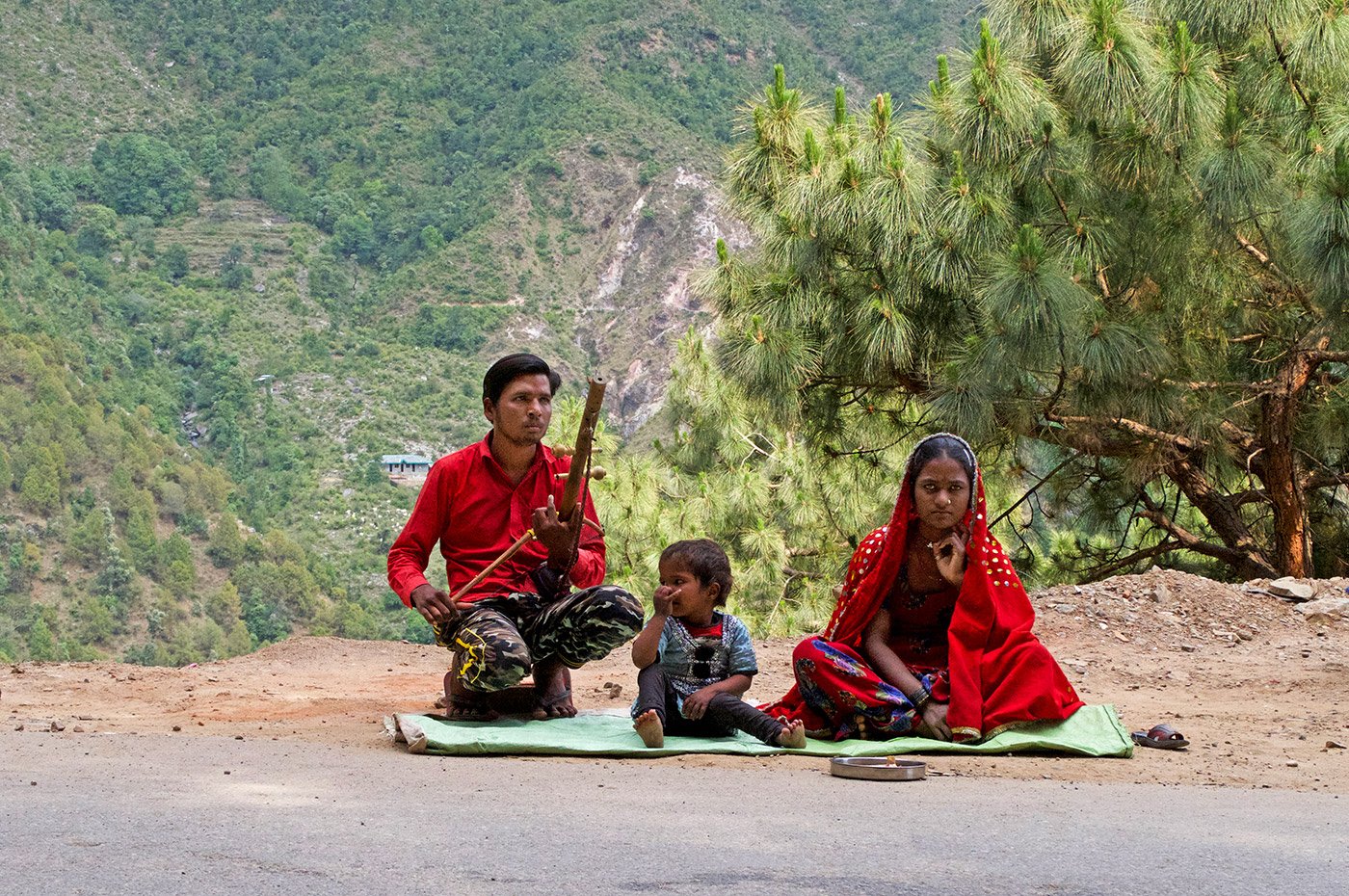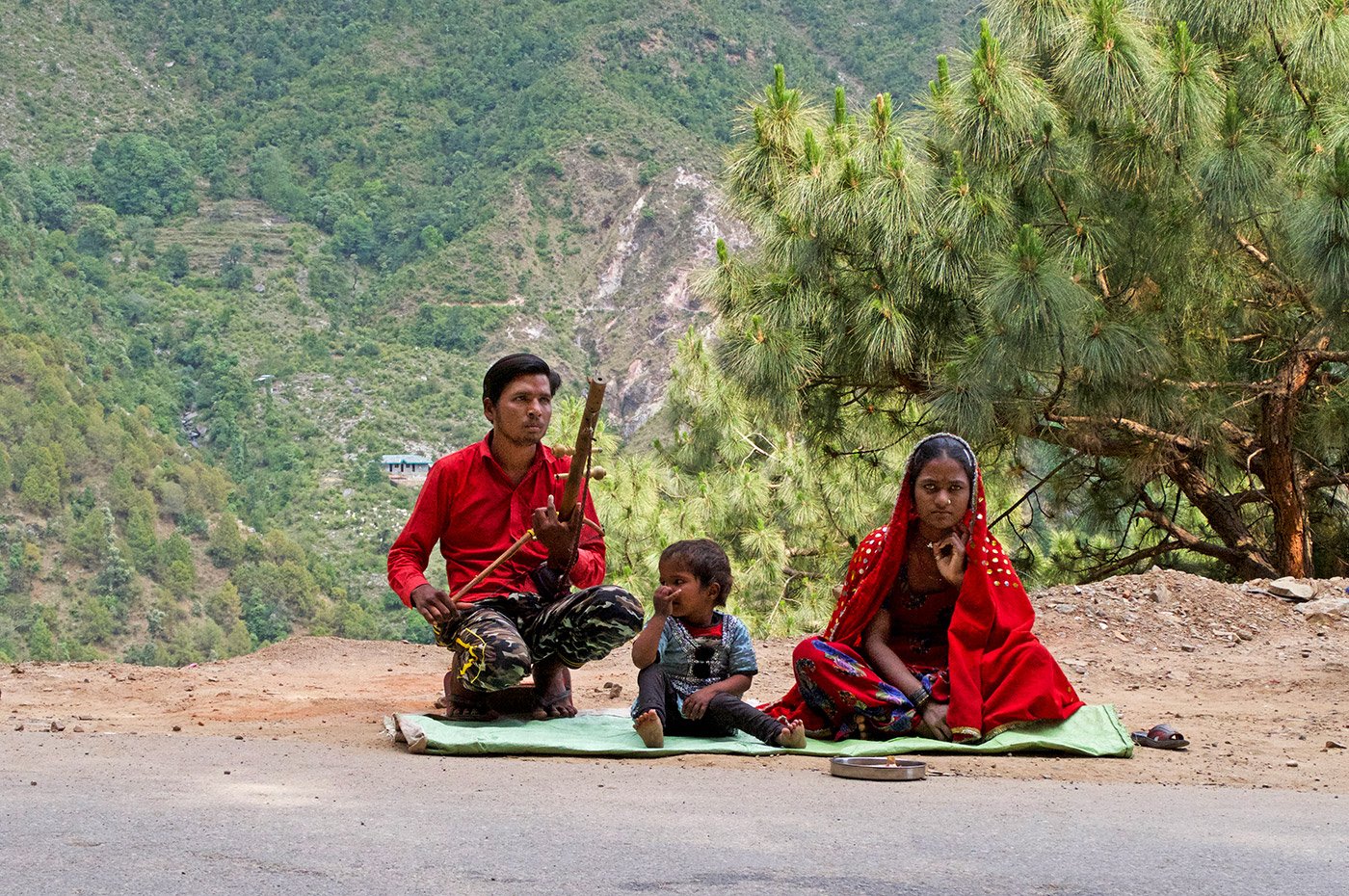 PHOTO • Namita Waikar
We meet another family of migrants from Rajasthan on the road to the Namgyal Monastery in the Tsuglagkhang complex, that has the home of the Dalai Lama. This family has an Amarjeet too, but one who plays melodious tunes on the ravanahatha . His wife Manju and their two-year-old son Raju sit next to him on a green plastic sheet. The steel thali in front of them has a few 10-rupee notes and some coins – their earnings from the tourists passing by. A few feet behind them the edge of the road plunges into the steep slope of the Kangra valley.

Amarjeet and Manju are also agricultural labourers from Gomabari hamlet in Rajasthan's Sri Ganganagar district. They spent Rs. 1,200 on the return fare of three persons from their home to Dharamshala this year. The monthly rent for their room here is Rs. 3,000. "We cook in the room on an electric heater. We brought provisions with us so we don't have to spend much here," says Manju. With a daily income of about Rs. 500 and after deducting their expenses on travel and lodging, they make around Rs. 10,000 in a month.
"We will do khet majuri when we go back to Ganganagar," says Amarjeet, a little wistfully. He stops talking as tourists start to gather around. Then he moves his bow across the strings of the ravanahatha and plays the tune of a popular Hindi film song.
Pardesi, pardesi, jaana nahin
mujhe chhodake ...
O stranger, stranger, don't go
don't leave me…
Reluctantly, we do.