This week, in the Grindmill Songs Project,  Muktabai Ubhe and Sitabai Ubhe from Kolavade village in Pune district sing five couplets about the warkaris' pilgrimage to Pandharpur in Maharashtra

In this edition of the Grindmill Songs Project, we publish five ovi about the Pandharpur wari . The wari is a biannual pilgrimage, when devotees of Lord Vitthal (also known as Vithoba or Pandurang) walk to Pandharpur town in Solapur district of Maharashtra, to meet their beloved maauli (mother) at the temple there. For the pilgrims, Vitthal is a deity who listens to them and nurtures them, and holds the place of a mother in their devotion. The warkari is a person who goes on this journey of about 21 days, on foot.
The wari is undertaken twice in the Hindu lunar calendar year – during the month of Ashadh (June/July) and then again in Kartik, around October/November. The  June/July journey is more popular because it commences after the sowing of crops.  Farmers, shepherds, cowherds and others from rural Maharashtra are among the many who go on this pilgrimage. Several of the warkaris leave for the pilgrimage from urban areas too, where they have migrated from their village for work.
In the 13th century, Sant Dnyaneshwar, who wrote the Dnyaneshwari (a commentary in Marathi on the Bhagavad Gita in the form of verse) went on this journey regularly. Sant Tukaram, whose poetry is collected in the Tukaram Gatha also frequently undertook the wari in the 17th century. Other poets like Janabai, Muktabai and Namdev of the 13th  century were also known to be regular pilgrims.
All of them were poets from Maharashtra who revered Lord Vitthal. They belonged to the Bhakti tradition of devotional poetry, which began in southern India in the 7th century and spread northwards from the 12th to the 18th centuries. Bhakti was a progressive movement, its poetry spoke of social reform.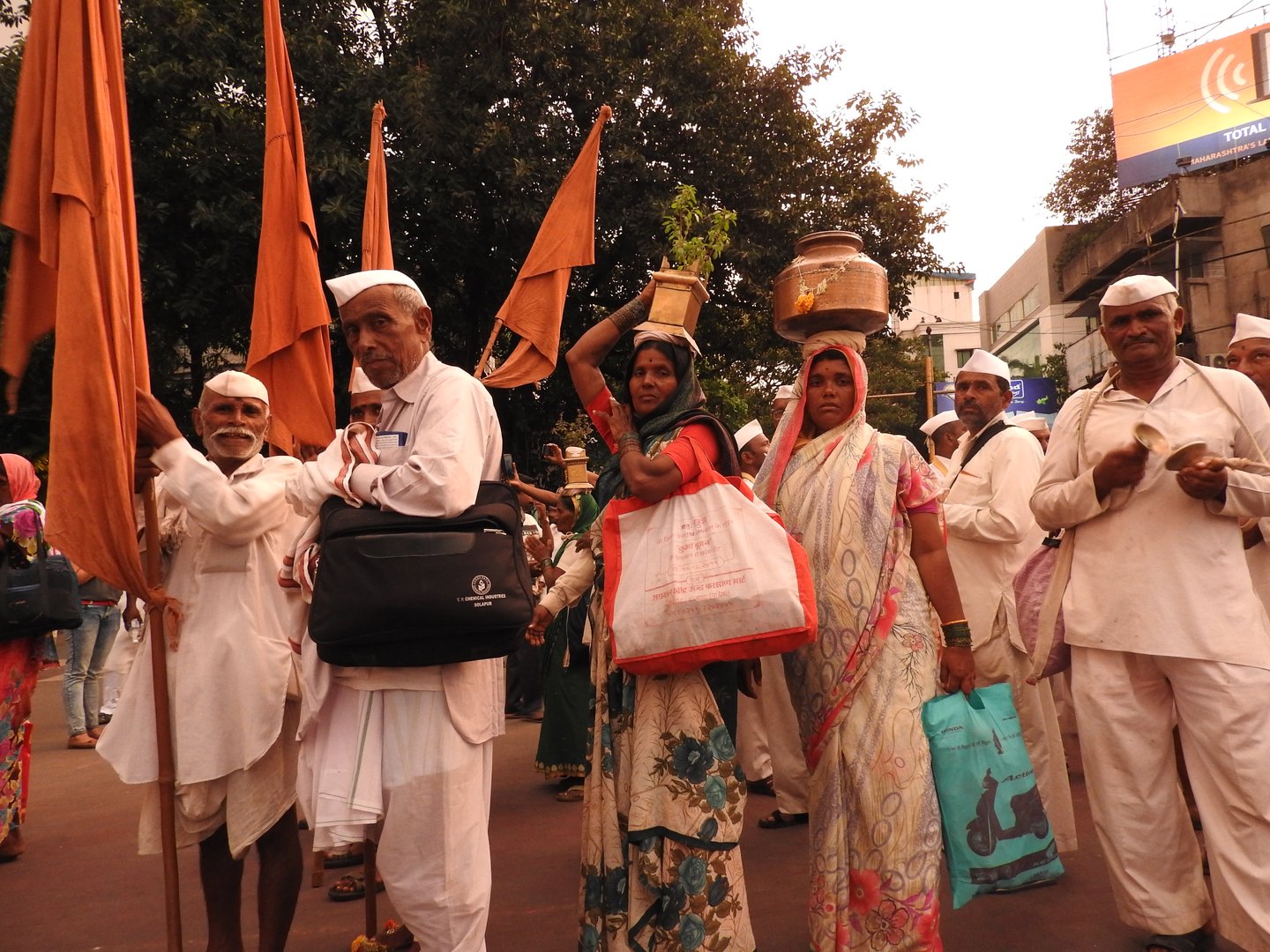 PHOTO • Namita Waikar
The present day wari begins in two towns of Pune district. A procession starts from Alandi in honour of Dnyaneshwar, and another from Dehu in honour of Tukaram.  These two streams of the grand procession to Pandharpur meet in Pune city, stop there for two days and go onwards together up Hadapsar in Pune. They then branch out into separate processions meeting again at Wakhari in Pandharpur taluka of Solapur district and once again they merge before Pandharpur town.
Devotees from various towns and villages of Maharashtra, Madhya Pradesh, Karnataka and Andhra Pradesh, some of them in smaller processions in honour of other poets of the Bhakti tradition, also join the main procession going to Pandharpur at different points.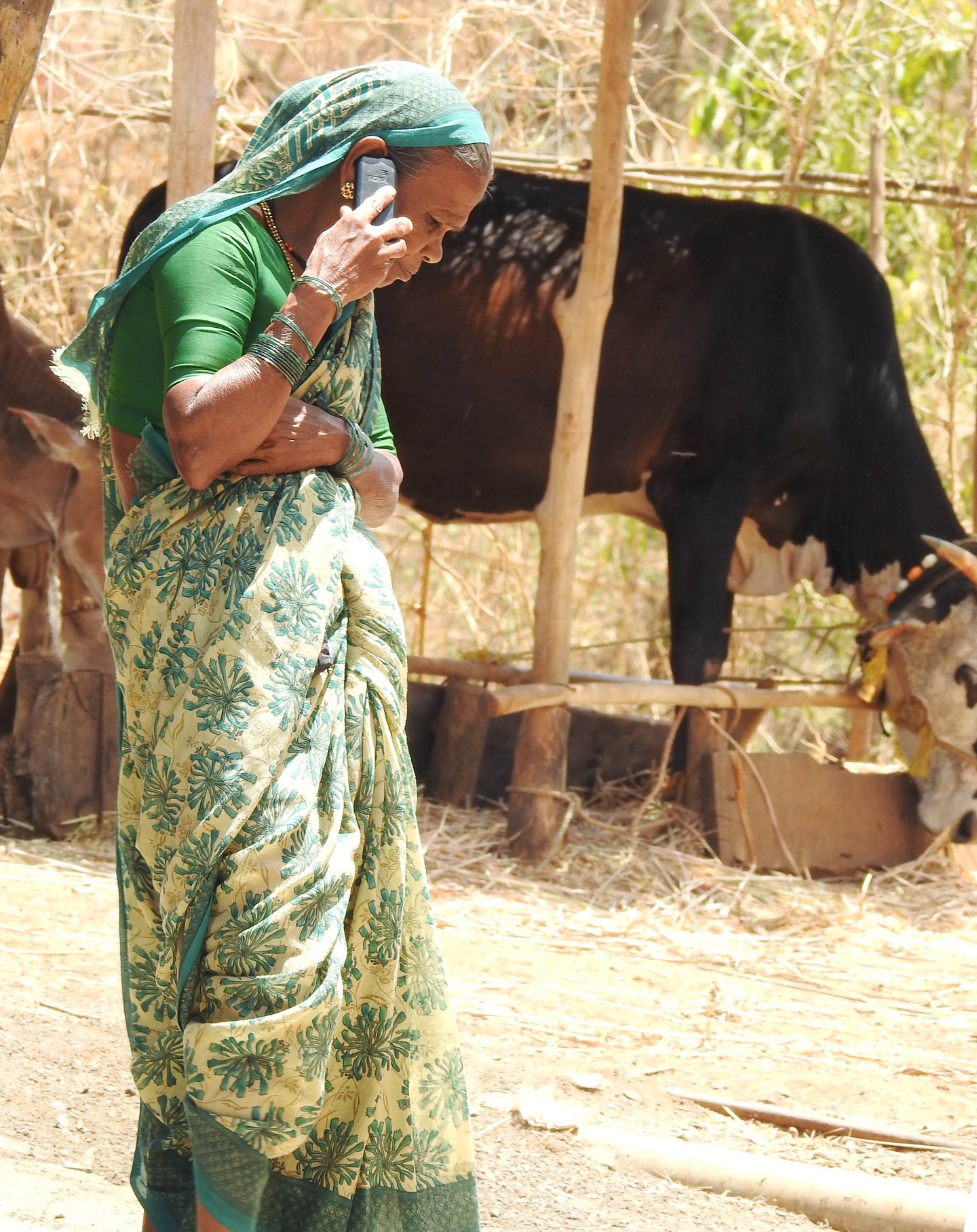 PHOTO • Namita Waikar
Muktabai Ubhe and Sitabai Ubhe from Khadakwadi hamlet of Kolavade village in Mulshi taluka , Pune district, sing the five ovi featured here. The original Grindmill Songs Project team recorded these couplets on January 6, 1996. We visited Kolavade on April 30, 2017 and met the singers. The photographs were taken during this recent visit.
Muktabai starts by singing that she was not thinking of going to Pandharpur this year, but she received two messages from Vitthal, the deity at the temple in Pandharpur. The warkaris believe that Vitthal eagerly waits for his devotees to visit him every year.
In the second couplet, the singer says she has been ready to go to Pandharpur since yesterday and Lord Vitthal has come to fetch her. His mare is grazing in the fields at the river bank.
In the next verse, the woman has collected provisions for the journey and kept them ready since yesterday; she tells her son to put the sack of provisions on the back of their bullock, Havsha.
In the fourth ovi , Sitabai tells her brother that she is willing to go to Pandharpur with him and they will both bathe in the Chandrabhaga.
The pilgrims bathe in this river before they go to the temple to meet their beloved Vitthal.
In the last couplet, the singer says her hair feels like it is clean and loose from bathing in the river Chandrabhaga. But she still does not feel that she has been to Pandhapur – and will go there.
पंढरी जाया यंदा नव्हतं माझ मन
देव त्या विठ्ठलानं चिठ्ठ्या पाठवल्या दोन
पंढरीला जाया माझी कालची तयारी
विठ्ठल मुराळी शिंगी चरती नाहायरी
पंढरीला जायाला माझं कालंच पीठकुट
सांगते बाळा तुला बैल हवशाव घालं मोट
पंढरी जायायाला दादा येते मी तुझ्या संग
आपुण आंघोळ्या करु दोघ
आज मोकळ माझ केस चंद्रभागेत न्हाल्यावाणी
पंढरीला जाते नाही वाटत गेल्यावाणी
paṇḍharī jāyā yandā navhata mājha mana
dēva tyā viṭhṭhalāna ciṭhṭhayā pāṭhavalyā dōna
paṇḍharīlā jāyā mājhī kālacī tayārī

viṭhṭhala murāḷī śiṅgī caratī nāhāyarī
paṇḍharīlā jāyālā mājha kālaca pīṭhakuṭa
sāṅgatē bāḷā tulā baila havaśāva ghāla mōṭa
paṇḍharī jāyāyālā dādā yētē mī tujhyā saṅga
āpuṇa āṅghōḷyā karu dōgha
āja mōkaḷa mājha kēsa candrabhāgēta nhālyāvāṇī
paṇḍharīlā jātē nāhī vāṭata gēlyāvāṇī
It was not in my mind to go to Pandhari this year
The God Vitthal sent me two messages
To go to Pandhari, I am ready since yesterday
Vitthal has come to fetch me, his mare is grazing near the river bank
To go to Pandhari, I have provisions from yesterday
I tell you, my son, put the sack on the back of Havsha bullock
To go to Pandhari, brother, I am coming with you
Come, let's have a bath [in Chandrabhaga*]
Today my hair is loose as if I have bathed in Chandrabhaga
I shall go to Pandhari, I don't feel like I have been there
Note: * The Bhima river, also called Chandrabhaga, flows through Pandharpur.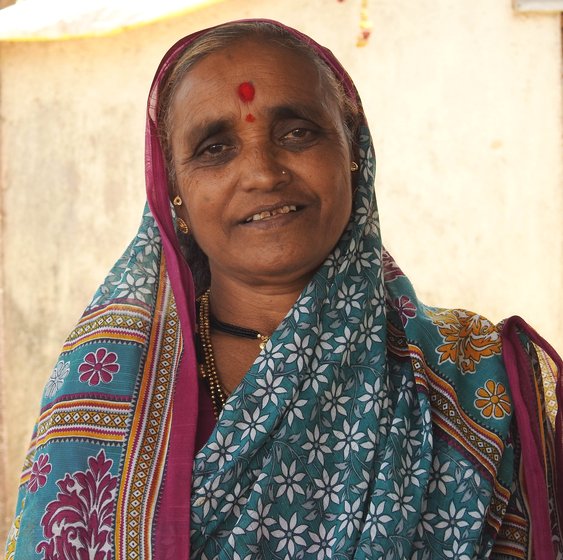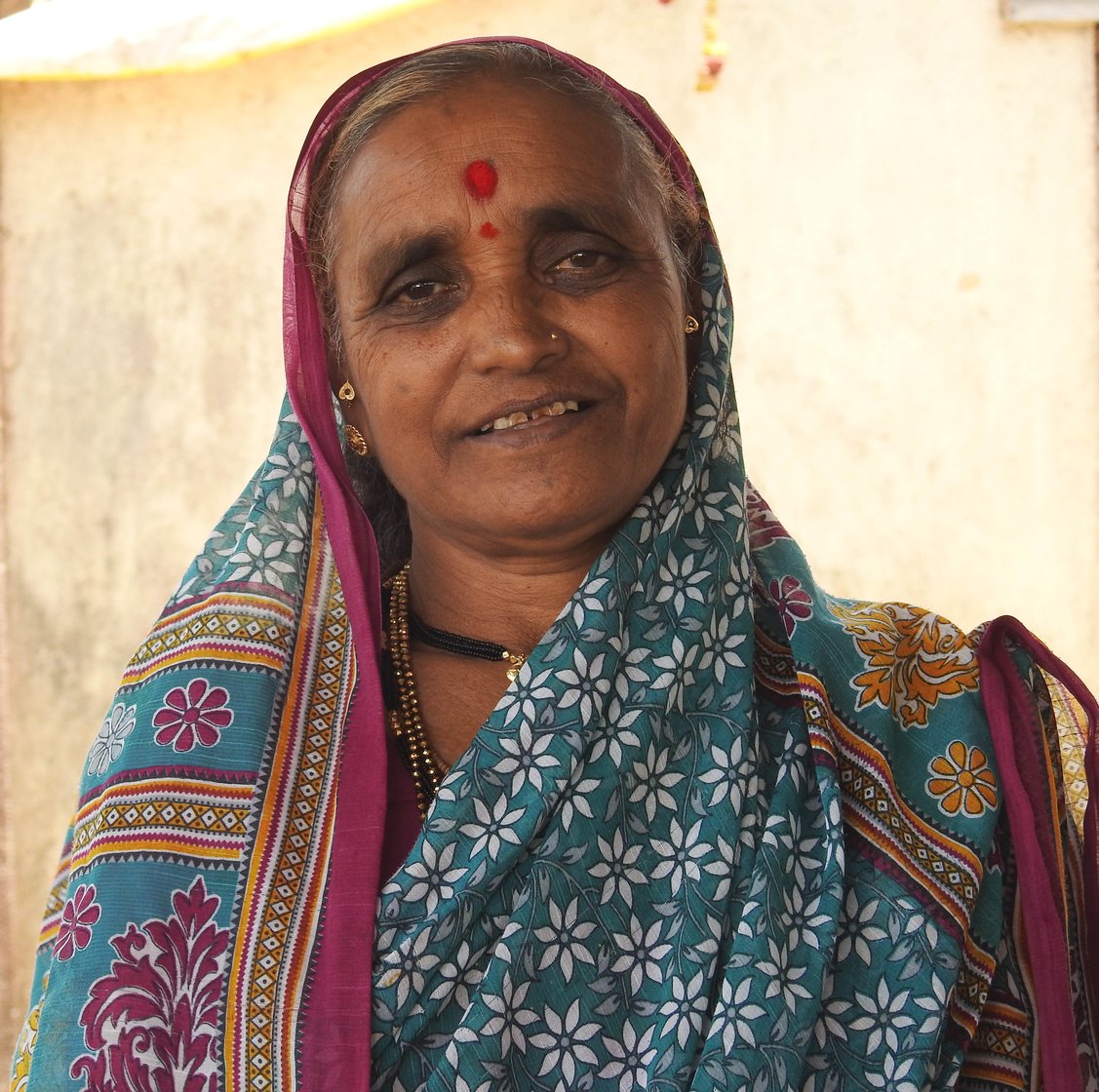 PHOTO • Samyukta Shastri
---
Performers/ Singers: Muktabai Ubhe, Sitabai Ubhe
Village: Kolavade
Hamlet : Khadakwadi
Taluka : Mulshi
District : Pune
Caste : Maratha
Date : These songs and some of the information were recorded on January 6, 1996. The photographs were taken on April 30, 2017.
Photos: Namita Waikar and Samyukta Shastri
Poster: Samyukta Sashtri and Sinchita Maji