The 'wari', a procession of pilgrims, is on its way to Pandharpur this week. In this instalment of the Grindmill Songs Project, four singers from Kolavade village in Pune district sing 10 couplets about the poet-saints revered by the pilgrims, Dnyaneshwar and Tukaram, and their towns, Alandi and Dehu

The poet-saints Dnyaneshwar (13th century) and Tukaram (17th century) lived on this earth some 300 years apart, but their place in the mind and heart of a warkari is close together. Such was their influence that even centuries later the warkaris go on a pilgrimage to Pandharpur to honour the reformists.
Both poet-saints were rooted in the progressive Bhakti movement. Both believed in the equality of human beings and rejected the divisions of a caste-dominated society. This angered the Brahmanical elite, but also brought the poets the steadfast devotion of everyday people who identified with their thoughts and were influenced by their works.
In his book Punha Tukaram (Tukaram once again) written in Marathi, poet and critic Dilip Chitre (1938-2009) writes that Tukaram's poetry was  influenced by Dnyaneshwar and Namdev (also a 13th century poet). Tukaram Gatha , the collection of the poet-saint's work, has strong elements about the lives of the rural folk of Maharashtra, their oral traditions, and the everyday experiences of farmers and people whose occupations are connected to agriculture.
Dnyaneshwar's two major works are the Dnyaneshwari, a commentary in Marathi on the Bhagavad Gita, and the Anubhavamrut, which was translated into English by Chitre as Anubhavamrut: The Immortal Experience of Being.
Every year, in the month of Ashadh (June/July), a 21-day procession – a wari – starts from Alandi and Dehu in Pune district in honour of the two poet-saints. It goes on to Pandharpur, the temple town of Lord Vitthal in Solapur district. (Read more about this journey and the Bhakti movement in last week's edition of the grindmill songs on PARI: The pilgrims' progress ).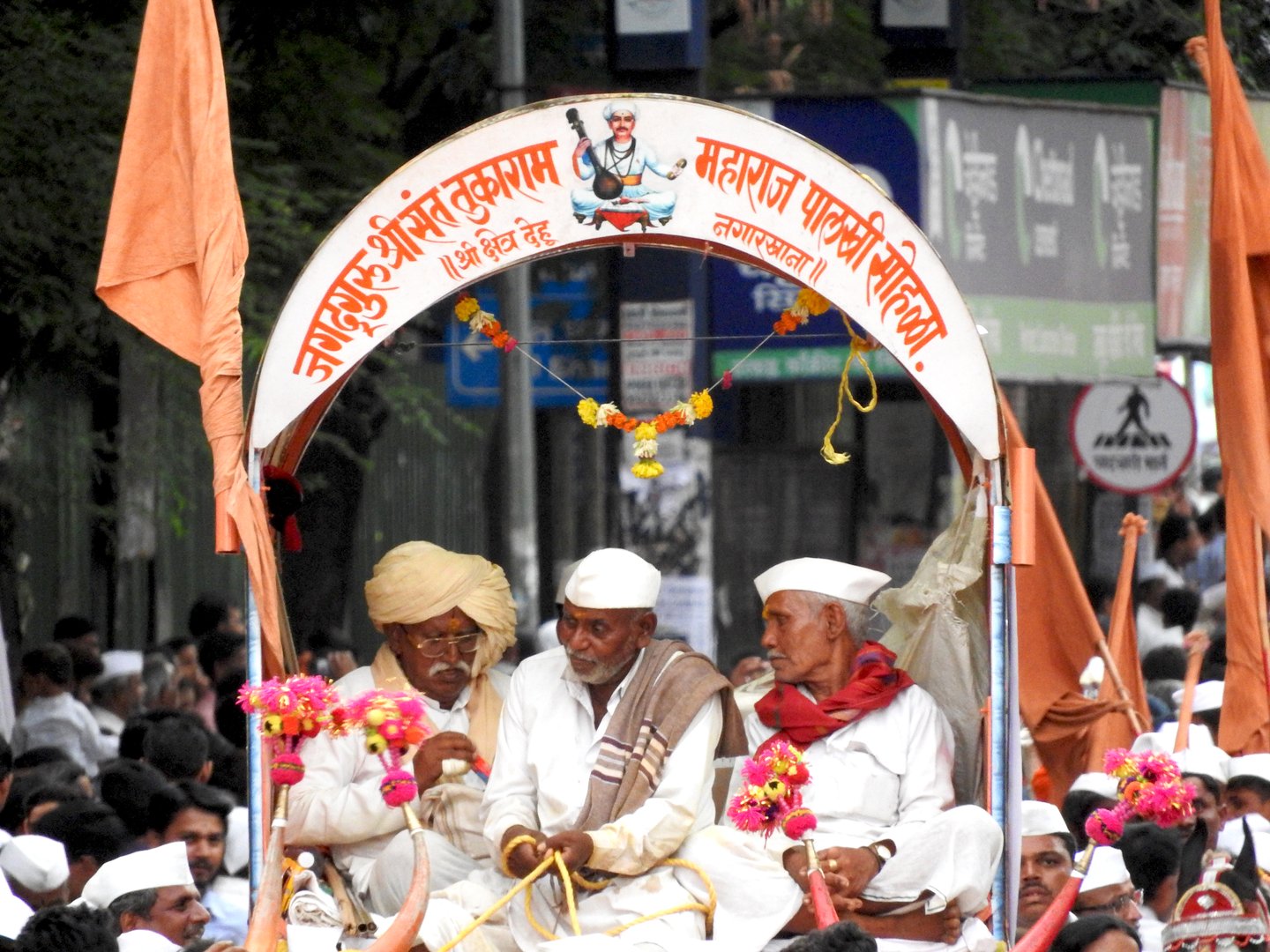 PHOTO • Namita Waikar
The verses featured here are about the two poet-saints and the towns on the banks of the Indrayani river that are associated with them. Dnyaneshwar (also called Dnyanadev or Dnyanoba) selected Alandi as his final resting place where he took samadhi (a permanent state of meditation). Tukaram lived in Dehu until, devotees believe, he went on to Vaikunth, the celestial residence of Lord Vishnu in Hindu mythology.
The 10 couplets in this instalment of the Grindmill Songs Project are sung by Sindhu Ubhe, Radhabai Sakpal, Kusum Ubhe and Radha Ubhe from Khadakwadi hamlet of Kolavade village in Mulshi taluka of Pune district.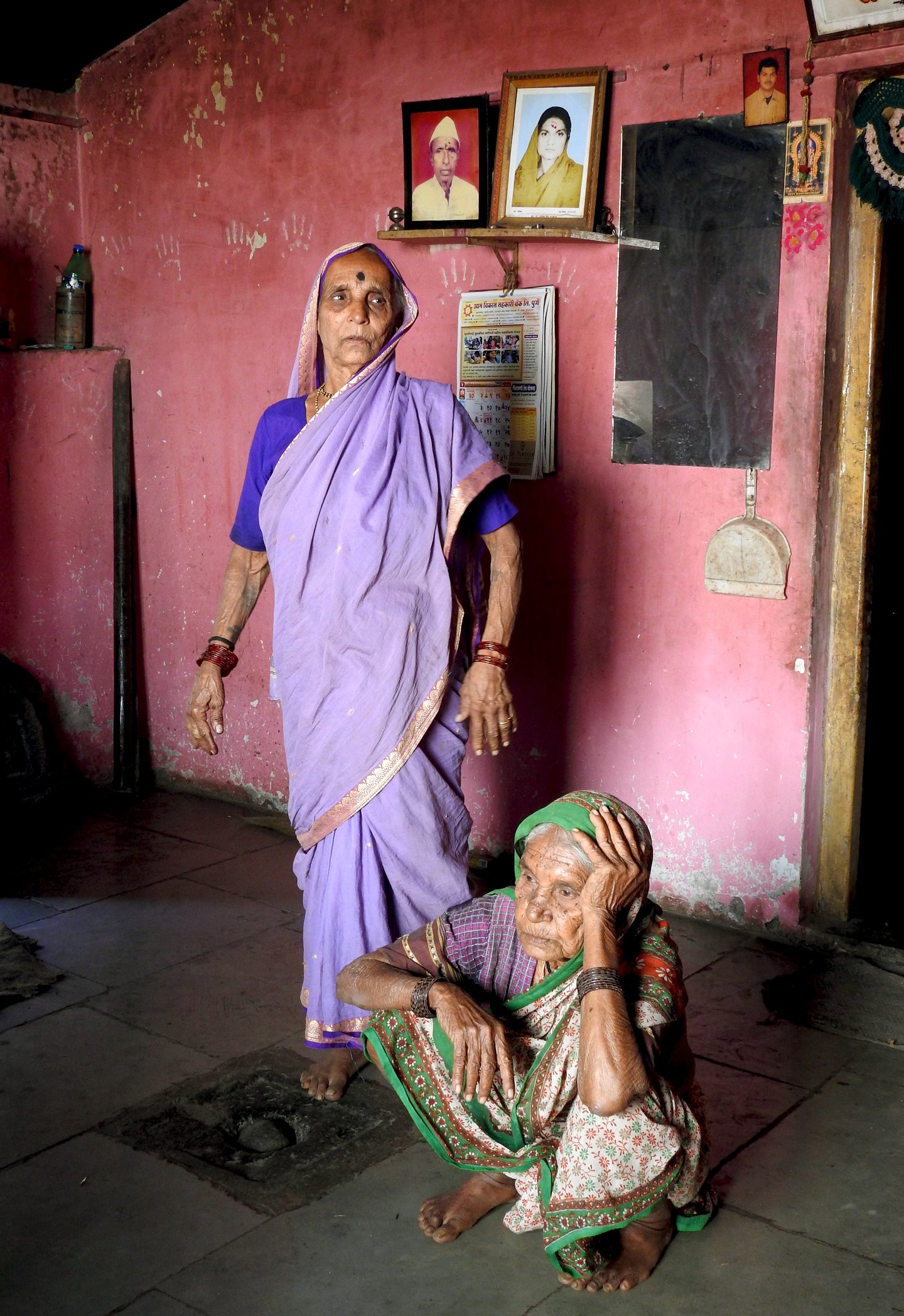 PHOTO • Samyukta Shastri
The singers say that Alandi village was built because of the location of the land and its suitability for cultivation and habitation. This was where Dnyanoba reigned amidst the playing of drums. This implies that Dnyaneshwar's influence grew from here to spread across Maharashtra.
Castor oil trees and datura plants thrived on this land where the holy personage of Dnyaneshwar took samadhi. The towns of Alandi and Dehu are near each other, the singers say, and Dnyanoba and Tukoba lived on the same side – possibly implying that they lived on the same side of the Indrayani river.
The singer asks how the fish from Alandi move to Dehu against the river's current and says this is just the way the two saints are steadfast in their devotion to Vitthal. From Alandi, the singer wants to go to Dehu so that she can see Dnyaneshwar and Tukaram and listen to their discourses. From Alandi, Sindhu Ubhe says, she can see the lamp of Dehu, where Tukaram sits for a bath on the day of his beej – the day he left for the heavenly abode of Vaikunth. Holding a string of tulsi beads in the folds of her saree, the singer runs from Alandi to Dehu to stay as a guest in Tukaram's house.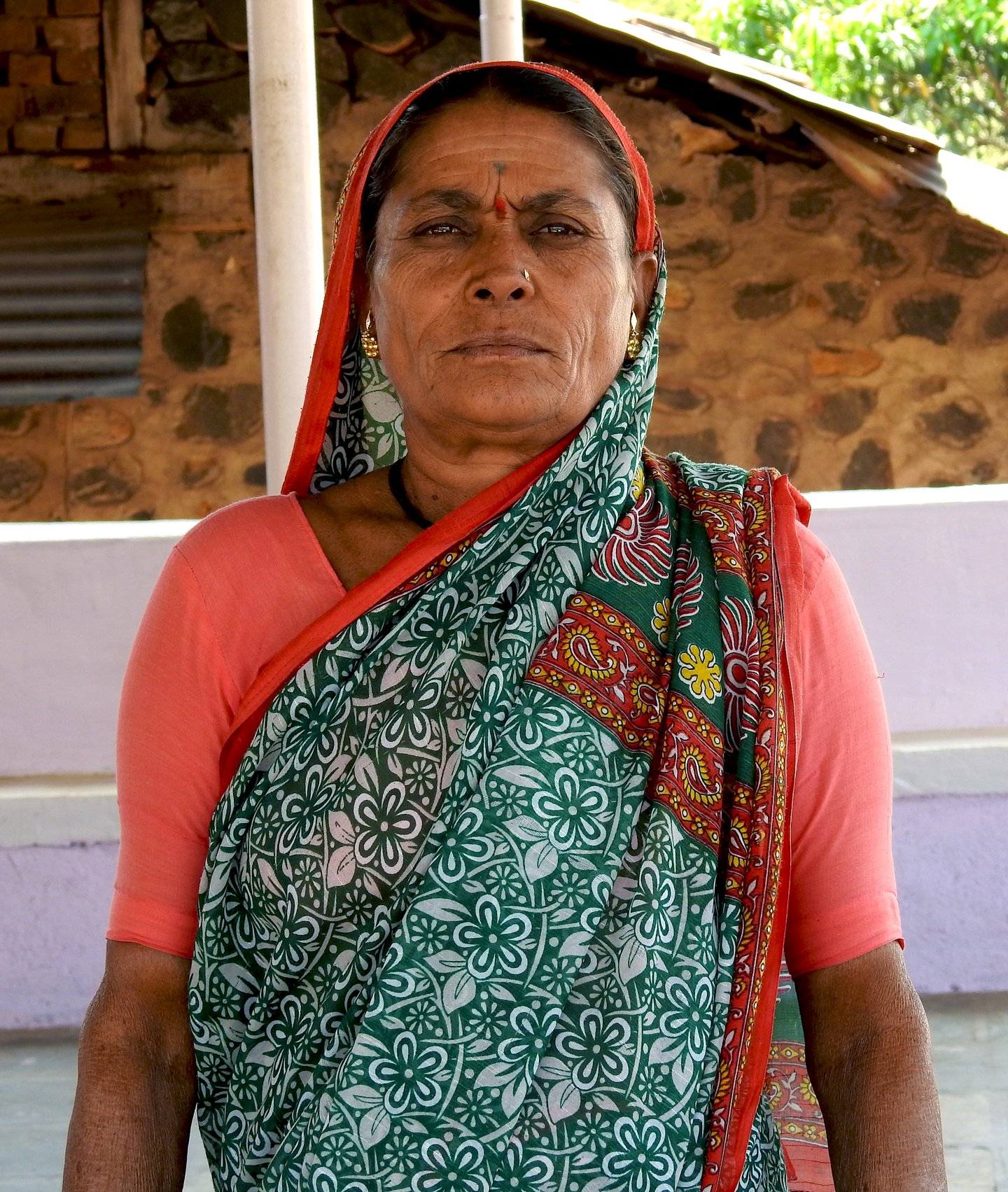 PHOTO • Samyukta Shastri
The last three verses are about Tukaram and his wife Jijabai, and their conversation at the time of his departure from the world. When Tukaram declares that he is going to Vaikunth, the celestial abode of Lord Vishnu, and urges his followers to go with him, Jijabai says that her husband has gone mad. Tukaram tells her, "Jijai, you are my wife, to go to Vaikunth don't listen to the others."
In the last ovi , when Tukaram urges her to join him on the celestial vehicle to heaven, Jijabai tells him, "There is a milch buffalo at home." While the husband emphasised spiritual pursuit, the wife was attached to her home and the material world.
गाव आळंदी वसवली, माळ मैदान पाहूनी
ज्ञानुबा करी राज, चारी चौघड लावूनी
आळंदी ग बसवली, ही ग येरंड्या धोतर्यानी
समांधी ग घेतयील, देव ज्ञानुबा खेतर्यानी
आळंदीपासूनी देहू, जवळ सांगत्यात
ज्ञानुबा, तुकाराम, एका तर्फाला नांदतात
आळंदीचा मासा देहूला गेला कसा
ज्ञानुबा ग तुकाराम, या ग साधुसंताचा नेम तसा
आळंदी पासूनी मला देहूला जायायाच
ज्ञानुबा ग तुकाराम, यांच कीर्तन पाह्यायाच
आळंदी पासूयानी, मला देहूचा दिवा दिस
बीजनायाच्या दिवशी, तुका आंघोळीला बस
आळंदी पासूयानी जाऊ देहूच्या धावयनी
वट्यात तुळशीमाळा, जाते तुकाला पाव्हयणी
जीजाबाई बोल, यॅड लागल तुकाला
वैकुंठी जायाला चला, म्हणतो लोकाला
तुकाराम बोल जिजा, माझ्या तु बायकु
वैकुंठी जायाला, नको लोकाच आयकु
तुकाराम बोल जिजा, इमानी बईस
जिजाबाई बोल, गरी दुभती म्हईस
gāva āḷandī vasavalī māḷa maidāna pāhūnī
ñānubā karī rāja cārī caughaḍa lāvūnī
āḷandī ga basavalī hī ga yēraṇḍyā dhōtaryānī
samāndhī ga ghētayīla dēva jñānubā khētaryānī
āḷandīpāsūnī dēhū javaḷa sāṅgatyāta
jñānubā tukārāma ēkā tarphālā nāndatāta
āḷandīcā māsā dēhūlā gēlā kasā
jñānubā ga tukārāma yā ga sādhusantācā nēma tasā
āḷandī pāsūnī malā dēhūlā jāyāyāca
jñānubā ga tukārāma yāñca kīrtana pāhyāyāca
āḷandī pāsūyānī malā dēhūcā divā disa
bījanāyācyā divaśī tukā āṅghōḷīlā basa
āḷandī pāsūyānī jāū dēhūcyā dhāvayanī
vaṭyāta tuḷaśīmāḷā jātē tukālā pāvhayaṇī
jījābāī bōla yêḍa lāgala tukālā
vaikuṇṭhī jāyālā calā mhaṇatō lōkālā
tukārāma bōla jijā mājhyā tu bāyaku
vaikuṇṭhī jāyālā nakō lōkāca āyaku
tukārāma bōla jijā imānī bīsa
jijābāī bōla garī dubhatī mhīsa
Alandi village was constructed after choosing the site
Dnyanoba reigns here to the sound of drums
Alandi was constructed where there were castor oil trees and datura plants
The holy personage of God Dnyanoba took samadhi* there
They say, from Alandi, Dehu is quite near
Dnyanoba and Tukaram reside in these places on one side
How did the fish from Alandi go to Dehu [against the current]
Just as Dnyanoba, Tukaram are streadfastly attracted to Vitthal
From Alandi, I want to go to Dehu
I want to see Dnyanoba's and Tukaram's kirtan*
From Alandi, I can see the lamp in Dehu
It's Tukaram beej,* Tuka is sitting for a bath
From Alandi, I shall go running to Dehu
A string of tulsi beads in the folds of my saree, I will be a guest at Tuka's house
Jijabai* says, Tuka has become mad
He is going to Vaikunth,* asking people to come along
Tuka says, Jijai, you are my wife
To go to Vaikunth don't listen to anyone
Tukaram says, Jija come, sit in the [celestial] plane
Jijabai says there is a milching buffalo at home
Notes: Samadhi: final resting through permanent meditation
Kirtan: spiritual discourse
Tukaram's beej : the anniversary of Tukaram's ascent to heaven
Jijabai: Tukaram's wife
Vaikunth: In Hindu mythology, Lord Vishnu resides in this celestial abode
---
Performers/ Singers : Sindhu Ubhe, Radhabai Sakpal, Kusum Ubhe, Radha Ubhe
Village: Kolavade
Hamlet: Khadakwadi
Taluka: Mulshi
District: Pune
Caste: Maratha
Date: These songs and some of the information were recorded on January 6, 1996. The photographs of the singers were taken on April 30, 2017; at that time, we could not trace Kusum Ubhe and Radha Ubhe.
Poster: Sinchita Maji
Photos: Namita Waikar and Samyukta Shastri