It has Shanu's cousin, Biswanath Sen, who first taught him how to engrave conch bangles from shankha (conch shell).
"I engrave designs on bangles and then I send it to the mahajans [contractors] who sell it. I only make the regular conch bangles. There are others who send the engraved bangles and shankhas to be plated with gold," explains 31-year-old Shanu Ghosh who says he has been doing this work for more than half his young life.
The conch work artisan is at the workshop in Shankhabanik Colony in Barrackpore in the North 24 Parganas district, West Bengal. The area around is dotted with workshops supplying conch work. "From Lalkuthi to Ghoshpara, a large number of conch artisans work in bangle production," he says.
The mahajans import conches from Andaman and Chennai. A conch is the shell of a sea snail. Depending on the size of the shell, it can either be used as a shankha – to blow into – or sent to be made into bangles. It is easier to make bangles with a thick and heavy conch as a small and light conch will break easily under a drill. So shankhas are made with lighter conches while heavier conches are used for bangles.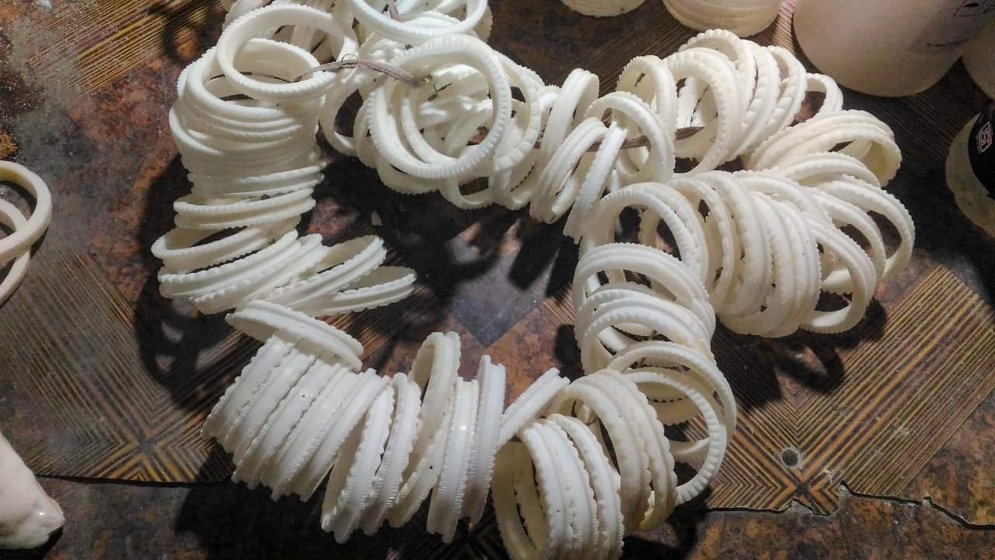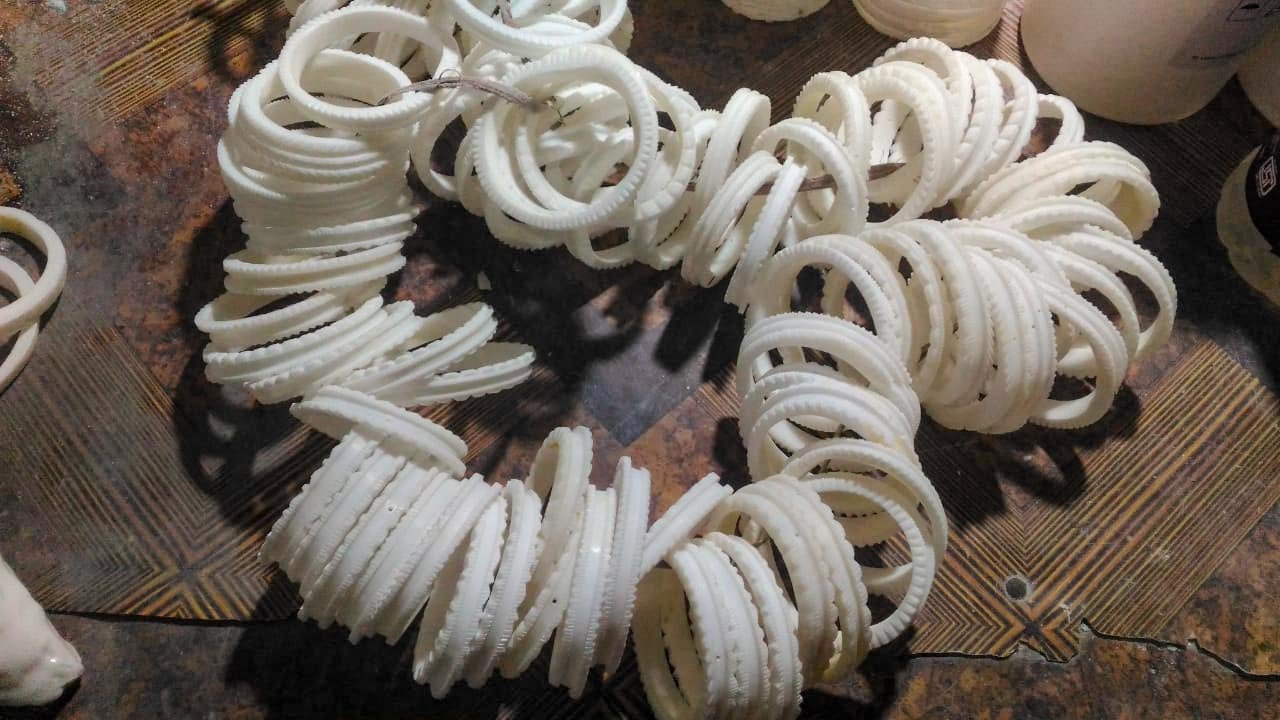 PHOTO • Anish Chakraborty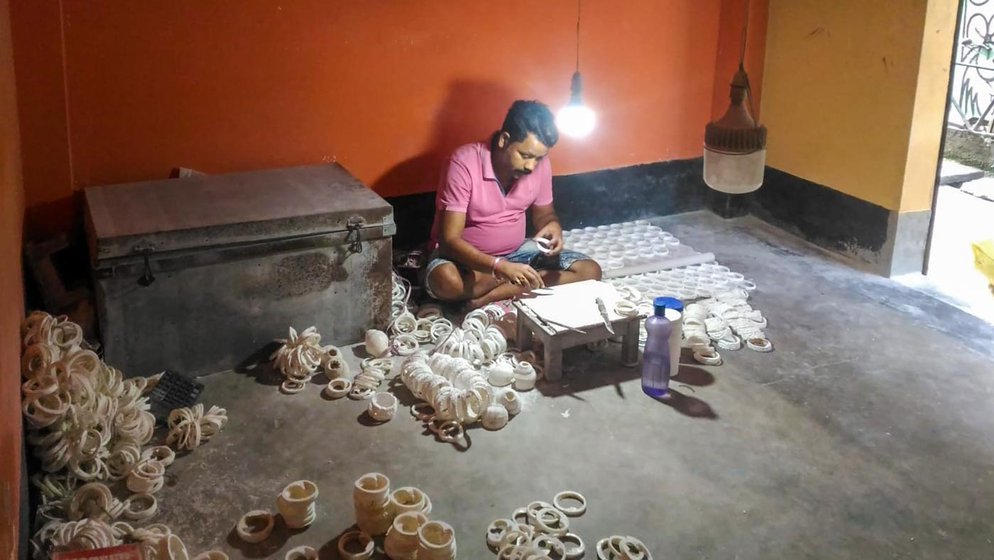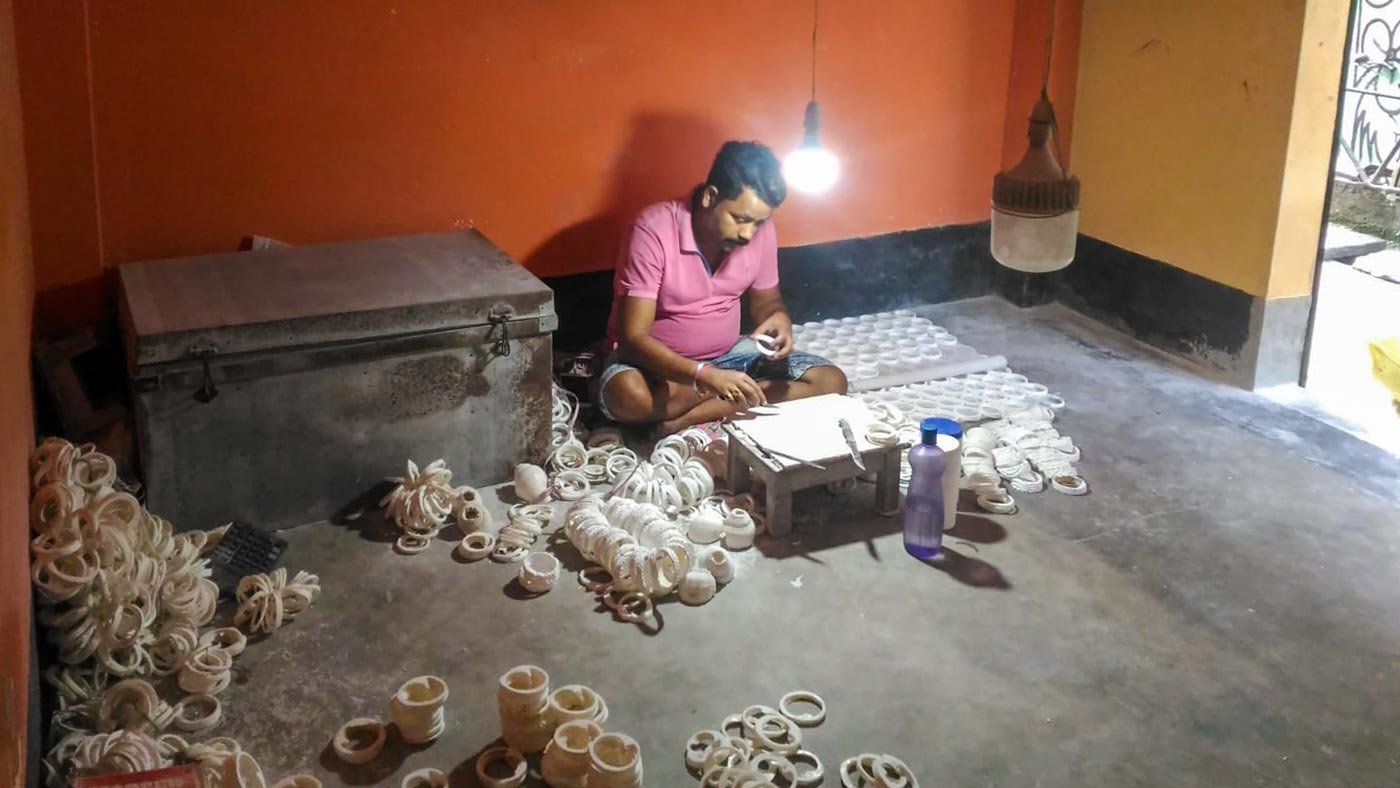 PHOTO • Anish Chakraborty
The process starts once the conch is cleaned inside out. After the shell is cleaned, it is washed with sulfuric acid in hot water. Once that is done, the polishing process starts and any holes, cracks and uneven parts on the bangle are filled out and smoothened.
Before the bangles are separated, they are broken with a hammer and cut with the help of a drill. Then the artisans take over, grinding and polishing each piece. "Some work on breaking the raw conch shell while others work on making bangles. We all work under different mahajans," says Shanu.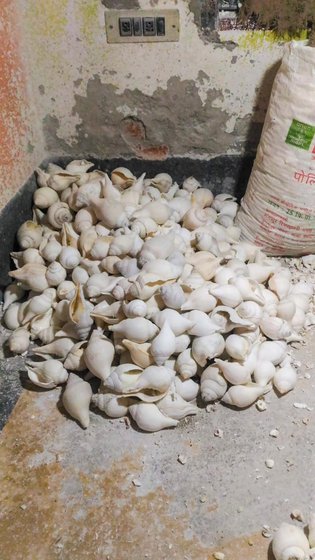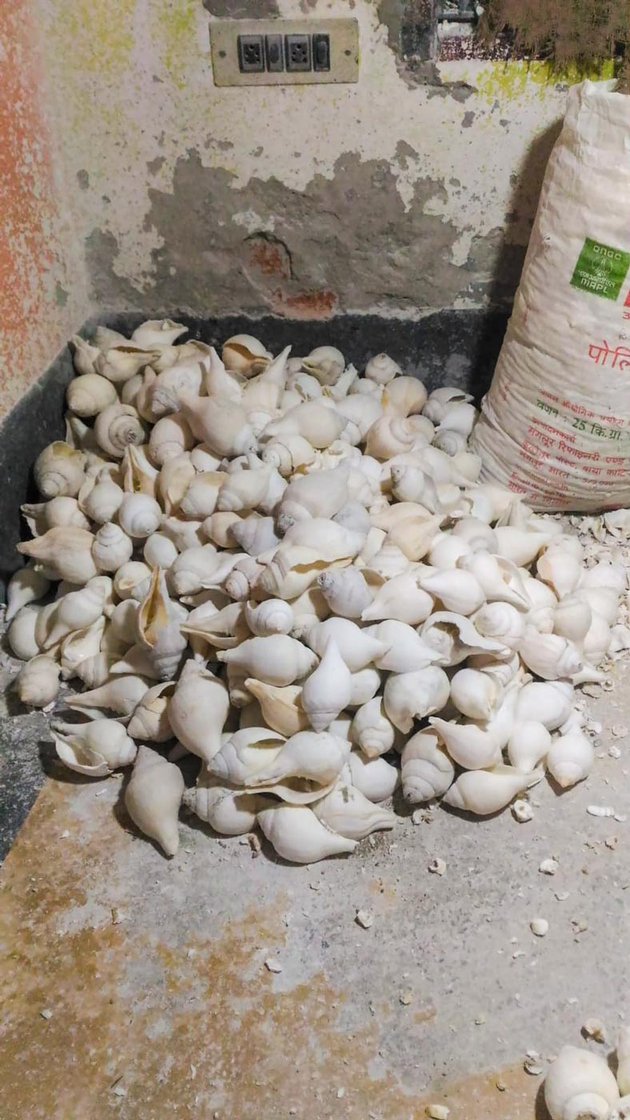 PHOTO • Anish Chakraborty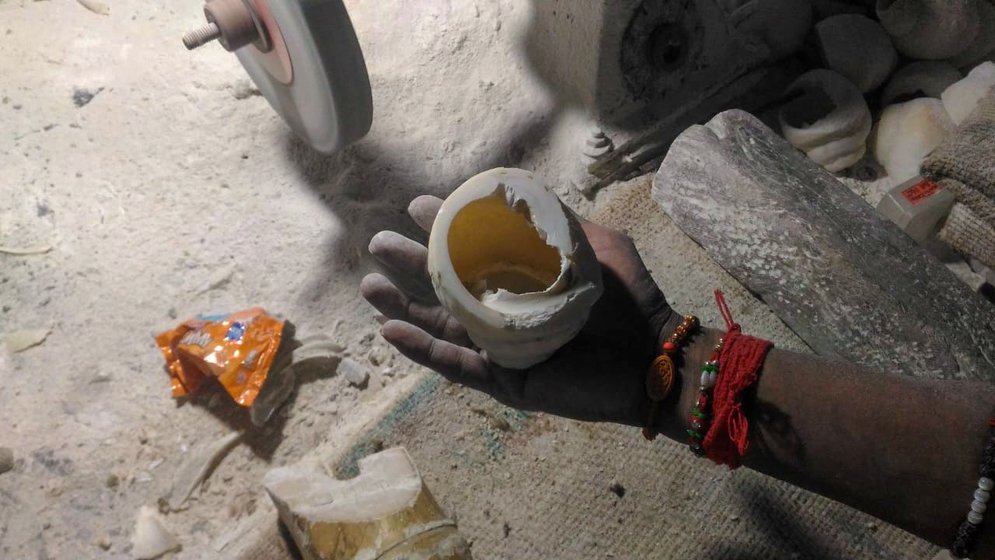 PHOTO • Anish Chakraborty
The Shankhabanik colony is filled with conch workshops, most of which are the size of a small bedroom or a garage. There is a single window in Shanu's workshop and the walls are covered with white dust that arises while cutting the conch. There are two grinding machines set in one corner while the other side of the room is filled with raw conches waiting to be processed.
Most mahajans sell the finished products from their shops but there is also a wholesale market for conch bangles held every Wednesday.
Sometimes, especially for gold plated bangles, the mahajans sell directly to the customer who has ordered.
Shanu says the sale of the conch bangles and
shankhas
has fallen in recent years due to the shortage of conches. "We want the price of raw materials to be a bit lower, affordable. The government should look at the black marketing of raw material," says Shanu.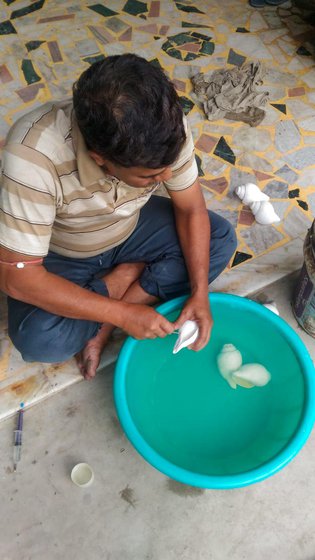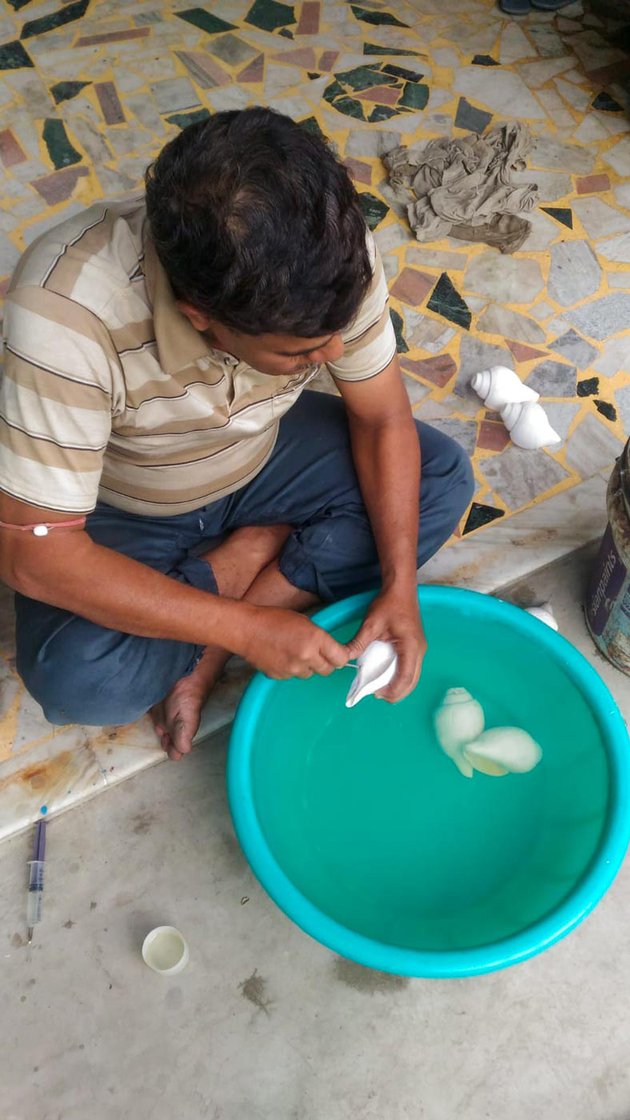 PHOTO • Anish Chakraborty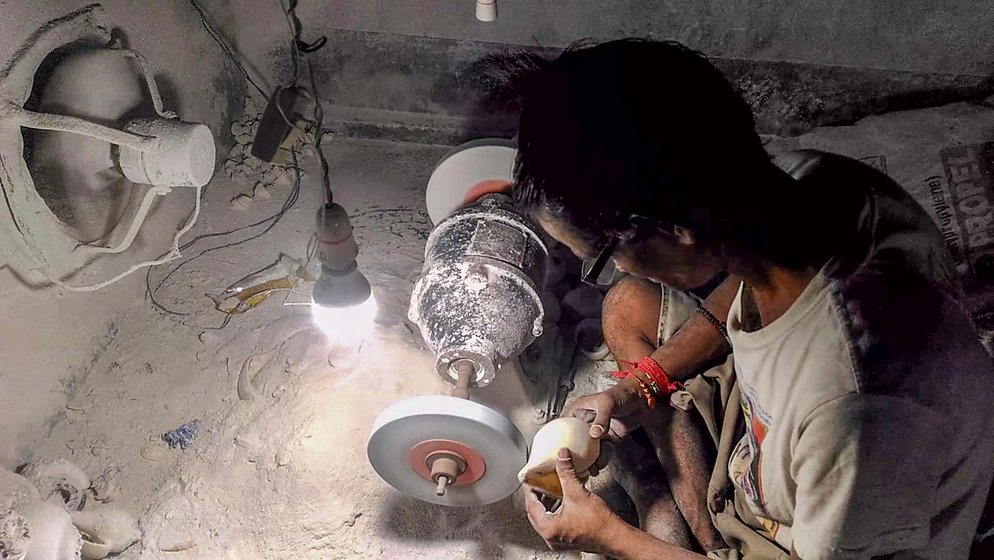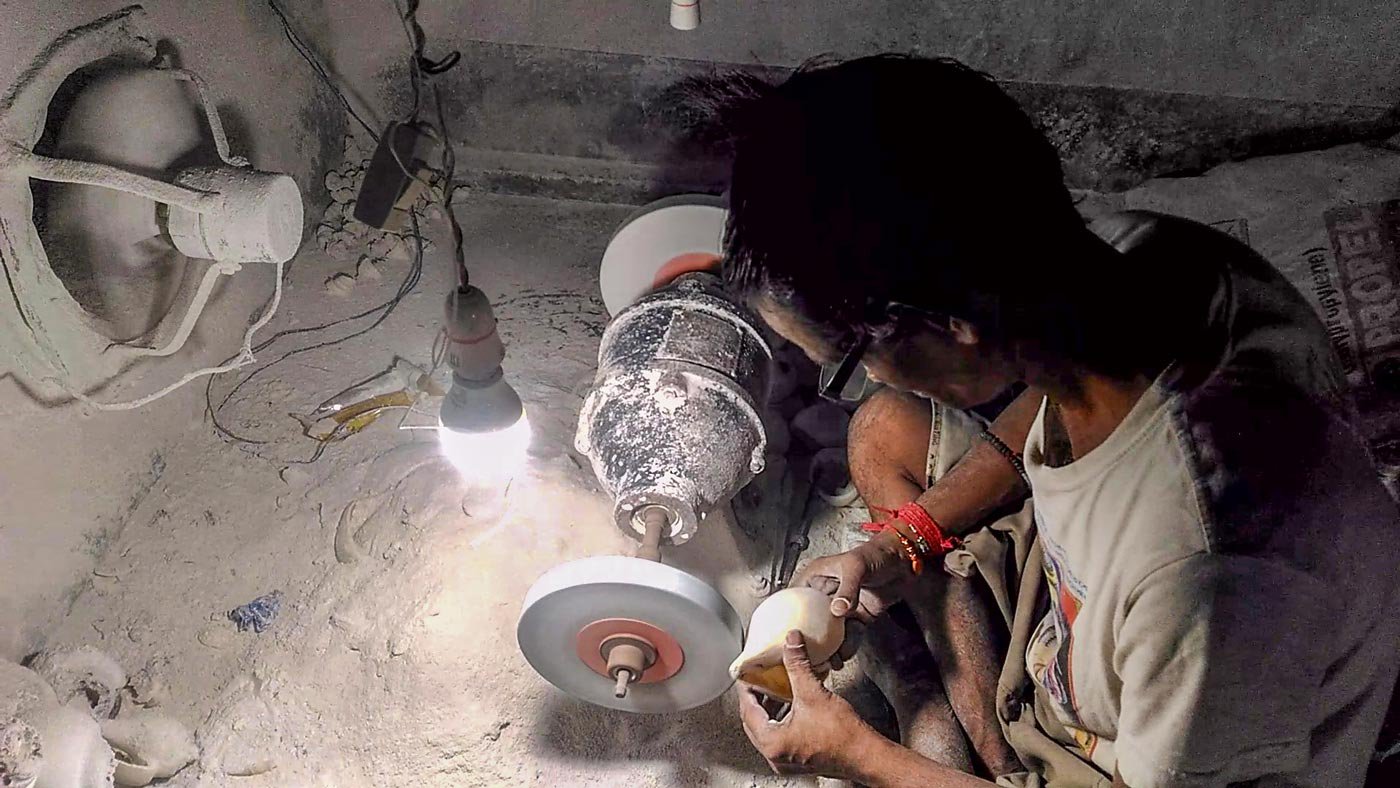 PHOTO • Anish Chakraborty
The crafting of bangles and other decorative items from conch shells does have health concerns. Abhishek Sen is a 23-year-old artisan working in this Shankhabanik Colony. He says, "While grinding the conch, the shell powder flies into our nose and mouth. We also use hazardous chemicals." Abhishek designs conch bangles and shankhas .
"My income depends on the quality and type of work. The wider and heavier the conch bangle, the more the wage. Some days I earn up to 1,000 rupees but other days I can barely get 350 rupees. I begin working at 9:30 a.m. and go on till 3 p.m.. then I start again around 6 and go till 9 p.m. on most days," says Abhishek.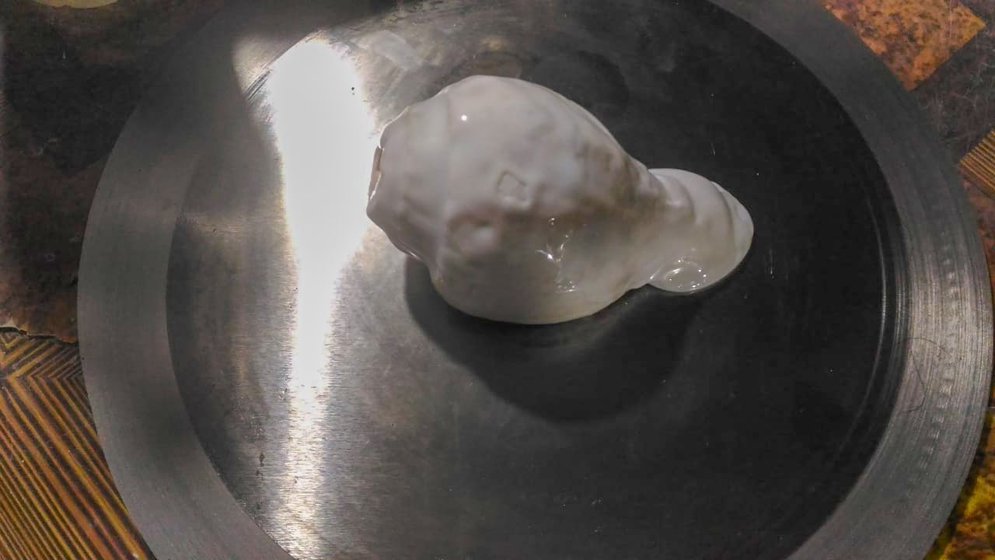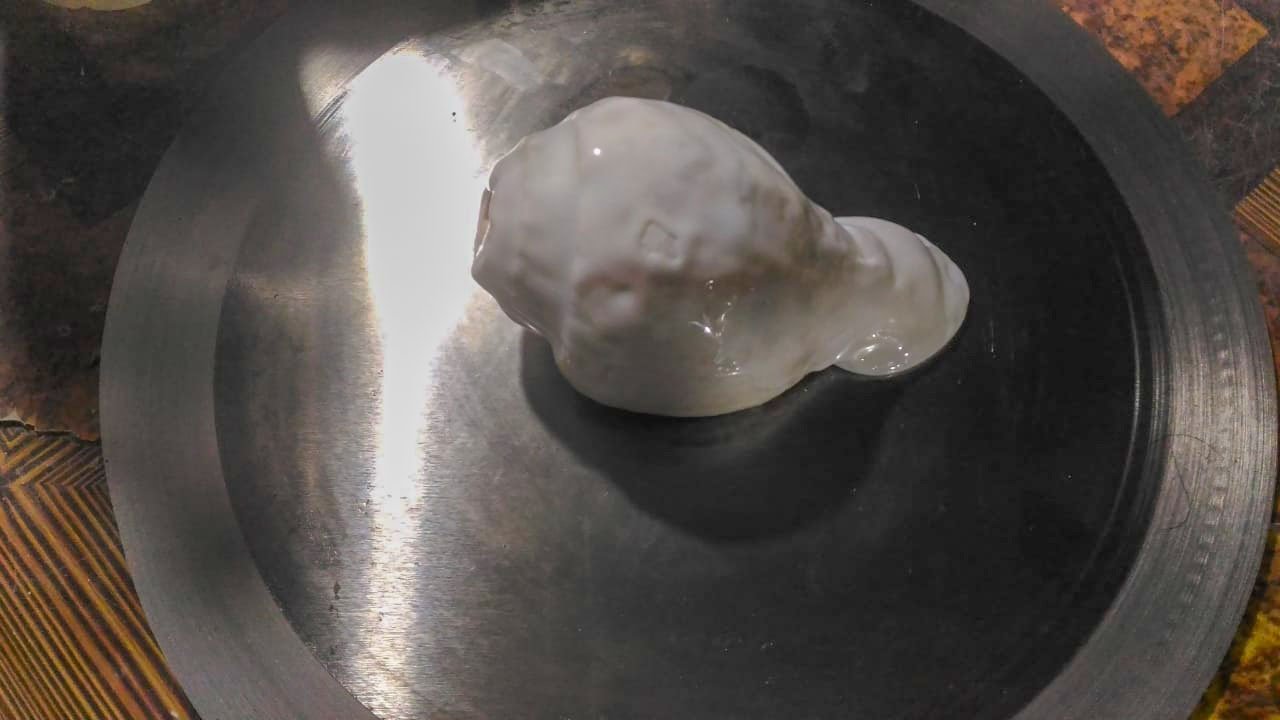 PHOTO • Anish Chakraborty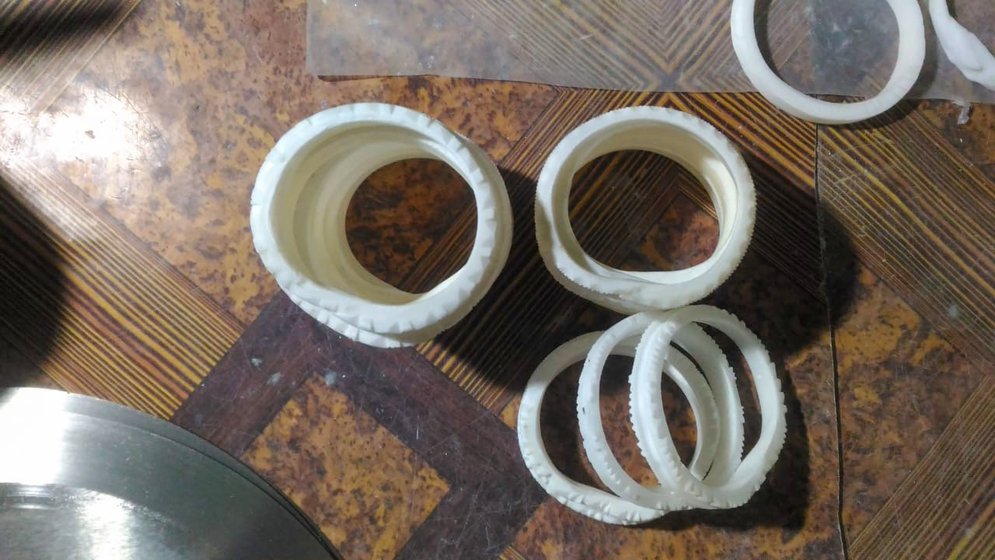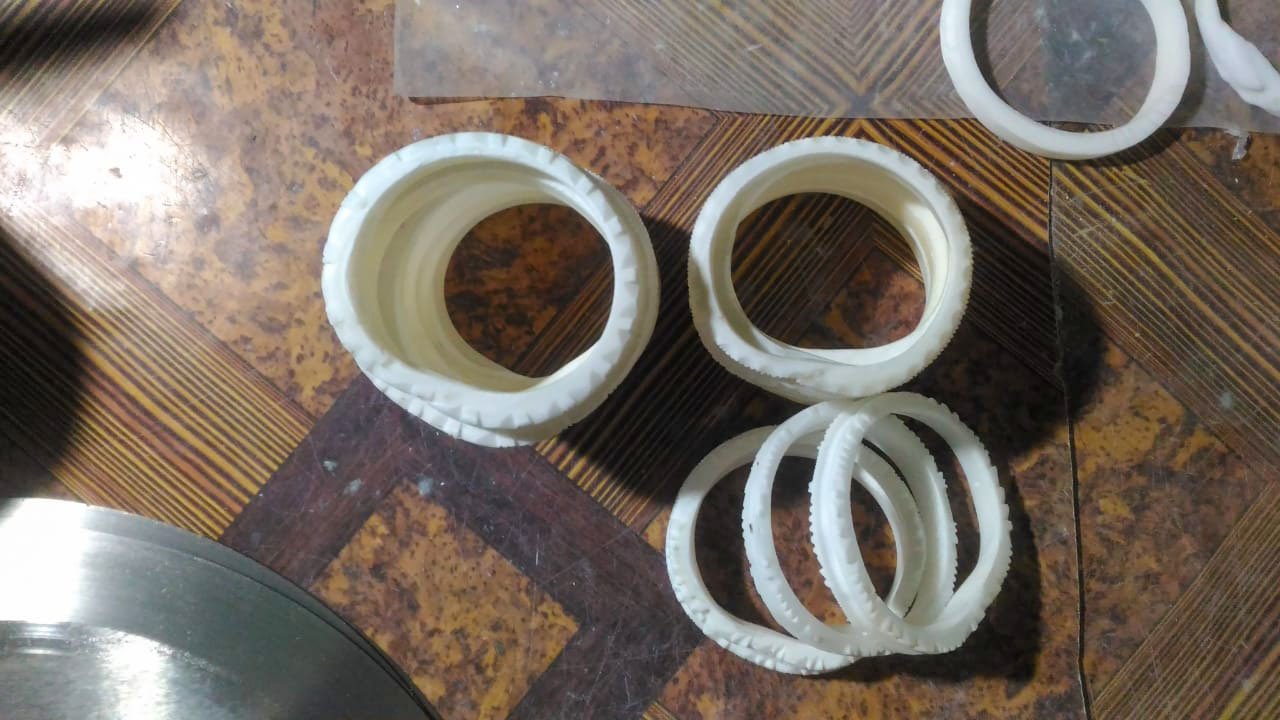 PHOTO • Anish Chakraborty
Sajal, 32, has been grinding and polishing conches for the last 12 years. He says, "I was paid two and half rupees for a pair [of bangles] when I first started. Now I earn four rupees." He does the finishing of the shell. He uses glue and zinc oxide combined to form a paste with which he fills any holes and cracks in the bangles. Sajal says he earns Rs. 300-400 a day.
"Conch shells and bangles made by us go to Assam, Tripura, Kanyakumari, and Bangladesh, and wholesalers from Uttar Pradesh also come here to buy," says Sushanta Dhar. The 42-year-old craftsman says he puts flowers, leaves, deities and other designs on conch shells. "We earn approximately Rs. 5,000 to 6,000 a month. The market is deteriorating and materials are getting expensive. It is worse during the rainy season as the wholesale customers don't come during the rainy season," says Sushanta.
"If I make 50 pairs of conch bangles a day, I will make Rs. 500. But it is almost impossible to engrave on 50 pairs of conch bangles in a single day," says Shanu.
Due to the falling market, financial uncertainty and lack of government support, he and the other artisans of the Shankhabanik Colony aren't hopeful for a better future in the business.