I use sholapith [cork from the Aeschynomene aspera L. plant] to create decorations. It's a versatile material that can be cut into various shapes and designs, and is lightweight. We call this sholapith kama [sholapith work] in Odisha.
I can make necklaces, embroidery for Dussehra, flowers and other showpieces, but I am best known for the tahia – the decorative headgear worn by Odissi dancers when they perform on stage.
Plastic tahias are also available but they irritate the dancer's scalp, making it difficult for them to wear for long periods. Also, plastic cannot cannot be carved into various designs.
Many of the other skilled craftsmen of
tahia
have stopped making it, but I love what I do.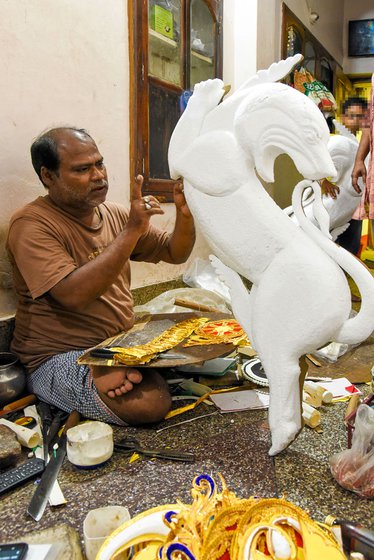 PHOTO • Prakriti Panda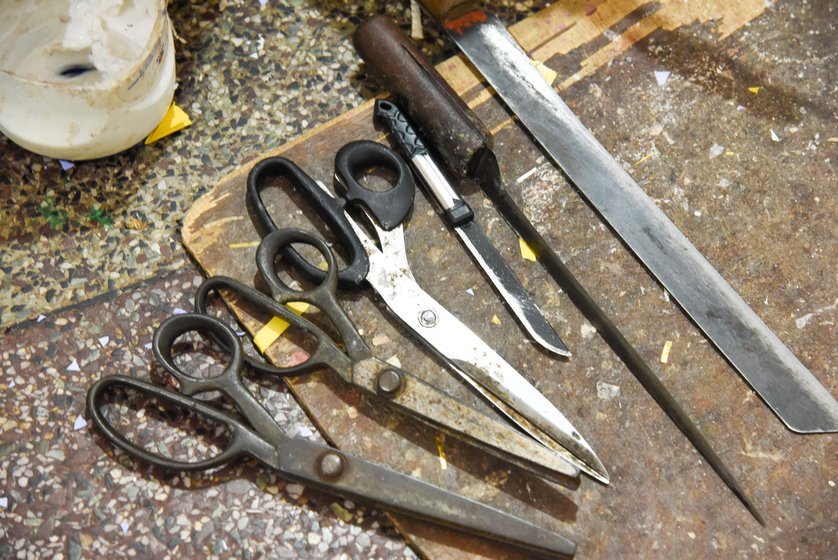 PHOTO • Prakriti Panda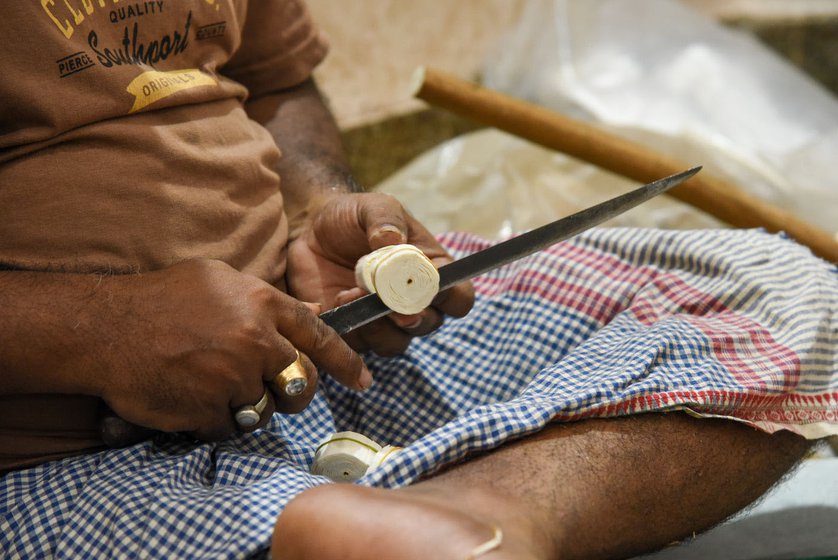 PHOTO • Prakriti Panda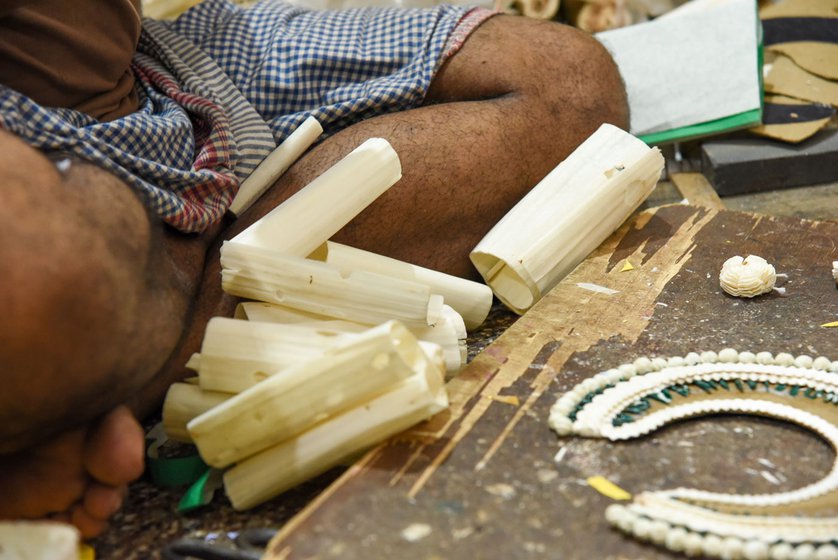 PHOTO • Prakriti Panda
It was Kashi Mohapatra, a friend of Kelucharan Mohapatra – the great exponent of Odissi dance who came up with the idea of making tahias out of sholapith , to replace the flowers worn by classical dancers in their hair. I worked on the designs.
Apart from sholapith , you need buckram [stiff cotton] cloth, gauge wire, fevicol gum, black thread, chuna [limestone], black paper, and green paper to make a tahia . If a single person is involved in the entire process of making a tahia , he will be able to complete no more than two in a single day. But we have many people doing different parts of the job – sometimes up to six to seven people.
Nageswar
[Indian rose chestnut] and
sebati
[chrysanthemum] are two of the most important flowers used in the production of
tahias
. In comparison to other flowers,
sebati
flowers last for about eight days, while
nageswar
flowers last for about 15 days at most – which is why these flowers were first used to make
tahias
. We mimic them in
sholapith.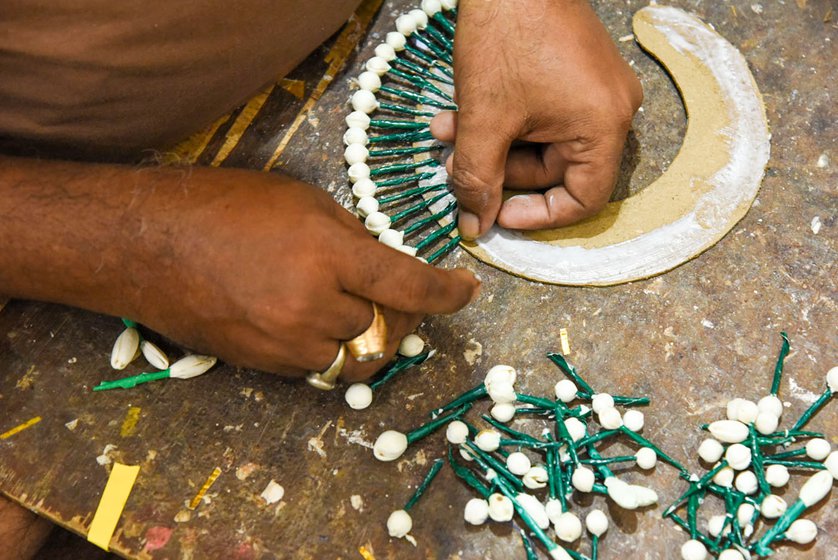 PHOTO • Prakriti Panda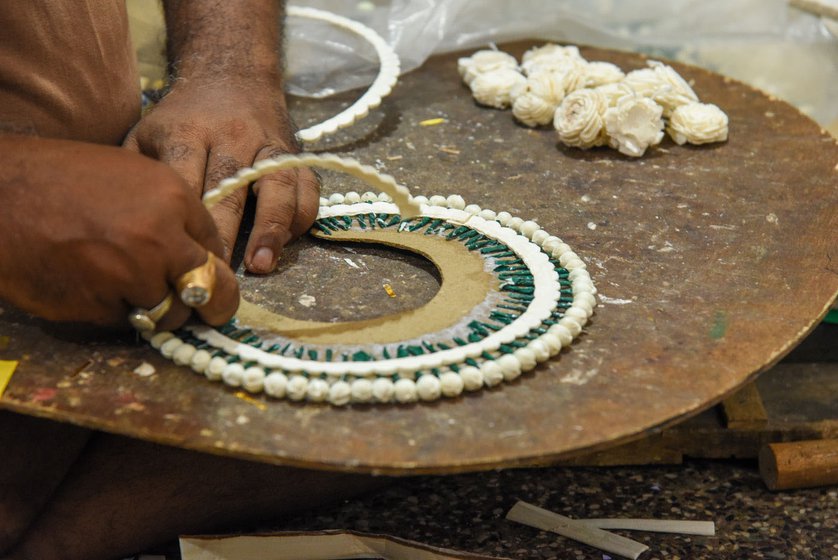 PHOTO • Prakriti Panda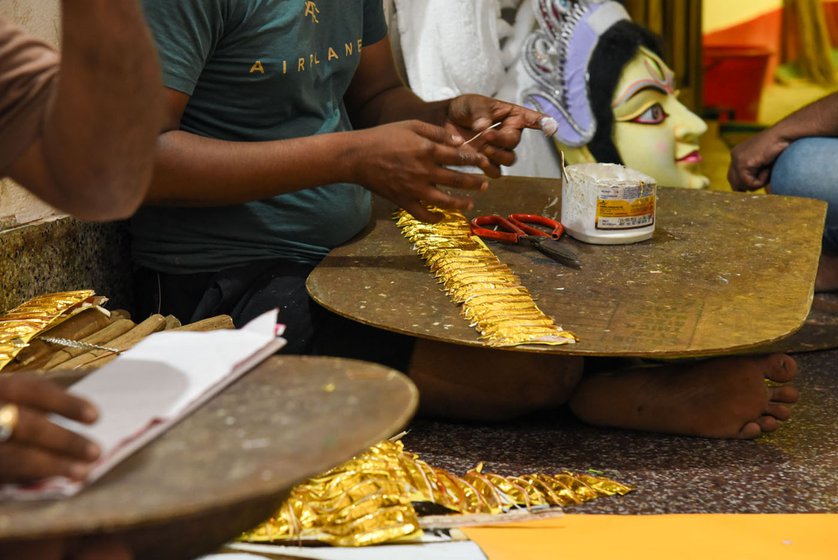 PHOTO • Prakriti Panda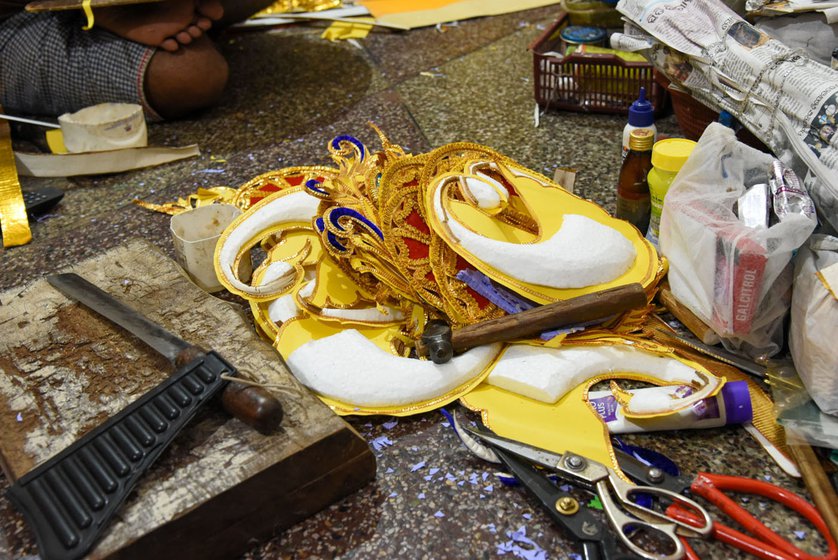 PHOTO • Prakriti Panda
Flower buds, particularly malli [jasmine], are used to create the spoke effect in the crown section of a tahia . Buds are typically white before they bloom so when creating tahias we also keep it white.
Some buds can be pressed on the tip to form a design, and this delicate work is usually done by women.
It is said that
solapith
work began in Puri with the intention of worshiping Lord Jagannath. Now it is used in hotels and events that want to show local designs.
There are no set shifts or times for when we start working; we could get up at 6:00 a.m., 7:00 a.m., or even 4:00 a.m. and work all day until 1:00 a.m. or 2:00 a.m. A worker can earn between 1,500 to 2,000 rupees for a single tahia .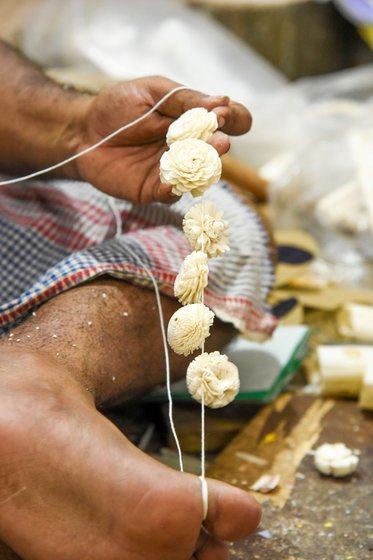 PHOTO • Prakriti Panda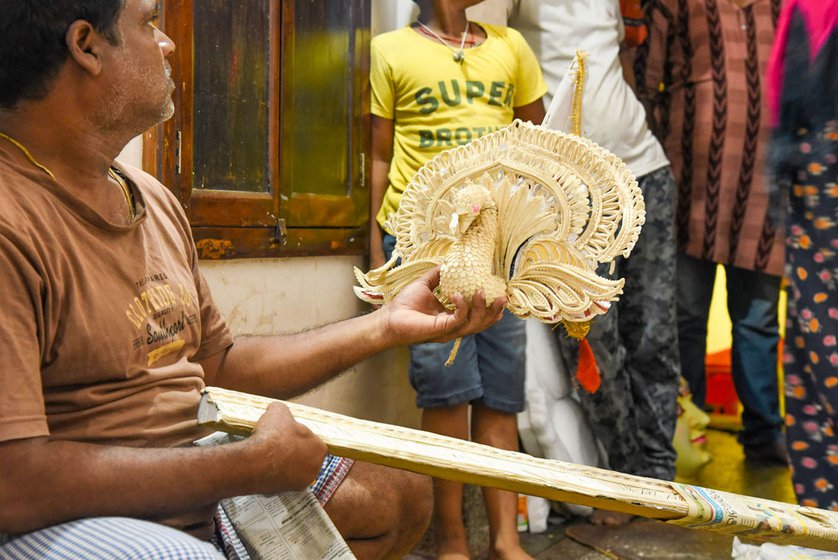 PHOTO • Prakriti Panda
I received an award in 1996 while training under Sarat Mohanty in Sambalpur, Odisha.

" Kalakar jama kahari sampati nuhe. Kala hin epari sampati, nije nija katha kuhe . [The artisan is not the wealth. It is the art that is a source of wealth in and of itself, and it speaks for itself.]"
"My wealth is my 37-year-old craft. It is the reason why my family doesn't go to bed hungry," says Upendra Kumar Purohit.