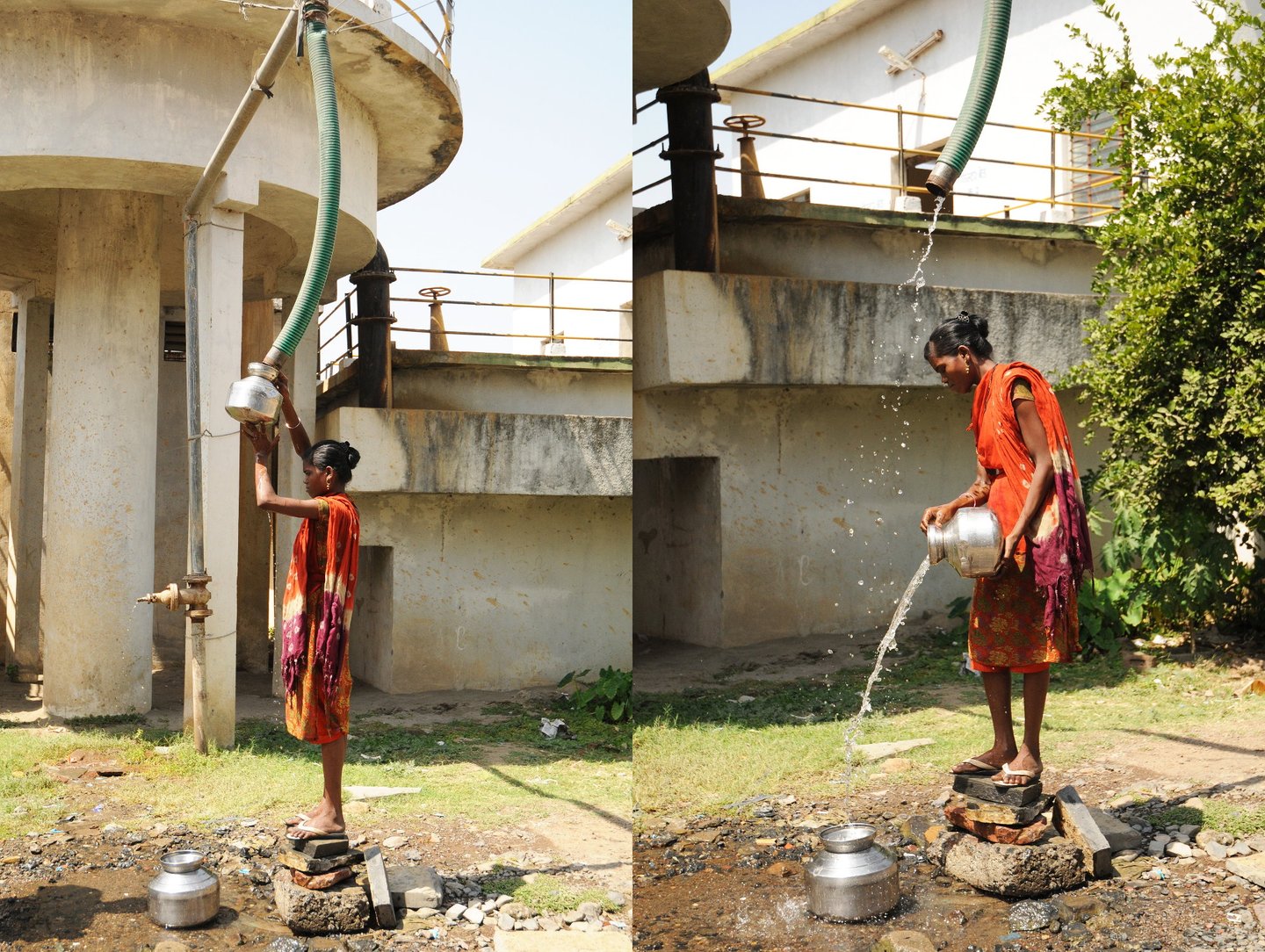 PHOTO • P. Sainath & Ananya Mukherjee
She stood graceful and erect on an ungainly perch of three stone chips and a block of wood. The stones odd in size, uneven in shape. The block of wood allowed her a flatter surface. She was from a rural family in Yavatmal district of Maharashtra, and was trying to capture as much as she could of the water leaking out of a pipe from a tank. With astonishing patience – and balance – she would hold one vessel above her head, let it fill up, then pour the water into a bigger vessel on the ground. When both were full, she would walk off to her home, add the water to her store, and return for more. Each time she would carry 15-20 liters and two metal vessels for nearly half a kilometer.
In Amravati district in the same state, Sarada Badre andher daughters have struggled for years to water their orange trees near their home. Their water source is just 300m away. Next door, by rural standards. "But the trees need 214 large pots of water," they point out. Back and forth, that's 428 trips, half of them with a full pot of water on their heads. Or over 40km for each of the three women – in short trips. They cover "half the trees on Mondays and the other half onThursdays." That's apart from working in the fields all the other days, often with temperatures that can touch 45°C (113°F) in April-May.
And that was a while ago. As the rural water crisis deepens – as old sources dry up and as an ever-greater share of water is diverted to industry and the cities – Badre and her daughters, like millions of other women in the Indian countryside, must walk greater distances. Poor rural women do this all the time – and in every part of the world.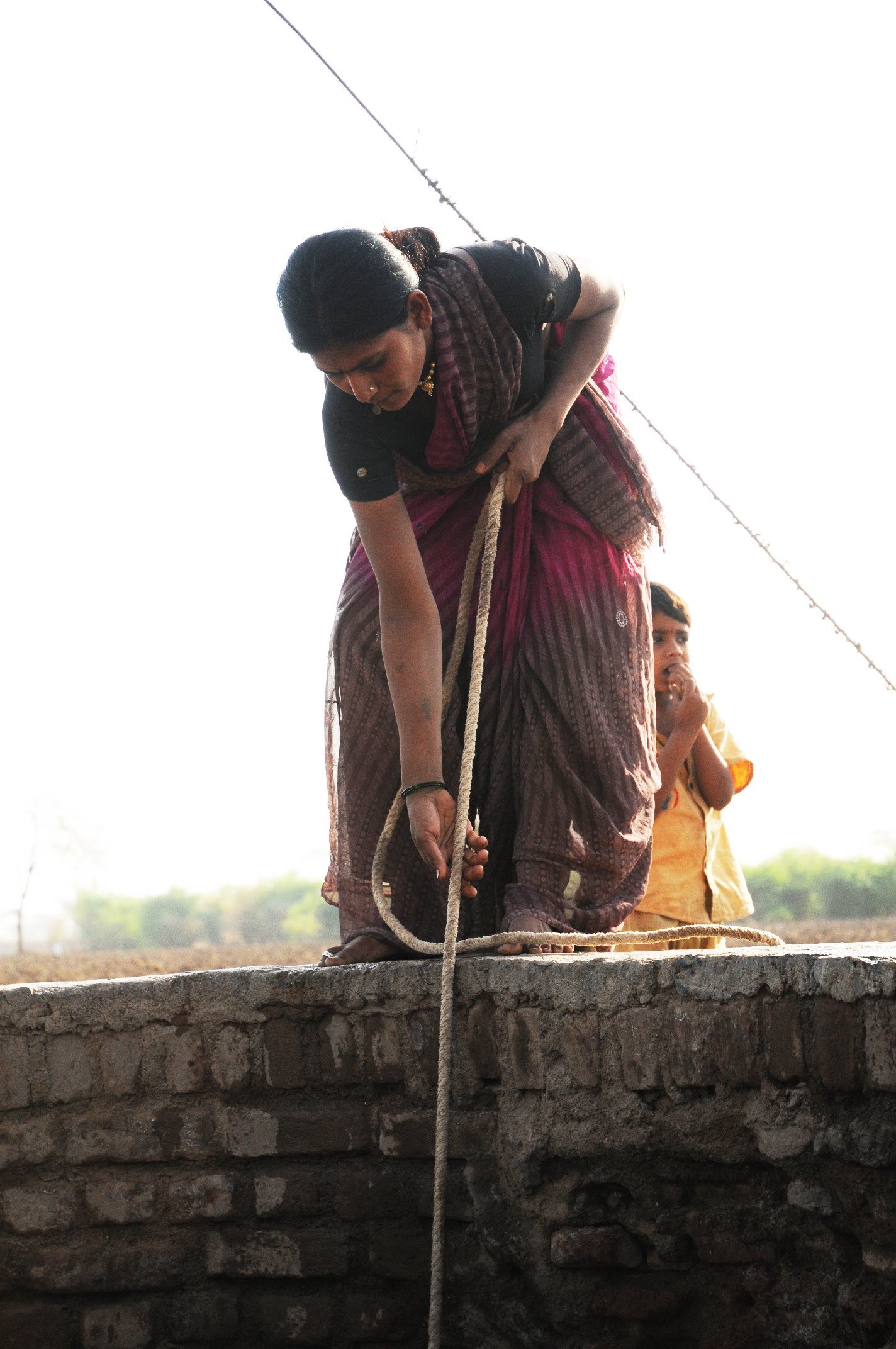 PHOTO • P. Sainath & Ananya Mukherjee
Many women in rural India can spend up to a third of their waking lives on three chores: fetching water, collecting firewood and gathering fodder. But they do a lot more beyond that. And the economy of millions of rural households rests largely on their labor.
In Edamalakudi, the remotest region in Kerala, 60 women banded together just months ago to transport over a hundred solar panels to bring electricity to their villages. This meant lugging those panels on their heads from Pettimudi near Munnar town, across 18km of hills, forest and wild elephant territory. It was the women, several of them illiterate, all of them Adivasi (indigenous, as they are called elsewhere), who convinced their elected village council that solar power was the way to go .
Each of those panels can weigh up to 9kg and several women carried two each. For a few of these slightly built Adivasi women, weighing alittle over 40kg, two panels would be close to half their body weight.
Women have also borne the brunt of the radical, often brutal transformation of rural India these past two decades. As millions have migrated out of the countryside or out of agriculture, their workloads have grown (both sexes migrate, but men in greater numbers). Women are forced not only to cope with the traditional roles of dairying and poultry care but also do far more in crop agriculture. The huge new pressures leave them less time to tend to livestock.
In agriculture, even by the 1990s, women formed 76 percent of those sowing seeds and 90 percent of those engaged in paddy transplantation.They made up 82 percent of those transporting crops from fields to homes, 32 percent of the work force preparing the land for cultivation and 69 percent of those in dairying. Their workload is now up beyond even those levels.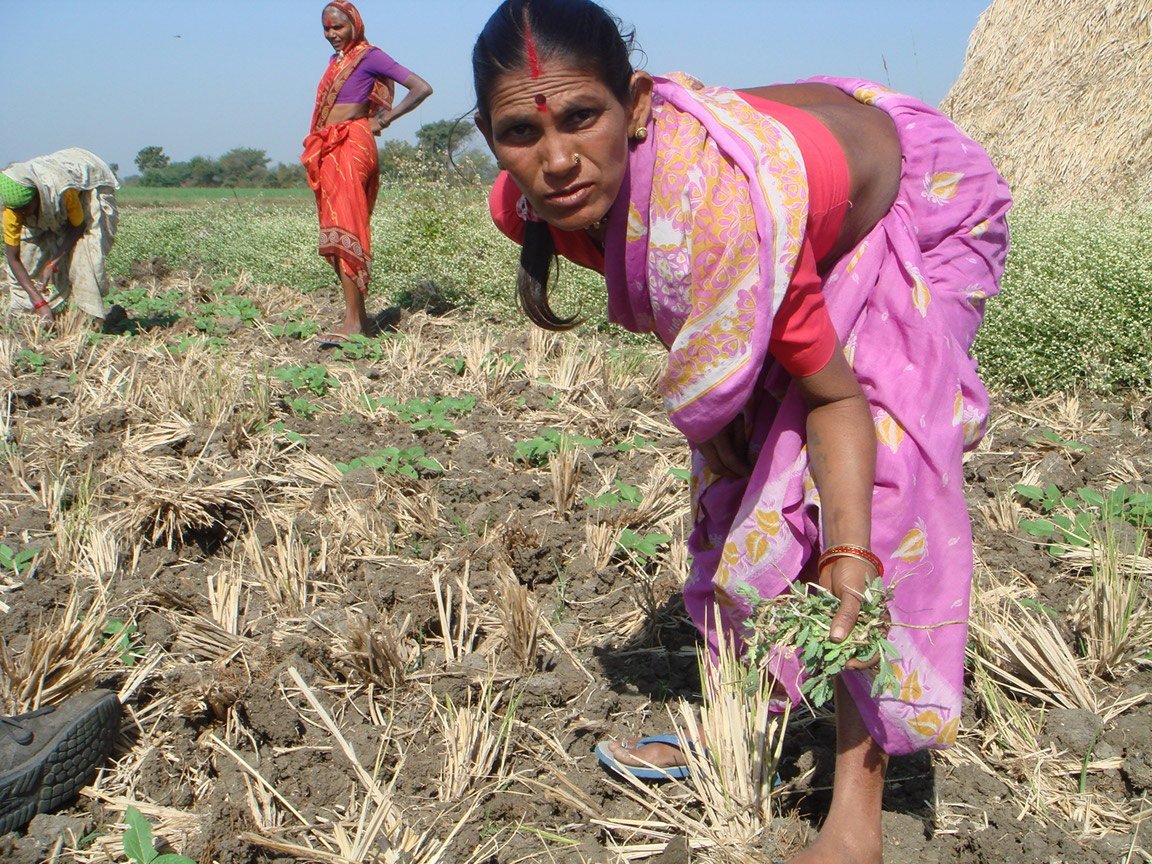 PHOTO • P. Sainath & Ananya Mukherjee
As George Monbiot puts it : "If wealth was the inevitable result of hard work and enterprise, everywoman in Africa would be a millionaire." That pretty much applies to poor rural women everywhere.
Milestones or millstones?
The UN observed October 15 as the International Day of Rural Women. And October 17 as the International Day for the Eradication of Poverty. It also calls 2014 the International Year of Family Farming. Millions of rural women in India hold up those 'family farms' with their labor. But when it comes to ownership, they seem not to be part of the 'family.' Only rarely do their names appear on the title deeds of their farmland.And large sections of rural women are amongst the poorest of the poor.
All these 'milestones' mean little to the media. The one that matters to them comes in the October 20 issue of Forbes Asia. That's when Forbes Asia formally puts out its list of India's 100 richest people –all of whom, it declares, are now dollar billionaires. There will be no cover stories on rural women.
Women are amongst the worst affected by forced displacements. These have been commonplace in rural India since the 1990s and have devastated millions of livelihoods. The state has forcibly acquired farmland for private and government industrial projects and 'Special EconomicZones.' When that happens, the distances women have to cover in search of water, firewood and fodder increases. So does the hostility they face from locals in the new places where they seek these. The forests become less accessible to those who once gathered produce from them. And there are very few, almost no avenues of decent alternative work for the displaced.
Even the most successful farmers, as Gujjari Mohanty in the eastern state of Odisha would tell you, live in fear of displacement.Gujjari is over 70, a skilled betel leaf farmer. But her village is up against the steel giant POSCO, to whom the state government has promised the lands of many like her.
"What jobs will they create?" she asks. "These factories work on machinery, not human beings. Have computers and mobile phones created more jobs or less? Why do we not have any postmen here these days? Look at my prosperous betel vineyards and see how many lives these support."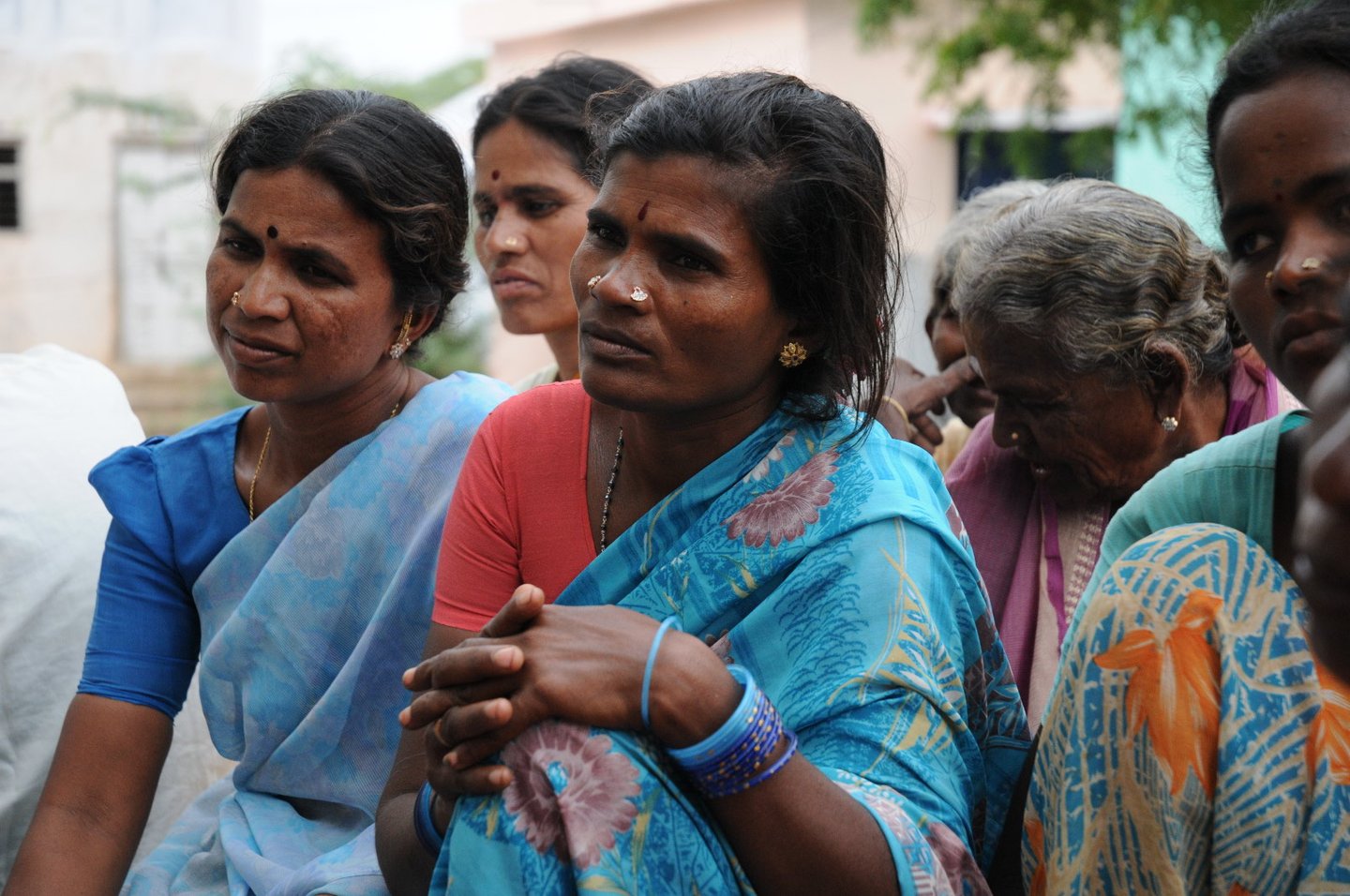 PHOTO • P. Sainath & Ananya Mukherjee
Rural women have also taken a hit in other, tragic ways. There have been nearly 300,000 farmers' suicides in India since 1995[DS2] .,National Crime Records Bureau data show. ( http://psainath.org/maharashtra-crosses-60000-farm-suicides/ ) In official count the victims are, overwhelmingly, men. This brings unbearable pressures on women suddenly left to run large families on their own, deal with the banks, moneylenders and bureaucracy.
There is also the reality that suicides amongst women farmers have been greatly under-counted as, mostly, women are not recognized as farmers. Only as farmers' wives. This is partly because of their lack of property rights. Their names rarely appear on the title deeds as owners of the land. (Even amongst non-farmers, suicide has been a significant cause of death amongst young women in rural India).
The agony and the irony
The irony here is not just that so many women all over the world bearsuch hardships year after year. It is that they have the vision and the potential to help solve some of the greatest problems of our times. Those include: food security, environmental justice, the development of asocial and solidarity economy and more.
For any of that to happen, though, we would need a deep and fundamental transformation. Not piecemeal programs.
As more and more women tell us, they would love to move from being precariously employed agricultural laborers to become independent producers. As the latter, they would have control over their labor and time, and even over how and what they produce. Two things are needed if this aspiration of rural women is to be realized.
The first is a robust system of rights to resources – land rights in particular. As the United Nations Food and Agriculture Organization (FAO) has observed , women in developing regions are less likely to own or operate land or to have access to rented land. If they own any, that land tends to be of poorer quality or smaller in size. This pattern can be seen globally, too, for women's access to livestock and other assets.
The second is building organizational structures that enable women to harness their greatest resource. That is: their collaborative instinct, their solidarity.
This calls for some major rethinking. Individual-based micro-credit models have ruled the world for too long. And there's growing evidence, from different parts of the world, of the disaster this has wreaked on the lives of women. In India, the most striking example came from Andhra Pradesh. A number of microcredit-driven suicides led to the ordinance ordering closure of some micro-lending operations. (An increasing number of studies point to the problems with microcredit in Sub-Saharan Africa and in Latin America , and more generally with Wall Street asking for a piece of the pie ).
Self-help groups (SHGs) have emerged as a popular option and they do offer an important alternative to micro-credit. However, SHGs have also too often been 'stand alone' organizations that do not coherently connect all of the spheres where gender injustice takes place. Forinstance, in the household, the community, the workplace and the political sphere.
But when such connections are made, great things can happen.
Solidarity opens new spaces
Consider Kerala's Kudumbashree – a network of 4 million women, mostly below the poverty line.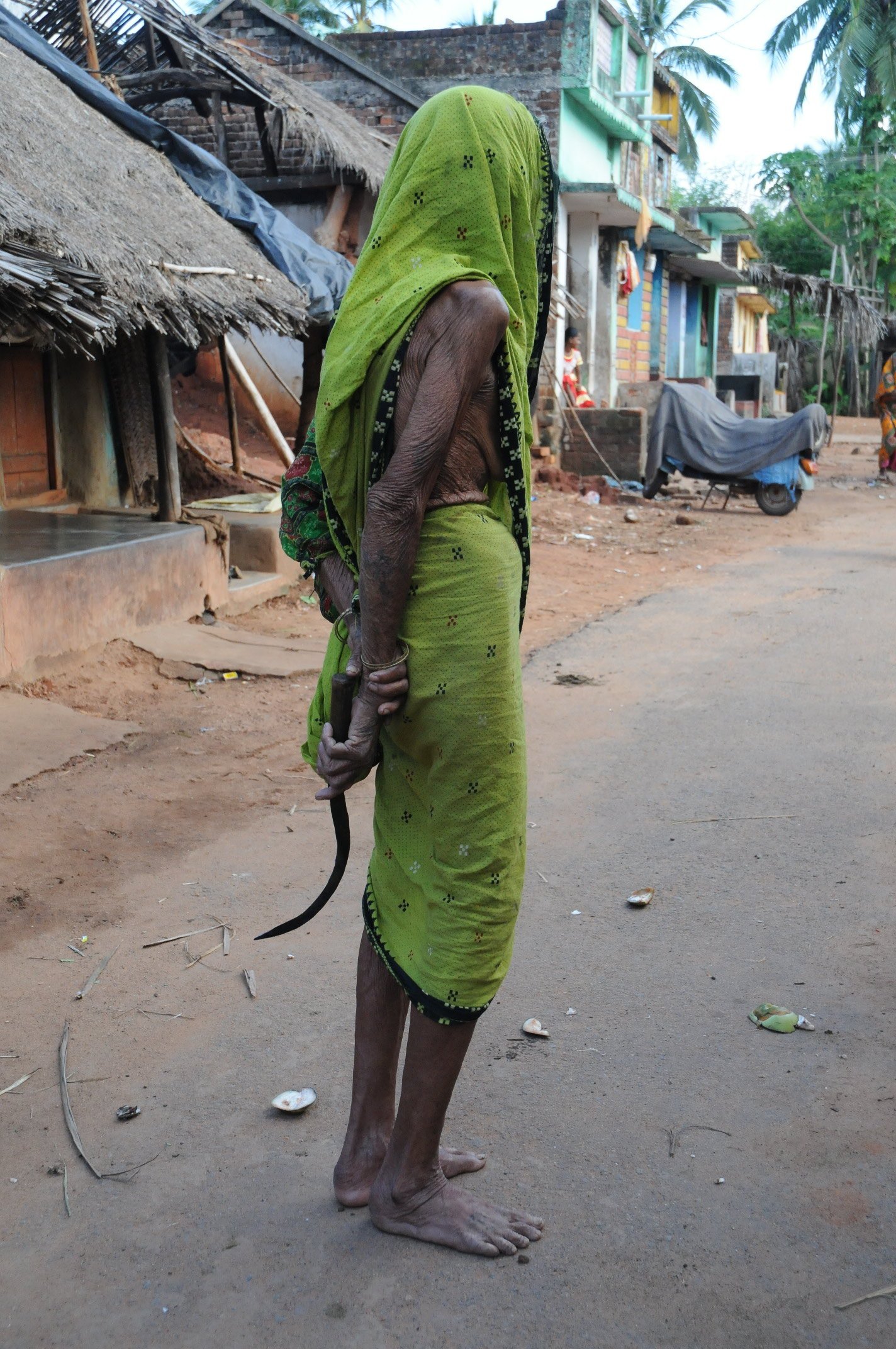 PHOTO • P. Sainath & Ananya Mukherjee
Initiated by the Government of Kerala in 1998, its goal was to mobilize and facilitate the collective capacity of marginalized women to address the structural causes of their poverty. Started during Kerala's famous 'People's Plan' process, it aimed at breaking the barriers between the state and its citizens. It sought to have plans actively shaped by communities from below. Accordingly, Kudumbashree had, from the start, a community and a bureaucratic component working in tandem. Its governing body was chaired by the State Minister of Local Self Government. There is a Kudumbashree office with a field officer in each district. The main task of this official structure is to support the activities of the community network across the state that has now grown to include 4 million women. They are engaged in a vast array of activities that earns them income. But they have also become active citizens who are challenging many forms of social injustice.
Kudumbashree's organizational structure is what sets it apart. It is based on community structures of solidarity at three levels. The first of these is the 'neighborhood group' (NHG), each with 10-20 women. The NHGs are federated into an Area Development Society (ADS). And those inturn make up the Community Development Societies (CDSs) at the panchayat level.
The Kudumbashree experiment is having some important consequences. First, it has proved a great vehicle to help women overcome their isolation.
Isolation affects women much more than we understand.In a study [DS3] we did with the Women's Development Network in CostaRica, women in Central and South America identified it as a primary obstacle. The Network's motto is "we can do more together than alone."And it gives voice to this need for connection, collaboration and solidarity.
The isolation women face can be at multiple levels, and can have a huge economic impact. Successful micro-enterprises are extremely hard to develop – women have to handle different aspects of production and marketing by themselves, while carrying out all their household duties.But even more fundamentally, isolation strongly inhibits confidence,whereas the ability to connect to similar women generates important effects. Connections also enable grassroots enterprises to scale up, which women working alone cannot do.
Kudumbashree does this by bringing together women in one neighborhood. For many of them this is the first and only space outside their home. They interact with other women like themselves. And do so further, through the interactions at the ward and village level. Kudumbashree's enterprises, monthly markets, food festivals and other initiatives offer women many opportunities they would not have otherwise. According to their website , Cafe Kudumbashree food fests recently achieved a turnover of Rs 3.22crore; their 1,434 monthly markets brought in Rs 4.51 crore.
Second, Kudumbashree is opening up possibilities of income generation with enormous social consequences.
Sangha krishi , or group farming is one of those possibilities. There are now over 200,000 women organized in such groups, farming nearly a hundred thousand acres of land. This began in2007 as a means to boost local food production. Kerala's women embraced this vision eagerly. There are now more than 47,000 collectivesinvolving women farmers across the State. These collectives lease fallowland, rejuvenate it, and farm it. They then either sell the produce or use it for consumption, depending on the needs of members. There are inspiring examples. In Perambra, Kudumbashree women, working with thepanchayat, have restored 140 acres that lay fallow for 26 years. Theynow grow rice, vegetables and tapioca on it.
PHOTO • P. Sainath & Ananya Mukherjee
This is bringing about a palpable shift in the role of women in Kerala's agriculture. Thousands of Kudumbashree women are shifting from underpaid wage work to being producers. With independent production, they gain greater control over their time and labor. As also over crops, production methods and, vitally, over the produce.
Some 100,000 women now practice organic farming. More wish to.Kudumbashree farmers are passionate about fighting ecological devastation through alternative farming methods.
The experience of belonging to an organization has had other impacts,too. Kudumbashree women participate in politics. In 2010, 11,773 of them contested the panchayat elections and 5,485 of them won.
At a recent national conference of agricultural workers in Warangal district in Telangana, speaker after speaker made this point: that agricultural workers must not be who they are now. They should not remain landless. They should be producers, owners. The women of Kudumbashree have worked their way ahead on this. That transition underway to producer already undercuts that category of 'landlesslaborer.'
Why? What do they gain from this?
In Edamalakudi, where those tribal women brought electricity through solar power to their villages, there are 40 Community Development Society (CDS) groups under the Kudumbashree umbrella. Of these, 34 are in farming. Every single woman amongst them is a Muthavan Adivasi. Every single one of them views herself – and wishes to be seen by others – as a producer. "We are not anyone's servants," they told us in this remote region. "We are producers." How does one measure physically or materially, this historic transition? This mindset shift that changes their own world, even if not on the same scale, alas, the larger world around them?
What cannot be measured
Impressive as their milestones are in numbers, some of the greatest achievements of the women of Kudumbashree cannot be measured in terms of kilograms and acres, income and output.
How does one calculate in figures the changing equations at home? Woman after woman across several districts such as Idukki, Wayanad,Thrissur and more has told us of their sense of being independent earners.
How do we measure the importance of this: that sense of moving from being, at best, a second-string support, to becoming a full, independent earner?
How does one place a number-value on rising political consciousness? Or quantify the satisfaction of doing more meaningful work? How do we gauge the reduced vulnerability of the women – to their employers, to workplace harassment? Or compute the liberating sense of being aproducer, not just a wage-earner?
Can one assign a monetary value to gender justice – perhaps the greatest single positive that Kudumbashree brings to the table?
As Subaira (36), Chairperson of the Thilangery Community Development Society says: "Are men and women equal? Of course. This is not a matterof debate, but something to be practiced." Subaira has a serious kidney disease. She lives with her mother who is bedridden with disease. But Subaira's leadership capacity is exceptional. She has led her village to100 percent financial inclusion from almost zero.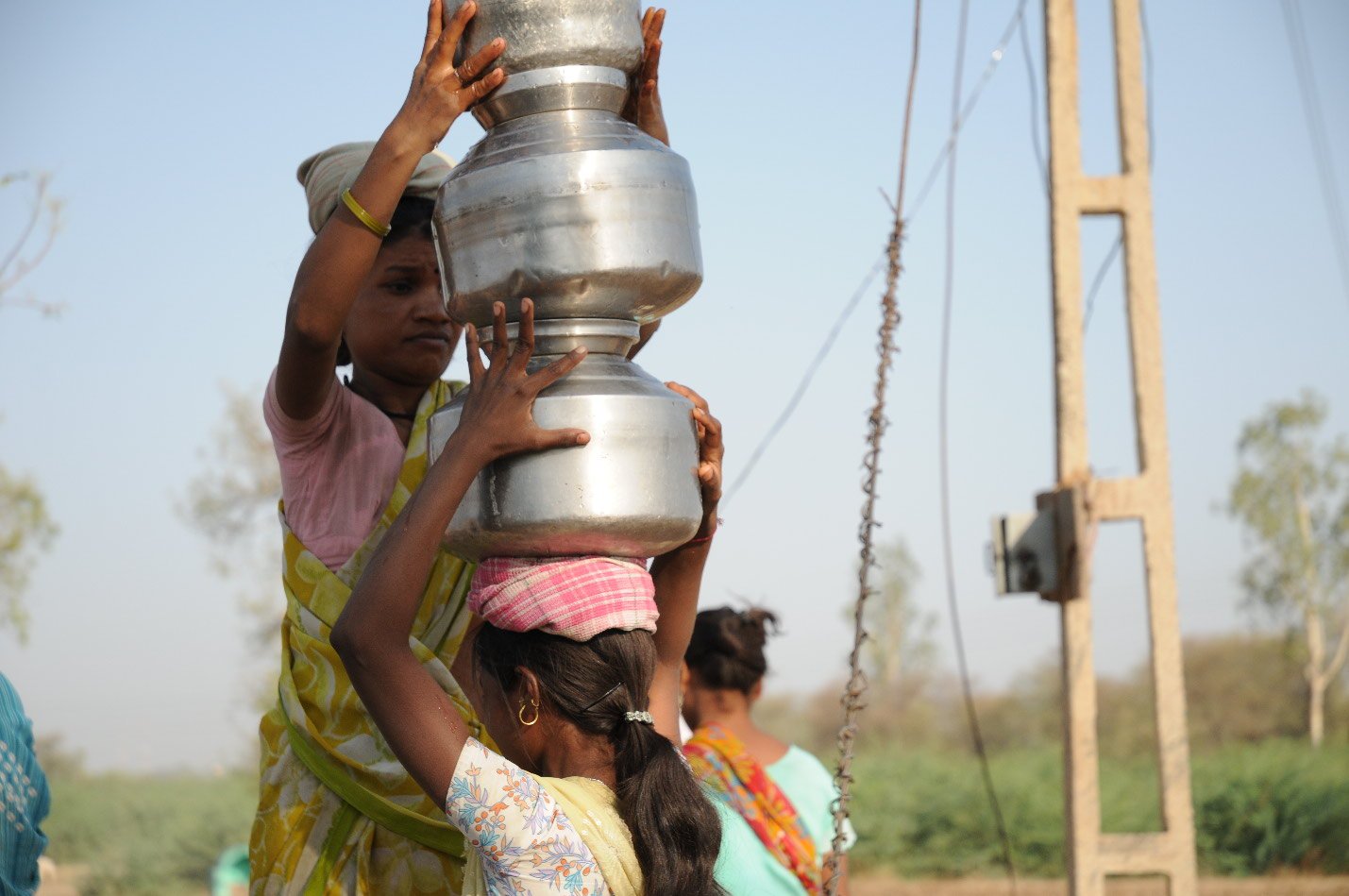 PHOTO • P. Sainath & Ananya Mukherjee
Many Kudumbashree women are delighted to find that their children view them differently once they become active economically and socially.It also helps young girls dream many dreams. For instance, Samisha is a Grade 10 student in Payyoli who is the president of the children's panchayat in her village. "I want to become a journalist and speak aboutthe ills of our society," she says.
However, for some women, participating in this movement is not easy.There are often strong objections from their families and their communities. But women continue, for the sake of something that cannot be measured – at least not with the yardsticks we have.
"I am in this movement because it helps me transform my pain into power," explains one Kudumabashree member as she describes the crushing problems she faced in trying to continue her work.
Can we measure, too, the importance of what the sangha krishis of Kudumbashree do? They have given women control over the production of food – which is key to food security.
Indigenous women everywhere play a very crucial role in sustainable development. Whether in resisting corporatization or commercial land development, or in practicing sustainable agriculture. The sangha krishis help deepen that role.
How does one reckon the importance of restoring fallow lands to paddy– in a country where more and more food crop land is being converted to cash crop cultivation?
The 'Green Armies' of Kudumbashree have done precisely this.
Can one put a price or material value on the return of migratory birds to the fields restored by the sangha krishis ? Can this be measured?
How does one estimate the social, cultural and psychological importance of such a change?
How does one measure the learning curve of the mind? Not just about higher material output, but one by which women increasingly understand and exercise their democratic rights? This is micro-politics with a macro impact. The members often have strong political affiliations but these do not dominate or overwhelm group meetings.
Only the land reform movements were much more far-reaching, more historically important. But the women of Kudumbashree bring one element they lacked: gender justice. So how do we measure this? It does not convert into acres and kilos. And how do we harness – for this is the real challenge – these visions of gender justice and collective spirit to transform how we approach 'development' and 'poverty eradication?'
This piece was originally published on Yahoo India Originals .
P. Sainath is the founder-editor of the People's Archive of Rural India. He has been a rural reporter for decades and is the author of 'Everybody Loves a Good Drought'.

Ananya Mukherjee is Professor of Political Science, York University, Toronto.

Ananya is grateful to the Social Science Research Council ofCanada (SSHRC) and the Shastri Indo-Canadian Institute for supporting the research that informs this piece. She also acknowledges that a part of this research was earlier carried in The Hindu in another form.