The half-a-dozen dhabas at Ogla are nearly empty.  At Dheeraj Jimwal's dhaba too, only a few jeeps have stopped by after the November 8 demonetisation. Ogla is halfway between Pithoragarh and Dharchula in Uttarakhand, and less than 21 kilometres from the India-Nepal border. Vehicles that ply on this route usually stop at one of the dhabas for a brief break and refreshments.
"We are making less food because customers don't turn up much these days," Jimwal says. His monthly income from the dhaba and a grocery shop that he owns has fallen to almost a third of Rs. 20,000: "It's nearly a month and we have just earned Rs. 7,000," he says. "Even if we wish to, we can't accept 500 and 1000 rupee notes because the bank in Charma does not easily exchange them. When we went with the big notes, the bank gave us 2,000 one-rupee coins! How do I give change to the people who come to eat at my dhaba ?"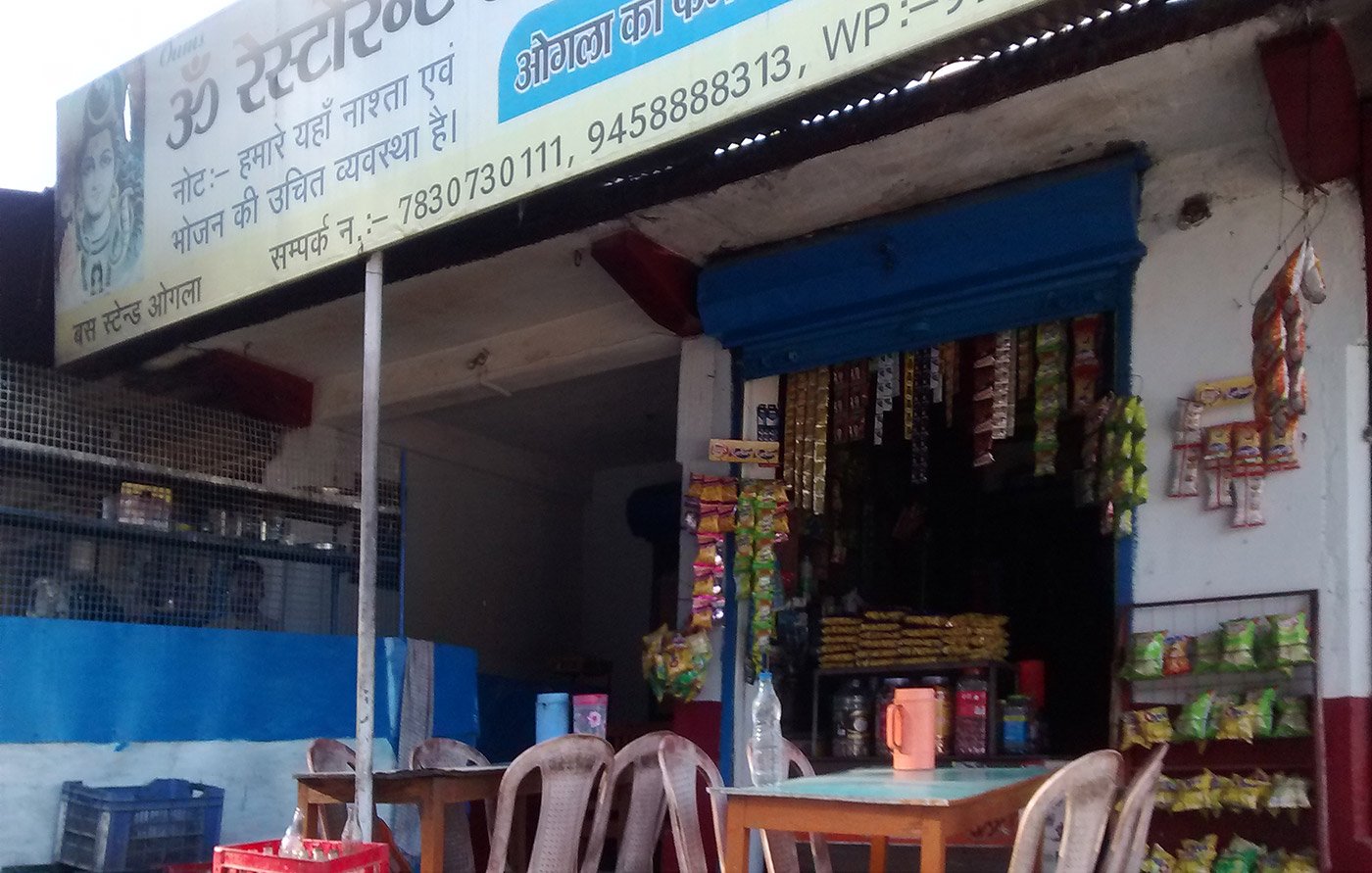 PHOTO • Arpita Chakrabarty
Our jeep is en route to Dharchula, passing through Ogla and Jauljibi. The driver, Harish Singh, is accepting old notes because he can use them to refuel his jeep's tank at the petrol pumps in Pithoragarh. "But there aren't many people travelling because the banks are empty of cash," he says, "With limited cash, would people procure grains first or travel?"
This is also the time for the centuries-old Jauljibi fair at the confluence of the Gori and Kali rivers bordering India and Nepal. The November 14-23 fair is an important event for people of the region. Jauljibi has a rich trading history – merchants from India, Nepal and even Tibet for long congregated here to exchange their goods for grains brought by farmers from the lower valleys. The older edition of the fair is past now, but traders look forward to this present version – to sell their warm clothes, jackets, shoes and other items. Some sell herbs and spices collected from 18,000 feet above sea level in the upper reaches of the Himalayas; a few even trade sturdy horses and mules from Nepal. Over the years, the mela has been drawing in traders from as far away as West Bengal, Uttar Pradesh and Madhya Pradesh.
This year though, Jauljibi is a dismal sight. There are 350 stalls but very few customers. "I wanted to visit the mela for clothes and other items for my family. But I only have change in coins. How would I pay for them?" Jimwal asks.

PHOTO • Arpita Chakrabarty
Iyasin has come to the mela from Bajpur town, more than 300 kilometres away in Udham Singh Nagar district of Uttarakhand. He sells household items such as curtains and sofa covers, and makes a tidy Rs. 60,000 from the 10-day event. This year though, he has barely earned Rs. 20,000. "I have a loan to repay. How can I do that if I don't do good business here?" he wonders dejectedly.
Gyan Singh Daryal has come from Chal village, 14,000 feet above sea level. His stall stocks various Himalayan herbs, spices and high-altitude black pahadi rajma. Daryal's family lives in Dharchula from November to April; they spend the summer in Chal, farming and collecting herbs and spices. The family consumes most of what they grow on their land. "Selling the herbs and spices brings us cash," he says. "The entire family participates in collecting the herbs and the Jauljibi mela rewards us for our hard work in such an extreme landscape."
This year, Daryal's sales have fallen sharply. "Not many people are visiting the fair," he says. Daryal doesn't have a permanent shop. The stalls he puts up in Jauljibi, Munsiari and Bageshwar (all in Uttarakhand) are his only way to earn cash. But, he says, demonetisation has wiped out that opportunity.
Archana Singh Gunjiwal is also at the fair. She is the gram pradhan of Gunji village, at a height of 10,370 feet. She has bought warm clothes and jackets from Taklakot mandi located at 12,940 feet in China, to sell at Jauljibi. The mandi is around 190 kilometres from Jauljibi, and traders travel nearly half of that distance on foot.
"During the first few days of the mela , it felt as if we would have to sell items to each other," she says. "I have had only 50 per cent sales this year." Gunjiwal is hopeful that she will be able to do better during the Munsiari and Bageshwar fairs in December and January. "By then, perhaps the [cash] crisis will decline."
Horse traders from Jumla and Humla districts in Nepal are at the fair too –  to get here, they have travelled for 10 days on foot with the animals. Of the 40 horses and mules one group has brought, only 25 have been sold. In previous years, almost all the animals at the fair were sold. A horse is priced at Rs. 40,000 and a mule costs Rs. 25,000. The hardy animals are ideal for the hills and are valued immensely by the villagers for carrying loads in a region that has few roads.
"Today is the last day of the mela and we couldn't sell seven of our horses," says Nar Bahadur, a horse trader from Humla of another group. "We didn't know of this demonetisation. Only when we reached Jauljibi we got to know of our fate."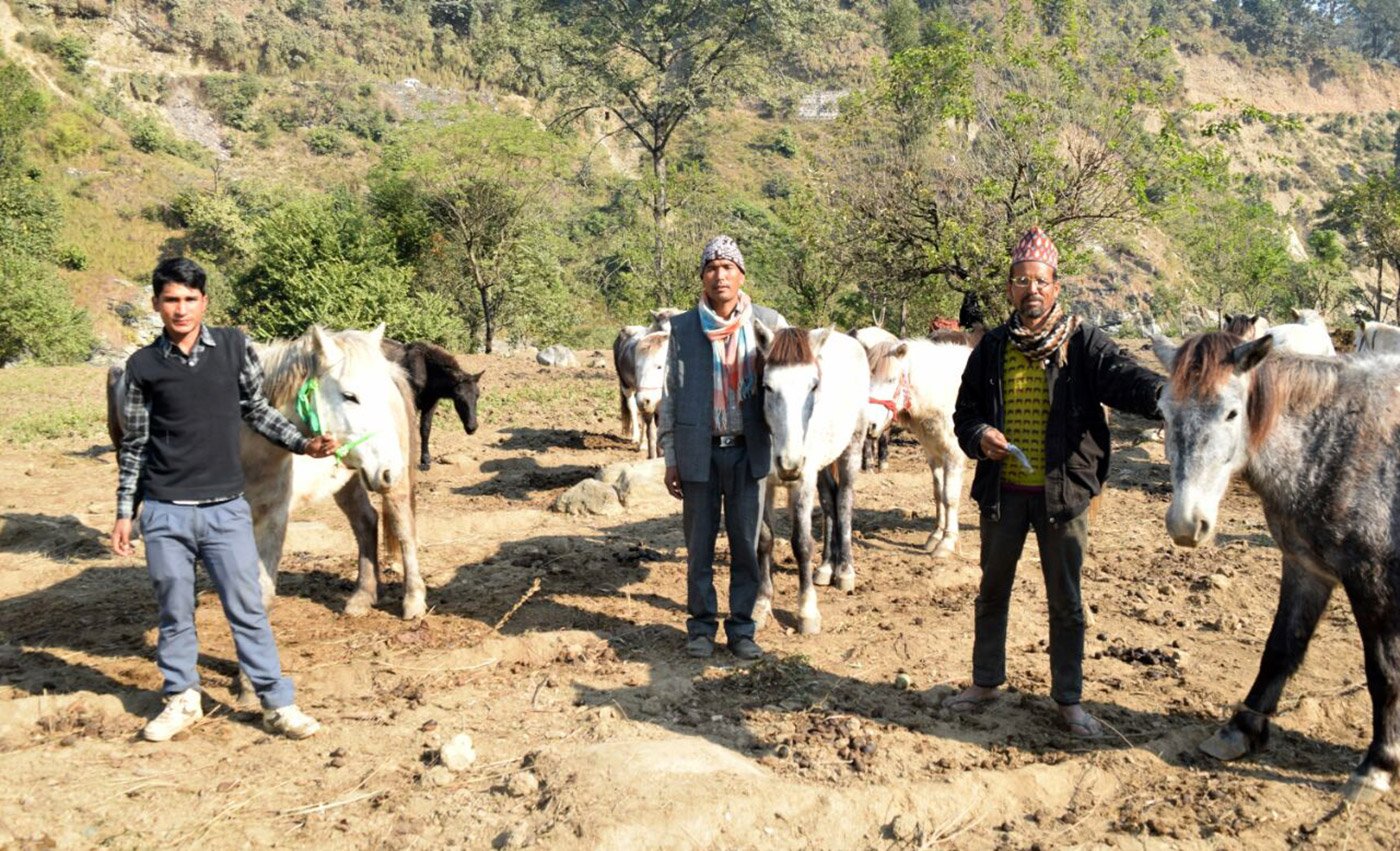 PHOTO • Arpita Chakrabarty
I leave Jauljibi before it gets dark in the hills.  The next morning, at the State Bank of India in Dharchula, dozens are already in the separate lines for men and women before 9 a.m., waiting to withdraw cash. The bank hasn't opened yet.
Dharchula is the last town on the India-Nepal border. It also leads to Taklakot, China's Autonomous Tibet Region, about 155 kilometres away.  The town has for long accepted the people of Nepal and its currency. But now, the currency of the neighbouring country is in greater demand – it's probably being used more than Indian currency here.
"We don't have Indian cash. So customers are paying in Indian rupees, and we are giving the change back in Nepali currency. Most of us are using Nepali currency to buy grocery and rations. All of us can exchange the currency at the money exchange counters [at the border]," says Harish Dhami, a shopkeeper at the taxi stand.
In the first few days after demonetisation, many turned up at these counters in Dharchula  to exchange Indian money for Nepali currency.  Among them were Nepali daily-wage labourers working in India and Indians living in this border town. "A 100 Indian rupees is equal to 160 rupees of Nepali currency. Usually people exchange Nepali currency for Indian cash because those residing in the border areas have to frequent Indian markets to buy goods," says Krishna Garbyal, a local journalist with Amar Ujala in Dharchula.  "After November 8, this has reversed." .
The new Rs. 2000 and Rs. 500 notes arrived in Dharchula six days after the demonetisation. "The town has only 25,000 people and there are three banks, so initially there wasn't much crowd," Garbyal says. "But when the banks and ATMs stop dispensing cash for 2-3 days, the crunch begins affecting people. Then there is always Nepali currency to the rescue."
The author travelled to Dharchula for this report in late November.