It is old and it is new. It is ancient and it is contemporary. Of great historical importance, yet with a very modern relevance. The Pudhu Mandapam is Madurai in miniature form. A 384-year-old historical structure that also houses a shopping complex, it embodies the essence of that ancient town in a way no other part of it can. From the dressmakers working on bright, glowing fabric, to shops selling traditional utensils and vessels, the place wears many hues.
It's where dresses are stitched for devotees thronging what is seen as one of the most important Hindu temple festivals in Tamil Nadu. And where over a third of the 150 dressmakers are Muslims. The faithful donning those costumes they create are mostly Hindus from rural regions around Madurai.
Ask the dressmakers about their being Muslims and stitching costumes for a Hindu festival, and they are dismissive. "This is not North India, madam," says Amir John. "We have lived together for generations and address each other as relatives. How can anything go wrong here?"
"What is there to be so surprised about?" asks Mubarak Ali, 42, another dressmaker at Pudhu Mandapam. "We have been doing this for generations."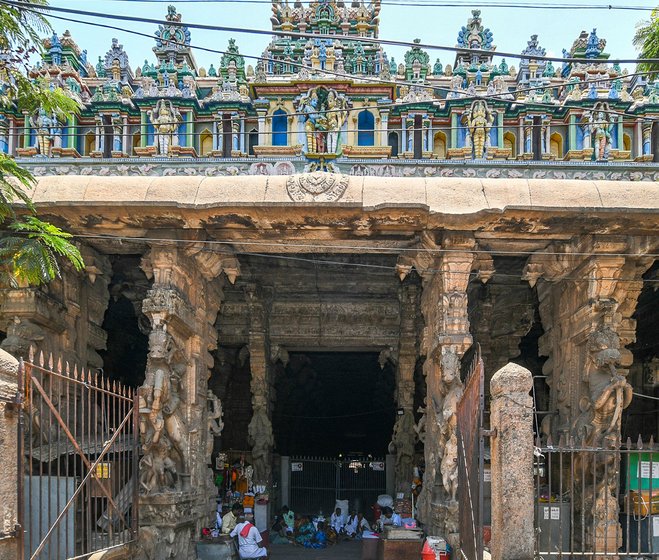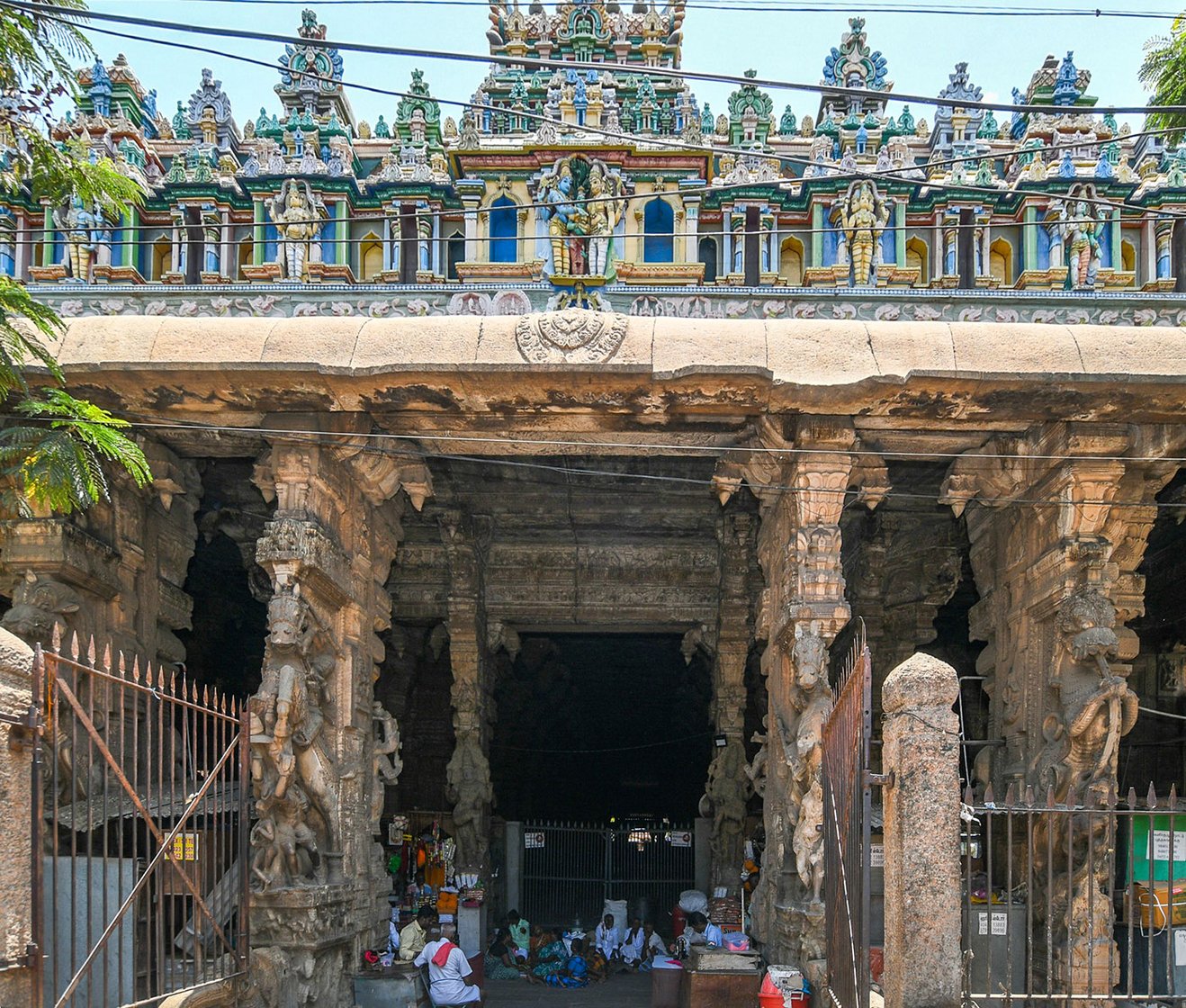 PHOTO • People's Archive of Rural India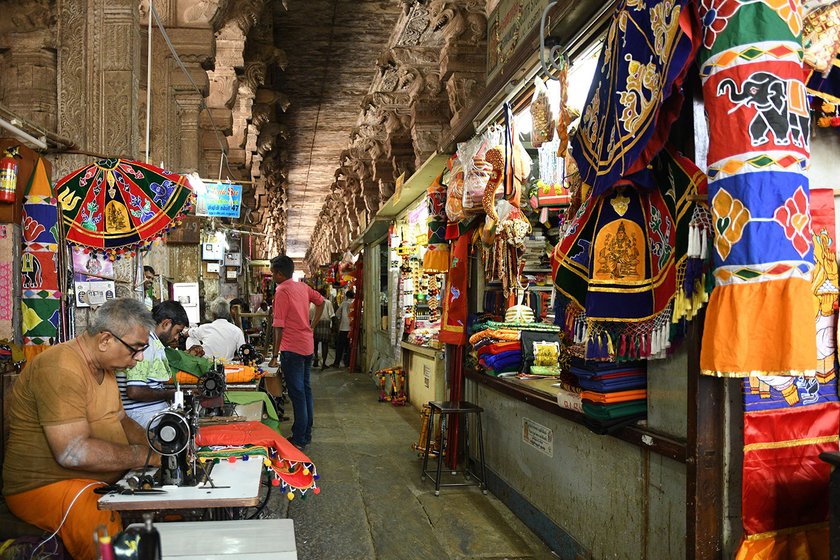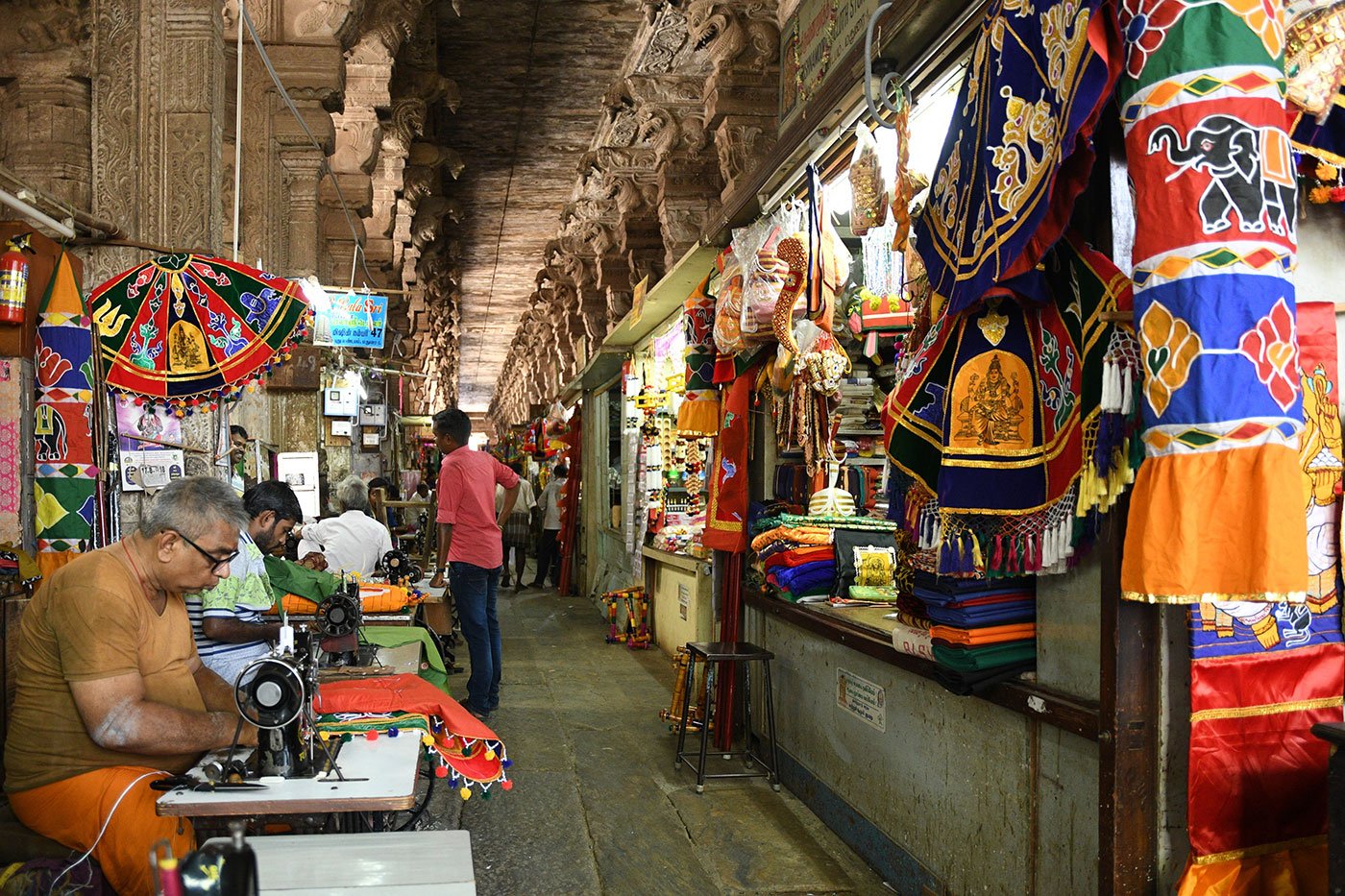 PHOTO • People's Archive of Rural India
'Mandapam,' literally the porch of a temple in Tamil, is more commonly used to refer to wedding halls, or pillared structures for socio-cultural or religious activity. This one is located diagonally opposite the East Tower of the legendary Meenakshi Amman Temple in the heart of Madurai.
It might seem odd that the name of this nearly four century-old structure includes 'Pudhu,' meaning 'new' in Tamil. But it was surely that in the year 1635 when Tirumalai Naiyakkar, then king of Madurai, constructed this as a place for celebrating the spring festivals.
Its religious-cultural character sits easily with an intensely political milieu dating back two millennia, through most of which control of Madurai meant control of the Tamil lands. More recently – just last week – the 'political' was reflected in the Madurai Lok Sabha constituency battle between V.V.R. Raj Sathyan of the All India Dravida Munnetra Kazhagam (AIADMK) and Su Venkatesan of the Communist Party of India (Marxist)C. For all its religious significance, the Madurai seat has thrice been won by the Left.

Today, April 22, is the last day of the cultural event called the 'Azhagar festival'– where the dressmakers play a prominent role – barely a 100 hours after voting concluded on April 18 in the political carnival.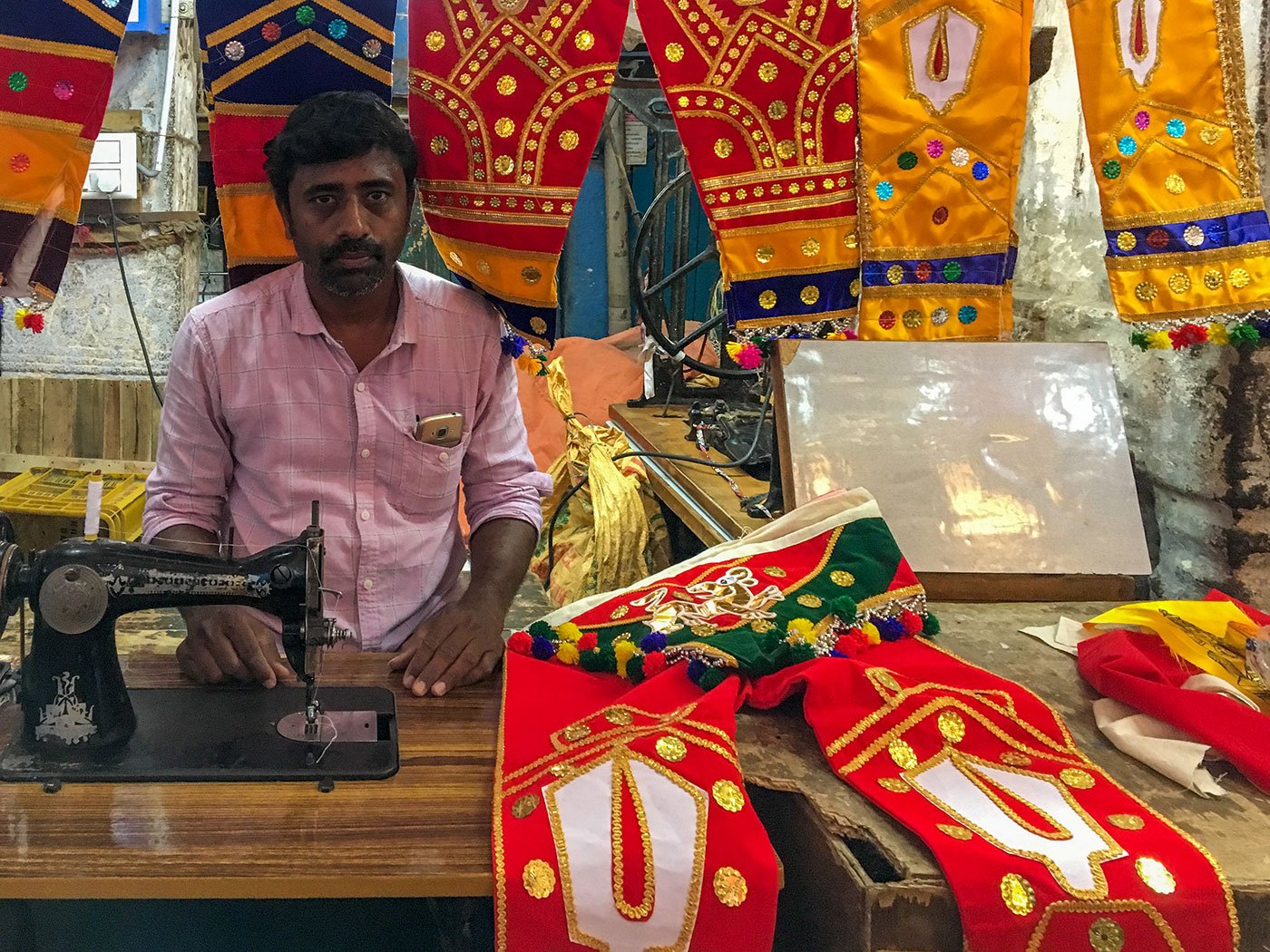 PHOTO • Kavitha Muralidharan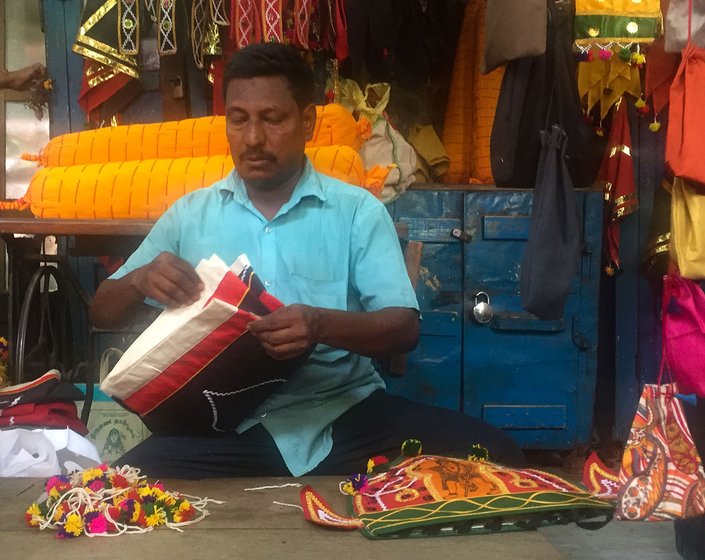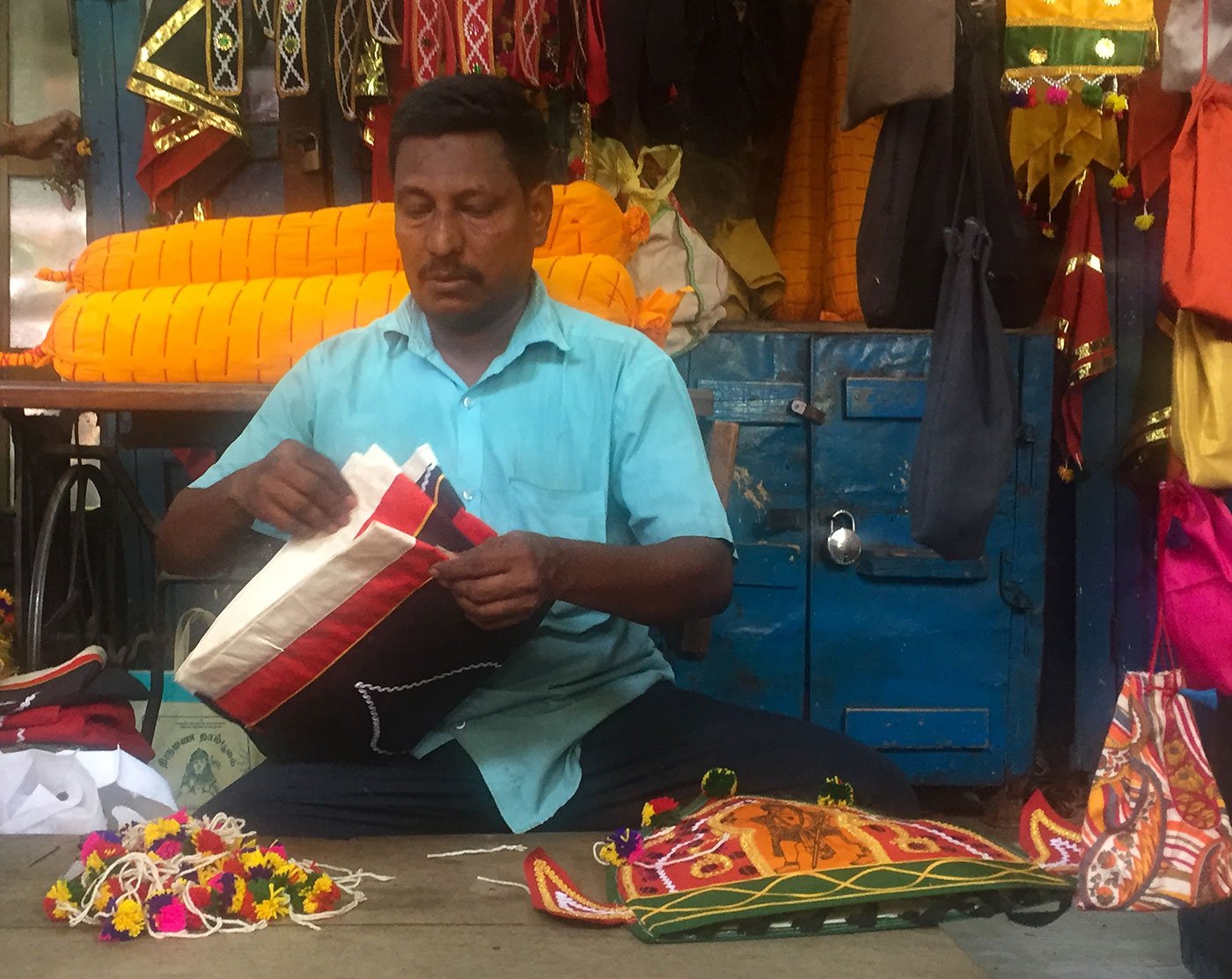 PHOTO • Kavitha Muralidharan
Azhagar, short for Kallazhagar, is the presiding deity of the Azhagar Kovil (temple) located in a hamlet of the same name in Melur block, just over 20 kilometres from Madurai city. In popular culture, Azhagar is believed to have crossed the Vaigai river to attend the marriage of his sister Meenakshi, but goes back abruptly and in some anger when he comes to know that the marriage has already taken place.
The Meenakshi temple festival, which started on April 8 this year, lasts for about 12 days. The Azhagar festival, which began on April 14 this year, lasts for nine days and will end today, April 22. The two near-simultaneous festivals together are known as Chithirai Thiruvizha. The first culminates with the Meenakshi Thiru Kalyanam (Meenakshi's celestial marriage) and  Therottam (running of the chariot).
The Pudhu Mandapam structure is 333-feet long and 25-feet wide with 125 pillars, each bearing sculptures of Nayak kings and goddesses. The shopping outlets it houses are perhaps some of the oldest in Tamil Nadu, with 300 shops selling books, vessels, clothes, bangles, trinkets, toys  and more. "As far as I know, these shops must have occupied Pudhu Mandapam for at least two centuries now. The oldest surviving one – the Sikkander iron vessels store – we know dates back at least 150 years," says G. Muthu Pandi, a dressmaker and president of the Madurai Pudhu Mandapam Traders and Dressmakers' Association.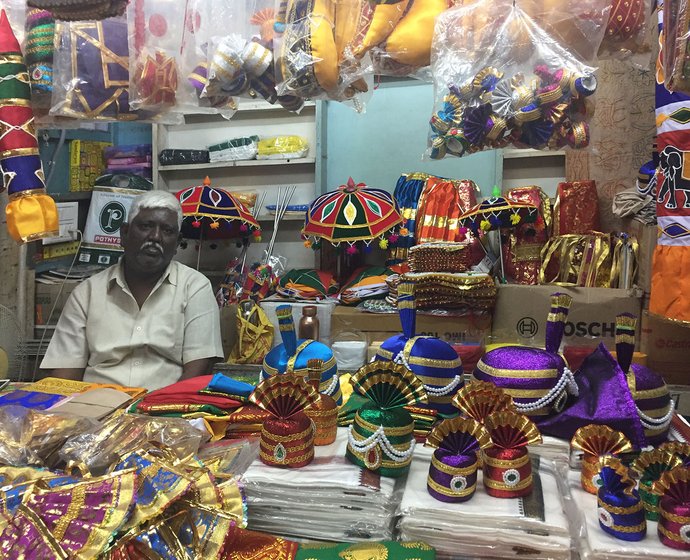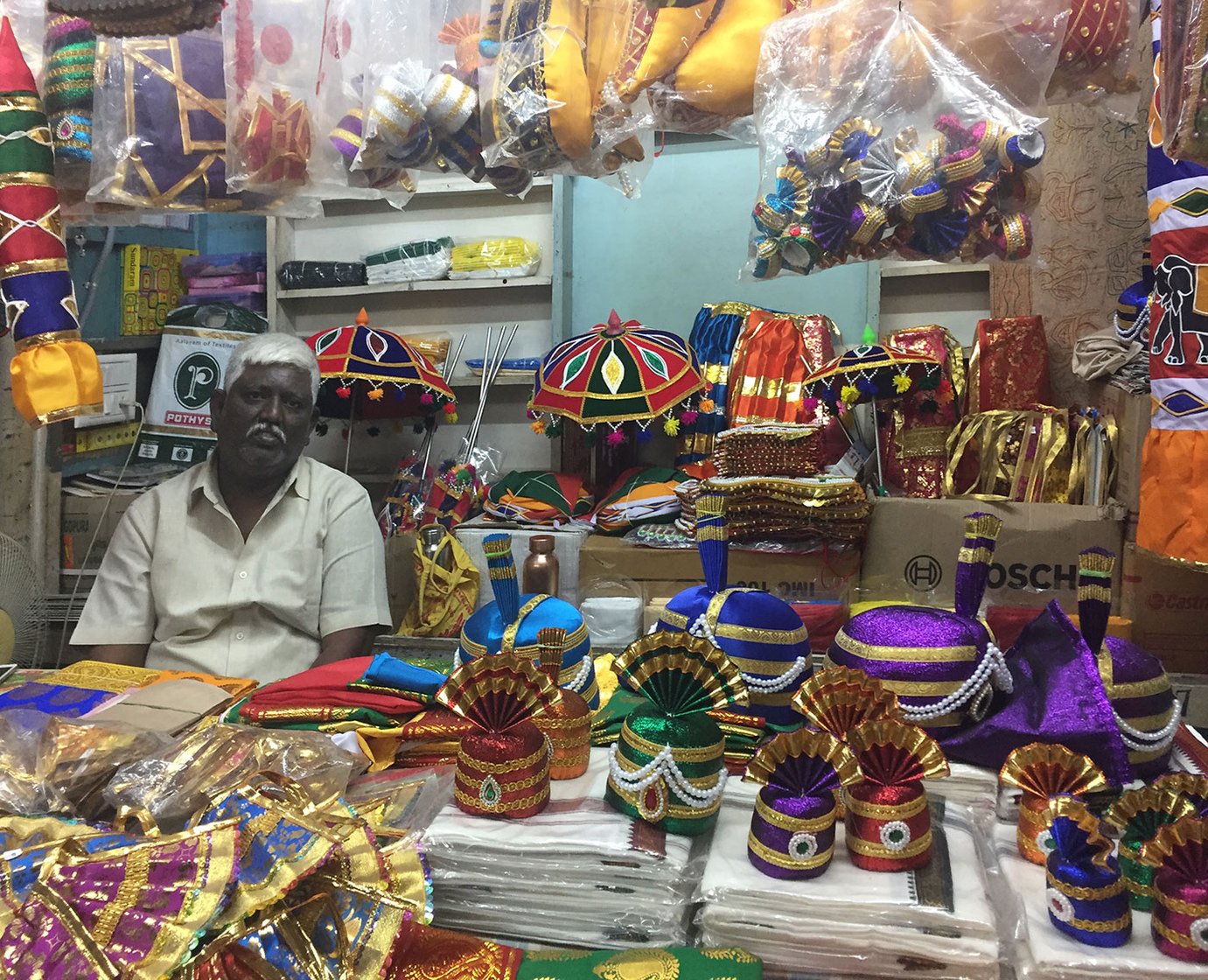 PHOTO • Kavitha Muralidharan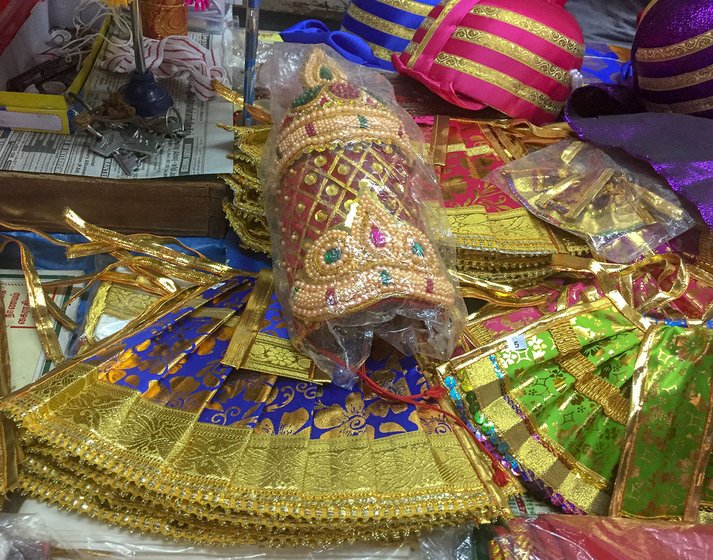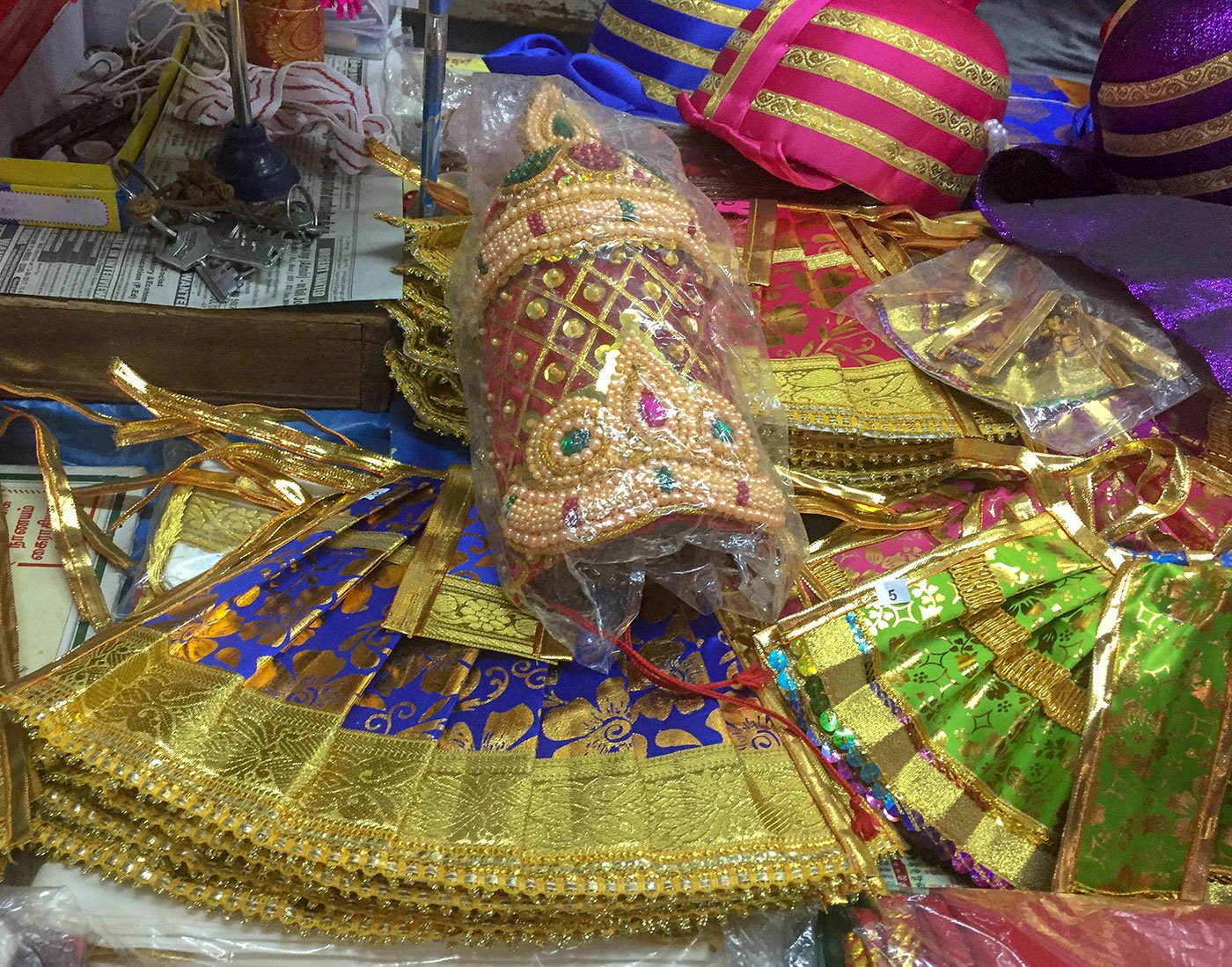 PHOTO • Kavitha Muralidharan
Every year in the Tamil month of Chithirai – April 15 to May 15 – the tailors-dressmakers get busier than other shopkeepers. It is in this period they stitch costumes for hundreds of devotees adorning themselves as Azhagar, as part of the temple festival.  Amir John is among those nonchalantly cutting and stitching the vividly coloured cloth for Hindu devotees. He is a Muslim tailor from the third generation of his family in this trade. While patiently showing us the clothes that devotees will wear in accordance with their role and prayers, he doesn't stop working. His deft fingers somehow make the complex needlework seem like child's play. "We have had this shop for about 60 years now and I learnt the trade from my father Sheikh Nawab John," he says.
Depending on the role they opt for, the devotees would require salladam (trousers), kachai (cloth tied around the waist), maaradi maalai (garlands), uruma (headgear) or saattai (whip). Some of them might also buy a thopparai (a water can made of cloth which has a hole that allows the liquid to be poured out in a controlled way), or 'torches' made of bits of cloth.
According to the authoritative 1989 book Azhagar Kovil by professor Tho Paramasivan, former head of the Tamil department at Manonmaniam Sundaranar University in Tirunelveli, Tamil Nadu, devotees don four different roles during the festival: thiriyeduthaaduvor (those who dance carrying fire), thiriyindri aaduvor (those who dance without fire), saattai adithaaduvor (those who whip themselves during the dance) and thiruthi neer thelippor (those who sprinkle water on the god and devotees).
'They [the Muslim dressmakers] are simply part of us. We are like relatives and that is how we call each other. We stand for each other, protect each other'

The first three groups typically wear red trousers, while those dancing with fire also sport red headgear. Those who sprinkle or disburse water are dressed like warriors, and wear the uruma and maaradi maalai . Paramasivan notes that people from all castes, even from Dalit communities, participate in such rituals. They are often unaware of the antecedents of the rituals. "Most of them do it as votive [or pledged] offerings and have been traditionally doing it," he observes. While women rarely don such roles, there is no known ban on their doing so. Paramasivan observes that while the Meenakshi festival is celebrated more by people from urban Madurai, the Azhagar event is observed more by rural folk.
Unlike many of his counterparts, Abu Backer Siddique, 53, ventured into the world of Azhagar only in 2007. "I originally had a fancy store [selling various small items] at Pudhu Mandapam, but this fascinated me. Imagine, it is not just confined to Madurai. Pudhu Mandapam dressmakers create material for rituals in any temple festival across the state."
Among them, is Sheikh Dawood, 59, who started making clothes for Azhagar when he was barely 13. He says, "I [also] stitch clothes for the Siva raathiri , the Kandasamy temple festival and others."
Typically, lakhs of people converge on a single day to witness the ritual of Azhagar entering and crossing the Vaigai river. The enactment of that event is the high point of the Azhagar festival. That is also the day when devotees take out a procession donning those various roles.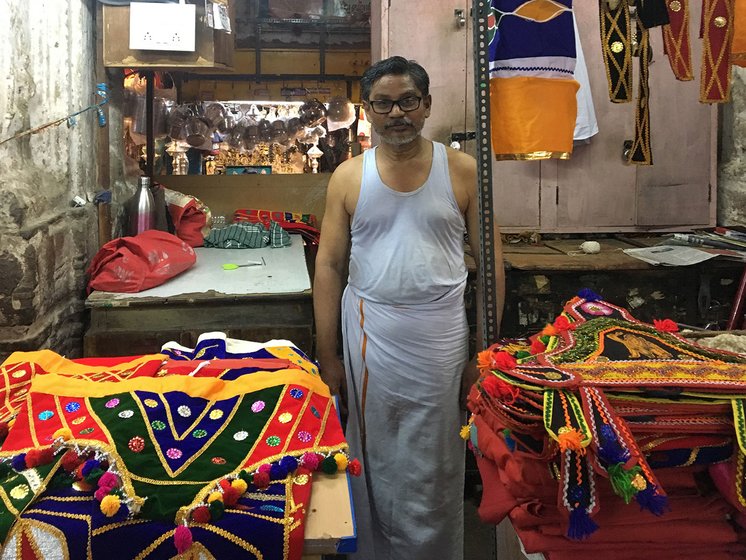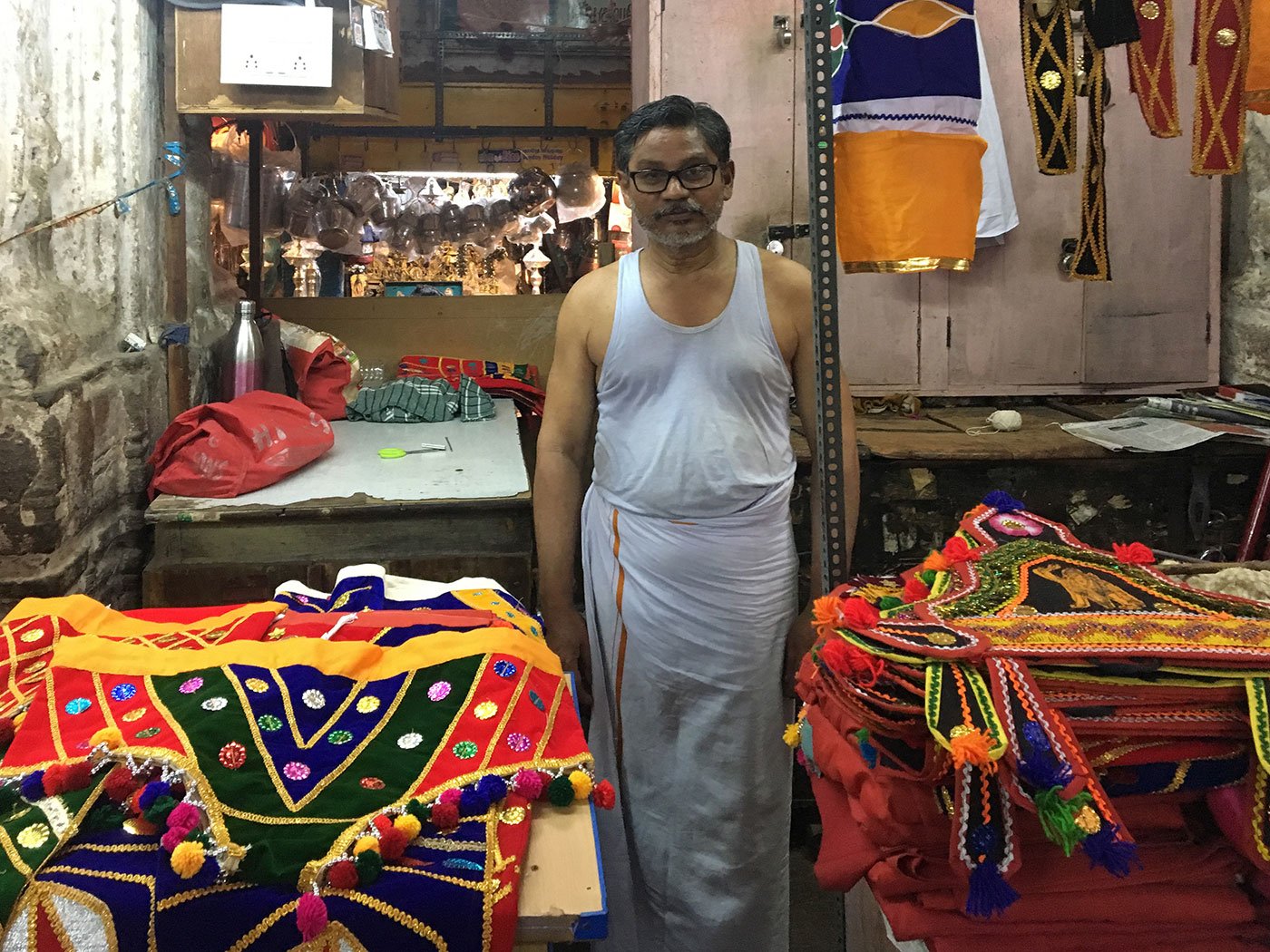 PHOTO • Kavitha Muralidharan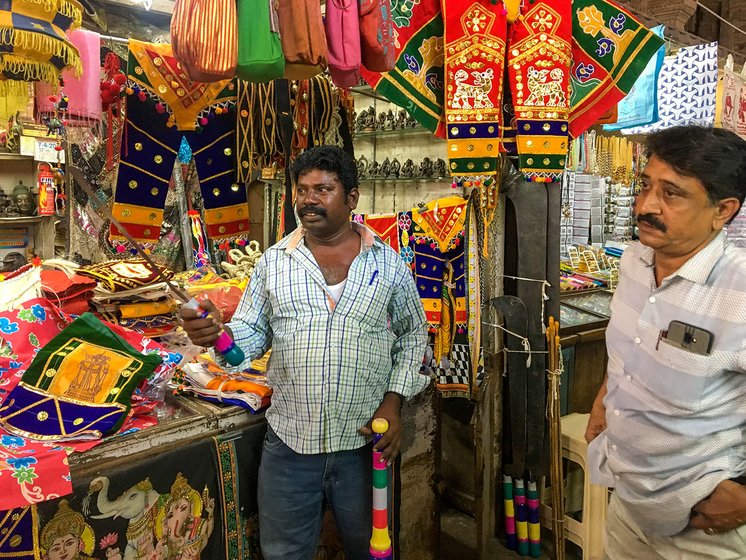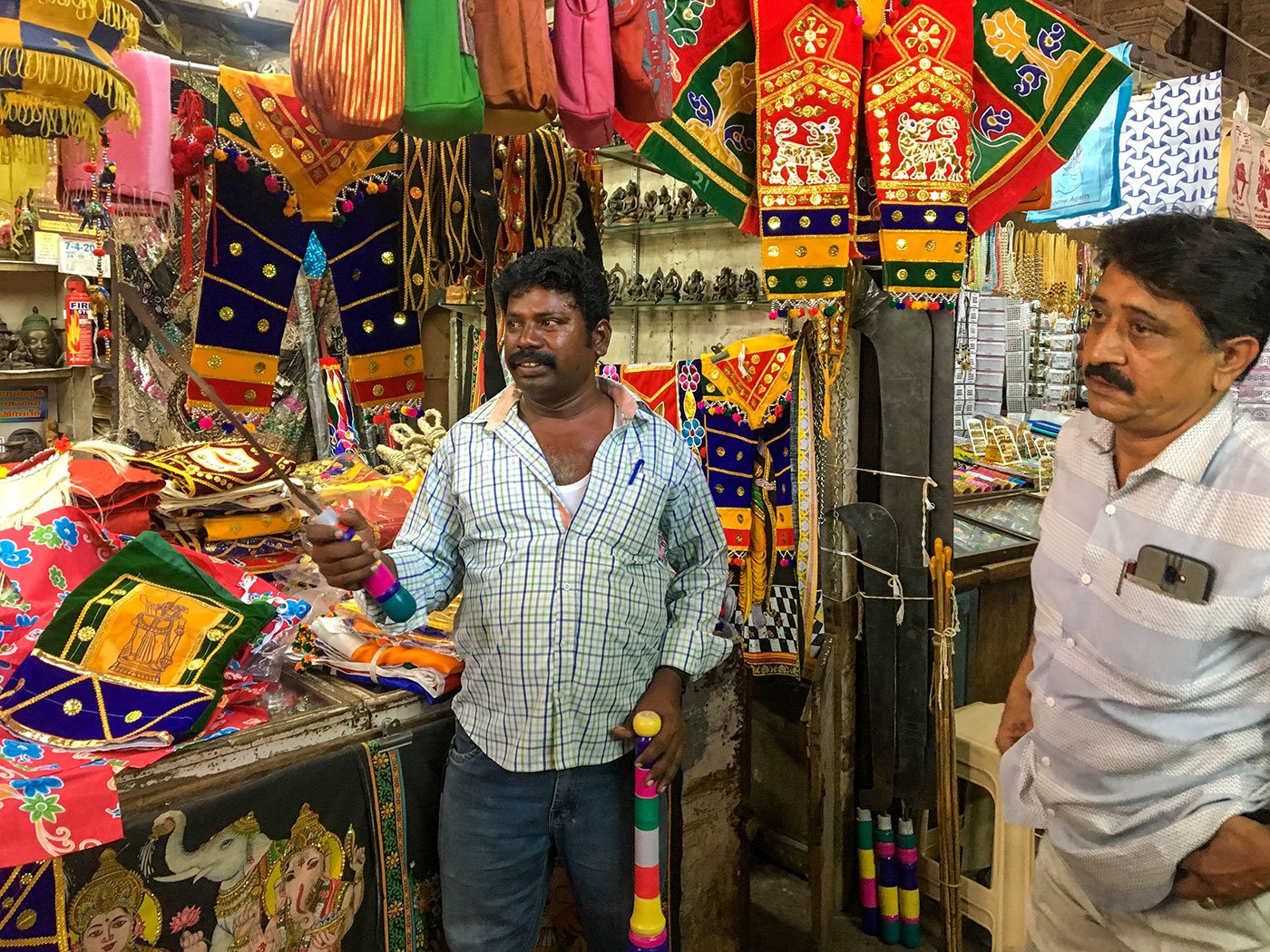 PHOTO • Kavitha Muralidharan
An Azhagar dress set can cost anywhere between Rs. 750 to Rs. 1,500 depending on the buyer's requirement. Sometimes, the customers also buy sickles to offer to Karuppasamy – the guardian deity at the Azhagar Kovil. A dressmaker can create on average two costumes in a day, at the most, three. On no day, though, will he make less than Rs. 500-600 during the festival period – depending on the particular attires he's made that day. And that would be after paying off his helpers.
Siddique says he has some customers who, on learning he is a Muslim, "pay me extra and tell me they are lucky to buy stuff here."
Madurai Pudhu Mandapam Traders and Dressmakers' Association president G. Muthu Pandi estimates that at least 60 of Pudhu Mandapam's 150 dressmakers are Muslims, and says causing "them any harm" is unimaginable. "They are simply part of us. We are like relatives and that is how we call each other. We stand for each other, protect each other. It might be different elsewhere in the country, but in Madurai you can find us only in each other's arms, not at each other's throats."
The dressmakers agree that their trade has never seen a downside – except perhaps when Pudhu Mandapam was shut down for six months after a fire in the Meenakshi temple in February 2018. It was reopened thereafter, but the authorities plan to shift the shops from their present, highly-congested location, which will be renovated and preserved as a heritage site. "We too understand the historical importance of Pudhu Mandapam and want to preserve it, " says Siddique. "The administration has promised us space at Kunnathur Chatram, just two buildings away. When it's ready, we will shift." They are confident the relocation won't hurt their businesses.
"This is perhaps one trade that has never had a loss," Siddique adds. "In an increasingly congested world, festivals like Chithirai offer people a breathing space. They come together, have a good time together for days. I think that is why we never incur any losses."