"You're here to listen to my story?" Pon Harichandran is astonished. "I can't remember anyone coming to me for that. And frankly, I have nothing much to say." The 60-year-old has spent a lifetime telling the stories of others, of his village Kilakuyilkudi and of the over 2,000-year-old city of Madurai just 15 kilometres way.
His listeners have ranged from the illiterate to the erudite, locals to visiting literati. They have used those stories in award-winning novels, some have turned them into films. Yet others have utilised them in anthropological research. "These days, I get more visitors from colleges and universities. Professors bring their students to listen to me. Shall I tell you also one of those stories?" he asks earnestly.
We're sitting in Kilakuyilkudi, located between a pond choked with lotus flowers and the expansive Jaina caves of this region.  The village is in the Thiruparankundram block of Madurai district. We'd been asking village elders sitting at the Karuppasamy temple where we could find him. "In a tea shop or at home," they said. "But now that you are here, he will come soon." And so he does, riding in on his bicycle.
He's on the ball at once – greeting us with: "Did you not find the route to this village slightly complicated? Our ancestors designed it that way to delay British forces coming to attack us. Before they arrived here, our messengers would have brought word of their movements. So the village would be ready to take them on when they showed up."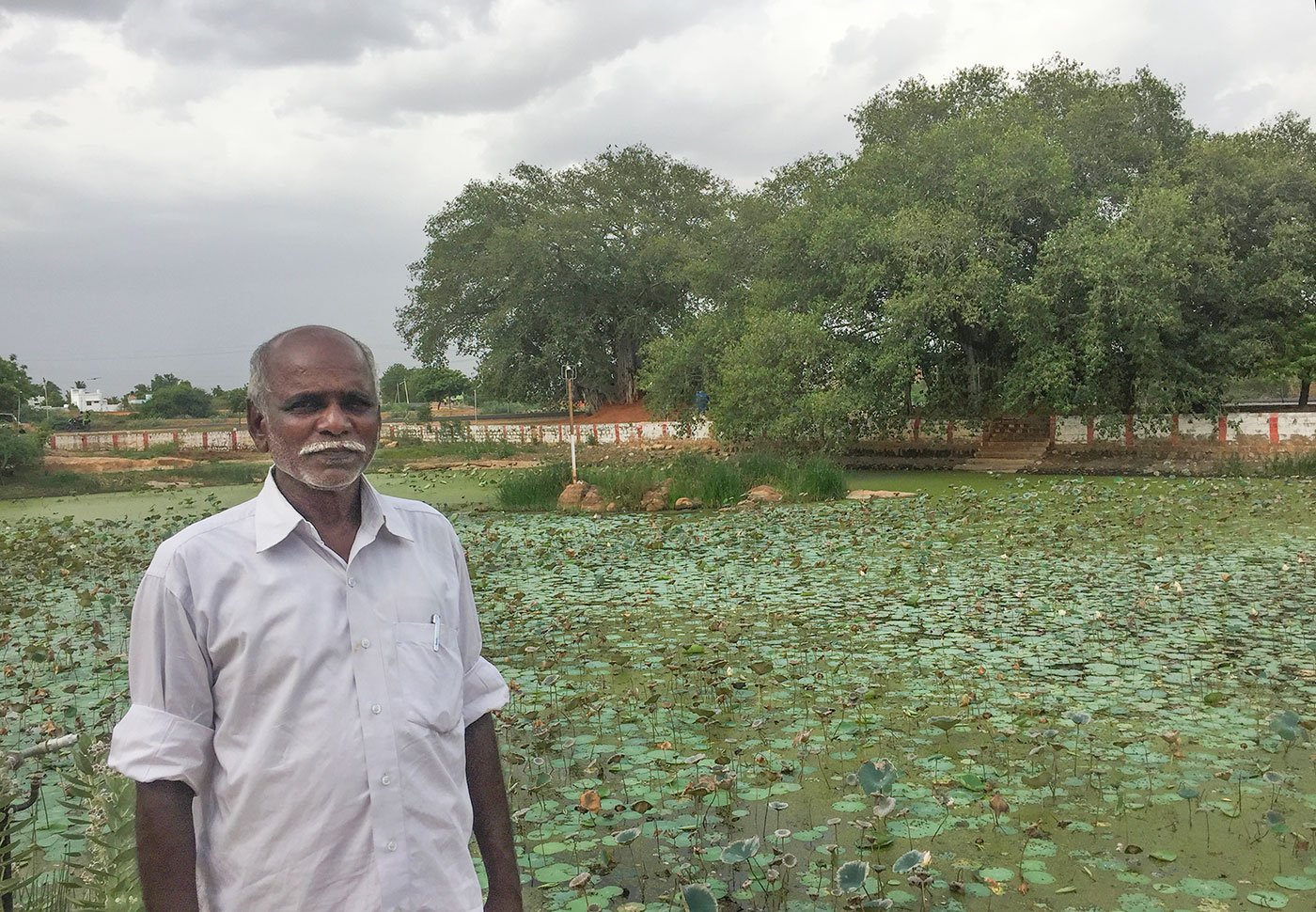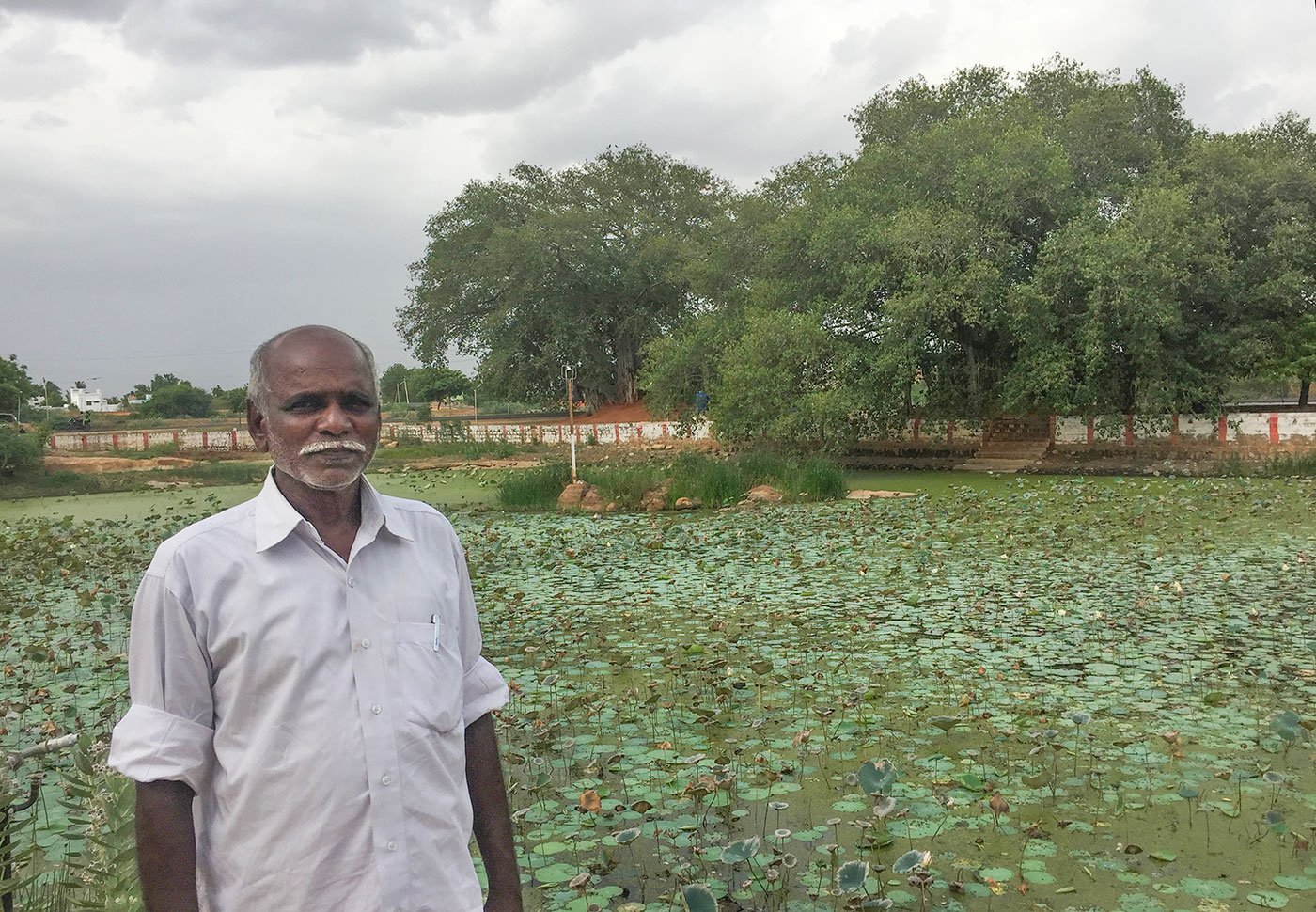 PHOTO • Kavitha Muralidharan
Kilakuyilkudi was a village of Piramalai Kallars (a sub-group of the Thevar community – now the dominant caste cluster of Tamil Nadu). The village had a history of conflict with the British, whose sovereignty they never accepted and often challenged. The racist and draconian Criminal Tribes Act was introduced by the British in this part of the then Madras Presidency to quell them. It didn't quite do that, though. "You may have heard of people paying taxes to the British rulers. Our village was different," says Harichandran.
For a while, he says, the local administration of the British paid a tax – to at least one family in Kilakuyilkudi. "The family of Kazhuva Thevar," says Harichandran. Kazhuva Thevar took upon himself the challenge of stealing the jewellery of the queen of Madurai. That was before the British and in the time of Thirumalai Naiyakkar, king of Madurai between 1623 and 1659. A king whose grand palace – barely two kilometres from the famous Meenakshi Amman temple – remains a great tourist attraction to this day.
And the story begins…
Kazhuva Thevar thought up an ingenious method of robbing the queen's jewellery. His trained 'burglars' were two monitor lizards, a species known for their characteristic of holding on stubbornly to anything they catch. In this case, prime pieces of the queen's jewellery, which they then carried back into Kazhuva Thevar's possession. "You will still find a board in the Thirumalai Nayak palace that says the queen's jewellery was stolen from this place," says Harichandran. (While it may well have existed in the past, there is presently no trace of that board in the palace).
At first agitated, but later impressed, the king told Kazhuva Thevar he would grant him a favour. Thevar sought a veshti (traditional men's garment from the waist down), a vallavettu (a towel-like upper garment) and an uruma (turban-like headgear).
"He also sought the right to be protector of Madurai – and to receive an annual fee for running a small security force, or 'police' of that time," says Harichandran. "This was granted, and his family enjoyed that privilege for a long time until a British officer refused to honour the practice." The officer, says Harichandran, conceded knowing its history. "But he wrote a letter to his superiors on the 'shameful episode of an administration as great as ours' having to pay tax to an ordinary family from a little-known village."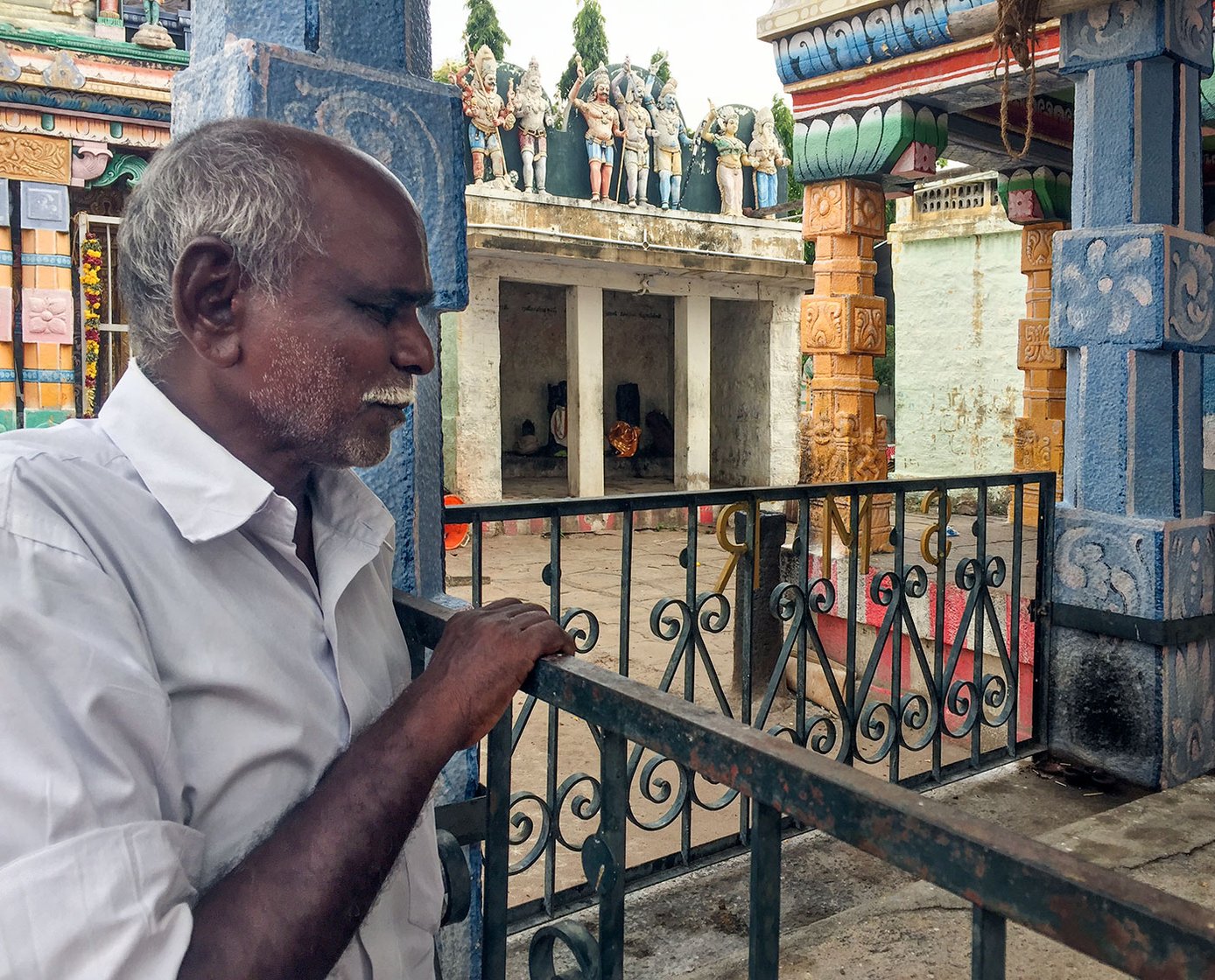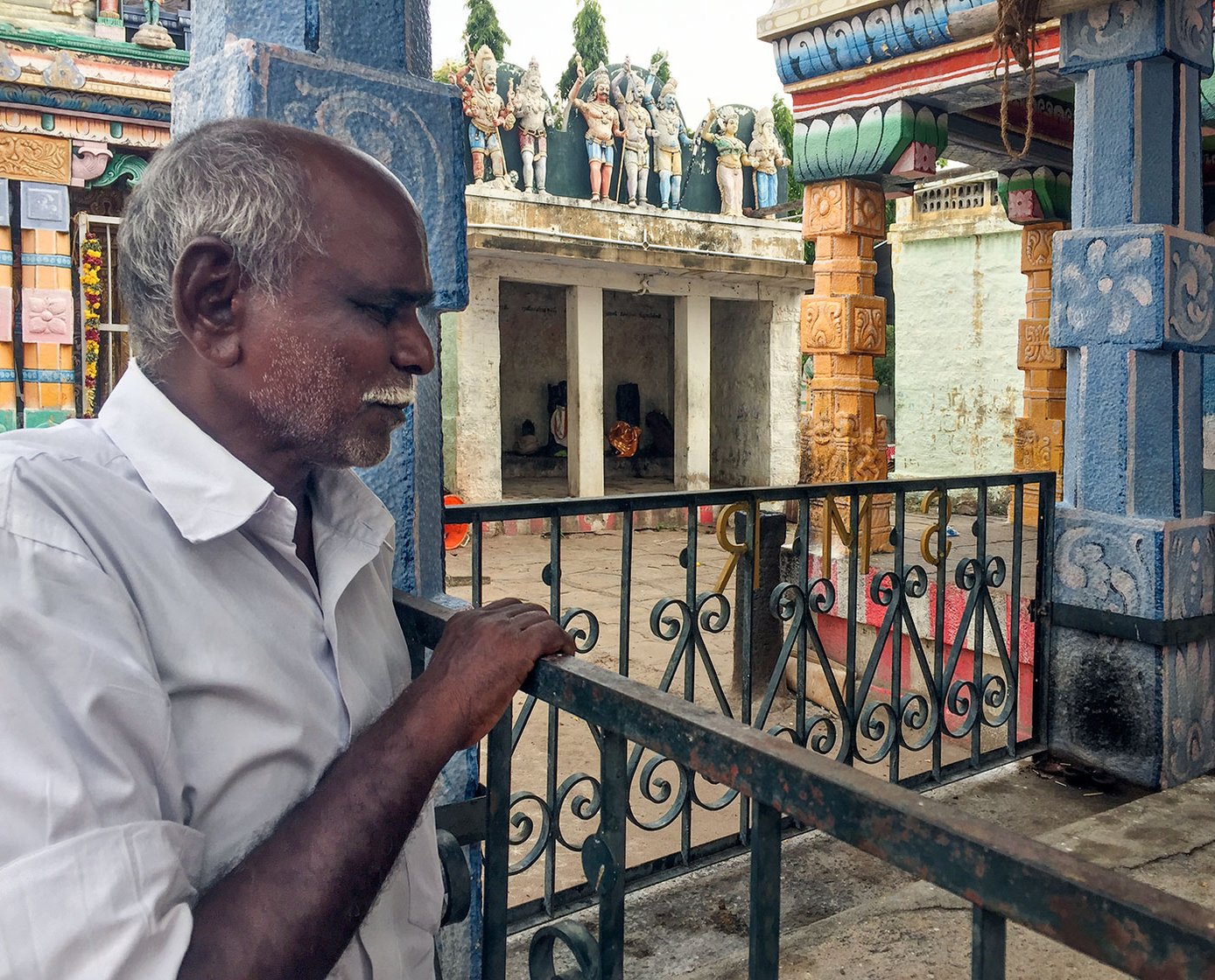 PHOTO • Kavitha Muralidharan
Harichandran is not typical of traditional storytellers here, for many of whom the preservation of folklore is a hereditary occupation. But the art has fascinated him from childhood days when village elders sat together and narrated anecdotes from their own lives and those of their ancestors. Ranging from stories spoofing the authority of pre-British kings to many of the village's anti-British escapades. From his teens, a spellbound Harichandran lapped up that folklore, not knowing he would one day be its custodian – the only one left to tell those stories to other audiences.
Increasingly frustrated by Kilakuyilkudi's stubbornness, the British introduced the Criminal Tribes Act (CTA) of 1871 here. Indeed, Madras was the last presidency to introduce the CTA which had been mostly been used to brutalise tribes resisting British authority in northern India.
"It was only after the British unleashed the worst kind of oppression on us that our villagers were forced to turn to stealing," says Harichandran. "They banned anyone belonging to Kilakuyilkudi from visiting Madurai between 5 p.m. and 10 a.m." That destroyed many forms of work and trade for the villagers here.
"There are," says Harichandran, "four kinds of theft: kalavu (to steal what is available), thirudu (to steal what is necessary), kollai (to leave nothing for the victim) and soorai (to steal everything from that spot or victim and from neighbouring places, too). One thing common to all these types of robbers was that they did not hesitate to kill or rape. But look at any historical records or documents. You will not find a single instance of people of our village doing that."
In their efforts to 'reform' the defiant village, the British offered them loans and even set up a school for women – who they thought were 'misleading' the men. "They had a jail in Kilakuyilkudi to imprison those whose offences were relatively minor, and another big jail in Madurai." But the villagers simply "refused the loan and burnt the school," says Harichandran.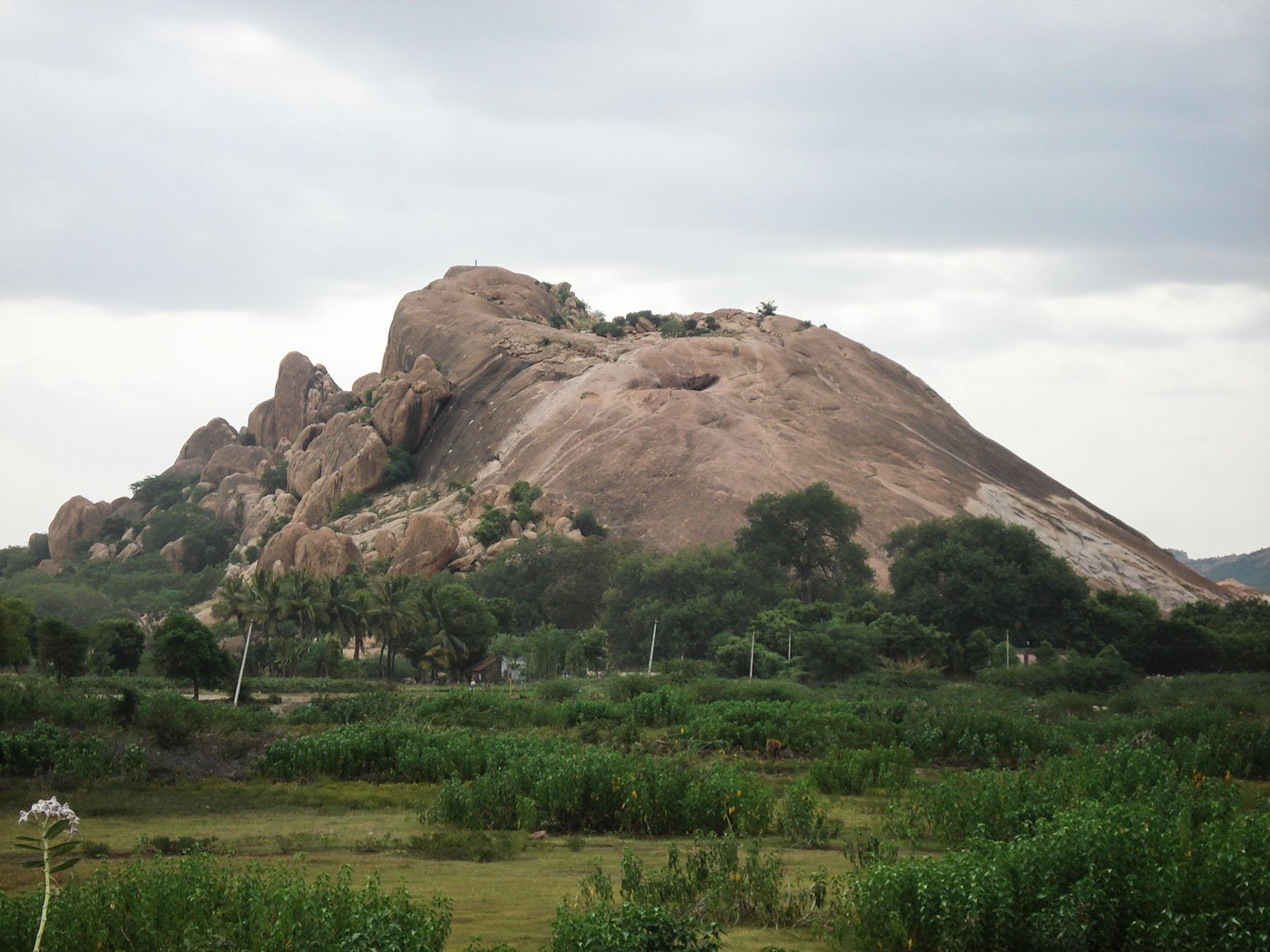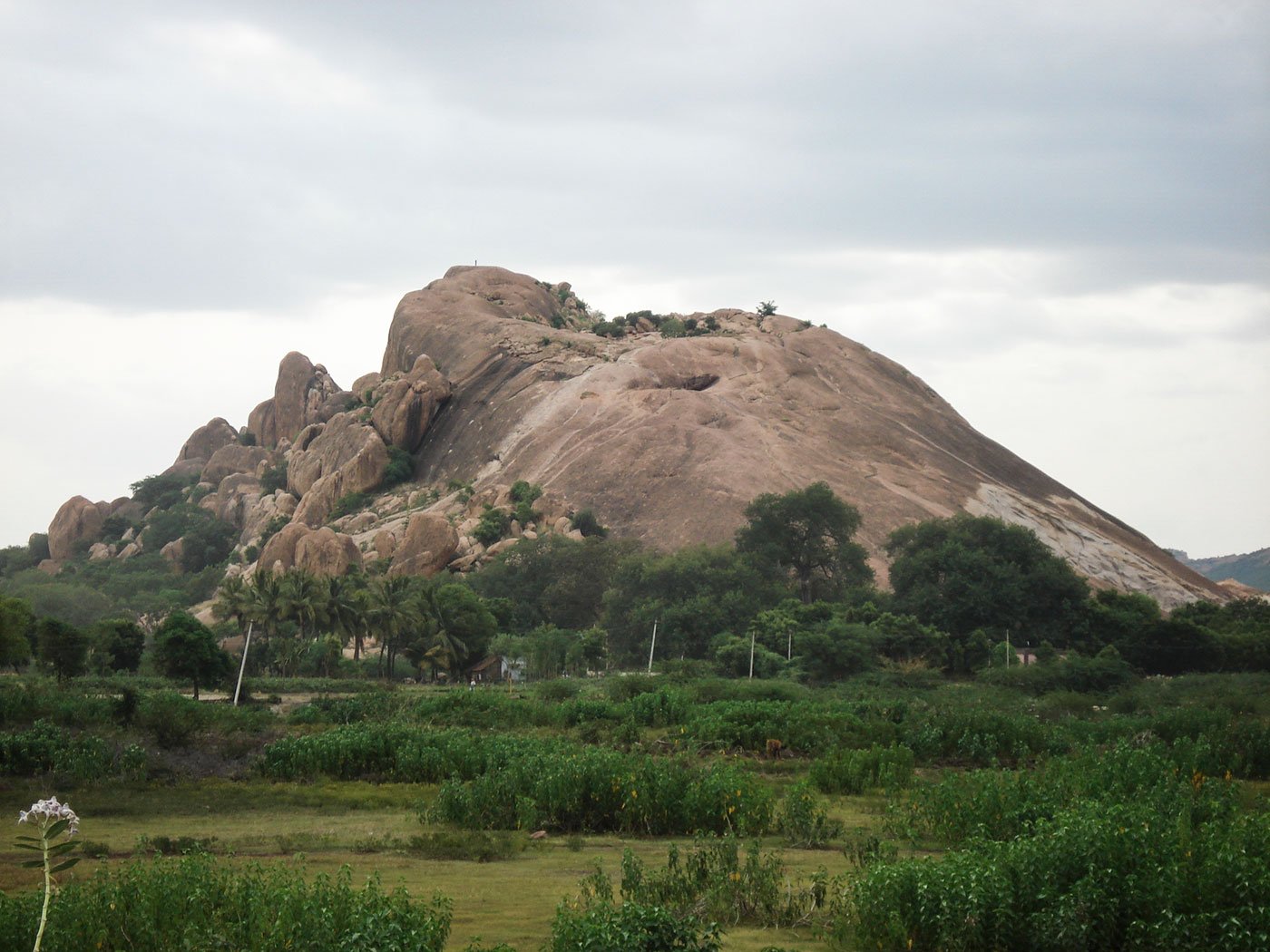 PHOTO • Kavitha Muralidharan
Hours and many tales later, we have still not got his 'own' story. By now, he's fully charged by those stories he is narrating and grumbles when we seek to bring him back to his personal tale. "I am a farmer with a piece of land that yields enough to sustain my family. What more do you want to know?" he asks, sounding slightly irritated. He has a wife and a son but says little about them. It seems there is no successor in the family for his extraordinary craft.
But he does have a story – a big political moment when M.G. Ramachandran broke away from the DMK in 1972 to form his own party, the AIADMK (presently in power in Tamil Nadu). "I joined the party and used to address local meetings. I was very close to K. Kalimuthu, a senior AIADMK leader. He was an avid reader and we often had long conversations on many issues." After Kalimuthu's death in 2006, Harichandran left the party. "Now I am just happy narrating stories," he says.
Su Venkatesan, whose Sahitya academy-winning novel Kaaval Kottam was also based on endless conversations he had with Harichandran, vouches for his authenticity. "He said the CT Act was first introduced in his village. In the extensive research I did for my novel, I found government records confirming this. Kilakuyilkudi was the first village in Madras Presidency where the Act was introduced.
"I believe every village somehow finds a person who can carry its stories on his back. He is rare but he is there. Harichandran is one such rare person. He carries the entire story of Kilakuyilkudi on his back. Even when very young, he only spent time with people who were in their 80s and 90s. He is unique, gifted, and we are lucky we can keep hearing his stories," says Venkatesan.
Aravaan (2012), a film by acclaimed director Vasanthabalan, was based on one of Harichandran's stories. (The historical-fiction film, set in the 18th century, follows the lives of a group of people stealing from the rich to help their tribe survive).
But the oral folklore has remained just that. Does Harichandran have any plans to document them? He seems to be toying with the idea. But, he says, "Nothing is as charming as telling a tale. But to think that there is no one interested in knowing these stories is sad – leave alone passing it down to other generations. Maybe I should just find someone and hand over everything I carry in my heart to him."