He looks like he just stepped out of a Dickensian novel. Sitting on his porch amidst a row of abandoned houses, 71-year-old S. Kandasamy shares his autumn years with the silent village where he was born and in which he grew up. He's got no one else to pass those with in Meenakshipuram, the last of its 50-odd families – ironically, his own – having left it around five years ago.
His solitary existence in this desolate village holds a story of love and loss, hope and despair. All the other residents of Meenakshipuram abandoned it, unable to cope with its crippling water scarcity. But Kandasamy was determined "to spend my last days in the same room where my wife Veeralakshmi passed away two decades ago." Neither relatives nor friends could alter that resolve.
"All the other families went before my own did," he says. Five years ago, when his second son got married and left, Kandasamy became the lone resident of this village in Srivaikuntam taluk of Thoothukudi in Tamil Nadu. Within that water-starved district, Meenakshipuram was one of its worst scarcity points.
"I don't think any families have moved all that far off. Around 10 have shifted to Sekkarakkudi village." Barely three kilometers away, that village too suffers from water scarcity, perhaps to a lesser degree than his own. But it seems to cope better and even appears peculiarly vibrant. It is as full of activity as Meenakshipuram is silent. Ask anyone there about the path leading to the deserted village and they're visibly stumped. A tea shop owner was particularly baffled. "Are you going to the temple there? There's nothing else in that village."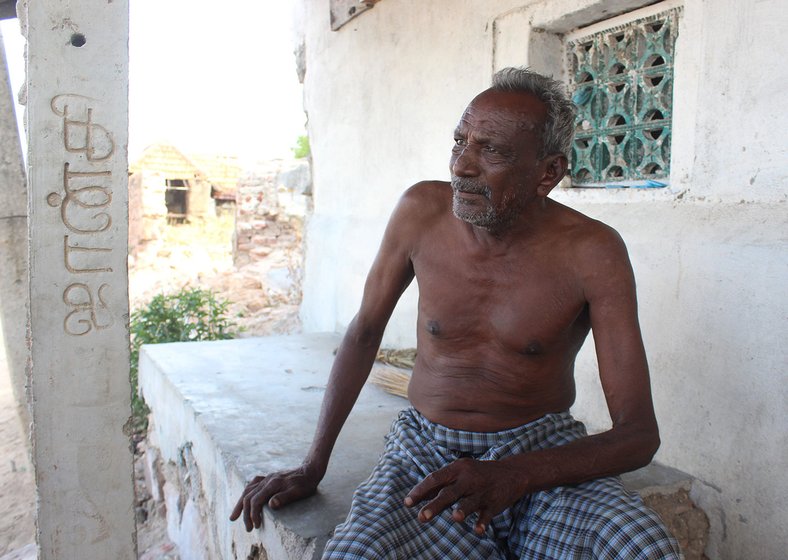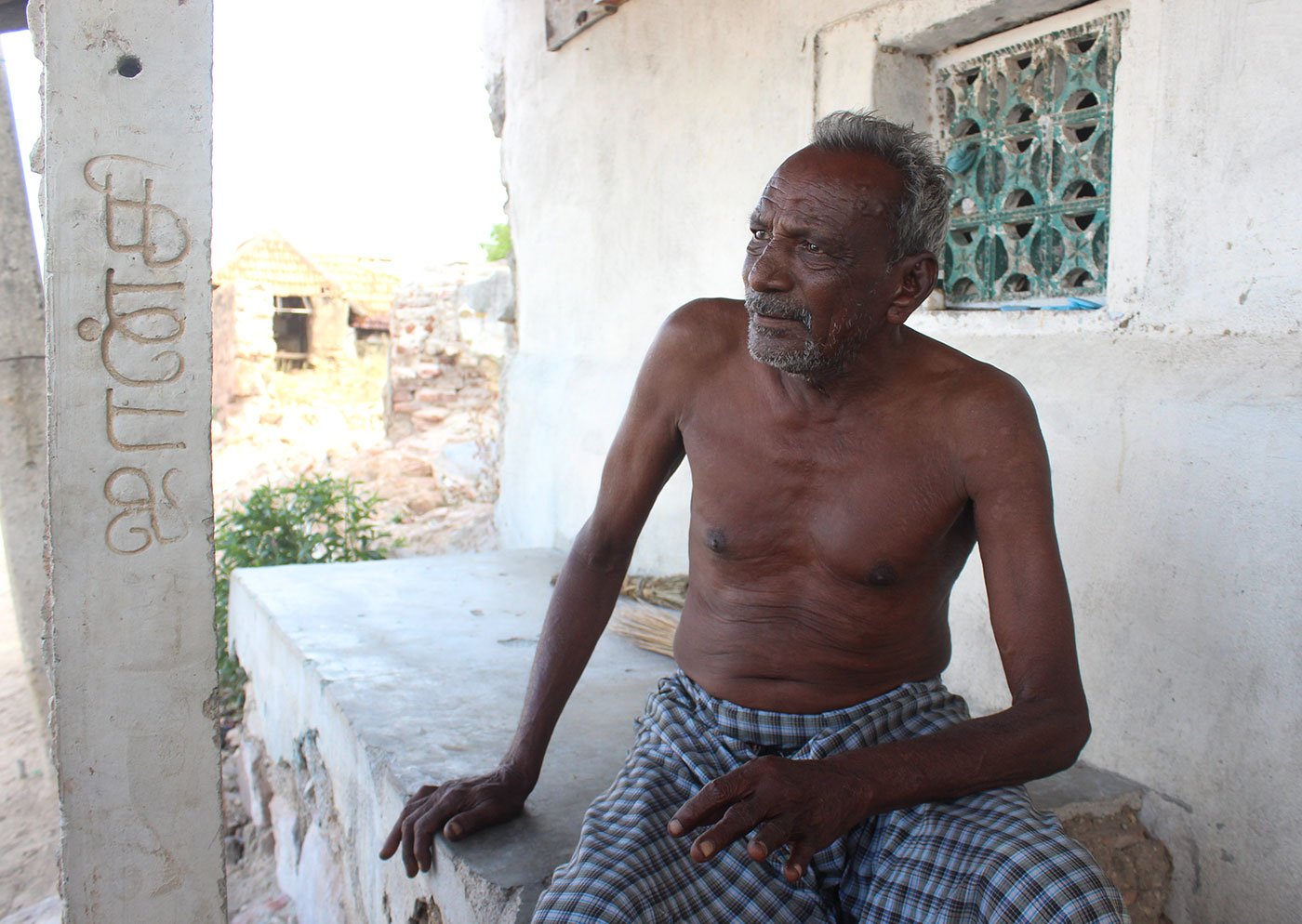 PHOTO • Satheesh L.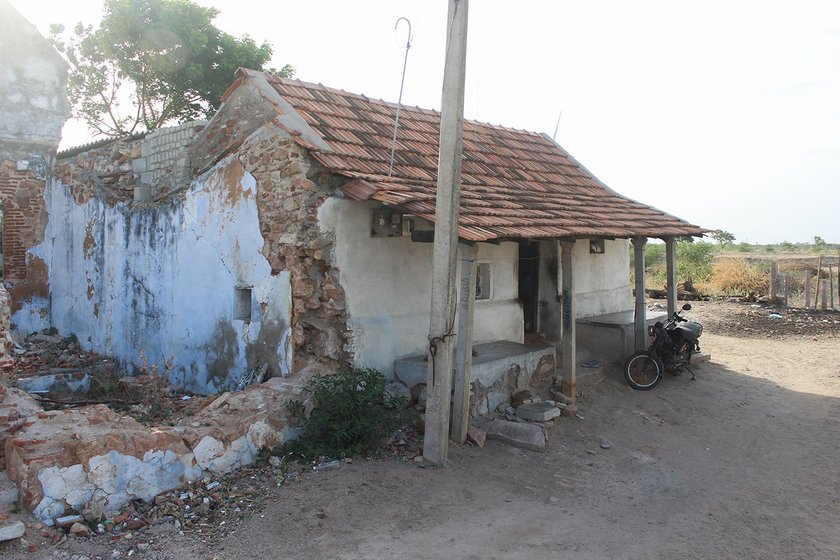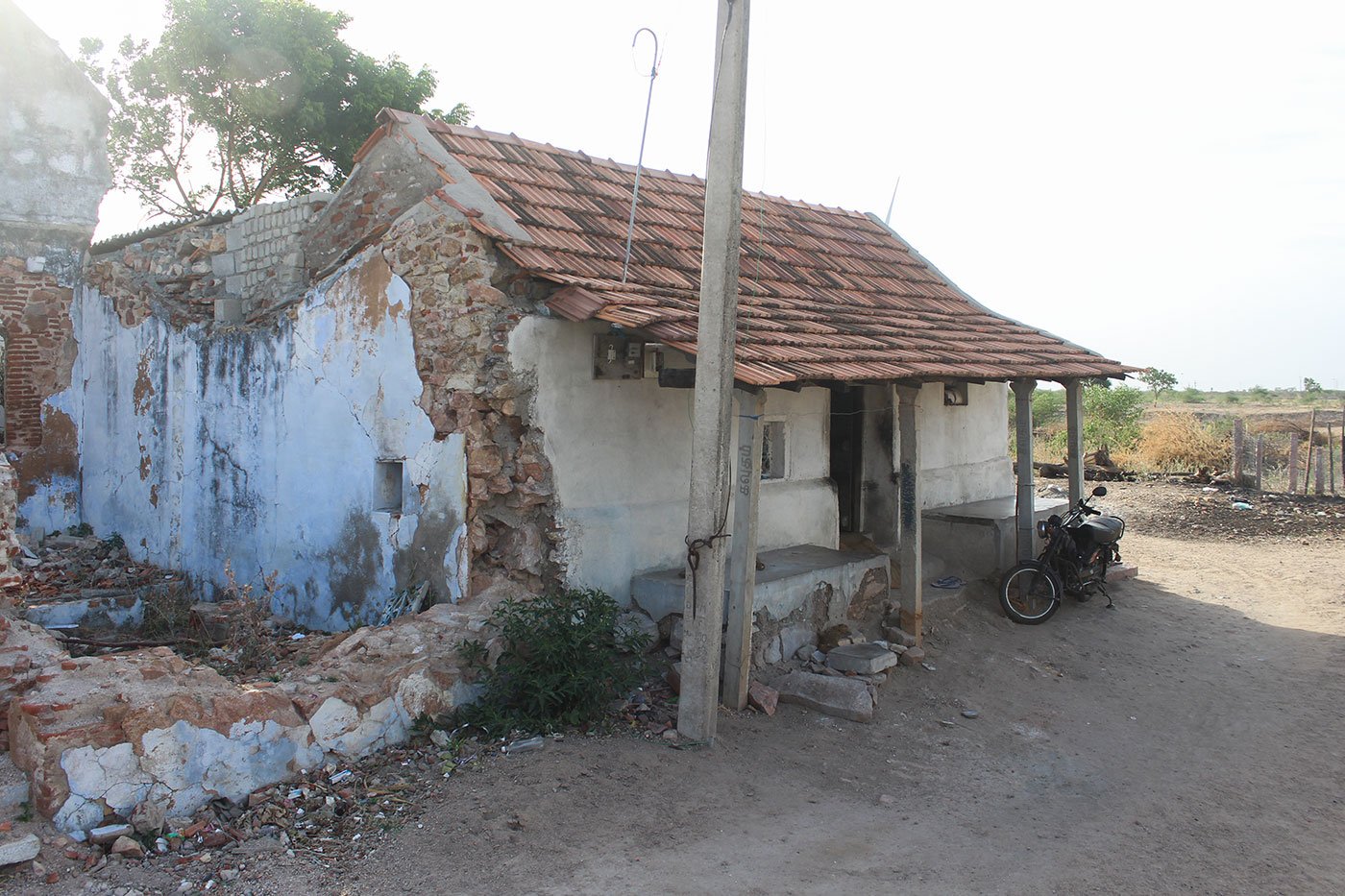 PHOTO • Satheesh L.
"Thoothukudi 's average rainfall (708 mm) is lower than the state's average (945 mm), but the district would always fall back on the Tamaraparani river for its needs. However, over the years, water was being siphoned off to industries. I wouldn't say that has stopped entirely now, but it has been somewhat curbed and that's benefited people. The rural areas, though, continue to be water starved and groundwater is contaminated" says P. Prabhu, an environmental activist in Thoothukudi town.
According to the 2011 Census, the village had around 1,135 inhabitants. Despite the exodus that followed, "there were still about 50 families here six years ago," says Kandasamy. He once owned five acres of land on which he grew kambu (pearl millet or bajra ) and cotton. His fields were productive, but he sold them off long ago: "I was able to give my children some education and get them married thanks to those lands." All his children – two boys and two girls – continue to live in Thoothukudi, in better-off villages.
"I owe no money to anyone. I will die a guilt-free man because of what the land gave me while they were mine," Kandasamy adds. "I wouldn't have sold off my lands if farming continued to be a productive activity. But slowly, it got worse. The water ran out. People were left with no option but to move out if they had to survive."
"Water was the big issue," says Perumal Sami, 61, one of the earliest residents to leave  over a decade ago. A former office bearer of Tamil Nadu's ruling AIADMK party from Meenakshipuram, he is now settled in Thoothukudi town some 40 kilometres away, where he runs a small business. He is doing better than he did in his old village. "We got nothing from our fields there. With meagre earnings, how could I spend on anything for my family?" His house, too, lies abandoned. "It means nothing, literally," he says of the village.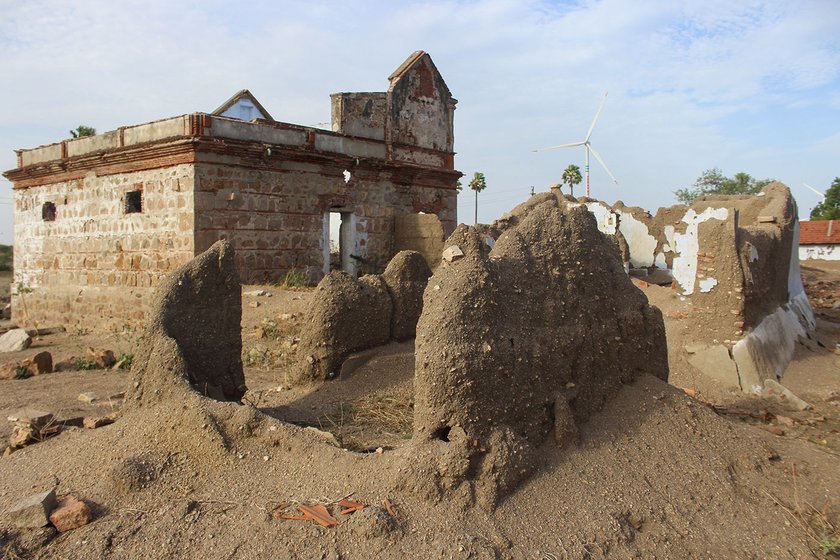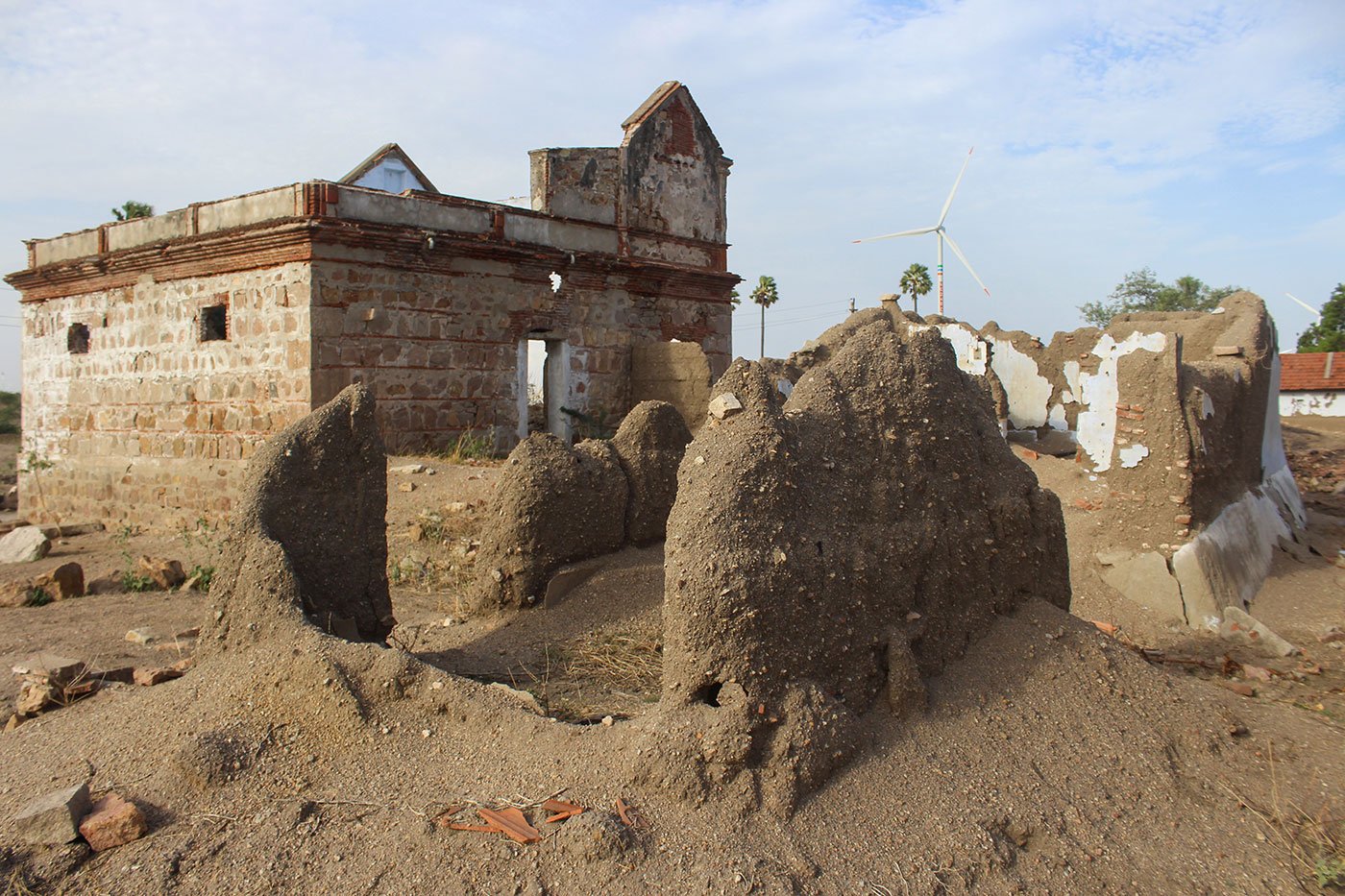 PHOTO • Satheesh L.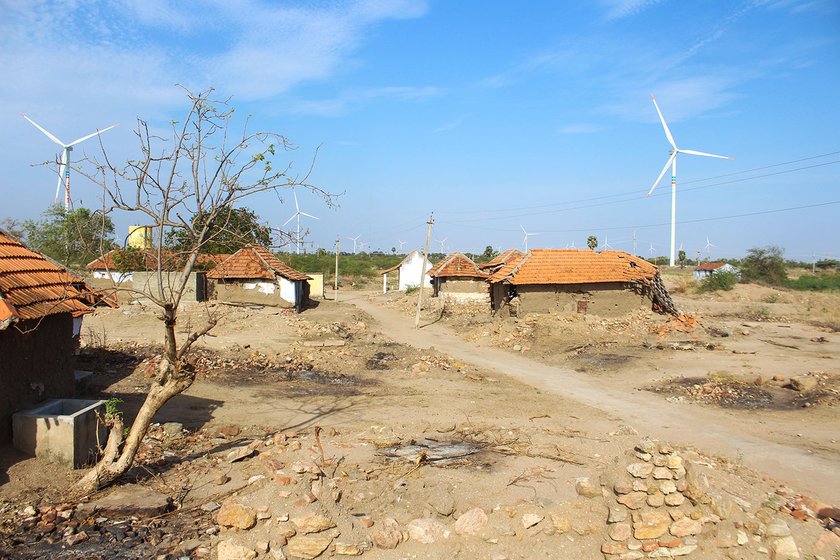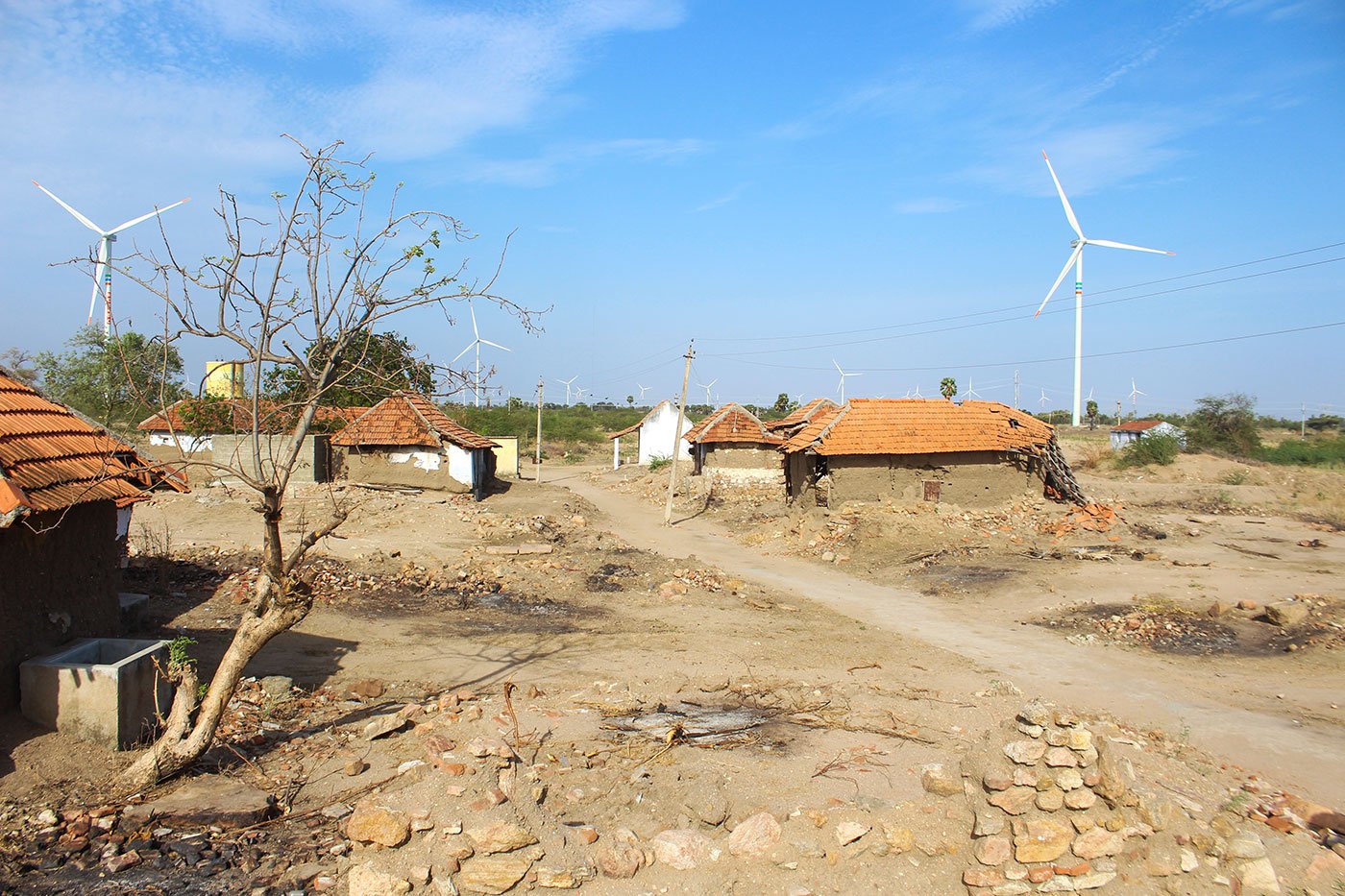 PHOTO • Satheesh L.
It means something to many other former residents, though. There are two temples that remain the only bond between the village and those who left it. The road that leads to Meenakshipuram bears a sign about a Vaishnavite temple – Kaariya Siddhi Srinivasa Perumal Koil. Which, ironically, means the Srinivasa Perumal Temple that offers achievement in, or accomplishment of, an undertaking. Kandasamy's own prayers, though, remain unanswered He hangs on to the hope that those who left will return. It would be a miracle if they do so permanently. So far, the gods have not obliged.
But people do sometimes return – to attend the festival of the Shaivite temple, the Parasakthi Mariamman Koil that is maintained by his family. Just a few days ago this month, some 65 people came to Meenakshipuram to take part in its annual festival. "We cooked food right here, for all of them," says Kandasamy, pointing to the now lonely kitchen. "It was busy that day. Otherwise, I cook once in two or three days and reheat my food."
So how does he sustain himself? He now has no land, no assets other than his home, no bank deposits and very little cash in hand. No Rs. 1,000 pension either. Under Tamil Nadu's Destitute Old Age Pension Scheme, he is not entitled to one – because he has two adult sons who earn a living working as drivers around Thoothukudi. (An applicant also stands disqualified if found owning a hut or home worth more than Rs. 5,000).
The one regular visitor he has, his younger son Balakrishnan, gives him around Rs. 1,500 a month. Of this, he admits, "I spend Rs. 30 a day on beedis and the rest on groceries." And a bit on the small amounts of petrol he puts in now and then into an old two-wheeler gifted to him by a friend who has left the village. "I don't have major expenses anyway," says Kandasamy, who visits Sekkarakkudi on that scooter to make his modest purchase of groceries every two or three days. He tends to spend a couple of hours in that village each time he goes there.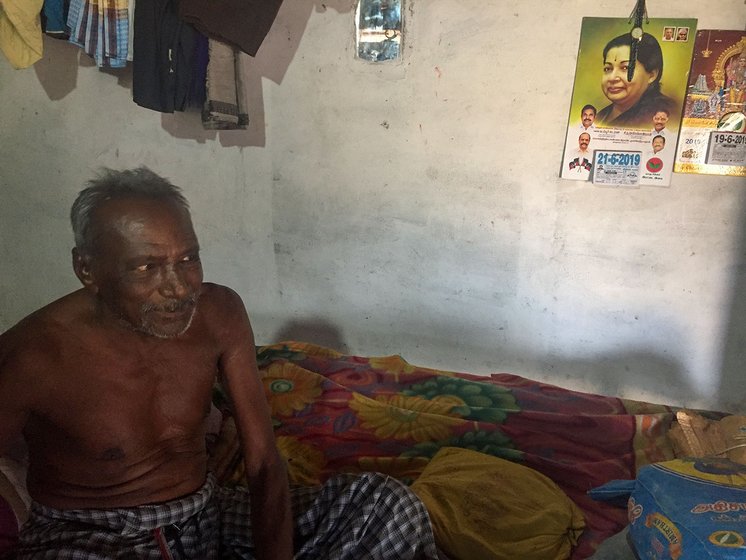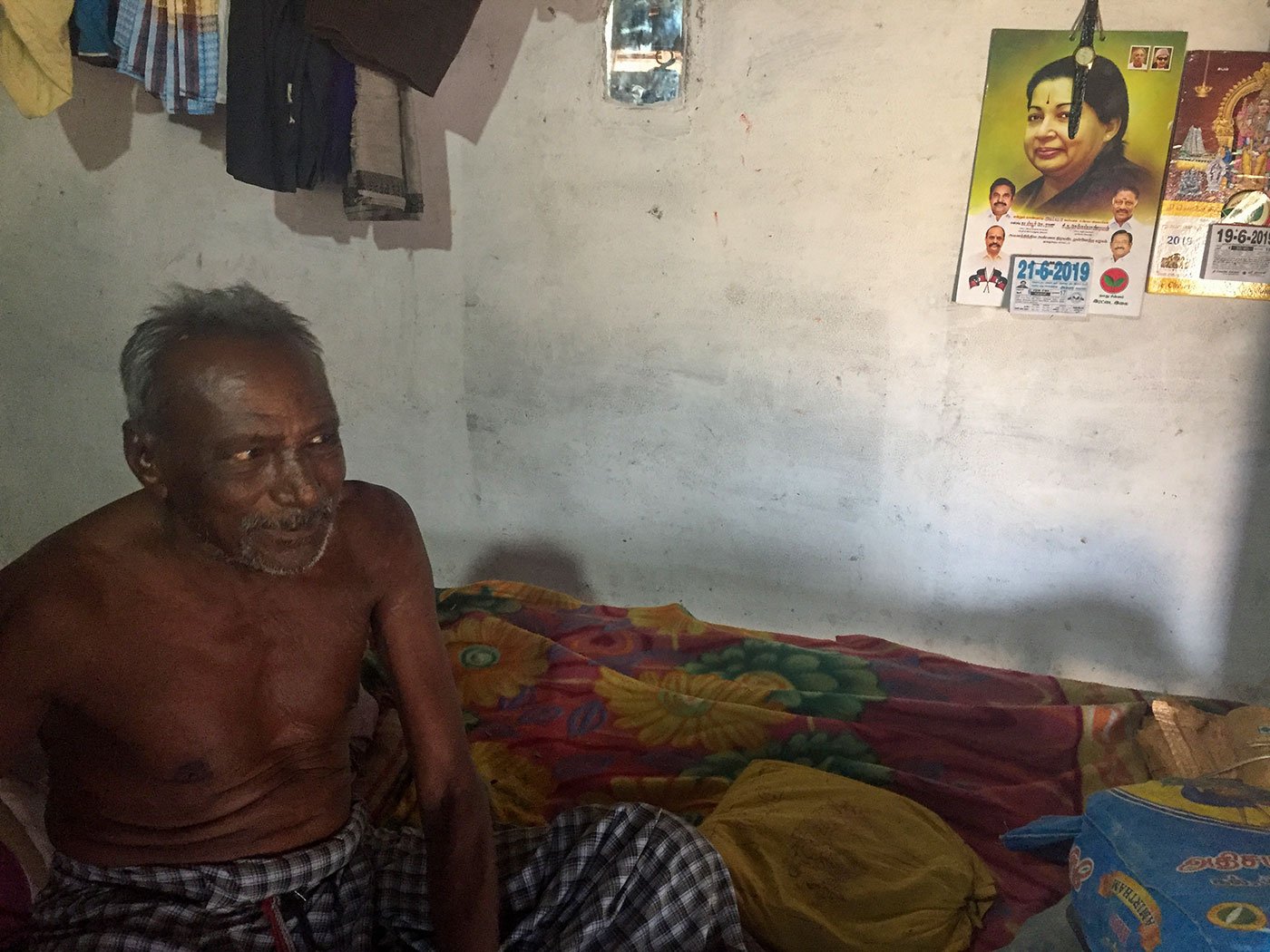 PHOTO • Kavitha Muralidharan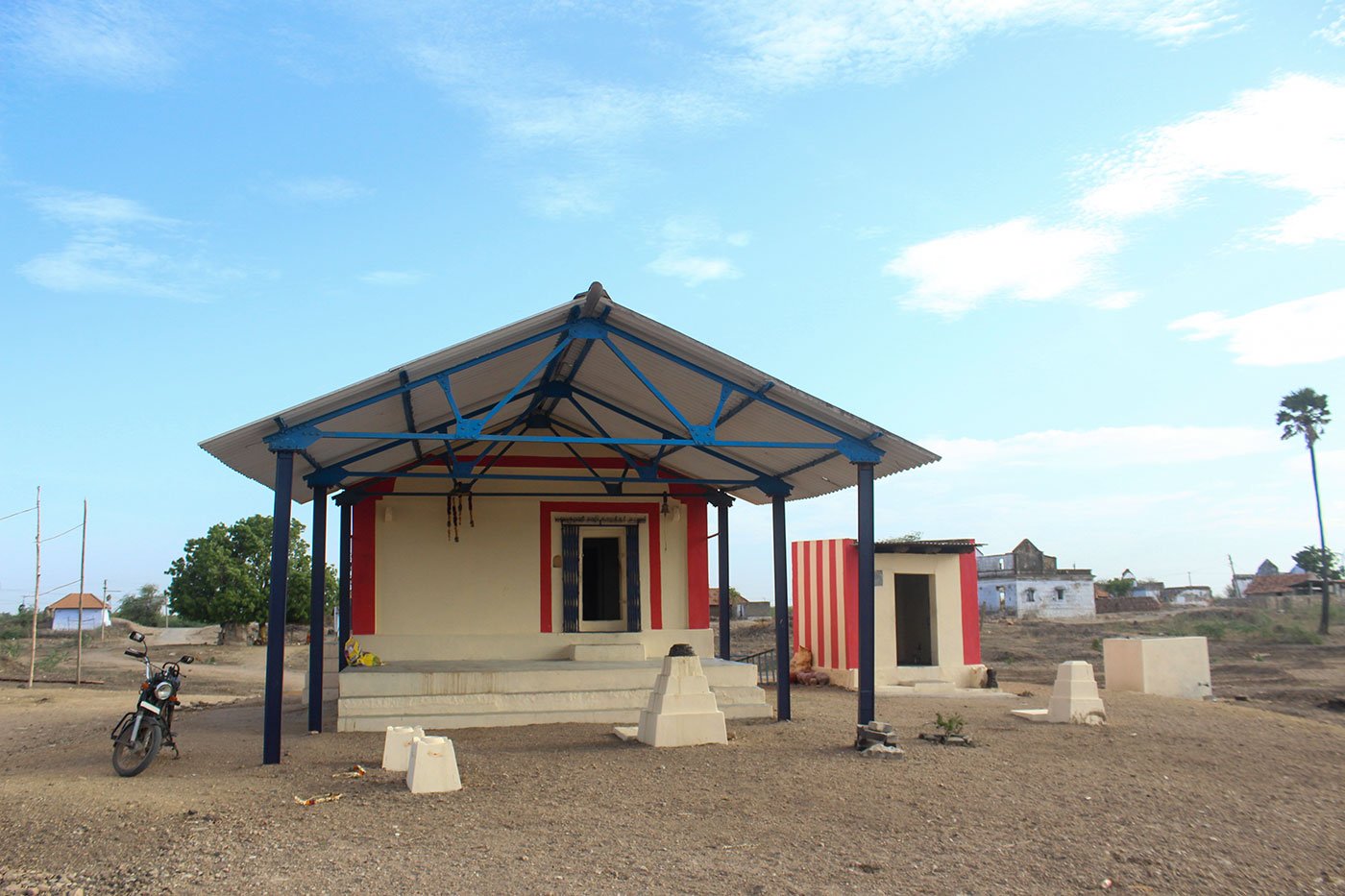 PHOTO • Satheesh L.
Back home, the television set given to him by the state keeps him company. And there are two royals in his home that limit his loneliness – King and Queen. "The stray dogs came in a few years ago. Somehow, they seemed to know that I am alone here. I call them Raja and Rani and I cook for them too. It is good to cook for another soul," he smiles.
Memories of once fertile Meenakshipuram and his own fields are still intact in his mind. "Rice was not the staple food those days. We used to have millet," he reminisces.  People also cultivated urad dal (black gram) here. But today, empty lands and abandoned houses are all the village has.
There are few signs of living in Kandasamy's own house except his two-wheeler, slippers and clothes strewn about. There are no family photos up on the decaying walls. All of them, including those of his late wife, are with his son Balakrishnan for safekeeping. There are two calendars, one of which has a photo of the late chief minister Jayalalitha. However, it is not her he speaks of, but the late M. G. Ramachandran. The actor who became, arguably, Tamil Nadu's most popular chief minister ever. "I will forever be loyal to him," he says. No political party campaigners visited Meenakshipuram to woo its lonely voter but that has not deterred Kandasamy from using the ballot to demonstrate his loyalty to MGR.
Every week, he conducts regular pujas at the Parasakthi temple hoping that, at some point, the village will return to its golden days. After all, things are better now. At Kandasamy's own house, there's enough water to meet his needs. "Last year, after a television channel interviewed me, a barrage of officials descended on my place. They gave me a water connection immediately and there has been no problem."  It is also likely that there's more water available to him because the rest of the village has left.
Thoothukudi district collector Sandeep Nanduri says his administration is willing to help people wishing to return to Meenakshipuram.  "Water is no longer an issue. Even if it is, we will facilitate regular supply. I can only speculate that whoever left the village did so for better livelihood options and have settled elsewhere. They obviously do not want to relocate now."
Meanwhile, seated on the porch of his house, Kandasamy spends hours together looking at empty roads and abandoned fields, hoping for that miracle to happen.