Chilli harvesting on the farms of Andhra Pradesh and Telangana draws many young workers from the bordering states of Chhattisgarh and Odisha. They come here not for the wages, but to take home chillies for the whole year.Such is the desire to stock the hot condiment that some of the boys and girls probably even miss school to join the large chilli-harvesting labour force. It's their only chance in the year to collect and bring home this daily staple.
The children consume far fewer chillis than the adults in their families, for whom it's a daily food item. But they are in the forefront here – at least half of the labourers here are children – stocking up the entire year's supply. They manage to "earn" enough of the precious chillies to last till the next harvest. Instead of Rs.120 as daily wages they prefer to get paid in chillies worth that amount – it adds up to half or even a full quintal of chillies for some families, depending on the amount of work done. At around Rs. 100 a kilo, that works out to Rs.10,000 for a quintal.
This is rich earnings, and more economical for the families. A family may consume between 12-20 kilos of chillis a year. What remains could be sold in the market for an extra income. And it ensures a year-round stock at home of the best and freshest farm plucked chillies.
"We are 20 people from our village and we will stay here for three weeks," Umashankar Podiyami from Gutumuda village of Odisha's Malkangiri district said. "Everyone in this group prefers to work for chillies rather than for money."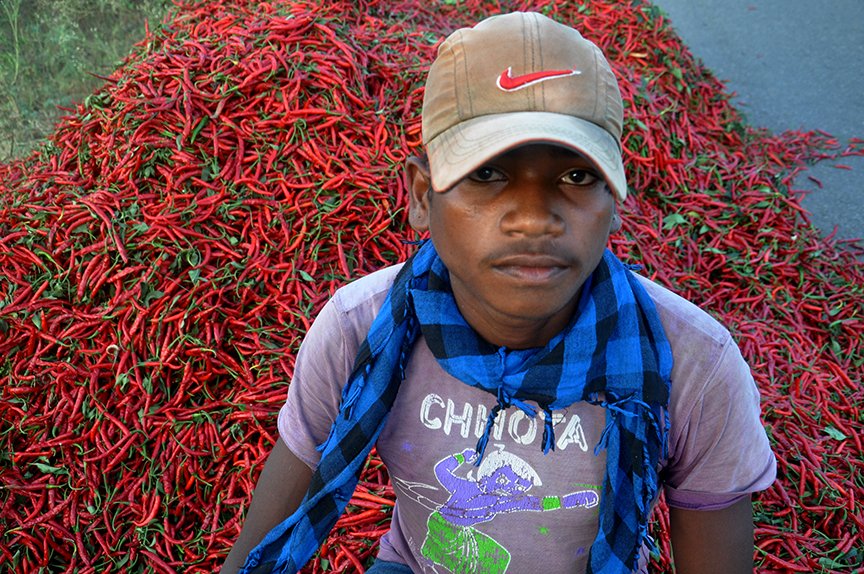 PHOTO • Purusottam Thakur
Massive mounds of the bright red spice are piled on the roads alongside the green chilli farms of both Telangana and Andhra Pradesh. The chillis are in abundance from February to April. The mostly tribal labourers from adjoining Odisha and Chhattisgarh pluck, sort, stack, fill and ready the chillies for transportation to the market for retail or export.
Enthusiastic children – around half of the labour force here – run around the chilli mounds, sorting and packing the chillis into jute sacks. Despite the enthusiasm, it is poverty that drives the children to these farms. Most of their families live below the poverty line. A lack of employment in their own regions compels them to cross the border into India's top chilli-producing states.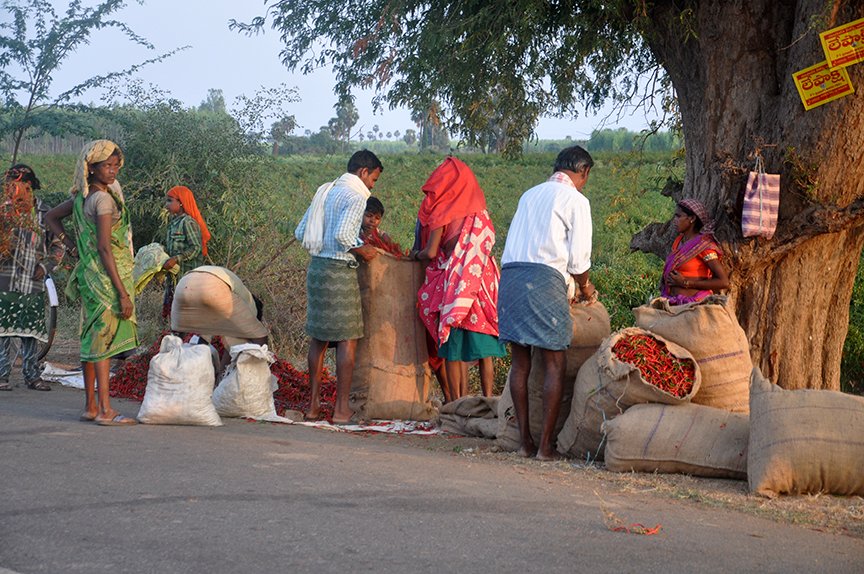 PHOTO • Purusottam Thakur
Besides, chilli is the only consistent item in all their meals, including breakfast. It has nutrients that enable them to subsist without many other food items. It also adds spice to some otherwise unpalatable dishes. Chilli is also used in their rituals and therefore the demand for it is even greater.
Vetti Moye, 14, was among those who had crossed the Chhattisgarh border to work in the chilli fields of Andhra Pradesh. After Moye, who is from Badecity village in Sukma district, lost his father to malaria two years ago, he had to leave school to earn a living from the family's small plot of land. Sometimes, he also works on construction sites. After harvesting his own land, he was here for the chilli collection.
Moye had come with 35 other workers from his village. All of them said they prefer to take chillies home instead of money. "The wage for plucking chilli is Rs. 120 a day, " Moye said. "If paid through chilli, we get one out of every 12 lots of chilli we pluck. We prefer this as our wage."
At the end of the season, the young labourers from across the borders take the chilli bounty home to sustain their households and add a bit of spice to their lives. Schooling and other activities take a backseat when the chillies have to come home.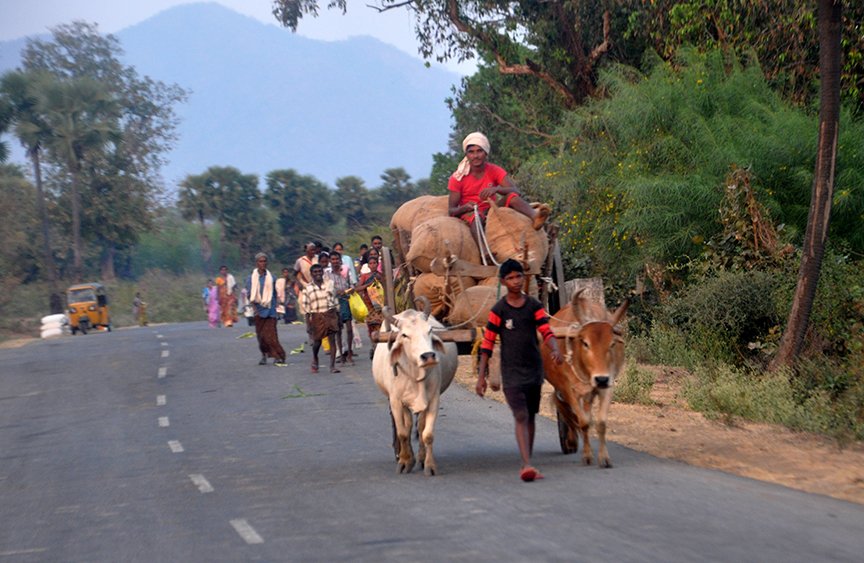 PHOTO • Purusottam Thakur