Sudhir Kosare sits awkwardly on a charpoy to show his wounds – a deep gash in his right foot; a nearly five centimetre long cut in the right thigh; a long, angry tear beneath his right forearm that had to be stitched and bruises all over his body.
Seated in one of the two rooms of his dimly lit un-plastered house, he is not only shaken to the core but also in considerable pain and not at ease. His wife, mother, and brother are by his side. It's pouring outside, bountiful rains finally lashing this part after a long, irritating delay.
On the evening of July 2, 2023, Sudhir – a landless labourer belonging to Lohar-Gadi (also known as Gadi Lohar and listed as Other Backward Caste in the state) – survived an attack by a hefty and ferocious wild boar on a farm where he was at work. Badly injured in the attack, the slim but muscular 30-year-old farm labourer says luckily his face and chest were unharmed.
PARI is meeting him in his native Kawathi, a non-descript village tucked away in the territorial forests in Saoli tehsil of Chandrapur district, on the evening of July 8; he has just returned home after being discharged from hospital.
He recalls how a fellow labourer manning a tractor on the farm heard his cries for help and ran towards him, hurling stones at the boar, momentarily ignoring his own safety.
The animal – most probably a female – attacked him with its tusks as he lay fallen, his eyes facing the overcast sky, mortally terrified. "It would move back and spring on me, digging its long tusks into me," Sudhir says, as his wife Darshana murmurs in disbelief; she knows her husband has had a close shave with death.
The animal escaped into the nearby shrubs but not before leaving him grievously injured.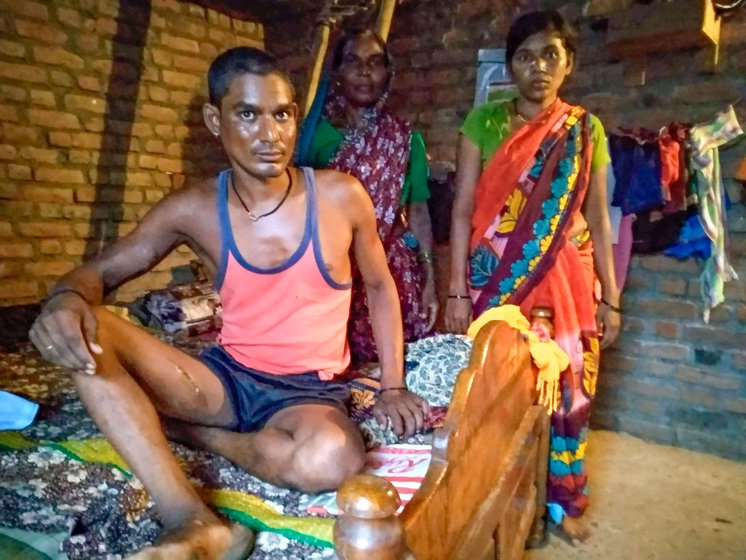 PHOTO • Jaideep Hardikar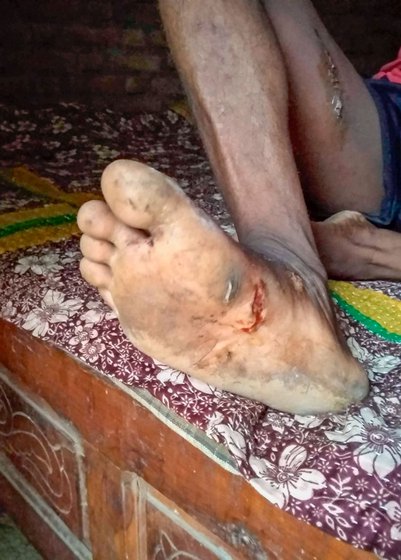 PHOTO • Jaideep Hardikar
The farm Sudhir was working on was wet from intermittent rain that day. Sowing, delayed by over a fortnight, had finally begun. Sudhir's task was to line the bunds bordering the forest patch. For that he would earn Rs. 400, that day; this work is one of the many jobs he does to make a living. He prefers to wait for this than migrate to faraway places like other landless folk in the area.
That night after the first aid at the Saoli government rural hospital, Sudhir was shifted to the district hospital in Gadchiroli town, 30 kilometres away, where he was stitched up and admitted for six days to aid recovery.
Although Kawathi is in Chandrapur district, Gadchiroli city is closer to him than Chandrapur city which is about 70 kilometres away. He'll need to go to the cottage (government) hospital in Saoli for the follow-up Rabipur injections – for rabies and other protection and dress his wounds.
Sudhir's experience of being attacked by a wild boar puts a whole new meaning to risk in farming. Price volatilities, climatic aberrations and several variables make farming amongst the most hazardous occupations. But here in Chandrapur, and indeed across many regions around the protected and non-protected forests of India, the realm of the tiller is a bloody business.
Wild animals are devouring crops, making farmers spend sleepless nights to keep a vigil and adopt to bizarre ways to protect their crops, their only way to earning an income. Read: 'It's a new kind of drought'
Since August 2022, and earlier too, this reporter has met and interviewed survivors of tiger, leopard and other wild animal attacks, grievously injured men and women, farmers, or farm hands like Sudhir. They live and work in the villages of Mul, Saoli, Sindewahi, Bramhapuri, Bhadrawati, Warora, Chimur – forested
tehsils
around the protected Tadoba Andhari Tiger Reserve (TATR) in Chandrapur district. Wild animal-man conflict, especially by tigers has headlined news here for the last two decades.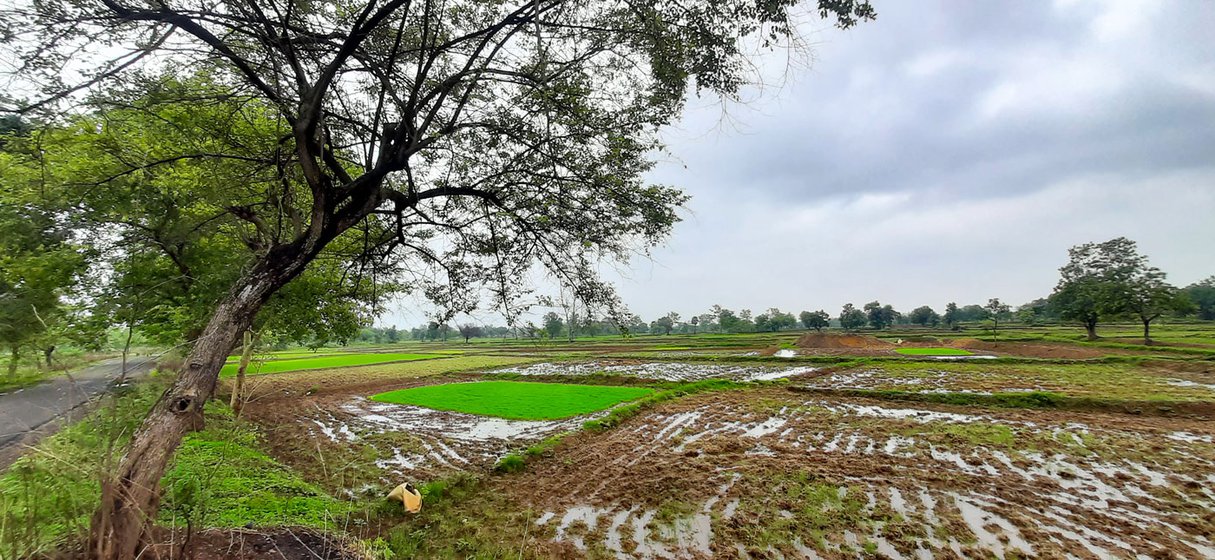 PHOTO • Jaideep Hardikar
Last year, 53 people died in tiger attacks in Chandrapur district alone, 30 of them in the Saoli and Sindewahi belt, shows the district forest data collected by this reporter. That figure makes it a simmering hotspot of man-tiger conflict.
Injuries and fatalities apart, a reign of fear and terror has swept the villages in the landscape of the TATR, both in the buffer zone and outside of it. The consequences for farm operations are already visible – farmers are giving up on rabi (winter crop) operations amidst fear of animals and frustration that wild boars, or deer, or neelguy won't leave anything to be harvested.
Sudhir is fortunate to be alive – he was attacked by a wild-boar, not a tiger. Read:
In Kholdoda: A night watch on a machan
.
On a rainy afternoon in August 2022, while he was transplanting paddy on a farm with other labourers, Bhavik Zarkar, 20, got a call from his father's friend Vasant Piparkhede.
Piparkhede told Bhavik over phone that his father Bhaktada had been attacked by a tiger moments ago. Bhaktada died in the attack and his body was dragged by the wild cat into the forests.
The 45-year-old victim and three of his friends had been working on a farm on the edge of the forest when a tiger had suddenly sprung out of nowhere and pounced upon him as he squatted on the ground, resting. The big cat sprung from behind and held Bhaktada by the neck, perhaps mistaking a human for a prey.
"We could do nothing other than watching the tiger drag our friend into the shrubs," recounts Piparkhede, still struck by the guilt of being a helpless witness to the gory incident.
"We made a lot of noise," says Sanjay Raut, the other labourer and witness to the incident. "But the big tiger had already caught hold of Bhaktada."
It could have easily been one of them instead, both friends say.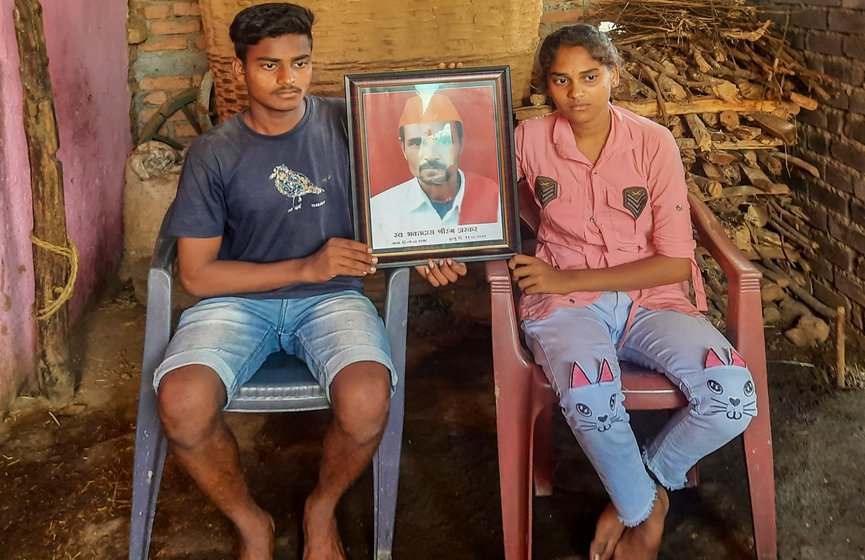 PHOTO • Jaideep Hardikar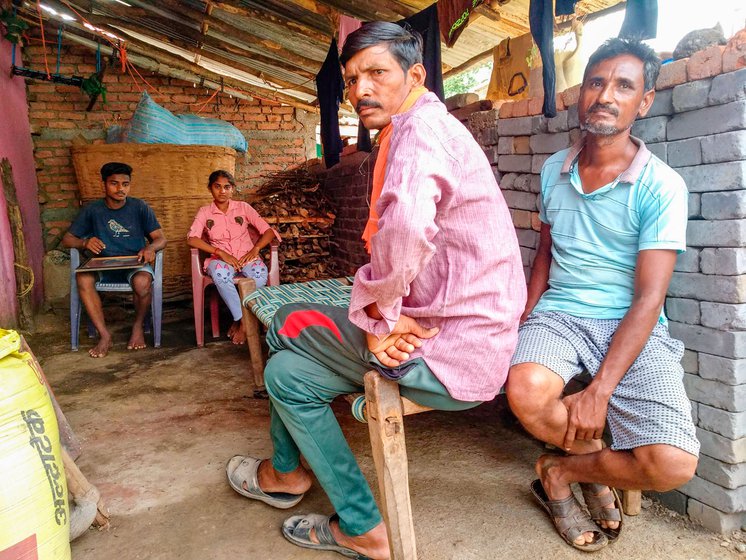 PHOTO • Jaideep Hardikar
The tiger had been on the prowl in the area, but they hadn't anticipated encountering the animal in their field. Bhaktada's death was the village's first human fatality in a tiger attack – previously, the villagers have lost cattle and sheep. People had died in Saoli and other surrounding tehsils in the last two decades.
"I froze," Bhavik recalls at his home in Hirapur village, not very far from Sudhir's village, his sister Ragini, 18, by his side. The news came out of the blue, and as a rude shock to him and his family, he recounts, still dazed about the way his father met a tragic end.
The siblings manage the household now; their mother Latabai is not home when PARI is visiting the household. "She's not yet out of the trauma," Ragini says. "It is difficult to comprehend and come to terms with my father's death in a tiger attack," she says.
Fear looms over the village and farmers say, "Even today, no one goes out alone."
A mix of tall teak and bamboo trees interspersed with paddy farms appear like square and rectangular boxes due to the bunds that hold water in rains to nurture paddy. This is among the most biodiversity-rich parts of Chandrapur district.
Saoli and Sindewahi are to the south of the Tadoba forests, which are bearing the fruits of tiger conservation. The numbers of tigers recorded in TATR has gone up from 97 recorded in 2018 to 112 this year, as mentioned in the 2022 Status of Tiger Co-predators report released by the National Tiger Conservation Authority (NTCA) in 2023.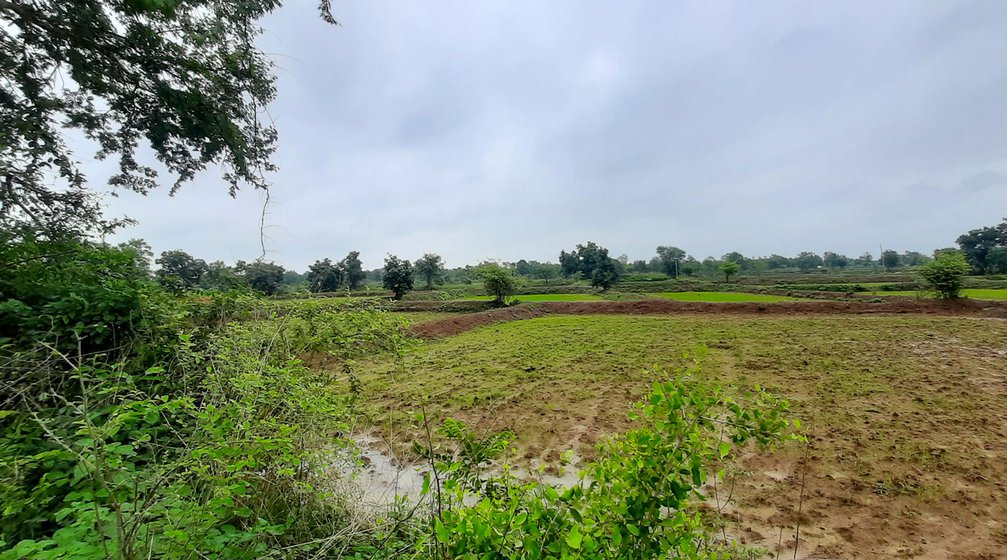 PHOTO • Jaideep Hardikar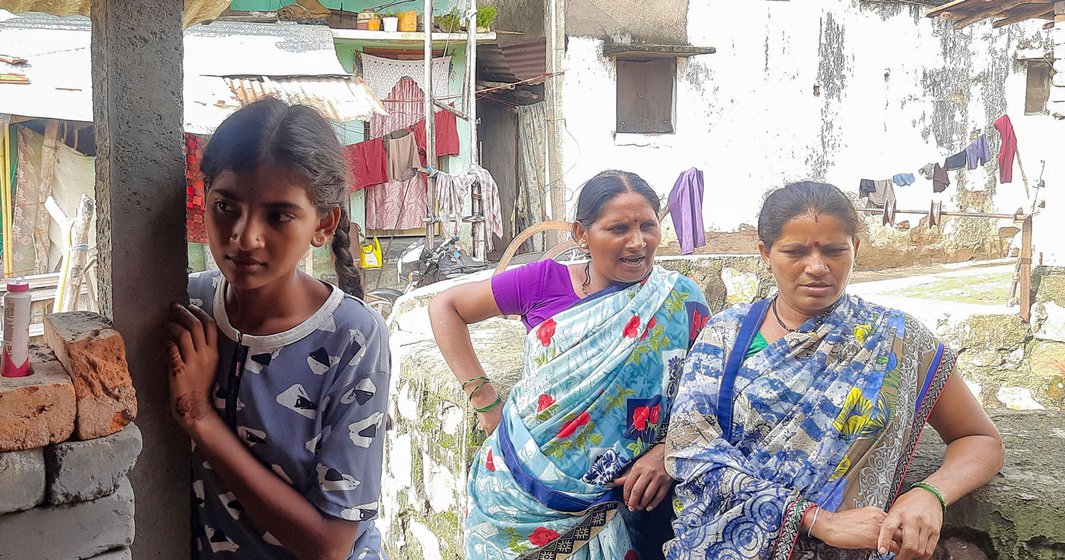 PHOTO • Jaideep Hardikar
Many are outside protected areas (PAs), in the territorial forests that are interspersed with human habitation. So, the number of wild cats spilling out of the protected areas and roaming among dense human habitation is on the increase. Attacks by tigers were most numerous in forests and fields in the buffer zone and surrounding landscape, suggesting that some tigers are moving out of the Reserve.
Most attacks occurred outside the PA in the buffer zone and surrounding landscape; attacks were most numerous in forest, followed by agricultural lands and degraded forest and clustered along a north-eastern corridor that connects the reserve, the buffer zone, and fragmented forests, according to a 2013 study done in the TATR landscape.
The man-tiger conflict is the downside of the conservation boom, so much so that in the recently concluded monsoon session of the state legislature in Mumbai in July 2023, Maharashtra's forest minister Sudhir Mungantiwar told the Legislative Assembly in a reply to a calling attention motion. He said the government had transported two grown-up tigers to the Nagzira tiger reserve in Gondia as part of a 'tiger translocation' experiment and is contemplating shifting more wild cats to the forests that have room to accommodate them.
In the same reply, he said the government will increase the ex-gratia to the victims, on the count of fatalities or injuries, or crop losses and cattle kills in tiger attacks. The government has increased the ex-gratia in case of human deaths from Rs. 20 lakh to Rs. 25 lakh. But it hasn't increased the compensation amount for crop damages and cattle deaths – which is a maximum of Rs. 25,000 for crop losses and Rs, 50,000 for cattle deaths.
In the short term though, there seems no end to the crisis.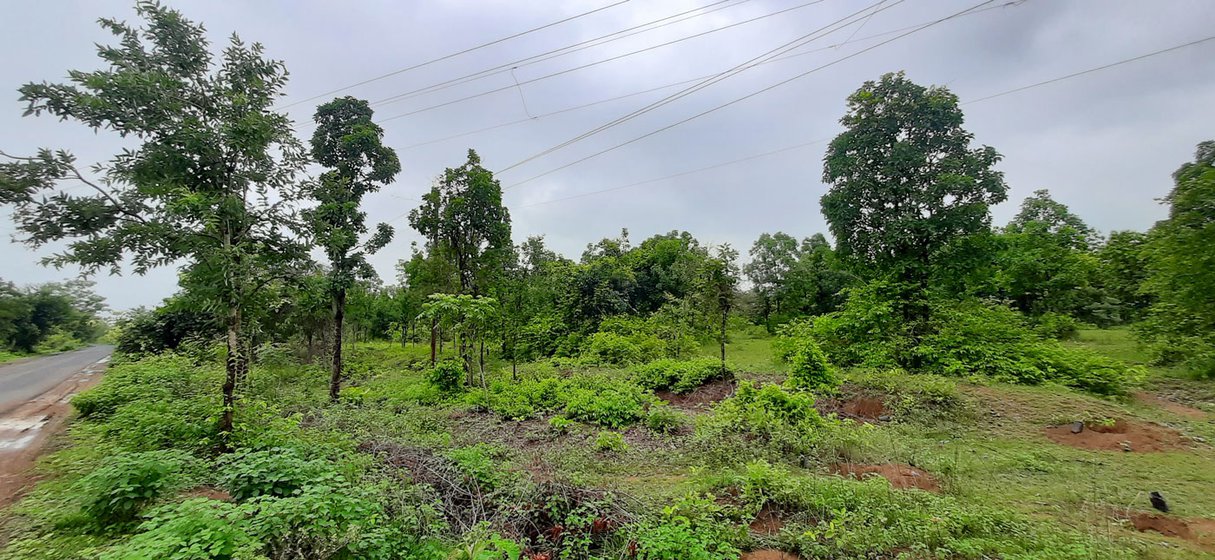 PHOTO • Jaideep Hardikar
"Carnivore attacks on humans have increased sharply within the last two decades around the Tadoba-Andhari Tiger Reserve in the central state of Maharashtra, India," says a comprehensive study done in the TATR landscape (outside the reserve in and around the buffer area).
The study conducted during 2005-11 "examined human and ecological attributes of attacks by tigers and leopards on humans in and around the Tadoba-Andhari Tiger Reserve to provide recommendations to prevent or mitigate conflicts between people and large carnivores." Tigers and leopards were responsible for 78 per cent and 22 per cent of the 132 attacks, respectively.
"Significantly more victims were attacked while collecting minor forest products than during other activities," the study said. The probability of being attacked dropped the further away one was from forests and villages. Human activities near the TATR need to be regulated and limited as much as possible to reduce human mortality and other conflicts, the study concluded and added that, increasing access to alternative fuel sources (for example biogas and solar) may reduce the pressure of timber harvesting in protected areas.
The wide-ranging behaviour of dispersing carnivores along with the low availability of wild prey in human-dominated landscapes increases the probability of tigers becoming involved in conflict.
The incidents in recent years however point to tiger attacks occurring more on the farms when people are at work, not just in the forests when they are collecting forest produce or grazing cattle. That the wild animals, particularly herbivores, devour crops is a major headache for the farmers in most parts of Chandrapur district, but in the areas close to TATR, tiger and leopard attacks in the farms or forest fringes have assumed alarming proportion with no relief in sight.
Traveling across the region throws up wild animal and tiger attacks as the topmost concern of the people. In the long run, as Pune-based wildlife biologist Dr. Milind Watve puts it, the issue has consequences for India's conservation imperatives too. If the locals turn antagonistic to the wildlife, as they naturally do, how can wild animals outside the protected forests be safe!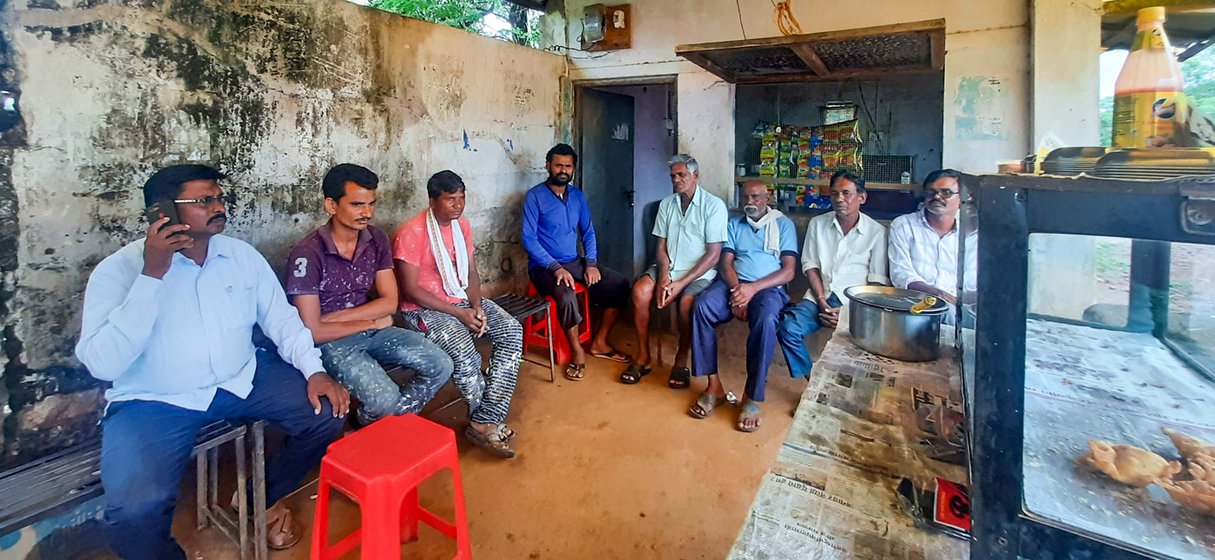 PHOTO • Jaideep Hardikar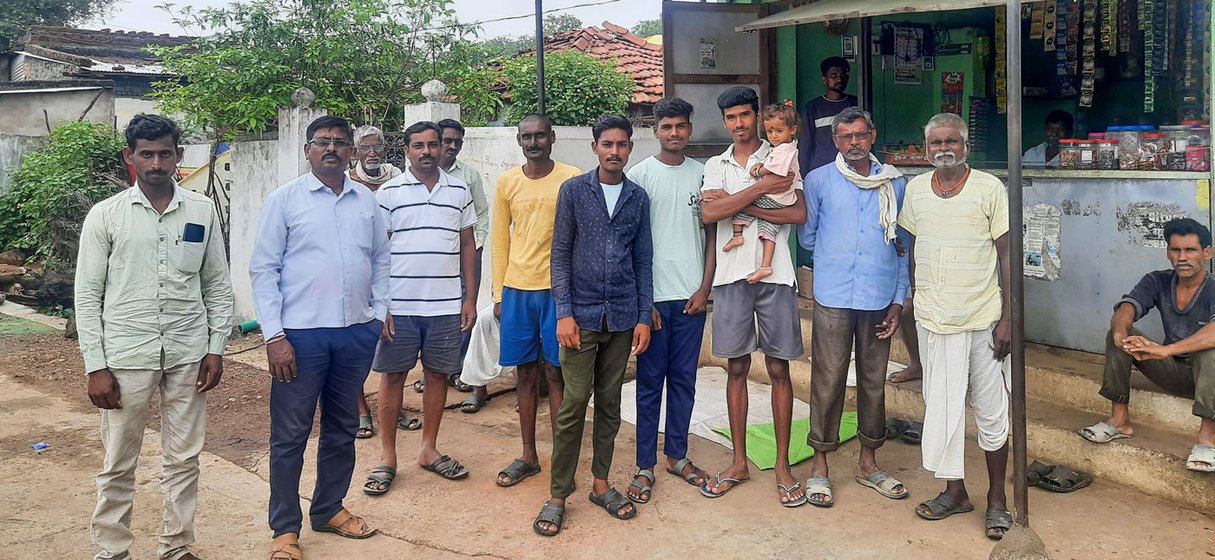 PHOTO • Jaideep Hardikar
The current crisis is not caused by one tiger; these are multiple tigers accidentally attacking humans, mistaking them as preys. The families losing their members in such attacks and those standing witness to the incidents, live with an unending trauma.
Prashant Yelattiwar of Chandli Bk. village in Saoli tehsil , about 40 km from Hirapur is from one such family. On December 15, 2022, his wife Swarupa fell victim to an adult tiger as five other women from the village watched in horror the wild cat pounce on her and drag her body into the forest. This happened around 11 a.m. on December 15, 2022.
"It's been six months that she's gone," says Yelattiwar speaking to us in 2023. "I can't figure out what happened."
The Yelattiwars have just about an acre of land, and doubled up as farm labourers. Swarupa and other women were busy picking cotton – cotton crop is new to this predominantly paddy belt – on the farm of one of the villagers when this incident happened. A tiger leaped on Swarupa on a farm near the village and dragged her half a km down the forest patch. The villagers, helped by the forest officials and guards, retrieved her mauled and listless body a couple of hours after the gory incident. She became another victim in a long list of tiger-fatalities in this part.
"We had to create a lot of noise to frighten away the tiger, bang thalis and beat the drums," says Vistari Allurwar, among the villages who went to retrieve her body that day.
"We watched all of that in horror," says Suryakant Maruti Padewar, a six-acre farmer neighbour of the Yellatiwars. The fallout? "There's lurking fear in the village," he says.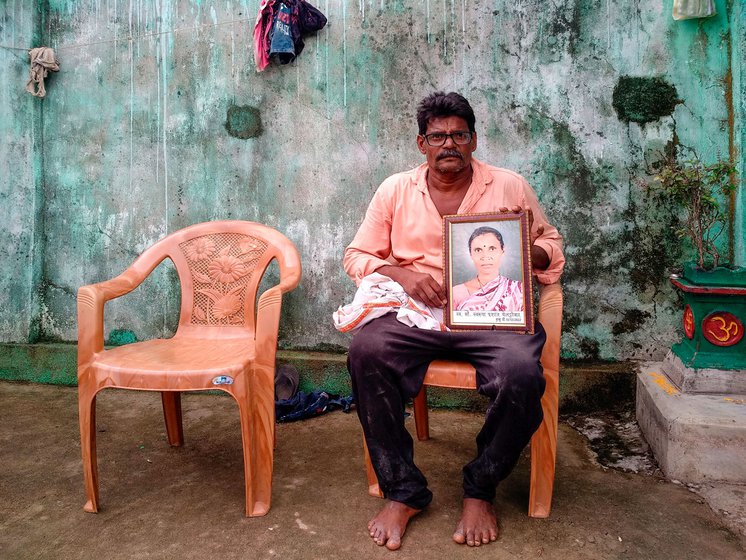 PHOTO • Jaideep Hardikar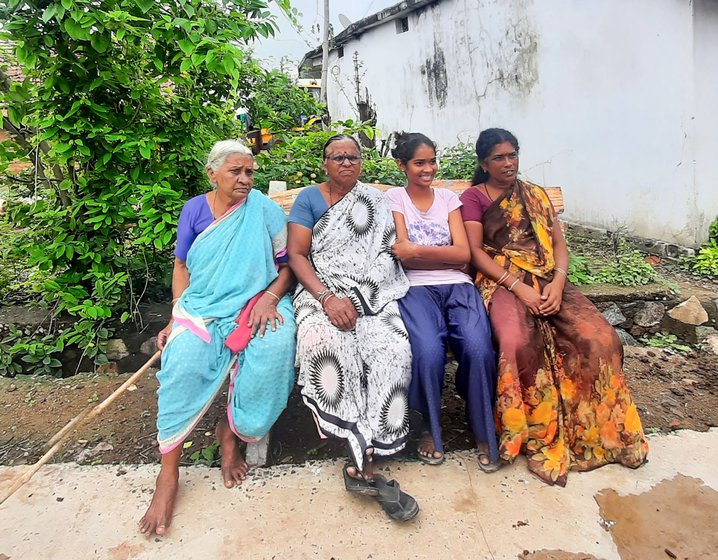 PHOTO • Jaideep Hardikar
Anger prevailed; villagers demanded that the forest department capture or neutralise the problem tigers, and bring them relief, but after a while, the protests died down.
Swarupa's husband hasn't had courage to go back to work since her death. A tiger still frequents the precincts of this village, he says.
"We sighted a tiger a week ago on my farm," says Diddi Jaglu Baddamwar, 49, a farmer of seven acres. "We never went back to the farm for any work," he says in early July when sowing has just begun, following onset of good rains. "After this incident, no one cultivated the rabi crops."
Prashant got the compensation for his wife's death – Rs. 20 lakh – but that won't bring his wife back to life, he says. Swarupa left behind a son and a daughter.
2023 is proving no different than 2022 – tiger attacks, wild animal menace in the farms across the sprawling TATR landscape in Chandrapur district continues.
A month ago (August 25, 2023), sexagenarian Laxmibai Kannake, a tribal woman farmer, was the latest victim in a tiger attack. Her village, Tekadi, is on the fringe of the TATR in Bhadrawati tehsil , close to the famous Moharli range, which is the main gate to enter this majestic forest.
On the evening of that fateful day, she was working in her farm, adjoining the backwaters of the Irai dam, along with her daughter-in-law Sulochana. Around 5:30 p.m., Sulochana sighted a tiger stalking Laxmibai from behind, moving stealthily towards her through the wild grass. Before she could shout and alarm her mother-in-law, the tiger had pounced on the old woman, held her by her neck, and dragged her body into the dam waters. Sulochana managed to run to safety and called more people to the field. Laxmibai's body was retrieved hours later from the water body.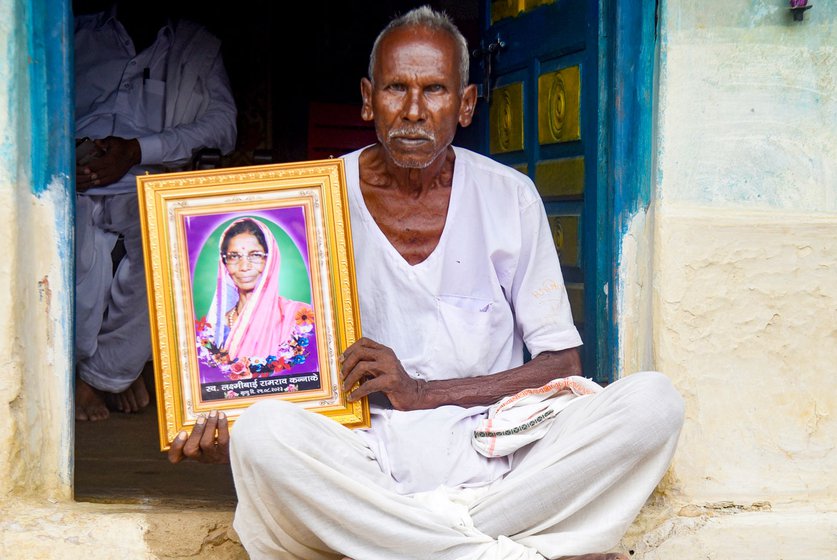 PHOTO • Sudarshan Sakharkar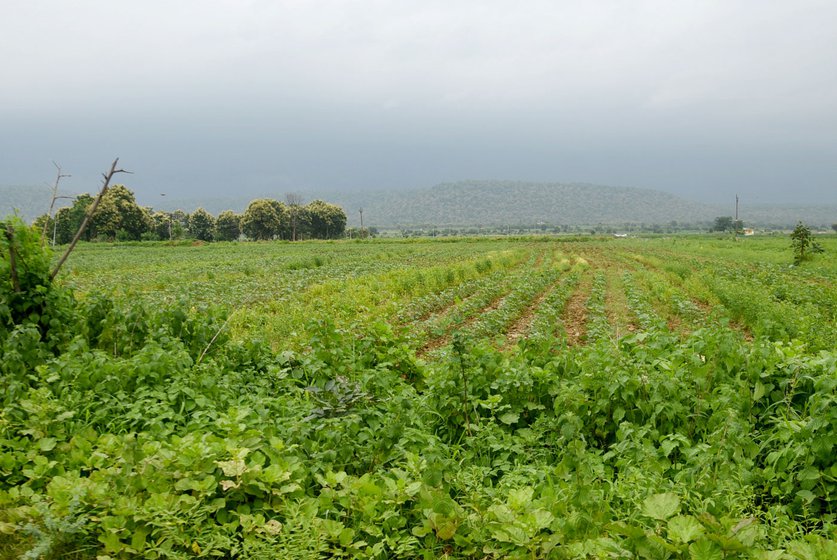 PHOTO • Sudarshan Sakharkar
The forest officials immediately released Rs. 50,000 for her funeral, and a couple of days later, paid Rs. 25 lakh, in lieu of the increased ex-gratia order, to the bereaved husband, Ramrao Kannake, 74, sensing the anger among the villagers and possible public protests.
A battery of guards keeps a vigil in Tekadi, camera traps have been installed to track the tiger's movement, and villagers go in groups to work their farms, as the village shivers in terror.
In the same tehsil (Bhadrawati), we meet 20-year-old Manoj Nilkanth Khere, an undergraduate student in his second year, recuperating from a grievous injury he sustained in a wild boar attack on the morning of September 1, 2023.
"I was overseeing weeding operations on my father's farm," says Manoj, "when a boar came running from behind and hit me with its tusks."
Lying on a cot at his maternal uncle Mangesh Asutkar's house in village Pirli, also in Bhadrawati tehsil , Manoj recounts the incident with vivid details. "It happened in 30 seconds," he says.
The boar tore into his left thigh, now bandaged, and bit into his left calf with such vengeance that his entire calf-muscle was severed from his leg – doctors have told him he'll need to undergo plastic surgery to reconstruct his calf. Which means, his family must shell out a huge amount on his treatment. "I am fortunate that I survived the attack," he says. No one else was injured.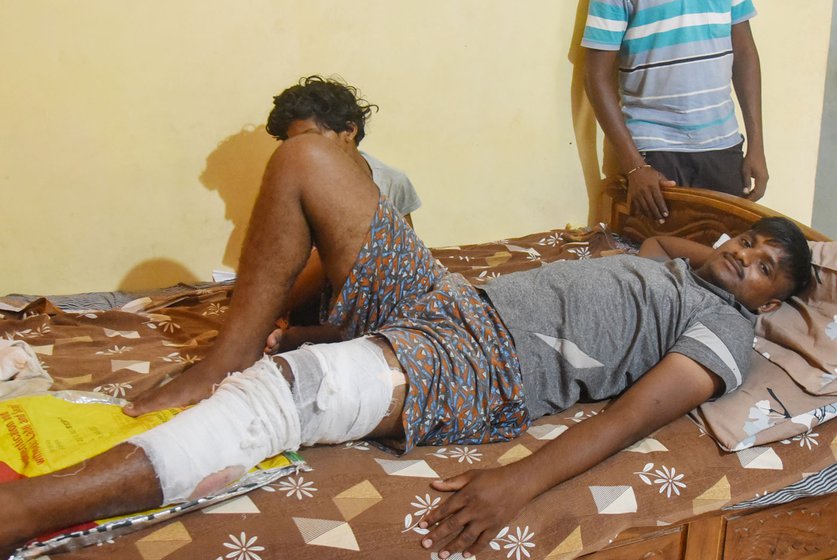 PHOTO • Sudarshan Sakharkar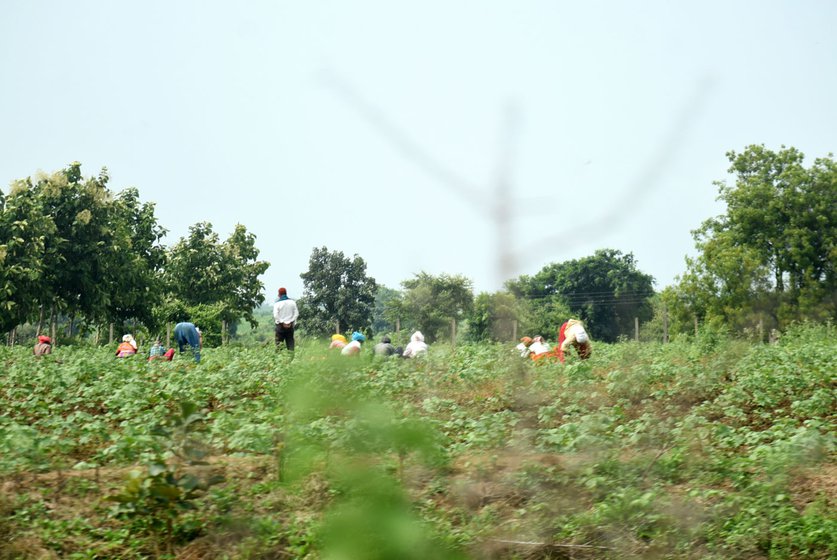 PHOTO • Sudarshan Sakharkar
Manoj is a well-built young man, the only son to his parents who are farmers. Because his village Wadgaon is remote and does not have public transport, his maternal uncle brought him to Pirli, from where, going to the hospital in Bhadrawati town, 27 km away, is easier.
On his smartphone he shows photos of his fresh injuries from that attack that day; photos that reveal how bad his wounds were.
The death of people and incapacitation apart, the incidents severely affect farm operations, says Chintaman Balamwar, a social activist belonging to the semi-pastoralist Kurmar community (listed as Other Backward Caste in the state) in Chandli village. "Farmers rarely cultivate rabi crops and labourers fear going to the farms," he says.
Wild animal raids and tiger movement affects particularly the rabi sowings in many villages; night vigil has virtually stopped, and people are afraid of leaving the village and traveling in the evenings outside even in any emergency as they did earlier.
Meanwhile, back in Kawathi, Sudhir's mother Shashikalabai, an old farm hand in this village, knows how close the shave with wild boar was for her son that fateful day.
"
Aji majha porga vachla ji
," she tells me repeatedly in Marathi, thanking the almighty. My boy escaped death that day, she is saying. "He is our support." Sudhir's father is no more. He passed long ago. "What would have happened," the mother asks, "if it were a tiger, not a boar?"