"I have come for my grandchildren," says Gangutai Chandar Warghade, around 60 years old. "Maybe my walk will help better their lives."
Gangutai is a farm labourer from the Mahadev Koli community, a Scheduled Tribe. She lives in Manjushi-Met village in Palghar, a predominantly Adivasi coastal district in  Maharashtra.
Sitting under a tree on the ground adjoining the bus stand in Nashik, at Mumbai Naka, she and many of her co-marchers speak of their growing hardships and the total absence of mitigating measures by the government.
"We want the land in our name," Gangutai says. For decades, she and many others have been tilling farmlands that are 'owned' by the forest department. Thousands of households in Thane, Palghar, Nashik and other neighbouring districts in north and coastal Maharashtra have been demanding titles to these lands under the Forest Rights Act (FRA) of 2006 . This will also allow them access to government schemes and formal loans. The Maharashtra government agreed to implement the FRA after the landmark Long March last year, but has not kept its promises.
"We want a better future," says Tai Bendar, a young farmer and activist from Palghar, listing out the issues that concern her and others from her village. "Our water is being diverted to Mumbai and other cities, so we are struggling against that too."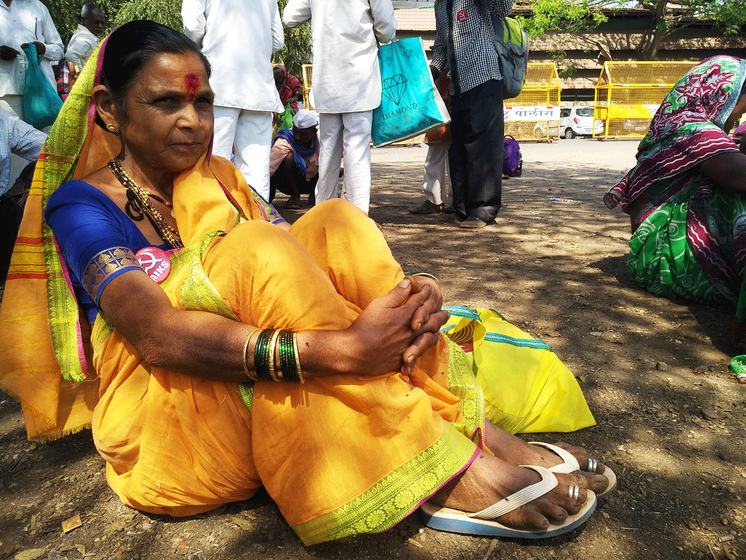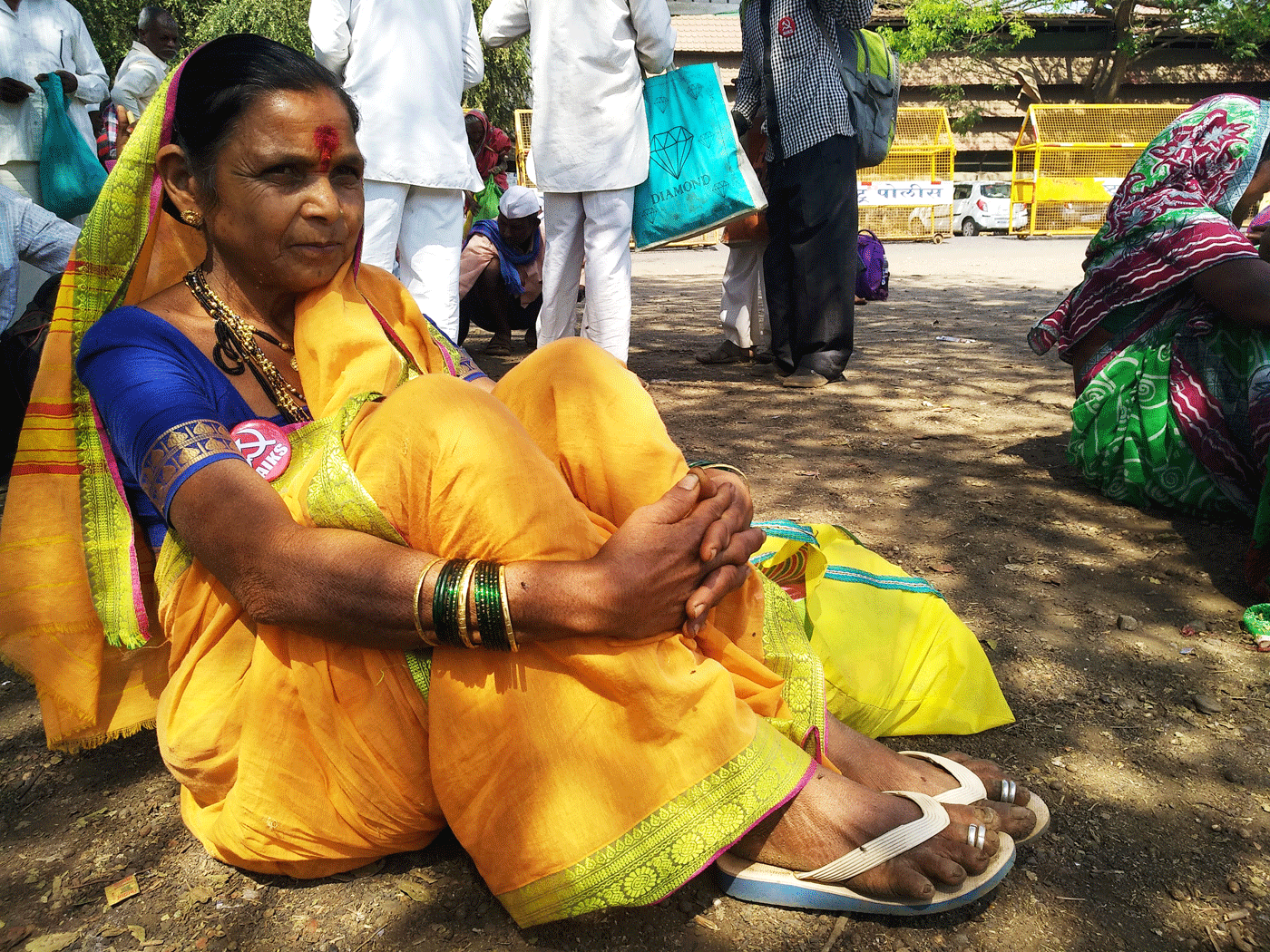 PHOTO • Jaideep Hardikar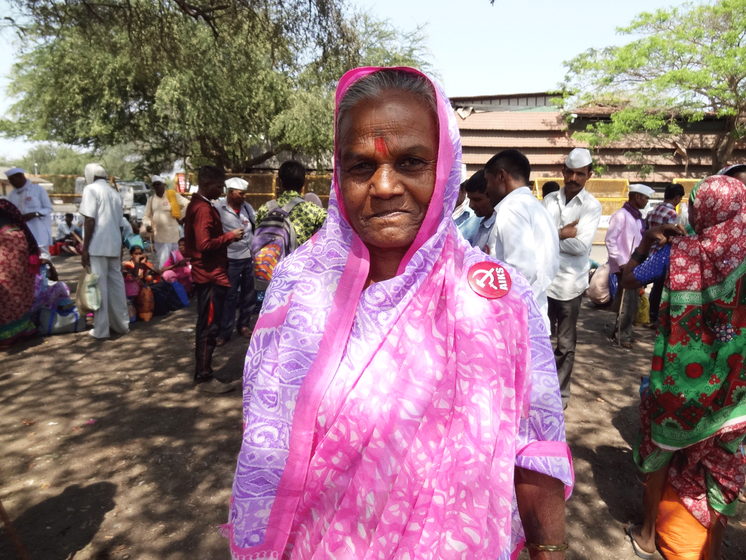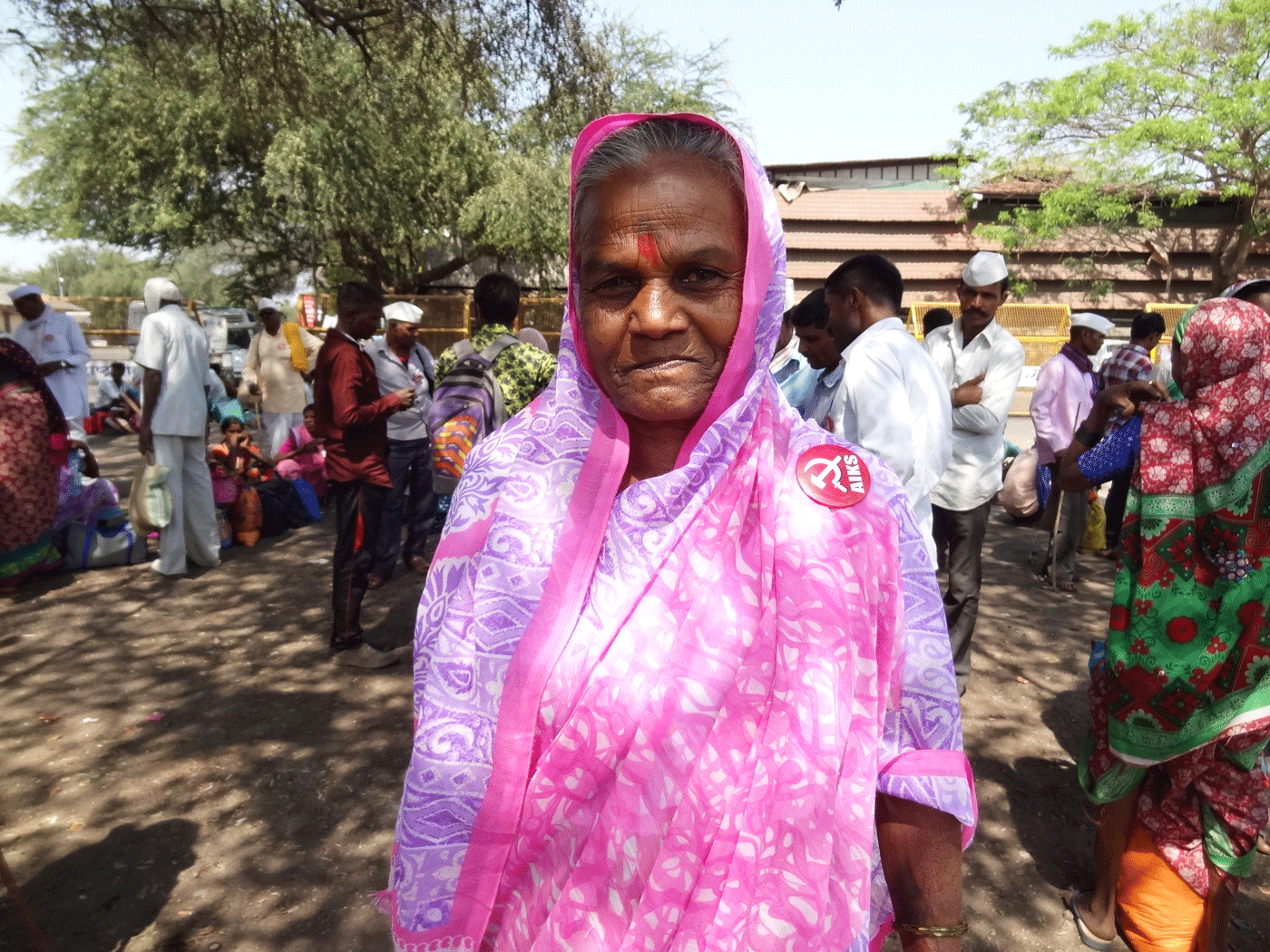 PHOTO • Jaideep Hardikar
What drives them to walk the long distance, missing farm work and wages, spending nights out in the open, eating by the side of the road, for days? "Hope!" says Hari Lala More, around 70, an Adivasi farmer from Velgaon in Nashik district. "This is the only way we'll be heard," adds Gangadhar Pawar, a farm labourer.

By Thursday morning (February 21), the protesters were yet to start the march. A huge police posse had been deployed around the assembled farmers, who had waited patiently at the ground through the previous night, awaiting permission to leave for Mumbai. By afternoon, with permission still pending, the farmers anyway began the march.
It will take a week or more to reach Mumbai (when the state legislature's budget session will have started), and permission from the government for the march remains uncertain. But Gangutai is resolute: "We will walk."
Many others – peasants, agricultural labourers, and Adivasi farmers from across Maharashtra – intend to walk to Mumbai, around 180 kilometres from Nashik, and remind the state government of their demands. Many told us they are dissatisfied and disillusioned by the government's inability to keep its word.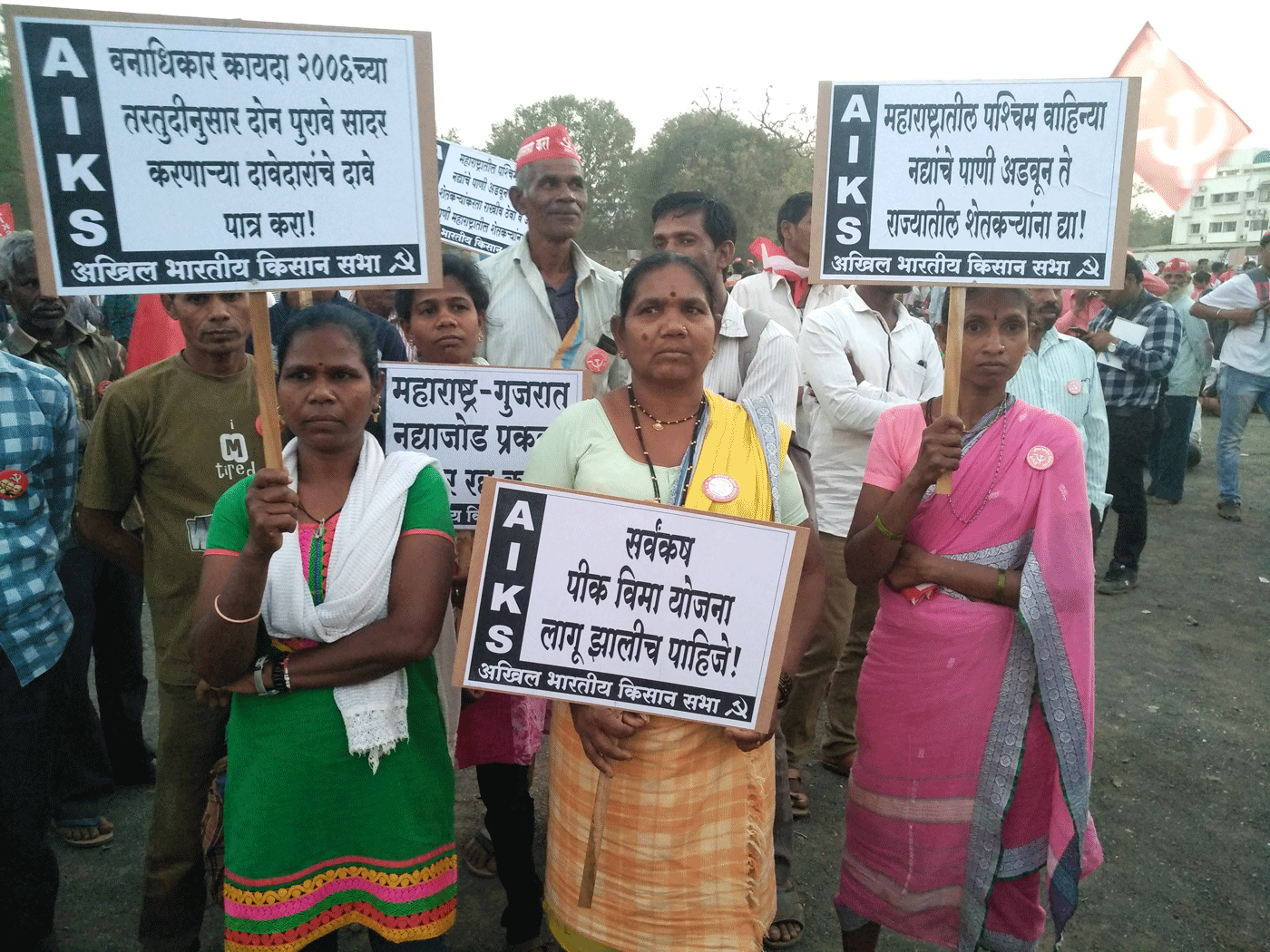 PHOTO • Jaideep Hardikar
The protestors began to assemble in Nashik on the afternoon of Wednesday, February 20. They came from many districts –Nashik, Thane, Palghar, Dahanu, some from Marathwada, some from other parts of Maharashtra. Others will join the marchers along the way.

There were reports that the state police tried to hold back the contingents from various districts. Still, many have come, undeterred.
At a meeting of the gathered farmers on Wednesday evening, the protesters observed two minutes of silence as a mark of respect to those killed in the Pulwama terrorist attack in Kashmir on February 14, 2019.
"The number of marchers will be more than last year's [Long March from Nashik to Mumbai in March 2018]," says Ajit Nawale, state secretary of the All India Kisan Sabha (AIKS), which is steering the protest. "The government did not keep a single word, it turned back on all its promises, including the extension of the loan waiver to all, immediate drought relief, and land entitlements to tribal families in coastal and north Maharashtra, among many others."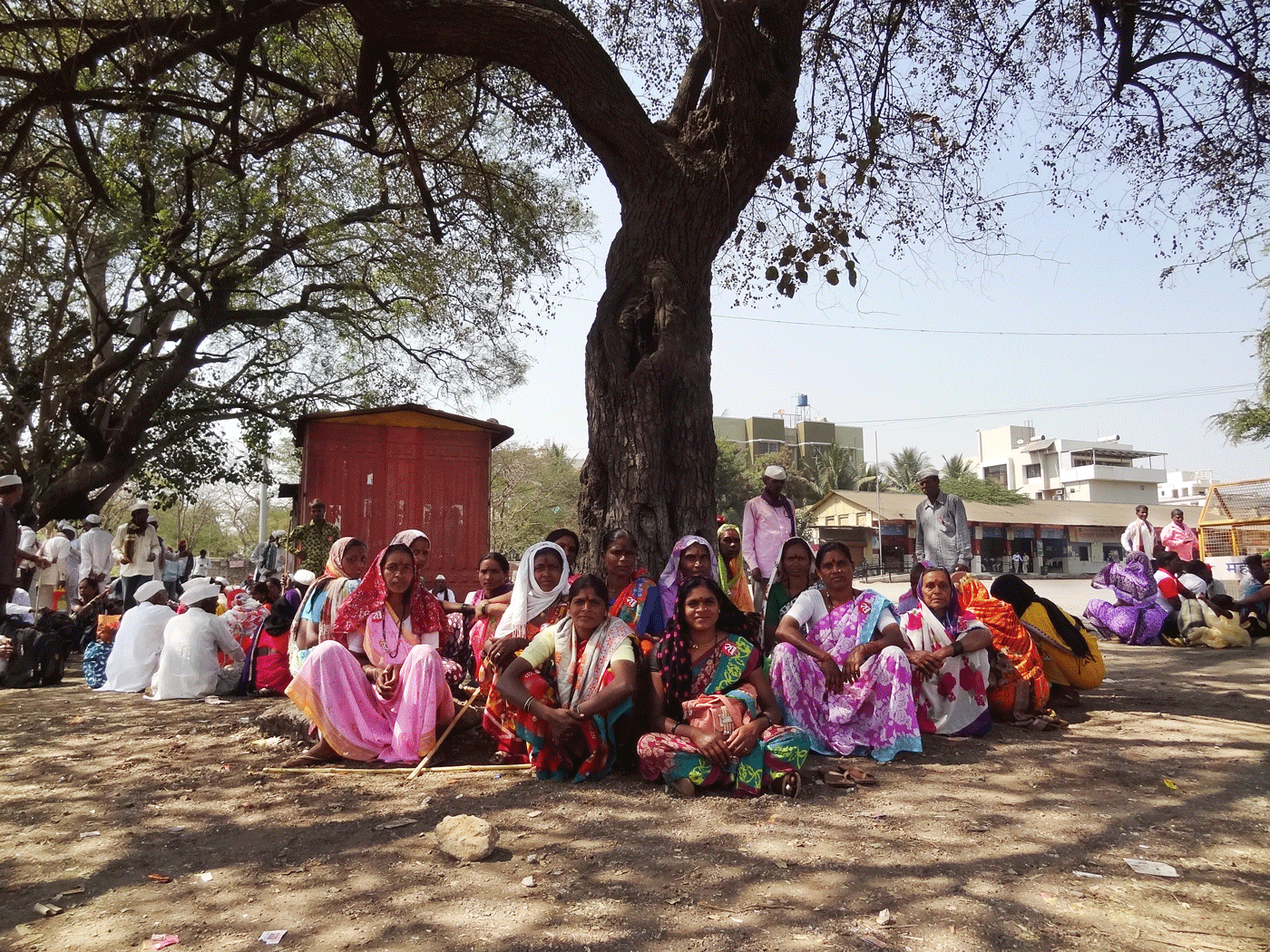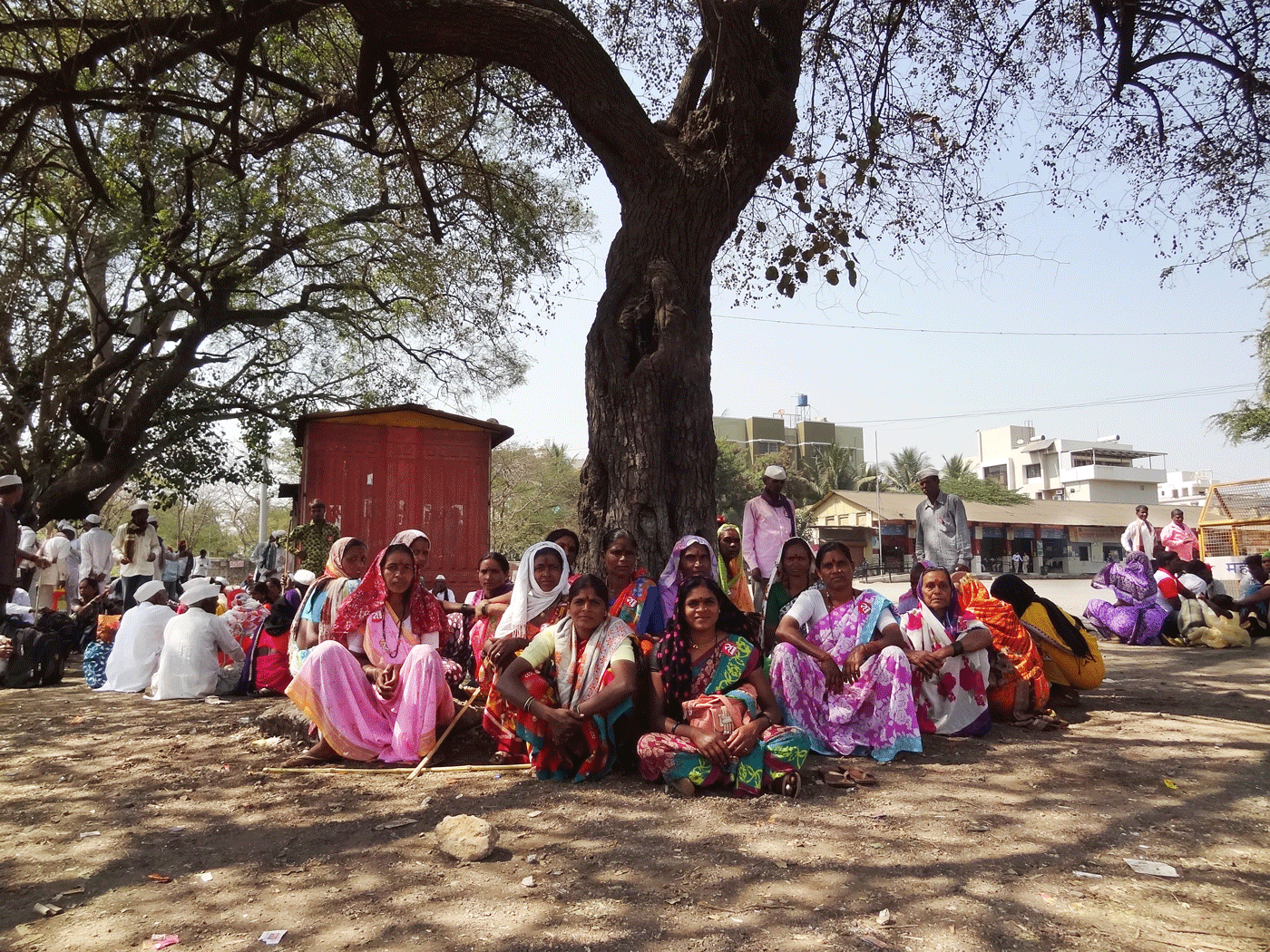 PHOTO • Jaideep Hardikar
There are other demands too: granting ownership titles to the tillers of temple endowment lands, hiking the old age pension and other pensions to Rs. 3,000 a month, stopping acquiring land forcibly for the bullet train and new highway projects, and replacing old ration cards with new ones.

"The state government has been making every effort to derail our march," Nawale adds. "A lot of protesters have been stalled at different places all over the state, in Ahmednagar, Thane, Palghar, elsewhere, so that they are unable to march to Mumbai."
Discussions with Chief Minister Devendra Fadnavis in mid-February (2019), Nawale says,  did not yield much, prompting the AIKS to go ahead with this planned march.
Maharashtra's peasantry has been in distress for a long time. To add to it, a debilitating drought has hit them – and the water scarcity is only going to get worse this year. Over 150 talukas in Maharashtra have been declared drought-hit.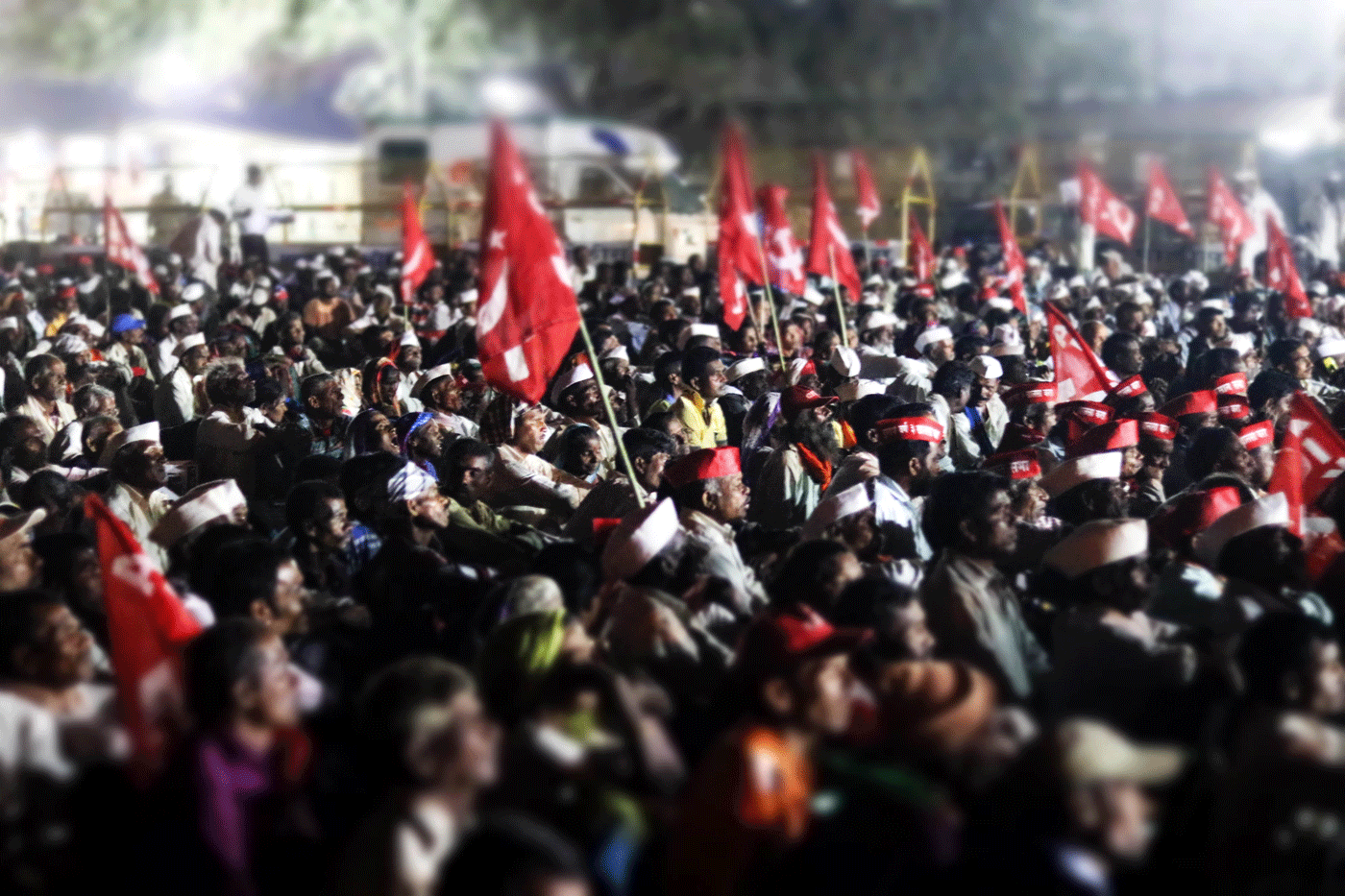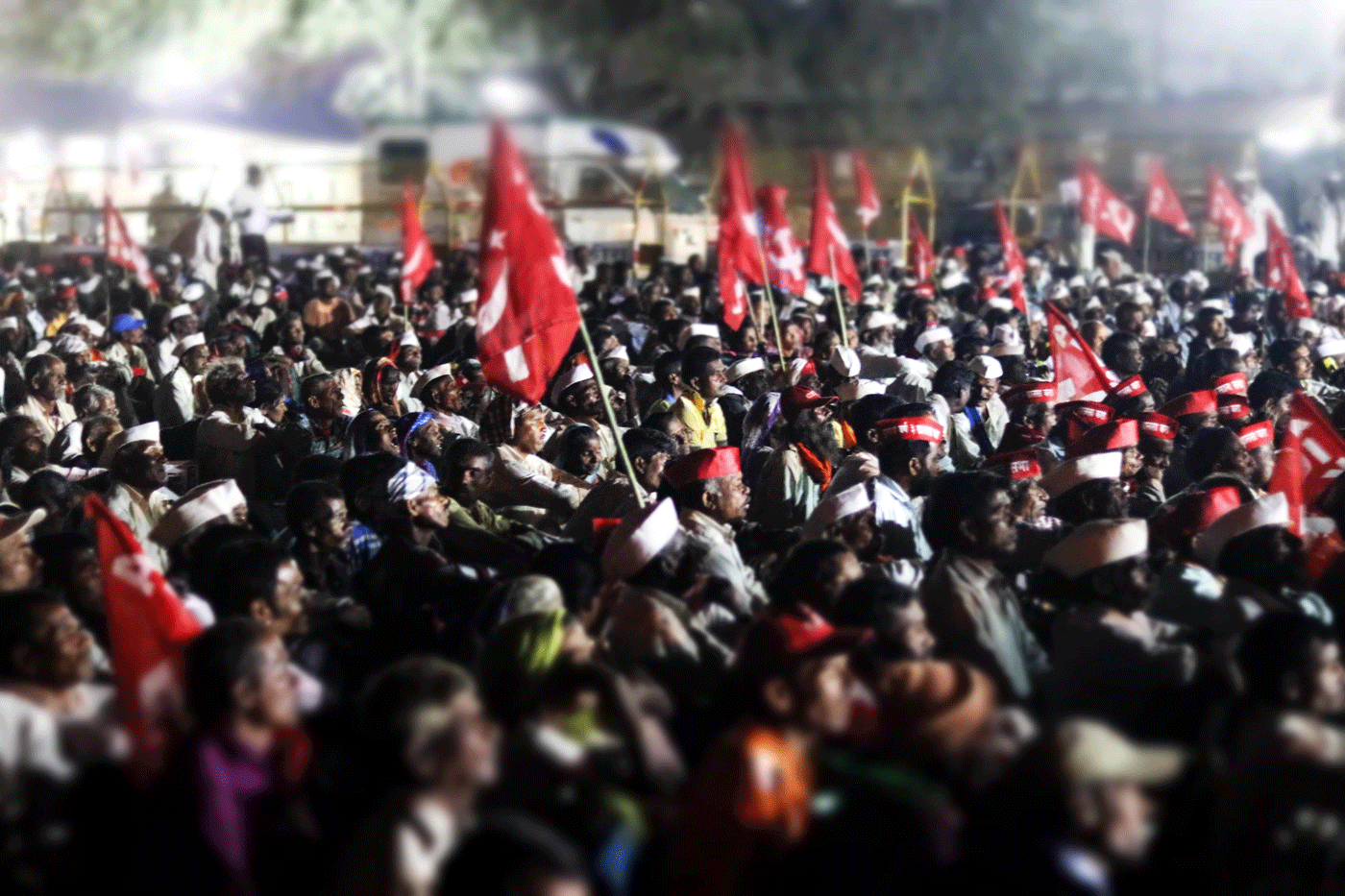 PHOTO • Sanket Jain
"There is no work, no crop," says Ishwar Chavan, a farmer from Jintur taluka in Parbhani district, who has come for the march along with other farmers from Marathwada. There is an immediate need for drought relief and wage work, they said. Ishwar adds that he has not yet received the loan waiver that was announced by the state government in 2017. "This year," he says, "I didn't get a crop loan from the bank."

While the young protesters in the march are demanding work, the old are asking for sustenance pension. Anandibai Nawale of Mokhada taluka is around 70, but must still work as a labourer. "I have nobody in my family," she says. "My husband died a few years ago; I have no children." She is marching to demand a higher old age pension and the title to a small piece of forest land she's been tilling for years. Anandibai  marched to Mumbai last year too, but her demands have remained unfulfilled. So, she said, "I'm walking again."

Rajendra Bhawar, a young farmer and labourer from Aghai village in Thane's Shahapur taluka , has come with his friends, all sporting red AIKS cap and a flag. Last year too, he had walked from Nashik to Mumbai. He too says they have returned to remind the government of its promises.
Cover photo: Sanket Jain