"As long as the Sun and the Moon continue to shine, this work will continue," says Tukaram Pawar as he chisels away stones at a centuries-old fort in Vasai, to the north of Mumbai city. "Many will die, many will live on; there is no quantifying that. Never measure the work you are doing. Just go on working."
Pawar is one of several stonecutters restoring the 16th century Bassein (or Vasai) Fort in Palghar district. Sitting cross-legged on the ground in the yard of the fort, surrounded by large uneven stones, he uses a hammer and a chisel in continuous movements to reshape a block.
He and the other workers are strengthening the walls of Bale Killa, a portion of the fort originally commissioned by Sultan Bahadur Shah of Gujarat (and later converted into a cathedral by the Portuguese), by 'dressing' or chiselling loose stones and using a lime-based mortar to reconstruct the wall.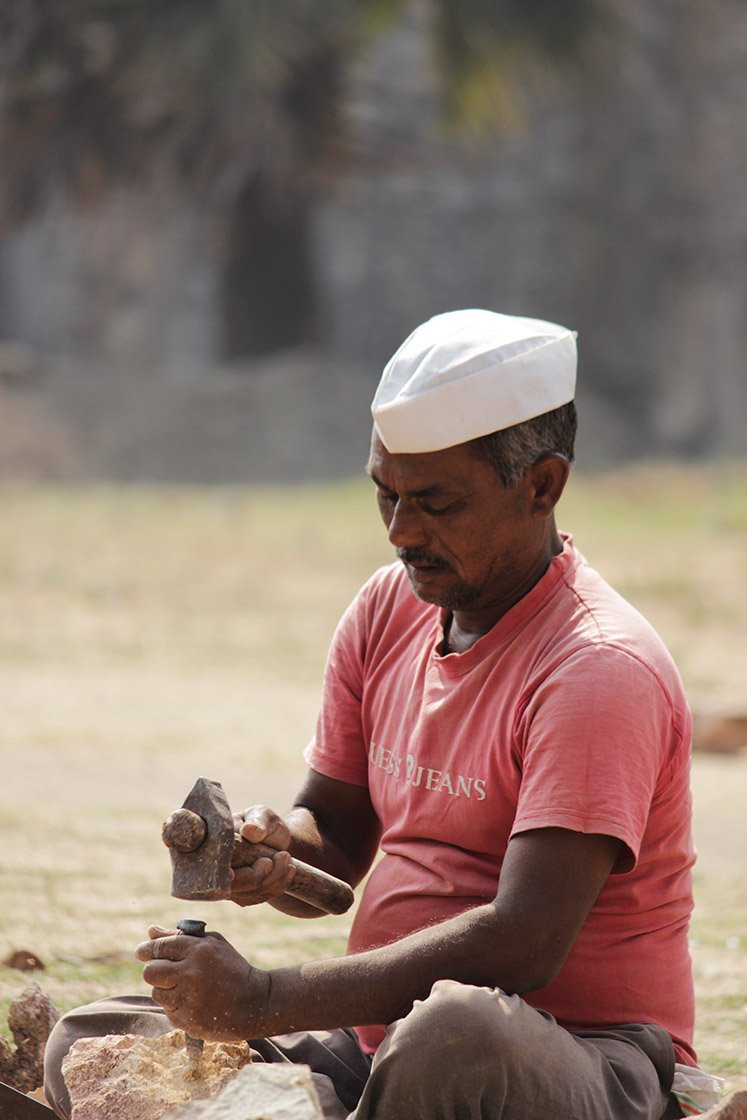 PHOTO • Samyukta Shastri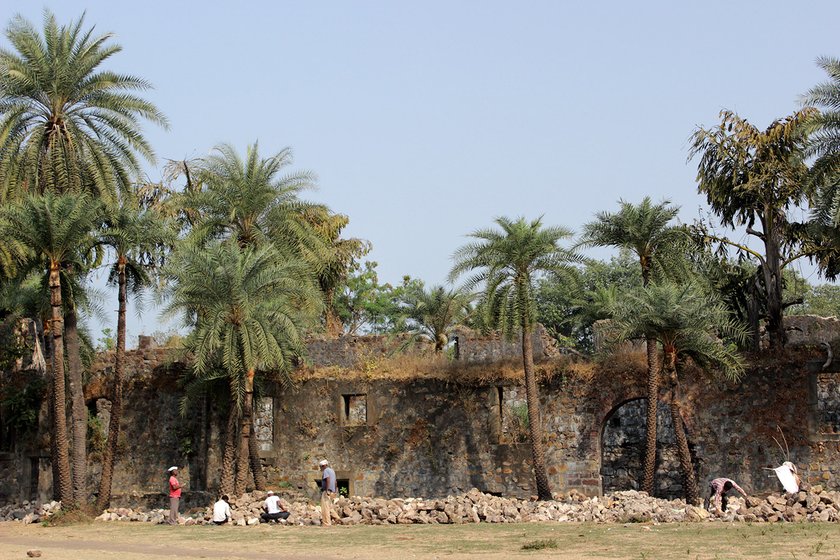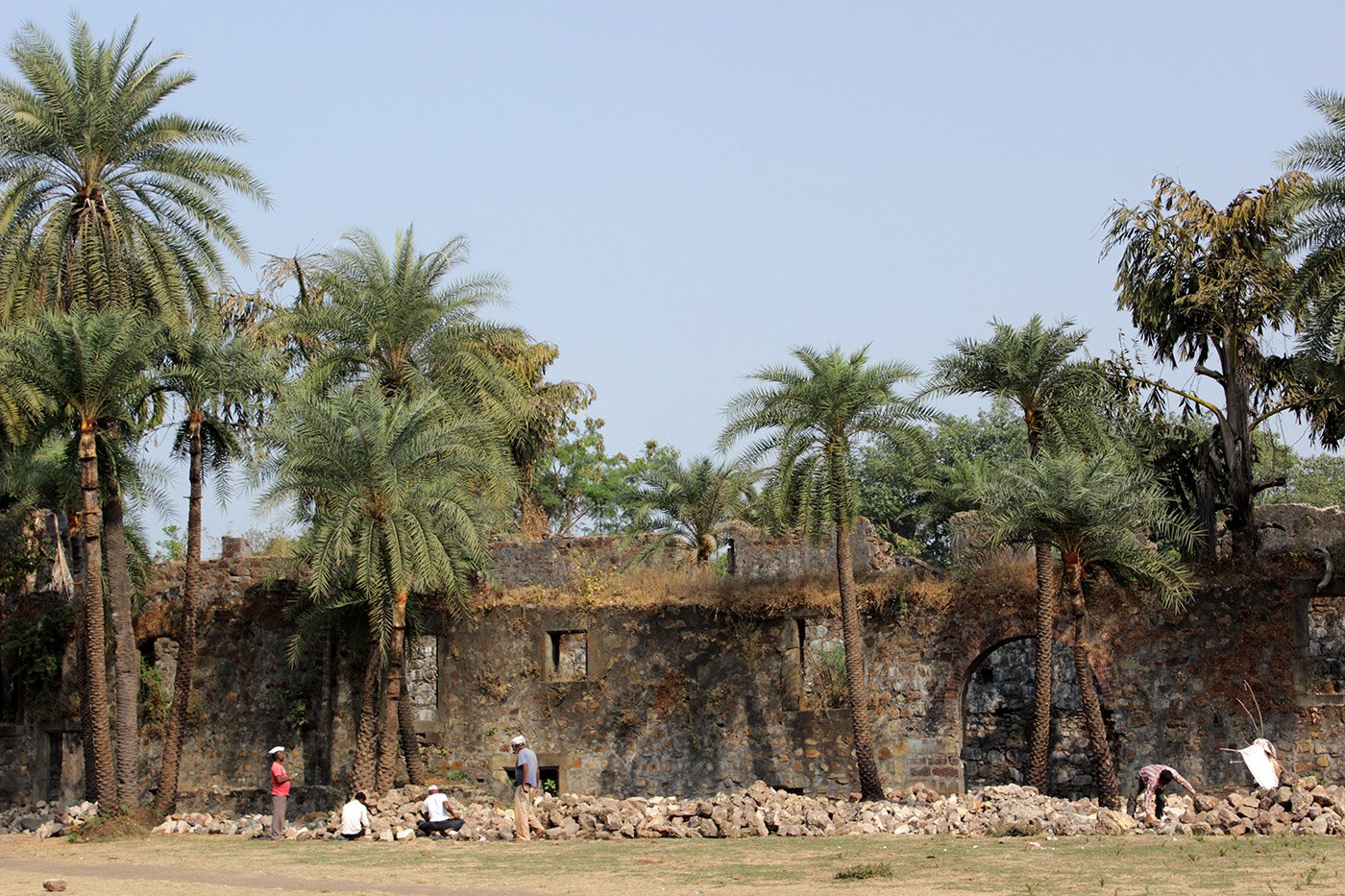 PHOTO • Samyukta Shastri
The work at the 109-acre Vasai Fort is part of a restoration project of the Archaeological Survey of India (ASI), which began in 2012.  The approximately 15 labourers here are from different villages of Ahmednagar district in Maharashtra.
Drought drives most of them to Vasai.
"Of what use is it to farm without proper rainfall and irrigation?" Pawar, who is in his 50s, asks. Pawar owns two acres of land in Jamkhed village. His wife and sons look after the family's modest crops during the six months of the year he is away at restoration sites.

PHOTO • Samyukta Shastri
With much of Ahmednagar's scarce water sucked up by sugarcane, the district can face drought-like conditions even in years of good rainfall. In the villages, a local contractor hires Pawar and other stonecutters – many of them farmers forced to leave their land – and sends them to historical sites managed by the ASI. Pawar has worked on various ASI projects, including at Elephanta Caves in Maharashtra and Jhansi Fort in Uttar Pradesh.
The stonecutters at Vasai Fort earn a daily wage of Rs. 600 and make around Rs. 15,000 a month. They spend nearly half of this on their own expenses such as food and medicines. The rest of the money is sent home.
For this wage, they do backbreaking labour for eight hours a day with an hour off for lunch. They hammer away in the sweltering heat, and their hands and feet crack with the constant work in the stone dust. "To break stones isn't easy," says Lakshman Shetiba Dukre. "The stones are hot, the ground is hot, the sun is scorching."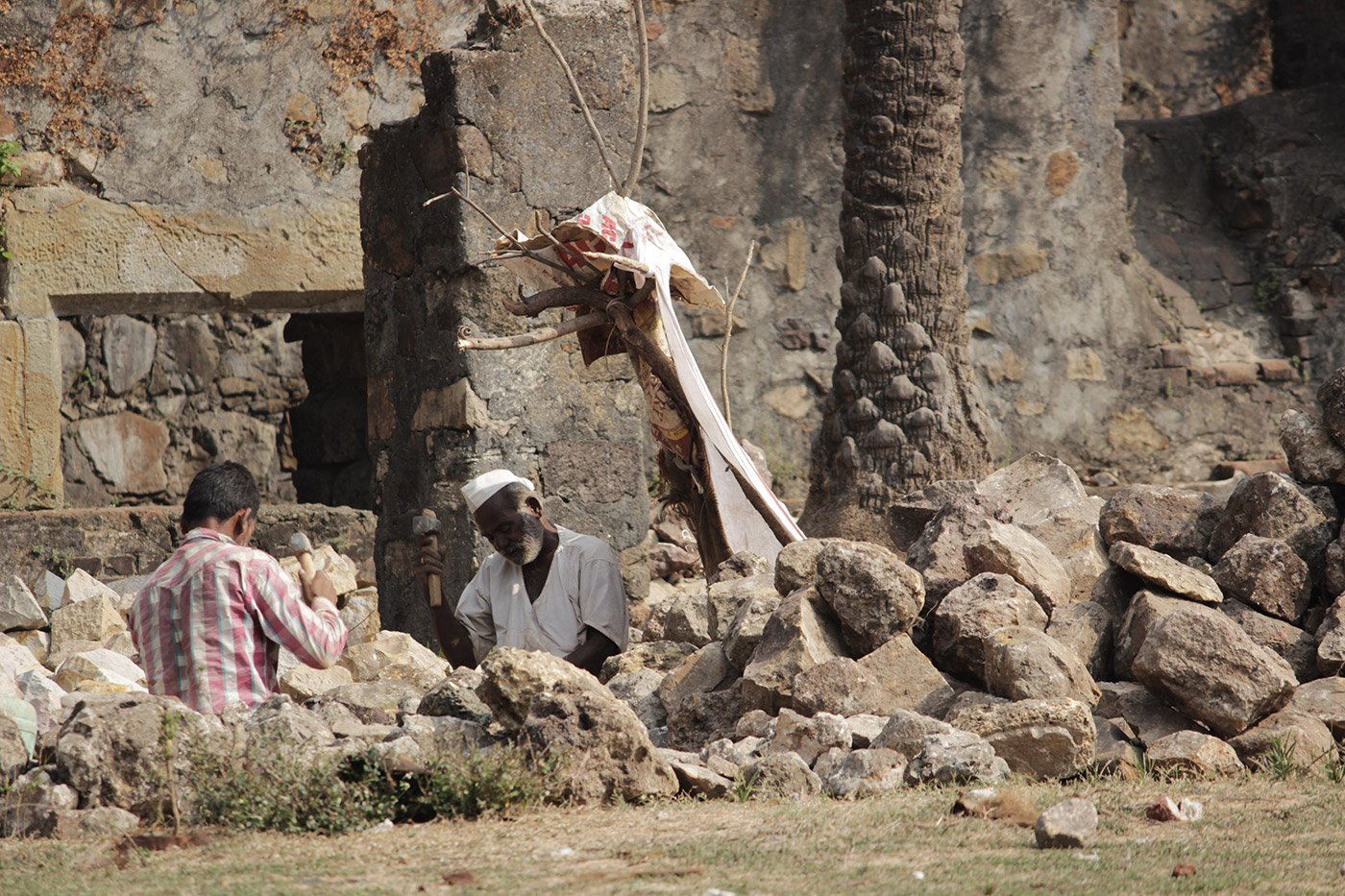 PHOTO • Samyukta Shastri
Dukre is sitting under a makeshift shed of palm leaves at a corner of the fort, slightly away from the Jamkhed group . His nephew Dagdu Govind Dukre is there too. The two are from the Wadar community of skilled stone dressers and sculptors. They have come to Vasai from Wadarwadi village of Bhingar taluka in Ahmednagar district. Both move from site to site but are primarily assigned to Vasai Fort.
"Workers for this kind of work are hard to find these days," says Kailas Shinde, the ASI conservation assistant in charge of the restoration at Vasai.  "The Wadars are the only people who are skilled in this trade. They are the same people who must have built these monuments and are the same people restoring them."
Almost all the stone workers at Vasai are Wadars, who came to Maharashtra, academic accounts suggest, after first moving from Odisha to Andhra Pradesh and other southern states.  (The community's name, 'Wadar', is believed to have come from Odra Desa or Orissa). "Years and years ago, our people came here [to Maharashtra]. We were born and brought up here. This is where we belong," says Sahebrao Nagu Maske, in his 60s and one of the oldest stonecutters at the fort.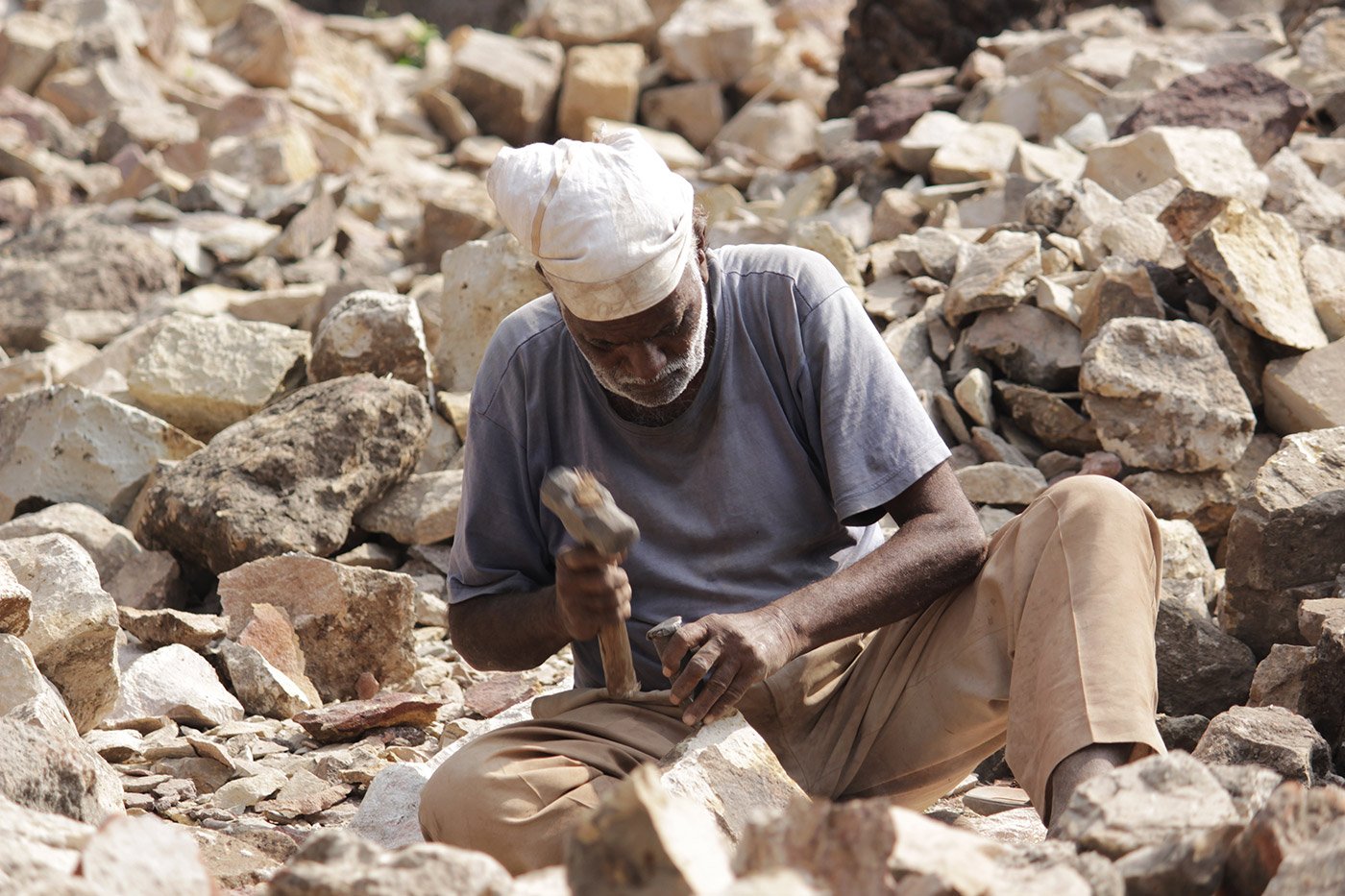 PHOTO • Samyukta Shastri
Dagdu, around 40, recalls that his family owned some farm land but gave it up years ago; now stonework is his and his uncle's only occupation. Lakshman's and Dagdu's wives also work on stones close to their village in Ahmednagar, breaking them into the small pieces used to make tarred roads.
The Dukres, like the other workers at Vasai, are directed to potential work sites by a local contractor. "We go [at our own expense] wherever they say work is available," Lakshman says. We stay there a couple of days, live on butter -pav and wait for work. If we find employment, well and good; otherwise it is like being slapped in the face – and we return [to Wadarwadi]."
Lakshman has mixed feelings about being a Wadar – there is a palpable sense of awe and respect for those who came before him and created beautiful monuments with intricate designs and sculptures; he even refers to them as "men of God."  But there is despair too, when he talks about his community's poverty: "Who gave my father this life of a Wadar? To have to be born to learn this trade? If only he had studied and got a job, things would have been different…"

PHOTO • Samyukta Shastri
Now 66, Lakshman learnt his trade from his father and grandfather more than 50 years ago, as did they from previous generations. "Once a boy turns 10 or 11, he is handed a small hammer and taught to use it," he says. "He could even break his fingers, but in a few months he will learn the trade and move on to work like the elders."
But not many apprentices are entering this trade now – only a few young men come to Vasai Fort when they cannot find jobs anywhere else. "My children don't do stonework," Pawar says. His eldest son is an engineer who works in Pune. "I managed to send them to school by doing this work."

While the children of many of the stonecutters are moving away from their family's traditional occupation, the older workers who have been chiselling for decades feel a sense of despair about their difficult work. "Nothing is going to change," Lakshman says. "There is wood for us at the crematorium. The days to change are long gone."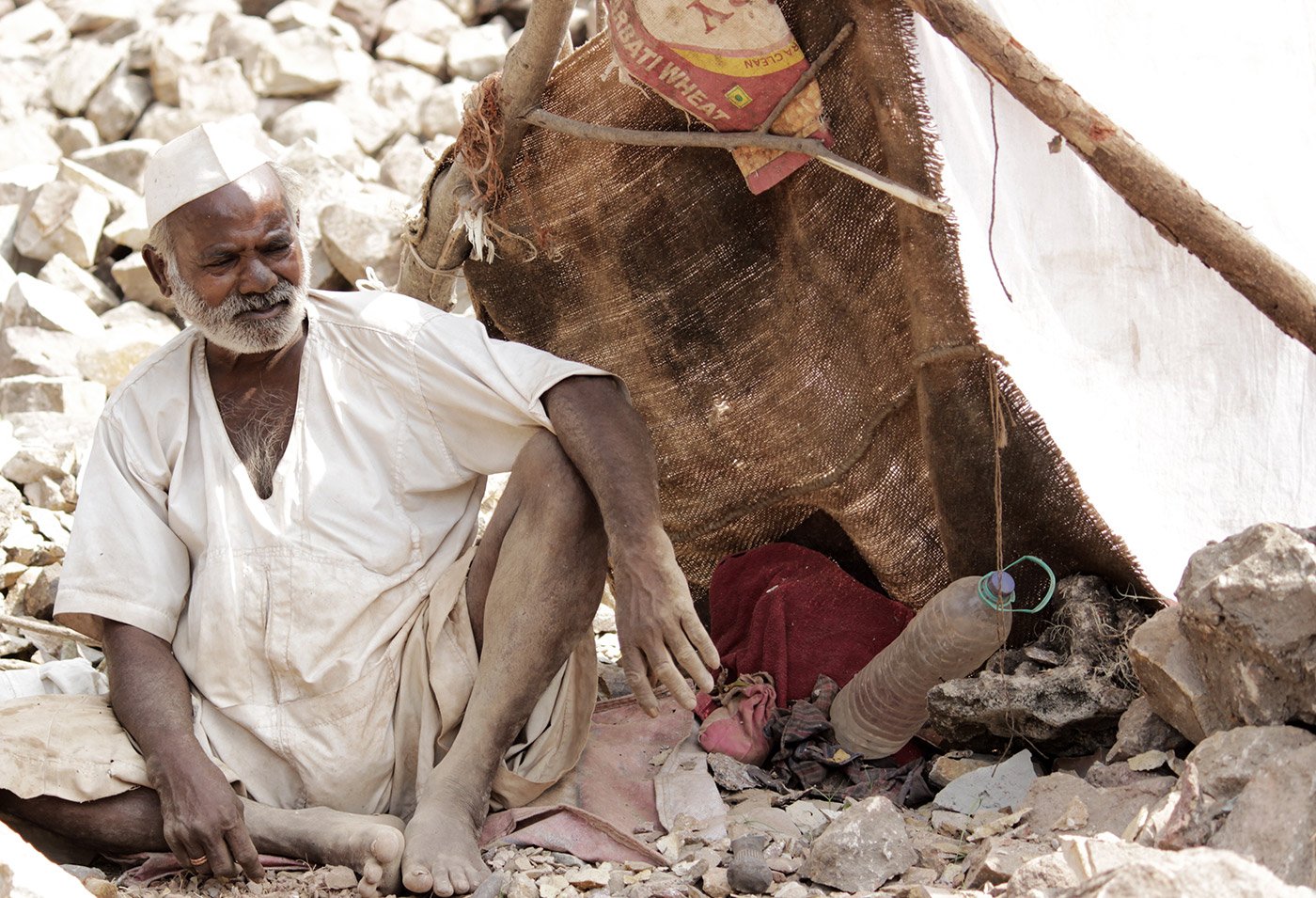 PHOTO • Samyukta Shastri
Lakshman turns to alcohol at night, when the aches from the arduous work make it difficult to sleep in his temporary shelter near the site. "Our shoulders hurt, the back hurts, knees too…" he says. "When the pain is a lot we take medicines, when it is unbearable we go to the doctor. Otherwise we take half-a-quarter…"
Pawar does the same. "Come evening and our bodies begin to ache," he says, "Then we just empty a half quarter and lie down..." And wake up to another day of chisels and hammers, heat and dust.