Shivam Singh lays out a red carpet every morning on a bustling street in Dadar. He carefully places five plastic stools on the four-by-five feet carpet. He then keeps a framed image of Goddess Lakshmi below one of the stools, and lights a piece of incense.
A banner hangs from a branch of the peepal tree under which he has set up shop – it says 'Shivam Mehendi Artist'.  The banner and various photo albums that he arranges on the stools display pictures of mehendi- covered hands and feet. Shivam then waits for the first customer of the day to choose a design – flowers, paisley, whorls, or sometimes he draws designs inspired by the customer's hands. "Someone will come…." he says, optimistic about his day.
Some 200 metres away, Shiva Nayk has also set up shop on Ranade Road, not far from the Dadar suburban railway station in central Mumbai. He too prepares for the day by filling handmade plastic cones with henna paste. The footpath on which the two artists have set up shop is buzzing with activity. Various goods and services are being traded here by other migrants – the flower vendor is from Solapur, the man repairing jewellery is from Lucknow, the shoe-seller has come from Kolkata and the man selling ice-cream from Rajasthan.

PHOTO • Samyukta Shastri
Shiva and Shivam will sit at their makeshift stalls for around 10 hours, as do many mehendiwalas nearby – at least 30 in this locality, estimates Shiva, all of them men. "Boys are faster at mehendi than girls. Girls have [beauty] parlours [to practice henna]. Boys set up these businesses. Girls can't sit on footpaths…" says Shivam.
Like many other mehendiwalas or henna artists sitting near suburban stations across the city, Shiva and Shivam are migrants; both are from Uttar Pradesh.  Shivam, 19, came to Mumbai around six years ago from Jama village of Gavana tehsil in Aligarh district. "I was eight or nine when I left my village," he says; "There was no earning member at home – my two older brothers were married and lived separately."
But before he made his way to Mumbai, Shivam went to Delhi to his maternal uncle's place, keen to learn the craft of mehendi design. "For 2-3 months, all day long, I practiced tracing on   cardboard. Once I was confident enough, they let me draw on customers' hands." After working in small restaurants or driving tractors and cars to earn an income, Shivam arrived in Mumbai.
Shiva, in his 20s, came to Mumbai 10 years ago from Tundla tehsil in Firozabad district. Entering the mehendi trade was natural for him. "The entire village does this," he says. "I learnt it from my brother when I came here; my brother from our brother-in-law. This is our family's traditional occupation. Everyone does this."
Kuldeep Nayk, Shiva's cousin, who also has a mehendi stall in Mumbai, says, "Just as other children go to school to study, the children in our village learn this. We can draw whatever the customer asks for." He then rattles off,  "Any style – Arabic, Bombay style, Marwadi, Indo-Arabic, Indo-western, Dubai… anything."
Moving to Mumbai to work as mehendi artists has been profitable. "Where was the money earlier?" Shivam asks. "Only when we move out [migrate] and start to earn do we see money. In the village, you could get only 200-300 rupees a day for manual labour. In Delhi, I earned 7,000-9,000 as a driver. Now I earn between 30 and 50,000 rupees a month."

PHOTO • Samyukta Shastri
Shivam makes most of his income from mehendi jobs at weddings. "Here [on the streets] we make between 800-2000 rupees a day – we get around 5 to 10 customers a day. If five come [we earn at least] 1000-1500. If people call us home [for mehendi ], it is usually a minimum of a 1000."
Manoj, his uncle from Jaipur, who has his own mehendi stall at Dadar East and is visiting Shivam, says, "Each customer pays around 500 rupees per hand. The rates start from Rs. 100. But no one opts for that. Everyone goes for 300 or 400. Mehendi for brides starts from 5,000 rupees."
But it's not only the money that draws henna artists to this trade. Shivam says he likes the independence, he is not answerable to anyone. Manoj says he enjoys the freedom to travel at will. He rarely sits at his shop and moves around meeting friends. "I have been in Mumbai for 4 to 5 years," he says. "Before that I had a shop in in Tamil Nadu. We keep wandering – Tamil Nadu, Maharashtra, Madhya Pradesh – I have roamed all over the country. Go wherever you please, whenever you please. Today I feel like visiting the beach, so I will…"
Both Shivam and Manoj employ helpers. "They see that other people from their village are making money in this business and they too come here," Shivam says.  Manoj hands over his shop to assistants and only steps in when there is an unusual flow of customers or home orders.
This freedom also allows Shivam to frequently visit home in Jama village and tend to the 20 bighas (around four acres) of land his family owns. He pays the boys he employs Rs. 5000- 7000 a month. Some of his income, he says, goes as protection fees every month to local strongmen. Another portion is used as rent – Shivam lives in joint quarters with Manoj and a few others in Ghatkopar in north-east Mumbai.
Whatever is left from his earnings, Shivam sends home. "Of what use is the money here [in Mumbai]? We are doing this for home, after all," he says. Shiva adds, "Why are we earning this money… For here or for home?"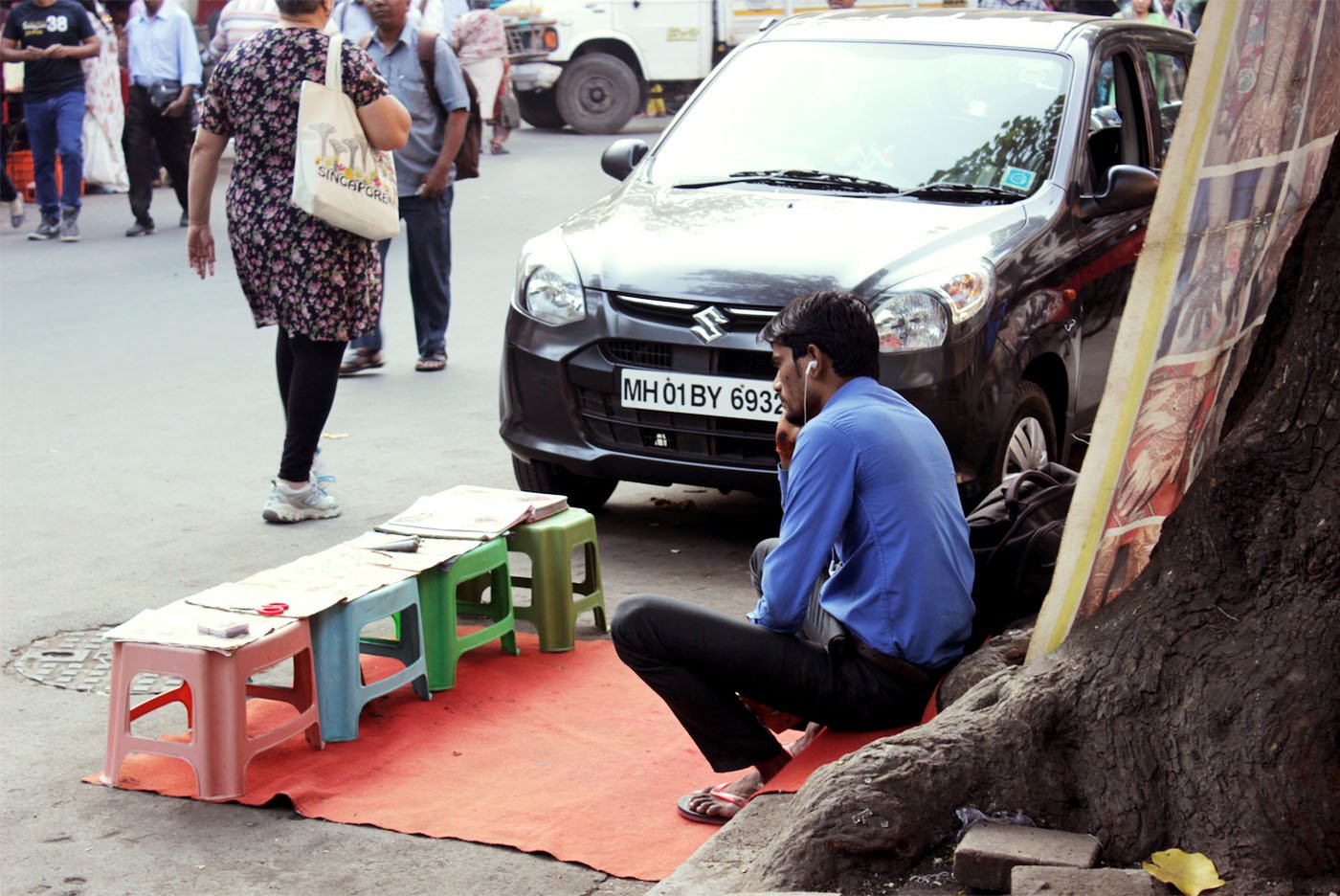 PHOTO • Samyukta Shastri
Back home in Jama, Shivam's mother and 15-year-old sister Anju depend on him. Anju has completed Class 10 and helps her mother in the house. When asked who will do the mehendi when she gets married, Shivam asserts with brotherly pride that he will. "Or perhaps my brother will .Who else?" Manoj feels differently: "I don't like to draw mehendi when I am home [in Jaipur]. But sometimes, when people insist, I do it."
Meanwhile, at Shiva's stall, a customer has stopped by. She wants him to come over for a mehendi ceremony before her niece's wedding.  "You can call us for mehendi anywhere in Mumbai. If it is outside Mumbai the charges will be extra," he says. "We go everywhere."