Walking on a dirt road alongside a field in Bhatwadgaon village, we reach a small house with a flat cement roof and lilac walls. It has an unusual name for a house – but there it is, in Marathi: 'Thingi', painted in purple on the wall. The word means 'spark' and it is the title of a cluster of 8-10 poems. "There are others," says Pradeep Salve. "My father's poems are not written, but they are all there in my memory."
Pradeep tells us about the legacy of his father, shahir (poet) Atmaram Salve, who composed around 300 poems. "They are about hunda bandi [dowry prevention] and about liquor and its devastating effects of addiction," he says. There are verses on Dr. Babasaheb Ambedkar, on Dalits, women, agriculture, education and social revolution. Pradeep, sitting in 'Rajaratna', his home adjacent to 'Thingi' (where his brother Deepak lives), quotes a line from an anti-dowry poem:
"हुंड्याची पद्धत सोडा, समतेशी नाते जोडा"
"Leave the custom of dowry, bond with equality"
We are in Majalgaon taluka in Maharashtra's Beed district to meet some of the women whose ovi were recorded 21 years ago for the Grindmill Songs Project, which is now being serialised on PARI.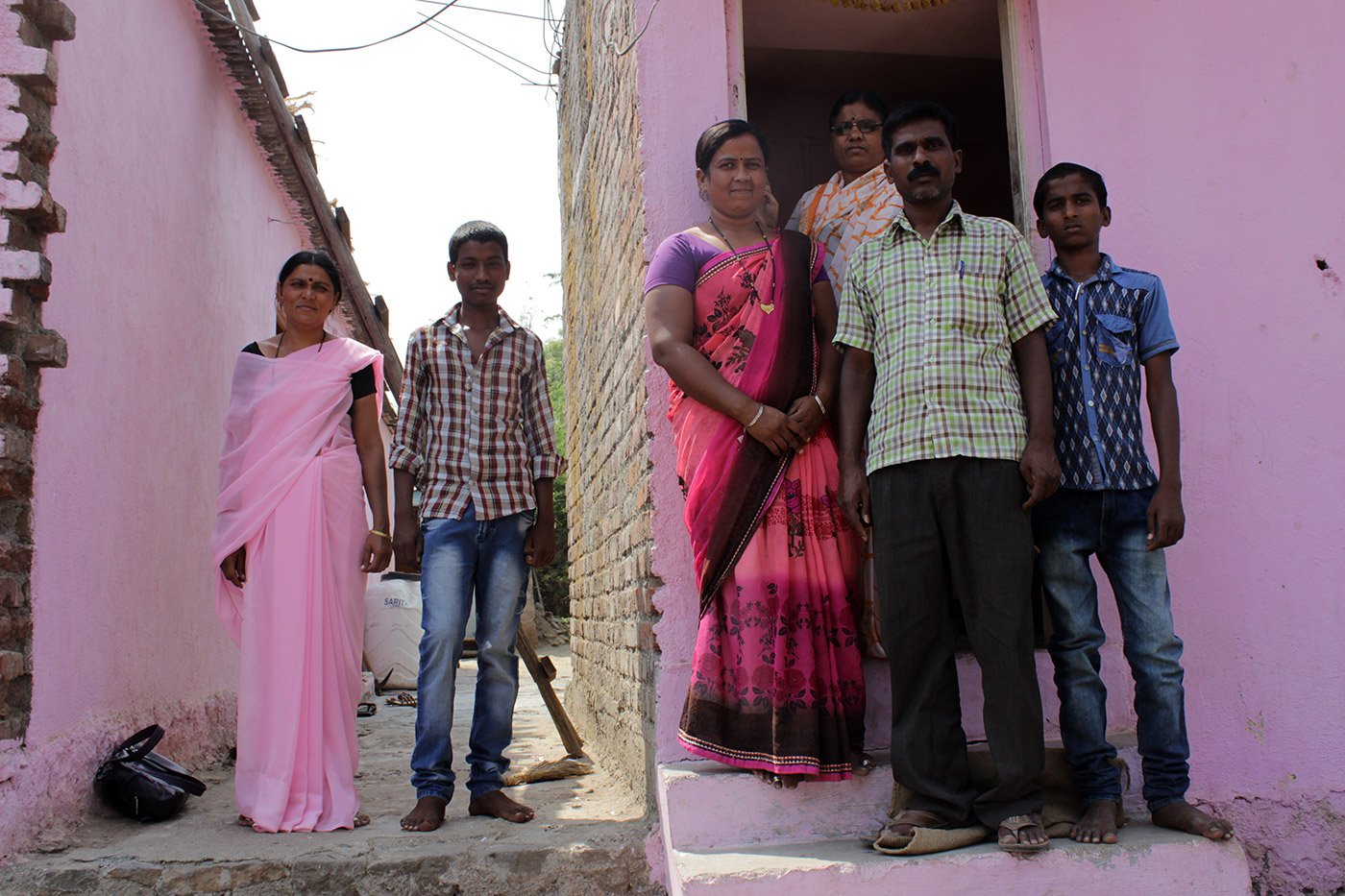 Pradeep Salve (on the right), his wife Jyoti and son Rajaratna. Behind them is Lalitabai Khalge, Pradeep's aunt. On the left is his sister-in-law Asha with her son Amitodan

We were hoping to meet Kamal Salve, Pradeep's mother and one of the singers of the Grindmill Songs Project. She was away visiting relatives in another village, but we met her family. The poet Atmaram Salve was Kamaltai's husband.
Atmaram Salve was born on October 14, 1956, and studied at the Milind Mahavidyalaya in Aurangabad. His father owned 25 acres of farm land with two wells, but Atmaram had no interest in farming— instead, he was passionate about poetry.  "He composed and recited poems on the spur of the moment," says Pradeep. Many of his songs spoke of social revolt against oppression.
Although Atmaram's work was not given the recognition it deserved during his lifetime, his poems and songs, performed across villages and cities in Maharashtra, did not go unnoticed. Over a hundred police cases were registered against him for participating in andolans (political movements) and for singing songs of political satire.
"Every time he was arrested, my grandfather would sell a small piece of land to raise money for legal expenses," says Pradeep. The police, he adds, deported his father four times from Majalgaon taluka and twice from Beed district. The family's land holdings gradually dwindled.
The poet's friend, Pandurang Jadhav from Majalgaon, a former clerk with the state government's irrigation department, would accompany Atmaram on several of the morchas that Salve led in his younger days. "Whenever there were atrocities against Dalits in any village in and around the Marathwada region, Atmaram would lead a morcha and sing songs in protest. He was a lok shahir [people's poet]," says Jadhav.
Salve was a member of the Dalit Panthers, a radical social and political organisation which poets Namdeo Dhasal and J. V. Pawar, among others, started in 1972. One of the original members of the group, writer-poet Raja Dhale, 70, and now a member of a faction of the Republican Party of India, knew Atmaram Salve. Dhale, a resident of Mumbai, says, "He was a good poet and was with the Dalit Panthers for several years. He attended our meetings in Marathwada and would sing his poems at our events."
Shahir Atmaram Salve died on January 19, 1991, at the age of 35. Pradeep was 12 at the time. For two decades, Salve's family held a remembrance day on January 19 every year and sang his poems among themselves.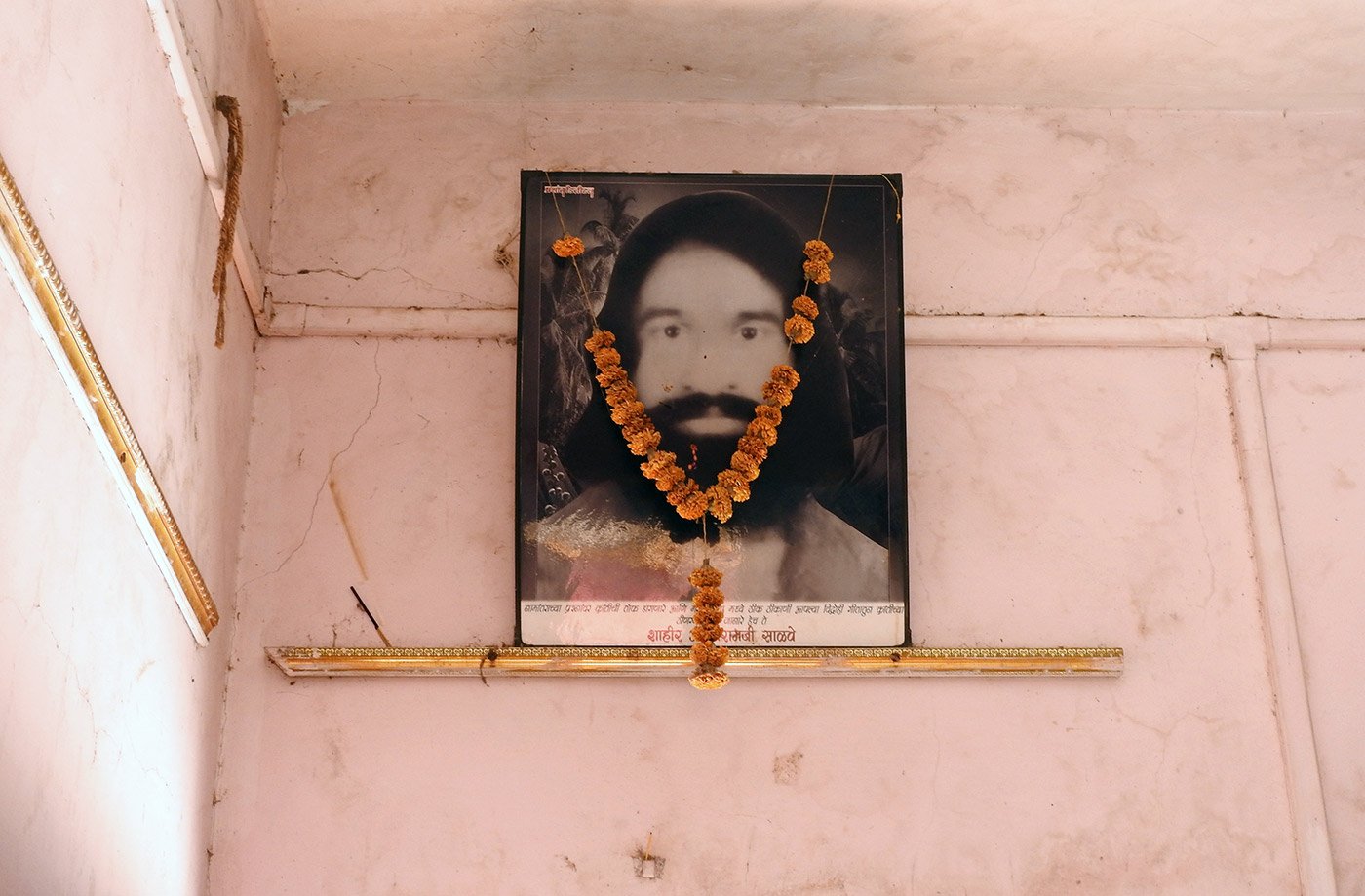 A garlanded photograph of Shahir Atmaram Salve in Pradeep's house in Bhatwadgaon village

In January 2014, the people in Majalgaon taluka felicitated the families of those who had died in the long agitation for the renaming of Marathwada University in Aurangabad to Dr. Babasaheb Ambedkar Marathwada University. At this function, the poet's family sang his poems, and the people of Majalgaon felicitated Kamaltai in memory of her husband. From that year on, they started to celebrate the poet of their soil by organising an annual function.
So far, the government has not officially recognised or honoured Shahir Attmaram Salve.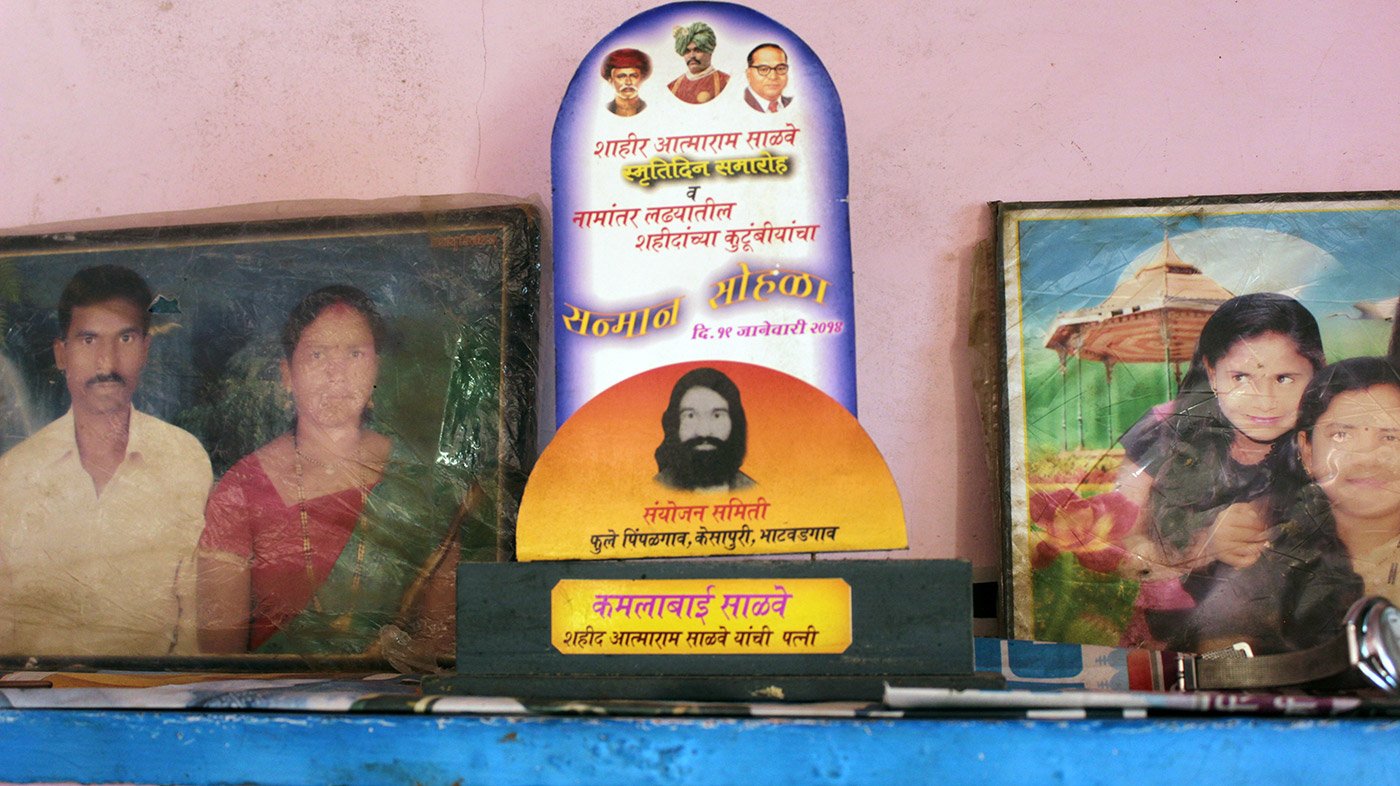 Family photographs at Pradeep's home flank the plaque given by Bhatwadgaon village to Kamaltai Salve to honour her husband Atmaram, the poet of their soil
Pradeep, his son, now 38, attended school till Class 8, then gave up studying to work and earn an income so that his younger siblings could go to school. He worked as an agricultural labourer and as a headload worker in the Mondha market in Majalgaon. Five years ago, the family bought three acres of land in Bhatwadgaon on which they grow millets ( bajra and jowar ) for their own consumption. They also grow cotton and soybean, which they sell. Pradeep's two daughters have completed Class 10, and his two sons are studying in Class 7 and 8. Jyoti Salve, the mother of the four children, works as a cook and anganwadi worker in Beed district.
Pradeep says he has started to write all his father's poems from memory. He sang one  from Thingi.
Watch video: Pradeep Salve sings one of his father's revolutionary poems, ''Burn and brand the heart of injustice…

The Marathi transcript and English translation of the poem:
ठिणगी
क्रांतीच्या ठिणग्या झडूद्या, तोफ डागा रे रणी
आग बदल्याची भडकुद्या, चीड येऊ द्या मनी
बाळ हा गर्भातला, काळ पुढचा पाहुनी
गाढण्या अवलाद मनुची चालला रे धाऊनी .... तो धाऊनी
अन्यायाच्या काळजाला ही बासुद्या डागणी ..... ही डागणी
क्रांतीच्या ठिणग्या ....
आग बदल्याची.....
वाघिणीचे दूध तुम्ही, पिऊन असे का थंड रे
घोट नरडीचा तुम्ही घ्या उठा पुकारून बंड रे .... हे बंड रे
मर्द असताना तुम्ही का, थंङ बसता या क्षणी.... तुम्ही या क्षणी
आग बदल्याची.....
आज सारे एक मुखाने, क्रांतीचा गरजू गजर
साळवे त्या दुबळ्यांचा शत्रूवर ठेवीन नजर
का भीता तुम्ही तो असता, पाठीशी तुमच्या भीमधनी.... तो  भीमधनी
आग बदल्याची.....
क्रांतीच्या ठिणग्या झडूद्या, तोफ डागा रे रणी
आग बदल्याची भडकुद्या, चीड येऊ द्या मनी
Spark
Let sparks of revolution spread, bring the cannon to the battlefield
Let the fire of revenge blaze, let anger rise in the mind
The baby in the womb sees the future [of oppression]
And he runs to bury the child of Manu… he runs
Burn and brand  the heart of injustice… this brand
Let sparks of revolution spread, bring the cannon to the battlefield
Let the fire of revenge blaze,  let anger rise in the mind
After drinking the milk of a tigress, why are you so cold
Strike at the throat, rise and revolt, you men….. revolt, you men
Why do you sit unperturbed, despite being men, at this moment… at this moment
Let the fire of revenge blaze …
Let us all in one voice, call for revolution today
Salve will keep his eye on the enemy of the weak
Why should you be afraid when a Bhimdhani* supports you … this Bhimdhani
Let the fire of revenge blaze…
Let sparks of revolution spread, bring the cannon to the battlefield
Let the fire of revenge blaze, let anger rise in the mind
*Bhimdhani: a person whose wealth is Bhimrao Ambedkar's teachings
Photos: Namita Waikar and Samyukta Shastri