And what shall their tired eyes see?
A scattered slovenly dream!
A shattered heavenly scheme!
(From Srirangam Sreenivasa Rao's 'The Defeated'; translated by the poet from his 1935 Telugu poem 'Parajithulu')
The demolition squad came at 5 a.m. "They didn't even give us time to bring our belongings out of our houses," says D. Gangulamma, a daily wage labourer in her 40s, who lives in Vijayanagar colony, on the outskirts of Anantapur town in Andhra Pradesh. "They pushed our lives on to the road."
The residents estimate there were eight bulldozers and roughly 200 cops – including eight women constables who joined the posse at 9 a.m. – who then proceeded to demolish at least 150 dwellings of the colony's 300-odd houses. Most of these were  houses that had come up in the last 3-4 years, the homes of among the poorest in the colony.
Cracked plastic buckets, torn school books, damaged photos of gods, piles of muddied clothes and other items – all abandoned in fear and hurry – now lie scattered among the ruins of their homes.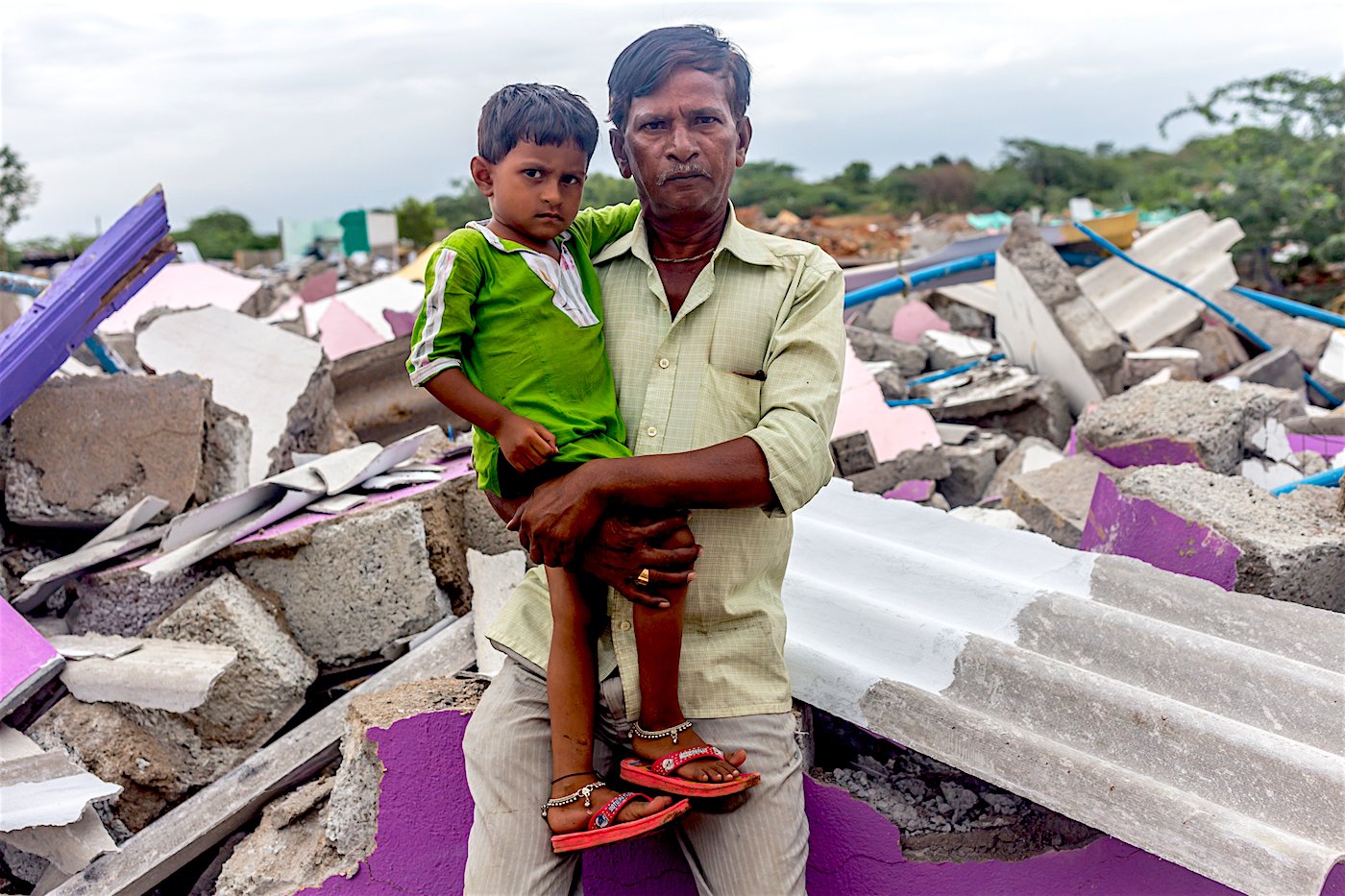 PHOTO • Rahul M.
Around six of the families whose homes were razed had moved in only a week before the demolition on August 3. "We moved here last week," says Parveen Bhanu, who does tailoring from home; her husband is a daily wage labourer. The two shifted to Vijayanagar colony from Bhavani colony in Anantapur. Several other families have come here from other low-income settlements in Anantapur because of the lower rents. "And they came and demolished our houses," Parveen says. "They could have informed us before we laid the foundations."
Most of the residents of Vijayanagar colony are Dalits, Scheduled Tribes and  Muslims; most of them work as house cleaners, labourers,  fruit or flower sellers, or they do other small businesses. Many, like Mohammad Hussain, are migrants from other parts of Anantapur district. Hussain, a tailor, came here around 20 years ago from Dharmavaram after his business in the village, dependent on customers from two sectors in decline – agriculture and weaving – started falling. "We came here for our livelihood," he says. He too lost his house, built just three years ago, on August 3.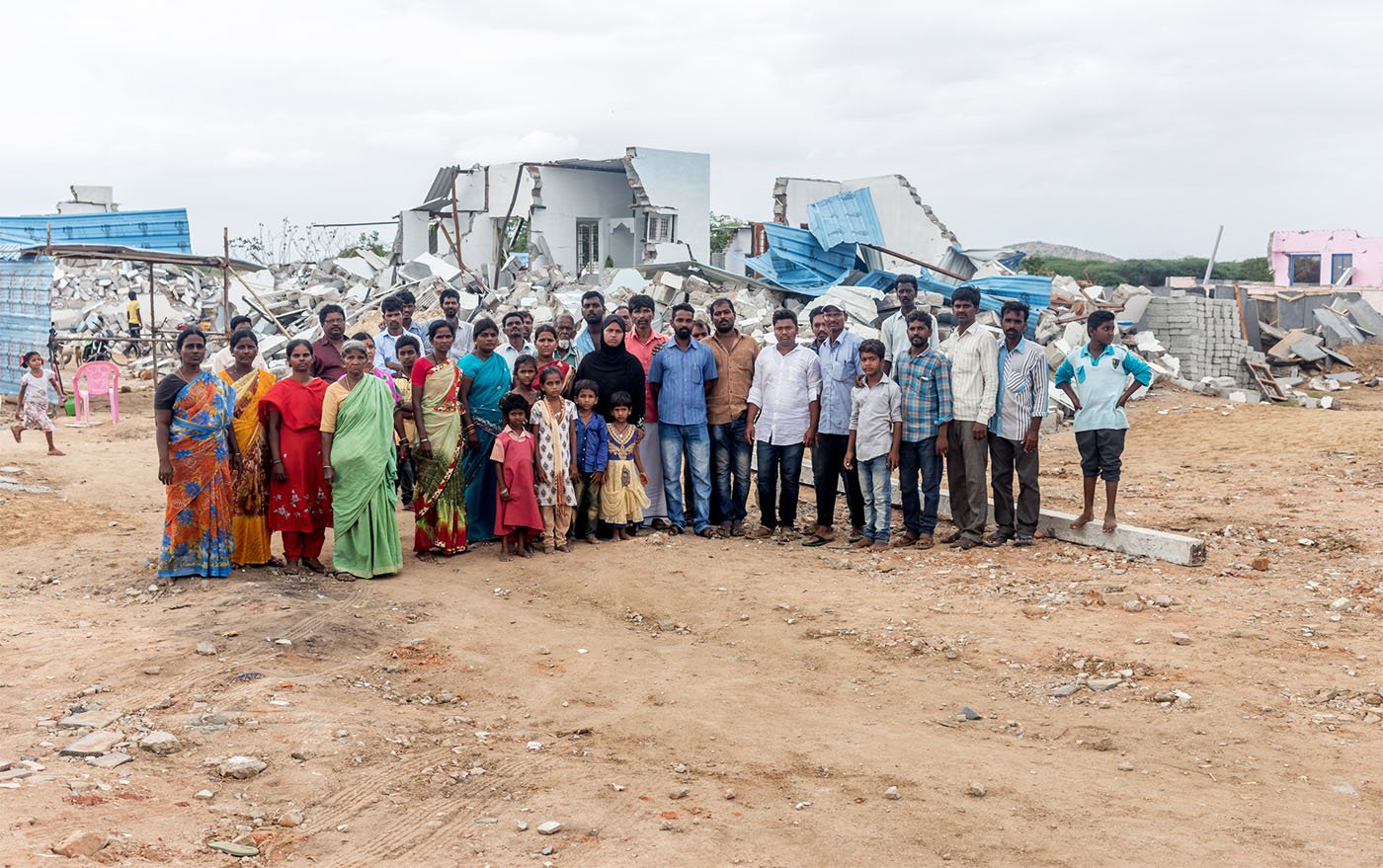 PHOTO • Rahul M.
Vijayanagar colony itself is around three decades old. The demolished houses, all built in the last few years, were located on land where two lakes – Bukkarayasamudram and Chikkavadiyalu Cheruvu  – have dried up after years of decreasing rainfall.
When the new Telugu Desam Party (TDP) government came to power in June 2014, the now-homeless residents of Vijayanagar colony say, the local TDP corporator R. Umamaheshwar assured them that they could build their houses here.  So they did, and they were even given electricity meters, and were paying their power bills.
But the demolition notice put up by the revenue officials cited a writ petition of June 8, 2017, a Supreme Court special leave petitions of July 25, 2001, and two memos; they say this is why they had to demolish the houses that were built on the land where the lakes were. "It's a lake," says A. Malola, the revenue divisional officer of Anantapur, who supervised the demolition. He adds that in multiple judgements the Supreme Court has given directions to local authorities to reclaim encroached land. He also says that he was only acting upon orders from his seniors. "Will you accept it if someone encroaches upon a lake?" he asks. And, he insists, only 10-15 of the houses were occupied, and  "the rest were empty."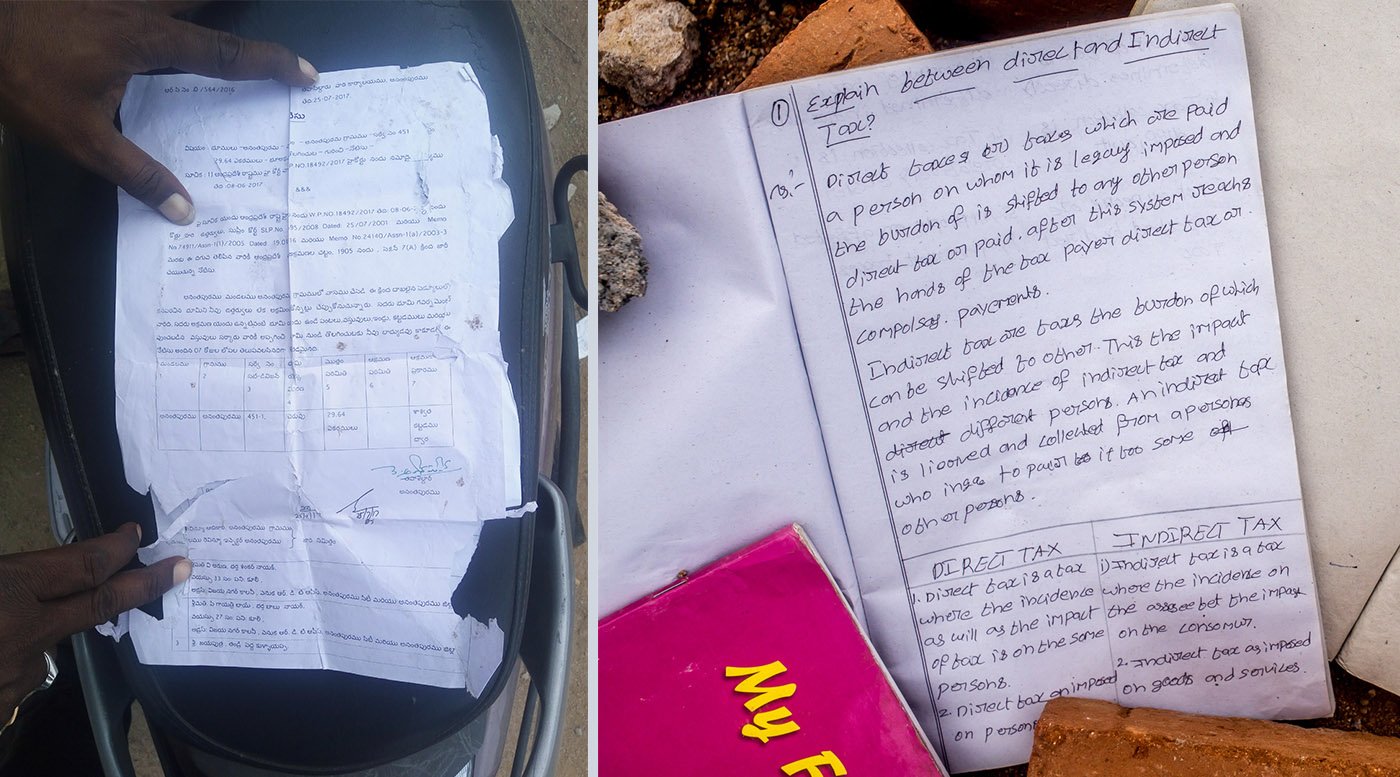 PHOTO • Rahul M.
However, the people of the colony allege that the government officials didn't inform them in advance before tearing their houses and lives apart. "They were sticking  notices onto houses [only that morning] and they kept demolishing those houses. The police kept pushing the people away. I ran away from there," says B. Anil Kumar, around 12, who studies in Class 6 at the local municipal school.
Others too speak of this sequence of events. They say that the government notices were backdated to July 25 and put up just minutes before their houses were brought down. "They were sticking these notices in front of our eyes, and were tearing our houses away. Some of us tried photographing this with our mobiles and they snatched our phones away," says P. Jagadeesh, who was born in Vijayanagar colony but had shifted into his own house here just a few years ago.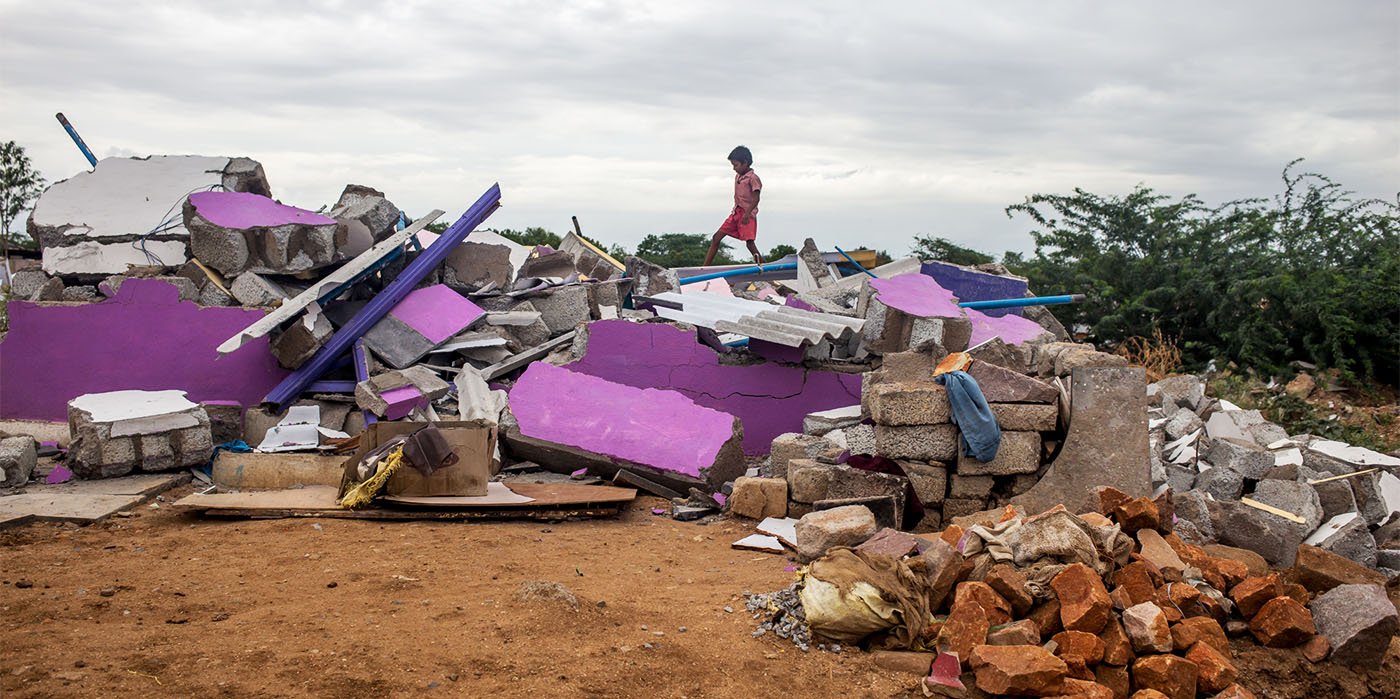 "Even pigs are allotted some time before they are put away [by officials during the state's health drives]," says S. Parveen, 28, who earns a living as a labourer in  Anantapur town. For a daily age of Rs. 160, she has to make 150 cement bricks, each weighing 20 kilos. Parveen's husband works as a mason in the city. Their family built the house a year ago, drawing on loans of around Rs. 3 lakhs from a savings group that she is a member of; they owe money to private moneylenders too. The family of four, with a monthly income of around Rs. 12,000, pays Rs. 7,000 as interest on the loans every month. To manage, they borrow again.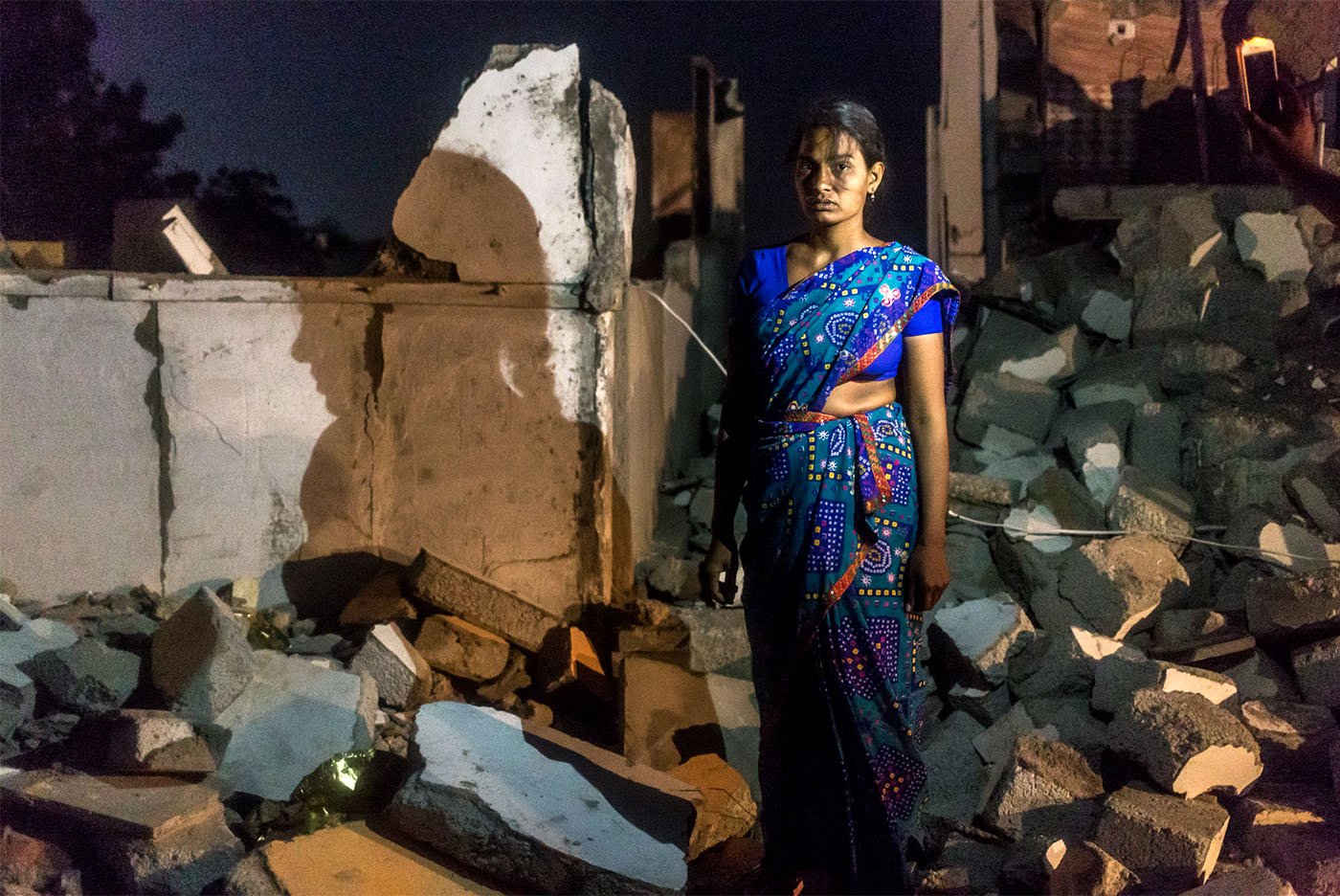 PHOTO • Rahul M.
After the demolition, a distraught Parveen went to the collector's office and poured kerosene on herself to set herself on fire – but the police stopped her. "If they had informed us before, we could have at least sold the doors and windows…." she says. The family managed to salvage a few things that they have stacked in the ruins, including a metal safe, clothes and some vessels. But fans, lights, other utensils and various other items were damaged.
Gangulamma  also doused herself with kerosene. "I thought this might stop them… I hoped they would leave our houses if I set myself on fire," she says. But the cops halted her immolation attempt, and, she says, "They kept demolishing our houses."
Not only that, the residents allege they were physically roughed up and verbally abused by the officials and the police that morning – though Malola, the revenue divisional officer, insists his department's personnel did no such thing. "I was pushed and I fell into the water pit outside the house," says B. Shobha, a homemaker, whose husband runs a fertiliser business. Shobha is pregnant, and when she fell, her neighbours say, her three-year-old daughter Geetika was in her arms.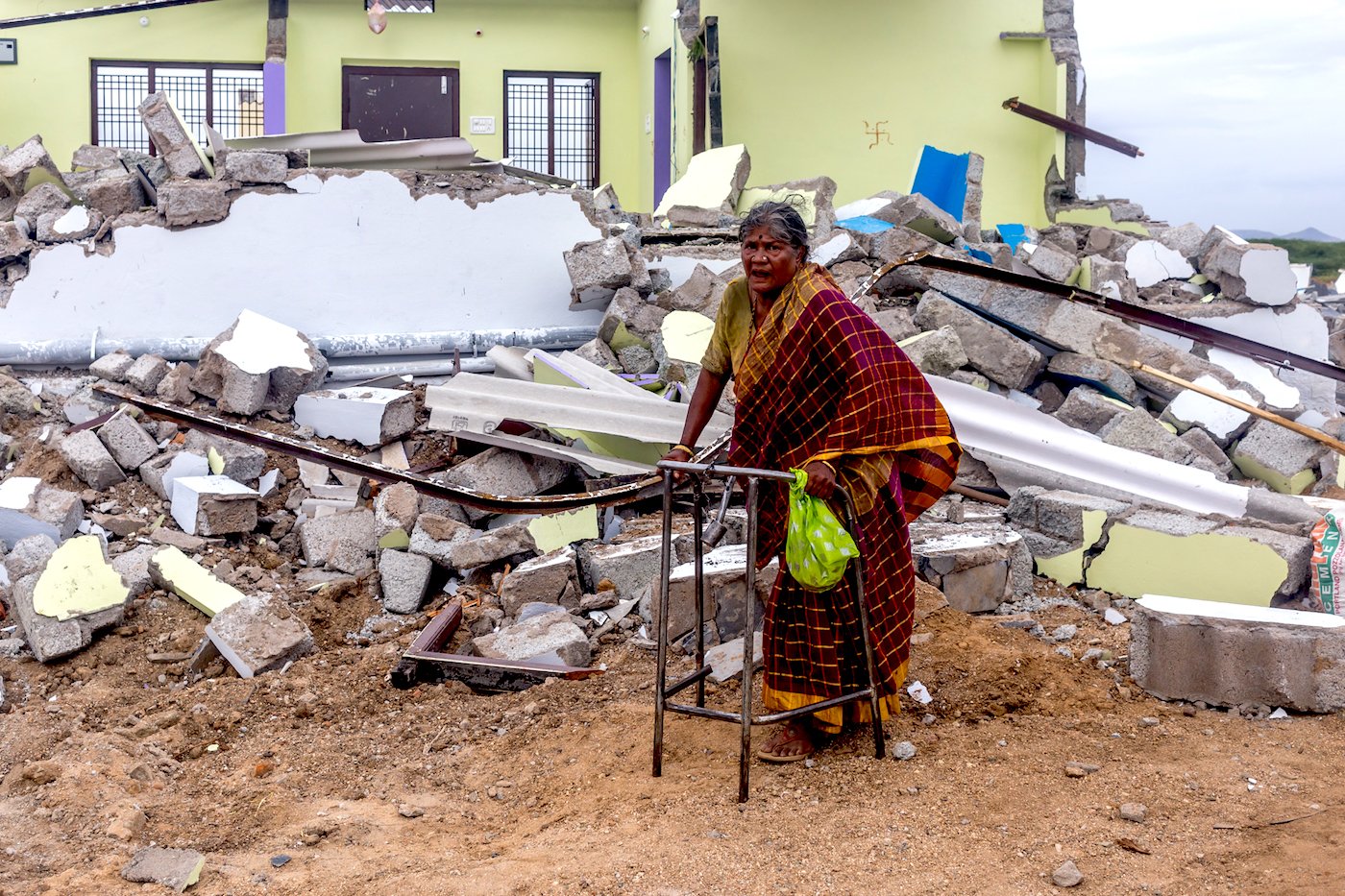 PHOTO • Rahul M.
More than a week after the demolition, many here are still in a shock, the images of bulldozers destroying their homes still vivid. "I fainted twice. We have many tensions [now], we don't have enough water or food," says P. Bharati. "It's been a week since my children went to school. How can we send them when we don't have anything to eat?
The people of the colony are now cooking, eating and sleeping next to their broken houses. On the day of the demolition, some locals got together and put up a pandal; soon after, because it rained at night, they also built a makeshift shelter – a roof of asbestos sheets supported by bamboos.  They are pooling in money to procure materials to cook collectively, and have cut down on their meals.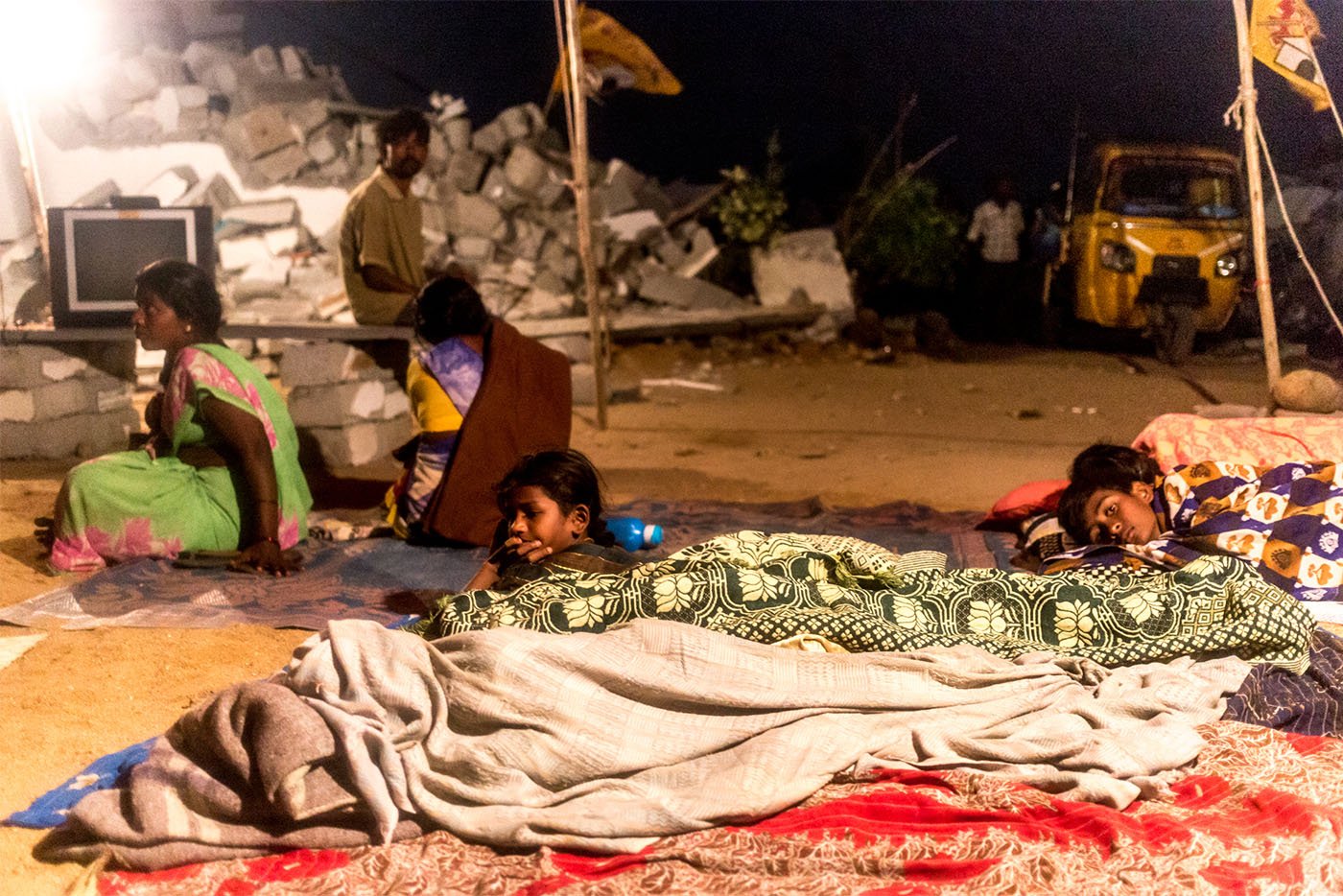 PHOTO • Rahul M.
Vijaynagar colony has been a support base of the TDP and the devastation has left the residents feeling betrayed by their leaders. "It felt like a mother hen destroying its babies," says M. Jayaputra, a labourer and TDP member, who helped build the makeshift shelter. Many of the residents here, who are TDP members, allege that inter-party rivalry – differences between the local corporator R. Umamaheshwar and others – unleashed the demolition squad on them. "There are about 18 colonies in the lake area. But only ours was demolished," Umamaheshwar says.
The dishoused people plan to stay on in the ruins, continuing with their daily chores and lives. "We will stay here and fight for however long it takes," says S. Sivamma, a flower seller.
View: The fallen homes of Anantapur Photo album