It's back to school for a few young Adivasi men in Sittilingi valley. This time though, it's not for an education but to build the new premises for the Thulir school.
Among them is 29-year-old A. Perumal, an electrician putting in place the wires and conduits one morning. "See the small ventilator at ground level? With it, even the smallest kids can get fresh air," he says. Perumal has set aside his much-in-demand  repairs of televisions and fans in Sittilingi valley to come and work at the building site.
Nearby, M. Jaybal, 24, a sought-after mason familiar with using compacted mud bricks, is giving shape to pillars with designs in mud oxide, though he never held art paper and crayons in the government school he attended in the valley. He also pitches in as a carpenter at the new school building, where he has been working since the first stone was laid in December 2016. He and the others get Rs. 500 for eight hours of work, and they come in whenever required.
Their first lessons in the mechanics of building originated in the Thulir after-school programme, started in 2004. Here, Jaybal and other students from the primary and middle-level classes of the local government school in Sittilingi would explore science through hands-on experiments, art though drawing, and language through books.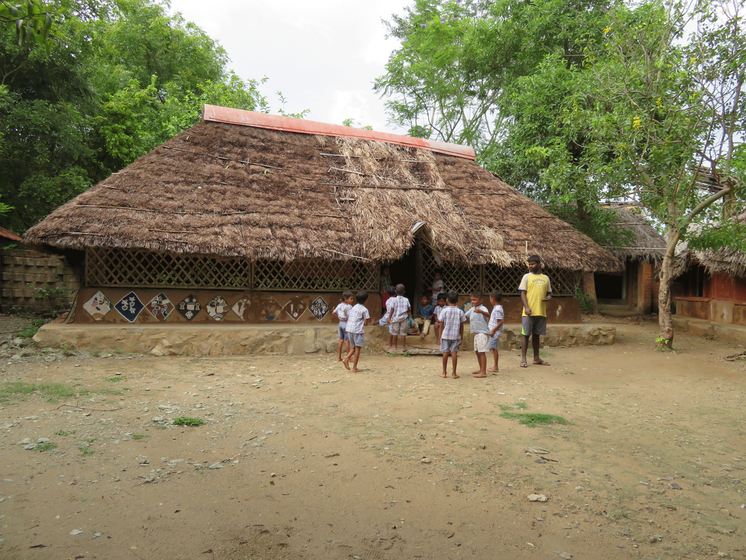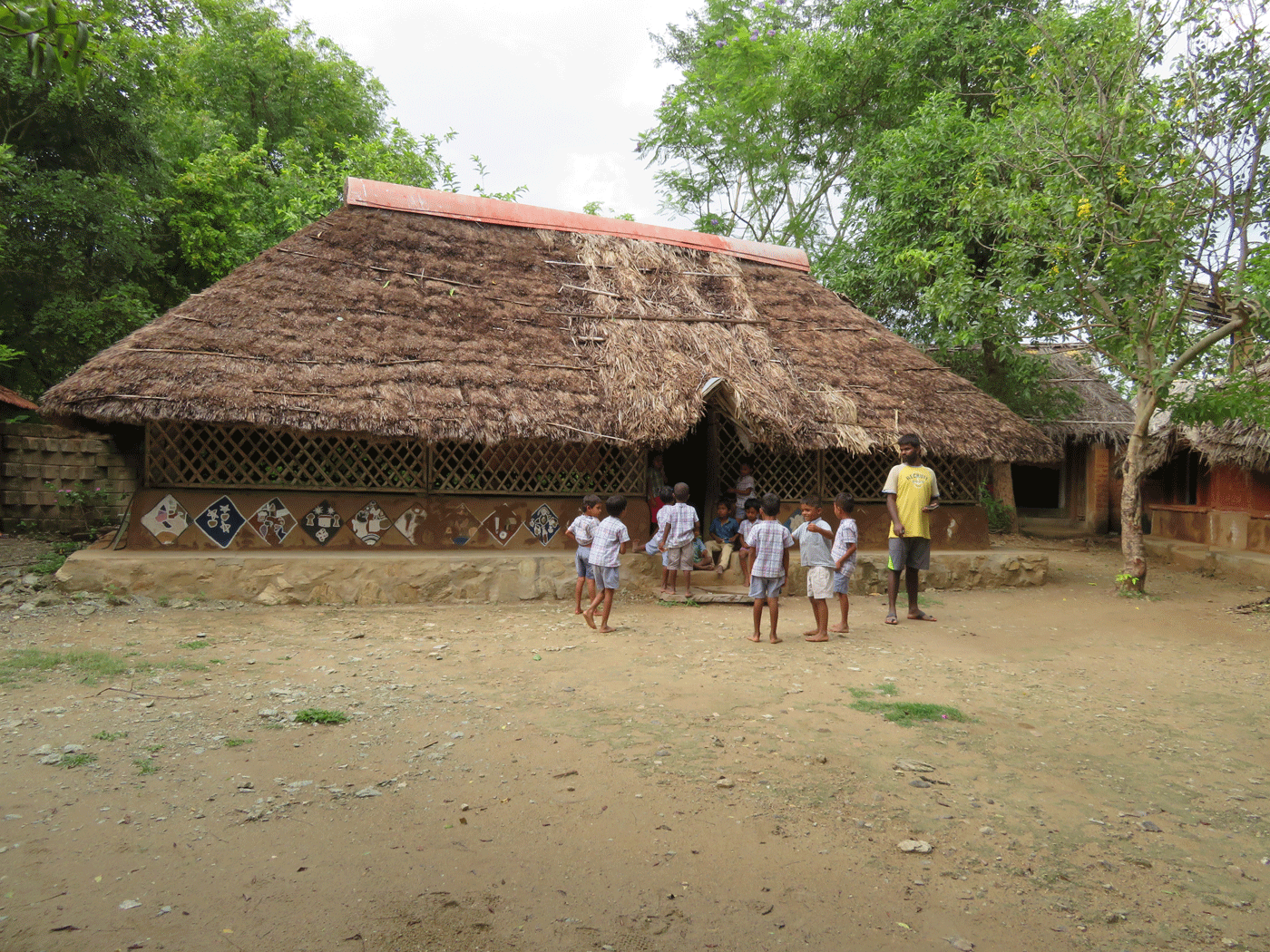 PHOTO • Priti David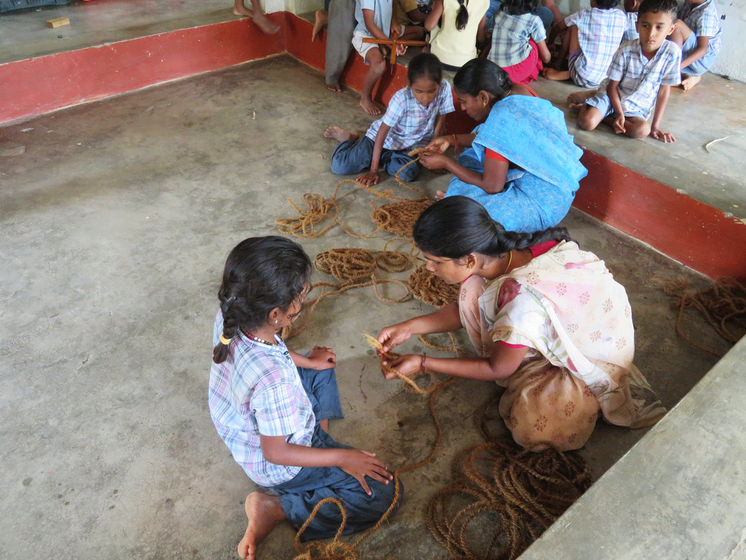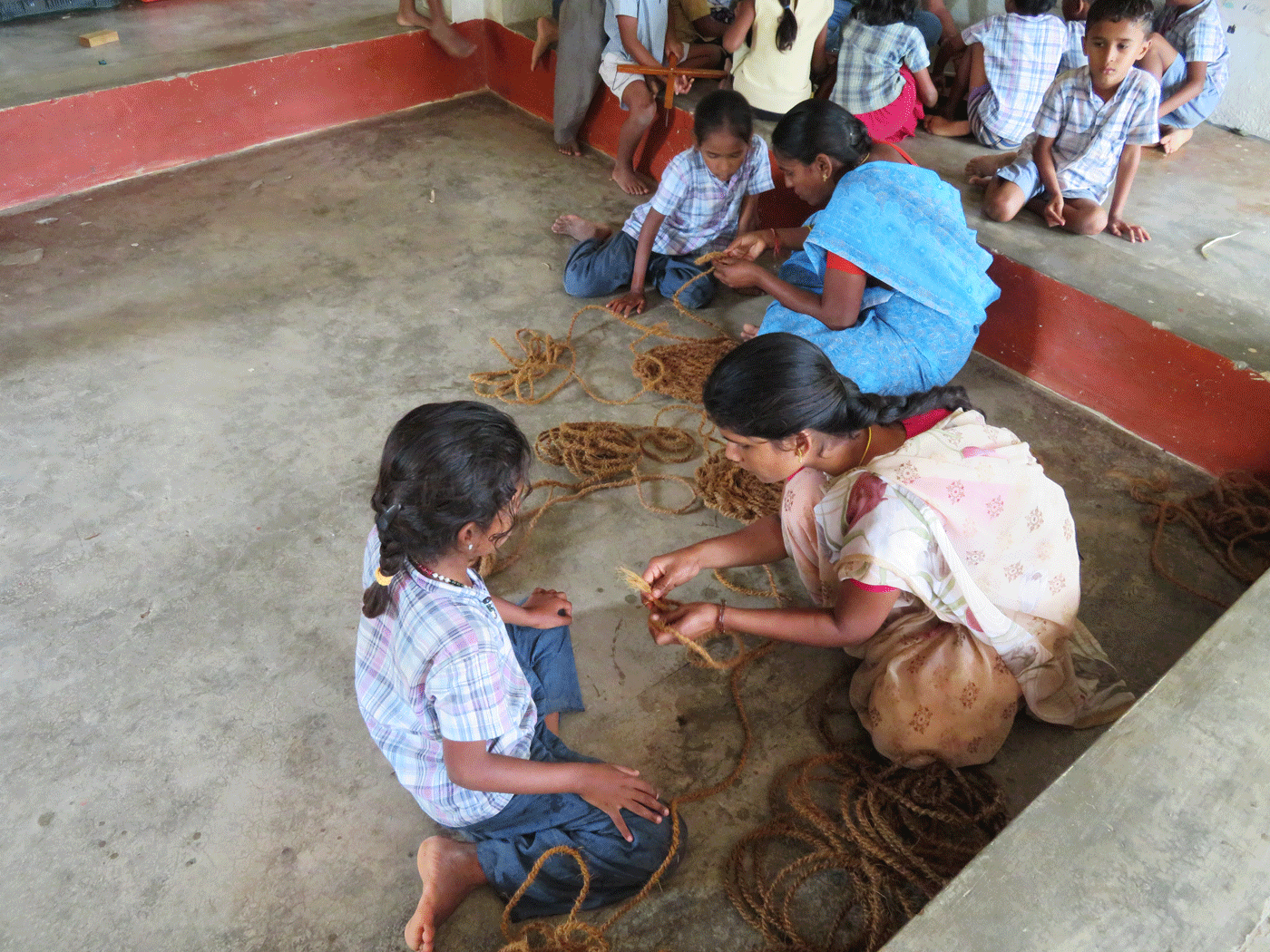 PHOTO • Priti David
By 2015, the Thulir 'centre for learning' (' thulir ' means the 'young shoot of a plant), a primary school till Class 5, was set-up in Sittilingi. The valley, in a remote corner of Tamil Nadu's Dharmapuri district, has a total population of roughly 10,000 living in 21 clusters – 18 of these are Malayali hamlets, two are Lambadi tandas and one is a Dalit hamlet.
The men at work on the building all belong to the Malayali community, among the most poorly educated in the state, with just 51.3 per literacy (Census 2011). At 357,980, Malayalis are the single largest tribal population of Tamil Nadu's  total ST population of 794,697. They mainly live in Dharmapuri, North Arcot, Pudukottai, Salem, South Arcot and Tiruchirapalli districts.
"The first thing I learnt [in the after-school programme] was how to fix a pipe using an 'elbow joint' to water plants," remembers 27-year-old M. Sakthivel, a teacher in the Thulir school, who who grew up in Mulla Sittilingi, a Malayali Adivasi hamlet.
Sakthivel is perched atop a ladder, removing a solar panel and battery which he has to shift to the new school building, around a kilometre away from its present rented premises in the valley. The new school has plenty of expensive equipment and a solar night light will help ward off thieves, Sakthivel says.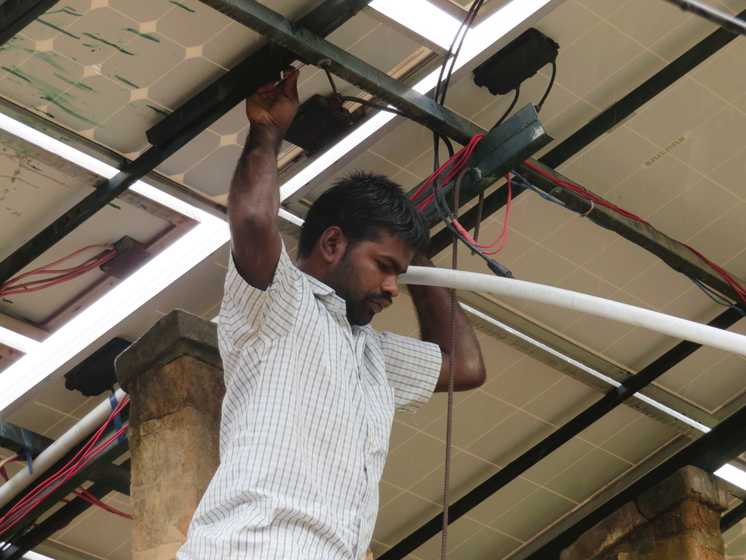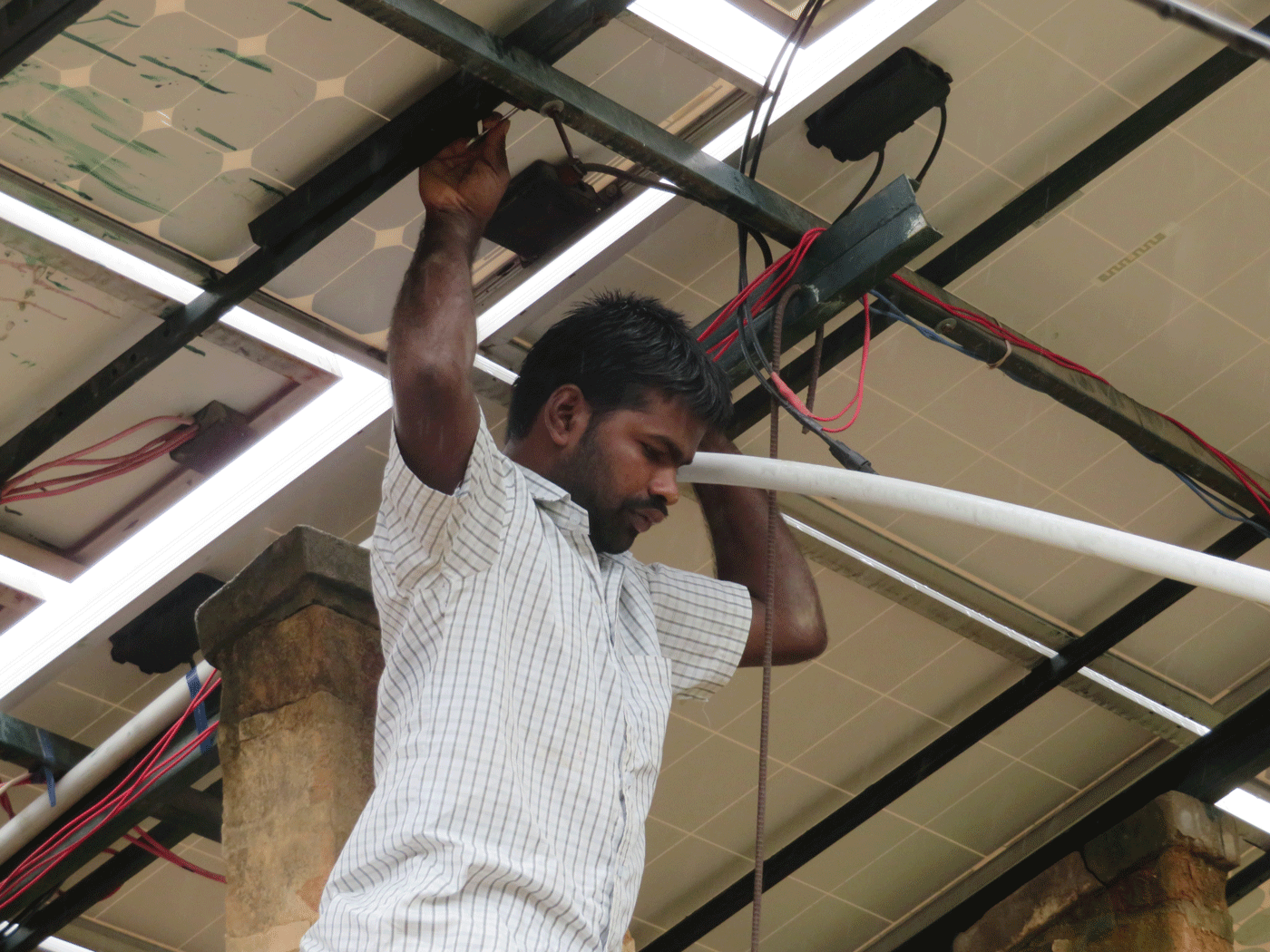 PHOTO • Priti David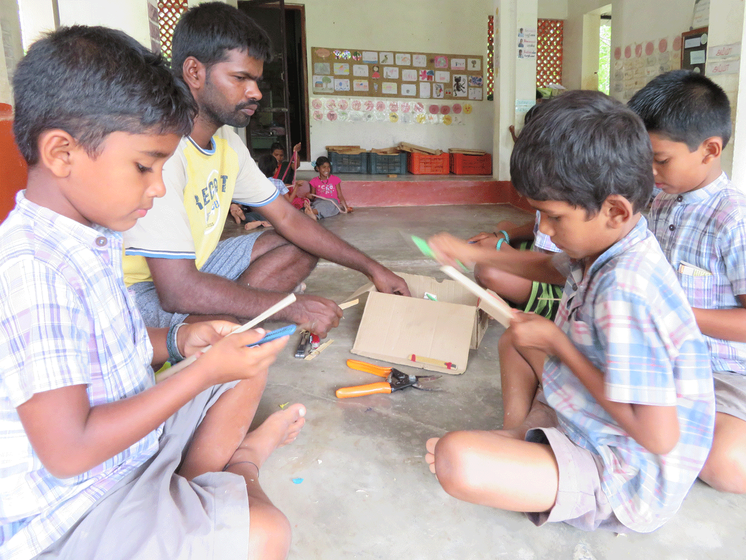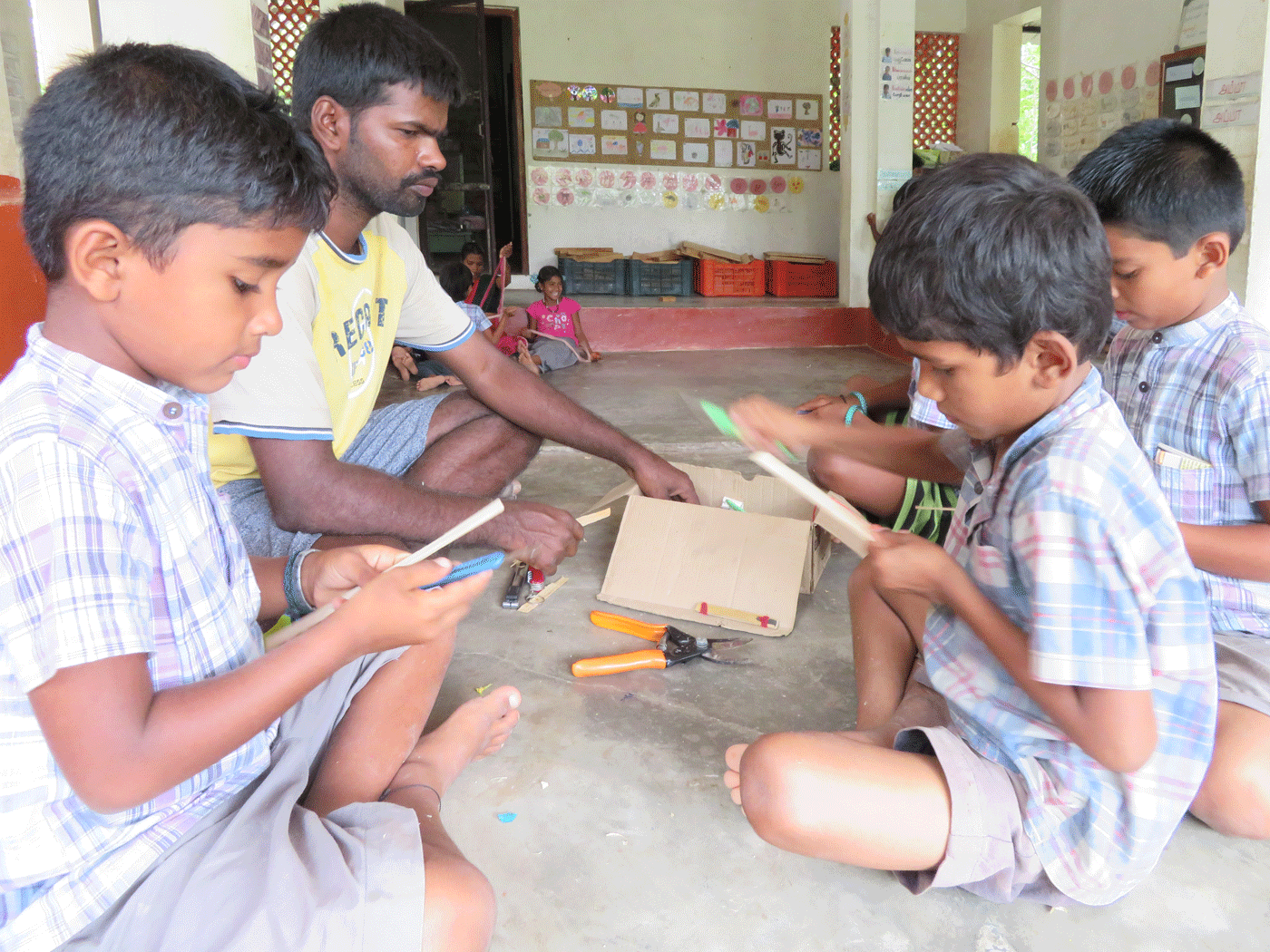 PHOTO • Priti David
Not far from him, Kumar A., 28, is measuring, cutting and bending iron flats and bars for the window grills. He and his co-workers quip about how the the spaces left as windows will be perfect for a seven-year-old to wriggle through when they want to explore the outdoors.
Exploring was not an option in the Sittilingi government primary school that Kumar, Perumal, Jaybal and Sakthivel attended. The classrooms were crowded, the teachers were mostly absent, school was a distressing experience. When it was  time to move on to secondary school, they chose to drop-out. Shaktivel says, "I couldn't understand what happened in class and I hated exams." Perumal adds, "My parents are not educated, so there was no way to make up [studies] at home either."
Across the country, the drop-out rate for Scheduled Tribe students in primary schools is 6.93 per cent. It jumps to 24.68 per cent in secondary school (as against 4.13 per cent and 17.06 per cent for all students in India), says a 2018 report titled Education Statistics at a Glance by the Ministry of Human Resource Development. It says, '[the] cause [of high drop-out rate is] not just engagement in domestic activities but also lack of interest in education'.
"We just sat in one place the whole day, nothing much was taught," Jaybal says. Sittilingi's former panchayat president, P. Thenmozhi, adds, "At the end of Class 8, I could not even write my name in English."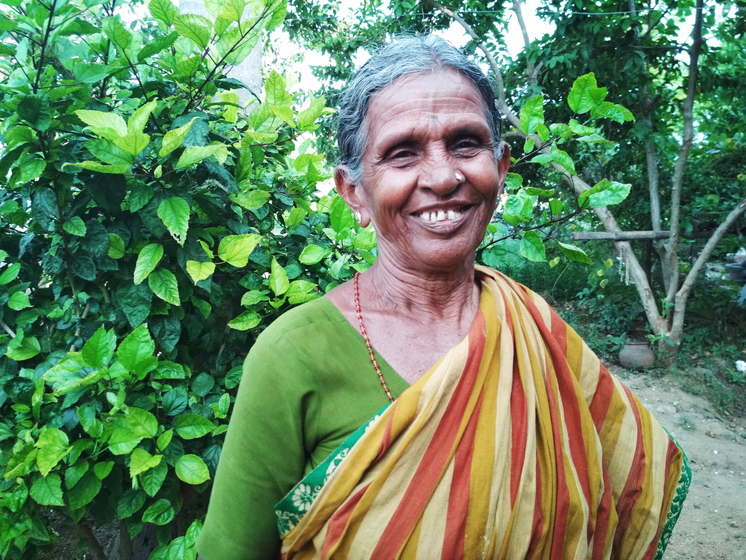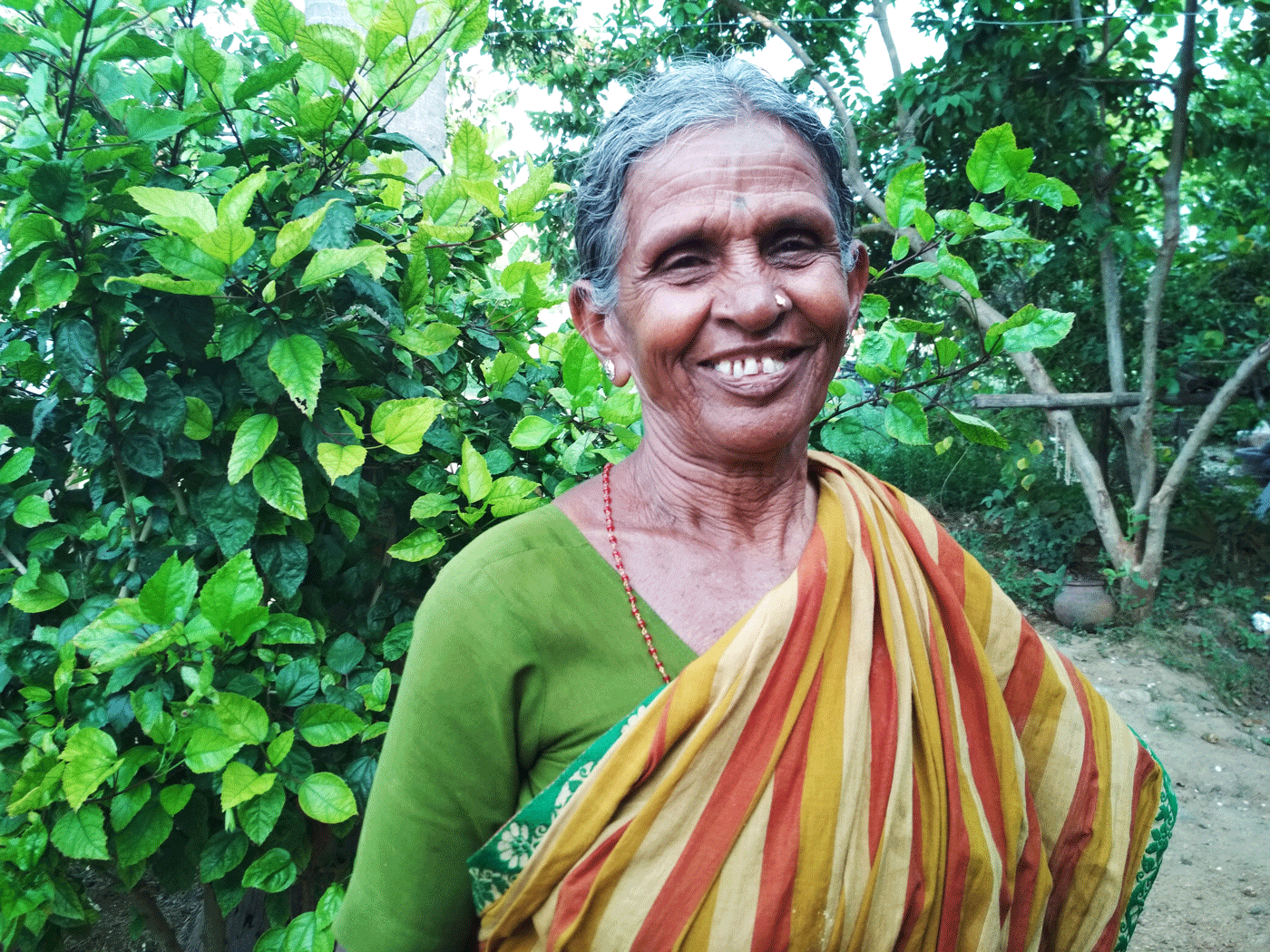 PHOTO • Priti David
If students did manage to continue studying, it meant a 10-kilometre walk through the reserved forest to the government high school in Kottapatty. Taking a bus brought them to school too early or too late. (In 2010, the government school that Jaybal and others attended was extended to Class 10.) Sittilingi valley is hemmed in by the densely forested Kalrayan and Sitteri hills. In the past, the only approach into the valley was from the north – off national highway 45A going from Krishnagiri to Tiruvannamalai . An extended road opened in 2003 to the south and merged with state highway 79 which skirts Salem (80 kilometres away) and the industrial textile belt of Tiruppur, Erode and Avinashi.
These regions require labourers in large numbers. The new road made it easy for people to migrate for work, says village elder R. Dhanalakshmi, 65. Her three sons dropped out by Class 7 and left to become truck cleaners; her four girls dropped out and helped on the land, where the family grows rice, sugarcane, lentils and vegetables. "When the rains failed, a lot of people would migrate..." Dhanalakshmi says.
A 2015 Tamil Nadu migration survey, funded by the State Planning Commission, notes that 32.6 per cent of migrants have cleared just Class 8. And their average age is around 14 – the legal age to seek employment in India in many sectors. With no job skills, many become construction workers – the single highest category of unskilled labour that absorbs one in 10 migrants from the state.
Jaybal left school after Class 8 and went to Kerala, where he could only find work as a helper at construction sites, earning Rs. 1,500 a week. Unhappy with the work and living conditions, he returned in six months to cultivate his family's five-acre farmland. Perumal too went to Kerala at the age of 17. "I worked as a daily wage labourer, clearing land and cutting trees and earned 500 rupees a day. But it was very tiring and I came back a month later for Pongal [the harvest festival] and stayed [to work on the family three-acre farmland]."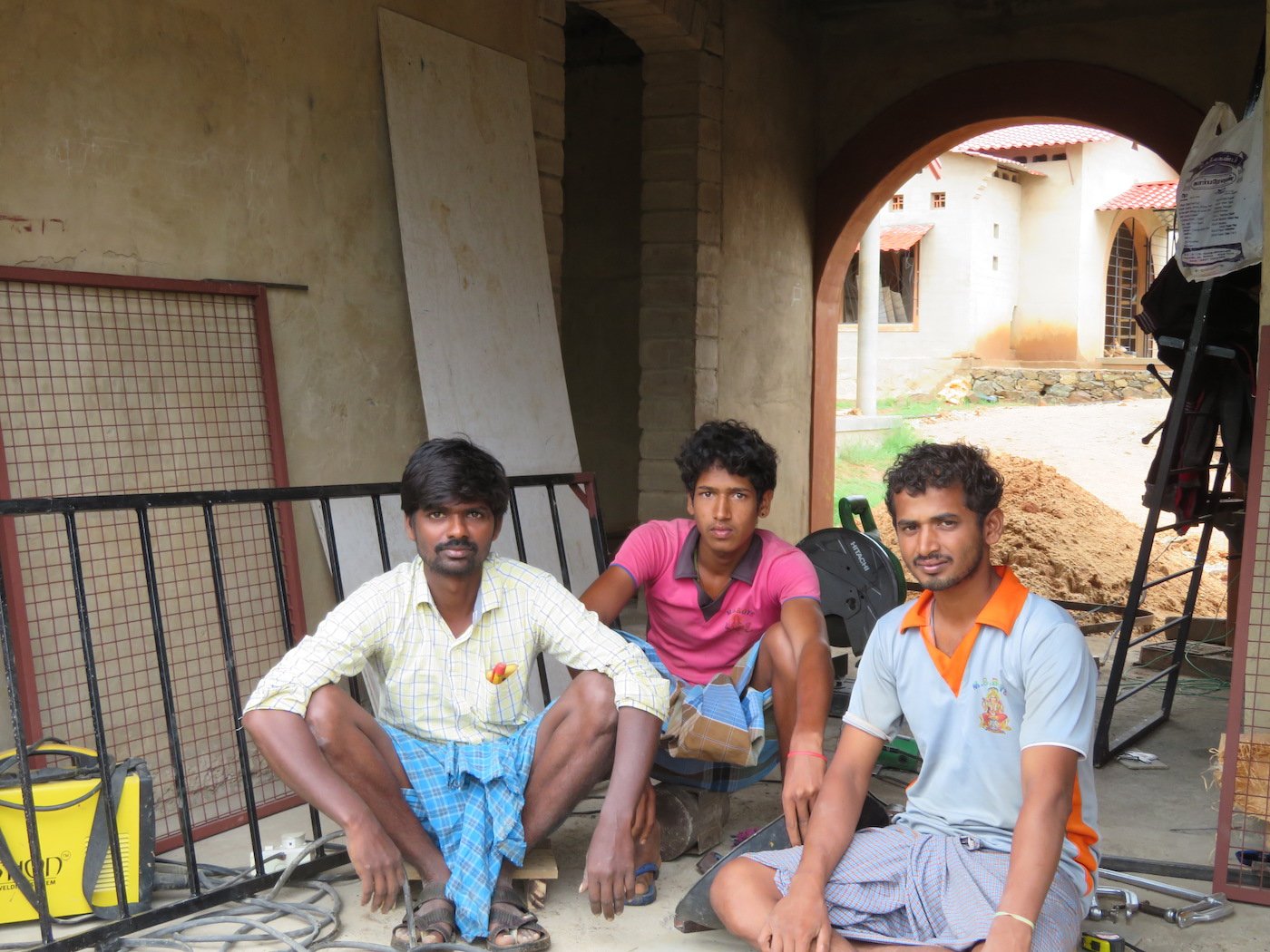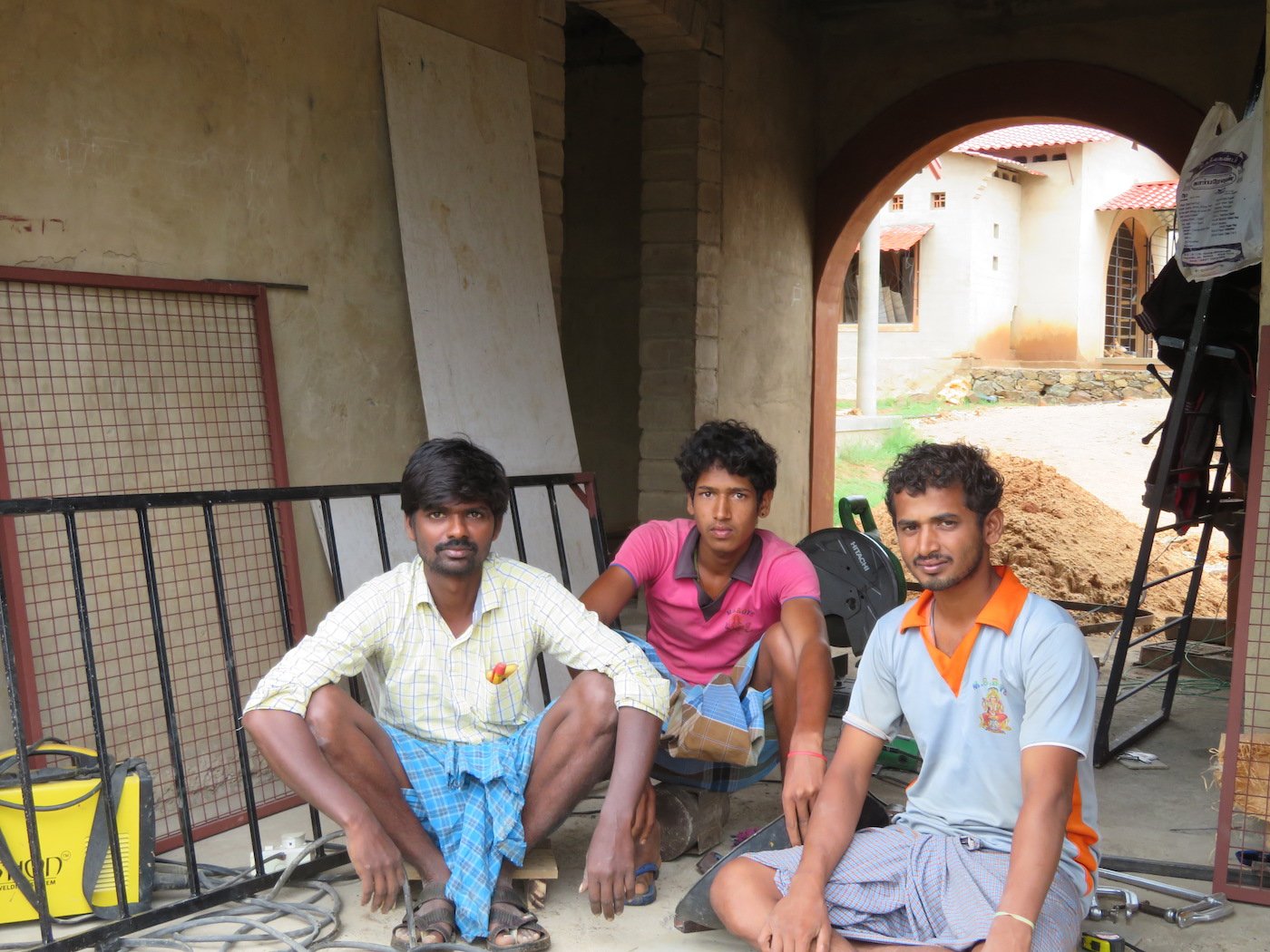 PHOTO • Priti David
Sriram R. was unable to pass Class 12, so he dropped out of school and went to Tiruppur, 200 kilometres away. "I worked in a textile machine-making unit for six months and earned 1,500 a week," he says. "I developed an allergy to the cotton fibre and had to return home."
For these boys who had dropped out of school and tried migrating with little success, architect couple T. Krishna, 53, and S. Anuradha, 52 – who founded Thulir and had seen about 500 of Sittilingi's youngsters completing their after-school programme, came up with a 'basic technology' (BT) course. It involved one year of practical training in electronics, electricals, construction and allied subjects. "We thought if they can learn a skill that will allow them to work and earn right here, they would not need to migrate," says Krishna.
The first BT course kicked off with 12 students in 2006 (65 boys and 20 girls have 'graduated' so far). The students began with fixing cycles and moved to learning about sustainable architecture using mud, cement and debris (from the digging of local wells). Basic engineering drawing skills, how to read a plan view or section in an architectural drawing, current ratings of switches and sockets, safety procedures and so on were learnt on site at building projects within the valley such as the Tribal Health Initiative, the Sittlingi Organic Farmers Association and the Porgai Artisans Association .
During the course, they received a monthly stipend of Rs. 1,000. It was nowhere close to earnings outside the valley – up to Rs. 500 a day at construction sites – but it helped them to complete the course without migrating for work.  "I thought I could learn [a trade] and stay home and earn a living," Perumal says.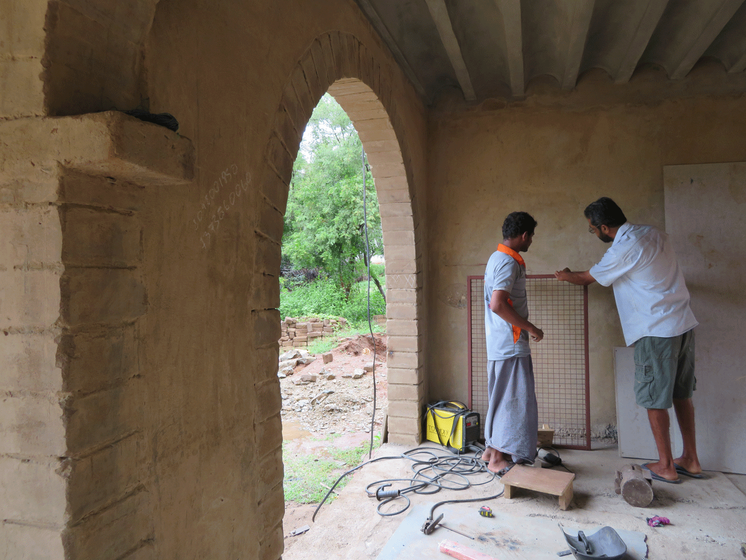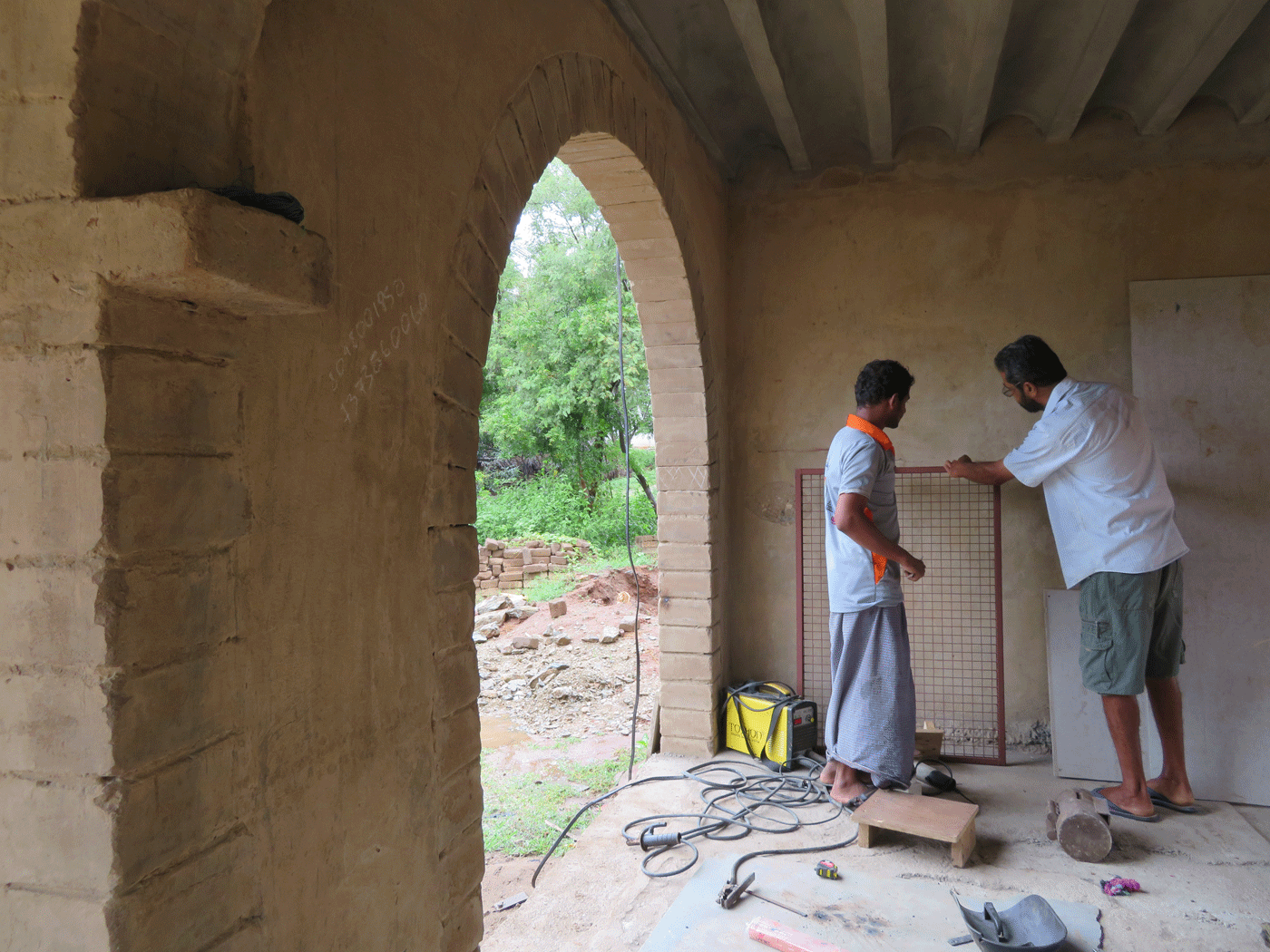 PHOTO • Priti David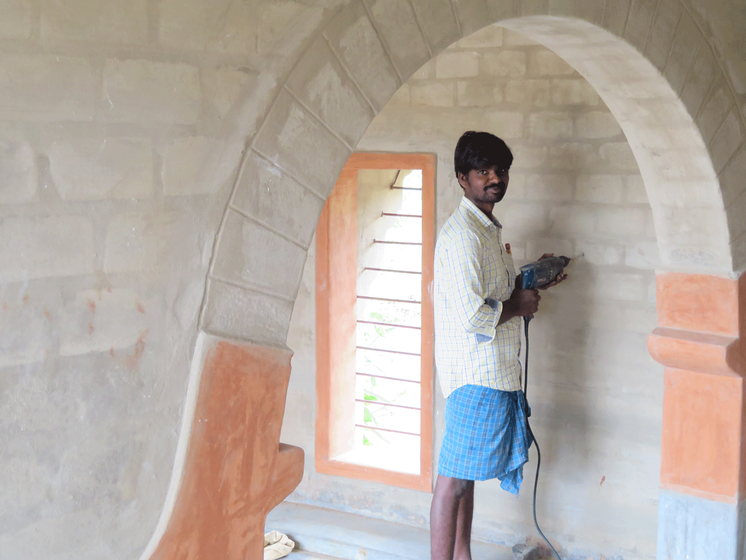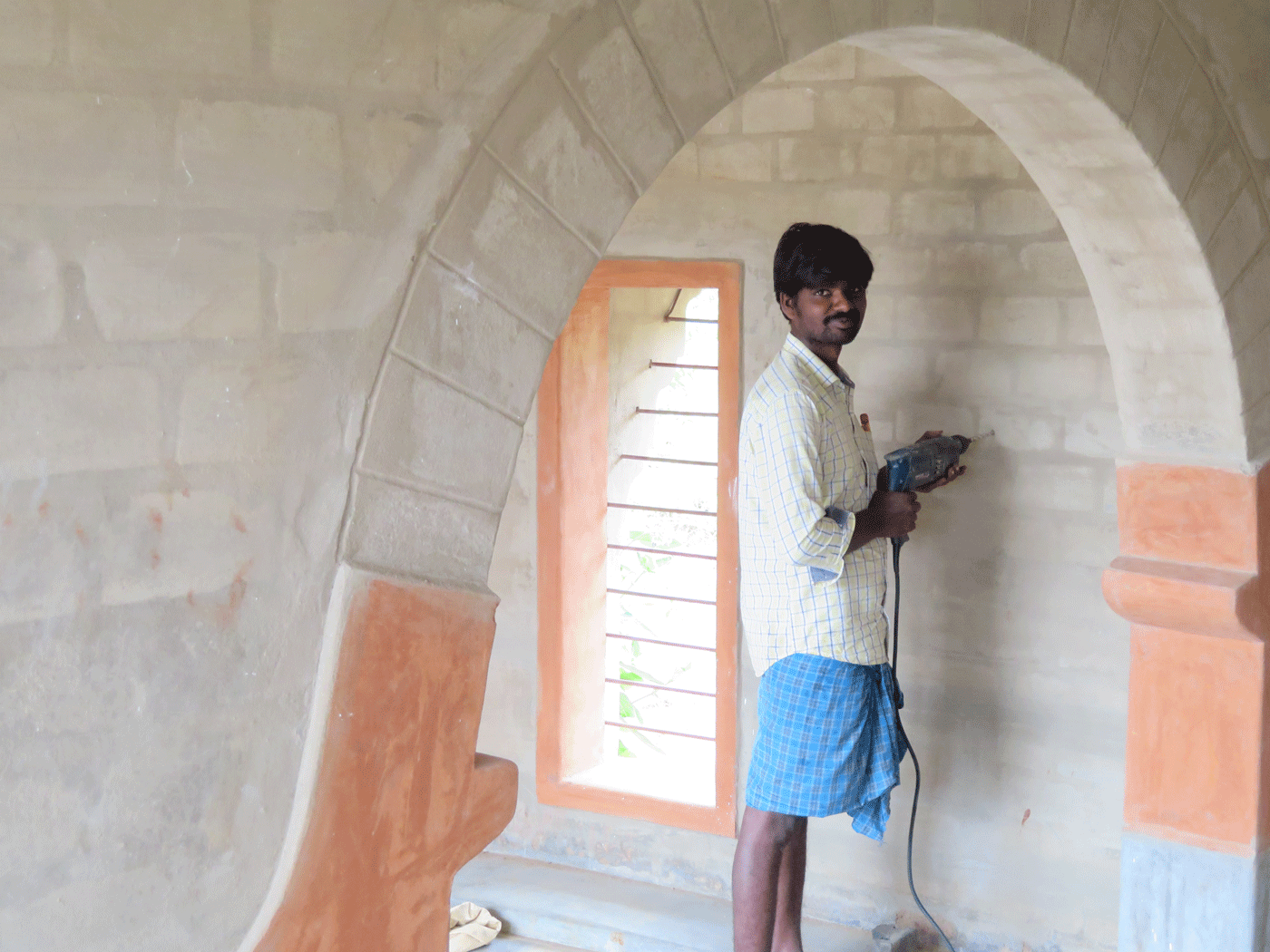 PHOTO • Priti David
After the course, many became confident learners and returned to formal education, going on to finish school and college. Two are now primary school teachers in Thulir. Among them is A. Lakshmi, 28, who says, "I did the BT course and then finished my schooling. I enjoy science and like teaching it."
Perumal is a skilled and busy electrician who also rents out a tractor, earning a total of around Rs. 15,000 a month. "After my BT course [in 2007], I was also able to pass my Class 10 and 12 exams and joined college for a BSc in Physics in Salem," he says happily. (He didn't complete the BSc degree, but that is another story.)
Sakthivel earns Rs. 8,000 working at Thulir, gets to stay home and help with farming his family's acre of land. "I can earn extra, sometimes up to 500 rupees a month, fixing mobile phones and doing electrical work."
In 2016, when construction of the new Thulir building was to begin, students in the BT course were shifted to its site for hands-on learning. Their stipend was replaced with daily wages of Rs. 300. The rest of the building team were former BT graduates, except for the carpenter, A. Samykannu (whose son S. Senthil was a BT student).
The first phase of the Thulir school building – six classrooms, an office, a store and an assembly hall is nearly complete. A library, kitchen and craft rooms are to be added. The cost of Rs. 50 lakhs so far has come from donors to the Thulir Trust.
"Children could not study as sometimes both parents would migrate," Thenmozhi says:  "I'm happy that our local boys are learning new skills. They are here with their families and able to earn."
The reporter would like to thank Ram Kumar, teacher at Thulir, and architecture students Meenakshi Chandra and Dinesh Raja for their assistance in writing this story.