Elections and voting are the last thing on C. Subbulakshmi's mind as she rushes across the road with her little customised trolley carrying six plastic pots of water that she has purchased at some distance from her home. The trolley spares her, an agricultural labourer, the need to carry all that water by herself. "We are decidedly in a mess," says this resident of Kumareddiahpuram village.
Subbulakshmi, 48,  has good reason to focus on things other than the voting, but her village is in a Lok Sabha constituency – Thoothukudi – that is witnessing one of the most high-profile contests in all of Tamil Nadu. M Kanimozhi of the Dravida Munnetra Kazahagam (DMK) – daughter of the late and legendary DMK leader M. Karunanidhi – squares off against Bharatiya Janata Party (BJP) state president Tamilisai Soundararajan. The seat was won by the AIADMK's Jeyasingh Thiyagaraj in 2014, defeating his DMK rival Jegan P.
The other factor lending sharp profile to this constituency of just over 13 lakh voters was the violent tragedy that shook Thoothukudi town last year. One which affected many from Kumareddiahpuram, just 24 kilometres away.
On February 12, 2018, around 300 people from this village sat down in Thoothukudi town centre to protest against the expansion plans of the Sterlite Copper plant (a business unit of Vedanta Ltd.). The protesters refused to leave the place after permitted hours and were eventually arrested. That arrest helped inspire a larger demonstration that would see about 2 lakh people flood the streets of Thoothukudi town on March 24, 2018. People from an astonishing diversity of backgrounds and occupations were demanding a halt to the construction of Sterlite's new copper smelter complex in the region. The existing Sterlite plant, they said, had poisoned their water and environment and destroyed their livelihoods.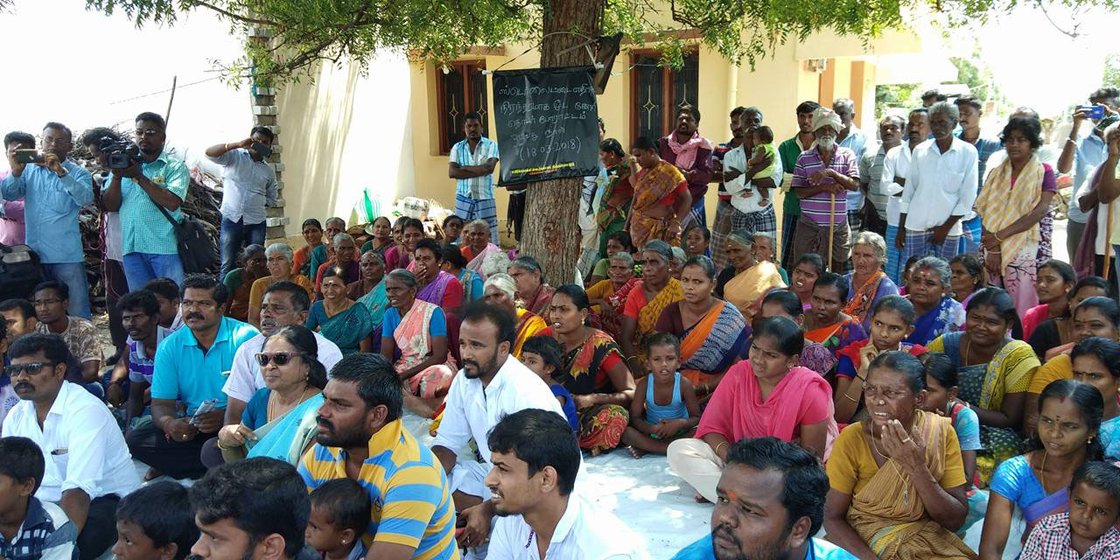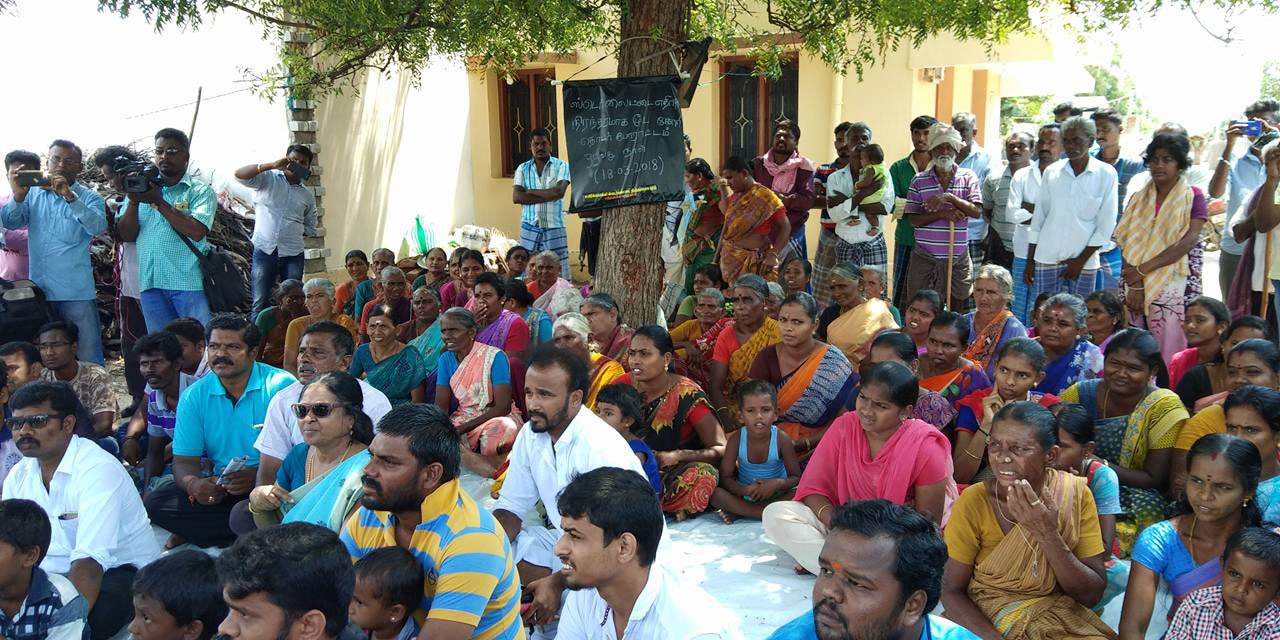 PHOTO • Kavitha Muralidharan
The 100th day of the protest, May 22, saw police indiscriminately shooting at the protesters – leading to the death of 14 of them. Over 100 others were injured. On May 28, the state government shut down the Sterlite Copper plant, but Sterlite has approached the courts seeking to reopen.
"Unless the plant is permanently closed, we will continue to live in a mess and elections mean nothing to us," Subbulakshmi told us in Kumareddiahpuram, which is in the Ottapidaram block of Thoothukudi district. Oddly enough, none from this village were injured – it was one of three  'blocked off' from the protest by police on the might of May 21. But it has left them terrified.
This is a time when Tamil Nadu is having a mini state election as well. People are also voting in byelections to 22 Assembly constituencies on April 18 (the same day as the Lok Sabha voting) and May 19. That's almost 10 per cent of the seats in the 234-member Tamil Nadu legislative Assembly. Ottapidaram SC (reserved) constituency, which Kumareddiahpuram comes under, will vote on May 19.  Ottapidaram has a bypoll because its sitting AIADMK MLA R. Sundarraj was disqualified under the anti-defection law. Only the DMK has announced its candidate M.C. Shanmugaiah for the seat so far.
The outcome in those 22 seats could further upset the balance in the Assembly where the ruling AIADMK is already two seats short of a majority.
The acute water scarcity in Kummareddiahpuram and the surrounding region sees Subbulakshmi (in the cover image on top) and many like her spend a good part of their day fetching water from wherever they can. Incidentally, Sterlite was buying water at a much cheaper rate then these women, who shell out Rs. 10 per water pot for 'decent drinking water'. A plastic water pot contains about 25 litres. "Only after Sterlite was closed, the women of Kumareddiahpuram have been able to get decent water, even if not regularly," says P. Prabhu. "Ironically, until it was closed, Sterlite was given water at Rs. 10 per 1,000 litres." Prabhu, a protester and a local businessman of Thoothukudi, accompanied this reporter to the village.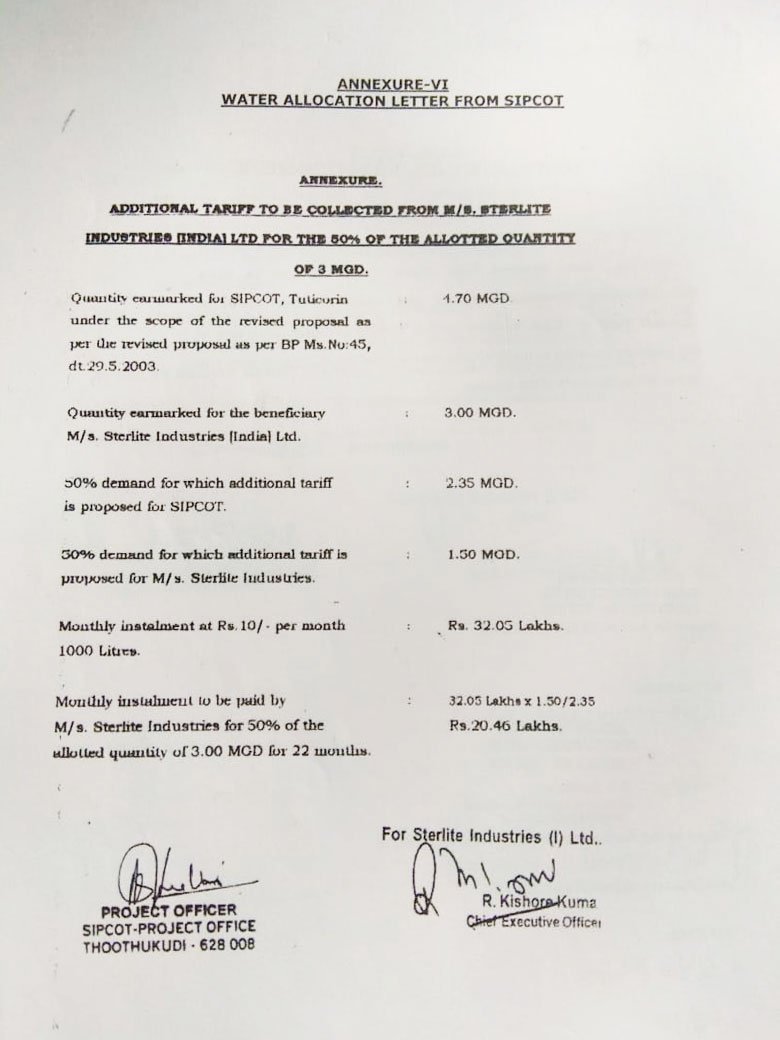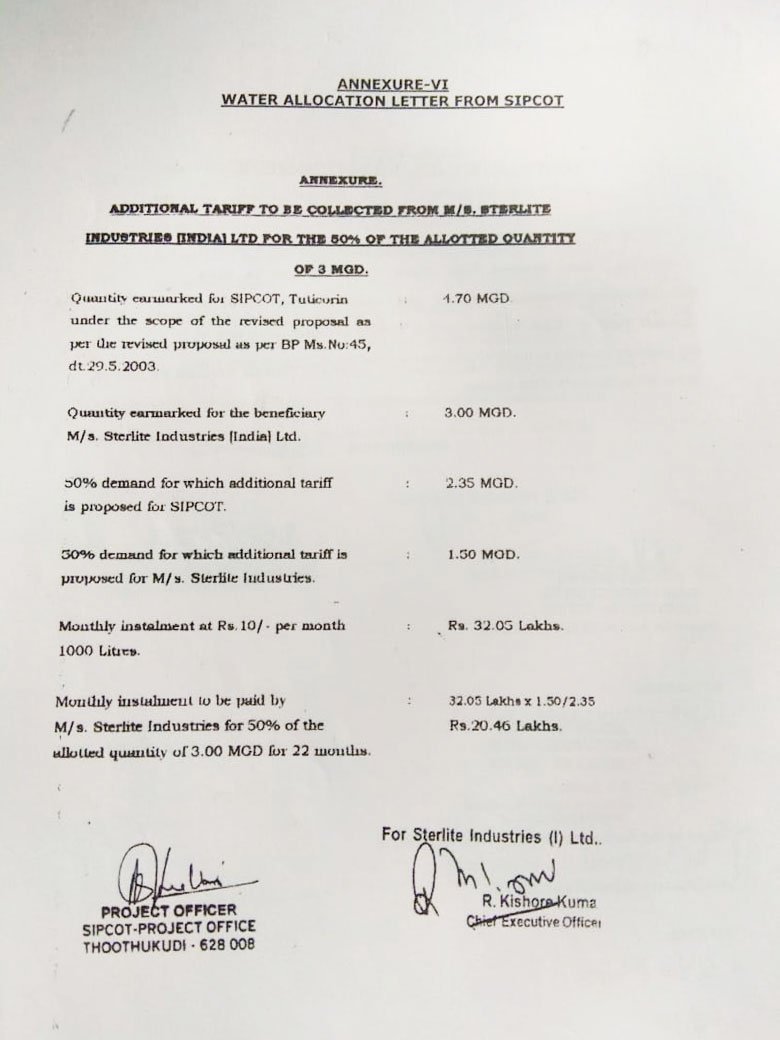 PHOTO • Kavitha Muralidharan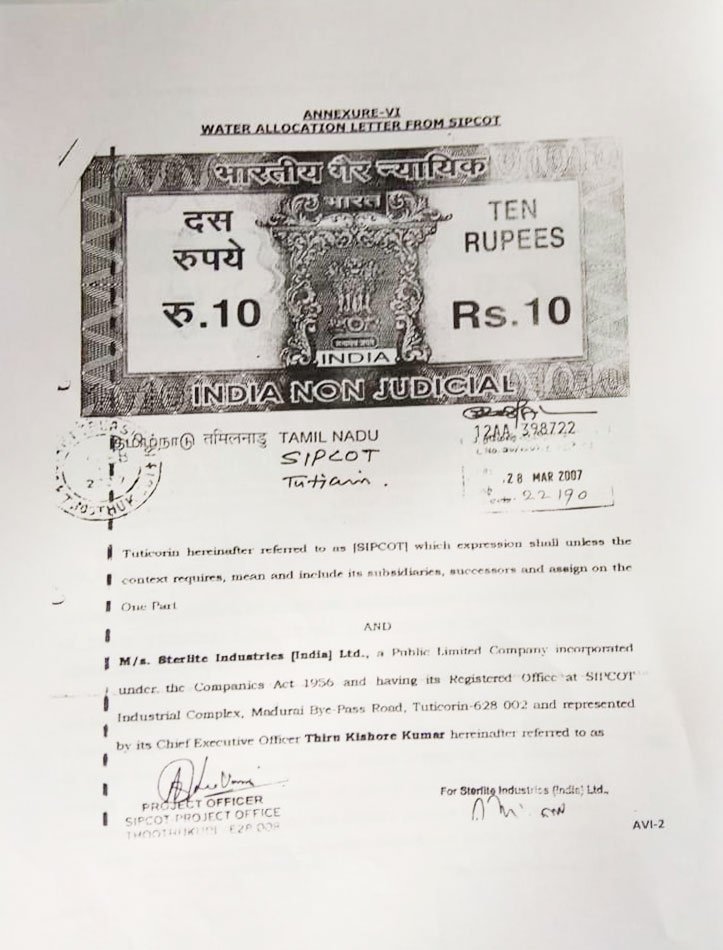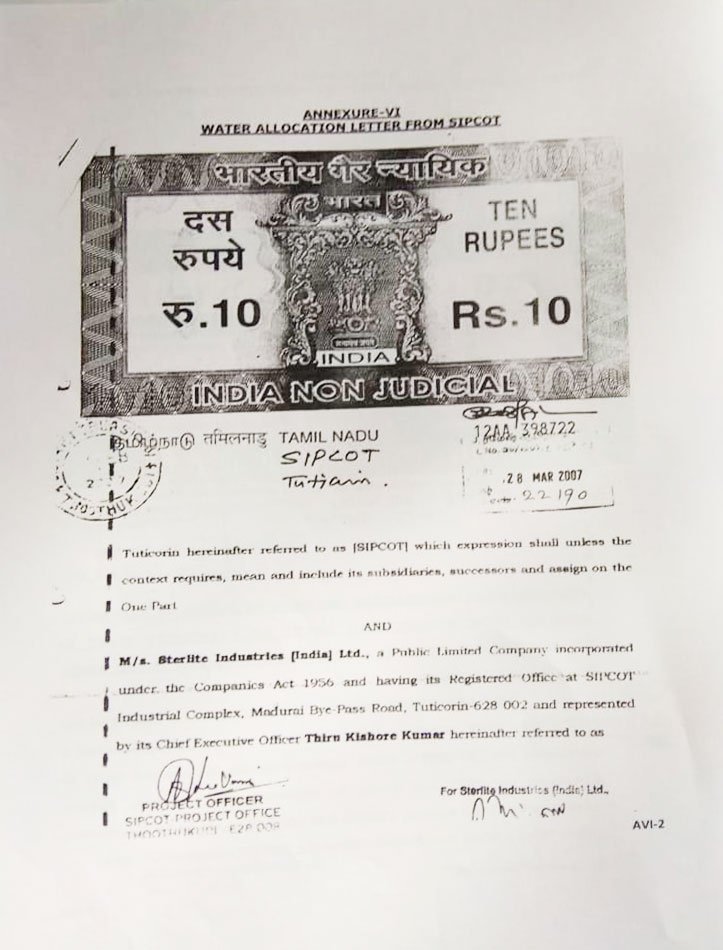 PHOTO • Kavitha Muralidharan
Known as an industrial hub, Thoothukudi is also home to many cottage industries including palm leaf materials and peanut candies. Kumareddiahpuram, with not more than 300 households, is located near the controversial Sterlite Copper plant. It has been a hotbed of the protests against Sterlite. The industry was set up in 1998 and faced protests from the locals for polluting the environment and stoking a wide range of health issues. Activists have alleged that Sterlite had consistently violated standards of operation and functioned without renewed licence for several extended periods till 2011. Studies by the National Environmental Research Institute and the Tamil Nadu Pollution Control Board have also found that Sterlite has contaminated groundwater, air and soil with its effluents.
Villagers of Kumareddiahpuram joined the latest phase of protests in 2018 when they learned that the copper plant had plans of expansion. They allege that the industry has been polluting their village, leading to an outbreak of various diseases. "We have seen the quality of our lives deteriorate over the years. They say it is good to live in the countryside. You should come and live in Kumareddiahpuram to really know what it is like," says 55-year-old homemaker Vellai Thaai.
The residents say that living in the vicinity of Sterlite has led to a rise in the incidence of cancer and fertility-related complications. "You won't find a single household that doesn't have a patient. I have seen my parents age faster than they should," says P. Mahalakshmi, a 17-year-old student.
And water scarcity remains one of the biggest challenges here.  On any day, women can be seen crisscrossing the roads carrying plastic water pots in their customised trolleys. "We need to wait for 10 to 15 days to get decent water. Also we need to travel a bit –one kilometre or more – to fetch it. We cannot afford to make six trips up and down. Hence the trolley," explains 50-year-old agricultural labourer Krishna Leelavathi.
The trolleys – that seem to be unique to this part of the state – are manufactured in Thoothukudi town and brought to the villages. "They cost Rs. 2,500 a piece, apart from which we need to pay Rs. 300 to have them delivered to Kumareddiahpuram," Leelavathi grumbles.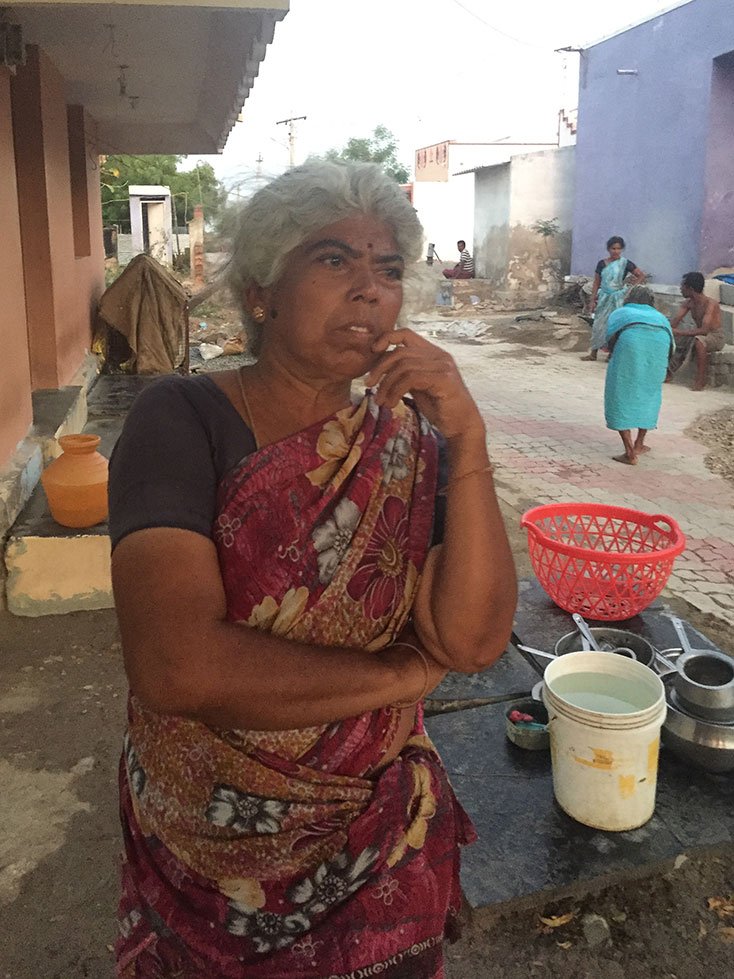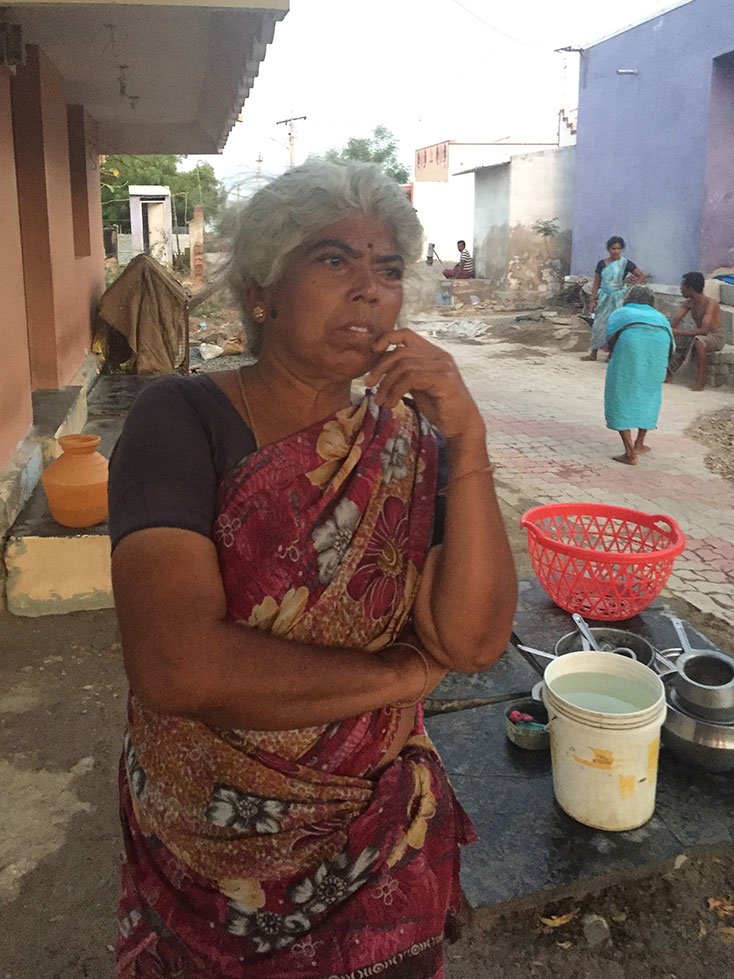 PHOTO • Kavitha Muralidharan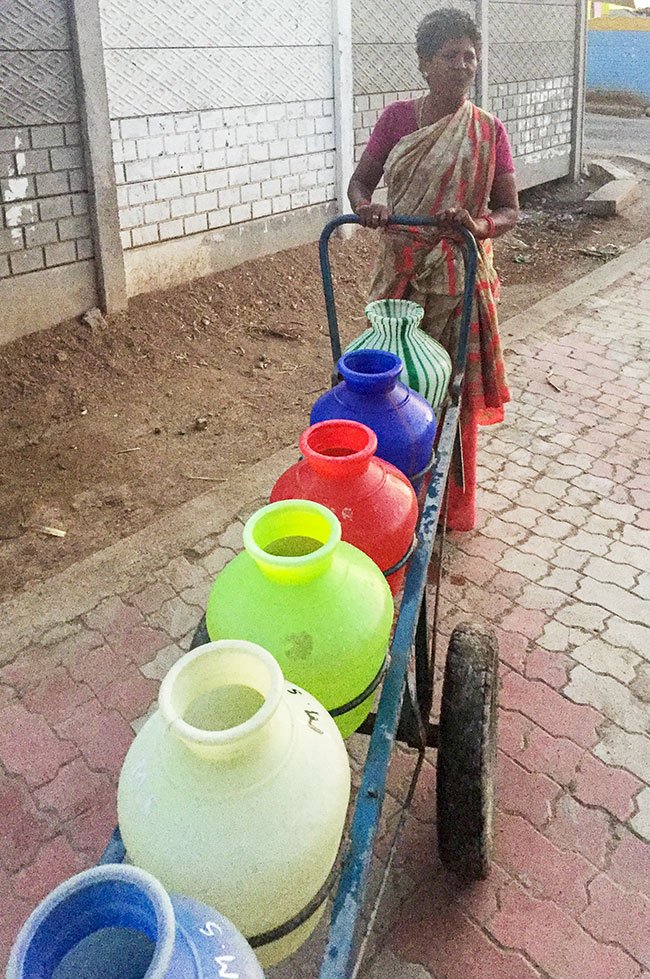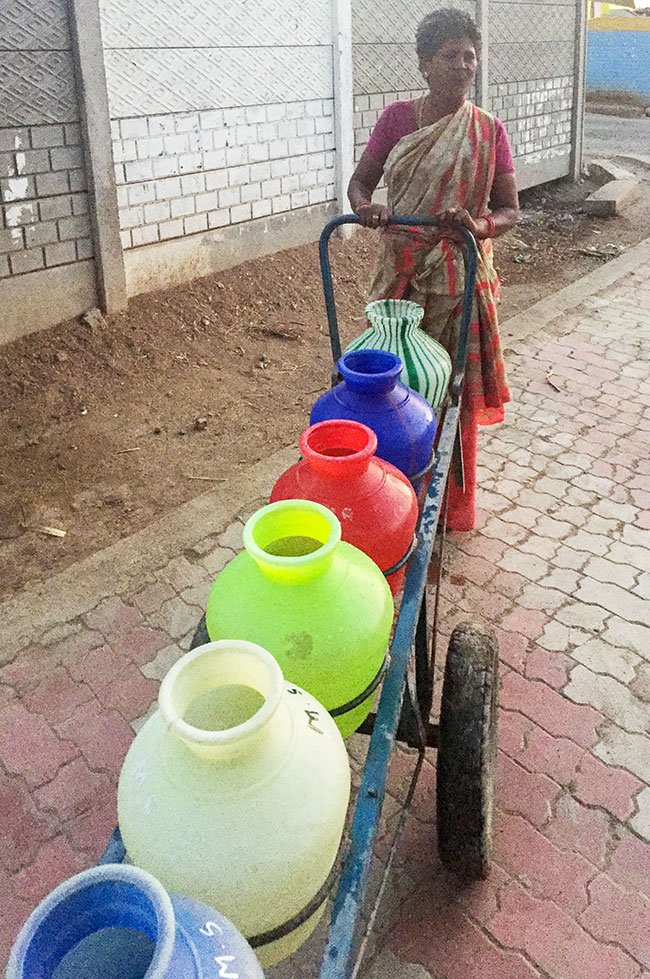 PHOTO • Kavitha Muralidharan
Not so far away, women of the Yogiswar colony in Thoothukudi have learnt to ride bicycles over the years just to fetch water. "There are about 100 families in the area and we have faced drinking water problems for at least 50 years now. You won't find a woman amongst us who cannot ride a cycle. We need to travel about two kilometres to bring water, and in town, where the traffic is heavy, we could only do that on cycles. Even then, carrying so much water has given us health problems," says A. Saraswathi, 40-year-old labourer and resident of Thoothukudi.
Meanwhile, a year after the Sterlite plant was closed by the government, the people of Kumareddiahpuram continue to live in anxiety and fear. "We have had enough, we do not want it to be opened at any cost" says Vellai Thaai. The villagers are aware that Sterlite has been trying to obtain permission from the courts to reopen its plant.
Evidently, the fear over Sterlite being reopened looms larger than the excitement over the elections. "Elections or not, that is our only demand – close Sterlite permanently" says Vellai Thaai.
Sterlite rules as an issue way above Pulwama, Balakot or the Augusta or Rafale deals in Kumareddiahpuram. "Nobody has come here seeking our votes, but we won't even go to vote unless we know that Sterlite is permanently closed," says Leelavathi.
From weighing the idea of boycotting the polls to voting for someone promising to close Sterlite, the small village has been discussing many options. Vellai Thaai is very clear. "We do not want Modi back."
"Even when 14 people were killed in the firing, he did not open his mouth about us," says P. Ponraj, a 55-year-old agricultural labourer. "At least, Sterlite killed us slowly."
Despite this issue dominating their lives and livelihoods for about 25 years, and  "after all that has happened," adds Subbulakshmi, "the politicians seem to think we will vote for them. But we need to fight it out if not for ourselves, at least for our future generations."
"How could they even come here to ask for votes?" asks 46-year-old agricultural labourer Velu Thaai. "If they think Sterlite is more important than our lives and livelihoods, then why even consider us as human beings and hold elections here?"