Jairam Sagiri was disappointed when his very first batch of ragi was rejected. "They told me it was not clean," he says. His grain had chaff.
Sometime in January 2019, Jairam had taken 12 sacks, each weighing 50 kilograms, to a warehouse in Kunduli village, around five kilometres from his own village, Bada Tema in Similiguda block of Koraput district. There he cultivates  four acres – ragi and vegetables like tomato and cucumber on an acre each, and a eucalyptus plantation on two acres.
During the 2018 kharif season, around September-October, 65-year-old Jairam had signed up with the Large Sized Agricultural Multi-purpose Cooperative Society (LAMPS) in Kunduli to sell his ragi at the minimum support price (MSP).
"Last year, the market price per kilogram was Rs. 15-16, but this year it is around Rs. 20-22. However, LAMPS was giving Rs. 29 per kilo," he says. Or Rs. 2,897 per quintal for kharif 2018 – the MSP offered by the central government – up from Rs 1,900 during the 2017 kharif season.
This was the first agricultural season when the National Food Security Mission cell of the state's Department of Agriculture was procuring bulk quantities of ragi through LAMPS (which is run by Tribal Development Cooperative Corporation of Odisha Limited), as well as through the Primary Agricultural Credit Society of the  Cooperation Department of the government of Odisha.
This procurement is part of Odisha government's recent efforts to revive and promote millets, especially in Adivasi areas. "Considering the nutrition benefits of millets," say December 2018 guidelines of the Cooperation Department, "it [the state government] has decided to include millets in public distribution system (PDS), Integrated Child Development Scheme (ICDS) & Mid Day Meal (MDM) Schemes of the State of Odisha."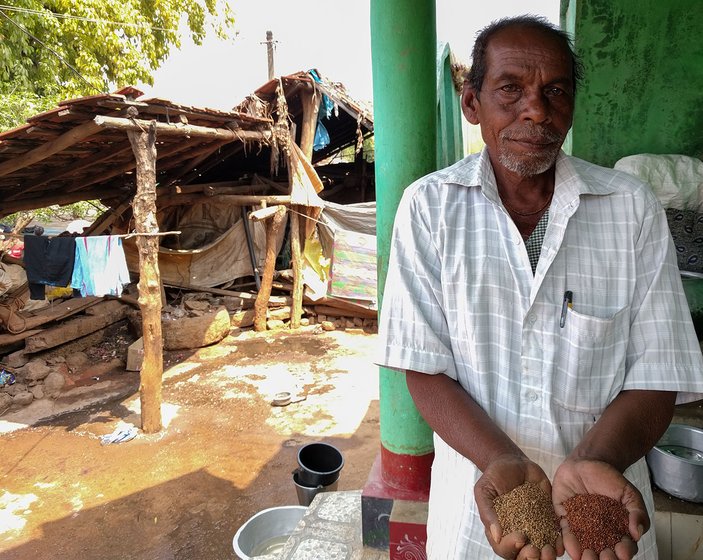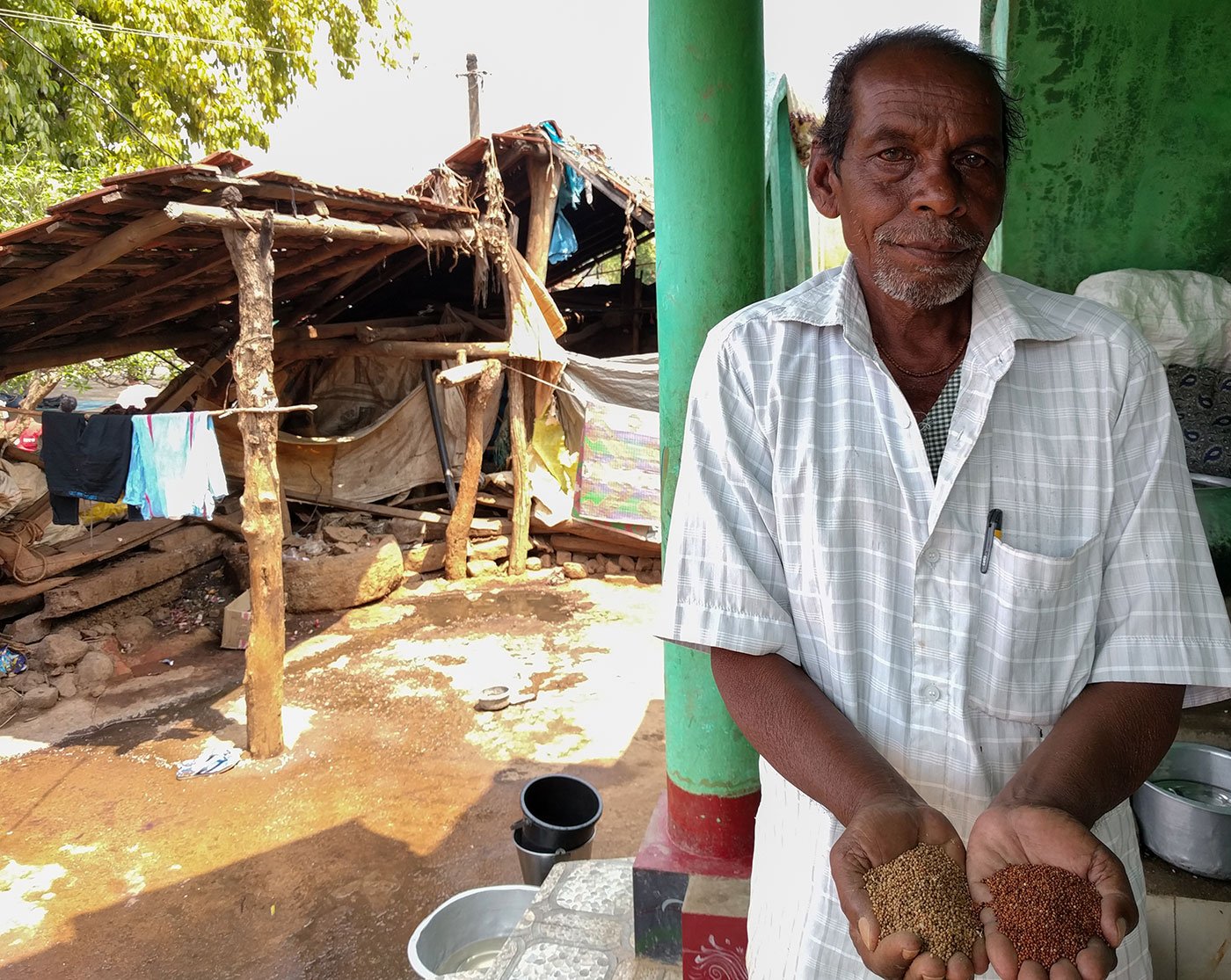 PHOTO • Harinath Rao Nagulavancha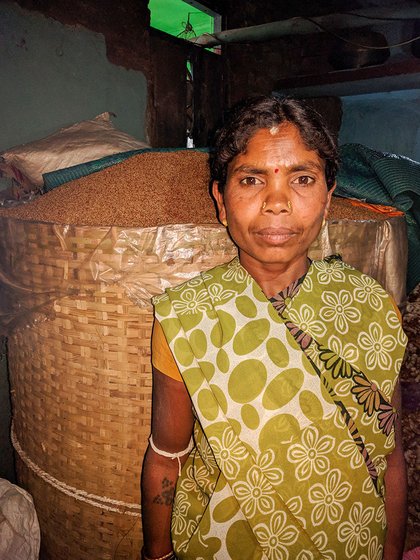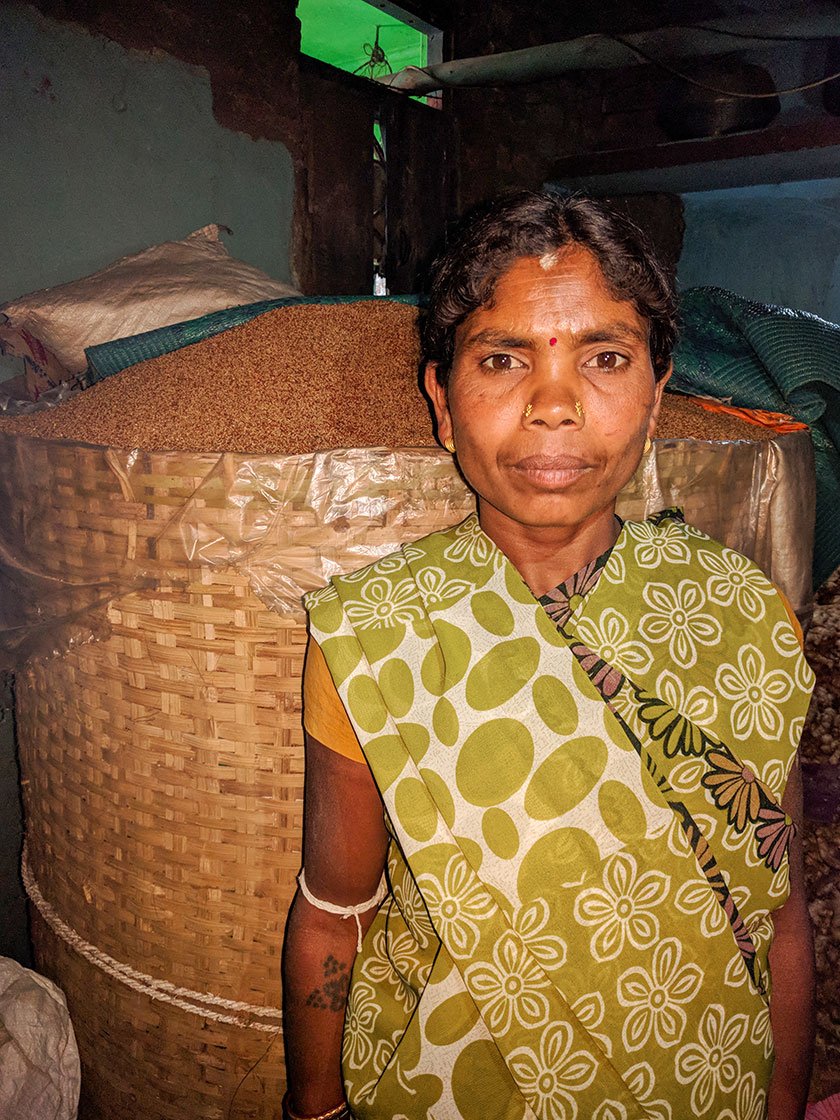 PHOTO • Harinath Rao Nagulavancha
Ragi is known to be rich in protein, mineral, fibre, iron and other nutrients. Many farm families in Odisha consume a portion of the ragi they produce, and sell the rest in the market. As does Nabeena Sagiri – she and her husband, Jairam's 45-year-old son Daitiri, cultivate another plot of joint family land. "We got 10 quintals [of ragi] from 1.5 acres," she says. "For us, two quintals is sufficient and the rest we sell."  Nabeena makes local porridge and cake dishes like jahu, onda , pitha and mandru – all from ragi – for their children.
The MSP being offered for ragi by LAMPS was part of the state's new thrust at promoting this nutritious grain. It was an attractive price. So Jairam prepared to sell six of the eight quintals of the ragi harvested from his one acre. The procurement of ragi is limited to 1.2 quintals per acre registered by farmers with LAMPS, but there is no limit on the number of acres – and the official Jairam approached had mistakenly registered five acres in his name.
"It cost me Rs. 20 per sack for one way transportation," he says. He spent almost Rs. 500 – a sixth of the MSP for a quintal of ragi – on the autorickshaw back and forth, without selling even one kilogram.
Nearly 80 kilometres from Bada Tema, Sukdeb Silpadia, 42, was ready with 1.5 quintals of ragi . He has seven acres in Paliguda village of Boipariguda block in Koraput district. He grows ragi on one upland acre, and paddy and vegetables like tomato, brinjal, chilli and bitter gourd on the rest of the land.  Sukdeb took the ragi to the Boipariguda block procurement centre, around four kilometres from his village.
His bags were also rejected – the procurement staff said the ragi was not clean. To Jairam and Sukdeb, however, their ragi looked fine. That was how they have been processing their grain for a long time, and selling it to traders at the local market.
According to the Cooperation Department's guidelines for the 2018-19 kharif marketing season (December to March), as per the 'Fair Average Qualities' for ragi procurement, "the grain has to be sweet, hard, clean and wholesome; free from moulds, weevils, obnoxious smell, Argemone Mexicana [Mexican prickly poppy] and Lathyrus sativus (Khesari) pea in any form, coloring matter and admixture of deleterious substances; impurities like foreign matter, other food grains, damaged and slightly grains, and moisture content" – all within specified limits.
But what the farmers here perceive as clean grain does not match the cleanliness standards stipulated by the government in this procurement memo.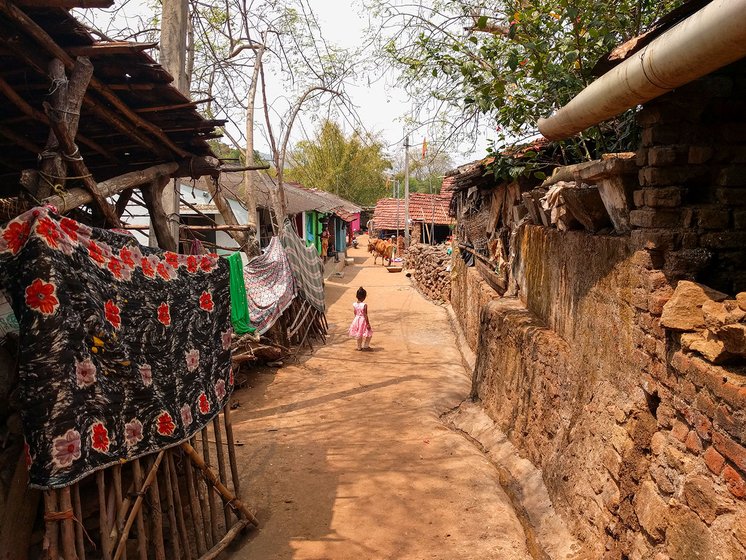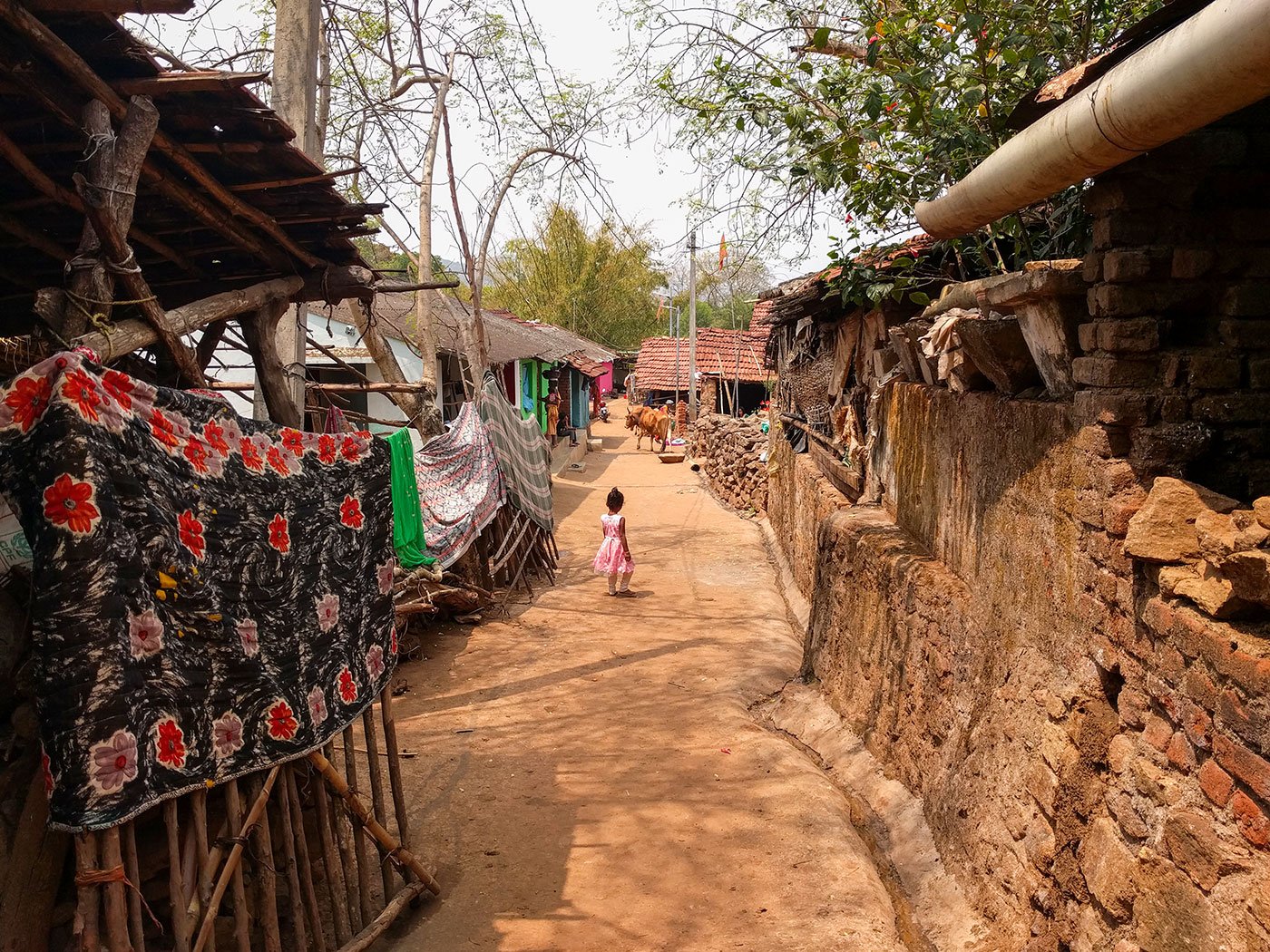 PHOTO • Harinath Rao Nagulavancha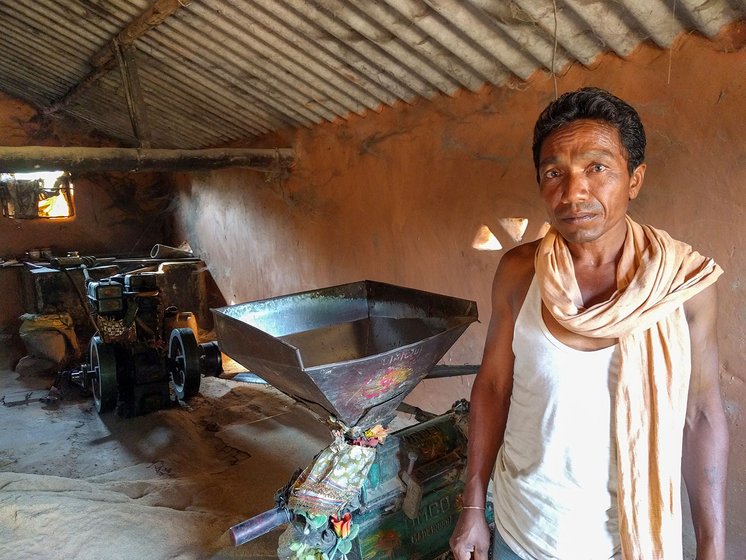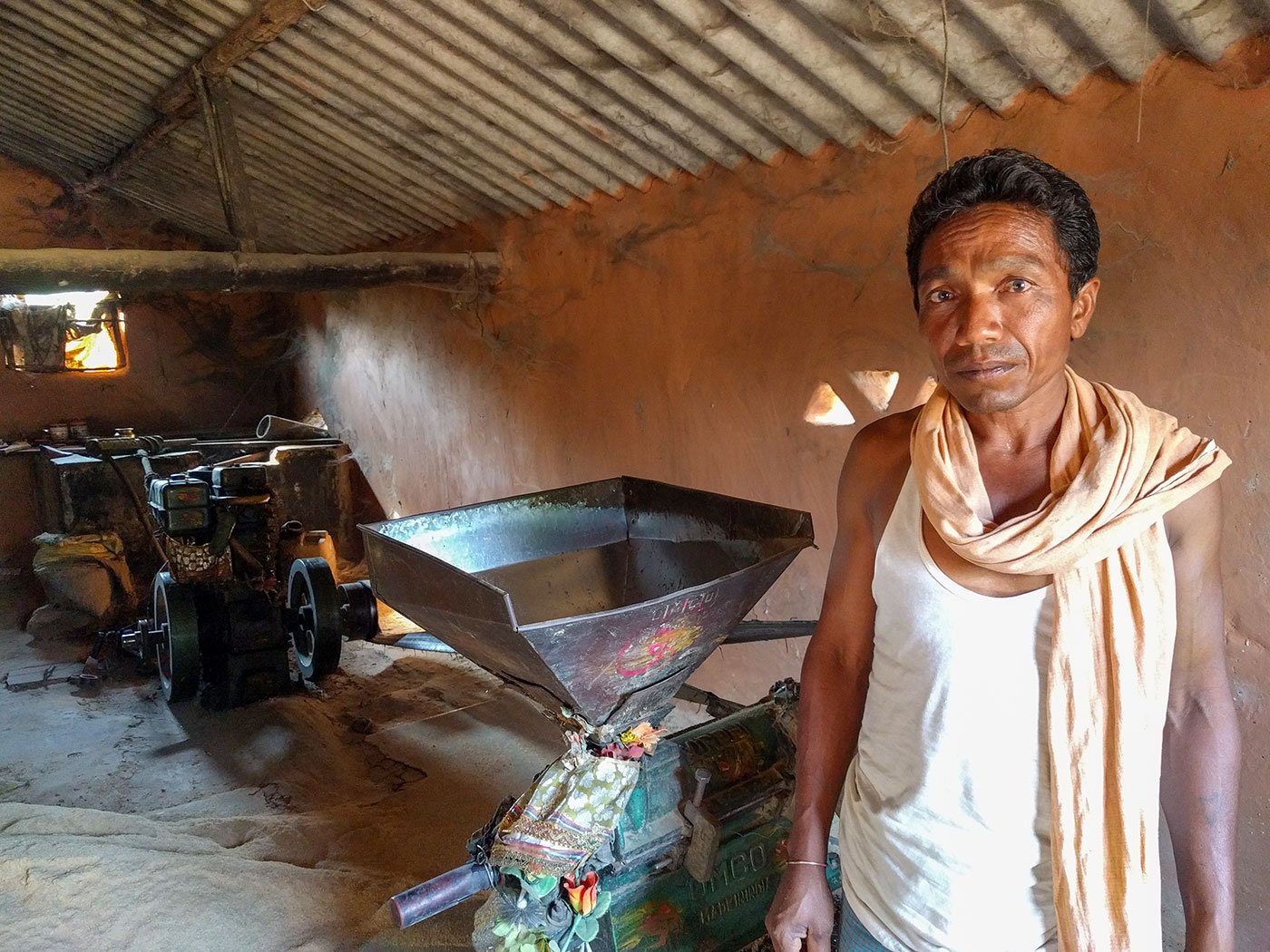 PHOTO • Harinath Rao Nagulavancha
After the harvest, farmers thresh the crop in traditional ways – by running an autorickshaw, tractor or cattle over the crop – depending on the quantity. If the quantity to be threshed is small, they strike the heap repeatedly with a wooden stick. Ultimately, grain separates from the stalk and only an ultra-thin white layer – the chaff – remains. "It [the chaff] determines the shelf-life of the produce," Sukdeb says. "With chaff, we can store grain for a couple of years. Otherwise, it absorbs moisture and attracts fungus. If chaff is removed, the grain has to be consumed within 6-12 months."

This mismatch between traditional threshing and processing and the state's guidelines meant that Jairam's and Sukdeb's grain was rejected.
"We suggested to the farmers that they can get it processed in Kunduli itself instead of taking the produce back to their villages. It could save them time and money," says N. Ramana, branch in-charge, LAMPS, Kunduli.
Sukdeb used his own mini rice mill, which can process nearly 100 kilograms an hour, to re-process the grain and made it sleek. "We experimented to remove the chaff in my mill itself and it worked. We made the grain suitable for procurement," he says.
In addition to the stringent guidelines that have disqualified the grains brought by many farmers, the state's scheme to promote ragi has also not been as widespread as anticipated. Although procurement was planned in 14 districts (of the state's 30 districts) only eight – Sundargarh, Malkangiri, Rayagada, Gajapati, Nuapada, Kalahandi, Kandhamal and Koraput – were covered in the December 2018 to March 2019 procurement period.
Of these, the ragi procured in Sundergarh district will be used on pilot-basis in ICDS and MDM schemes, according to state government documents, while the grain produced in the seven other districts will be distributed on the  PDS.
But as a result of the stringent no-chaff guidelines, the implementation of the scheme in only eight districts, and the ceiling of 1.2 quintals per acre, Odisha's total procurement for the kharif marketing season (December 2018 to March 2019) was 17,985 quintals – just 10 per cent of the target (185,000 quintals) LAMPS had set for this season. And only 5,740 farmers have sold ragi to LAMPS and PACS against 26,495 total registrations.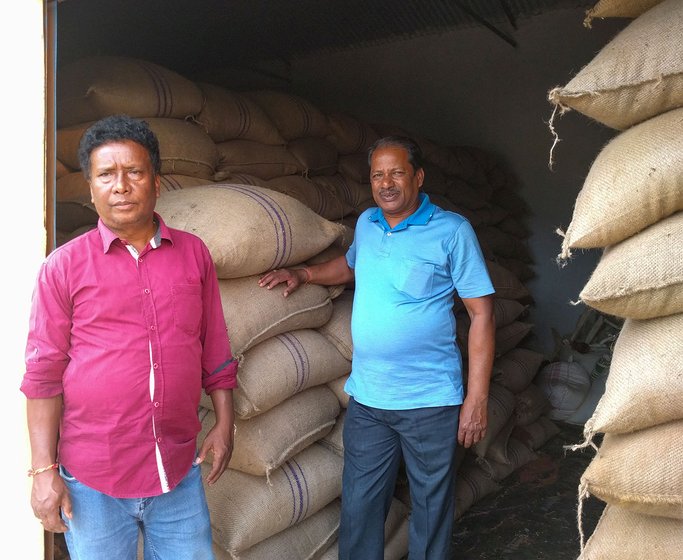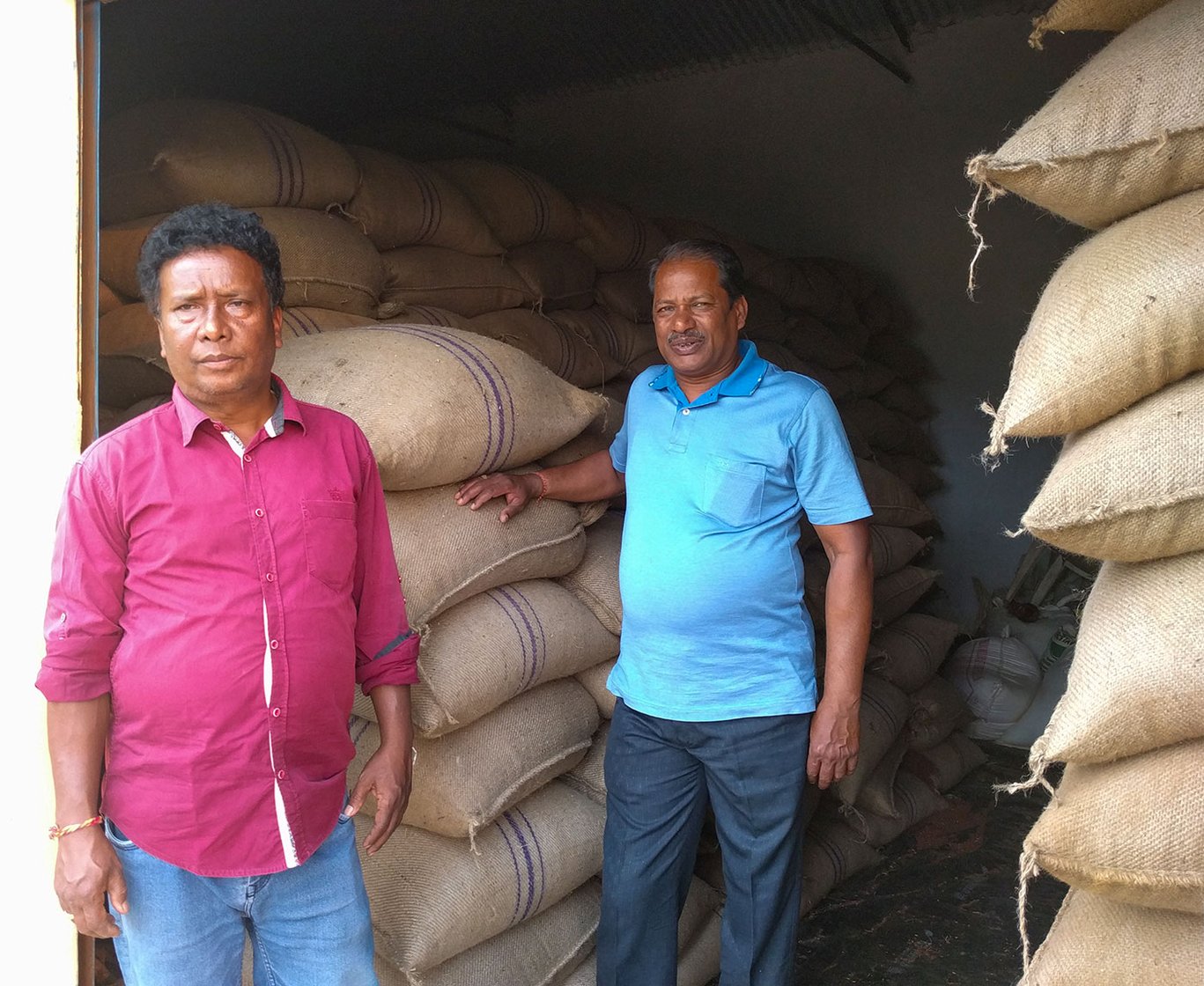 PHOTO • Harinath Rao Nagulavancha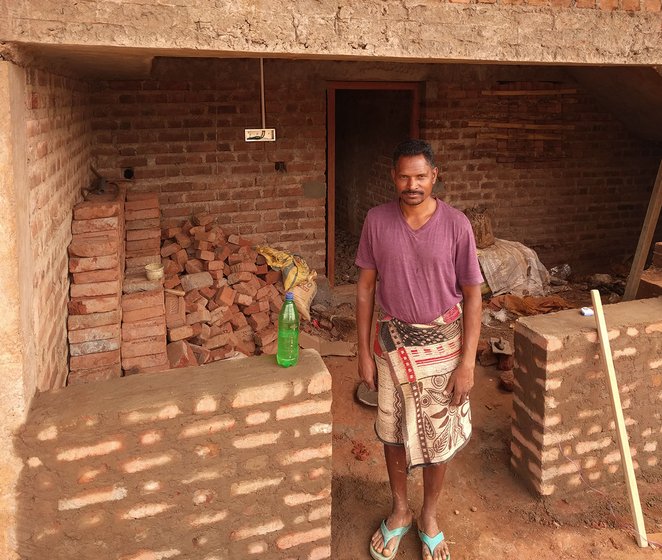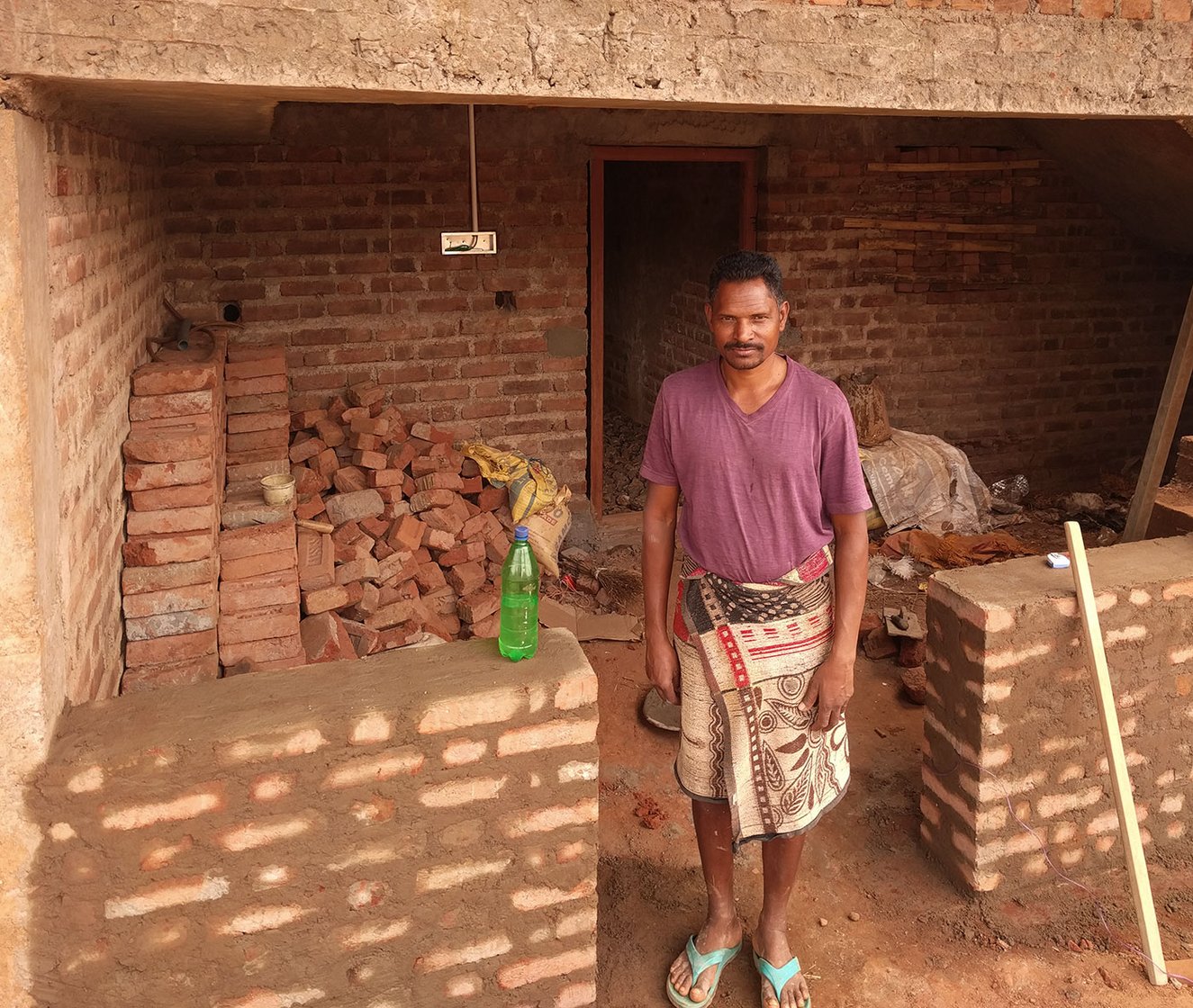 PHOTO • Harinath Rao Nagulavancha
The NationalFood Security Act, 2013 , allots Odisha 21 lakh tons per year of food grains – rice and wheat and coarse grains ( jowar , bajra , maize and ragi ) to be disbursed by the state under PDS, ICDS and other schemes. The Act holds the centre responsible for providing the total allocated grains to the states, but these are procured through various central and state agencies.

In 2018, coarse grains in the Central Pool of Food Grains were less than 1 per cent – that is, coarse grains were 0.58 per cent of rice, 0.39 per cent of wheat and 1 per cent of paddy (unmilled rice). Of the coarse grain procured, maize comprised the highest quantity.
So far, Odisha too had not widely procured any coarse grains, though more ragi is produced in the state than other millets. In 2016-17, Odisha produced 121,000 tons of ragi , compared to 3,444 ton of jowar and 1,130 tons of bajra (according to the state's Directorate of Agriculture & Food Production).
The ragi procurement drive was meant to address this gap. But the 17,985 quintals of ragi procured so far forms just 0.085 per cent of the state's total grain requirement of 21 lakh tons.
The procurement ceiling of 1.2 quintals per acre registered by farmers with LAMPS also means that a lot of the ragi harvest has to be sold in the open market. In many instances, 1.2 quintals is far below what can be produced from an acre, says Sadhu Ayal, 45, an Adivasi farmer from the Gadaba community, who lives in Upper Gela Guda hamlet in Pottangi block of Koraput district. In the July-November 2018 kharif season, Ayal sowed ragi on half an acre and harvested six quintals.
Jairam too had got around eight quintals from one acre. But instead of one acre, the local LAMPS official had noted five acres on the form. "We kept two quintals for our consumption and [eventually] sold six quintals at LAMPS," says Jairam. He did this after getting his ragi cleaned at a mill and re-visiting the warehouse in Kunduli village to sell five times more than he was supposed to.