"Why does everyone treat us with contempt?" asks Sheetal. "Just because we are transgender, does it mean we don't have izzat [honour]?"
Sheetal is speaking from years of bitter experience. At 22, nearly a decade of discrimination and harassment – in school, at work, on the streets, almost everywhere.
It began at home in Nehru Nagar in Ichalkaranji when she was around 14 – her name was then Arvind. "When I was in Class 8 or 9, I wanted to dress up like the girls in class. I didn't understand why this was happening to me… I'd keep looking at myself in the mirror at home, and my father would shout, 'Why are you looking at yourself like a bayla ('pansy'), go out and play with the boys'. When I said I want to wear a saree, live like a girl, he beat me, said he will admit me to a mental asylum. I cried a lot when he beat me…"
The family even took Sheetal ( name changed on her request ) to a tantrik for rituals to 'cure' their son. "My mother said someone has done black magic on me. My father [he worked as a scrap dealer]  sacrificed a hen. My parents could not understand that though I was physically a male, I wanted to be female. They would not listen to me."
At 16, Sheetal left home and began seeking alms on the streets – the work she still does. From 10 a.m. till dusk, she goes to shops asking for money; she also travels to nearby towns like Jaysingpur, Kolhapur and Sangli to beg, and earns Rs. 100-500 a day. Sometimes people invite her, along with 4-5 transgender friends, to sing and dance at weddings, naming ceremonies, religious wakes and other events, where they earn Rs. 2,000-3,000 per person.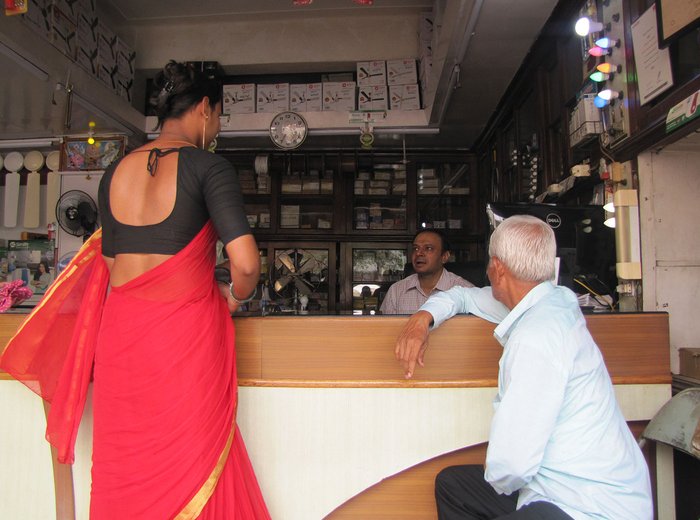 PHOTO • Minaj Latkar
The family even took Sheetal to a tantrik for rituals to 'cure' their son. 'My mother said someone has done black magic on me. My father sacrificed a hen. My parents could not understand that though I was physically a male, I wanted to be female'

But working and living on her own has only reinforced the discrimination. "When I go to the market to ask for money, people pull my saree pallu , they make lewd gestures. In some shops people look at us with suspicion, as if we are thieves." Even at home, Sheetal says, "some men from my neighbourhood knock on my door at night and demand sex. I am alone and constantly live in fear."
The place Sheetal now calls home is a room in a slum in the Shahapur area of Ichalkaranji, which she got with much difficulty. After leaving her parents' home, she slept at a bus stop for a while. "I have to pay Rs. 2,000 as rent every month. An animal won't stay there, that is the condition of the room. In the monsoon, it sometimes gets filled with water – then I have to sleep at the bus station. Though I pay rent on time, I can't get a decent room. I too want to live in a good house, but not many are willing to give us a place on rent. If our own family and society don't accept us, where can we go?
Sheetal's long battles speak of the struggles of the entire transgender community in Ichalkaranji, a town with a population of around 2.88 lakhs, in Hatkanangale taluka of Kolhapur district in Maharashtra – their battles at home, in schools and colleges, at work, in housing, on the street.
At home, the reactions range from disbelief to anger, or denial and forced marriages.  When Sakina ( her assumed name as a woman) , tried to tell her family about her desire to be a woman, they insisted she (who they saw as male) marry a girl. Fearing social stigma, Sakina got married at the age of 27. She/he lives as a man at home in the Nehru Nagar slums, as well as socially.
"Sometimes, if there is an event in the hijra community, I go there clandestinely, wearing a saree," Sakina, now 33, says. "But at home I have to live as a father, as a husband. I cannot fulfil my wish to live as a woman. I live a dual life – as a woman in my mind and as a man in the world."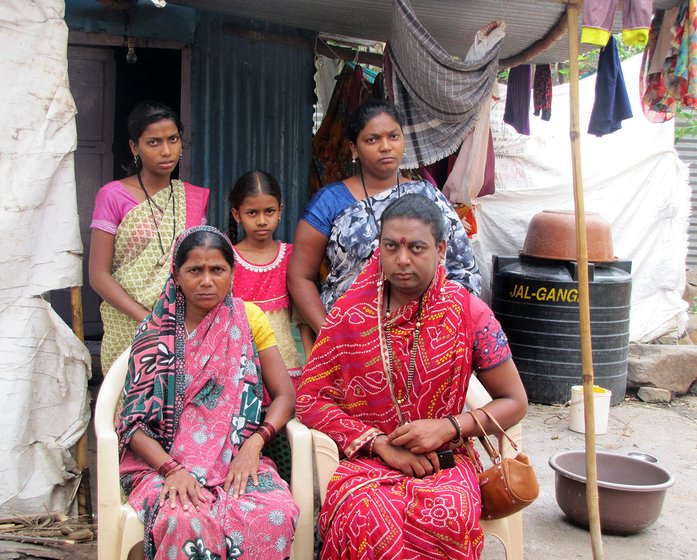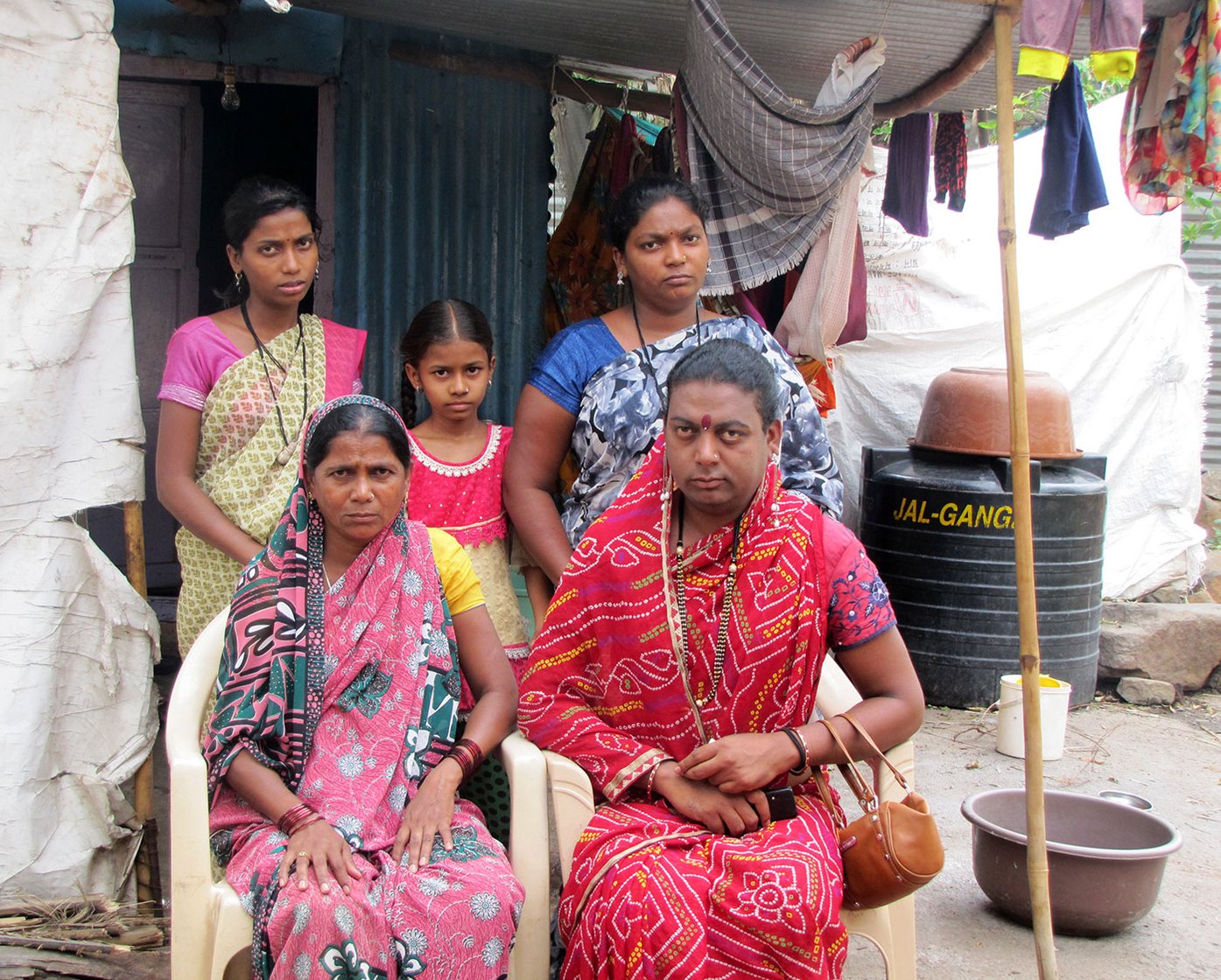 PHOTO • Minaj Latkar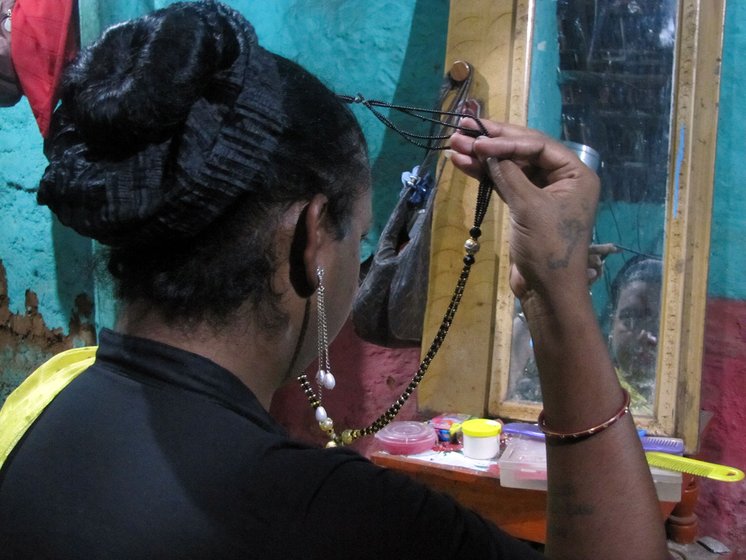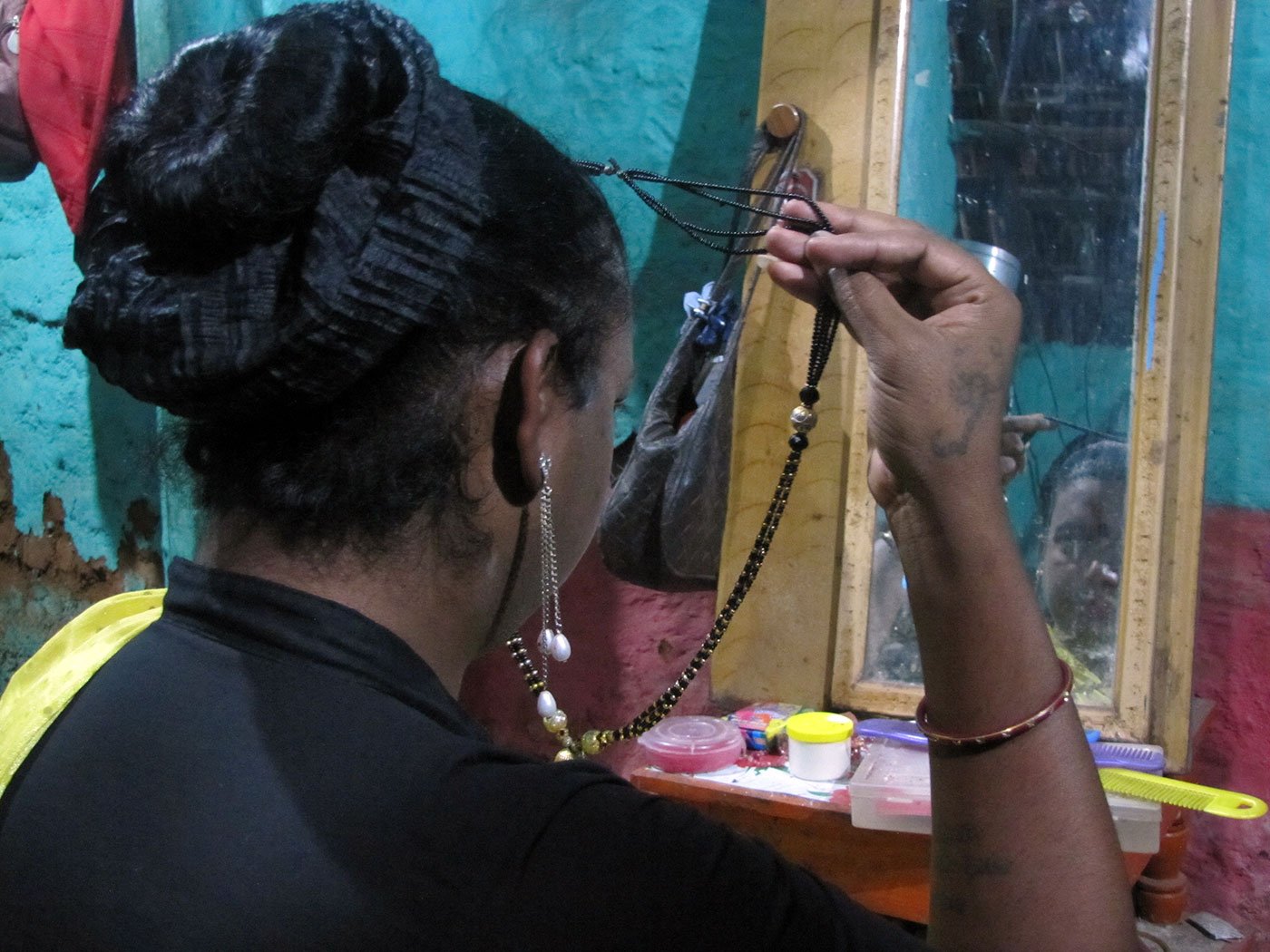 PHOTO • Minaj Latkar
Unlike Sakina, Sunita ( not her real name ), 30, managed to resist a family-mandated marriage. But she too, like Sakina, continues to live as a man, not as the woman she experiences herself to be. Sunita did not have the courage to tell this to her family. Her father is a grocer, her mother a homemaker. "They were pressuring me to get married, but how could I ruin the life of a woman by getting married to her? So I decided to leave home. In our [Maratha] community, if people come to know I'm transgender, it will harm our family honour, my sisters would not be able to get married, my family will suffer. Worried about what people would say, I decided to leave."
Sunita was 25 when she left home and rented a room in the Nehru Nagar slum. "Since then, I've met many persons who are like me," she says. "But they have to beg to make a living. Nobody wants to give them work, or a room on rent. Seeing their suffering also makes me not have the courage to wear a saree. But living life this way is very difficult."
In a few families though, there is some degree of acceptance. When, around the age of 13, Radhika Gosavi, now 25 ( in the cover photo on top ), realised that she was transgender, her mother and two sisters initially resisted. Her father, a metal scrap-picker, had died when she was 10.
"I wanted to tie my hair in a plait like my mother, wear clothes like my sister, wear a tikka , kajal , lipstick. Do housework like my sister. But I didn't understand why I felt like this," Radhika (earlier known as Sandeep), who also lives in Nehru Nagar, says. "When I told my mother I want to live as a woman, she got frightened, she cried a lot. My sisters would tell me, 'you are our one brother, a boy should live like a boy, get married, bring us a sister-in-law, get a job – instead of all this, why do you have this foolish idea in your head to wear a saree?' Our relatives told my mother to ask me to leave home. 'Once he wanders around crying for some days, he will return home properly [reformed]' they said."
But Radhika resisted. "I told my mother I will leave home." Eventually, her mother Suman, a domestic worker and scrap-picker, relented. "How can I drive my own son out of the house?" she told me when I met her at their home. "Who will support him? He might get into bad company. Instead of risking that, it is better he stays with me. Our relatives and neighbours criticise us for this, but I bear it all."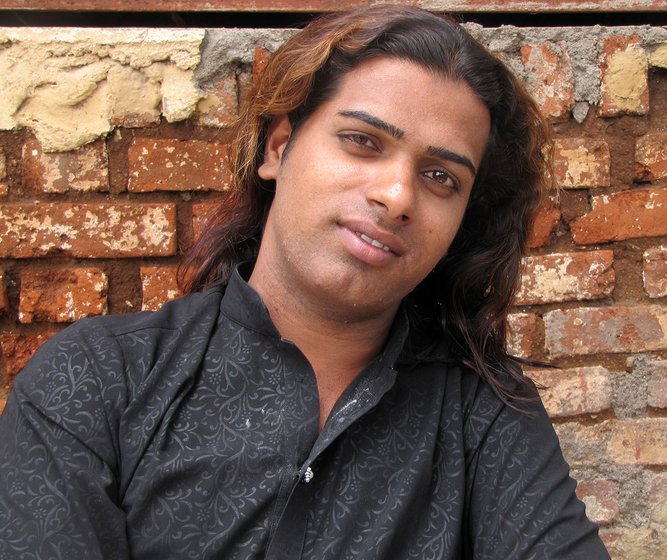 PHOTO • Minaj Latkar
'My brother says don't tell anyone that you are my brother. My sisters are married but I don't visit them for any functions at their in-laws' homes, they don't like it,'  says Aliya, who begs for a living. 'No one looks at us as human beings'

Aliya Sheikh, who too lives in Nehru Nagar with her family, says her elder brothers – two work in textile mills, one in a cloth shop – feel ashamed to recognise her in public because she is transgender. When we met, she was fasting for Ramzan but still went out to beg. "My brother says don't tell anyone that you are my brother. My sisters are married but I don't visit them for any functions at their in-laws' homes, they don't like it."
Along with the friction and distress at home, comes the battle to get an education, and then find work that will bring an income with some dignity. When Sheetal left home at 16, she had studied till Class 12. "I want to study further," she says. "I too have self-respect, intelligence. I don't like to wander around begging like a helpless person. I want to study and get a job in an office."
Sakina – living as a man, not as a transgender person – managed to get an MA in Marathi Literature and a BEd degree ( she does not want the name of her university to be disclosed ). But it was a hard struggle. Sakina needed money for college. So for some years she turned to sex work. A few classmates knew this and would threaten to disclose it to her family unless she had sex with them. Some teachers would call her to empty classrooms and demand sexual favours. "Though I didn't dress like a woman, my voice and mannerisms indicated that I am a transgender," she says. "I was fed up of this harassment and often thought of suicide. My father [a mason] was in debt after getting my three sisters married. With the money I earned [from sex work] I somehow completed my education. What to do? People anyway think that we are sex workers."
Sakina now works with a non-governmental organisation in Ichalkaranji, which assists people who are HIV positive or have tuberculosis, and earns Rs. 9,000 a month.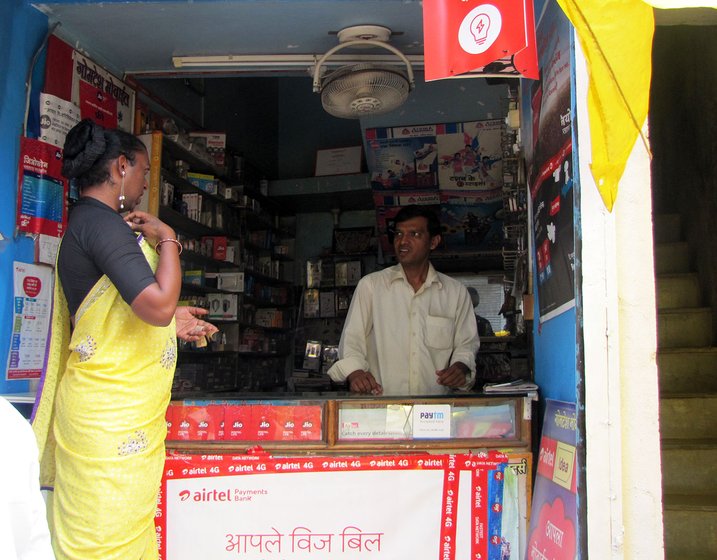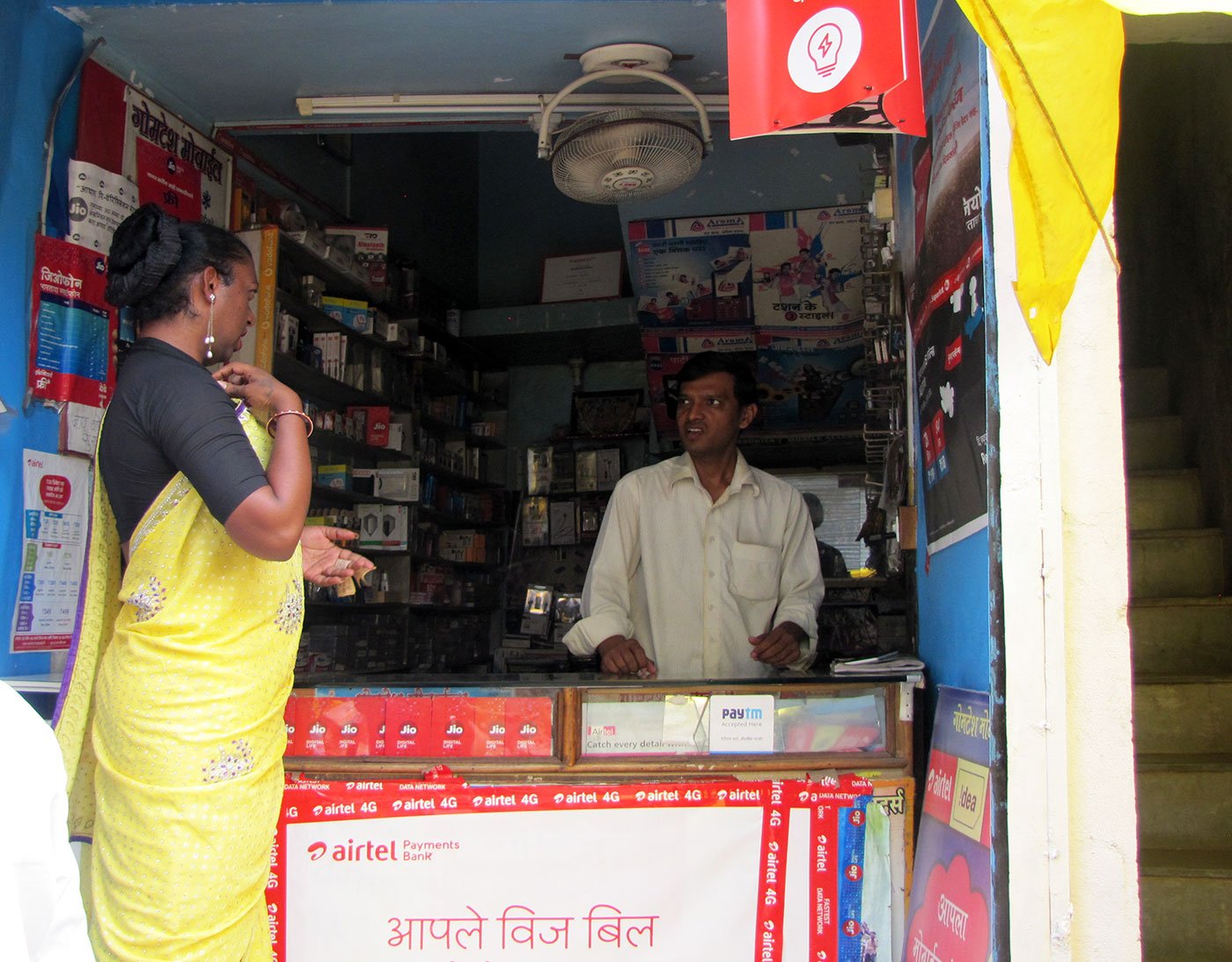 PHOTO • Minaj Latkar
For Radhika too, despite the acceptance at home, finding work has been difficult. She had to give up studying after Class 3. Like her father, she used to collect waste for recycling – iron, plastic and other items – or work as a brick-layer. "When around the age of 16-17 I started wearing a saree, people stopped giving me work," she says. So she now walks around asking for money from 80-100 shops. The shopkeepers give her varying amounts, ranging from Re. 1 to Rs.10. From 10 a.m. to 7 p.m. she collects around Rs. 125.and contributes her earnings to the family income.
Sunita managed to get work – washing dishes and cleaning in a restaurant in Ichalkaranji, for which she earned two meals and Rs. 50 a day – by concealing her transgender identity. She has now taken a loan of Rs. 25,000 from a friend to start a small business ( details withheld so as to not identify the business in her locality ).
No matter what the survival strategy, the harassment and discrimination continue.  "Some people think we have a gift of the divine and touch our feet, but some harass us a lot," Radhika says. "Shopkeepers often tell us to get lost. We bear everything so we can earn enough to eat. We roam about in the heat and sun and barely get 150 rupees. In small towns, how much will people give us? We do not like to beg, but people don't give us work. If we have to go anywhere, the rickshaw driver will often not take us and people treat us like untouchables in trains and buses. No one will stand or sit next to us but they will stare at us as if we are some evil spirits. It is very difficult to live and bear all this every day. People in our community get addicted to smoking and drinking."

In many instances, the police add to the harassment instead of helping. Sheetal says they have ignored her complaints of harassment by young boys in her neighbourhood and instead ask for a hafta (bribe). When Sheetal went to the police station, she says, "The police told me, 'It is you who must have gone after the boys. You people forcibly ask others for money." If the transgender person is a sex worker, the bribe amount can increase, along with threats of imprisonment. "The cops say, 'You are sex workers, you harass people, who will harass you'," Sheetal adds.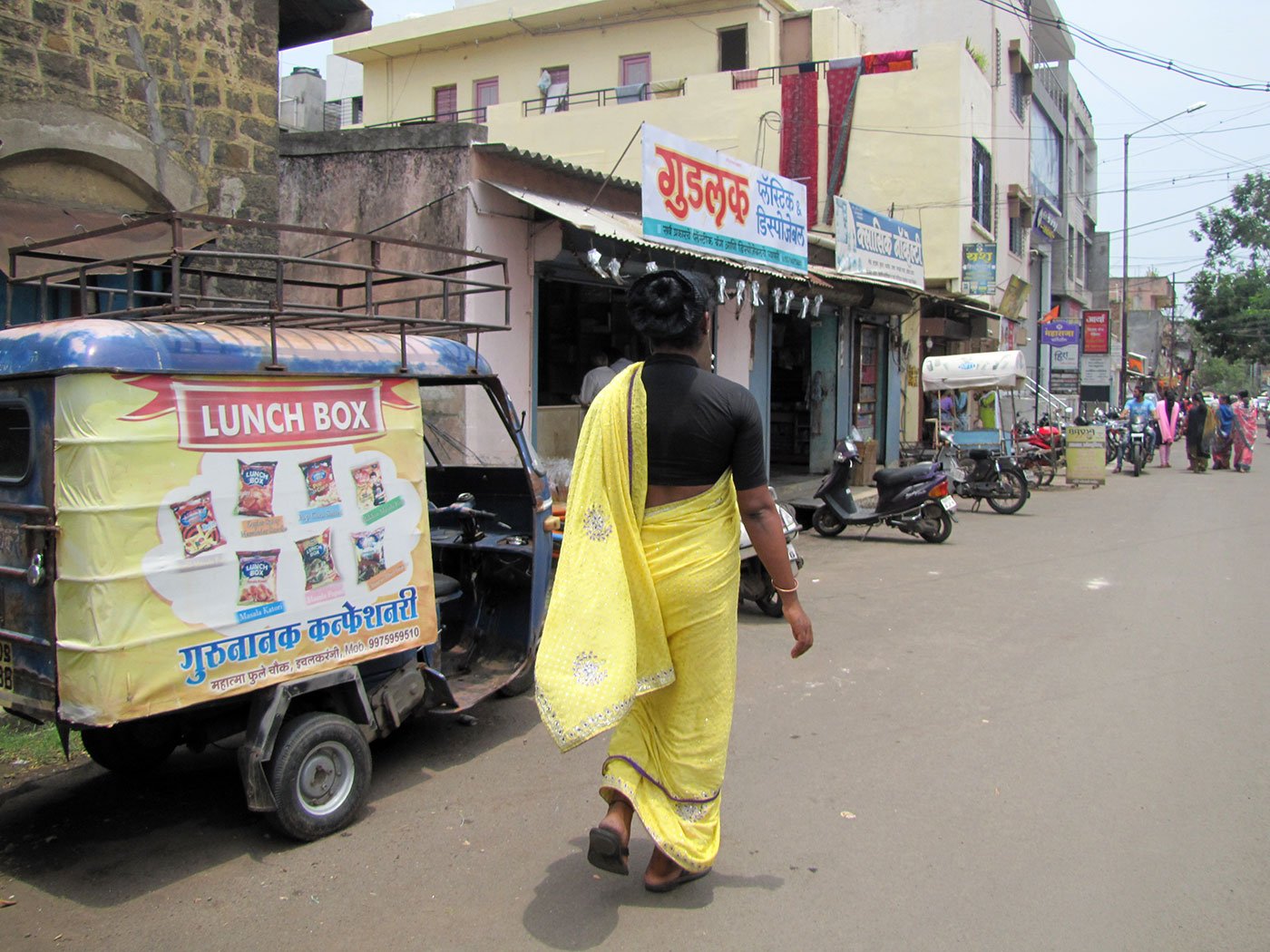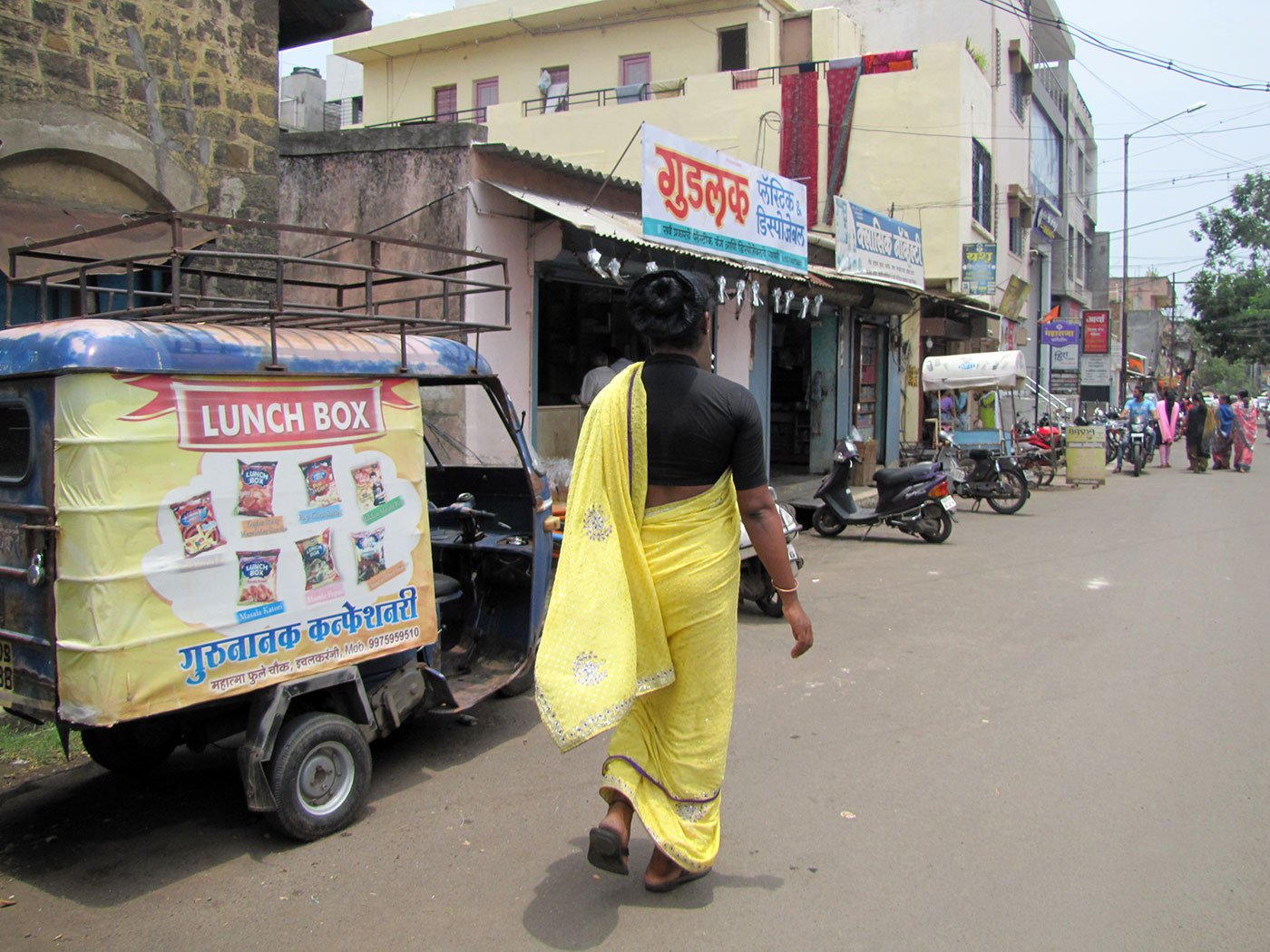 PHOTO • Minaj Latkar
Some changes though are underway, at least on paper. In 2016, the Transgender Persons (Protection of Rights) Bills was approved in the Lok Sabha, and is awaiting tweaks. The bill gives transgender persons the option to be independently recognised as "others" and be entitled to all the rights due to any Indian citizen. Among other provisions, it aims to reserve two per cent of seats in state-run educational institutions at all levels and start special employment exchanges, and also specifies penalties for hate speech against transgender persons.
In Ichalkaranji, the municipal council made a provision in May 2018 (still to be implemented) of Rs. 25 lakhs for the welfare of transgender persons, according to Prashant Rasal, chief officer of the council.
Rasal and advocate Dilshad Mujawar are also trying to help transgender persons get ration cards and Aadhaar cards – so far, they have managed to get 60 rations cards. Because transgender persons change their name and usually don't have a permanent address, it is difficult for them to get identification documents. And without these, they cannot access government schemes.
For the same reasons, their numbers are unknown. Maitri, an NGO working on HIV/AIDS awareness and prevention in Ichalkaranji, says 250 transgender persons in town access the organisation's services.
These and more continue to struggle in world where, as Aliya says, "no one looks at us as human beings."
Thanks to advocate Dilshad Mujawar for help in connecting me to persons from the transgender community, Sanket Jain for tips on photography, and everyone who agreed to be interviewed for this story.