For a man who lost a leg in a motorbike accident, Bimlesh Jaiswal, 28, took an audacious call when he decided to ride more than 1,200 kilometres from his rented room in Panvel, on the outskirts of Mumbai, to his home in Reva district, Madhya Pradesh – on his Honda Activa. The scooter has a side-car. And he made that journey with his wife Sunita, 26, and their 3-year-old daughter, Ruby. "I did not have an option," he says.
Bimlesh worked in Panvel for a contractor he followed to each new project – dusting and cleaning homes as they came up. "It is tough to do anything with one leg, but you have to do what you have to do," he told me on phone from his home in Hinauti village in Reva. That same spirit undoubtedly drove his astonishing journey in temperatures sometimes crossing 40 degrees Celsius. One that exemplified the grit, determination – and the sheer desperation of migrant workers like him to reach home.
When Prime Minister Narendra Modi declared a nationwide shutdown to control the spread of the coronavirus on March 24, millions of daily wage labourers like Bimlesh found themselves in a quagmire. "We had no work, so we did not even know how to get food," he says. "Let alone pay our rent and electricity bills. Who shuts down a country with a four-hour notice?"
The family still held out for 50 days in Panvel. "Local NGOs used to give us food and rations," says Bimlesh. "We survived somehow. We would hope for the lockdown to be lifted at the end of every phase. But when we realised there would be a fourth phase, we thought this could go on forever. Coronavirus cases are increasing in and around Mumbai, so my family back home in Hinauti was also worried."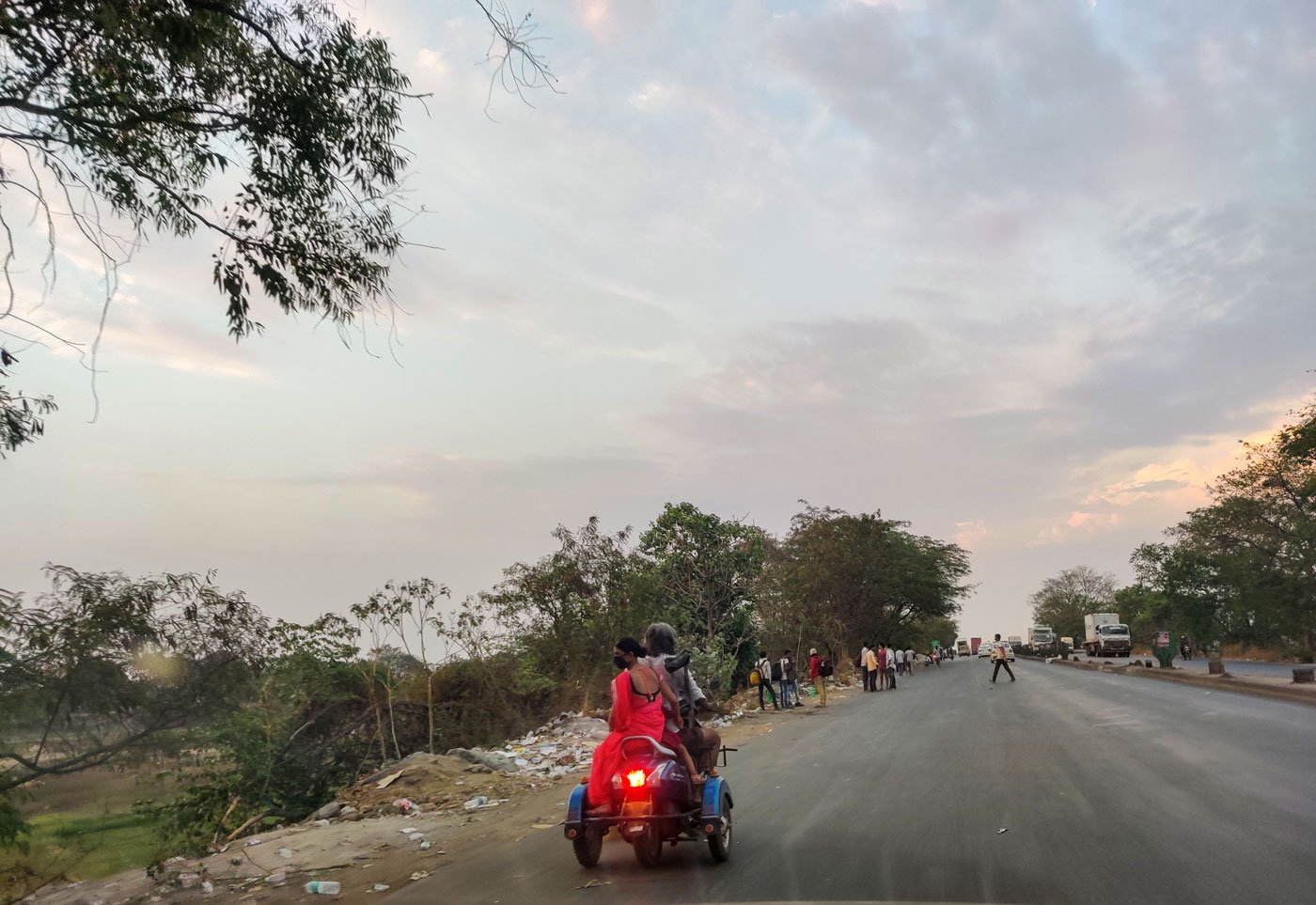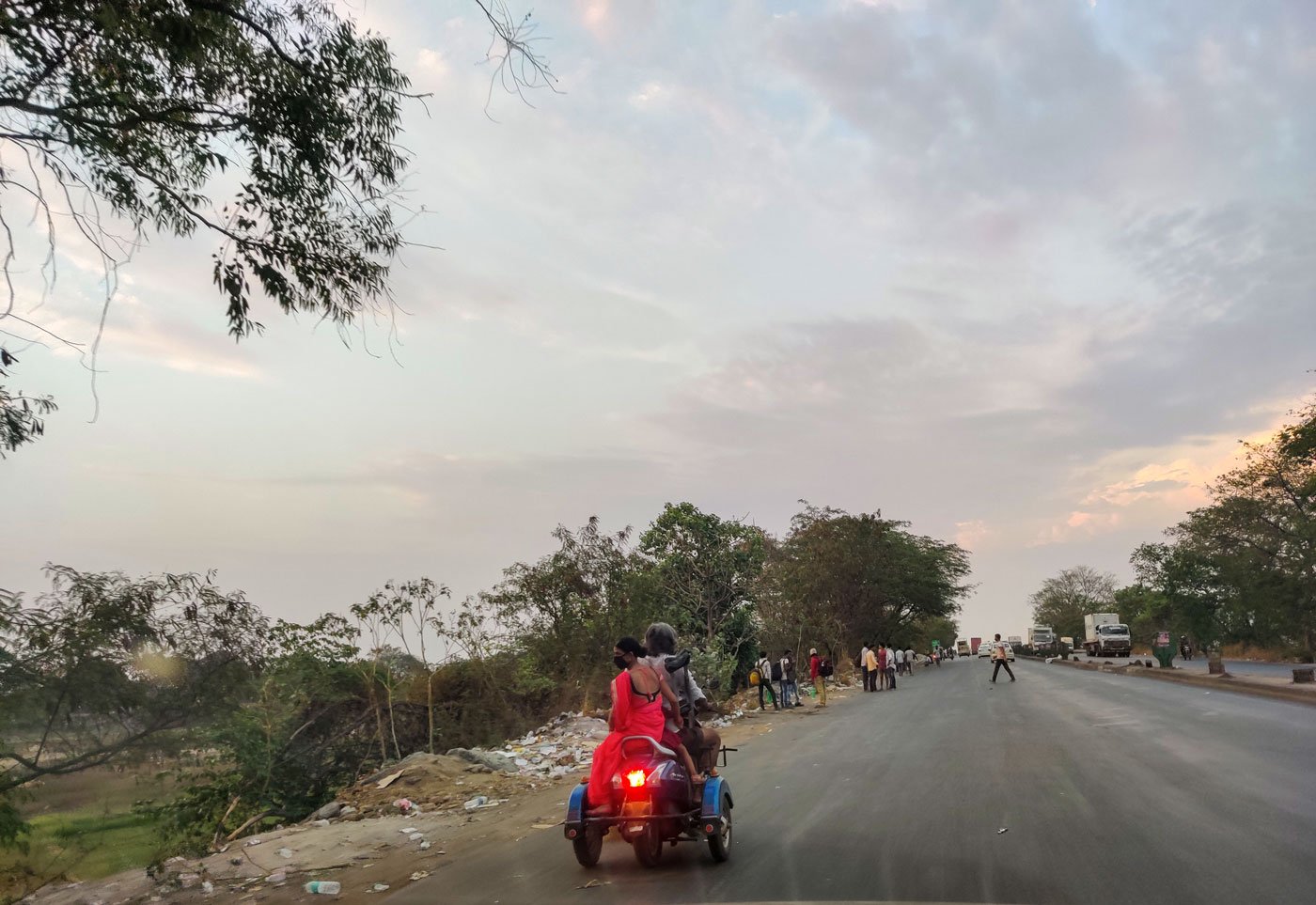 PHOTO • Parth M.N.
So they decided it was time to leave their rented one-room in Panvel and go back to Madhya Pradesh. "The landlord was kind enough to not press for the rent of Rs. 2,000," he says. "He understood our desperation."

Once the decision of traveling back had been finalised, says Sunita, they had three options: One was to wait for the shramik (labourer) trains organised by the state. "But there was no timeline or assurance about when we would be able to board." Another possibility was to somehow find a place on one of the many trucks going to Madhya Pradesh. "But the drivers were asking for Rs. 4,000 per seat."
That left the Jaiswals with the scooter-ride option. When I met Bimlesh on May 15 at the Kharegaon toll naka on the Mumbai-Nashik highway, the family had only covered 40 of the 1,200 kilometres. He had pulled over to the side to take a break. Two bags had been crammed in the leg space of the scooter. Sunita had got down to un-cramp a bit, while Ruby played in her arms.
Bimlesh's crutches rested against the scooter. "In 2012, I had a serious bike accident," he said. "I lost my left leg. I have been using these crutches since then."
For four years before the accident – he arrived in Mumbai in 2008 a wide-eyed teenager seeking work in the big city – Bimlesh had worked as a construction labourer. In that period, he earned between Rs. 5,000-6,000 a month.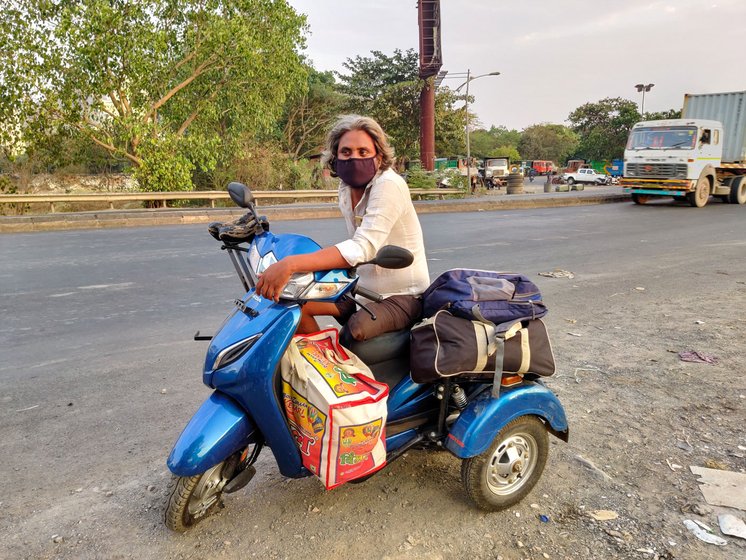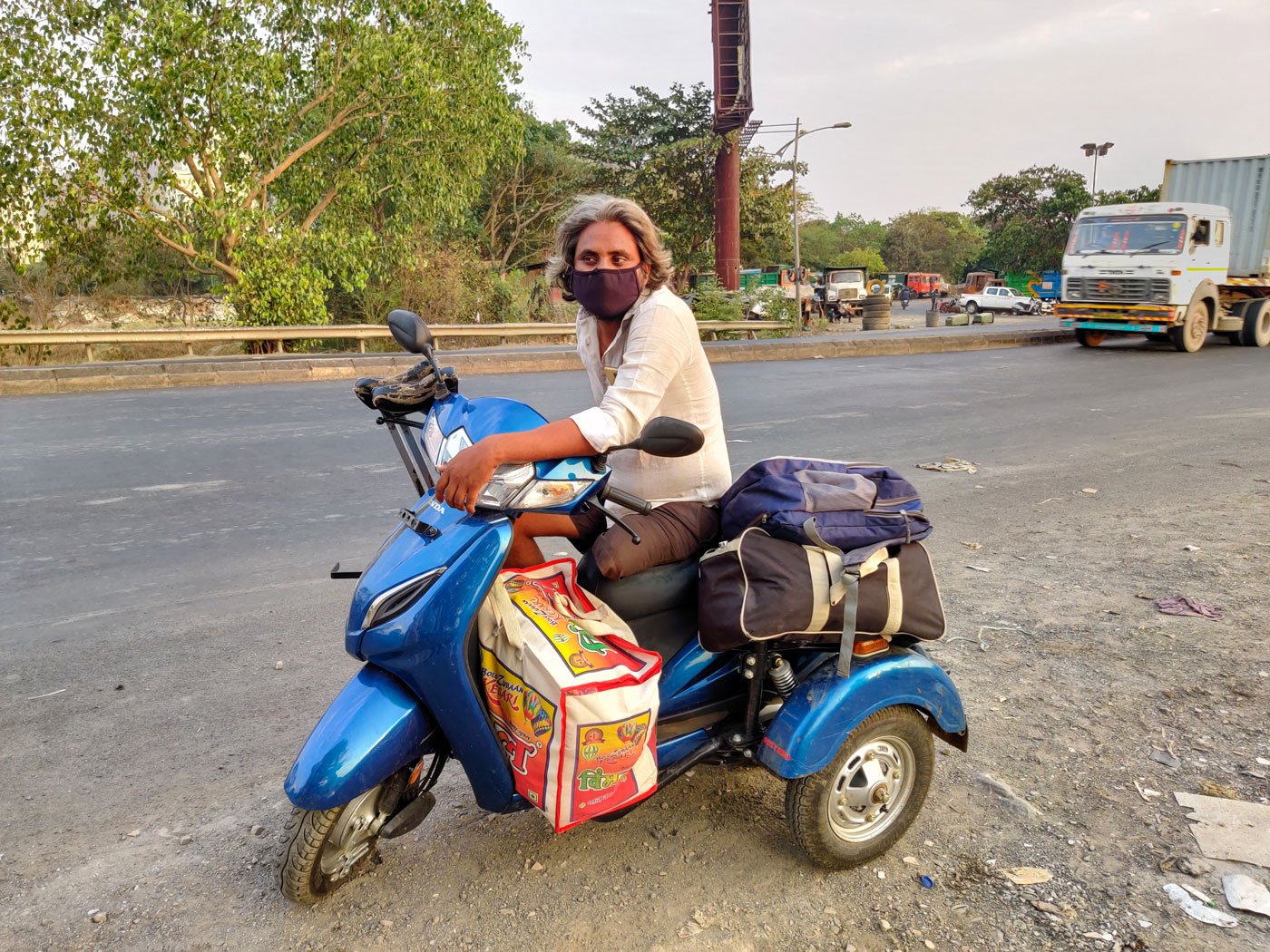 PHOTO • Parth M.N.
Then came the accident – when a truck smashed into him while riding pillion on a motorbike, crushing his leg. That was in 2012.

Since then, he has worked at dusting and cleaning homes for his contractor – earning around Rs. 3,000 a month – just half of what he earned almost a decade ago. Sunita was earning roughly the same amount as a domestic worker when the lockdown began – together, their monthly income was Rs 6,000.
Sunita had continued working after Ruby was born. But has earned nothing since March 25 – her employer has not paid her during this period. Until they left for MP, the family was living in a small room – using a common toilet outside – for which they paid a third of their monthly earnings in rent.
On May 15, as we spoke, Bimlesh sat calmly in the twilight while the highway continued to bustle with tempos carrying workers. Ever since the lockdown, hundreds of thousands of migrant workers living in Mumbai have been heading home to their villages in Bihar, Odisha, Uttar Pradesh and elsewhere, using different modes of transport. The Mumbai-Nashik highway has remained extremely busy throughout this period.
It has also witnessed serious road accidents – among them, overcrowded trucks that have capsized along the way, killing migrant workers. Bimlesh was aware of that. "I won't lie. I am scared," he said. "But I promise not to ride the scooter after 10 at night. And I will call you when I get home."

Well, he kept the second of his promises. My phone rang on the morning of May 19. "We just reached sir ji ," Bimlesh announced. "My parents almost broke down on seeing us. They were delighted to see their granddaughter."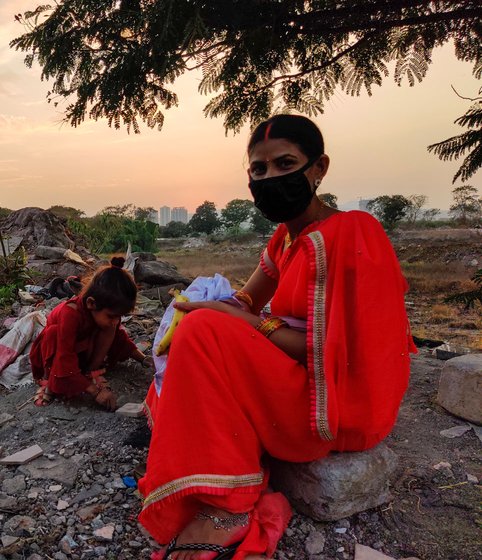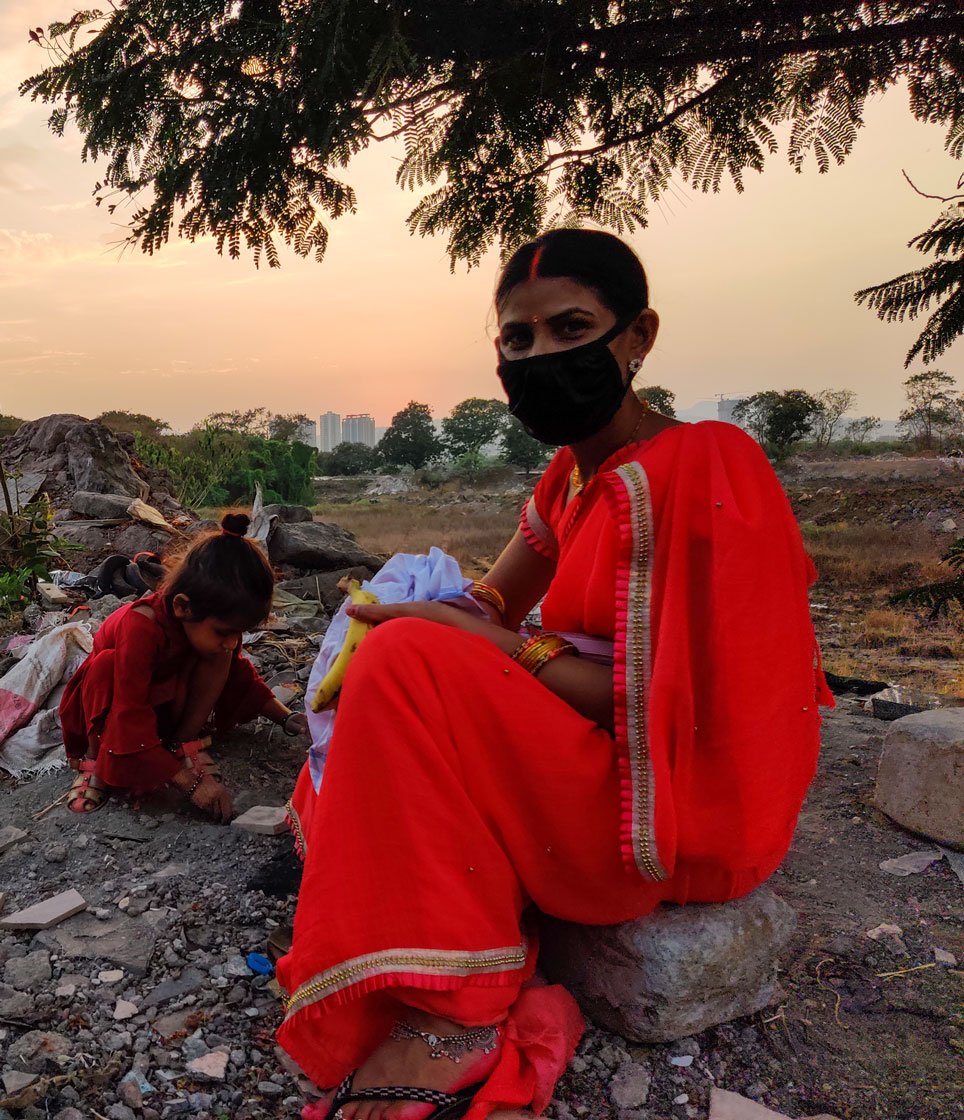 PHOTO • Parth M.N.
Bimlesh said they had at best slept only three hours on any of the four days and nights they spent on the road. "I would ride the scooter at a steady pace in the far left lane," he said. "We would go on until 2 in the night, and resume at 5 in the morning.
At a suitable spot under a tree each night, they would sleep for a while. "We had carried our sheets. We would spread them and sleep," Bimlesh added. "I don't think my wife and I slept peacefully at all, because we were always aware of the moving vehicles, our luggage, and the cash we were carrying."
In that sense, though, their journey was uneventful. The family was not even stopped at the state border for checking.
What was more remarkable was that Bimlesh's gearless two-wheeler, meant mainly for short-distance travel within cities or towns, held out without breaking down through four days of almost non-stop use.
He had kept Rs. 2,500 with him for fuel and food. "Some petrol pumps were open, so we would fill up the tank when we found one," he said. "We were worried about our daughter. But Ruby braved the heat and warm breeze on the scooter. We had carried enough food for her, and good people along the road gave her biscuits."
Mumbai had become Bimlesh's home in the past decade. Or so he thought, until the lockdown. "I had been feeling insecure for the past few weeks," he said. "In times of crisis, you want to be with your family. You want to be surrounded by your own people. I had come to Mumbai because there is no work back home. That still remains the case."
He owns no farmland in Hinauti. The family's income come from daily wage labour. "If you have to do labour, might as well do it where you can find it consistently," he says. "I will have to return to Mumbai once everything settles down. Most migrant workers come to cities because they have no options back in their villages. Not because they love being in cities."