They have travelled nearly 900 kilometres to get here, and now wait to be picked up for daily wage work. Uncertainty binds these labourers. They have come this distance switching two trains, from Puttaparthi and Kadiri, in Anantapur district, Andhra Pradesh. "There is no drought work [under MGNREGA] in the villages, and we haven't got paid for the work we have done for weeks," several farmers told me. And whatever work there is, falls to a tenth of the actual demand over the course of the year.
And so, hundreds of men and women get on the Guntakal Passenger every week and reach Kochi. ​"No one takes a ticket while coming to Kochi. While going, half of us take tickets and the other half doesn't," Srinivasulu, ​​a migrant labourer from Anantapur's Mudigubba mandal says.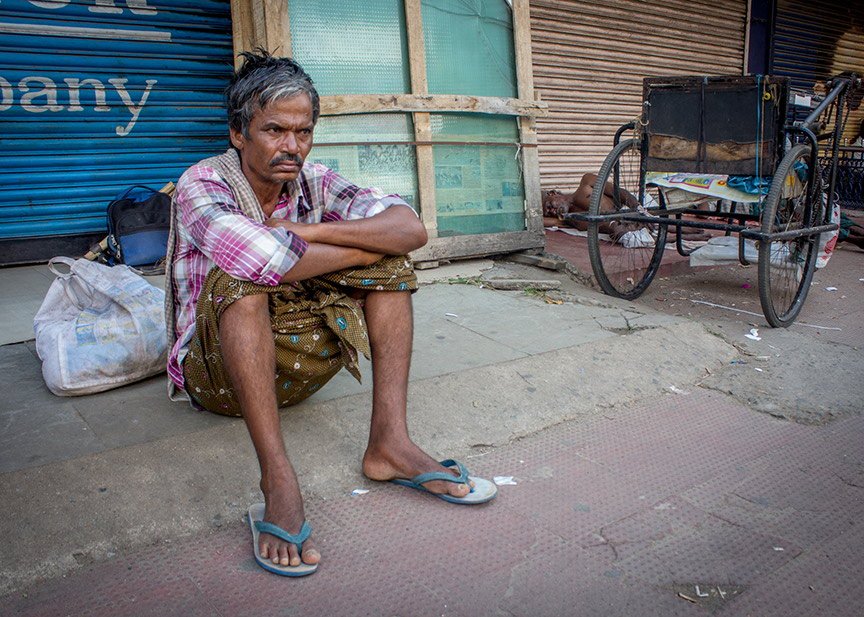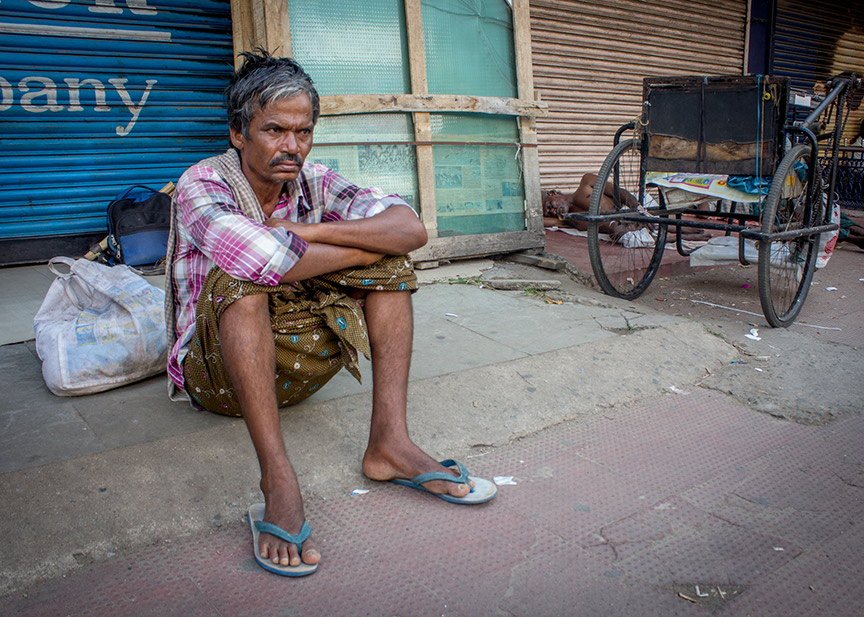 PHOTO • Rahul M.
Srinivasulu was caught once, when he was returning to Anantapur. "It was raining in Kochi. I had filled the water bottle with half a litre of alcohol and was drinking on the train. Halfway, I remembered I didn't buy a ticket." So Srinivasulu gave the Rs. 8,000 he had earned in Kerala to a co-traveller and kept only Rs. 80 with him, and waited patiently to test his luck.
At Katpadi, the ticket collector (TC) stopped Srinivasulu.
"Where is the ticket?" the TC asked him.
"I don't have one," Srinivasulu replied.
"Stand." The TC spoke in Telugu, "Come along, mama [loosely: brother-in-law]."
"Let's go, mama ," Srinivasulu replied confidently. The ticket collector took 50 rupees from him and let him off with a warning. Srinivasulu, drunk and swaying, promised never to travel on that train again.
As the ticket collector started walking away, Srinivasulu said, "Sir, I don't have any money to eat." The TC verbally abused him, returned his money and let him go.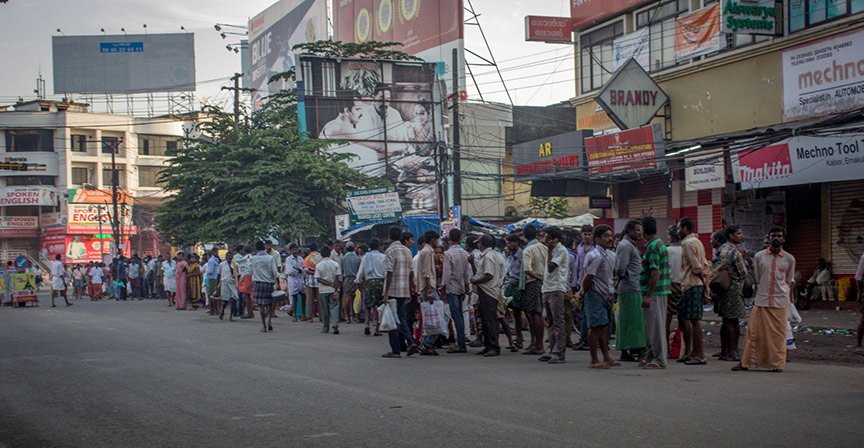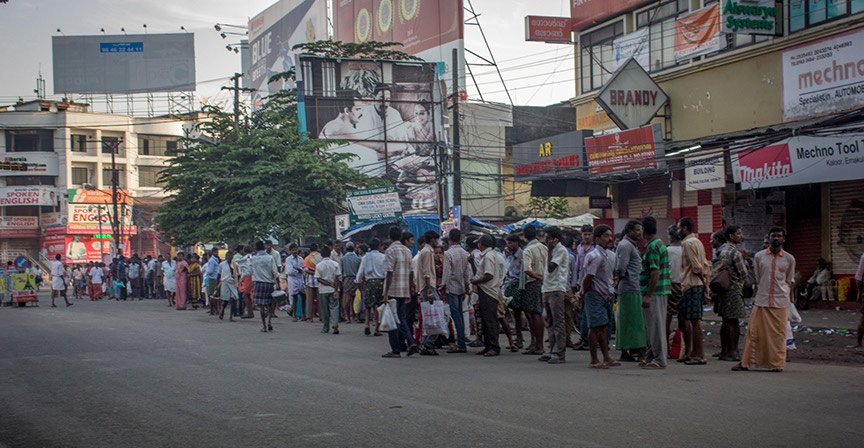 PHOTO • Rahul M.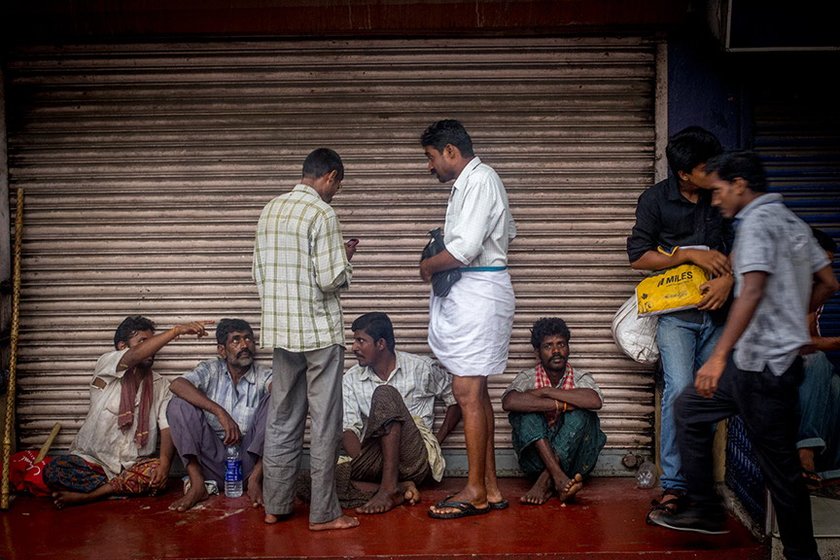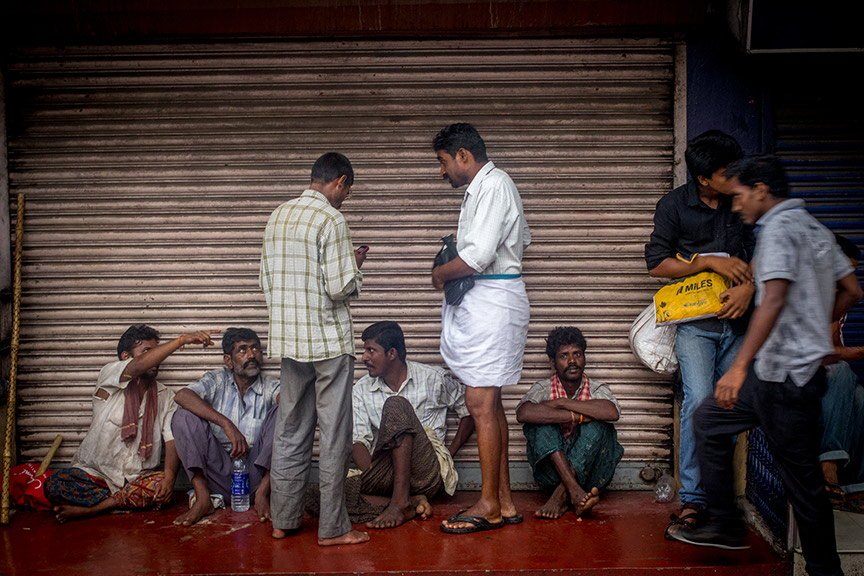 PHOTO • Rahul M.
Migrant workers arrive at Kaloor Junction in Kochi early every morning; then they wait patiently on either side of the road, to be picked for work by contractors and landowners who build roads and houses with Gulf dinars. On working days, they are up at about 6 a.m. to go to the toilet, bathe, and then line up along the road. There is time for a bath in the river only when there is no work, says Nagesh, a labourer.
By 7 a.m. the junction is crowded. "Some months, there are easily over 2,000 of us," a labourer says. People eat breakfast and pack lunch at one of the two makeshift roadside eateries run by families, often fellow Andhras. They serve muddha (a staple in Rayalaseema, prepared using ragi ), pickles and rice.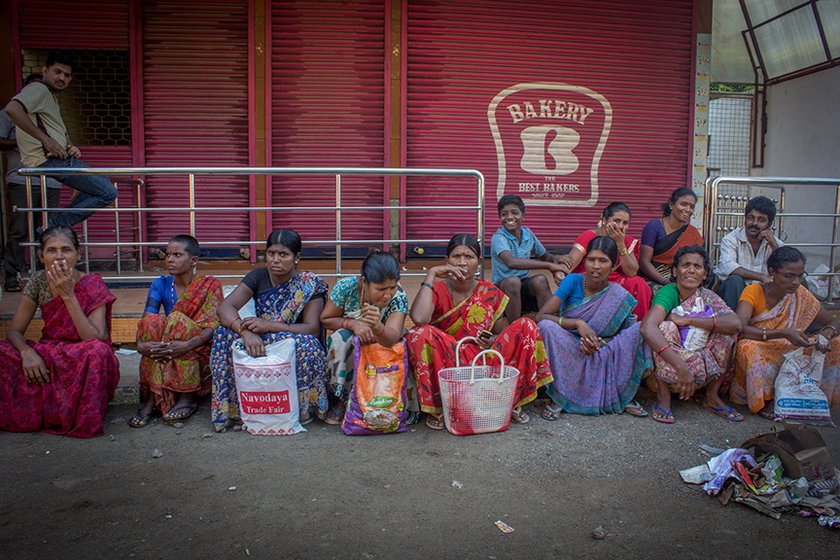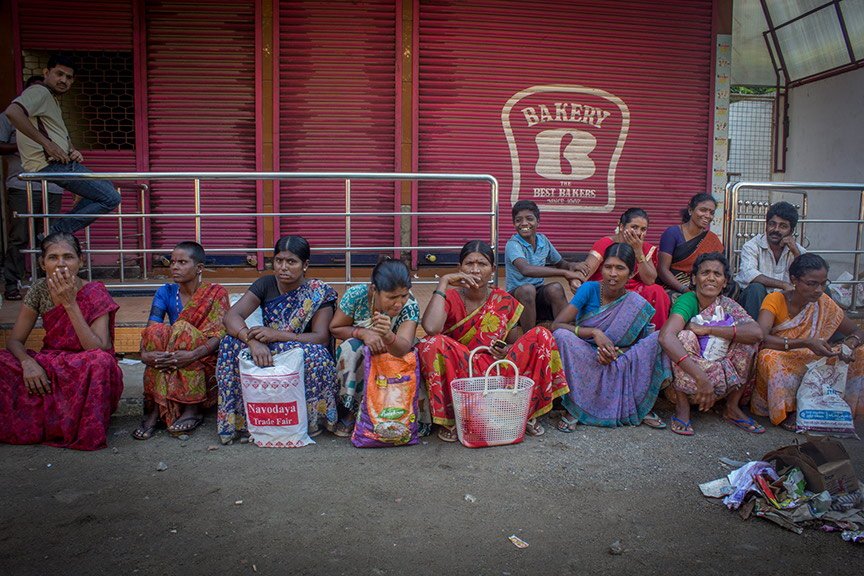 PHOTO • Rahul M.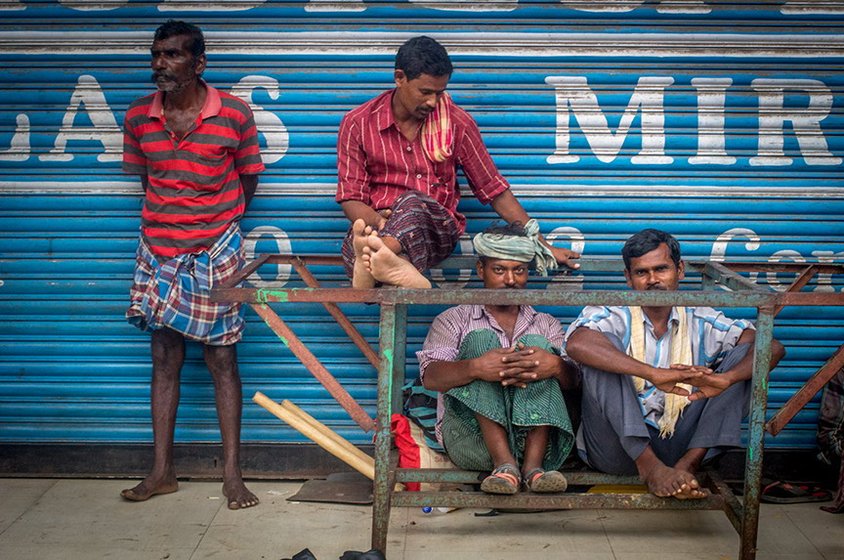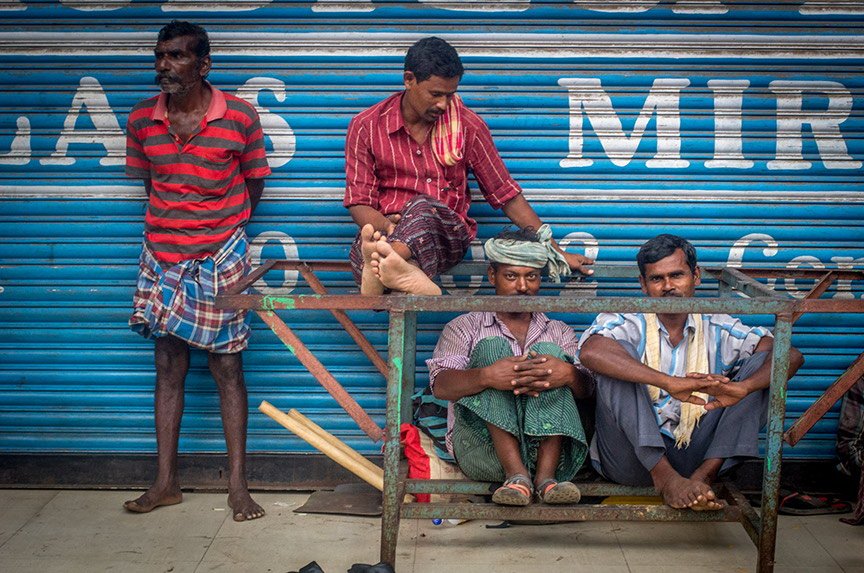 PHOTO • Rahul M.
At the junction, not all days are equally promising. A labourer may or may not get picked up for work. "When there is no work," a migrant says, "we get drunk and sleep."
People come here because the daily wages in Kerala are at least three times higher. "In Anantapur, we get Rs. 200 a day. Here it's Rs. 650, sometimes even Rs. 750," says Rangappa, who sells gujri (old, discarded stuff) in Anantapur. Many recollect how a landowner once paid them over Rs. 1,000 for a small household job, plus alcohol and food.

Everybody living at the junction area has a story. The stories are similar: a failed groundnut crop, thanks to a lack of rain, a proliferation of borewells, and the government's failure to compensate them for their losses. Besides, soaring debt and unavailability of, or no payment for, MGNREGA work for many weeks make things worse.

PHOTO • Rahul M.
There are people of all professions here. In a few hours, I met painters, handloom weavers, an auto driver, an ex-CRPF jawan, an 82-year-old visually impaired man, and several students on summer vacation. For Rajashekhar, a 17-year-old from Kadiri, who had just written his Class 10 exams, the wages bring a few extra rupees to his family. For degree students like Balaji Nayak, the money from Kerala is their college fee.
Balaji, 23, was studying for a BA in Telugu Literature from Vivekananda College in Kadiri. He worked on Sundays to put himself through college. But once the work in the villages started disappearing, he was forced to drop out after the second year. "A stomach burning with hunger is the worst thing," he says. Balaji eventually got married and now travels between Kadiri and Kochi for work, supporting his wife and old parents.
There are many students like him waiting for work here. "We have come completing our degrees," says a well-dressed student. "Some of us work here during holidays".
PHOTO • Rahul M.
One by one, house-owners and contractors arrive at the junction. People crowd around them. "Contractors scout around for an hour, carefully examine people and then pick labourers, depending on their age and strength," says Veerappa, who waits at the junction too. By 11 a.m., as it becomes clear that there is no more work for the day, the remaining labourers chat for a while or sleep on the footpath. Some drink alcohol at secluded street corners.
At around 1:30 in the afternoon, some of the labourers who have not found work head to the local Shiva temple, maintained by the Vishwa Hindu Parishad, where lunch is free. "The shivalayam saves a lot of lives," a labourer says. "They give us Kerala rice, which is okay. They feed everyone. Most of us without work eat there."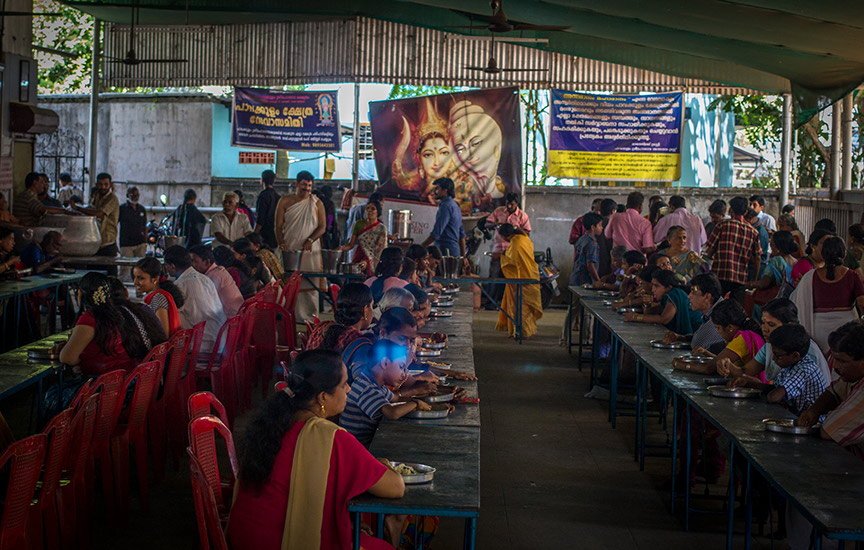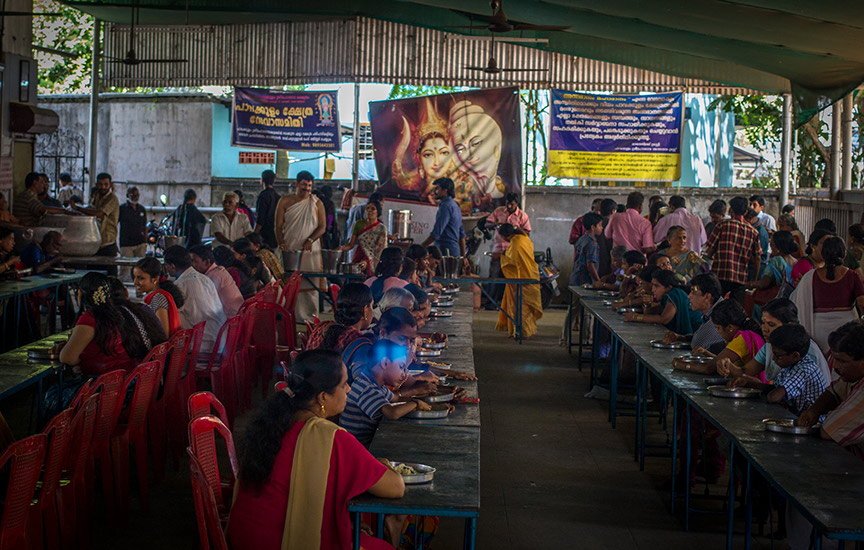 PHOTO • Rahul M.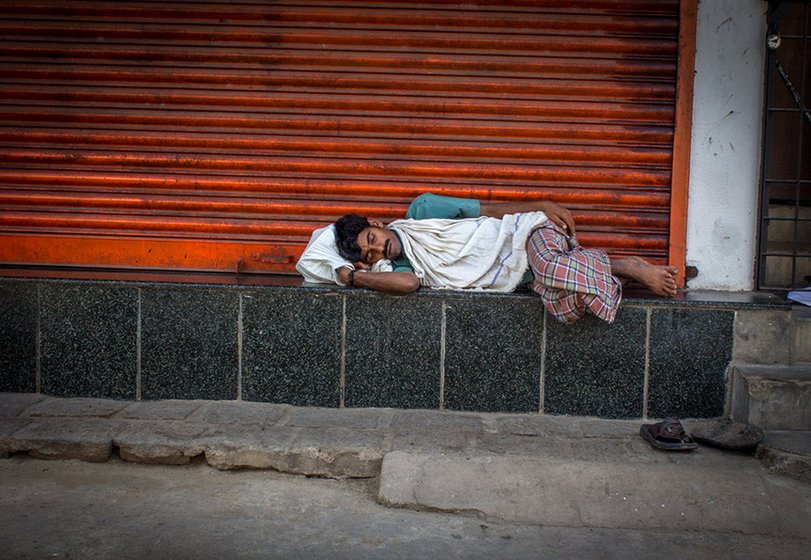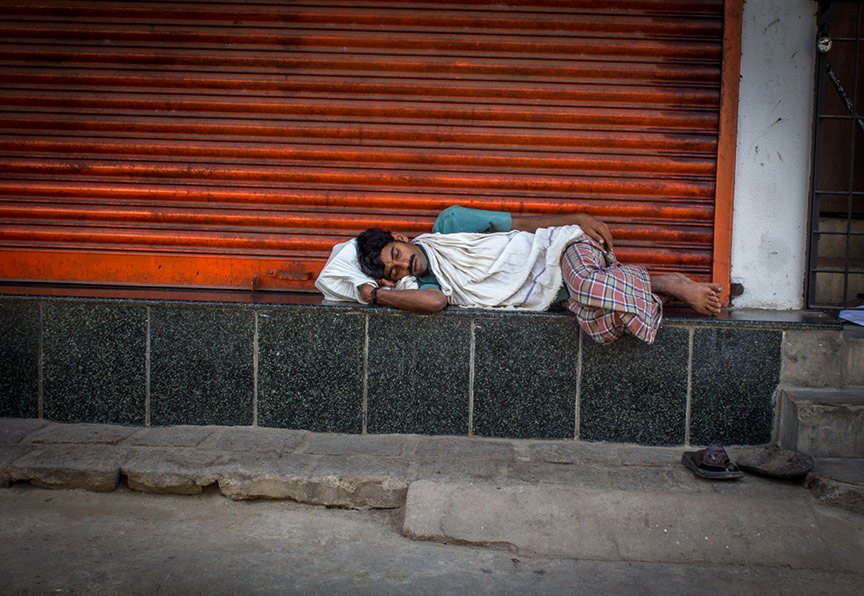 PHOTO • Rahul M.
Once the workday is over, the labourers head back to their sleeping quarters. Some sleep on the footpaths at the junction and on the platform of the local bus stand. Others sleep on the terraces of houses and in crumbling old rooms rented out by Keralites.
"From 5 p.m. lights are on, but not the fans. By 10 p.m. the lights go off and fans come on," explains Ramakrishna, who sleeps on the terrace of a Malayali home. "We don't have access to the switches. After we pay the rent for the day, the owner switches on the fan. If someone fails to pay, then they switch off the fan, even though it is for all 40 people who sleep here."

PHOTO • Rahul M.
The people living on the streets face a different kind of problem: mosquitoes. "But you don't get sick when they bite you," says 62-year-old Venkatamma. For others, it takes alcohol to overcome the mosquitoes and the sultry Kochi weather, and fall asleep.
Anjaneyulu, who refuses to work for anything less than Rs. 800 a day, reeks of alcohol. He is drunk all the time. "Ask Chandrababu [Naidu] to build me a toilet, I will lessen my drinking," he says. "We don't have a toilet back home. When we go to the canal, people yell at us."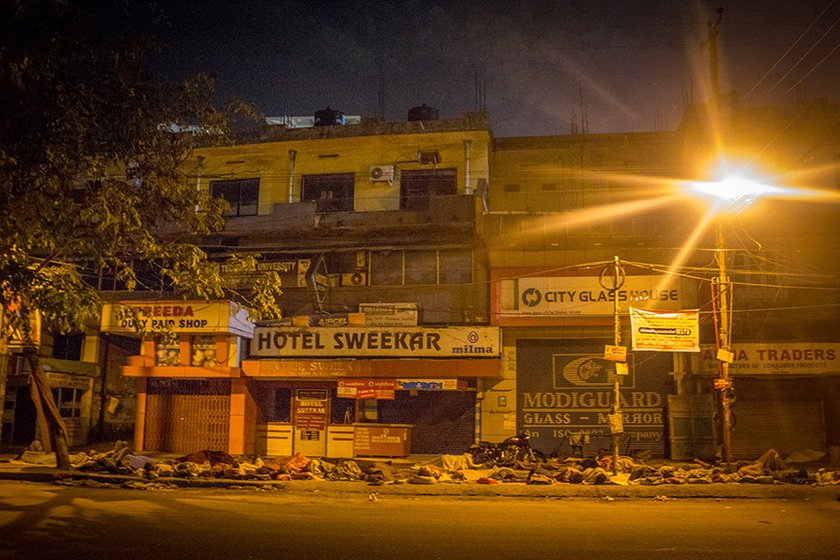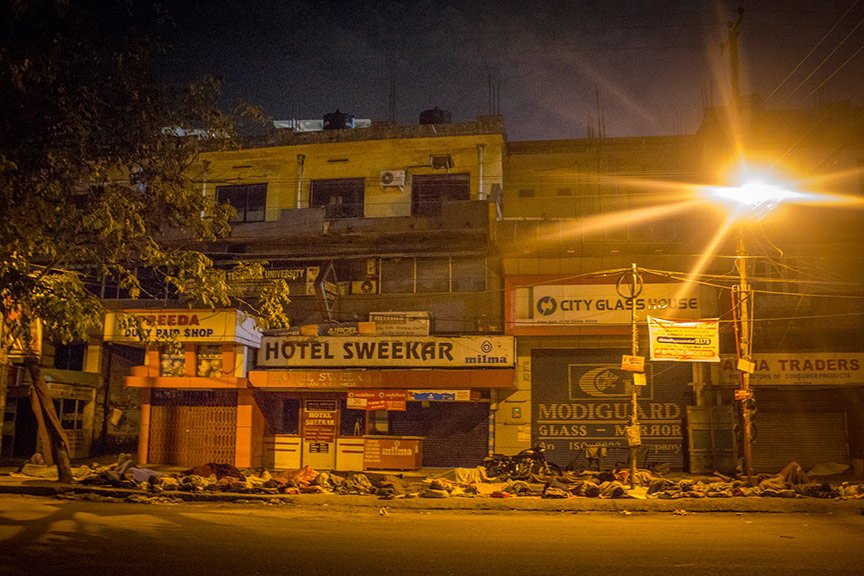 PHOTO • Rahul M.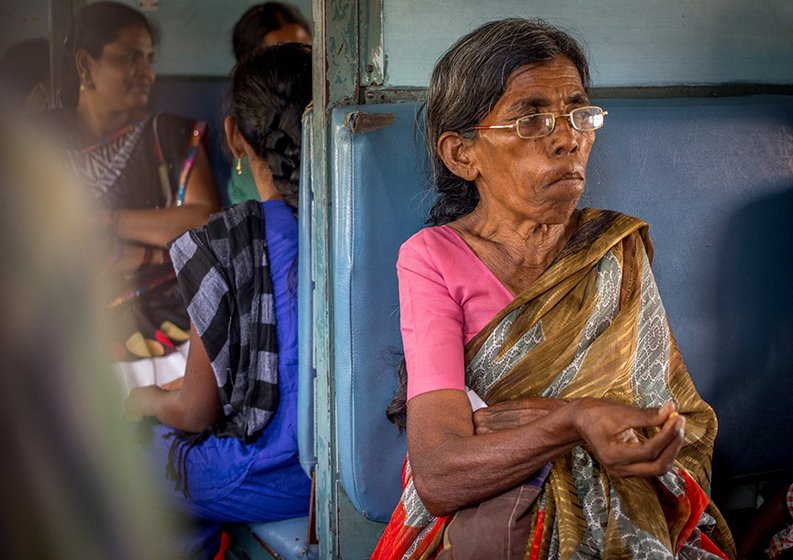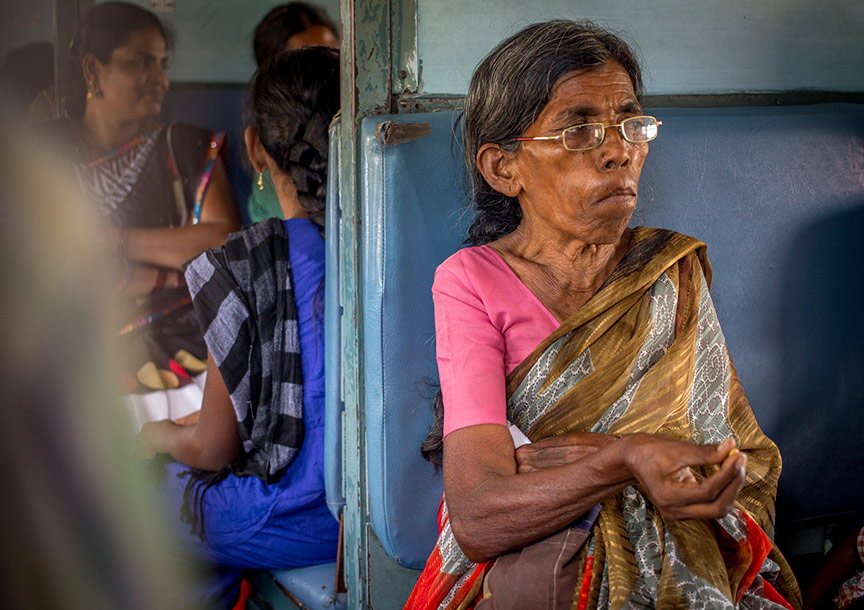 PHOTO • Rahul M.
Each labourer at Kaloor Junction has a cycle of work. Most people stay for about three weeks and go back to the village for a week. Some stay longer, to repay old debts. "I haven't been home in a year," says Narayanaswamy, a 40-year-old farmer from Mudigubba. "I send about 2,000 rupees every week".

"Everyone has an obsession here," says Srinivasulu. "Some are mad about cards, some are mad about alcohol, someone else is mad about the lottery."
But the one thing they all have in common is uncertainty, as they line up on either side of the road at Kaloor Junction.