'Chandra badani kholo dwar/Tihare Manmohan thare hai Holi khelne ko ( Open the door, moon/ Krishna is waiting to play Holi )'
On a cold afternoon in March, women's voices reverberate in the foothills of the Panchachuli peaks. It has rained in the morning, and the sky is still overcast. As I draw closer to the panchayat office of Sarmoli village of Munsiari block in Pithoragarh district, the rhythm of the dholak becomes louder. As soon as I cross a mountain bend, I see dozens of women moving in a circle and singing songs of Holi under a wide open sky, in the shadows of the Himalayas.
In the Kumaon region of Uttarakhand, Holi, which began on March 8 this year, is more than just about colours – it is a festival of songs and music, of rhythm and melody. The region celebrates different forms of Holi, all of them musical. It is a time when women as well as men transform into melodious Holiyars – those who sing songs of Holi.
Gatherings ( baithaks ) called 'Baithki Holi' are popular across the towns and villages of Kumaon. Women have baithaks in their homes. They sing songs in Hindi, Brajbhasha, Awadhi and Kumaoni, to the accompaniment of the harmonium, tabla and drums.
"This is the time when we laugh, have fun, sing loudly and dance. Other times, we remain busy with our farming, children and cattle. Through these songs, we also make fun of each other or speak of scandals of the village. Unless you see the dancing, you won't believe these are the same women who work so hard in the hills with their face down," says Sundari Lachpal of Sarmoli.
Baithki Holi is said to date back to the mid-19th century, when renowned musician Ustad Amanullah Khan from Rampur district in Uttar Pradesh introduced it to Almora. "It is said that around [the year] 1850, Khan came to Almora and initiated classical music here," says Naveen Bisht, a Holiyar in Almora. "But even people with no knowledge of Hindustani classical music can learn and sings songs of Holi, which is why the tradition of Holiyar is still alive."
According to the Hindu calendar, Holi in Kumaon starts in December, on the first day of the month of Paush. But celebrations really pick up only in March, a week before Dhaulendi, or the day of Holi with colours. Around this time, Baithki Holi transforms into Khadi Holi – standing and dancing to celebrate the advent of spring. In some villages, the women visit each house in the village and dance to the songs of Holi.
Then there is Mahila Holi, also celebrated exclusively by women in homes and temples a week before the day of Holi. They gather, dance and sing songs to the gods, to Radha-Krishna, Ganesha and Shiva.
In early March, I attended three Mahila Holi celebrations in the villages of Munsiari block of Pithoragarh district. This photo essay documents the festivities in chilly Munsiari ('place of snow') – located 2,270 metres above sea level – and records the songs of Holi sung by Kumaoni women.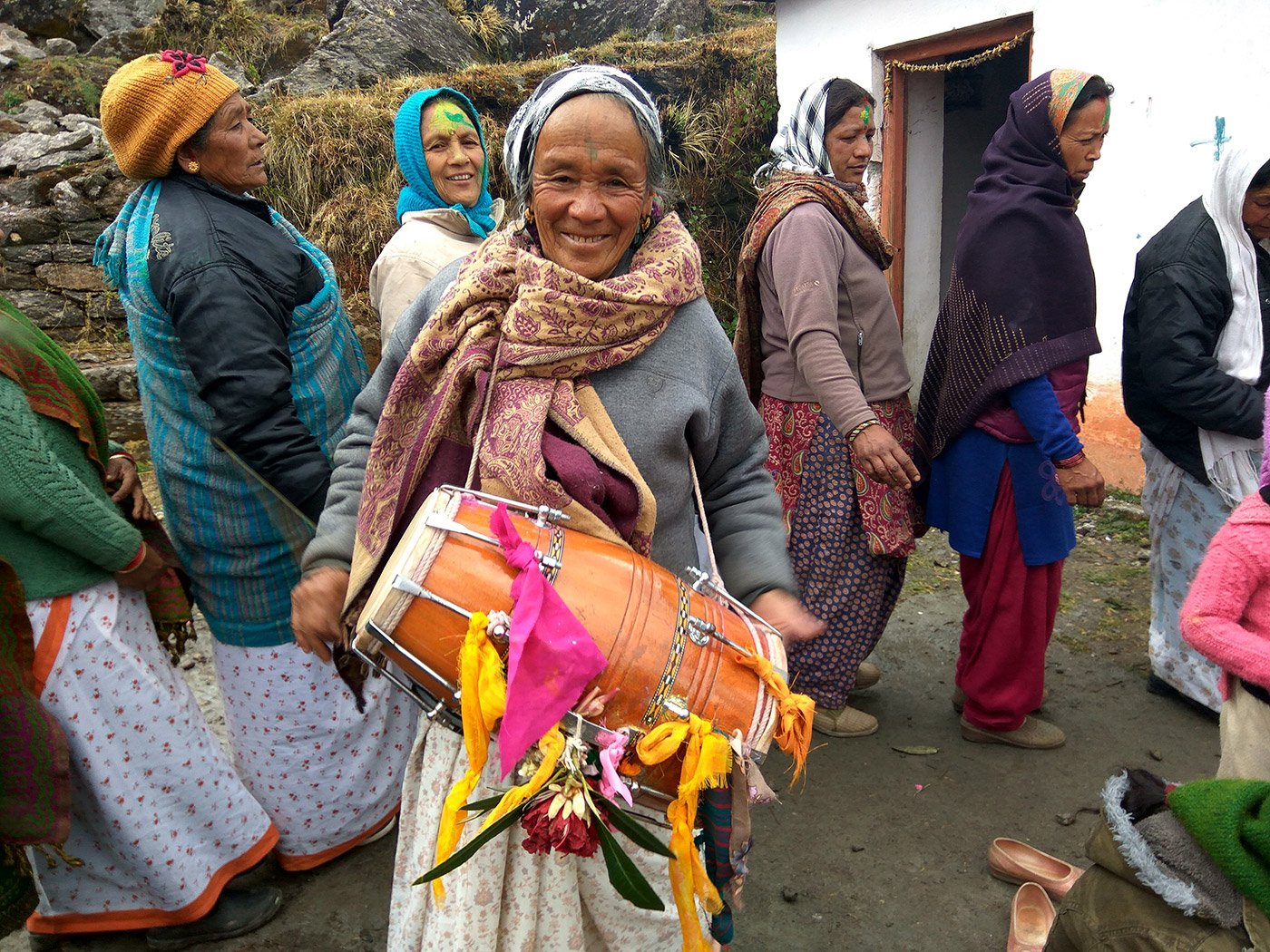 PHOTO • Arpita Chakrabarty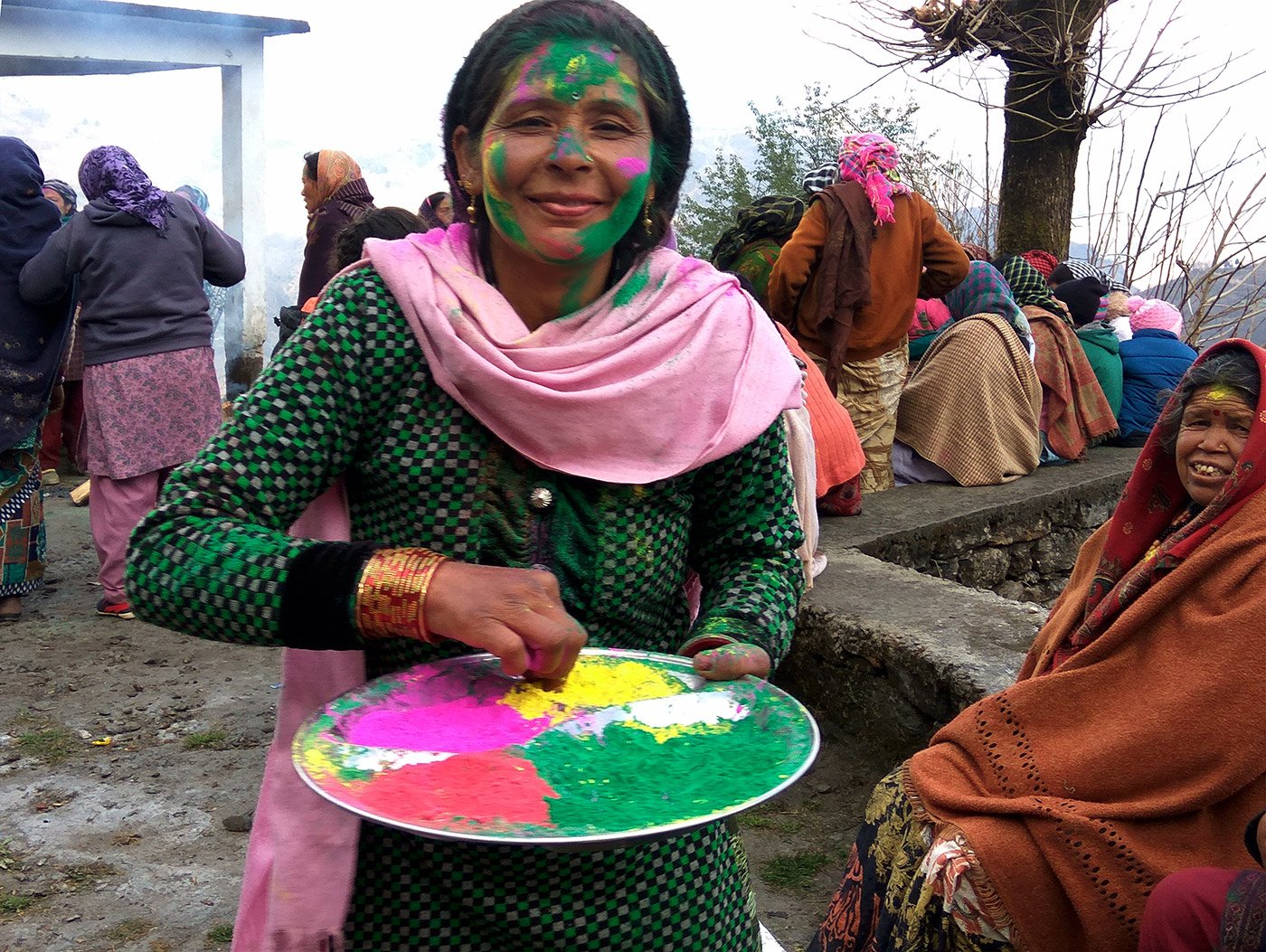 PHOTO • Arpita Chakrabarty

PHOTO • Arpita Chakrabarty

PHOTO • Arpita Chakrabarty

PHOTO • Arpita Chakrabarty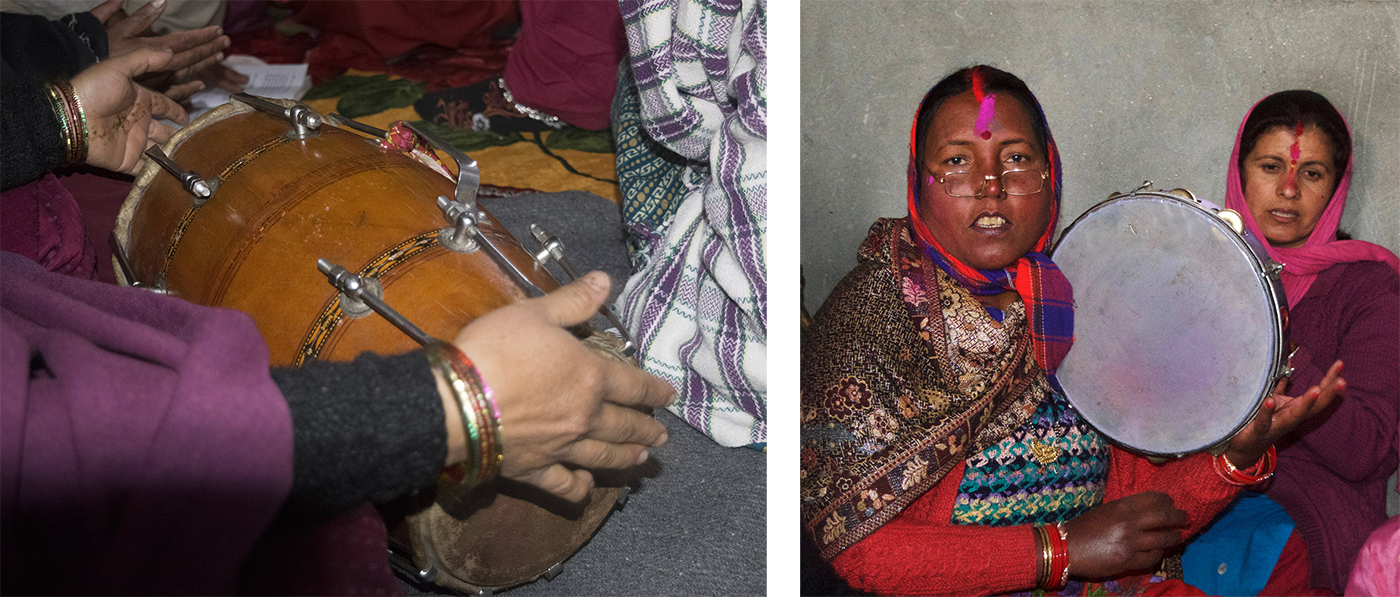 PHOTO • Arpita Chakrabarty

PHOTO • Arpita Chakrabarty

PHOTO • Arpita Chakrabarty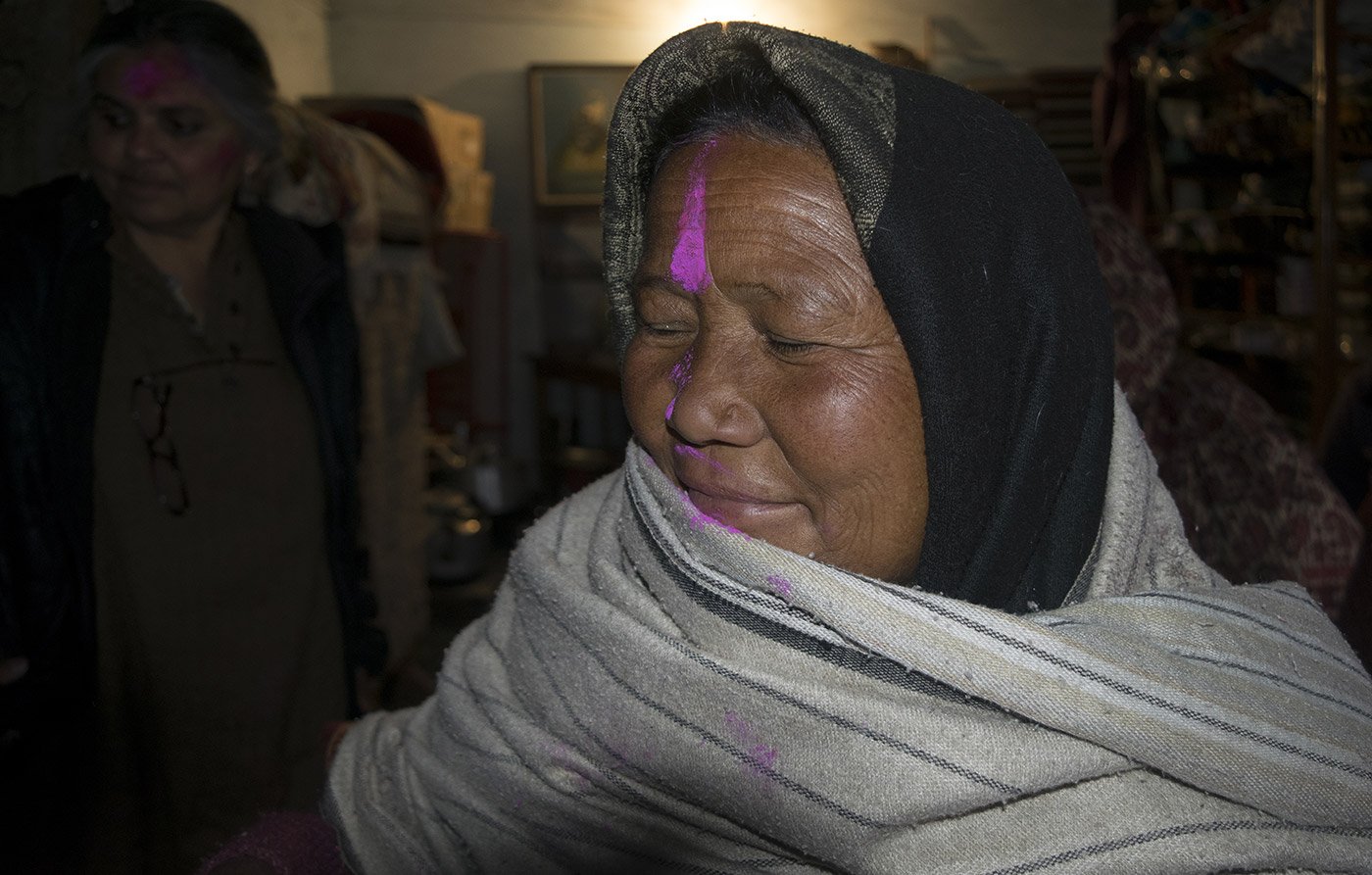 PHOTO • Arpita Chakrabarty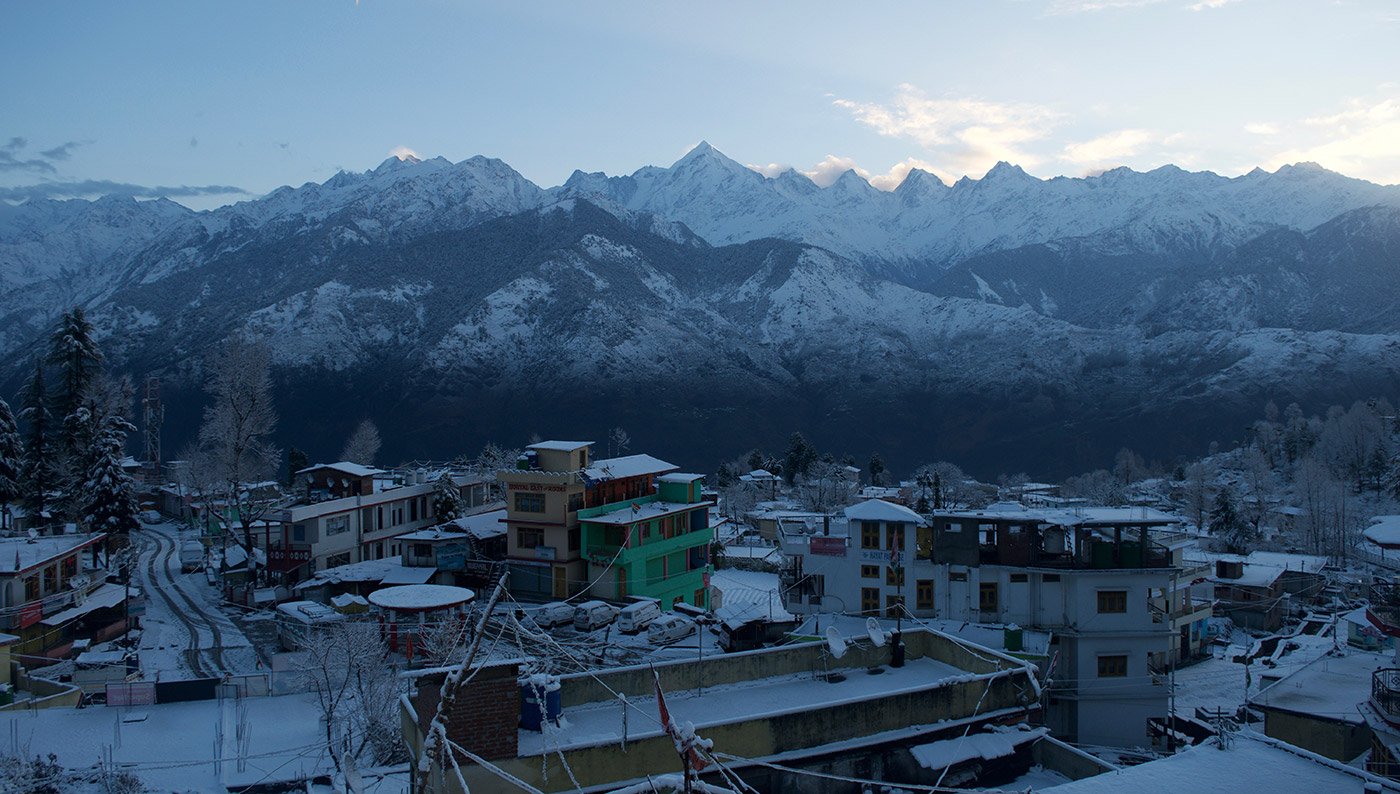 PHOTO • Arpita Chakrabarty