On June 1, the market town of Puntamba, on the banks of the Godavari river in western Maharashtra's Ahmednagar  district, created history by triggering the first ever farmers' strike in independent India. The farmers in this village of 13,000  marked their protest in many ways – including not selling their stock of vegetable and emptying milk onto the streets. Tomatoes, onions, brinjals, chillies and other vegetables were also deposited on the streets.
The protest remained in the news for days, as the Puntamba strike spiralled into a state-wide farm agitation. The farmers' most important demand remains the enforcement of the Swaminathan Commission's recommendation that they must get a minimum support price that covers the cost of production, plus 50 per cent.  One of the aims of the strike was to stop stock from reaching the markets of Mumbai and Pune, so that people in the cities who are indifferent to the farm crisis are forced to recognise its magnitude.
Some 300 kilometres south of Puntamba, and 12 kilometres from Osmanabad city in Marathwada, Kamtha village also joined the agitation the same day, June 1. "The gram sabha took the decision after talking to everyone," says Vikas Patade. "After we heard Puntamba's news, we too decided to join in."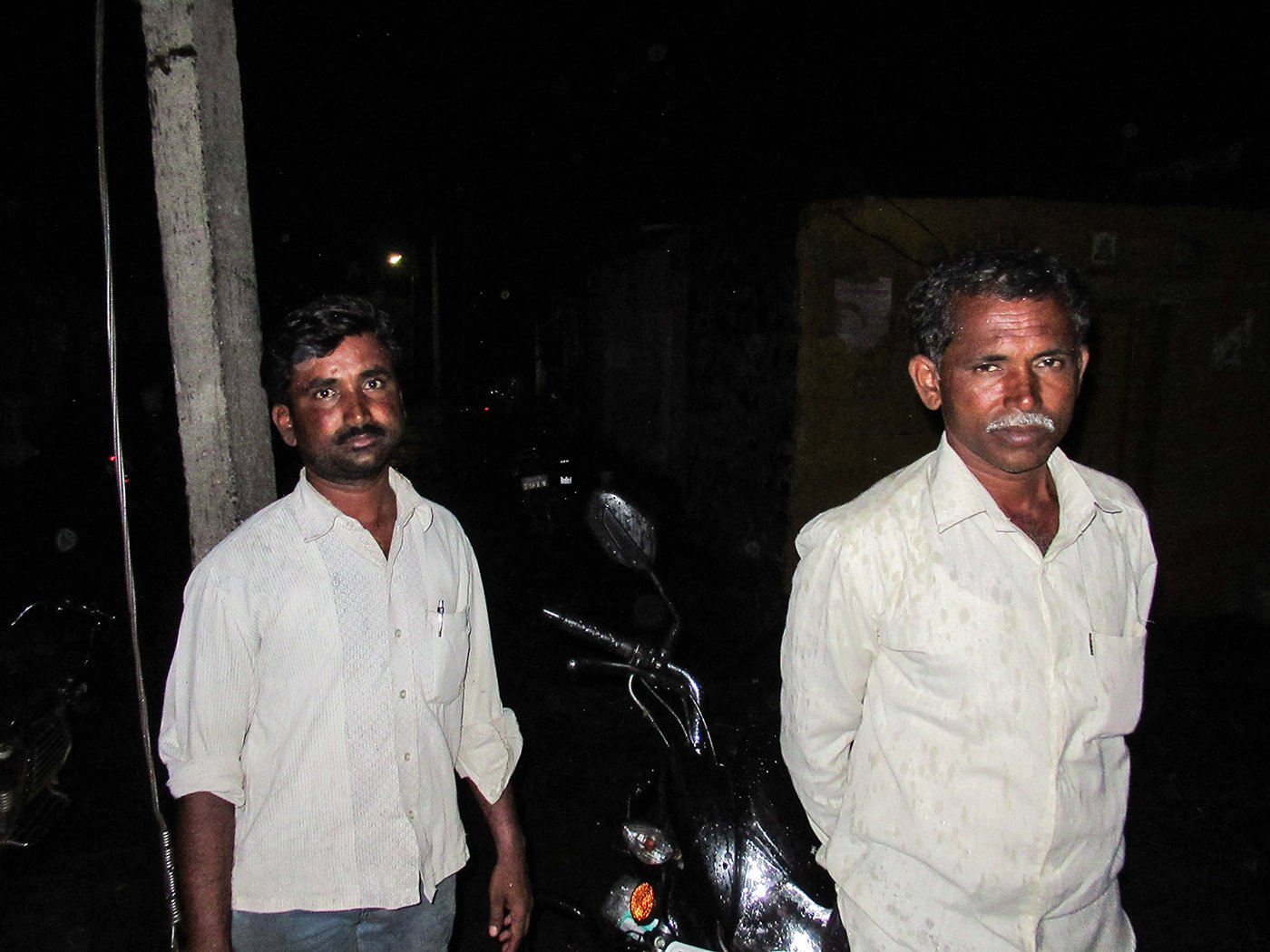 PHOTO • Parth M.N.
But Kamtha could not sustain its protest beyond a week. "We stretched it as much as we could," says Vikas. "In just a week, the three of us lost 80,000 rupees [because we stopped sending stock to the market]." Vikas, 43, is referring to himself and his two brothers; together they own 20 acres on which they grow vegetables and produce milk. "It will take us a year to recover the loss we incurred during the strike," he adds. The Patade brothers have a debt of Rs. 8 lakhs, and a loss like this greatly adds to their burden.
So after a week of a brave fight – the strike shut down the markets of Osmanabad and Kalamb for seven days – Kamtha had to give in. "We are responsible for our families," Vikas says. The village mostly cultivates vegetable, and sends stocks worth an estimated Rs. 70,000 to the markets every day. "For a week, they had no stock," he says. "I know a village of 1,700 people [around 1860 according to Census 2011] cannot shake the might of the state. But we wanted to be a part, even if a small one, of this movement."
Ahmednagar and Nashik districts remained the centres of the recent strike, while sporadic morcha s and strikes erupted – only to calm down– in the traditionally distress-prone agrarian zones of Marathwada (as well as Vidarbha).
Why was the agitation in Marathwada not as intense and sustained? Except for villages like Kamtha in pockets of Osmanabad, the response by farmers to the strike across the five other districts in Marathwada – Beed, Aurangabad, Jalna, Latur and Nanded – was lukewarm. Only Parbhani and Hingoli districts in Marathwada saw more sustained protests.
Possibly the most important reason is that the region simply cannot afford a strike. Farmers in Nashik and western Maharashtra are relatively better off, while Marathwada's farmers have been through four years of drought from 2012 to 2015; the acute water shortage has left them even more on the precipice.
In Beed's Limbaganesh village, Mahananda Jadhav, 45, was busy picking groundnuts on her four-acre farm when I met her one afternoon. She is on thin ground, and a strike would further wreck her. "Our galanda flower last year completely dried up," she says. "That cost us 50,000 rupees. Plus, we introduced drip irrigation on our farm and drilled a borewell. We already owe 2 lakh rupees to the bank."
The galanda crop's failure came on top of another problem: "We sowed tur last year but could not sell it due to the chaos at the government centres," Jadhav says. "If we had sold it, we could have bought pesticides, seeds and fertilisers for the upcoming cropping season without credit."
Two of Jadhav's sons, aged 22 and 25, are in Beed studying for a BSc degree. Participating in the strike would have impacted Jadhav's chances of paying their fees as well. "We have to pay almost one lakh rupees [annually] for each of them," she says.
The situation in Parbhani, however, has been different even though the farmers' economic conditions are similar. Senior Parbhani-based journalist and Sahitya Akademi Award winner Asaram Lomte says the district has historically been the centre of agitations in Marathwada. "We have the Shetkari Sanghatana, the CPI and CPM cadres here, who keep raising farm issues," he says. "It also matters how local leaders and activists mobilise people and consolidate the prevailing disaffection."
Local reporters in Osmanabad make a similar point. "When Narendra Dabholkar was killed [in Pune in August 2013], a spontaneous march broke out here," says Ravindra Keskar, a reporter in Osmanabad city with the Loksatta newspaper. "Around 2,500 people participated. Citizens here are socially active, with local activists guiding them."
But why did the farmers' strike break out now and not during years of drought, when farm distress was at its peak? Agriculture experts point out that the timing proves how agrarian distress is much more than weather patterns – it is rooted in policies that result in water mismanagement and rising input costs, amid an absence of fair credit systems or support prices.
So with western Maharashtra and Nasik leading the charge, and occasional bursts in Marathwada and Vidarbha, Chief Minister Devendra Fadnavis was forced to budge. He temporarily defused the situation on June 12 by promising to increase milk prices and introduce a loan waiver. Immediately after that though, Finance Minister Arun Jaitley said the states should make their own provisions for the waiver.
The Swaminathan Commission's detailed report of 2007 has been lying with the central government for a decade. Technically, it is the centre's responsibility to implement the recommendations. Before the national elections, the Bharatiya  Janata Party had campaigned on the plank of enforcing the Commission. But soon after being elected in 2014, the party turned around and filed an affidavit in the Supreme Court stating it won't be possible to implement the recommendations.
Fadnavis is reportedly planning to fly a delegation to Delhi to discuss this issue with the prime minister. Farmers' representatives in Maharashtra have given him till July 25 to finalise a blanket loan waiver and come up with details on other demands – the most critical of these remains the Swaminathan Commission's advice of a minimum support price (cost of production plus 50 per cent). If these demands are not met by 25 July, the farm leaders have said, the protests will resume.
The enforcement of the Commission, says Sharad Shelke, a farm activist in Khamaswadi village of Osmanabad's Kalamb taluka , will permanently empower farmers. And then they will not have to ask for loan waivers. "Just 8-9 years ago, we had a 50,000 crores loan waiver in Maharashtra," he says. "Still we have arrived at this situation again. Let us talk about long-term solutions instead of temporary relief measures."
In Khamaswadi, a village of 7,000 people, Shelke had mobilised a large number of milk producing farmers for a two-day strike – on June 4 and 5 – when they spilled milk on the road. The entire village signed on a kilometre-long letter that essentially stated: "You assure us the support price and we will give an assurance of not committing suicide."
Chandrakant Patil, 32, was one of the farmers who participated in that protest. "I wasted 800 rupees of milk in two days," he says. "But every farmer has a debt on his head. And I have two small kids. We could only sustain the strike for two days. The government knows that."
Patil cultivates wheat, jowar and soybean on his five acres. He adds, "You cannot imagine what goes through the farmer's mind when he wastes his own produce. But this is a last resort when nobody listens to us. The investment cost comes up to 2,000 rupees a quintal for wheat or jowar. But the market rate keeps fluctuating around 1,500-1,700 rupees a quintal. How can we survive?"
Patil says he will donate his five acres to Fadnavis if the chief minister manages to look after his family through farming. "Household expenses, the children's education and two meals a day –if the CM can manage that for five straight years, I will hand over my land to him," he says. "I do not care if my generation does not get anything or is sacrificed in this battle. But let us solve the pricing problem once and for all."