From July to November 2017, the cotton growing districts of Vidarbha, mainly Yavatmal, saw a sudden spike in people coming to hospitals with complaints of nervousness, dizziness, visual impairment and stomach aches. All were cotton farmers or labourers who had been contact-poisoned while spraying insecticides in their fields. At least 50 died, over 1,000 became sick, some for months. The disaster exposed the unabated and profuse use of pesticides on cotton and soyabean crop, and will have a lasting impact on the farm economy of Vidarbha.
In this first story of a three-part series, PARI looks at what happened in the region during that period and what the Special Investigation Team constituted by the Maharashtra government found.
In another subsequent series of reports, we will look into the bigger story of why the region consumes so much pesticide. And why Bt-cotton – a genetically modified variety that was supposed to come with in-built resistance to bollworms – seems to have cracked under the attack of the old pest. In fact, the pink bollworm is back with a vengeance. As feared, it has caused widespread devastation.
* * * * *

Namdev Soyam was disoriented, moving slowly, responding to questions hesitatingly, as if from far away. His wife Vanita looked at him in silence from a distance. "He is in a state of shock," one of his relatives said, softly.
His bloodshot eyes looked frightened as he sat with a tonsured head and a large vermillion mark on his forehead at the family's crowded home. His elderly mother and father, both his legs amputated long ago, sat behind 25-year-old Namdev, their breathing laboured. Their guests, mostly relatives and villagers, had just finished lunch – but everyone was silent.
On a plastic chair next to Namdev, under the thatched porch roof of their house, rested a newly-framed photo of a young man, with a garland of marigold and roses. Petals lay strewn around. Agarbattis had been lit and placed near the frame.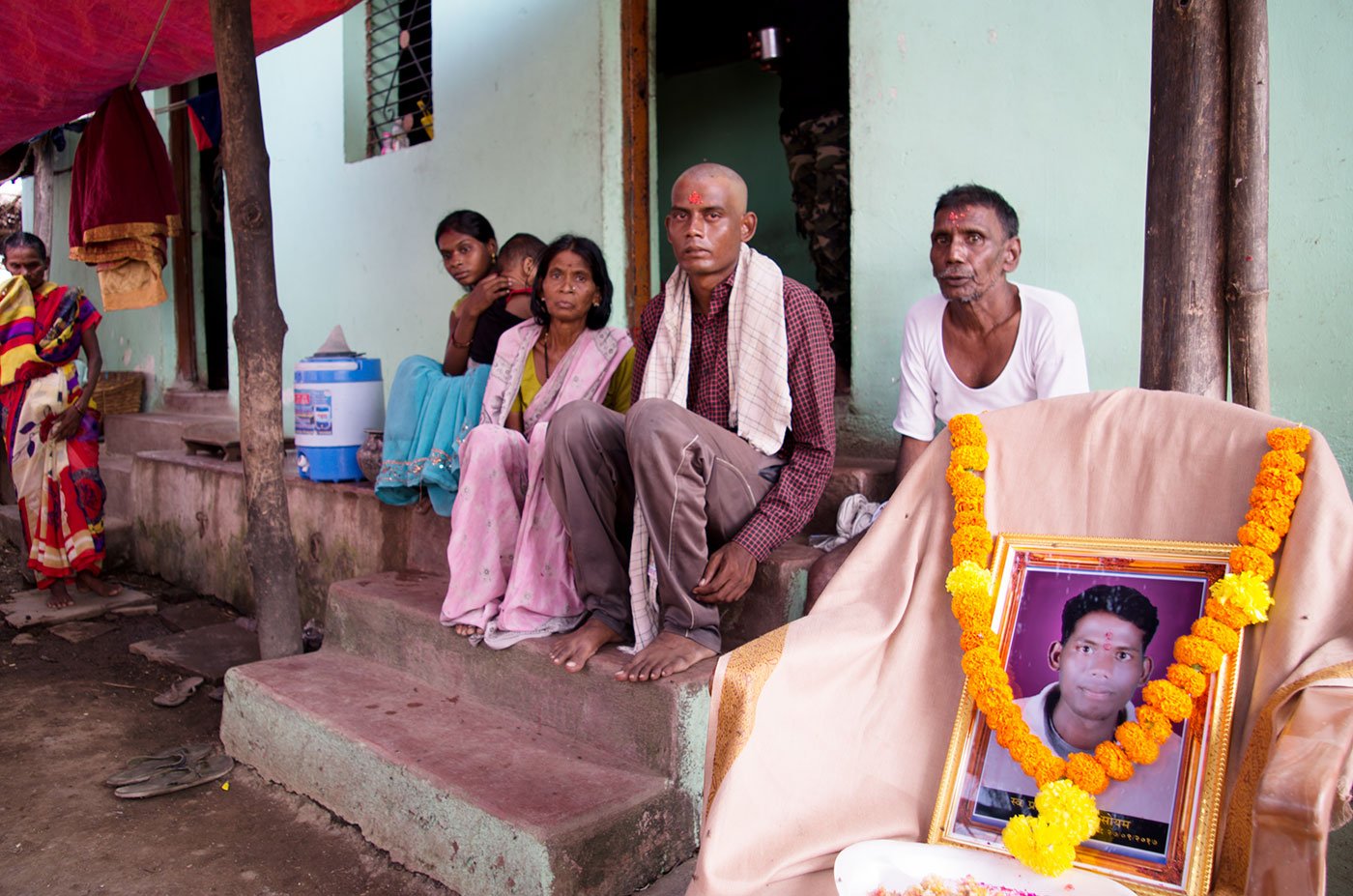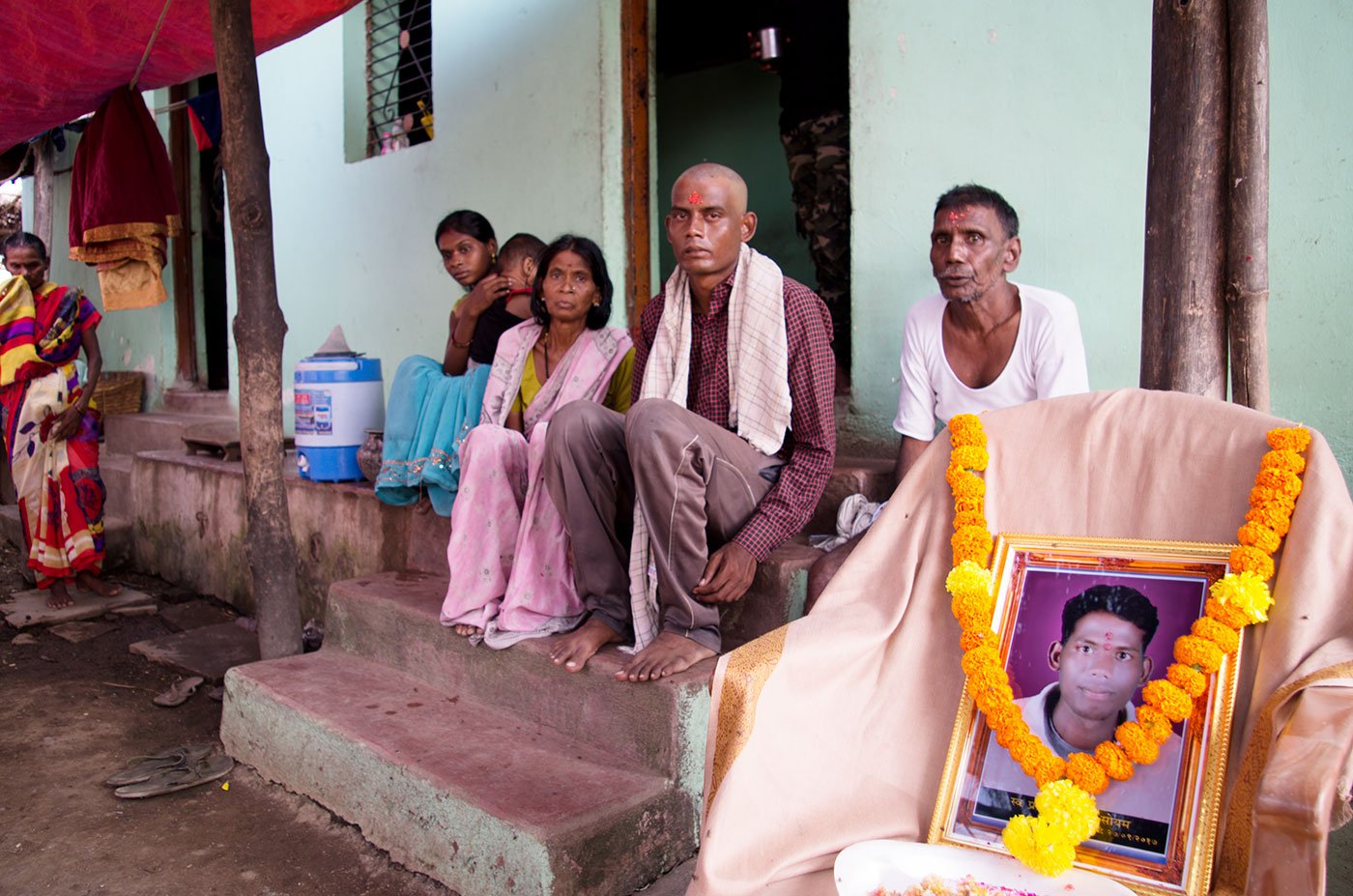 PHOTO • Jaideep Hardikar
The photo announced the tragedy that had befallen the farming household of Pardhan Adivasis in Tembhi. The village is 40 kilometres south of the cotton trading town of Pandharkaoda in Kelapur tehsil of Yavatmal district in Maharashtra.
It had not yet been 48 hours since Pravin Soyam, just 23, had died – late at night on September 27. We had arrived at his house a day before the Dussehra festival on September 29, 2017.
Pravin was Namdev's younger brother – and his buddy. It could easily have been him (Namdev) blurted out someone from among the sombre gathering. Since Namdev was unwell, his father had instead sent Pravin to the farm to spray pesticides barely two days before his death. "That was on Monday, September 25," his father, Bhaurao, told us. Pravin was healthier than Namdev, he said, staring at his garlanded photo.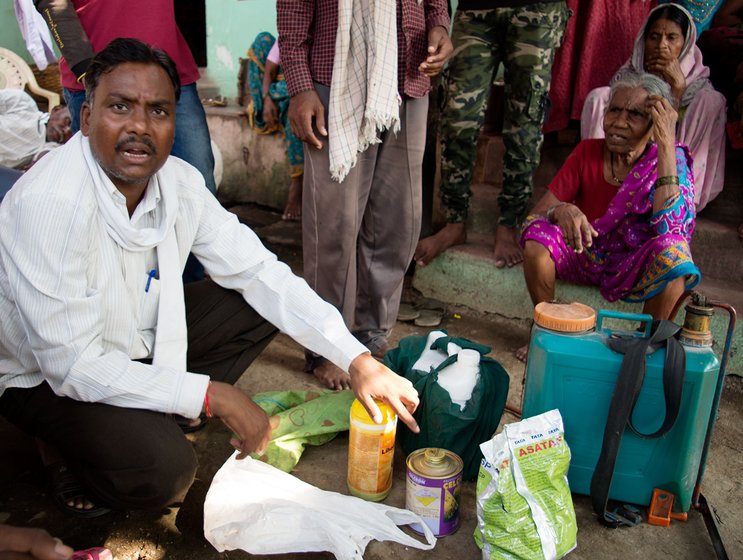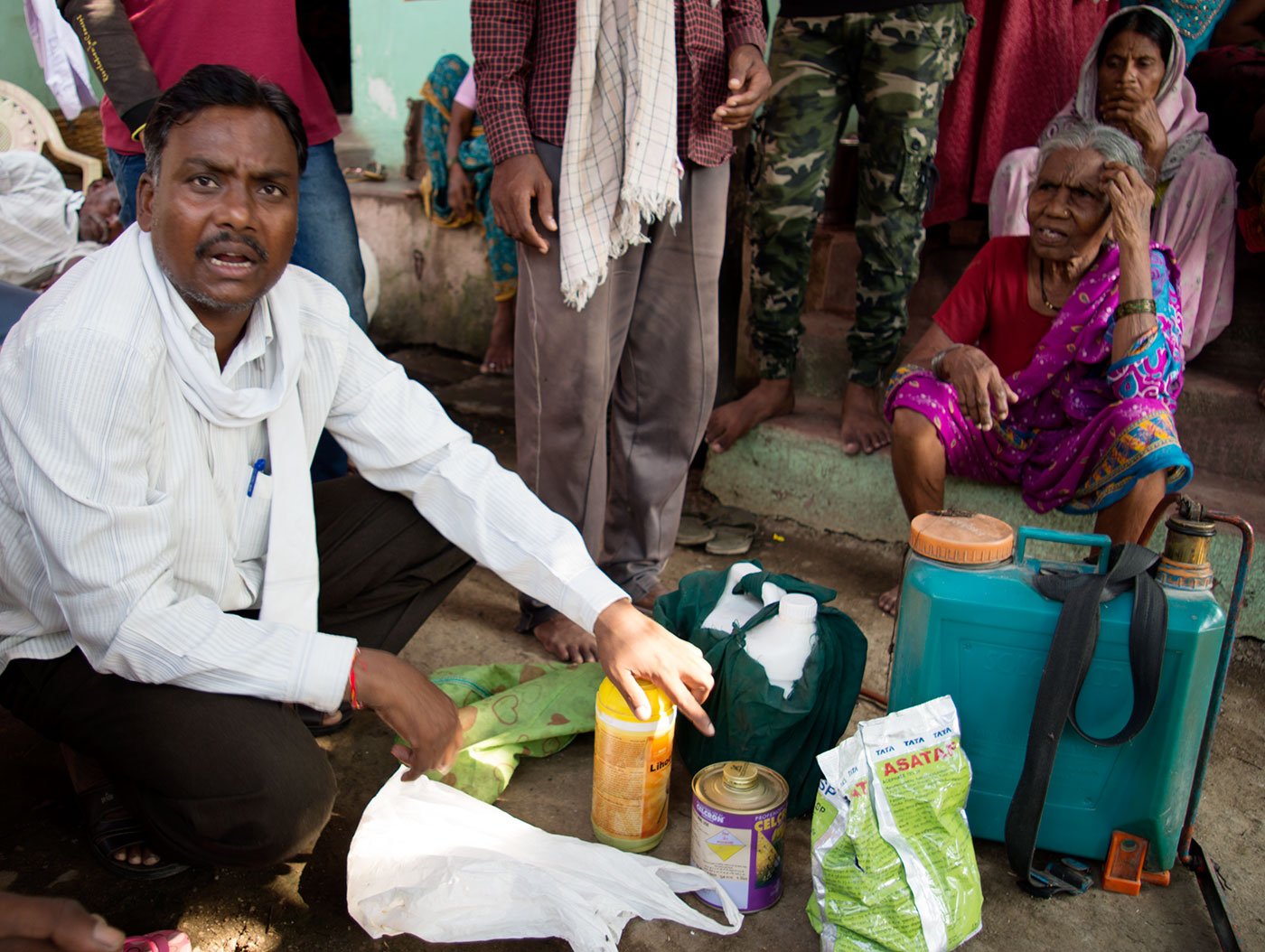 PHOTO • Jaideep Hardikar
"What did he spray?" we asked. Namdev got up, went inside his home, and reappeared with bags and cans of a variety of insecticides: Asataf, Ruby, Polo, Profex Super, and monocrotophos. He laid them on the mud floor of the verandah, next to the plastic chair on which Pravin's A-4 sized photo-frame was placed.
"What are these for?" we asked again. Namdev stared at us in silence. "Who told you to use this?" He was silent again. His father said the dealer in Pandharkaoda, who sells seeds, fertilisers and other inputs, told them to use these for spraying on the fields. The family owns 15 acres, entirely rain-dependent, on which they mainly grow cotton, and some soyabean, lentils and jowar too.
The cocktail of pesticides, mixed in a big blue plastic drum full of water, which Pravin sprayed on that sultry day, proved to be fatal. He died not by consuming the pesticides, but by inhaling them accidently, while spraying on the family's crops after what farmers say was an unprecedented pest attack on their fields.
As the family mourned the sudden loss of Pravin, Vidarbha woke up to a pesticide disaster.
About 50 farmers died between September to November 2017 in Yavatmal and other parts of western Vidarbha, and over a thousand became ill. (These numbers were collated by the state government from public and private hospitals.) Some lost their eyesight, but survived the accidental contact or inhalation of the pesticides' cocktail.
The health and district administration was painfully slow to react to the crisis, but its scale and gravity finally forced the government to constitute a Special Investigation Team in November to probe the matter (See SIT report: pest attack unprecedented, ferocious ).
Across Yavatmal, in those three months, a flood of farmers came to hospitals, both government and private, with complaints ranging from vision loss to nervous breakdown to respiratory problems (See Fumes and fear in Yavatmal ).
"This is a very unusual phenomenon and something I have never witnessed at all," Dr. Ashok Rathod, the dean at the Vasantrao Naik Government Medical College and Hospital (GMCH) in Yavatmal, told this reporter then. "We first noticed a sudden spike in such patients in the last week of July," he said. "They all came in distress, with complaints of vomiting, dizziness, nervousness, respiratory problems, sudden visual impairment,  disorientation." Three wards of the district hospital – 12, 18 and 19 – were full with farmers and labourers sick from the toxic sprays.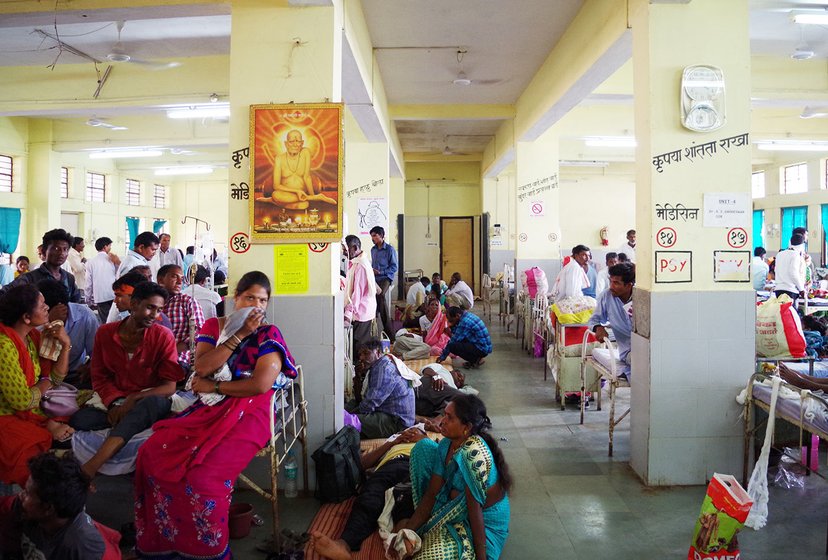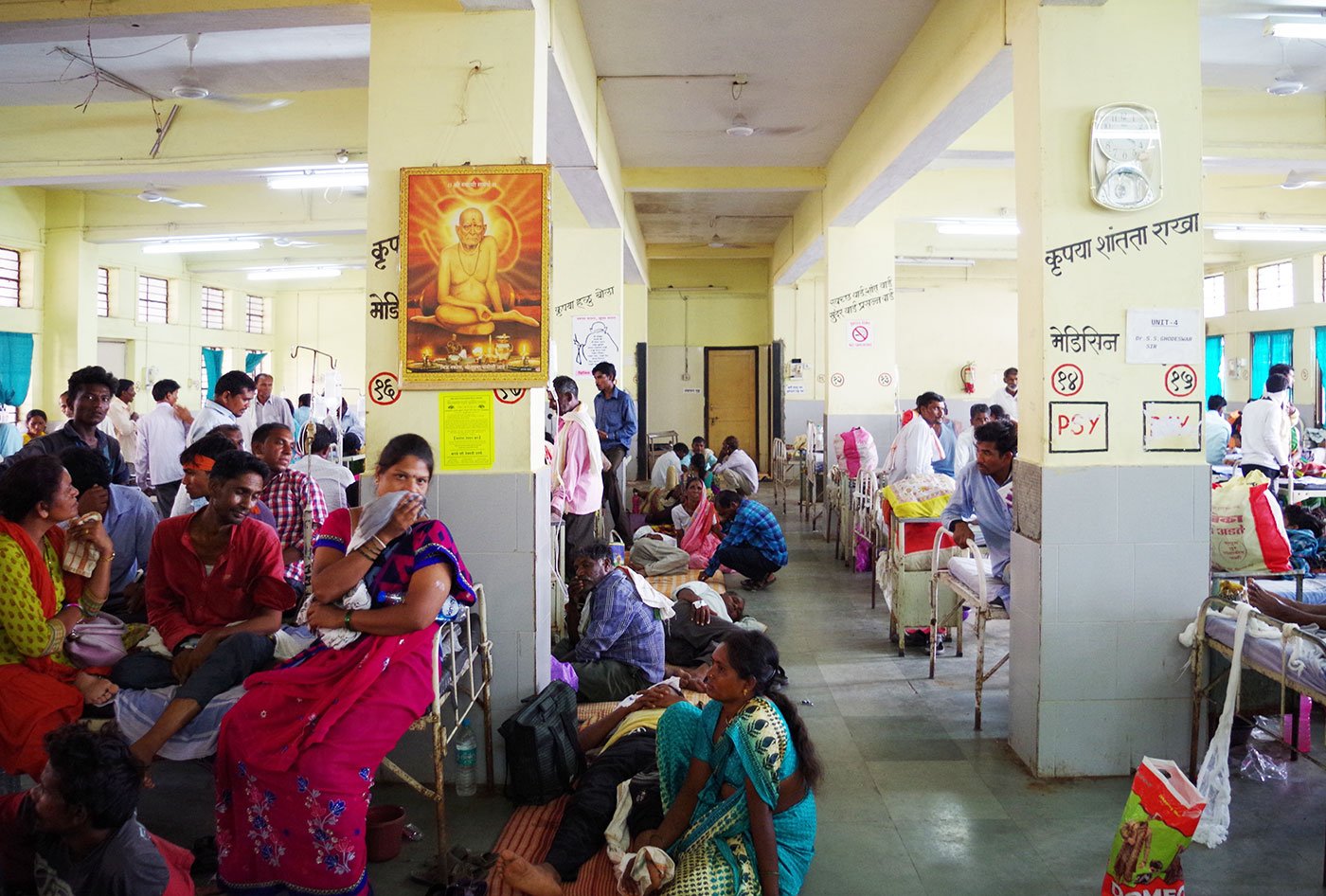 PHOTO • Jaideep Hardikar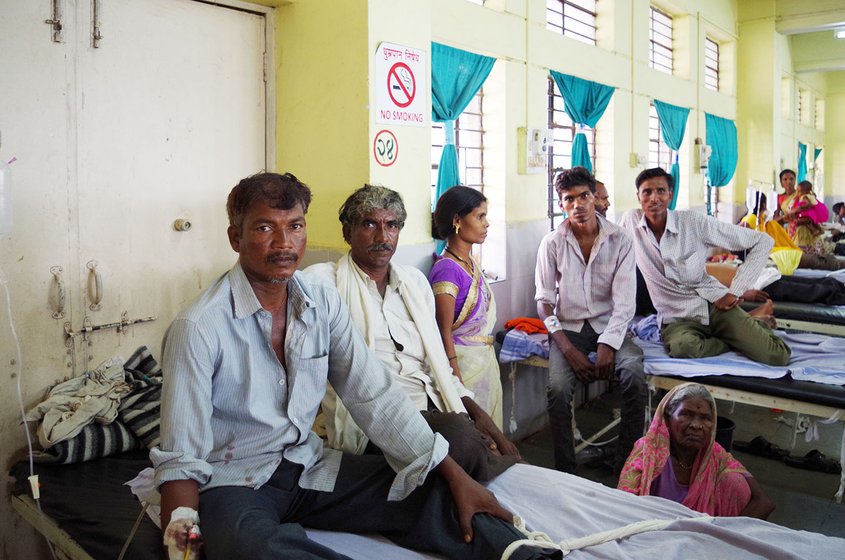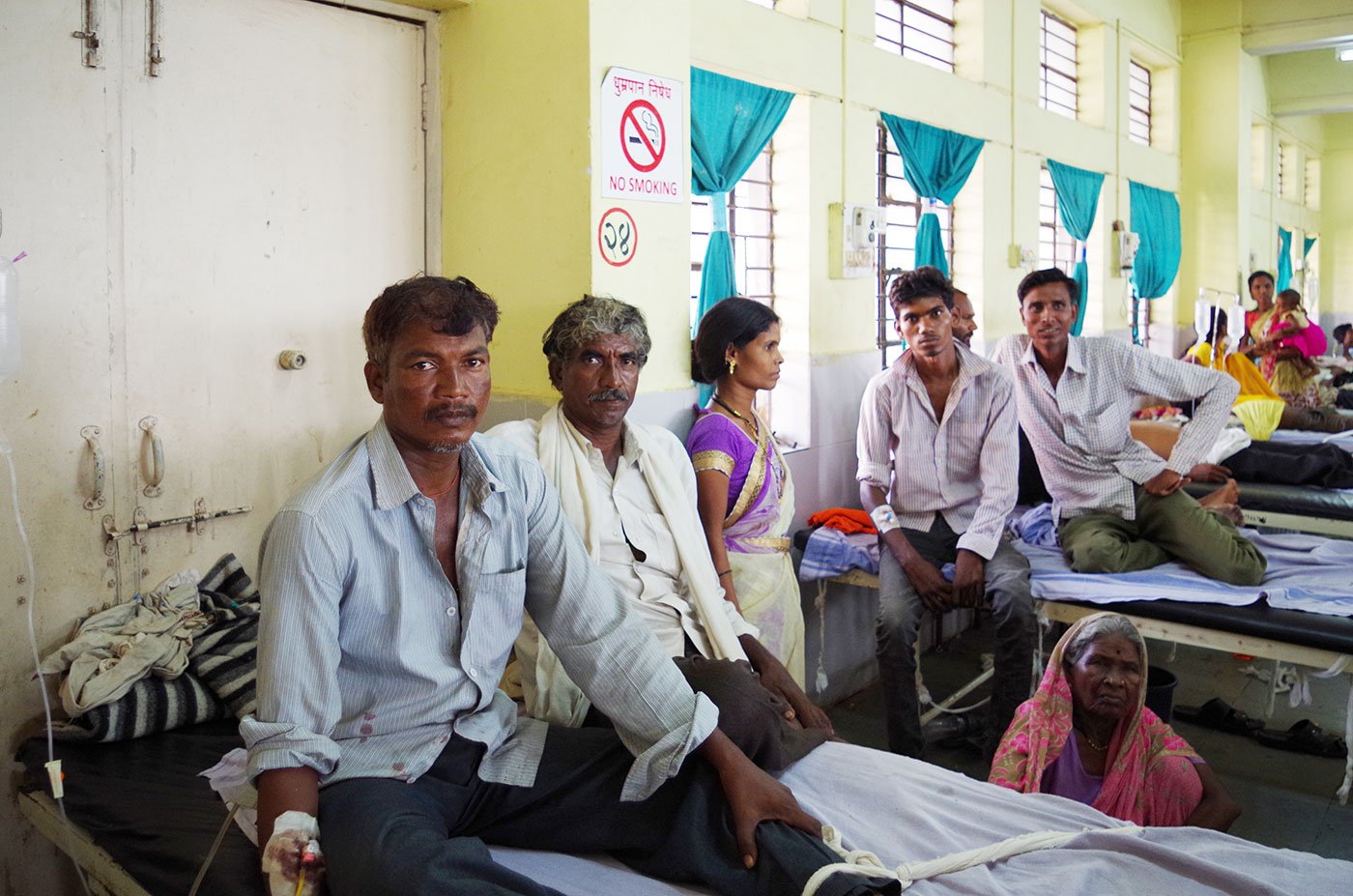 PHOTO • Jaideep Hardikar
In July 2017, Dr. Rathod said, 41 patients came to the GMCH. The figure rose to 111 in August, but September saw more than 300 patients pour in – all of them with similar complaints. The crisis continued to unfold in October and November, with more than 1,000 farmers getting admitted in different hospitals in Yavatmal district alone. Similar complaints were reported from Akola, Amravati, Nagpur, Wardha and Washim districts too.
The state's agriculture officials were perplexed. So were the health officials. The state government later sent Dr. Rathod on forced leave for failing to quickly react to the crisis, and sent the head of the forensics department of the Government Medical College and Hospital, Nagpur, Dr. Manish Shrigiriwar, as the new acting dean of GMCH.
The cases tapered off by November end, with winter setting in and the farmers completely stalling the spraying of pesticides out of fear. By then, the damage had been done – to humans and to the cotton crop that was under an unprecedented pest attack.
On his seventh straight day of spraying pesticides on a farm where he works on an annual contract, 21-year-old Nikesh Kathane collapsed around noon in the first week of October.
"I had a very heavy head, I could not see anything," he said in mid-October, recuperating on a bed in the intensive care unit (ICU) of the GMCH in Yavatmal city, his tense parents around him. "We rushed him to the hospital the same evening," his brother Laxman said. That helped. Any delay could have proved fatal. Nikesh, who vowed never to spray pesticides again, had muscle spasms. He was out of danger – but terrified at being surrounded by nine patients in the ICU who were battling for their life. He had been in the ICU for a week when we spoke to him.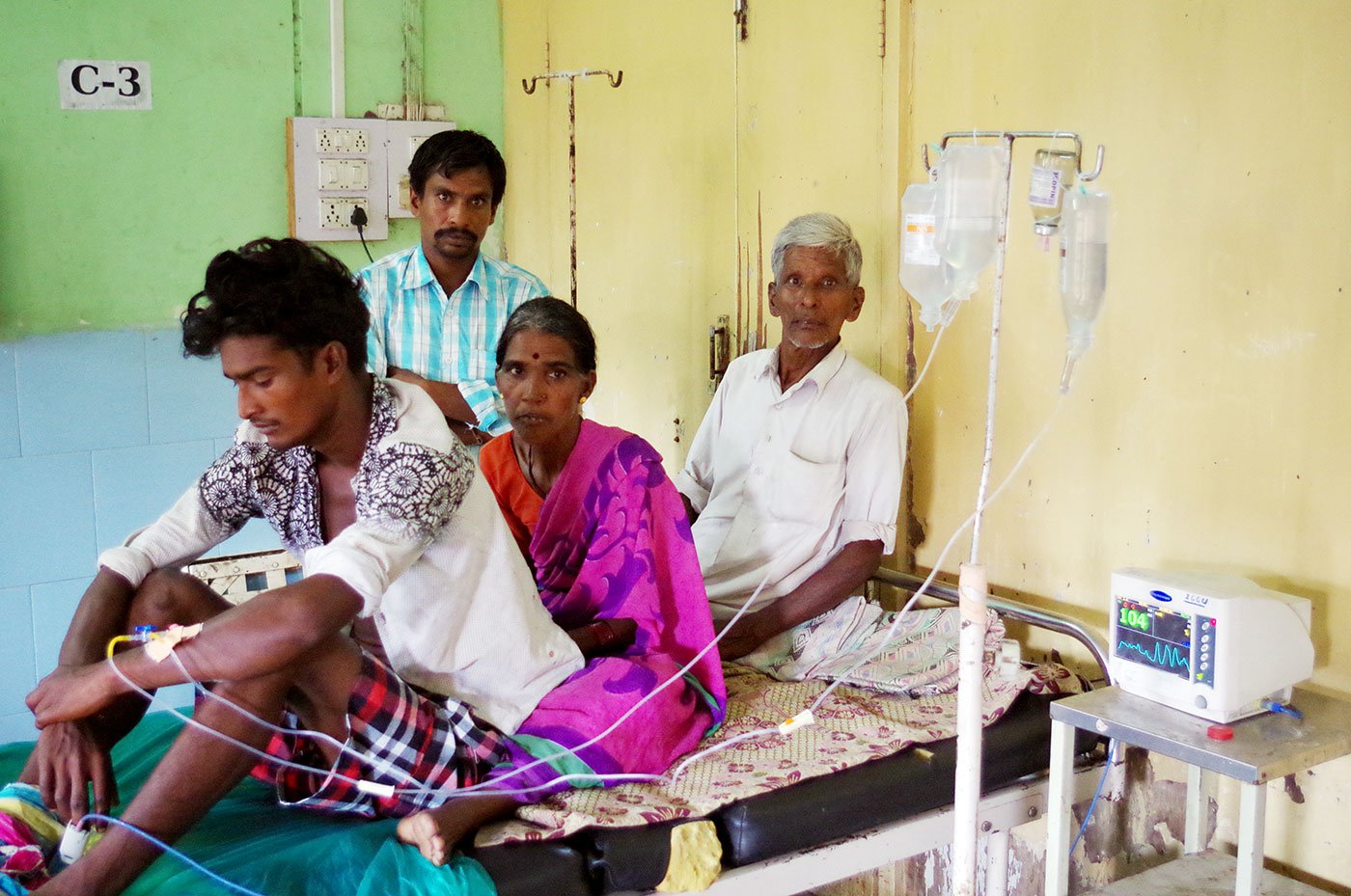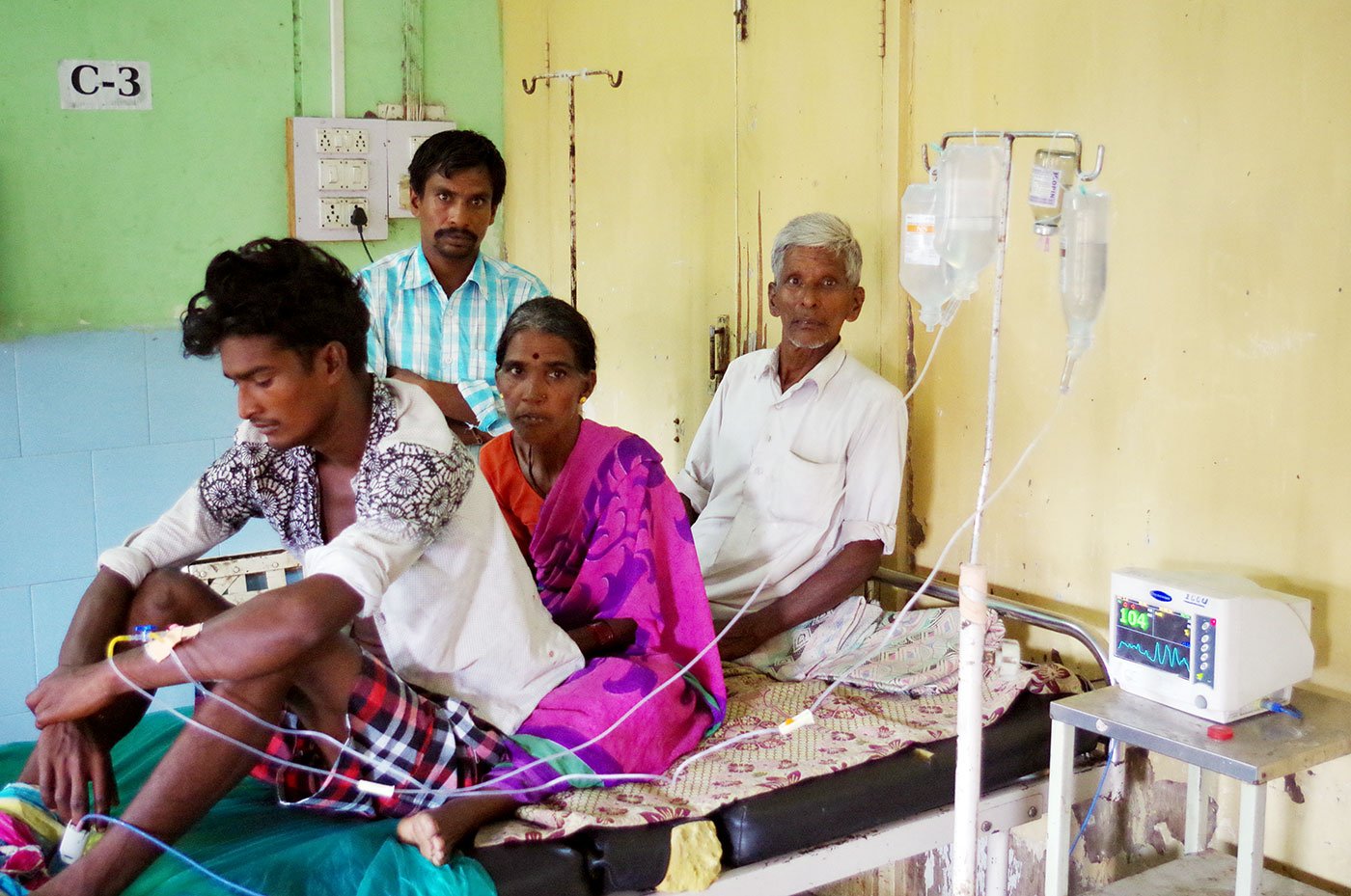 PHOTO • Jaideep Hardikar
He had used a China-made battery-operated spray-pump – that makes spraying easier and faster – and more dangerous. "You spray more in less time with this pump," Nikesh said.
The Kathane family is from Dahegaon village of Ralegaon tehsil , about 30 kilometres from Yavatmal city. Laxman said five more patients from the same village were recuperating in other wards of the hospital; their condition was not serious, but they too were suffering from the aftereffects of the poisoning.
In Ward 18 of the hospital was Indal Rathod, 29, a farmer from Wadgaon village of Digras tehsil , whose family owns four acres. He had been in the hospital for about 10 days, his younger brother, Anil, told us, and he was still disoriented.
The fear and panic was palpable not only in the crowded hospital wards, but across the district.
A number of farmers this reporter spoke to from September to November 2017 said they had stopped spraying insecticides out of fear. As did Narayan Kotrange of Manoli village, when he felt dizzy one day after spraying Profex Super on the 10 acres he had leased from another villager. "I had done nine sprayings already," he said, "and on the tenth occasion, I decided to stop; I could not work for the following entire week, I was sick."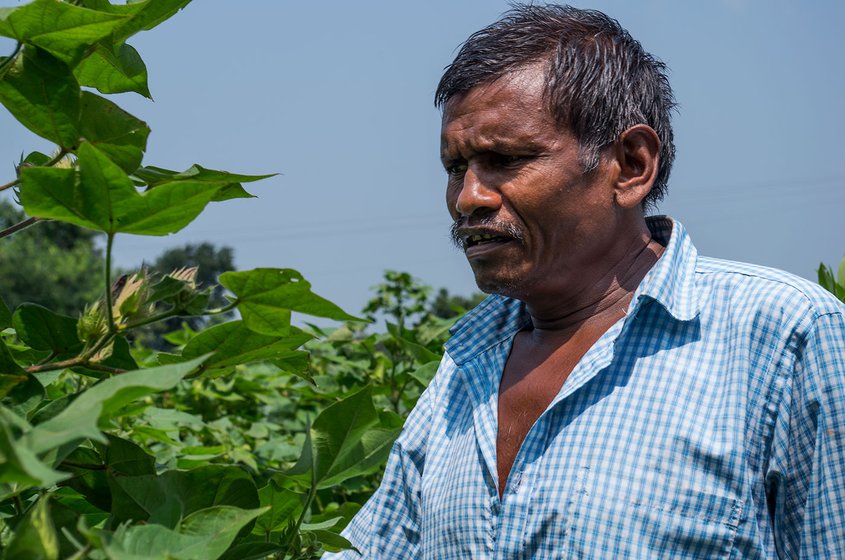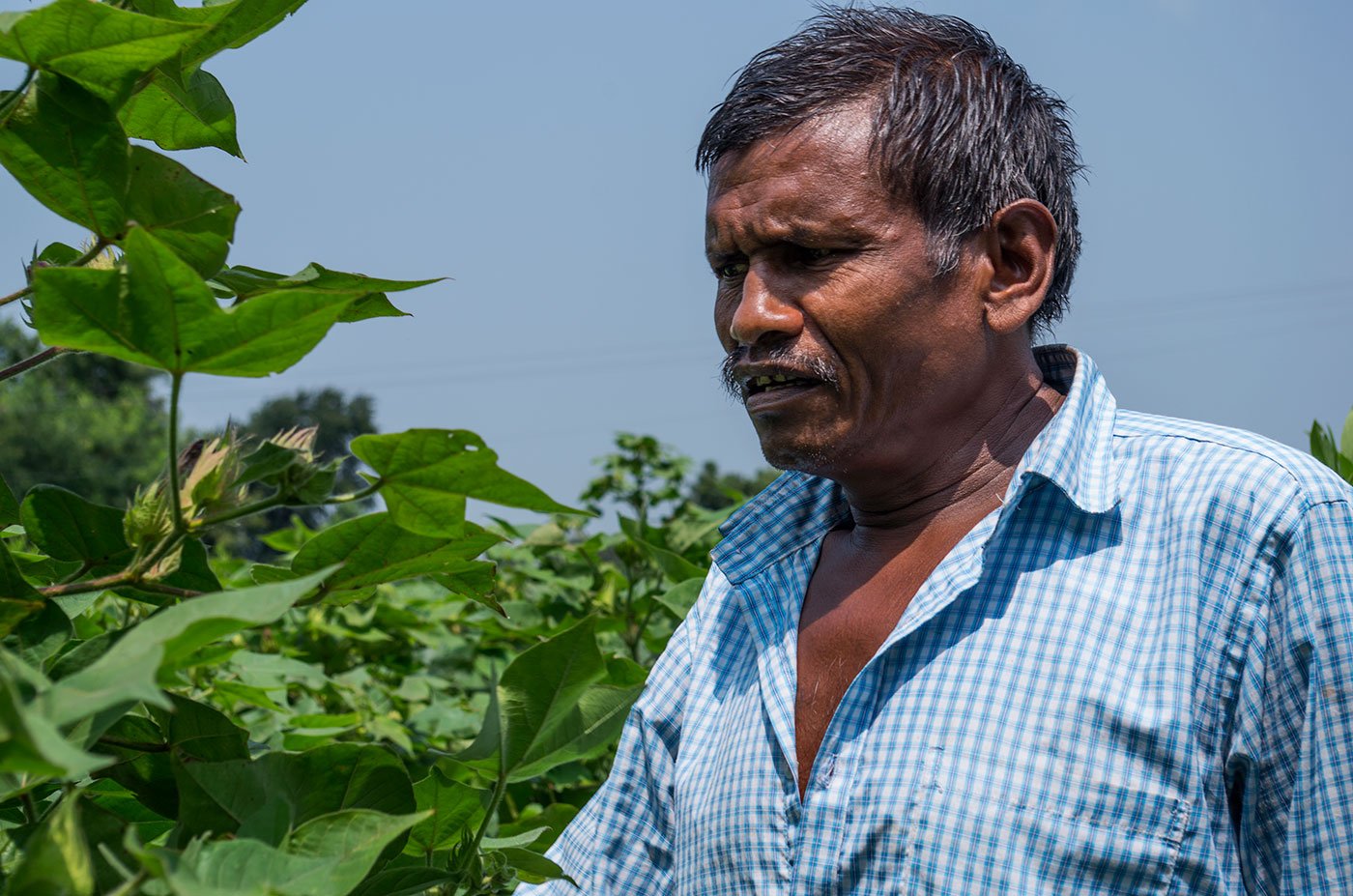 PHOTO • Jaideep Hardikar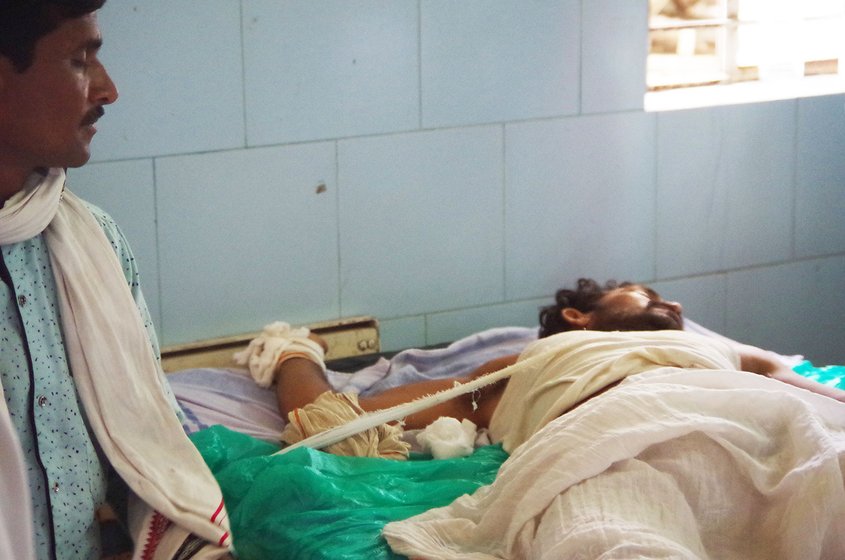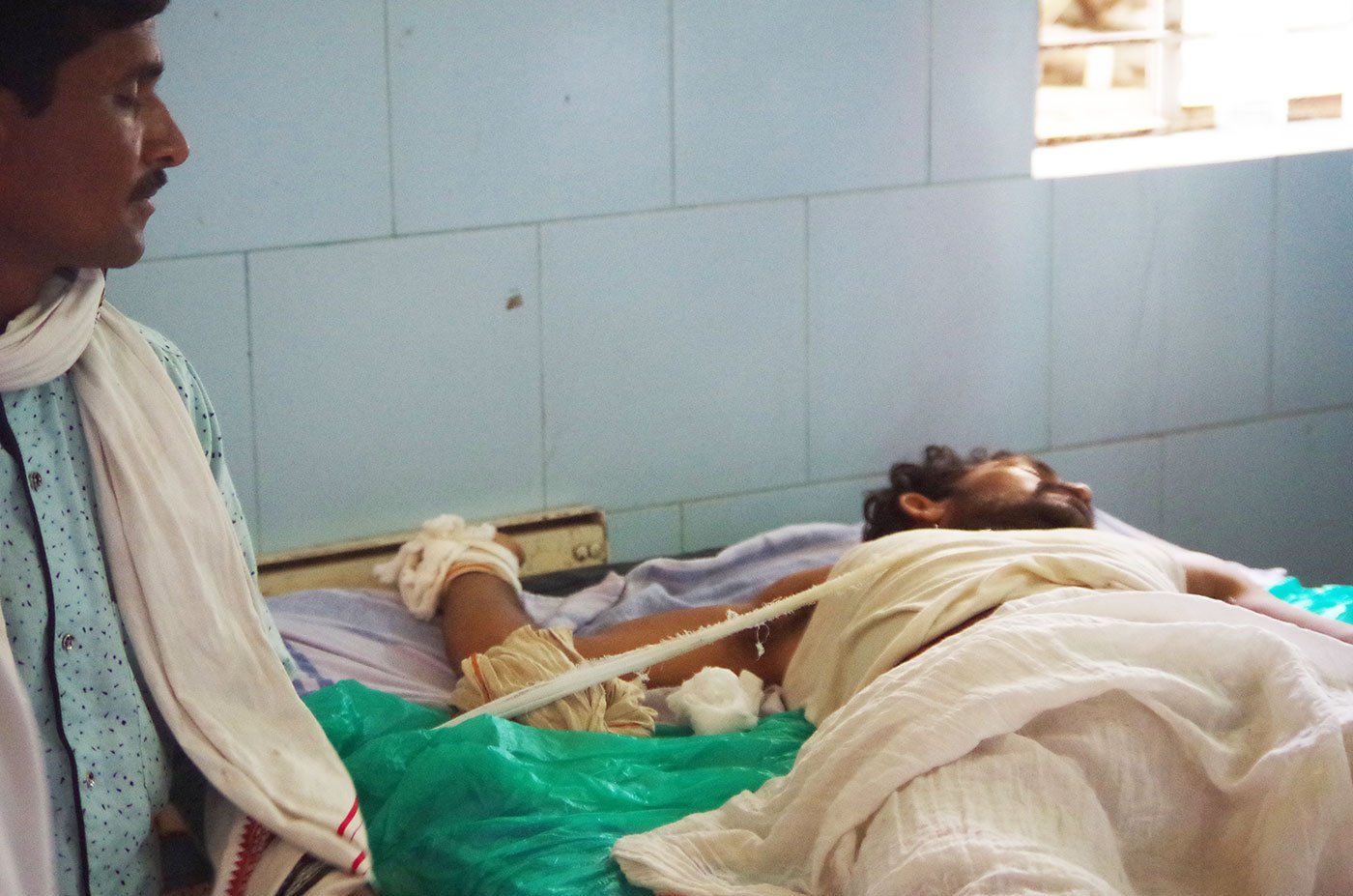 PHOTO • Jaideep Hardikar
In every village there was someone who was sick after spraying. "The blood tests of the patients show that the poisoning hit their nervous system," said Dr. Parag Manape, a junior residential doctor who was attending to Nikhil and others at the ICU. The impact, he said, was the same as consumption, but its treatment was difficult since a 'stomach wash' was not possible to remove the traces of poison – inhaling fumes directly affected the respiratory system, he explained.
The testimonies of farmers who were hospitalised indicated two broad trends: one particular insecticide formulation in powder-form caused visual impairment among those who used it. And those who used a specific liquid formulation had a nervous system breakdown.
These formulations contained a mix of profenofos (an organophosphate), cypermethrin (a synthetic pyrethroid) and diafenthiuron, prescribed for use against a pest-complex on multiple crops. Combined together, they form a deadly composition, farmers said, potent enough to kill a person.
In the Soyam household in Tembhi village, Pravin's health deteriorated gradually. At first he complained of chest pain, then vomiting and nausea, followed by nervousness. Within 24 hours he was critical. He died a day later, three hours after reaching the small hospital in Pandharkaoda. It was all over within a span of two days.
Doctors at the hospital surmise that Pravin had not taken adequate safety precautions while spraying, and had died of contact poisoning. Almost no one in these parts ever wears gloves, a mask and body-protection apparel while spraying deadly pesticides.
"I asked him to complete the spraying on the cotton plants because Namdev had fallen sick," Bhaurao said. This year, like the other farmers of their village and region, the Soyams saw multiple pests attack their crop from July 2017, prompting them to deploy a number of pesticide formulations many times over.
After the spraying, Pravin complained of weakness, but refused to see a doctor. "We thought it was due to heat. The weather was sultry and at this time of the year fever is very common in our village," Bhaurao recalled. When Pravin's condition deteriorated the next evening Namdev and his mother Babybai took him to the primary health centre in the next village. An attendant there, sensing that this was an emergency, referred him to the Pandharkaoda hospital, 40 kilometres away.
They reached the hospital around 7 p.m., Babybai said. Young Pravin died at 10 p.m. His post mortem report says: "Death due to organophosphate poisoning."