Some time ago, Shankar Atram took a big sharp butcher's knife, nails, iron-mesh, an old helmet, and an edible oil tin can. He made a helmet-mesh guard to cover his face and head. He cut open the oil can to make armour for his torso and moulded the butcher's knife into a 'neck belt' wrapped in rubber and layers of cloth. A few sharp nails stick out from the neck band. And he dangles a round plate behind his neck, to create the illusion of a ' face' on his back.  "People laugh at me, I know it," he says.
Atram isn't going to a battle. This is his protective gear when he takes the village cattle for grazing into the forests. He has been a cattle herder all his life, the only one in Borati, a village of around 300 people (Census 2011) in Ralegaon tehsil of Yavatmal district in western Vidarbha's cotton country.
Since March 2016, over a dozen people have died in tiger attacks in and around Borati, several injured, and many bovines lost to tigers. This district has so far been infamous for its continuing farmers' suicides.
A ferocious tigress – T1 or Avni to locals – was on the prowl in a 50-square kilometre area in Ralegaon's patches of shrub and thick forests interspersed with cotton fields. It's an undulating terrain with minor and medium irrigation projects in between.
T1 is believed to have killed at least 13 people in around 12 villages, including Borati, prompting Maharashtra's forest officials to launch a highly complex operation to capture the tigress. It started on September 1, 2018, but forest officials had been trying to capture T1 for longer, and the tigress remained elusive for nearly two years. Meanwhile, public and political pressure mounted. So did the people's desperation and anxiety.
PHOTO • Jaideep Hardikar
Across Vidarbha, since 2008, between 30 and 50 people have died annually in tiger attacks. Several tigers have died too, killed by locals or poached by organised gangs, and in some cases, killed by forest officials when the tiger turned dangerous for humans.

Over 200 foresters joined the hunt, 90 camera traps were set up across the area, the head of the state wildlife wing and a team of sharp-shooters from Hyderabad all camped on site to get her.
Across Vidarbha, since 2008, between 30 and 50 people have died annually in tiger attacks, shows data compiled by the wildlife wing of the Maharashtra Forest Department.  The conflict hotspots are spread all across Vidarbha's fragmented forest landscapes.
Several tigers have died too, killed by locals or poached by organised gangs. In some cases, the big cat has been killed by forest officials when it turned dangerous for humans.
T1 was also a danger – having tasted the blood of humans – and was killed on the night of November 2. (See In tigress T1 territory: chronicle of a killing )
The herder and his personal guard
With the people's panic and anger mounting, in September the forest department deployed a chowkidar armed with a stick to accompany the herders into and around the area where T1 has been prowling. Atram too is accompanied by a guard when he goes into the forests with the cows.
"I am a farmer myself, but since a forest officer offered me this job, I took it up," says Pandurang Meshram, the guard, who brandishes a stick and spends his days – from 10 a.m. to 6 p.m. – 'protecting' Atram and the cattle.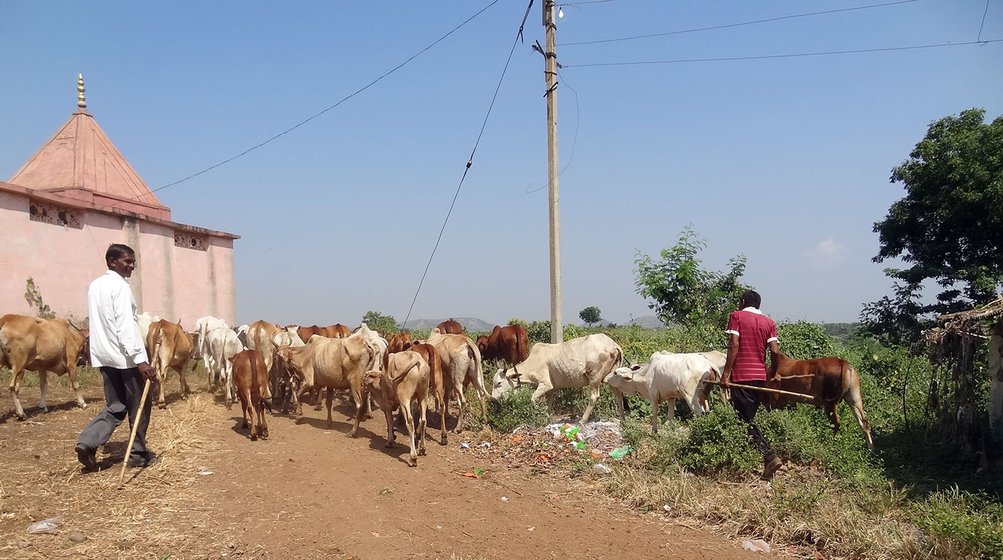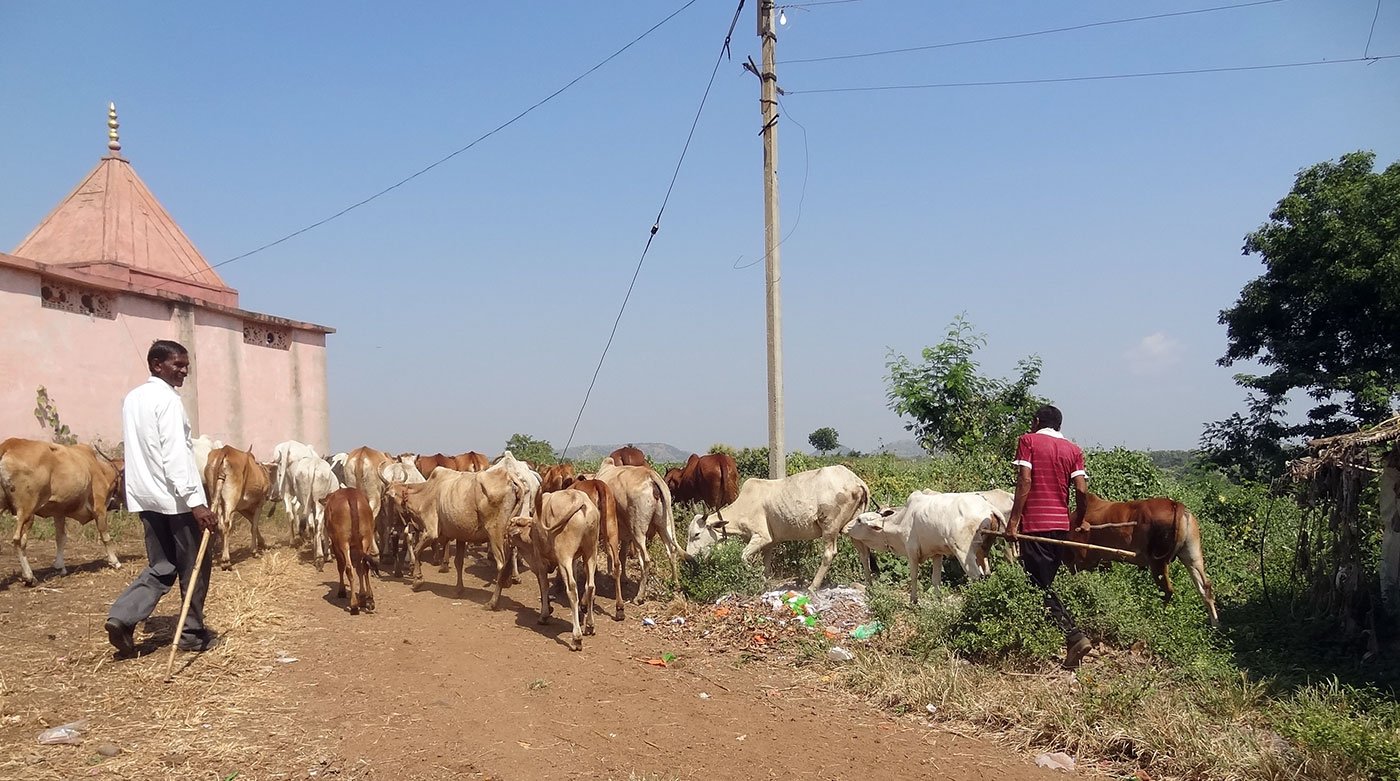 PHOTO • Jaideep Hardikar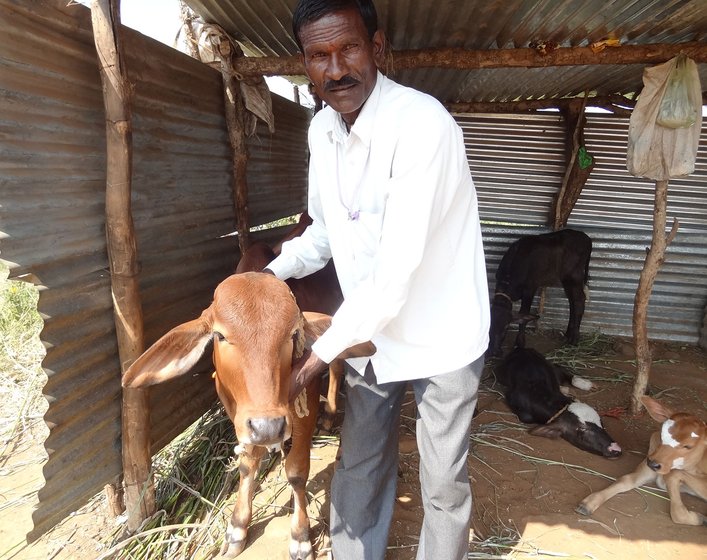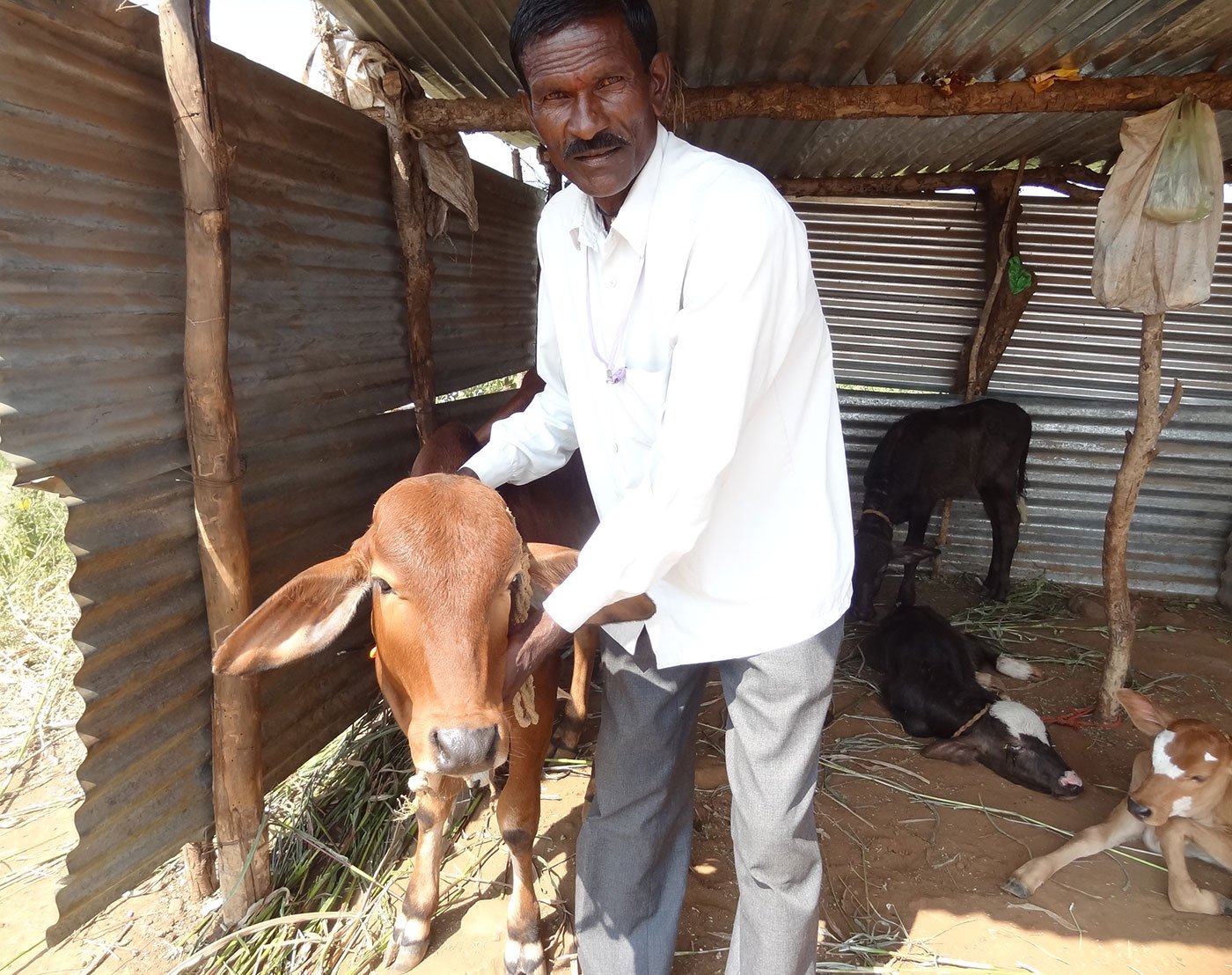 PHOTO • Jaideep Hardikar
Meshram is from Pimpalshenda village, around four kilometres from Borati, where T1 killed herder Nagorao Junghare on August 28, 2018, when he took cattle for grazing in a forest patch. His was the third death that month in as many villages around Borati. Terror spread and public anger erupted after that, prompting the state forest authorities to order the capture or killing of the tigress.
"He [Atram] would climb a tree in the forest and sit there all through, fearful," says Meshram. "Now since we are two of us, and other foresters are patrolling non-stop in the forests, he feels safer."
It's quite a luxury for Atram to have a personal guard and a paradox that villagers giggle at: Meshram is a landlord; Atram is a poor landless villager. The guard's monthly salary to protect Atram is Rs. 9,000, well above what Atram makes herding cattle. An anguished Atram tells us, "Ask the government to give me a salary too. You are all making money out of my fear, and allowing the tigress to continue killing people like me!"
Atram's anti-tiger contraption
To protect himself further, Atram – who must venture into the forests every day – borrowed an old yellow helmet from his brother-in-law, a former construction labourer. The other items he fetched from his neighbours.
There's more: he has 'trousers' made of thick iron net, but he keeps these at a hideout in the forest. Why? "Because kids laugh at me when I wear it," he says, sheepishly.
Each of Atram's innovations to keep himself safe from a possible tiger attack is thought through. What if the beast attacks from behind? What if it catches hold of his legs? If it clutches on to his neck as if he were a kill? What if it attacks with its paws on his head? What if, what if, what if!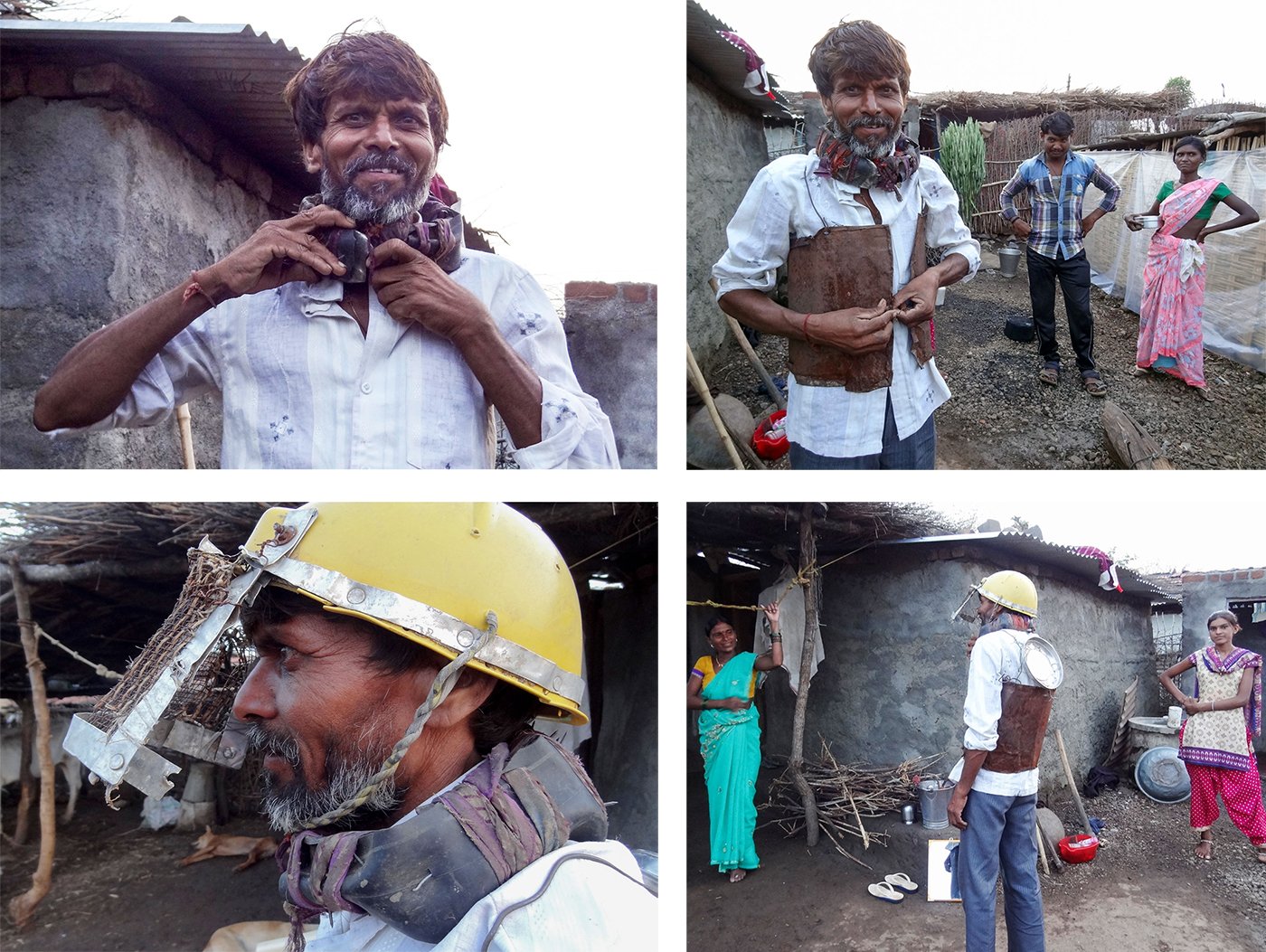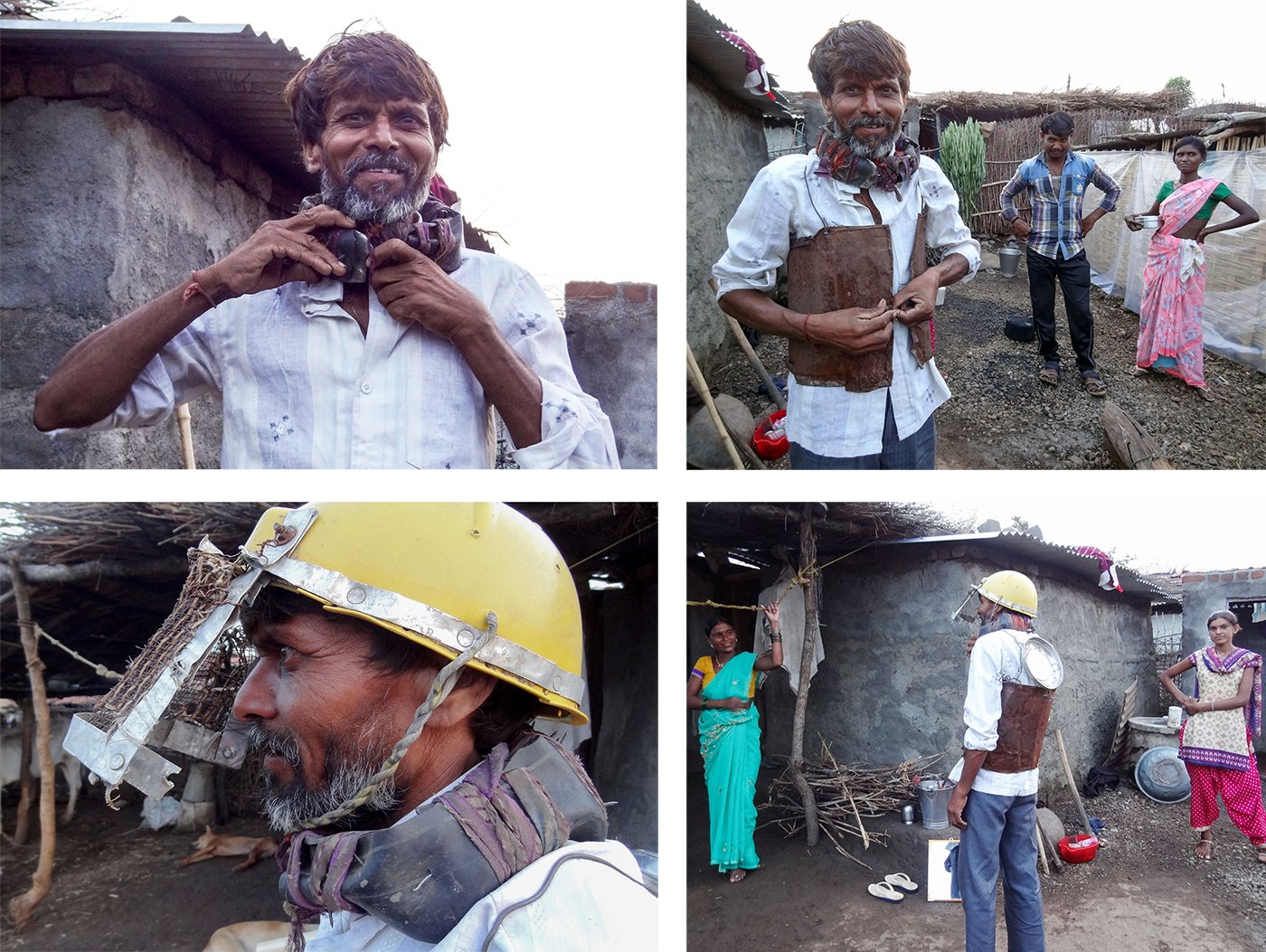 PHOTO • Jaideep Hardikar
"I thought about every situation," says Atram, speaking in the language of game-theory. "I felt I'll need a minimum of all this to protect myself. Even if it doesn't, I at least feel safe by putting it on."
It's been a year since he cobbled together the armour and he has kept adding to it. He has faced the tiger twice in this period, once in 2016, then again in the next year. Every time, he prayed – and ran.
First tryst with a tiger
Atram had a close encounter with a full-grown tiger in September 2017. The huge animal stood a few metres from the cattle-herder. "I froze in fear," he says, recalling the day reluctantly. "I remembered all the tales that I had heard from my villagers – that a tiger loves human blood, it can turn into a man-eater, it can attack from behind."
The best Atram could do was to climb a tree. He sat on a branch for several hours, praying for his life, as the tiger sat below the tree after killing a cow from his herd. When the beast had dragged its kill several metres inside the forest, 45-year-old Atram jumped down from the tree, left his herd there and ran back to his village as fast as he could.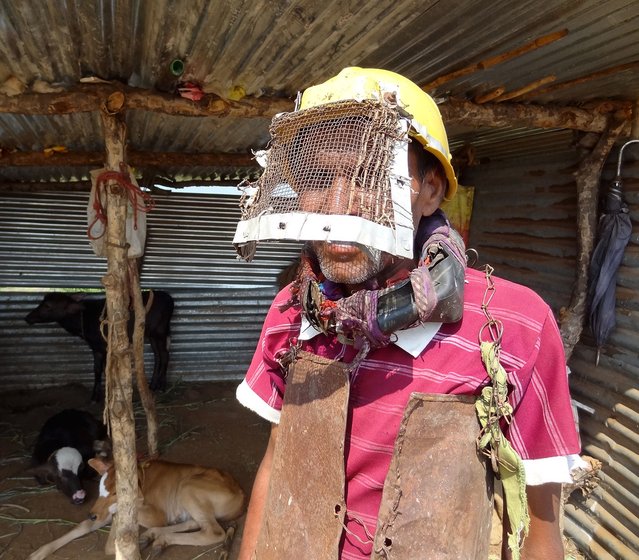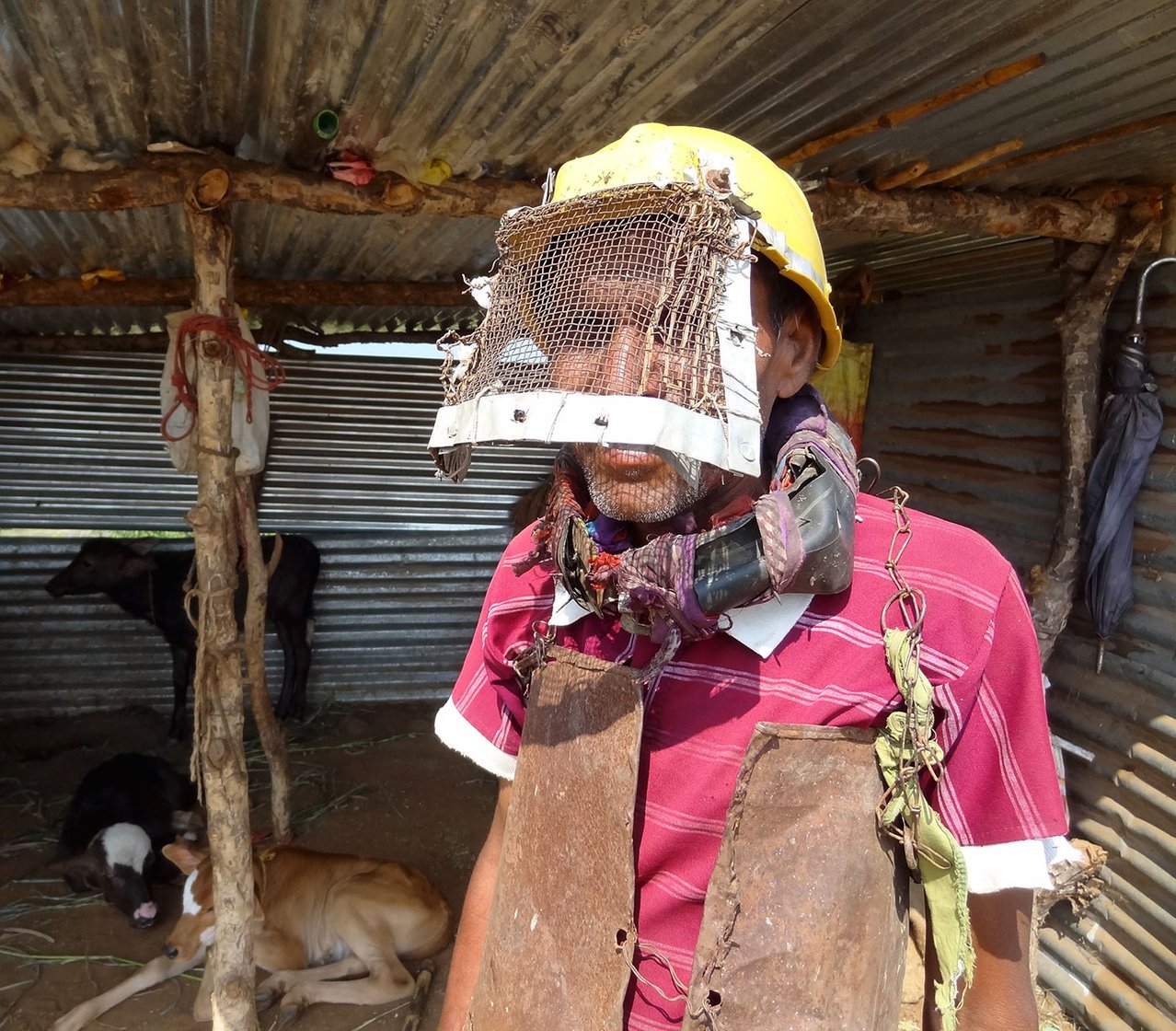 PHOTO • Jaideep Hardikar
"I had never run so fast in my life as I did that day," he recalls with a nervous smile, glancing at his wife Sulochana and their daughters, Disha, 18, and Vaishnavi, 15. They are smiling nervously too, aware that Atram had a brush with death that day. After reaching home, he says, he locked himself in his one-room hut that has a small covered porch to keep his cattle, and did not come out the entire night. He says he was trembling.
" Aji lagit mottha hota ji (it was a huge tiger)," he says in the Varhadi dialect of Marathi. There's a tinge of humour in his tone, but not bravado. Was he frightened? " Mang ka ji! [Then what!]." His daughters giggle at him.

Intensifying human-tiger conflict

Atram's encounter with the tiger is part of an intensifying human-tiger conflict in the jungles of Vidarbha, the far eastern region of Maharashtra.
It's a recent phenomenon, says Siddharth Dudhe, a veteran farmer in Borati, who doubles up as a forest guard on daily wages. It's likely that the tigers in this area have dispersed from small reserved forests such as the Tipeshwar Sanctuary, around 100 kilometres south-west of Borati village. "There is fear, there is anxiety, there is tension," he says. (See Tigress T1's trail of attacks and terror )
Yavatmal district's shrub and deciduous forests are interspersed with densely-populated villages. The wandering new tiger population preys on herbivores and village bovines that are an easy kill, Meshram, the forest guard, tells us at Atram's home. "Right now T1 is not seen in our village's vicinity," he says. "But we keep guard and alert villagers when we get to know its location."
Two processes are at the heart of this conflict, says Ashok Kumar Misra, the Principal Chief Conservator of Forests (Wildlife), Maharashtra: "On the one hand, the tiger populations are on the rise due to recent conservation efforts that includes keeping a strong eye on organised poaching. On the other hand is the high level of anthropogenic pressures, including increased dependence on forests and rising human population."
Besides, Vidarbha's forests are getting increasingly fragmented due to various projects, including roads and highways. Misra says the tiger habitats have shrunk or fragmented, the animals' traditional corridors broken, leaving them with no space to roam. What else do you expect but a conflict? Misra wonders. "It would be more intense if not for our efforts to curb it."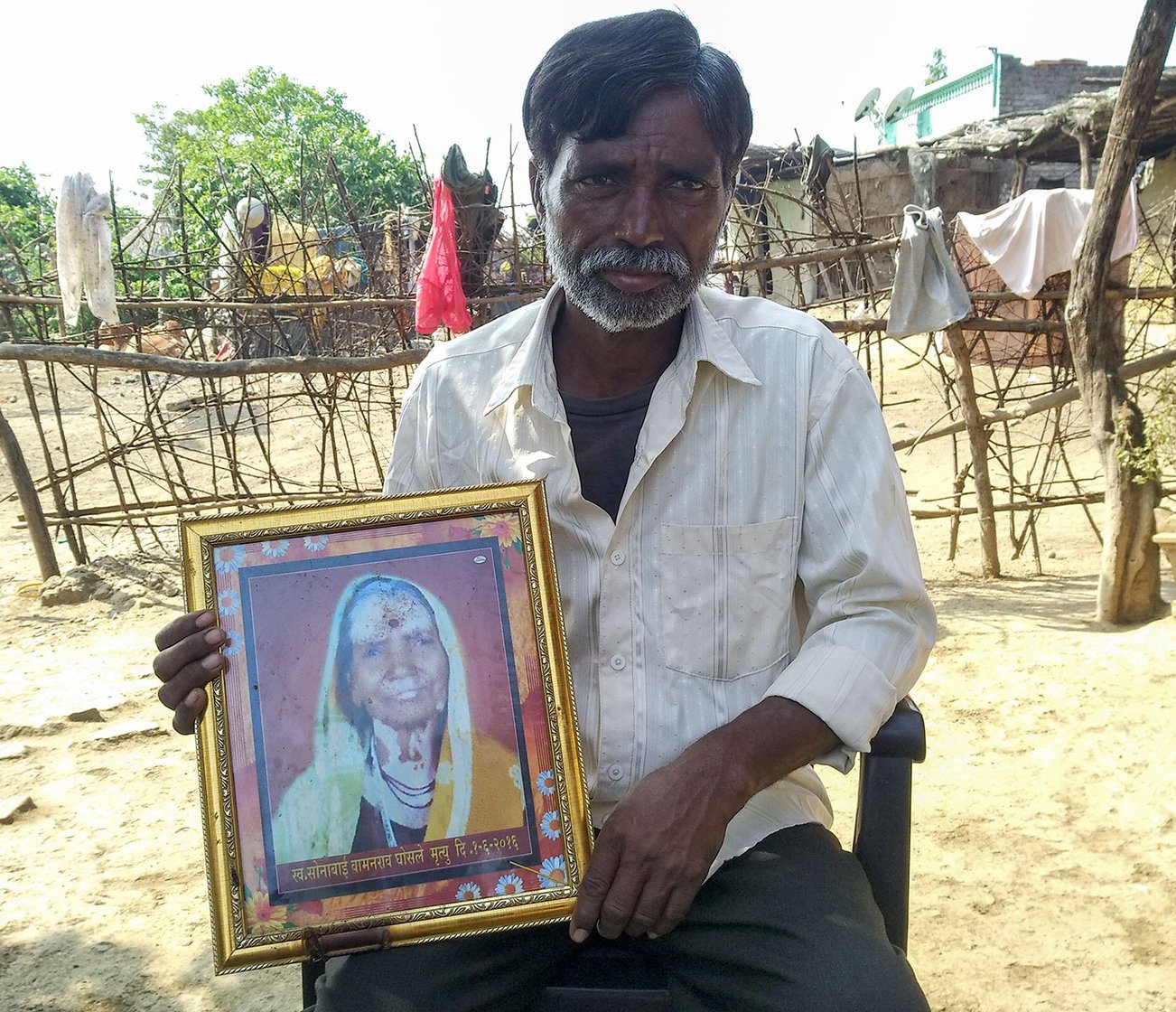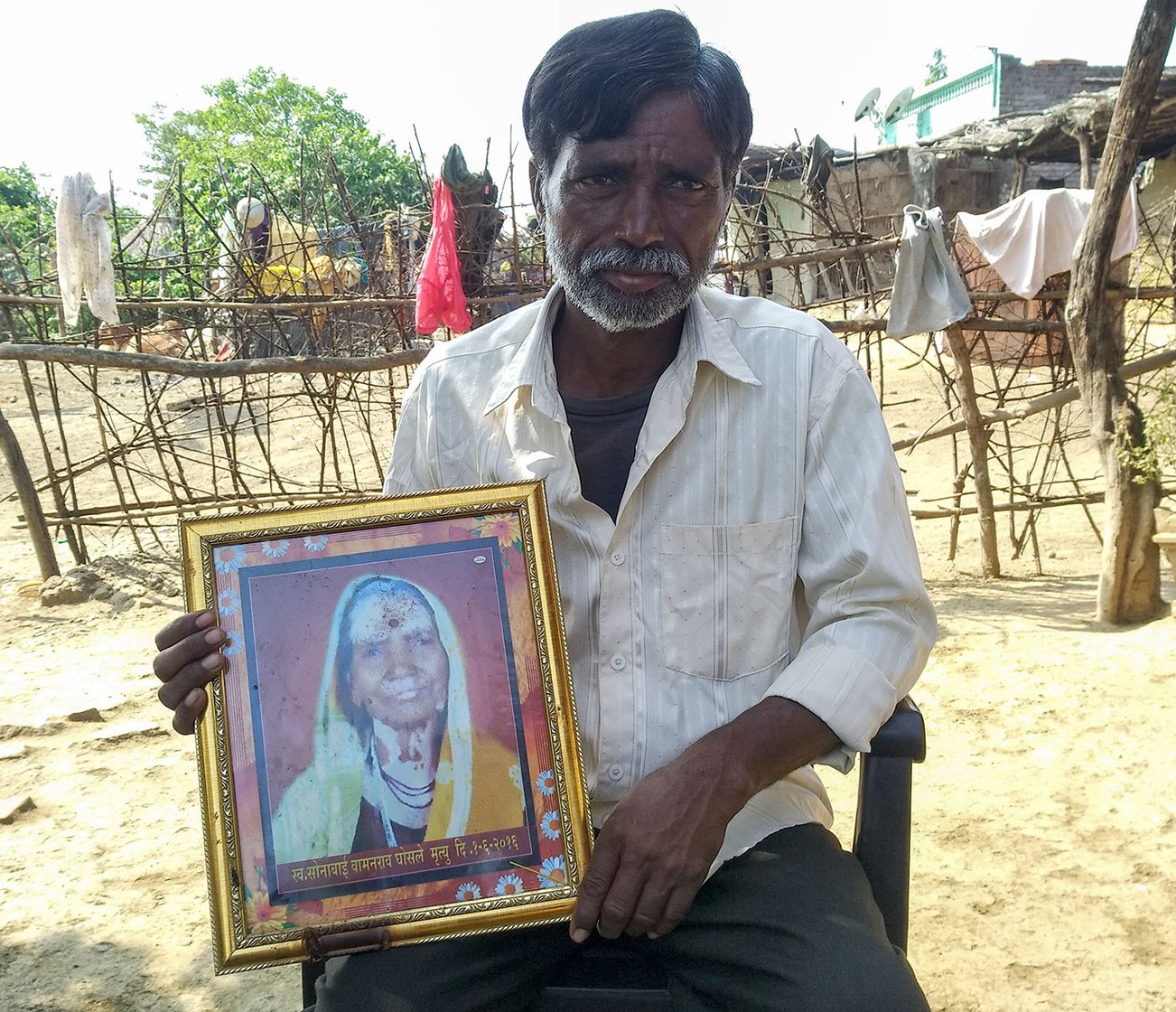 PHOTO • Jaideep Hardikar
In mid-2016, an elderly Sonabai Bhosale of Borati village was mauled by a full-grown tiger on her farm, adjoining a forest patch barely 500 metres from the village's houses. Borati depends on forests for its firewood, for minor forest produce, for cattle grazing.
"We live in fear and anxiety since then," says Ramesh Khanni, a local social and political activist, who has led a delegation of villagers to the forest officials, district collector and local political leaders. "Wild animals devour our crops – now the tigers."
50 cows and a tiger
For years, Atram's routine has been much the same. He starts his day by washing the cows and then herds them into the forests near his village for grazing.
He returns at dusk, and starts all over again the next day. He charged Rs. 100 per cow per month earlier. "We demanded that this wage be hiked due to the risks he takes," Sulochana says. The villagers now pay him Rs. 150 per cow per month – a jump of Rs 50, he says, as a risk cover! "I usually have 50 cows to tend to," he tells one evening when he's just returned home from the forests. "If I stop doing this, what else would I do?"
The villagers have made it clear to Atram: "Don't bother about our cows if you are in trouble." That is a big relief, he says, it shows how considerate they are. "The tiger has killed many cows from the herd in the last two years," he says. "I feel sad when I lose my cow and happy that I am alive."
Atram never went to school, neither did his wife. But their three children are studying. He wants them to study, no matter if he has to risk his life to make a living. Disha has just finished her first year BA in a nearby college, Vaishnavi passed her Class 10 this year, and Anoj, the youngest, is in Class 9 at a residential school.
Sulochana adds around Rs. 3,000 to the family earnings working as an assistant at the village anganwadi assistant. "Every morning, I pray for him to return safe," she says. "Every evening, when I see him back home hale and hearty, I thank the tiger."