"Each jhopdi I build lasts at least 70 years."
Vishnu Bhosale has a rare skill – he is a jhopdi (traditional hut) maker, living in Jambhali village of Kolhapur district.
The 68-year-old learnt the skills of building a hut with a wooden frame and thatch from his father, the late Gundu. He has built over 10 jhopdis and assisted in roughly the same number. "We [usually] made them only in the summers as we didn't have much work in the fields [at that time]," he recalls and adds, "People were excited around building a jhopdi ."
Vishnu recalls a time till around the 1960s, when Jambhali had over a hundred such huts. He says friends helped each other and used material available in the vicinity. "We didn't spend even a single rupee in making a jhopdi . None could afford it," he says and adds, "People were ready to wait for up to three months, but they would start building only when they had [all] the right sahitya [material]."
By the end of the century, brick, cement and tin had replaced the wooden and thatch structures in this village of 4,963 people (Census 2011). The jhopdis first lost out to the arrival of khapri koulu (roof tiles) or kumbhari koulu made by local potters, and later to the machine-made Bangalore koulus which had better strength and durability.
Tiles required less maintenance, were easier and quicker to install when compared to the labour needed for a jhopdi's thatch. Finally, it was the advent of cement and bricks to make pucca houses that sealed their fate, and jhopdi building went into serious decline. People in Jambhali began abandoning their jhopdis , and today only a handful exist.
"It is rare to see any jhopdi in the village now. In a few years, we will lose all the traditional ones because nobody wants to look after them," says Vishnu.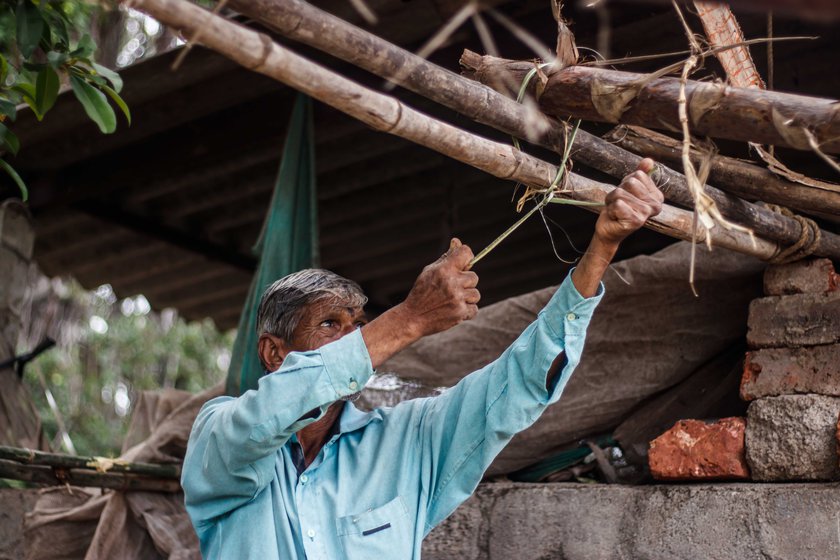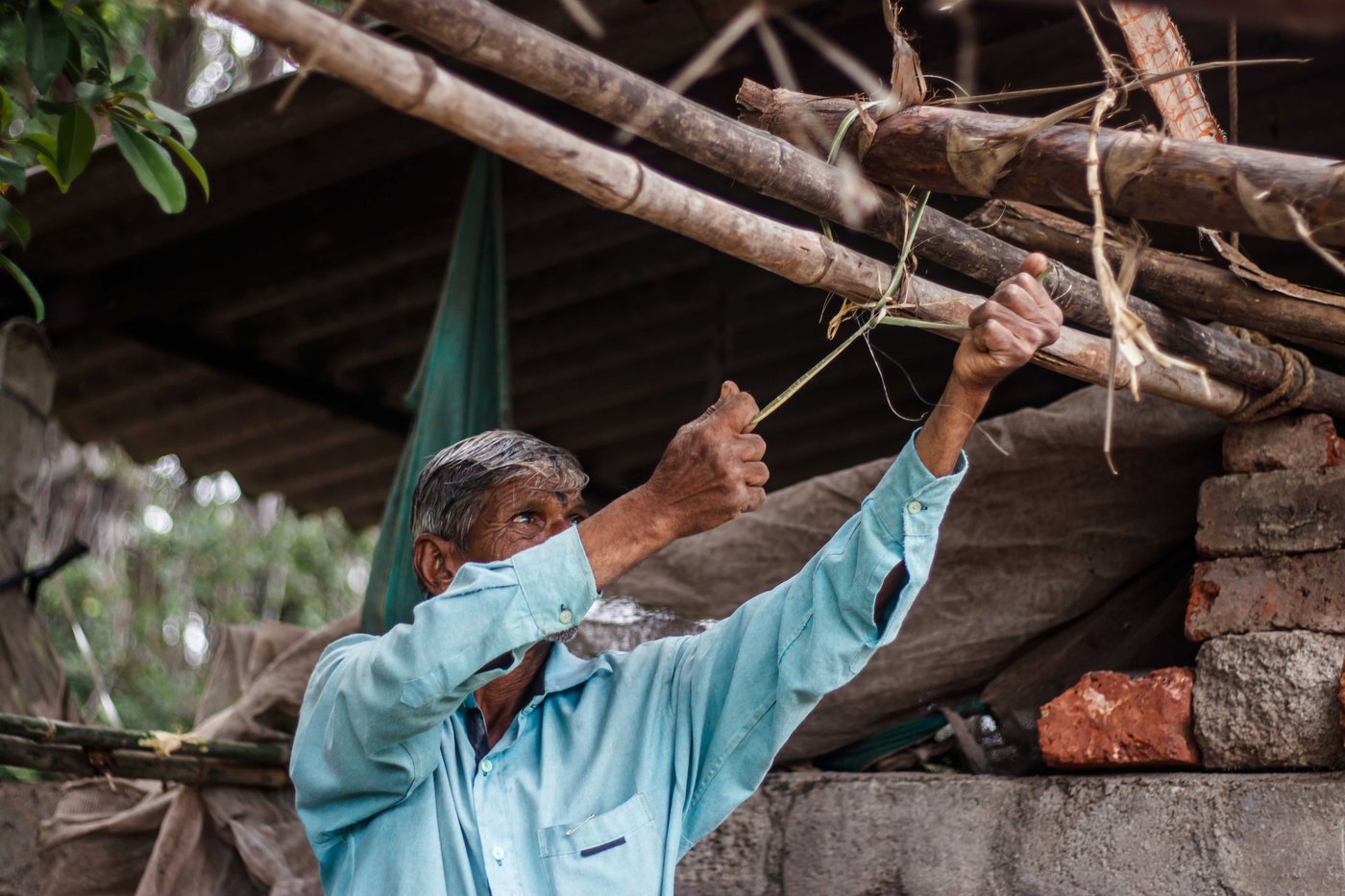 PHOTO • Sanket Jain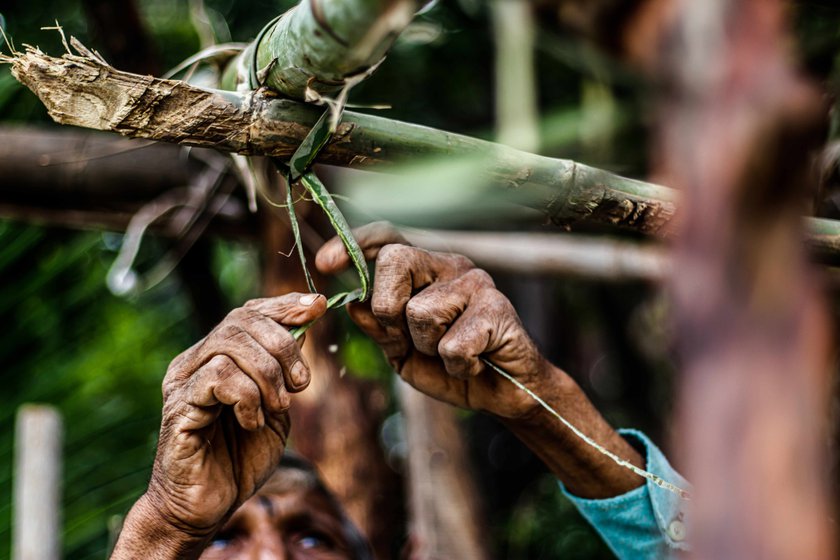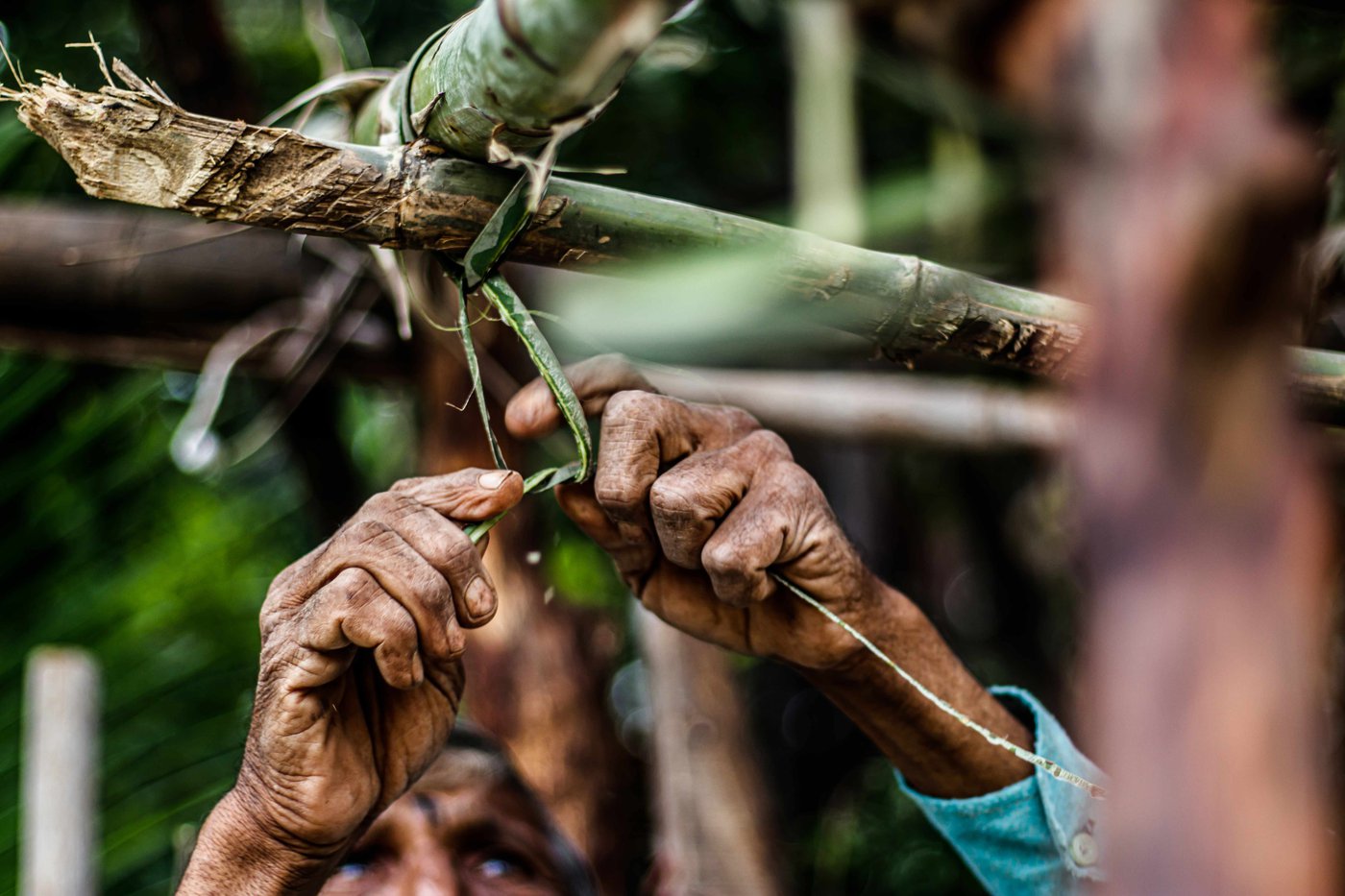 PHOTO • Sanket Jain
It was Vishnu Bhosale's friend and neighbour, Narayan Gaikwad who reached out to Vishnu when he wanted to build a hut. They are both farmers and have travelled together to many farmers' protests across India. Read: Jambhali farmer: Broken arm, unbroken spirit
In Jambhali, Vishnu owns an acre of land and Narayan around 3.25 acres. They both cultivate sugarcane along with sorghum, emmer wheat, soybean, common beans and leafy vegetables like spinach, fenugreek and coriander.
Narayan's desire to build a hut goes back to a decade ago when he had travelled to Aurangabad district and was speaking to agricultural labourers about their working conditions. It was here that he saw a circular jhopdi and thought, " Agdi prekshani [extremely beautiful]. Tyacha Gurutvakarshan kendra agdi barobar hota [The centre of gravity was balanced very well]," he says.
The hut was made of rice straw and every part was in order, recalls Narayan. He enquired further and found that it was built by an agricultural labourer whom he didn't get to meet. The 76-year-old made a note of it, literally. For decades now, he has been copiously noting interesting details of everyday life. He has thousands of pages of handwritten notes in regional Marathi, spread across 40 different diaries – from pocket-sized to A4.
A decade later he wanted to replicate that hut on his 3.25-acre farm, but the challenges were many, chief among them was finding a hut maker.
He then spoke to Vishnu Bhosale, a veteran maker of huts. The result of that partnership is up now in wood and thatch, a symbol of handmade architectural workmanship.
"As long as there's this jhopdi , it will remind the younger generation of art that is thousands of years old," says Narayan. His building partner, Vishnu adds, "How else will people know about my work?"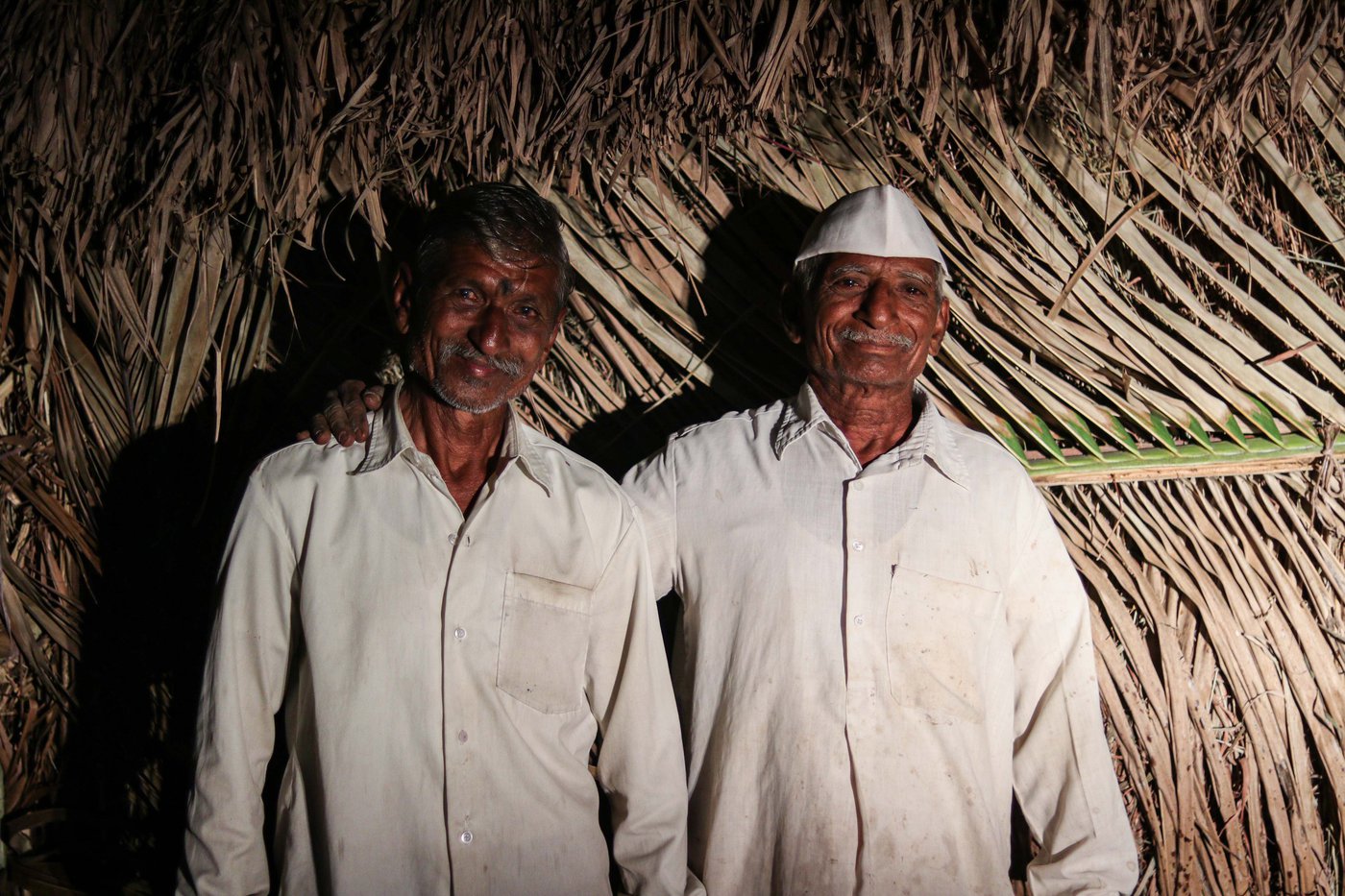 PHOTO • Sanket Jain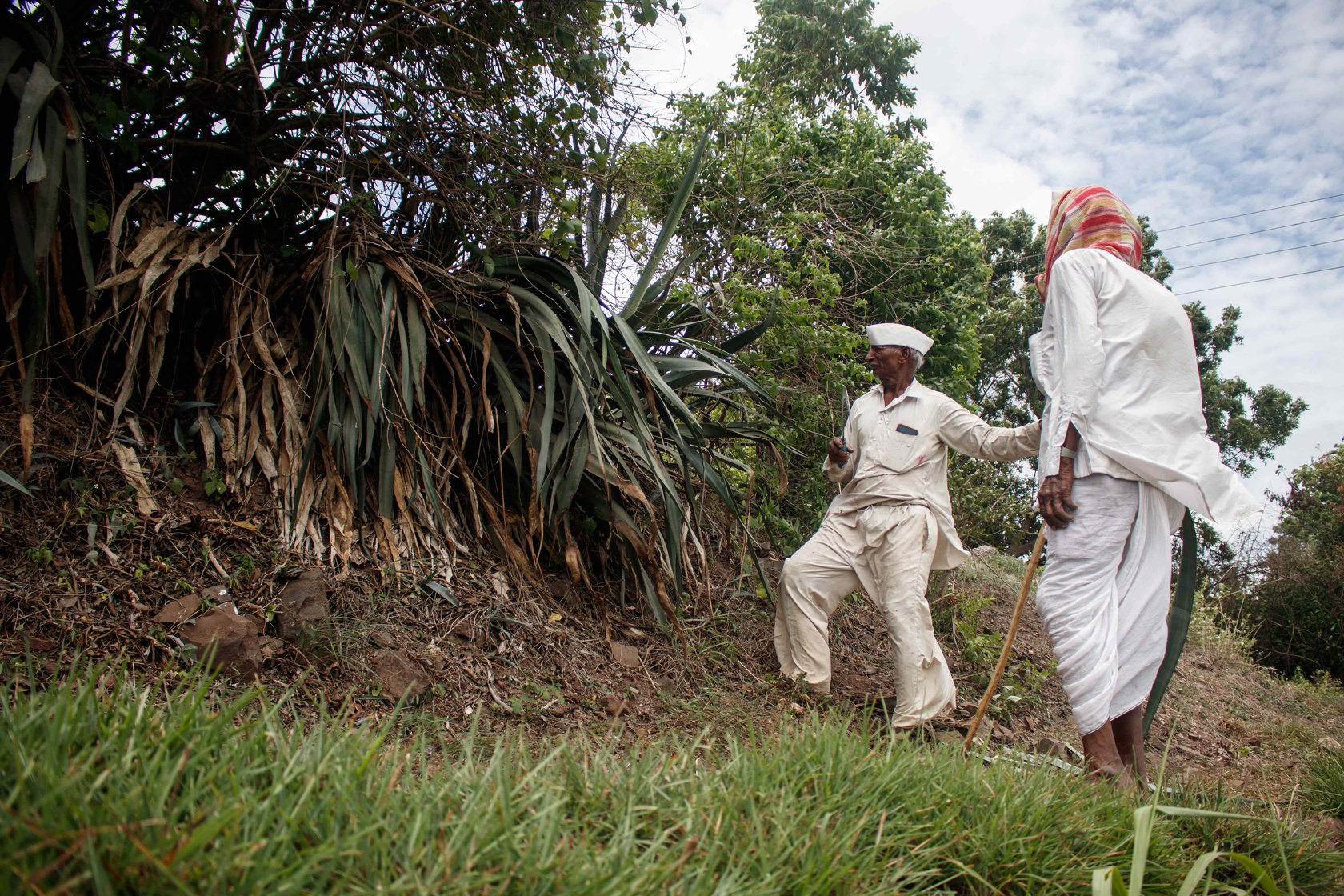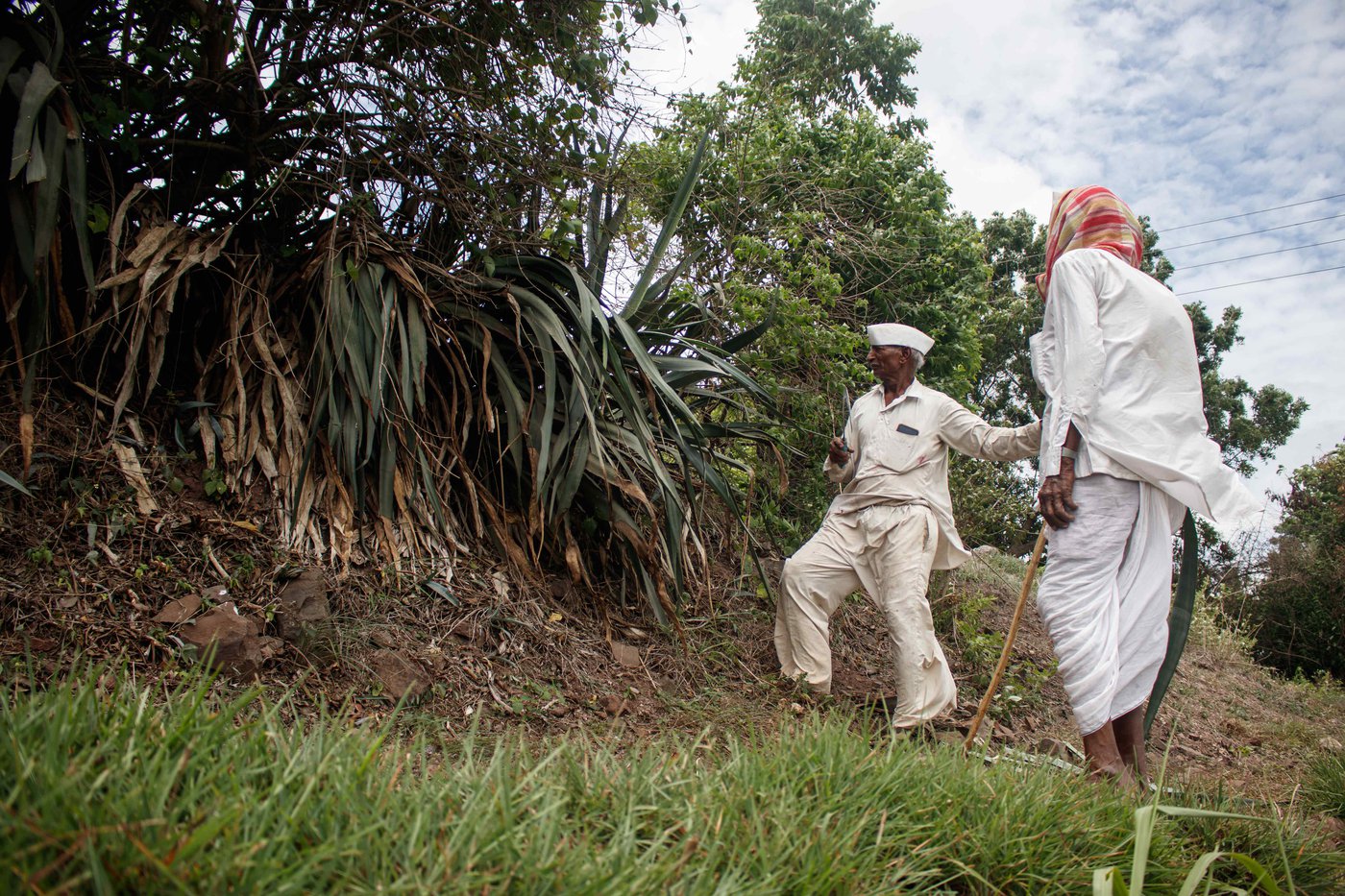 PHOTO • Sanket Jain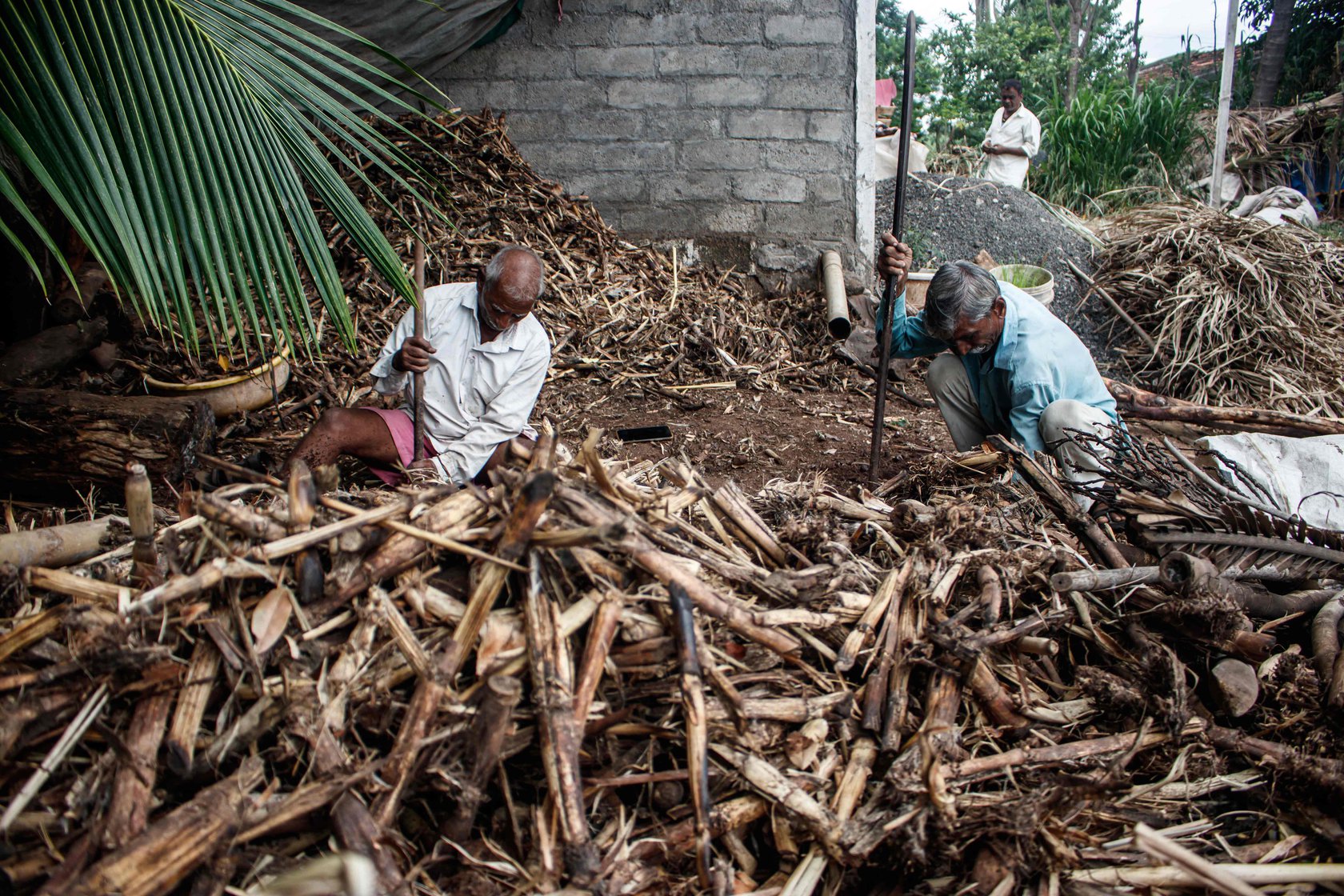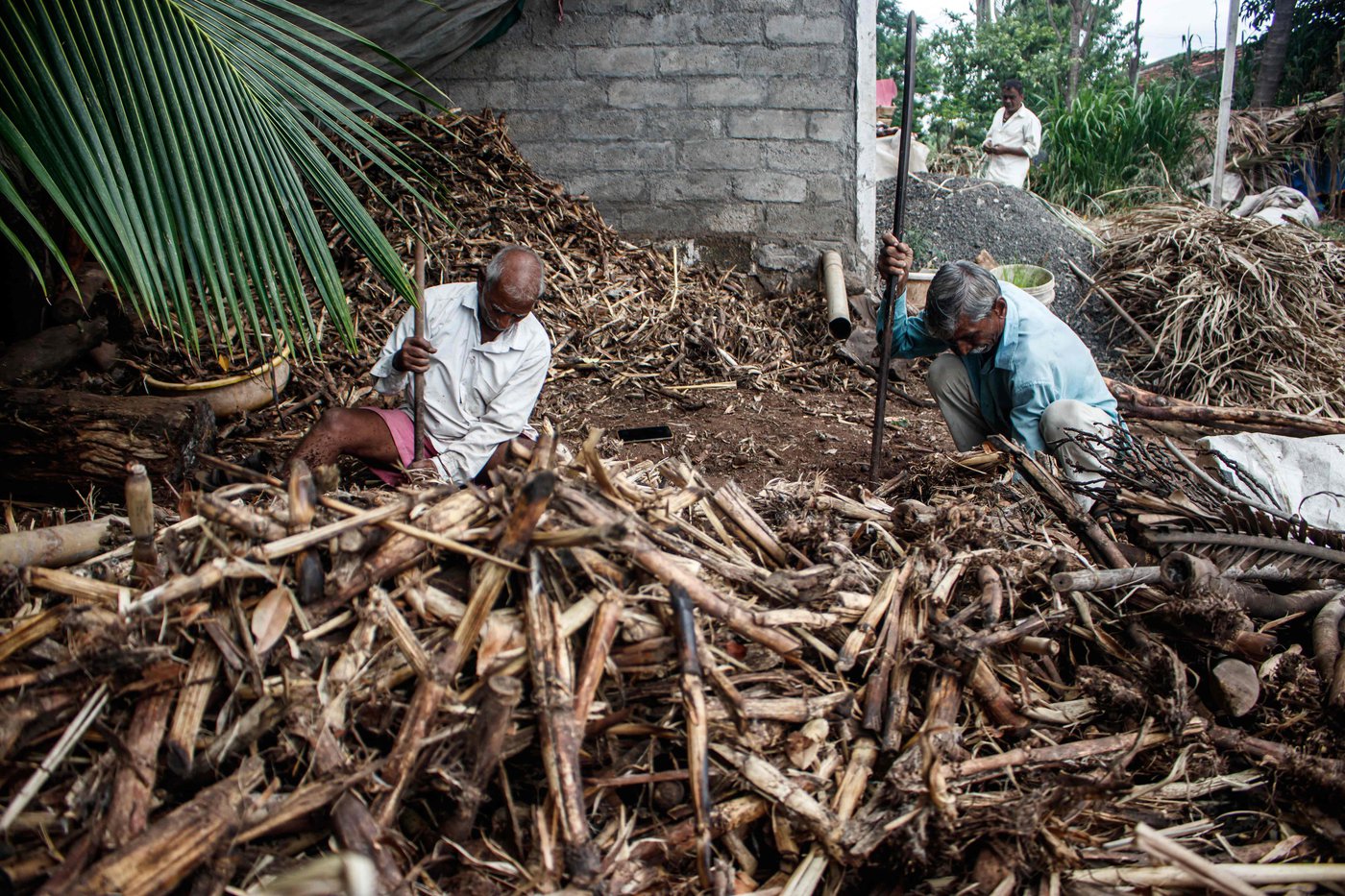 PHOTO • Sanket Jain
The first step in making a hut is identifying its usage, "Depending on that, the size and structure vary," says Vishnu. For example, fodder storage huts are usually triangular, while a room for a small family is ideally a rectangular structure of 12 x 10 feet.
Narayan is a voracious reader, and he wanted a hut that was the size of a small room to use as a reading room. He said he would place his books, magazines and newspapers here.
Clear about its usage, Vishnu made a miniature model with a few sticks. He and Narayan then spent over 45 minutes finalising the details and the shape. After making several rounds of Narayan's field, they zeroed down on a spot with the least wind pressure.
"You can't think of just the summers or winters and make a jhopdi . It has to last for several decades, so we think of several factors," says Narayan.
Construction began with making two-foot holes in the soil, each at a distance of 1.5 feet across the border of where the jhopdi would be built. Fifteen such holes were needed for the 12 x 9 feet building and it took roughly an hour to dig them. The holes were covered with polyethene or a plastic sack. "This is done to ensure that the wood which will then be placed here makes the skeleton waterproof," says Vishnu. The entire hut is at risk of decaying if anything happens to the wood.
In the two farthest holes and the one at the centre, a medka is carefully positioned by Vishnu and Ashok Bhosale, a mason and friend. A medka is a roughly 12-feet Y-shaped branch of chandan (Santalum album), babul (Vachellia nilotica), or kadu limb (Azadirachta indica) wood.
The tapered end of the 'Y' is used to mount horizontal wooden stems. "The two medkas or top chords at the centre, known as aad , are at least 12 feet tall, and the remaining 10 feet tall," says Narayan.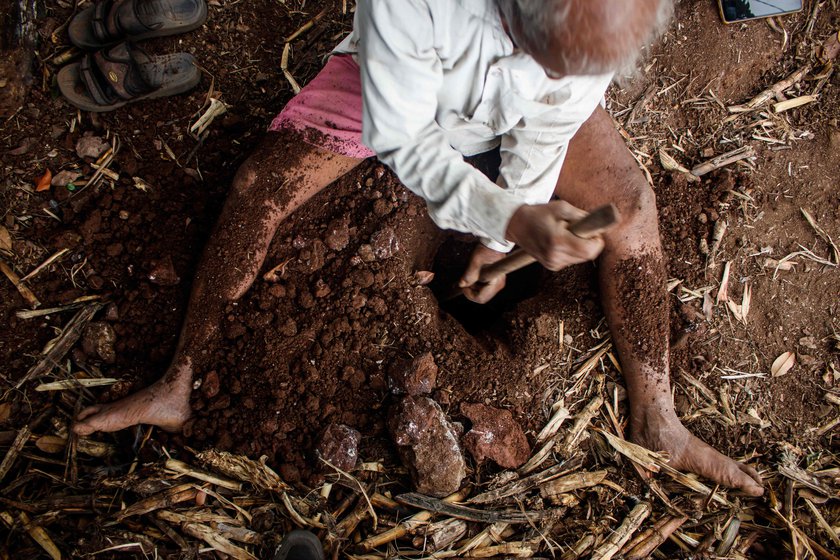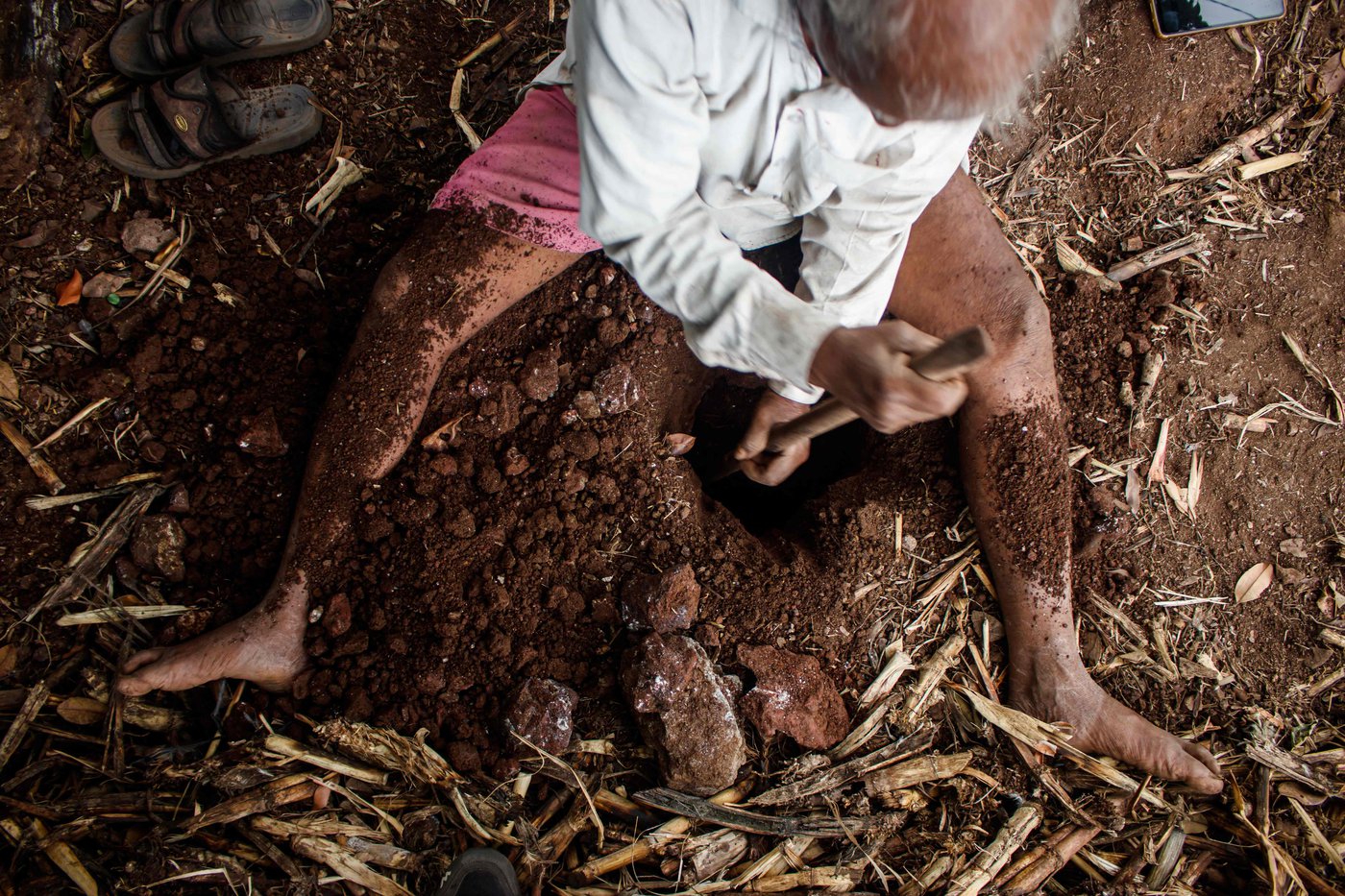 PHOTO • Sanket Jain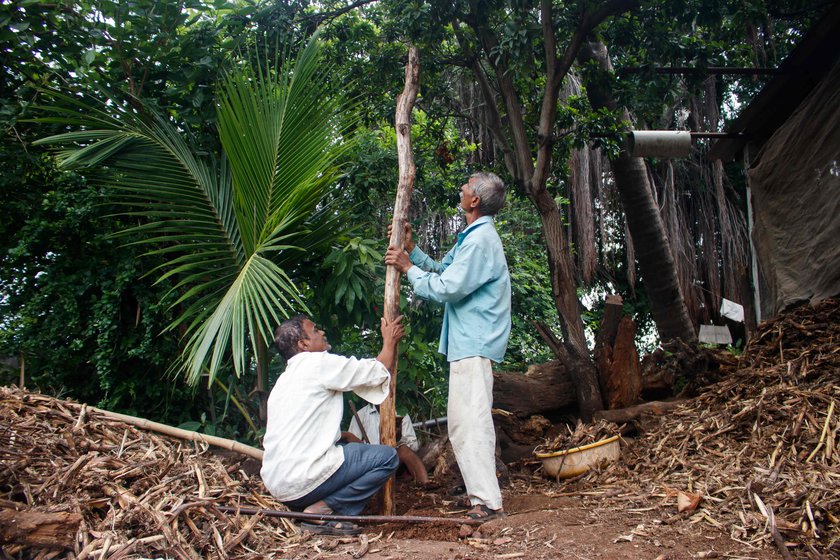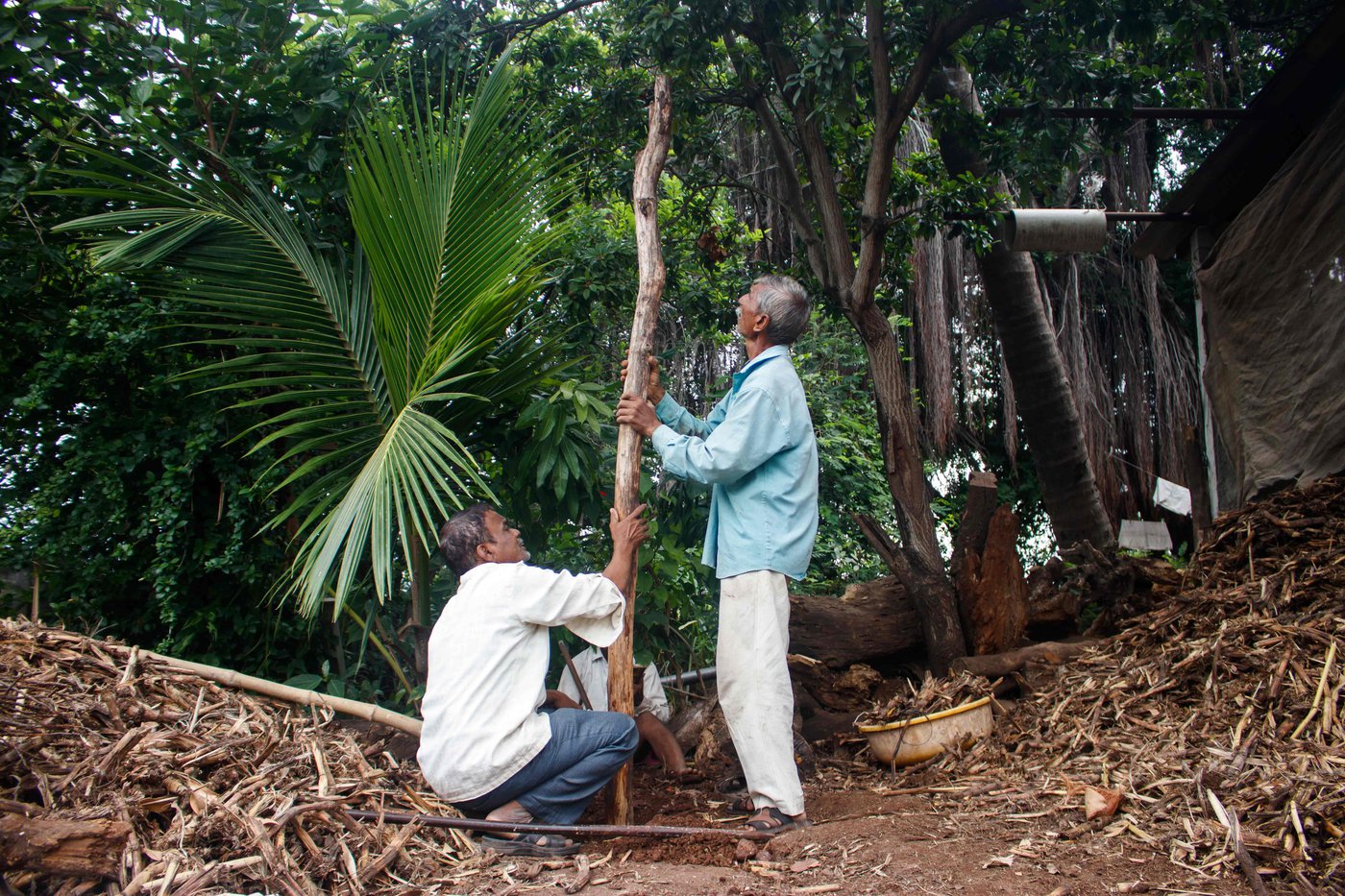 PHOTO • Sanket Jain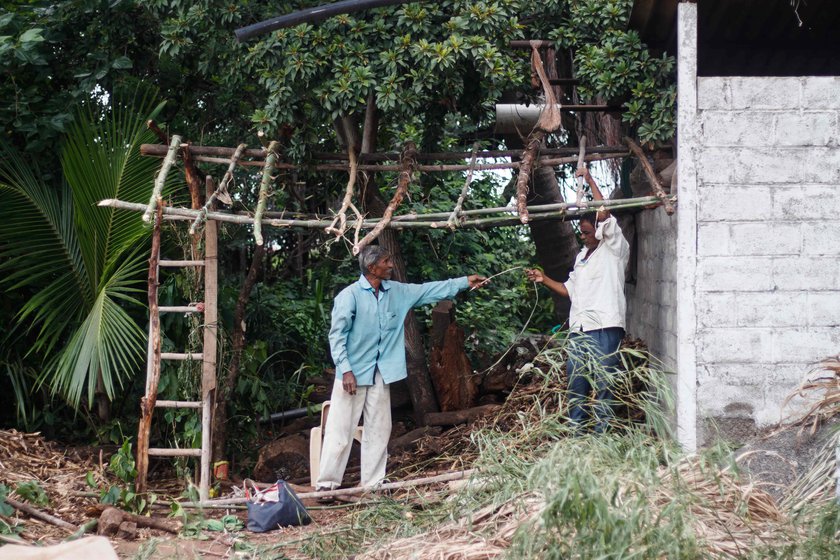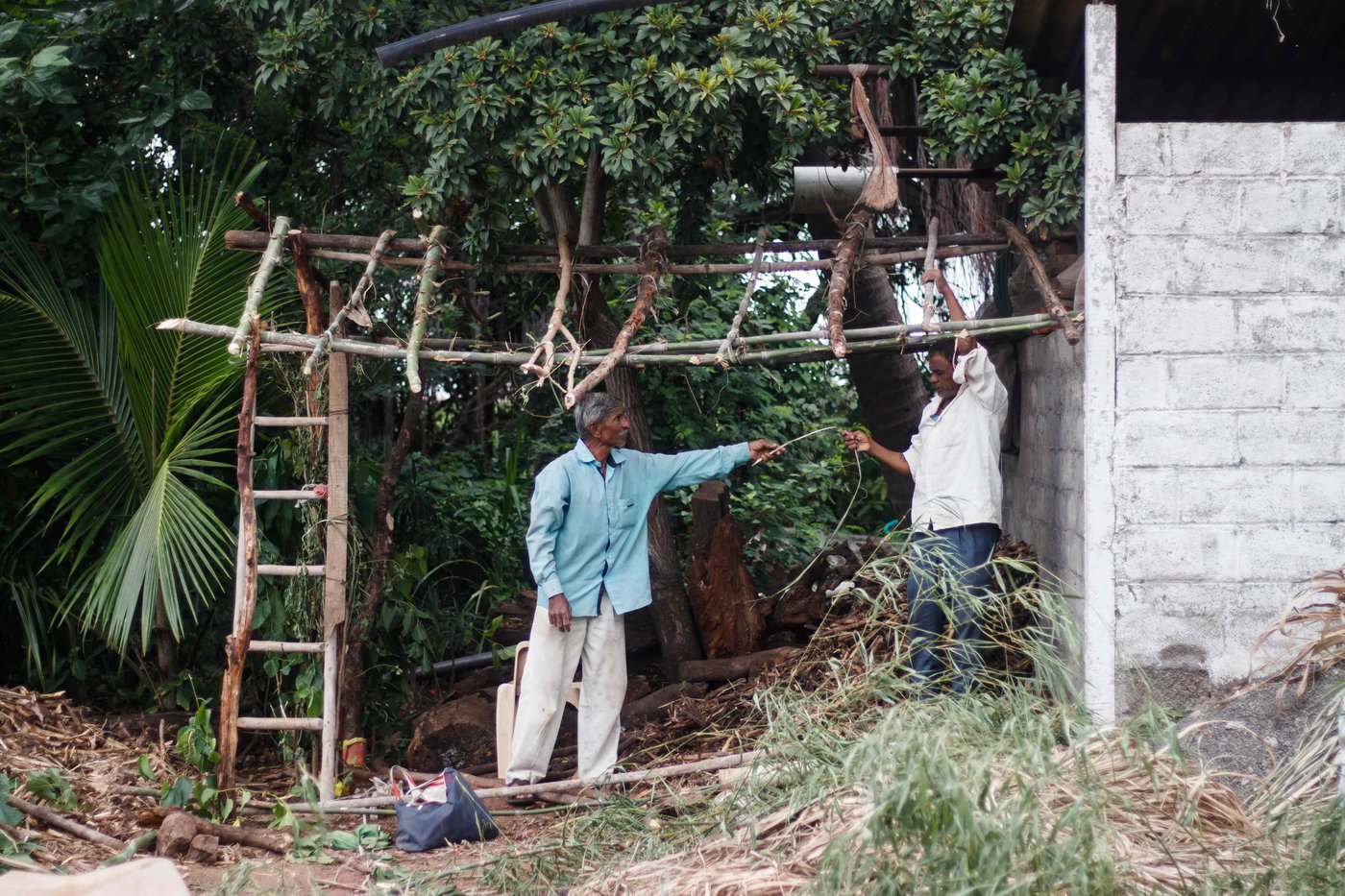 PHOTO • Sanket Jain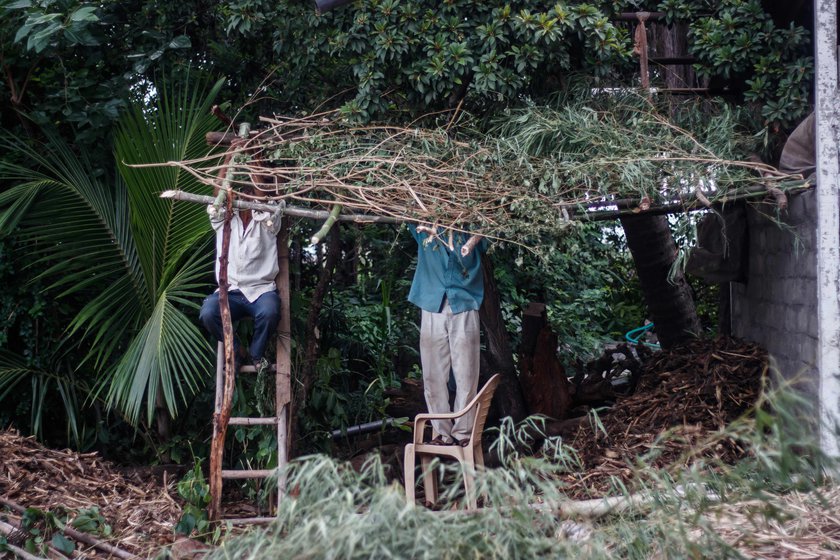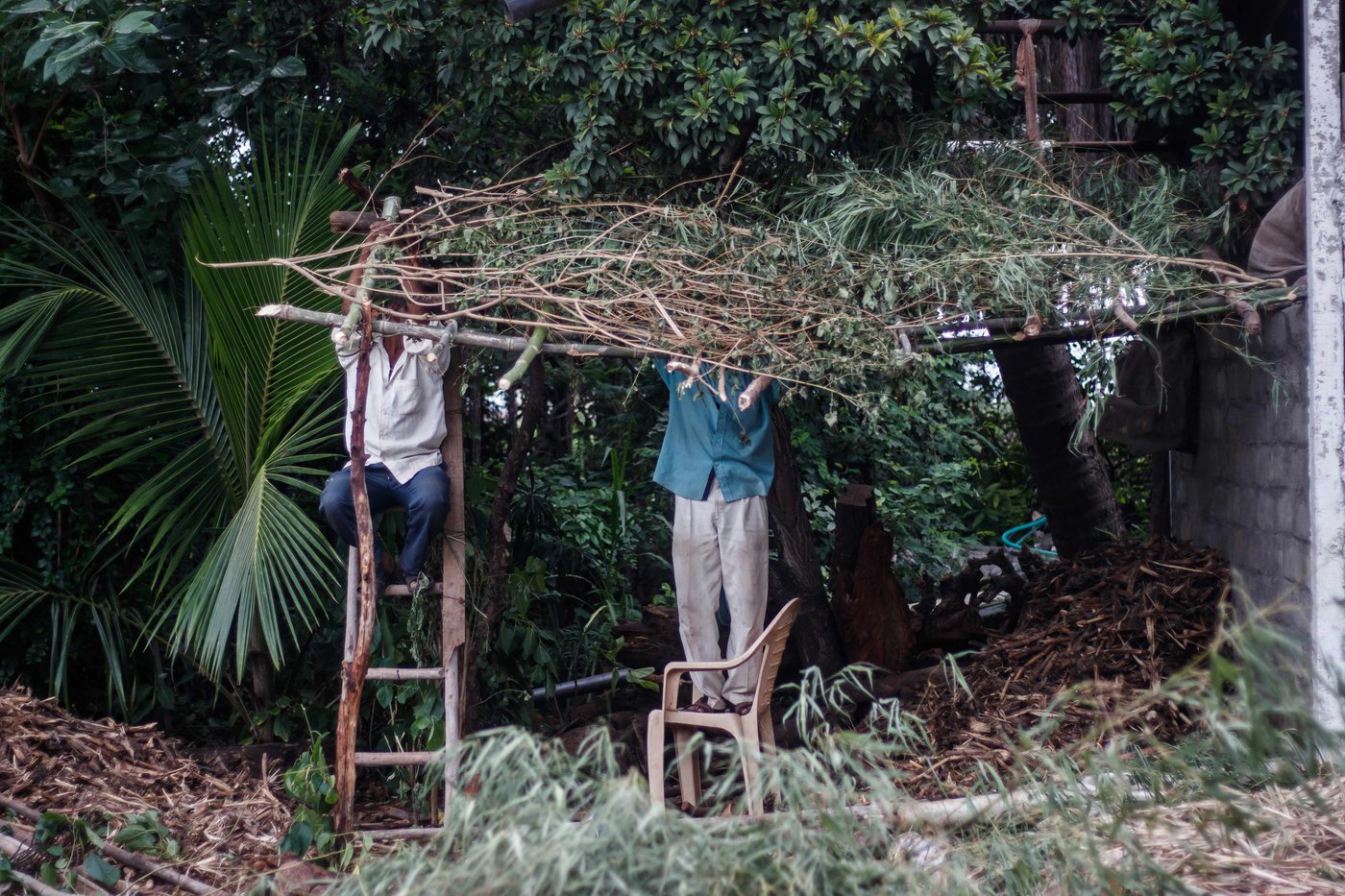 PHOTO • Sanket Jain
Later, the thatch will come over this wooden skeleton; the two feet tall medka will be used to ensure that any rain slides off the thatch onto the ground and not into the house.
When eight such medkas stand upright, the base of the jhopdi is ready. It takes around two hours to mount the medkas . From these medkas , bottom chords called vilu , made from a type of local bamboo, are mounted to help connect both ends of the jhopdi .
"It's becoming difficult to find chandan and babul trees now," says Vishnu. "All these important [native] trees have been replaced either with sugarcane or buildings."
After the skeleton is ready, the next step is mounting the rafters, which form the internal structure of the roof. For this hut, Vishnu has planned 44 rafters, 22 on each side of the roof truss. They are made of agave stems called fadyacha vasa in regional Marathi. An agave stem can grow as high as 25-30 feet and is known here for its strength.
"This stem is strong and makes the jhopdi last much longer," explains Vishnu. The more the rafters, the better the strength. But he cautions, "Cutting the fadyacha vasa is extremely difficult."
Agave fibres are then used to tie the horizontal wooden frame – they are exceptionally durable. Extracting the fibre from the agave leaves is a difficult task. Narayan has mastered this, and it takes him less than 20 seconds to extract the fibres using a sickle. "People don't even know there are fibres inside the agave leaves," he says laughing.
These fibres are also used to make environmentally friendly biodegradable ropes. (Read: The great Indian vanishing rope .)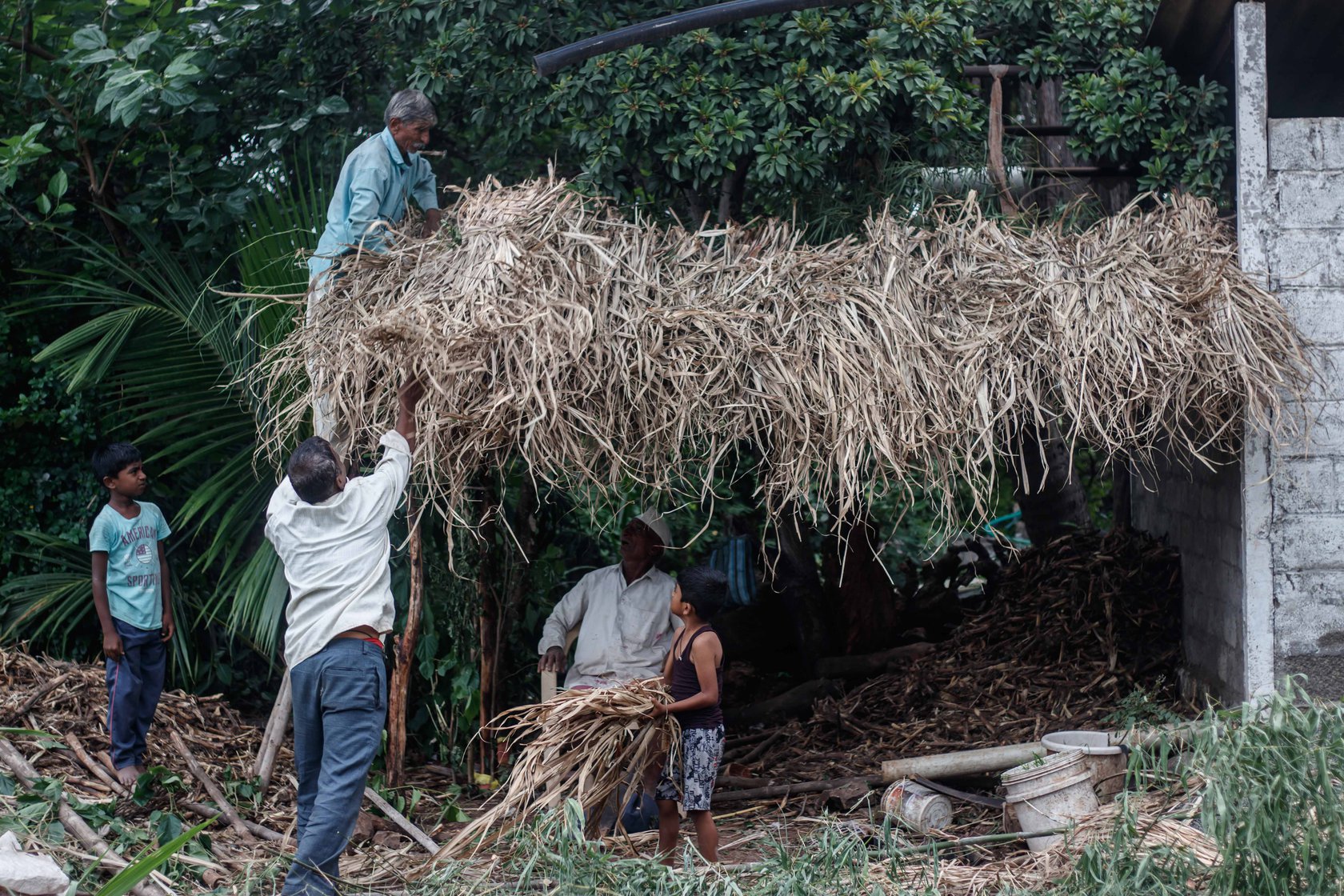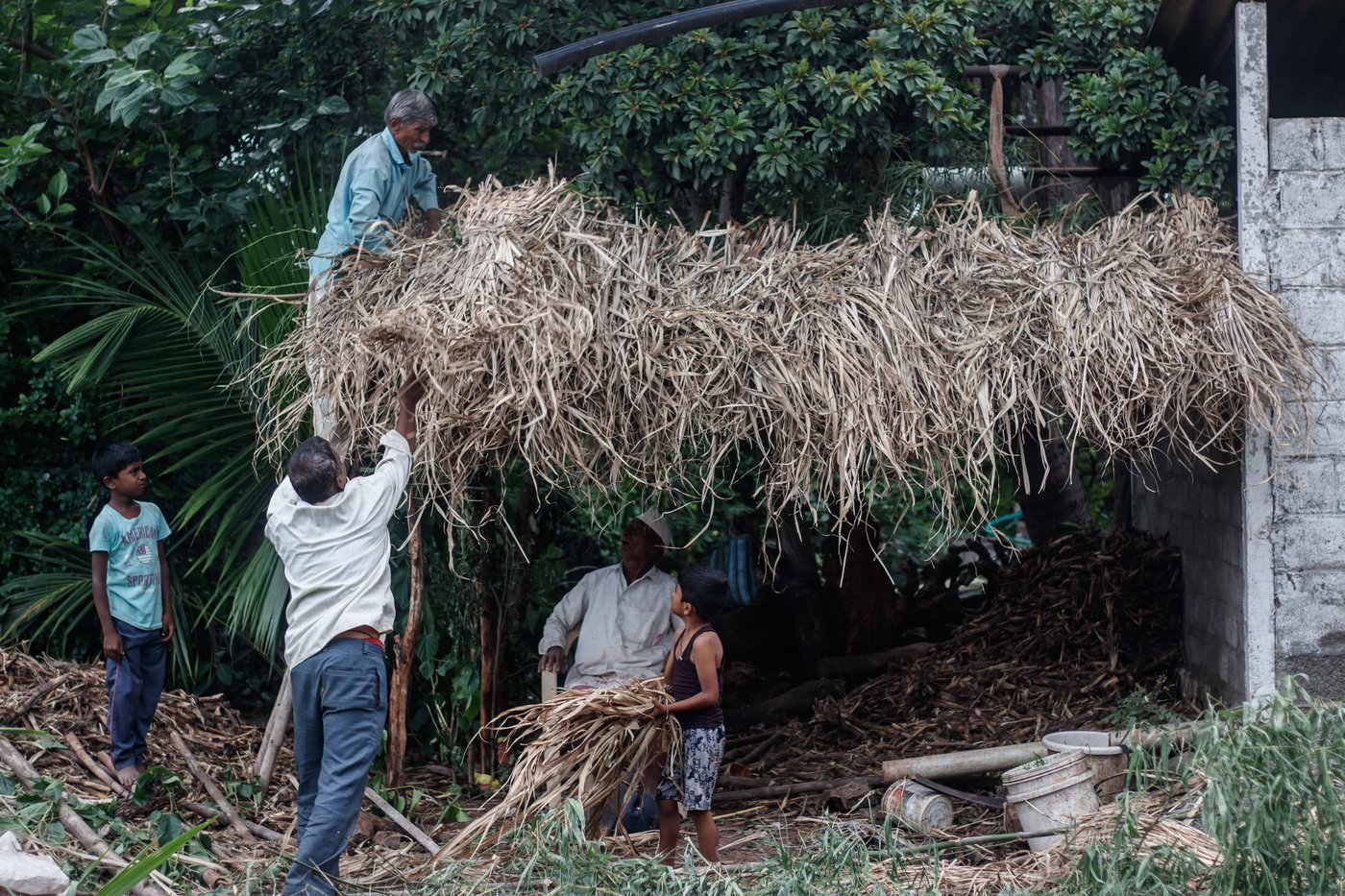 PHOTO • Sanket Jain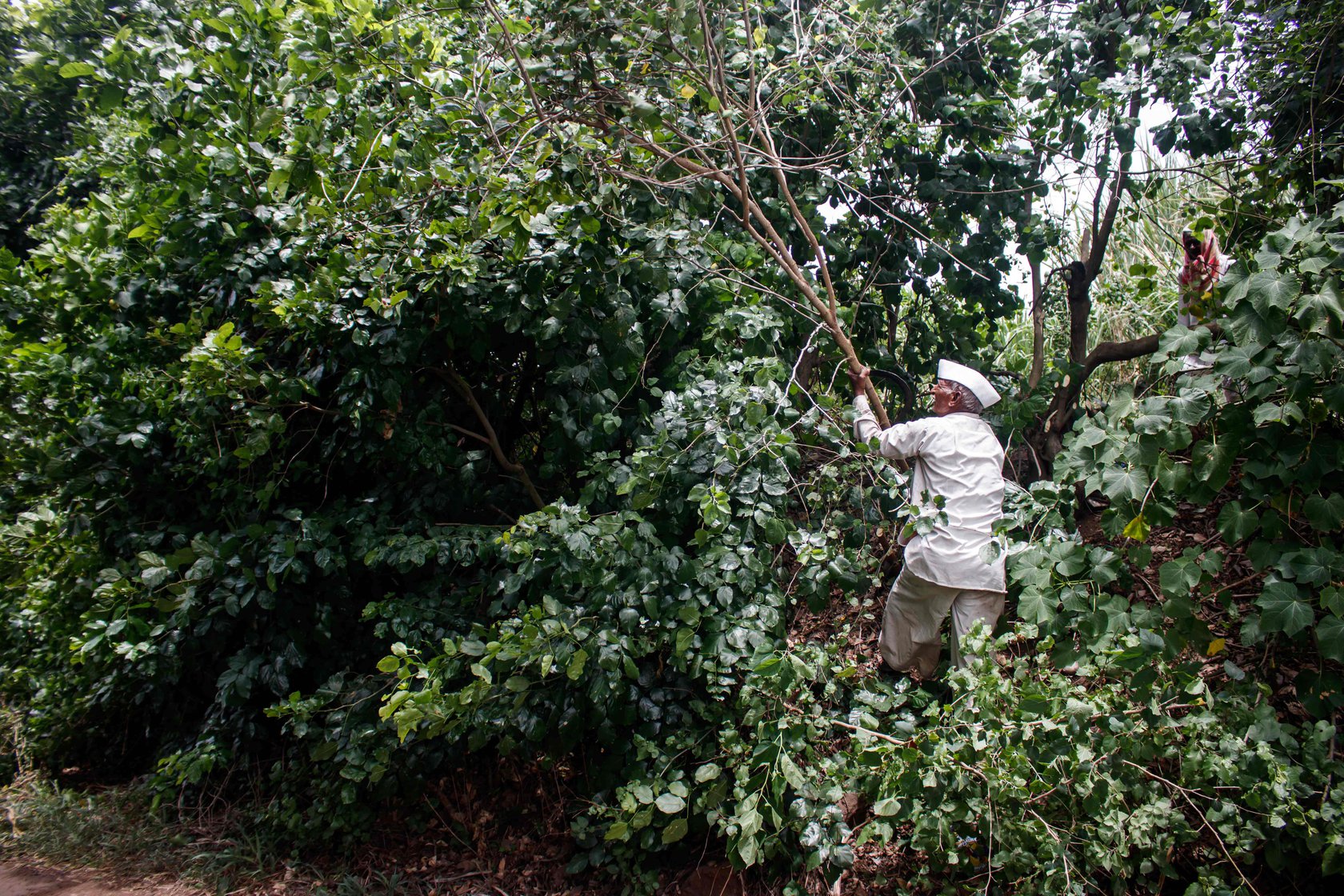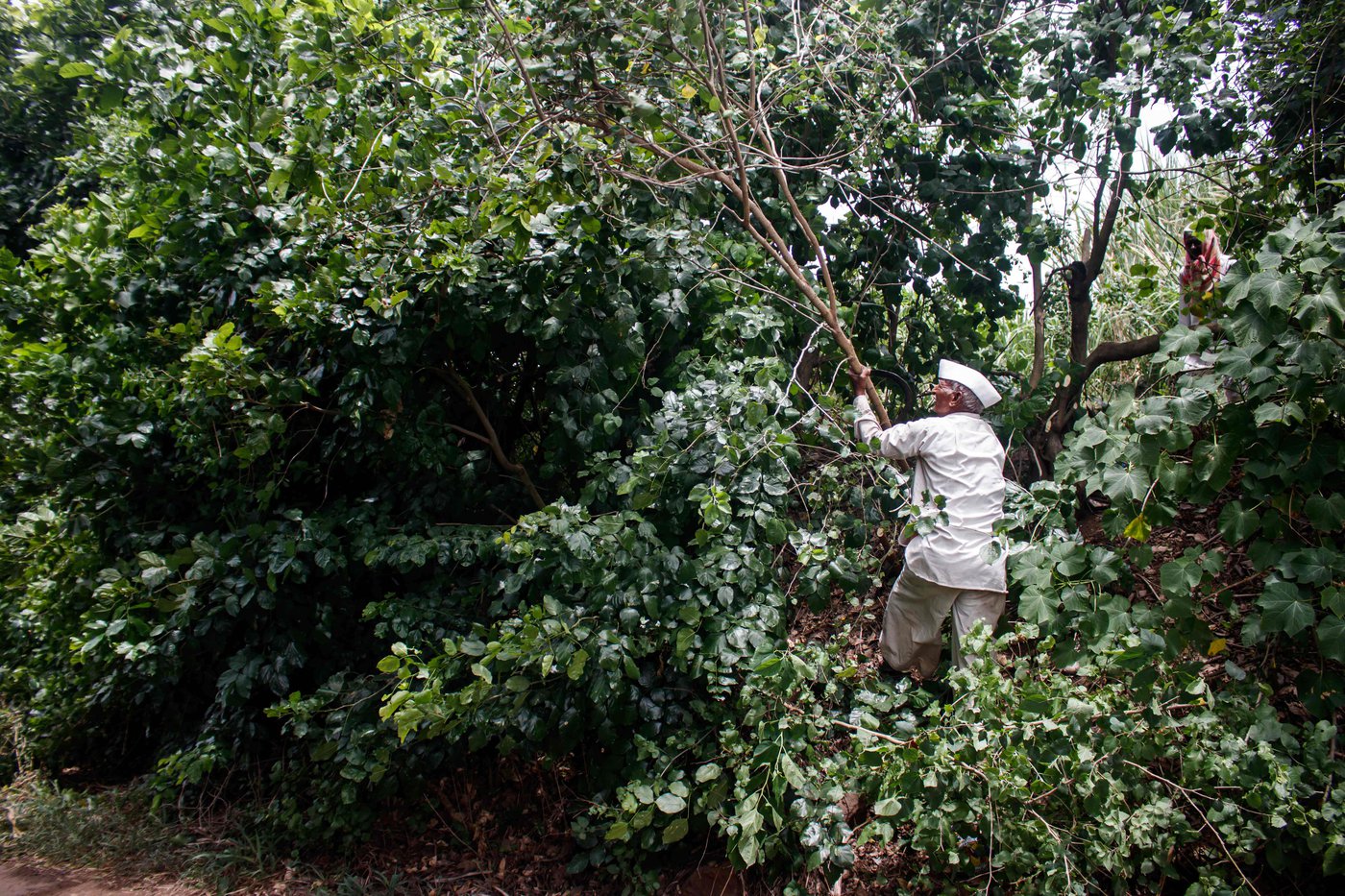 PHOTO • Sanket Jain
Once the wooden frames are in place, the walls are crafted with coconut fronds and sugarcane stems so that even a sickle could be tucked easily into it.
With the structure now visible, roof gets attention. Thatching is done using the top ends of the sugarcane plant – immature cane and leaves. "Back then, we collected it from the farmers who didn't have cattle," says Narayan. The byproduct remains an important cattle food so now farmers don't give it away for free.
Dried stalks of sorghum and emmer wheat are also used to cover the roof – to fill open spots and beautify the jhopdi . "Each jhopdi requires at least eight bindas [roughly 200-250 kilograms of sugarcane tops]," says Narayan.
Laying thatch is a laborious process that takes roughly three days and requires three people to spend six to seven hours a day each on it. "Every stalk has to be arranged carefully, or the water will seep in during the rains," says Vishnu. The thatch is renewed every 3 to 4 years – called c happar shekarne in Marathi – to increase its life.
"Traditionally, it's only the men who make jhopdis in Jambhali, but women play an important role in helping find raw materials and levelling the soil," says Vishnu's wife, Anjana, in her early 60s.
With the structure now complete, the soil beneath is tilled by releasing a lot of water which is then allowed to dry over the next three days. "This helps unearth the sticky properties of the soil," explains Narayan. Once that is done, it is topped with pandhri mati (white soil), that Narayan has brought from his farmer friends. The 'white' soil is lighter in colour as iron and manganese has been leached out.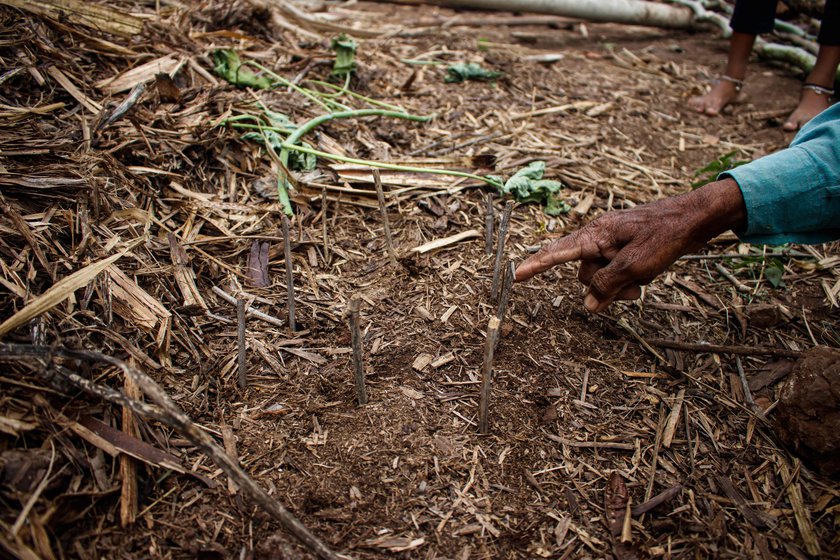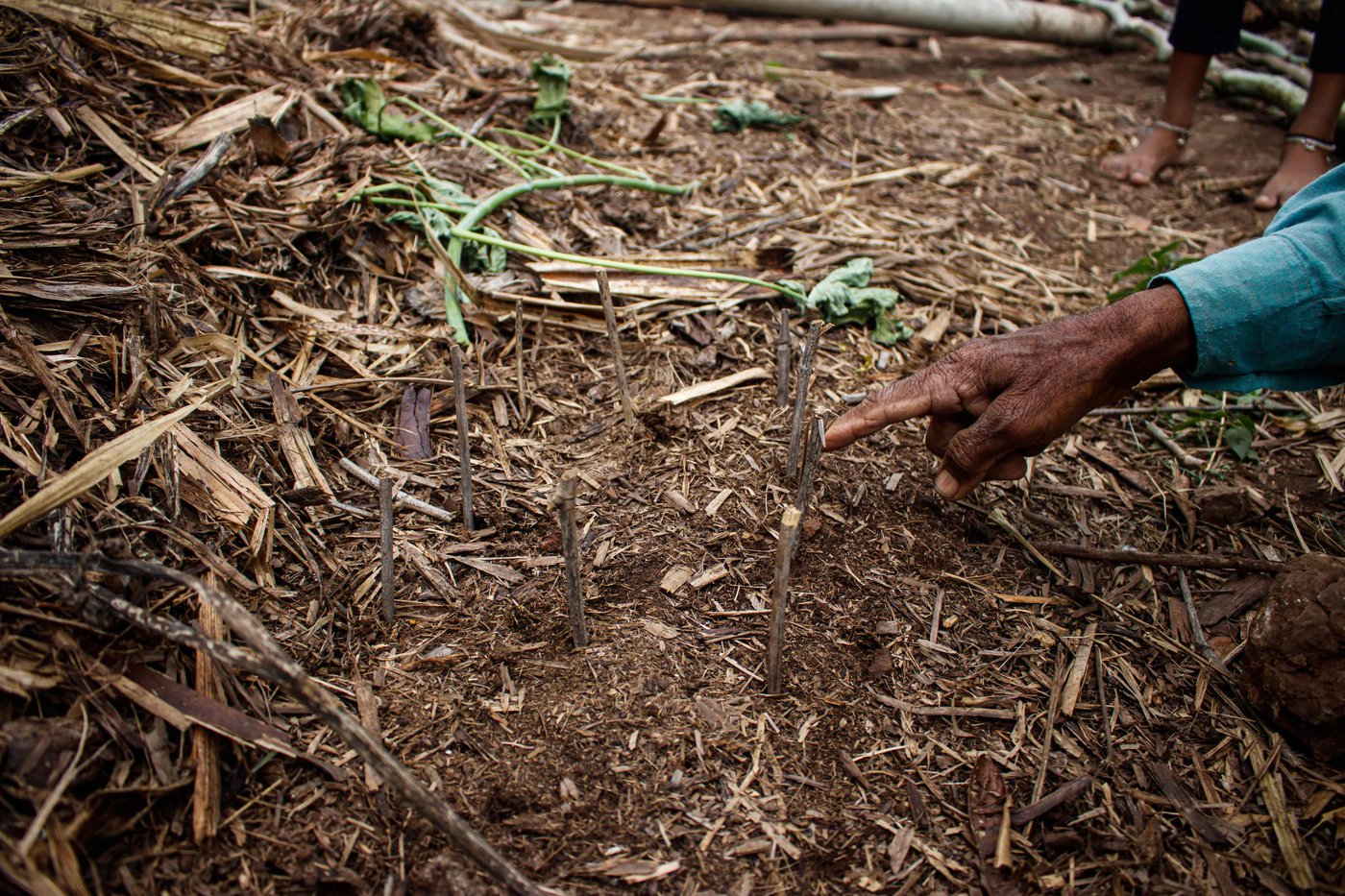 PHOTO • Sanket Jain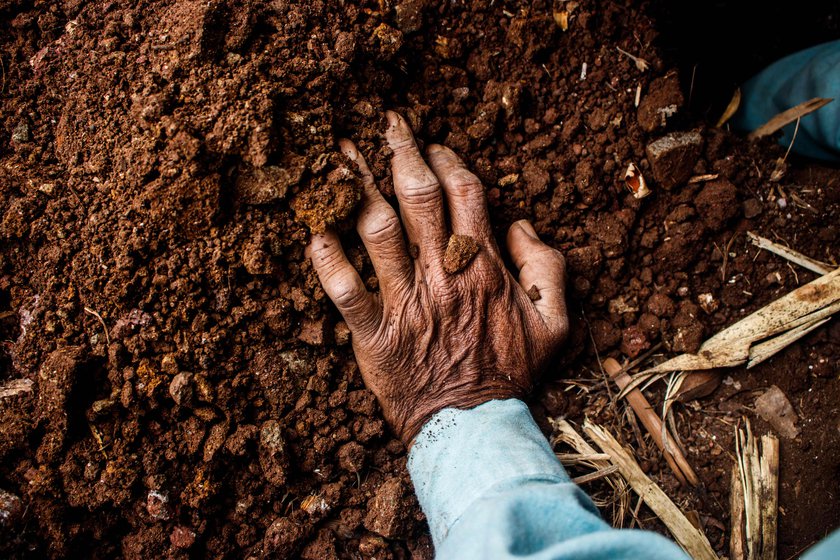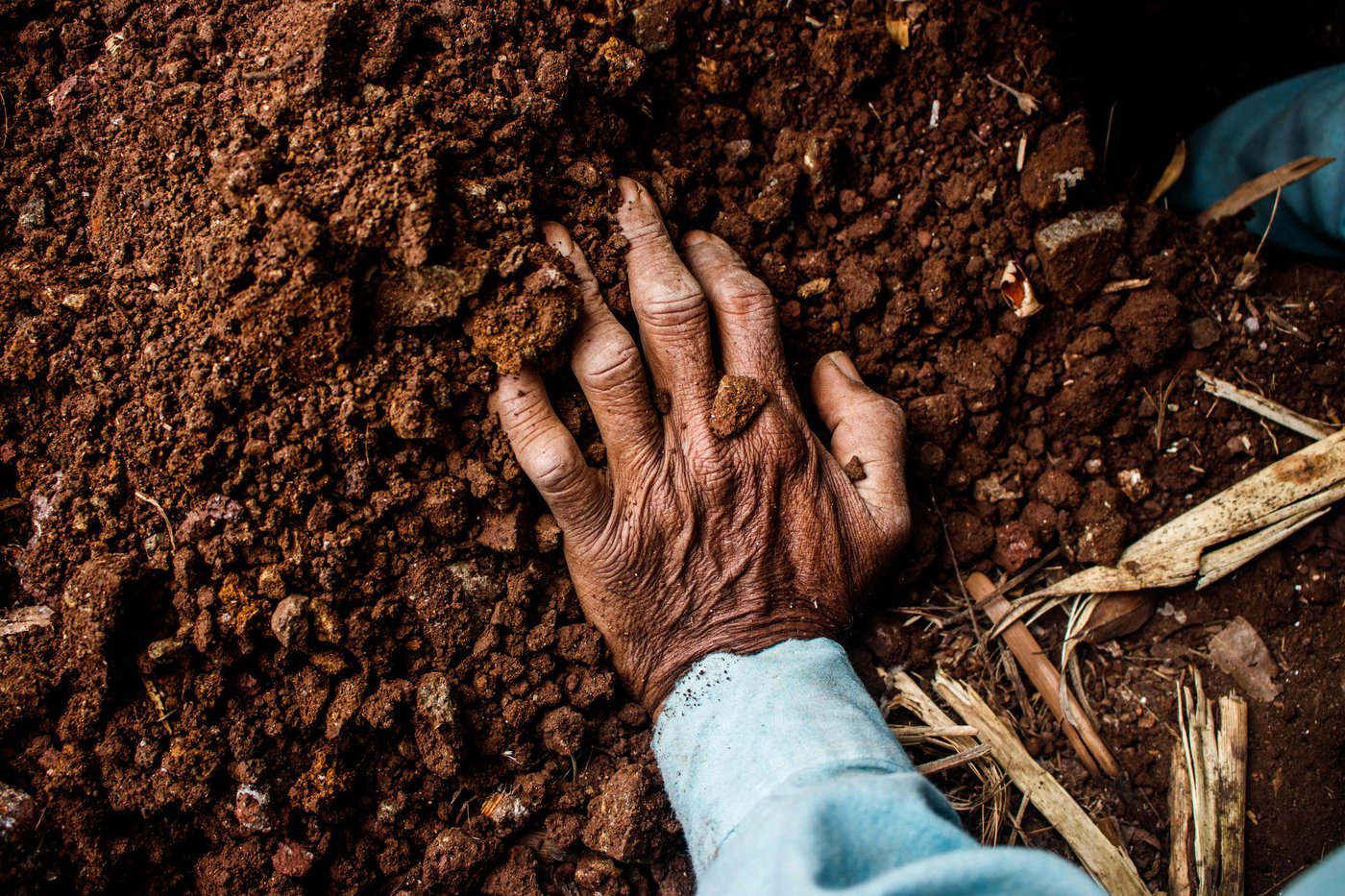 PHOTO • Sanket Jain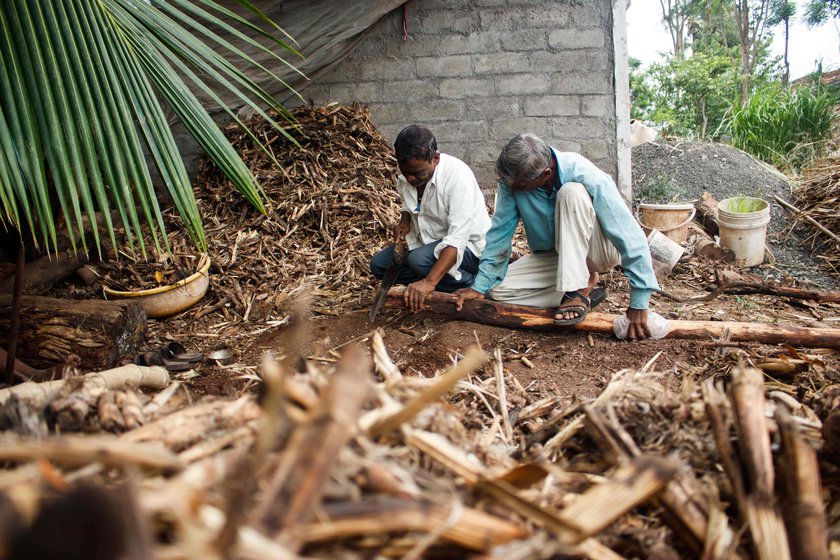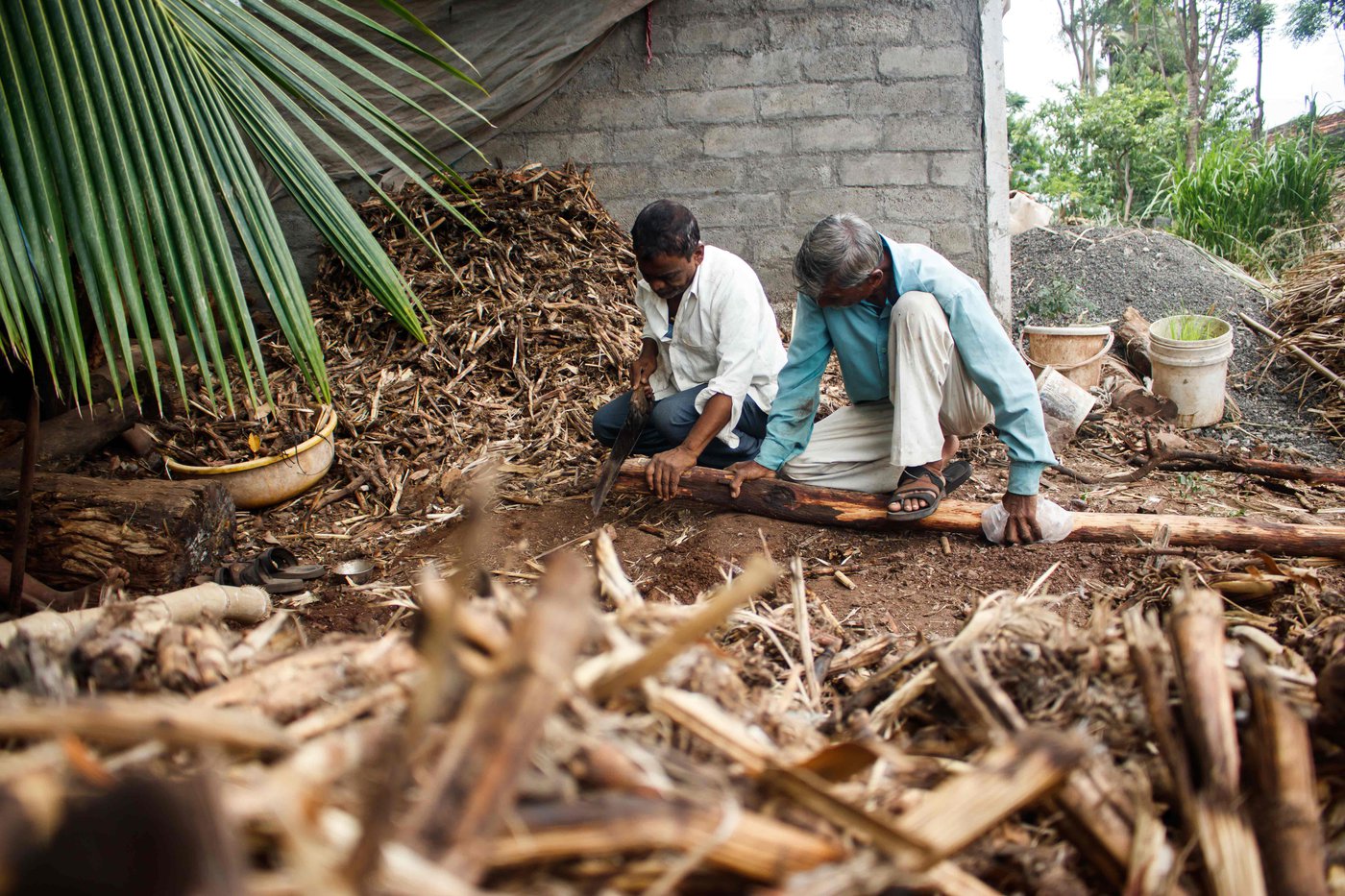 PHOTO • Sanket Jain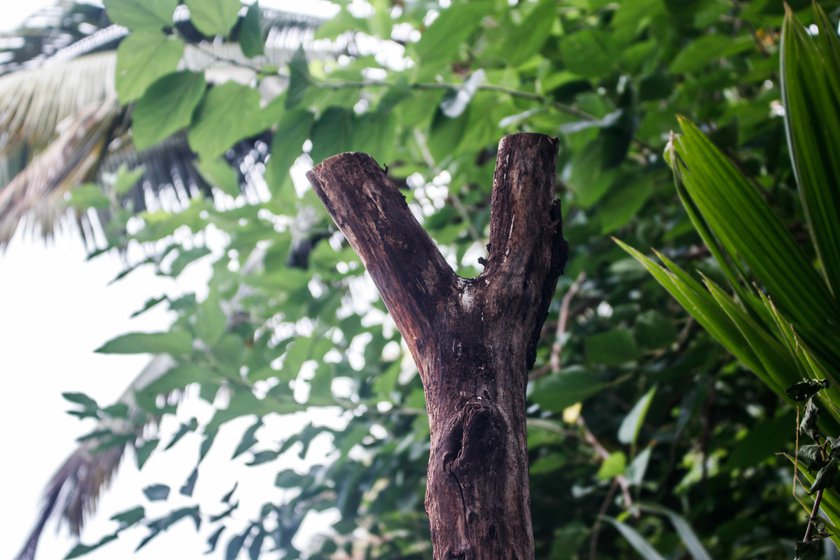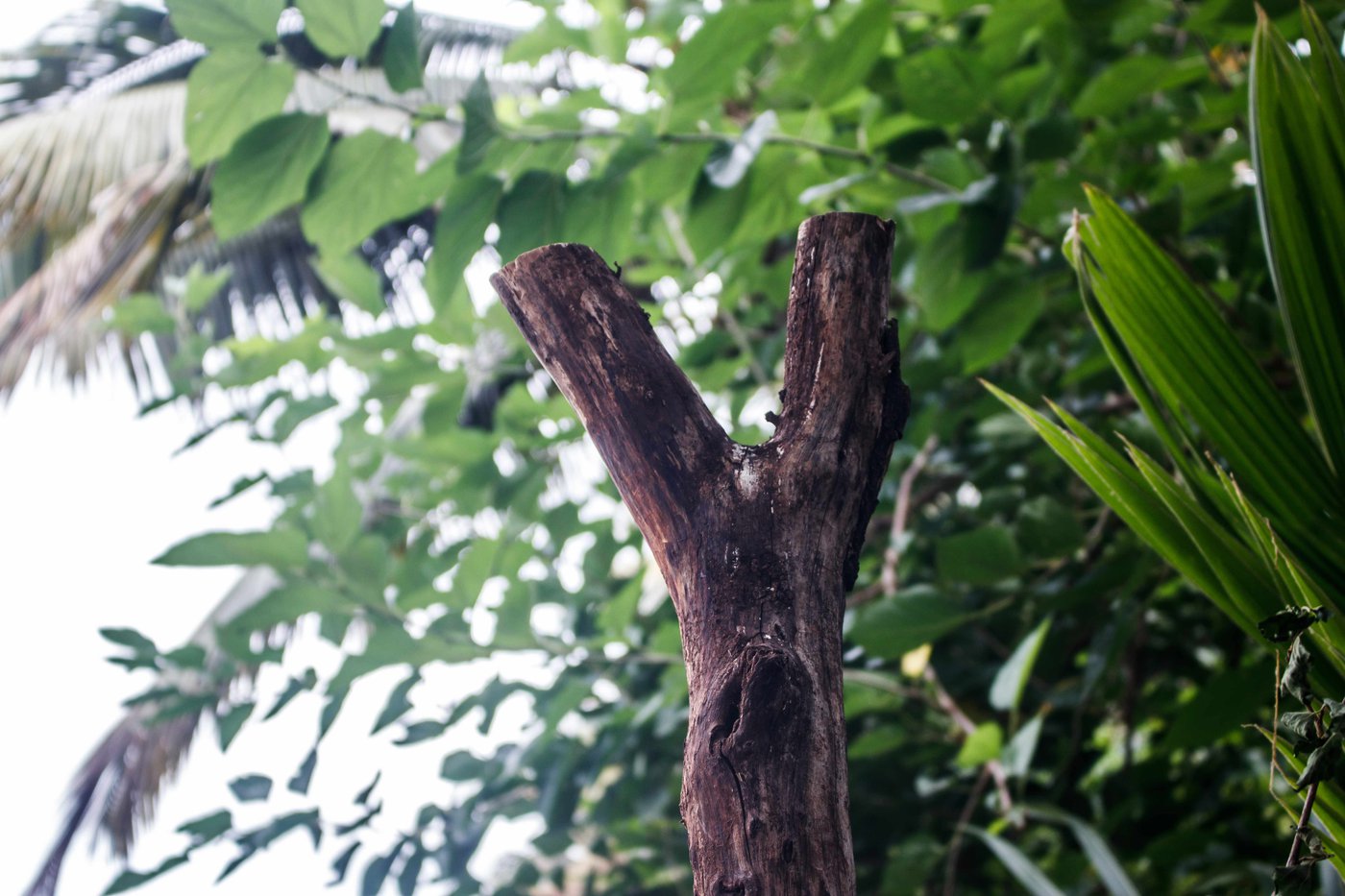 PHOTO • Sanket Jain
This white soil has been mixed with dung from horses, cows and other livestock to increase its strength. It is spread on the ground and hammered down by men using a wooden tool called dhummus – weighing at least 10 kilos and made by experienced carpenters.
After the men are done hammering, the women level it with badavna – a three-kilogram babul wood tool that resembles a cricket bat but has a much smaller handle. Narayan has lost his badavna over time, but luckily his elder brother, Sakharam, 88, has his kept safely.
Kusum is Narayan's wife and has played a role in the building of their jhopdi . "Whenever we got time from our farming, we levelled the field," says the 68-year-old. She says that it was such a difficult task so all the family members and friends took turns helping out.
Once the levelling is done, the women are busy applying a layer of cow dung – considered a good binding agent that also helps ward off mosquitoes.
A house without a gate would be missing something and usually gates would be made using the stalks of indigenous sorghum, sugarcane or even dried coconut fronds. However, since none of the farmers in Jambhali cultivate the indigenous variety, this is a challenge for the builders.
"Everyone has moved to the hybrid variety whose fodder isn't that nutritious, and neither does it last longer like the deshi one," says Narayan.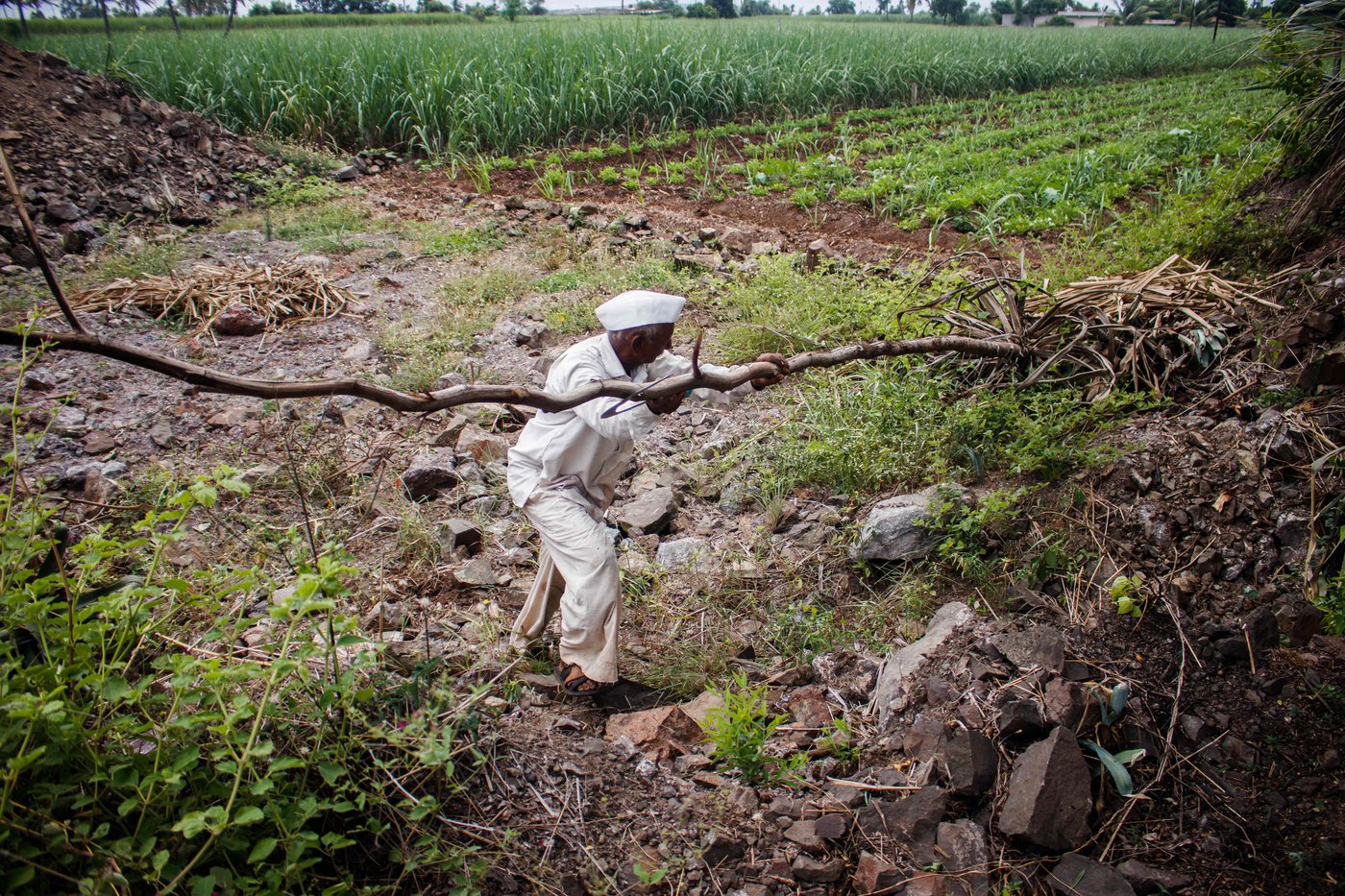 PHOTO • Sanket Jain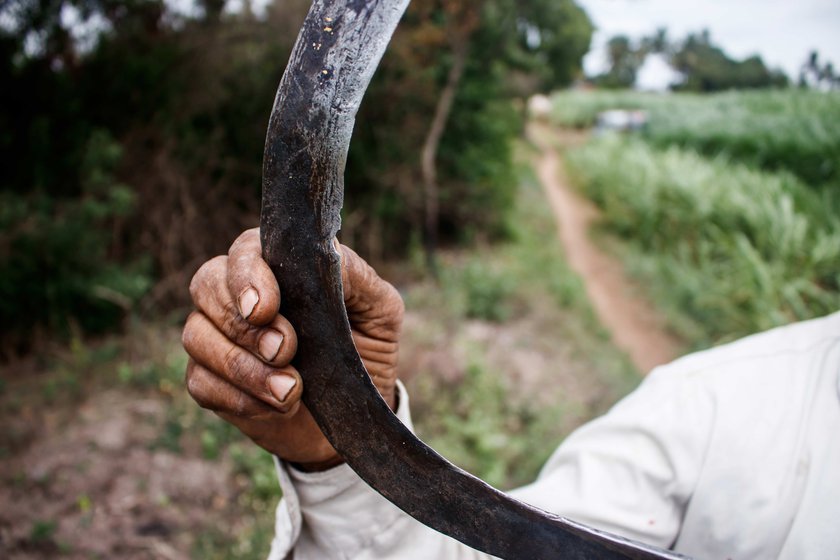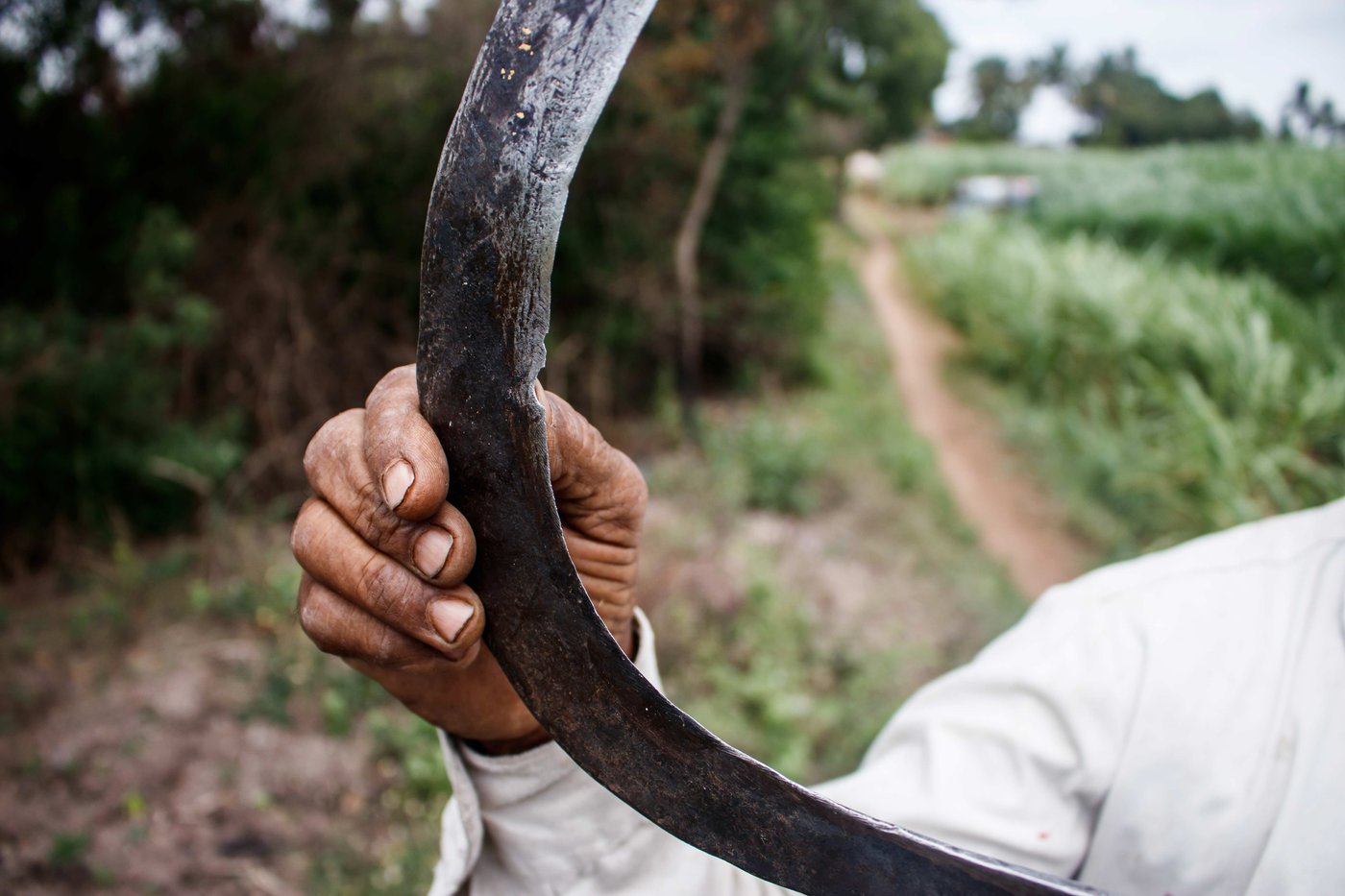 PHOTO • Sanket Jain
As farming patterns have changed, jhopdi -making has been forced to keep pace. Earlier they were made in the summers when there was not much farming work. But farmers Vishnu and Narayan say that now there is hardly any time when the fields are left bare. "Earlier, we used to cultivate only once a year. Now, even if we cultivate twice or thrice a year, we still can't make ends meet," says Vishnu.
The jhopdi has taken five months and over 300 hours of Narayan, Vishnu, Ashok, and Kusum's collective labour, in between managing their farm work. "This is an extremely tiring process, and finding the raw materials is difficult now," points out Narayan who spent over a week collecting all the raw materials from different parts of Jambhali.
While building the jhopdi , painful injuries cropped up especially from thorns and splinters. "If you are not used to this pain, are you even a farmer?" says Narayan, showing his wounded finger.
The jhopdi is finally ready and everyone who participated is tired and also overjoyed to see it standing. In all likelihood, it may be the last one that Jambhali village will see because as Vishnu points out, few came to learn. But Narayan consoles him saying, " Kon yeude kinva nahi yeude, Aaplyala kahihi farak padat nahi [It doesn't matter if people show up or not]." He says that he has a peaceful sleep in the jhopdi he helped build and intends for it to become a library.
"Whenever any friends or guests come to my house, I proudly show them this jhopdi , and everyone praises us for keeping the traditional art alive," says Narayan Gaikwad.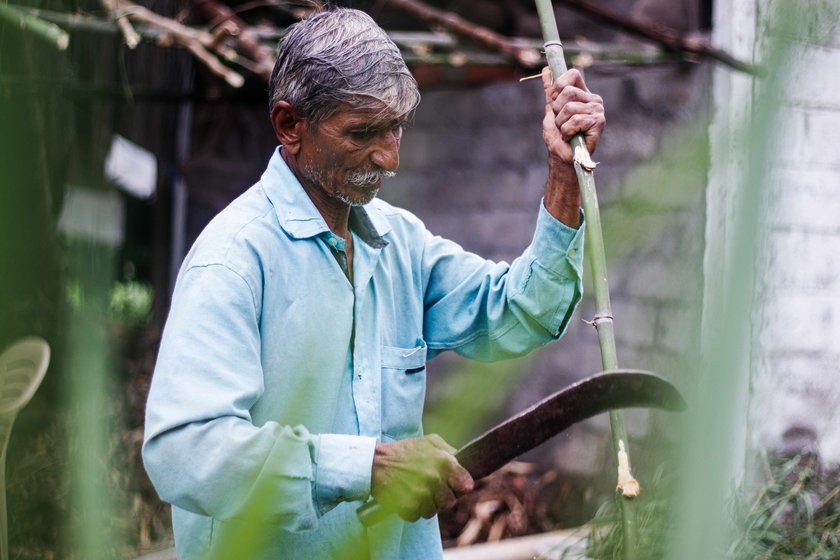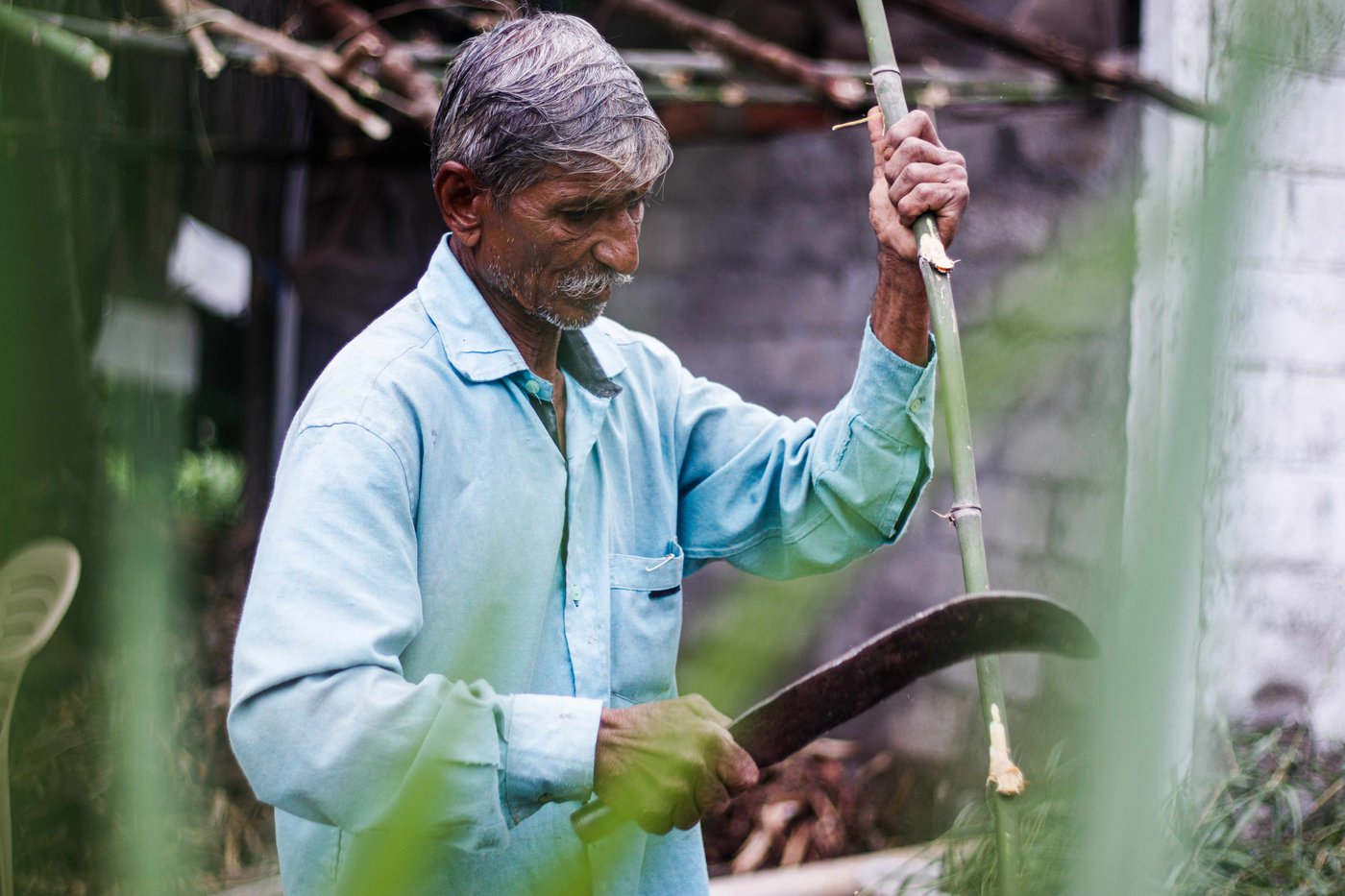 PHOTO • Sanket Jain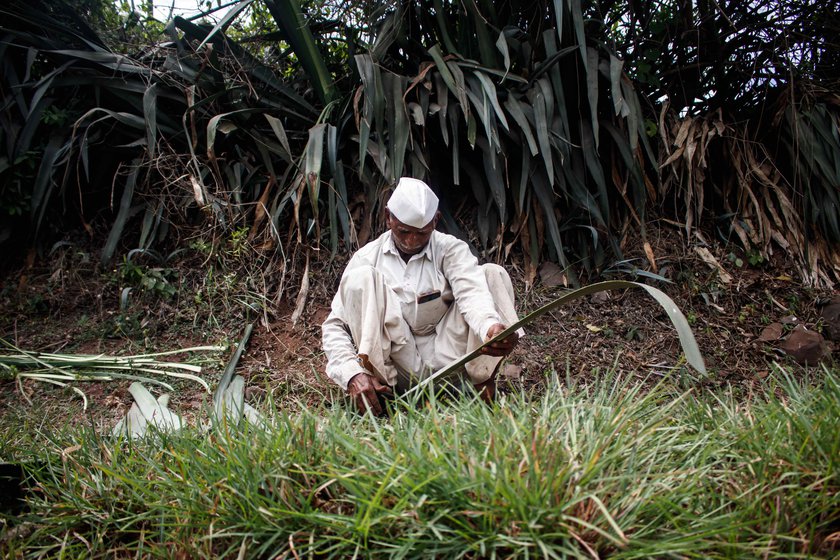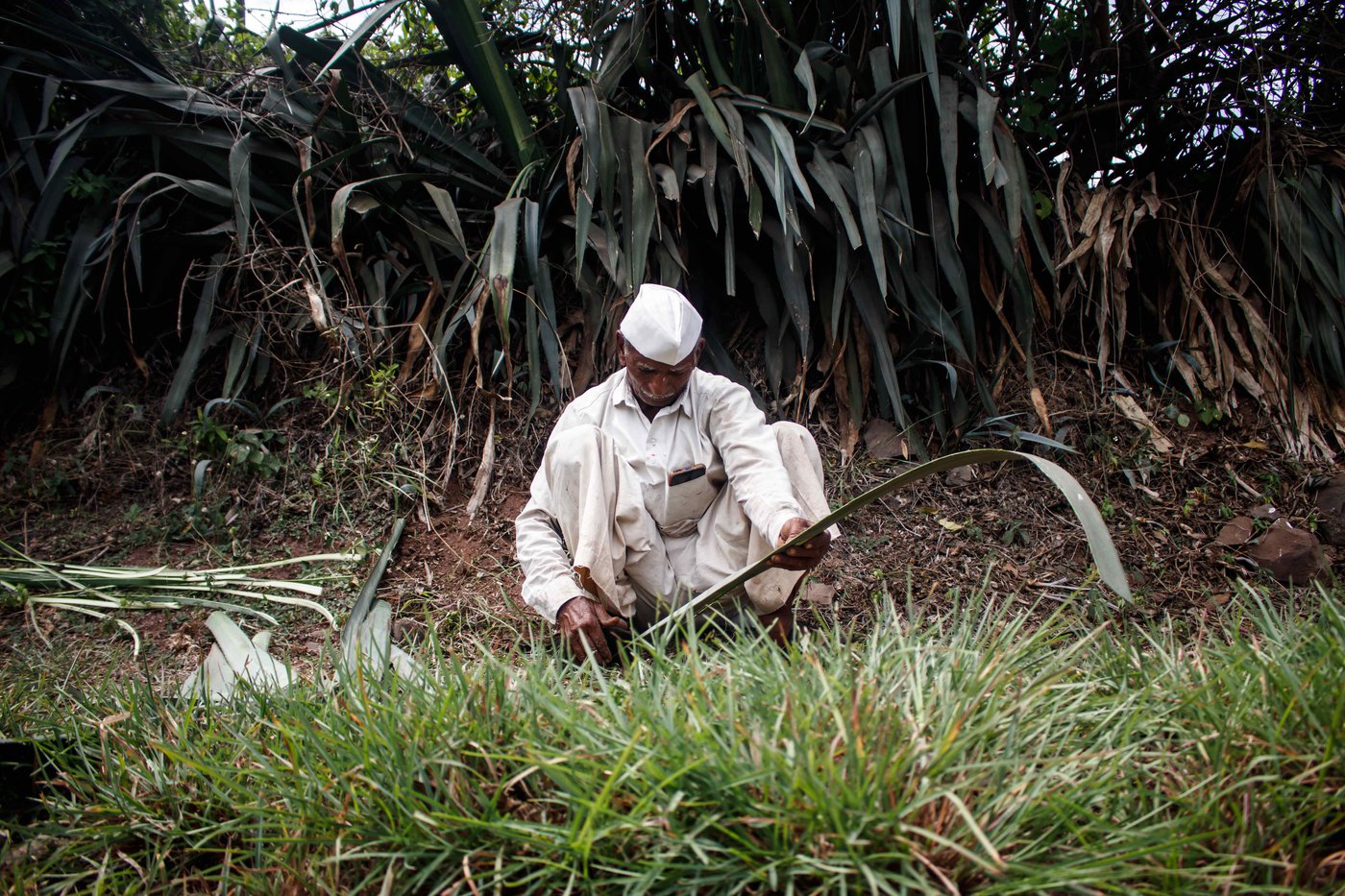 PHOTO • Sanket Jain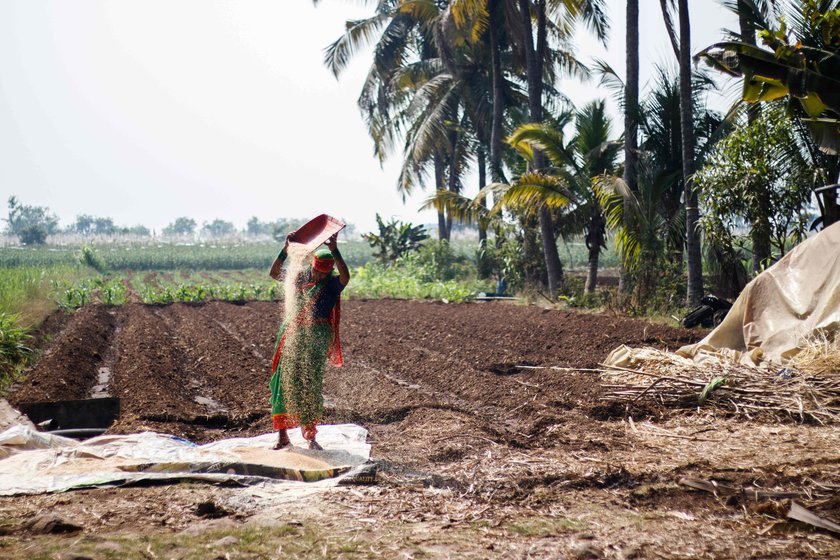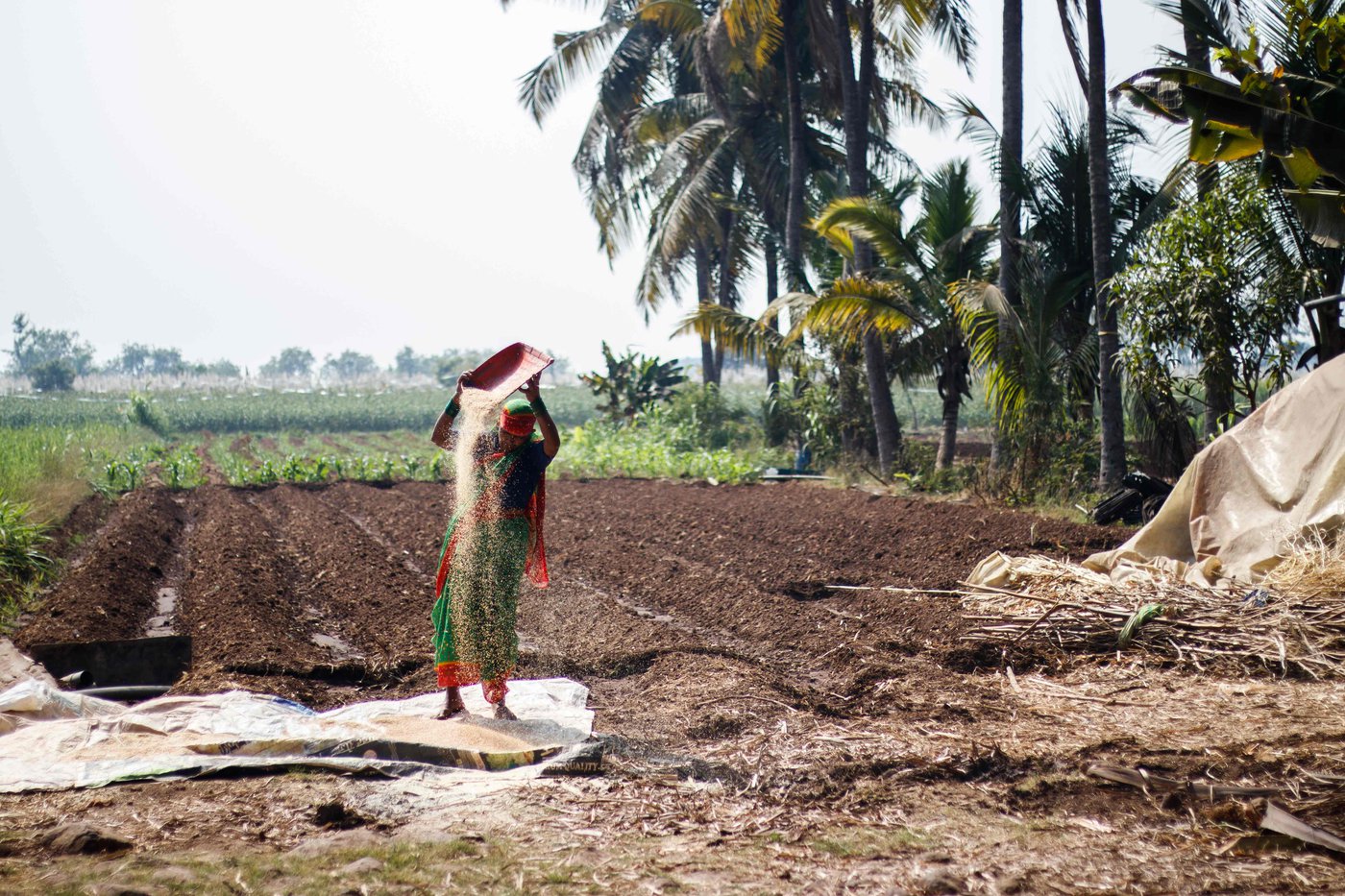 PHOTO • Sanket Jain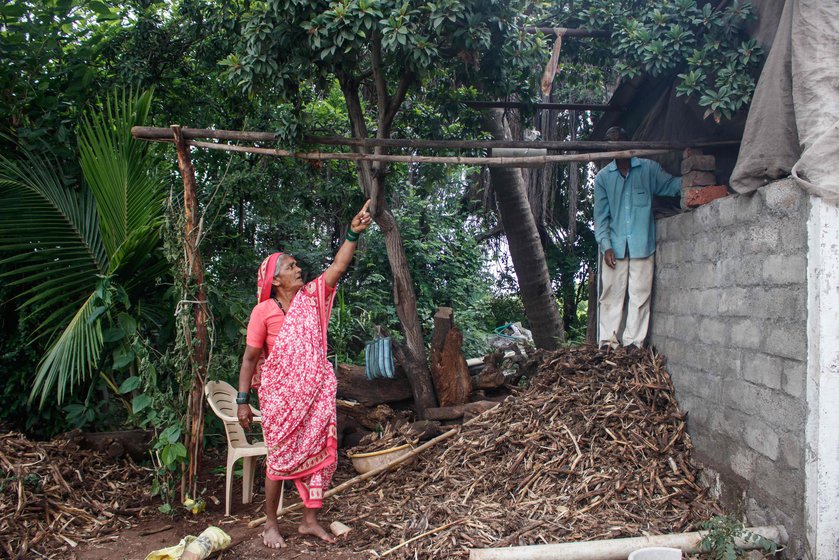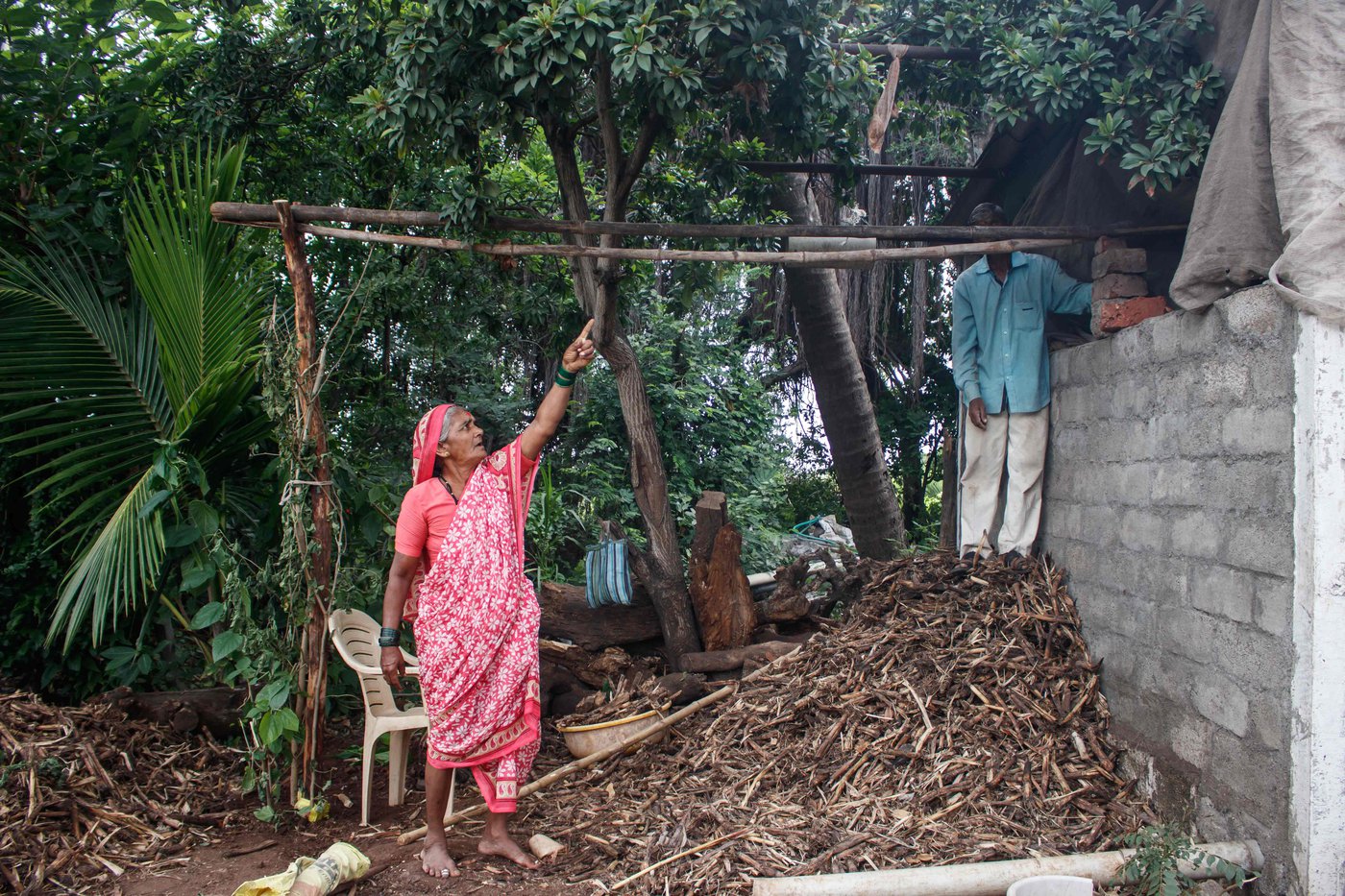 PHOTO • Sanket Jain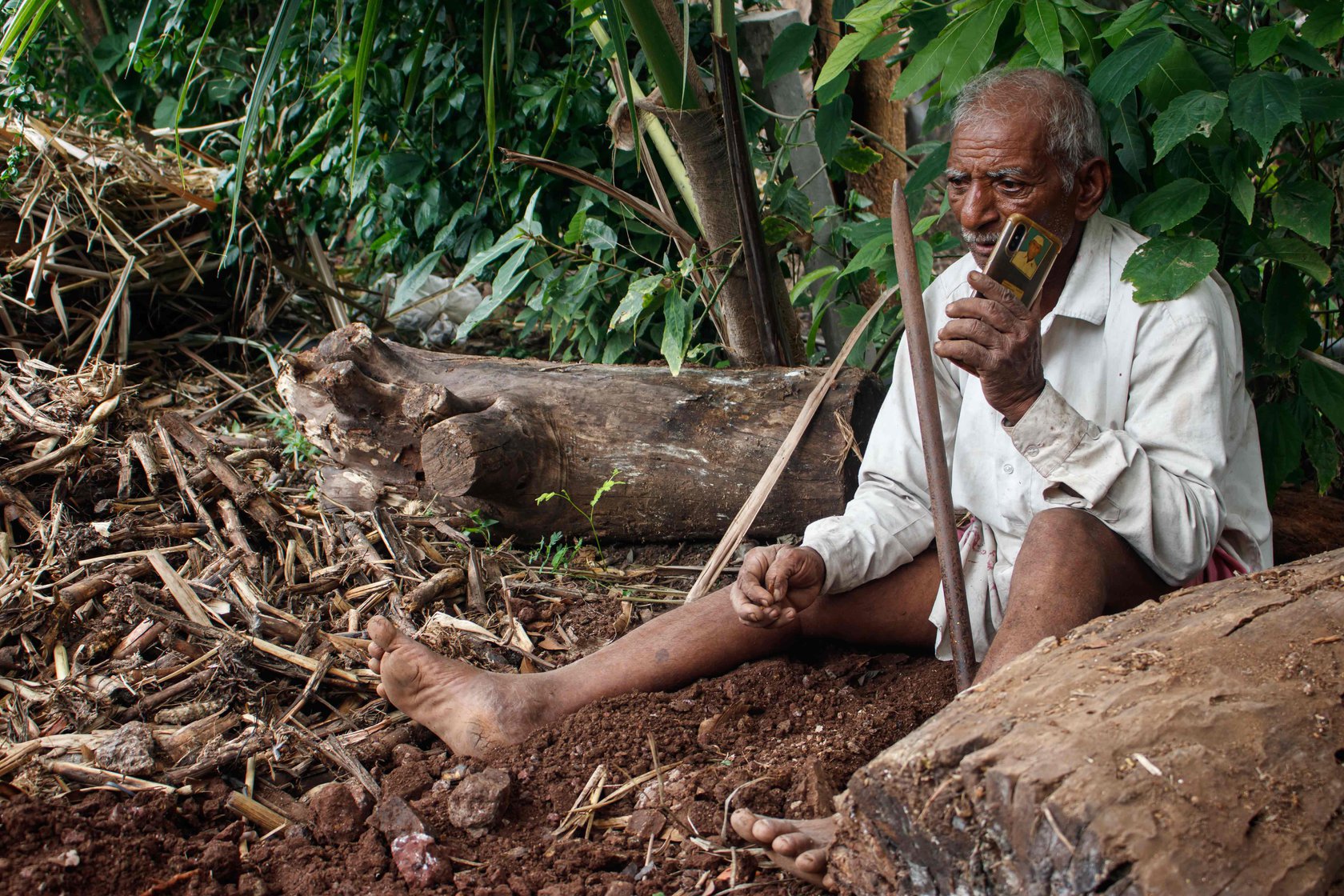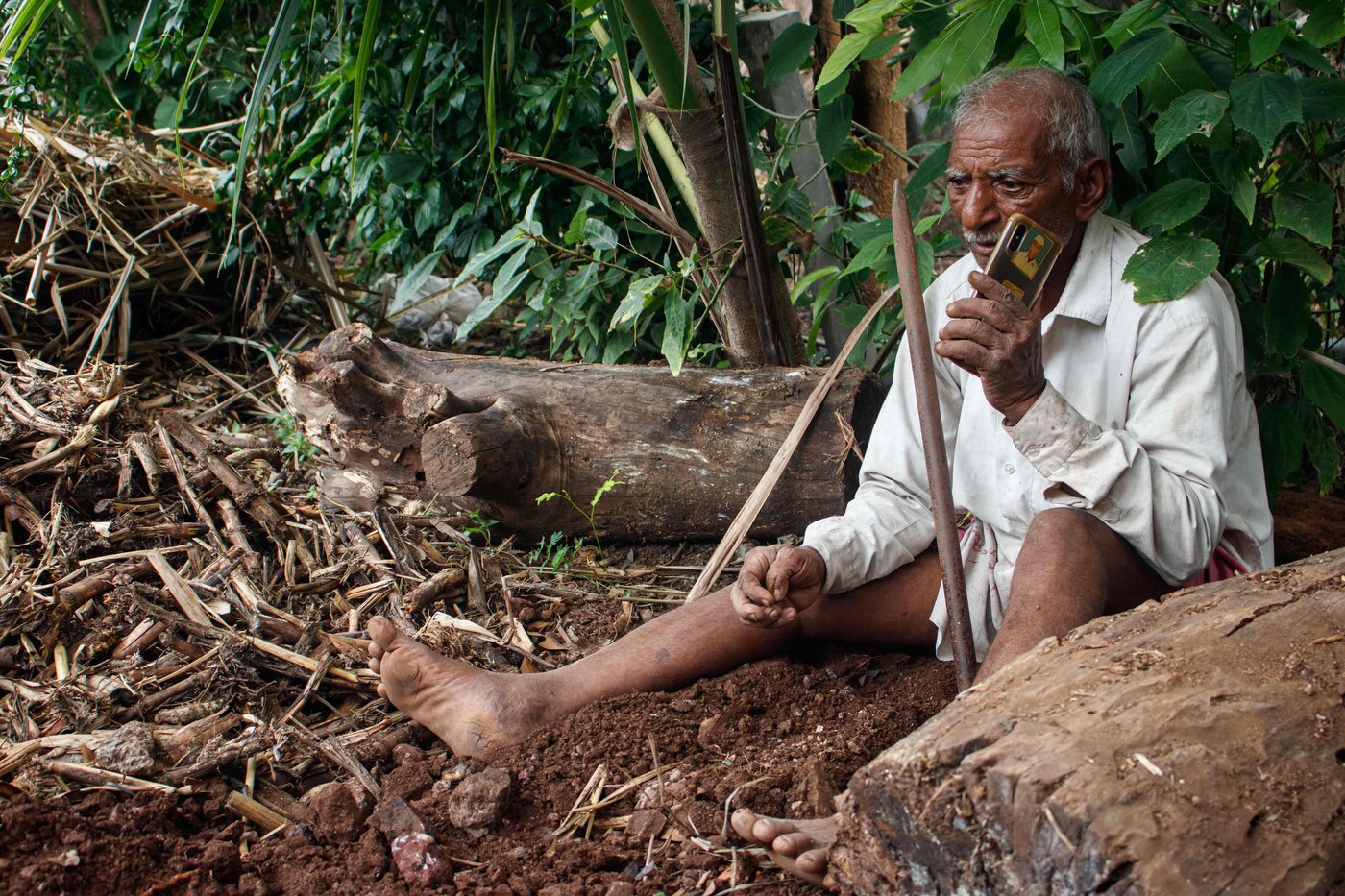 PHOTO • Sanket Jain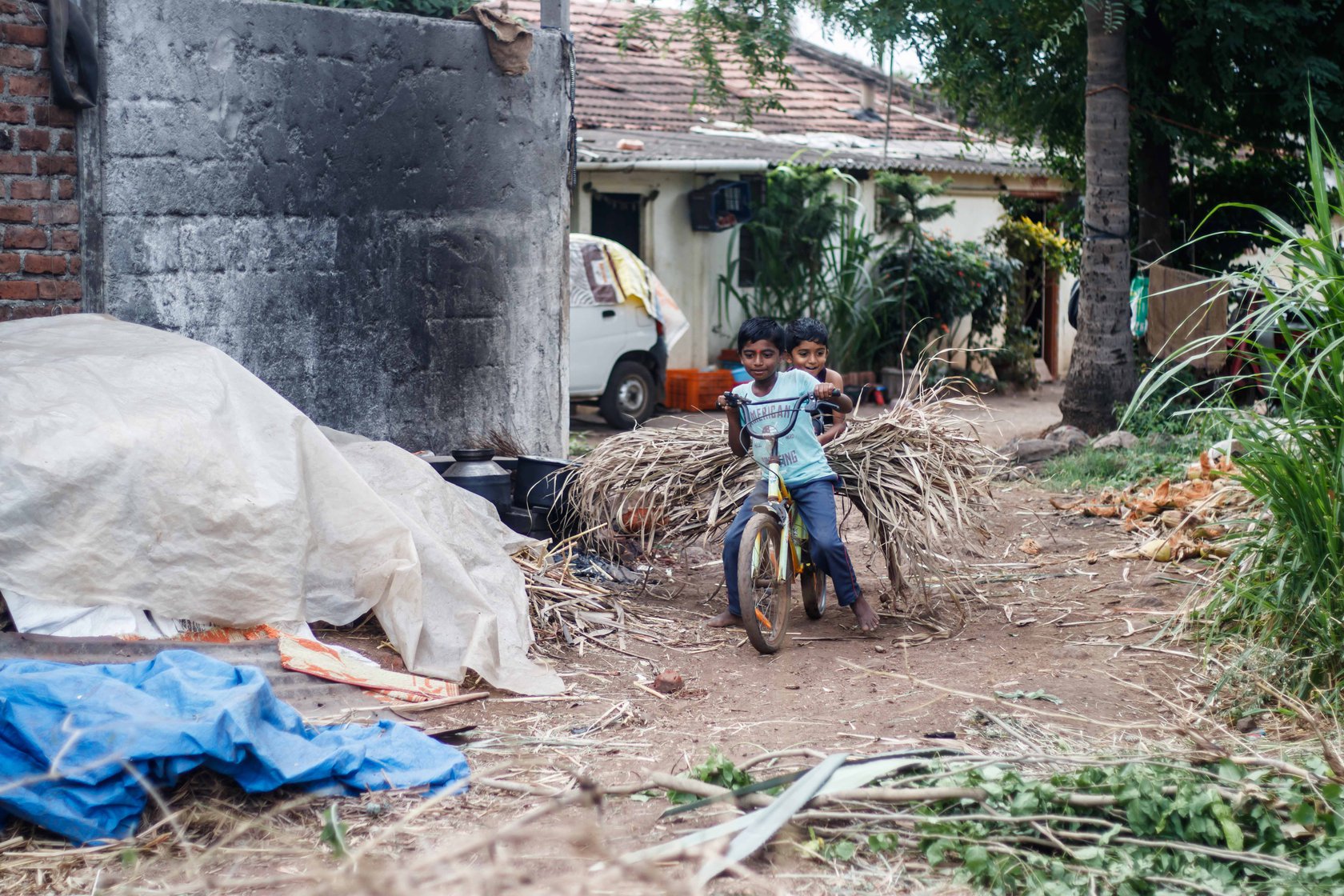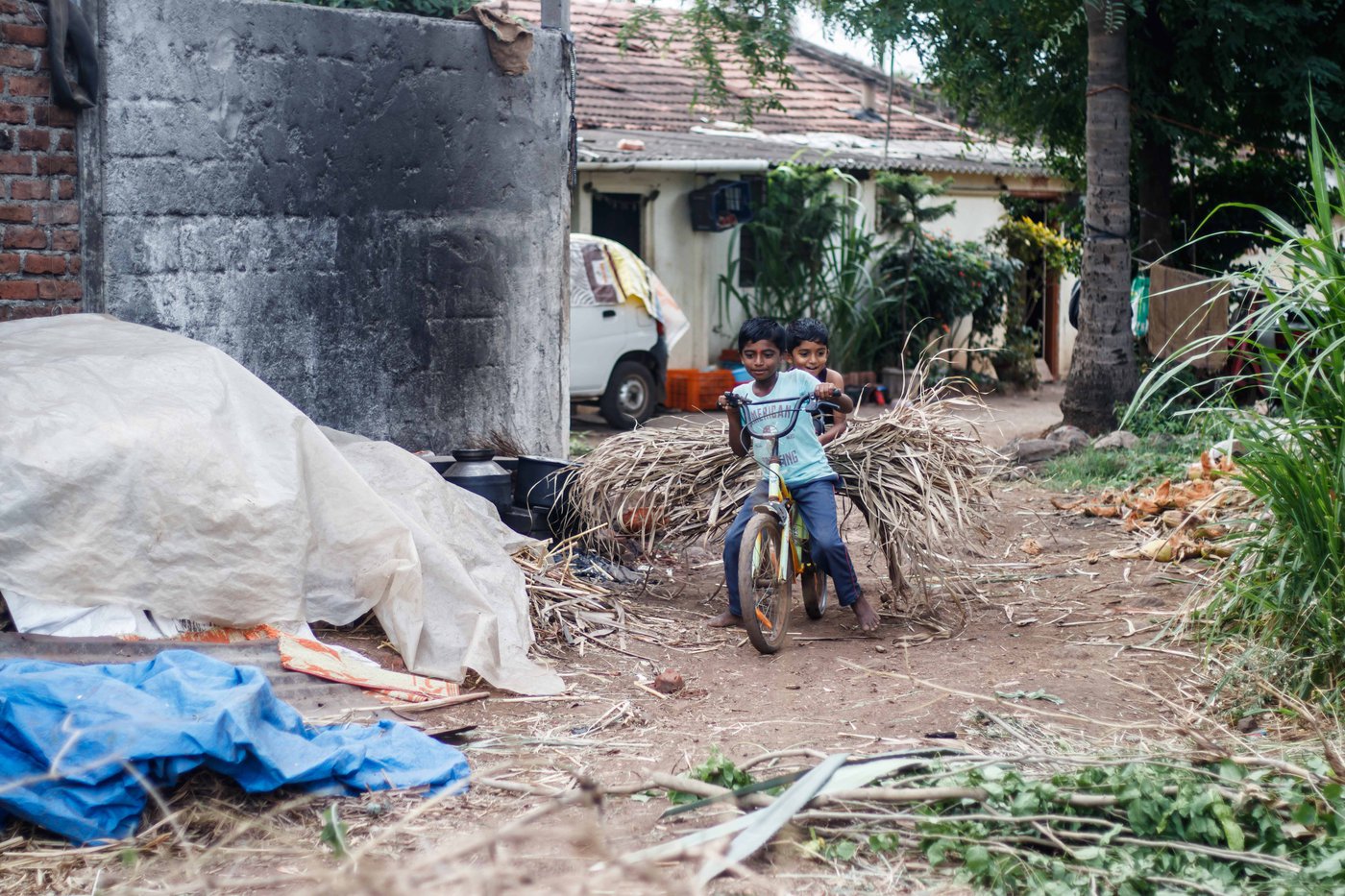 PHOTO • Sanket Jain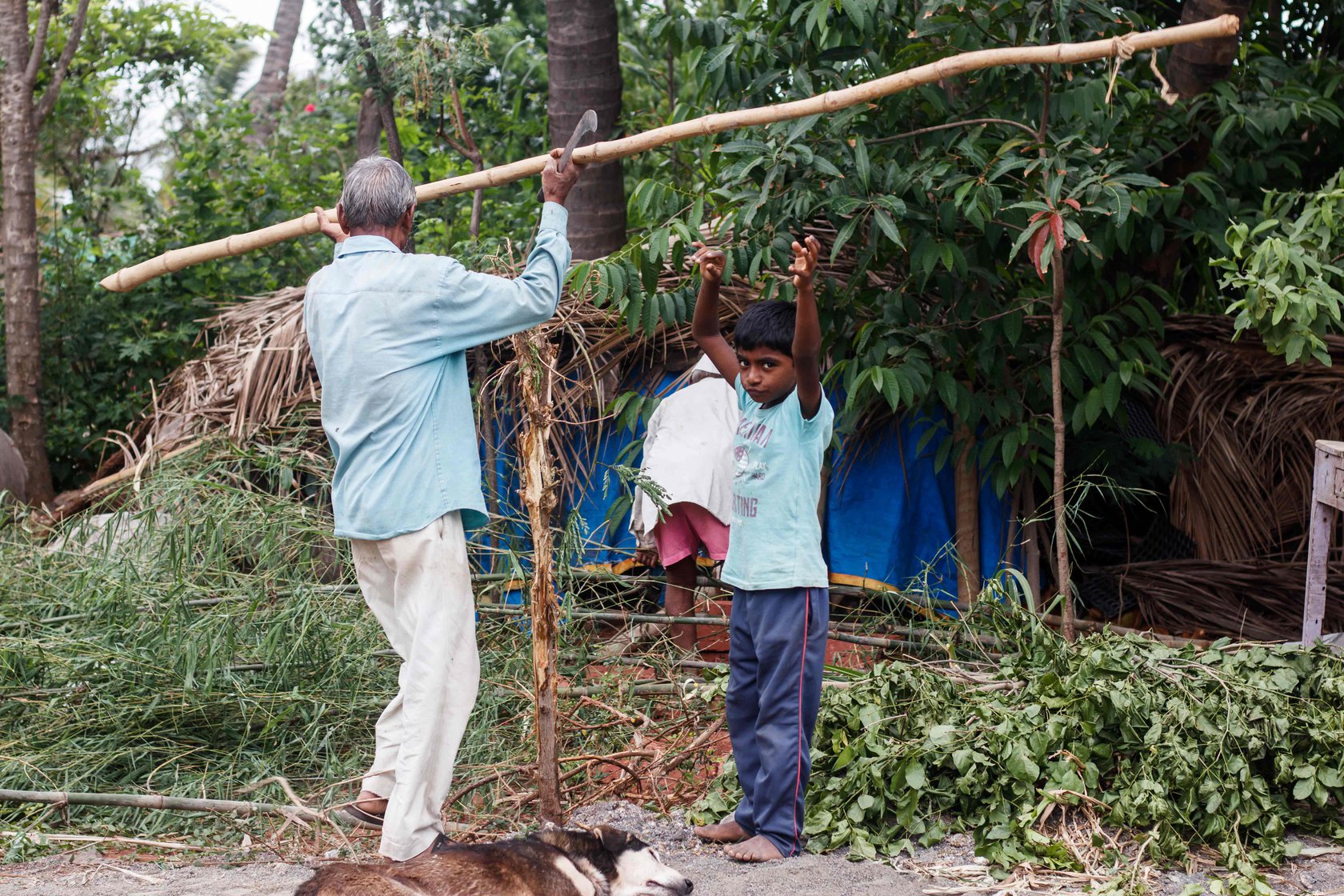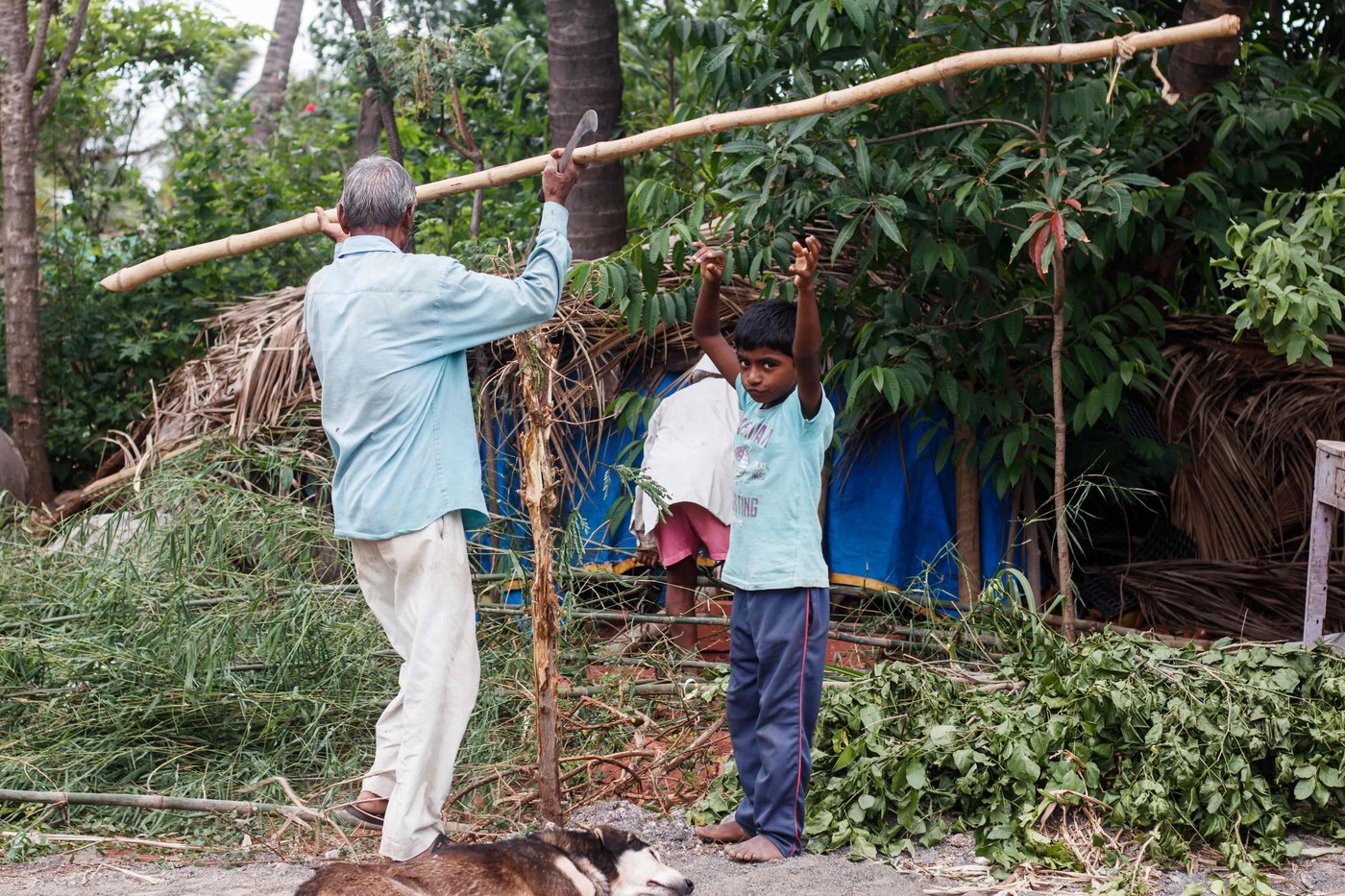 PHOTO • Sanket Jain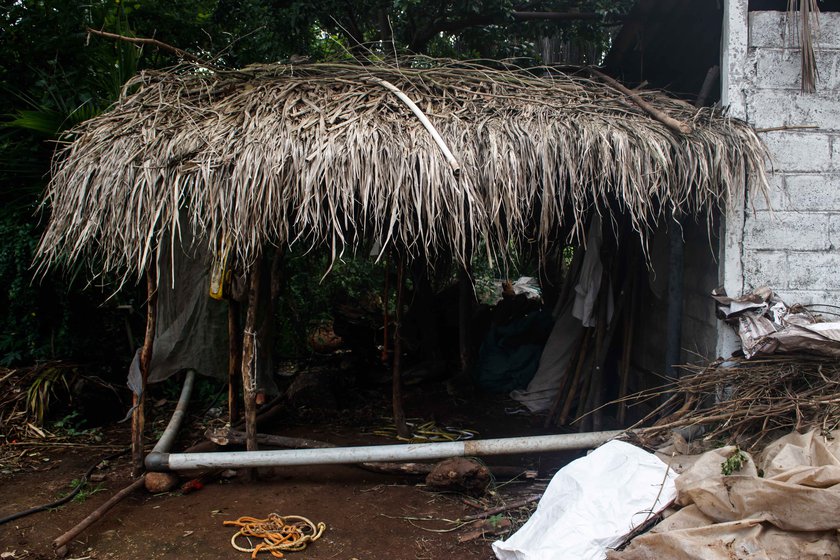 PHOTO • Sanket Jain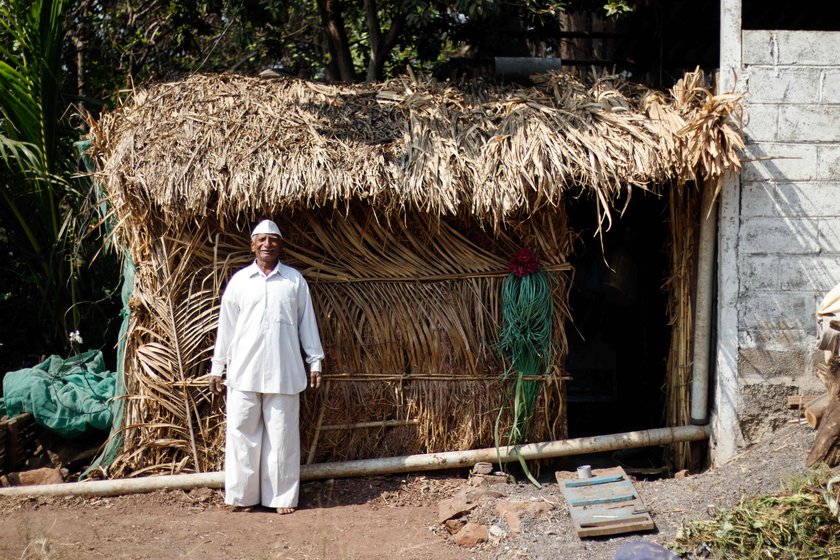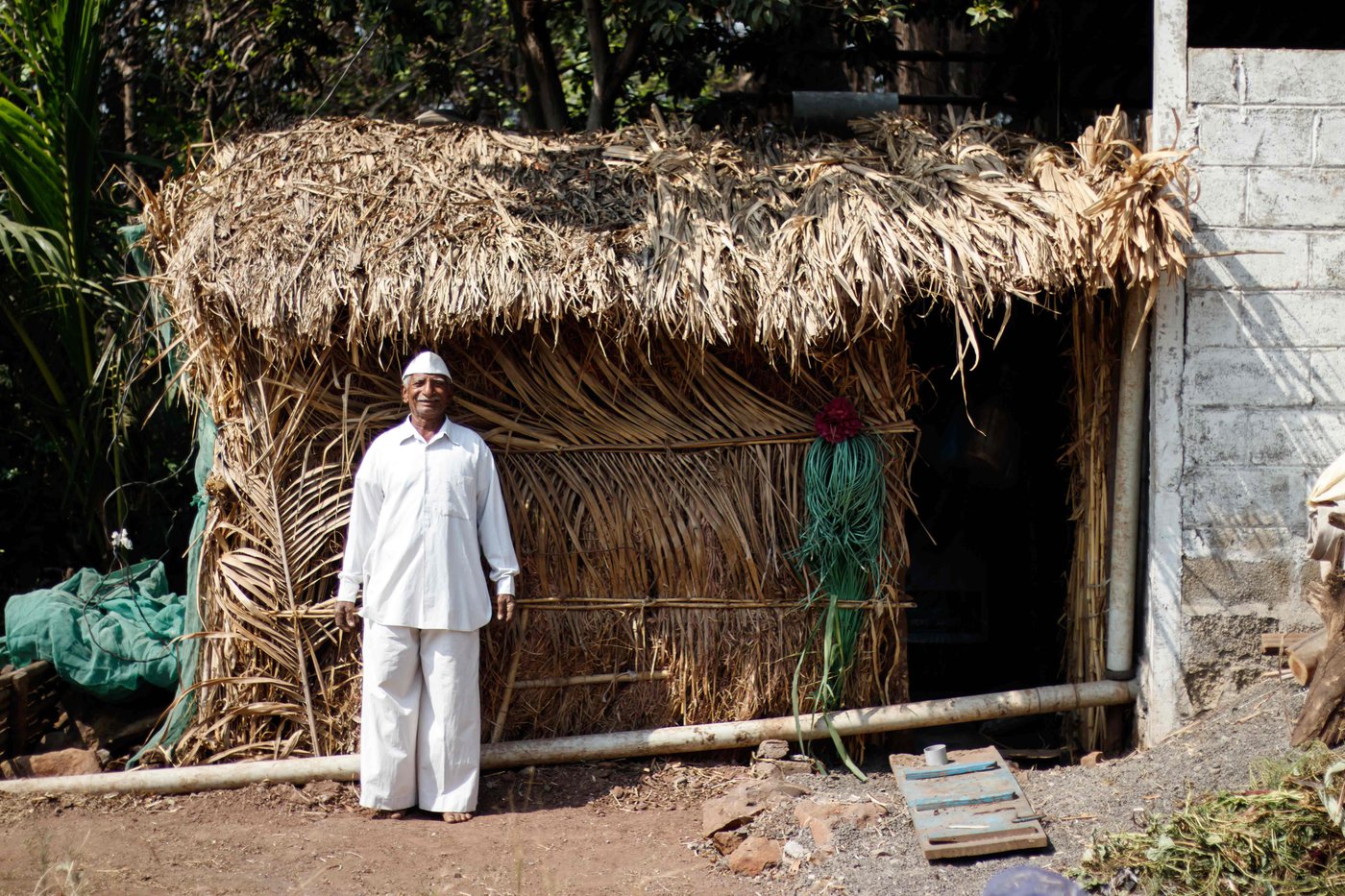 PHOTO • Sanket Jain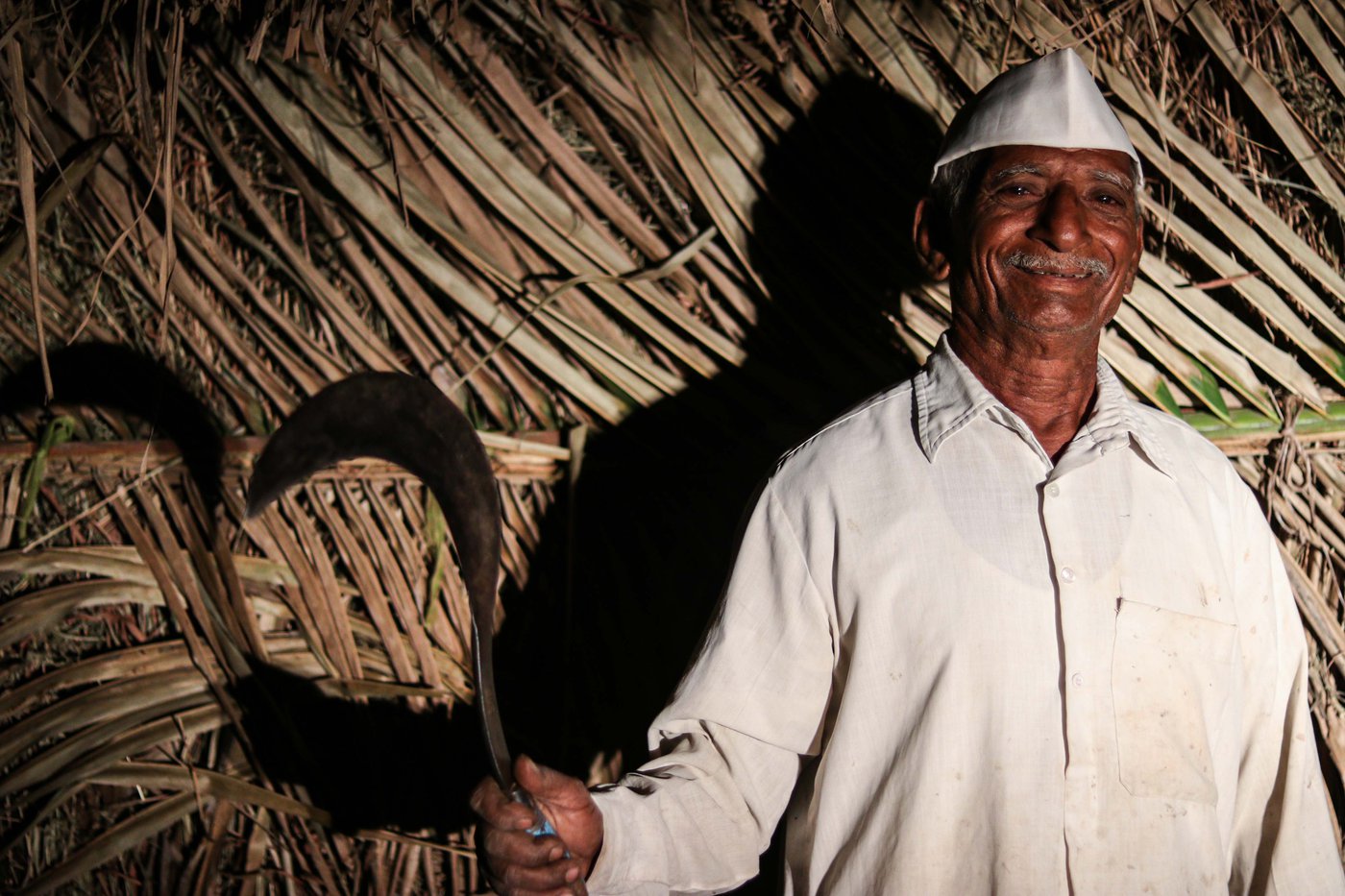 PHOTO • Sanket Jain
This story is part of a series on rural artisans by Sanket Jain, and is supported by the Mrinalini Mukherjee Foundation.