"See these clean white beans?" asks Ashok Gatkal, holding them in a palm. "The market rate for these is 3,000 to 3,500 rupees per quintal. But this time most of the beans have black spots and fungus," he adds, holding the damaged soybeans in the other palm. "There is no market for such beans. I am not going to earn anything from this."
Gatkal was clearing his damaged crop with a sickle when I visited his farm in Rathgalli village on November 11. He was working alone. "How can I afford to pay wages [to agricultural labourers]?" he asked, wiping off the sweat dripping from his forehead and nose.
The crops on Gatkal's three acres were completely submerged for close to two weeks in October. With the heavy rain  last month, almost 90 per cent of his soybean crop rotted. In Nashik district – where his village is located, in Dindori taluka – it rained around 173.2 mm between 1 October to 12 November. The normal rainfall during this period is roughly 71 mm (notes the India Meteorological Department).
The low rainfall in Rathgalli in June, at the beginning of the monsoon, had picked up by the end of the season in September, giving 51-year-old Ashok some hope of a decent yield. But the unexpected October rain has hit him hard. Towards the end of October, he informed the talathi's office about his crop loss, but no one had arrived for an inspection even two weeks later.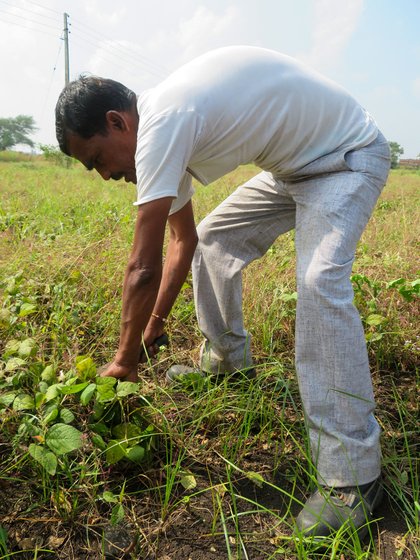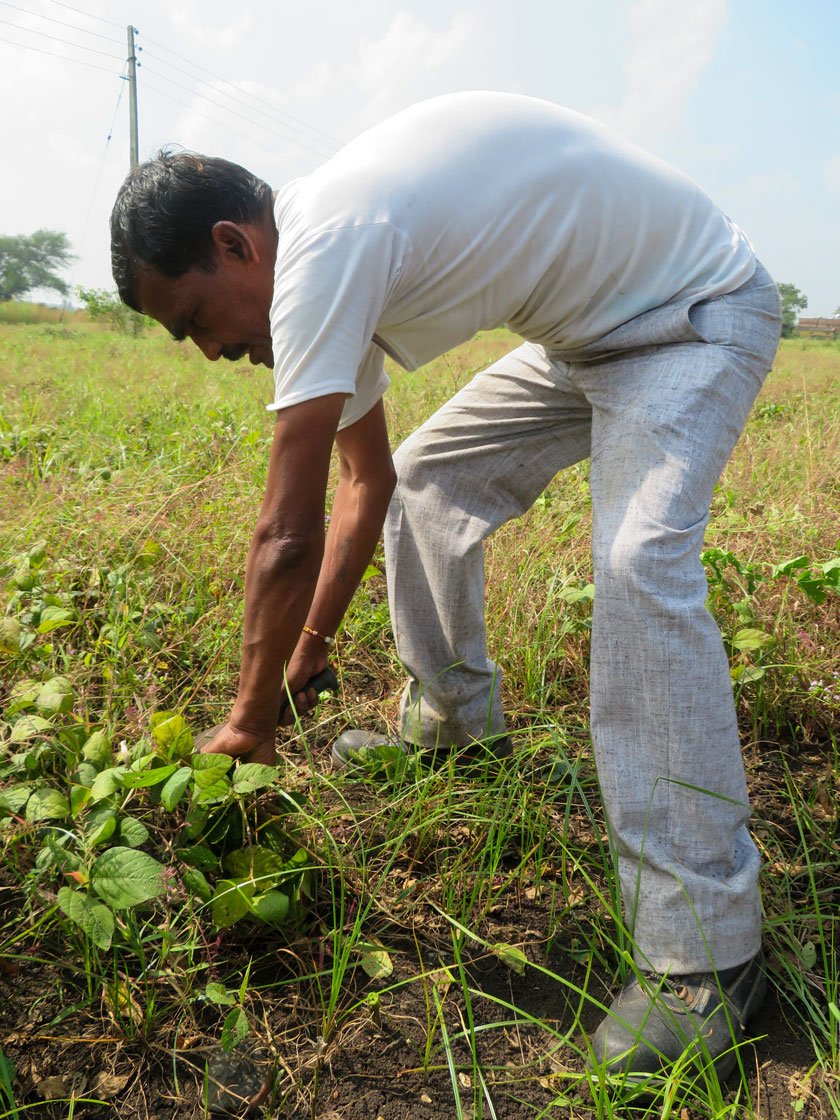 PHOTO • Jyoti Shinoli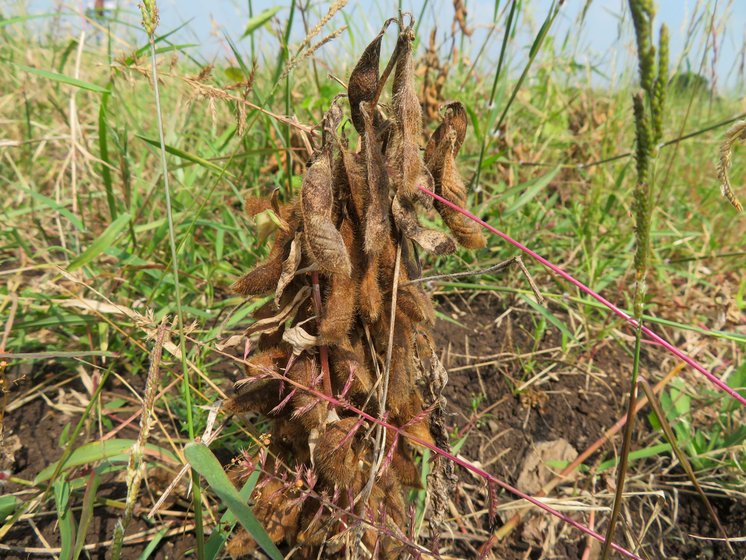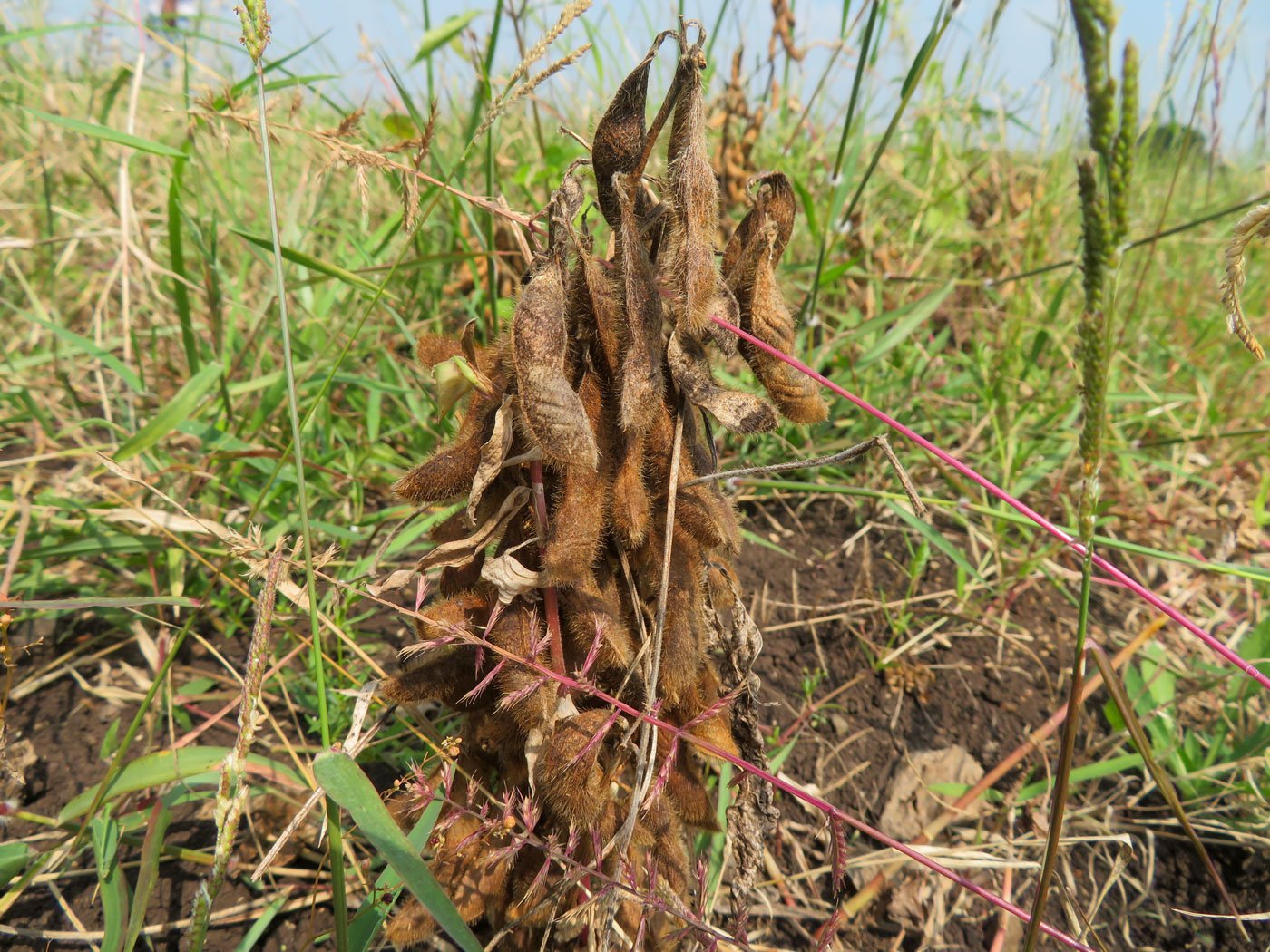 PHOTO • Jyoti Shinoli
"If we keep waiting for officials, we will lose the rabi crop too. I can't wait any more for them to come and inspect the damage. It's nearly mid-November already, I must prepare the land for wheat. How long I will keep the farm in this condition?" he says.
Usually, every year, Ashok harvests 15 to 20 quintals of soybean by October and 30 quintals of wheat by January-February. He earns Rs. 80,000 to Rs. 120,000 annually on both crops after paying all farm expenses – seeds, fertilisers, labourers, a rented tractor and more. His wife Chandrika, 48, also works on the farm, and their two married sons, in their 30s, work as masons in Dindori taluka .
"Last year, the rain vanished after Raksha Bandhan [in August]. There was no water for the crops," he says about the increasingly unpredictable monsoon. "I paid Rs. 6,000 to the water resources department for a day for water supply from the [Waghad] dam. But this time I don't think there will be more than two quintals of soybean crop and more than Rs. 20,000 earning. And there is no sign of wheat cultivation yet. This is the first time I am facing such a huge loss."
Some two kilometres from Ashok's farm, Tushar Mawal is spraying pesticide on the tomato plants on his three-acre farmland in Borastewadi, where the accumulated water receded by early November.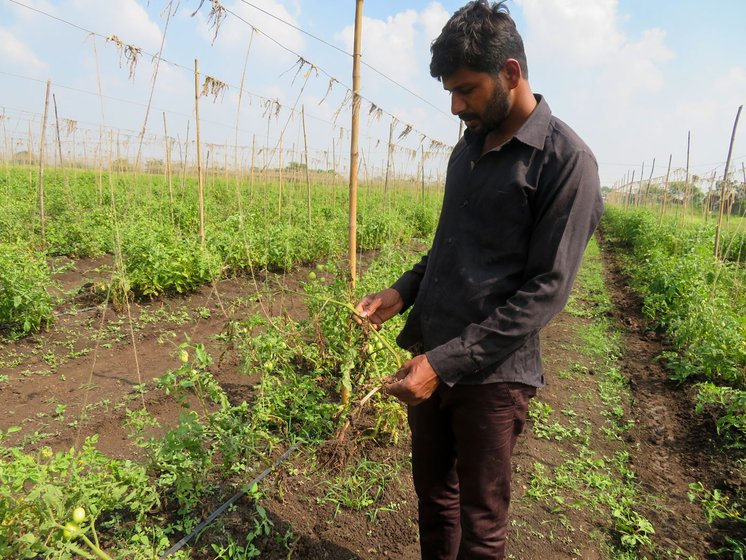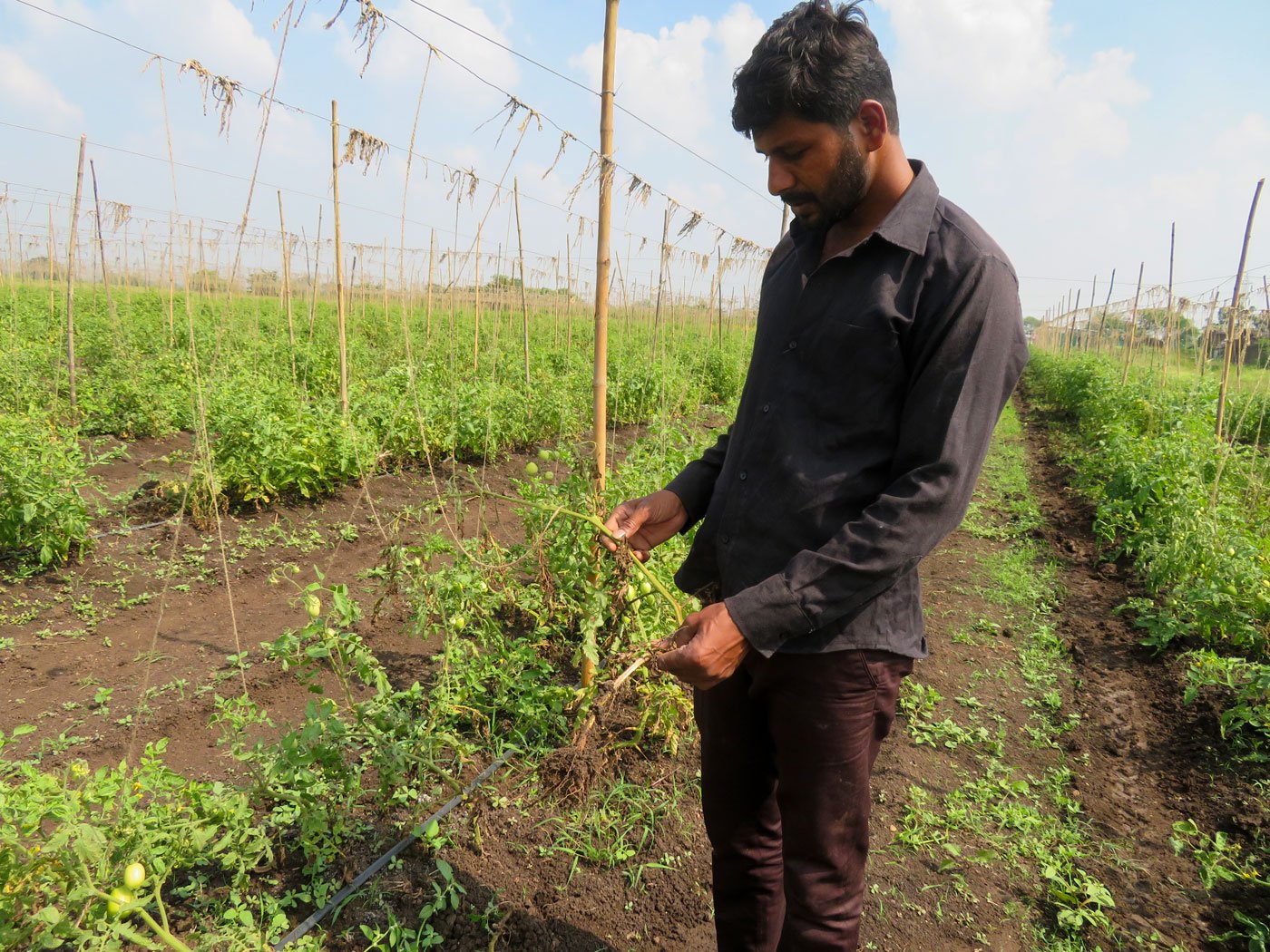 PHOTO • Jyoti Shinoli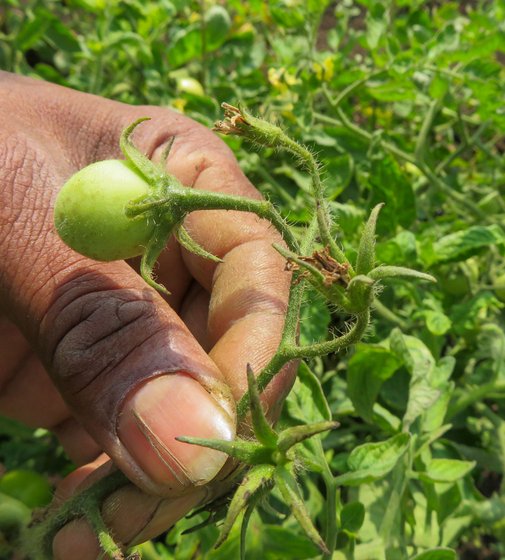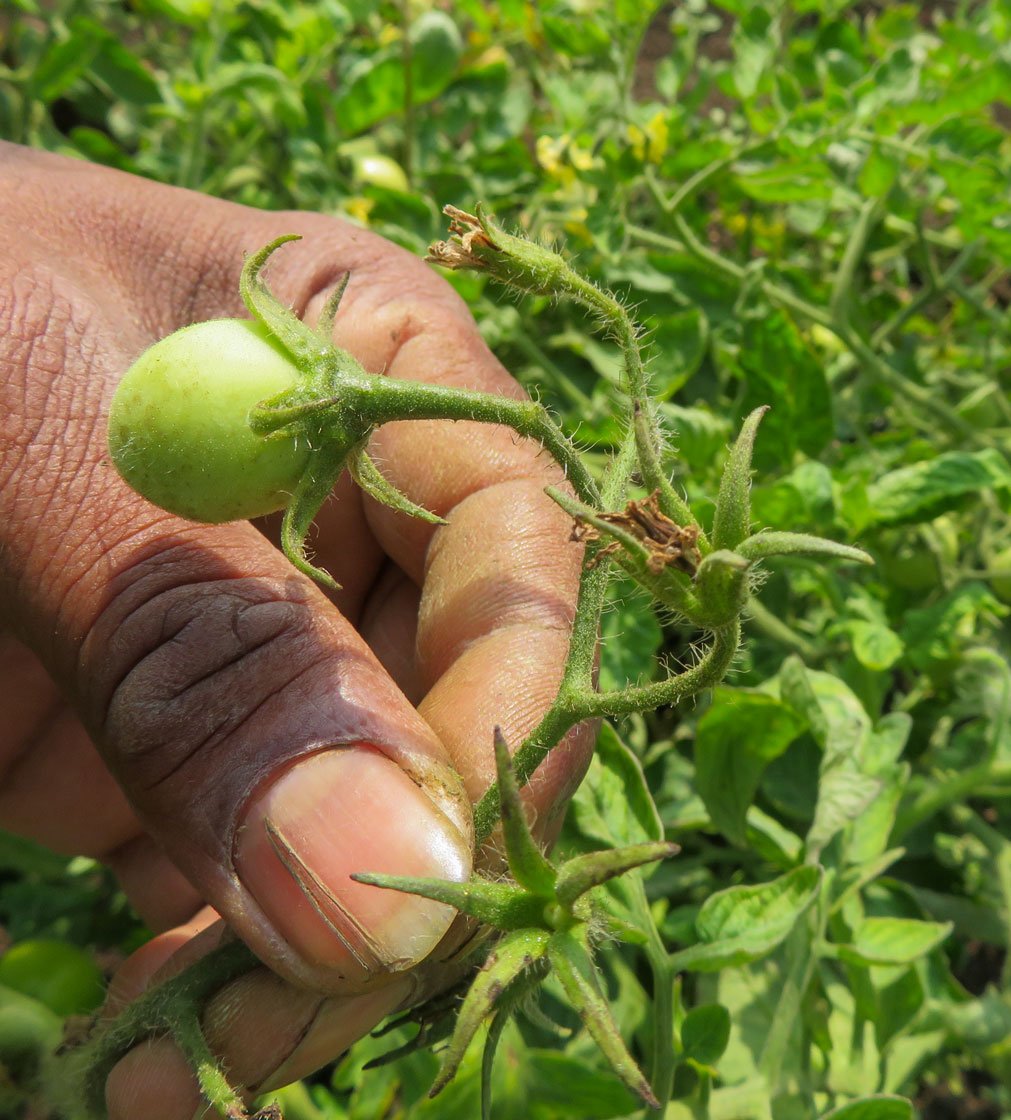 PHOTO • Jyoti Shinoli
"I threw out around 20 kilos of rotten tomatoes," says the 28-year-old farmer. "The flowers of the plant also died due to excessive rain, so there won't be any further growth of tomatoes. I am trying to save the plants with medicine [pesticide], but I don't think I will get more than a ton this time. The market rate is also low now [Rs. 10-11 per kilogram]. I won't be able to recover expenses. I am still waiting for officials to come and inspect the damage."
Last year, Tushar harvested around 36 tons (or 36,000 kilos) and sold the tomatoes for a crushingly low Rs. 3 a kilo. This fetched him around Rs. 1.8 lakhs, with Rs. 20,000-30,000 as profit. His wife Ashwini, 25, is an anganwadi teacher earning around Rs. 2,000 a month. On their joint income, they support a 10-year-old daughter and Tushar's parents.
Across Nashik district, like Ashok and Tushar, more than 317,379 farmers in 1,926 villages (according to data from the Dindori tehsidar's office) have been grappling with the havoc cause by excessive unseasonal rains during the harvesting period. Konkan, Madhya Maharashtra (where Nashik is located) and Marathwada received 183.1 mm of rainfall between October 1 to November 12 this year (India Meteorological Department data show) , as against the average rainfall of 80.1 mm during this period in these regions. The showers have reduced both the quality and quantity of kharif crops, say farmers, such as soybean, paddy, groundnut, maize and tomato in many parts of Maharashtra.
On the outskirts of Borastewadi,  Sarala Boraste, 52, shows me how excess water has affected her grape orchard. In September, she pruned the buds on her three acres. It takes around 110-120 days for the grapes to grow. But with the sudden heavy rain in October, the leaves got infected with downy mildew disease and the flowering stalled. "October is crucial for the flowering," says Sarala. "By this time small bunches of the grapes should have grown. I invested around three lakhs. This is a complete loss."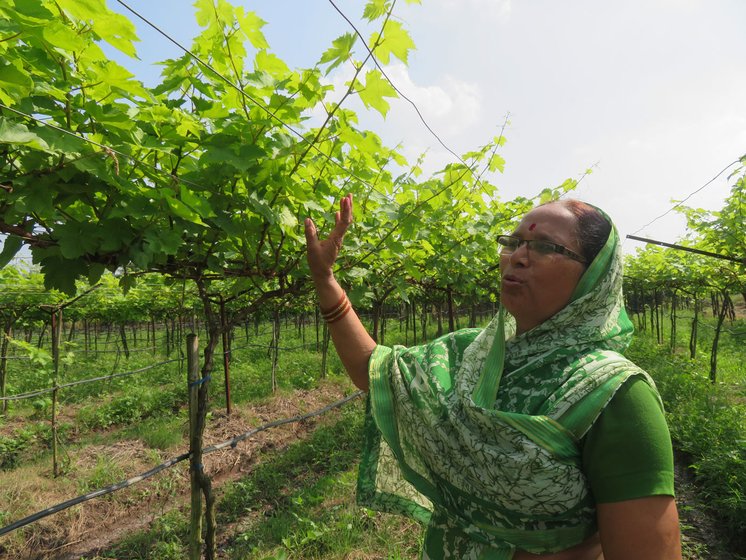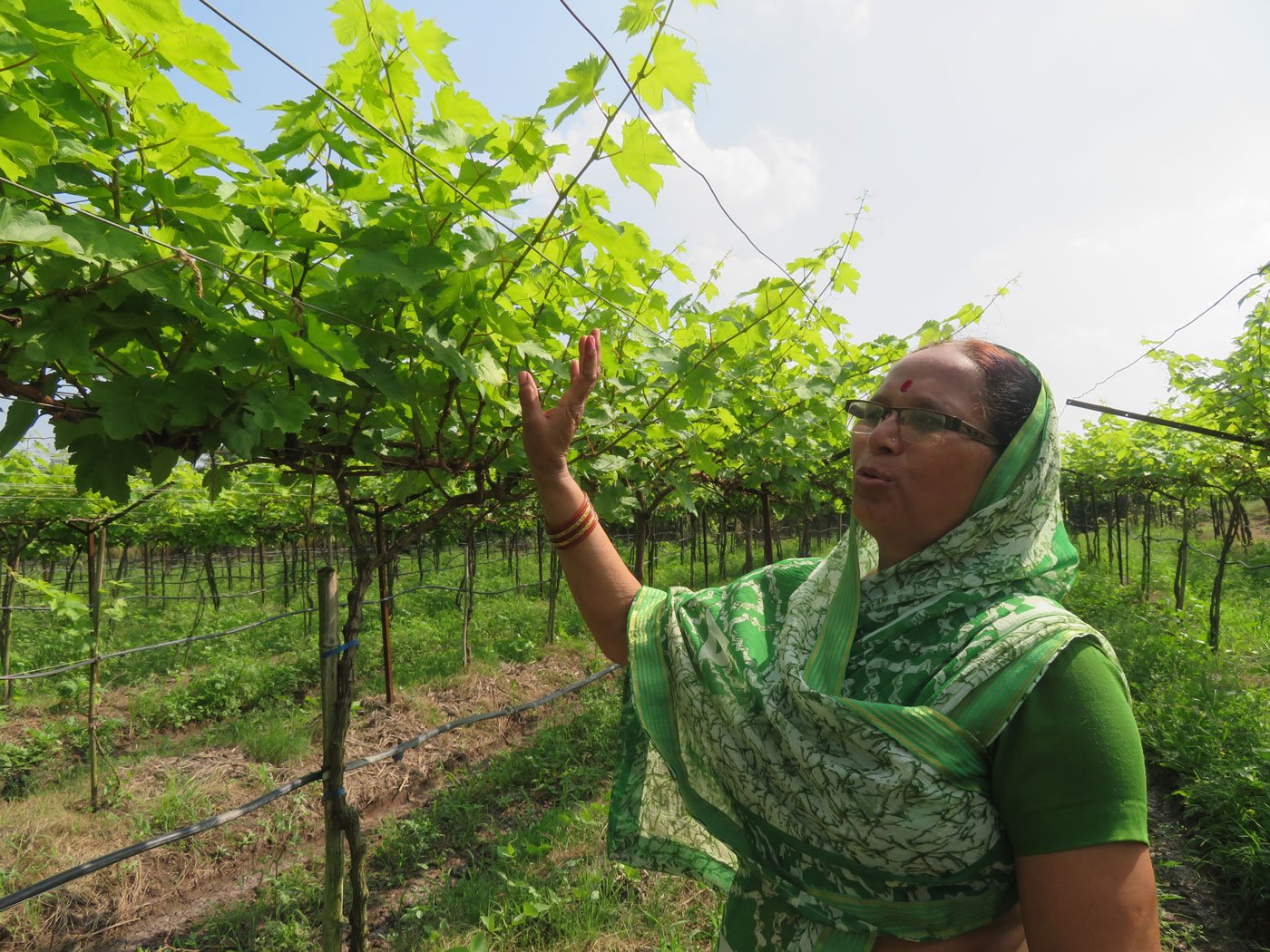 PHOTO • Jyoti Shinoli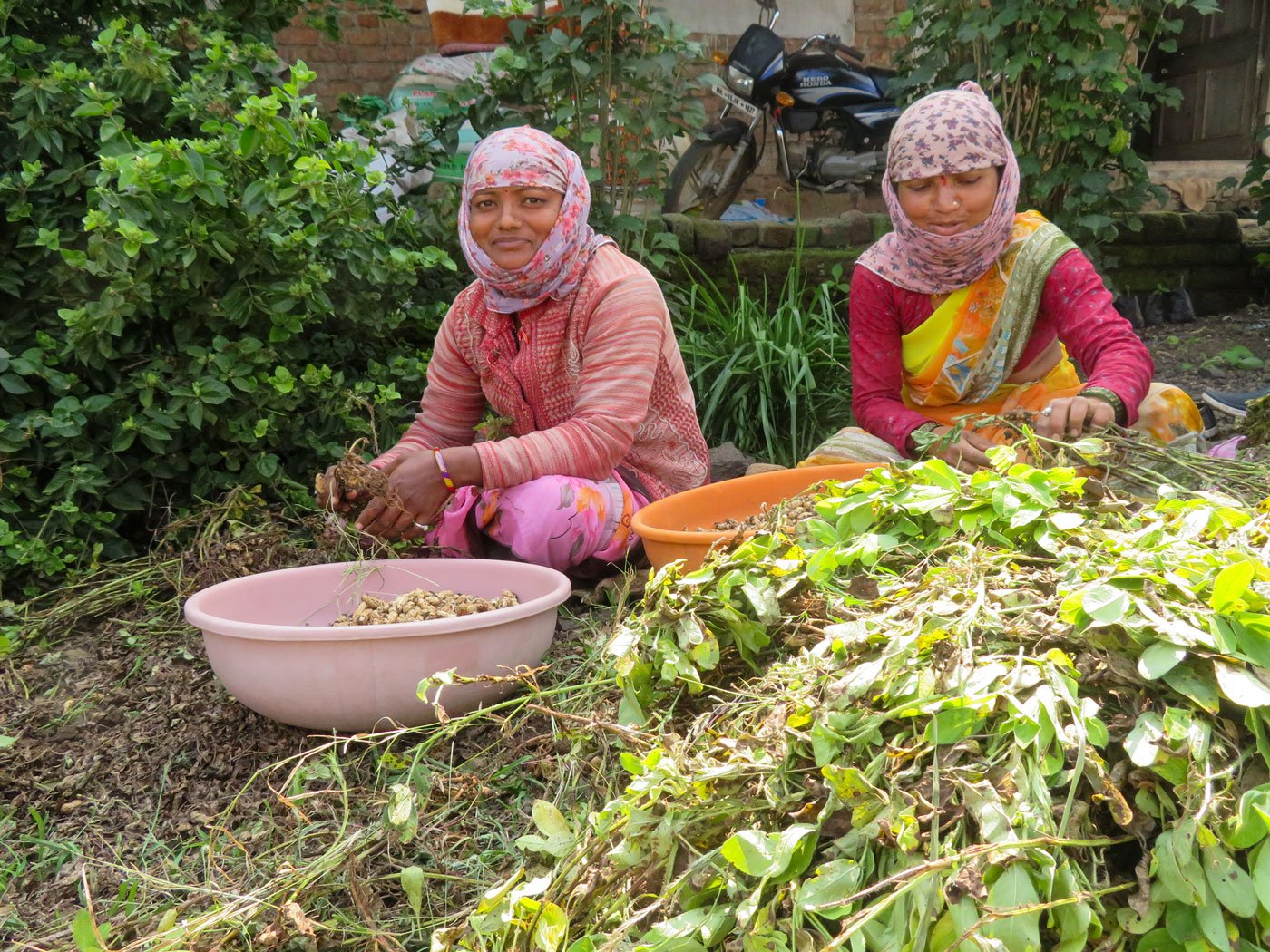 PHOTO • Jyoti Shinoli
On November 6, the media reported state finance minister Sudhir Mungantiwar as saying that unseasonal rains have damaged standing crops on over 70 lakh hectares in Maharashtra, affecting about 60 lakh farmers. He said cotton grown on about 19 lakh hectares and soybean sown on 11 lakh hectares had been totally damaged.
On November 3, (former) chief minister Devendra Fadnavis announced Rs. 10,000 crores and asked officials to ensure speedy compensation by insurance companies. But farmers are skeptical about the implementation since the state is under president's rule from November 12,  after the BJP-Shiv Sena failed to form a government.
"The state doesn't have any wali [saviour] now, their announcement and assurance is of no use," says Tushar. "They should first study the ground issues with their scheme [the Pradhan Mantri Fasal Bima Yojana]. The farmers have to pay a high premium and the compensation payout after crop loss is low and time consuming. Many farmers don't even get any compensation, so what is the use of paying premiums?"
A few metres from Tushar's farm, Rohini Boraste, 35, is segregating good groundnuts from a pile of damaged groundnut crop. "They [the BJP-Shiv Sena] are busy in a tug of war for the CM's post. But what about the labourers and farmers suffering in between? This is a dire situation, so the government must move urgently. But do they care?"
The groundnut crop on Rohini's two acres was submerged with the October rain. "The rain just didn't stop. What will I earn from these rotten nuts? Ask them [BJP-Shiv Sena]," she says. Rohini also waited for two weeks for officials to come for an inspection of the damage, then decided to cut the crop to make way for wheat.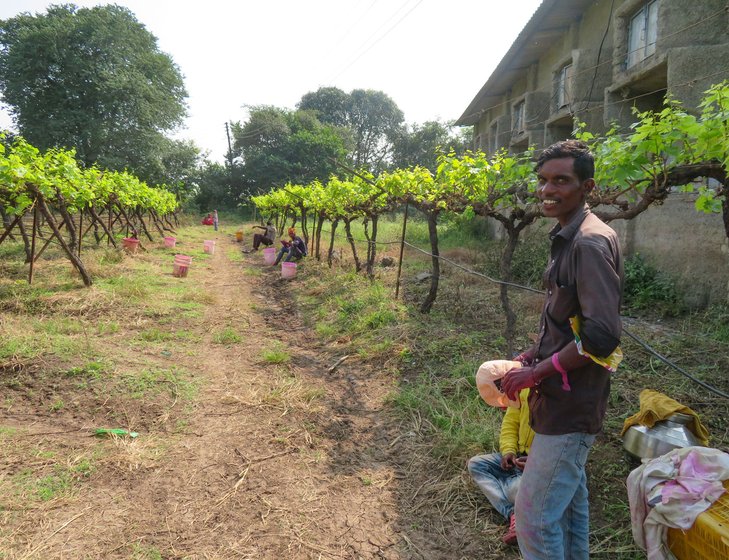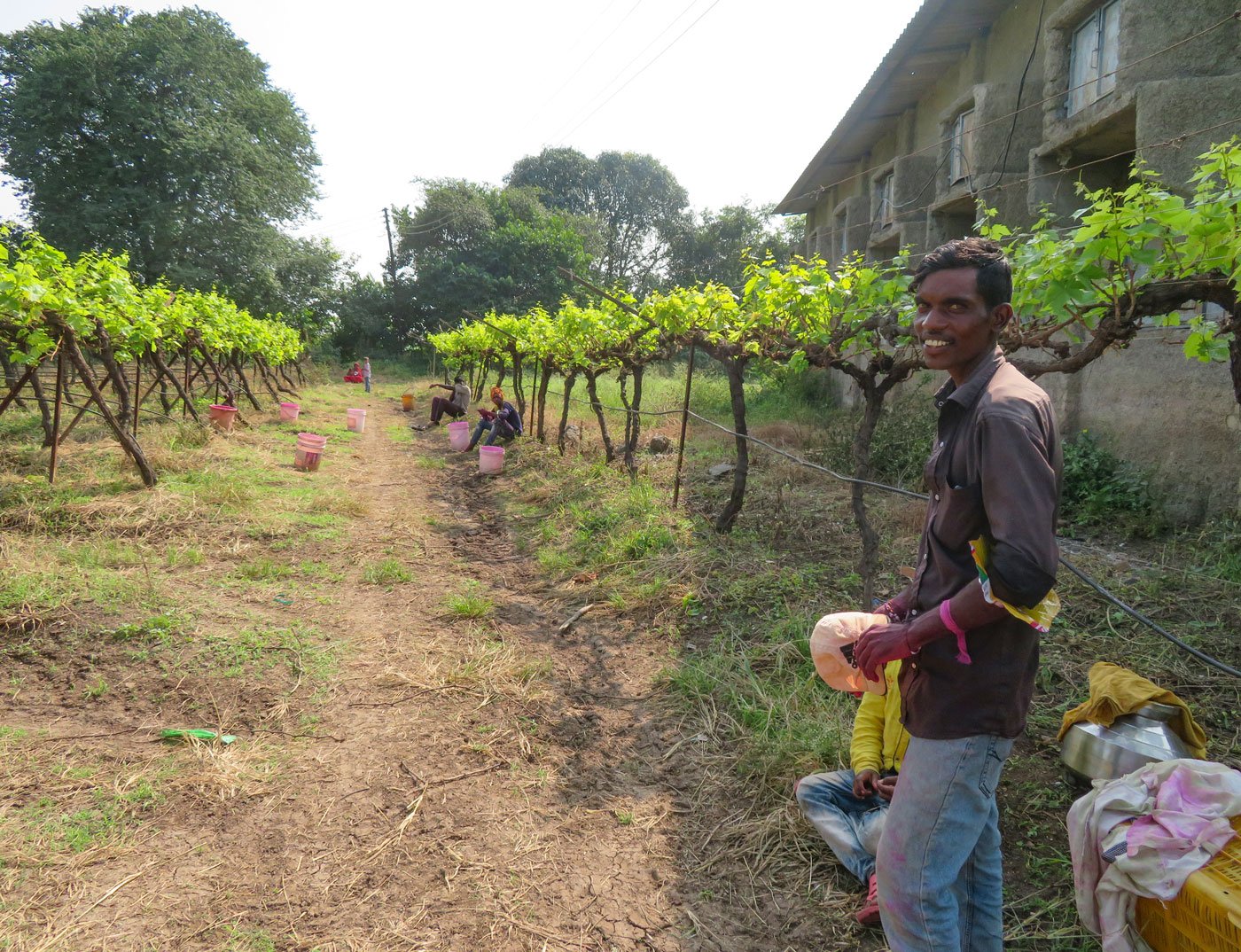 PHOTO • Jyoti Shinoli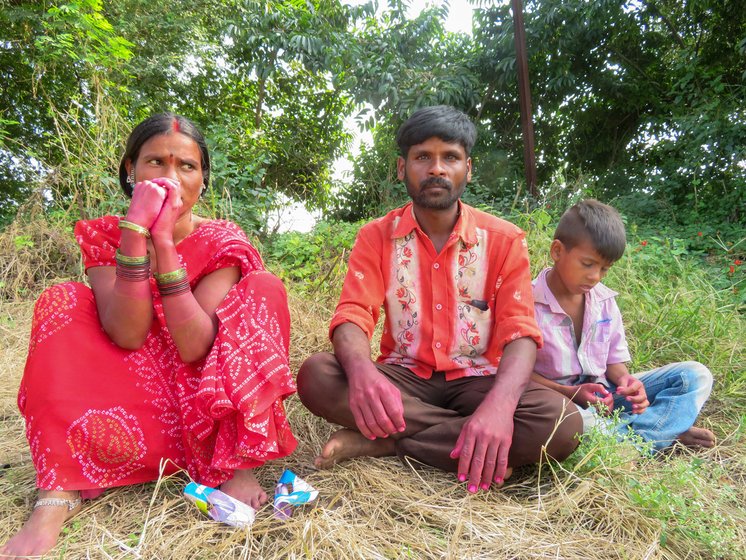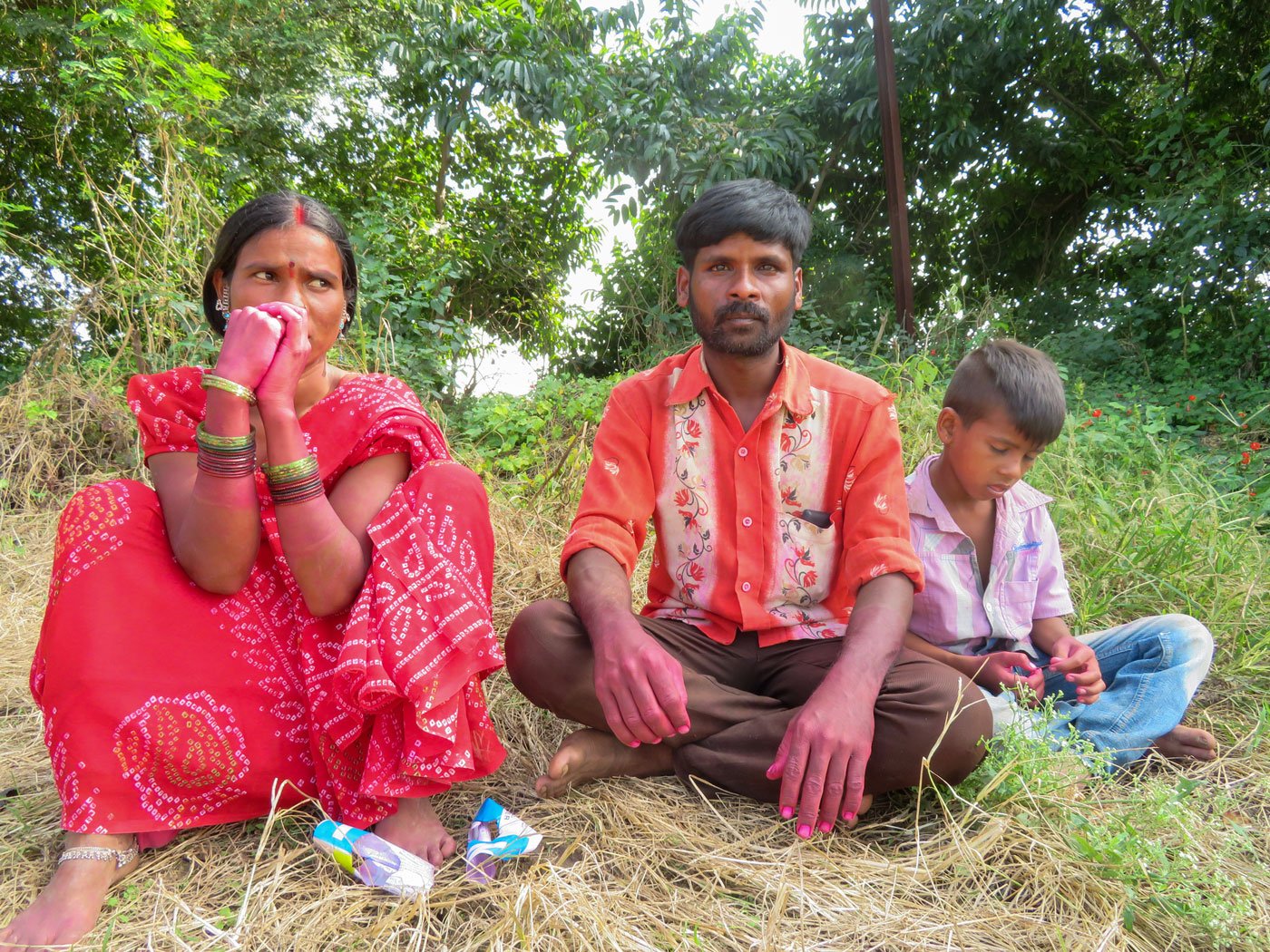 PHOTO • Jyoti Shinoli
The Dindori tehsildar's office told me that 90 per cent of the inspection process was completed by November 9. Their data says more than 33 per cent of kharif crops  were damaged on roughly 285,469 hectares across Nashik district. The amount of compensation to be given to each farmer will be declared only after the losses across the entire district are evaluated.
This has also severely impacted agricultural labourers who go from village to villager during harvesting season. Sunil Wasale, 34, from Murumdari village in Surgana taluka came to Dindori with his wife Uma and nine-year-old son on November 1. He migrates every year in the first week of October and usually finds work plucking tomato, groundnut and soybean. This year, due to the rain, he delayed his departure. When he came to Dindori, the fields were still flooded. "We had to wait for the water to recede. On November 7, we found work at a grape orchard, to apply pesticides to the damaged plants, for Rs. 200 per day [per person]," he says.
"We don't have land so we keep migrating. Harvesting and sowing seasons give us some income. But this year our usual farm owners don't have any work for us," says Uma.
Their son Kapil has come with them in the middle of his school year; he is in Class 4. "There is no one to look after him. His education is suffering," says Sunil. "We cannot imagine for him a future that we wish, just like rain which never arrives according to our will. And our problems don't matter to those [politicians] sitting in Mumbai."